Pour voir le chapitre précédent (Le Rhône), cliquez ici !

If you want to see the preceding chapter (The Rhône), click here!
12 juillet 2022. Futeau-Senningen (151 km)

/ July 12, 2022. Futeau-Senningen (151 km)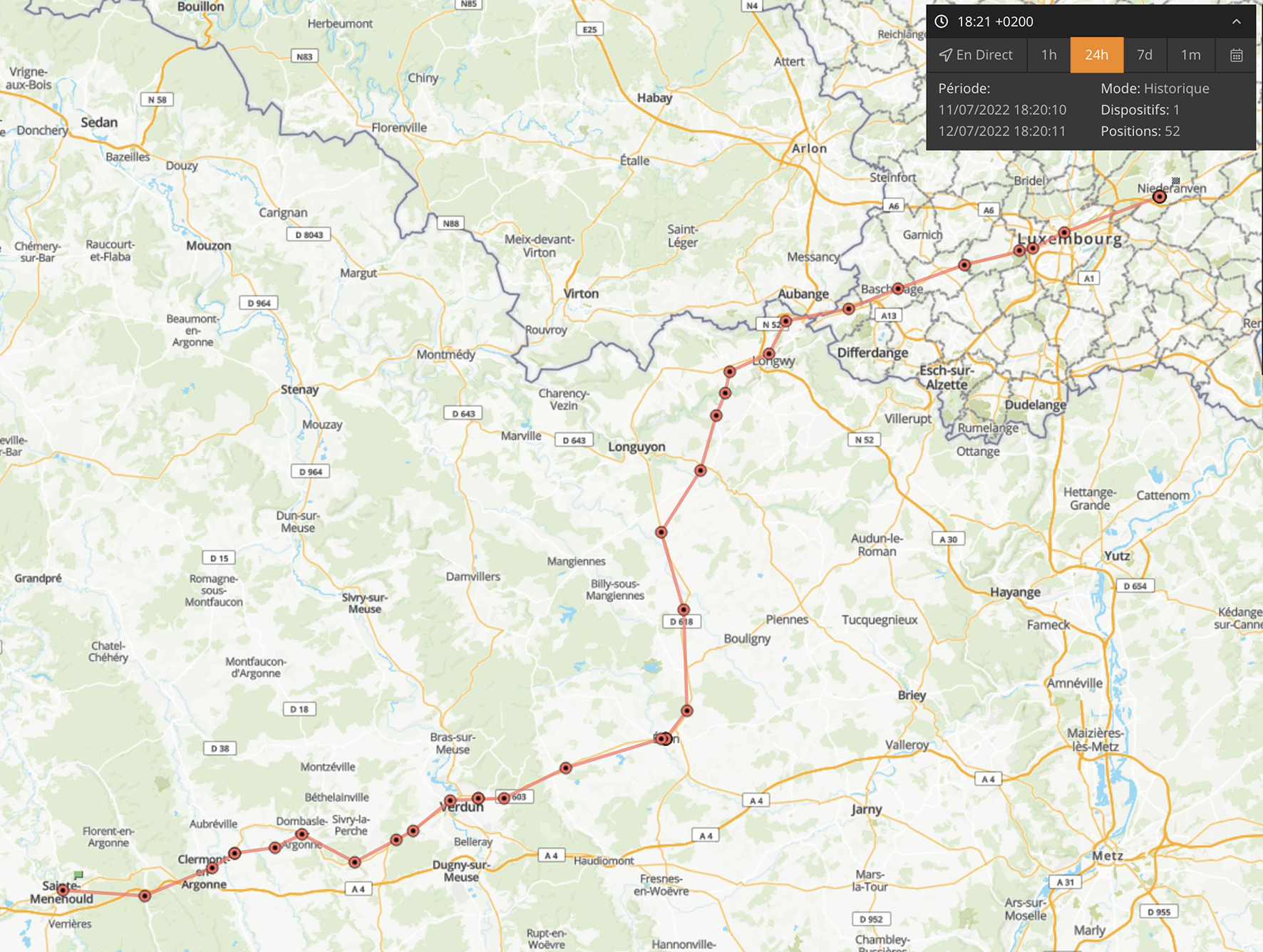 Le jour se lève pour la dernière fois de notre périple. Dans le calme du matin, j'écris mon avant-dernier blog. Ce soir, nous dormirons à la maison, après six semaines d'errance. / Day breaks for the last time on our journey. In the calm of the morning, I write my penultimate blog. Tonight, we will sleep at home, after six weeks of wandering.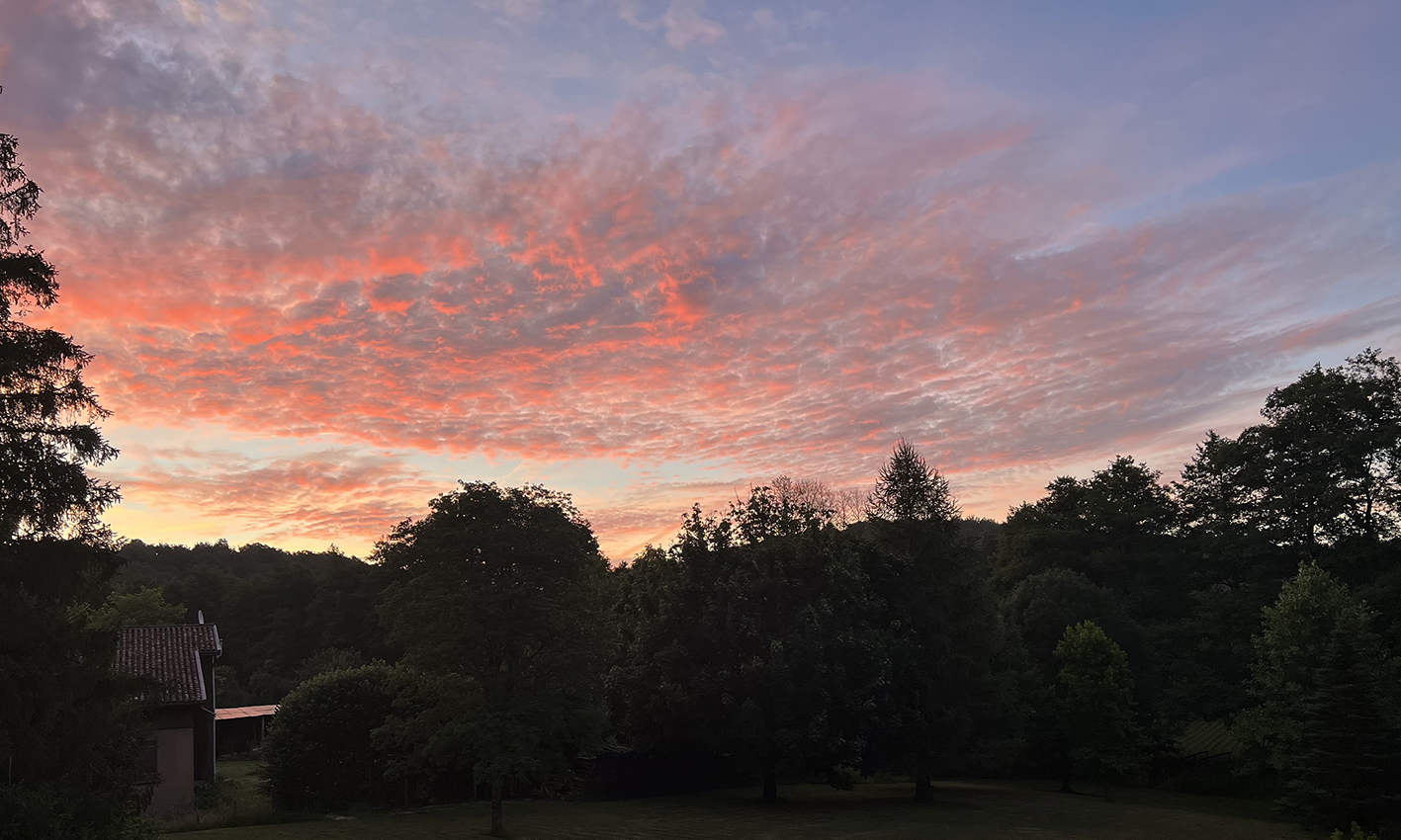 Nous traversons l'Argonne et ses champs céréaliers. « La Charmante » parait bien minuscule et un peu perdue dans ces paysages immenses. / We cross the Argonne and its cereal fields. "La Charmante" seems very tiny and a little lost in these immense landscapes.
Il y a des cultures de tournesols aussi, des étendues jaunes à l'infini, et le maïs aux vives teintes vertes. / There are crops of sunflowers too, endless yellow expanses, and corn with bright green hues.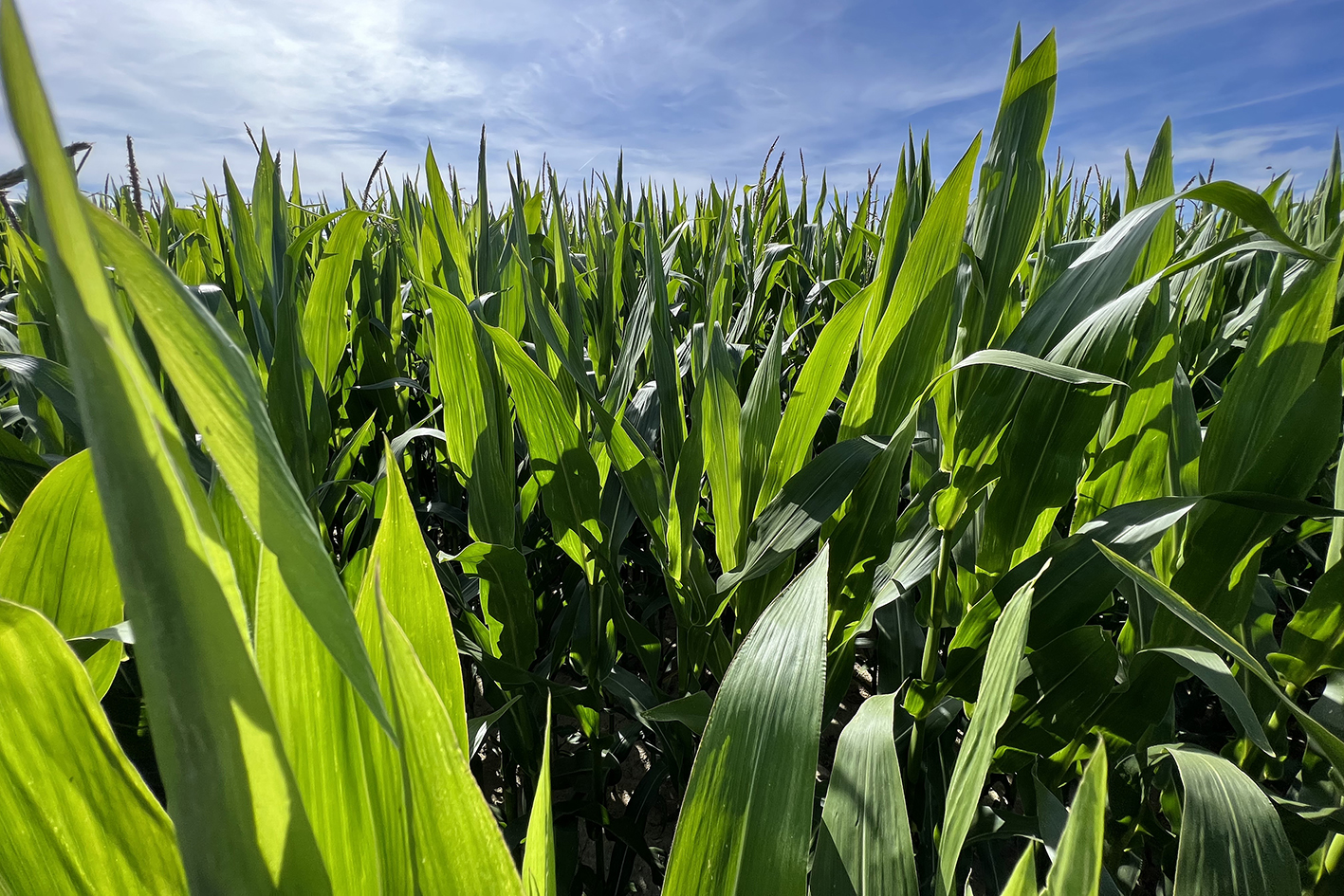 Ces vallons et ces collines ont l'air si paisibles. / These valleys and hills look so peaceful.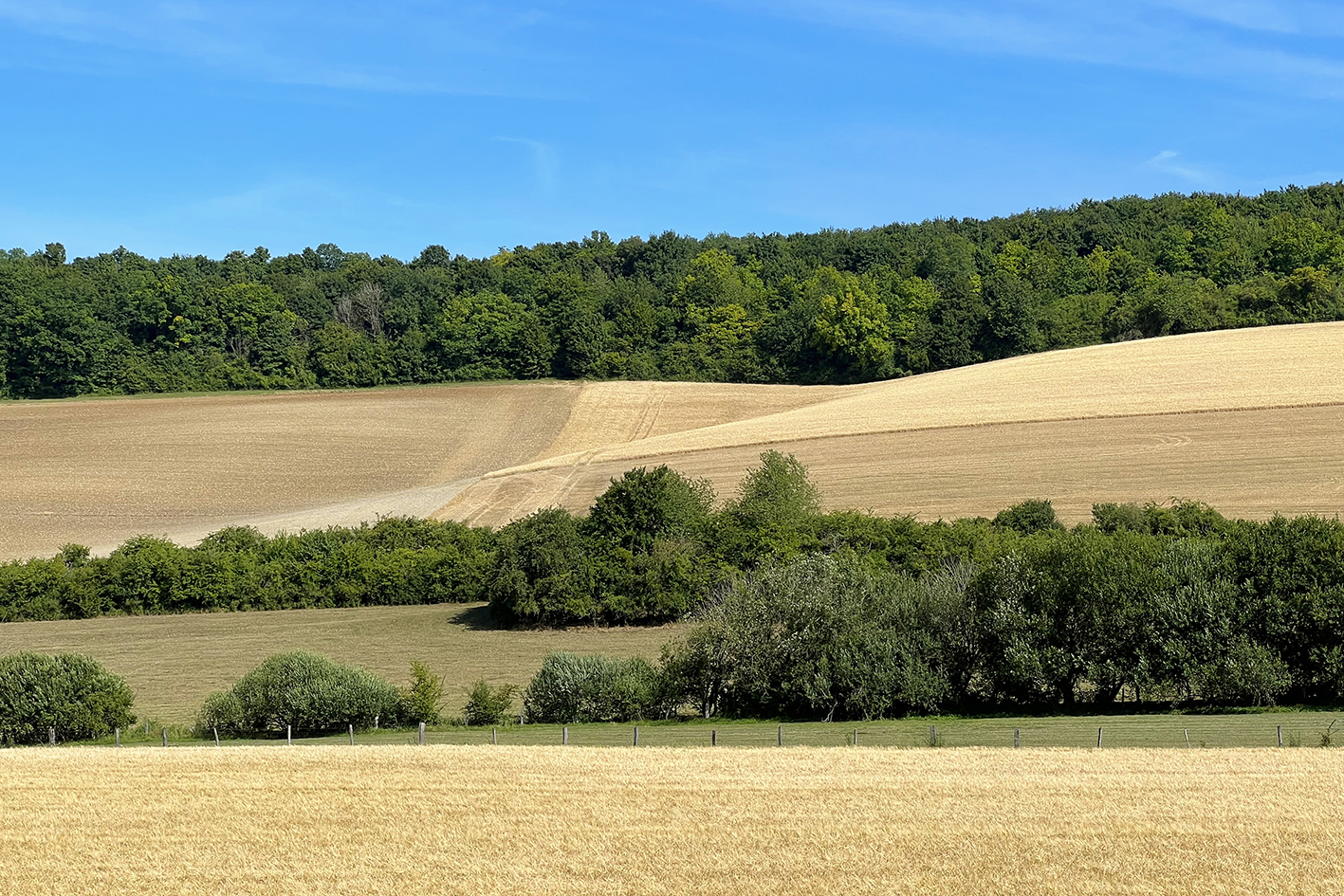 Pourtant, c'est ici que s'est déroulée, du 21 février au 18 décembre 1916, l'une des batailles les plus meurtrières et les plus futiles de la Première Guerre mondiale. Côté français, la bataille de Verdun fit 163.000 morts et 216.000 blessés. Côté allemand, les pertes furent à peine moindres : 143.000 morts et 196.000 blessés. La bataille de la Somme fut encore plus sanglante. En tout, la 'Grande Guerre' fit près de 6 millions de victimes côté allié (France, Empire britannique, Russie, États-Unis, Serbie, Monténégro, Belgique et plusieurs autres) et plus de 4 millions chez les combattants des empires centraux (Allemagne, Autriche-Hongrie, Empire Ottoman, Bulgarie). / However, it was here that, from February 21 to December 18, 1916, one of the deadliest and most futile battles of the First World War took place. On the French side, the Battle of Verdun left 163,000 dead and 216,000 wounded. On the German side, the losses were hardly less: 143,000 dead and 196,000 wounded. The Battle of the Somme was even bloodier. In all, the 'Great War' caused nearly 6 million victims on the Allied side (France, British Empire, Russia, United States, Serbia, Montenegro, Belgium and several others) and more than 4 million among the combatants of the central empires (Germany, Austria-Hungary, Ottoman Empire, Bulgaria).
On a souvent chanté la gloire des soldats et des stratèges. Un panneau nous révèle que nous roulons sur la célèbre 'Voie sacrée'. Pendant la bataille de Verdun, près de 9.000 véhicules, dont 6.000 roulaient sans cesse le long de cette route, transportèrent par semaine 90.000 hommes, 50.000 tonnes de matériel en couvrant au total un million de kilomètres. Pendant les mois de mars à juin 1916, le trafic mensuel a dépassé 500.000 tonnes et 400.000 hommes sans compter les 200.000 blessés évacués par le service sanitaire. Jamais, tout au long de la guerre, un tel effort n'a été accompli si longtemps sur une seule et unique route. / We have often sung the glory of soldiers and strategists. A sign reveals that we are driving on the famous 'Sacred Way'. During the Battle of Verdun, nearly 9,000 vehicles, 6,000 of which drove constantly along this road, transported 90,000 men and 50,000 tons of material per week, covering a total of one million kilometres. During the months of March to June 1916, the monthly traffic exceeded 500,000 tons and 400,000 men, not counting the 200,000 wounded evacuated by the medical service. Never, throughout the war, has such an effort been made for so long on a single road.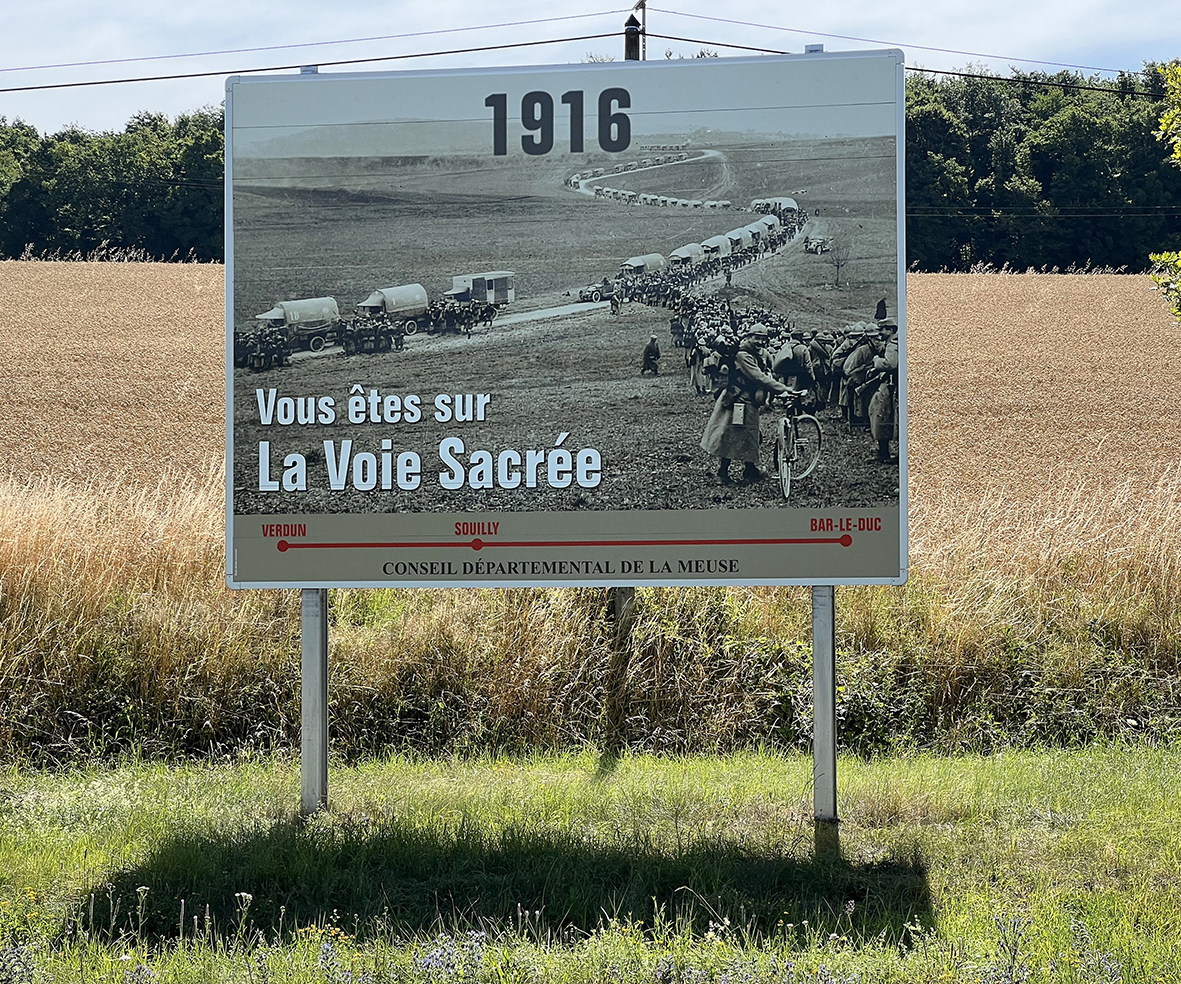 Curieusement, cette même route fut empruntée par la 3ème armée américaine en 1944 commandée par le général Patton. Cette 'Voie de la Liberté', commémorant la victoire des Alliés et la libération de la France, de la Belgique et du Luxembourg pendant la Seconde Guerre mondiale, commence à Sainte-Mère l'Église et Utah Beach en Normandie (débarquement allié le 6 juin 1944), qui constituent le kilomètre zéro, et continue jusqu'à Bastogne en Belgique. À chaque kilomètre de la route se trouvent ainsi des bornes kilométriques rappelant les deux guerres mondiales, le victoire du Bien sur le Mal, des défenseurs sur les attaquants. / Curiously, this same road was taken by the 3rd US Army in 1944 commanded by General Patton. This 'Road to Freedom', commemorating the victory of the Allies and the liberation of France, Belgium and Luxembourg during the Second World War, begins at Sainte-Mère l'Eglise and Utah Beach in Normandy (Allied landings on 6 June 1944), which constitute kilometer zero, and continues to Bastogne in Belgium. At each kilometer of the road there are therefore kilometer markers recalling the two world wars, the victory of Good over Evil, of defenders over attackers.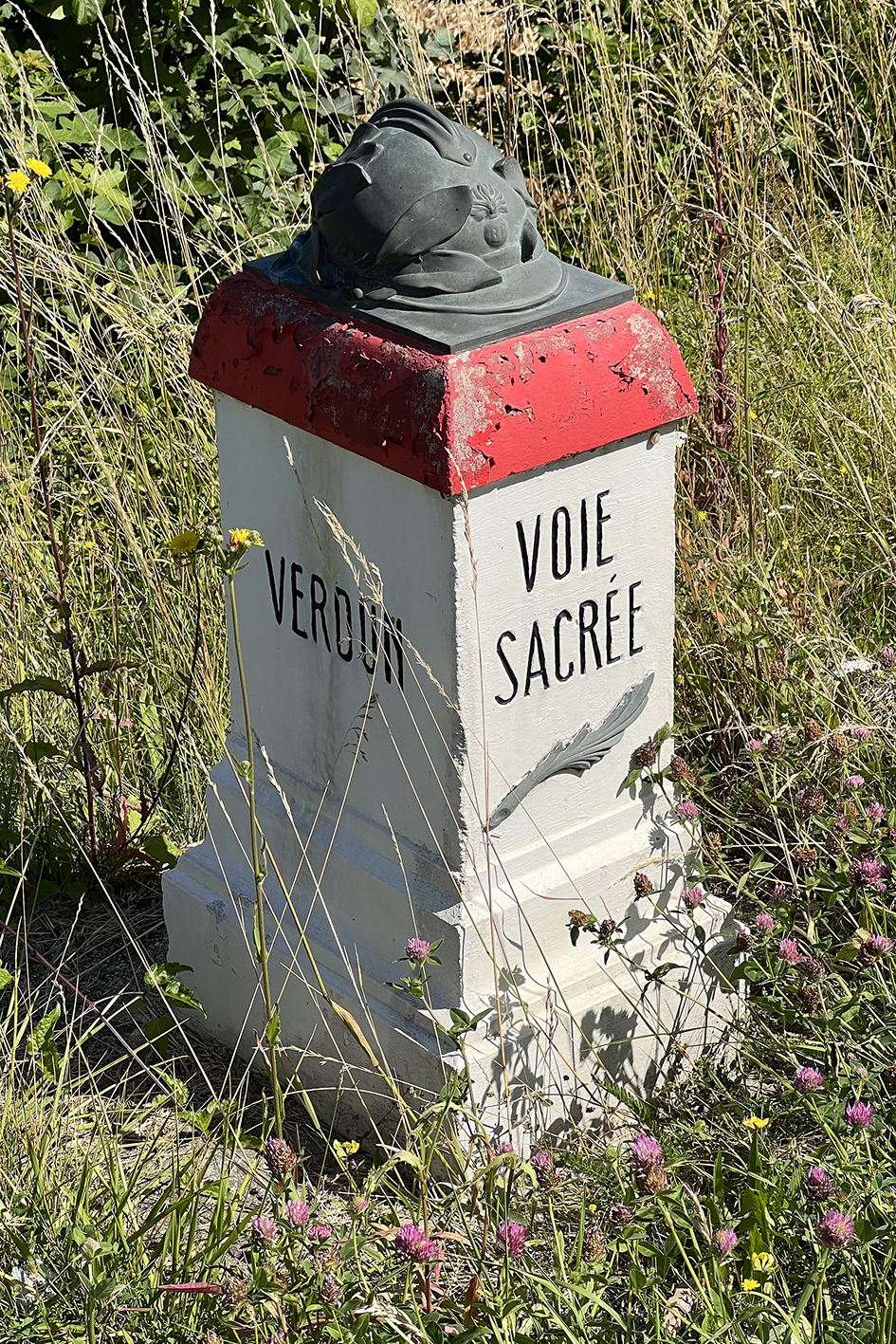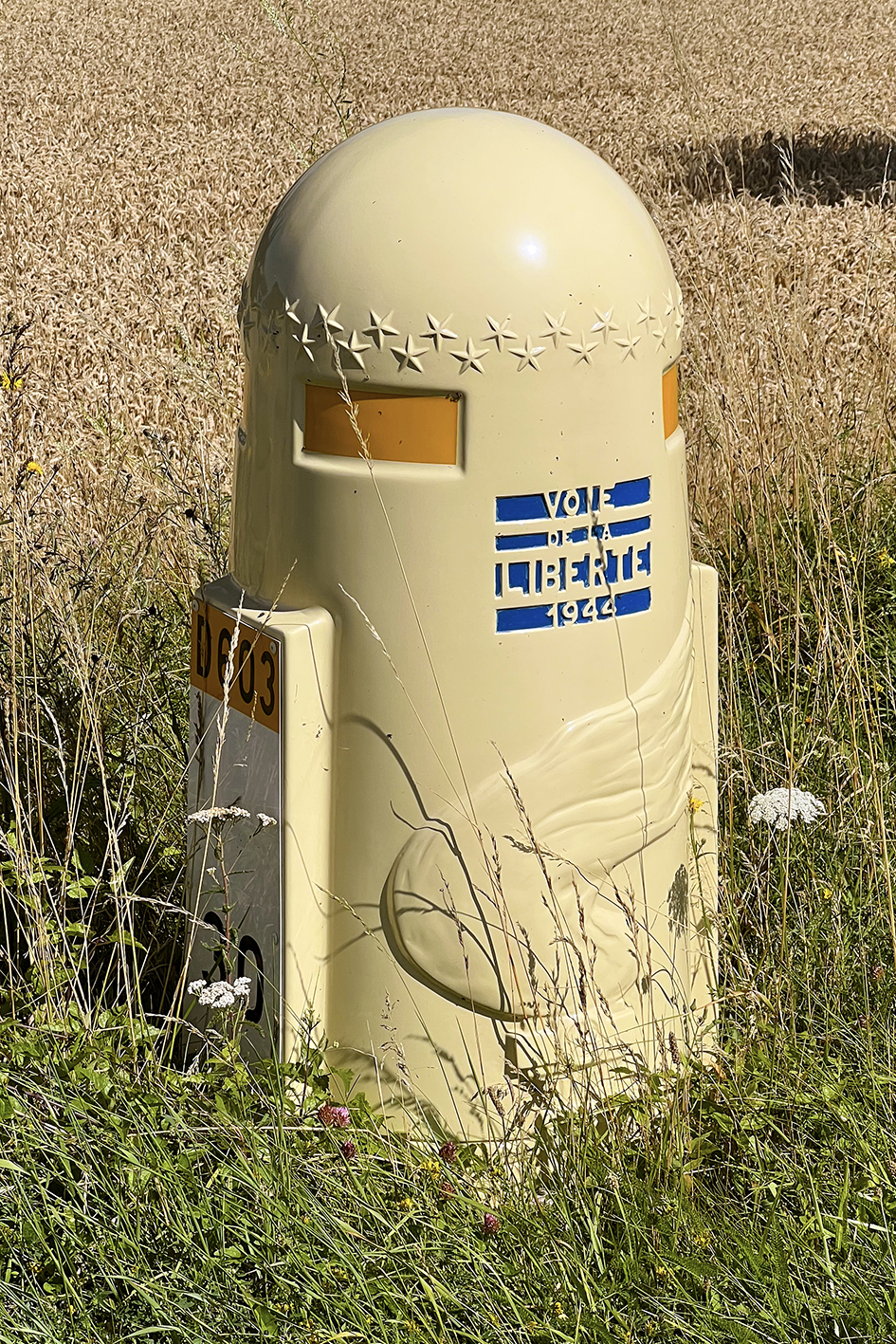 Mais dans les guerres, chacun le sait et chacun l'oublie, il n'y a que des perdants… Je visite le Cimetière du Faubourg Pavé, l'un des nombreux cimetières de cette folie qu'était la 'Grande Guerre'. À l'entrée, une épée entourée de feuilles de laurier symbolise le combat héroïque et la paix regagnée. Mais l'eau de pluie a oxydé ces symboles futiles, et dégoulinent désormais sur la colonne les larmes de celles et ceux qui ont perdu fils, frère, mari, père, fiancé, copain… / But in wars, everyone knows it and everyone forgets it, there are only losers… I visit the Cimetière du Faubourg Pavé, one of the many cemeteries of this madness that was the 'Great War'. At the entrance, a sword surrounded by laurel leaves symbolizes heroic combat and regained peace. But the rainwater has oxidized these futile symbols, and the tears of those who have lost sons, brothers, husbands, fathers, fiancés, boyfriends are now dripping down the column…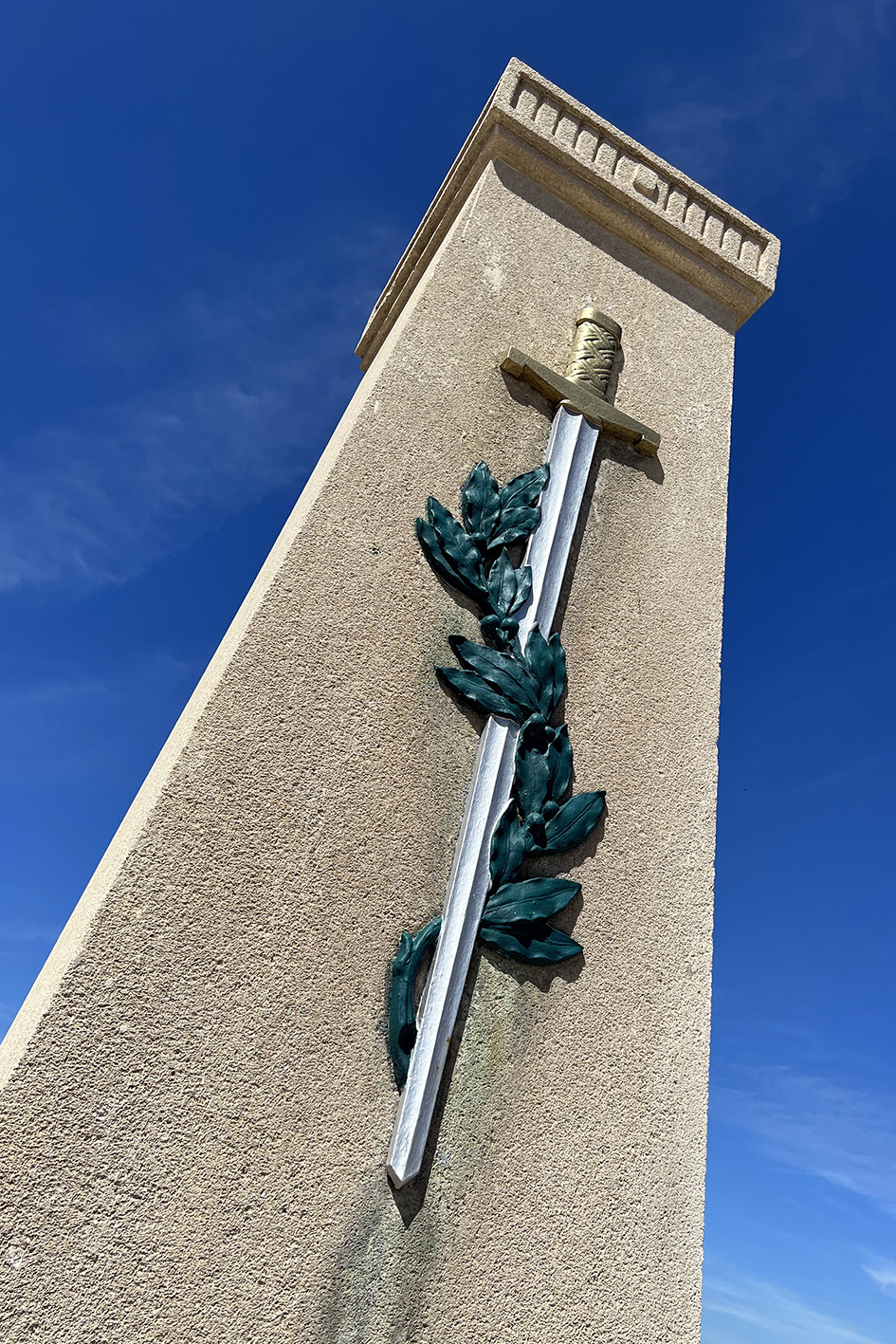 À l'intérieur, comme dans tout cimetière militaire, des croix à l'infini, parfois quelques stèles musulmanes. La nécropole contient 5516 corps dont 4852 de la Première Guerre Mondiale. Ici, une pierre tombale juive ajoute une note originale aux croix en béton mornes et monotones. Quelqu'un a placé les cailloux traditionnels sur la tombe d' « Elfa Cukorja, soldat 11eR.E.I. – Mort pour la France le 18-6-1940 ». Je me renseigne. Ce soldat juif originaire d'Europe de l'Est faisait partie de la Légion Étrangère. Il est mort à l'âge de 25 ans. / Inside, as in any military cemetery, endless crosses, sometimes a few Muslim headstones. The necropolis contains 5516 bodies including 4852 from the First World War. Here, a Jewish tombstone adds an original note to the dreary and monotonous concrete crosses. Someone placed the traditional pebbles on the grave of "Elfa Cukorja, soldier 11eR.E.I. – Died for France on 18-6-1940". I am looking that up. This Jewish soldier from Eastern Europe was part of the Foreign Legion. He died at the age of 25.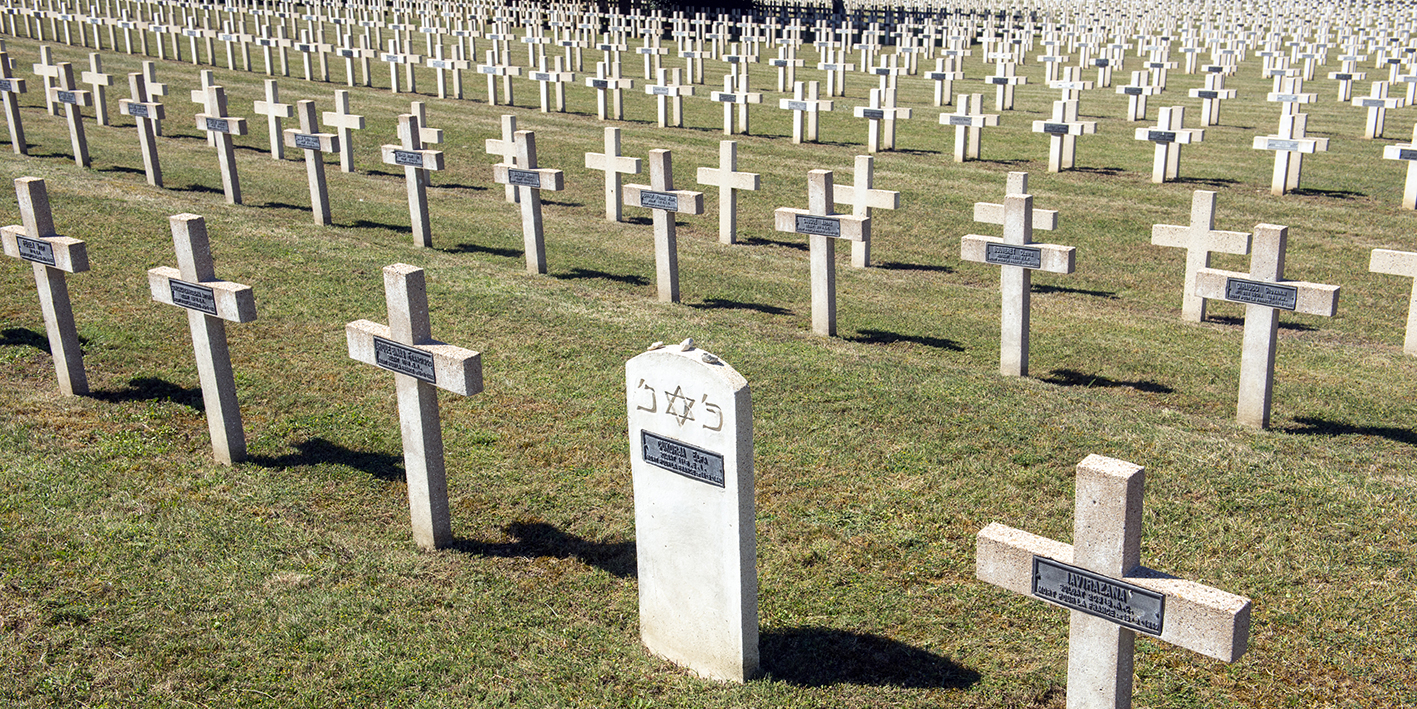 Il y a donc plus de 5.000 tombes ici. Je photographie quelques plaques. / So there are more than 5,000 graves here. I photograph a few plates.

'INCONNU' … Quel terrible destin ! On vit une vingtaine d'années, on a eu des parents aimants, des frères, des sœurs, on a joué à l'école primaire, on a appris à lire et à écrire, on a peut-être échangé un premier baiser, fait une promesse (« Quand je reviendrai, je t'épouserai ! »), et puis… plus rien. Un obus, ou une balle perdue. Qui était l'ennemi ? De quel côté se battait notre 'Inconnu' ? Après-guerre, on a récupéré quelques os, quelques restes. Rien qui puisse l'identifier. 'INCONNU', le pire des épitaphes. / 'UNKNOWN'… What a terrible fate! One lives in one's twenties, one had loving parents, brothers, sisters, one played in elementary school, one learned to read and write, one maybe exchanged a first kiss, made a promise ("When I come back, I'll marry you!"), and then… nothing. A shell, or a stray bullet. Who was the enemy? What side was our 'Unknown' fighting on? After the war, some bones were recovered, with some remains. Nothing that can identify him. 'UNKNOWN', the worst epitaph.
Puis il y a 'INCONNU (Français)-Mort pour la France'. Au moins on sait qu'il était Français, celui-là. Un 'héros' donc. Mais anonyme. / Then there is 'UNKNOWN (French)-Mort pour la France'. At least we know he was French, that one. So a 'hero'. But anonymous.
ULYSSE BERNOUIS… Quel joli prénom héroïque. Mais lui aussi, déchiqueté, mélangé à la boue des tranchées, en ce 9 avril 1916 fatal. / ULYSSE BERNOUIS… What a pretty heroic first name. But he too, shredded, mixed with the mud of the trenches, on this fatal April 9, 1916.
Comme GEORGES BLANCHARD, sacrifié en septembre de la même année. / Like GEORGES BLANCHARD, sacrificed in September of the same year.
ÉMILE FURHMANN, lui, est tombé lors du deuxième conflit, le 15 mai 1940. C'est la débâcle de l'armée française, mal préparée face aux troupes nazies, dont les blindés foncent par surprise à travers les Ardennes. / ÉMILE FURHMANN fell during the second conflict, on May 15, 1940. It was the debacle of the French army, ill-prepared against the Nazi troops, whose armored vehicles rushed by surprise through the Ardennes.
Il en va de même pour le sergent ADRIEN ROBILLIARD. Comment motiver les soldats dont il a la charge face à des militaires allemands surarmés et shootés à la Pervitine ? / The same goes for Sergeant ADRIEN ROBILLIARD. How to motivate the soldiers under his charge in the face of over-armed German soldiers shot with Pervitin?
D'autres noms sur les plaques, qui sentent bien la France profonde et le pot-au-feu : LÉON BRANQUART (était-il brancardier ?) et HENRI FAVARD. Qui étaient-ils ? De quoi rêvaient-ils avant d'être envoyés au casse-pipe ? / Other names on the plates, which smell of rural France and stew: LÉON BRANQUART and HENRI FAVARD. Who were they? What did they dream of before being sent to the ditch?
Des noms plus exotiques aussi, comme ABDOULAYE N'DAW et DIAWARA MAMADOU, tous deux tombés le 28 juin 1940. Côte-à-côte peut-être, chacun cherchant un peu de réconfort auprès de son frère de peau ? Loin de leur terre natale, Sénégalais peut-être, que faisaient-ils sur les rives de la Meuse ? Eux ne rêvaient probablement de rien. S'ils avaient survécu, ils auraient été tout juste bons à ramasser des poubelles à Limoges ou balayer les trottoirs à Strasbourg… Ou poser pour les publicités de Banania : « Y'a bon… ». « Mort pour la France » – tu parles ! / More exotic names too, such as ABDOULAYE N'DAW and DIAWARA MAMADOU, both of whom fell on June 28, 1940. Side by side perhaps, each seeking a little comfort from his skin brother? Far from their native land, Senegalese perhaps, what were they doing on the banks of the Meuse? They probably weren't dreaming of anything. If they had survived, they would have been just good at picking up trash cans in Limoges or sweeping the sidewalks in Strasbourg… Or posing for Banania advertisements: « Y'a bon… ». « Died for France » – how ironical!
Je pourrais m'indigner sur chacune des cinq-mille tombes ici, ou ailleurs, dans chacun des 265 nécropoles nationales françaises ou 198 cimetières militaires allemands en France. Je pourrais aller pleurer en Algérie, en Allemagne, en Russie, au Japon, en Chine, au Cambodge. Ou aller voir en 'live' des combattants mourir en Ukraine, en Syrie et ailleurs. Le monde est fou, l'humanité une espèce bizarre capable d'autodestruction. / I could be indignant at each of the five thousand graves here, or elsewhere, in each of the 265 French national cemeteries or 198 German military cemeteries in France. I could go and cry in Algeria, in Germany, in Russia, in Japan, in China, in Cambodia. Or go and see fighters die live in Ukraine, Syria and elsewhere. The world is mad, humanity a bizarre species capable of self-destruction.
Nous progressons vers le nord. « La Charmante » peine dans les dernières côtes abruptes en Lorraine. La chaleur du moteur s'ajoute aux 29°C à l'extérieur. Nous avons les pieds bouillants. Le château de Cons-la-Grandville est le décor pour une dernière photo de mes deux Charmantes pendant ce voyage. / We are moving north. "La Charmante" struggles on the last steep hills in Lorraine. The heat from the engine adds to the 29°C outside. Our feet are boiling. The castle of Cons-la-Grandville is the setting for a last photo of my two Charmantes during this trip.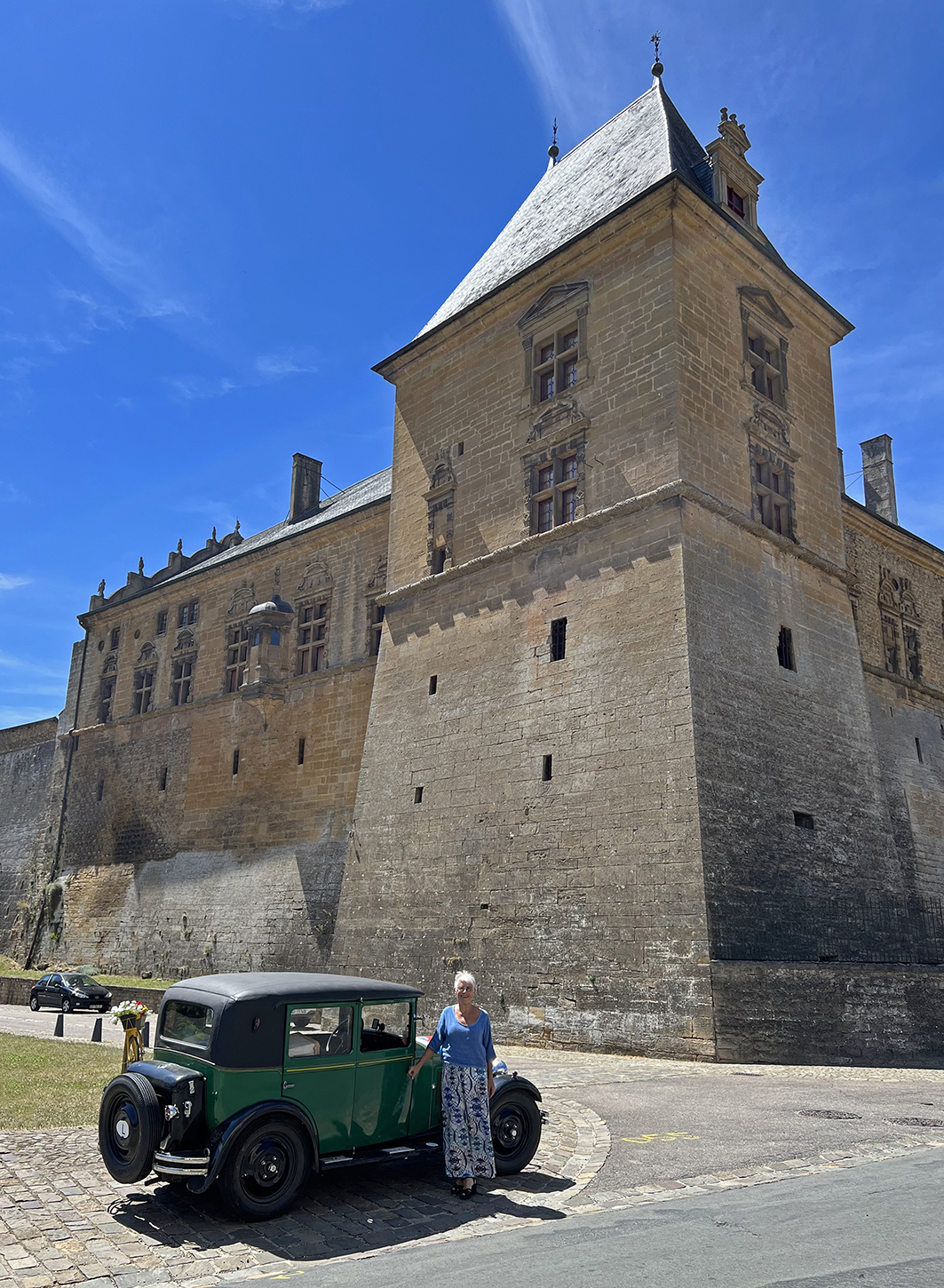 Dernier arrêt à l'ACL (Automobile Club du Luxembourg) où notre aventure pleine de rebondissements débuta le 2 mai dernier. / Last stop at the ACL (Automobile Club du Luxembourg) where our adventure full of twists and turns began on May 2.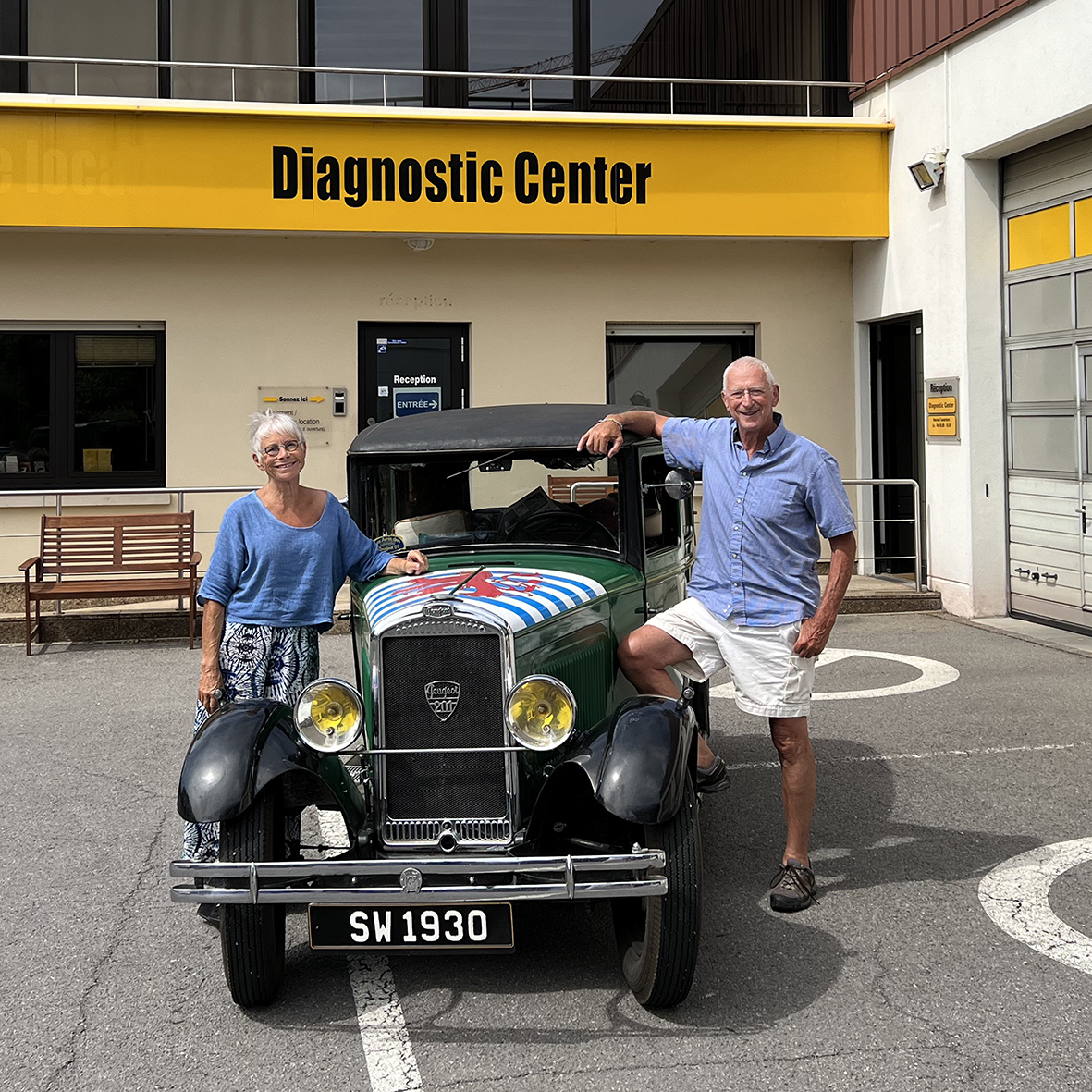 Nous arrivons à la maison. 6.324 kilomètres parcourus. Nous l'avons fait ! Et c'est Olivier, de retour de l'hôpital ce matin même, qui nous prend en photo. Tout est bien qui finit bien ! / We arrive home. 6,324 kilometers covered. We did it! And Olivier, back from hospital this very morning, takes our picture. All's well that ends well!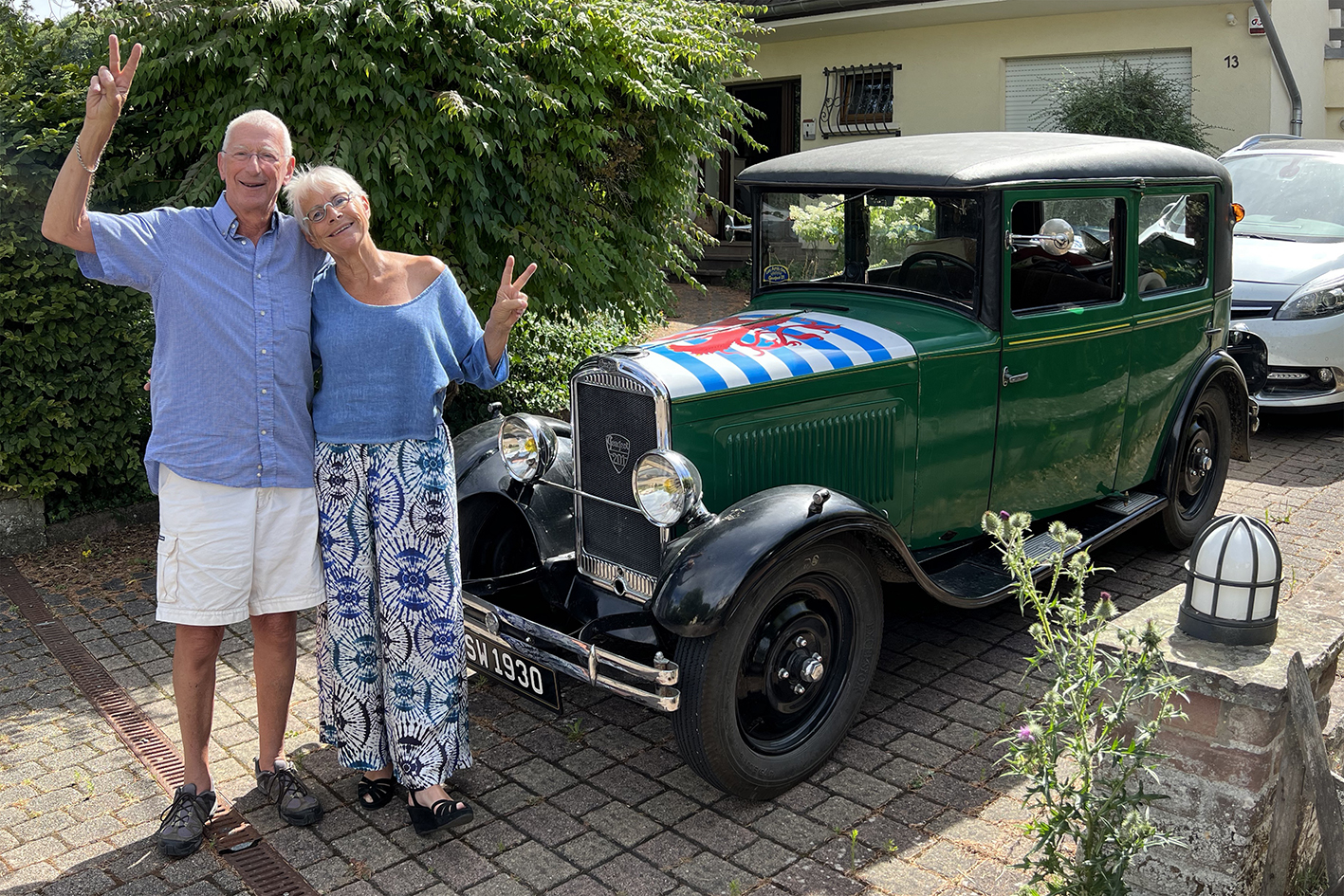 11 juillet 2022. Pithiviers-Futeau. (283 km)

/ July 11, 2022. Pithiviers-Futeau. (283km)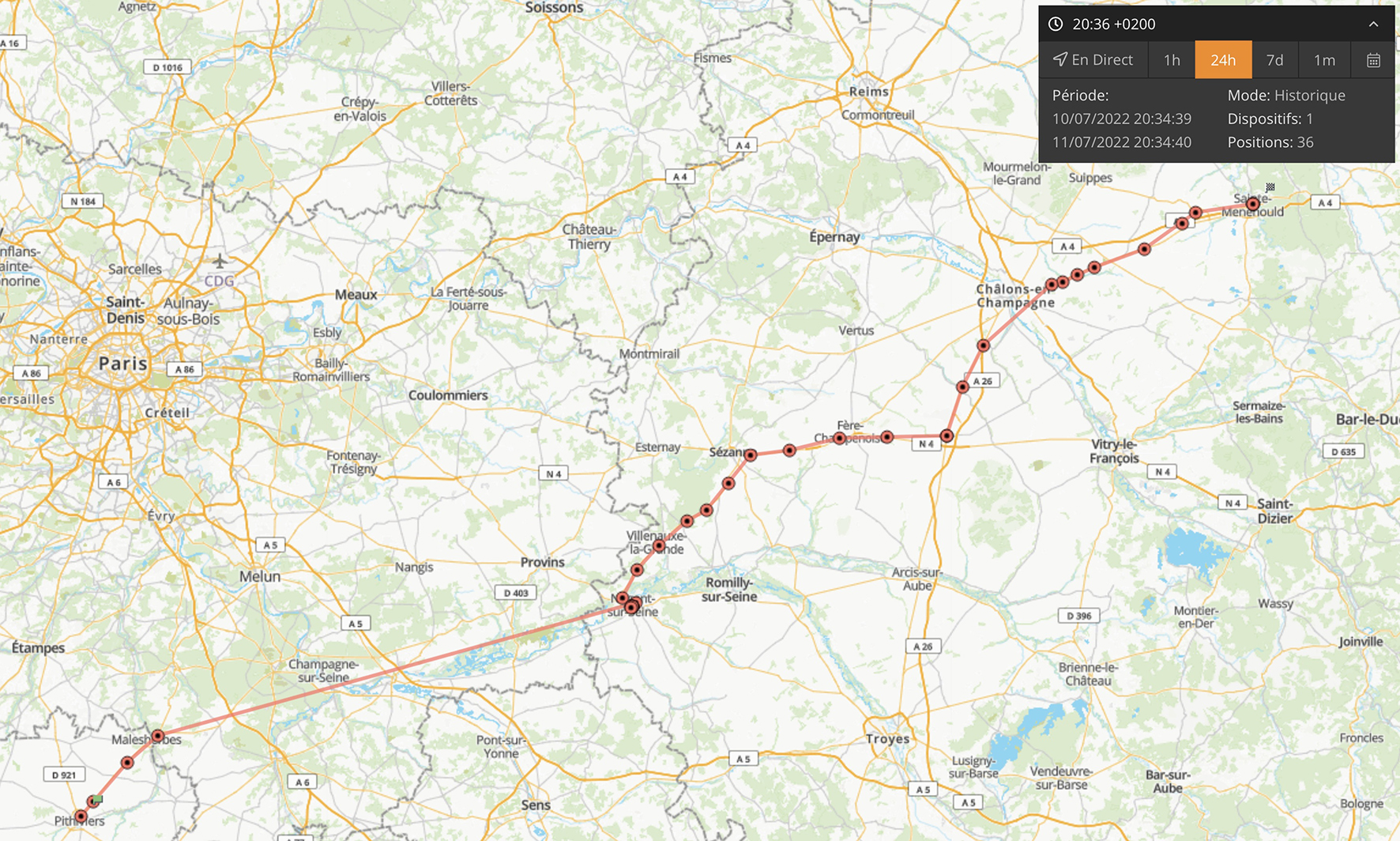 Deux-cent-quatre-vingt-trois kilomètres, l'étape la plus longue du voyage ! (Sauf la toute première, le 2 mai, longue de 291 km). Un premier arrêt (osé !) à L'obélisque de Marie-Antoinette, ou pyramide de Fontainebleau, érigé en 1786. Nous traversons le carrefour de l'Obélisque d'ouest en est. En 2005, c'est venant de Paris et allant vers le sud sur la Nationale 7 avec « La Petite » que ma 4CV posait à côté du monument. Depuis, la N7 a été débaptisée à plusieurs endroits. Ici, elle s'appelle D607 désormais. Tout se perd… / Two hundred and eighty-three kilometers, the longest stage of the trip! (Except the very first, May 2, 291 km long). A first (daring!) stop at the obelisk of Marie-Antoinette, or pyramid of Fontainebleau, erected in 1786. We cross the crossroads of the Obelisk from west to east. In 2005, it was coming from Paris and going south on the Nationale 7 with « La Petite » that my 4CV stood next to the monument. Since then, the N7 has been renamed in several places. Here, it is presently called D607. Everything is lost…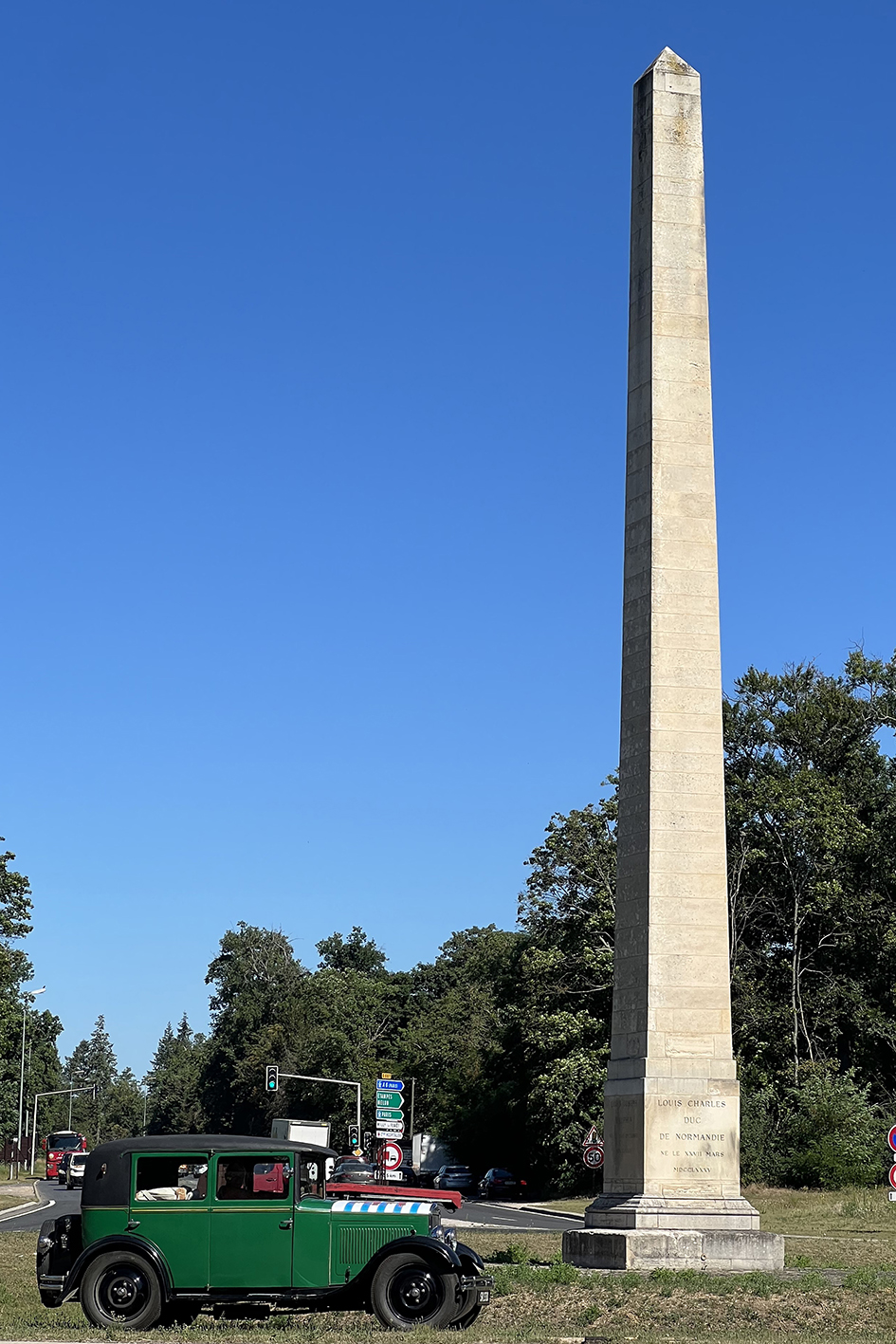 Déjeuner à Nogent-sur-Seine, avec vue sur un moulin de taille gigantesque. La ville étant entourée de champs de blé à l'infini, cela se comprend. Les premières fondations datent du 11ème siècle. La structure s'agrandit au fil du temps pour atteindre en 1840 une envergure de 15 paires de meules fonctionnant de concert et actionnées par un canal de dérivation de la Seine qui leur apportait l'énergie indispensable. Pierre Sassot l'acquit en 1880 et pendant près d'un demi-siècle, l'ensemble s'appela « Les Moulins Sassot », qui cessèrent leurs activités en 1990. La capacité d'écrasement des meules représentait alors un total de 240 tonnes par jour ! Les Minoteries Soufflet firent l'acquisition du bâtiment en 1994 et y installèrent leurs bureaux administratifs. Une minoterie ayant son siège dans un moulin authentique, qui dit mieux ? / Lunch in Nogent-sur-Seine, with a view of a gigantic mill. The city being surrounded by endless wheat fields, this is understandable. The first foundations date from the 11th century. The structure grew over time to reach in 1840 a span of 15 pairs of millstones working together and operated by a diversion channel of the Seine which brought them the essential energy. Pierre Sassot acquired it in 1880 and for almost half a century, the complex was called « Les Moulins Sassot », which ceased their activities in 1990. The crushing capacity of the millstones then represented a total of 240 tons. per day! Minoteries Soufflet acquired the building in 1994 and set up their administrative offices there. A flour industry having its headquarters in an authentic mill, it can't be better!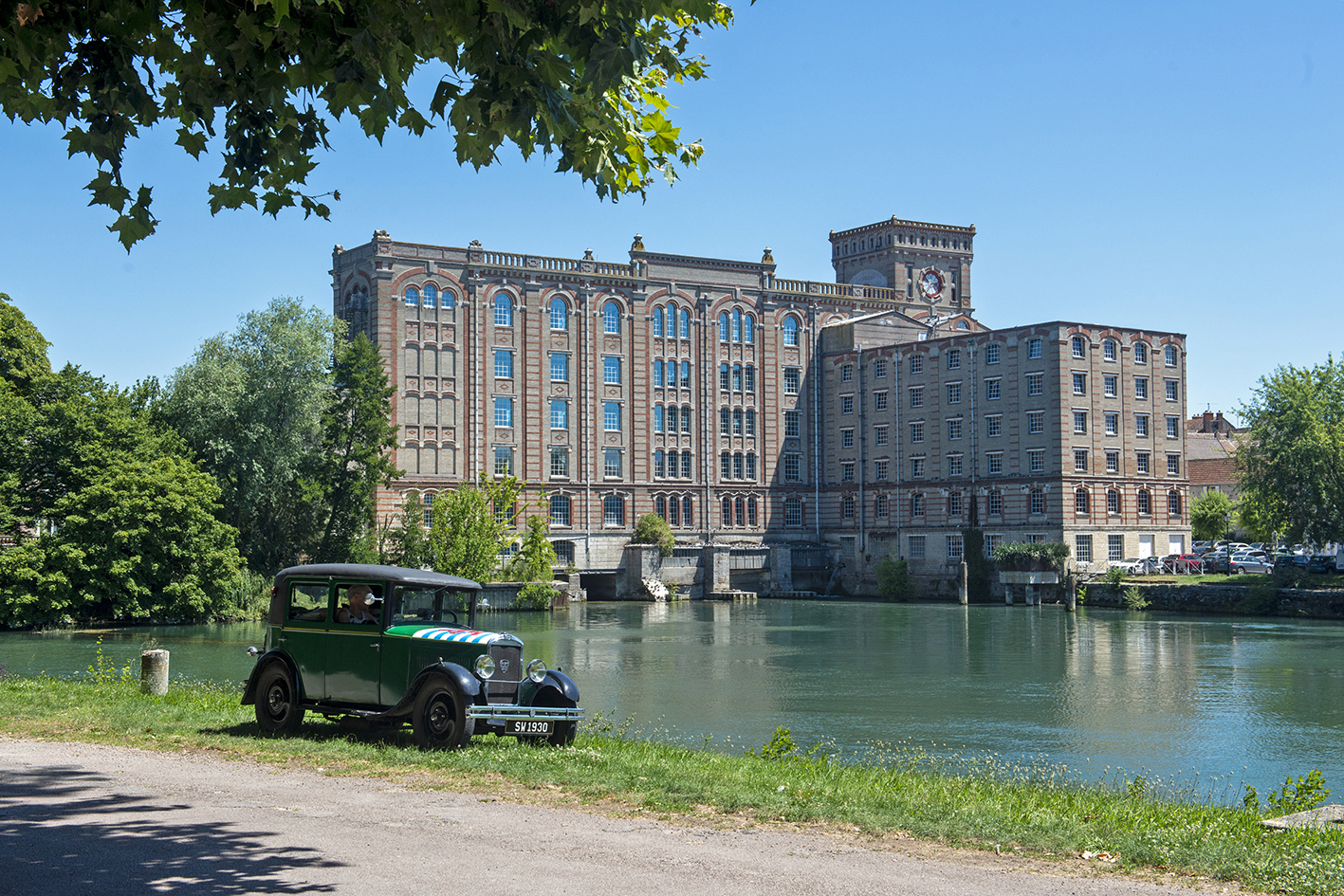 Toujours à Nogent, ce petit garage restauré avec amour par les membres des 'Belles Nogentaises'. / Also in Nogent, this small garage lovingly restored by the members of the 'Belles Nogentaises'.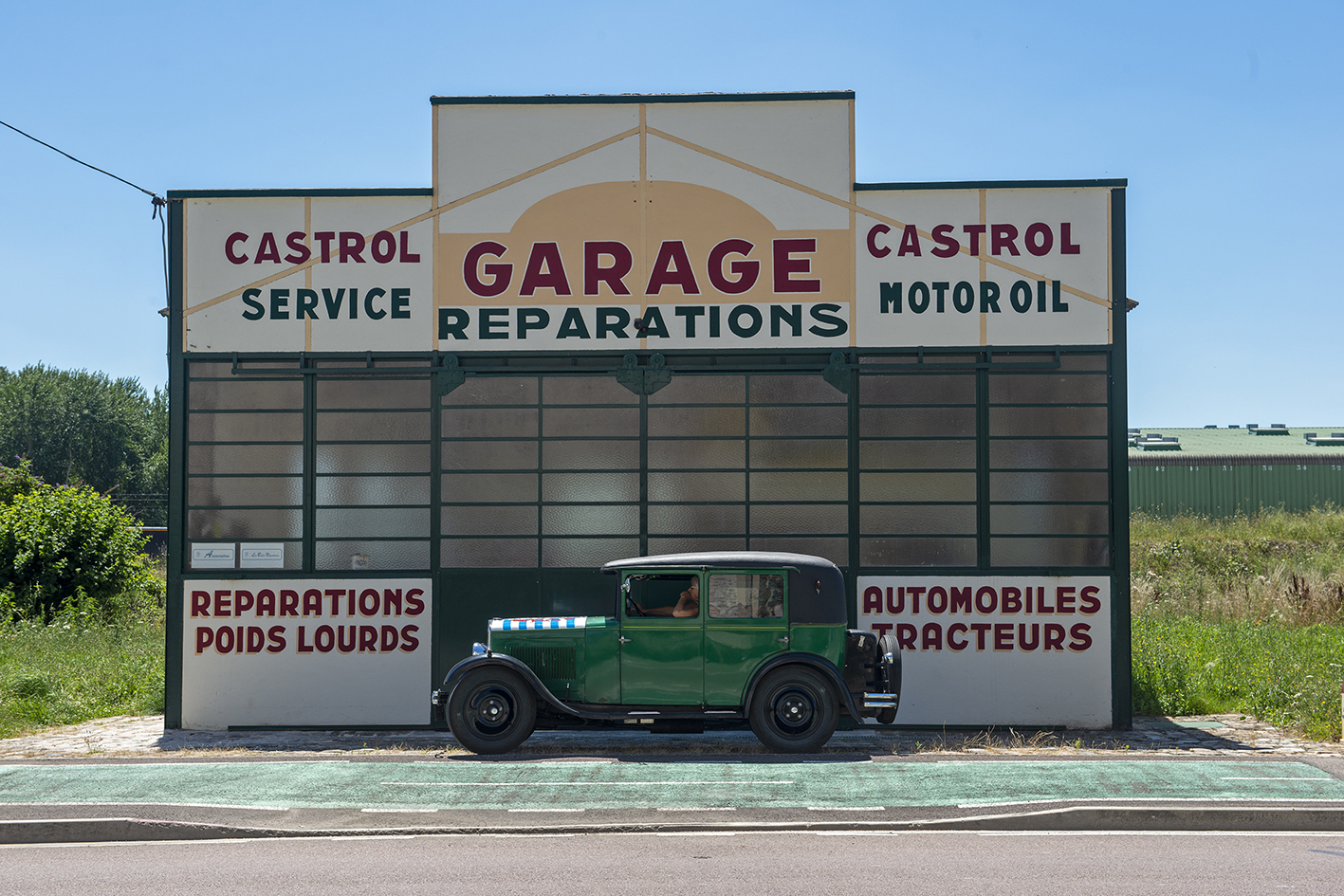 Sur la route vers le nord-est, avec les côtes parfois très raides en Champagne, nous nous faisons doubler constamment par de gros camions. À un moment donné, un camion qui nous doublait se fait en même temps doubler par un fou du volant, alors qu'un autre camion venait d'en face… Quatre véhicules sur une deux-voies ! Notre camion, chargé lourdement de rouleaux d'acier béton, se rabat alors violemment sur la droite, risquant de nous écraser. J'ai le réflexe de me rabattre à mon tour sur le bas-côté. On échappe de justesse à un accident qui aurait pu nous coûter la vie… N'étant pas croyant, je ne suis pas allé placer en ex-voto une bougie d'allumage NGK dans la basilique Notre-Dame de L'Épine, mais nous nous y sommes quand même arrêtés, pour admirer l'ouvrage datant des 15-16èmes siècles. / On the road to the northeast, with the sometimes very steep slopes in Champagne, we are constantly overtaken by large trucks. At one point, a truck that was overtaking us was overtaken at the same time by a crazy driver, while another truck was coming from the opposite side… Four vehicles on a two-lane road! Our truck, heavily loaded with rolls of concrete steel, then swerves violently to the right, risking to crush us. I have the reflex to fall back in my turn on the side. We narrowly escaped an accident that could have cost us our lives… Not being a believer, I did not go and place as an ex-voto an NGK spark plug in the Notre-Dame de L'Épine basilica, but we we stopped there anyway, to admire the building dating from the 15-16th centuries.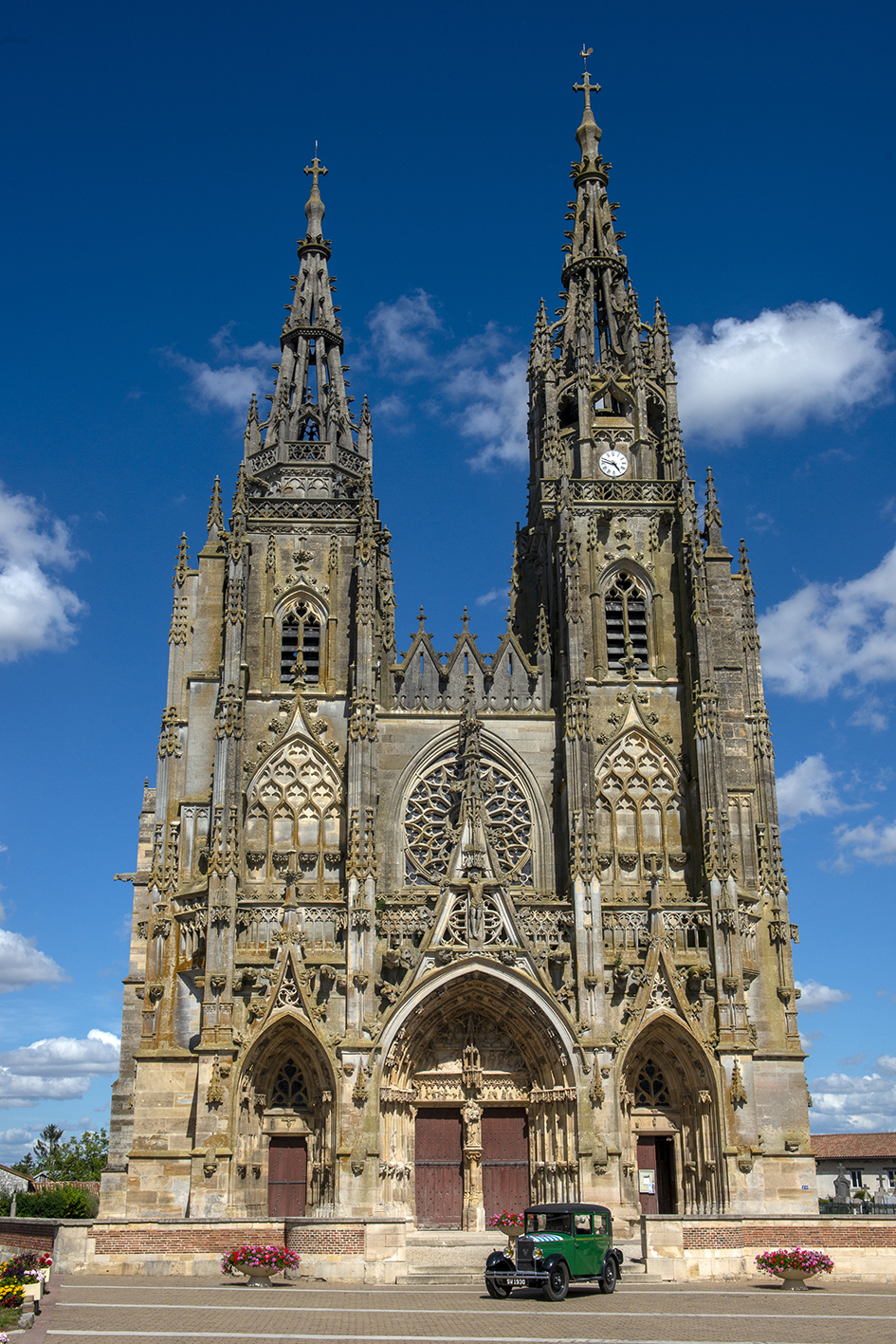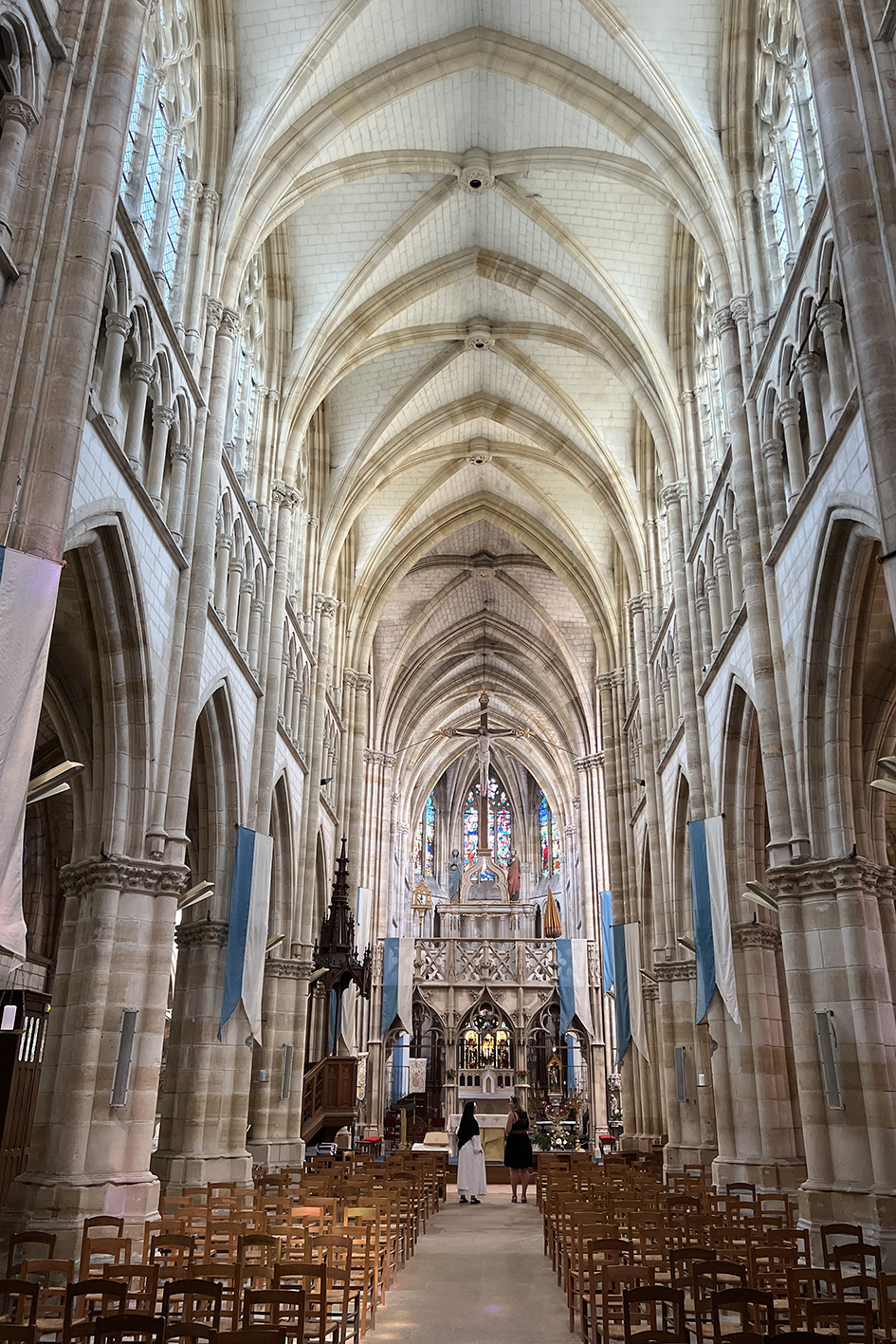 Dernier arrêt au moulin de Valmy, symbole de la bataille éponyme en 1792, qui a perdu ses ailes. Elles se sont écrasées subitement au sol, le 4 mai dernier, le même jour où « La Charmante » avait rendu l'âme en Hollande. En terminant son Tour du Monde, « La Petite » y avait fièrement posé en 2011. / Last stop at the Moulin de Valmy, symbol of the eponymous battle in 1792, which has lost its wings. They suddenly crashed to the ground on May 4, the same day "La Charmante" ceased functioning in Holland. By finishing her World Tour, "La Petite" proudly posed here in 2011.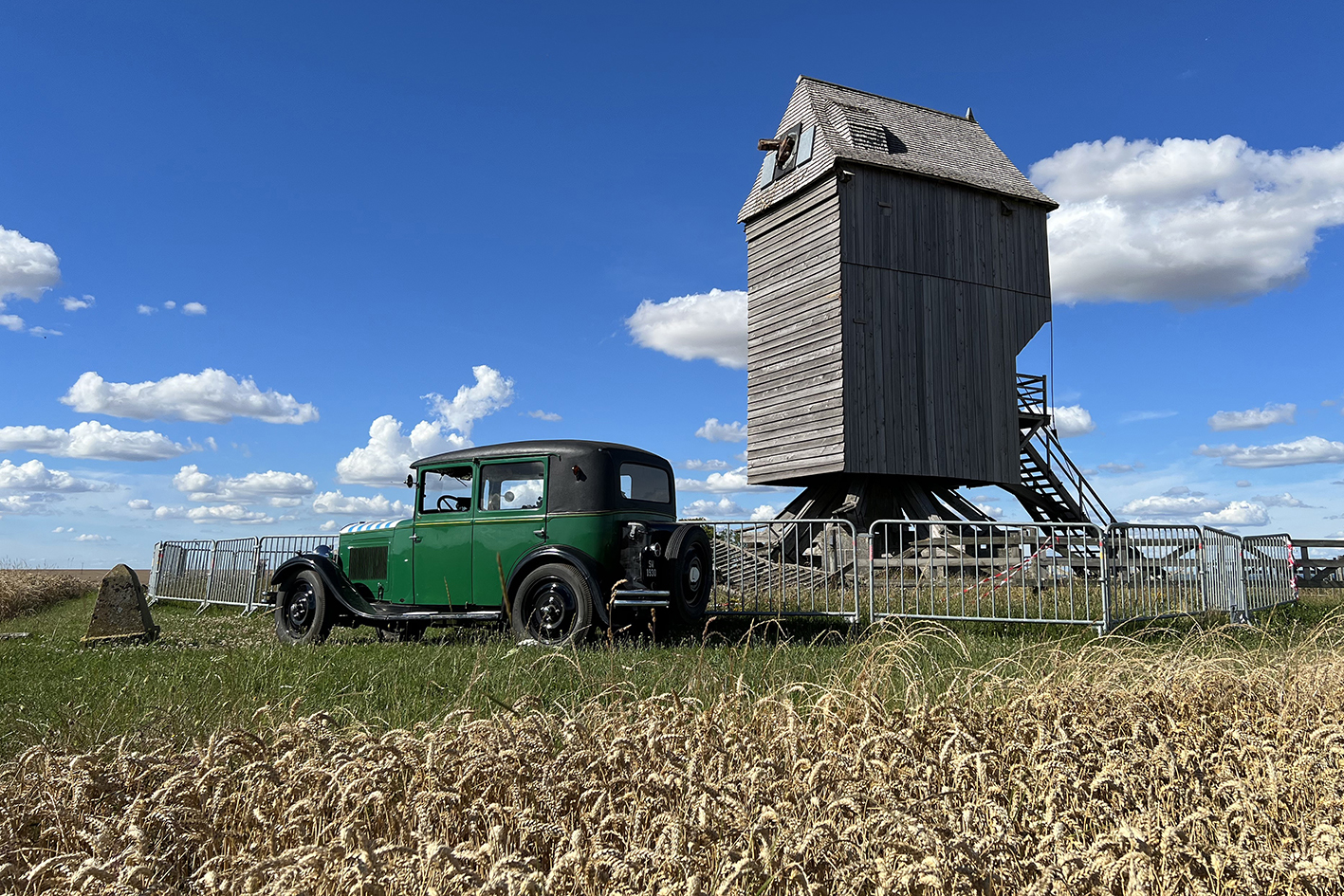 Nous trouvons un gite dans le hameau de Futeau, à l'est de Sainte-Ménehould. Repos bien mérité après cette longue journée au volant. Demain : retour à la maison ! / We find shelter in the hamlet of Futeau, east of Sainte-Ménehould. A well-deserved rest after a long day at the wheel. Tomorrow: back home!
10 juillet 2022.  Luché-Pringé – Pithiviers (227 km)

/ July 10, 2022. Luché-Pringé – Pithiviers (227 km)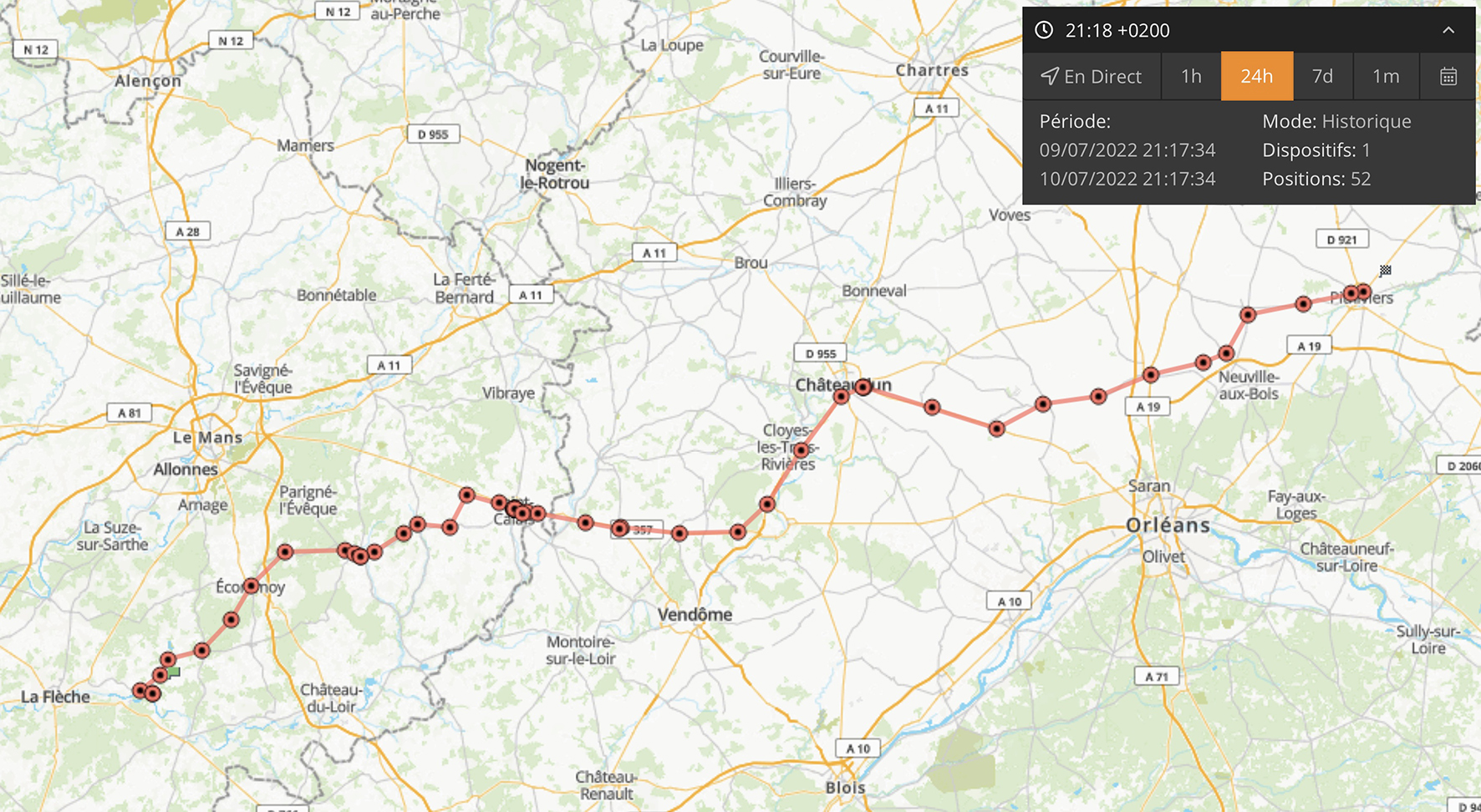 « La Charmante » démarre au quart de tour ! Il semble bien que la bobine, défectueuse avant d'exploser, était à l'origine de nos misères de démarrage. Cela fait près de 6.000 km maintenant que nous sommes en route, épaule contre épaule, très unis dans ce voyage (malgré le voyageur clandestin entre nous deux). / The engine of "La Charmante" starts immediately! It seems that the coil, defective before exploding, was the source of our starting miseries. We have been on the road for almost 6,000 km now, shoulder to shoulder, very united in this journey (despite the stowaway between us).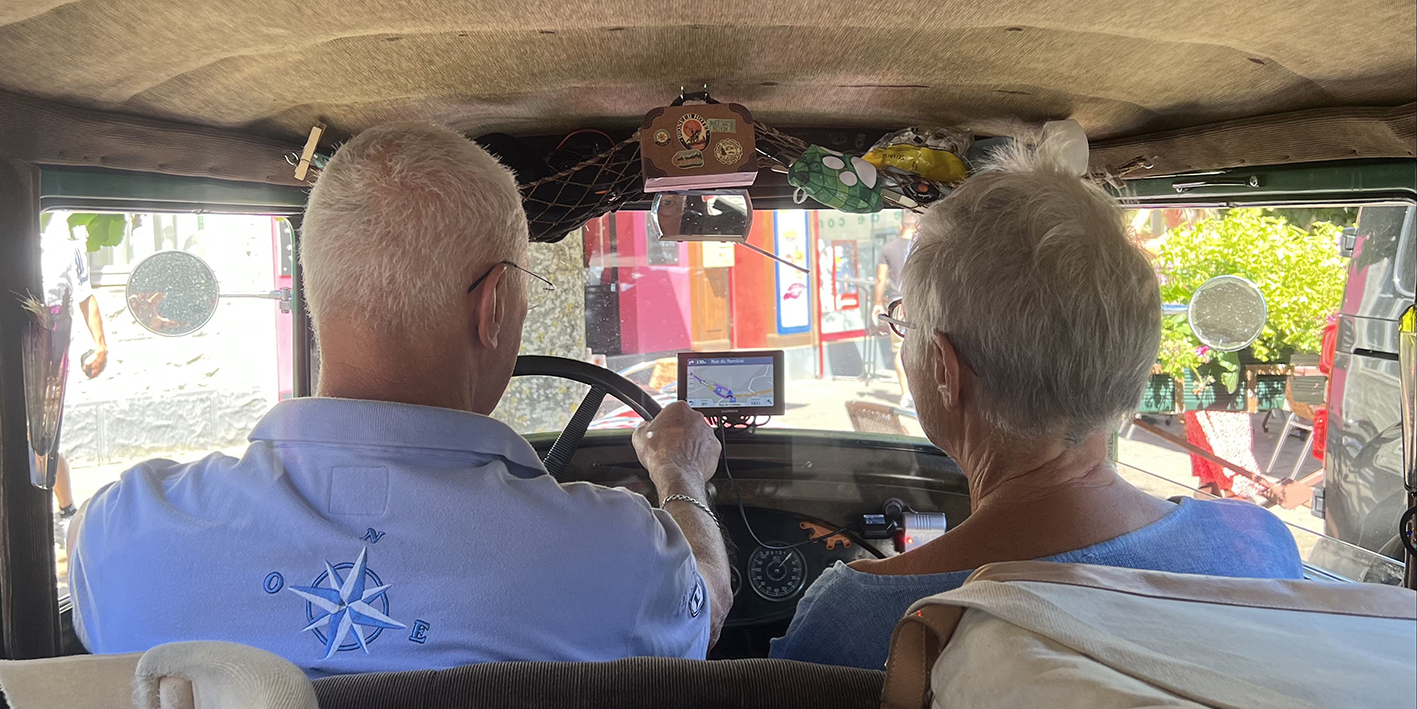 L'image précédente me rappelle une autre, prise par mon frère en 1953 : Papa au volant de la « Koedoe » (FIAT 509 de 1929), avec Maman à ses côtés. Moment d'émotion… / The previous image makes me remember another one, taken by my brother in 1953: Dad driving the « Koedoe », (a 1929 FIAT 509) with Mom at his side. Emotion…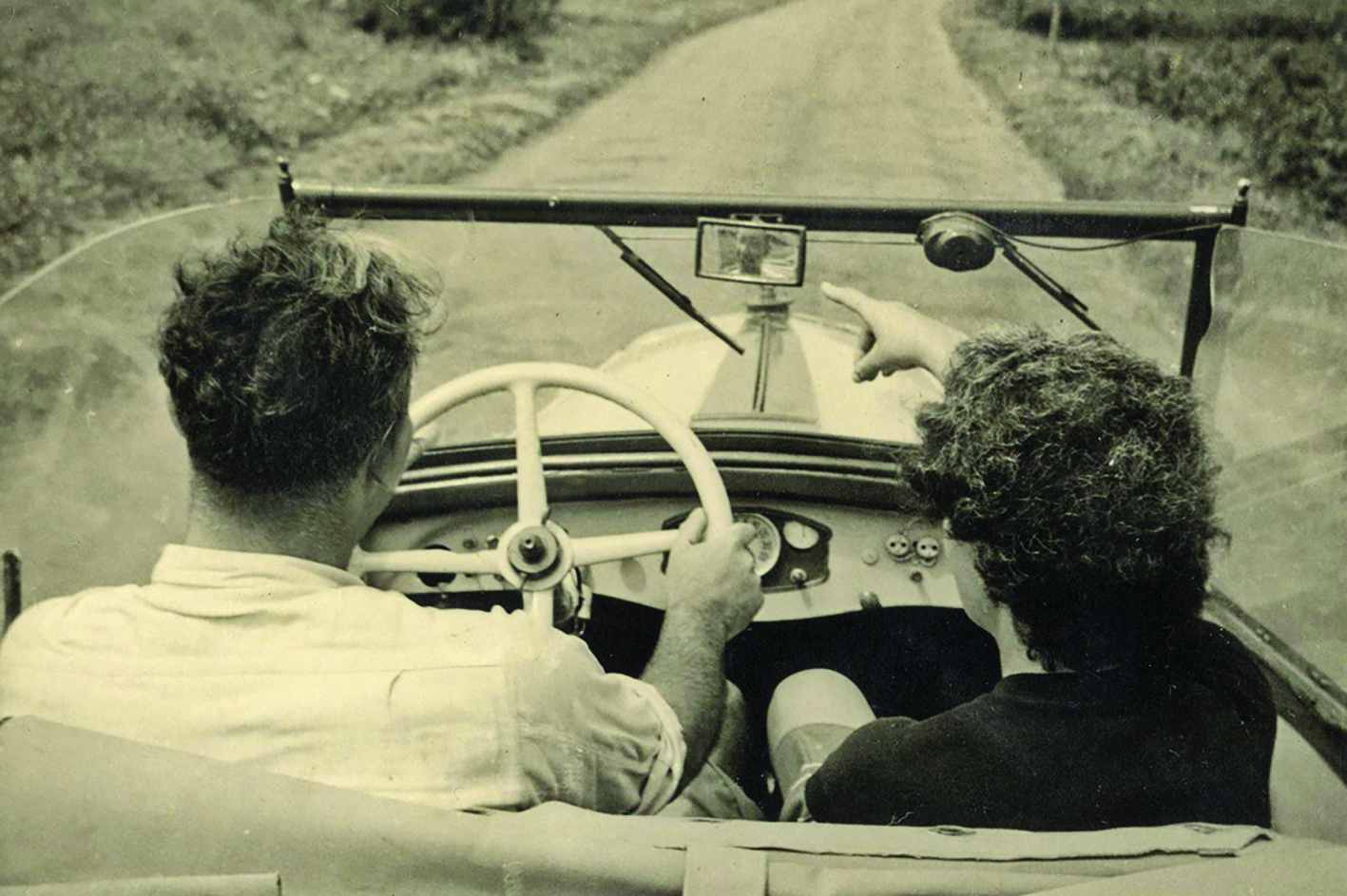 Nous traversons la Sarthe au sud du Mans. Nous ne sommes pas dans la vitesse, mais dans la distance. En 2010, l'Audi de Romain Dumas, Timo Bernhard et Mike Rockenfeller a parcouru 5.411 km en 24 heures, le record jusqu'à présent. Nous avons fait un peu plus de kilomètres, mais en 6 semaines de voyage… Et nous avons certainement plus profité du paysage et des rencontres qu'eux, en bouclant 397 fois le même circuit. Nous franchissons le Méridien Zéro, sujet en 2004 de mon tout premier reportage automobile avec ma 4CV. Nous arrivons au Grand Lucé. Ce n'est pas le Grand-Duché, mais les armoiries au lion se ressemblent drôlement ! / We cross the Sarthe south of Le Mans. Speed is not our thing, but distance is. In 2010, the Audi of Romain Dumas, Timo Bernhard and Mike Rockenfeller covered 5,411 km in 24 hours, the record so far. We did a little more kilometres, but in 6 weeks of travel… And we certainly enjoyed the landscape and the encounters more than them, speeding around the same circuit 397 times. We cross the Prime Meridian, subject in 2004 of my very first automotive report with my 4CV. We arrive at Grand Lucé. It's not the Grand Duchy, but the coat of arms with the lion looks very similar!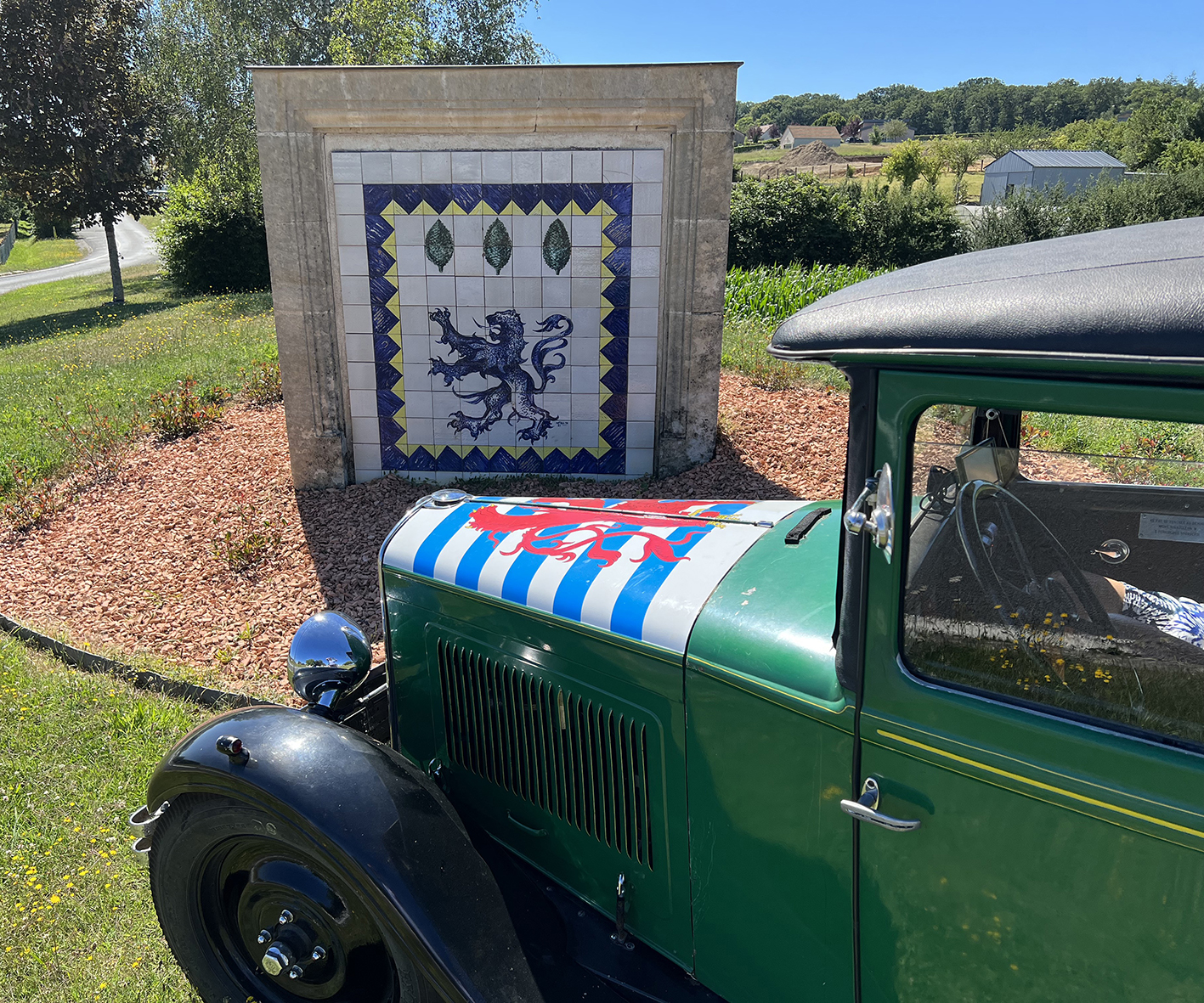 Notre réservoir est presque vide, et toujours pas de station-service en vue… Lorsque nous arrivons enfin à celle de Saint-Calais, capitale mondiale du chausson aux pommes, le moteur hoquette à 100 m de la pompe. Je fais le plein dans un réservoir quasi vide qui avale goulûment près de 27 litres de super 98 ! La halle aux grains de Saint-Calais est une merveille architecturale. / Our tank is almost empty, and still no service station in sight… When we finally arrive at that of Saint-Calais, the world capital of apple pie, the engine hiccups 100 m from the pump. I fill up an almost empty tank which greedily swallows nearly 27 liters of super 98! The grain hall of Saint-Calais is an architectural marvel.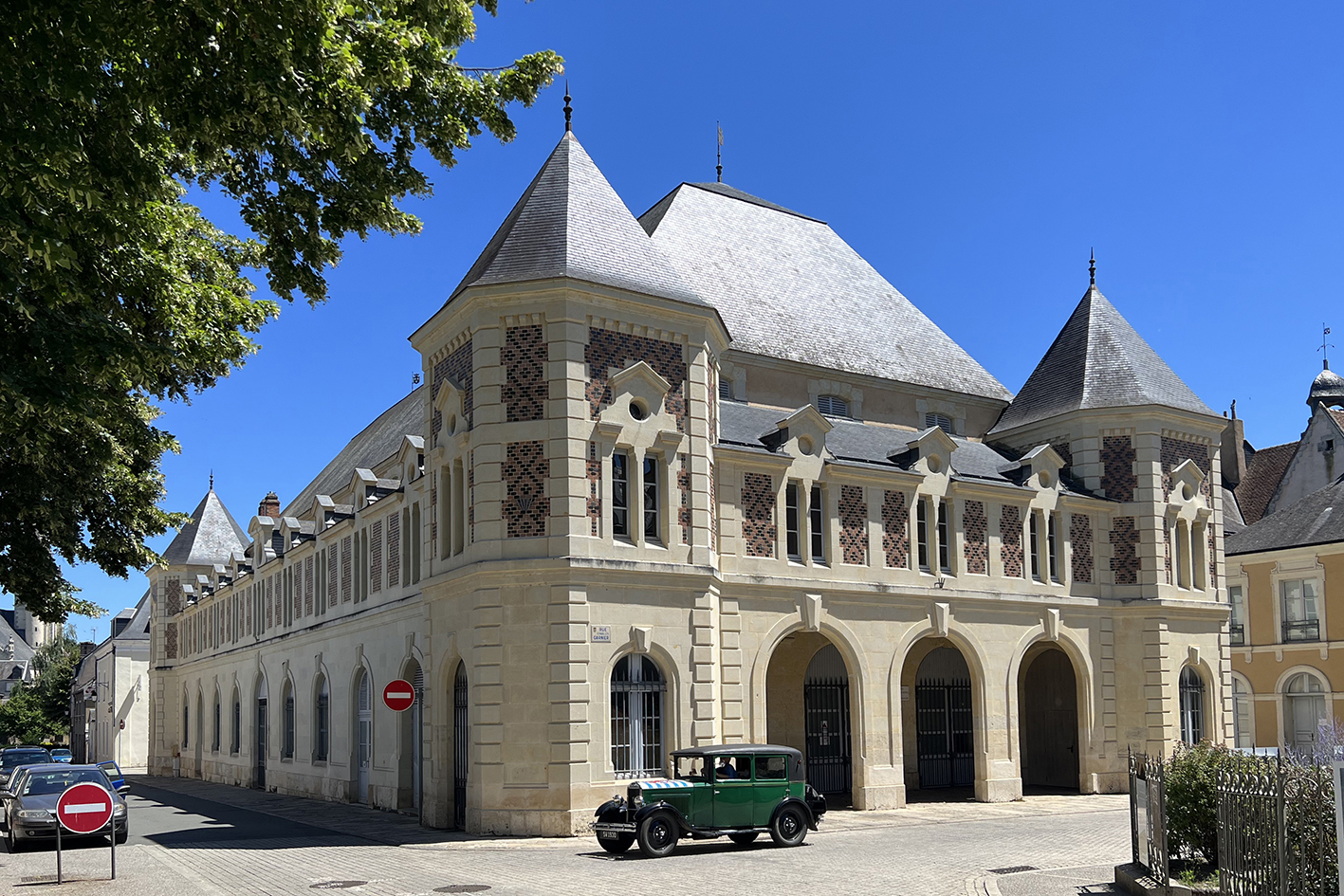 Pour nous il est également temps de faire le plein… Nous trouvons un restaurant ouvert, chose devenue rare dans une France frappée par le COVID et la crise économique. Nous y tombons sur une fête d'anniversaire, animée par un chanteur-accordéoniste au répertoire époustouflant. / For us it is also time to refuel… We find an open restaurant, something that has become rare in a France hit by COVID and the economic crisis. We come across a birthday party, animated by a singer-accordionist with a breathtaking repertoire.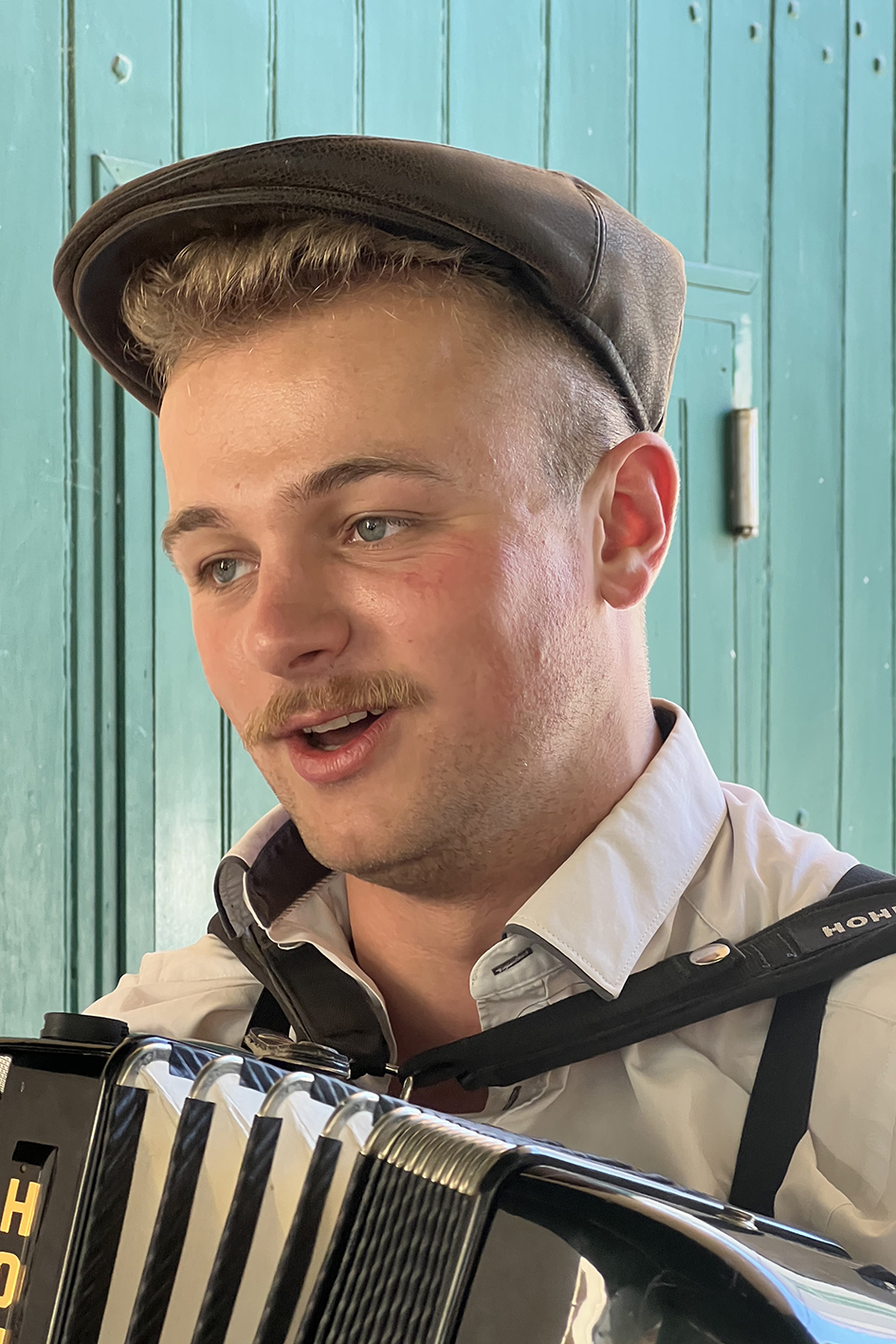 Julien accepte de poser avec « La Charmante ». Travaillé en sépia, cela donne une image d'un autre temps… plus heureux. / Julien agrees to pose with "La Charmante". Worked in sepia, it gives an image of another – happier – time…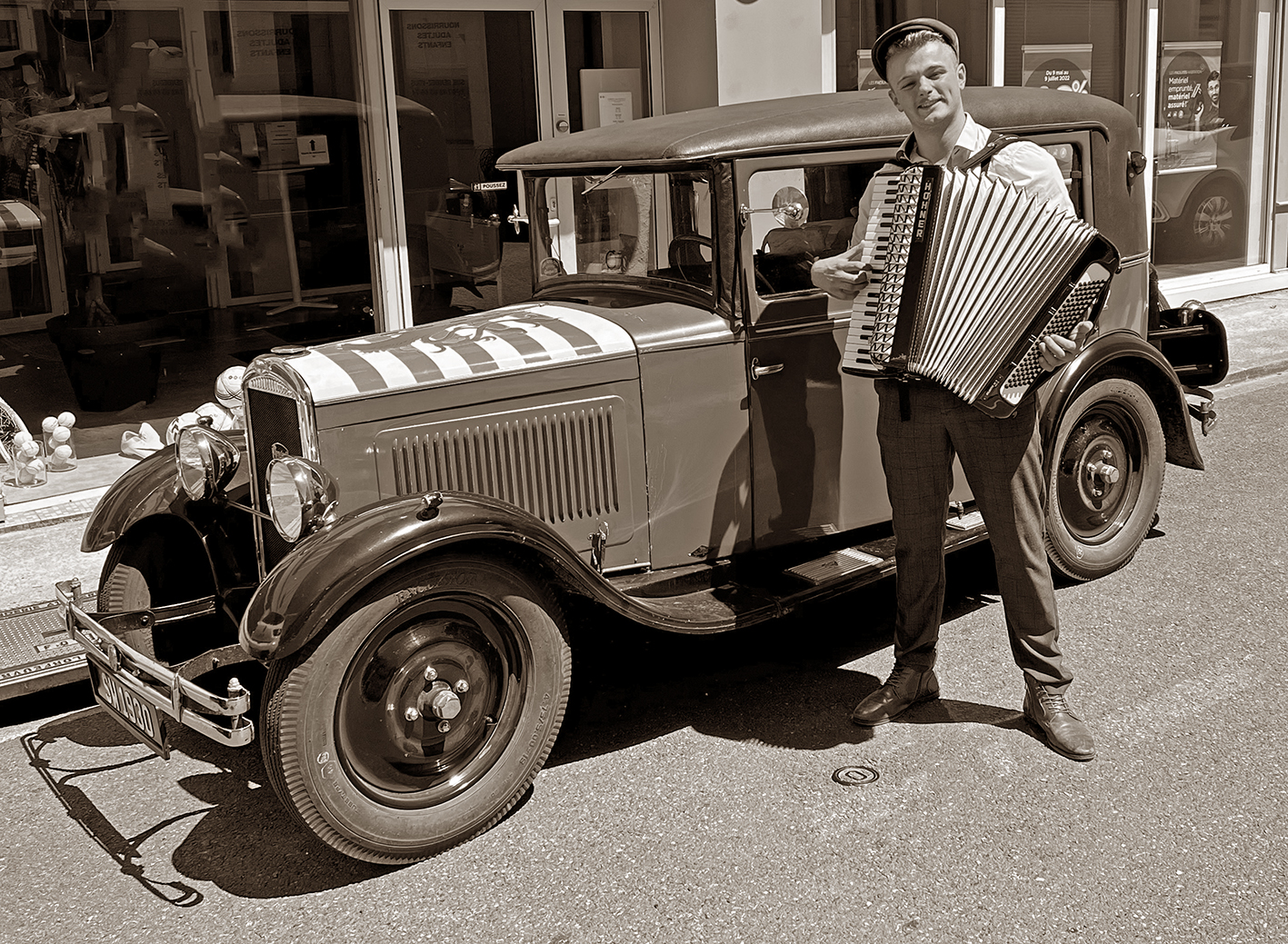 À Épuisay, nous découvrons cette étrange éolienne perchée sur le toit d'un bâtiment. Créée par l'ingénieur-constructeur-hydraulicien Lebert, cette éolienne a été installée en 1911. Elle alimentait en eau courante potable le village et desservait aussi son lavoir communal. Au sol, un réservoir d'une capacité de 200 mètres cubes garantissait l'alimentation en eau en cas d'absence de vent. Haute de 21 mètres, avec une turbine de 5 mètres de diamètre, elle a servi jusqu'en 1967. / In Épuisay, we discover this strange wind turbine perched on the roof of a building. Created by engineer-constructor-hydraulician Lebert, this wind turbine was installed in 1911. It supplied the village with drinking running water and also served its communal washing basin. On the ground floor, a reservoir with a capacity of 200 cubic meters guaranteed the water supply in the event of lack of wind. 21 meters high, with a turbine 5 meters in diameter, it served until 1967.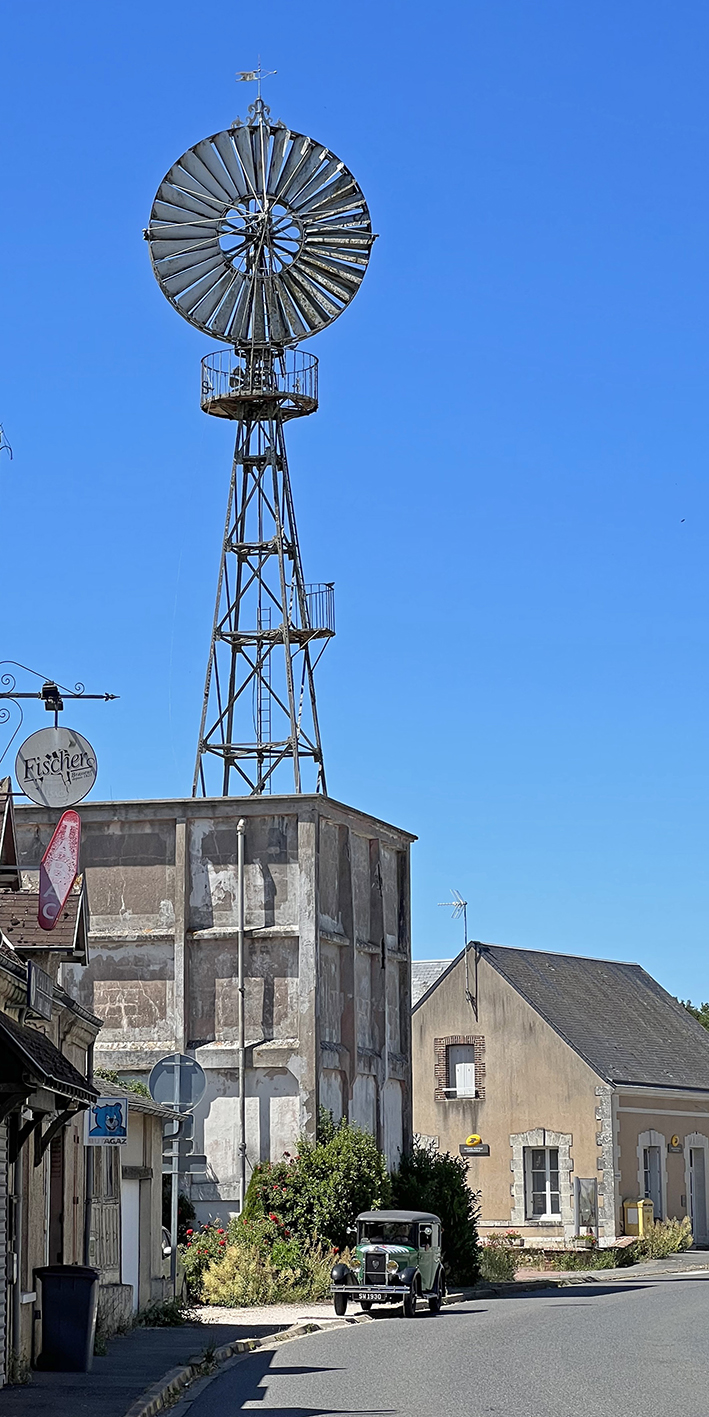 Près de Châteaudun, nous nous arrêtons à la Base Aérienne 279, qui exhibe un Mirage III près de la route. Je fais une première photo. Mais lorsque je gare « La Charmante » sur l'herbe près de l'avion, pour une meilleure image, une militaire accourt, m'ordonnant de déguerpir. Peu amène et pas du tout sous le charme de « La Charmante », elle applique le règlement à la lettre… On ne gagne pas à tous les coups ! / Near Châteaudun, we stop at Air Force Base 279, which exhibits a Mirage III near the road. I take a first photo. But when I park « La Charmante » on the grass near the plane, for a better image, a female soldier comes running, ordering me to get off. Unfriendly and not at all under the spell of « La Charmante », she applies the rules to the letter… One doesn't win every time!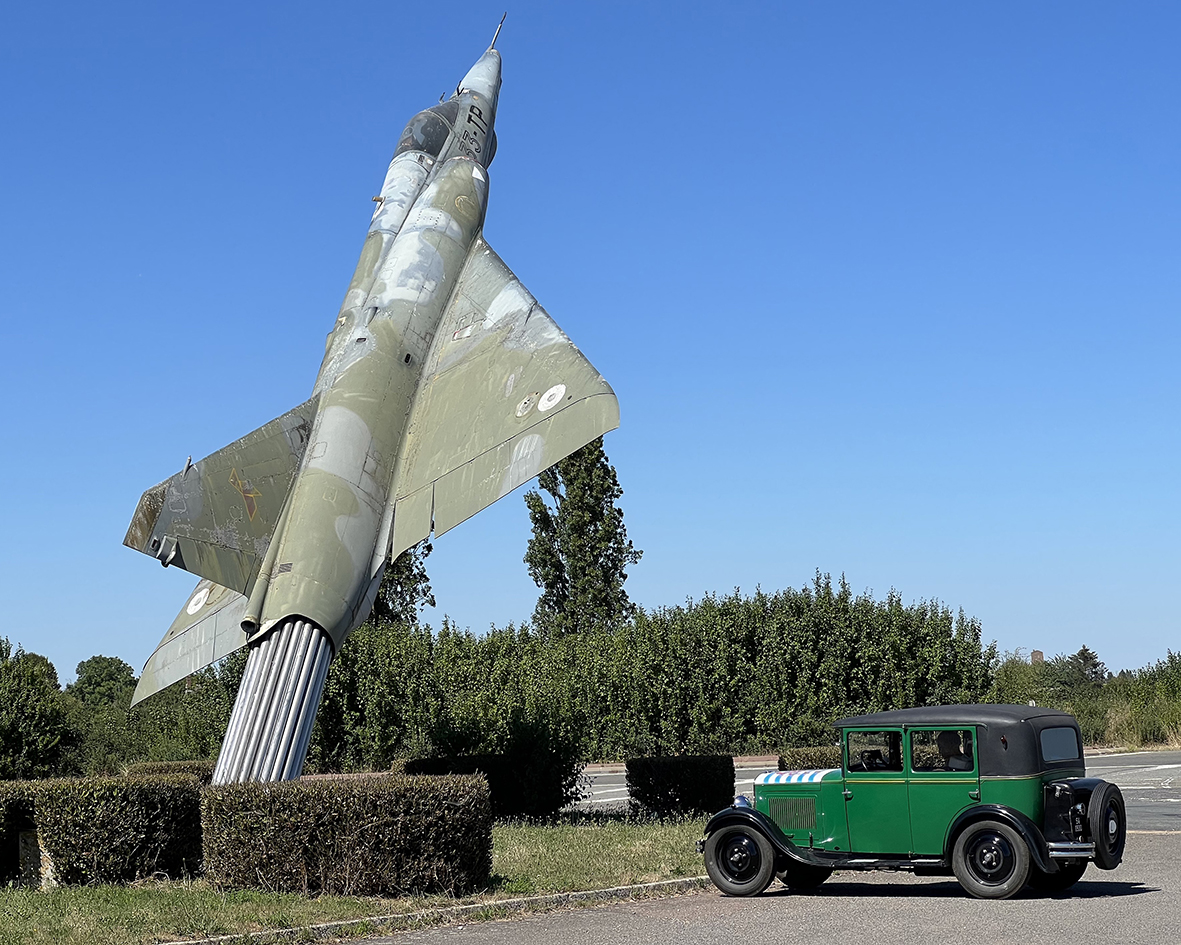 Cela fait deux jours maintenant que nous traversons une France ensoleillée où les récoltes battent leur plein. J'ai toujours été émerveillé par les récoltes de blé, symbole d'abondance (notre 'pain quotidien'). J'adore également l'odeur de la paille chauffée par le soleil. / We have been crossing a sunny France for two days now where the harvest is in full swing. I have always been charmed by wheat harvests, a symbol of abundance (our 'daily bread'). I also love the smell of straw heated by the sun.
Les rouleaux de paille recrachés par de gros monstres mécaniques sont certes très photogéniques. / The rolls of straw spit out by large mechanical monsters are certainly very photogenic.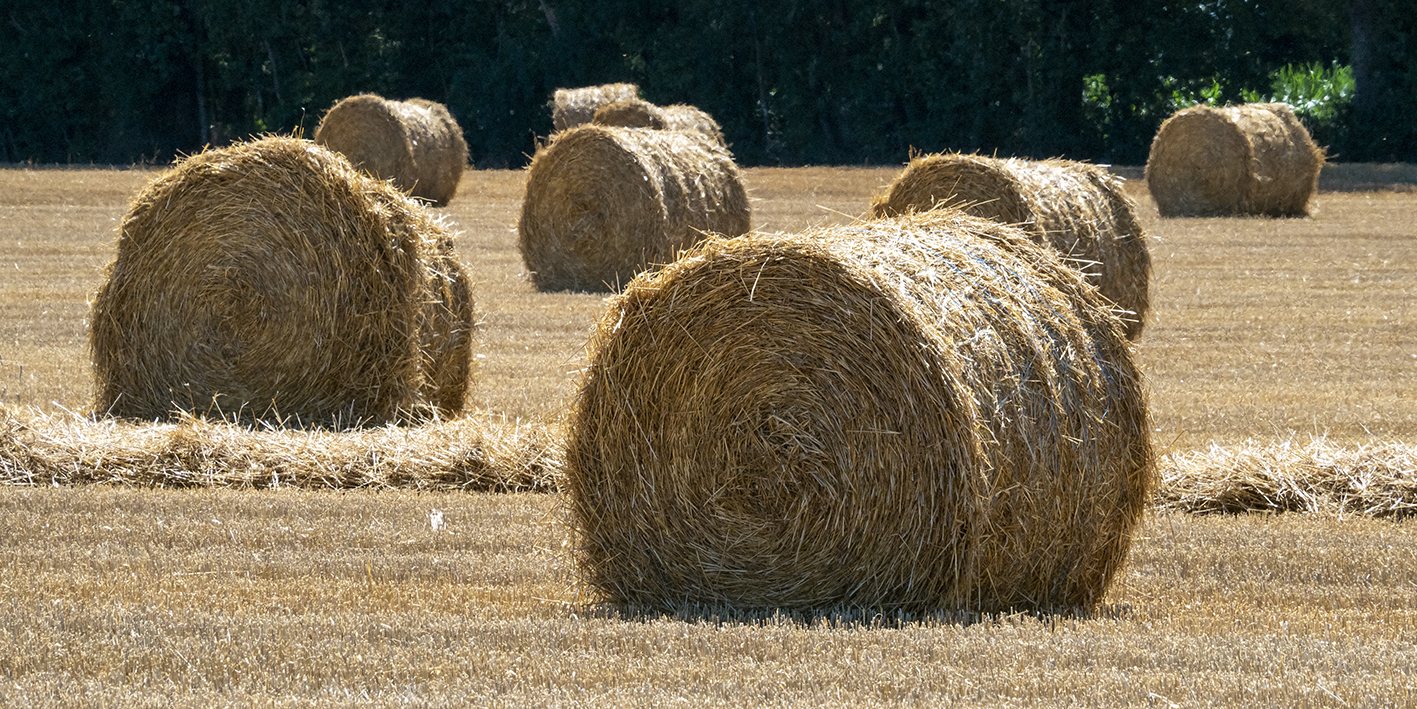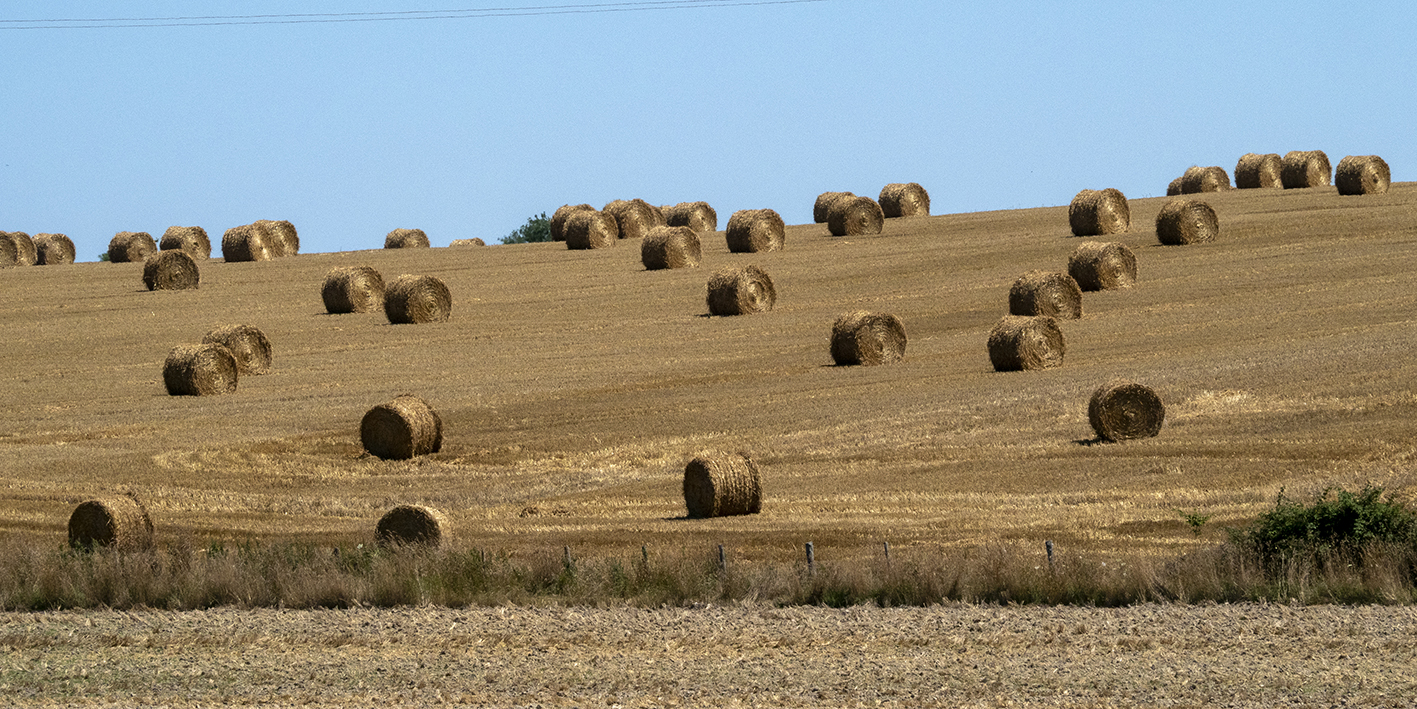 Il y en a même qui sont automatiquement emballés sous plastique. / Some are even automatically wrapped in plastic.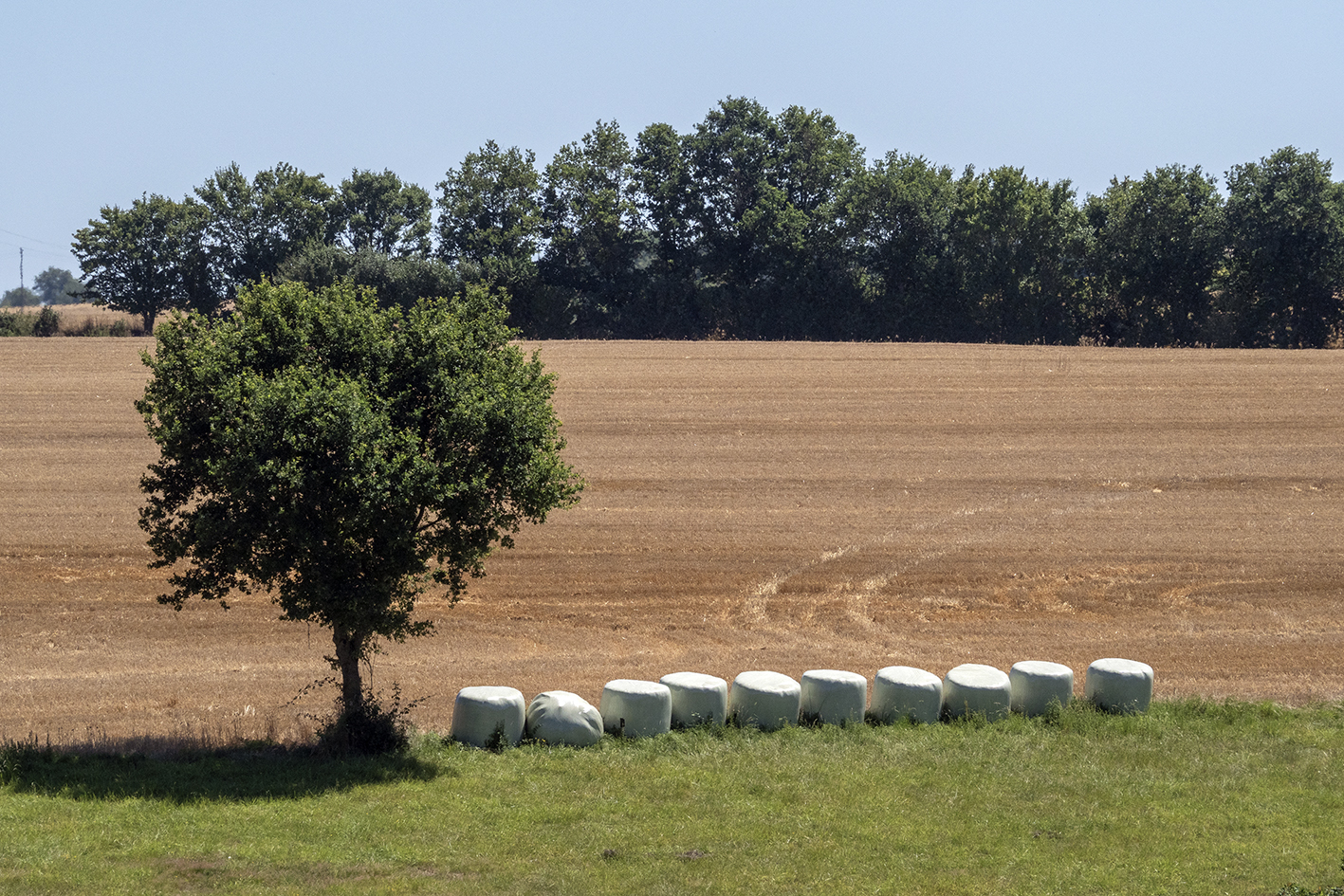 Mais où sont donc passées les gerbes de blé de mon enfance, ce blé fauché et glané à la main, comme dans ce tableau de Vincent van Gogh ? / But where have the sheaves of wheat from my childhood gone, this wheat mown and gleaned by hand, as in this painting by Vincent van Gogh?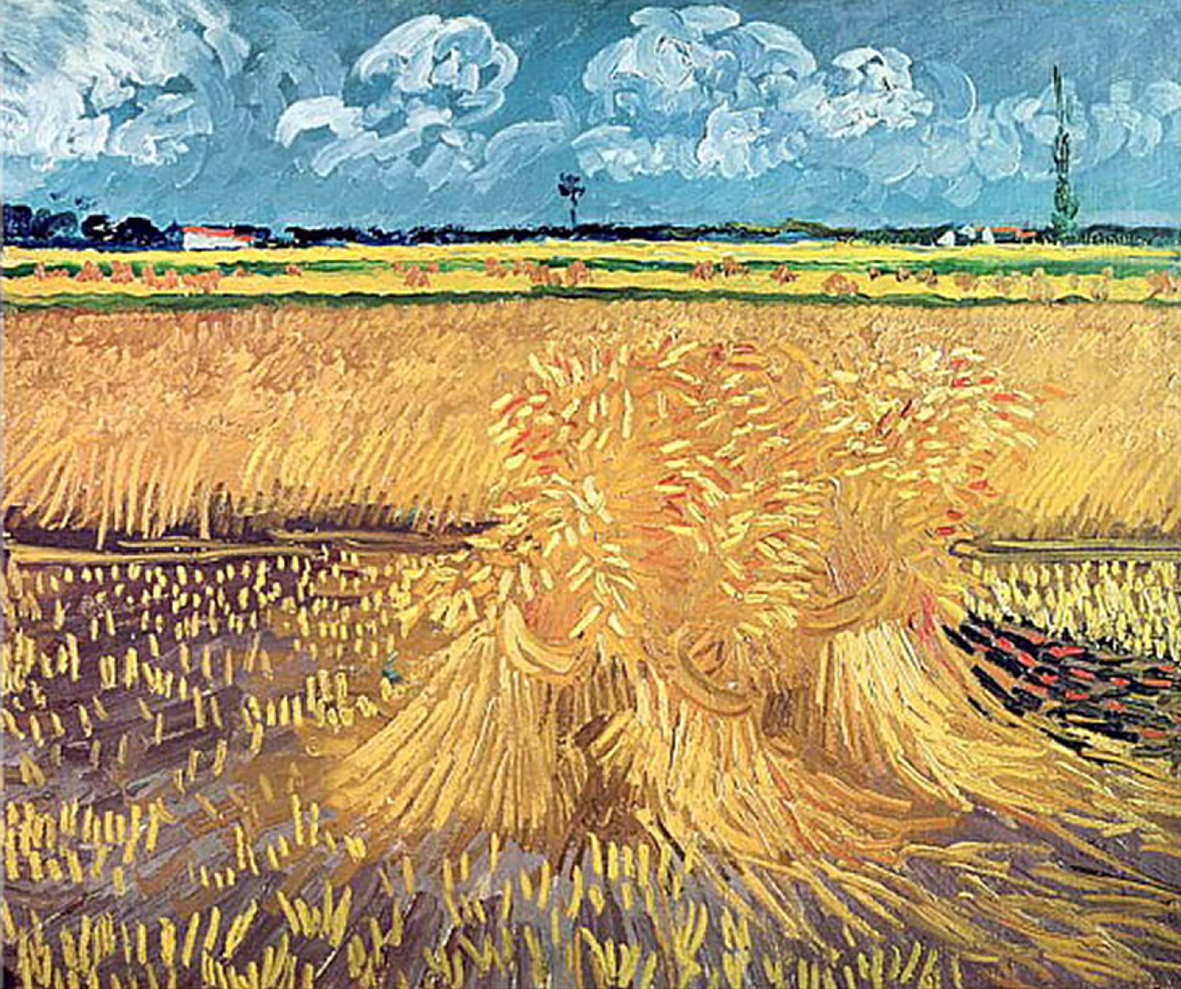 Je sens que je deviens vieux et nostalgique. Heureusement que dans la France profonde, comme ici à Aschères-le-Marché en pleine Beauce, on peut encore tomber sur des images paisibles comme celle-ci. / I feel that I am getting old and nostalgic. Fortunately, in rural France, like here in Aschères-le-Marché in the heart of Beauce, we can still come across peaceful images like this.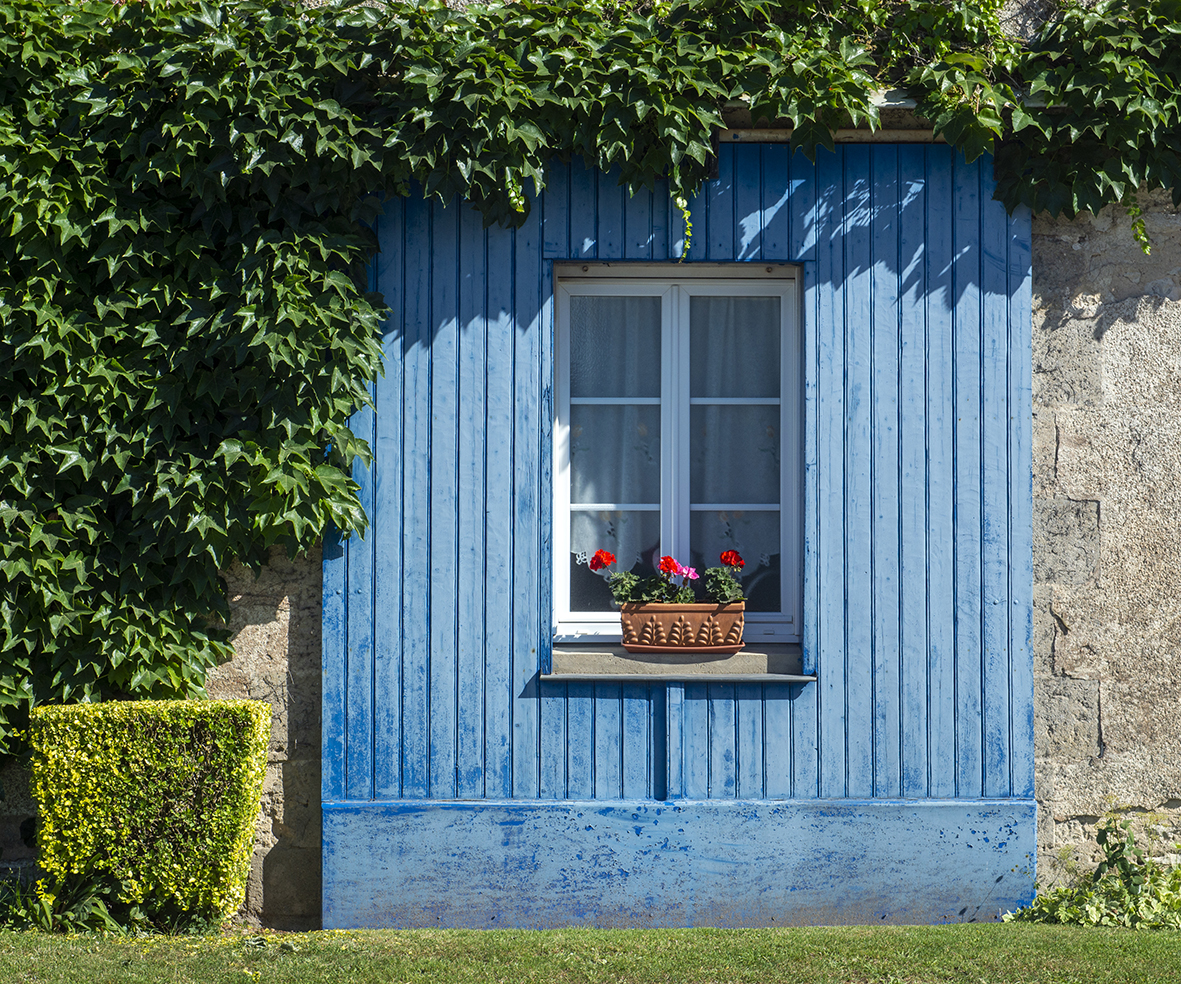 Nous nous arrêtons à Pithiviers. Cela fait deux jours que nous bouclons plus de 220 km quotidiens. « La Charmante » roule à merveille. Je profite de notre arrêt pour installer une nouvelle bobine de rechange sur le moteur. Et pour vous écrire ce blog. / We stop at Pithiviers. It's been two days now that we cover more than 220 km daily. "La Charmante" drives wonderfully. I take advantage of our stop to install a new spare coil on the engine. And to write you this blog.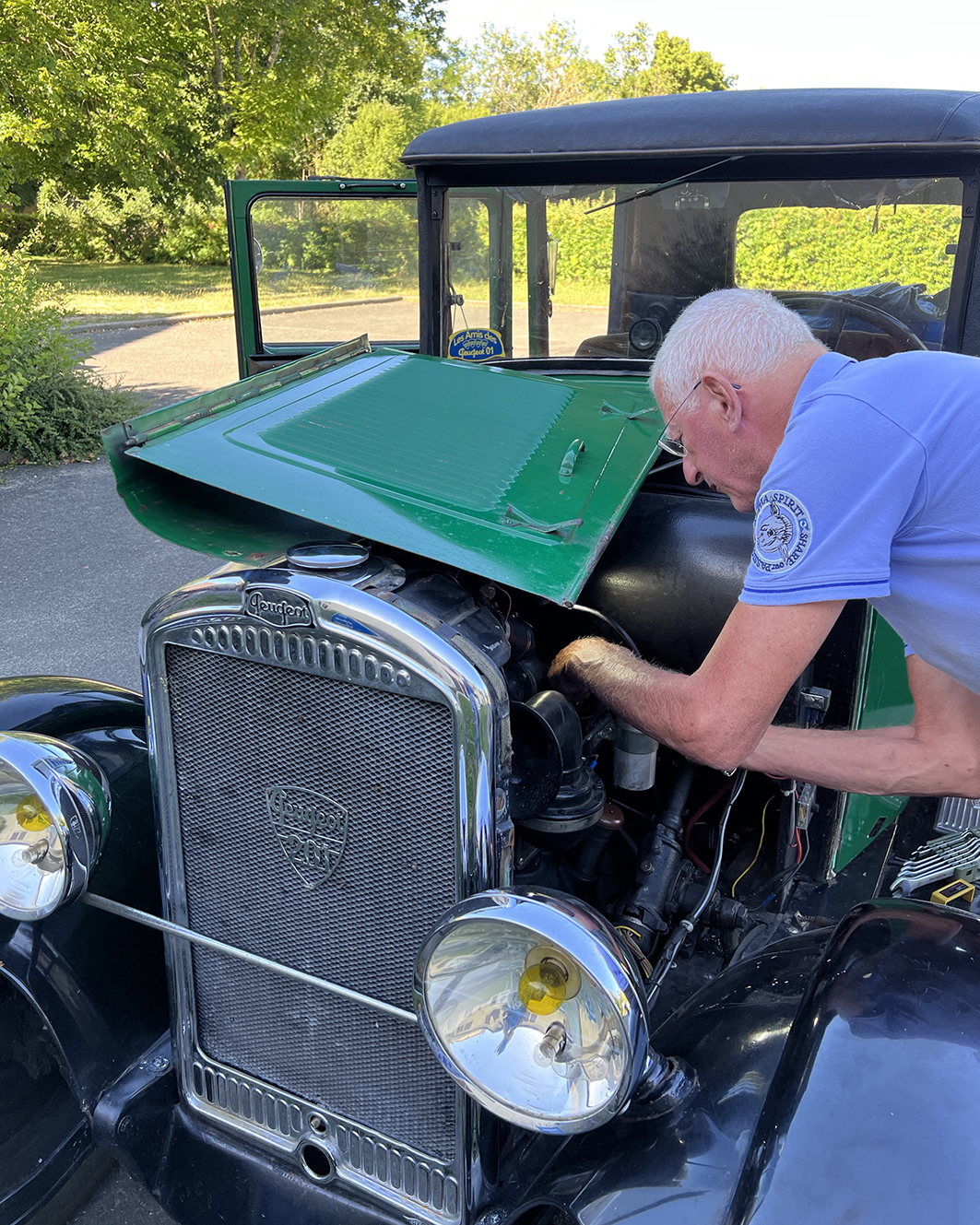 (Photo : Marie-Xavier Lassauzet)
8-9 juillet 2022. Saint-Nazaire – La Baule – Luché-Pringé (228 km)

/ July 8-9, 2022. Saint-Nazaire – La Baule – Luché-Pringé (228 km)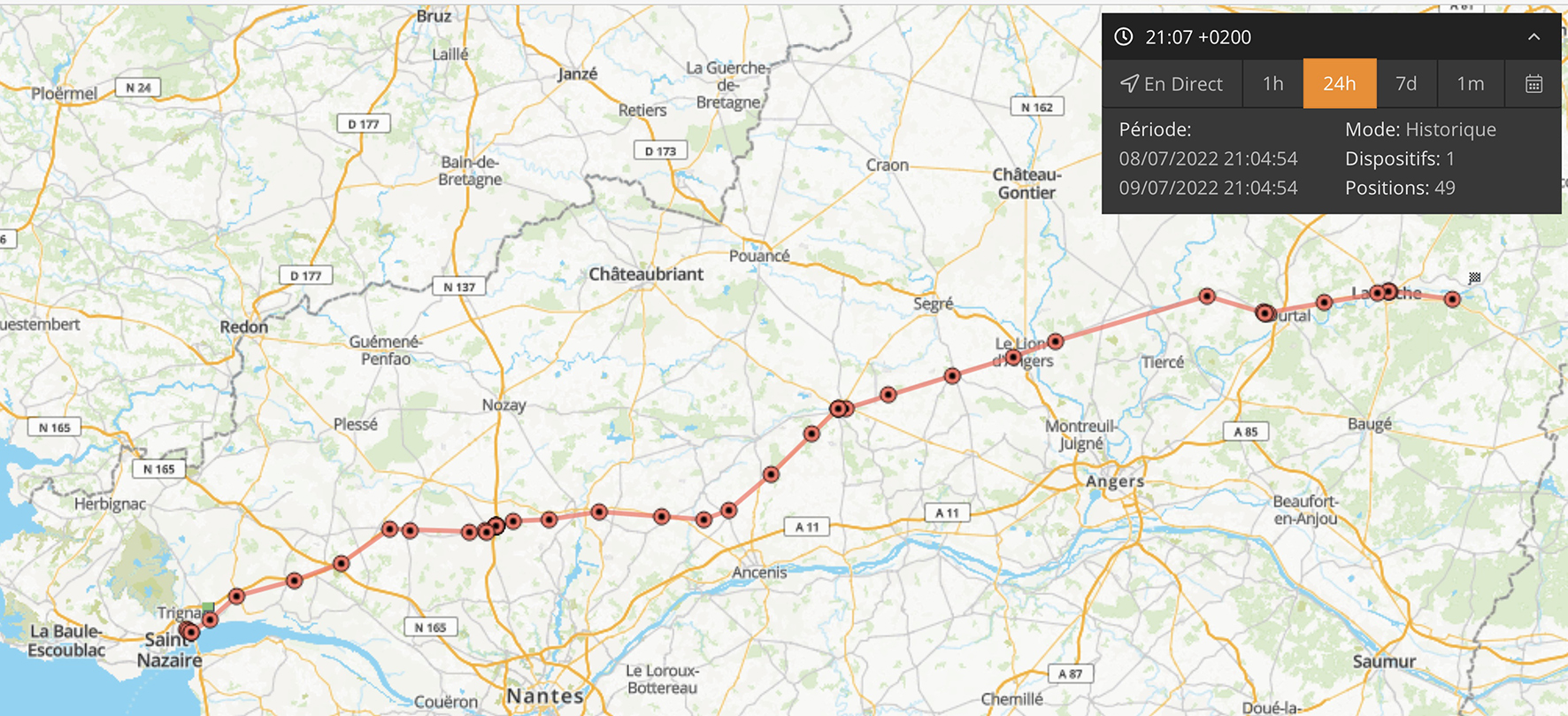 Une fois arrivés à notre destination finale, l'embouchure de la Loire, il est temps de parler de notre passager clandestin, qui nous a accompagné pendant 5435 km le long du Rhin, du Rhône et de la Loire. On ne le voyait pas, enfermé dans sa petite valise accrochée au plafond de « La Charmante ». Nous la décrochons, et, pour l'occasion, sortons également le beau bouchon de radiateur. Quand nous ouvrons la valisette, notre petit passager clandestin est encore endormi. Il est vrai que l'on s'ennuie, tout seul dans le noir, pendant des semaines entières… Mais le voilà réveillé ! Il met son chapeau et contemple l'Atlantique. « Je rêvais de       voir l'océan, nous dit-il, mais je préfère quand même rentrer avec vous. » La petite valise retrouve dès lors sa place dans l'habitacle de la 201. / Once arrived at our final destination, the mouth of the Loire, it is time to talk about our stowaway, who accompanied us for 5435 km along the Rhine, the Rhône and the Loire. We couldn't see him, locked in his little suitcase hanging from the ceiling of « La Charmante ». We unhook it, and, for the occasion, also take out the beautiful radiator cap. When we open the suitcase, our little stowaway is still asleep. It is true that one gets bored, all alone in the dark, for weeks in a row… But here he is, awake! He puts on his hat and contemplates the Atlantic. "I dreamed of seeing the ocean, he tells us, but I still prefer to return home with you. The small suitcase therefore finds its place again in the passenger compartment of the 201.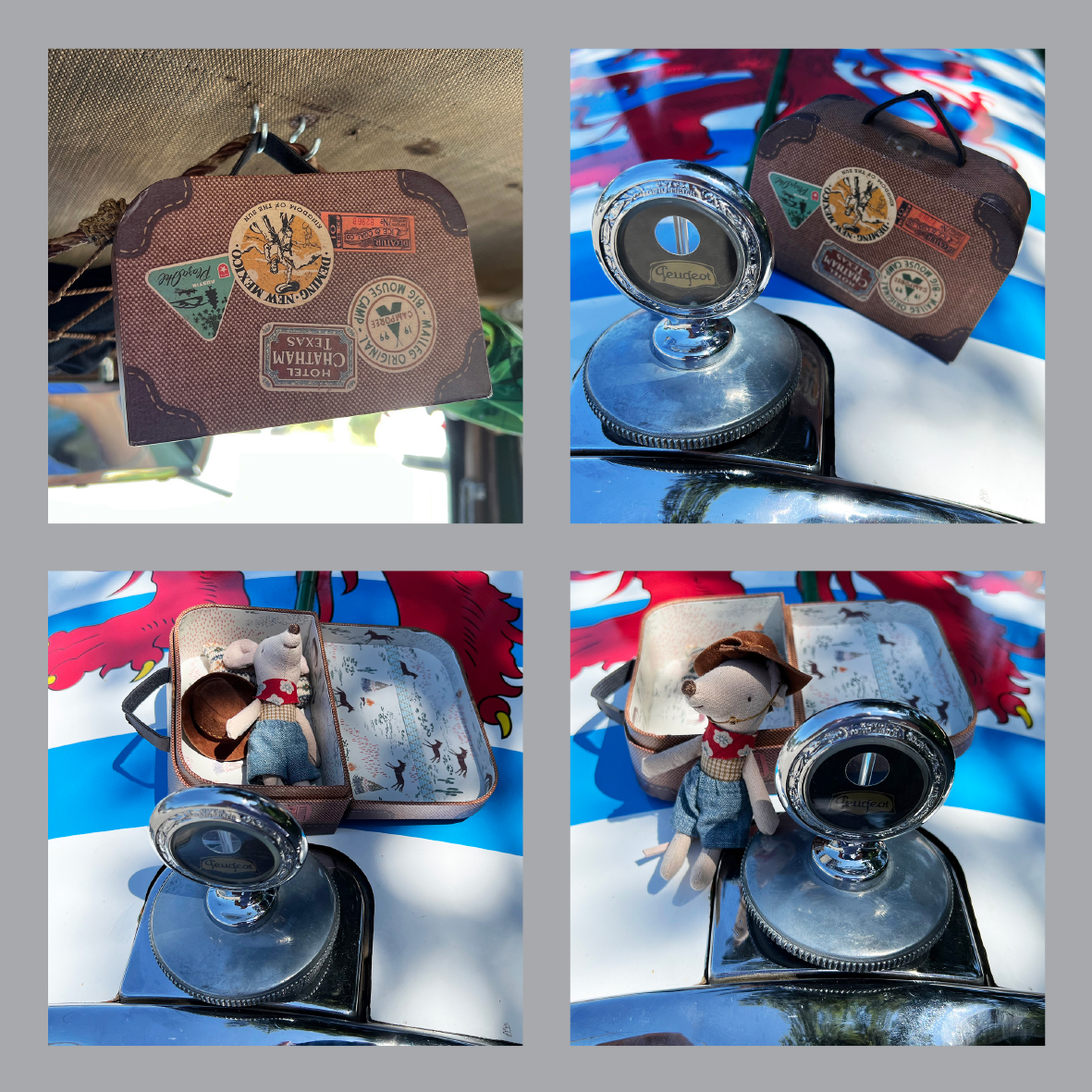 Patrick nous a réservé une chambre à La Baule, où il habite pendant l'été. Il a une chouette maison où nous prenons nos repas ensemble. Il nous raconte des histoires, je lui en raconte à mon tour. Pendant que lui et Marie-Xavier s'affairent dans la cuisine, j'écris le blog sur Nantes. L'après-midi, alors que Marie-Xavier profite de la plage, Patrick et moi nous nous rendons à Saint-Nazaire où nos deux 201 dorment dans son garage. Nous avons rendez-vous avec son ami Stéphane, mécanicien aguerri, pour tenter de solutionner le problème du démarrage. Après plusieurs tests, écartant une hypothèse après l'autre, Stéphane rend son verdict : « Démarreur fatigué, à réviser, voire remplacer ! » Dont acte. En attendant, j'ai fait la vidange et réglé les freins. Le lendemain, le moment est venu d'entamer notre retour au Luxembourg et de dire au-revoir à notre nouvel ami, avec lequel on a passé de très bons moments. Merci pour tout, Patrick ! / Patrick has reserved a room for us in La Baule, where he lives during the summer. He has a nice house where we have our meals together. He tells us stories, I tell him mine in turn. While he and Marie-Xavier are busy in the kitchen, I write the blog on Nantes. In the afternoon, while Marie-Xavier is enjoying the beach, Patrick and I go to Saint-Nazaire where our two 201s sleep in his garage. We have an appointment with his friend Stéphane, a seasoned mechanic, to try to solve the starting problem. After several tests, ruling out one hypothesis after another, Stéphane gives his verdict: "Tired starter, to be overhauled or even replaced!" So bet it. In the meantime, I did the oil change and adjusted the brakes. The next day, the time has come to start our return to Luxembourg and say goodbye to our new friend, with whom we had a great time. Thanks for everything Patrick!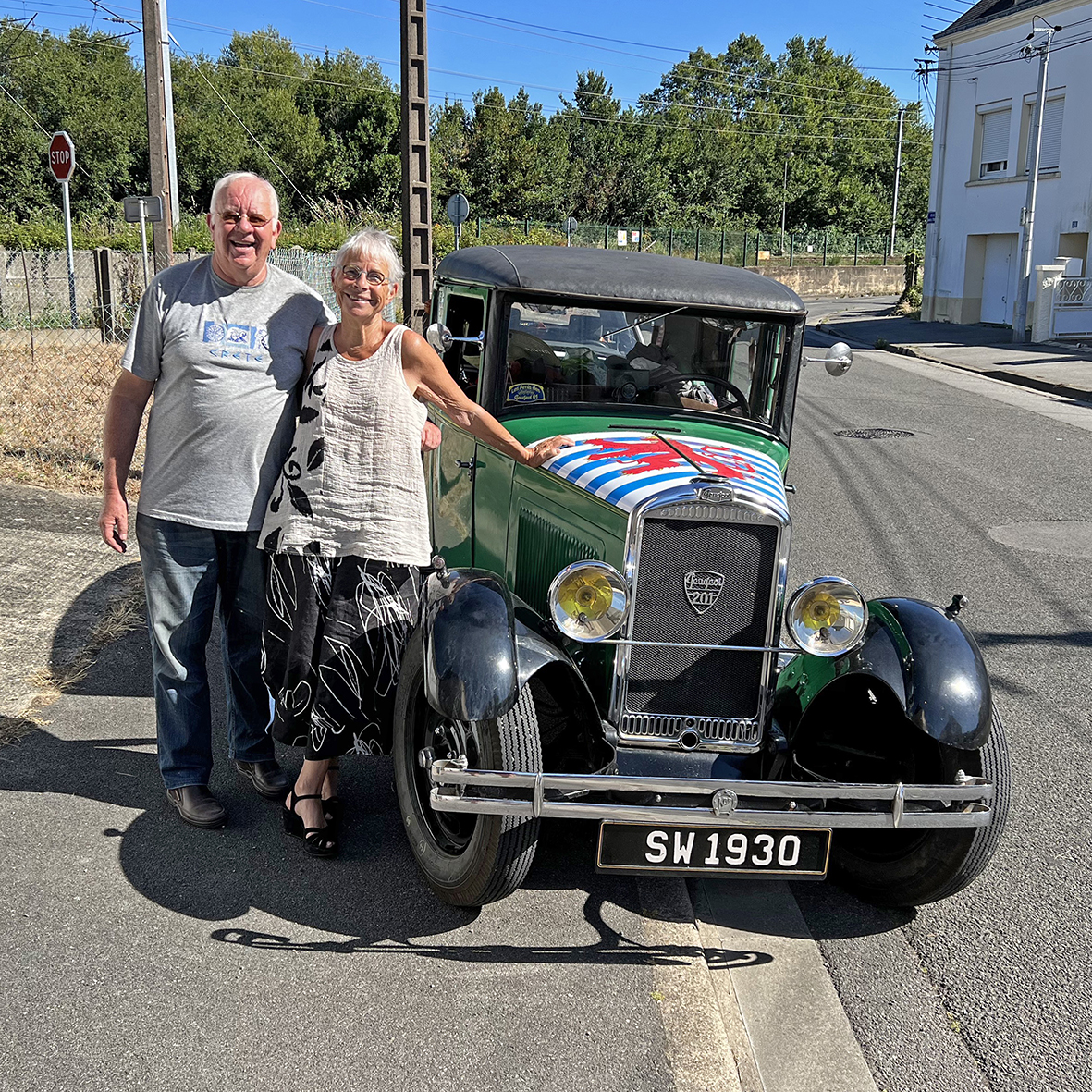 Nous passons une dernière fois devant le très grand portique des chantiers navals, le plus puissant d'Europe avec sa capacité de levage de 12.000 tonnes. / We pass one last time in front of the very large shipyard gantry crane, the most powerful in Europe with its lifting capacity of 12,000 tonnes.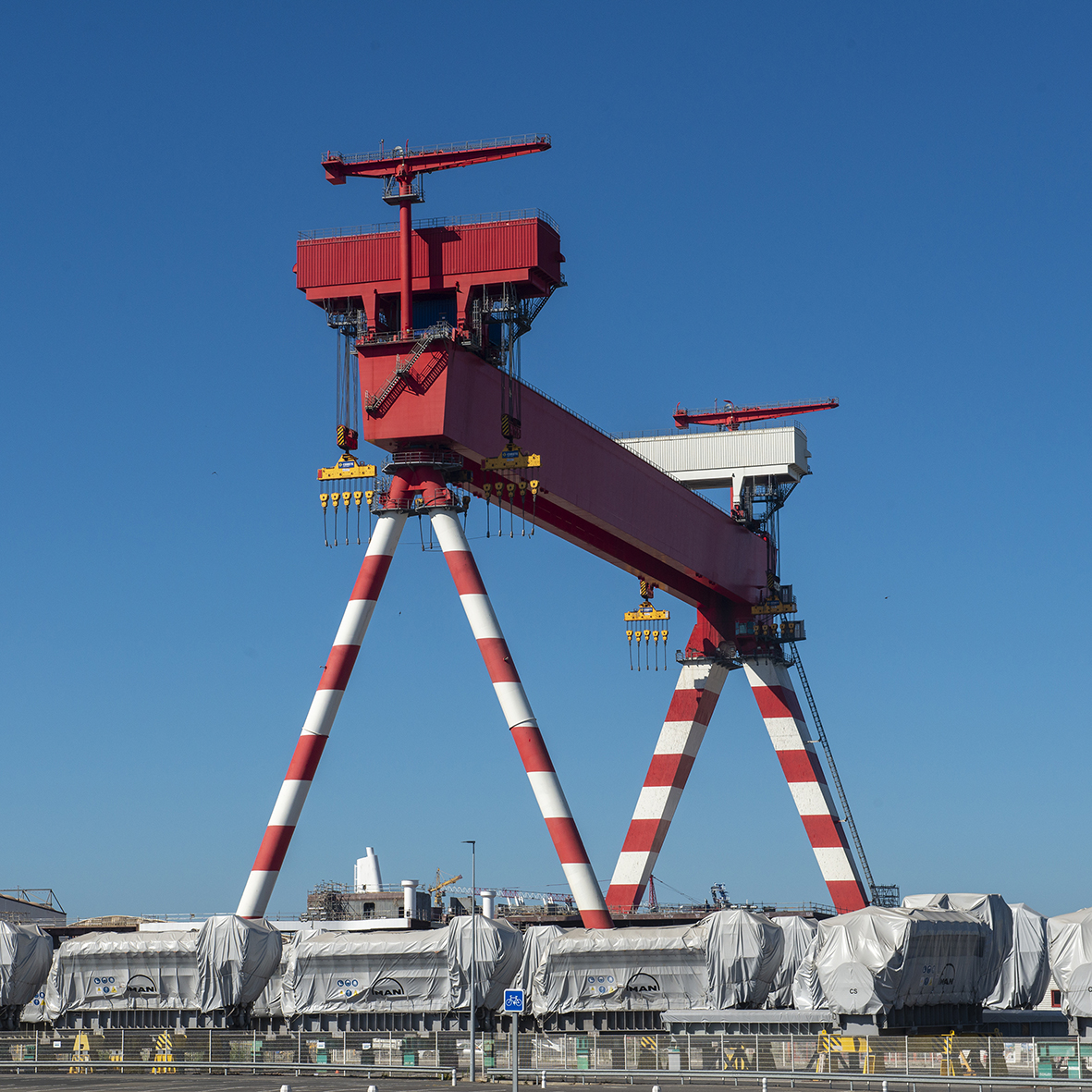 Nous faisons également nos adieux à l'impressionnant Pont de Saint-Nazaire qui enjambe l'estuaire de la Loire où elle rencontre l'Atlantique. L'ensemble des ouvrages, avec les viaducs d'accès, représente une longueur totale de 3 356 m, ce qui en fait le plus long pont de France. / We also bid farewell to the impressive Pont de Saint-Nazaire which spans the Loire estuary where it meets the Atlantic. All the works, with the access viaducts, represent a total length of 3,356 m, which makes it the longest bridge in France.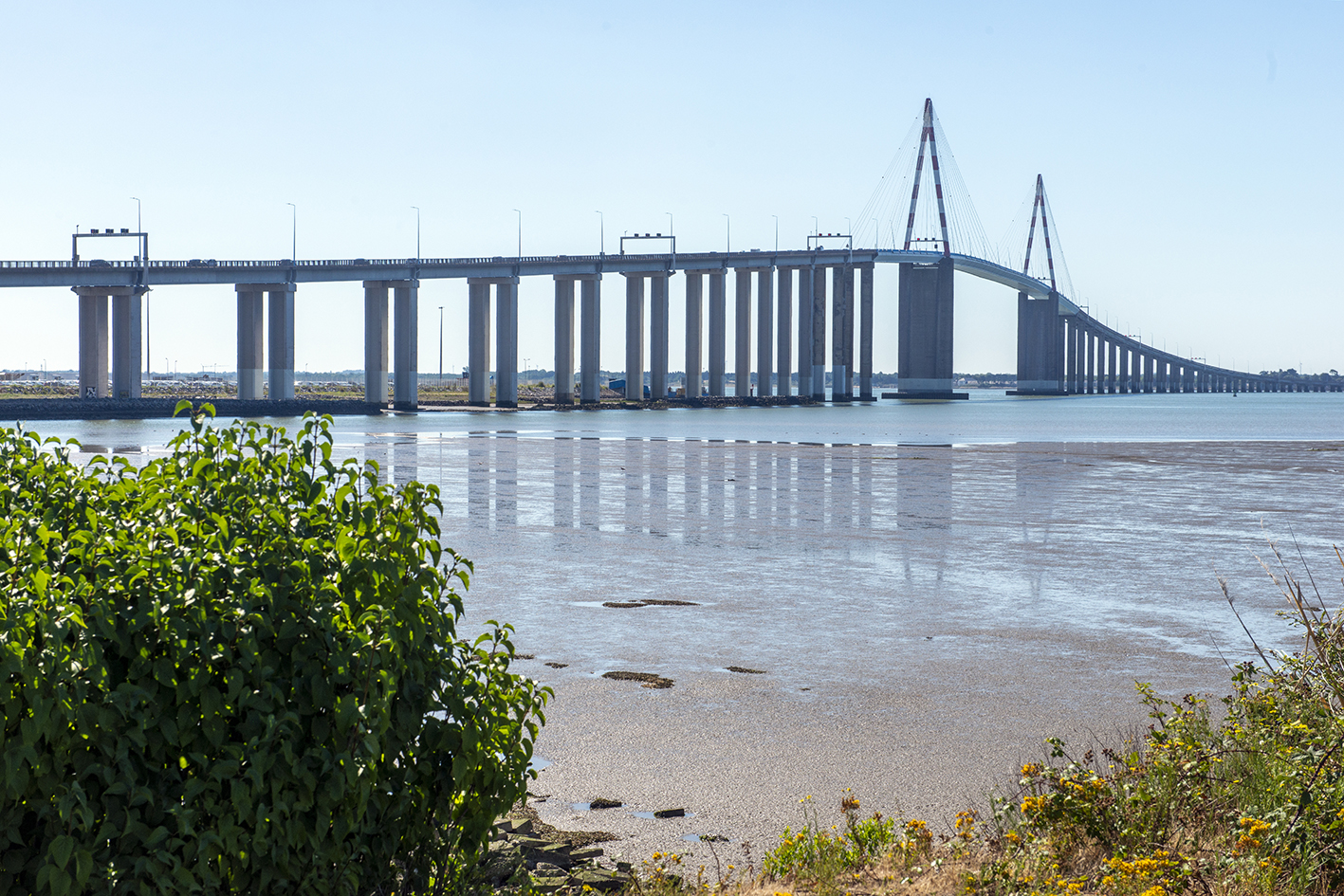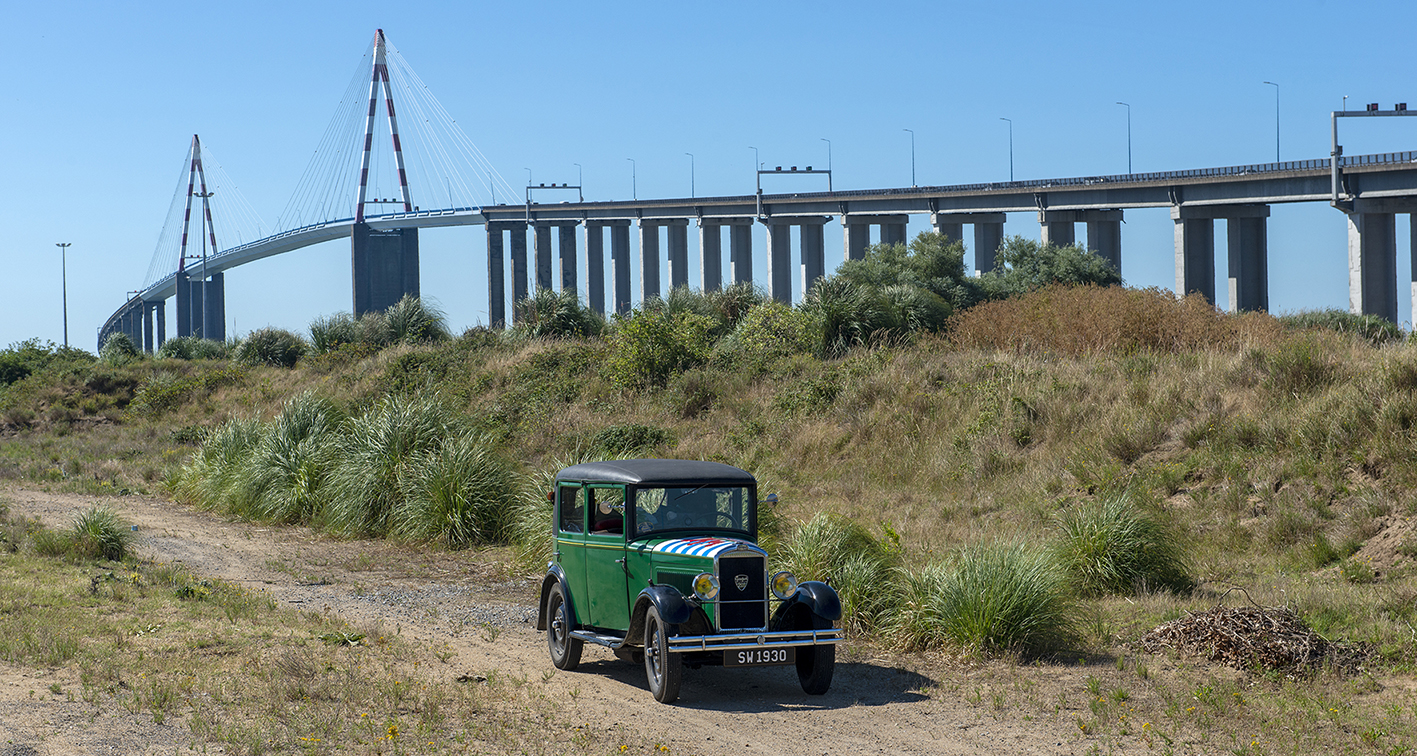 La route qui nous mène vers le nord-est est droite et ensoleillée. Nous roulons bien et progressons rapidement. Nous nous arrêtons à Héric pour déjeuner. Pendant que je ferme la voiture, une détonation comme un coup de fusil se fait entendre. Je n'en comprends pas l'origine. Je fais le tour de « La Charmante » pour vérifier les pneus. Tout semble en ordre. Mais lorsque nous voulons repartir, la voiture refuse de démarrer, malgré le fait que le démarreur tourne étonnamment bien… Quand j'ouvre le capot, je découvre que la bobine a littéralement explosé. Heureusement que je dispose d'une bobine de secours déjà montée (au premier plan). En une minute les fils ont changé de place et nous pouvons repartir. J'avais déjà remarqué que la bobine chauffait énormément. Était-elle défectueuse, ou est-ce qu'un mauvais branchement en était la cause ? Une nouvelle hypothèse s'échafaude dans ma tête. J'invite les amis du Forum des 201 à y réfléchir avec moi ! / The road leading us northeast is straight and sunny. We are riding well and progressing quickly. We stop at Héric for lunch. As I close the car, an explosion like a gunshot is heard. I don't understand the origin. I go around "La Charmante" to check the tires. Everything seems in order. But when we want to leave, the car refuses to start, despite the fact that the starter turns surprisingly well… When I open the bonnet, I discover that the coil has literally exploded. Fortunately, I have a spare coil already mounted (in the foreground). In one minute, the wires have changed places and we can leave. I had already noticed that the coil was getting very hot. Was it faulty, or was a bad connection the cause? A new hypothesis is developing in my mind. I invite my friends of the 'Forum des 201' to think about it with me!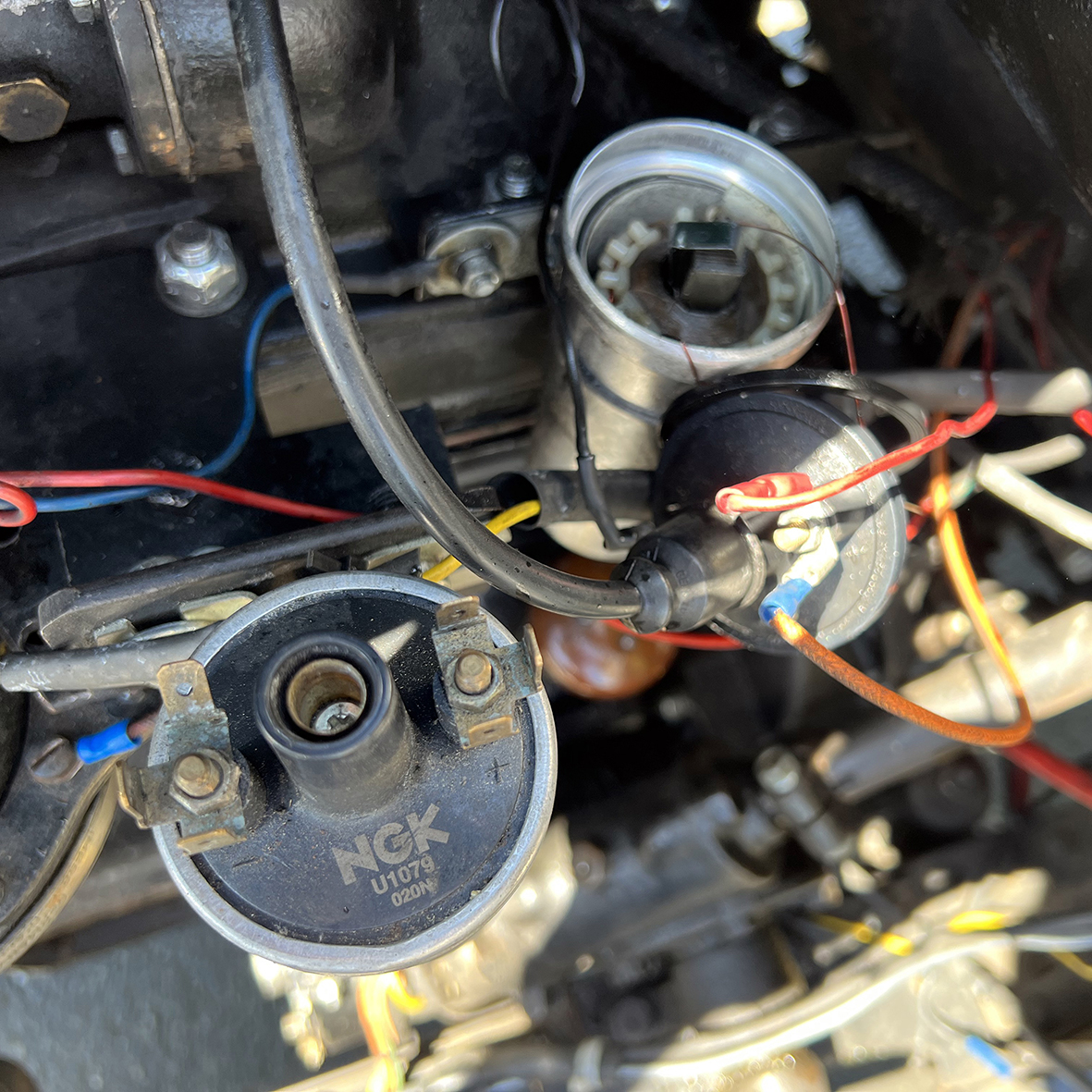 Un peu plus loin, une énorme limousine sur le bord de la route. Nous ne jouons pas dans la même ligue… / A little further, a huge limo on the roadside. We don't play in the same league…

La décoration d'un petit garage à Mésanger est plus dans notre style. / The decoration of a small garage in Mésanger is more like our style.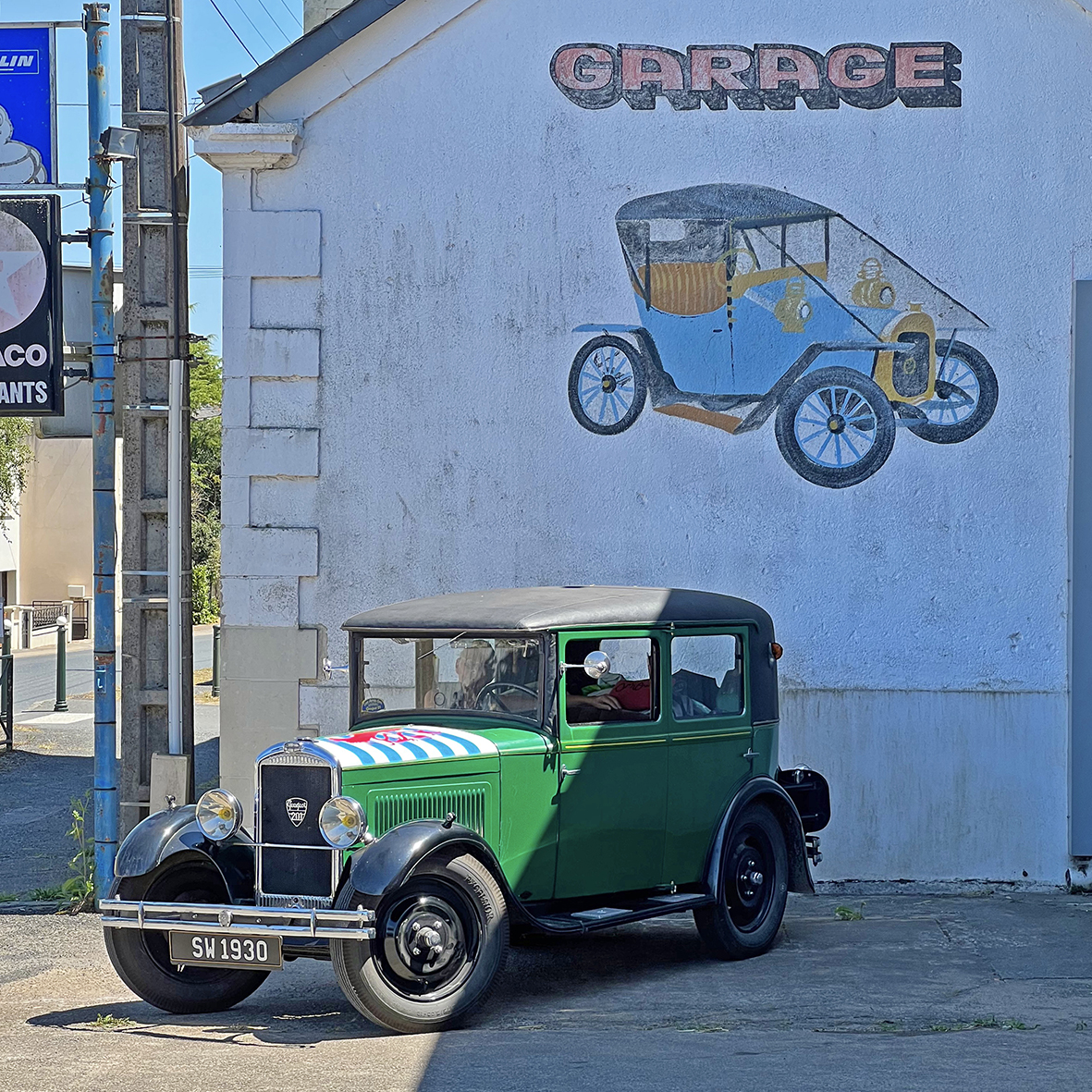 Nous roulons à travers un paysage ensoleillé. Les champs de blé sont fauchés, partout de grands rouleaux de paille. À Angrie, près de Candé, ce joli vieux moulin nous plonge dans le passé. Angrie, ça sonne un peu comme Hongrie, et annonce la suite du voyage le long du Danube. Mais ça, c'est pour l'avenir, si tout va bien… / We drive through a sunny landscape. The wheat fields are mown, everywhere large rolls of straw. In Angrie, near Candé, this pretty old mill plunges us into the past. Angrie, it sounds a bit like Hungary, and announces the rest of the journey along the Danube. But that's for the future, if all goes well…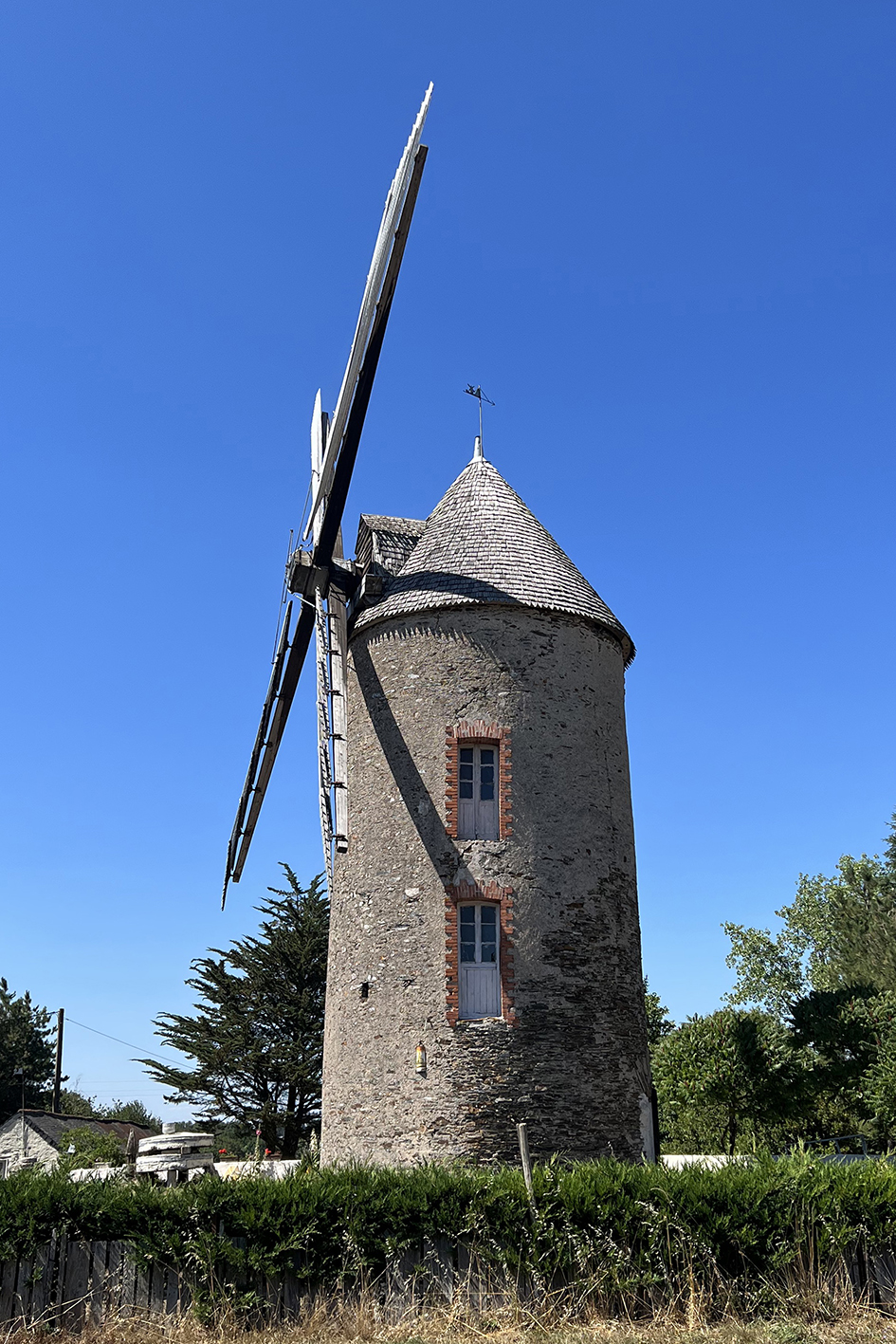 Nous nous arrêtons pour la nuit au Port des Roches à Luché-Pringé, où nous nous détendons au bord du Loir. Après 220 chauds kilomètres, nous avons bien mérité notre bière ! / We stop for the night at Port des Roches in Luché-Pringé, where we relax on the banks of the Loir. After 220 hot kilometers, we deserved our beer!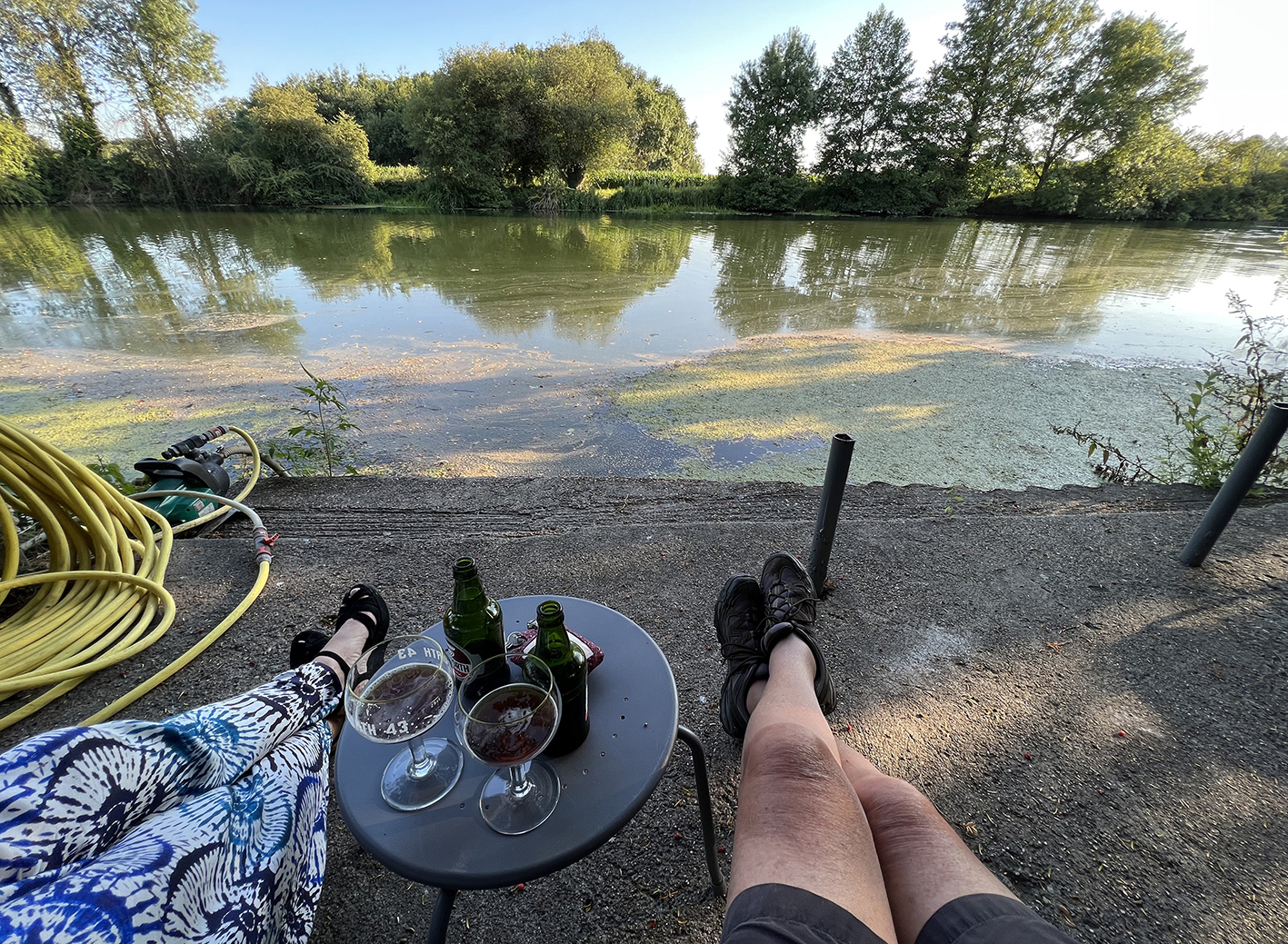 7 juillet 2022. Carquefou – Saint-Nazaire (106 km)

/ July 7, 2022. Carquefou – Saint-Nazaire (106 km)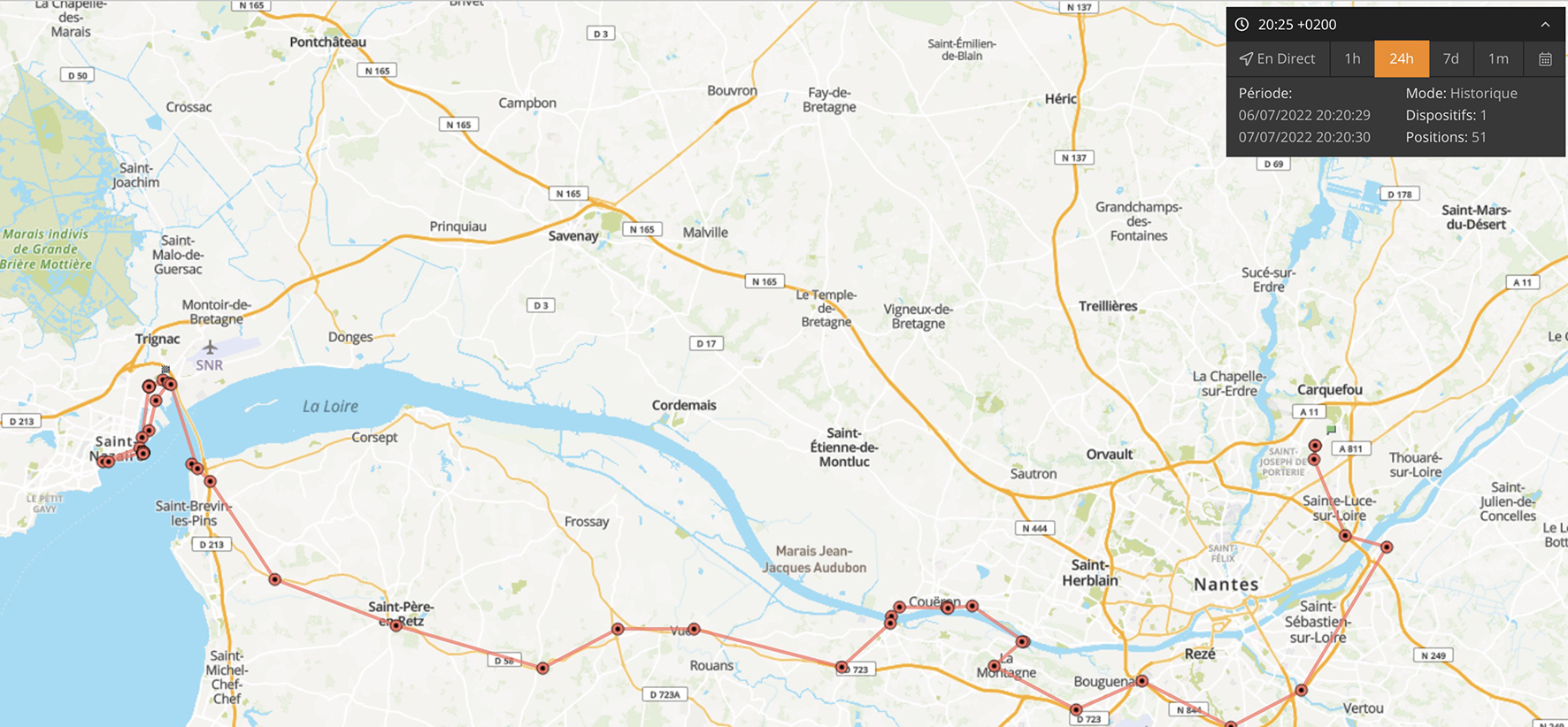 Il y a 15 ans, jour pour jour, le 7 juillet 2007 (07.07.07), je partais pour ma première grande aventure avec « La Petite », ma 4CV de 1959 : Paris-Gobi en 16.000 km. Et aujourd'hui, encore un 7 juillet, nous arrivons à la dernière étape de notre nouvelle aventure. Nous aurons bouclé nos trois premiers fleuves (Rhin, Rhône, Loire) en quelque 5.500 km. Des kilomètres pas faciles avec notre « Charmante » de 92 ans. Mais nous l'avons fait ! Nous disons au-revoir à Isabelle, qui nous a hébergés pendant deux jours dans sa superbe maison à Carquefou. Alors qu'elle ne nous connaissait pas auparavant, elle est devenue une amie précieuse. Autre amie, mais de longue date celle-ci, Cathy, grâce à qui nous avons pu passer de si bons moments à Nantes. Je raconterai Nantes prochainement, mais j'ai hâte de vous narrer d'abord cette dernière étape. / 15 years ago, to the day, July 7, 2007 (07.07.07), I left for my first great adventure with « La Petite », my 1959 4CV: Paris-Gobi a 16,000 km voyage. And today, another July 7, we reach the last stage of our new adventure. We will have completed our first three rivers (Rhine, Rhône, Loire) in aboutr 5,500 km. Not easy kilometers with our 92-year-old "Charming". But we did! We say goodbye to Isabelle, who hosted us for two days in her superb house in Carquefou. While she did not know us before, she became a precious friend. Another friend, but for a long time this one, Cathy, thanks to whom we were able to spend such good times in Nantes. I will talk about Nantes soon, but I can't wait to tell you about this last stage first.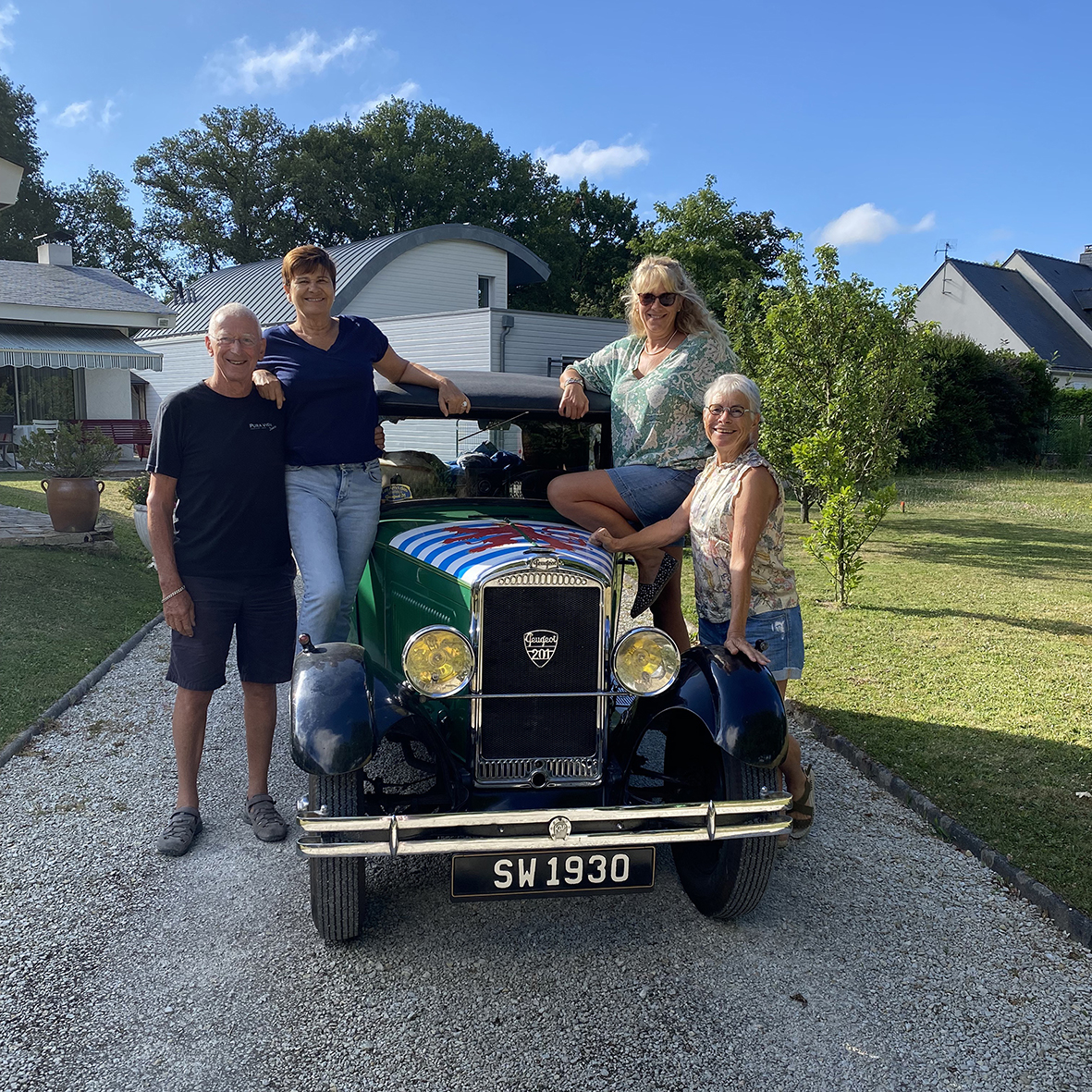 Nous traversons la Loire en bac deux fois, une fois entre Basse-Indre et Indret et une fois entre Le Pellerin et Couëron. / We cross the Loire by ferry twice, once between Basse-Indre and Indret and once between Le Pellerin and Couëron.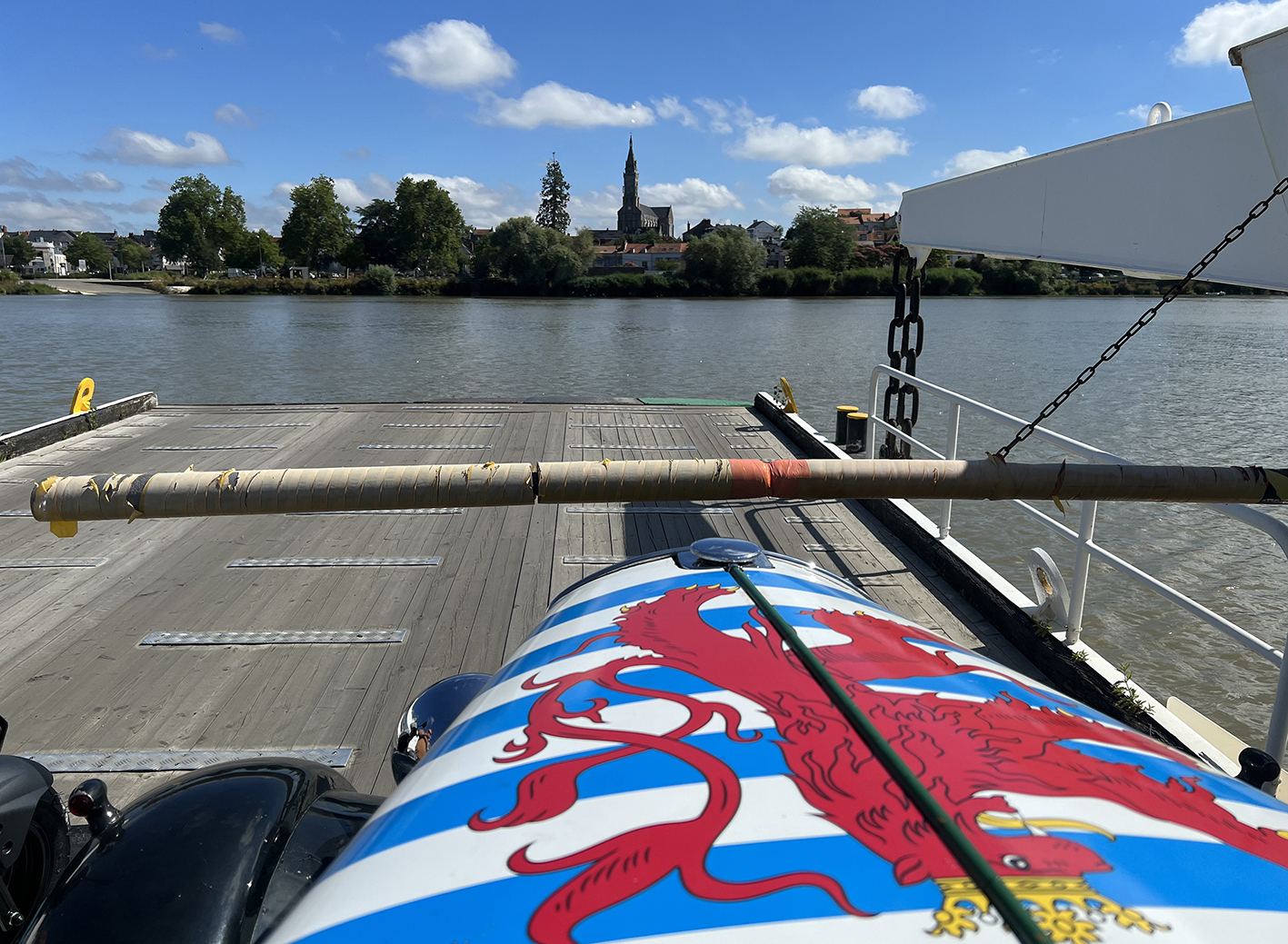 Le but était de revoir la célèbre 'Maison dans la Loire' à Couëron. Contrairement à ce que l'on pourrait croire, il ne s'agit pas d'une maison emportée par une crue sauvage du fleuve, mais d'une œuvre d'art créée en 2007 par l'artiste Jean-Luc Courcoult. / The goal was to revisit the famous 'Maison dans la Loire' in Couëron. Contrary to what one might think, it is not a house washed away by a wild flood of the river, but a work of art created in 2007 by the artist Jean-Luc Courcoult.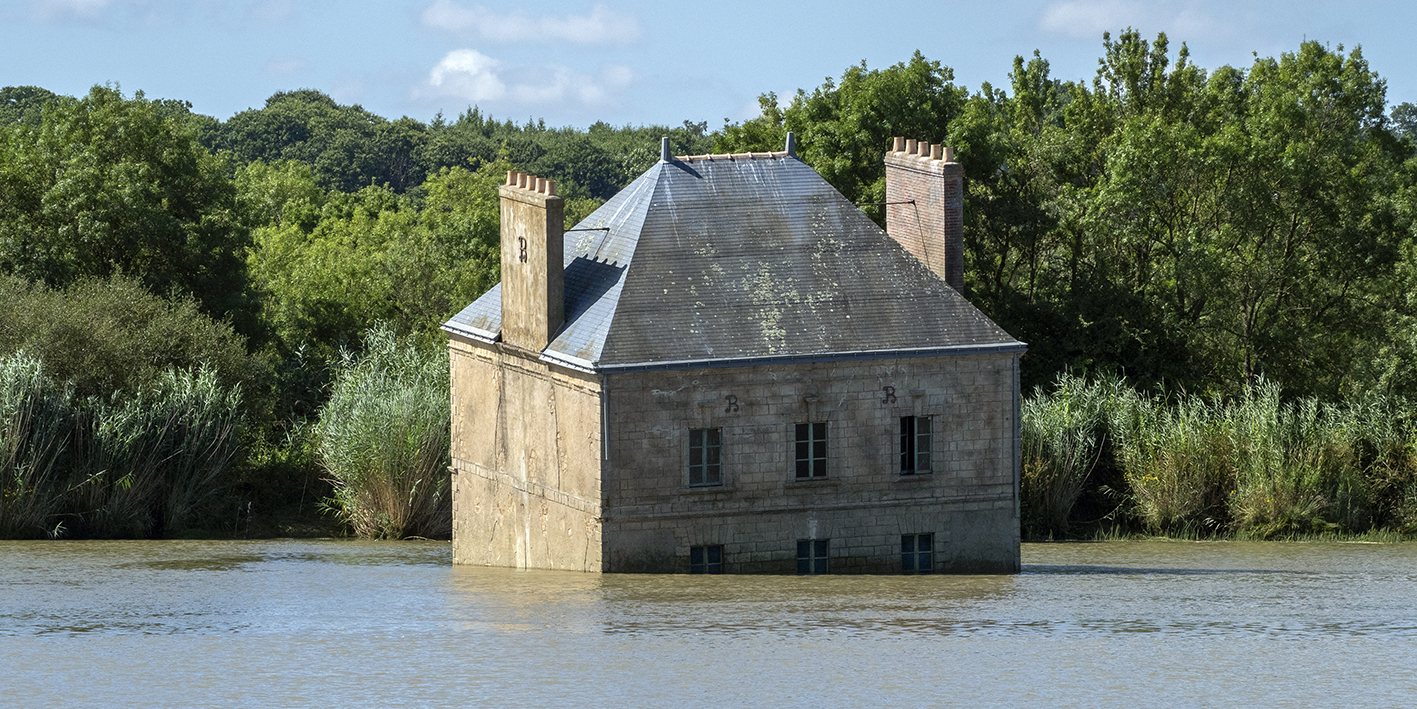 Nous nous arrêtons également à 'La Tour à Plomb' à Couëron, haute de 70 m, qui date des années 1870. On y fabriquait de la grenaille de plomb, destinée aux cartouches de chasse. / We also stop at 'La Tour à Plomb' in Couëron, 70 m high, which dates from the 1870s. Lead shot was made there for hunting cartridges.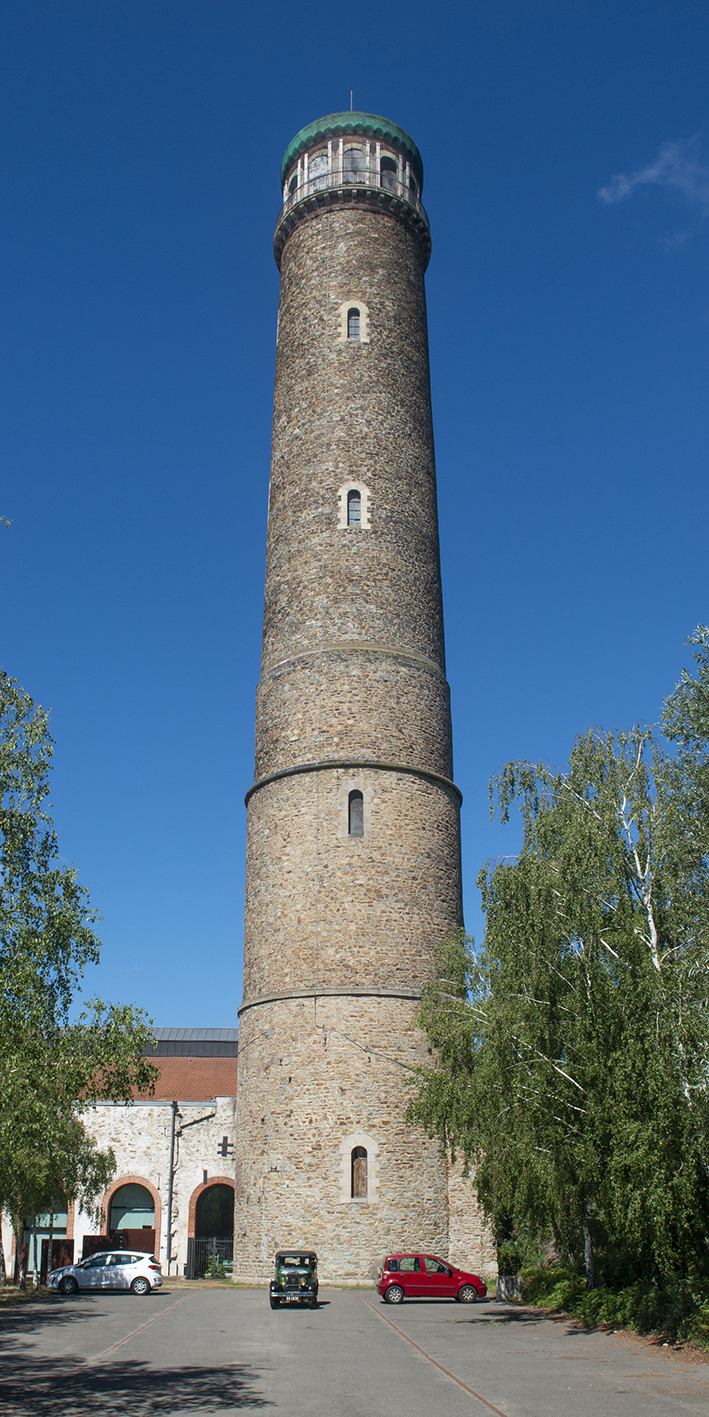 On s'approche du pont de Saint-Nazaire et donc de la fin du voyage. / We are approaching the Saint-Nazaire bridge and therefore the end of the trip.  

Depuis Saint-Brévin-les-Pins on a déjà une vue sur le chantier naval de Saint-Nazaire. / From Saint-Brévin-les-Pins we already have a view of the Saint-Nazaire shipyard.

Une fillette joue devant le squelette d'un serpent de mer géant. 'Serpent d'océan' est une œuvre de l'artiste Huang Yong Ping. Il s'agit d'une sculpture monumentale en aluminium, longue de 130 m, créée en 2012. /A little girl plays in front of the skeleton of a giant sea serpent. 'Ocean Serpent' is a work by artist Huang Yong Ping. It is a monumental aluminum sculpture, 130 m long.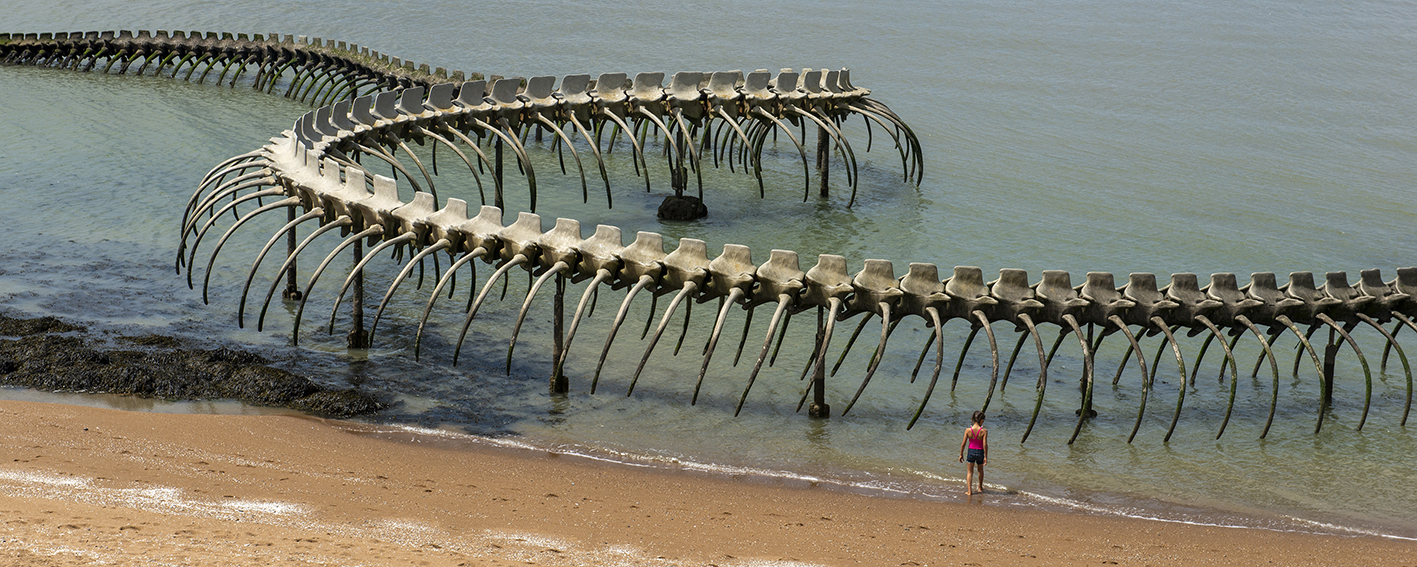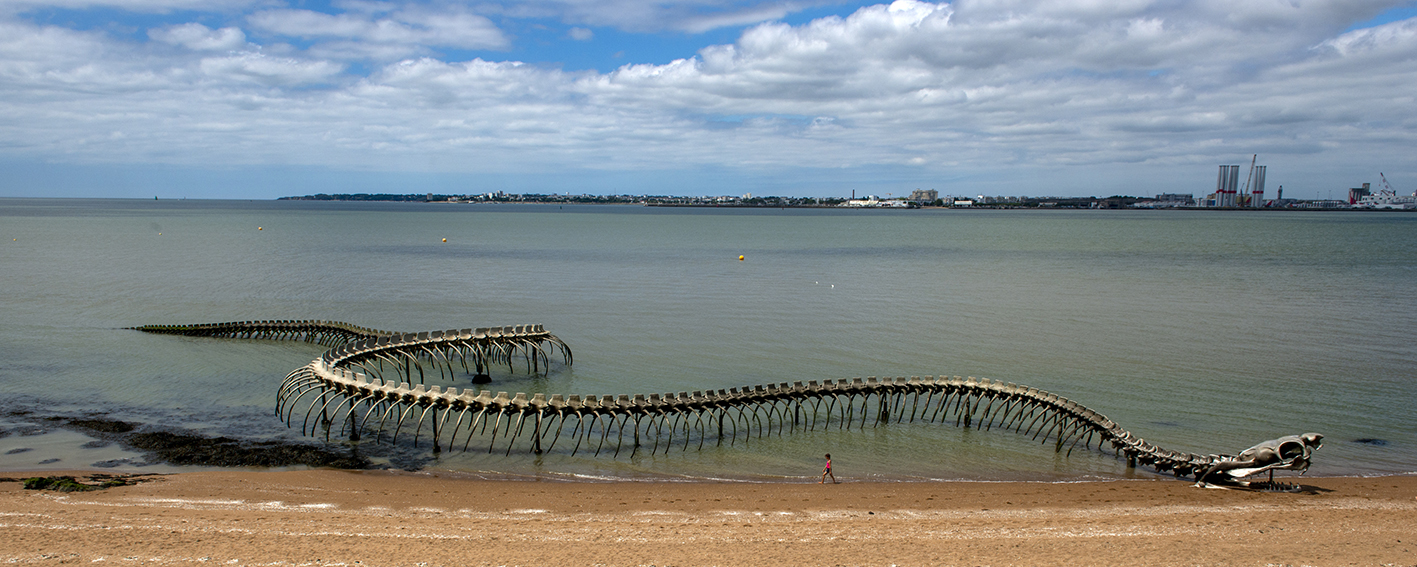 Lorsque « La Charmante » arrive enfin à l'endroit où la Loire rencontre l'océan Atlantique, notre mission est accomplie ! / When "La Charmante" finally arrives where the Loire meets the Atlantic Ocean, our mission is accomplished!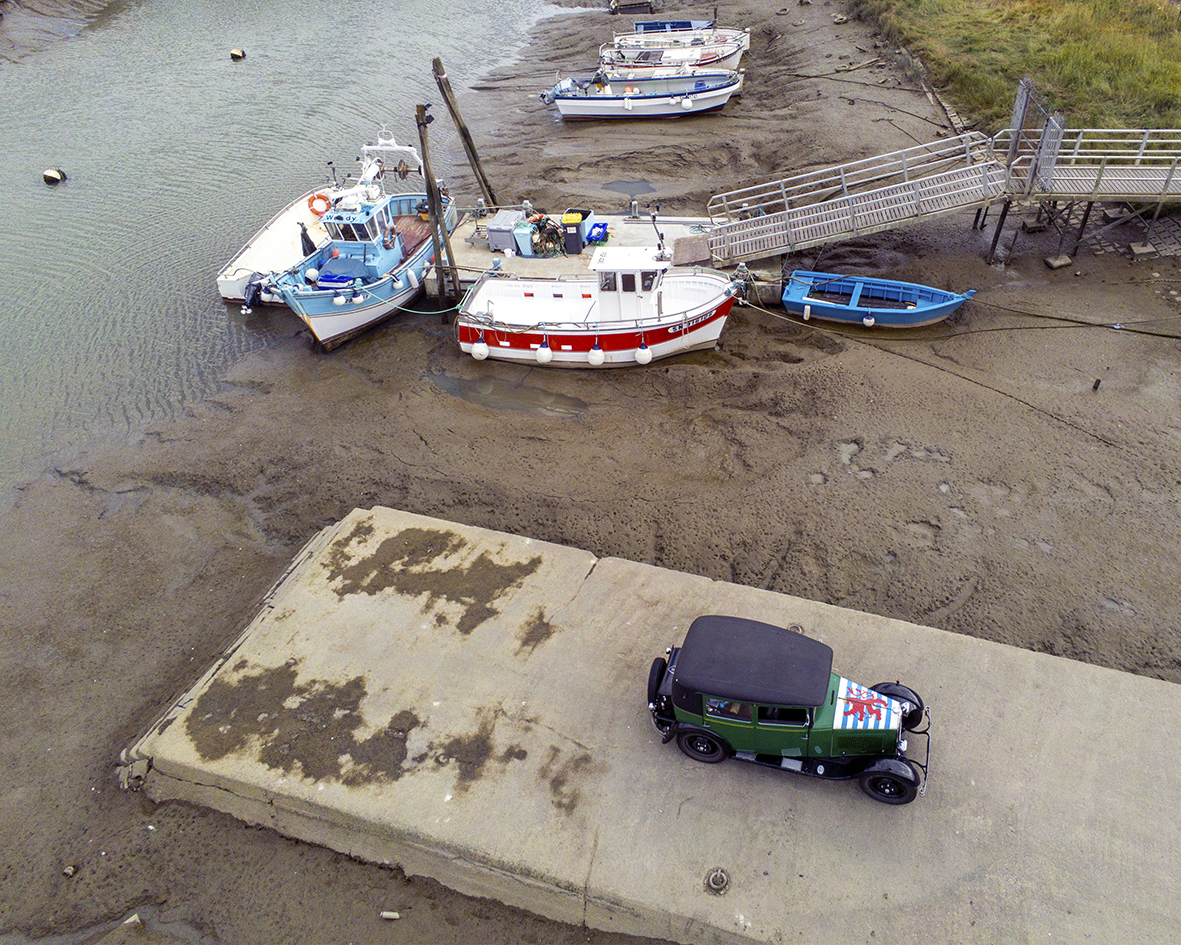 Nous rencontrons Patrick, membre comme moi des 'Amis des Peugeot 01'. Sa 201, qui date de janvier 1931, n'a que quelques mois de moins que 'La Charmante'. Nous avons rendez-vous avec la presse locale au Vieux Môle. / We meet Patrick, a member, like me, of the 'Friends of Peugeot 01'. His 201, which dates from January 1931, is only a few months younger than 'La Charmante'. We have an appointment with the local press at the Vieux Môle.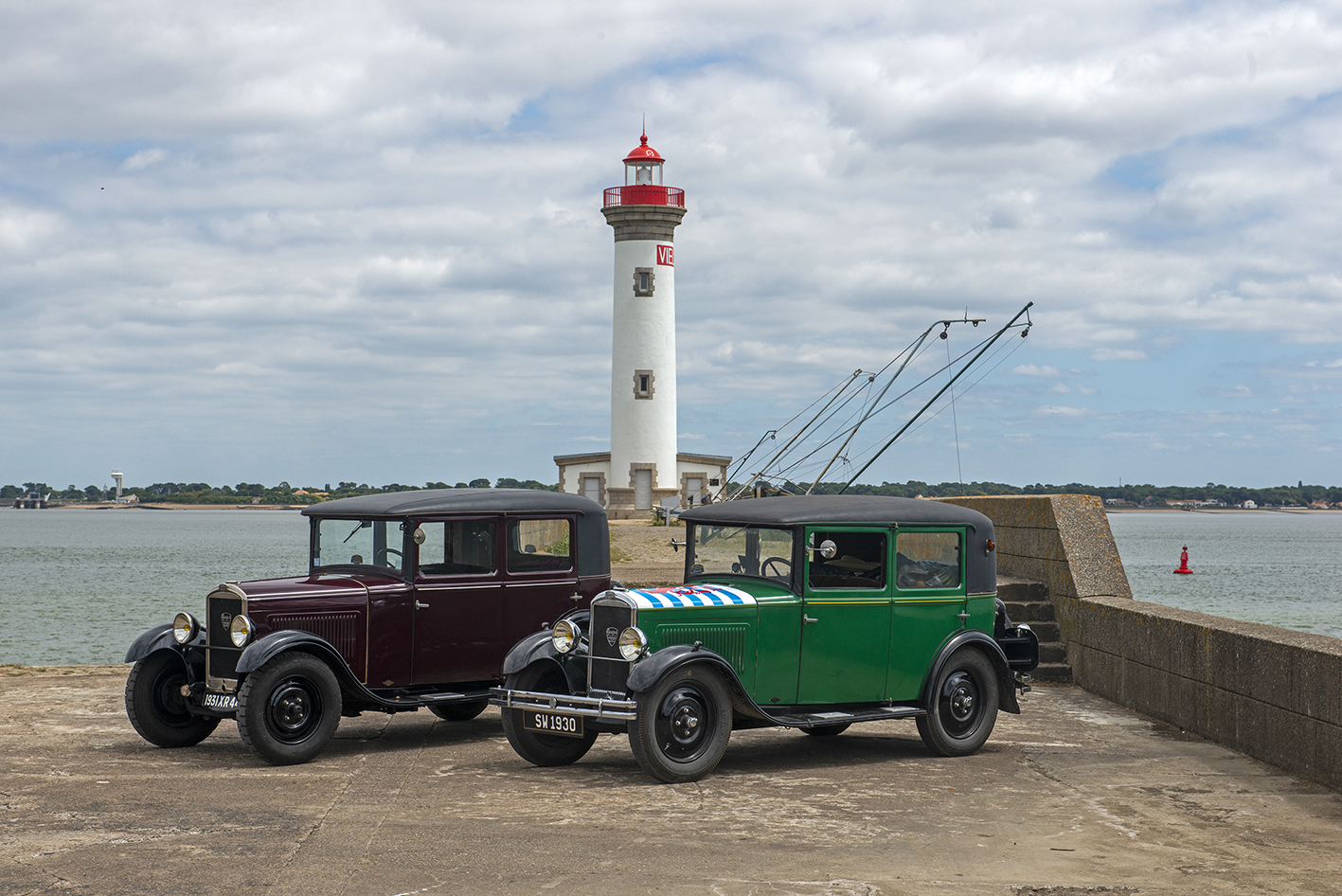 Derrière nos 201 passe un bateau qui transportait jadis des tronçons de carlingue d'A380 vers Bordeaux. Aujourd'hui il transfère des éléments d'A320 vers les États-Unis. / Behind our 201s passes a boat that once transported sections of A380 cabins to Bordeaux. Today it transfers elements of the A320 to the United States.

Patrick nous fait faire un tour devant quelques lieux typiques de Saint-Nazaire. Devant la base sous-marine de Saint-Nazaire, qui abritait les U-Boote entre 1941 et 1945. / Patrick takes us for a ride in front of some typical places of Saint-Nazaire, here in front of the Saint-Nazaire submarine base, which housed the U-Boats between 1941 and 1945.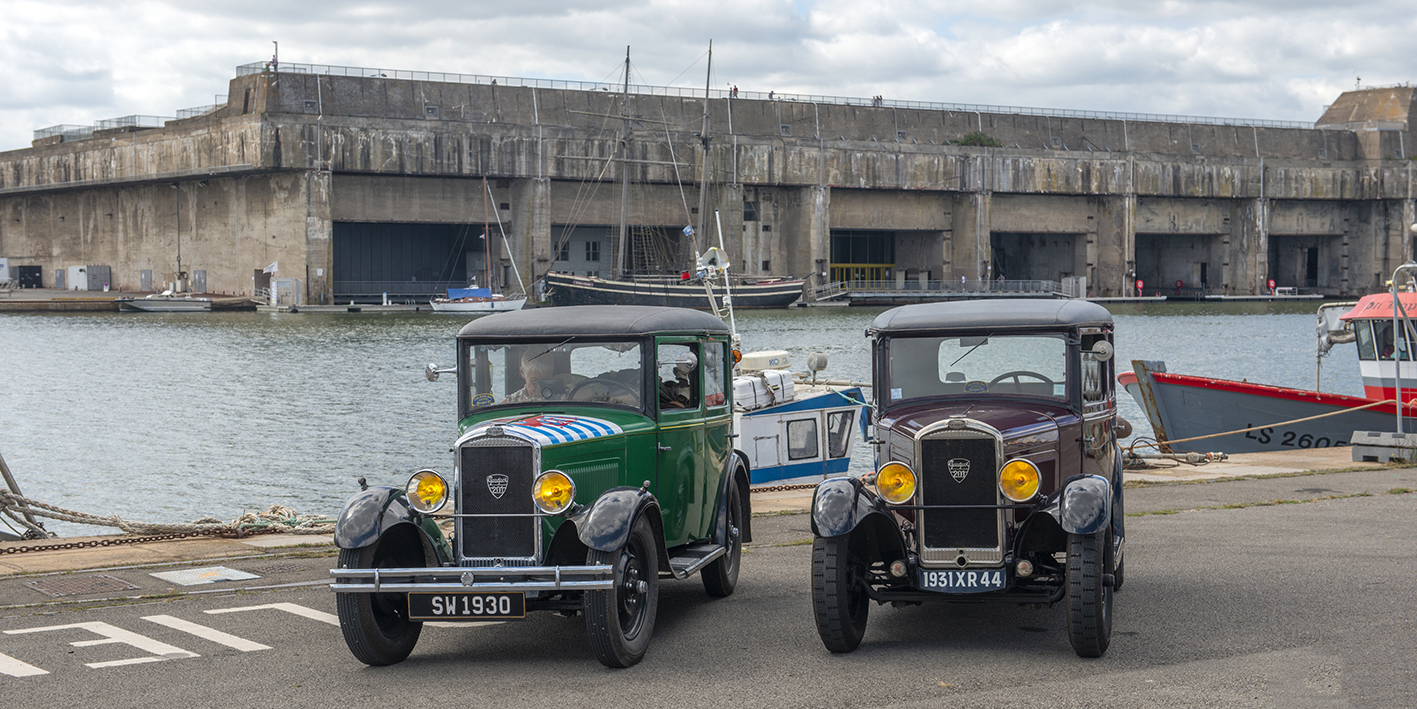 Devant la forme d'assemblage de paquebots des Chantiers de l'Atlantique. / In front of the ship assembly form of the Chantiers de l'Atlantique.
Le soir, dîner chez Patrick, qui nous raconte l'histoire passionnante de sa formation de mécanique générale (ajusteur-outilleur et dessinateur industriel). En écoutant ses paroles, je contemple ses mains, témoins d'années de travail chez Sud Aviation, qui, après plusieurs changements de nom, est devenu Airbus. / In the evening, dinner at Patrick's, who tells us the fascinating story of his training in general mechanics (fitter-toolmaker and industrial designer). Listening to his words, I contemplate his hands, witnesses of years of work at Sud Aviation, which, after several name changes, became Airbus.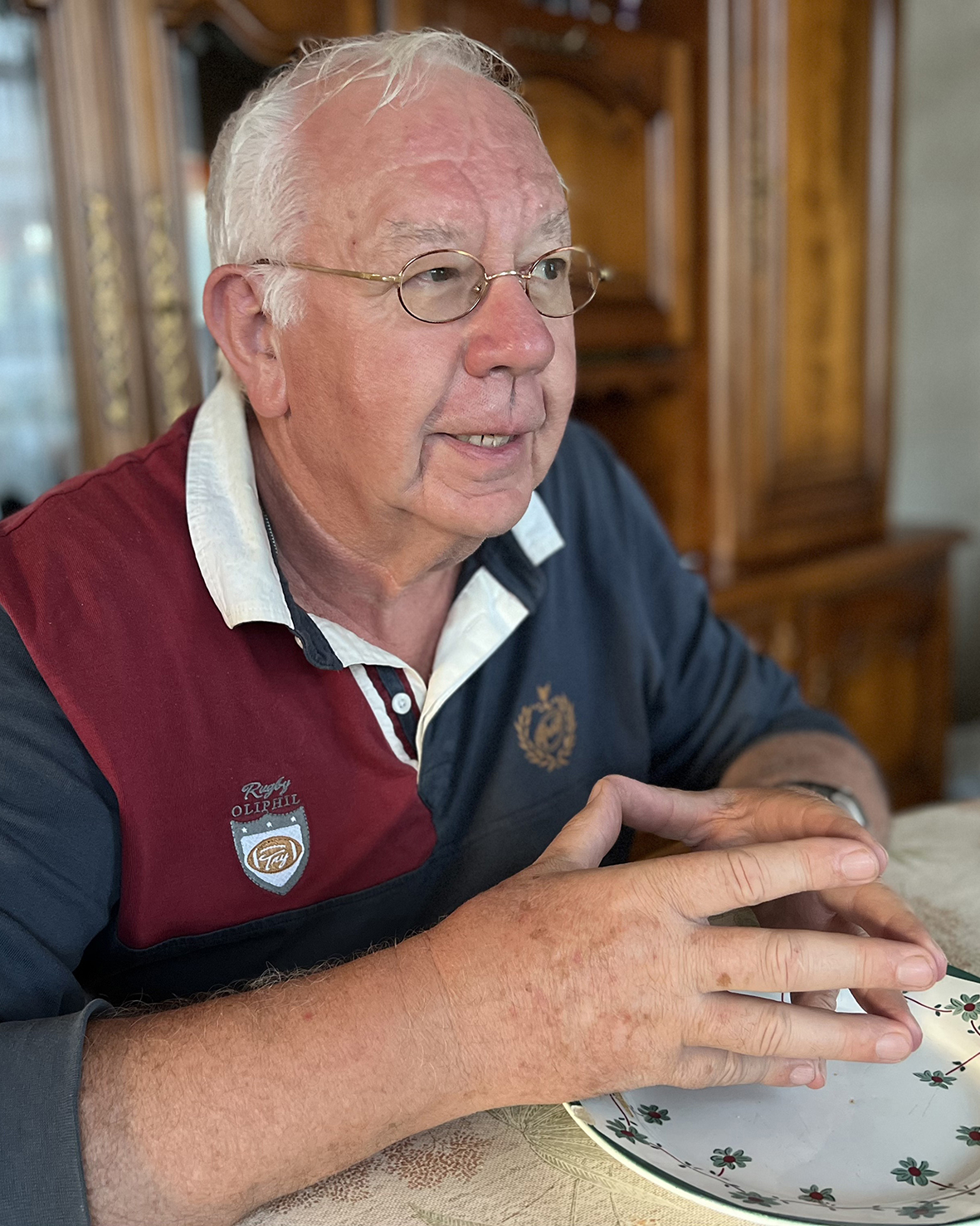 5-6 juillet 2022. Nantes (0 km pour « La Charmante » – 13 km à pied)

/ 5-6 July 2022. Nantes (0 km for « La Charmante » – 13 km by foot)
Nous devons ces deux jours de repos et de découverte de Nantes à notre amie Cathy. / We owe these  two days of rest and discovery of Nantes to our friend Cathy.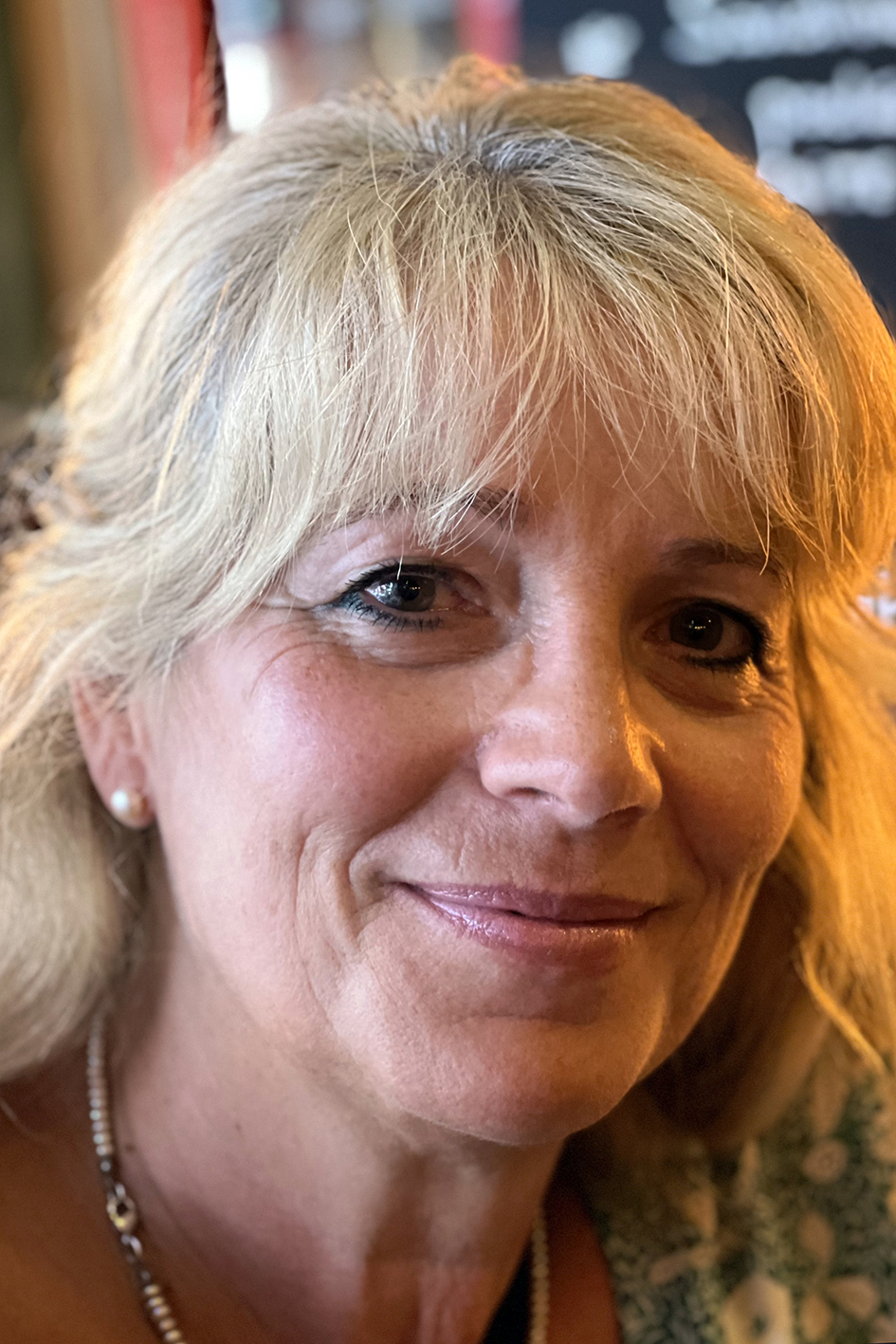 Elle a une autre amie, Isabelle, qui – sans nous connaître, nous a ouvert sa maison. Deux jours de repos et de repas, de discussions intéressantes et de rigolades, d'une bonne ambiance et d'une grande solidarité lorsque nous avons appris que notre fils Olivier était hospitalisé dans une état grave (il va beaucoup mieux à l'heure où j'écris ces lignes). Un grand, grand merci à vous deux ! Guidés par ces deux femmes extraordinaires, nous avons pu découvrir Nantes un peu. Nous aurions pu y passer au moins deux semaines plutôt que deux jours, tellement il y a de choses à y voir ! Mais voici un petit résumé de notre visite. / She has another friend, Isabelle, who – without knowing us – opened her house to us. Two days of rest and nice meals, interesting conversations and laughter, a nice atmosphere and much needed solidarity when we heard that our son Olivier was brought to hospital in a very serious condition (he is much better now that I write these lines). A big, big thank you to both of you! Under the guidance of these two extraordinary women, we have discovered Nantes a bit. We could have spent two weeks instead of two days, there are so many things to be seen here! Here is a short summary of our visit.
Dans le quartier de Trentemoult, nous avons déjeuné (sardinade) dans 'Le Bistrot du Port', qui est un véritable musée de bric-à-brac des années 1950-1960. / We had lunch (sardinade) in 'Le Bistrot du Port' in the neighbourhood of Trentemoult, a true museum of oddities from the 1950's and 1960's.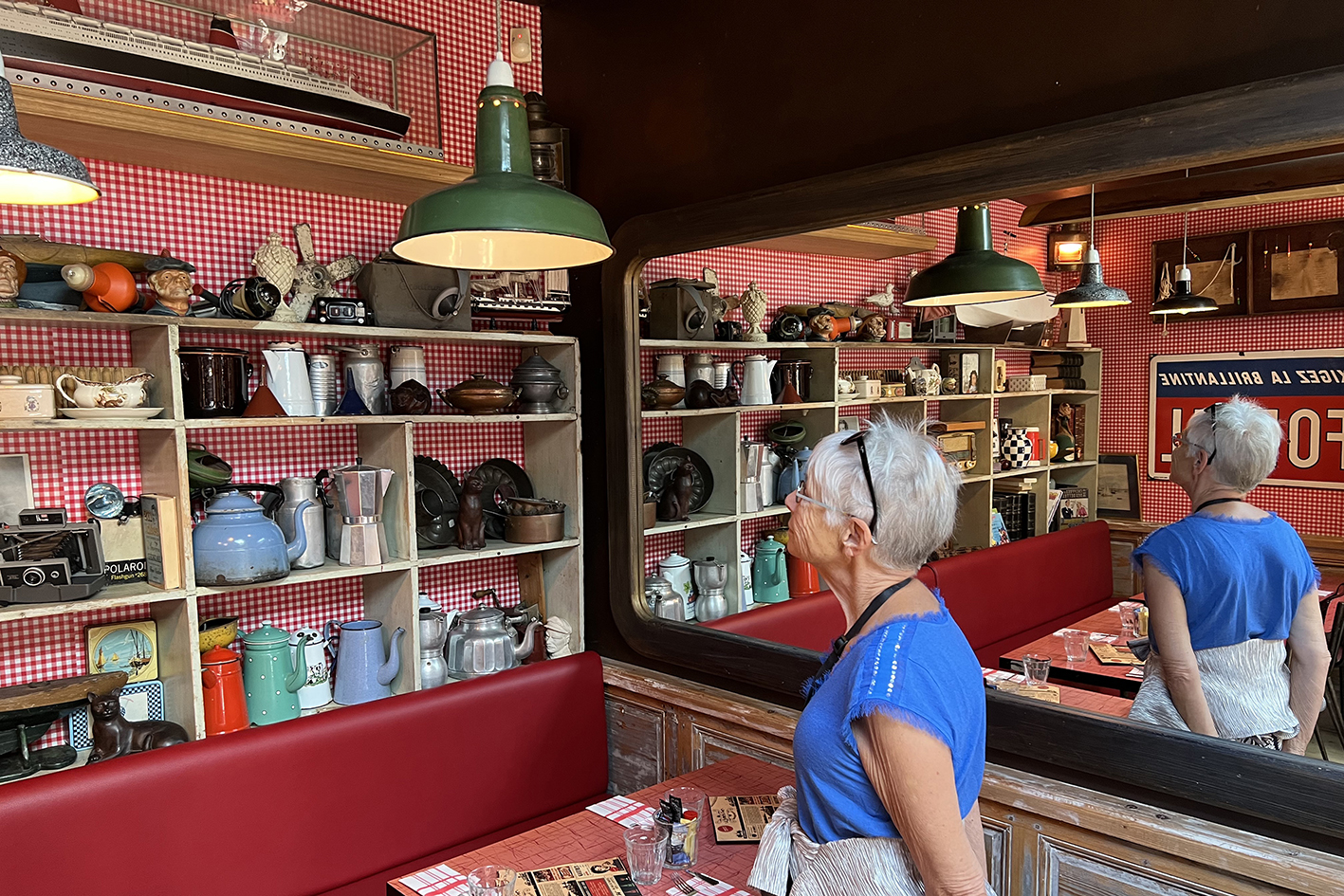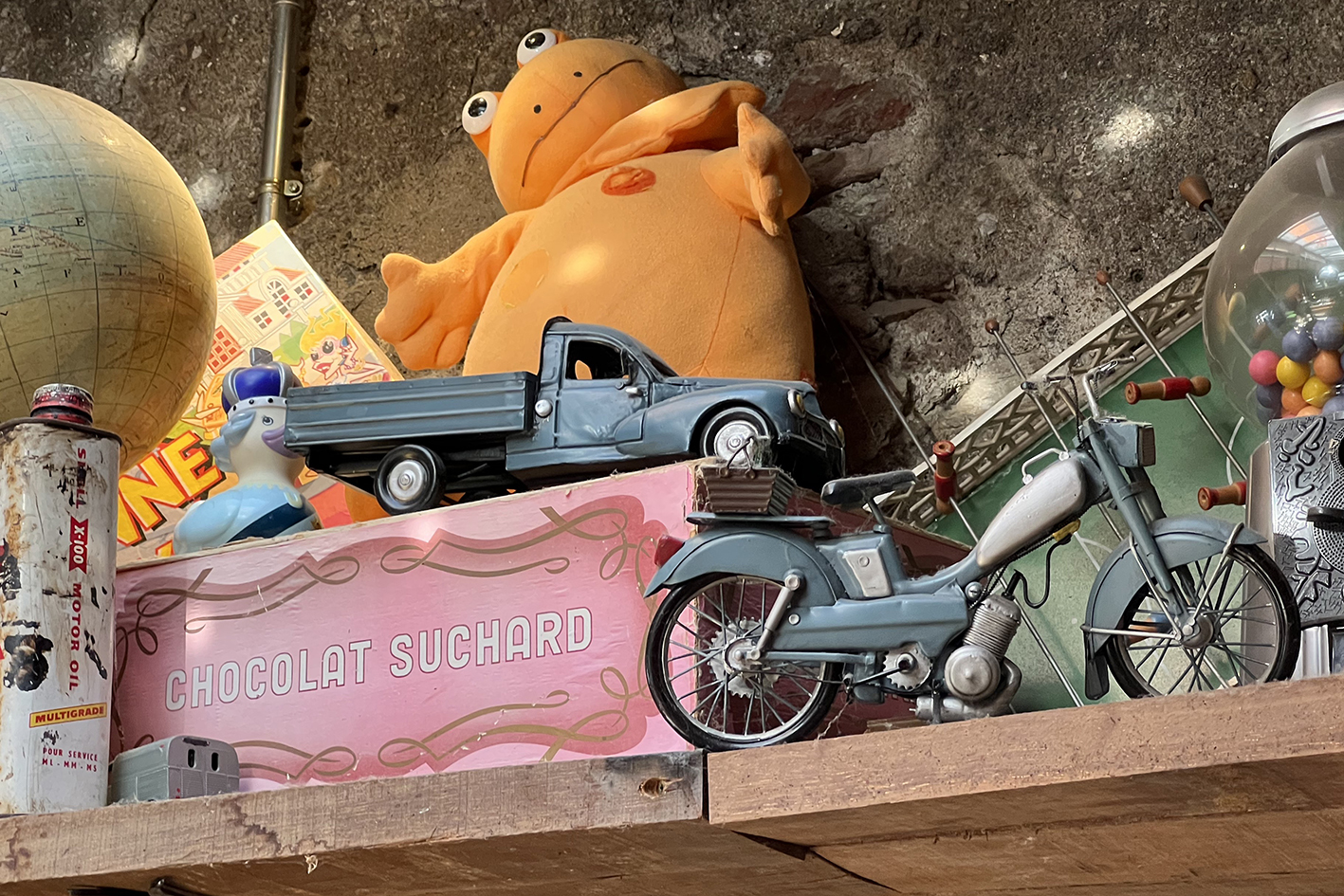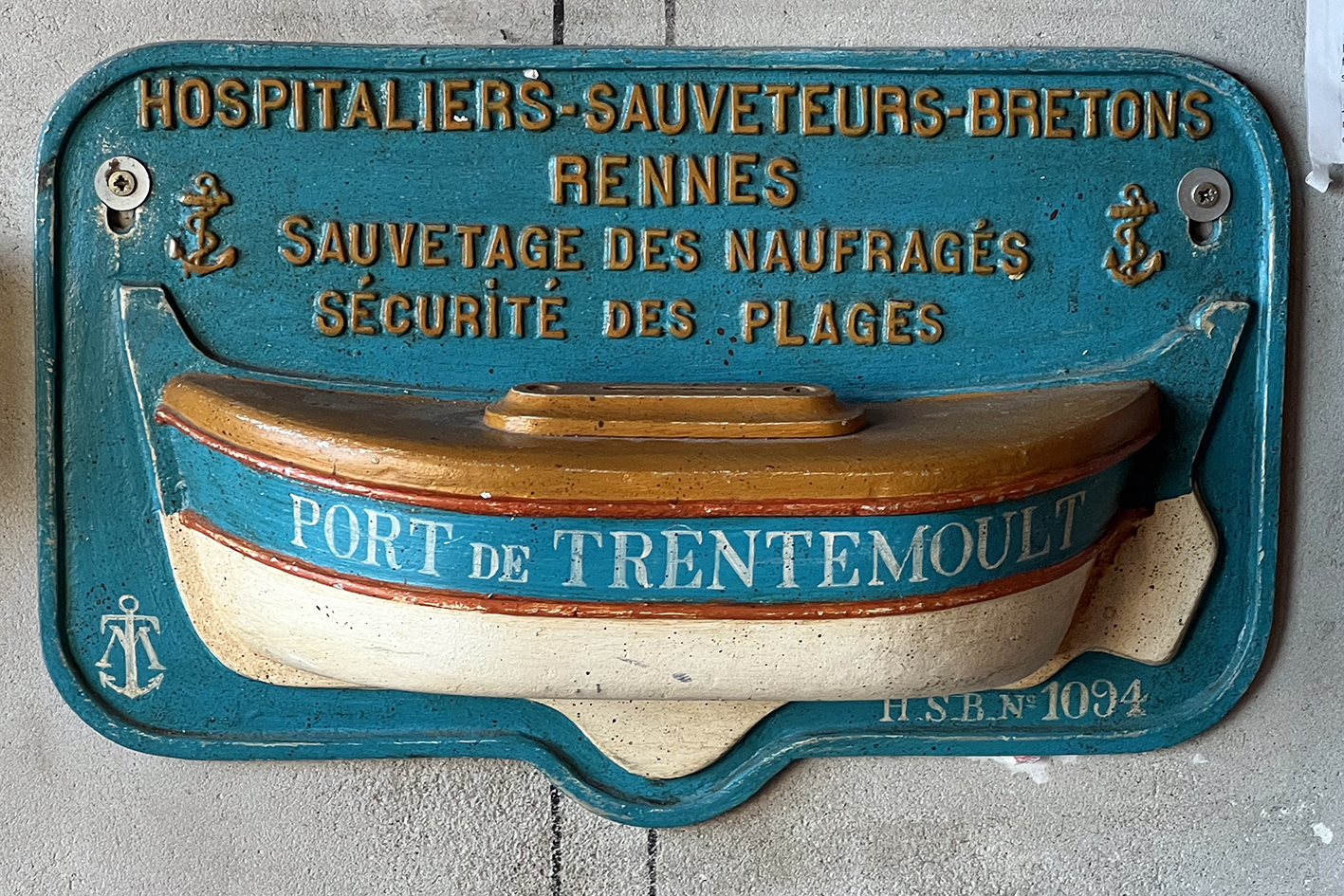 Juste à côté, sur la façade d'une maison, est écrit 'Cycles Peugeot'. Sans doute que jadis on y vendait et réparait des vélos et des vélomoteurs de la même marque que notre « Charmante ». / Close by, on the façade of a house, is written: 'Cycles Peugeot'. No doubt that decades ago, cycles and mopeds of the same brand as our « Charmante » were sold here.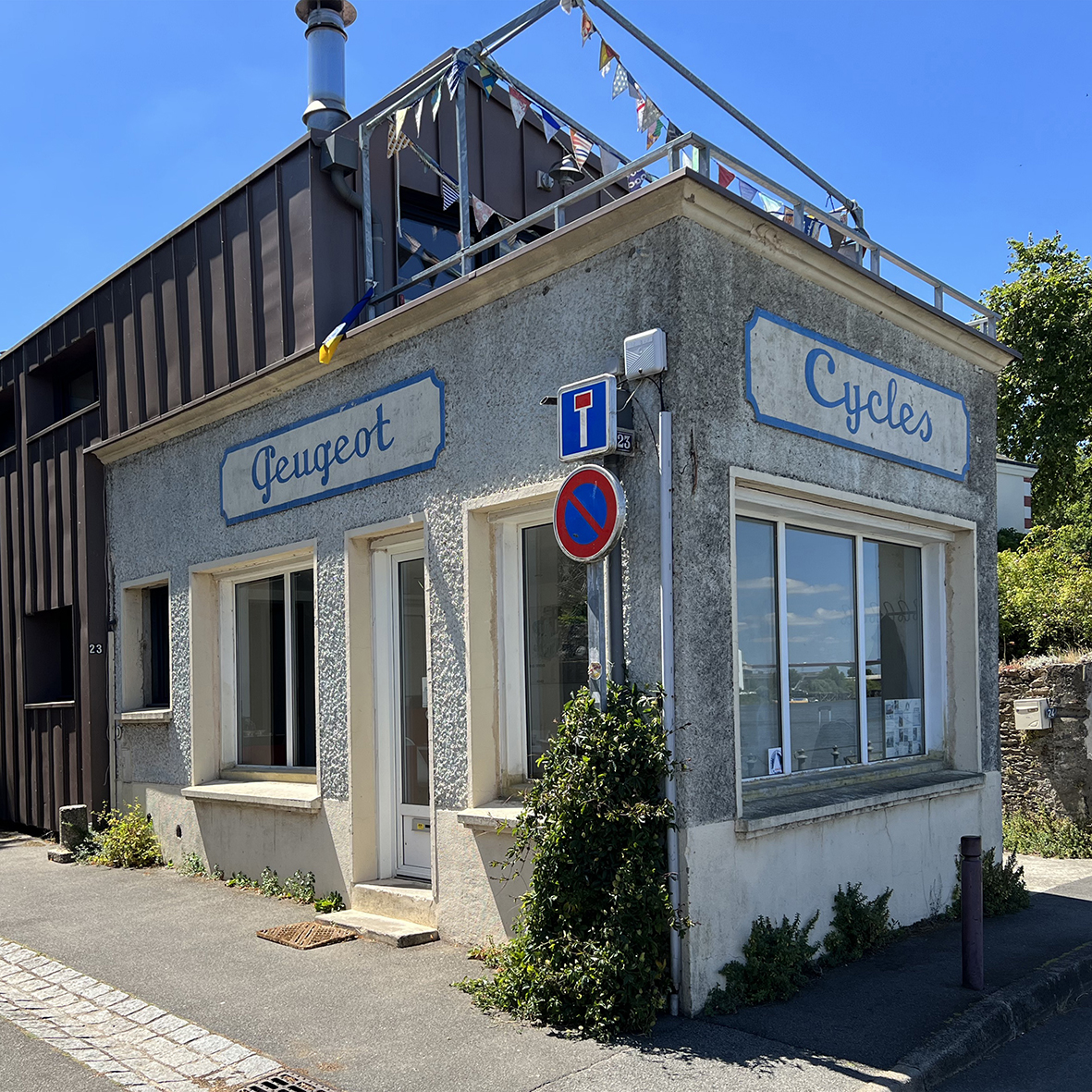 Je pense avec nostalgie à mon vélomoteur 'Peugeot BB Griffon', avec lequel j'ai appris à voyager, entre autres un voyage de 1500 km du Midi de la France vers les Pays-Bas en 1961… / Nostalgic memories of my 'Peugeot BB Griffon', with which I learnt to travel,amongst others with a 1500 km trip from southern France to Holland back in 1961…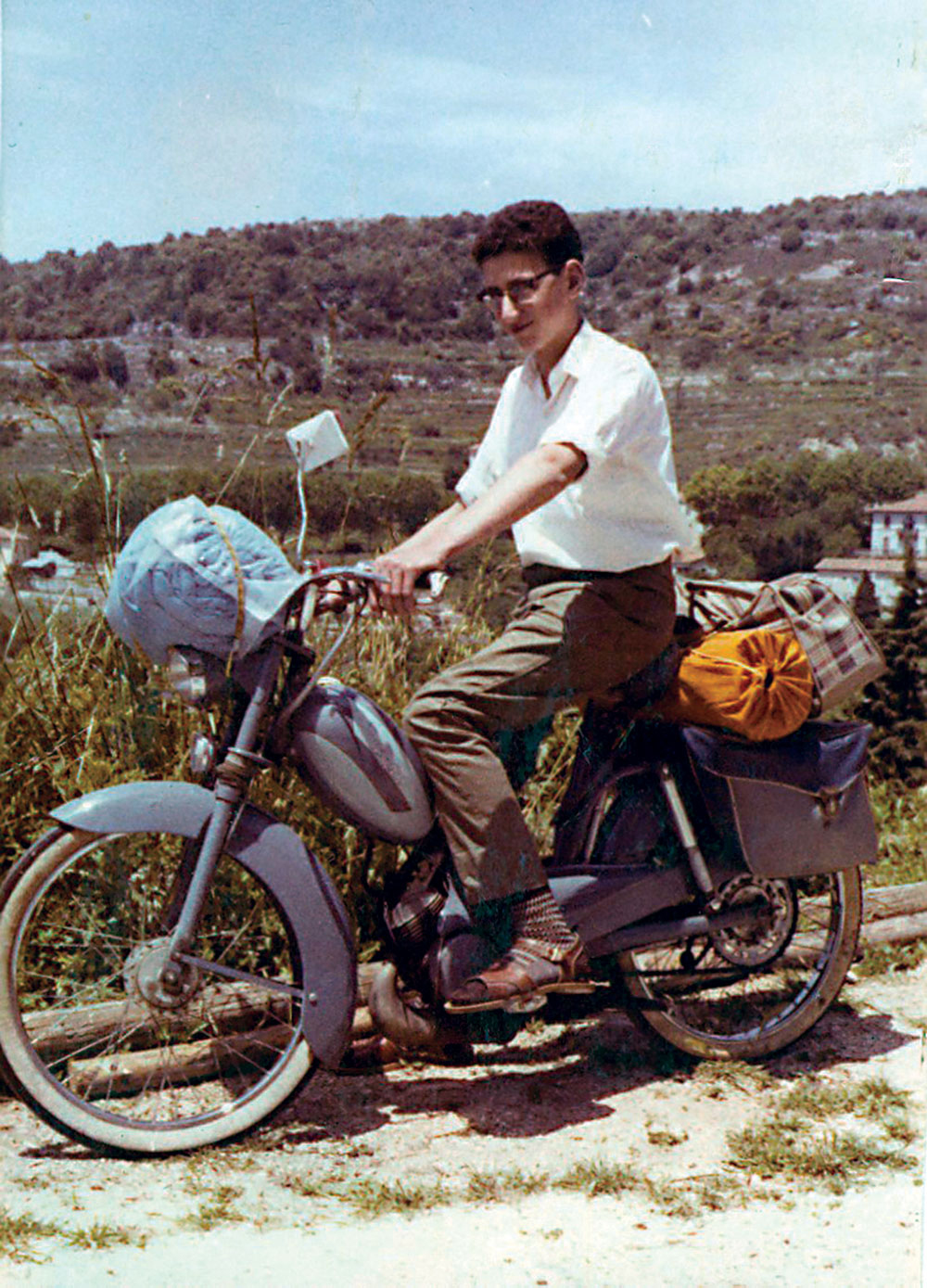 Sur la maison voisine une ancienne fresque publicitaire pour les petits-beurre 'LU', la célèbre biscuiterie nantaise. / Next door, an old publicitary painting for the cookies of the famous 'LU' brand from Nantes.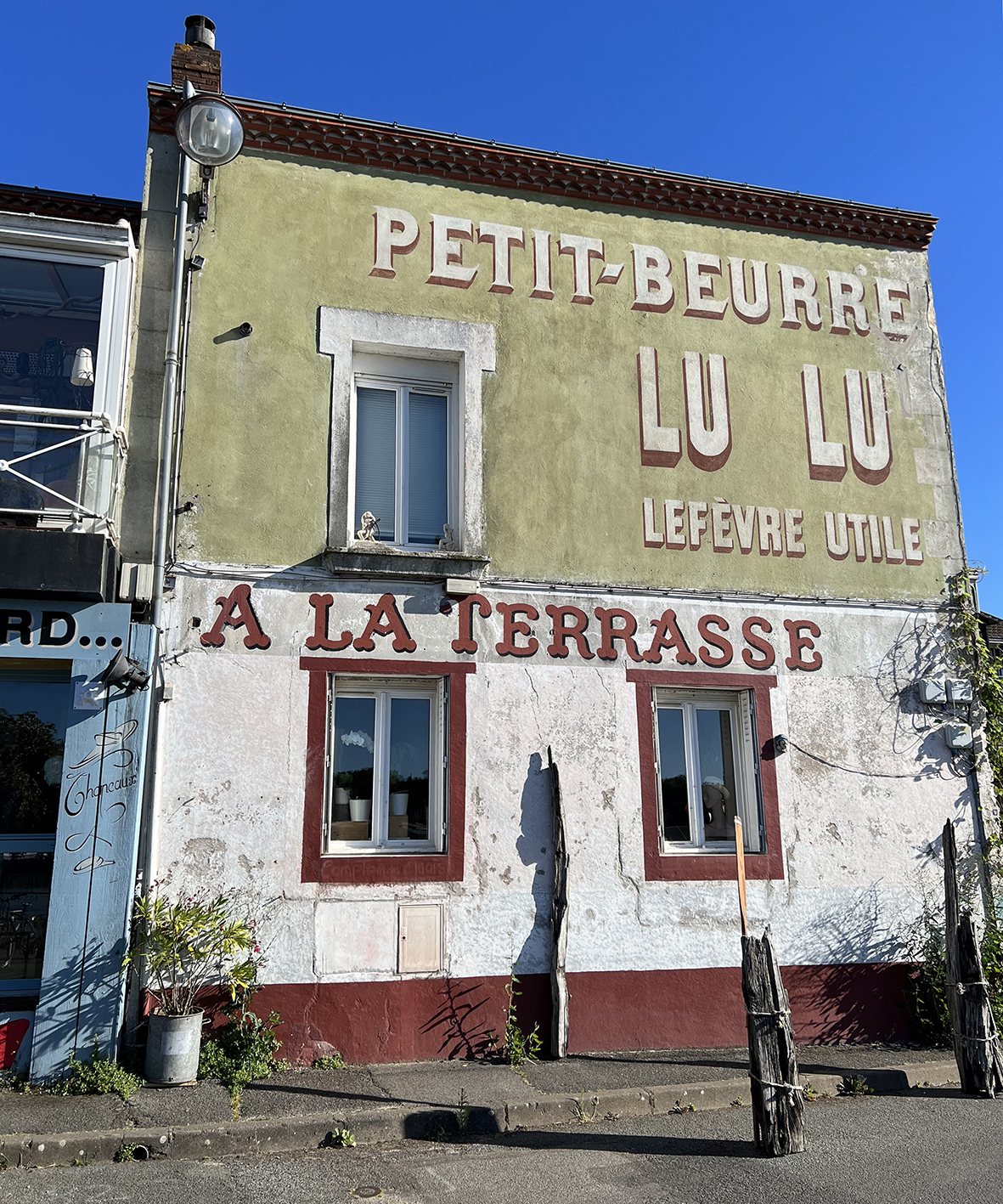 Nous nous promenons dans Trentemoult, avec ses maisons aux couleurs vives et aux inscriptions parfois surprenantes. / We stroll around Trentemoult, with its brightly coloured houses and their sometimes surprising inscriptions.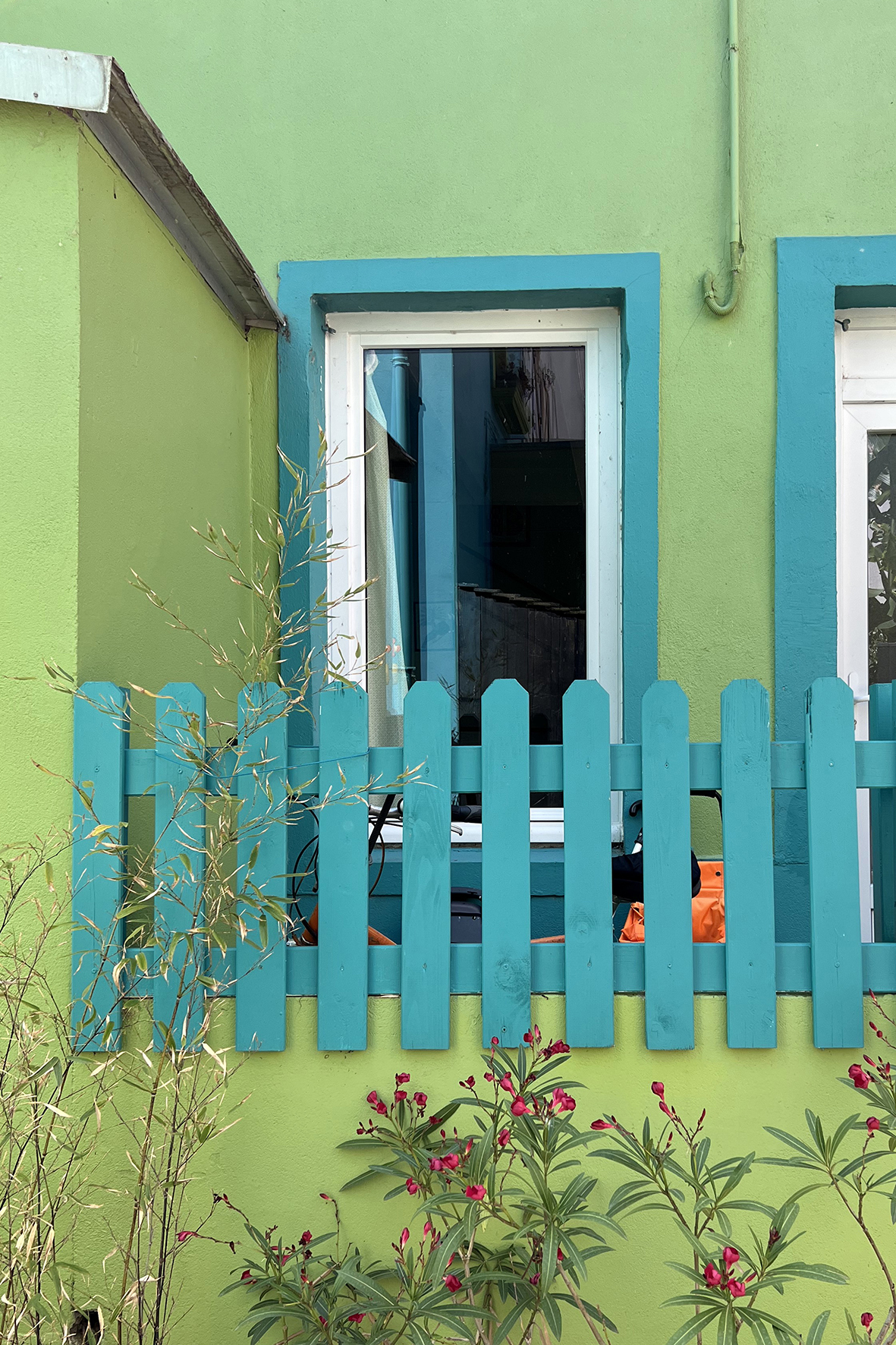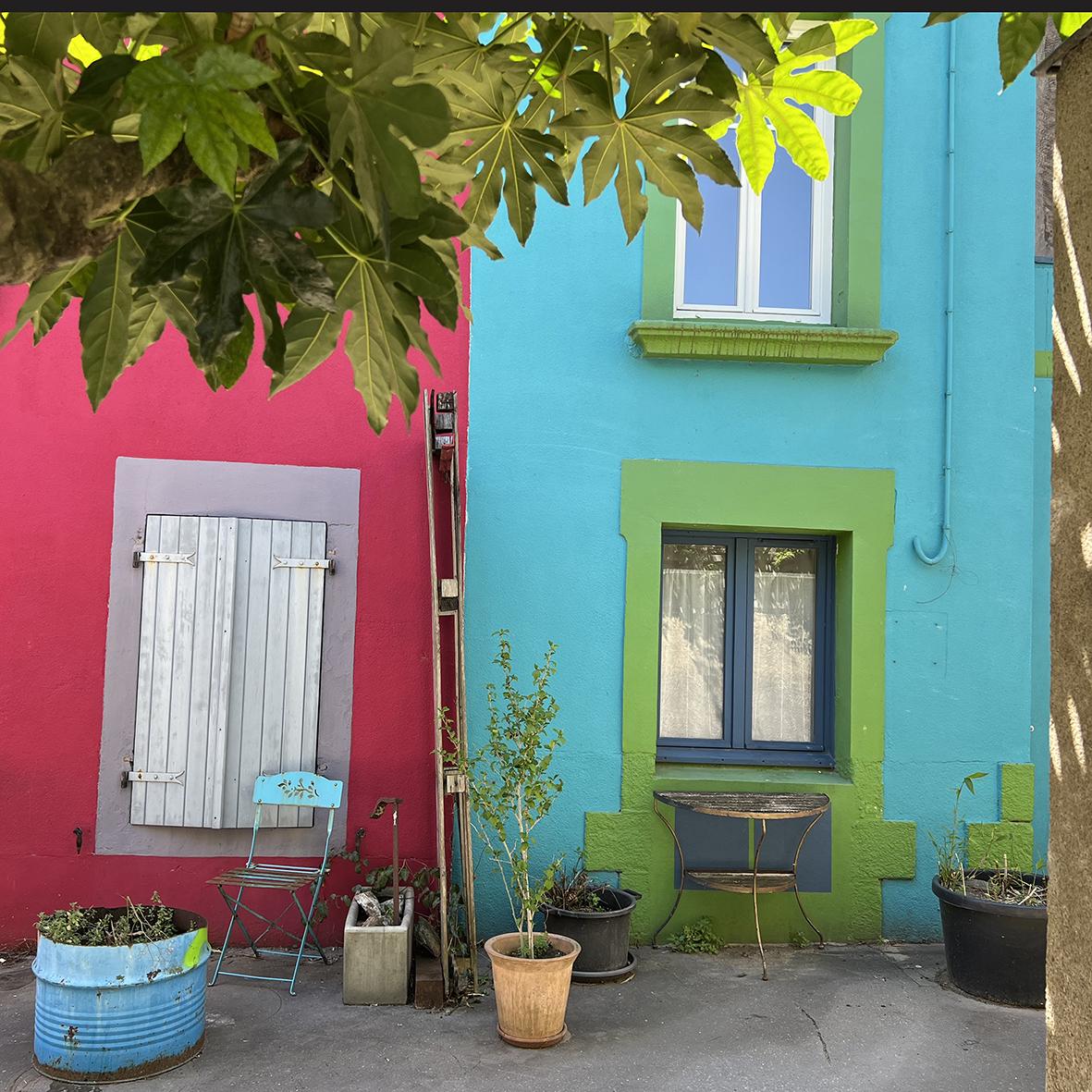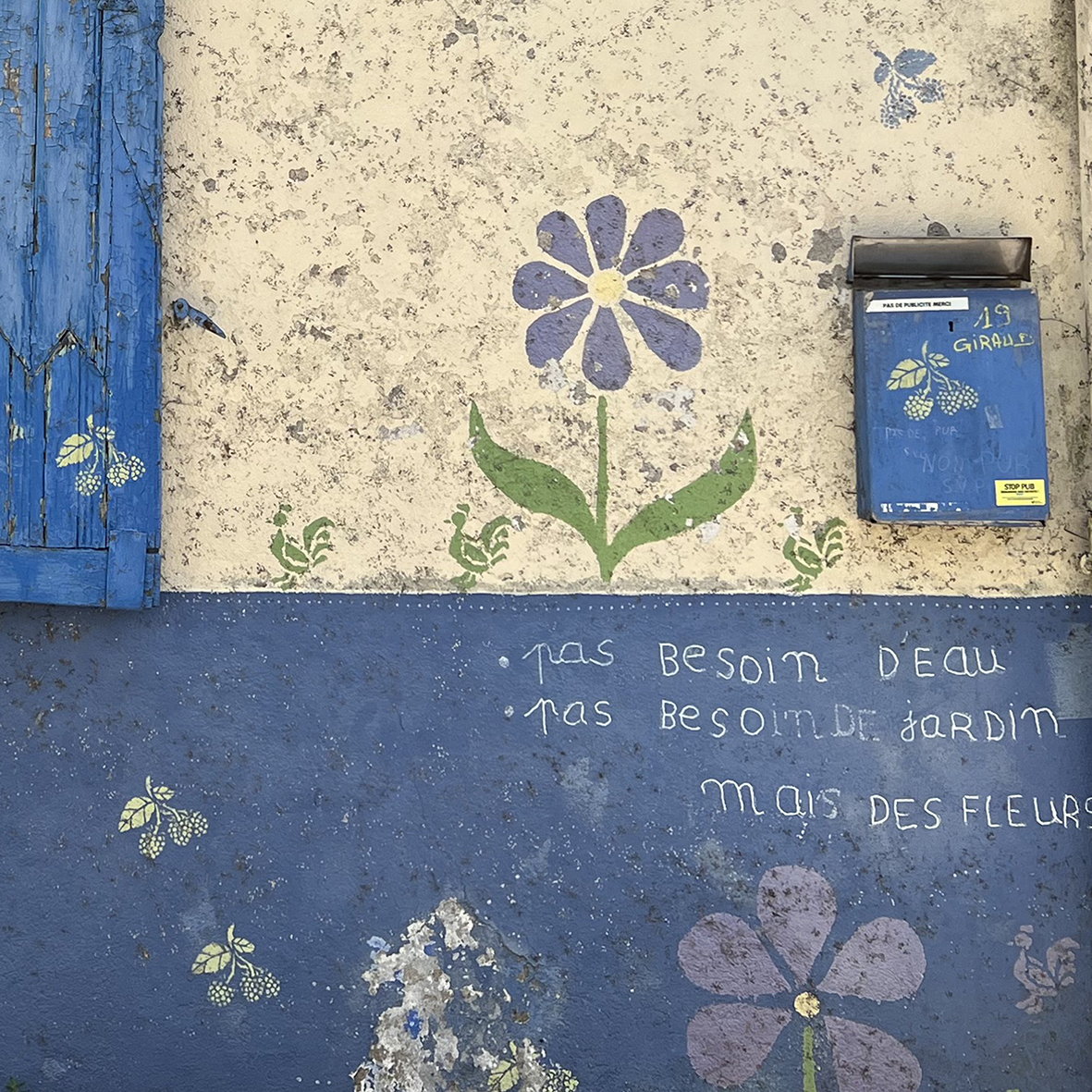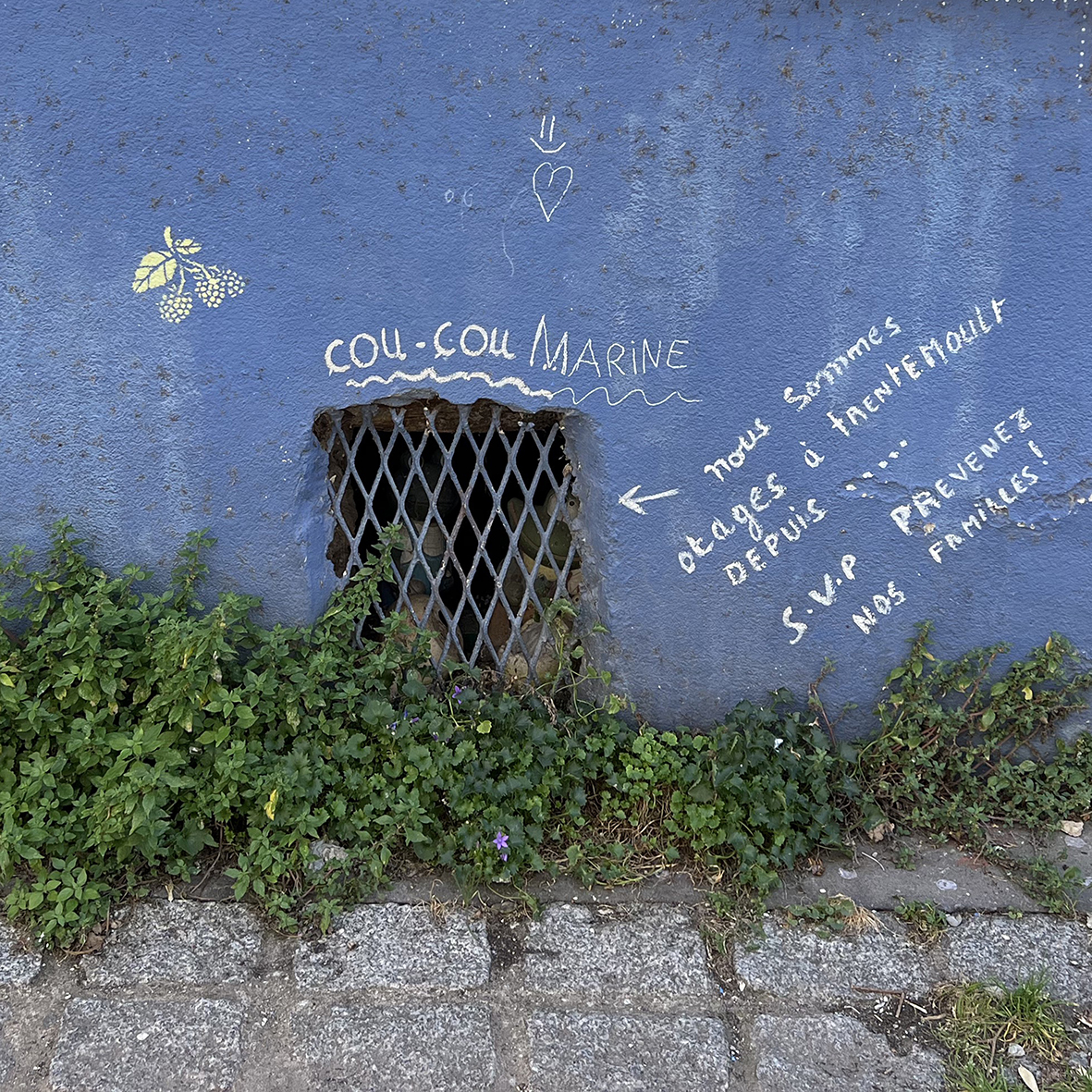 Nous prenons le bac pour traverser la Loire. Au quai de la Fosse est amarré « El Galeon Andalucia ». Ce trois-mâts d'une cinquantaine de mètres est une reproduction d'un galion espagnol du 16ème siècle. C'est ce type de navire dit 'de la flotte des Indes' qui fit les liaisons commerciales entre l'Espagne, l'Amérique et les Philippines jusqu'au 18ème siècle. / We take the ferry to cross the Loire. At the Quai de la Fosse is moored "El Galeon Andalucia". This fifty-meter three-master is a reproduction of a 16th century Spanish galleon. It is this type of ship 'of the fleet of the Indies' which made the commercial links between Spain, America and the Philippines until the 18th century.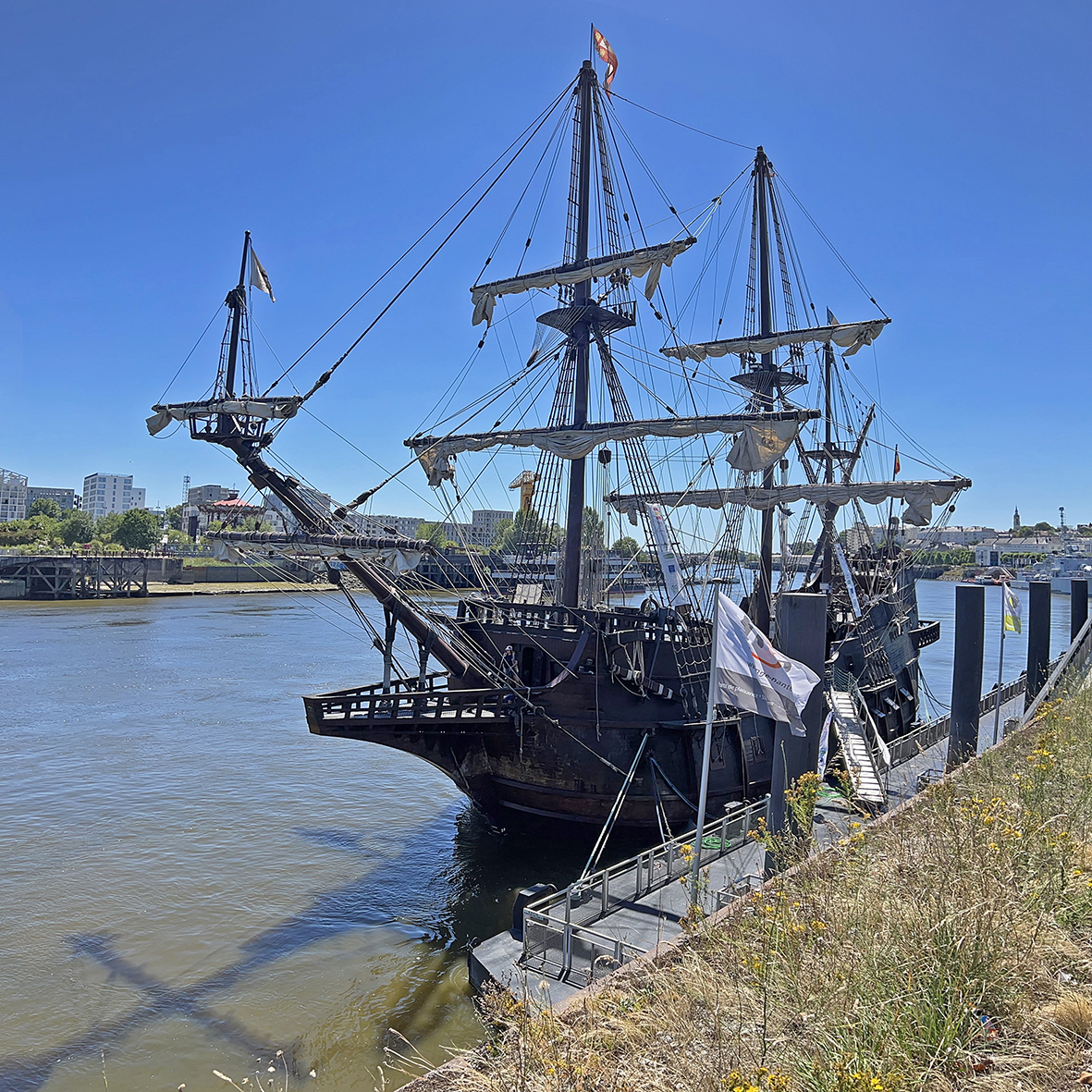 Juste à côté, nous visitons le Mémorial de l'Abolition de l'Esclavage, qui nous plonge dans la réalité du commerce maritime des siècles passés, dans lequel Nantes a joué un rôle non négligeable comme port négrier. Sur l'esplanade, 1710 plaques en verre rappellent les noms des bateaux nantais qui transportaient les esclaves vers leurs terrible destin aux Antilles. Les noms de certains navires ne manquent pas d'ironie… / Right next door, we visit the Memorial to the Abolition of Slavery, which plunges us into the reality of maritime trade in past centuries, in which Nantes played a significant role as a slave port. On the esplanade, 1710 glass plates recall the names of the Nantes boats that transported slaves to their terrible destiny in the West Indies. The names of certain ships are not lacking in irony…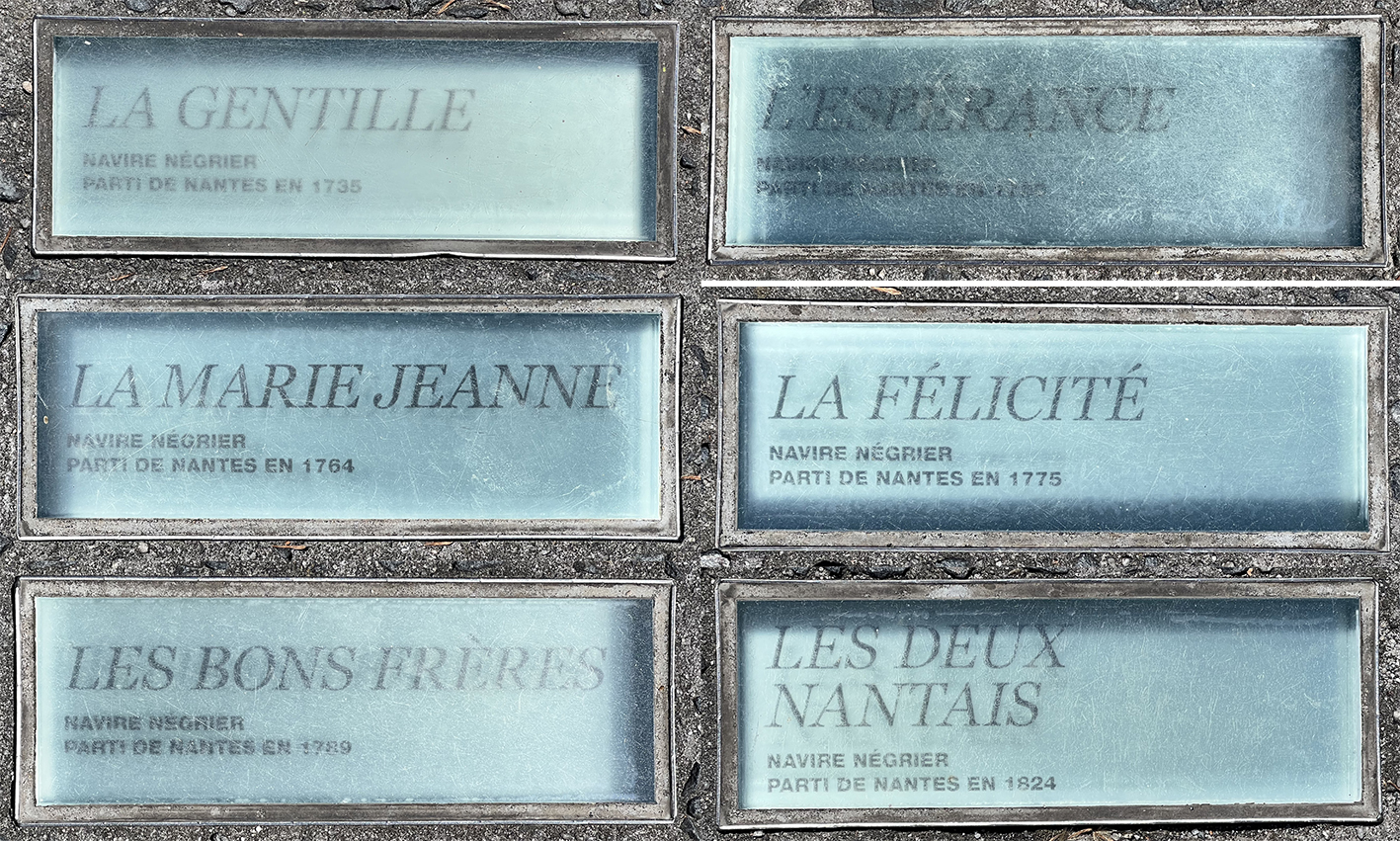 Plus de 1800 expéditions négrières ont été recensées au départ de Nantes, soit plus de 550.000 personnes déportées. (Au total, depuis les ports européens, on a recensé 27.233 expéditions négrières entre le 15ème et 19ème siècle, ce qui correspond à plus de 12,5 millions d'hommes, femmes et enfants qui furent arrachés à l'Afrique. Plus d'un million et demi d'entre eux – 12% ! – moururent pendant la traversée. / More than 1,800 slave trade expeditions were recorded departing from Nantes, i.e. more than 550,000 people deported. (In total, from European ports, 27,233 slave expeditions were recorded between the 15th and 19th centuries, which corresponds to more than 12.5 million men, women and children who were torn from Africa. More than one and a half million of them – 12%! – died during the crossing.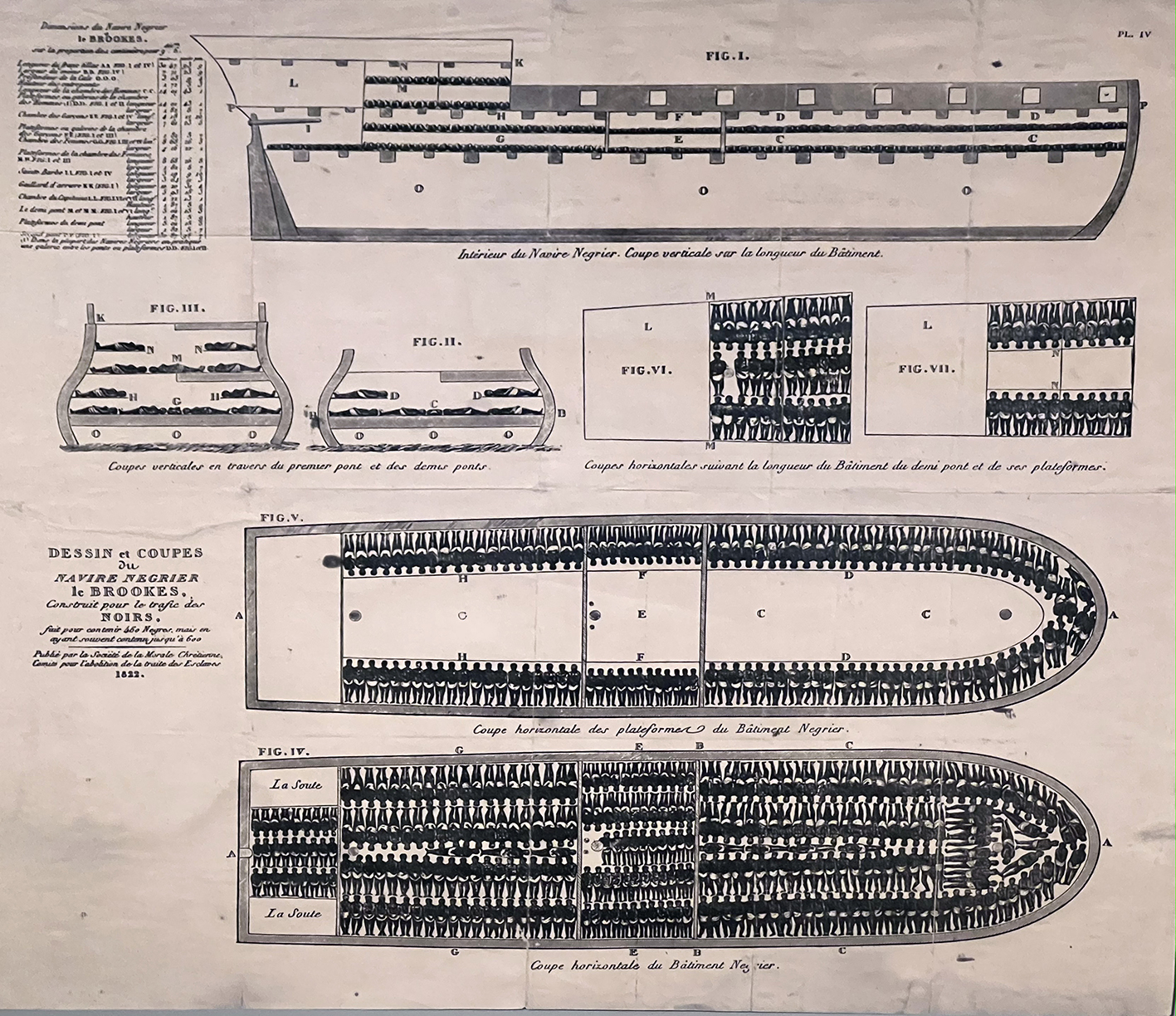 Nantes est également la ville de Jules Verne. Inspiré par le va-et-vient de navires, il imaginas ses 'voyages extraordinaires' mais également des machines futuristes. / Nantes is also the city of Jules Verne. Inspired by the comings and goings of ships, he imagined his "extraordinary voyages" but also futuristic machines.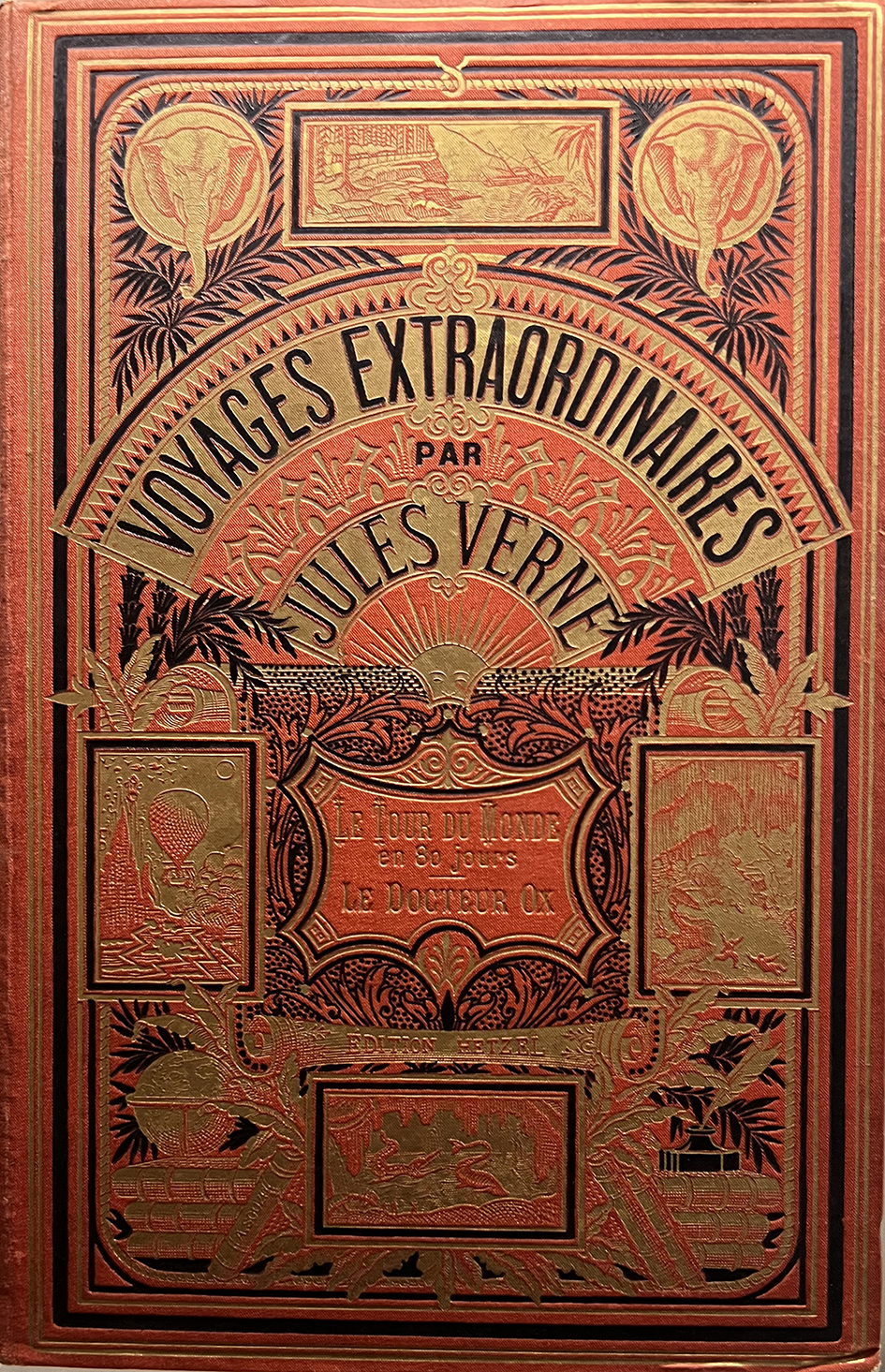 Nantes perpétue la tradition, dont témoigne cette frise murale réalisée sur un hangar du port maritime. Sur le quai de la Fosse, le duo de dessinateurs et muralistes Ador & Semor y met en scène un spectacle ambulant inspiré par le voyage et la mobilité. Les sujets exportent et importent, arrivent et repartent chacun à leur manière. / Nantes continues the tradition, as evidenced by this wall frieze created on a hangar in the seaport. On the Quai de la Fosse, the duo of designers and muralists Ador & Semor painted a scene inspired by travel and mobility. The subjects are export and import, arriving and leaving each in their own way.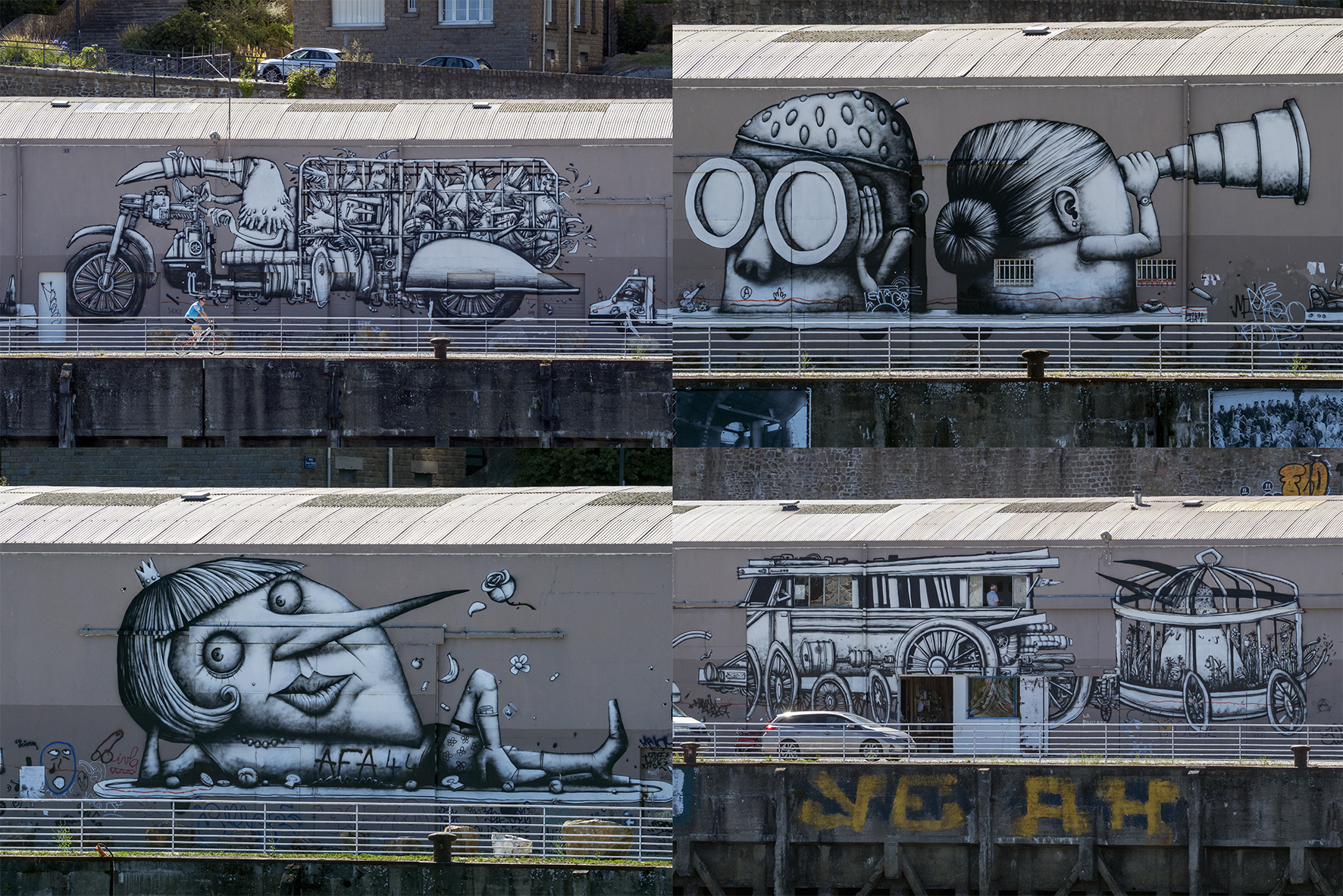 Nous nous rendons aux 'Machines de l'Île', où d'improbables animaux-robots ont pris vie, dont le célèbre 'Grand Éléphant' – 12 m de haut, 21 m de long, 8 m de large et pesant près de 50 tonnes ! / We go to the 'Machines de l'Île', where unlikely animal-robots have come to life, including the famous 'Great Elephant' – 12 m high, 21 m long, 8 m wide and weighing almost 50 tons !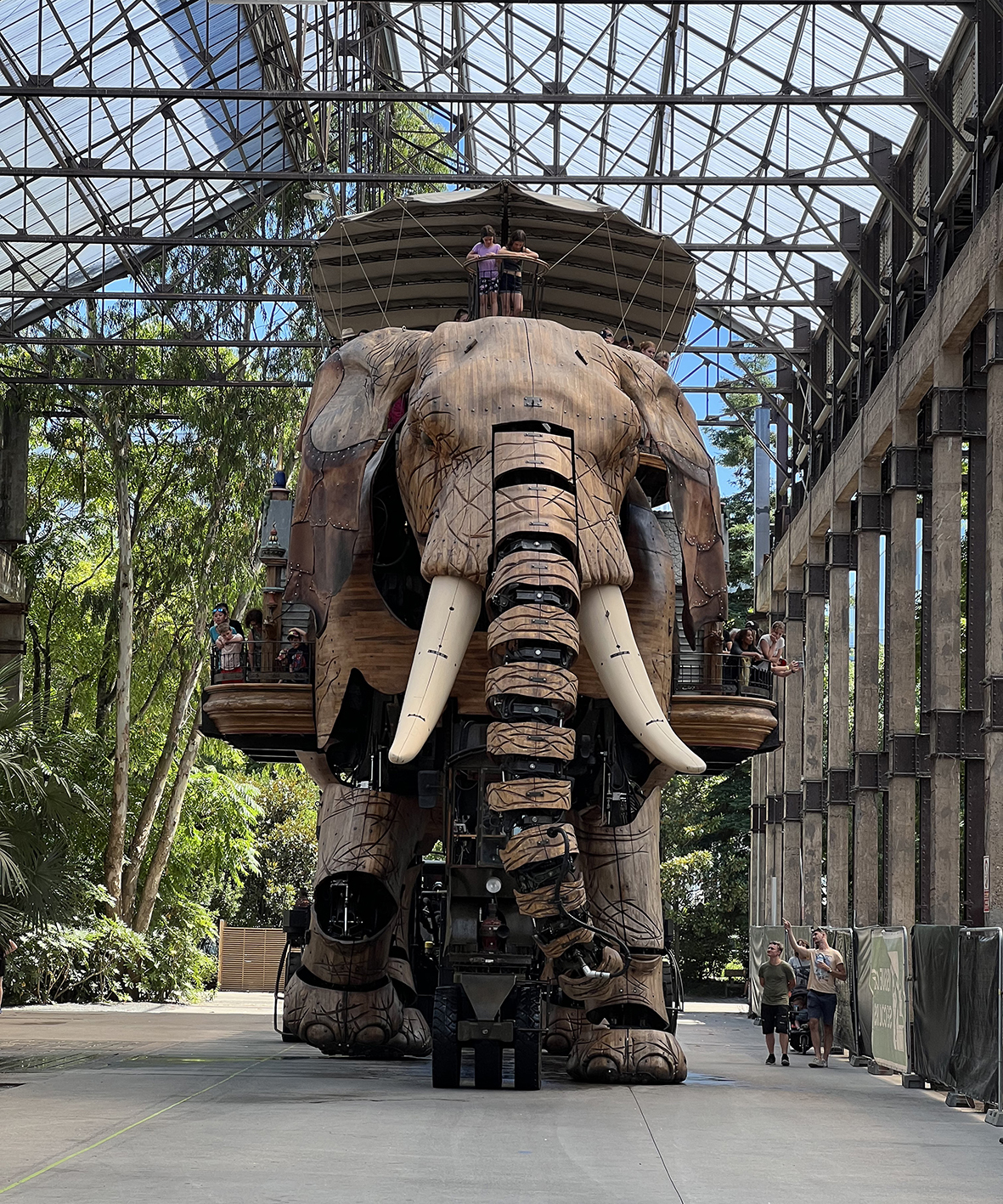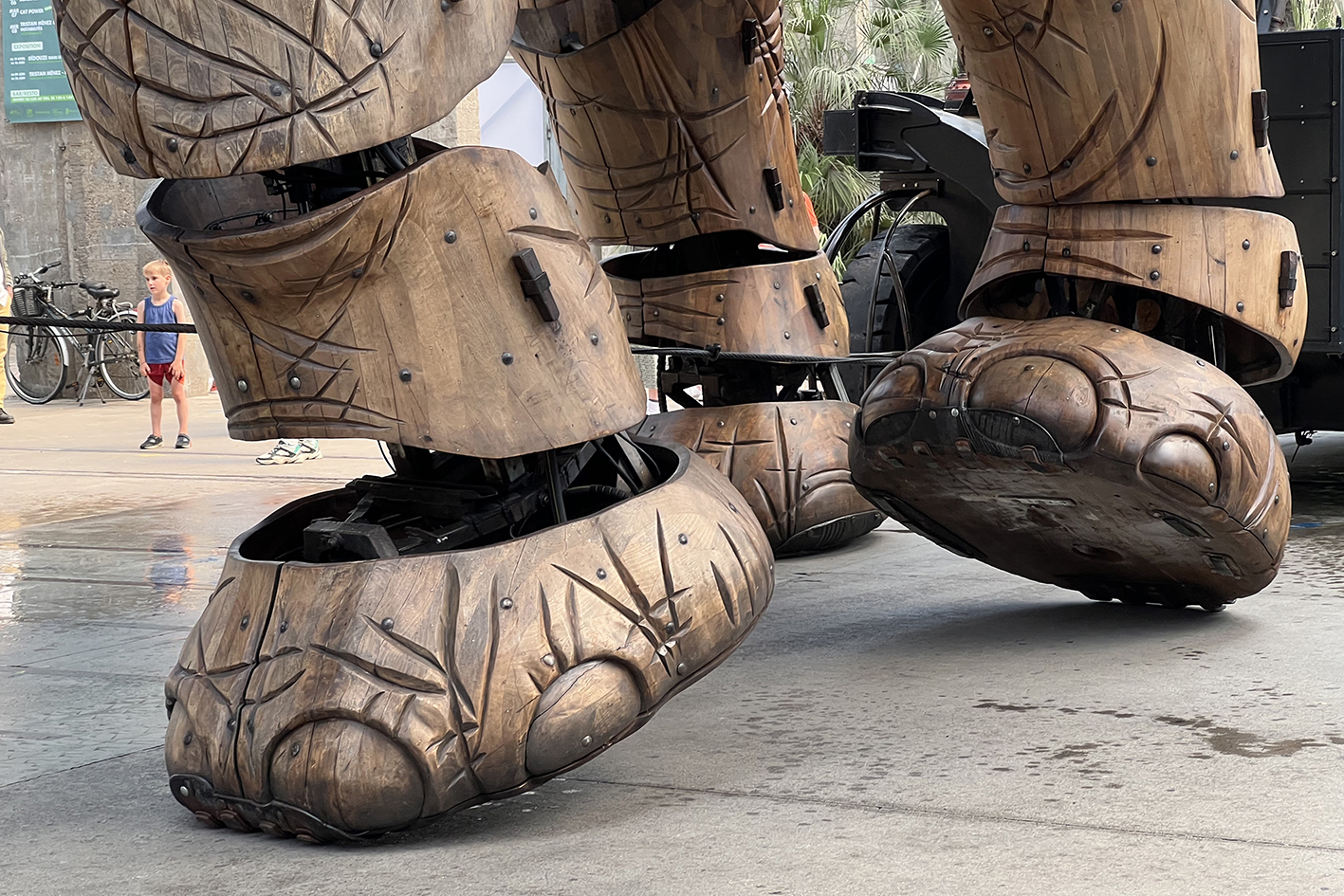 Juste à côté, le 'Carrousel' des Mondes Marins', où d'improbables monstres abyssaux tournent en rond. / Right next to it, the 'Carrousel' des Mondes Marins', where improbable abyssal monsters turn in circles.
La 'Grue Titan', construite en 1954, rappelle le temps glorieux où Nantes était encore un important port maritime avec les chantiers navals Dubigeon, fondés en 1760 et fermés en 1987. / The 'Titan Crane', built in 1954, recalls the glorious days when Nantes was still an important seaport with the Dubigeon shipyards, founded in 1760 and closed in 1987.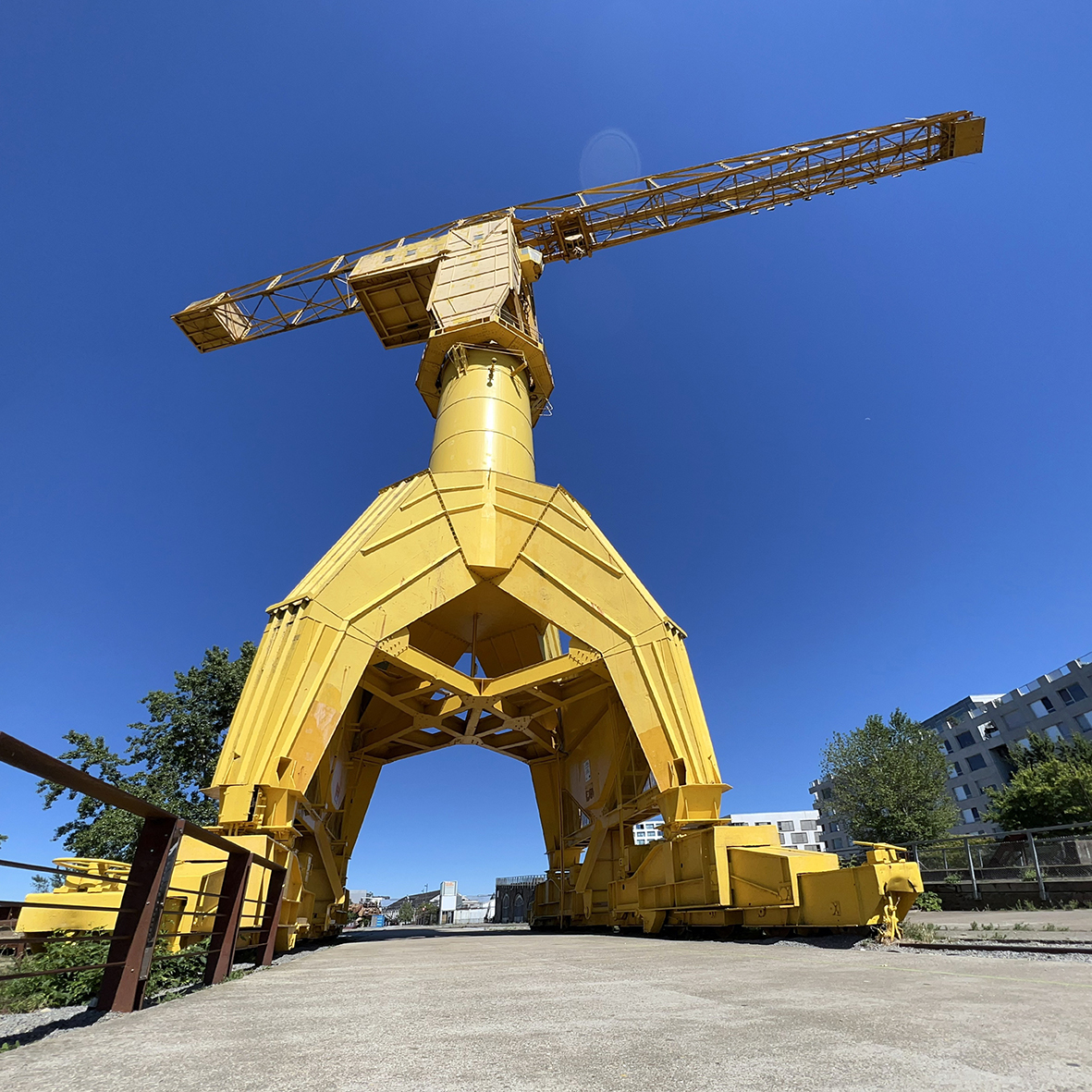 Les 'Anneaux de Buren' près du 'Hangar à Bananes' au quai des Antilles évoquent les anneaux des esclaves lors du 'commerce triangulaire' (produits manufacturés européens – esclaves noirs – matières premières coloniales – dont Nantes a été la plaque tournante au 18ème siècle. / The 'Rings of Buren' near the 'Hangar à Bananes' at the Quai des Antilles evoke the rings of slaves during the 'triangular trade' (European manufactured products – black slaves – colonial raw materials – of which Nantes was the hub in the 18th century .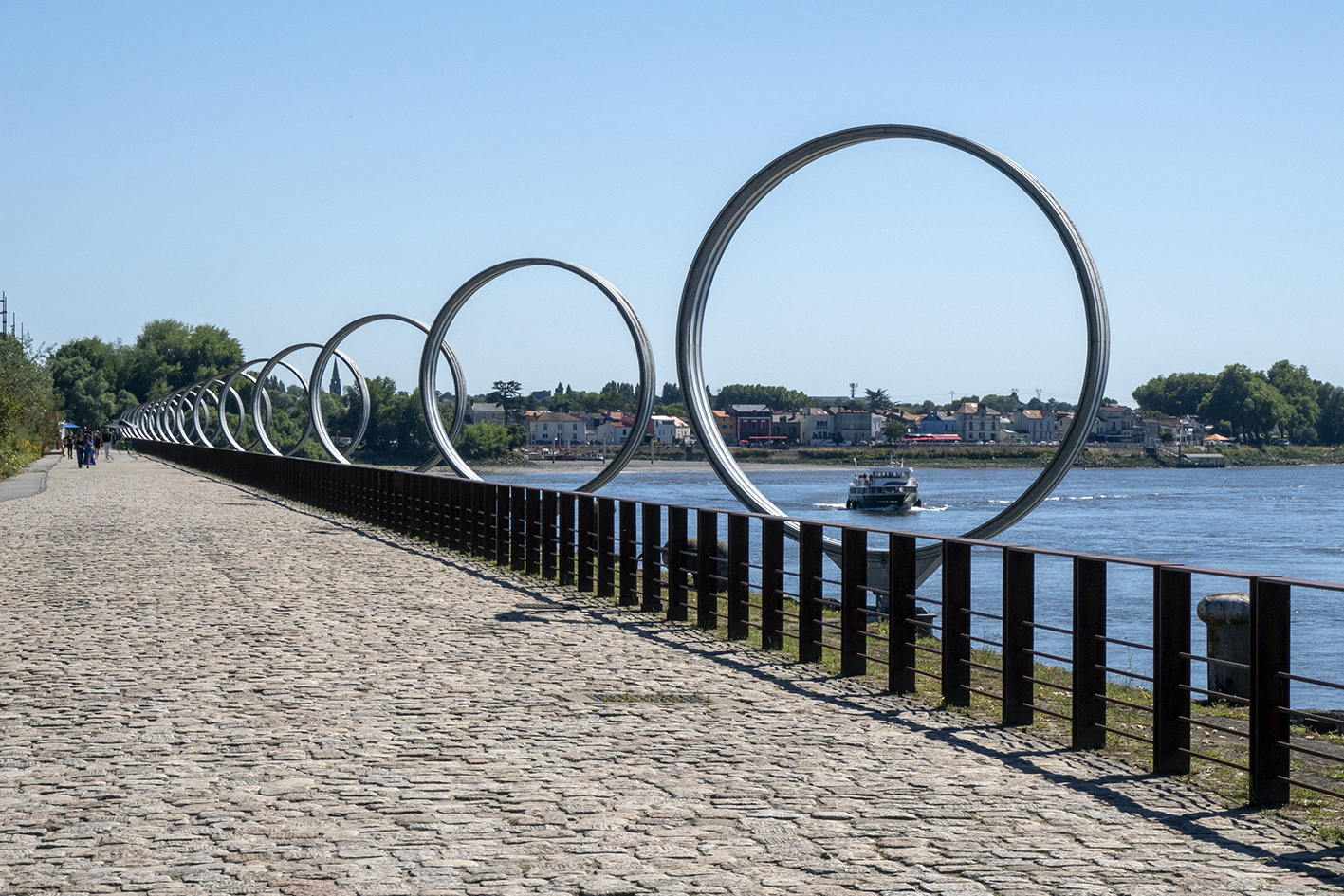 Autre œuvre artistique sur l'Île, l'Herisson de Vincent Mauger (2014). / Another artistic work on the Island, the Hedgehog by Vincent Mauger (2014).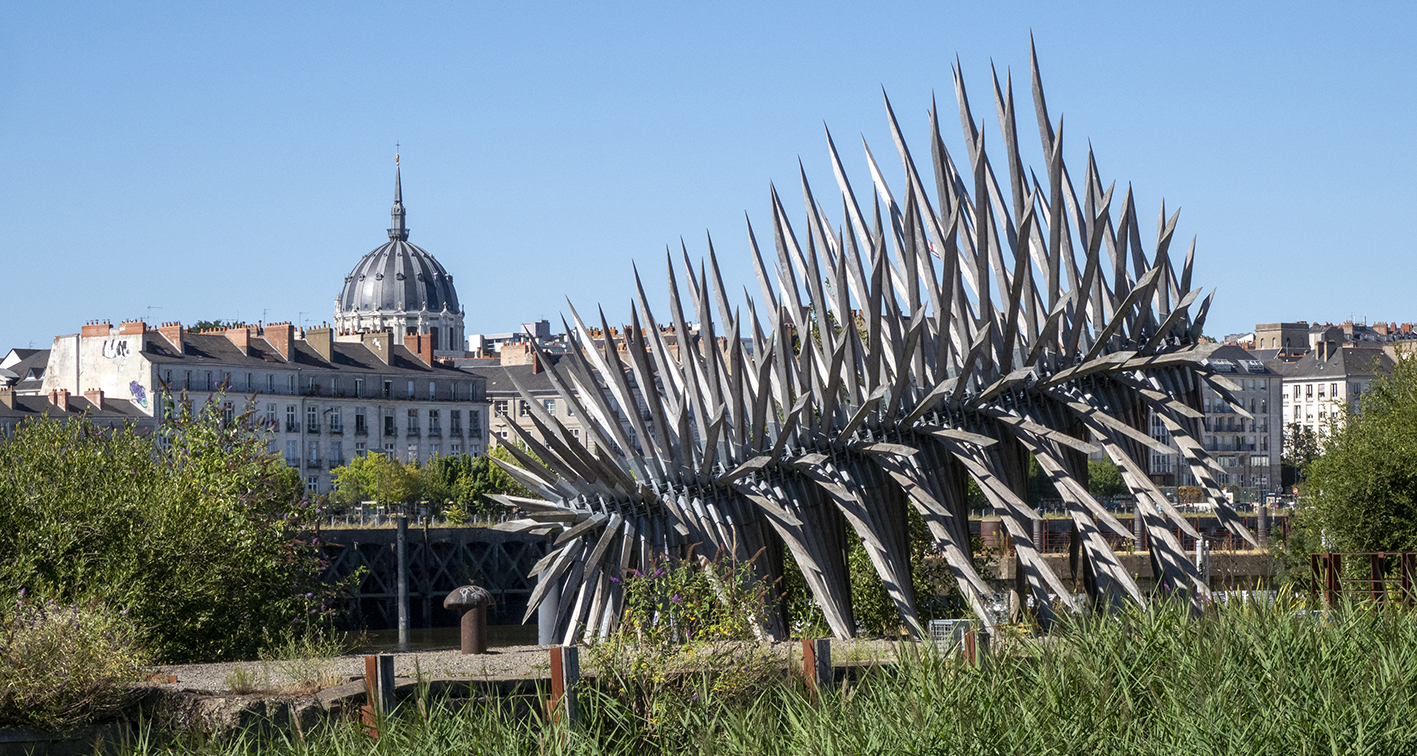 Plus tard, promenade en ville, avec entre autres, le célèbre Passage Pommeraye. / Later, we stroll in town, with among others, the famous Passage Pommeraye.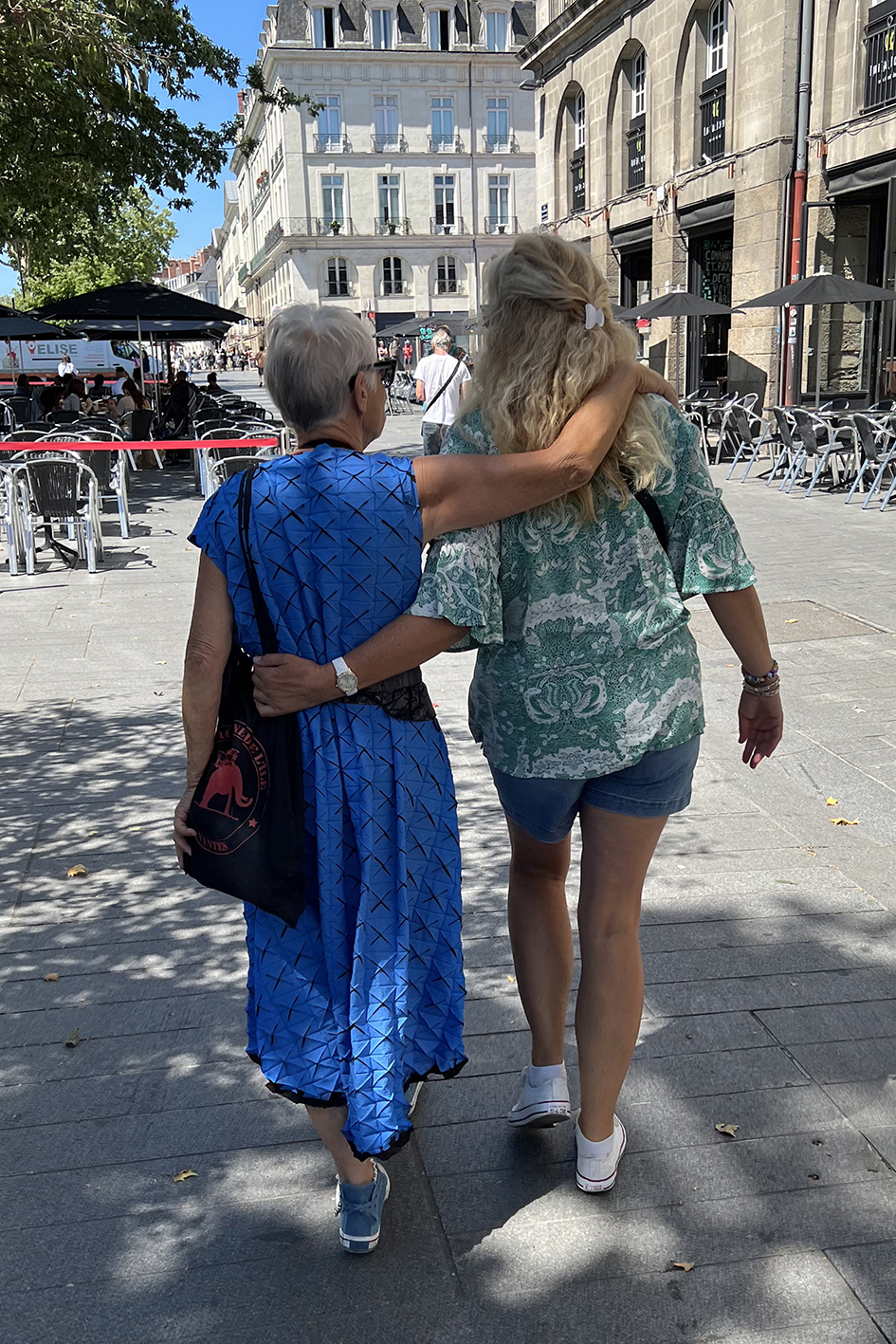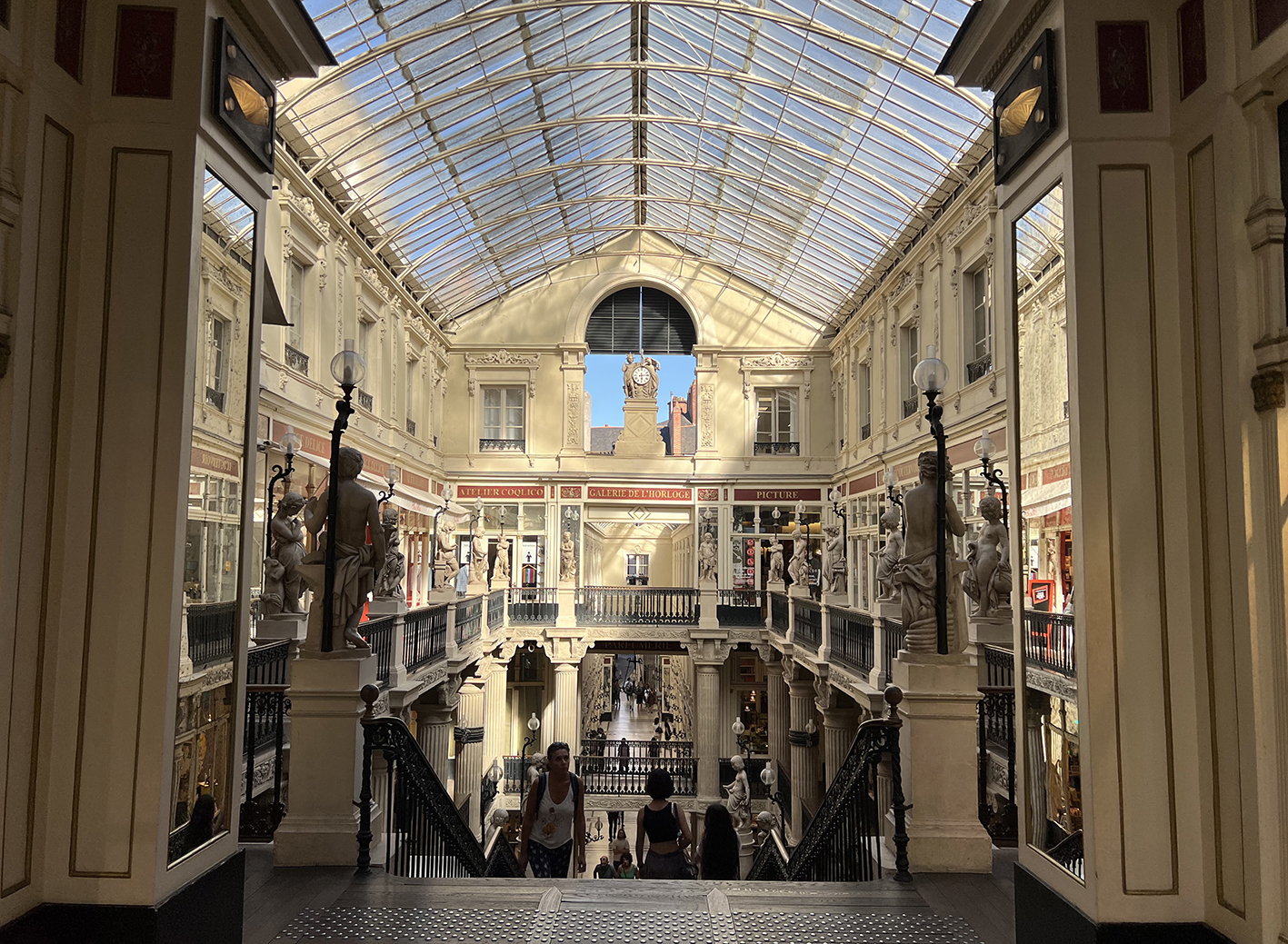 Nous visitons également le Château des Ducs de Bretagne… / We also visit the Castle of the Dukes of Brittany…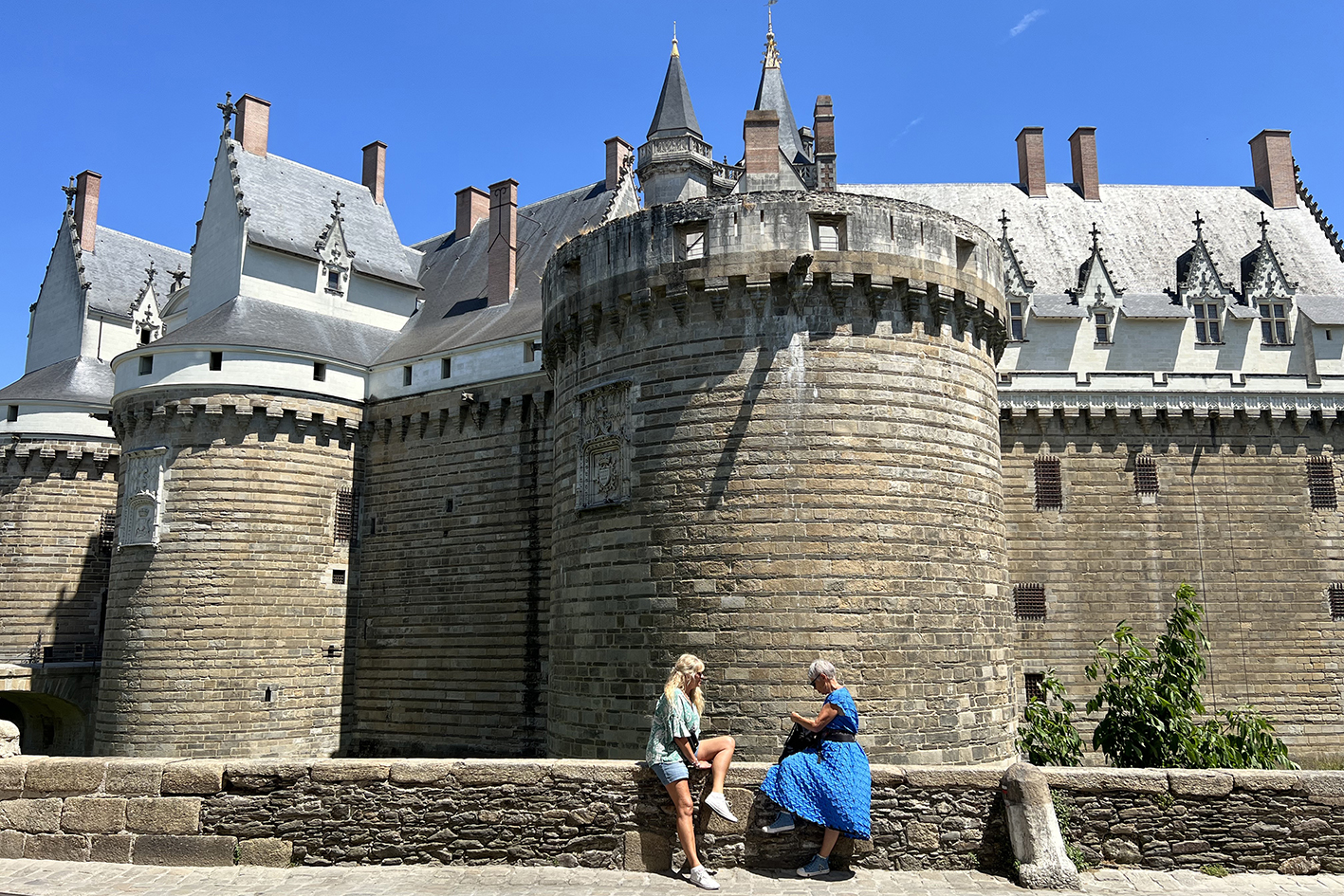 … Qui m'inspire cette photo 'à la Maurits Escher'. / … Which inspires me this photo 'à la Maurits Escher'.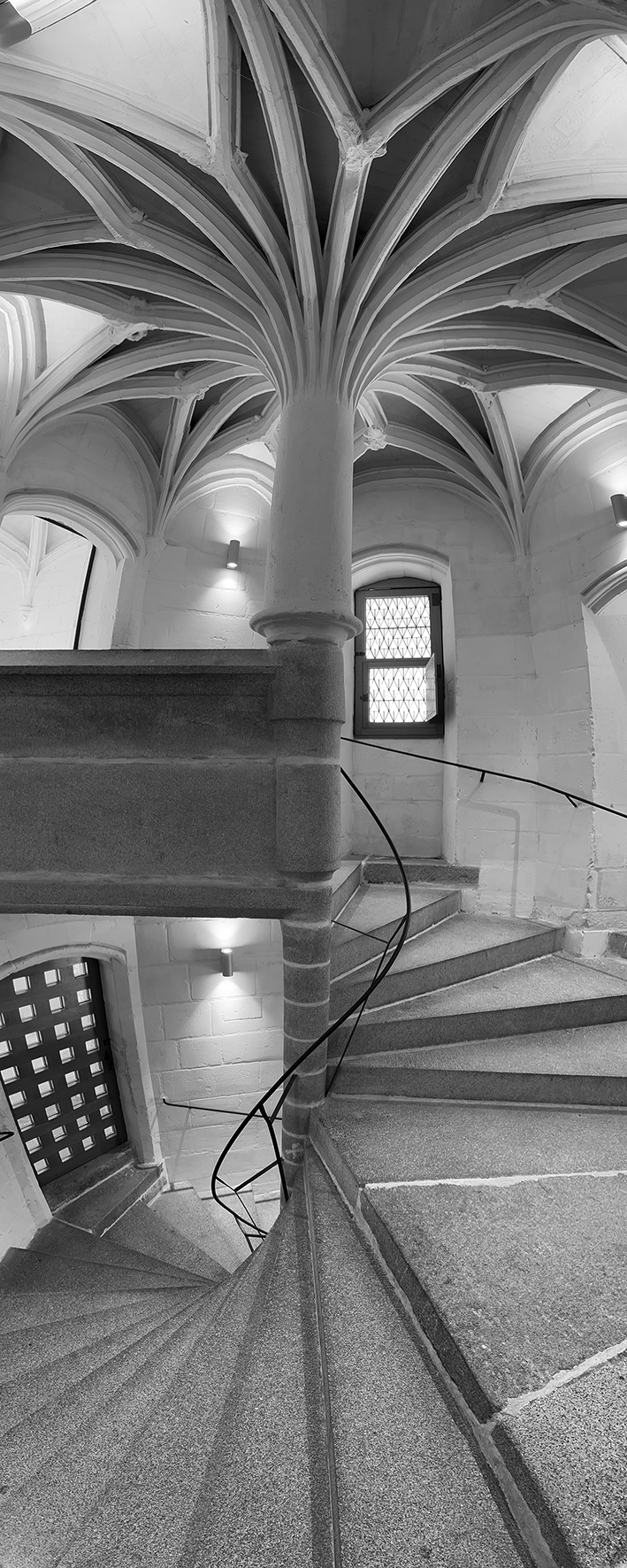 Une très belle exposition illustre le passé nantais, dont ce tableau 'Le Chantier naval Dubigeon' peint par Jean-Émile Laboureur en 1901… / A very fine exhibition illustrates the past of Nantes, including this painting 'Le Chantier naval Dubigeon' painted by Jean-Émile Laboureur in 1901…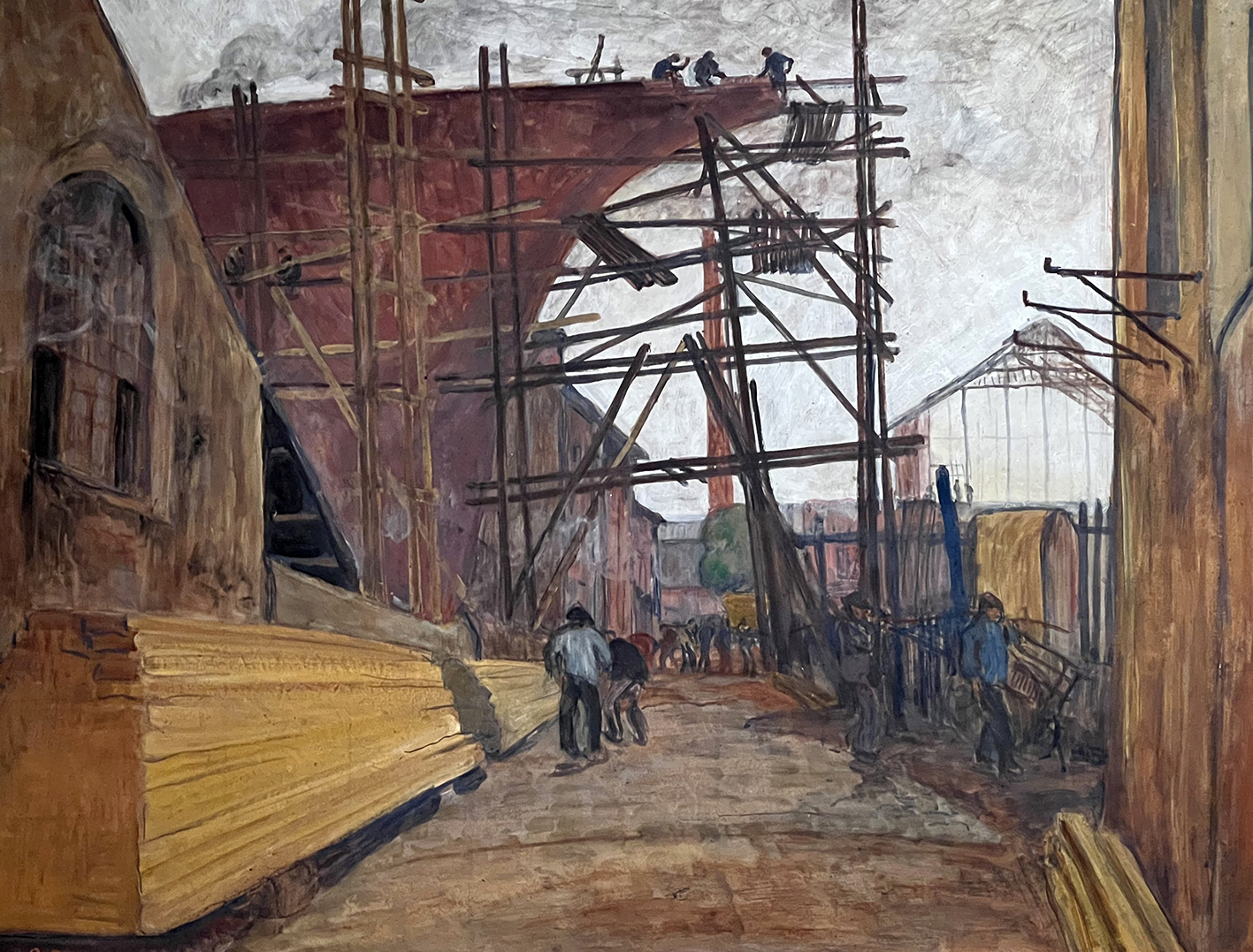 …ou ce 'Navires à l'Entree de Saint-Nazaire, œuvre de Charles Leduc vers 1875. / …or this 'Ships at the Entrance to Saint-Nazaire, a work by Charles Leduc around 1875.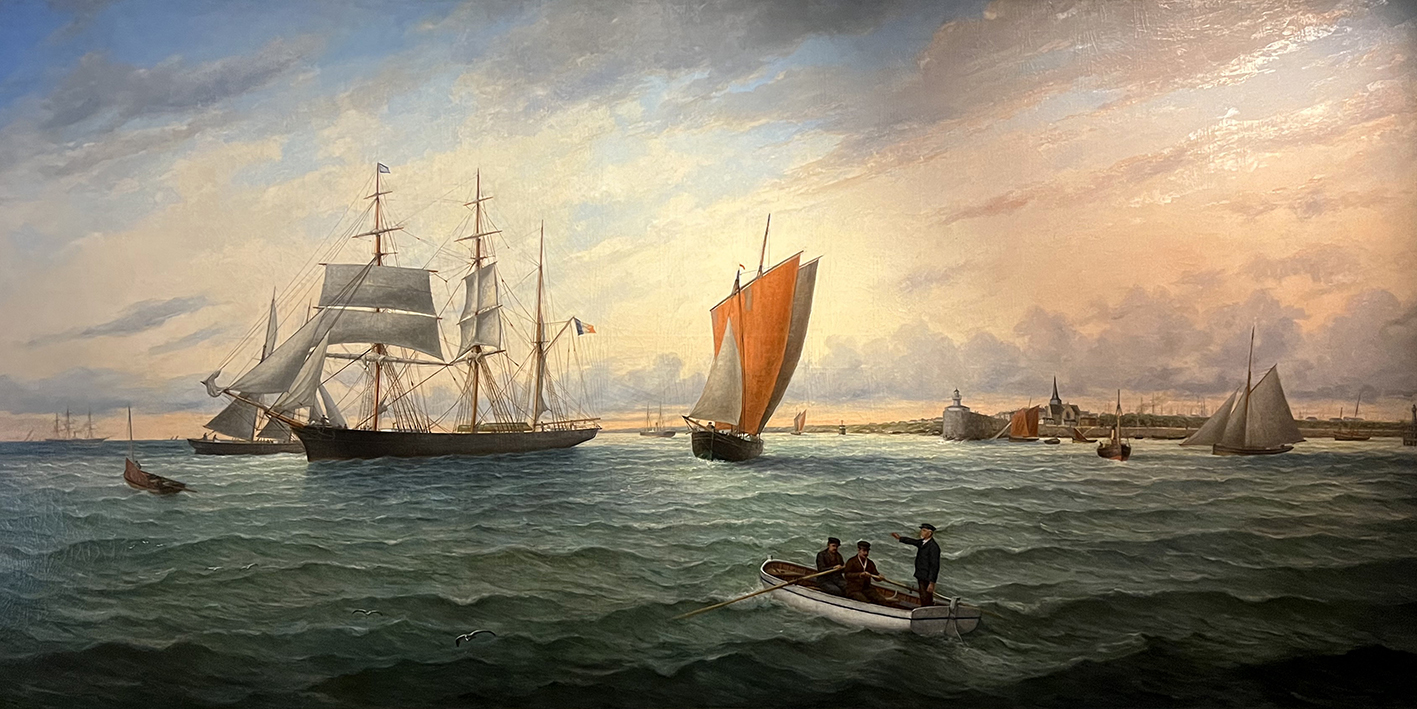 Lors de notre retour vers Carquefou, nous sautons du tram près de la gare, afin d'admirer la célèbre 'Tour LU', à lui seul symbole de Nantes. / On our return to Carquefou, we hop off the tram near the station to admire the famous 'Tour LU', a symbol of Nantes in itself.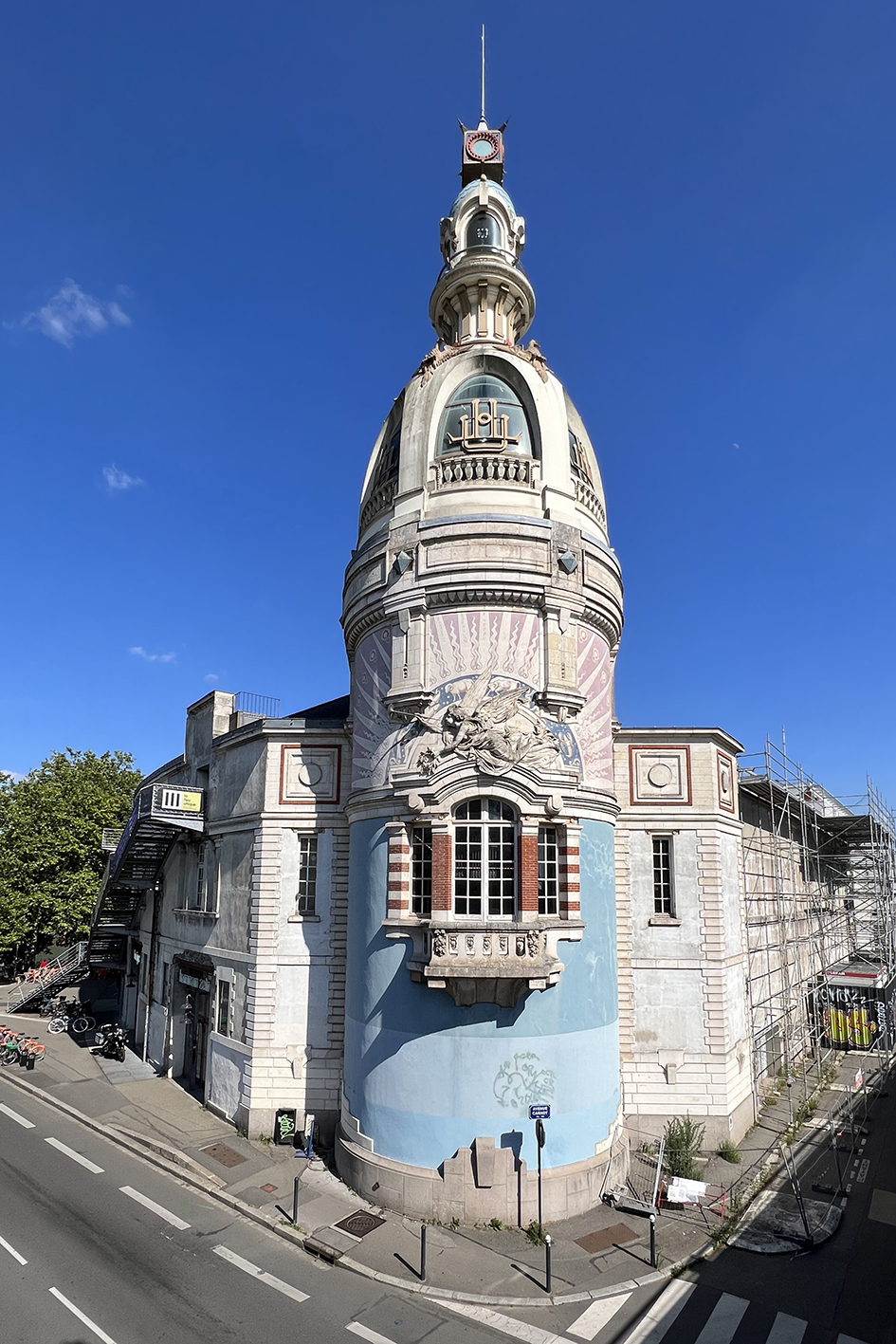 4 juillet 2022. Saint-Michel-sur-Loire – Carquefou (200 km)

/ July 4, 2022. Saint-Michel-sur-Loire – Carquefou (200 km)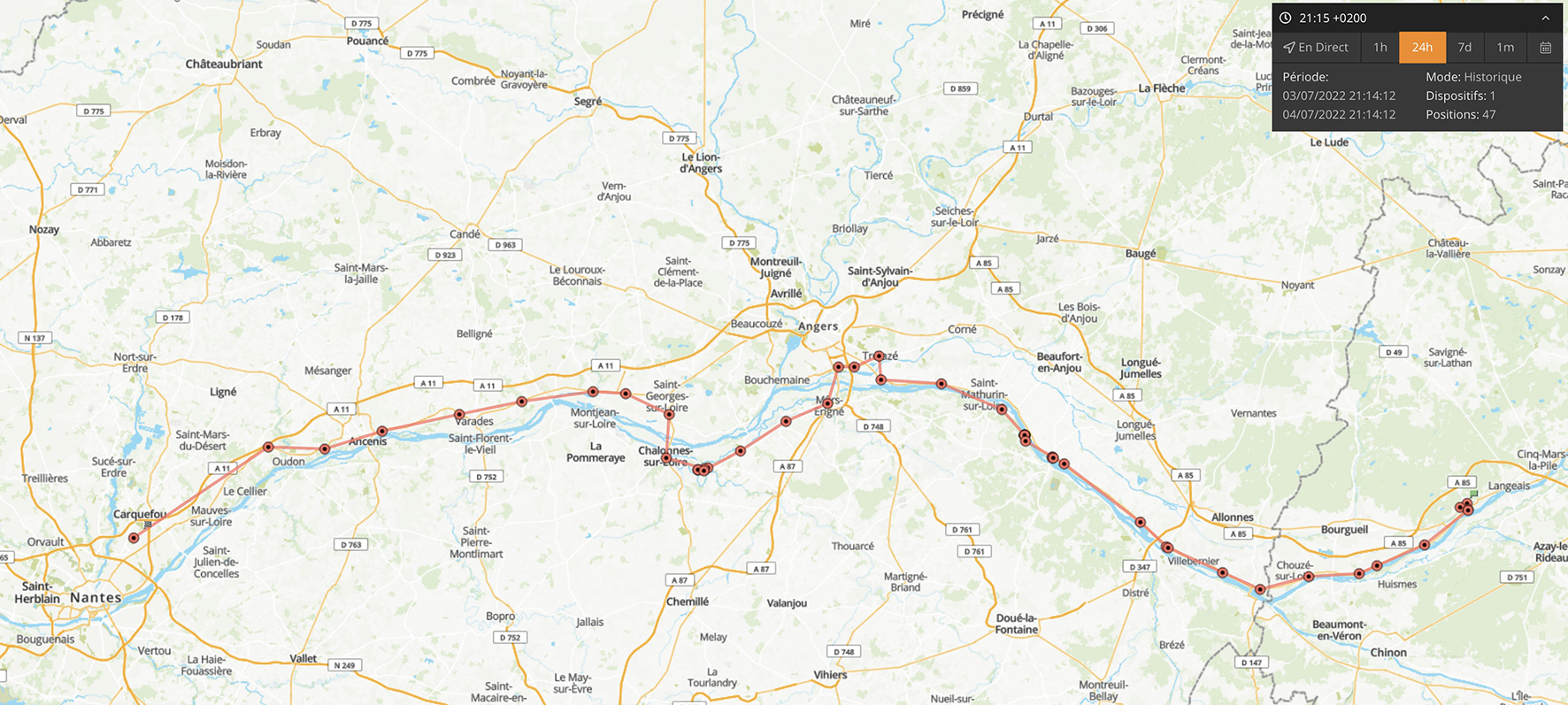 J'aurai voulu le faire exprès, je n'y serais jamais arrivé… Pile 200 bornes ! Remarque, 201 aurait été pas mal non plus, avec notre Peugeot 201, qui commence à poser dès le matin devant une ancienne fresque publicitaire des chocolats Menier, la même famille que ceux qui possèdent le château de Chenonceau depuis 1913, quand Henri Menier, qui a fait fortune dans le chocolat, l'acquiert. Il meurt peu après, mais la famille conserve le monument, géré aujourd'hui par Laure Menier. / If I had tried to do it on purpose, I would never have succeeded… Exactly 200 kilometers! Although 201 would not have been bad either, with our Peugeot 201, which starts posing in the morning in front of an old advertising fresco for Menier chocolates, the same family that has owned the Chenonceau castle since 1913, when Henri Menier, who made fortune in chocolate, acquires it. He died shortly after, but the family kept the monument, managed today by Laure Menier.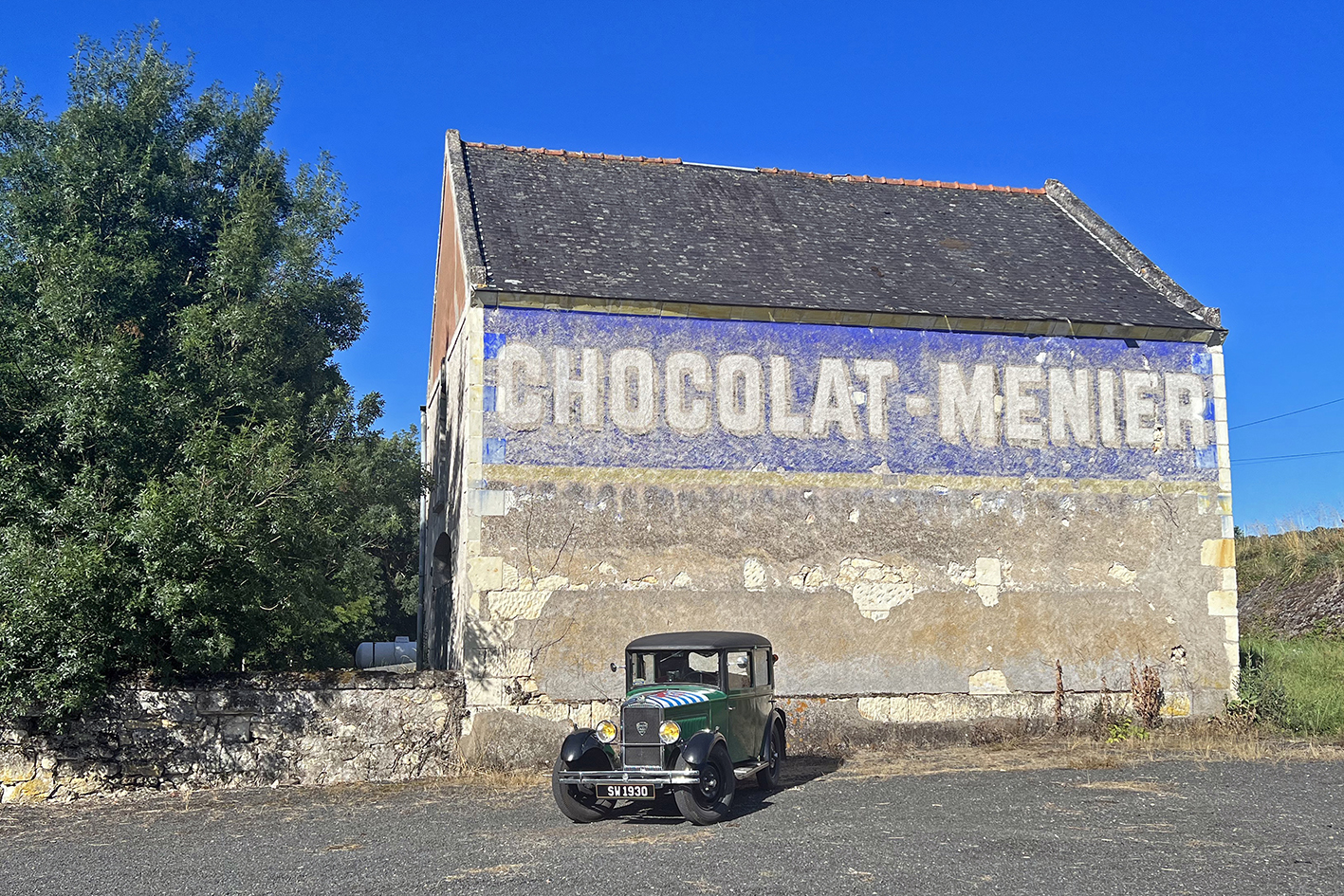 Nous poursuivons notre chemin. Côté terre, alternance de champs de blé et champs de tournesols à l'infini, comme ici, près de Varennes-sur-Loire. / We continue on our way. On the land side, endless wheat fields and sunflower fields alternate, like here, near Varennes-sur-Loire.
Côté fleuve, ici au Thoureil, des bateaux de la Loire dans un fleuve de plus en plus large et puissant, même si le niveau de l'eau est très bas à cause de la sécheresse. / On the river side, here in Thoureil, Loire boats in an increasingly wide and powerful river, even if the water level is very low due to the drought.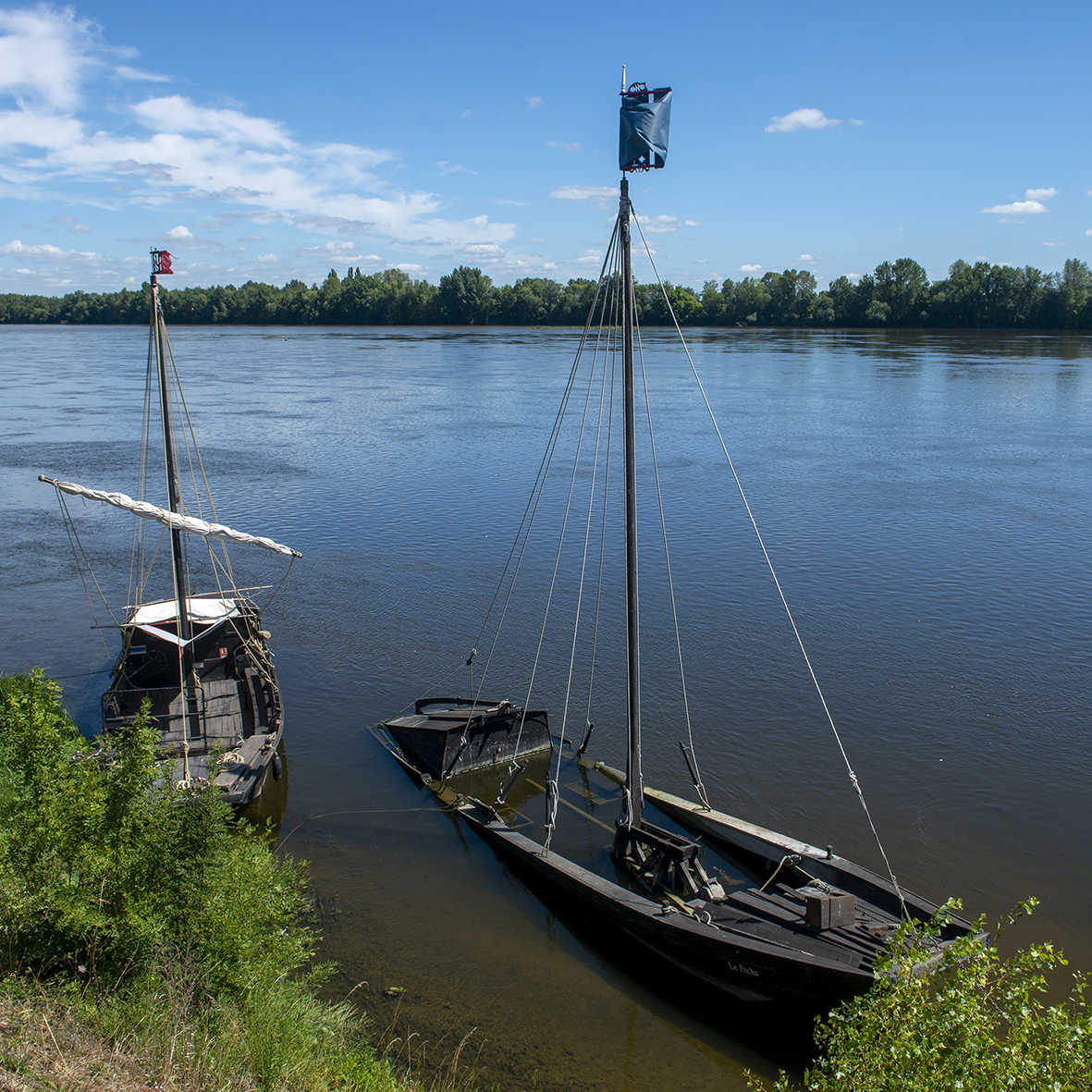 Nous arrivons à Saumur, avec son château, dont l'histoire remonte au 10ème siècle. / We arrive in Saumur, with its castle, whose history dates back to the 10th century.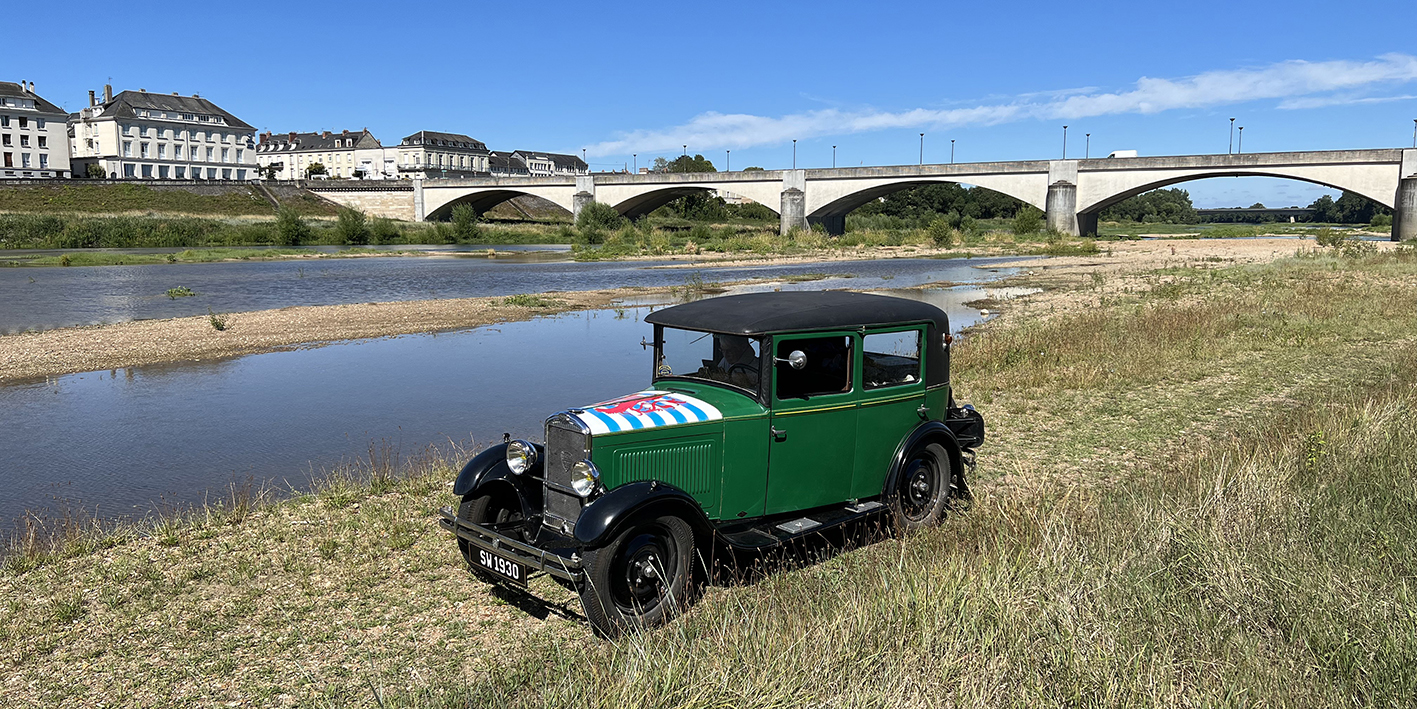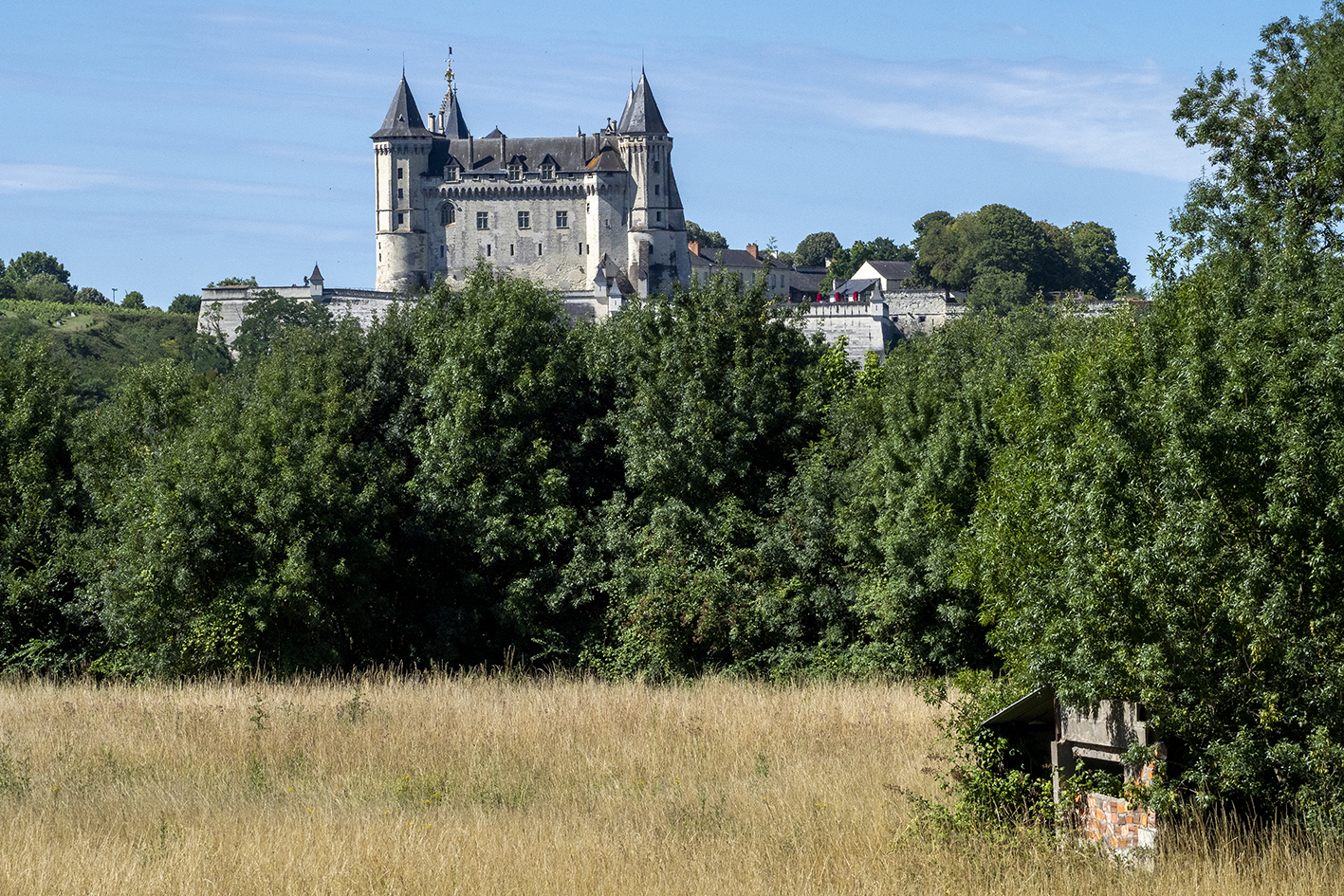 Au fur et à mesure que nous approchons de l'embouchure, comme ici à Saint-Mathurin-sur-Loire, le fleuve devient de plus en plus majestueux, gonflé par ses tributaires, dont l'Allier, le Cher, l'Indre, la Vienne et la Sarthe. / As we approach the mouth, as here in Saint-Mathurin-sur-Loire, the river becomes more and more majestic, swollen by its tributaries, including the Allier, the Cher, the Indre, Vienne and Sarthe.

Nous alternons rive droite et rive gauche.  Dans la région viticole d'Anjou-Saumur avec ses vignobles réputées (Anjou, Saumur, Coteaux du Layon, …), mes deux Charmantes admirent le travail de vignerons, ici près de Chaudefonds-sur-Layon. / We alternate right bank and left bank. In the wine-growing region of Anjou-Saumur with its famous vineyards (Anjou, Saumur, Coteaux du Layon, etc.), my two 'Charmantes' admire the work of winegrowers, here near Chaudefonds-sur-Layon.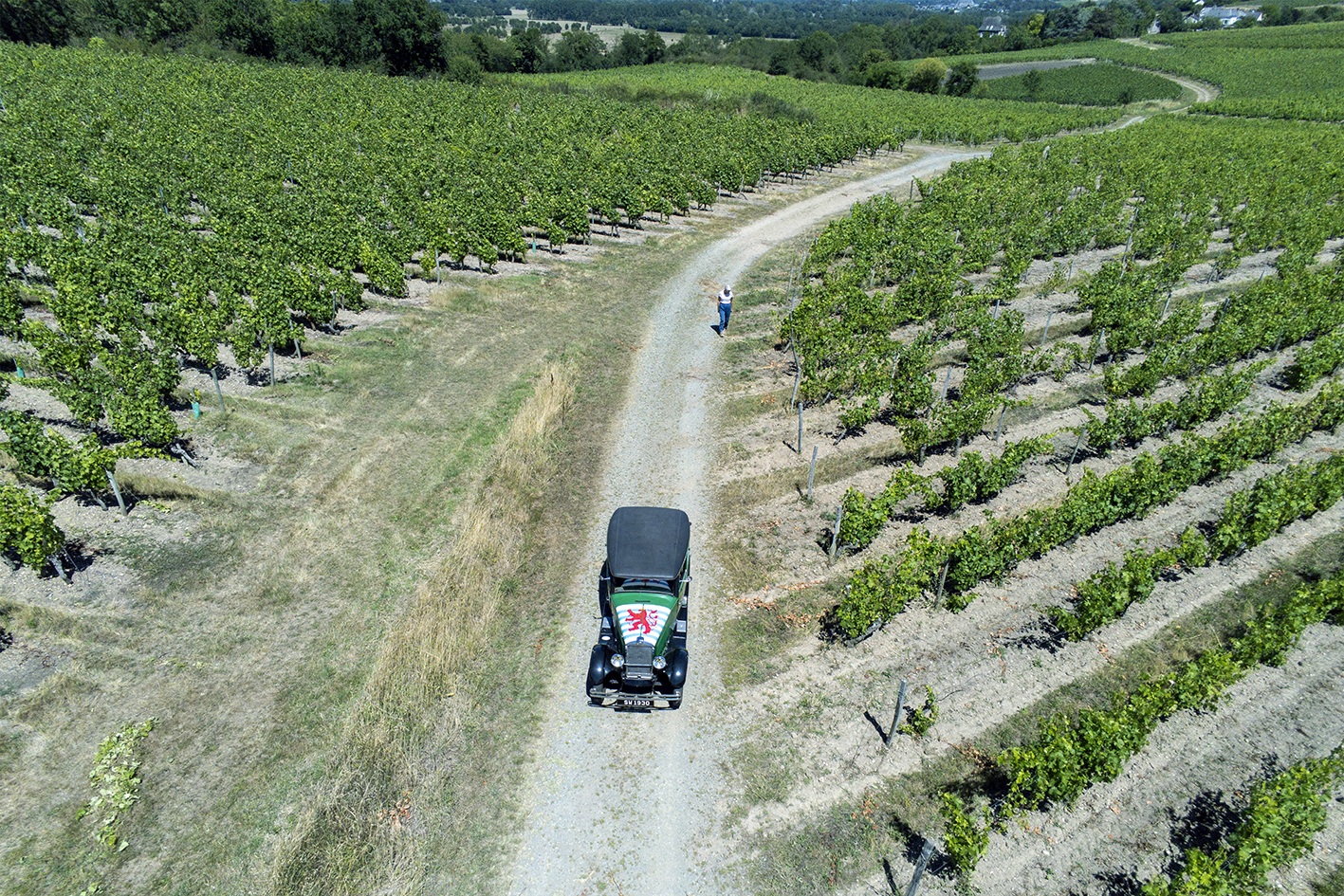 Un peu plus loin, les deux moulins à vent d'Ardenay, datant du 18ème siècle. Ils sont situés sur un point haut de 77 mètres d'altitude dominant la vallée de la Loire. Le moulin ouest, moulin fromentier dit le Grand-Moulin, a perdu ses ailes, le second, seiglier, à l'est, dit le Petit-Moulin a encore fière allure. / A little further, the two windmills of Ardenay, dating from the 18th century. They are located on a high point 77 meters above sea level overlooking the Loire Valley. The west mill, a wheat mill called the 'Grand-Moulin', has lost its wings, the second, a rye mill, to the east, called the 'Petit-Moulin' still looks great.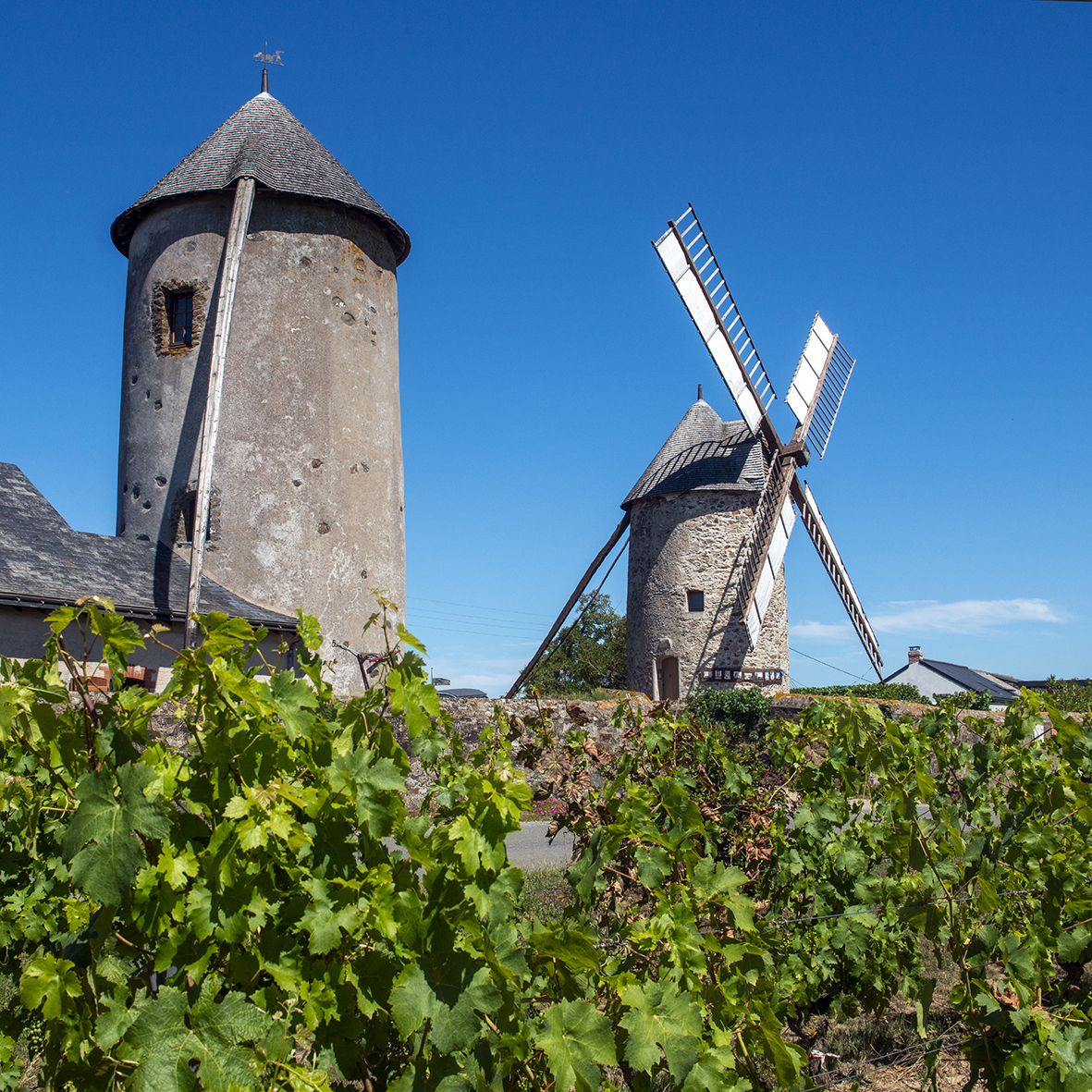 La chapelle Sainte-Barbe des Mines est située à proximité de la Corniche angevine. La construction de cette ancienne église de mineurs des mines de charbon de Chalonnes date du 19ème siècle. Sa construction fut commandée en souvenir d'Emmanuel de Las Cases, alors directeur des mines locales, décédé en 1854, par sa veuve Élisabeth Poudret de Sevret. Elle abrita jadis le tombeau-crypte de la vicomtesse de Las Cases, enterrée dans sa robe de mariée, son bébé dans les bras… / The Sainte-Barbe des Mines chapel is located near the Angevine Corniche. The construction of this former miners' church from the Chalonnes coal mines dates from the 19th century. Its construction was commissioned in memory of Emmanuel de Las Cases, then director of the local mines, who died in 1854, by his widow Élisabeth Poudret de Sevret. It once housed the tomb-crypt of the Viscountess De Las Cases, buried in her wedding dress, her baby in her arms…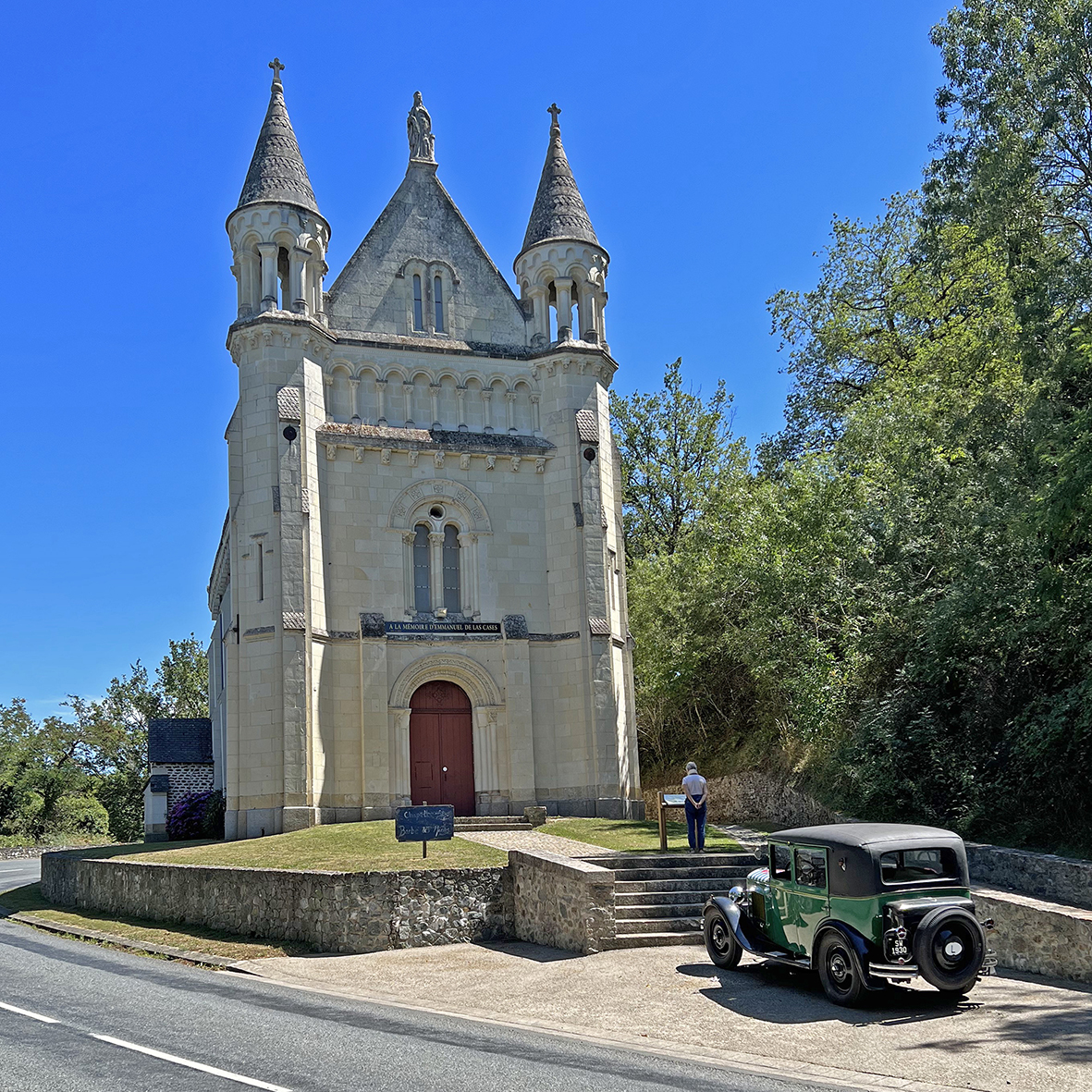 3 juillet 2022. La Chapelle-Saint-Mesmin – Saint-Michel-sur-Loire (195 km)

/ July 3, 2022. La Chapelle-Saint-Mesmin – Saint-Michel-sur-Loire (195 km)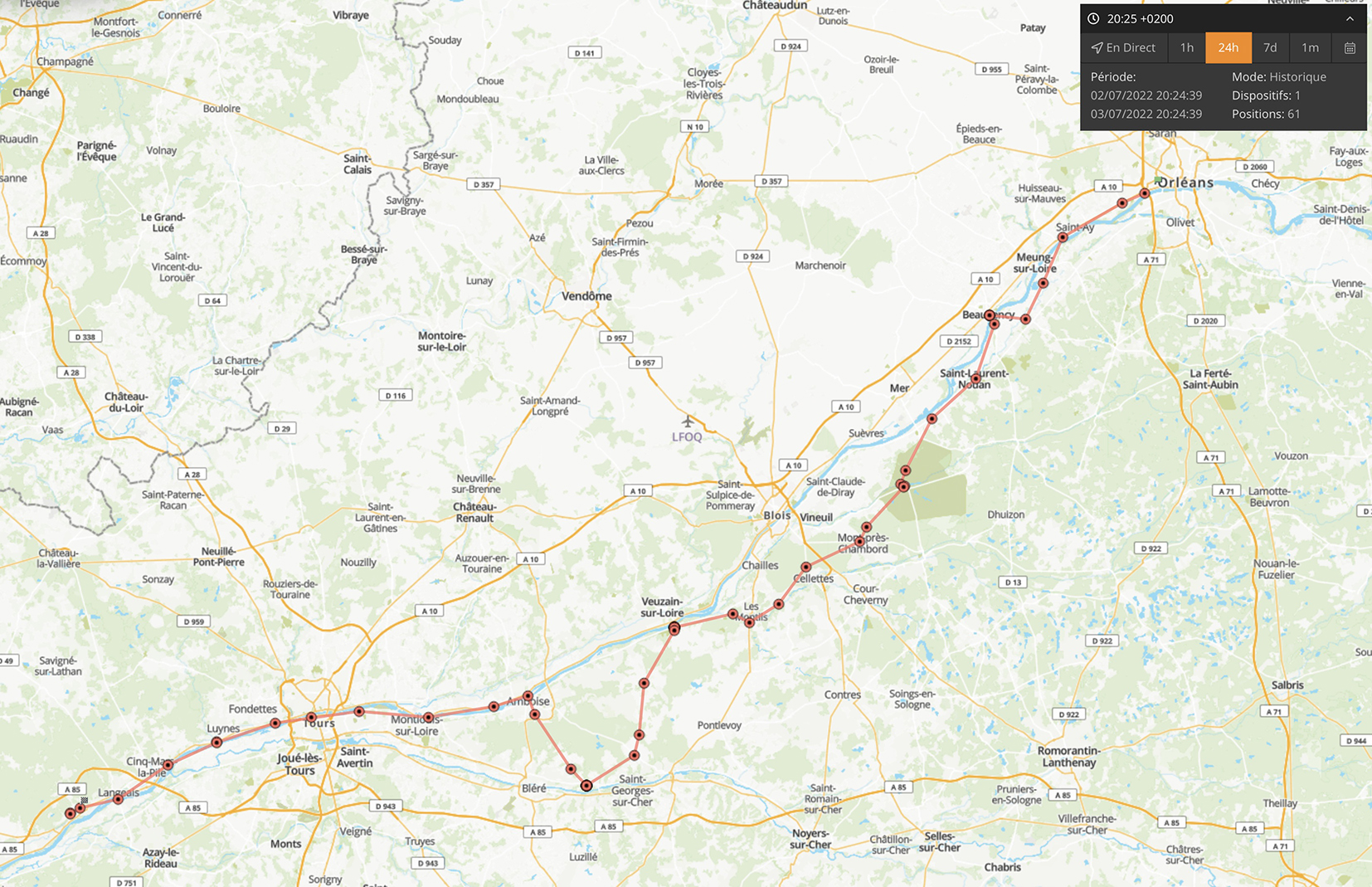 « La Charmante » démarre ! Péniblement, mais elle démarre. Premier arrêt à Beaugency, avec son donjon carré du 11ème siècle ('Tour de César'), qui mesure 36 mètres de haut. / "La Charmante's" engine starts! Painfully, but it starts. First stop at Beaugency, with its 11th century square tower ('Tour de César'), which is 36 meters high.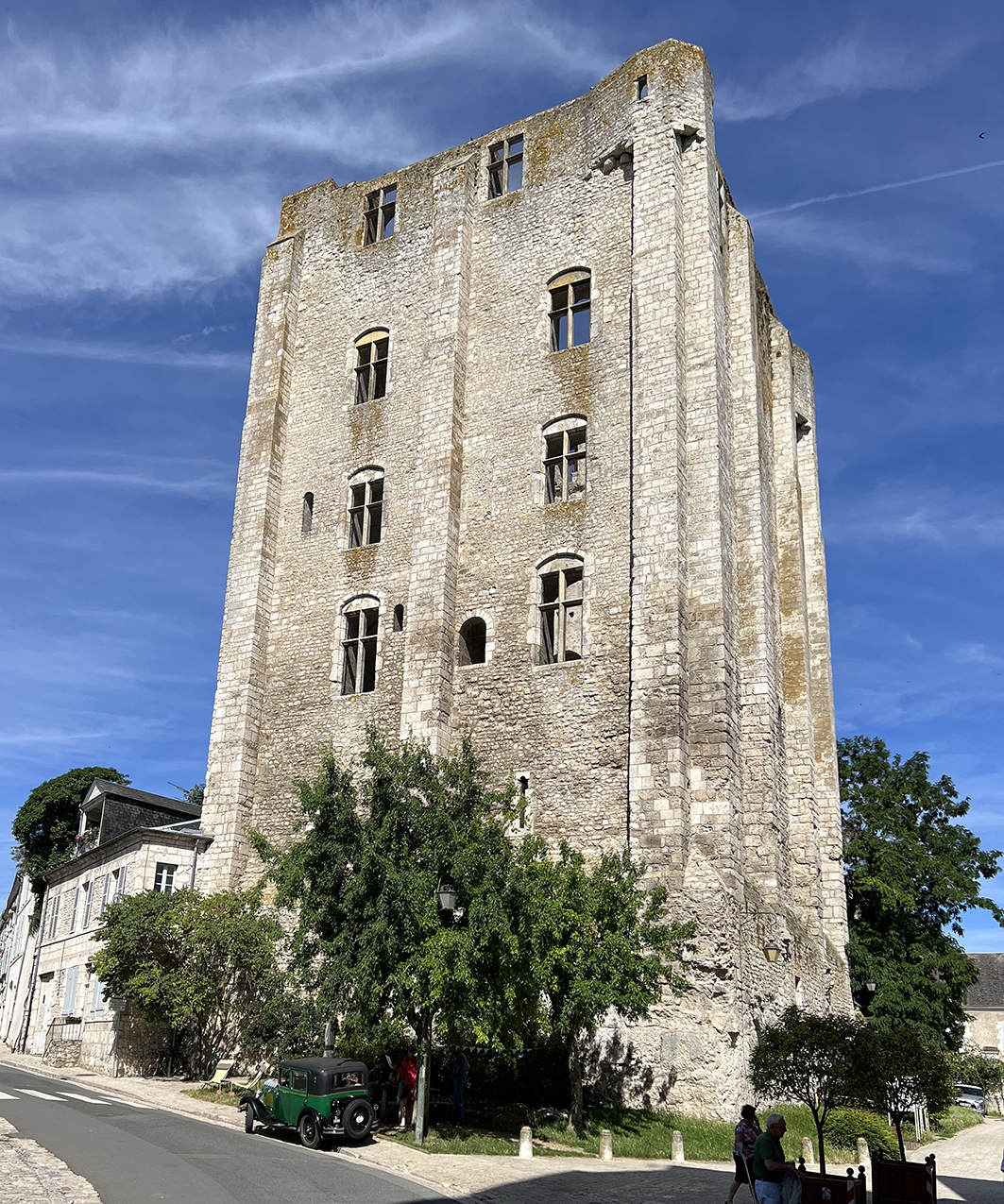 Dans la cour du Château de Beaugency, un énorme caléidoscope me permet de faire cette image inhabituelle. / In the courtyard of the Château de Beaugency, a huge kaleidoscope allows me to make this unusual image.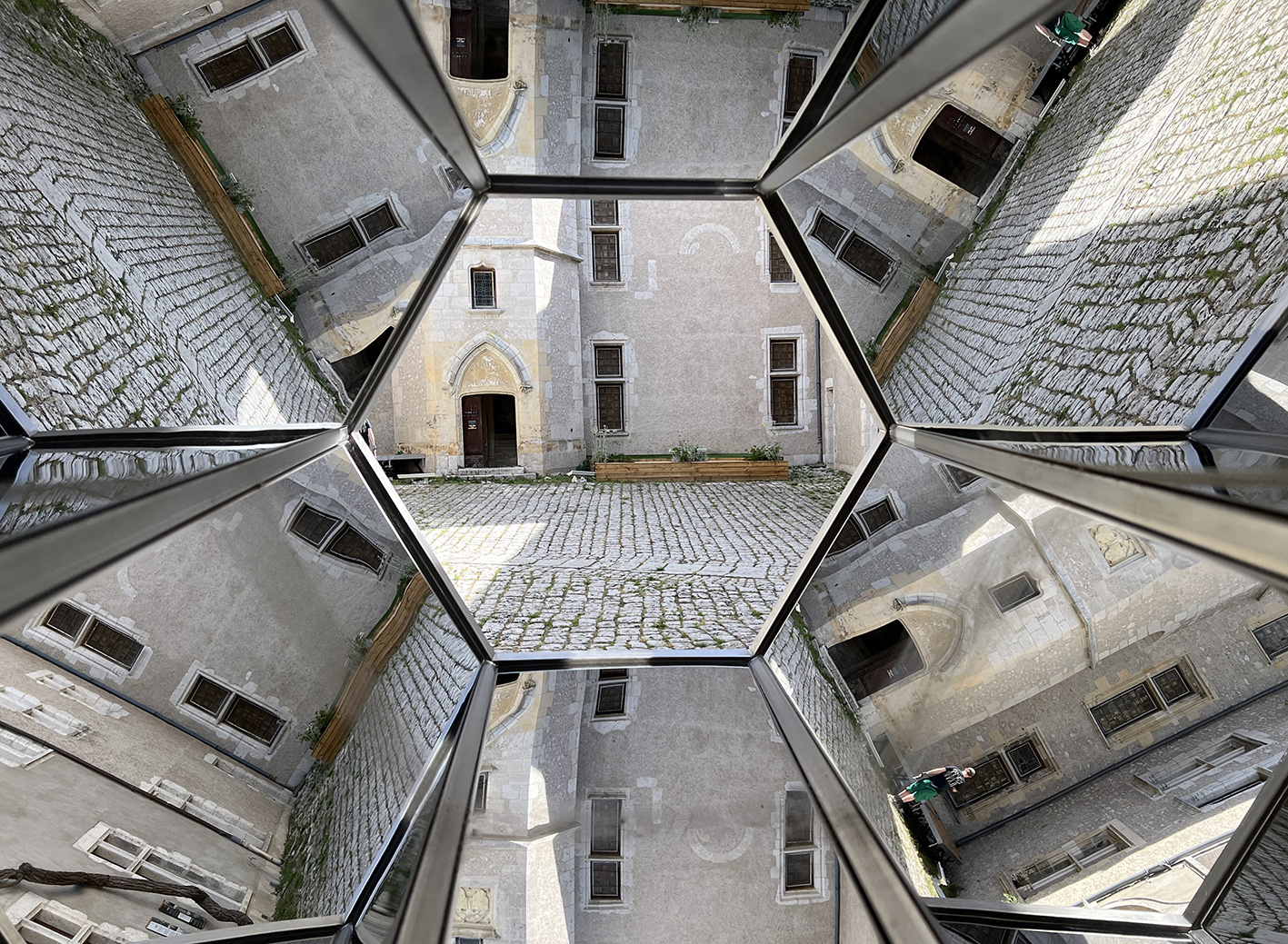 Un peu plus loin, après avoir traversé le pont de Beaugency, qui, avec ses 435 mètres, est le plus ancien et le plus long des ponts de pierre édifiés sur la Loire, une image plus campagnarde et estivale. / A little further, after crossing the Beaugency bridge, which, with its 435 meters, is the oldest and longest of the stone bridges built over the Loire, a more rural and summery image.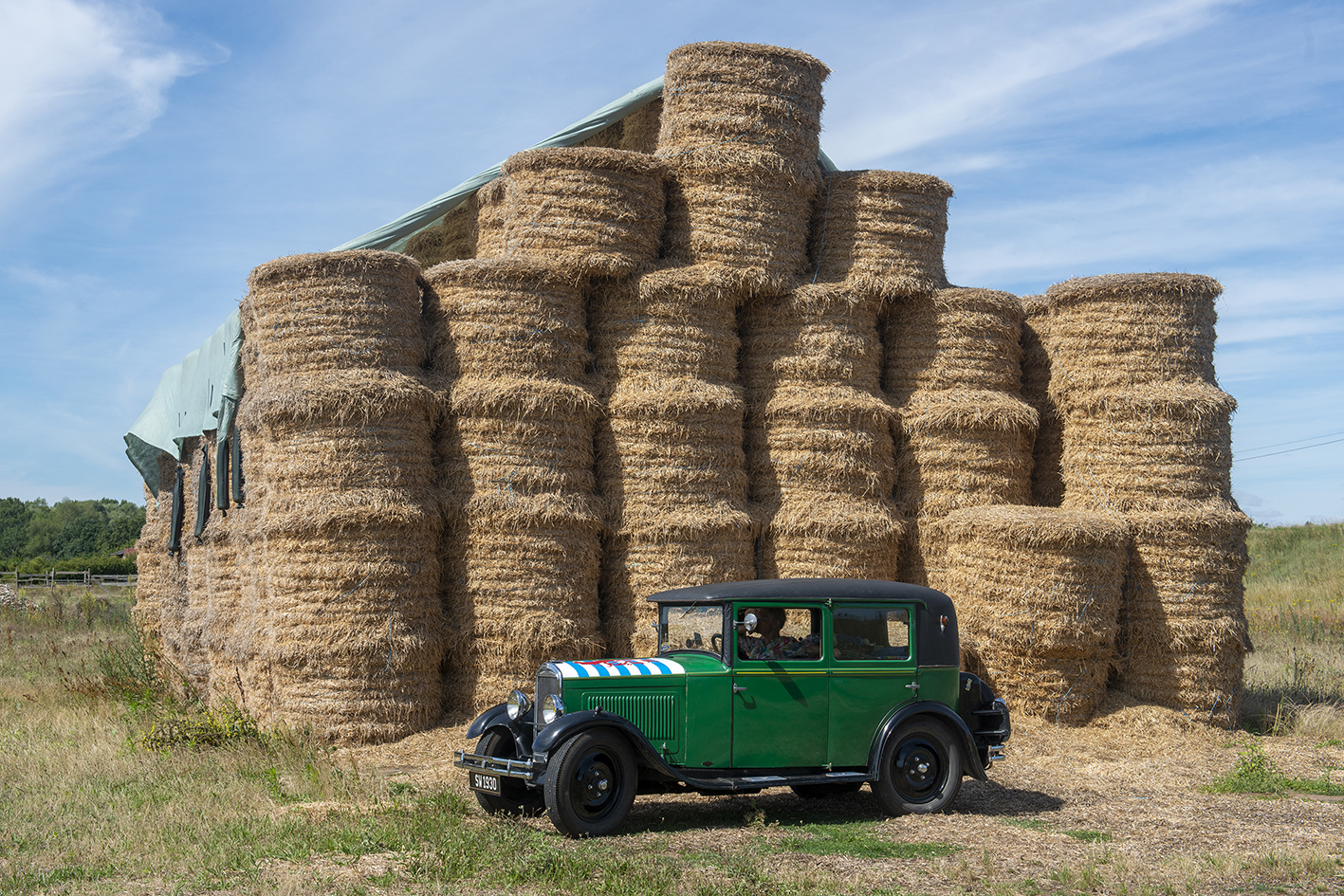 Aujourd'hui sera la journée de quelques-uns des châteaux les plus prestigieux de la Loire. En arrivant à celui de Chambord, vu de loin, nous ne remarquons pas immédiatement ce qu'il y d'inhabituel. / Today will be the day of some of the most prestigious castles of the Loire. Arriving at that of Chambord, seen from afar, we do not immediately notice what is unusual.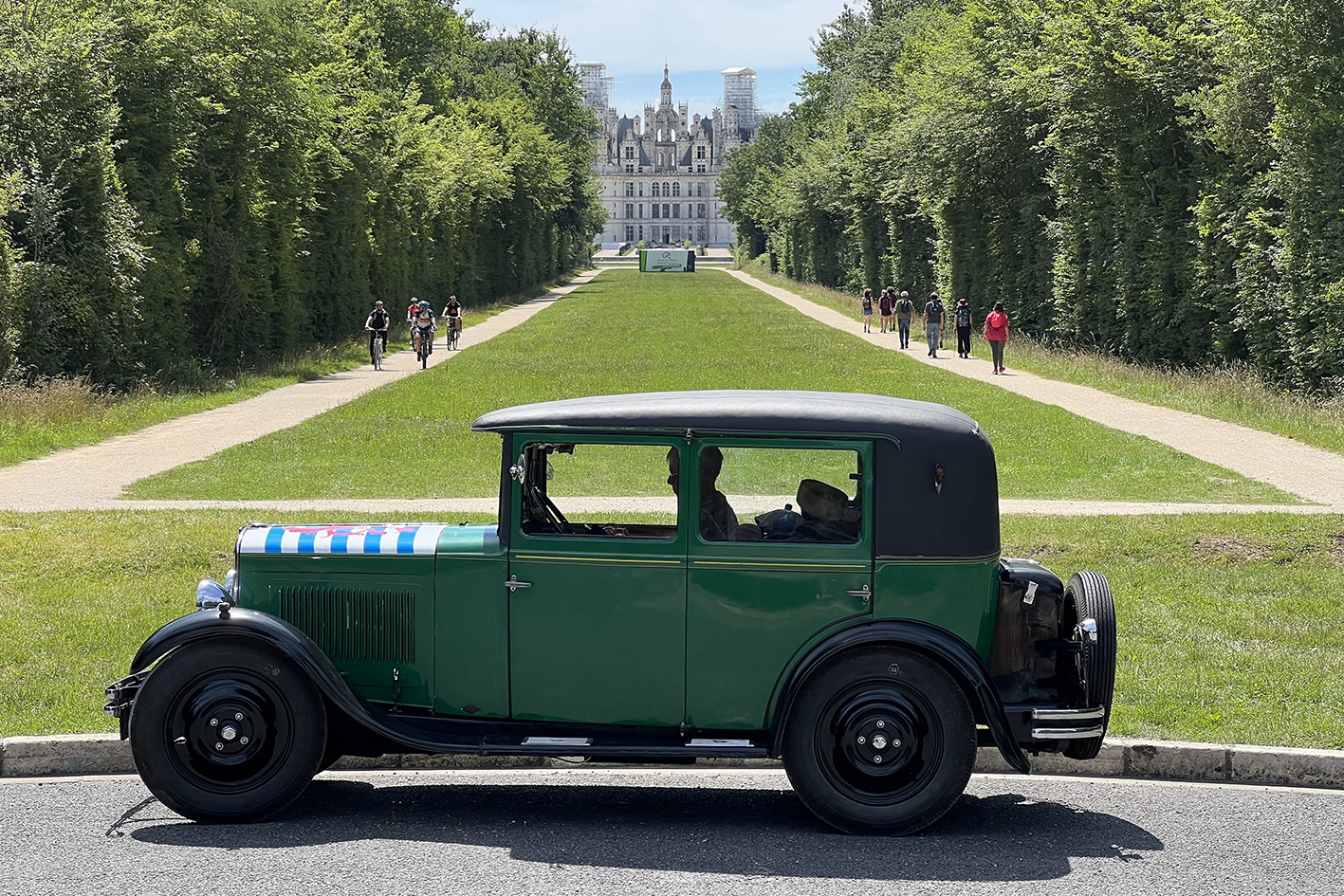 Mais vu de près, le spectacle est surréaliste ! Les travaux ont pour but la restauration des lanternons des toitures du château. / But seen up close, the sight is surreal! The purpose of the work is to restore the roofs of the castle.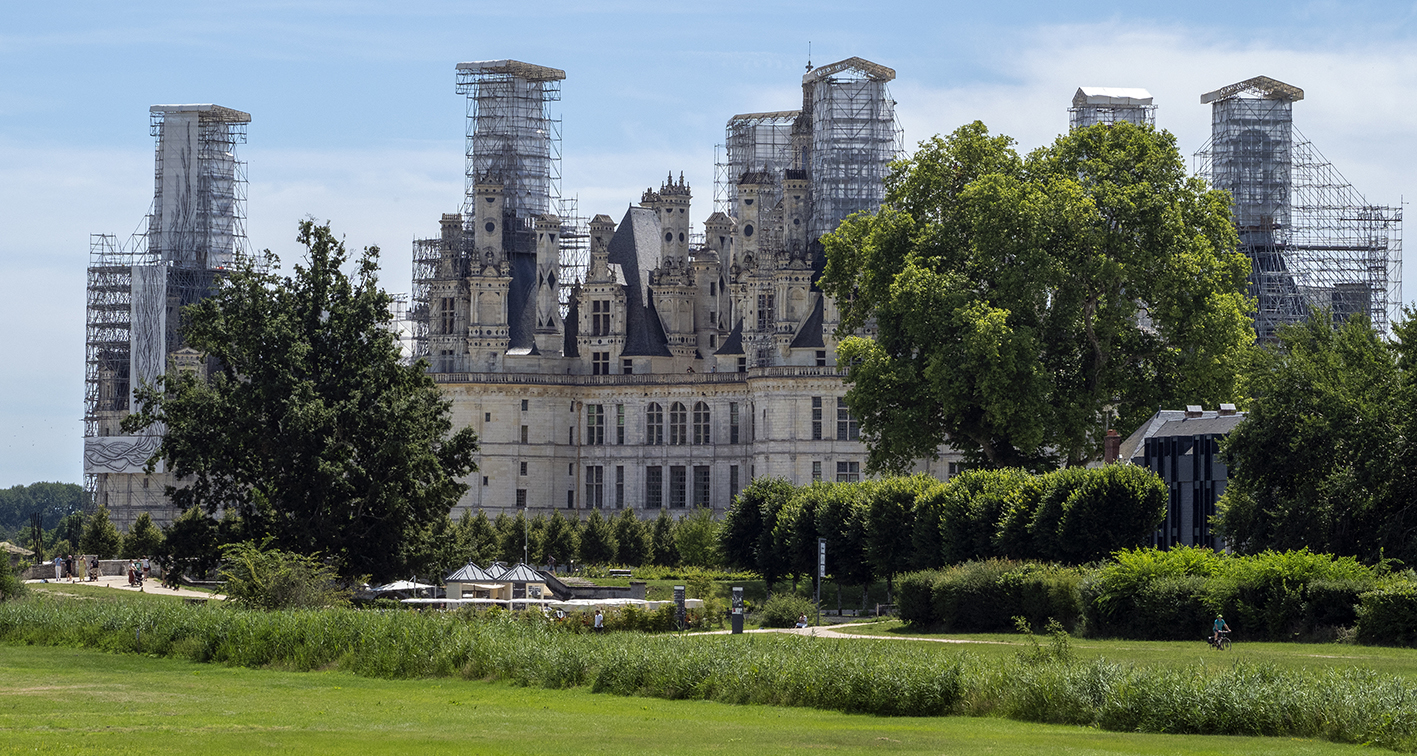 Nous quittons le fleuve pour nous diriger vers le deuxième château du jour à travers des paysages écrasés par la chaleur, comme ici près de La Genaudière. / We leave the river to head towards the second castle of the day through landscapes crushed by the heat, like here near La Genaudière.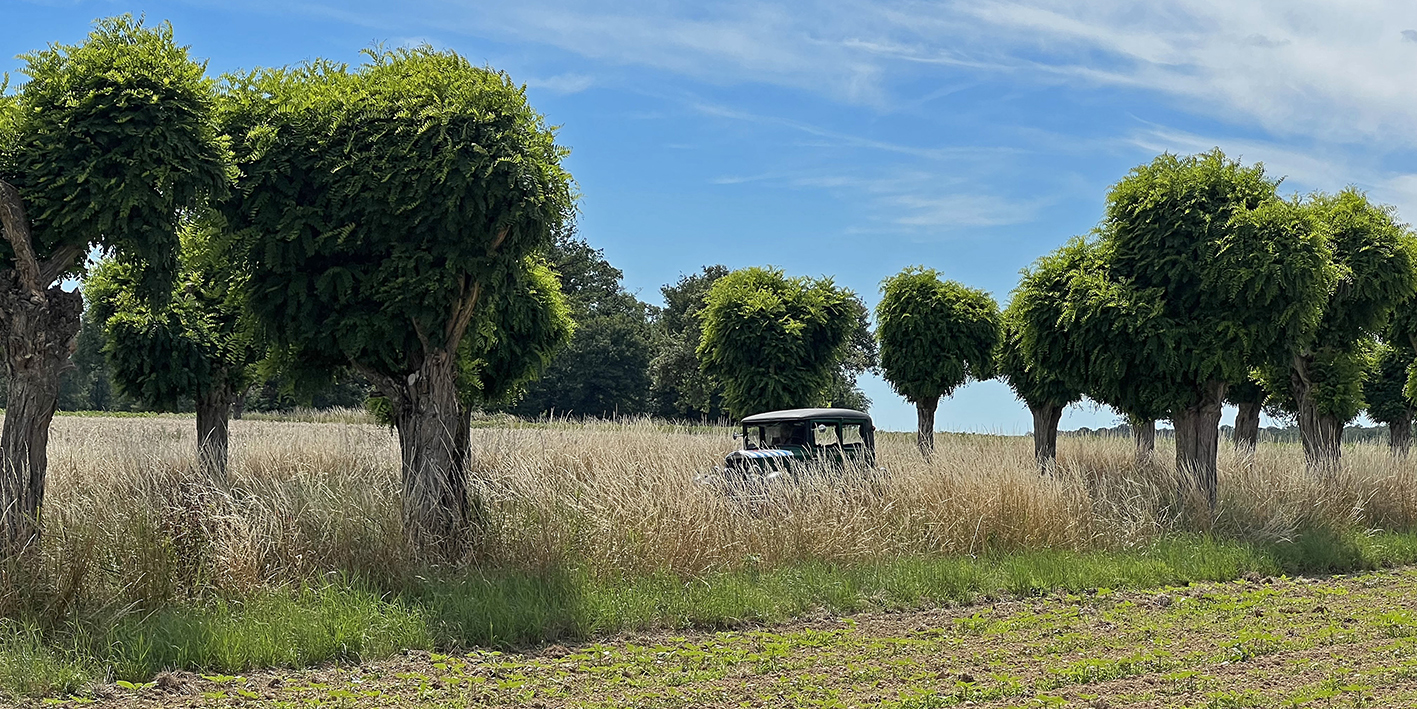 Dans le village de Chenonceaux, le château de Chenonceau (sans x !). Nous décidons de le visiter. Nous sommes accueillis par une magnifique allée de platanes menant au château. / In the village of Chenonceaux, the Château de Chenonceau (without x!). We decide to visit it. We are welcomed by a magnificent alley of plane trees leading to the castle.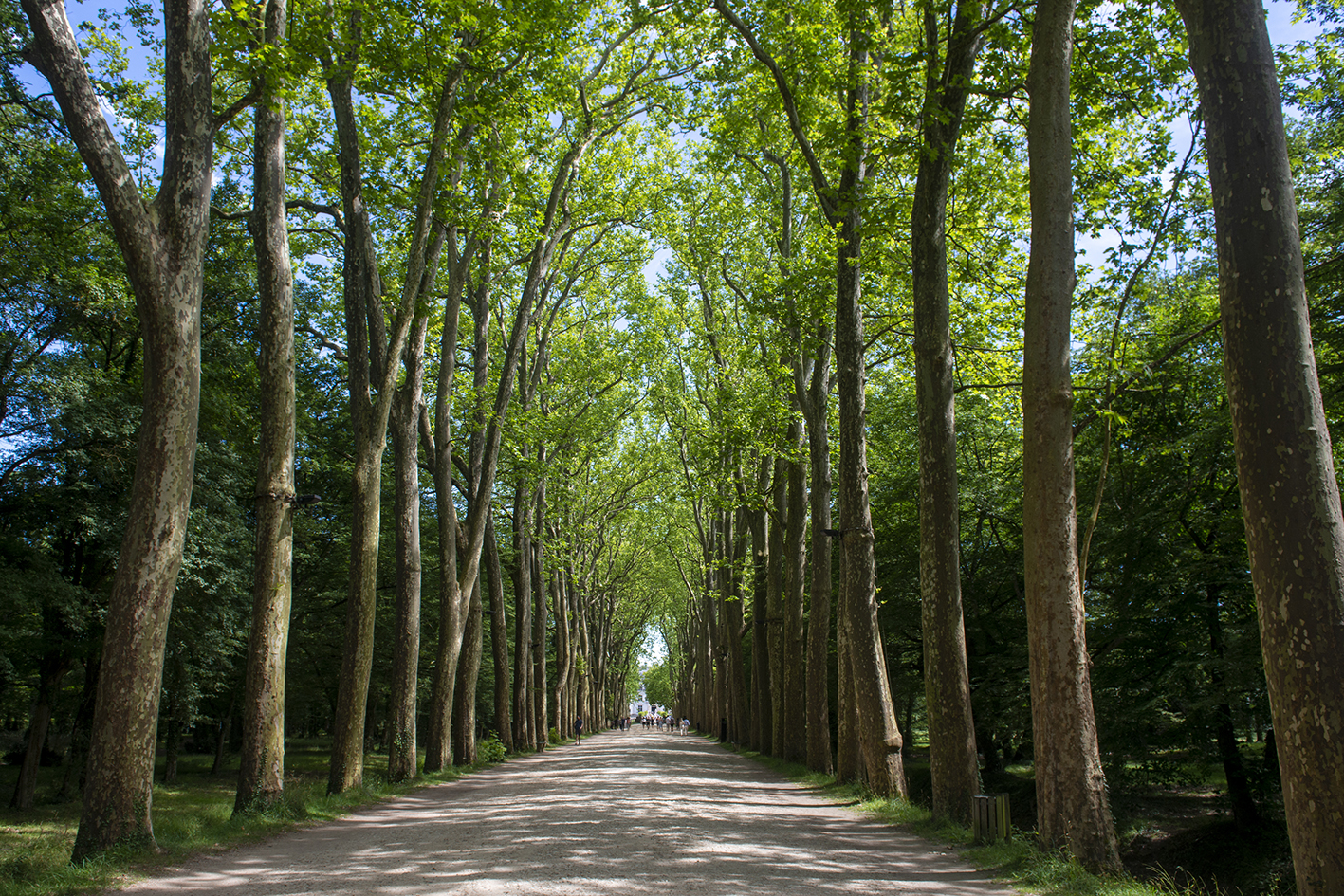 Situé sur le Cher peu avant que celui-ci se jette dans la Loire, il est surnommé 'le château des Dames'. En effet, Chenonceau est construit, aménagé et transformé par des femmes. Il est édifié par Katherine Briçonnet en 1513, enrichi par Diane de Poitiers et agrandi sous Catherine de Médicis. Il devient un lieu de recueillement avec Louise de Lorraine, puis il est sauvegardé par Louise Dupin au cours de la Révolution française et enfin, métamorphosé par madame Pelouze. Pour celles et ceux désireux de mieux connaître son histoire, je vous conseille vivement la lecture de : https://fr.wikipedia.org/wiki/Château_de_Chenonceau / Located on the Cher shortly before it flows into the Loire, it is nicknamed 'the castle of the Ladies'. Indeed, Chenonceau is built, fitted out and transformed by women. It was built by Katherine Briçonnet in 1513, enriched by Diane de Poitiers and enlarged under Catherine de Médicis. It became a place of contemplation with Louise de Lorraine, then it was saved by Louise Dupin during the French Revolution and finally, transformed by Madame Pelouze. For those who want to know its history better, I strongly recommend reading: https://en.wikipedia.org/wiki/Château_de_Chenonceau
Je ne vous offrirai ici que quelques images prises lors de notre visite, comme ce 'Parterre de Diane de Poitiers'. /  I will only offer you here a few images taken during our visit, such as this 'Parterre de Diane de Poitiers'.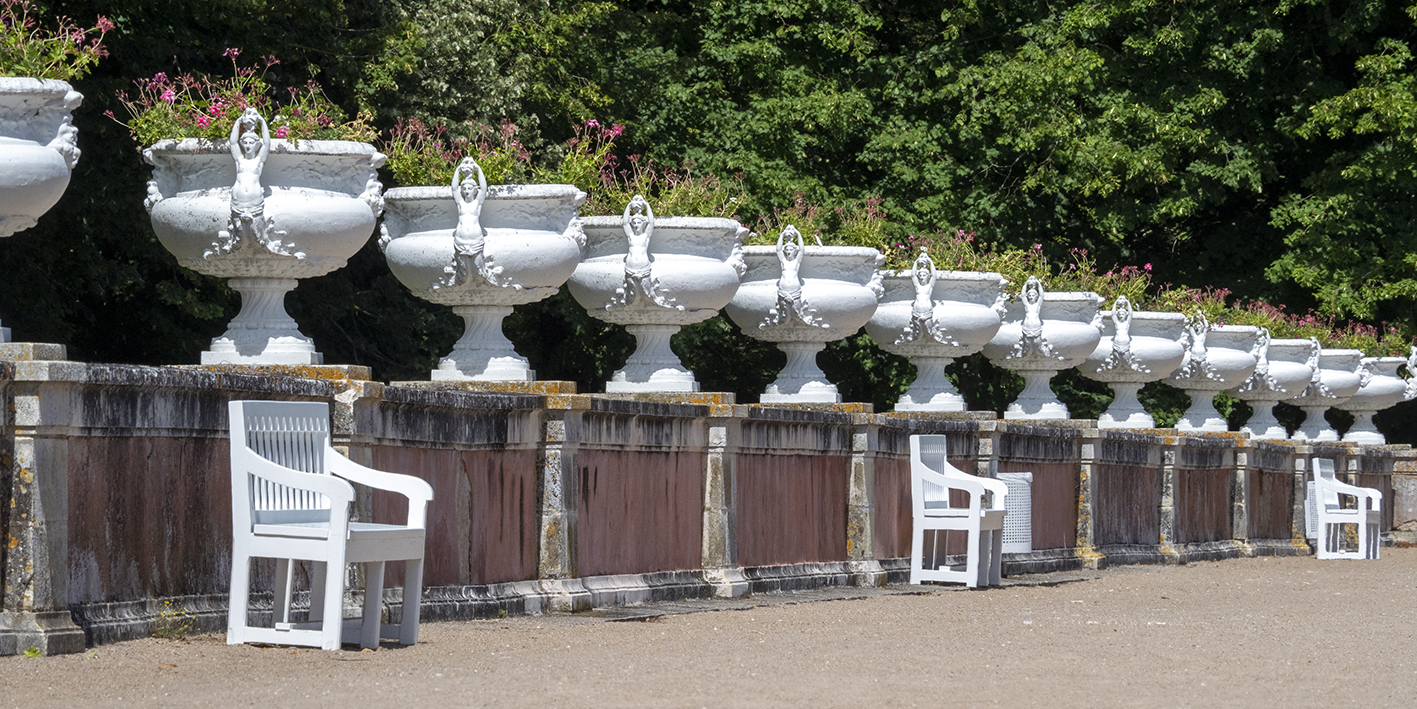 Le château, édifié en pierre blanche, est à la fois imposant et d'une délicate beauté. / The castle, built in white stone, is both imposing and delicately beautiful.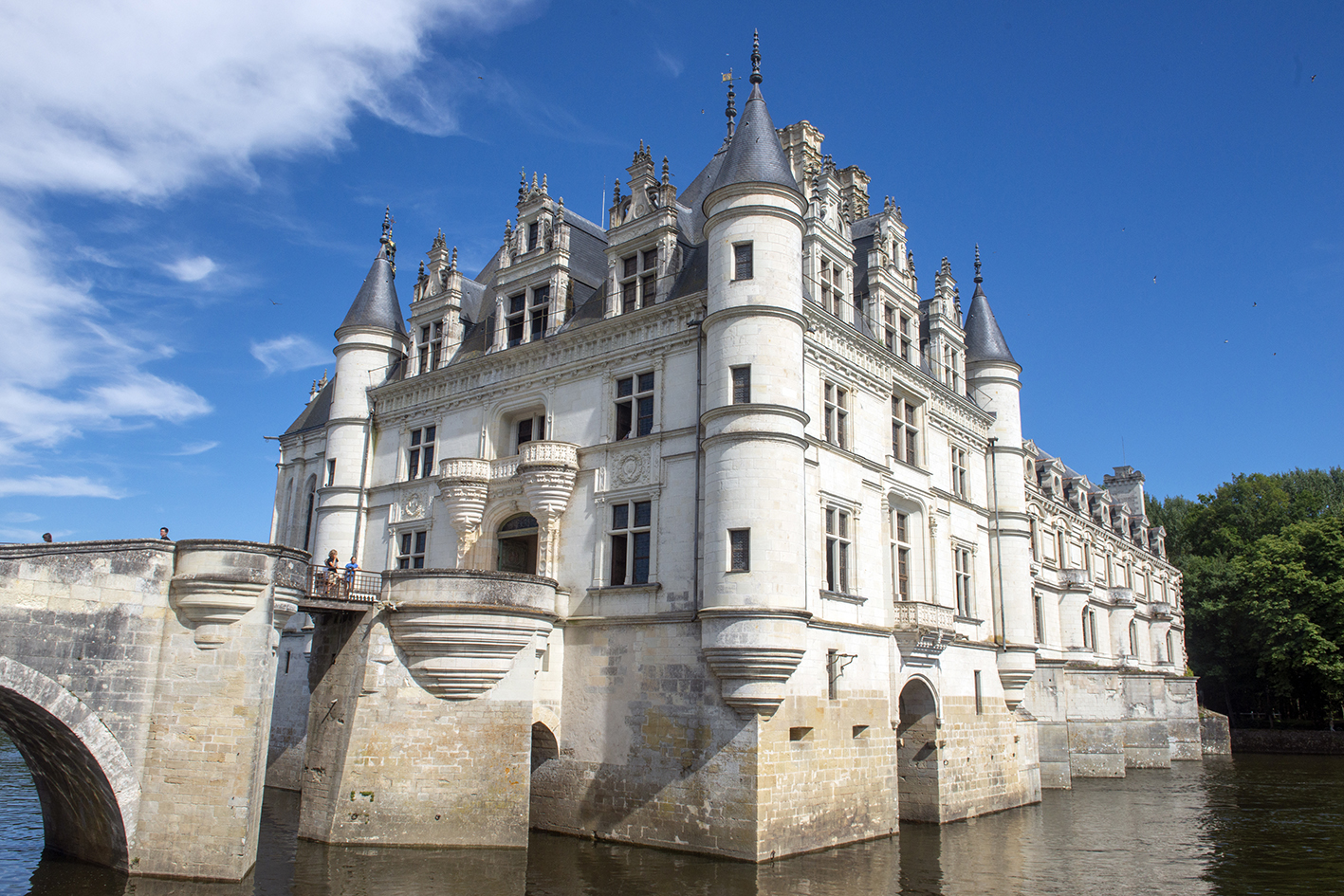 Au-dessus des eaux du Cher, deux tourtereaux n'arrêtent pas de se faire des bisous. Un peu comme Marie-Xavier et moi à bord de « La Charmante » ! / Above the waters of the Cher, two lovebirds can't stop kissing each other. A bit like Marie-Xavier and I on board "La Charmante"!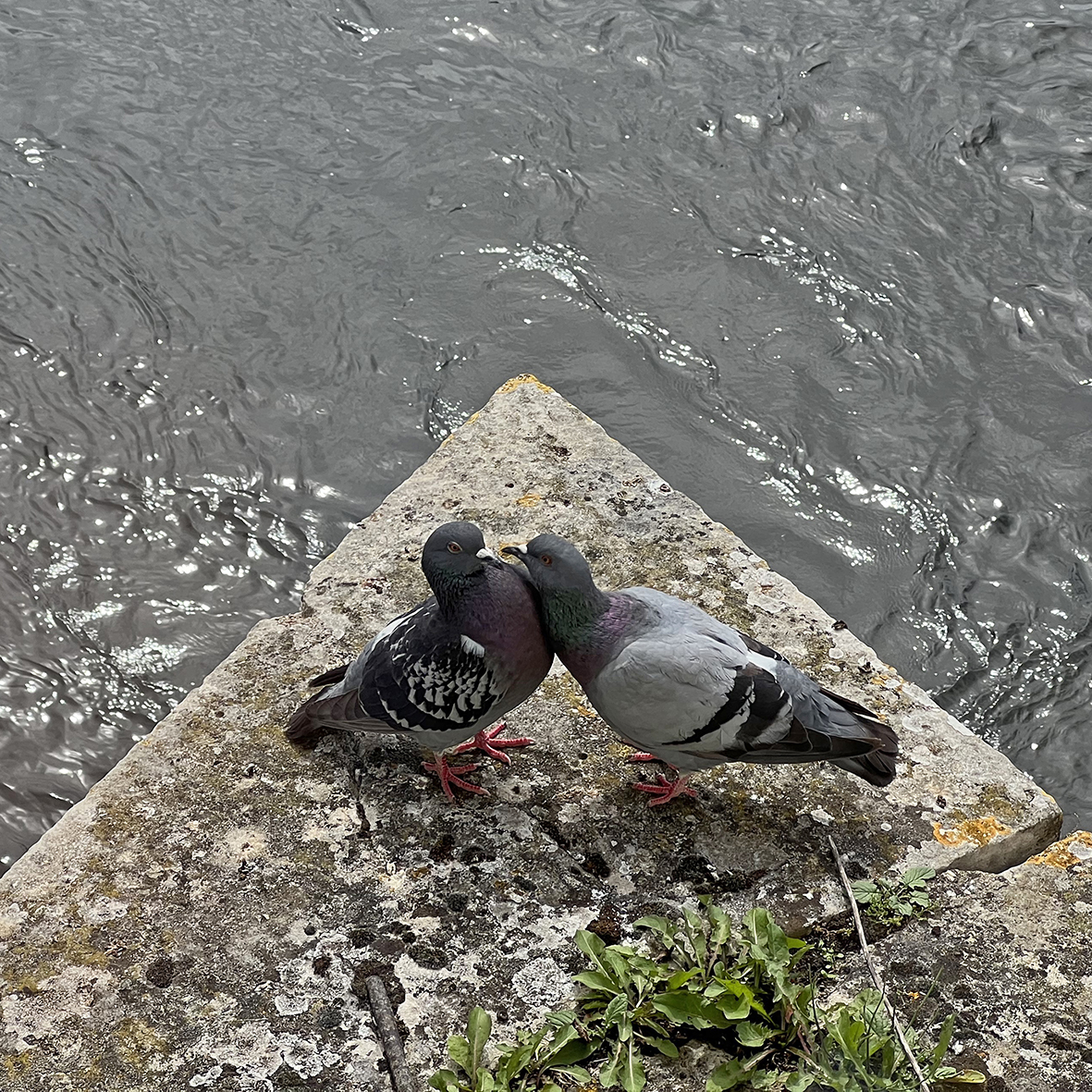 De 1914 à 1918, le Château de Chenonceau est aménagé en hôpital militaire. Dans cette galerie furent soignés plus de 2250 grands blessés, grâce à Gaston Menier, alors propriétaire de Chenonceau, qui décide de participer à l'effort national et propose au Ministère de la Guerre d'aménager à ses frais un hôpital militaire temporaire dans le château, et d'en financer l'intégralité des dépenses. On a du mal, maintenant, à imaginer ici des rangées de lits, avec leurs 'gueules cassées', les estropiés, les mourants. Les cris, les râles, les supplications… / From 1914 to 1918, the Château de Chenonceau was converted into a military hospital. In this gallery, more than 2,250 seriously wounded were treated, thanks to Gaston Menier, then owner of Chenonceau, who decided to participate in the national effort and proposed to the Ministry of War to set up a temporary military hospital in the castle at his own expense, and to finance all of the costs. It's hard now to imagine rows of beds here, with their 'broken faces', the crippled, the dying. The cries, the groans, the pleas…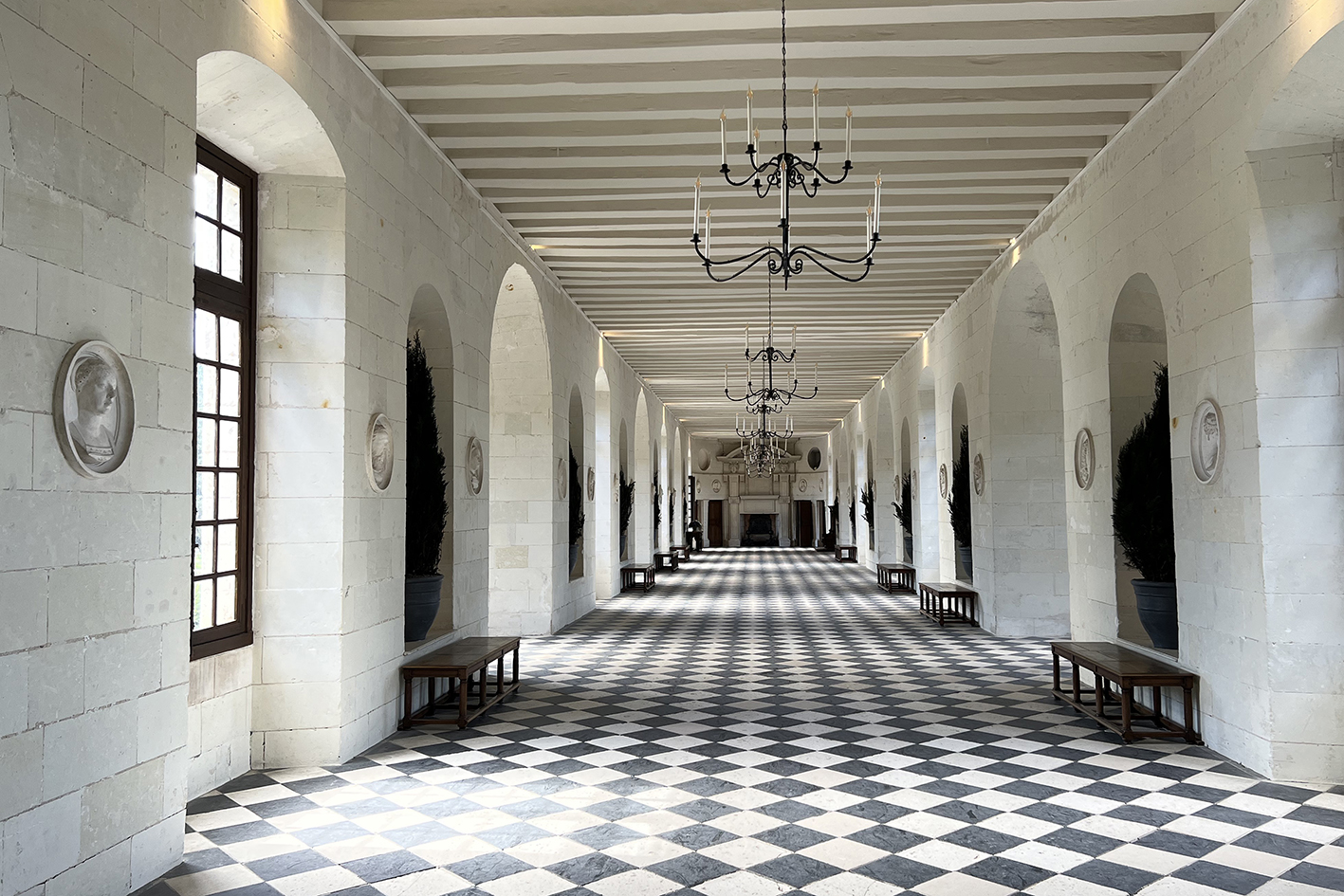 Tout est beauté dans cette bâtisse, du carrelage des planchers… / Everything is beauty in this building, from the tiling of the floors…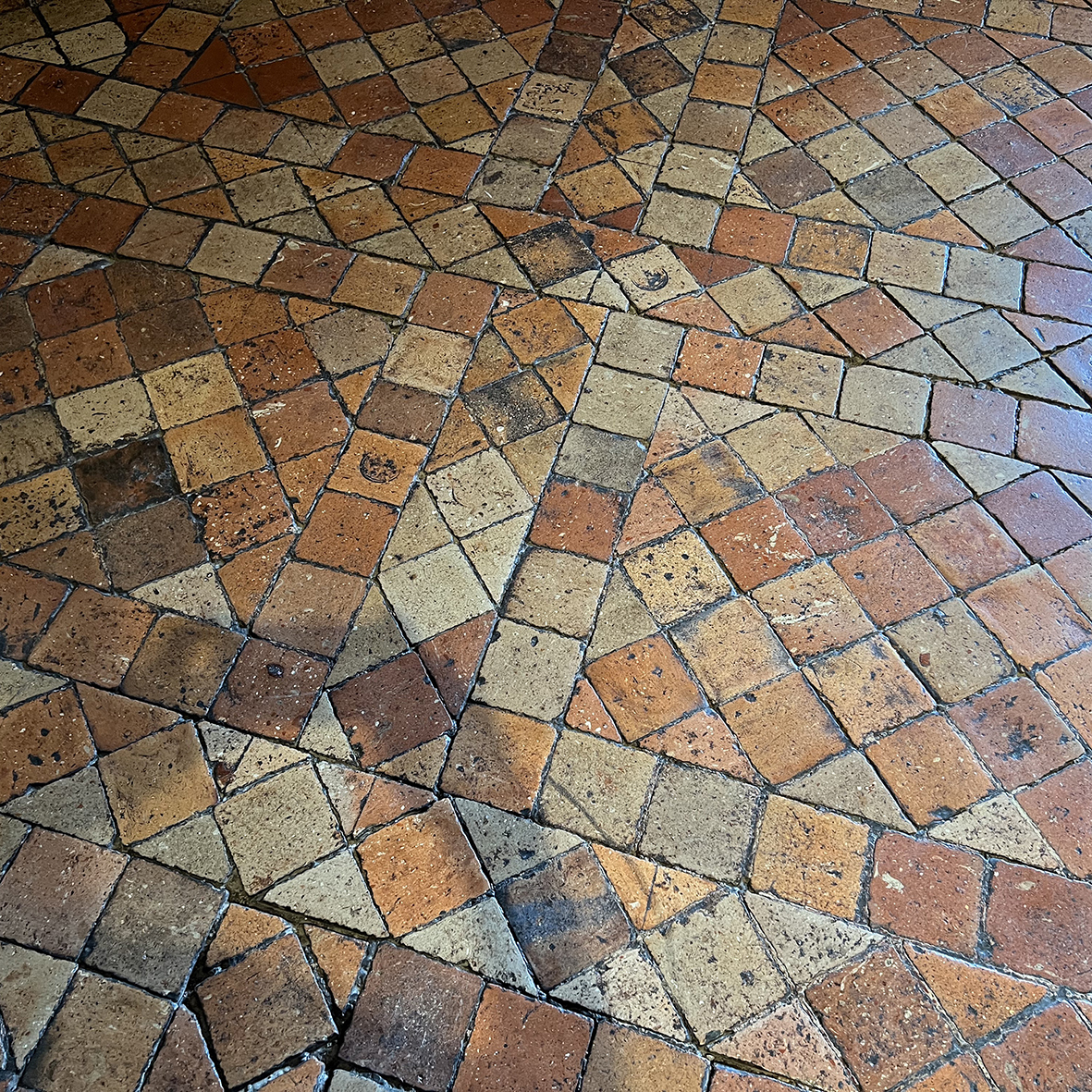 … aux caissons peints des plafonds. / … to the painted coffered ceilings.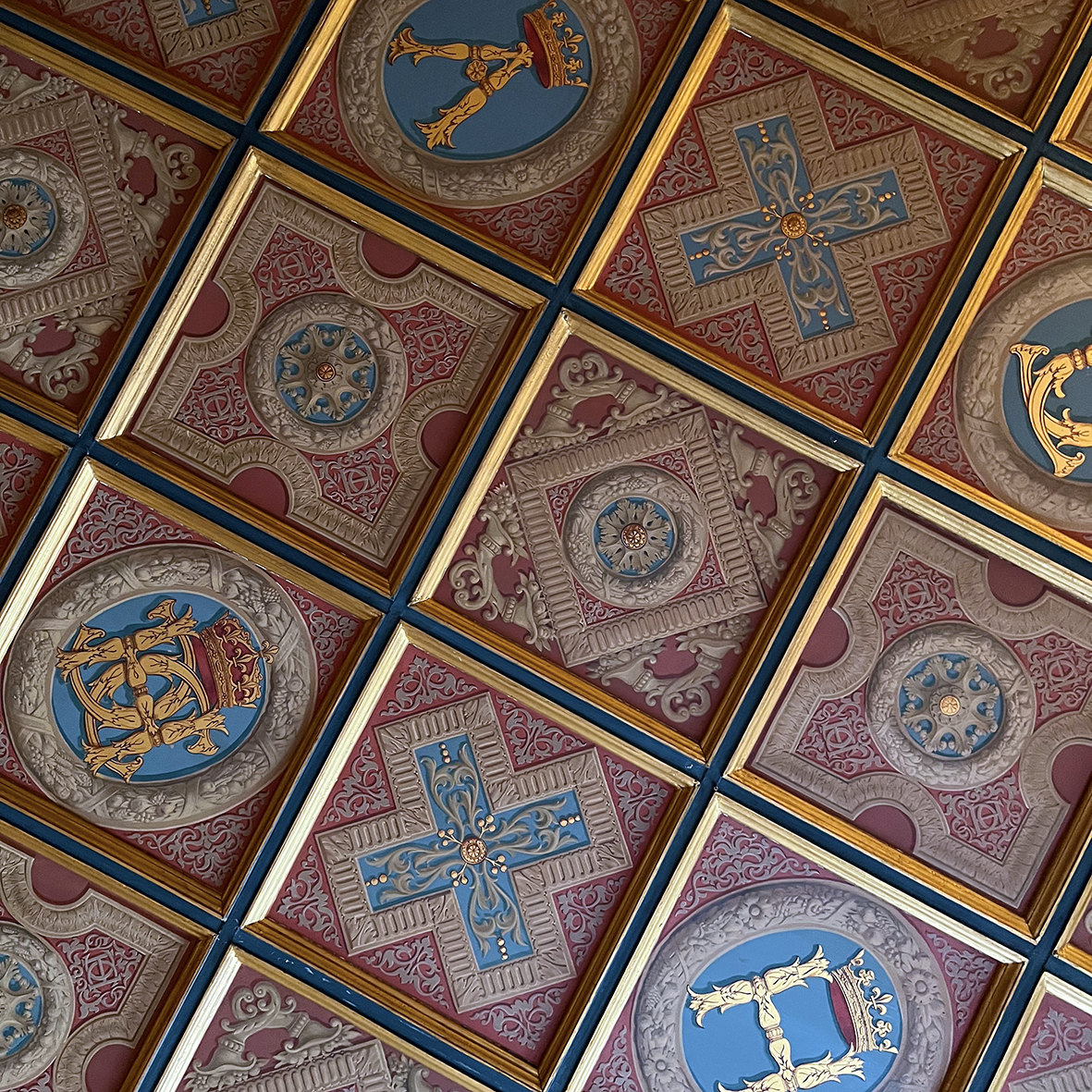 Cet escalier menant à l'étage me rappelle les remarquables lithographies de Maurits Escher. / This staircase leading upstairs reminds me of the remarkable lithographs by Maurits Escher.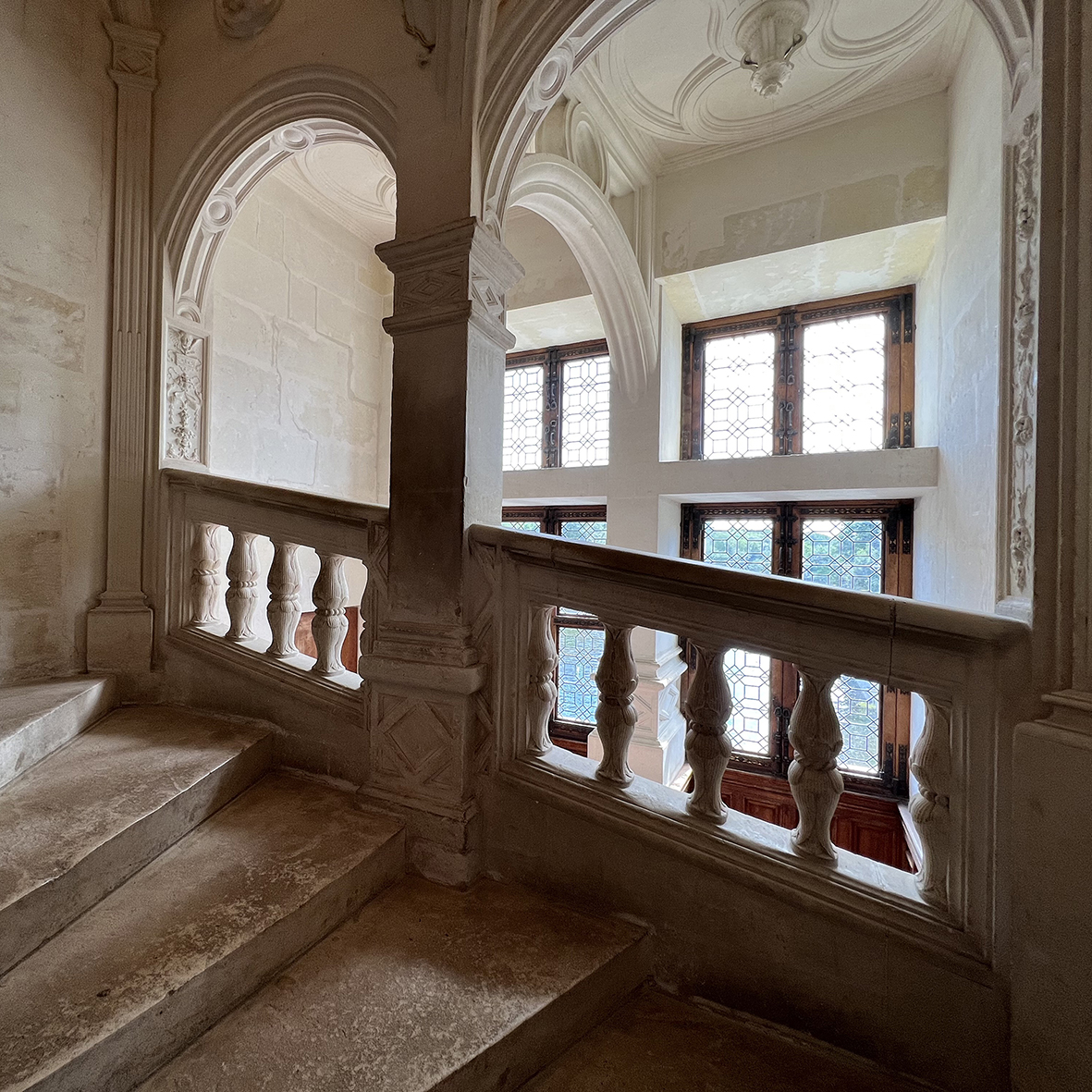 Je m'installerai volontiers dans cette pièce avec mon ordinateur remplaçant la plume d'oie d'antan, pour y écrire mes blogs… / I would gladly settle in this room with my computer replacing the quill pen of yesteryear, to write my blogs there…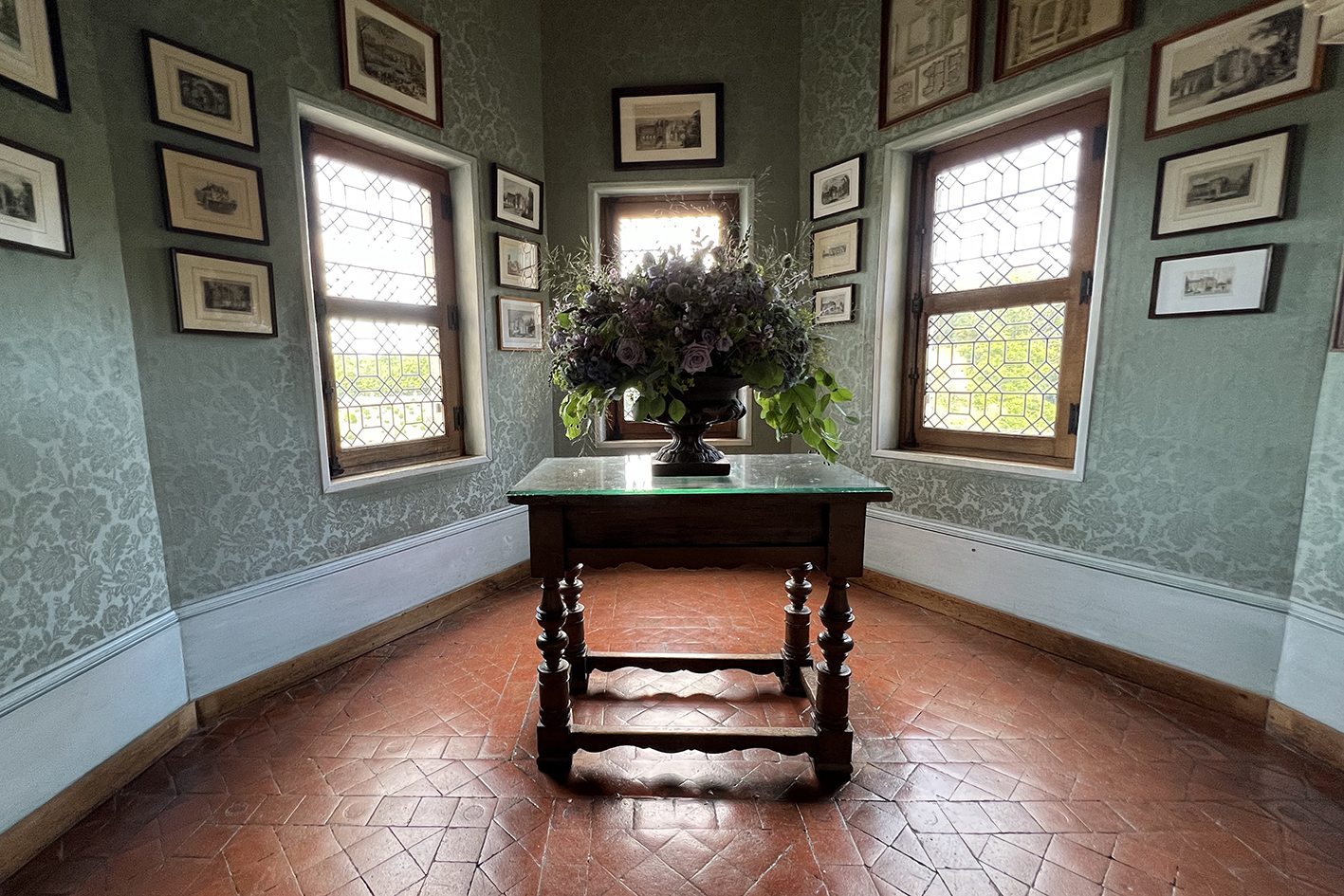 Jeux de lumière. / Light effects.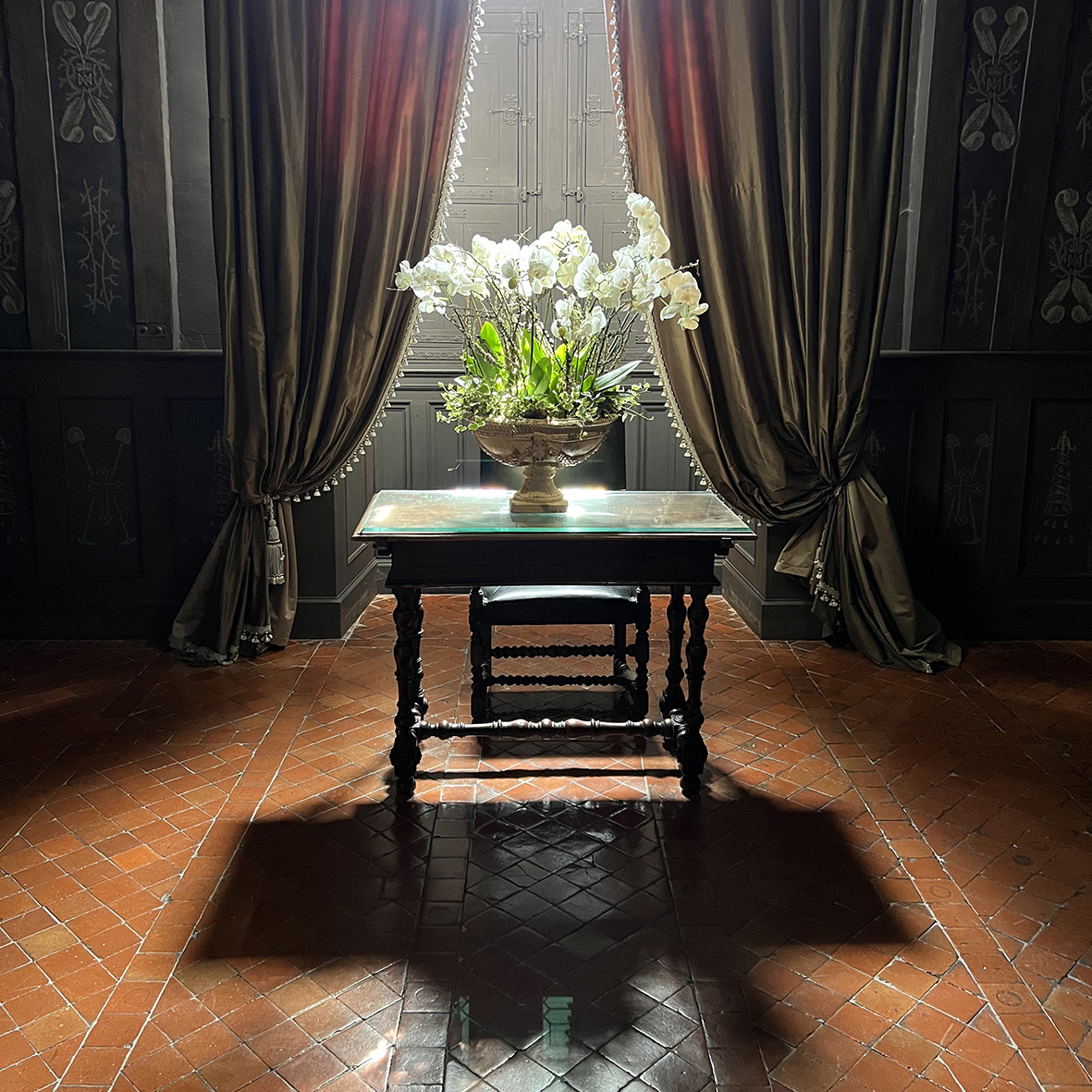 Ligne épurée d'un toit. / The pure line of a roof.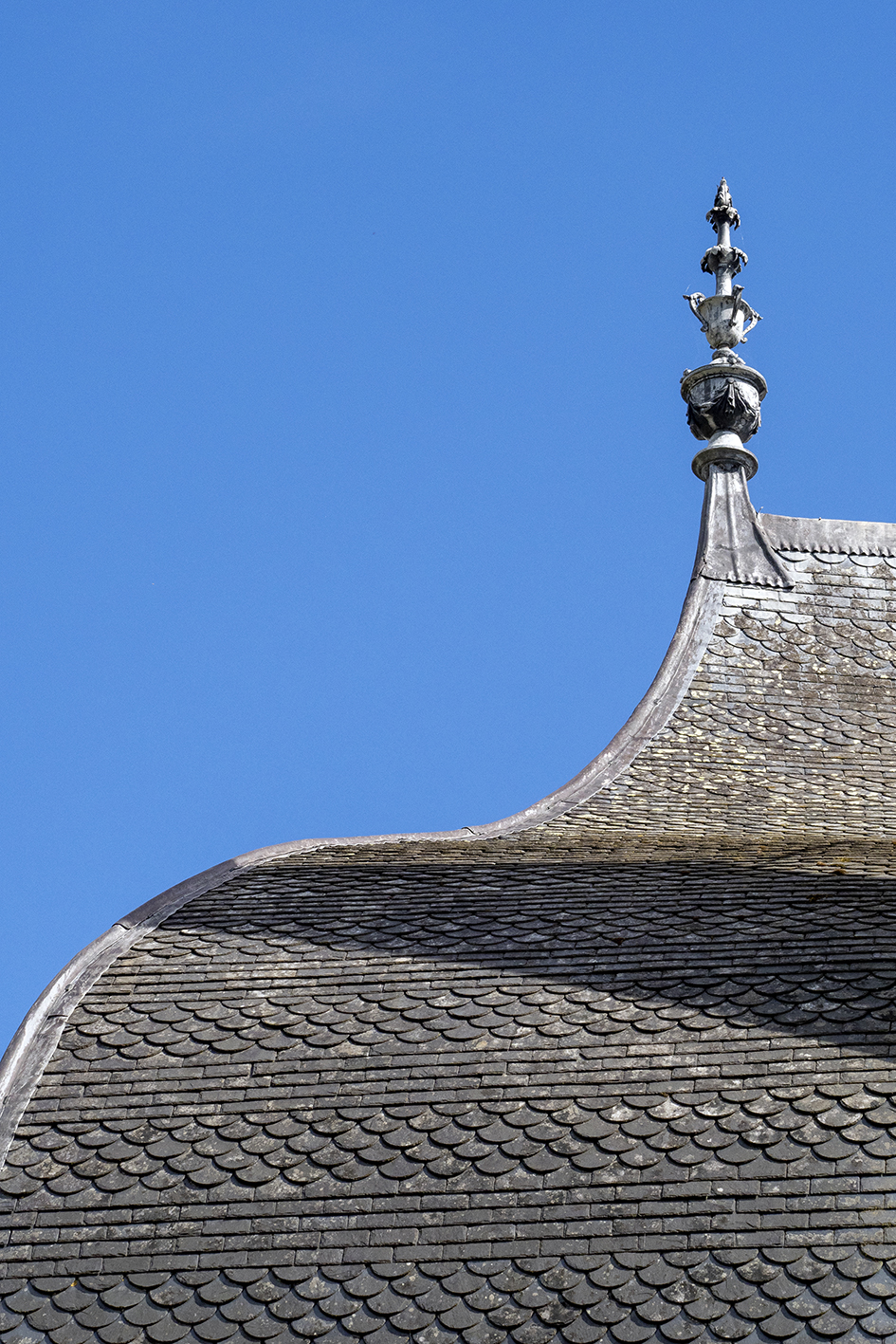 Nous quittons Chenonceau, épuisés par des heures de marche, mais éblouis par toute la beauté que nous avons pu contempler. Nous passons au pied du château d'Amboise, sans avoir le temps (ni l'énergie !) de le visiter. Ce sera pour une autre fois peut-être. / We leave Chenonceau, exhausted by hours of walking, but dazzled by all the beauty we have been able to contemplate. We pass below the Château d'Amboise, without having the time (nor the energy!) to visit it. That will be for another time perhaps.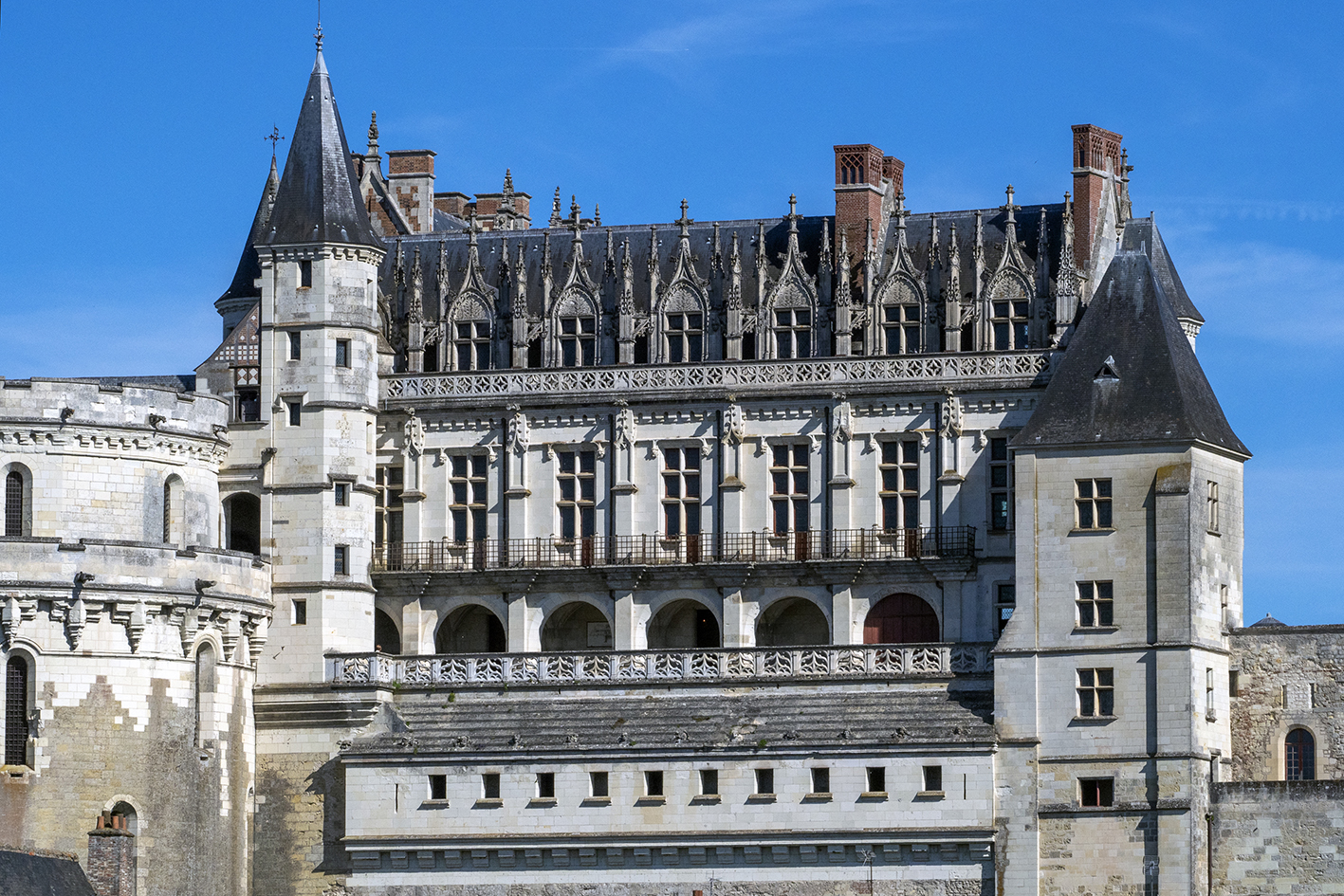 Près de Luynes, nous tombons sur nos premiers bateaux typiques de la Loire, amarrés dans le courant. / Near Luynes, we come across our first typical Loire boats, moored in the current.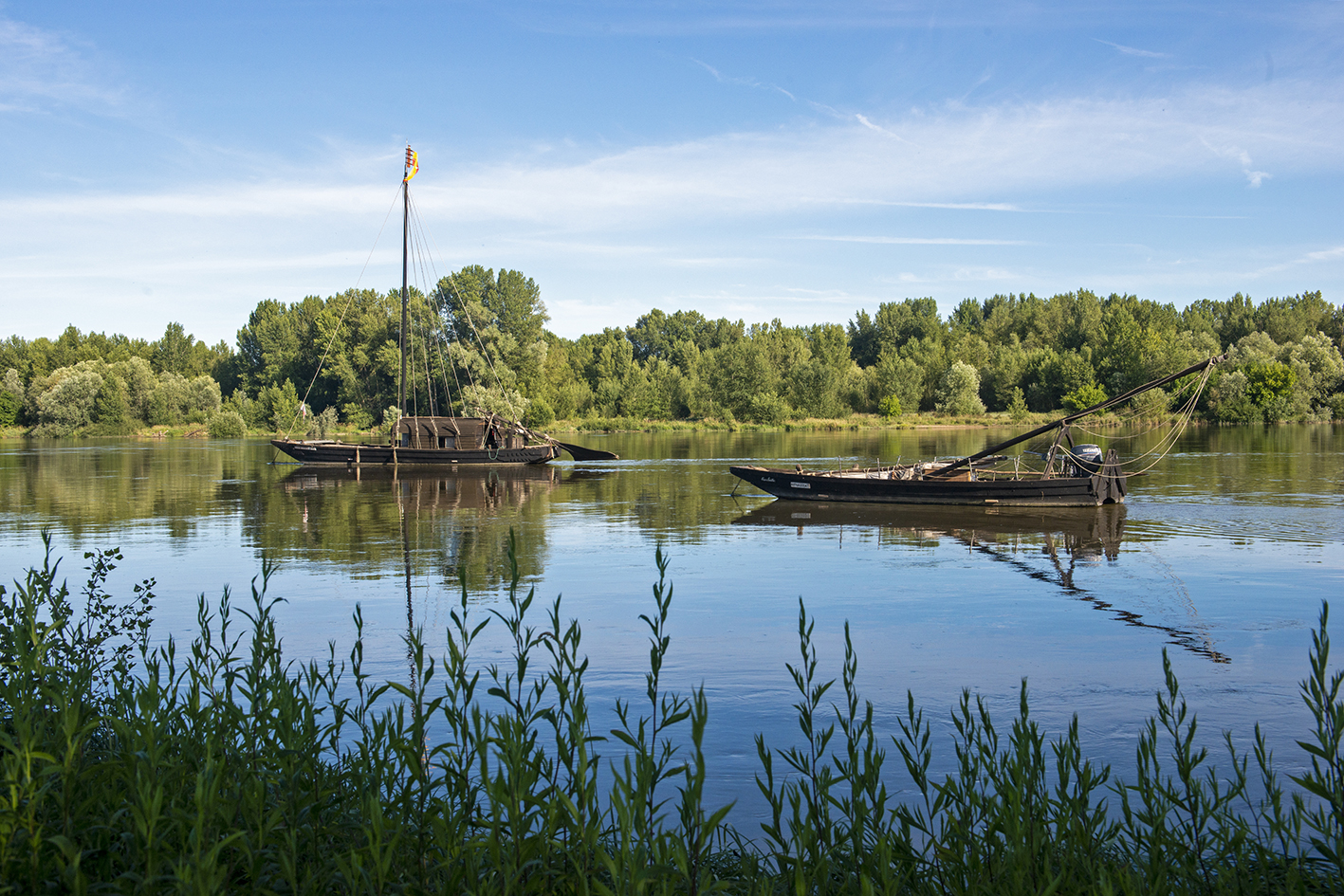 Nous franchissons le pont suspendu de Langeais, avec son histoire mouvementée. La 1ère pierre est posée en 1846 et l'inauguration a lieu en 1849. En 1859, la foudre détruit une partie du pont. Reconstruit, il est une nouvelle fois inauguré en 1861. Pendant la guerre de 1870, les câbles sont coupés par décision militaire, le mettant hors d'usage jusqu'en 1874. Remanié, il sera à nouveau inauguré en 1936. L'ouvrage est partiellement miné en 1940 et le tablier du pont s'écroule. Il n'est remis en service qu'en novembre 1950. / We cross the Langeais suspension bridge, with its eventful history. The first stone was laid in 1846 and the inauguration took place in 1849. In 1859, lightning destroyed part of the bridge. Rebuilt, it was inaugurated again in 1861. During the war of 1870, the cables were cut by military decision, putting it out of use until 1874. Remodeled, it was inaugurated again in 1936. The bridge is partially mined in 1940 and its deck collapsed. It was only put back into service in November 1950.
Nous passerons la nuit dans un gîte à Saint-Michel-sur-Loire. / We spend the night in a B&B in Saint-Michel-sur-Loire.
2 juillet 2022. La Marche-sur-Loire – La Chapelle-Saint-Mesmin (188 km)

/ July 2, 2022. La Marche-sur-Loire – La Chapelle-Saint-Mesmin (188 km)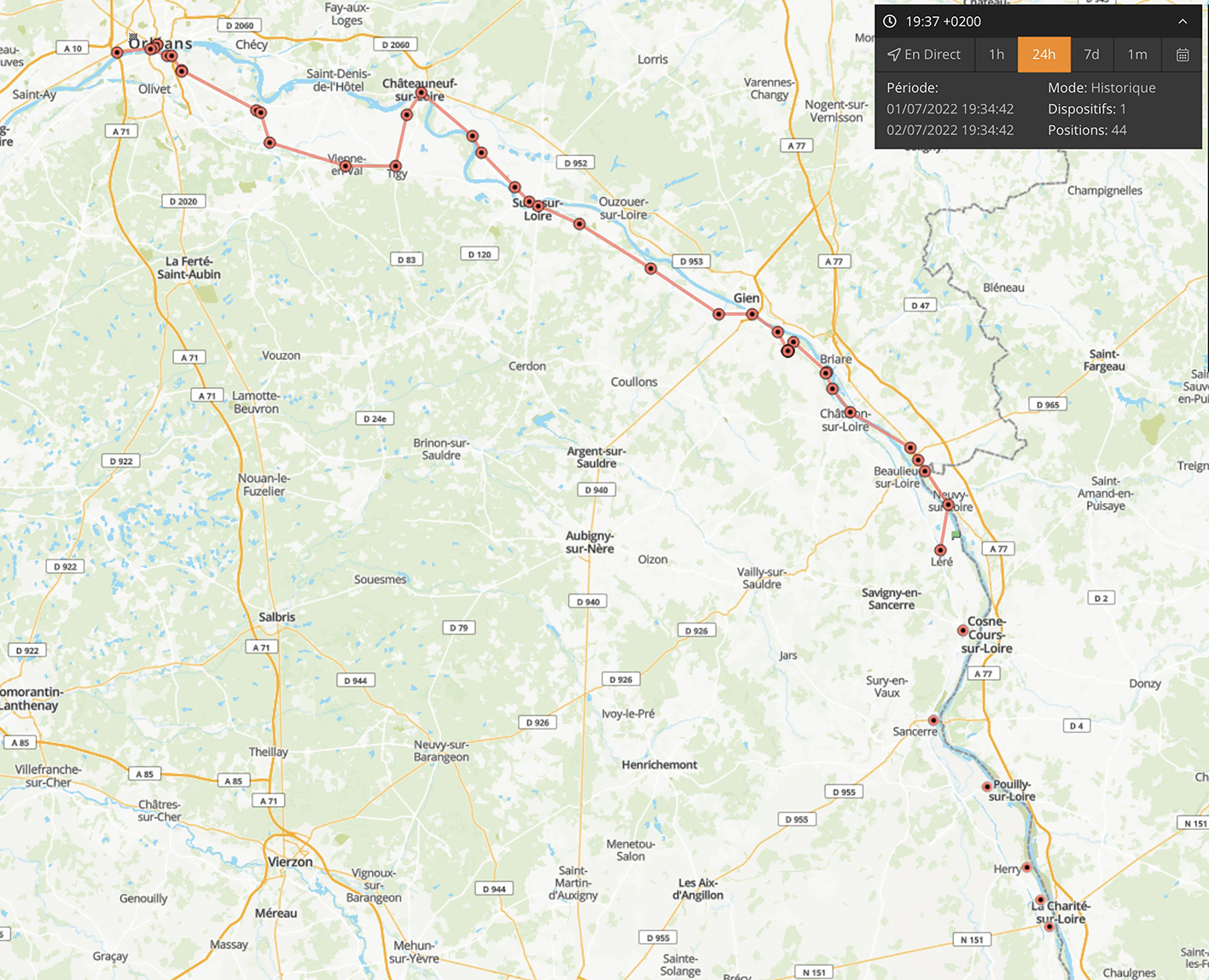 S'y habituera-t-on un jour ? C'est la troisième fois consécutive que « La Charmante » refuse de démarrer le matin… Avec sa batterie neuve depuis hier, on n'y comprend plus rien ! Trois personnes pour pousser, et « La Récalcitrante » démarre au quart de tour. (J'ai abandonné l'idée de la faire démarrer à la manivelle : à cause du pare-choc, la marge de manœuvre est trop faible et je n'arrête pas de m'y écorcher les mains. Reste la question : « Pourquoi ? » On se rend à La Charité-sur-Loire, dans l'espoir d'y trouver un garagiste charitable qui voudra jeter un coup d'œil sur le problème un samedi-matin… Pas de chance : / Will we ever get used to this? This is the third time in a row that « La Charmante » has refused to start in the morning… With its new battery since yesterday, we don't understand! Three people to push, and "La Récalcitrante" gets off to a flying start. (I've given up on the idea of cranking it: because of the bumper, the maneuvering room is too small and I keep hurting my hands on it. There remains the question: « Why? We drive to La Charité-sur-Loire, hoping to find a charitable mechanic there who will want to take a look at the problem on a Saturday morning… Bad luck: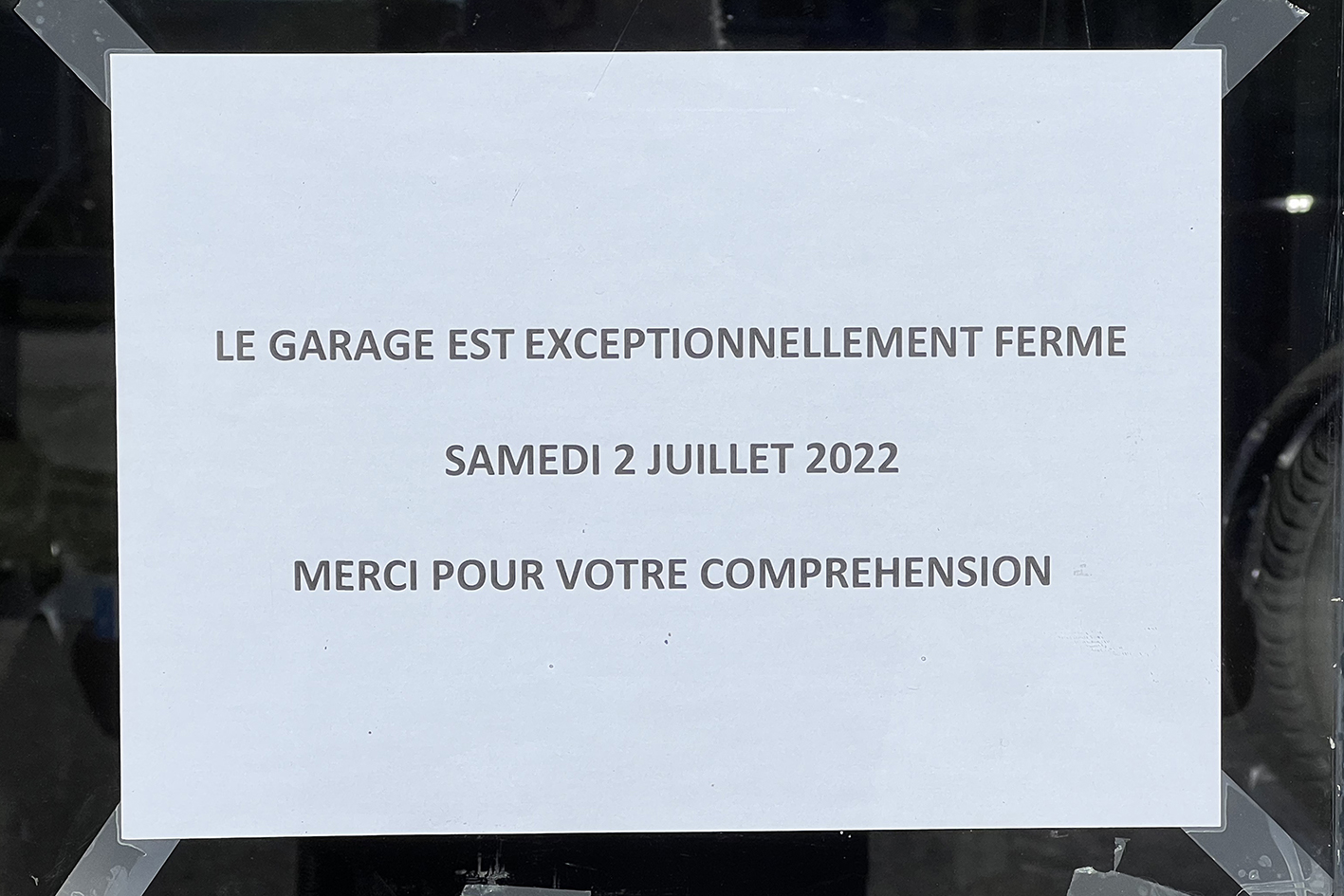 Un deuxième garage. Le patron est là, mais son mécanicien ne travaille pas le samedi. Nous décidons alors de tenter notre chance à Cosne-sur-Loire. En route vers le nord, un lieu-dit 'Les Soucis'. La devise de notre voyage ! Je prends la photo. Mais Marie-Xavier n'a d'yeux que pour le deuxième panneau : 'Brocante à 750 m'. Elle espère toujours dénicher quelque chose de particulier. / A second garage. The boss is there, but his mechanic doesn't work on Saturdays. We then decide to try our luck in Cosne-sur-Loire. On the way to the north, a place called 'Les Soucis' (The Worries). The motto of our trip! I take the picture. But Marie-Xavier only has eyes for the second panel: 'Brocante (flea market)à 750 m'. She always hopes to unearth something special.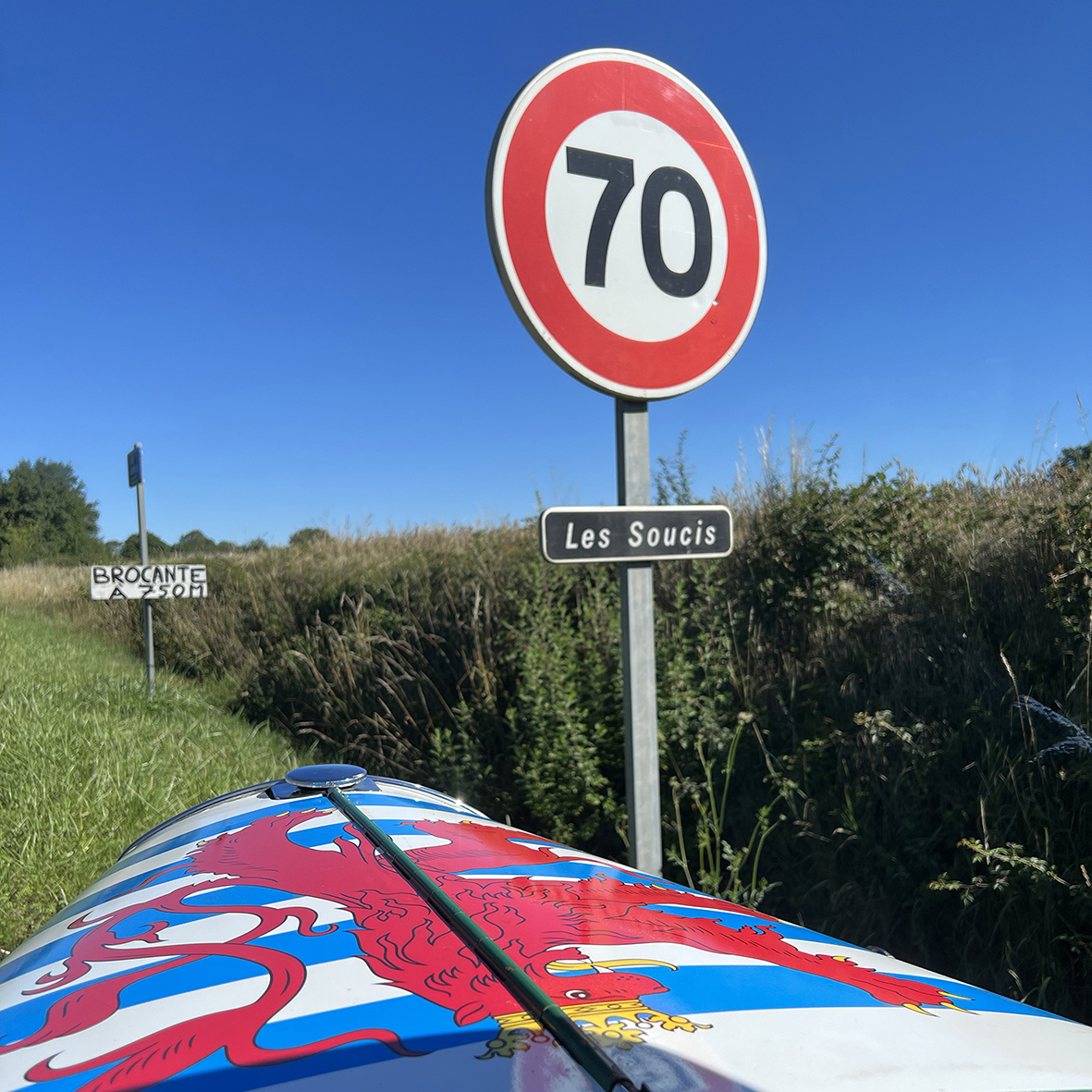 Arrêt donc à la brocante, tenue par une jeune femme souriante, Bertille. Tout en bavardant avec elle, Marie-Xavier parle de nos soucis à nous. « Mais mon mari est mécanicien ! Je vais l'appeler ! » J'explique le problème à Kevin. Pendant que Bertille apporte le café, nous évoquons les possibilités : (1) la charge de la batterie ne se fait pas correctement, (2) le démarreur ne fonctionne pas bien ou (3) la batterie se décharge la nuit à cause d'un courant parasite (est-ce possible avec le coupe-circuit que je coupe chaque soir ?). / So stop at the flea market, run by a smiling young woman, Bertille. While chatting with her, Marie-Xavier talks about our concerns. "But my husband is a mechanic! I will call him!" I explain the problem to Kevin. While Bertille brings the coffee, we discuss the possibilities: (1) the battery is not charging properly, (2) the starter is not working properly, or (3) the battery is discharging at night due to a parasitic current (is it possible with the circuit breaker that I cut every evening?).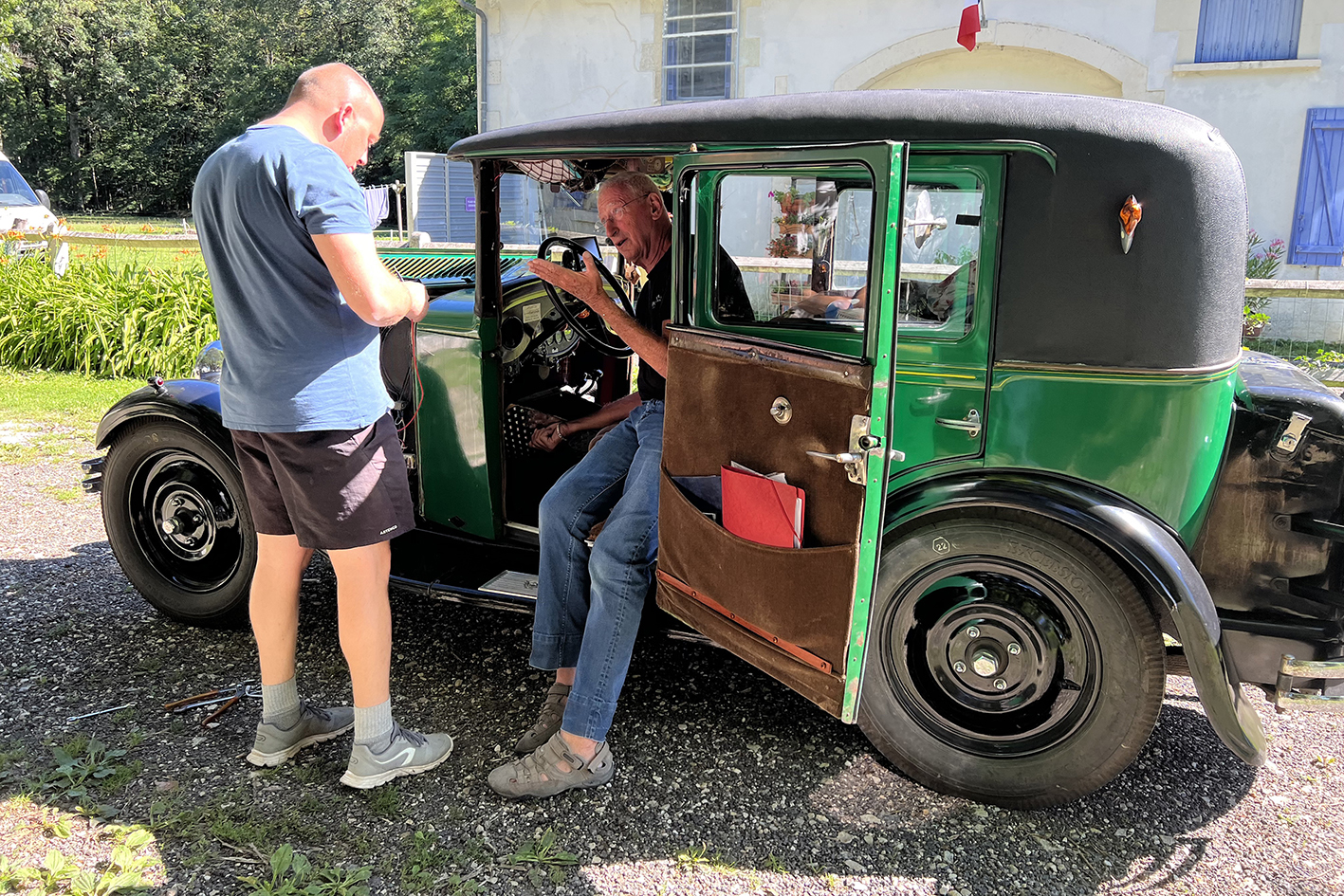 Nous pensons avoir trouvé – peut-être – le coupable : l'ancien éclairage du tableau de bord (qui ne fonctionne plus depuis belle lurette) semblerait sucer un peu de courant. Kevin coupe les fils du suspect. / We think we have – perhaps – found the culprit: the old dashboard lighting (which hasn't worked for a long time) seems to be sucking a little power. Kevin cuts the suspect's wires.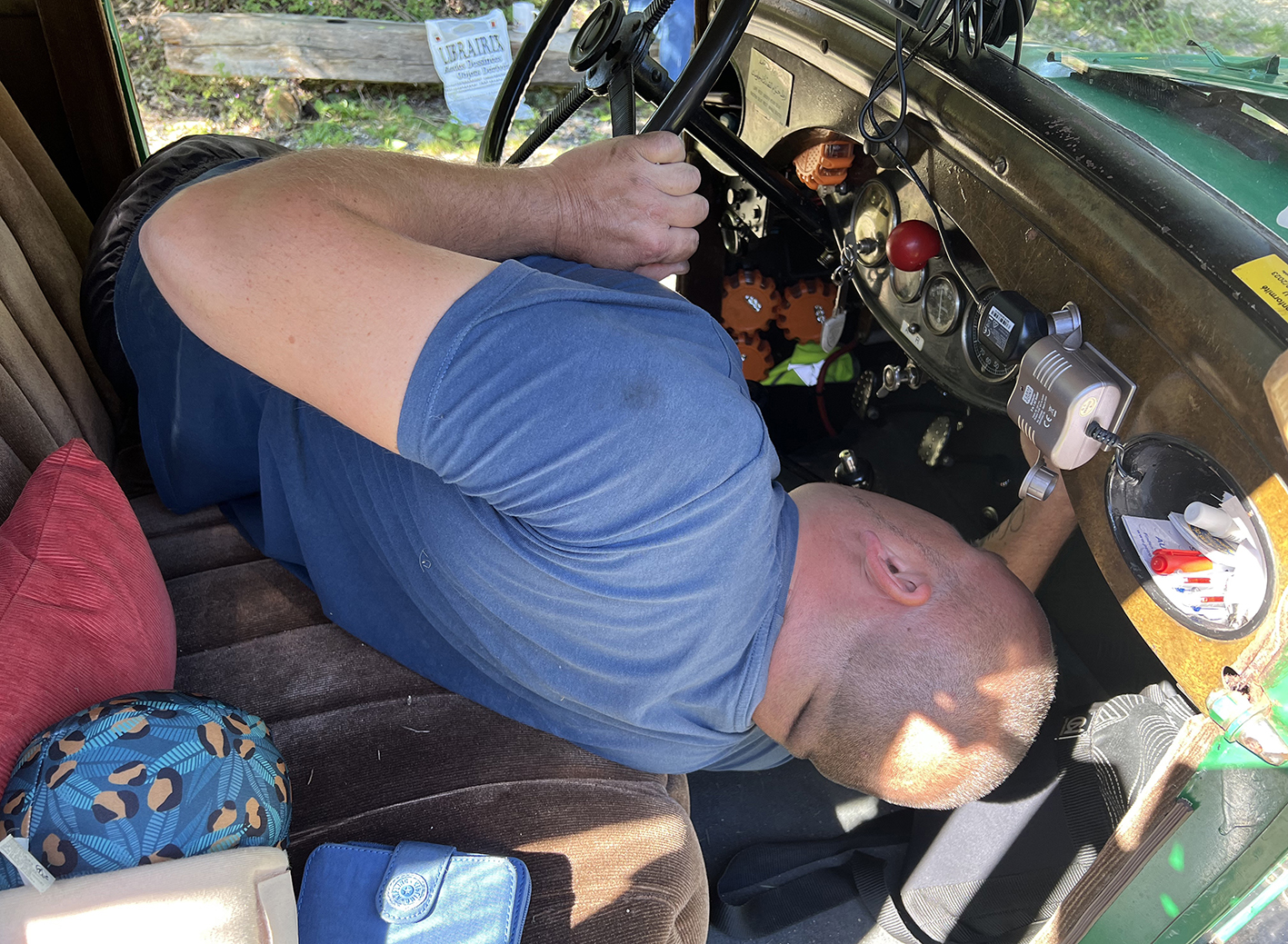 Impossible de savoir si c'est la solution. On ne le saura que demain matin… Nous disons au-revoir à ce couple charmant avec qui le courant est passé immédiatement (décidément, c'est une question de courant !) et avec lequel on a bien rigolé. / Impossible to know if this is the solution. We won't know until tomorrow morning… We say goodbye to this charming couple with whom the current passed immediately (definitely, it's a question of current!) and with whom we laughed a lot.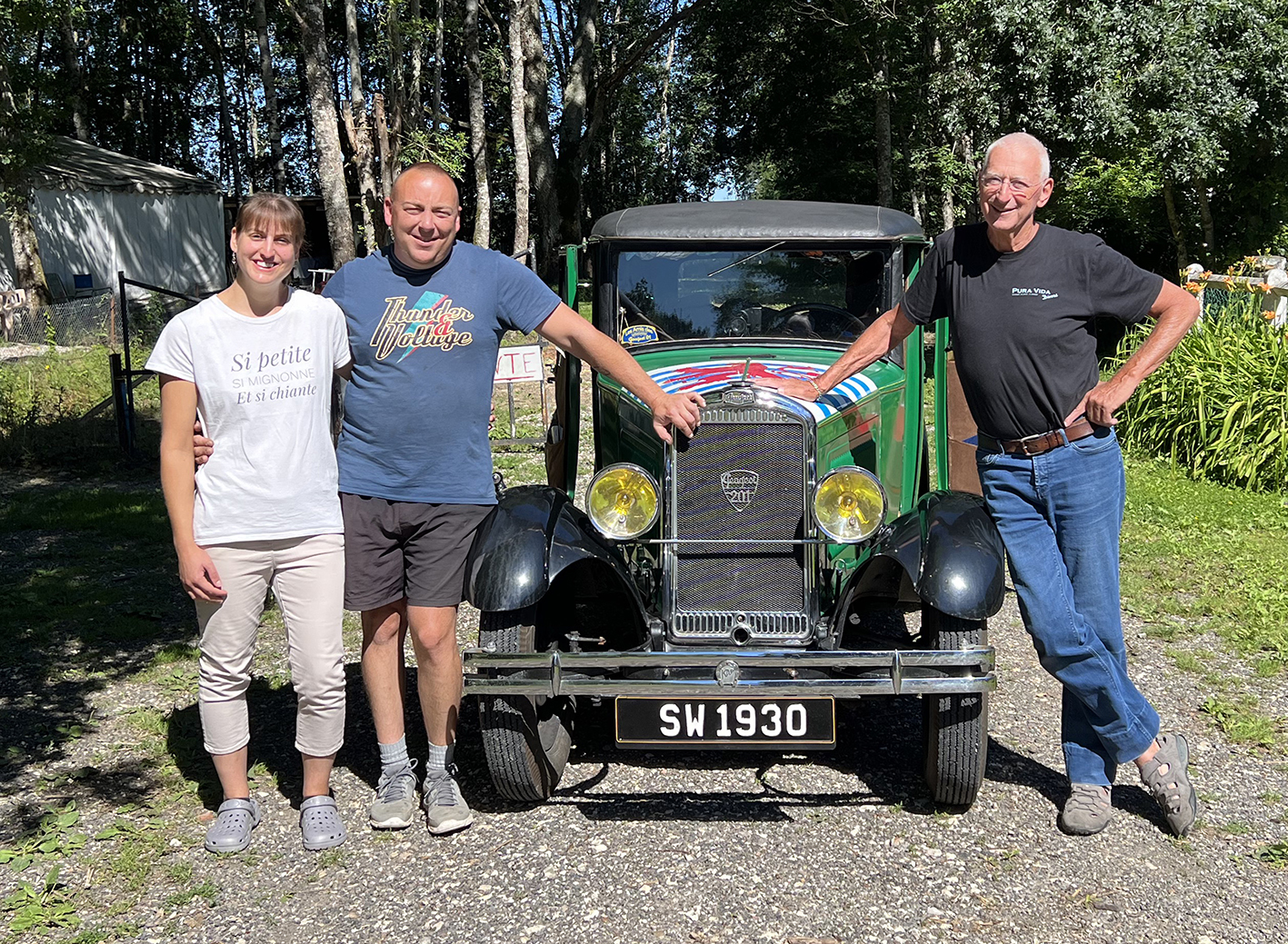 (Photo : Marie-Xavier Lassauzet)
Nous passons près de la centrale nucléaire de Belleville-sur-Loire, l'une des 4 centrales nucléaires à utiliser l'eau du fleuve pour son refroidissement. Les autres sont celles de Saint-Laurent-des-Eaux, Dampierre et Chinon. Avec 12 des 58 réacteurs français, ces quatre centrales produisent 19 % de la puissance nationale. On connaît la controverse : énergie propre, mais aussi dangers potentiels. Tchernobyl et Fukushima sont là pour nous le rappeler. En même temps, si la Russie persiste à couper le robinet du gaz, la France sera le pays européen le moins touché ! Reste que les lignes courbes des imposantes tours de refroidissement se réfléchissant dans le fleuve sont du plus bel effet. / We pass near the nuclear power plant of Belleville-sur-Loire, one of the 4 nuclear power plants to use water from the Loire for its cooling. The others are those of Saint-Laurent-des-Eaux, Dampierre and Chinon. With 12 of the 58 French reactors, these four plants produce 19% of the national power. We know the controversy: clean energy, but also potential dangers. Chernobyl and Fukushima are there to remind us. At the same time, if Russia persists in turning off the gas tap, France will be the least affected European country! Still, the curved lines of the imposing cooling towers reflecting in the river are of the most beautiful effect.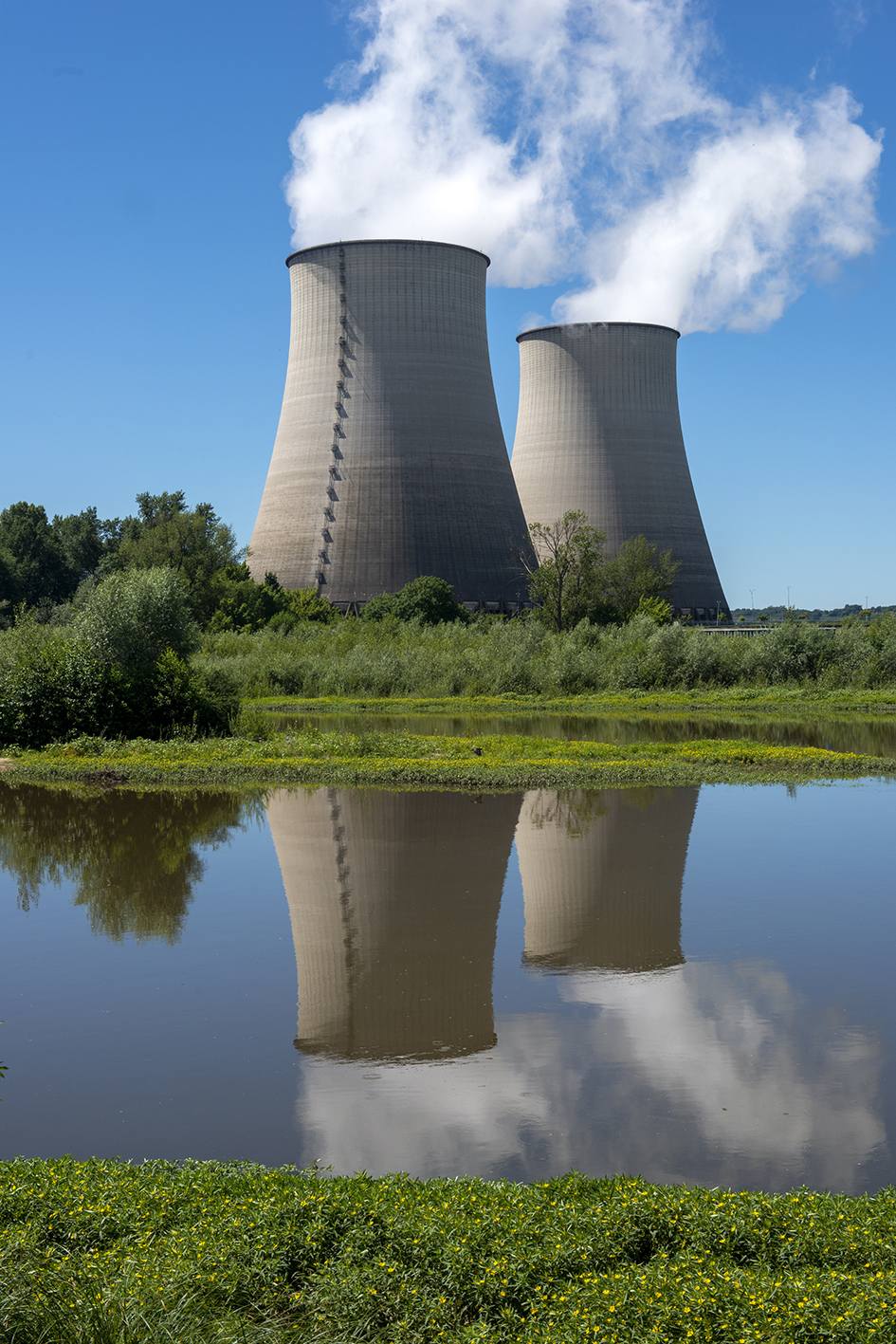 L'église Saint-Aignan (13ème-16ème siècle) à Bonny-sur-Loire se refait une beauté. On dirait un emballage de l'artiste Christo ! Bonny fut une place-forte durant la guerre de Cent Ans (1337-1453). L'Amiral de Culan assiégea la ville sous les ordres de Jeanne d'Arc. Bonny-sur-Loire fut également au cœur des guerres de Religion car elle était convoitée à la fois par les catholiques et par les protestants. / The Saint-Aignan church (13th-16th century) in Bonny-sur-Loire is getting a makeover. It looks like a wrapping from the artist Christo! Bonny was a stronghold during the Hundred Years War (1337-1453). Admiral de Culan besieged the city under the orders of Joan of Arc. Bonny-sur-Loire was also at the heart of the Wars of Religion because it was coveted by both Catholics and Protestants.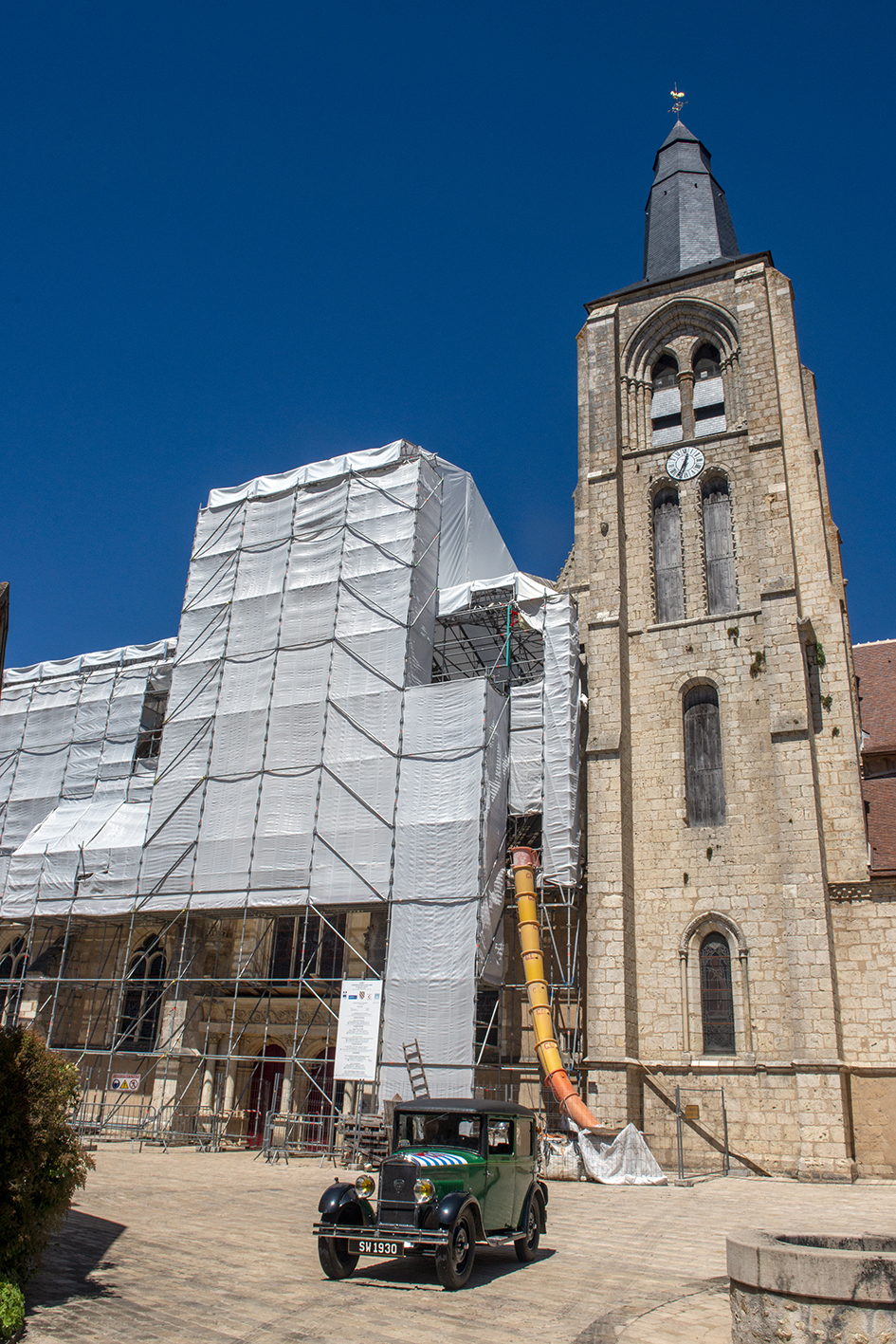 Lorsqu'on suit un fleuve, on tombe forcément sur un grand nombre de ponts d'époques et de constructions diverses. C'est le cas à Châtillon-sur-Loire, avec son pont suspendu, dont les quatre travées sont à l'origine d'une perspective remarquable. Il fut construit en 1841, mais endommagé et reconstruit à plusieurs reprises, suite à des crues exceptionnelles. Celui-ci date de 1951. / When one follows a river, you inevitably come across a large number of bridges from various periods and constructions. This is the case in Châtillon-sur-Loire, with its suspension bridge, whose four spans create a remarkable perspective. It was built in 1841, but damaged and rebuilt several times, following exceptional floods. This one dates from 1951.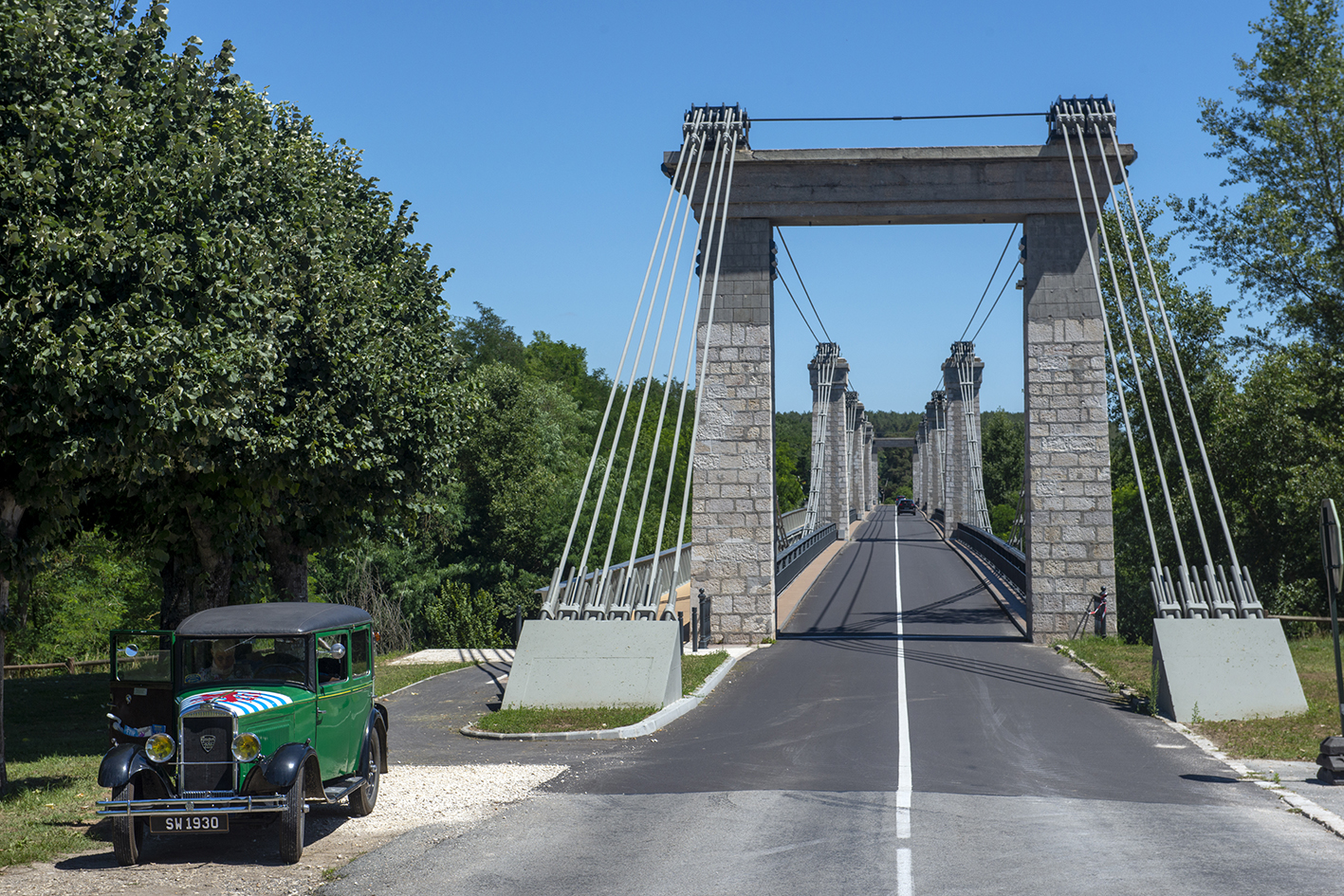 Un ouvrage plus extraordinaire encore est le pont-canal de Briare, qui porte le canal latéral à la Loire au-dessus du fleuve. / An even more extraordinary construction is the Briare canal bridge, which carries the side canal to the Loire above the river.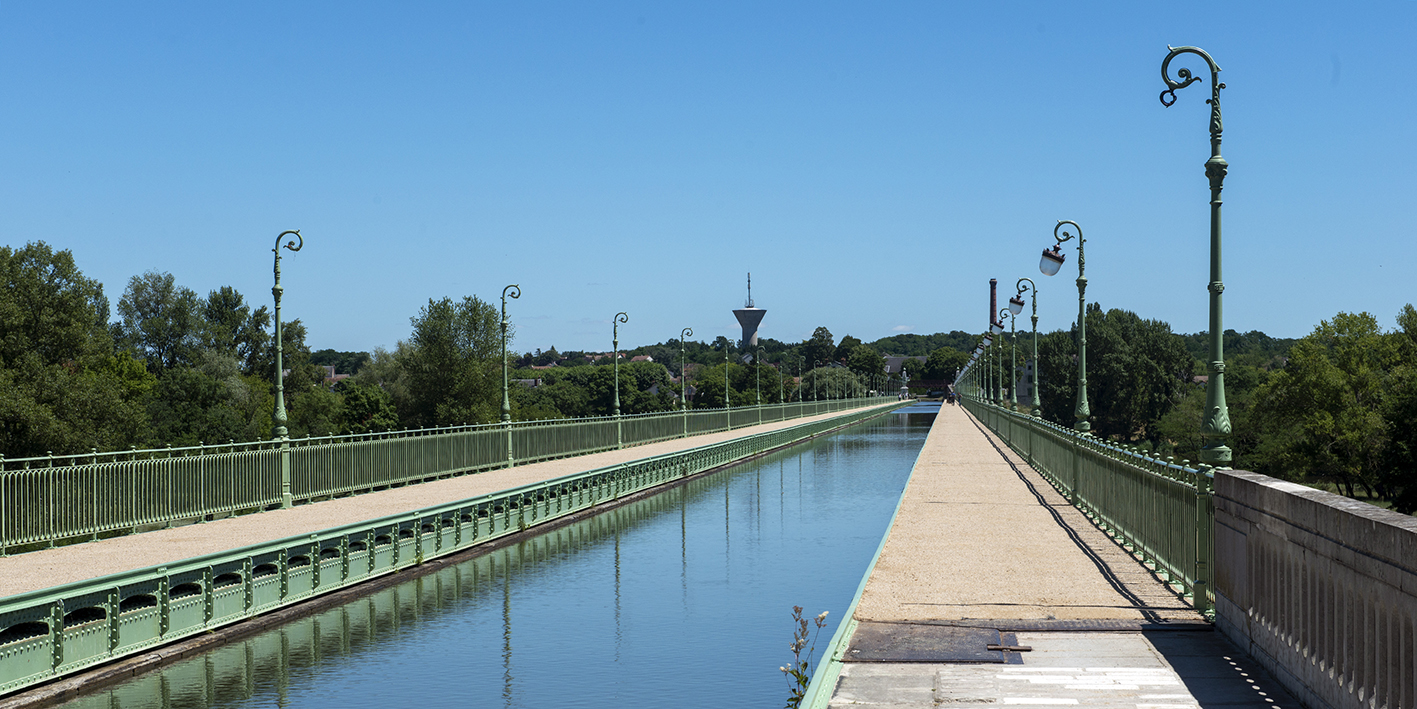 Ouvert à la navigation fluviale en 1896, la voie d'eau entièrement métallique est bordée de deux trottoirs et d'une rangée de lampadaires. Son abord est marqué de chaque côté de deux colonnes rostrales ornementées, l'ensemble évoquant le pont Alexandre-III à Paris, avec des éléments de décor tels que les huit rostres, les chimères et les lampadaires. Devant la beauté du site, nous nous demandons pourquoi les ouvrages actuels sont privés de tels éléments décoratifs… / Opened to river navigation in 1896, the all-metal waterway is lined with two sidewalks and a row of lampposts. Its approach is marked on each side by two ornamented rostral columns, the whole evoking the Alexandre-III bridge in Paris, with decorative elements such as the eight rostrums, the chimeras and the lampposts. Faced with the beauty of the site, we wonder why current constructions are deprived of such decorative elements…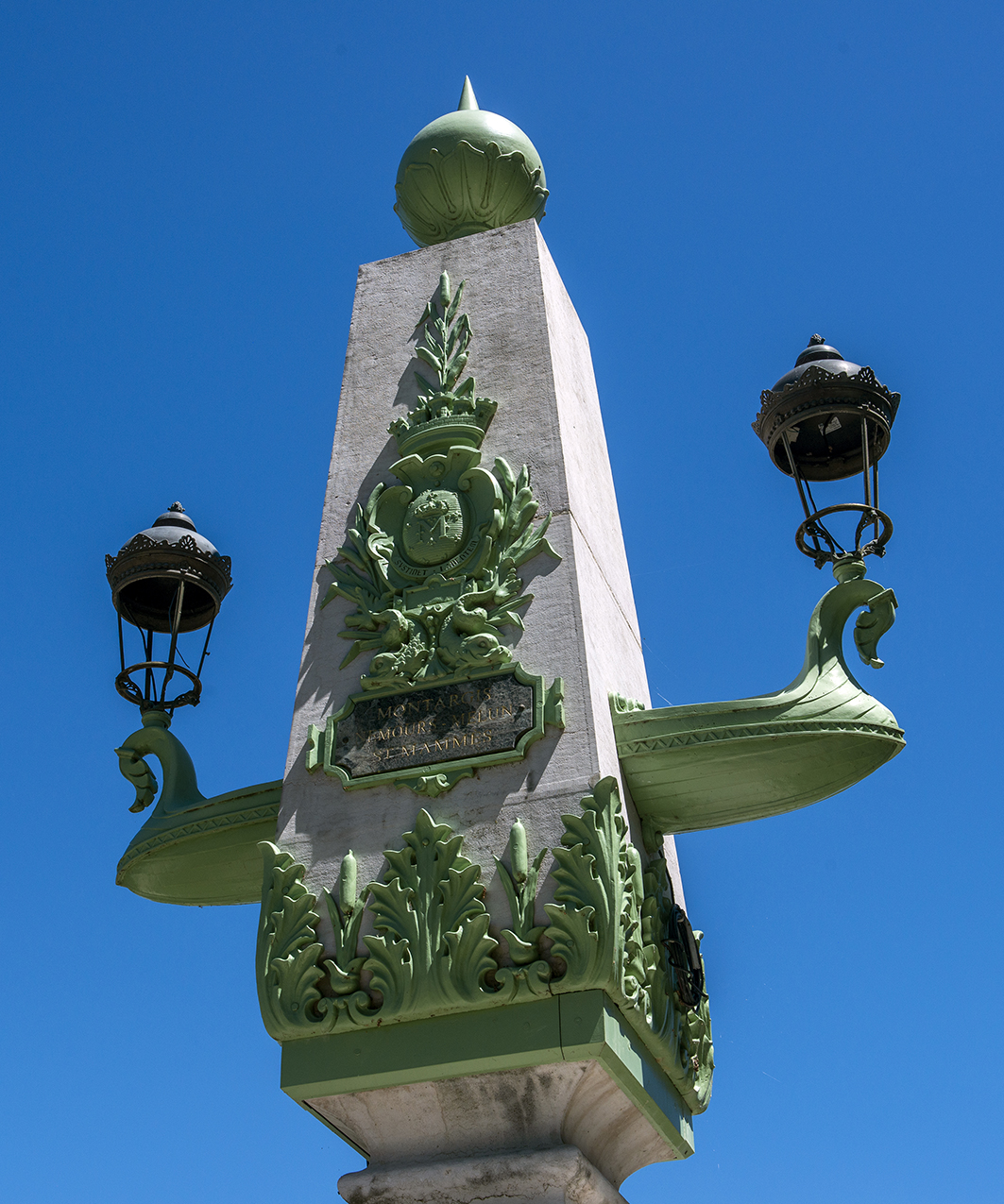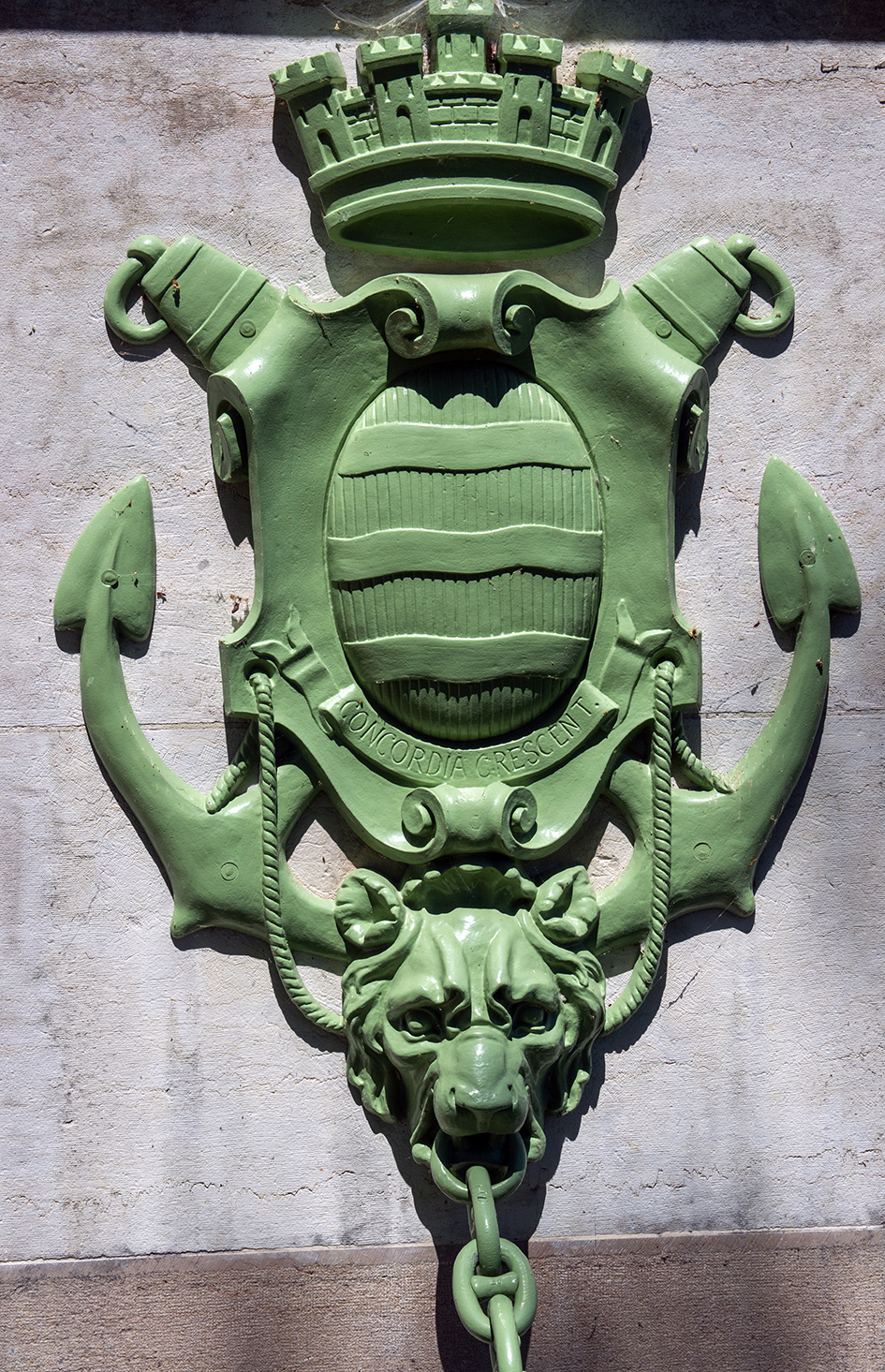 Un décor parfait pour ressortir les lunettes de « La Charmante », et faire une fois de plus des photos publicitaires pour notre sponsor, l'opticien luxembourgeois Moitzheim. / A perfect setting to bring out the glasses of "La Charmante", and once again take publicity photos for our sponsor, the Luxembourg optician Moitzheim.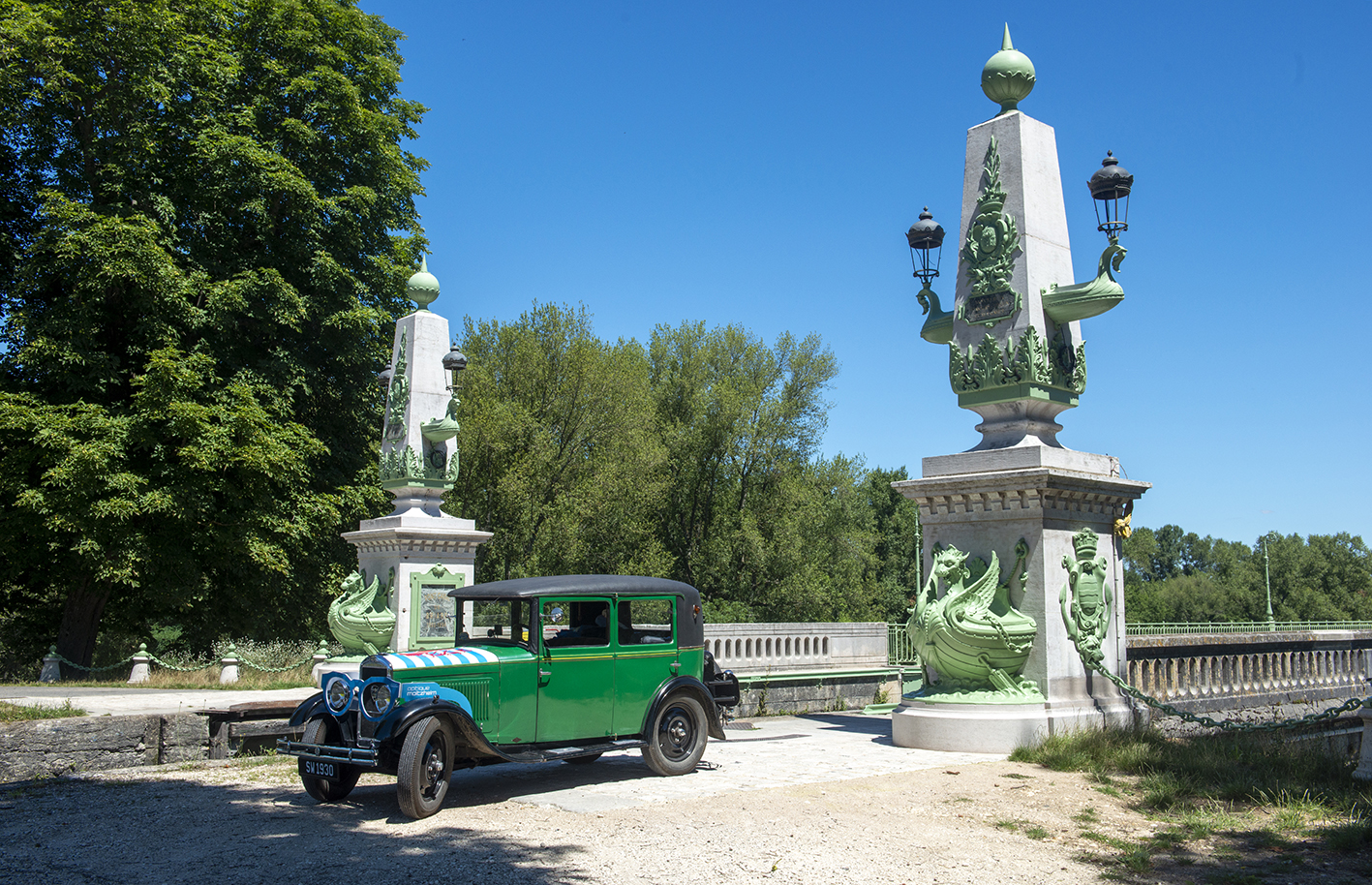 Nous déjeunons à Saint-Brisson-sur-Loire, avec son château qui veille depuis mille ans sur le fleuve royal. / We have lunch in Saint-Brisson-sur-Loire, with its castle which has watched over the royal river for a thousand years.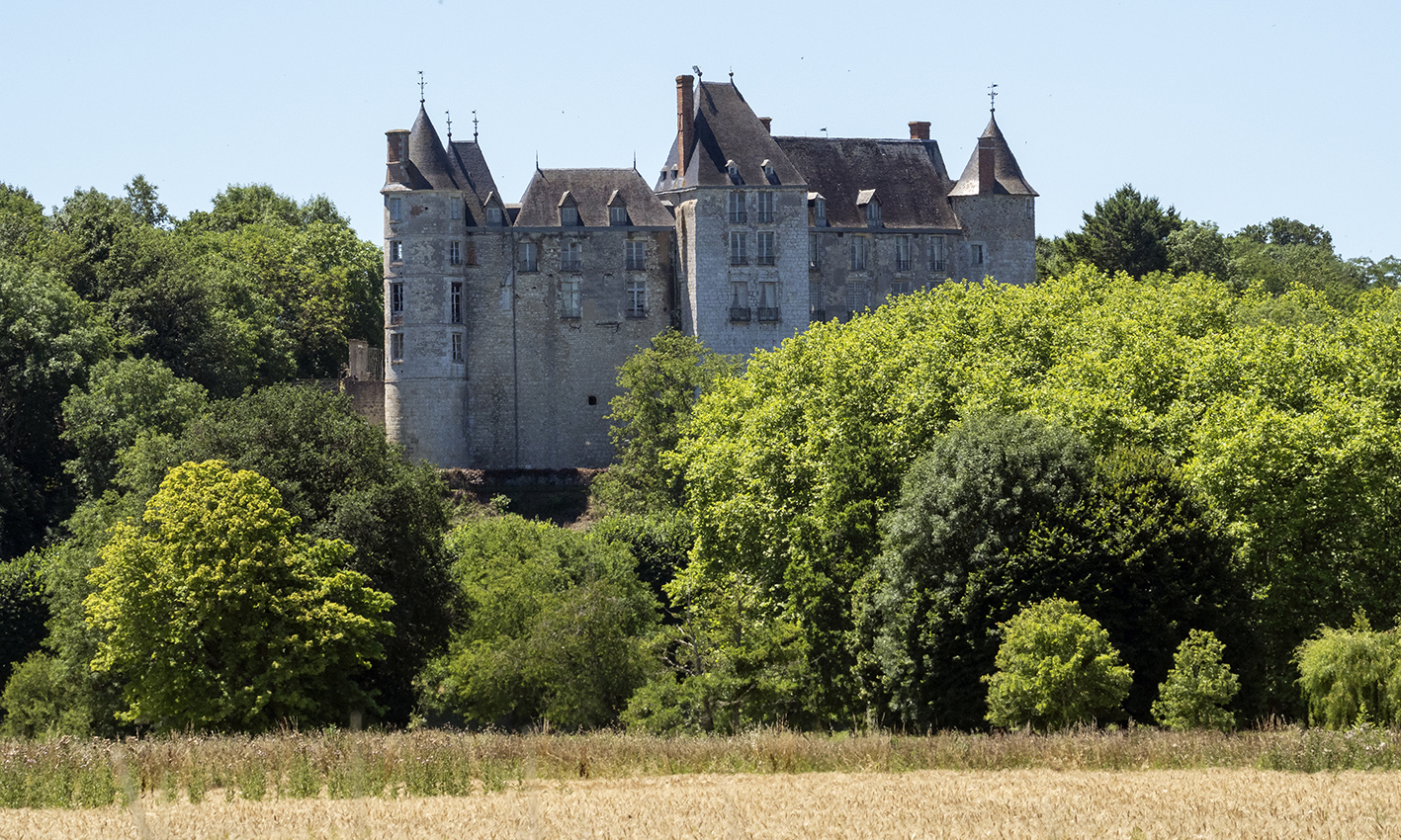 Nous roulons sur les petites routes de la rive gauche du Loire et arrivons ainsi à Gien, avec son remarquable château, construit à partir de 1482, pendant la Première Renaissance française, pour Anne de France et Pierre II de Beaujeu, sur la base d'une forteresse médiévale. Sur les bords du fleuve, l'ambiance est estivale. Dans l'habitacle de notre « Charmante », la température est à peine supportable. / We drive on the small roads of the left bank of the Loire and thus arrive in Gien, with its remarkable castle, built from 1482, during the First French Renaissance, for Anne of France and Pierre II de Beaujeu, on the basis of a medieval fortress. On the banks of the river, the atmosphere is summery. In the passenger compartment of our « Charming », the temperature is hardly bearable.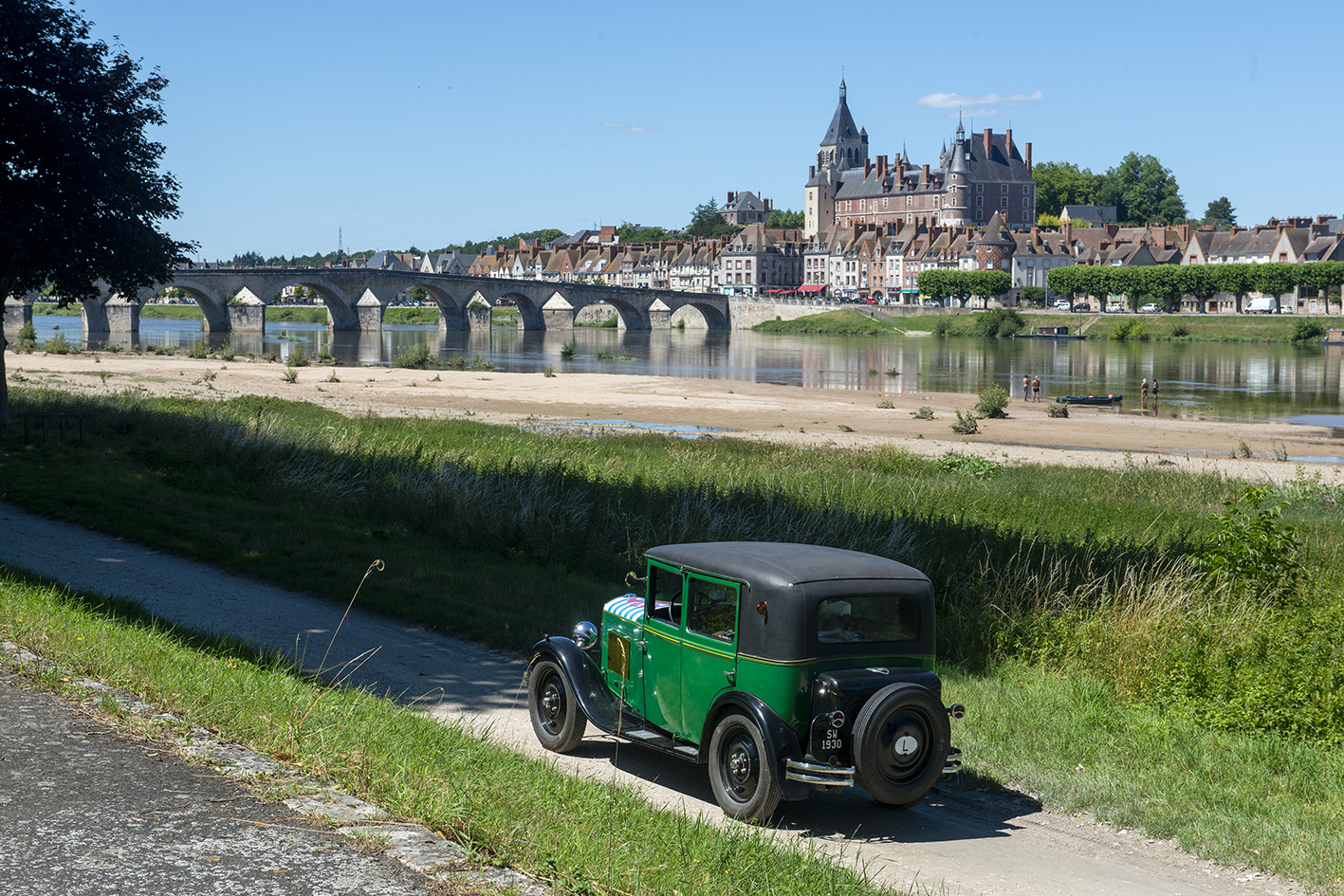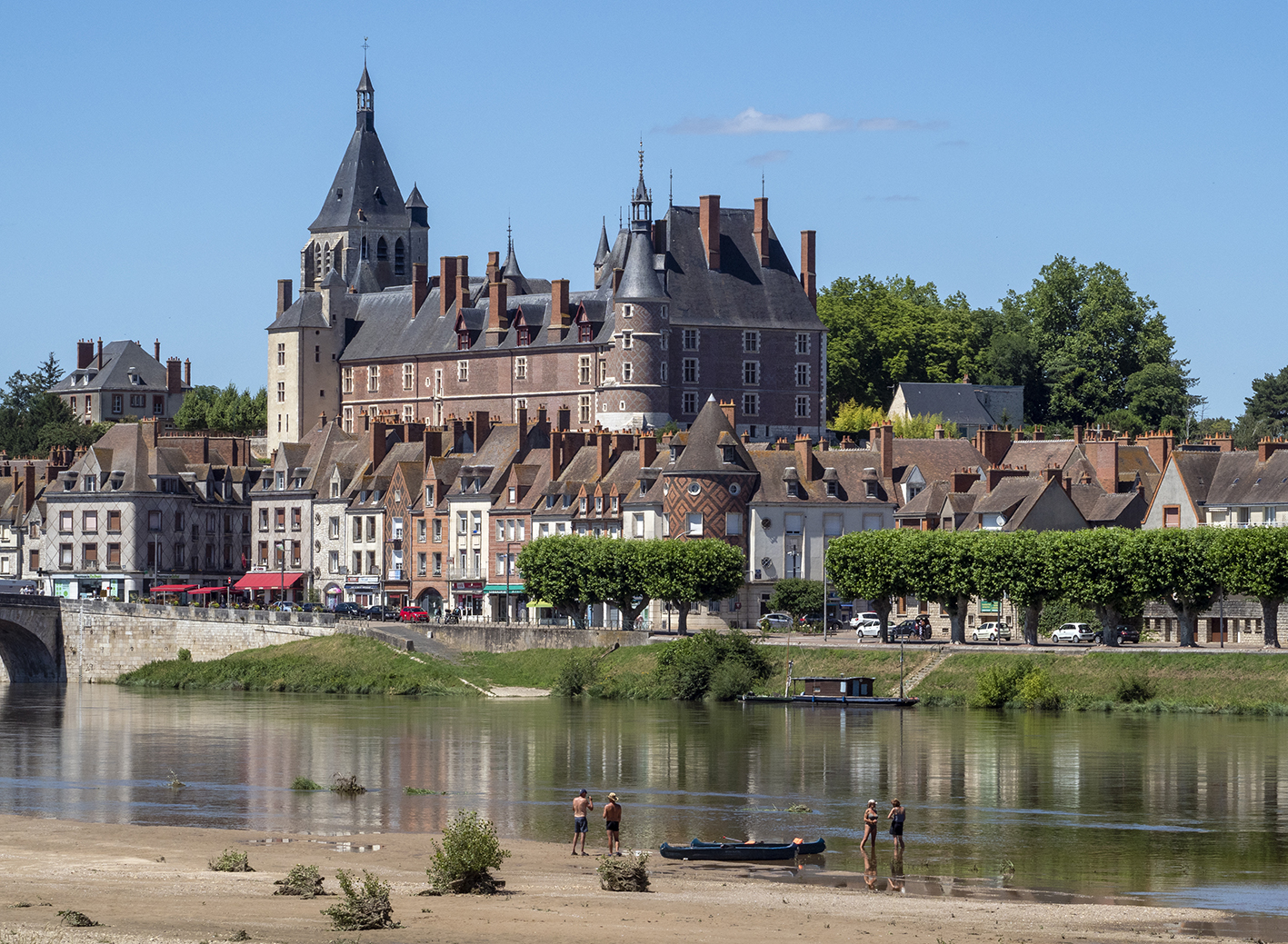 Un peu plus loin, c'est au château de Sully-sur-Loire que nous nous arrêtons. Le challenge, pour le photographe, c'est de faire croire que nous étions les seuls à l'admirer, alors qu'en réalité un flot de touristes courait dans tous les sens ! / A little further, we pause at the castle of Sully-sur-Loire. The challenge, for the photographer, is to make believe that we were the only ones to admire it, when in reality a stream of tourists was running in all directions!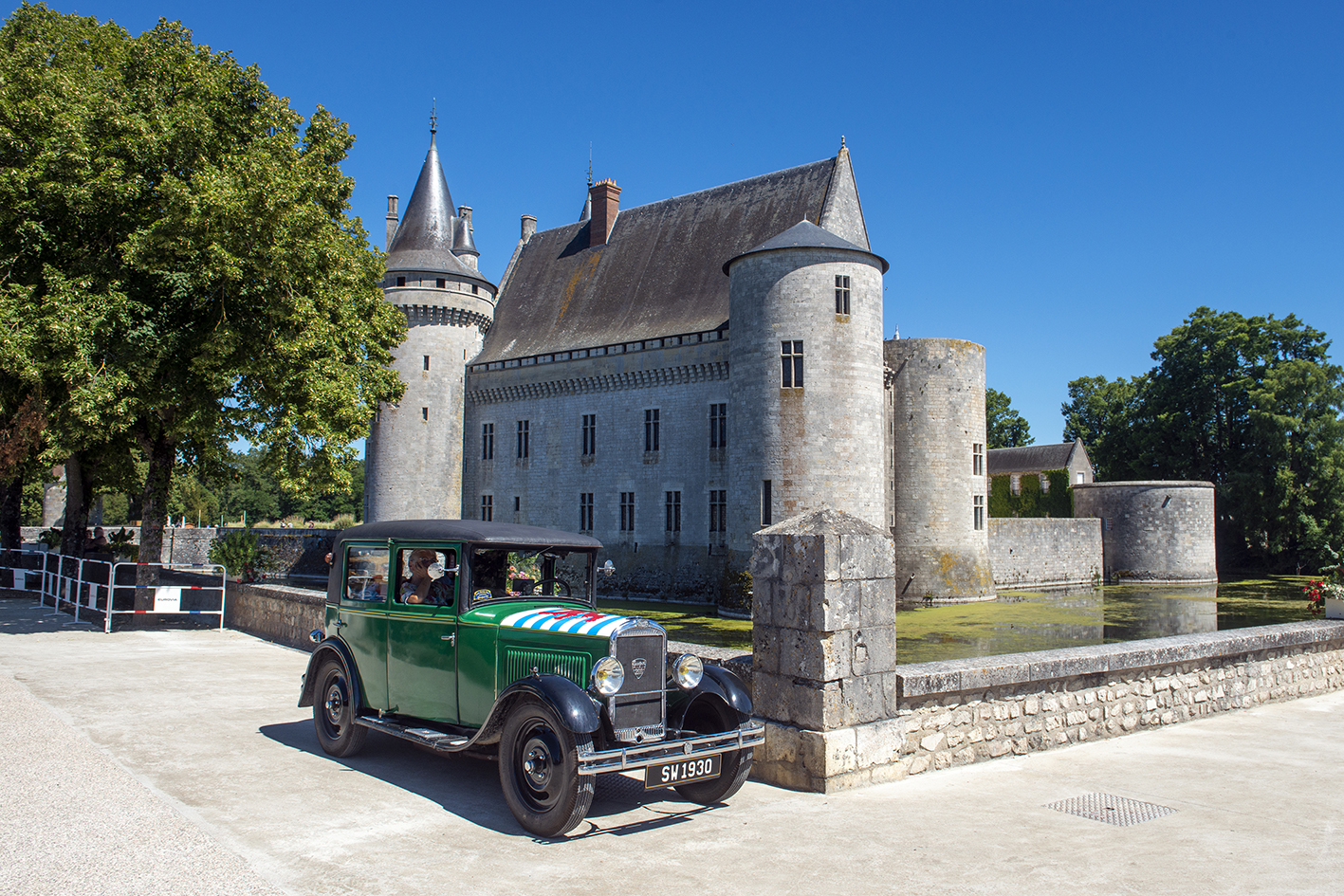 Mentionné dès 1102, le château contrôlait un pont sur la Loire disparu depuis. Bien entendu, son histoire millénaire regorge d'anecdotes. Le jeune Louis XIV s'y réfugia en mars 1652, lors de la Fronde des Princes. En 1715, le château accueilla Voltaire exilé par le Régent. Le château subit un incendie en 1918 et les bombardements de juin 1940 et d'août 1944 durant la Seconde Guerre mondiale. En attendant, le château et ses douves, où coassent les grenouilles, respire la tranquillité. / Mentioned as early as 1102, the castle controlled a bridge over the Loire which has since disappeared. Of course, its millennial history is full of anecdotes. Young Louis XIV took refuge there in March 1652, during the Fronde des Princes. In 1715, the castle welcomed Voltaire exiled by the Regent. The castle suffered a fire in 1918 and the bombardments of June 1940 and August 1944 during the Second World War. In the meantime, the castle and its moats, where the frogs croak, exude tranquility.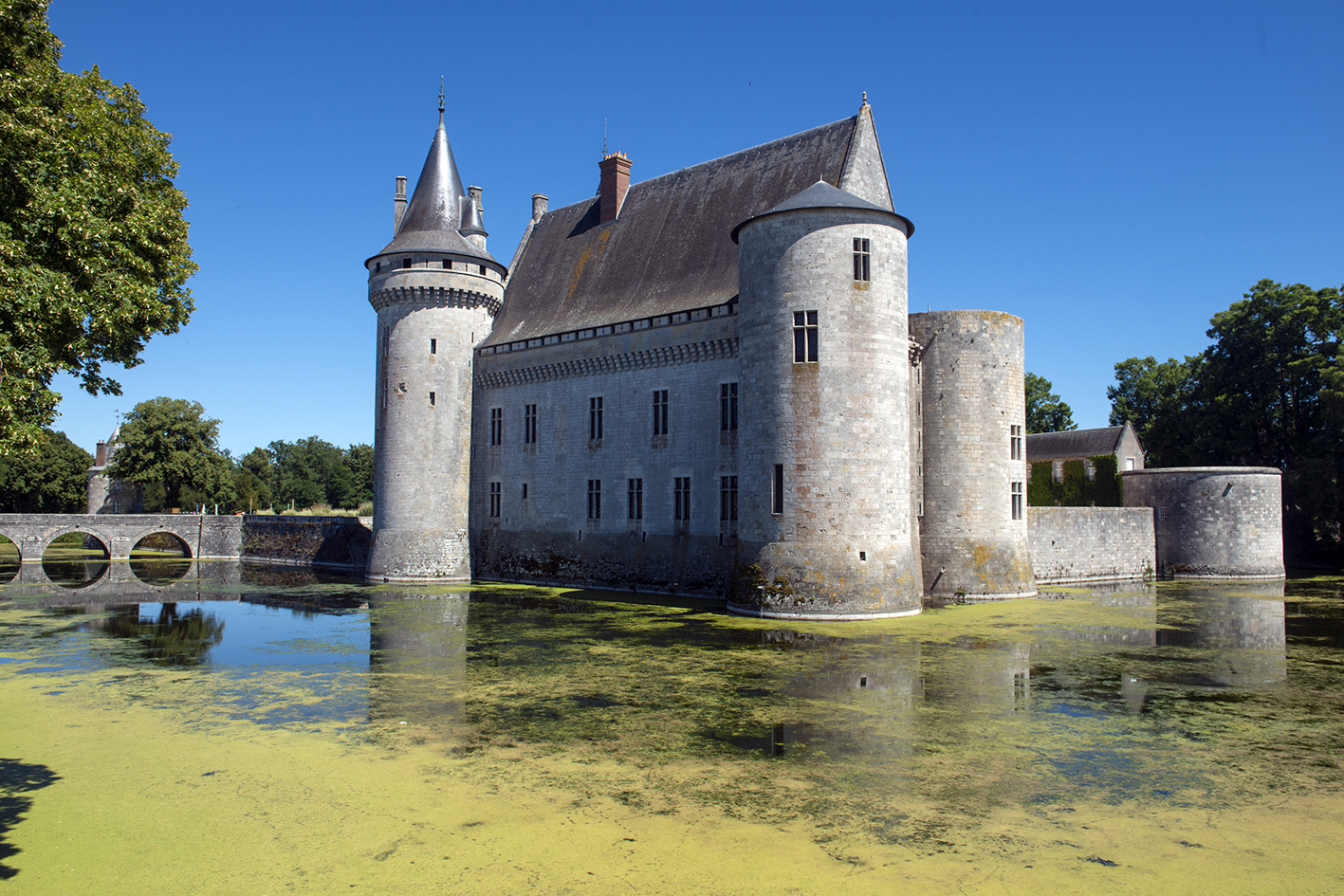 Retour à la réalité du moment et à la vie normale. C'est la récolte du colza au moyen de moissonneuses-batteuses gigantesques, véritables usines roulantes. / Return to the reality of the moment and to normal life. It is the harvesting of rapeseed by means of gigantic combine harvesters, true factories on wheels.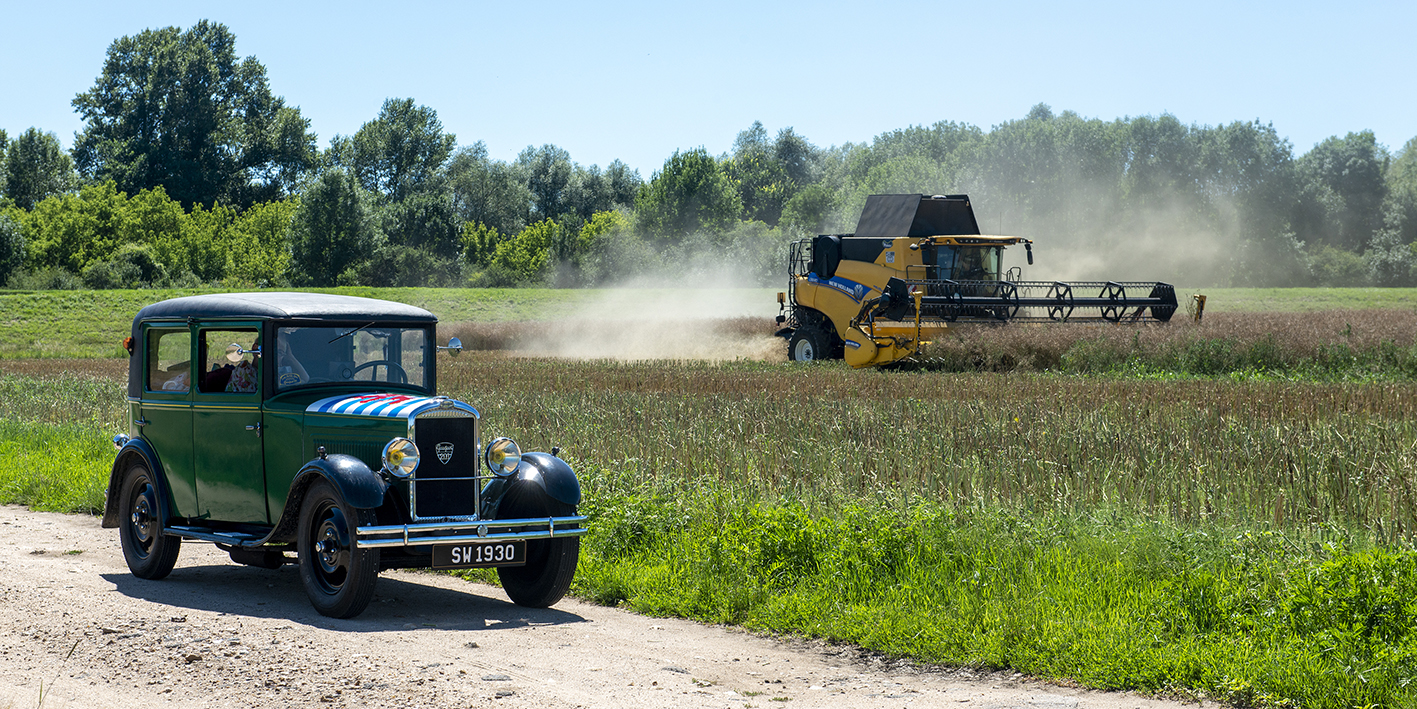 Après Saint-Benoît-sur-Loire, la Loire retrouve son aspect de 'dernier fleuve sauvage d'Europe' – bien que cela soit moins vrai qu'auparavant, depuis qu'elle est endiguée de Nevers jusqu'à l'estuaire de Saint-Nazaire. / After Saint-Benoît-sur-Loire, the Loire regains its aspect of 'the last wild river of Europe' – although this is less true than before, since it has been dammed from Nevers to the estuary of Saint -Nazaire.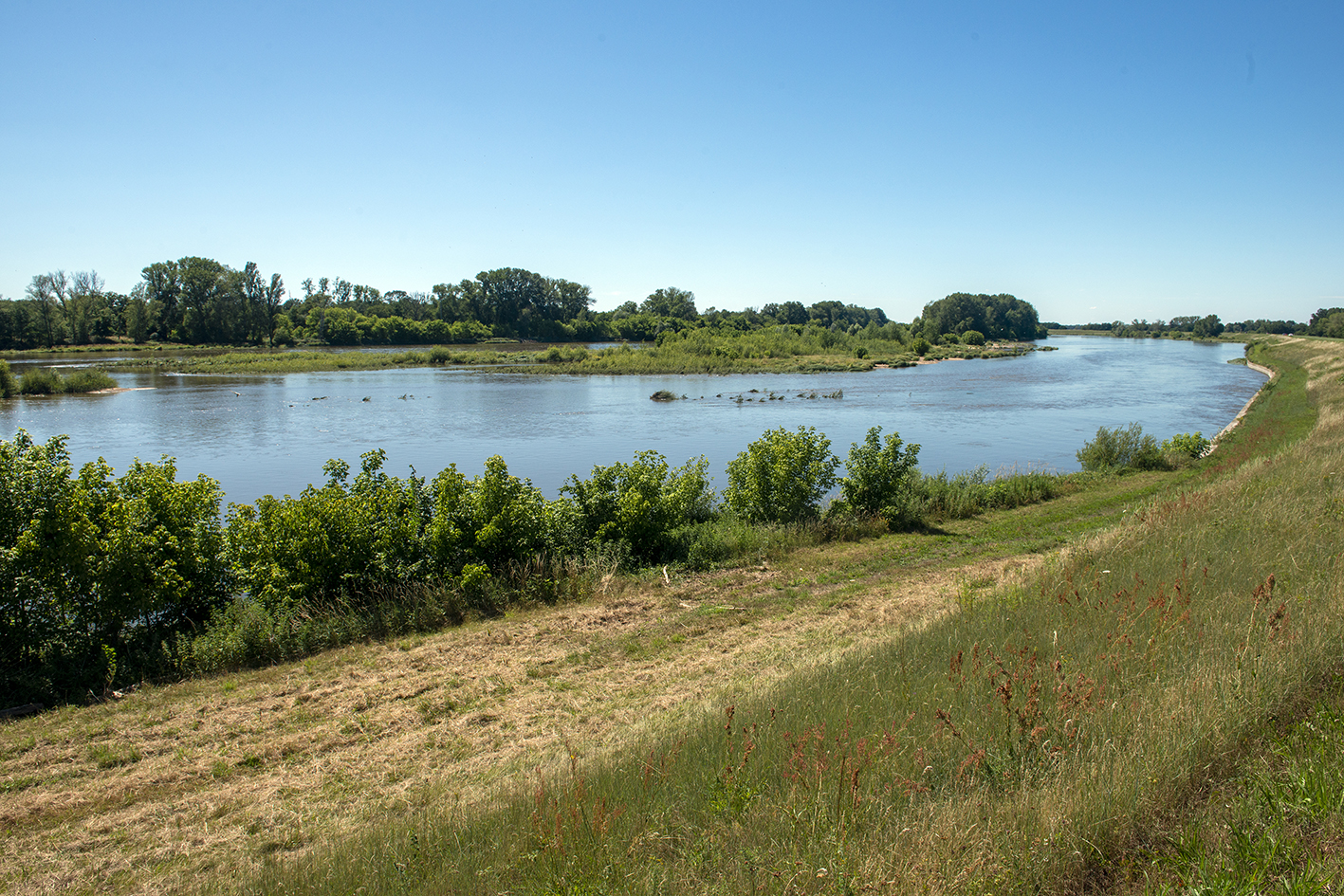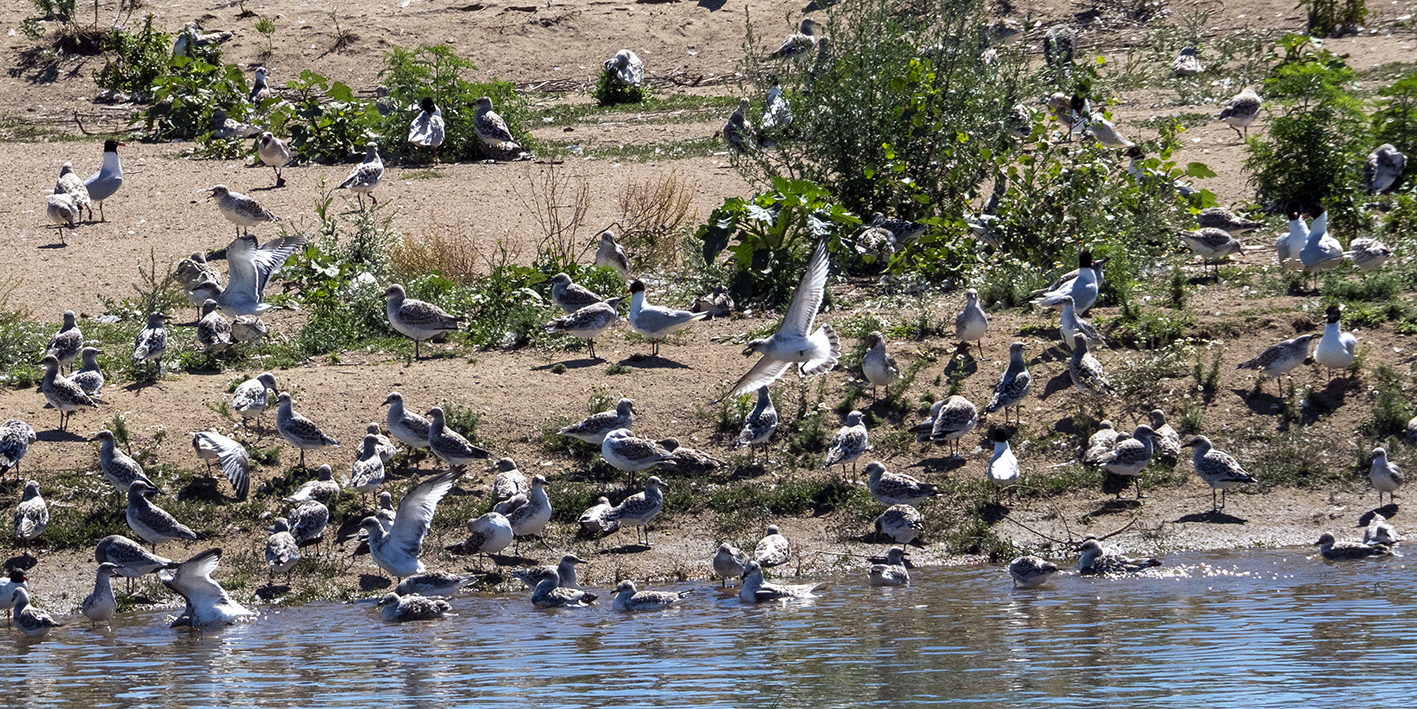 En fin d'après-midi, nous arrivons à Orléans. Pas évident, un samedi de juillet ensoleillé, le début des grandes vacances, de prendre « La Charmante » en photo devant la Cathédrale Sainte-Croix d'Orléans ! / At the end of the afternoon, we arrive in Orléans. It's not easy, on a sunny July Saturday, the start of summer vacation, to take a photo of "La Charmante" in front of the Sainte-Croix Cathedral!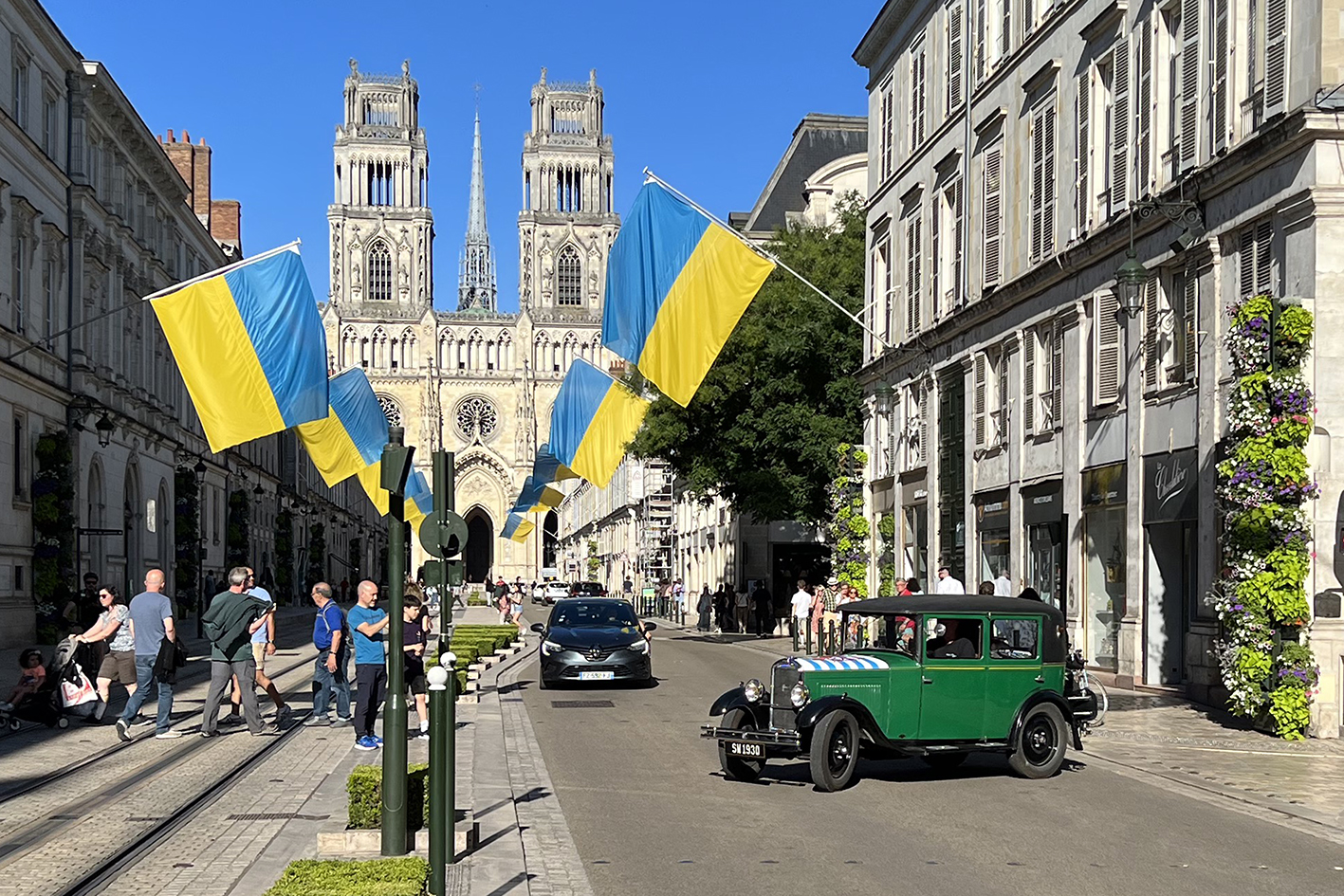 (Photo : Marie-Xavier Lassauzet)
J'aurais bien voulu provoquer une rencontre entre Jeanne d'Arc, « La pucelle d'Orléans », et « La Charmante » ! Mais autour de sa statue équestre, une foule dense se bouscule autour des manèges, des stands de tir et autres attractions bruyantes. / I would have loved to provoke a meeting between Joan of Arc, « The Maid of Orléans », and « La Charmante »! But around her equestrian statue, a dense crowd jostles around rides, shooting ranges and other noisy attractions.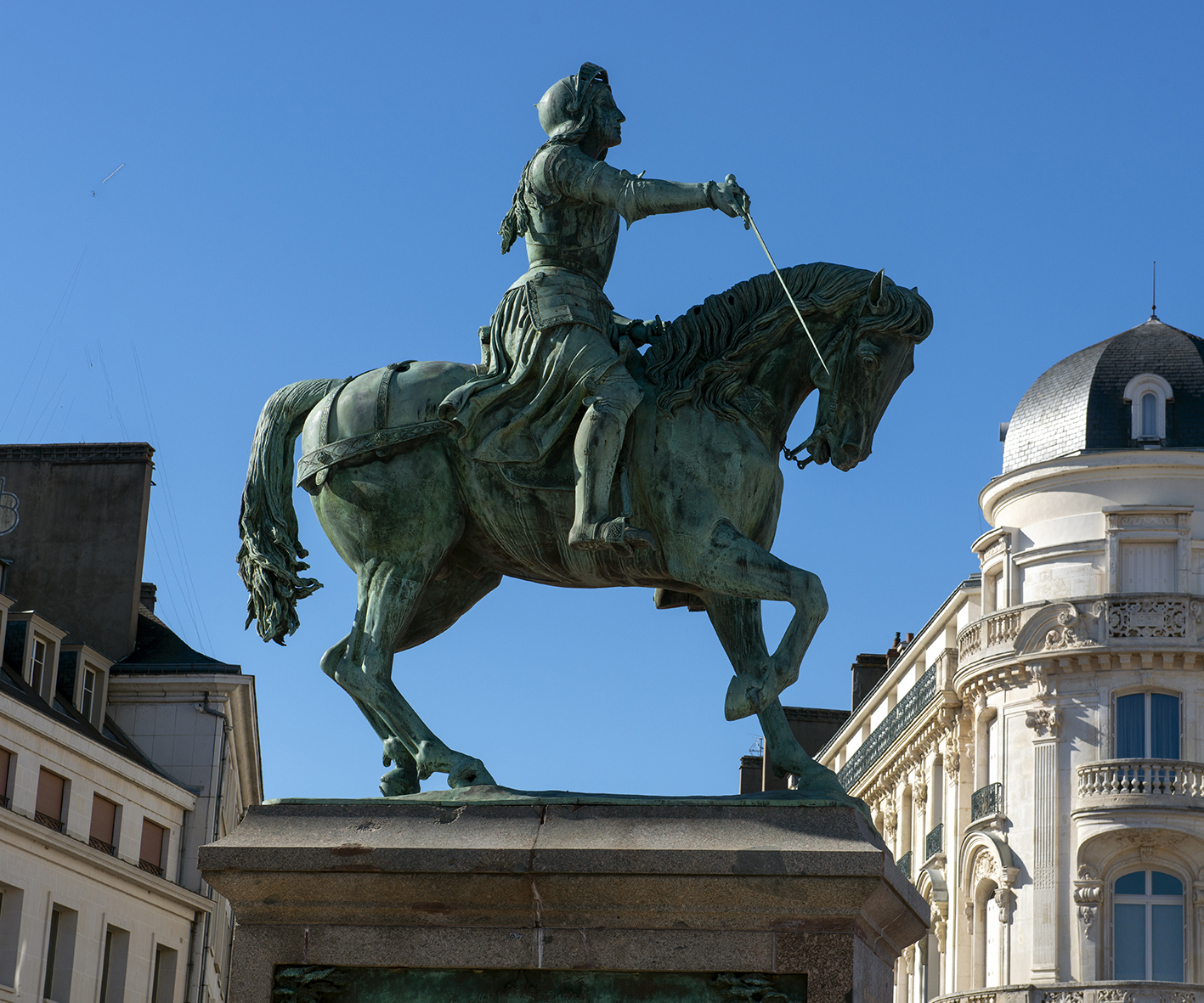 Nous fuyons le centre d'Orléans et trouvons une chambre pour la nuit à La Chapelle-Saint-Mesmin, où « La Petite » était l'invitée d'honneur du club Rétrochap il y a 8  ans…  / We flee the center of Orléans and find a room for the night in La Chapelle-Saint-Mesmin, where « La Petite » was the guest of honor at the Retrochap club 8 years ago…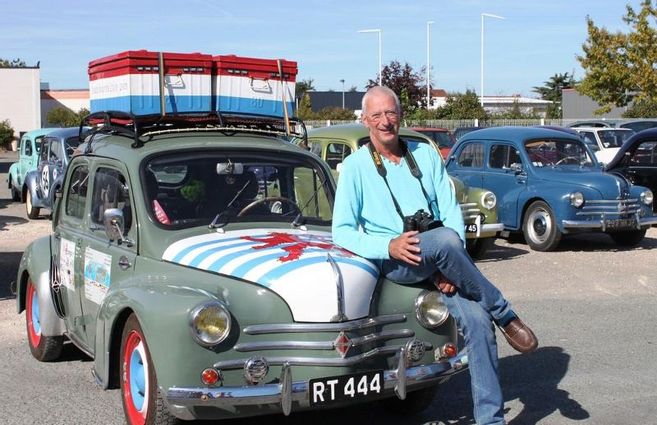 Pour la deuxième fois en deux mois de vagabondage, et sans l'avoir demandé, nous héritons de la chambre 201 ! / Our room number, for the second time in two months, and without having asked for it: 201!
1er juillet 2022. Digoin – La Marche-sur-Loire (154 km)

/ July 1st, 2022. Digoin – La Marche-sur-Loire (154 km)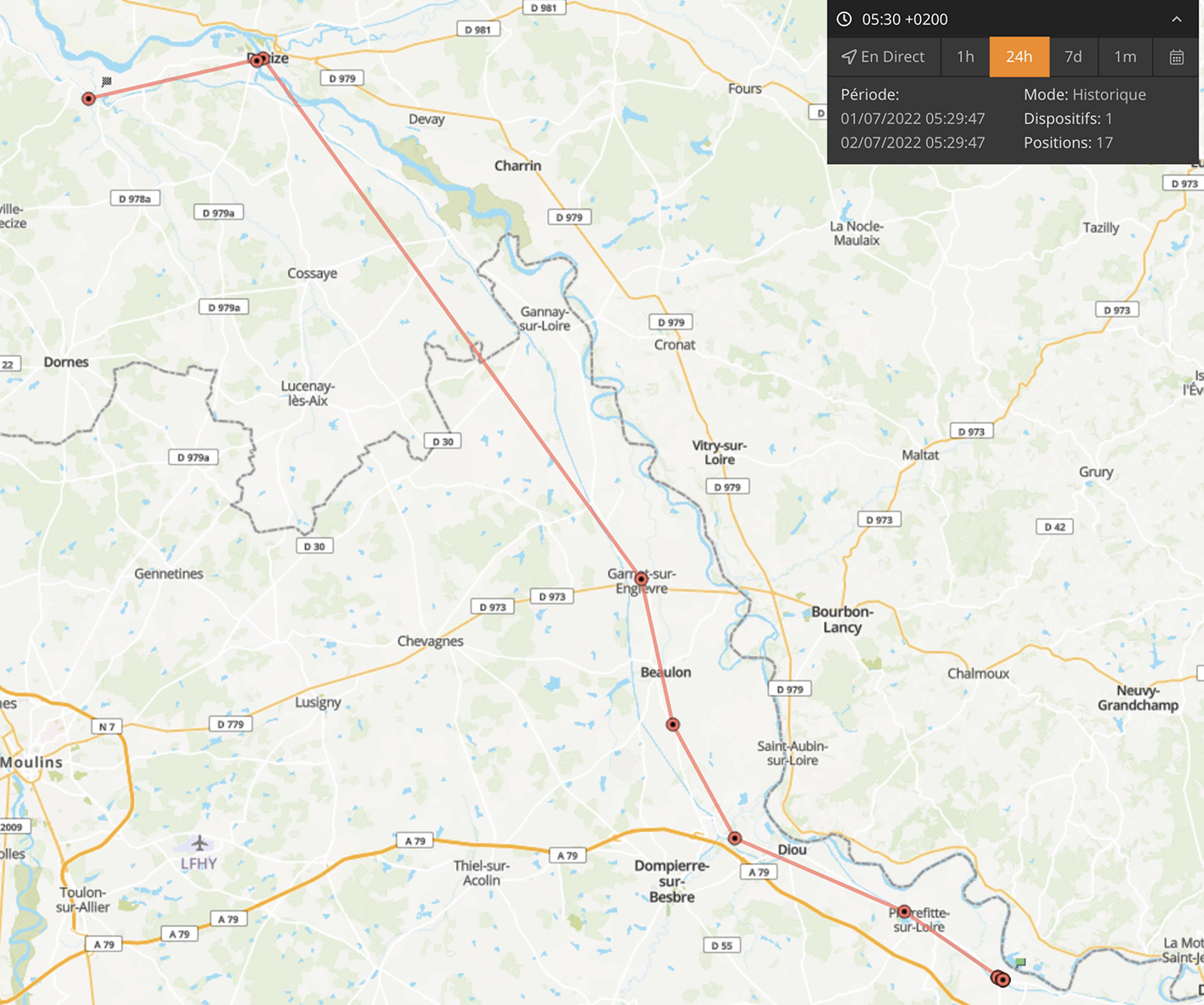 Ça y est ! « La Charmante » refuse, une fois de plus, de démarrer ! Je ressors les câbles de démarrage… Avec la batterie de la voiture de la gérante de notre hôtel, le Merle Blanc à Digoin, l'affaire est vite réglée. Mais on ne peut pas continuer comme ça. De deux choses l'une : ou bien la charge de la batterie ne se fait pas correctement, ou bien la batterie est morte. Arrêt dans le premier garage venu. Pas de chance : ils ne travaillent pas aujourd'hui : ils font l'inventaire ! Mais ils nous conseillent un garage une douzaine de kilomètres plus loin, à Coulanges. Nous y sommes très bien reçus. Analyse de la batterie : à changer ! (Ça se voit d'ailleurs : elle a chauffé et a évaporé une partie de l'électrolyte. J'espère que ça date d'AVANT l'installation de notre alternateur !). Pendant que la garagiste va chercher une nouvelle batterie (notre petit modèle est peu courant), nous nous promenons dans Coulanges. Visite de l'église Saint Révérien, qui date du 12ème siècle. / « La Charmante » refuses, once again, to start! I take out the jumper cables… With the car battery of the manager of our hotel, the Merle Blanc in Digoin, the matter is quickly settled. But we can't go on like this. One of two things: either the battery is not charging properly, or the battery is dead. We stop in the first garage that comes along. Bad luck: they are not working today: they are taking inventory! But they recommend a garage a dozen kilometers further on, in Coulanges. We are very well received there. We check the state of the battery: it has to be replaced! (It can be seen by the way: it has heated up and evaporated some of the electrolyte. I hope it dates from BEFORE the installation of our alternator!). While the mechanic orders a new battery (our little model is unusual), we walk around Coulanges. Visit of the Saint Révérien church, which dates from the 12th century.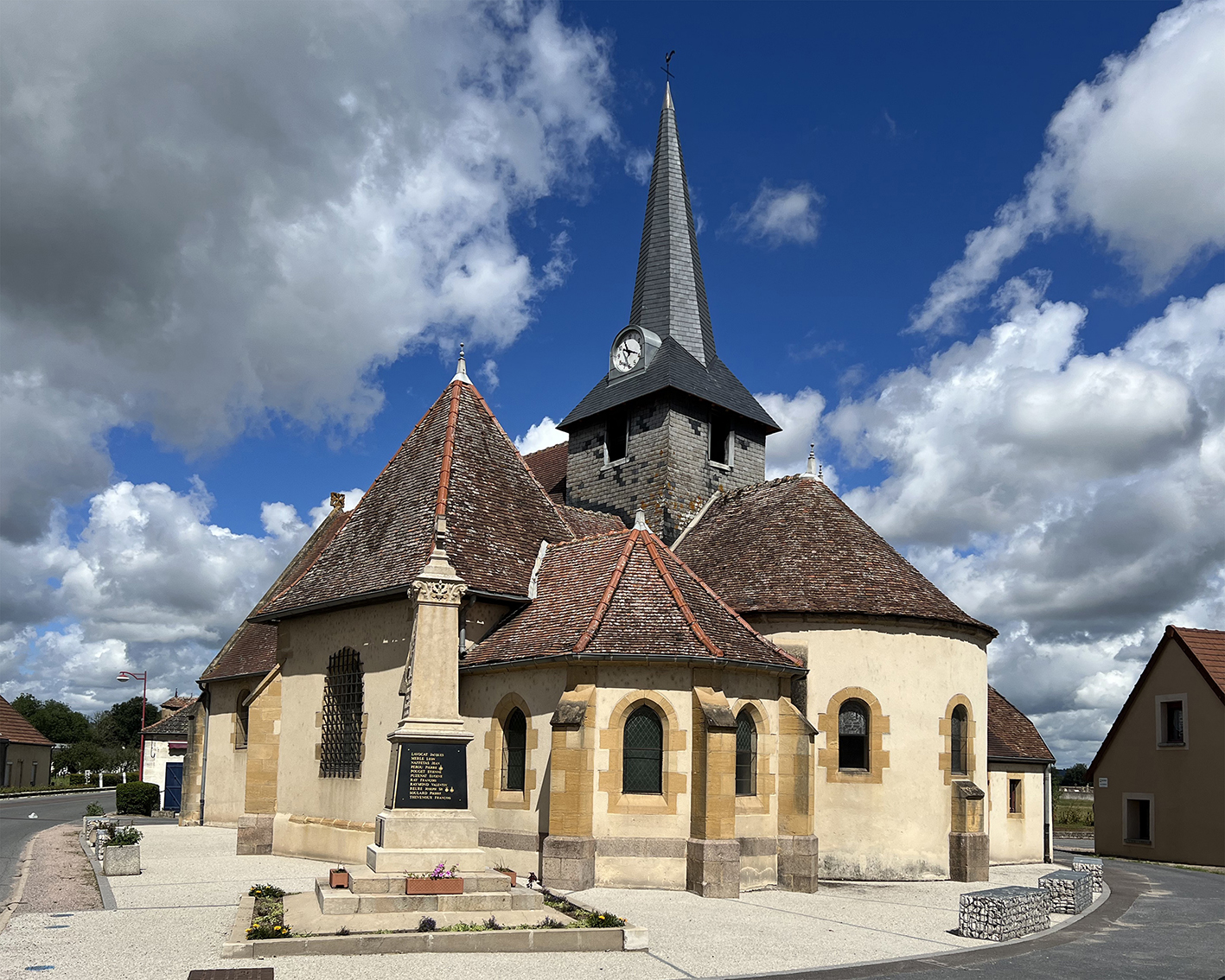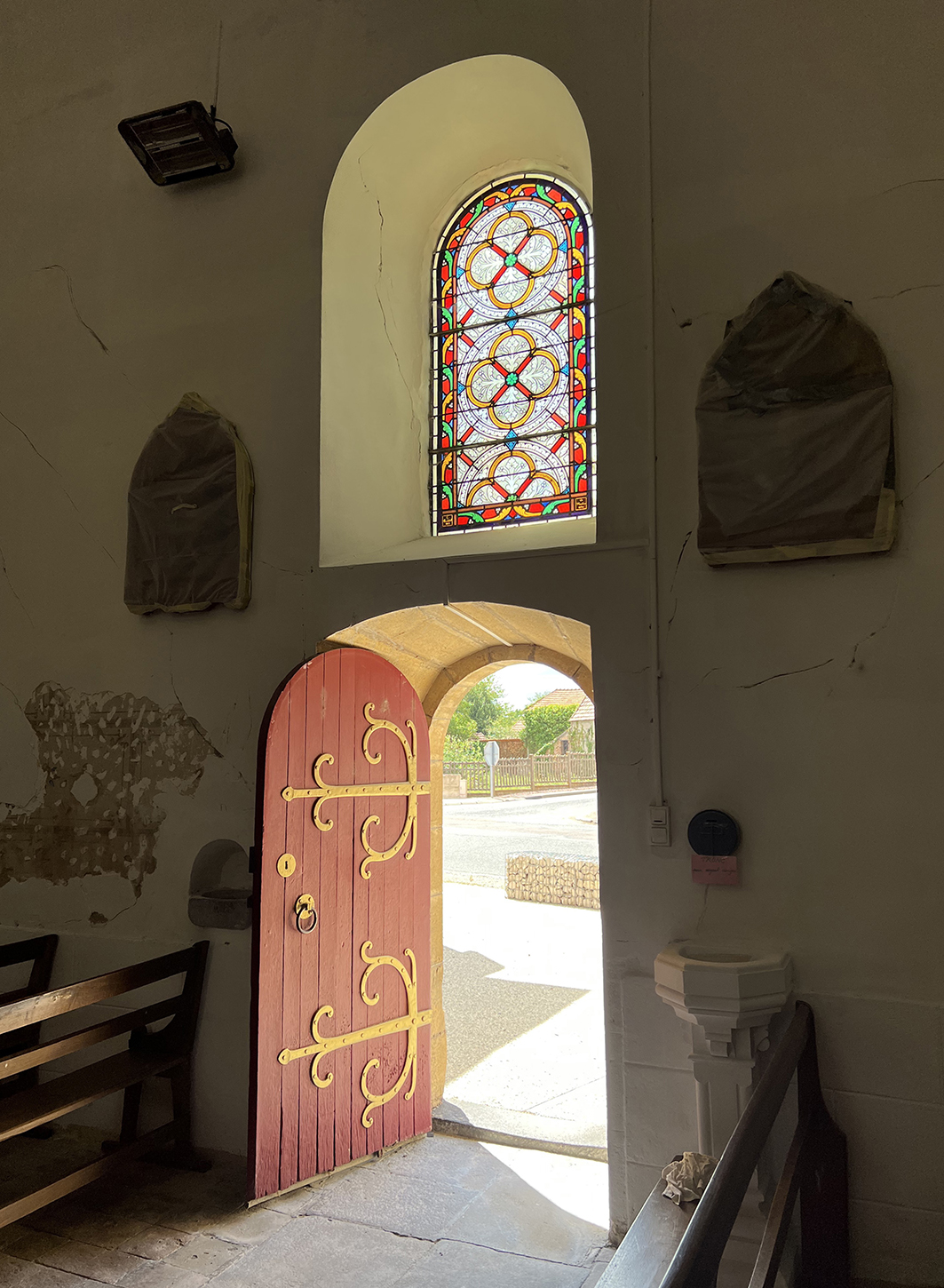 Église sobre mais jolie, avec des statuettes de la Madone et du Christ. / A sober but pretty church, with statuettes of the Madonna and Christ.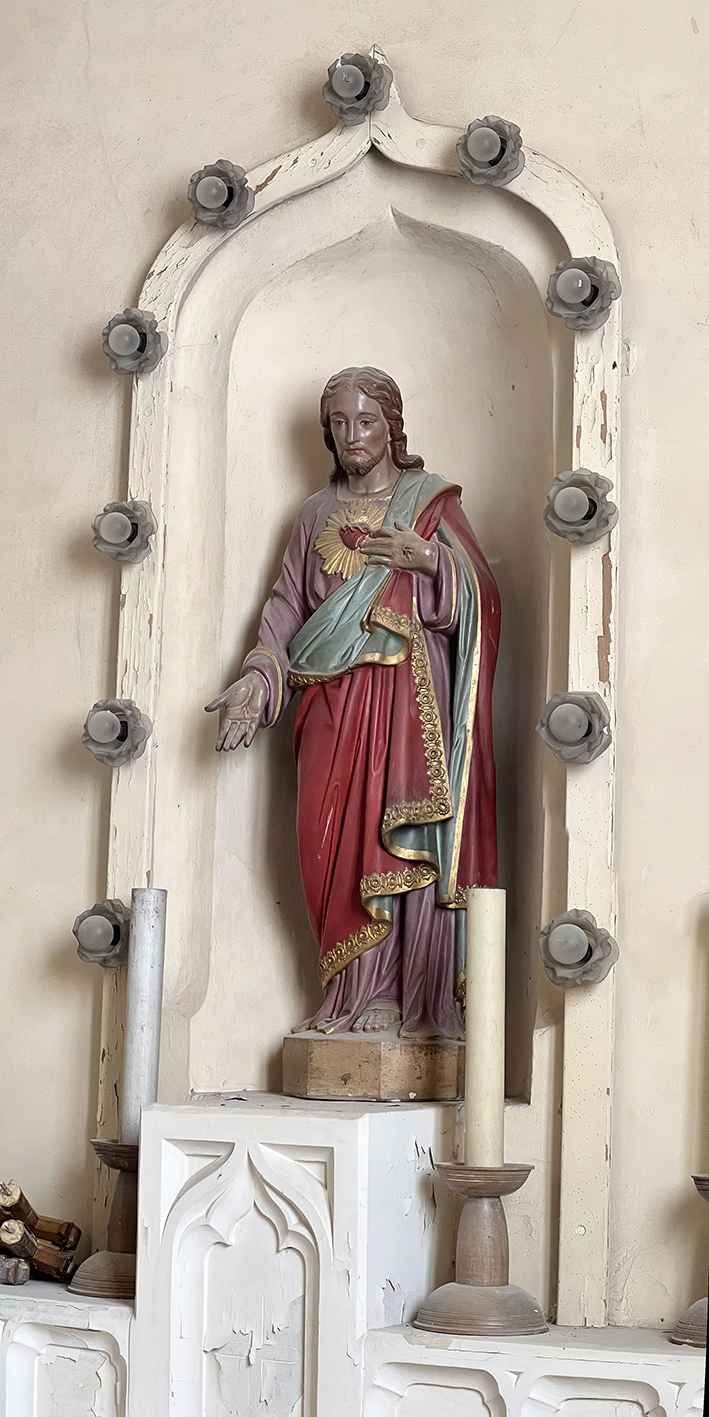 Lorsque, un peu plus tard, je passe à la caisse du garage, une autre statuette – figurine publicitaire – attire mon attention : une nana sexy aux gros seins vante les mérites d'huiles et d'additifs. C'est la célèbre Pin'up Bardahl, typique des années 1950, quand dans les garages du monde entier les murs étaient ornés de calendriers montrant des filles nues. / When, a little later, I pay in the garage, another statuette – advertising figurine – catches my attention: a sexy girl with big breasts extols the merits of oils and additives. This is the famous Bardahl Pin'up, typical of the 1950s, when in garages all over the world the walls were adorned with calendars showing naked girls.
Nous reprenons la route avec notre batterie toute neuve. À Pierrefitte-sur-Loire, une autre curiosité attire notre attention. Sur l'église dédiée à Saint-Rémi on peut lire la devise de la République. Ici, pas de séparation de l'église et l'État ! / We are back on the road with our brand-new battery. In Pierrefitte-sur-Loire, another curiosity catches our attenrtion. On the church dedicated to Saint-Rémi one can read the motto of the Republic. Here, there is no separation of church and state!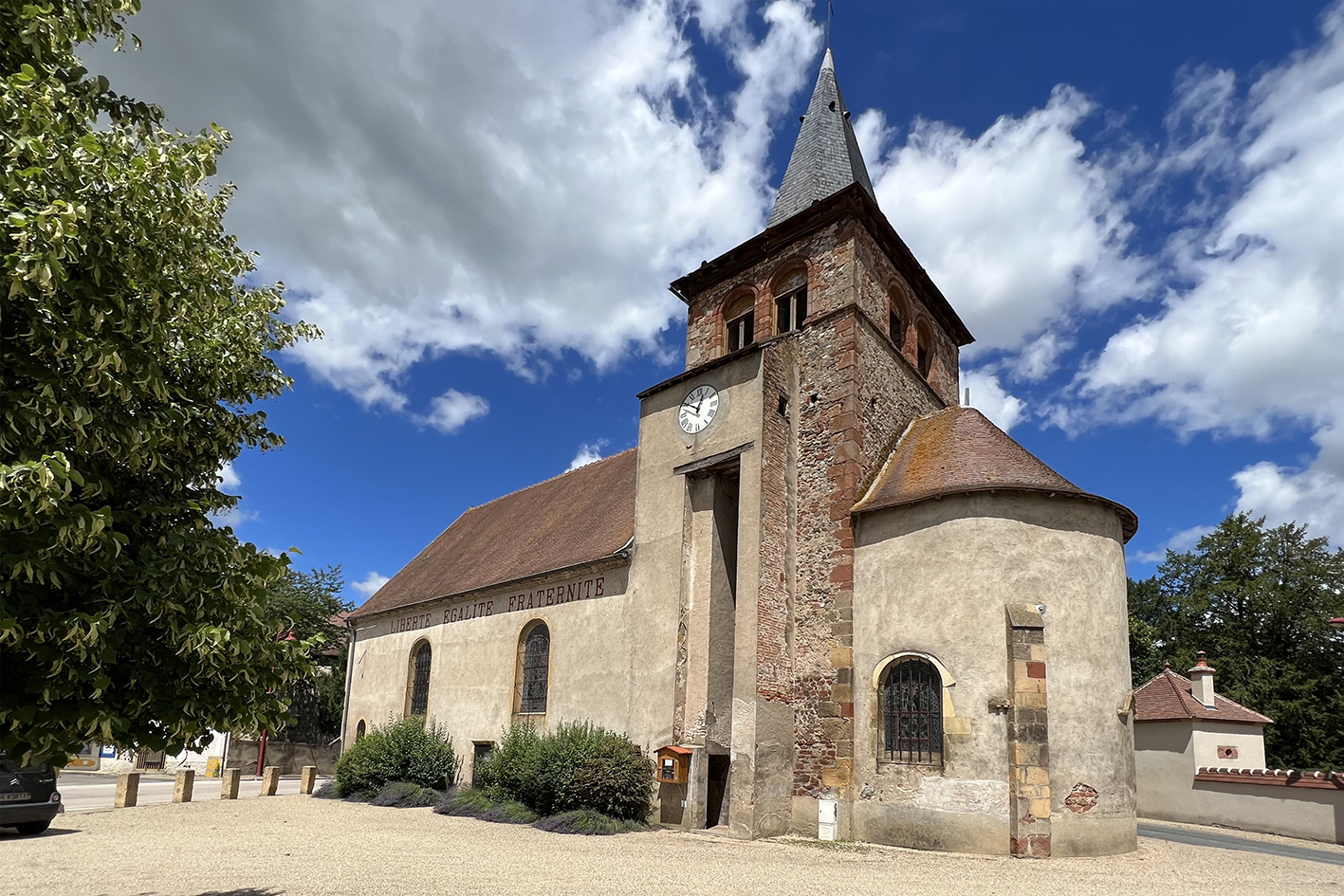 Près de Sept-Fonts, Marie-Xavier pose près d'un panneau. LAssauzet à LE Saulzet… Aujourd'hui, nous fêtons nos 39 ans de vie commune. Je la trouve toujours aussi élégante ! / Near Sept-Fonts, Marie-Xavier poses near a sign. LAssauzet in LE Saulzet… Today, we celebrate our 39 years of living together. And I still find her as elegant as before!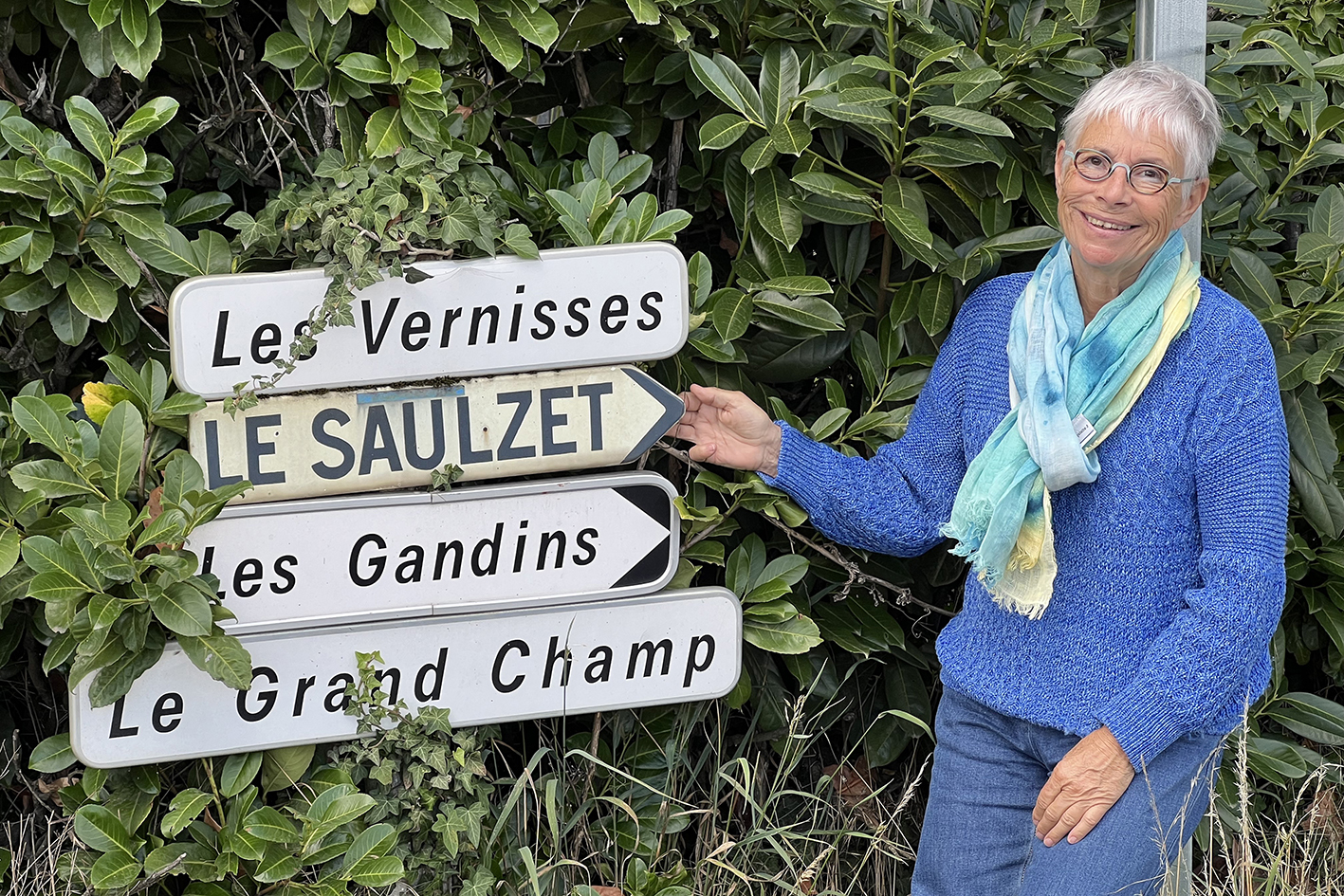 Alors que dans la première partie de la Loire, l'architecture présentait peu d'intérêt, nous commençons à voir de plus en plus de jolies châteaux, fermes et maisons, comme ici à Gannay-sur-Loire. / While in the first part of the Loire the architecture was of little interest, we are starting to see more and more pretty castles, farms and houses, like here in Gannay-sur-Loire.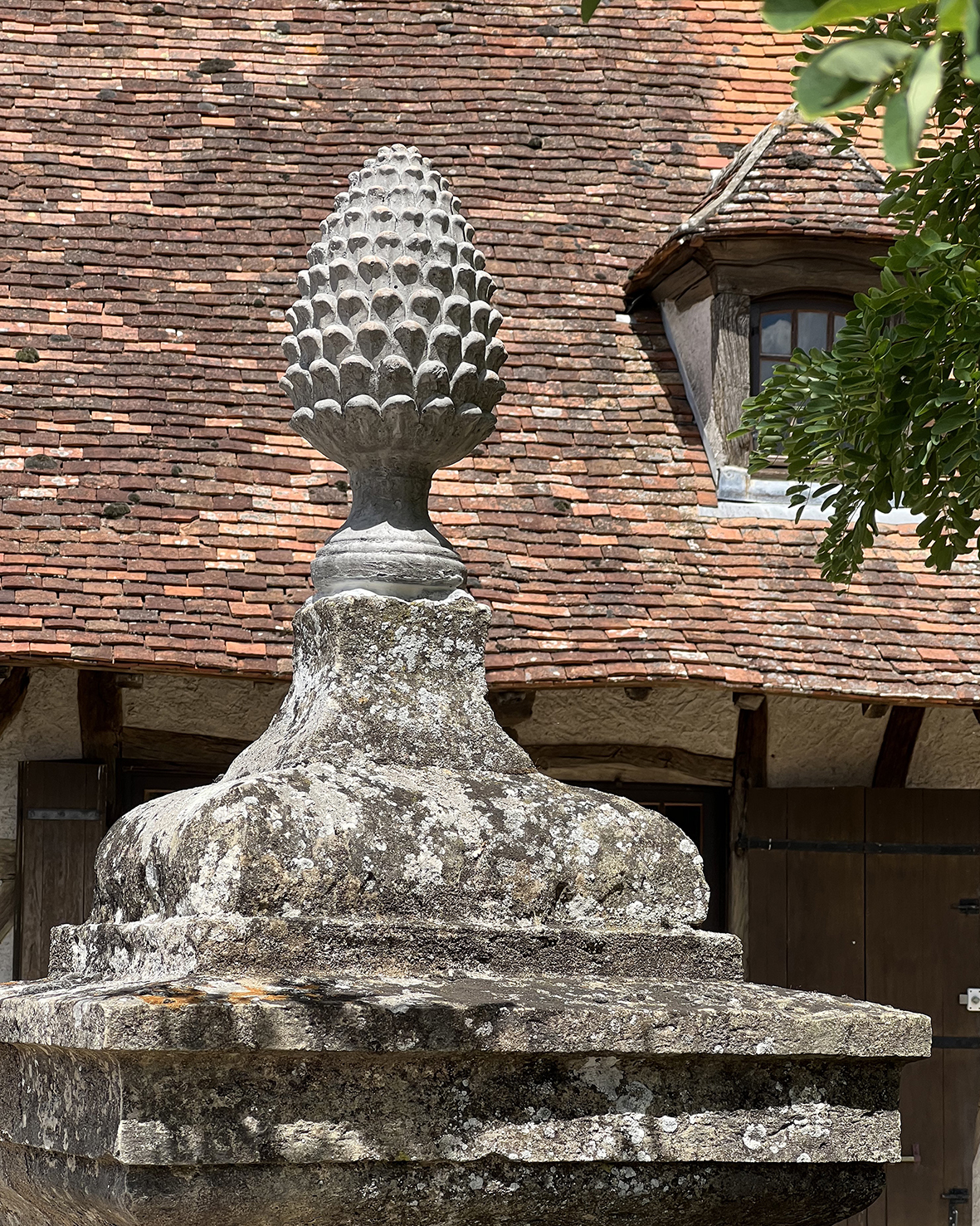 Nous faisons un arrêt à Decize. La porte du Marquis d'Ancre a été reconstruite en 1468. / We make a stop at Decize. The gate of the Marquis d'Ancre was rebuilt in 1468.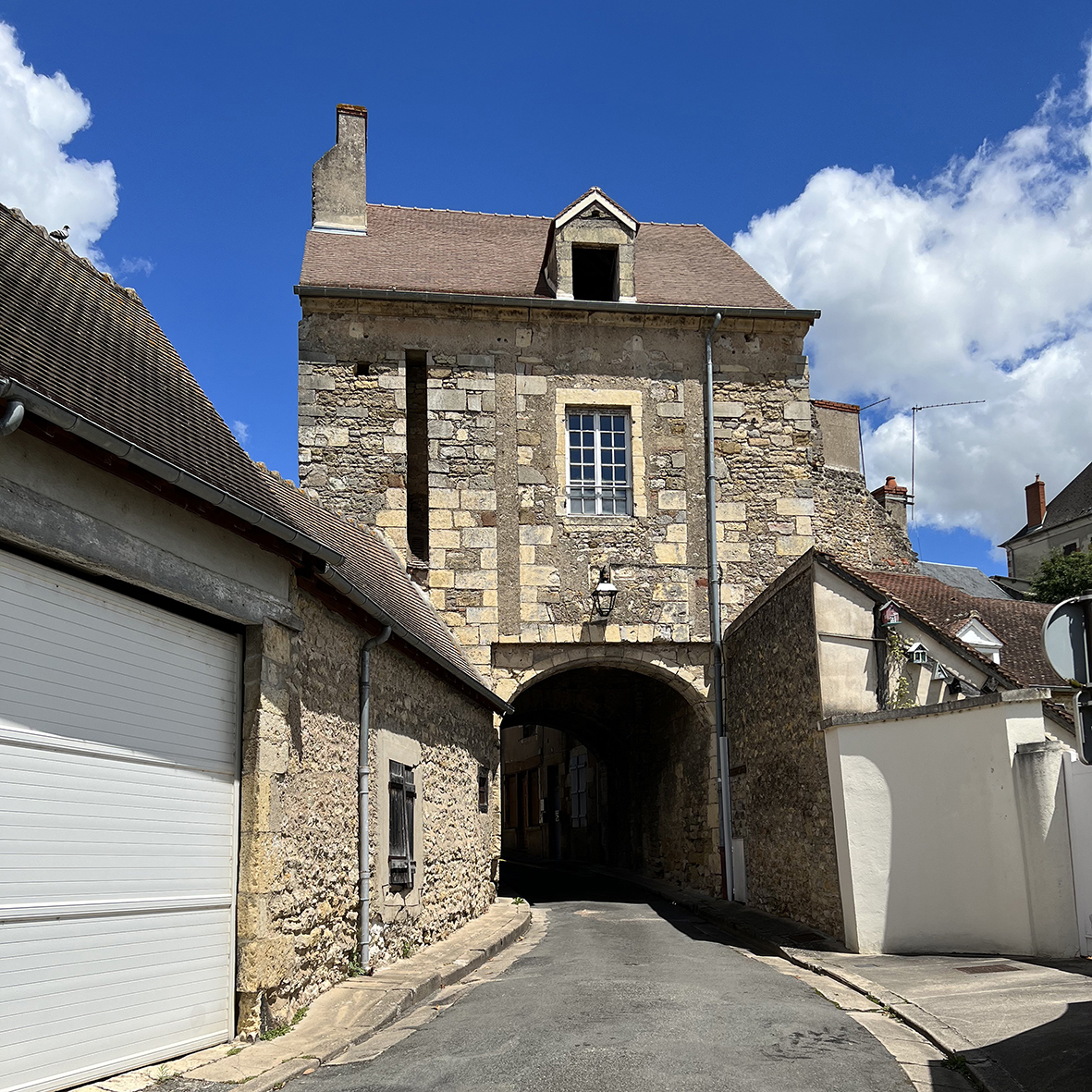 Nous nous attardons un peu plus longtemps à Nevers, ville qui mériterait à elle seule qu'on y reste une journée entière ! Mais nous devons tout de même faire nos 150 kilomètres quotidiens… La tour Goguin est située au quai des Mariniers à Nevers. Anciennement nommée « tour de Cuffy », elle fut construite au 12ème siècle et réaménagée en 1419. Puis elle devint un moulin à vent. Son nom est celui du propriétaire qui l'a vendue en 1906. / We linger a little longer in Nevers, a city that alone deserves a whole day! But we still have to do our daily 150 kilometres… The Goguin tower is located on the Quai des Mariniers in Nevers. Formerly called « Cuffy's tower », it was built in the 12th century and refitted in 1419. Then it became a windmill. Its name is that of the owner who sold it in 1906.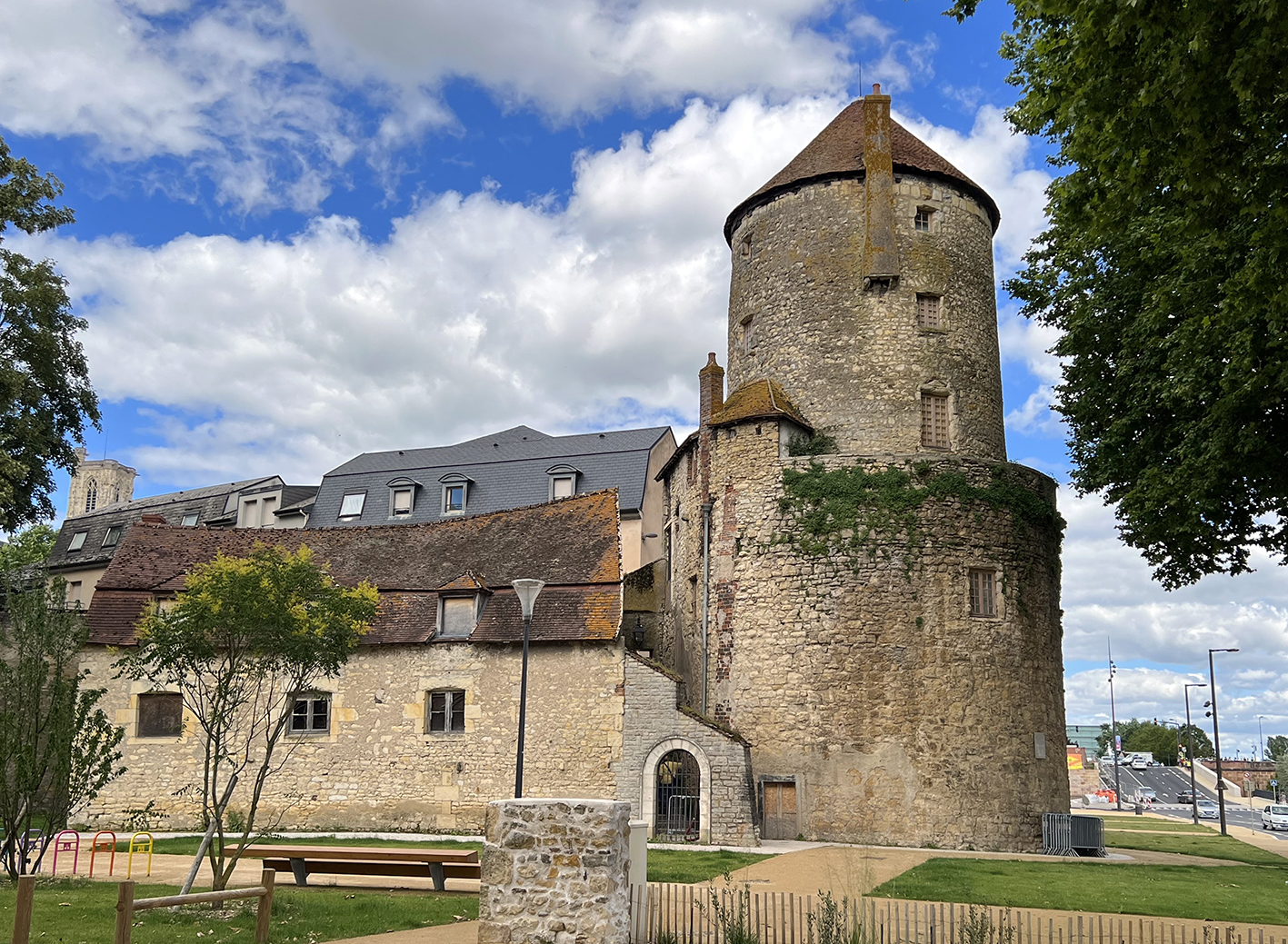 La chapelle Sainte-Marie faisait partie du monastère de la Visitation. C'est la duchesse Louise-Marie de Gonzague, future reine de Pologne, qui en posa la première pierre, en juin 1639. Les travaux s'achevèrent en 1649. Du monastère il ne reste aujourd'hui que la chapelle. / The Chapel of St. Mary was part of the Monastery of the Visitation. It was the Duchess Louise-Marie de Gonzague, future Queen of Poland, who laid the first stone in June 1639. The work was completed in 1649. Of the monastery, only the chapel remains today.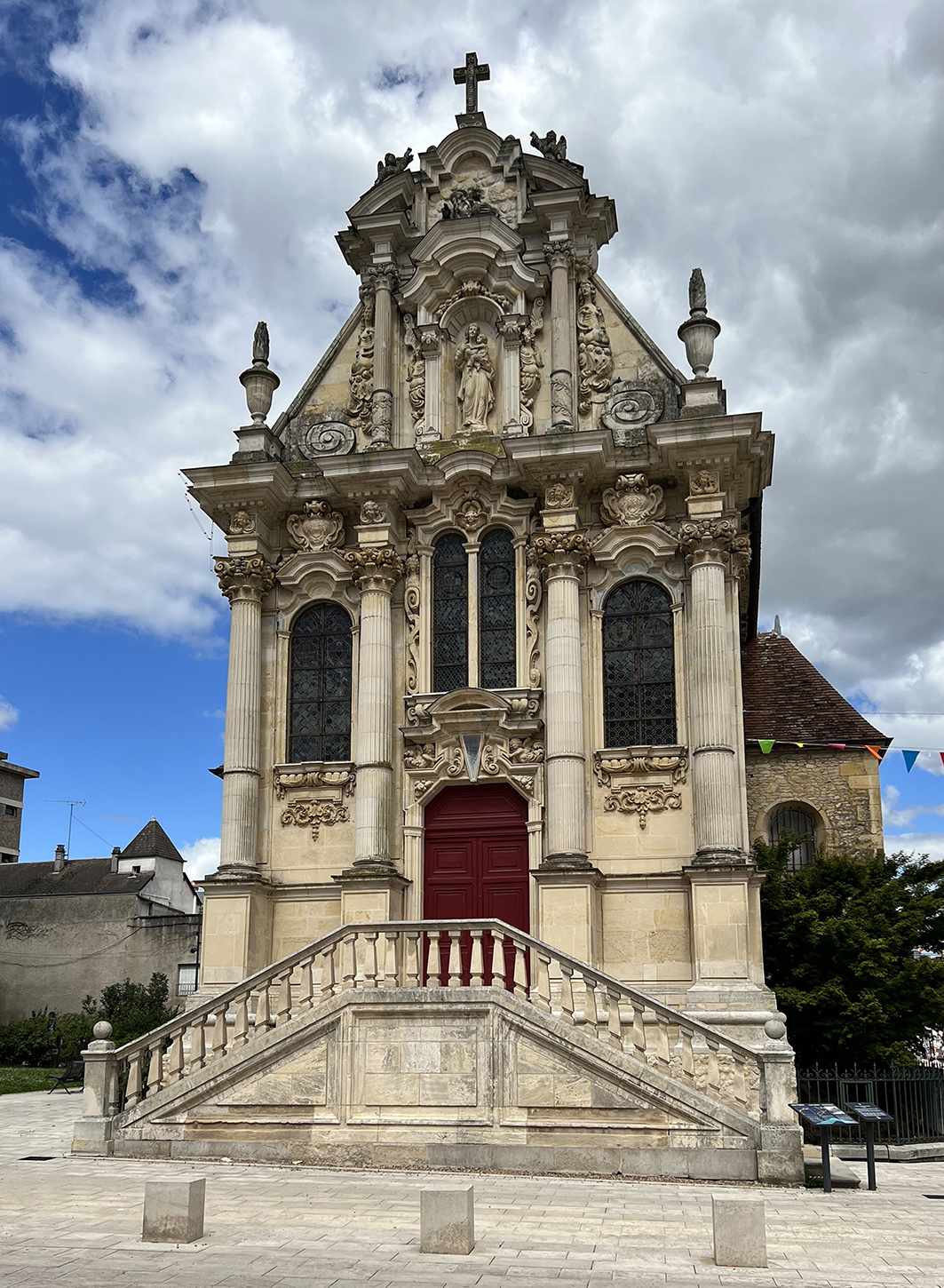 Au fur et à mesure que nous descendons la Loire, le fleuve s'agrandit et charrie de plus en plus d'eau, comme ici sous le pont de Nevers. / As we go down the Loire, the river grows and carries more and more water, as here under the bridge of Nevers.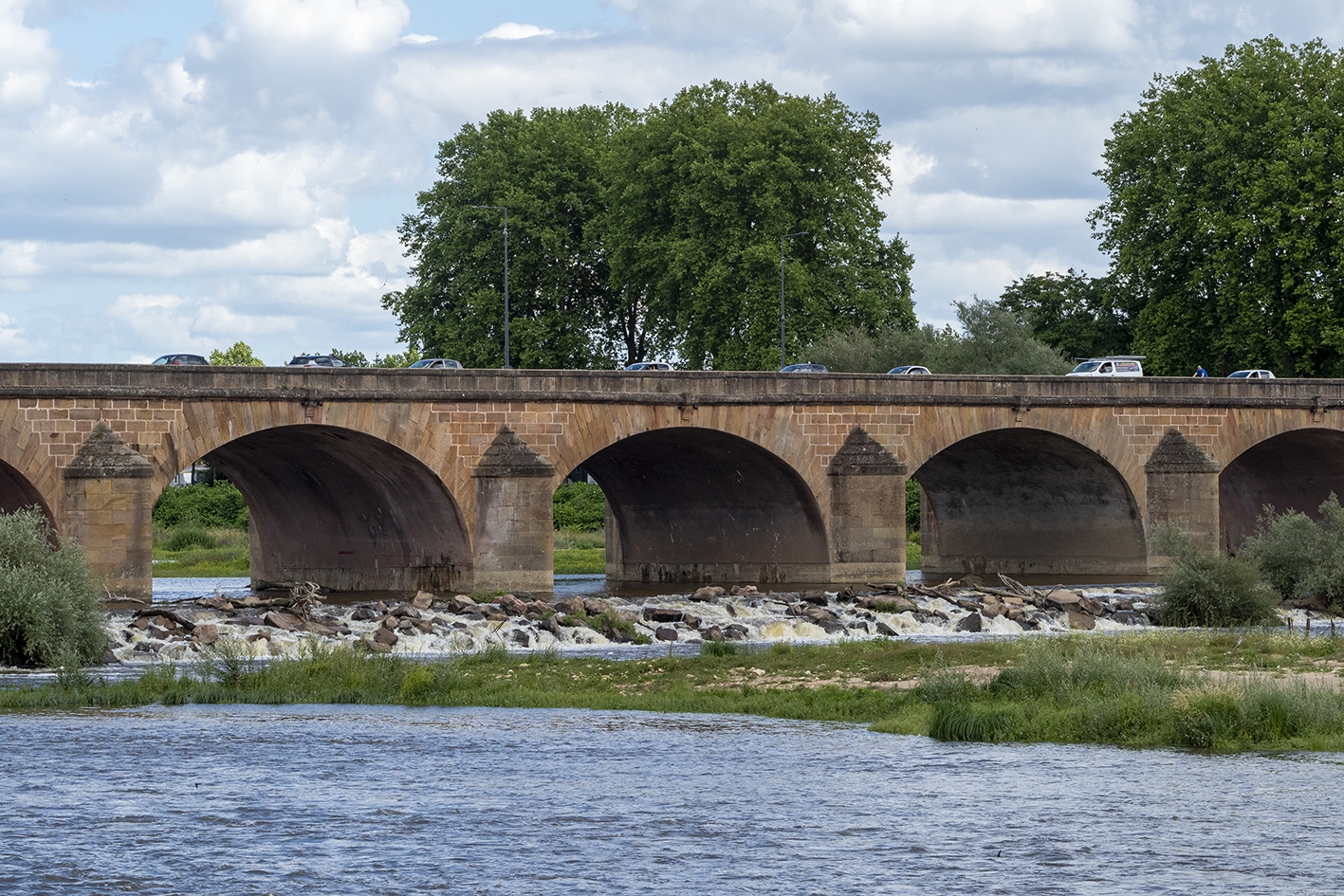 C'est également à Nevers que nous découvrons notre premier bateau traditionnel de la Loire. / It is also in Nevers that we discover our first traditional Loire boat.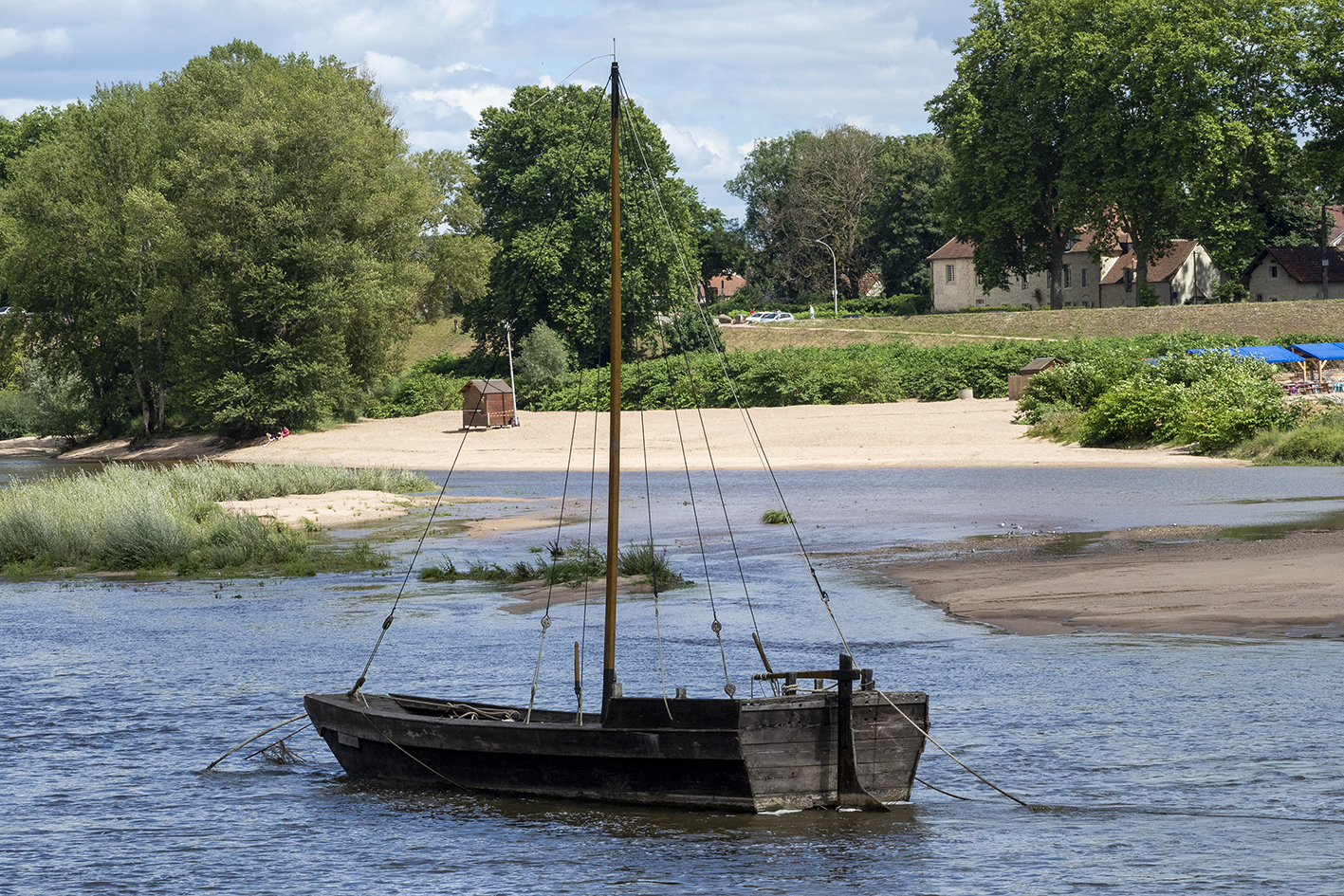 Nous poursuivons notre route, qui longe souvent le canal latéral de la Loire. Près de Chevenon, arrêt à la Chapelle de Jaugenay, placée sous le vocable de Saint Étienne de Jaugenay. C'est une chapelle romane datée de la seconde moitié du 12ème siècle. / We continue our route, which often runs along the side canal of the Loire. Near Chevenon, stop at the Chapelle de Jaugenay, under the name of Saint Etienne de Jaugenay. It is a Romanesque chapel dating from the second half of the 12th century.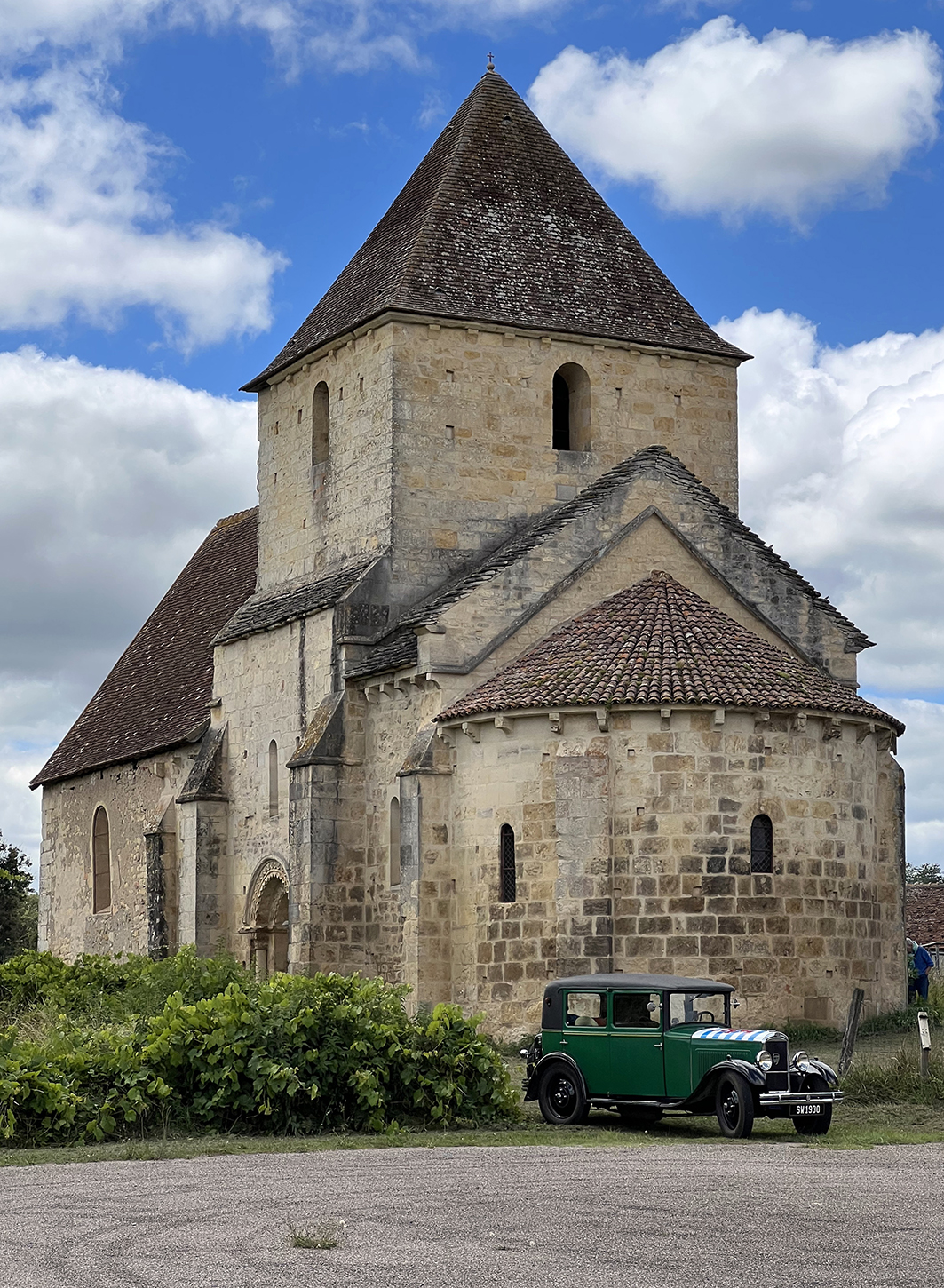 Sur le bord de notre route, la nature est souvent luxuriante. Les chardons attirent les bourdons, juste pour le plaisir de la rime. / On the side of our road, nature is often lush. The thistles attract bumblebees.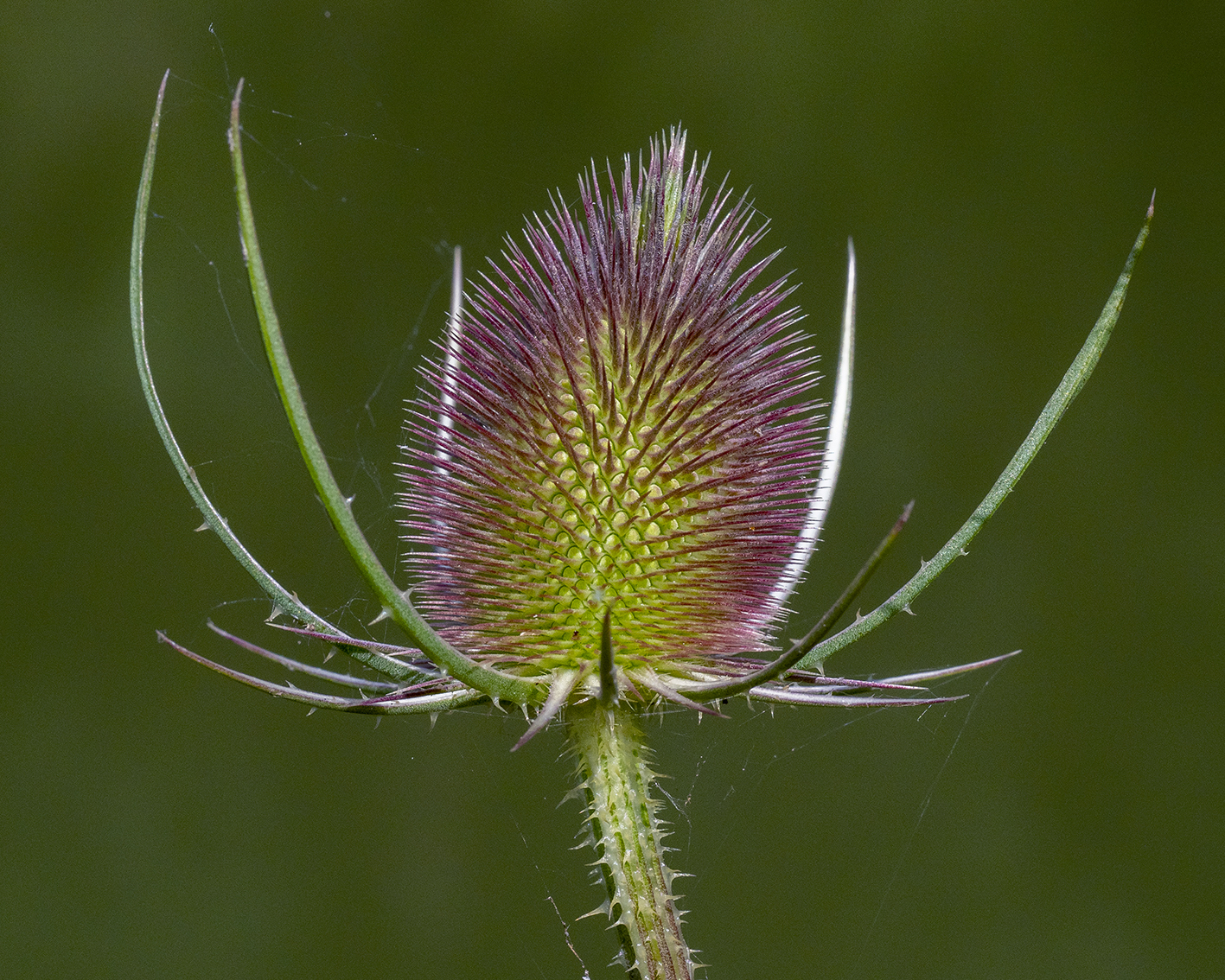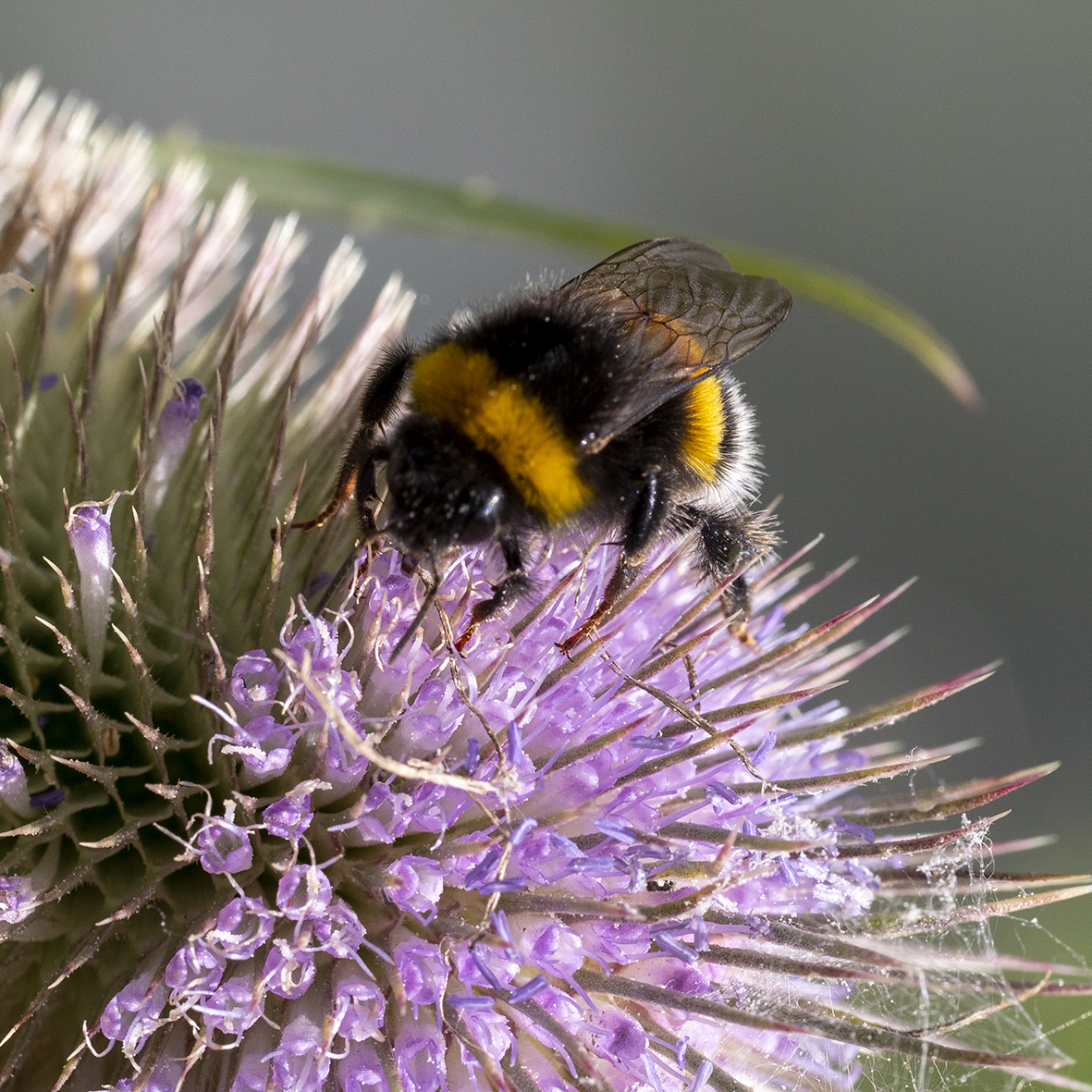 Nous nous arrêtons dans un très joli gite à La Marche-sur-Loire, situé sur les bords du fleuve. / We stop in a very pretty B&B in La Marche-sur-Loire, located on the banks of the river.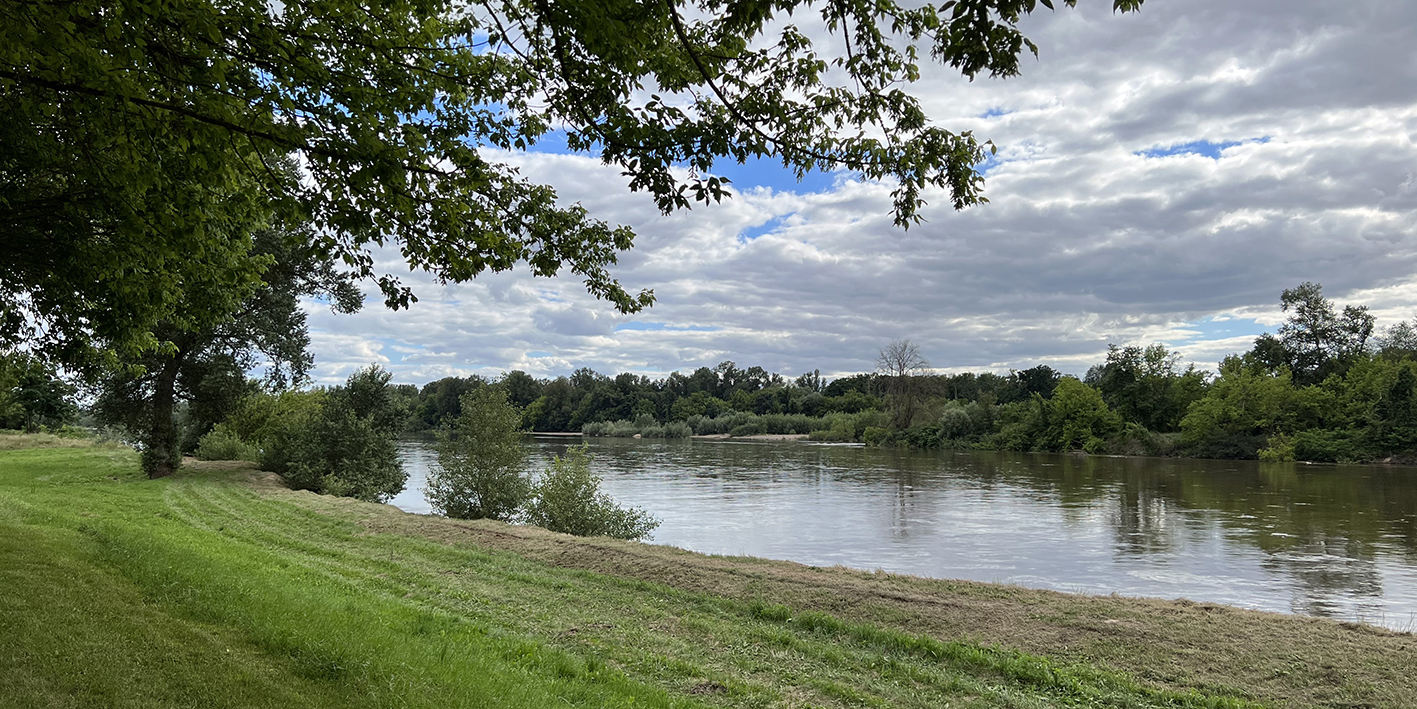 Sur les marches qui mènent à l'église voisine sont marqués les niveaux du fleuve lors des grandes crues de 1846, 1866, 1907 et 2003. / On the steps leading to the nearby church are marked the levels of the river during the great floods of 1846, 1866, 1907 and 2003.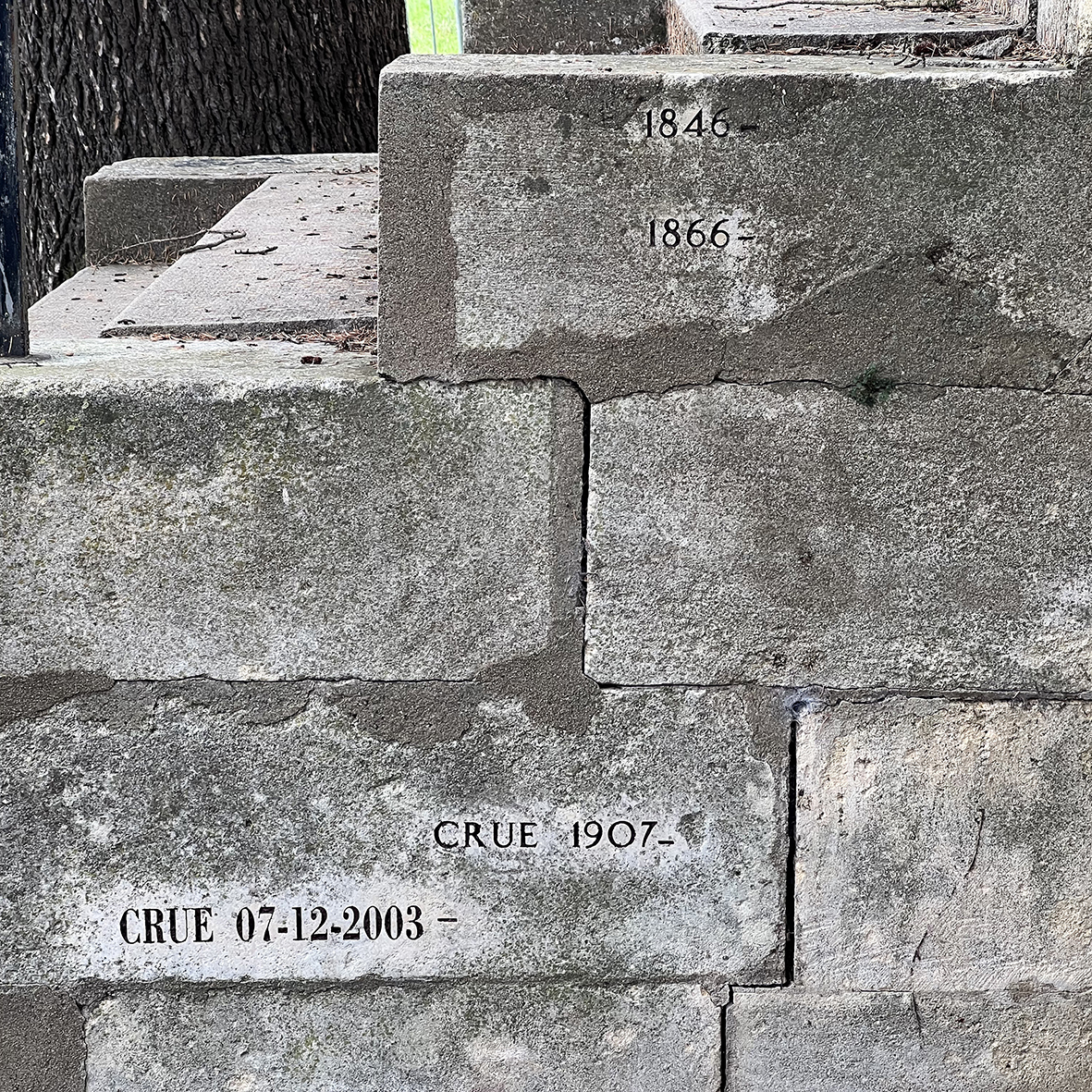 Il se fait tard. Nous montons vers notre chambre. C'est l'heure de dormir un peu, avant d'écrire ce blog, entre 5h et 7h du matin… / It's getting late. We go up to our room. It's time to sleep a little, before writing this blog, between 5am and 7am…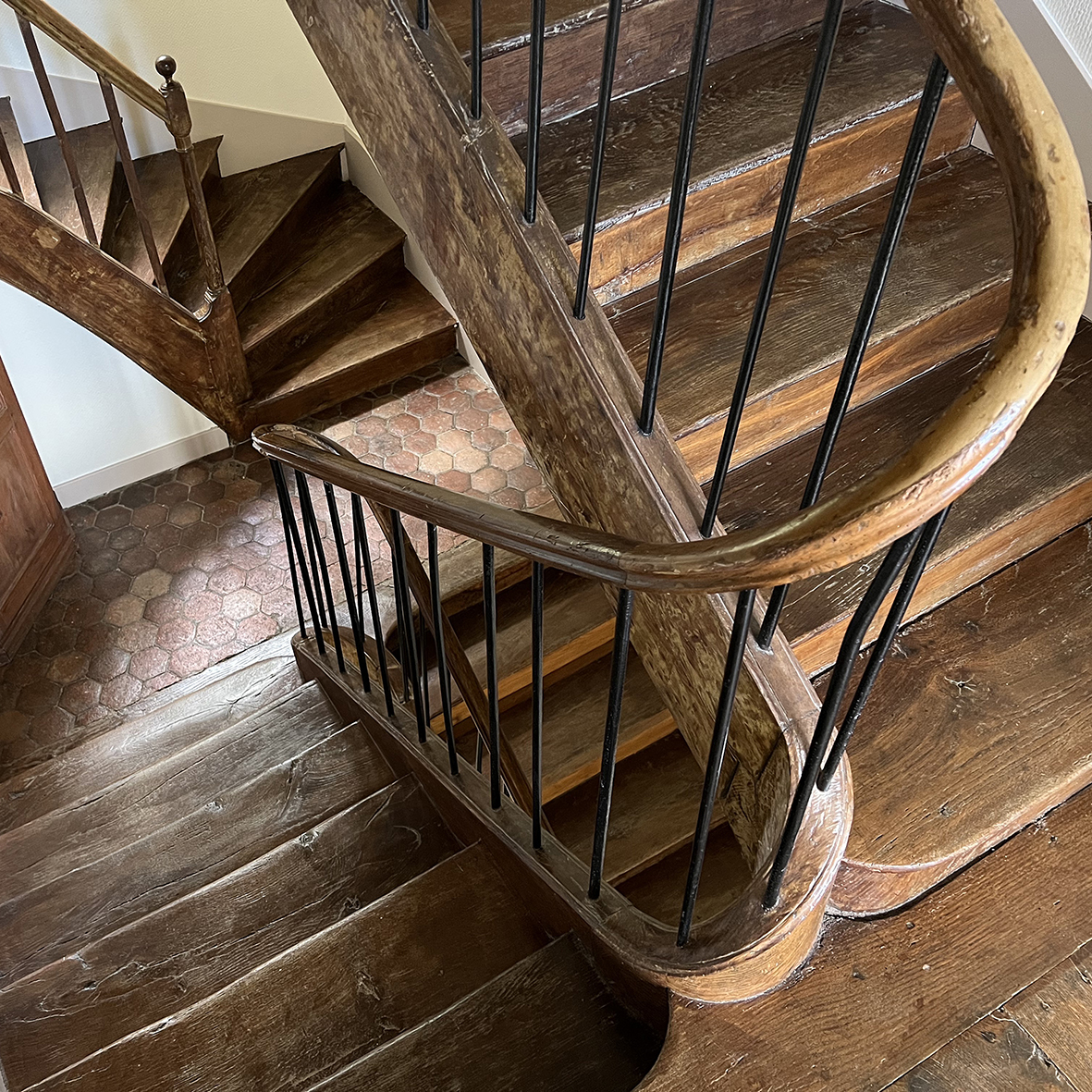 30 juin 2022. Panissières-Digoin (120 km)

/ June 30, 2022. Panissières-Digoin (120 km)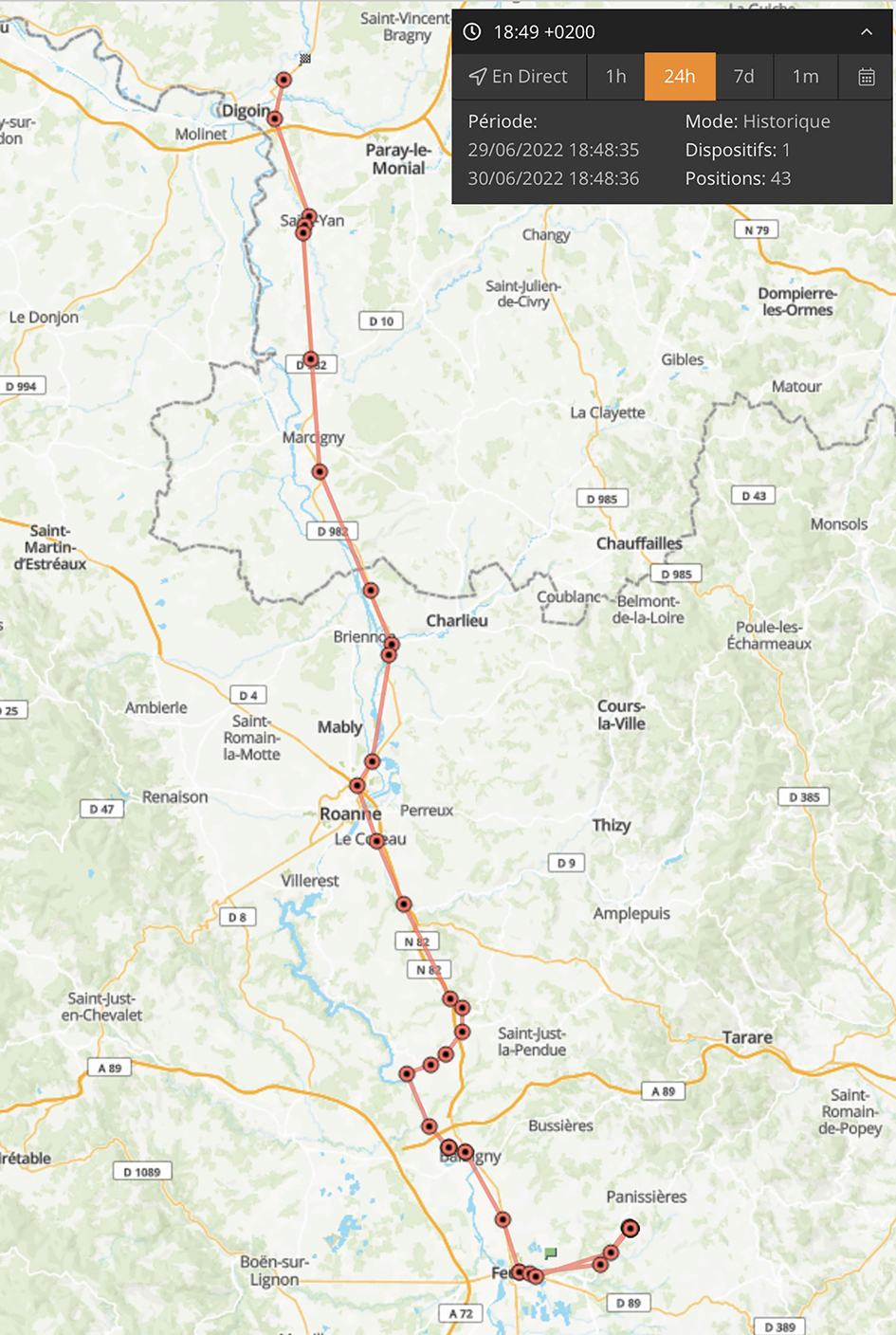 Pourtant, tout avait bien commencé. Michel, le propriétaire de notre B&B, nous avait préparé le petit-déjeuner avant de partir pour un rendez-vous, nous laissant seuls dans sa grande maison. Il nous faisait confiance : « Éteignez juste les lumières et fermez la porte. » Dans le soleil matinal, deux huppes fasciées nous saluent. / However, everything had started well. Michel, the owner of our B&B, had prepared breakfast for us before leaving for an appointment, leaving us alone in his large house. He trusted us: "Just turn off the lights and close the door. In the morning sun, two hoopoes greet us.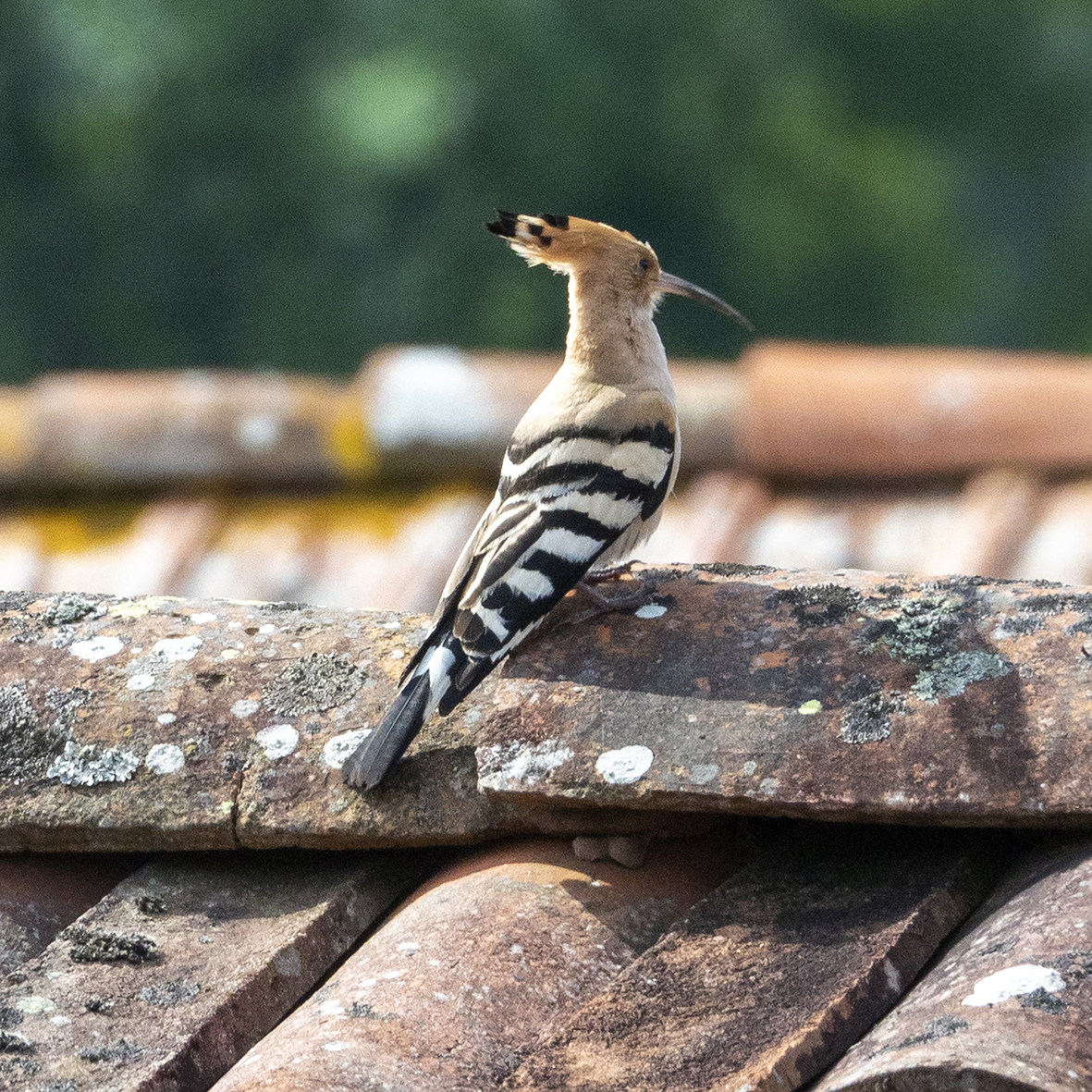 Au moment de partir, « La Charmante » refuse de démarrer. Le démarreur fait gneu-gneu-gneu… Est-ce lui le coupable ? La batterie est-elle à plat ? Si c'est le cas, pour quelle raison ? Nous voilà bien, dans une ferme isolée, personne pour nous aider, et la voiture dans un pré pentu, qu'il faudra remonter. J'essaie à la manivelle, mais réussis juste à me blesser la main. Je me dirige vers la vieille Landrover du propriétaire. Elle n'est pas fermée à clef, mais il manque la clef de contact. J'ouvre le capot. Il y a là une grosse batterie, mais impossible de rapprocher « La Charmante » – et mes câbles de démarrage sont trop courts… Je démonte alors la grosse batterie, et l'emmène vers « La Capricieuse ». / When we want to leave, "La Charmante" refuses to start. The starter groans slowly … Is it the culprit? Is the battery flat? If so, for what reason? Here we are, in an isolated farm, with no one to help us, and the car in a steep meadow, which we will have to go up. I try to crank it, but just manage to injure my hand. I head for the owner's old Landrover. It is not locked, but the ignition key is missing. I open the hood. There is a large battery there, but it is impossible to bring « La Charmante » closer – and my jumper cables are too short… I then dismantle the large battery, and take it to « La Capricieuse ».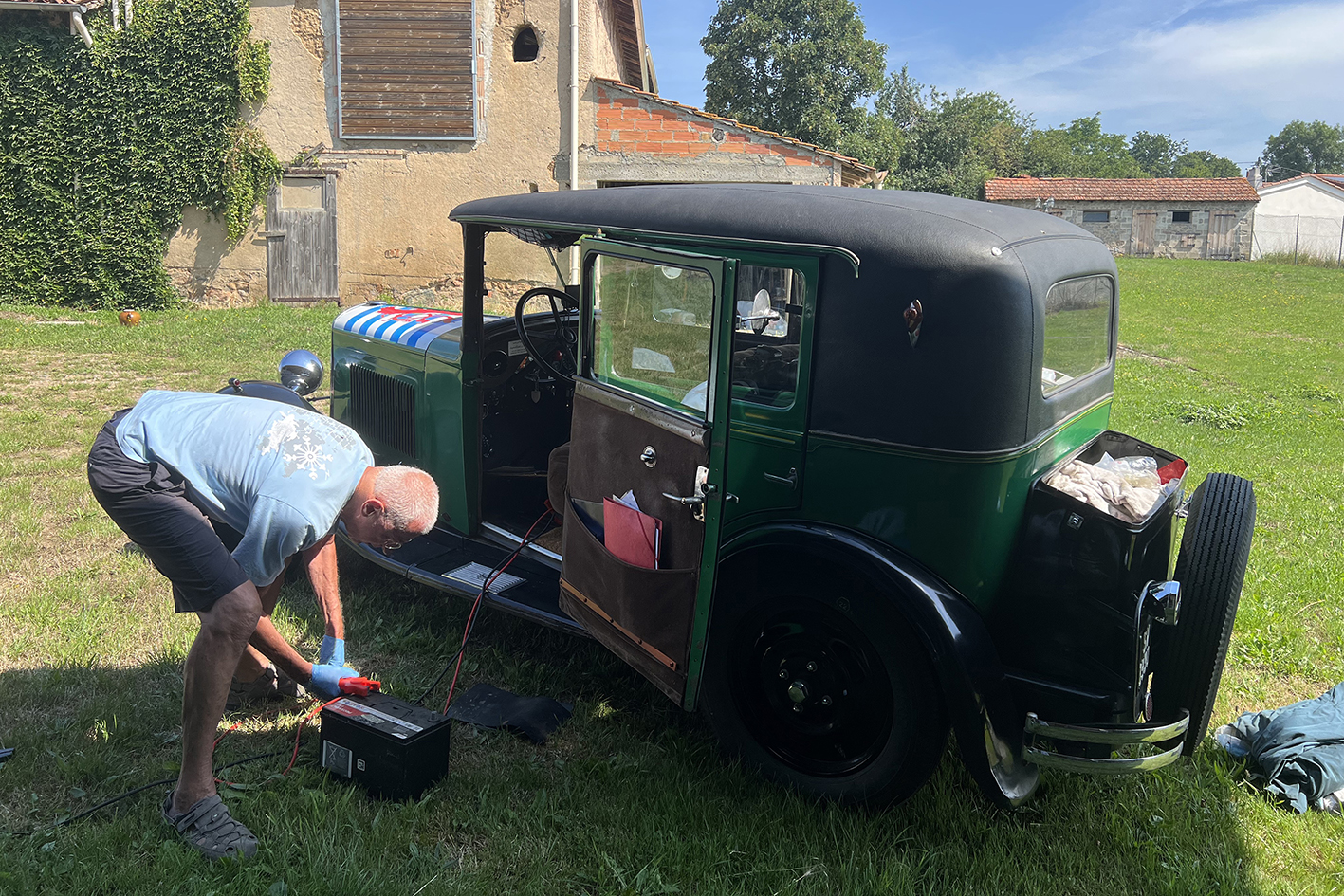 Je la relie à la batterie de « La Charmante », mais cela ne change rien. Un problème du démarreur alors ? Je remets la batterie de Michel en place. Il n'y a qu'une seule solution : se faire remorquer jusqu'à la route, une pente d'une centaine de mètres à couvrir. Marie-Xavier part à pied chercher du secours. Elle parle à la voisine, qui décroche son téléphone. Tout autour de nous des fermiers sont en pleine activité avec leurs tracteurs, mais ils ne sont pas prêts à décrocher leurs faucheuses, leurs faneuses ou leurs épandeurs de lisier… L'un d'eux pourtant appelle un collègue. Stéphane, éleveur de vaches, accourt avec sa fourgonnette. J'avais déjà préparé ma corde de remorquage. Mais Stéphane tient à essayer avec ses câbles de démarrage. Je n'y crois pas trop, mais « La Charmante » démarre au quart de tour ! La batterie de la Landrover était-elle peut-être à plat également ? Un grand merci à Stéphane de nous avoir sorti de ce mauvais pas ! / I connect it to the battery of « La Charmante », but that does not change anything. A problem with the starter then? I put Michel's battery back in place. There is only one solution: to be towed to the road, a slope of a hundred meters to cover. Marie-Xavier leaves on foot to seek help. She talks to the neighbor, who picks up her phone. All around us farmers are busy with their tractors, but they are not ready to unhook their mowers, their tedders or their slurry spreaders… Yet one of them is calling a colleague. Stéphane, a cow breeder, comes with his van. I had already prepared my tow rope. But Stéphane wants to try with his jumper cables. I don't believe it too much, but « La Charmante » starts off right away! Could the Landrover's battery be dead too? A big thank you to Stéphane for getting us out of this mess!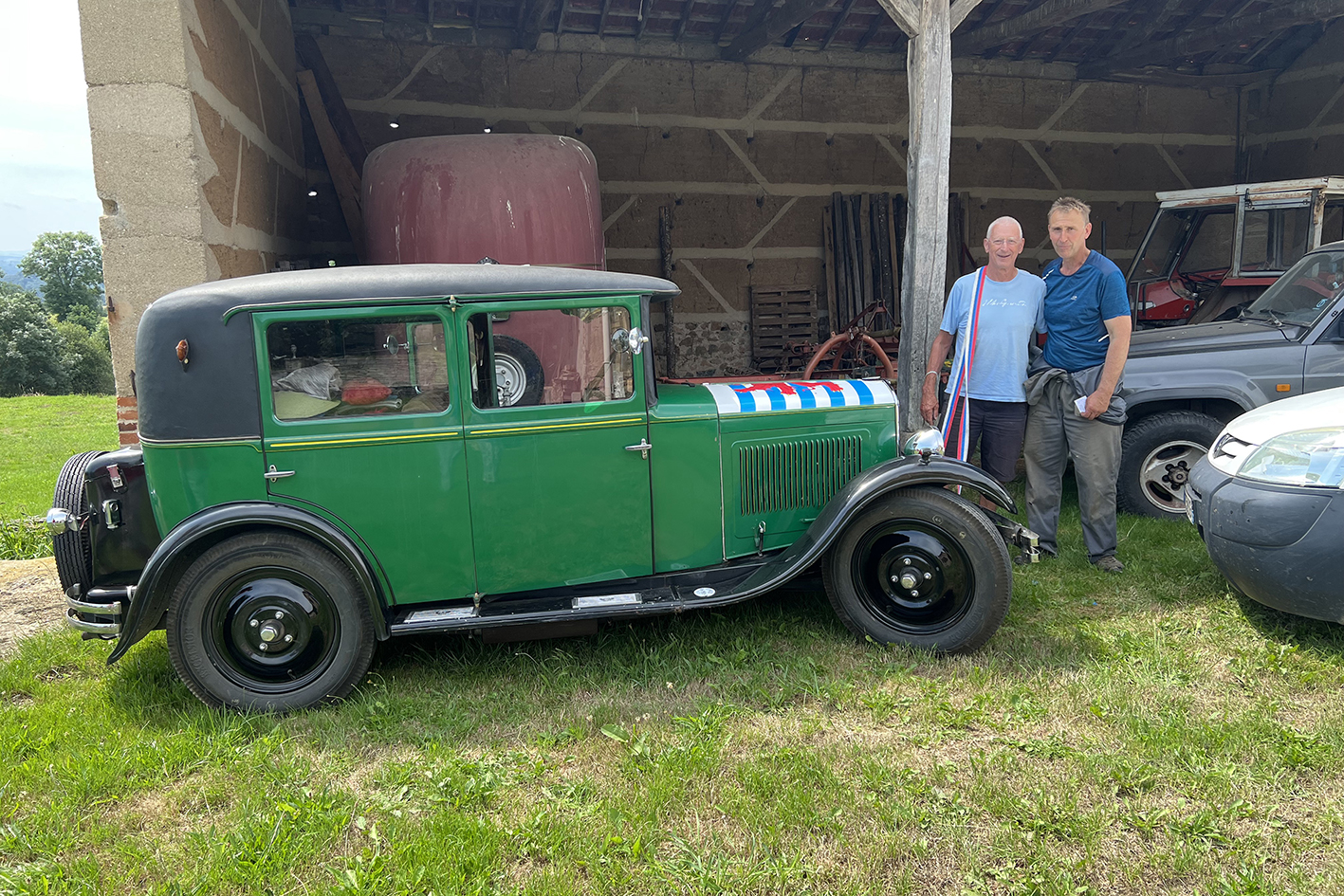 Nous voilà sur la route enfin ! Il est déjà midi… Et la carte Michelin annonce de nouvelles 'Gorges de la Loire' avec ses montées et ses descentes. Pour nous éviter de nouveaux problèmes, nous suivons le fleuve jusqu'au viaduc de Chessieux, près de Balbigny. Cet ouvrage fut livré au trafic ferroviaire en novembre 1913. Sa particularité est d'être muni d'ouïes circulaires (ou dégueuloirs) aménagées dans le tympan du pont, afin de réduire la charge hydraulique s'appliquant sur l'ouvrage en cas de crue atteignant les arches, ce qui arrivait encore avant la régularisation du débit du fleuve par les barrages construits depuis. On a du mal à imaginer les eaux de la Loire monter à cette hauteur ! Le viaduc est resté en service jusqu'en 1939. / We are finally on our way! It is already noon… And the Michelin map announces new 'Gorges de la Loire' with its ascents and descents. To avoid further problems, we follow the river to the Chessieux viaduct, near Balbigny. This work was delivered to rail traffic in November 1913. Its particularity is to be equipped with circular openings in the tympanum of the bridge, in order to reduce the hydraulic load applying to the work in the event of flooding. reaching the arches, which was still happening before the regulation of the flow of the river by the dams built since then. It is hard to imagine the waters of the Loire rising to this height! The viaduct remained in service until 1939.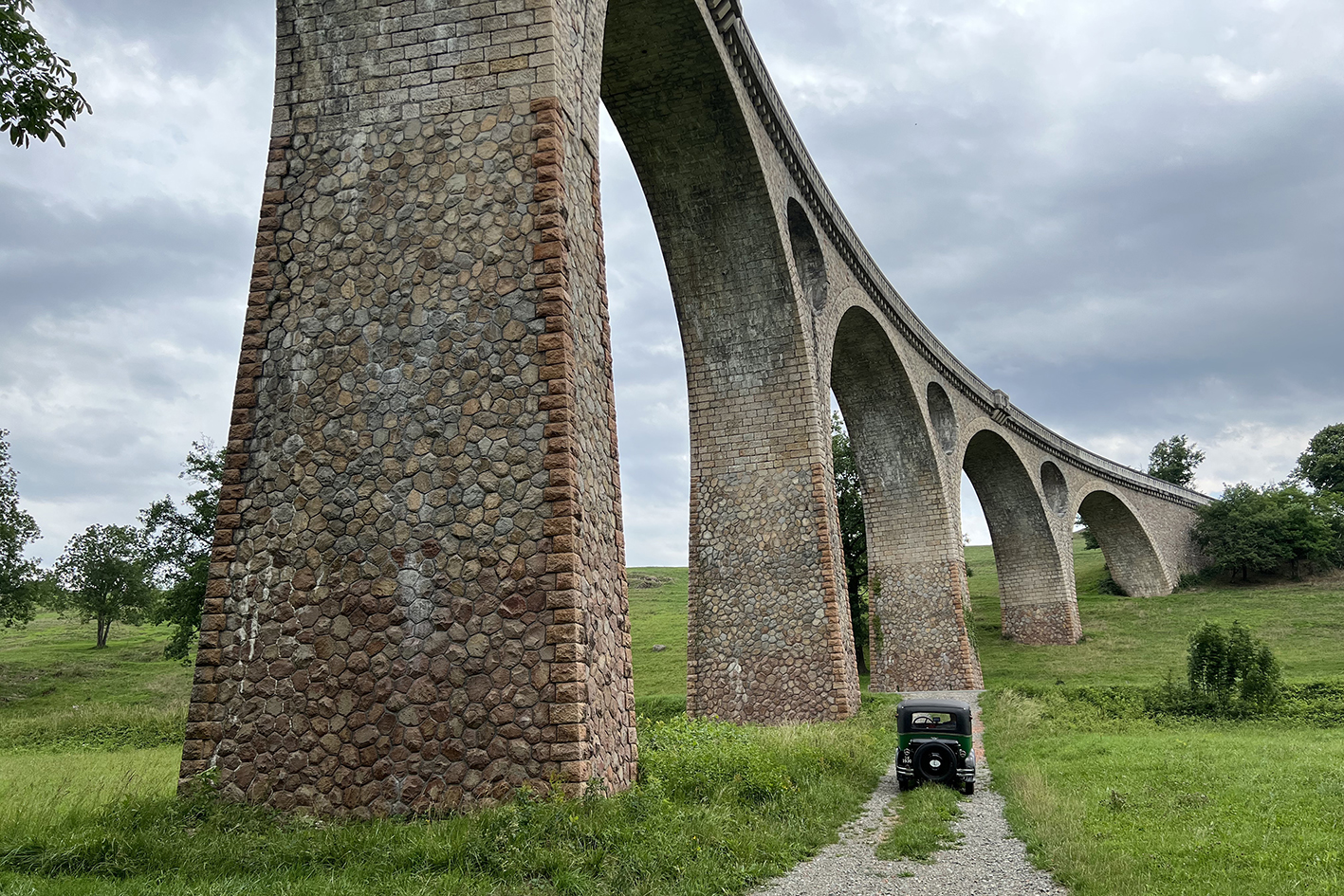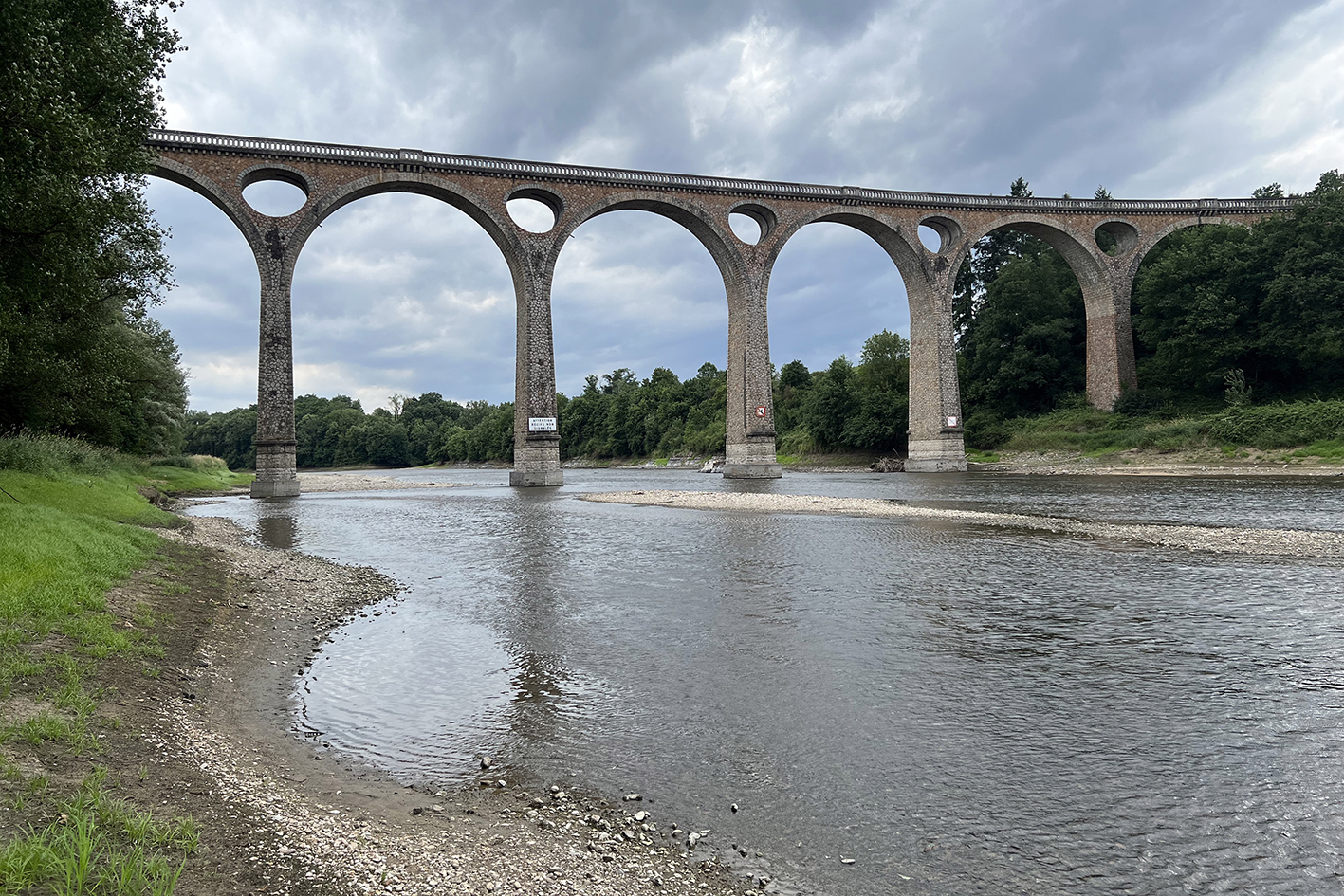 En me promenant au pied du pont, un panneau m'intrigue. C'est un clin d'œil au biologiste marin et spécialiste des coraux que j'ai été… / As I walk at the foot of the bridge, a sign intrigues me. It's a nod to the marine biologist and coral specialist that I once have been…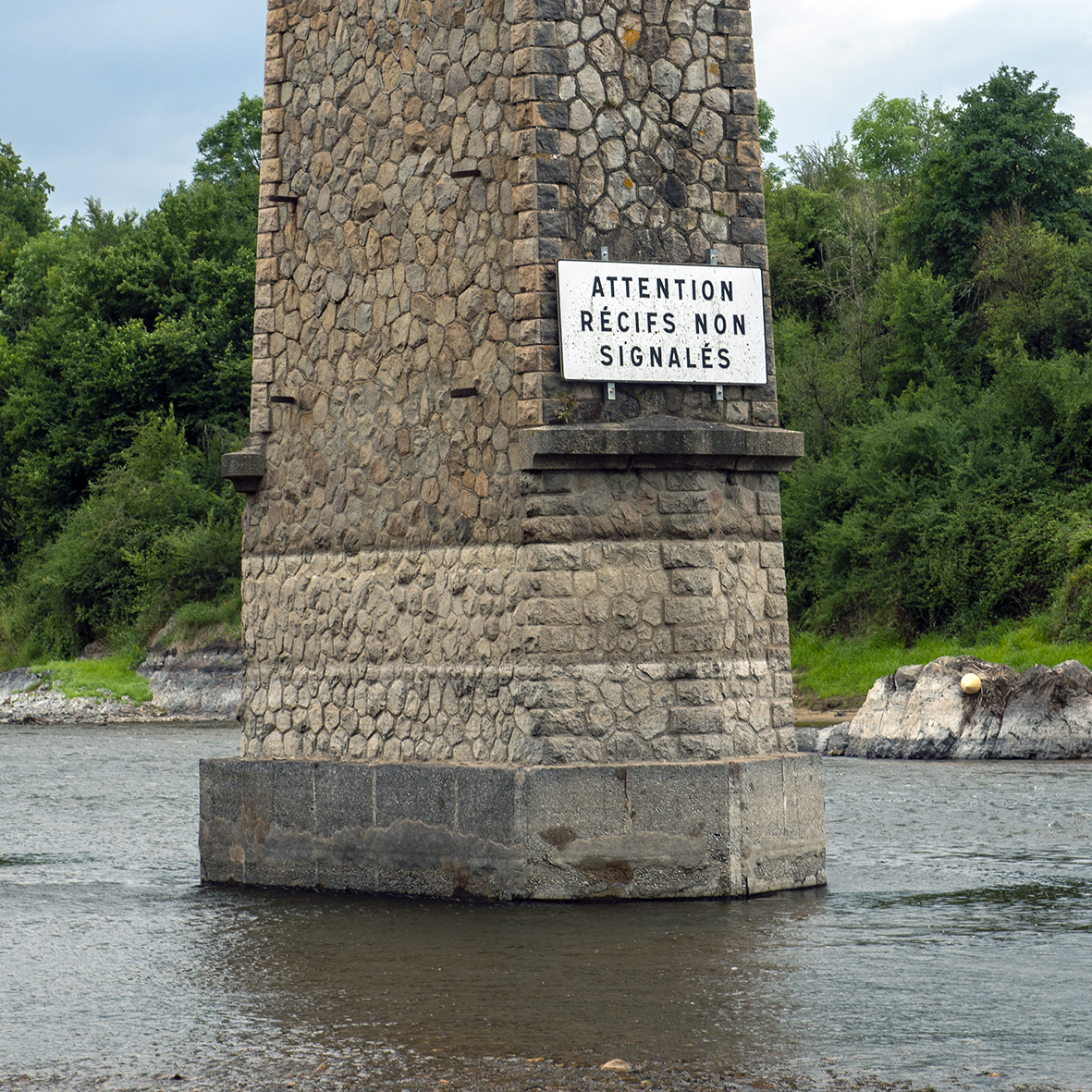 Un autre évoque ma curiosité. Sur Internet je trouve : 'Interdiction de créer des remous'. Je suis d'accord : il y en a déjà eu bien assez ! / Another evokes my curiosity. On the Internet I find: 'Prohibition of creating a stir'. I agree: there have been enough already!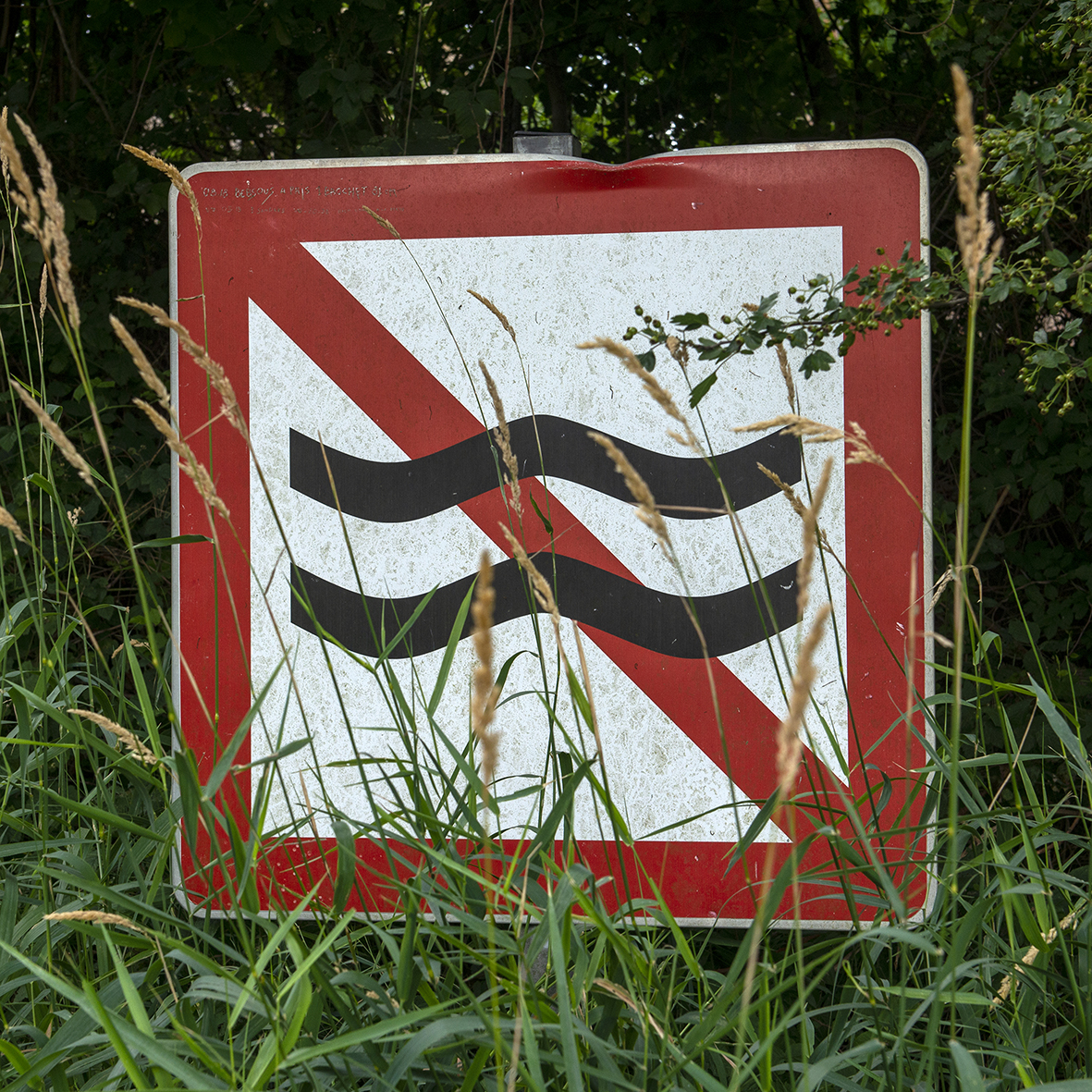 Le ciel se couvre et devient noir. Des bourrasques secouent la voiture. Un orage se prépare. Nous décidons de nous diriger directement vers Digoin, où nous passerons la nuit. / The sky clouded over and turned black. Gusts shake the car. A storm is brewing. We decide to head straight for Digoin, where we will spend the night.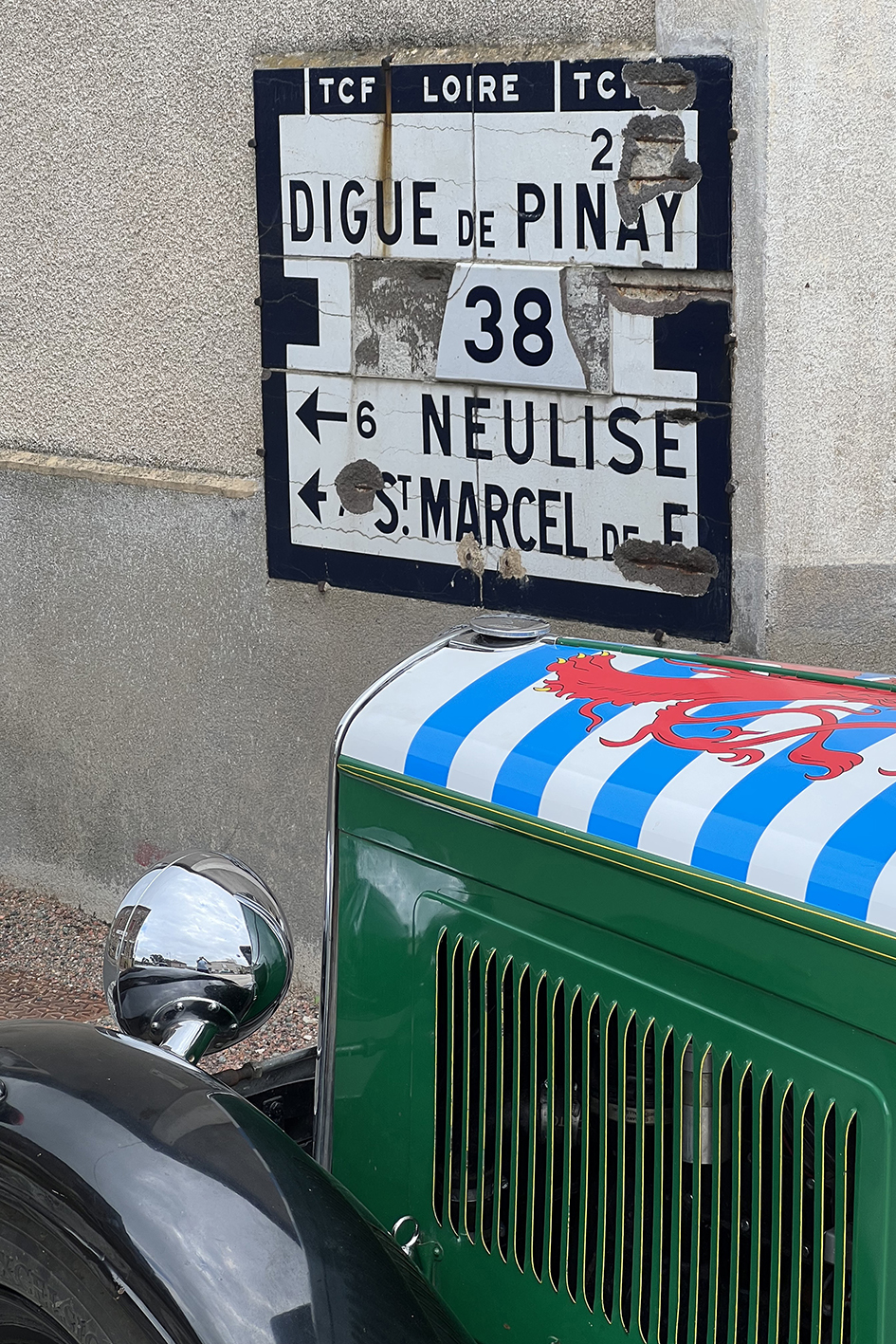 29 juin 2022. Lavoûte-sur-Loire – Panissières (135km)

/ 29 juin 2022. Lavoûte-sur-Loire – Panissières (135km)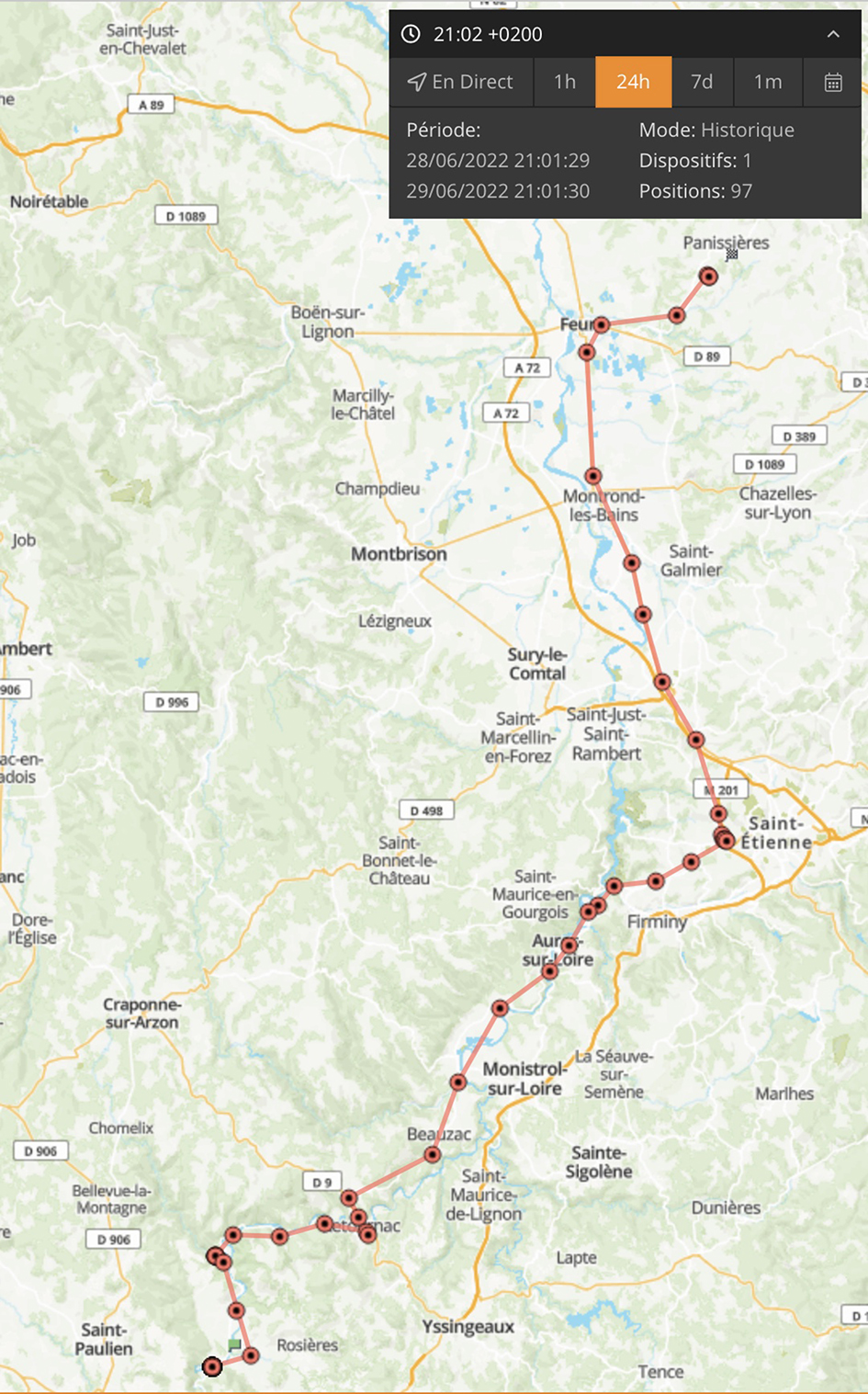 Nous commençons la journée par nous rendre au château de Lavoûte-Polignac, qui fut la résidence favorite de la famille de Polignac. La construction du château s'étend du 10ème au 19ème siècle. / We start the day by going to the castle of Lavoûte-Polignac, which was the favorite residence of the Polignac family. The construction of the castle extends from the 10th to the 19th century.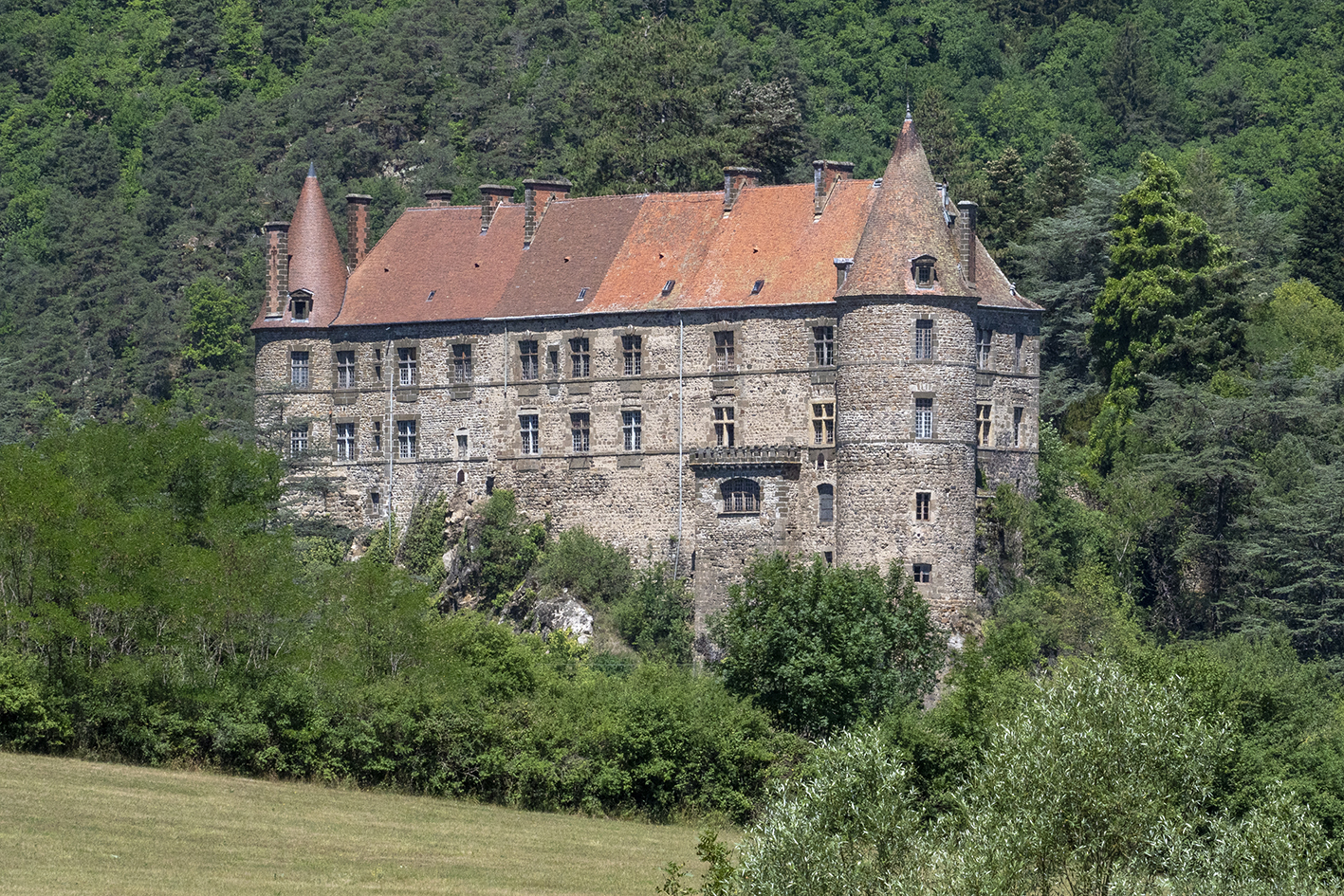 Au pied du château se trouve l'ancien moulin à blé, aujourd'hui converti en centrale électrique privée, qui livre de l'électricité au réseau d'EDF. / At the foot of the castle is the old wheat mill, now converted into a private power station, which delivers electricity to the EDF network.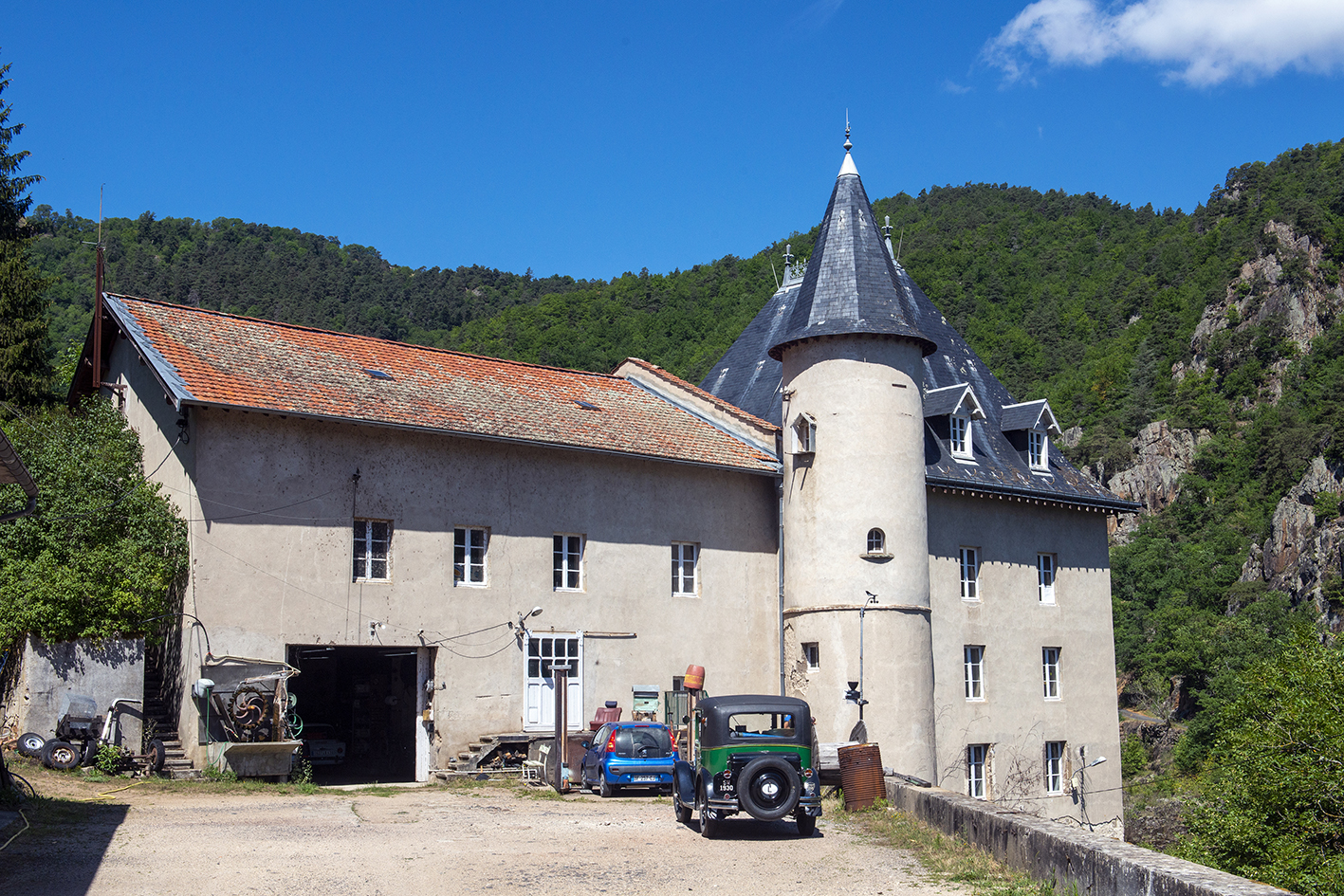 On y trouve encore dans les murs les armoiries de la famille Polignac, une très ancienne famille française dont on peut remonter la généalogie par filiations probables jusqu'à la fin du 9ème siècle. / One can still find in the walls the coat of arms of the Polignac family, a very old French family whose genealogy can be traced back by probable filiations to the end of the 9th century.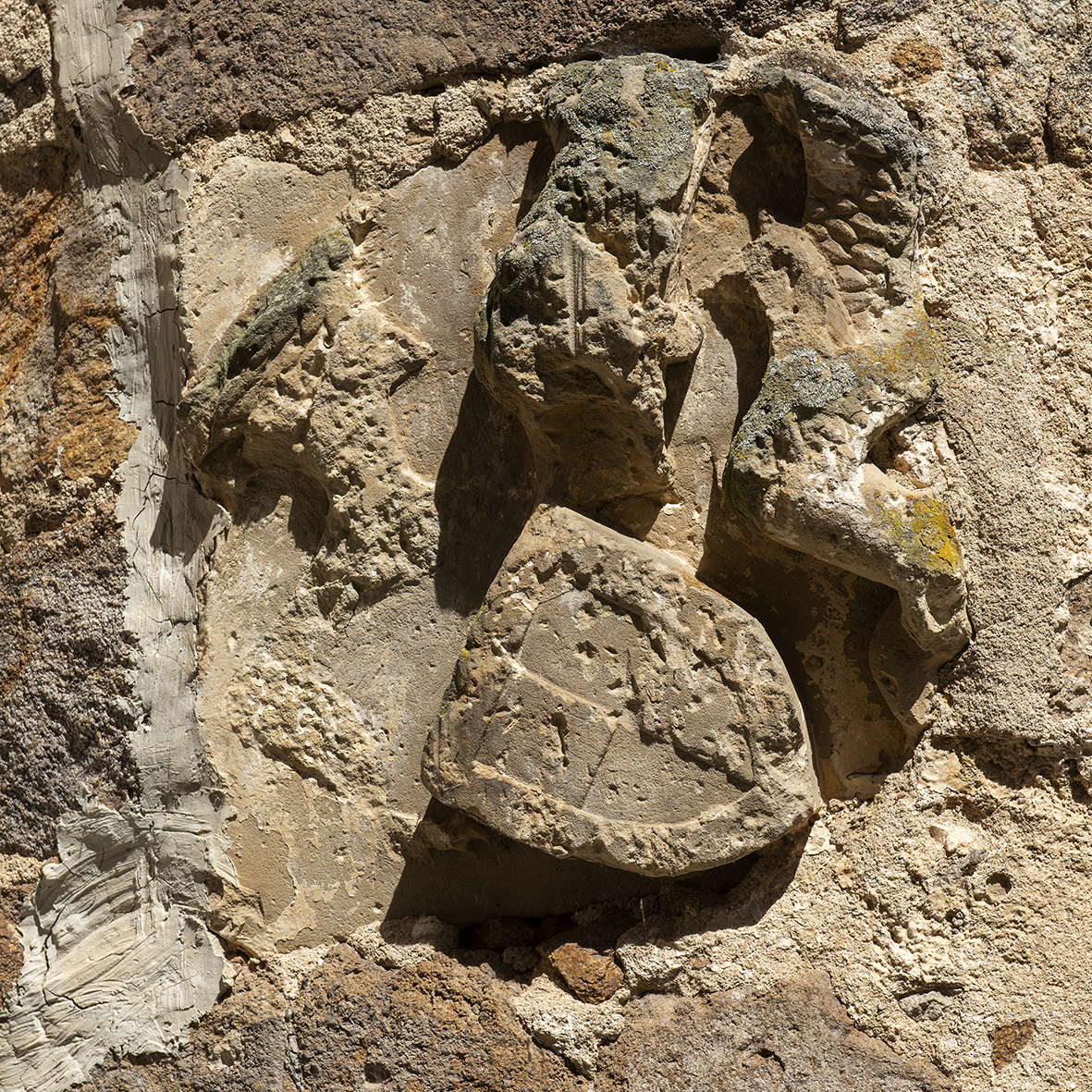 Un ami du propriétaire, Daniel Gouteyron, nous fait visiter les installations, dont le bief (à g.) avec la Loire en contrebas. Le niveau d'eau est bas en ce moment. Avec les grandes crues, le niveau peut monter de 18 mètres ! / A friend of the owner, Daniel Gouteyron, shows us around the facilities, including the reach (left) with the Loire below. The water level is low right now. With major floods, the level can rise by 18 meters!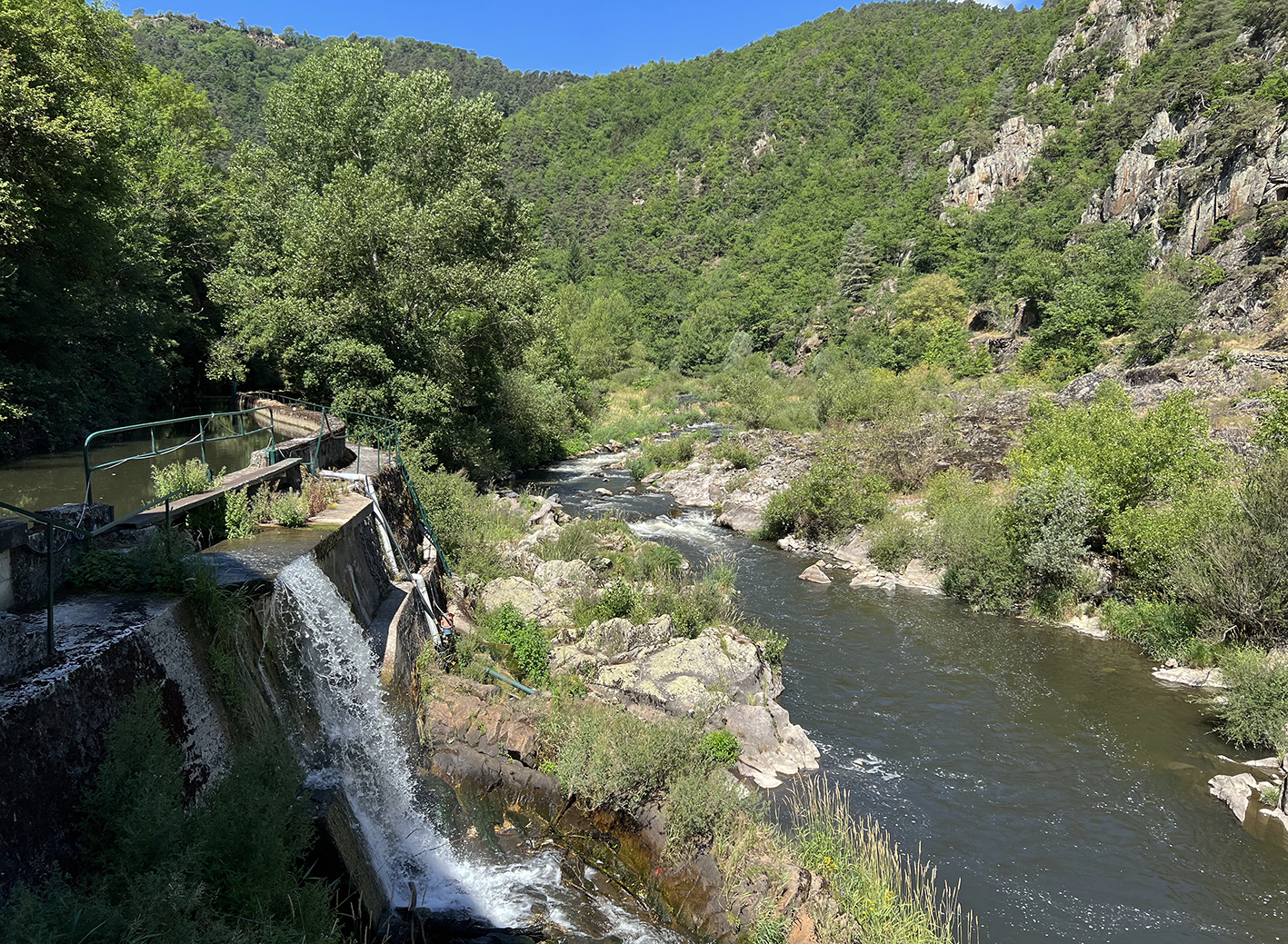 Les installations électriques, qui datent des années 1950, sont impressionnantes. Voilà de l'énergie verte qui peut durer indéfiniment ! / The electrical installations, which date from the 1950s, are impressive. This is green energy that can last indefinitely!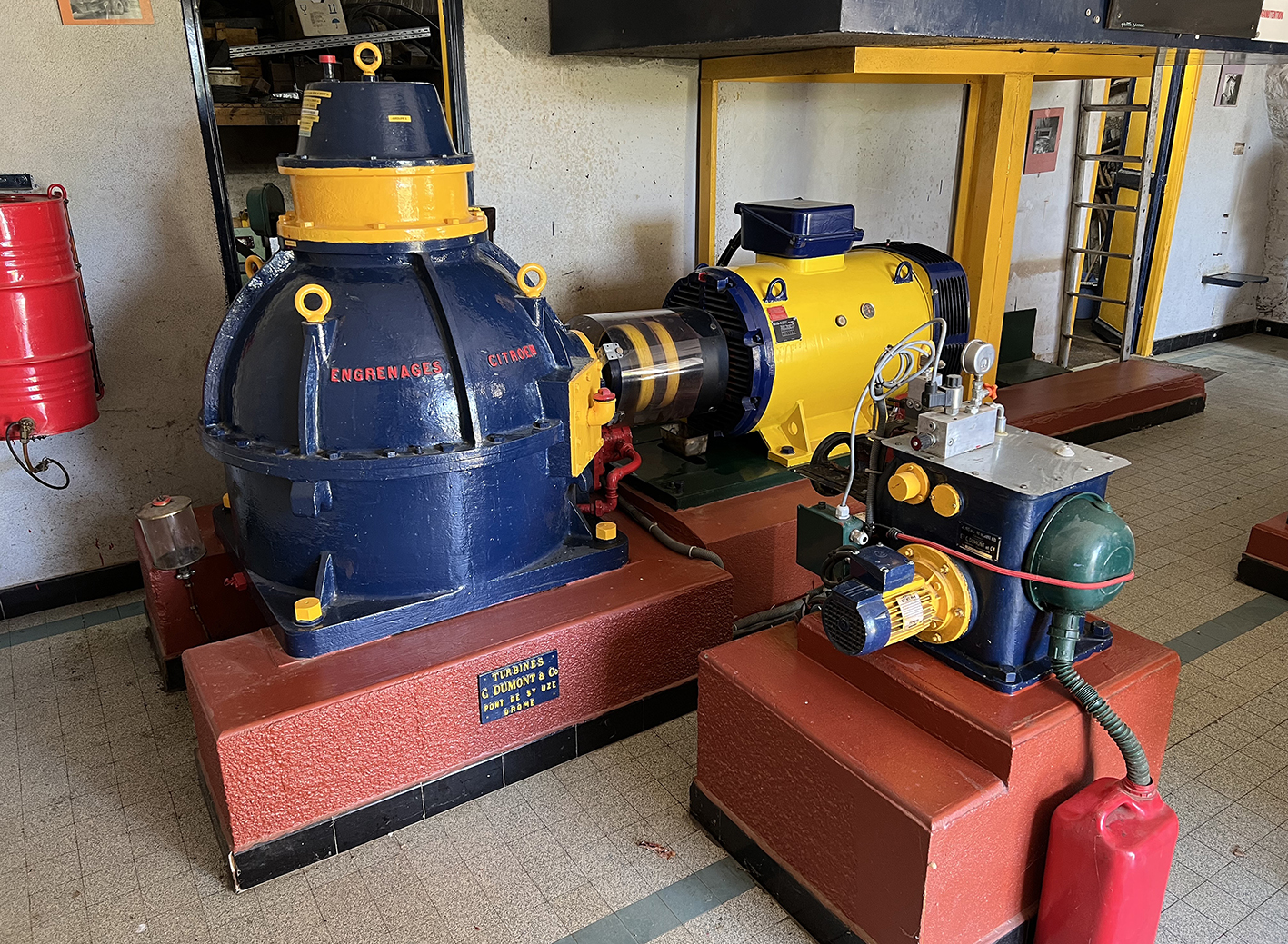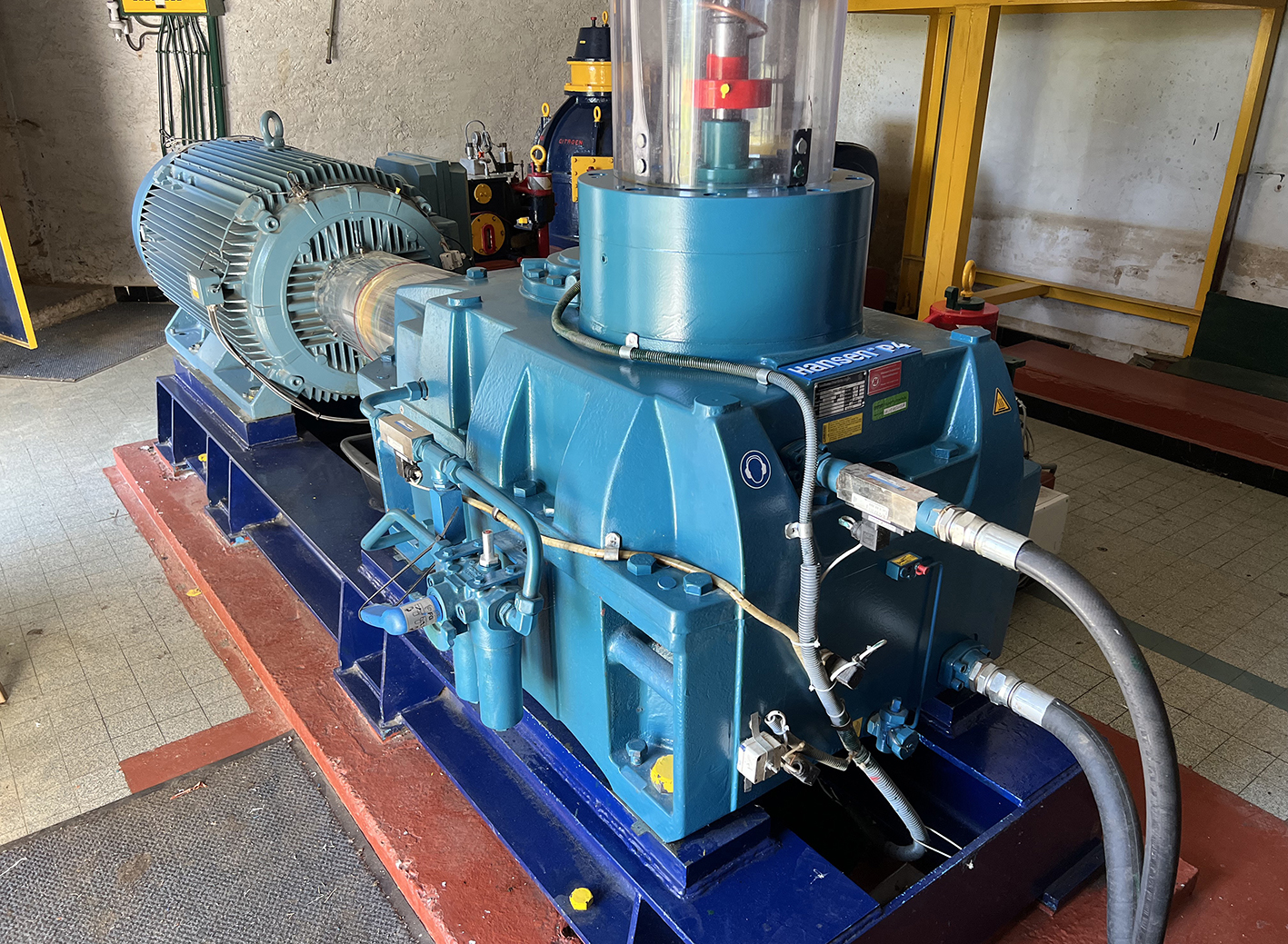 Nous redescendons vers Lavoûte. Un hôtel, fermé comme tant d'autres (abandonné ?), affiche sur sa façade un message d'un autre temps : il dispose d' «eau courante», chose dont on se vantait encore dans certaines régions de France pendant l'après-guerre… / We go back down to Lavoûte. A hotel, closed like so many others (abandoned?), displays on its facade a message from another time: it has "running water", something that was still boasted about in certain regions of France in the post-war years …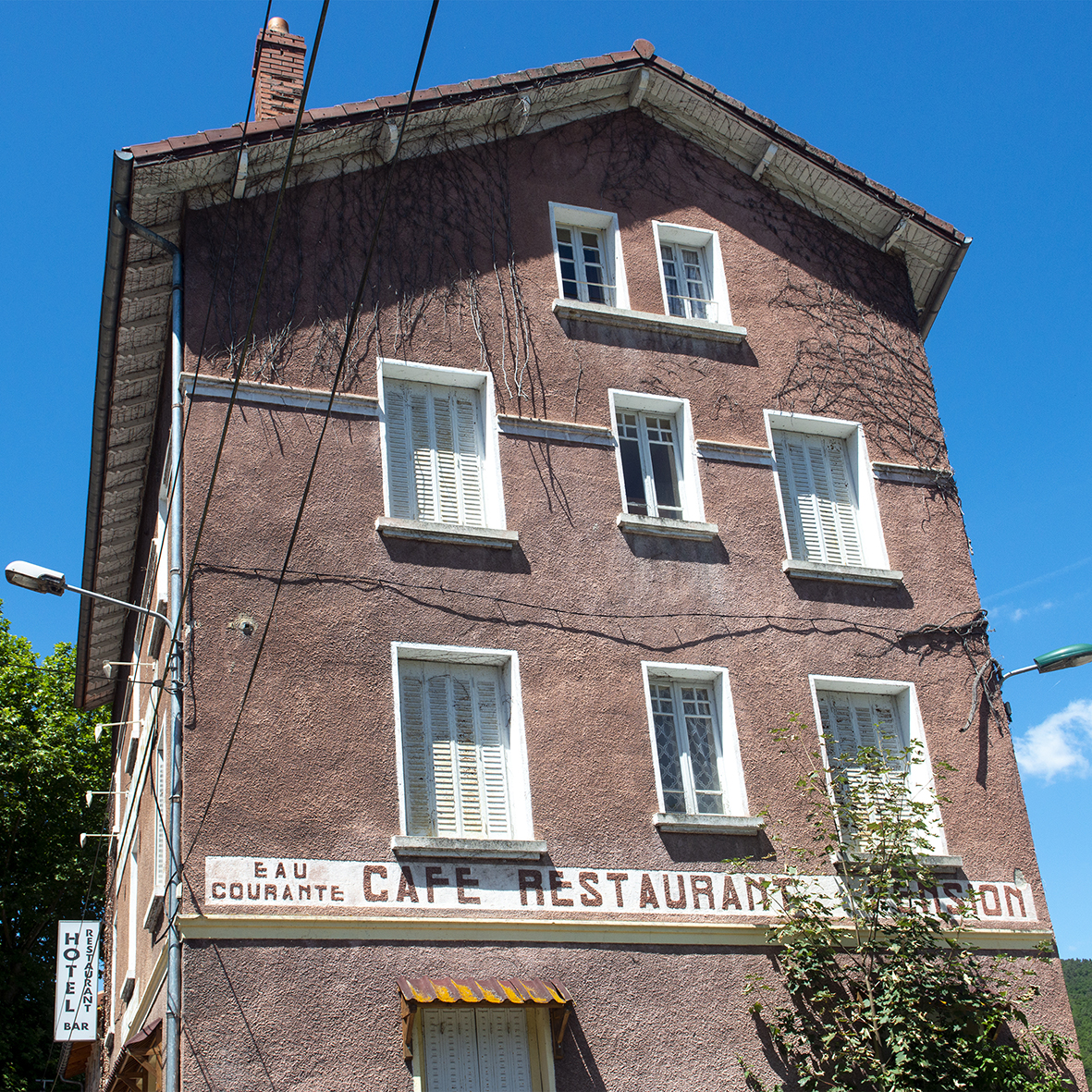 Daniel nous emmène voir sa collection de voitures anciennes. Il se spécialise dans les micro-voitures, notamment de la marque Rovin (mais aussi Messerschmitt et Mochet). Le plus étonnant est de tomber sur une Peugeot Quadrilette modèle 161, produite entre 1920 et 1924. / Daniel takes us to see his collection of vintage cars. He specializes in micro-cars, notably from the Rovin brand (but also Messerschmitt and Mochet). The most surprising thing is to come across a Peugeot Quadrilette model 161, produced between 1920 and 1924.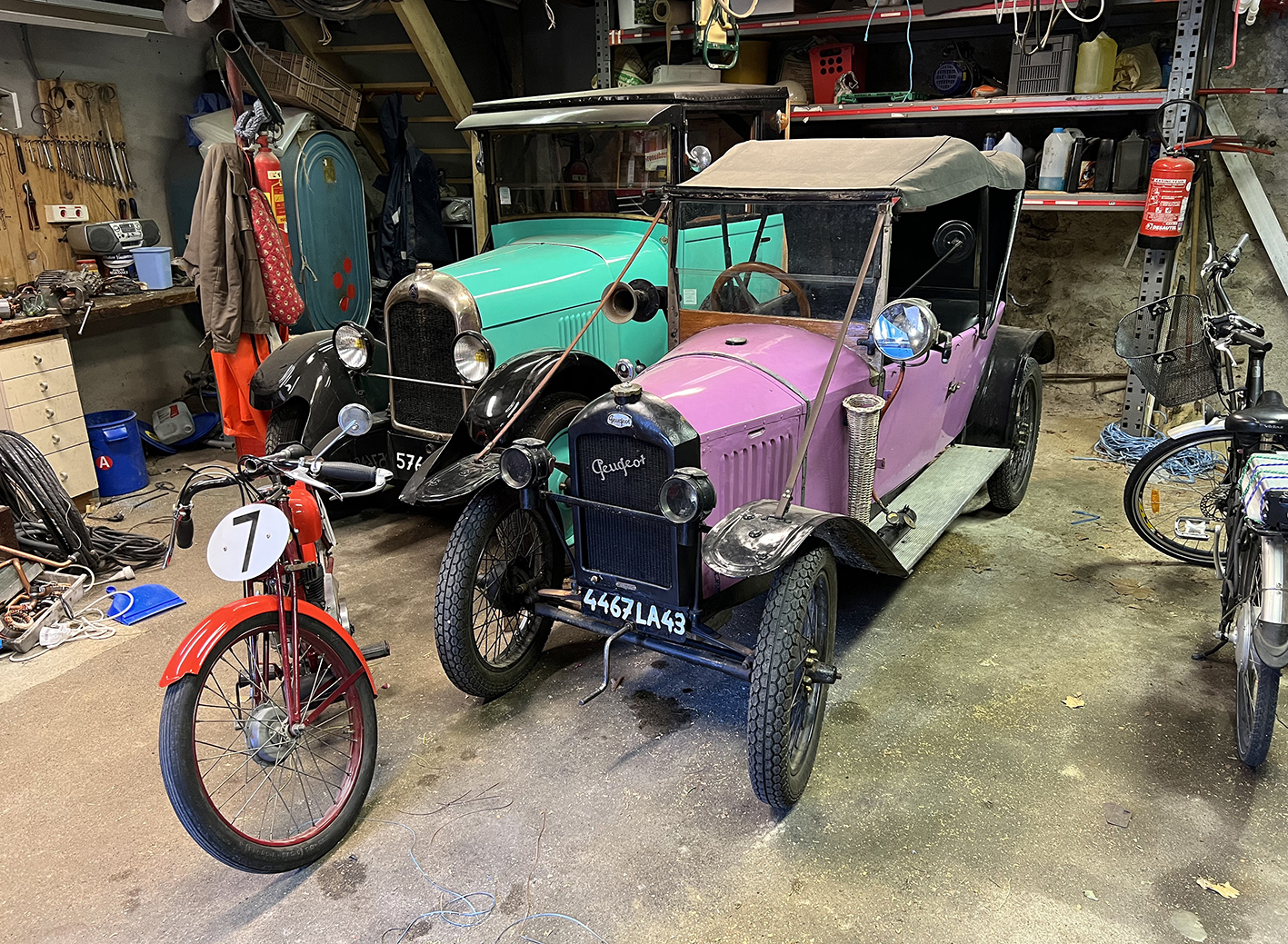 Plus rare encore, cette Quadrilette, carrossée spécialement pour la course. Juste avant de partir, Daniel m'offre un rotor flambant neuf pour mon démarreur, encore dans son emballage d'origine Paris-Rhône ! / Rarer still, this Quadrilette, bodied especially for racing. Just before leaving, Daniel offers me a brand-new rotor for my starter, still in its original Paris-Rhône packaging!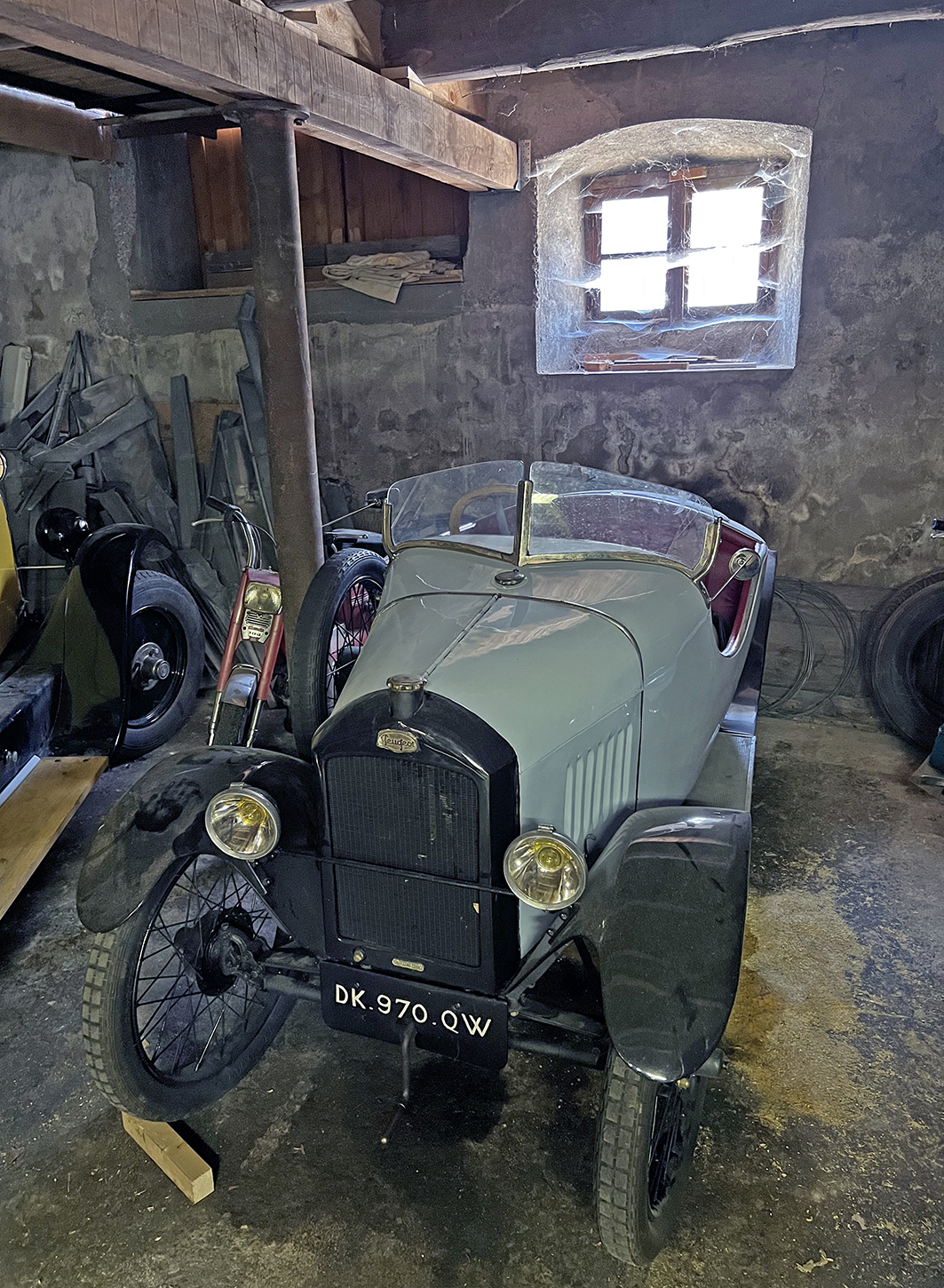 À Beaulieu-sur-Loire, nous traversons le fleuve par le pont suspendu de Margeaix. À une de ses extrémités subsiste toujours le poste de péage. / In Beaulieu-sur-Loire, we cross the river by the suspension bridge of Margeaix. At one of its ends the toll station still remains.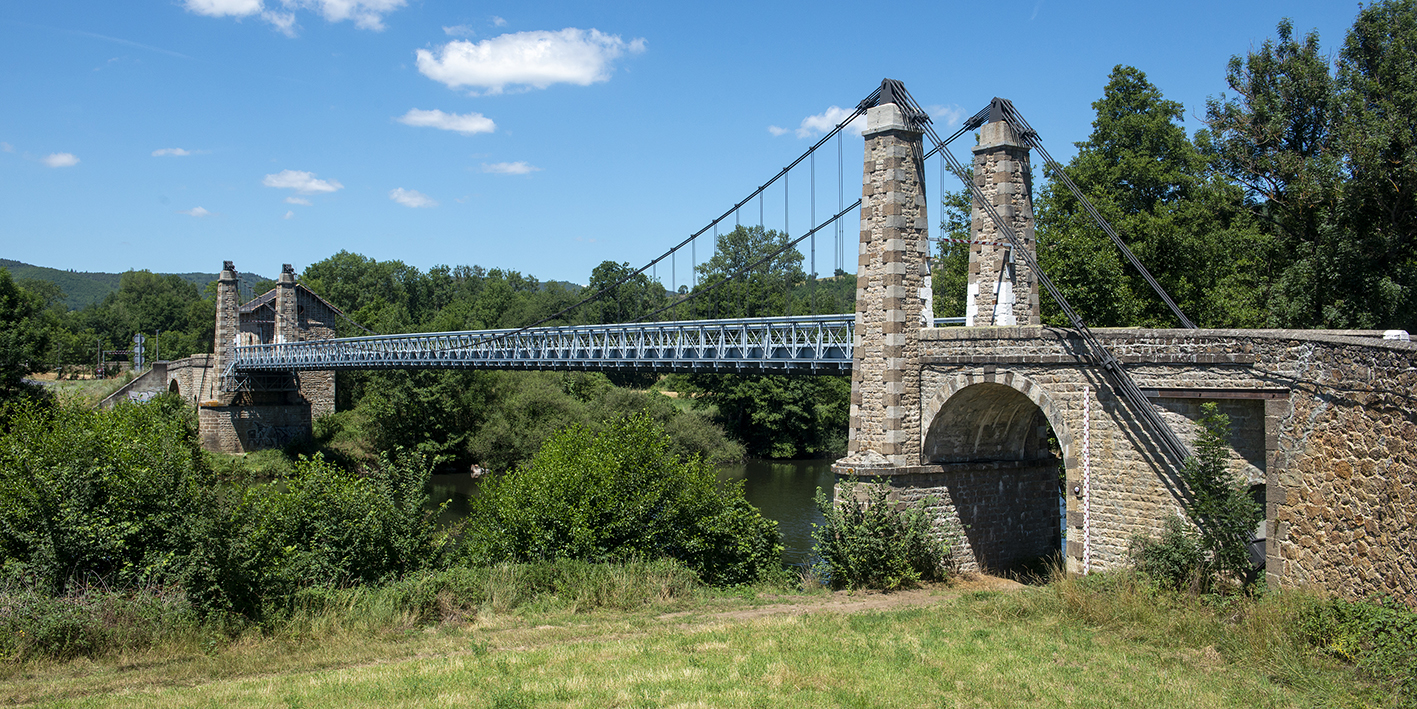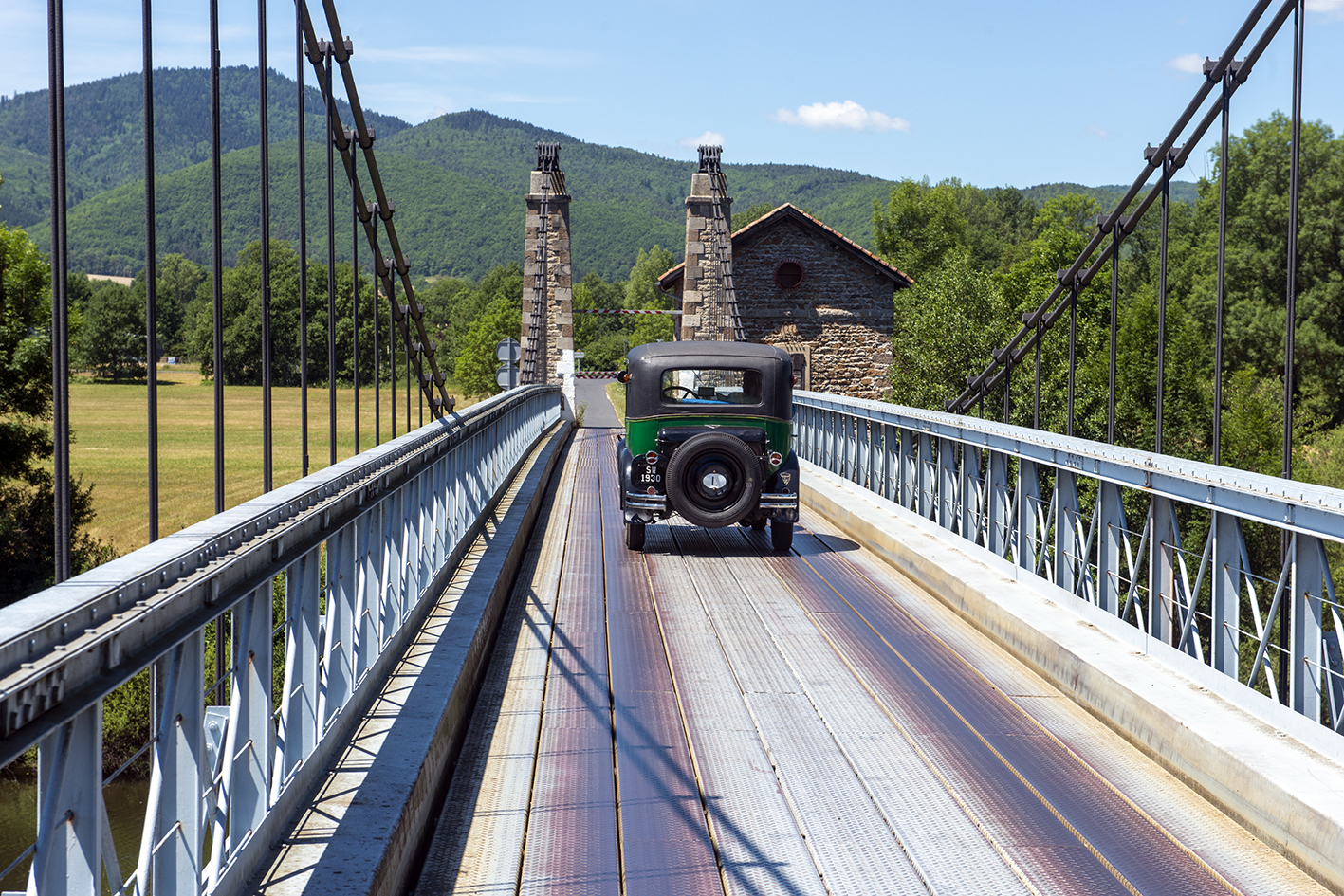 La construction du pont est entreprise en 1897 à la demande d'un industriel qui voulait un accès à son château néogothique de Margeaix. / The construction of the bridge began in 1897 at the request of an industrialist who wanted access to his neo-Gothic castle in Margeaix.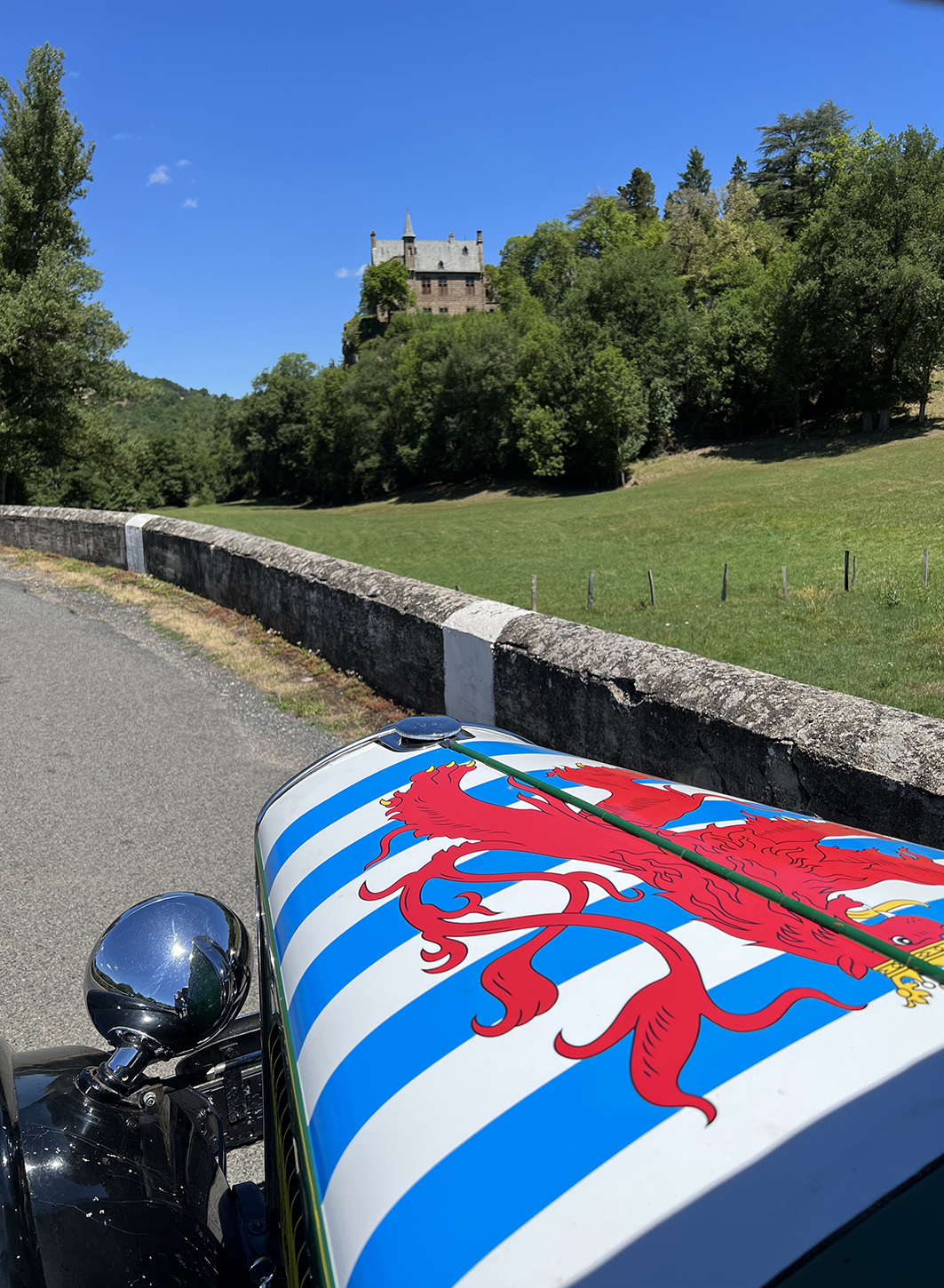 Vue d'un autre pont surplombant la Loire. Juste au moment où je prends ma photo, un héron passe sous le pont ! / View from another bridge over the Loire. Just when I take my picture, a heron passes under the bridge!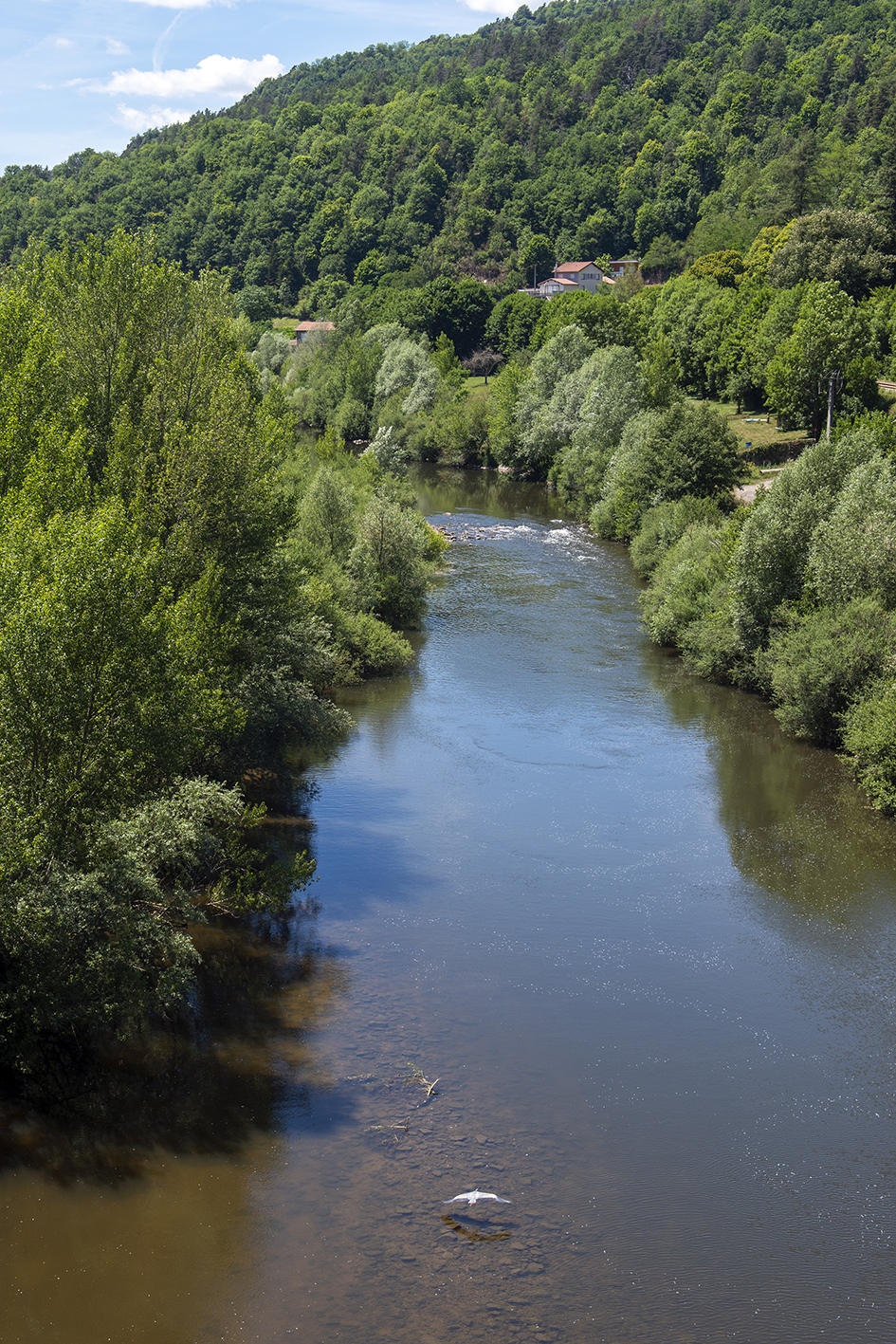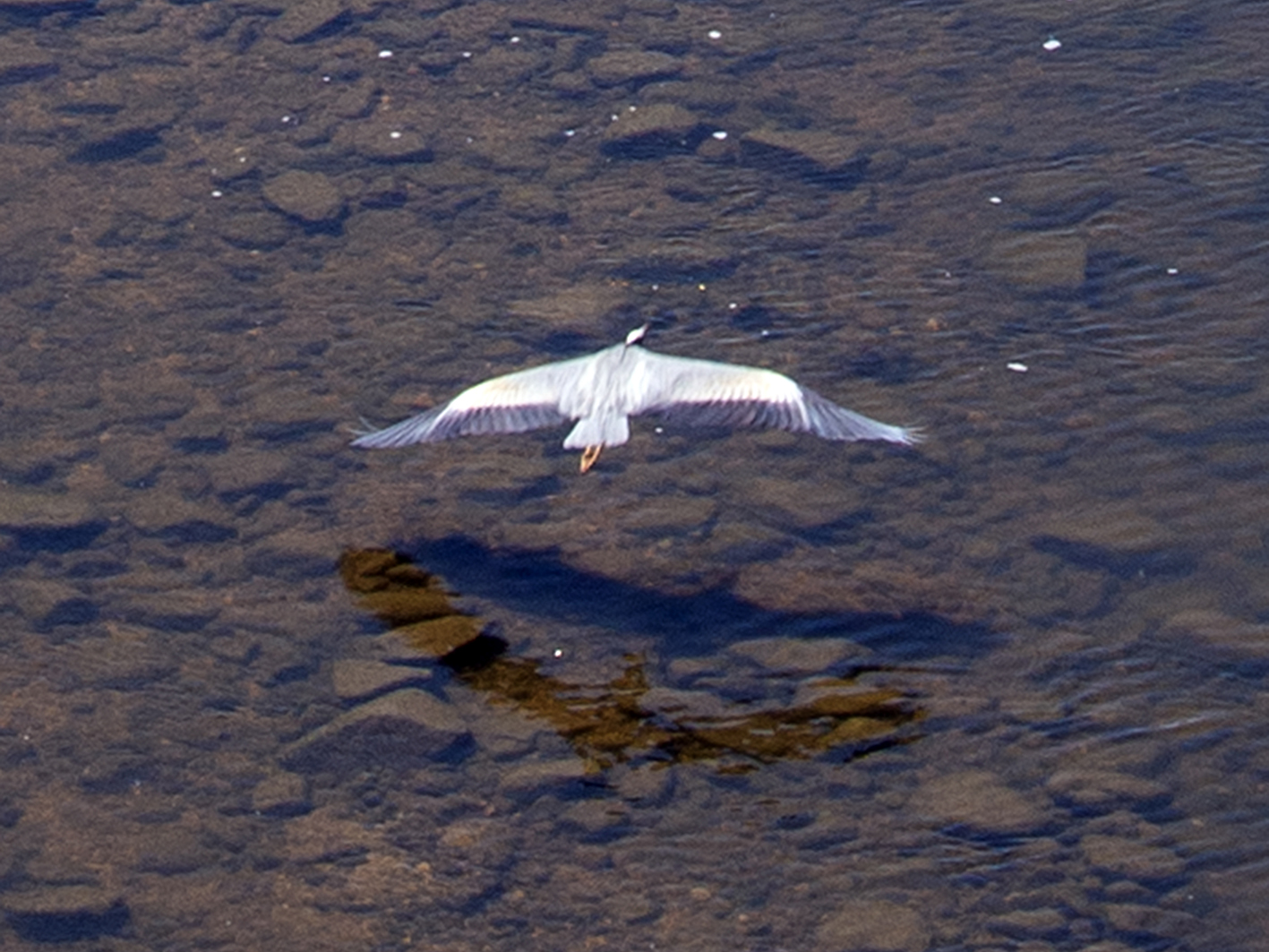 À Retournac, nous passons devant un vieux garage, avec l'enseigne OZO, une ancienne marque de carburants disparue depuis des décennies. / At Retournac, we pass in front of an old garage, with the sign OZO, an old fuel brand that disappeared decades ago.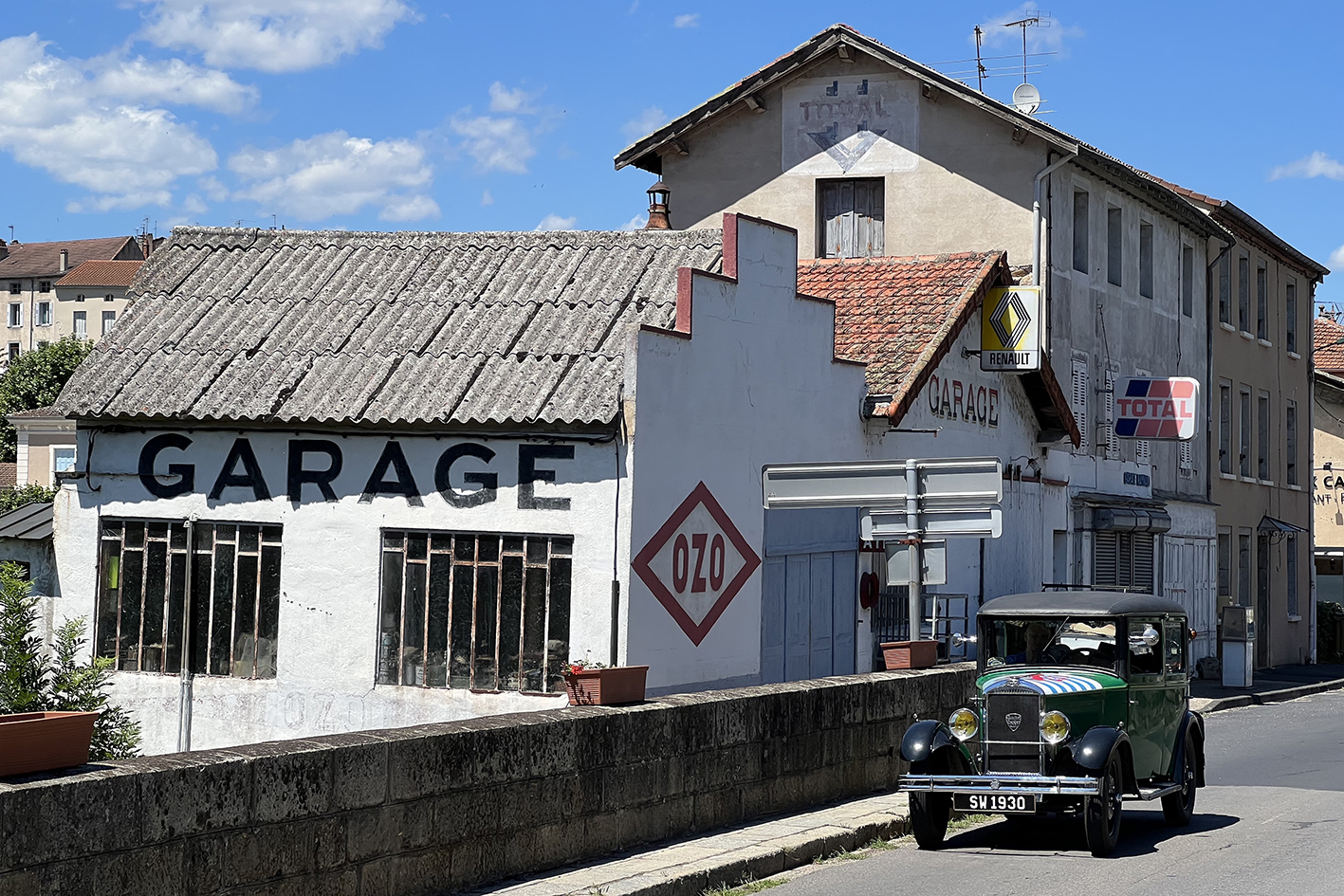 Petite pause au bord de la Loire à Retournac. Au fond, le 'Pont des Droits de l'Homme'. / A short break on the banks of the Loire at Retournac. In the background, the 'Human Rights Bridge'.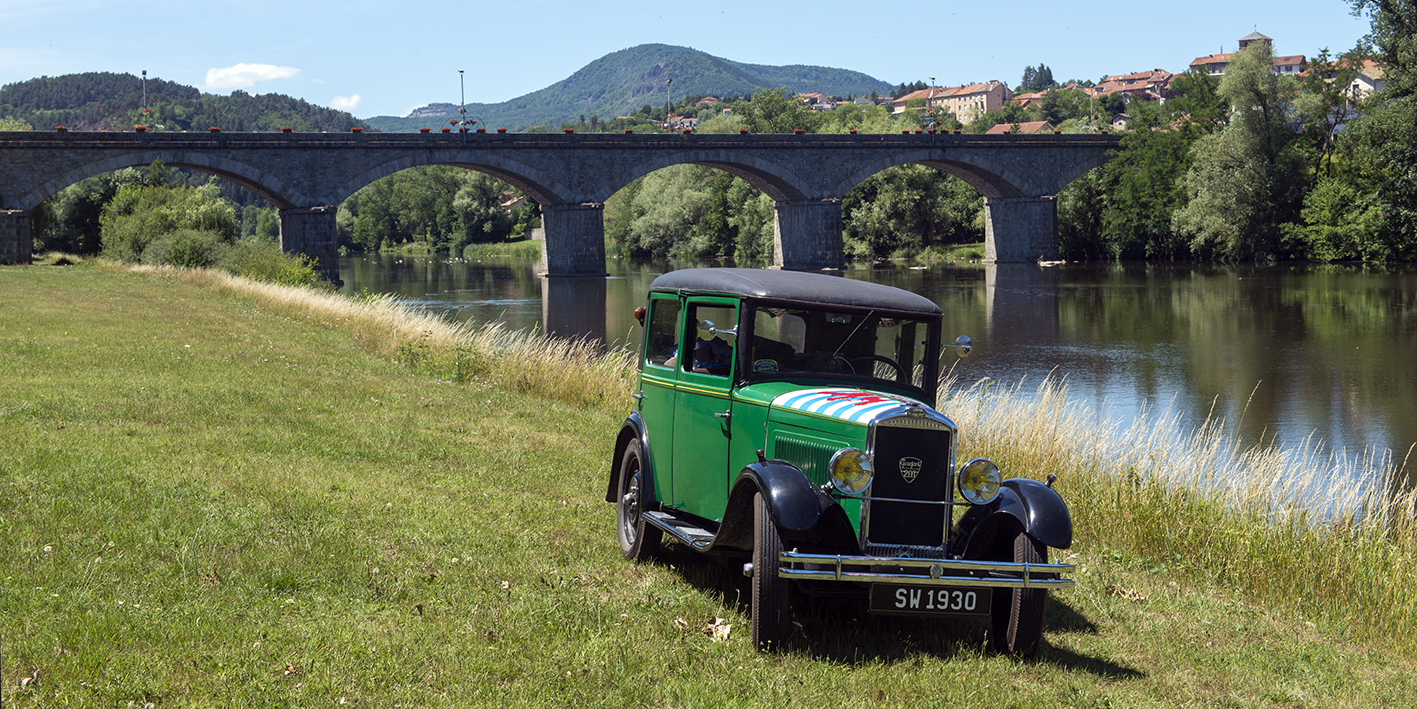 Je suis parfois un grand naïf. Mes connaissances géographiques de la Loire se résumaient à savoir que le fleuve commençait sa course vers 1500 m d'altitude et se terminait à l'océan, altitude 0 m. Un dénivelé de 1500 m sur une distance – la longueur officielle du fleuve – de 1006 km. Une pente moyenne de 0,15 %. Je pensais donc qu'en longeant la Loire, la route serait toujours en descente douce… Ce qui n'est pas du tout le cas en Haute Loire ! Nous avons dû, une fois de plus et dans une chaleur écrasante, affronter des routes construites par des ingénieurs spécialistes en montagnes russes. La pauvre « Charmante » a encore roulé en 1ère sur des dizaines de kilomètres. Et nous, à l'intérieur, à nous demander si elle allait tenir le coup… De jolies vues sur la Loire d'en haut pourtant, comme ici à Saint-Paul-en-Cornillon. / I am sometimes very naive. My geographical knowledge of the Loire boiled down to knowing that the river began its course around 1500 m altitude and ended at the ocean, altitude 0 m. A drop of 1500 m over a distance – the official length of the river – of 1006 km. An average slope of 0.15%. So I thought that going along the Loire, the road would always be gently downhill… Which is not at all the case in Haute Loire! Once again, we had to face roads built by engineers specializing in roller coasters, in the crushing heat. The poor « Charmante » still drove in 1st gear for dozens of kilometres. And we, inside, wondered if she was going to hold up… Pretty views of the Loire from above, however, like here in Saint-Paul-en-Cornillon.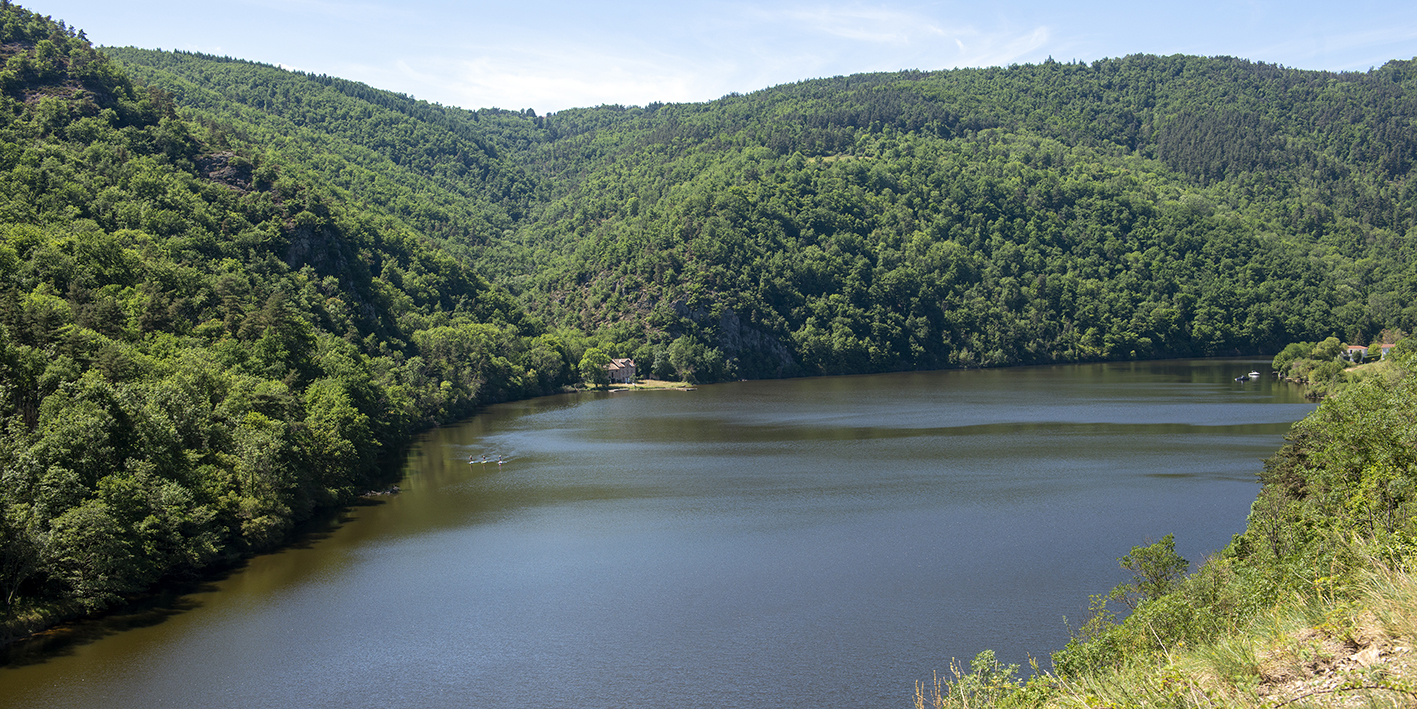 En bas, des vacanciers passent en paddle. / Below, vacationers pass by paddle.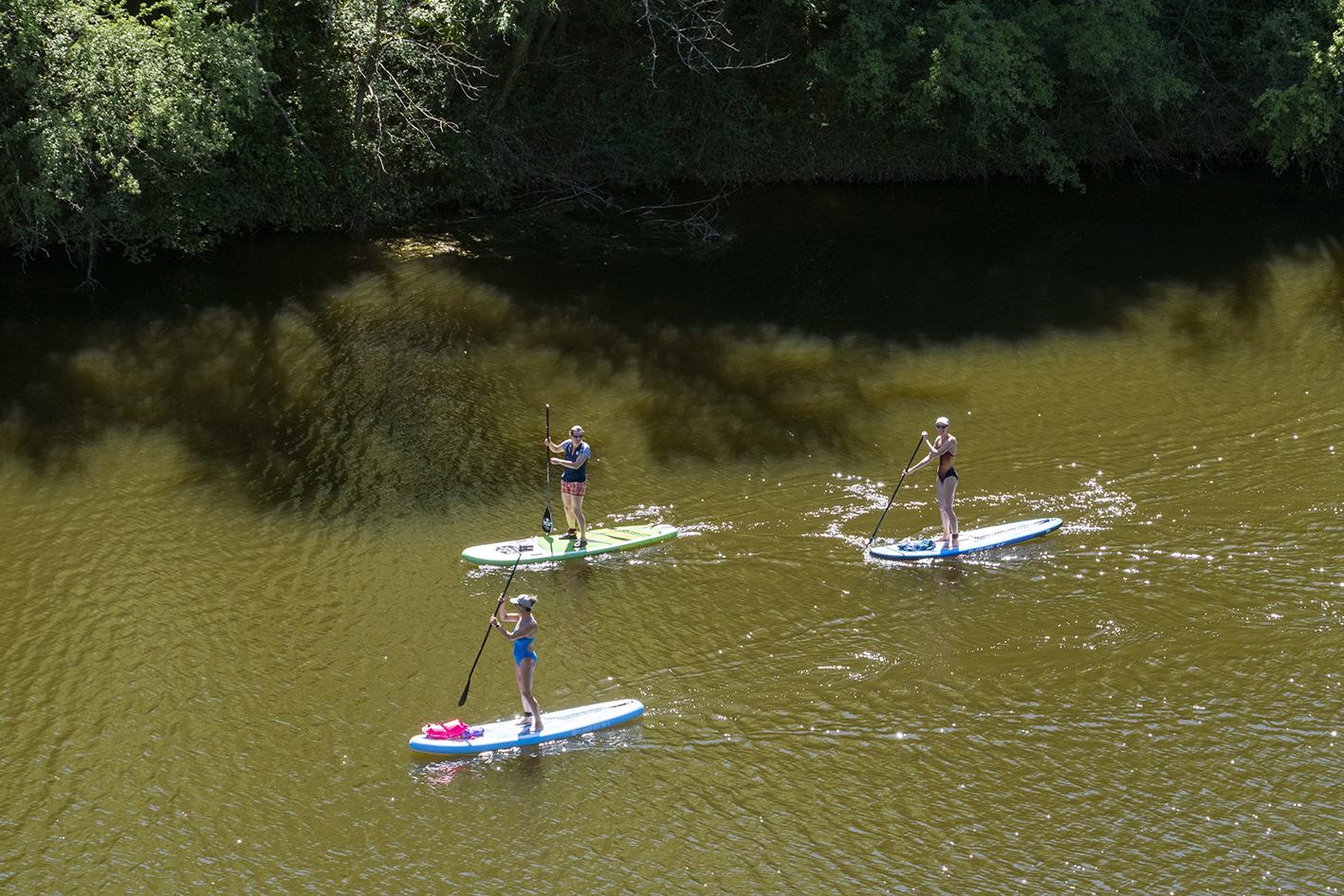 Saint-Paul est connu aussi par le viaduc ferroviaire dit 'des neuf ponts', car il compte en effet neuf arches en maçonnerie. Il est dominé par le château de Cornillon. / Saint-Paul is also known for the railway viaduct called 'of the nine bridges', because it has nine masonry arches. It is dominated by the Château de Cornillon.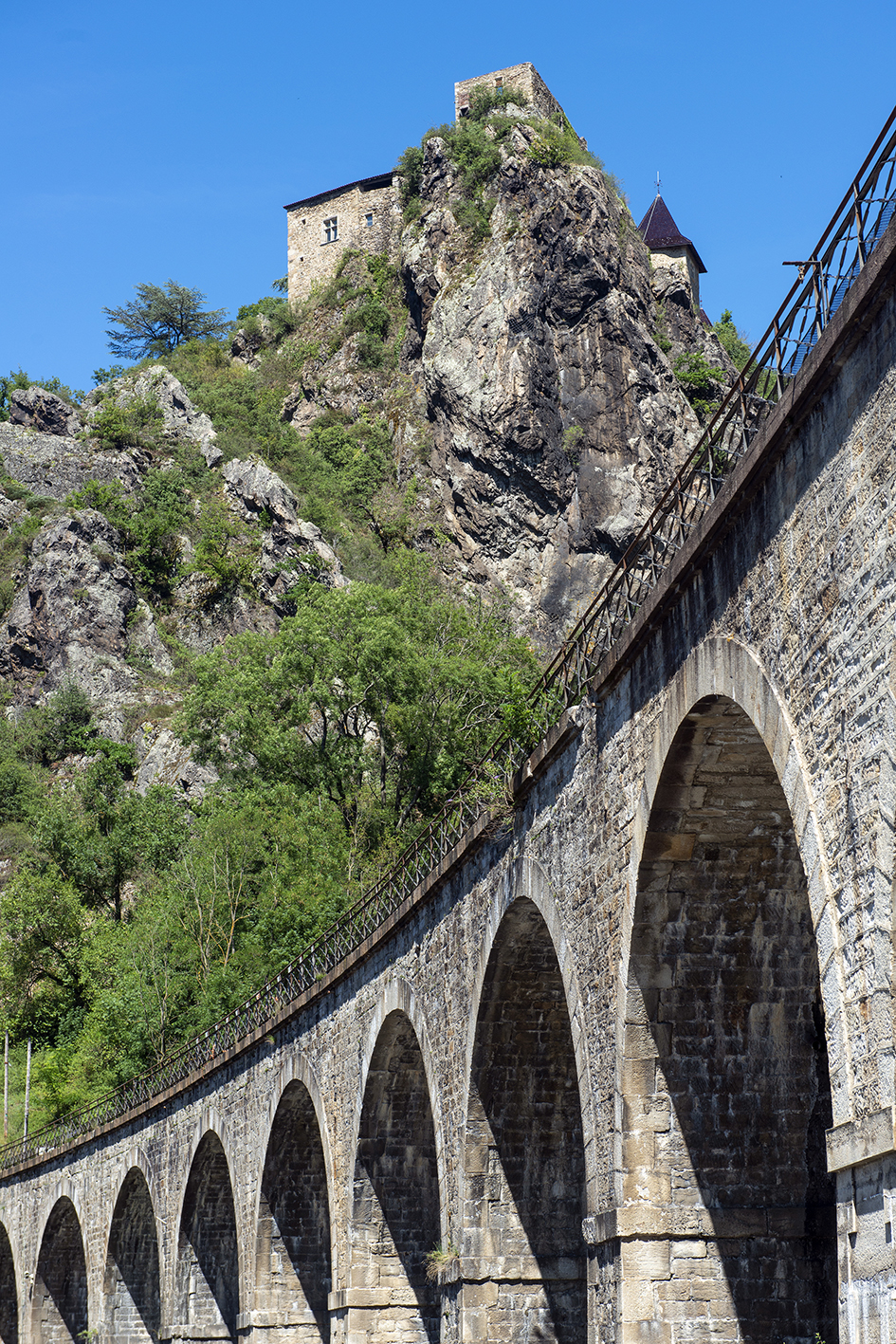 À Unieux, le pont suspendu du Pertuiset bien plus moderne enjambe le fleuve. Son véritable nom est 'Pont du Bicentenaire de la Révolution'. / In Unieux, the much more modern Pertuiset suspension bridge spans the river. Its real name is 'Bridge of the Bicentenary of the Revolution'.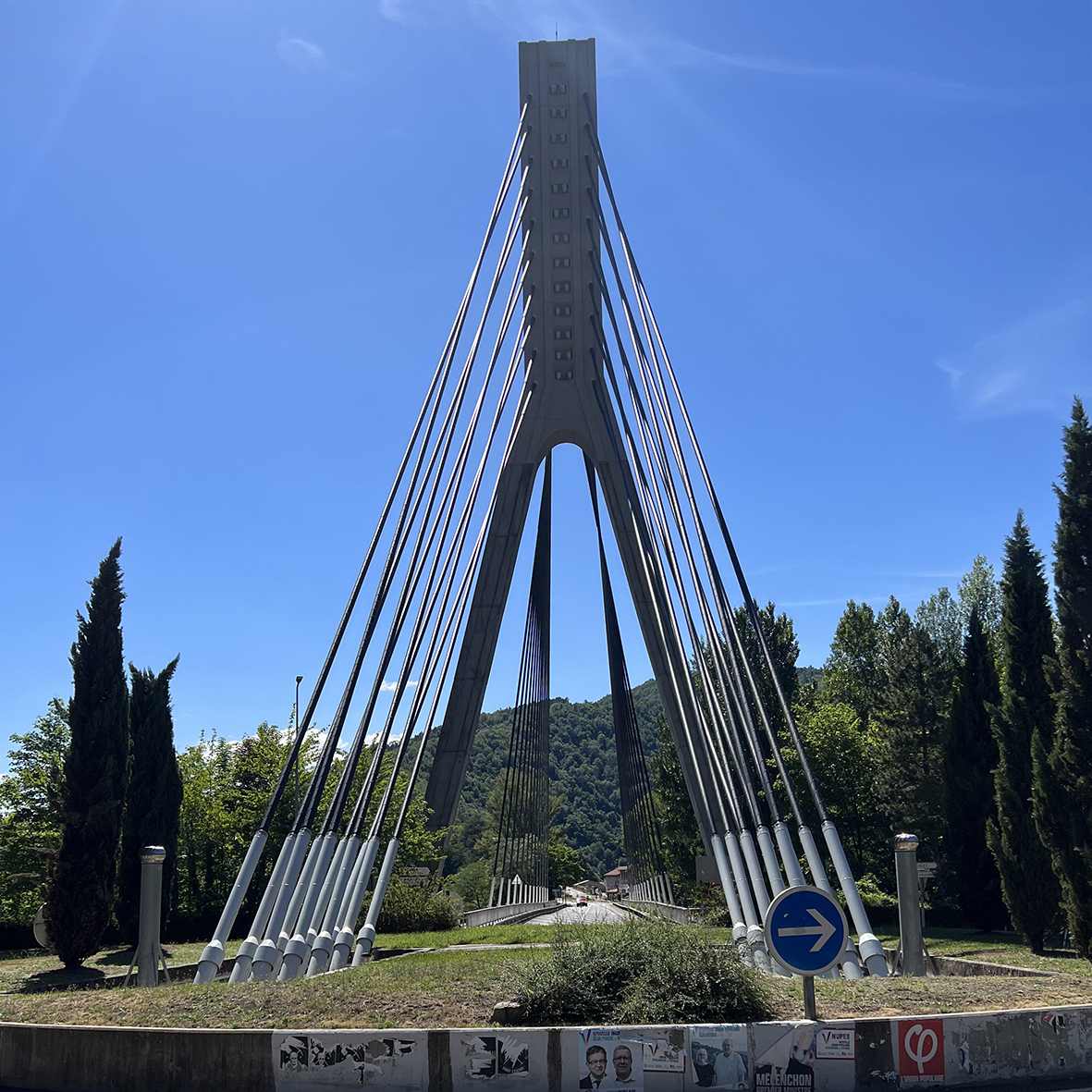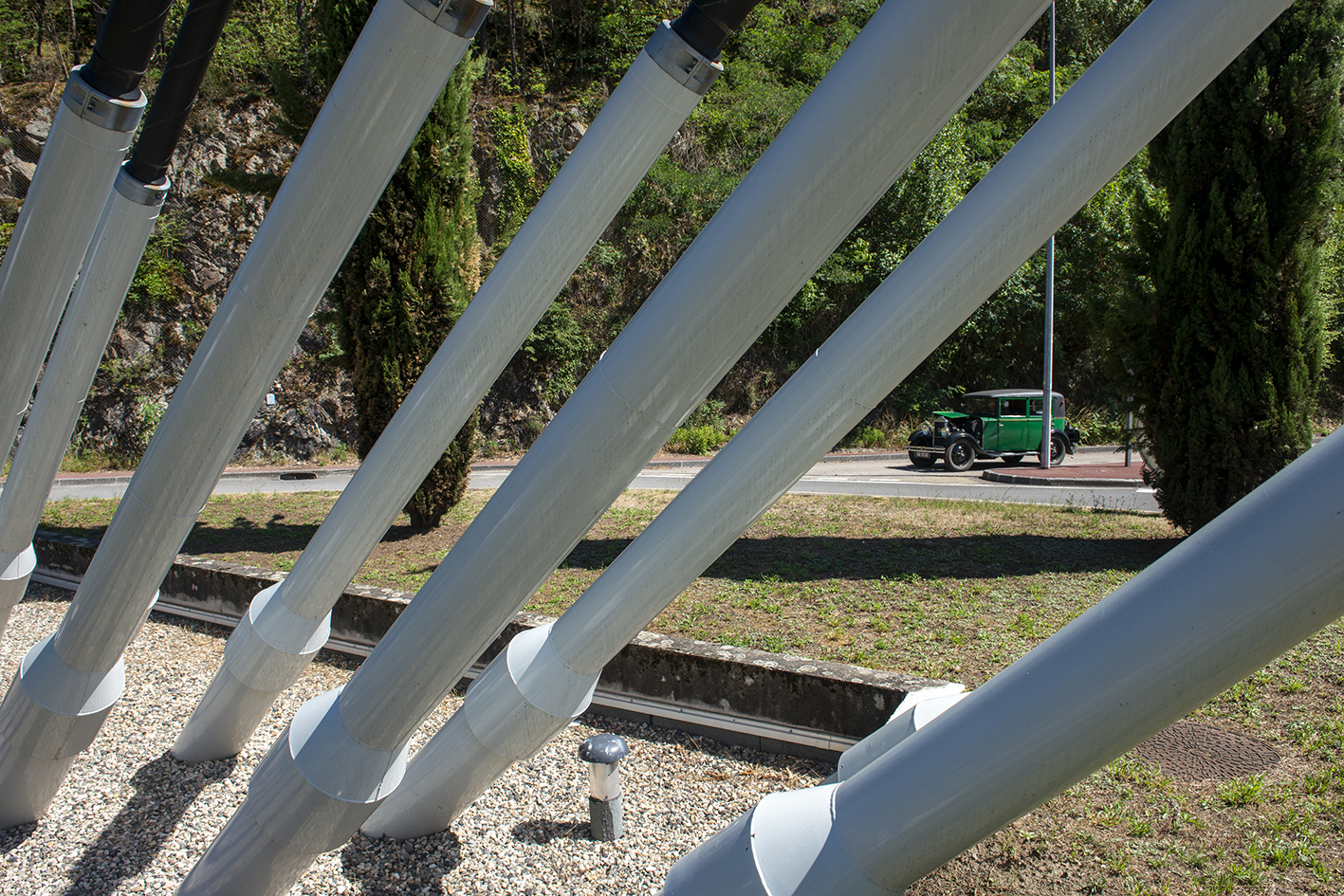 Pour contourner Saint-Étienne, nous empruntons exceptionnellement la voie rapide à Roche-la-Molière. Mauvaise pioche ! Nous nous retrouvons dans un embouteillage monstre, causé par un accident. Gendarmerie et pompiers, sirènes hurlantes, tentent de se frayer un chemin dans ce chaos. Et nous, sous un soleil de plomb, mettons une heure-et-demie pour avancer de 2 kilomètres… / To bypass Saint-Étienne, we exceptionally take the expressway at Roche-la-Molière. Bad pick ! We find ourselves in a monster traffic jam, caused by an accident. Police and firefighters, sirens screaming, try to make their way through this chaos. And we, under a blazing sun, took an hour and a half to advance 2 kilometers…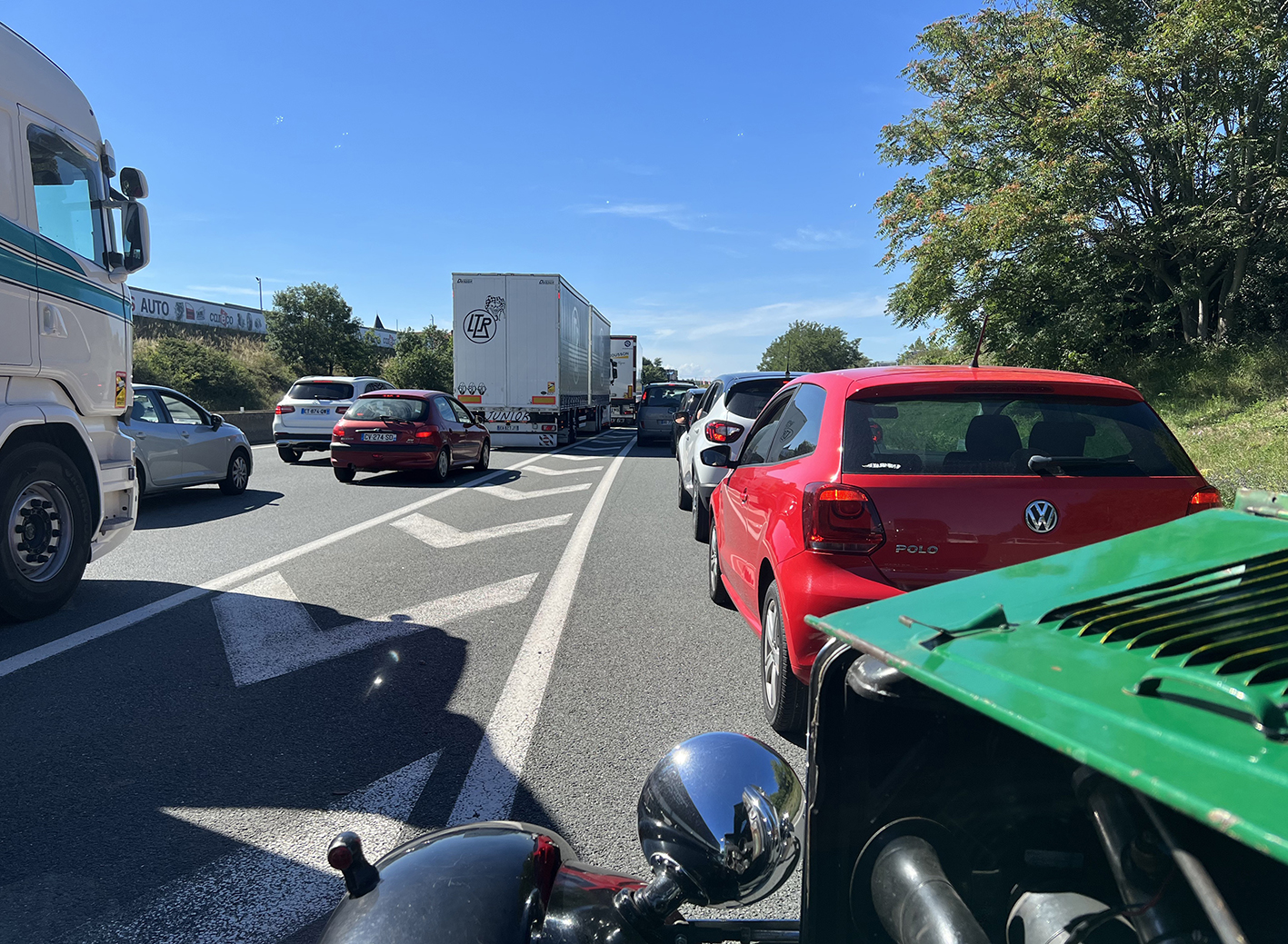 Nous voilà enfin sur la départementale 201 avec notre Peugeot 201 ! / Here we are finally on the departmental road 201 with our Peugeot 201!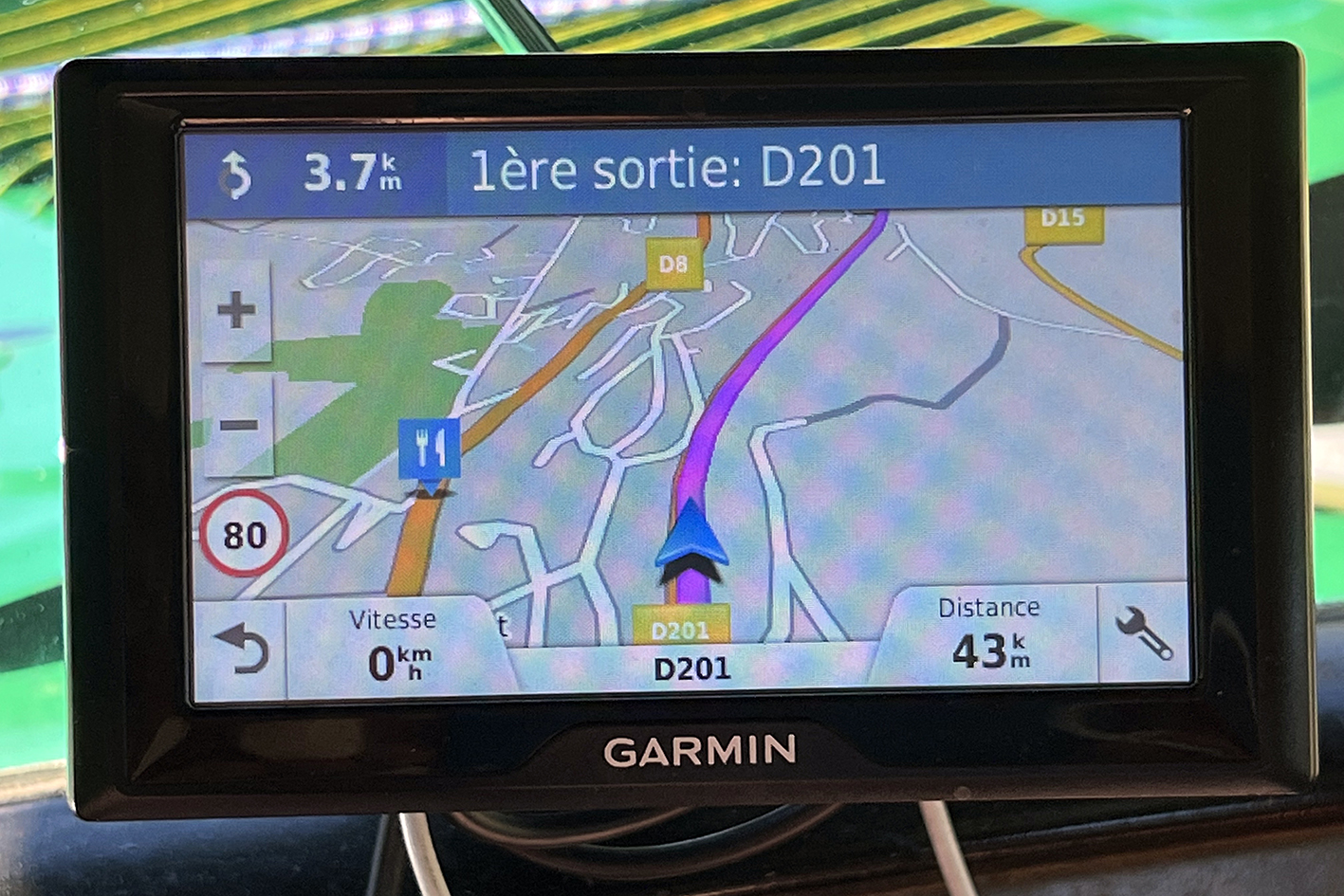 À Feurs, nous bifurquons vers l'est et entamons une dernière longue montée en 1ère, pour atteindre un gite dans le village de Panissières. Repos enfin, et un peu de fraîcheur à 630 m d'altitude. / At Feurs, we turn east and begin a last long climb in 1st gear, to reach a cottage in the village of Panissières. Rest at last, and a bit of freshness at an altitude of 630 m.                        
28 juin 2022. Vals-les-Bains – Lavoûte-sur-Loire (117 km)

/ June 28, 2022. Vals-les-Bains – Lavoûte-sur-Loire (117 km)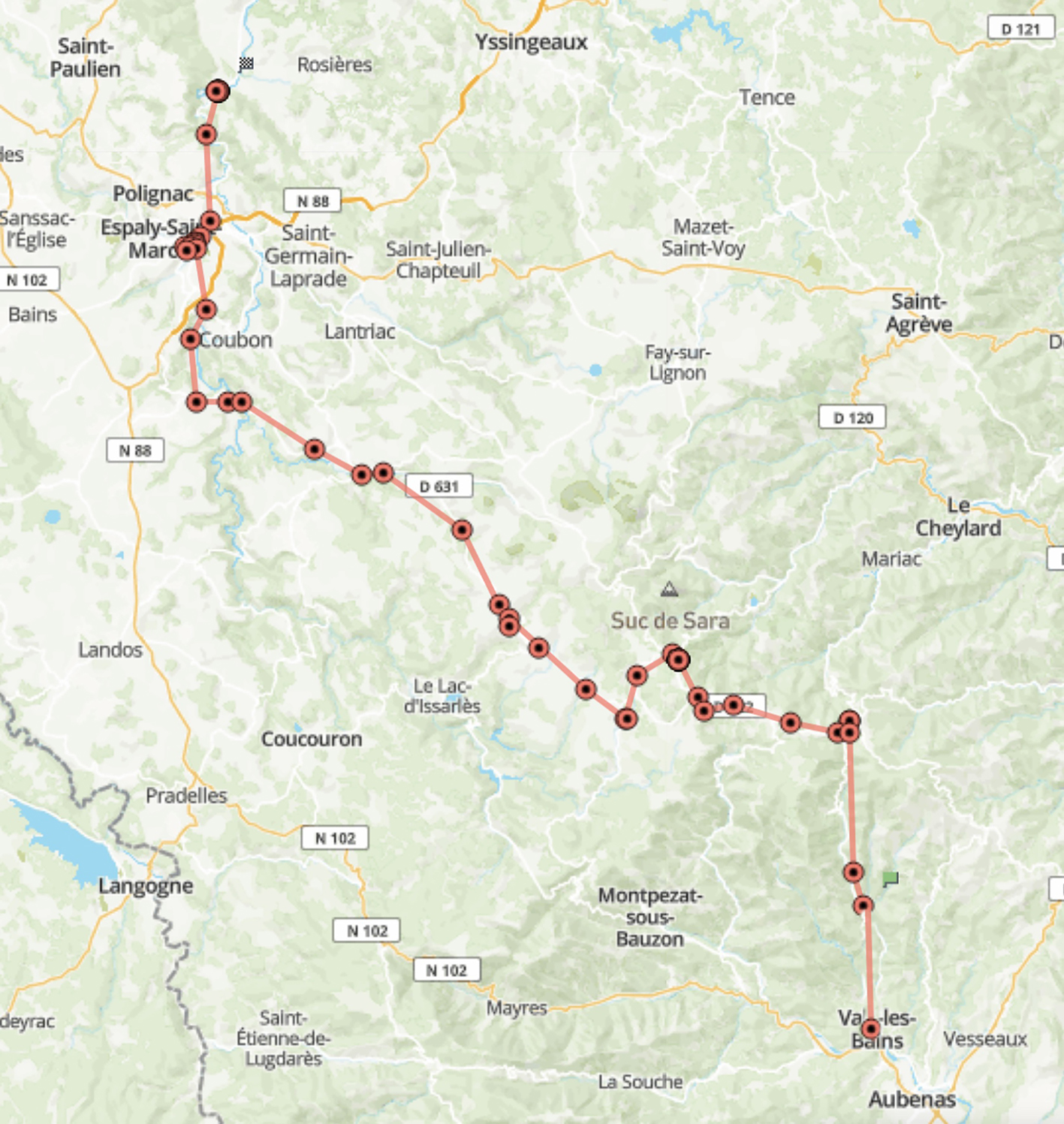 Cette journée rentrera dans l'histoire comme probablement la plus difficile que « La Charmante » ait connu de toute son existence de 92 ans… Cela peut se résumer par deux panneaux (le premier pris hier soir entre Joyeuse (ça lui serait également allé comme un gant !) et Aubenas : / This day will go down in history as probably the most difficult that « La Charmante » has known in its entire 92-year existence… It can be summed up by two panels (the first one taken last night between Joyeuse (that would also have suited her like a glove!) and Aubenas:
Le deuxième près de Solignac-sur-Loire environ 24 heures plus tard : / The second near Solignac-sur-Loire about 24 hours later: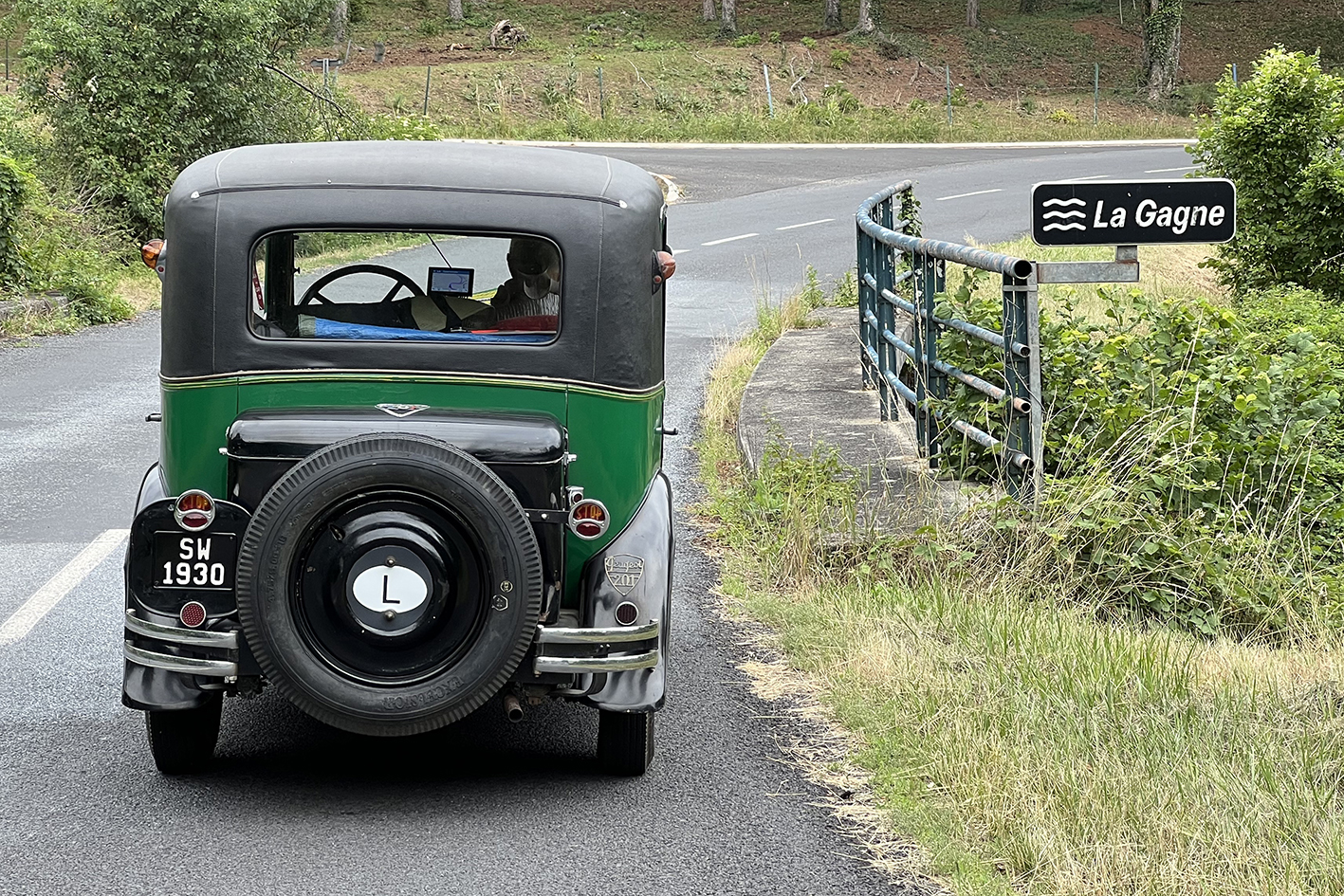 « Prends-toi garde » ! Je le traduis par « Sois prudent ! » ou encore « Protège-toi ! » … Je ne fais que ça à chaque seconde sur la route. Quand je suis au volant, j'ai charge d'âmes : mes deux Charmantes et moi- même, ainsi que « Le Passager clandestin » dont je n'ai pas parlé depuis longtemps, qui es toujours là. Pour « La Charmante » j'ai l'oreille tendue au moindre bruit bizarre, le nez à la moindre odeur inquiétante, tout le corps réceptif à la moindre vibration inhabituelle. Et mes yeux… Fatigués en fin de journée d'avoir surveillé en permanence la route (trous, ralentisseurs – quelle plaie destructrice pour les vieilles mécaniques ! – les voitures d'en face, celles dans mon rétroviseur, celles qui nous doublent en dépit du bon sens…) et les instruments de bord (température, pression d'huile, courant de charge) … Mais à la fin de cette journée mémorable que je suis sur le point de vous raconter, un seul mot résume tout : « La Gagne ! » Oui, nous avons la gagne, la gnaque, nous sommes imbattables, nous sommes capables de tout !  / « Prends-toi garde » (« Beware »!). I translate it as "Be careful!" or even "Protect yourself!" …I do just that every second on the road. When I'm behind the wheel, I'm in charge of souls: my two Charmantes and myself, as well as « The Stowaway » which I haven't talked about for a long time, but who is still there. For « La Charmante » my ears are strained at the slightest strange noise, my nose at the slightest disturbing smell, my whole body receptive to the slightest unusual vibration. And my eyes… Tired at the end of the day from having constantly watched the road (holes, speed bumps – what a destructive plague for old mechanics! – the cars opposite, those in my rear-view mirror, those passing us defying common sense…) and the instruments (temperature, oil pressure, charging current) … But at the end of this memorable day that I am about to tell you about, a single word sums it all up: "La Gagne!" ("Winning") Yes, we are the winning team, we are unbeatable, we are capable of anything!
La journée commence par le réglage de l'allumage dans l'immense garage de l'Hôtel des Touristes, sous l'œil intéressé et enthousiaste de Lionel, le propriétaire, et de sa fille Céline. Tout seul, comme un grand, avec juste une clef de 10 et mes oreilles, je règle au mieux l'allumeur suivant la recette de Jean-Luc et Manu. Réglage qui s'avèrera optimal pendant toute la journée. / The day begins with adjusting the ignition in the huge garage of the Hôtel des Touristes, under the interested and enthusiastic eye of Lionel, the owner, and his daughter Céline. All alone, with just a spanner of 10 and my hearing, I adjust the ignition according to the recipe of Jean-Luc and Manu. A  setting that will prove optimal throughout the day.
Dès la sortie de Vals-les-Bains, la montée est assez raide. Sauf pour quelques petits tronçons en première, nous arrivons à monter jusqu'à Antraïgues en seconde. / As soon as we leave Vals-les-Bains, the climb is quite steep. Except for a few small sections in first gear, we manage to climb up to Antraïgues in second gear.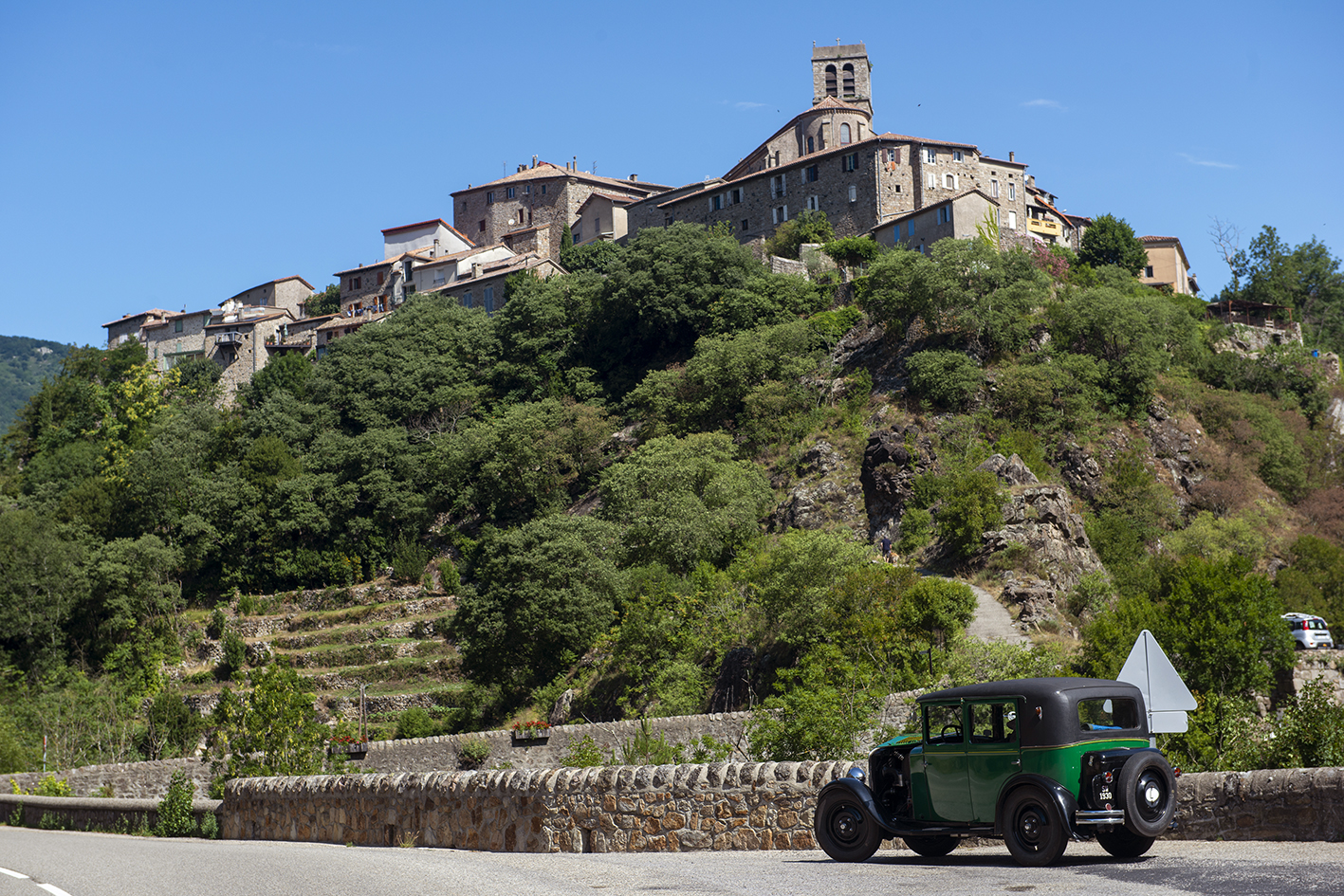 La route vers le col de Mézilhac est longue et pentue. Cependant, capot ouvert et ventilateur électrique en marche, la température du moteur reste stable à 90°C. / The road to the Col de Mézilhac is long and steep. However, with the bonnet open and the electric fan running, the engine temperature remains stable at 90°C.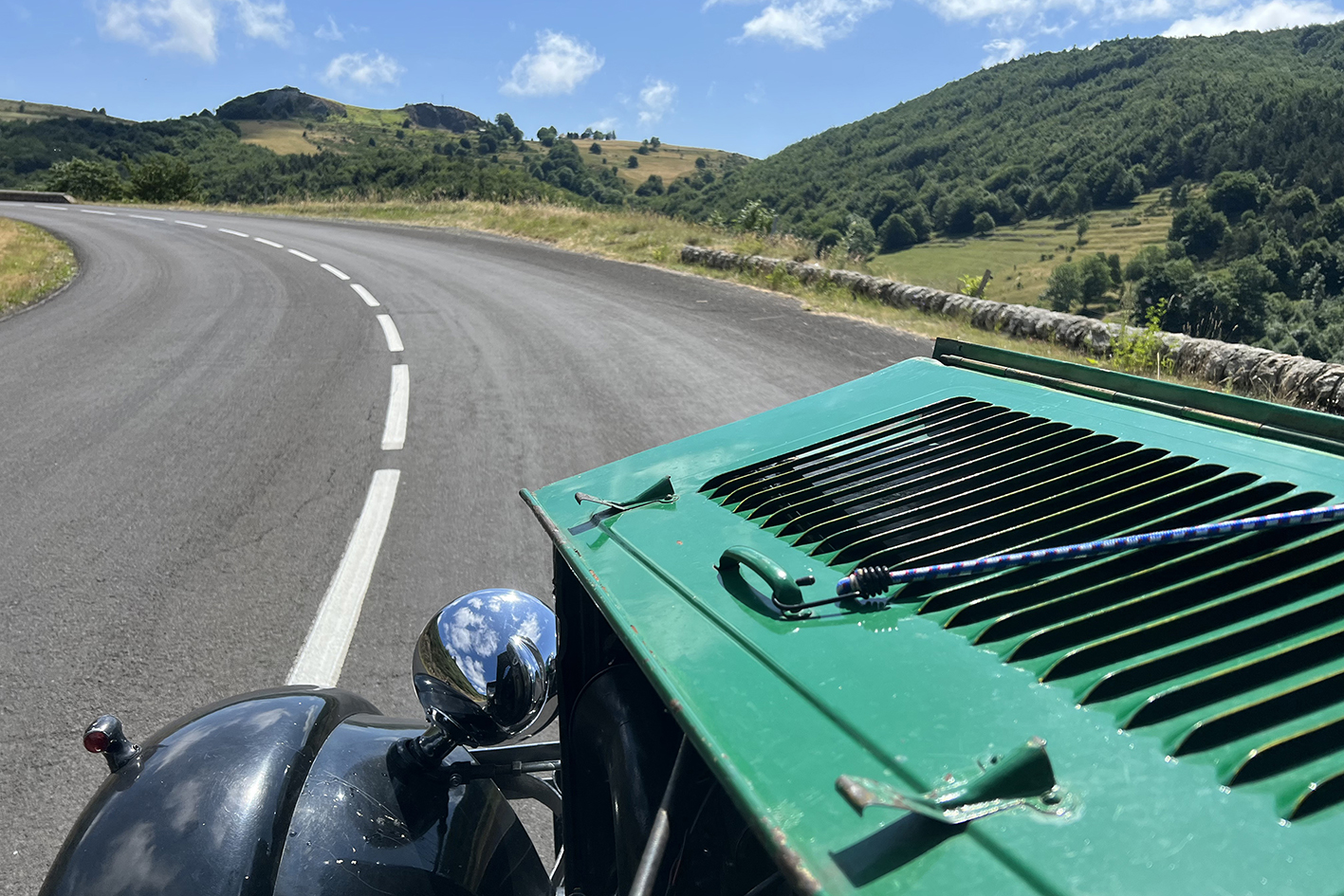 Première victoire ! Nous arrivons au col. / First victory! We arrive at the pass.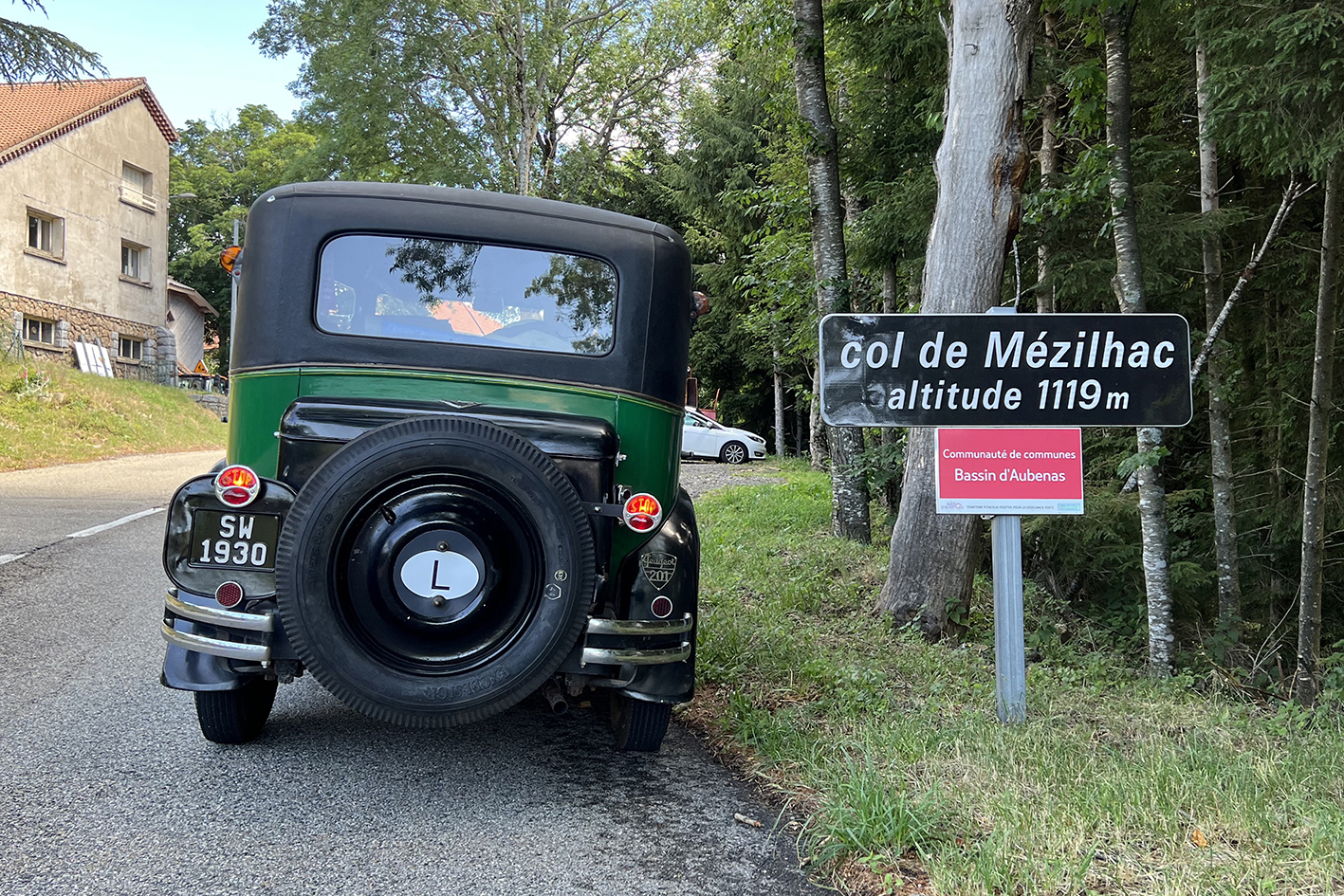 De là, nous nous attaquons tout de suite au Col du Gerbier de Jonc (1417 m). Toute la journée sera une succession de montées et de descentes. Il y en a eu au moins une demi-douzaine (tous entre 1000 et 1500 m), où nous avons roulé sur des dizaines de kilomètres en 1ère. L'exploit du Col de l'Oberalp n'est rien par rapport à ce que « La Charmante » a donné aujourd'hui ! Voici quelques conquêtes du jour : / From there, we immediately tackle the Col du Gerbier de Jonc (1417 m). The whole day will be a succession of ups and downs. There were at least half a dozen of passes (all between 1000 and 1500 m), where we rode for dozens of kilometers in 1st gear. The feat of the Col de l'Oberalp is nothing compared to what « La Charmante » gave today! Here are some conquests of the day: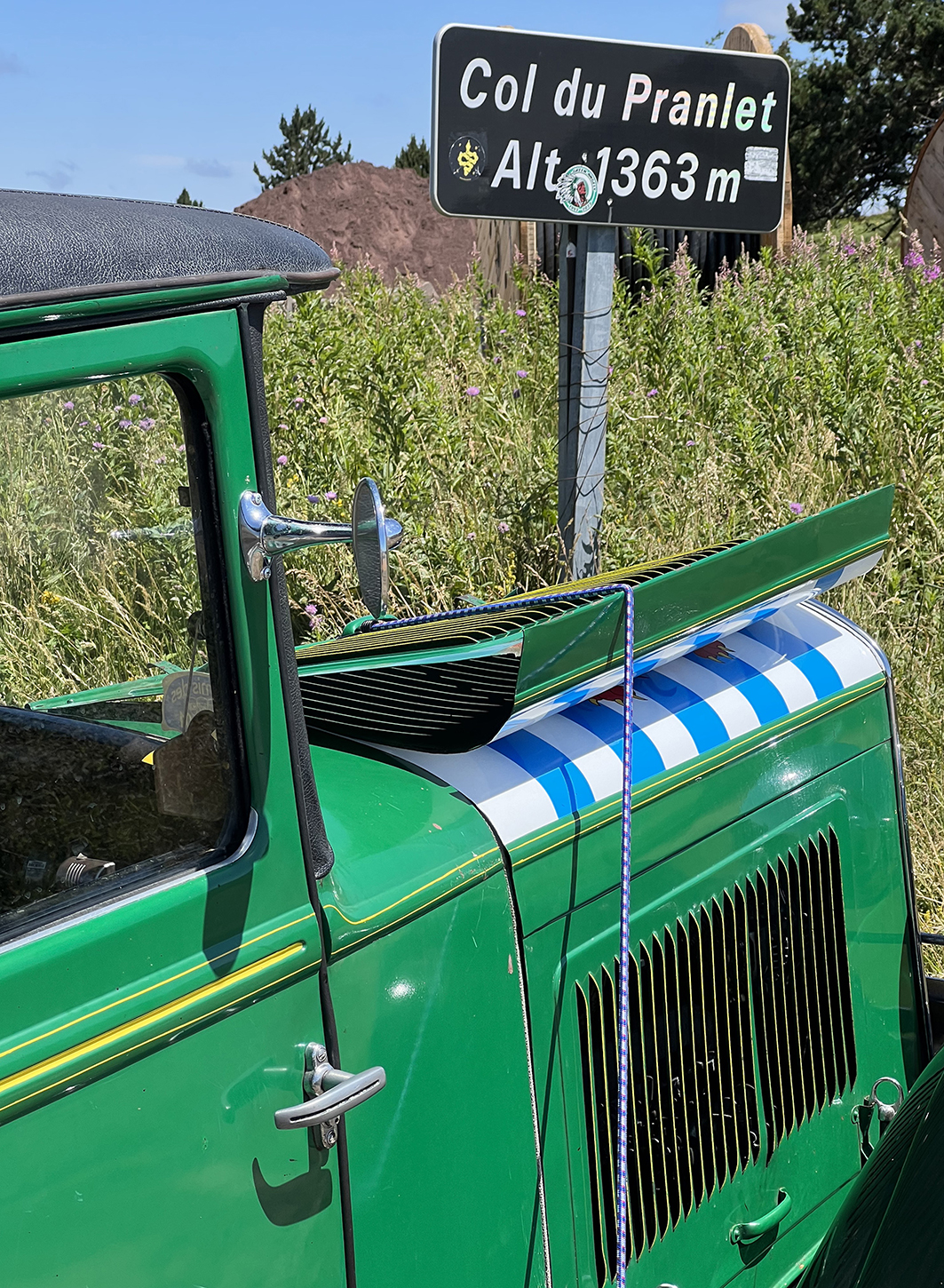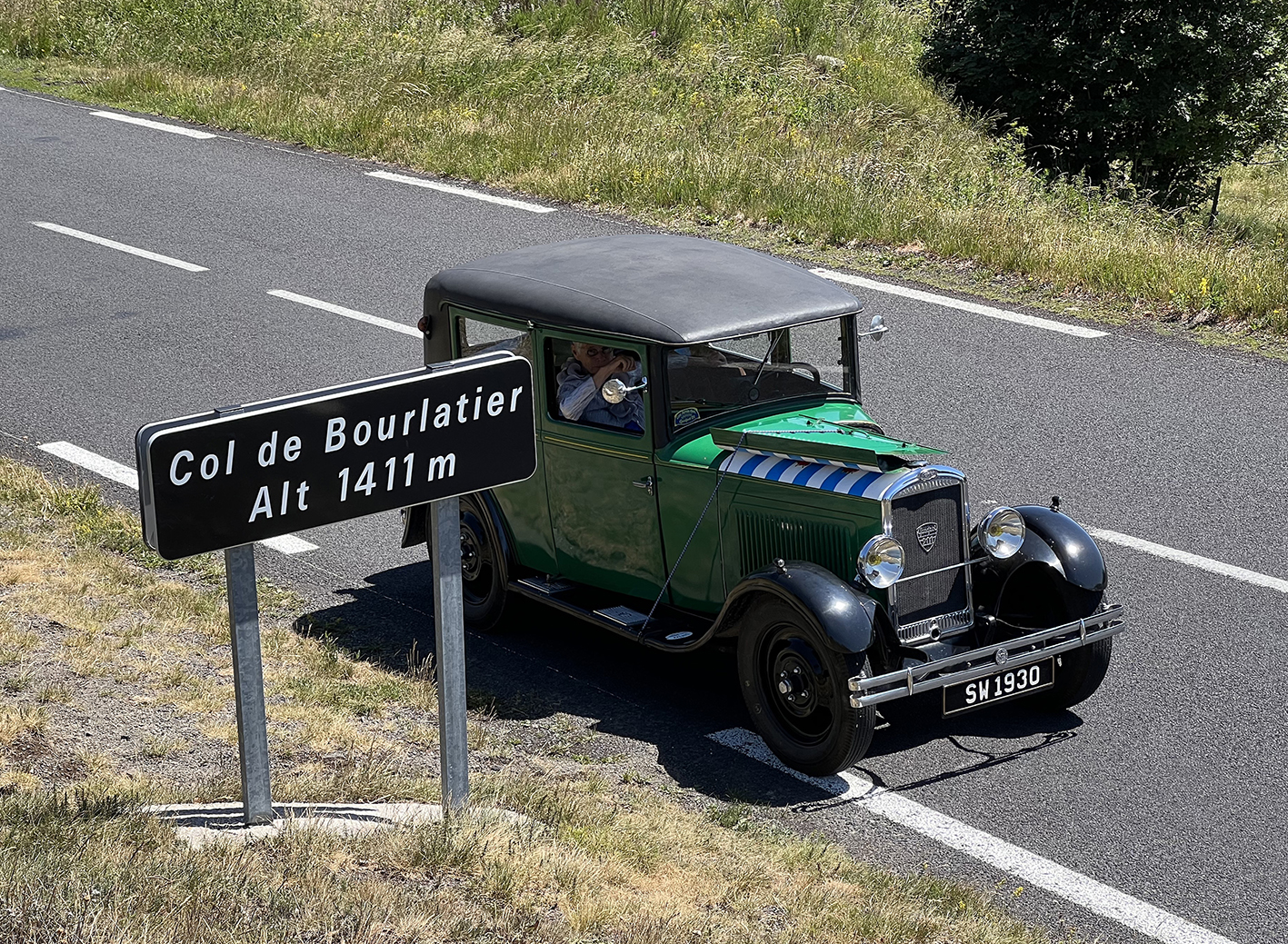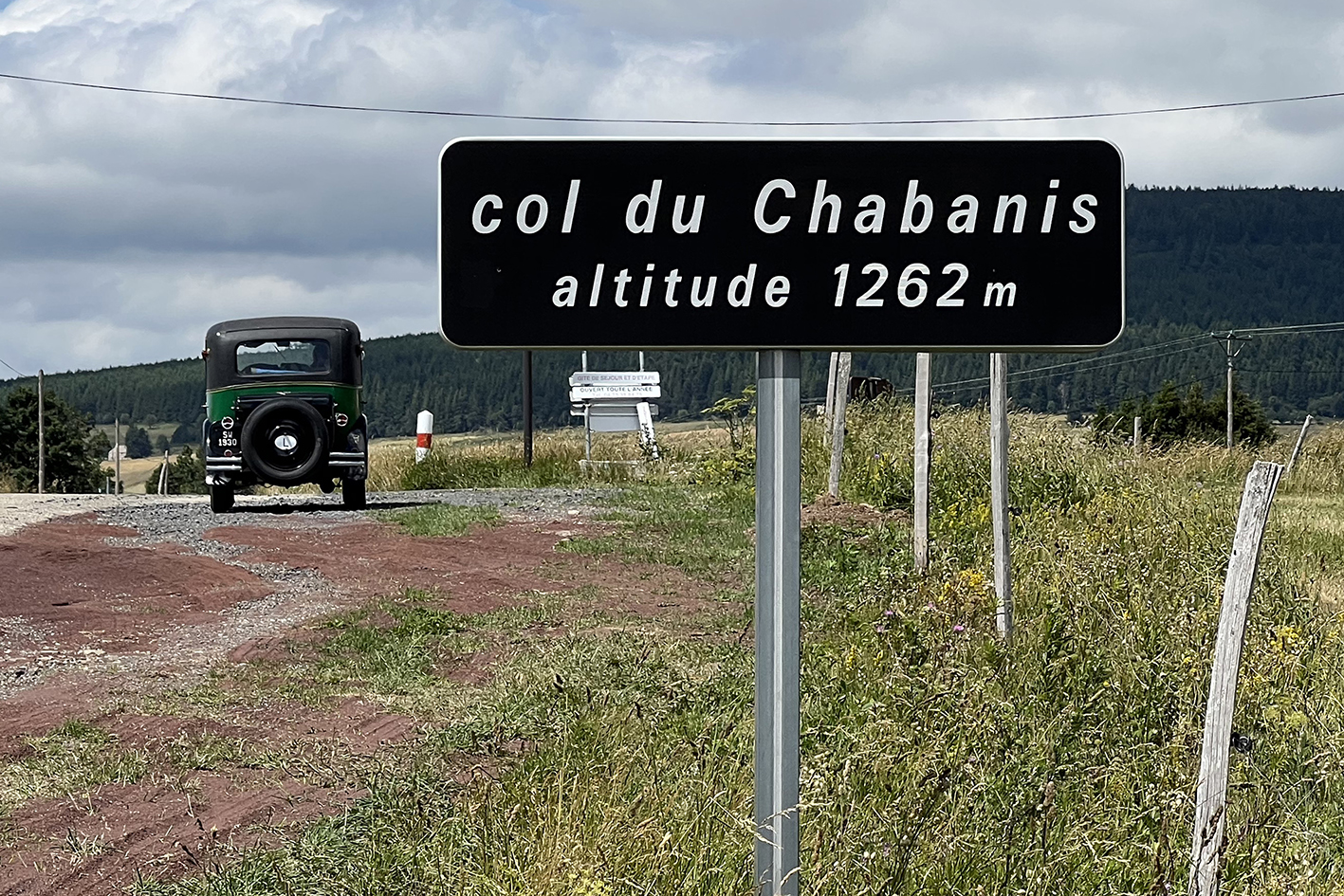 Symbolique aussi de cette journée, le franchissement de la ligne de partage des eaux. Nous quittons définitivement le versant du Rhône-Méditerranée pour basculer dans celui de la Loire-Atlantique. / Also symbolic of this day, the crossing of the watershed line. We definitely leave the side of the Rhône-Mediterranean to switch to that of the Loire-Atlantique.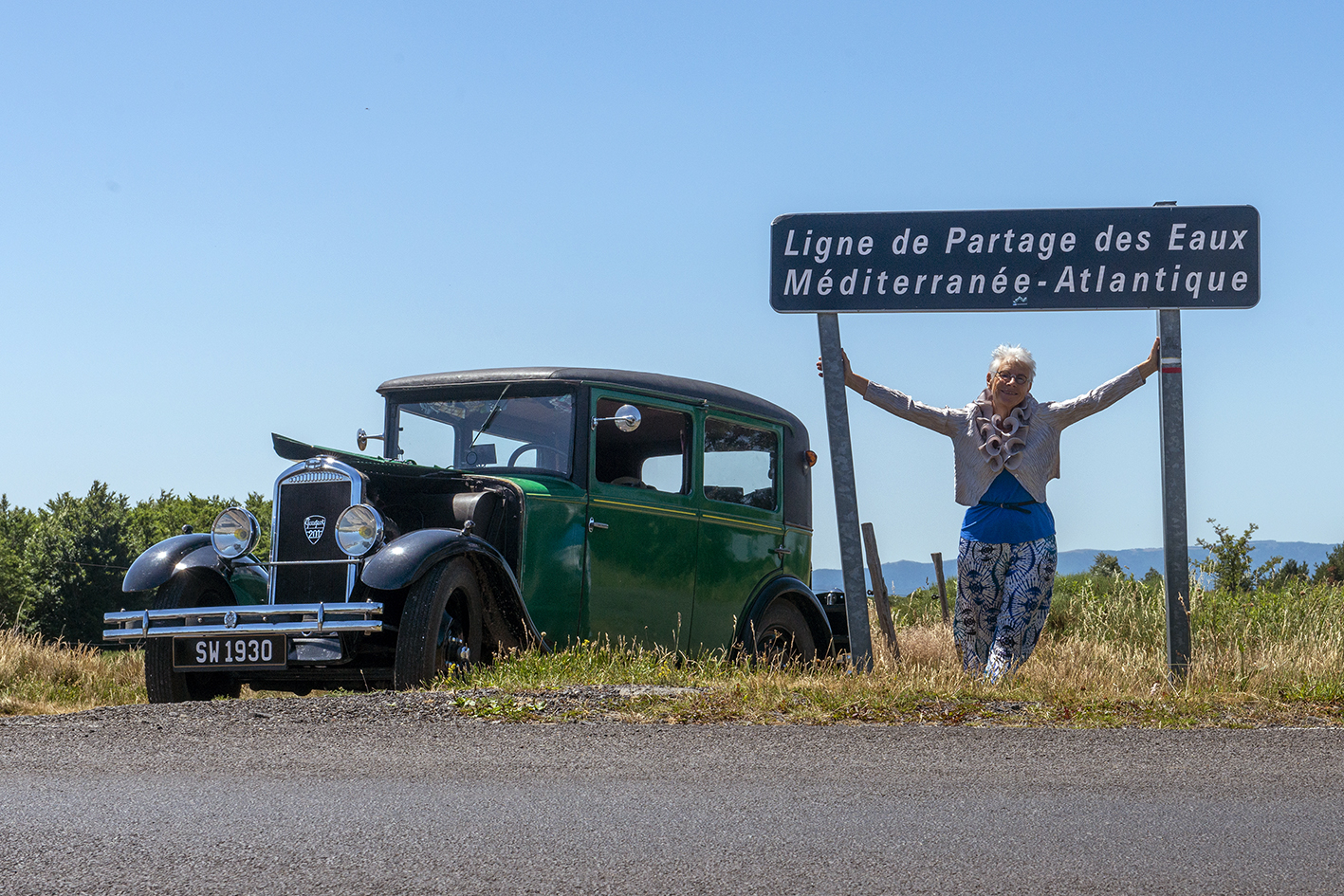 Nous roulons en altitude, sur le plateau. Le vent souffle fort et froid. Le paysage est rude, les bâtisses de pierre sont massives, basses et lourdes, capables d'affronter les terribles hivers des hauteurs du Massif Central. / We drive at altitude, on the plateau. The wind is blowing hard and cold. The landscape is harsh, the stone buildings are massive, low and heavy, capable of withstanding the terrible winters of the Massif Central heights.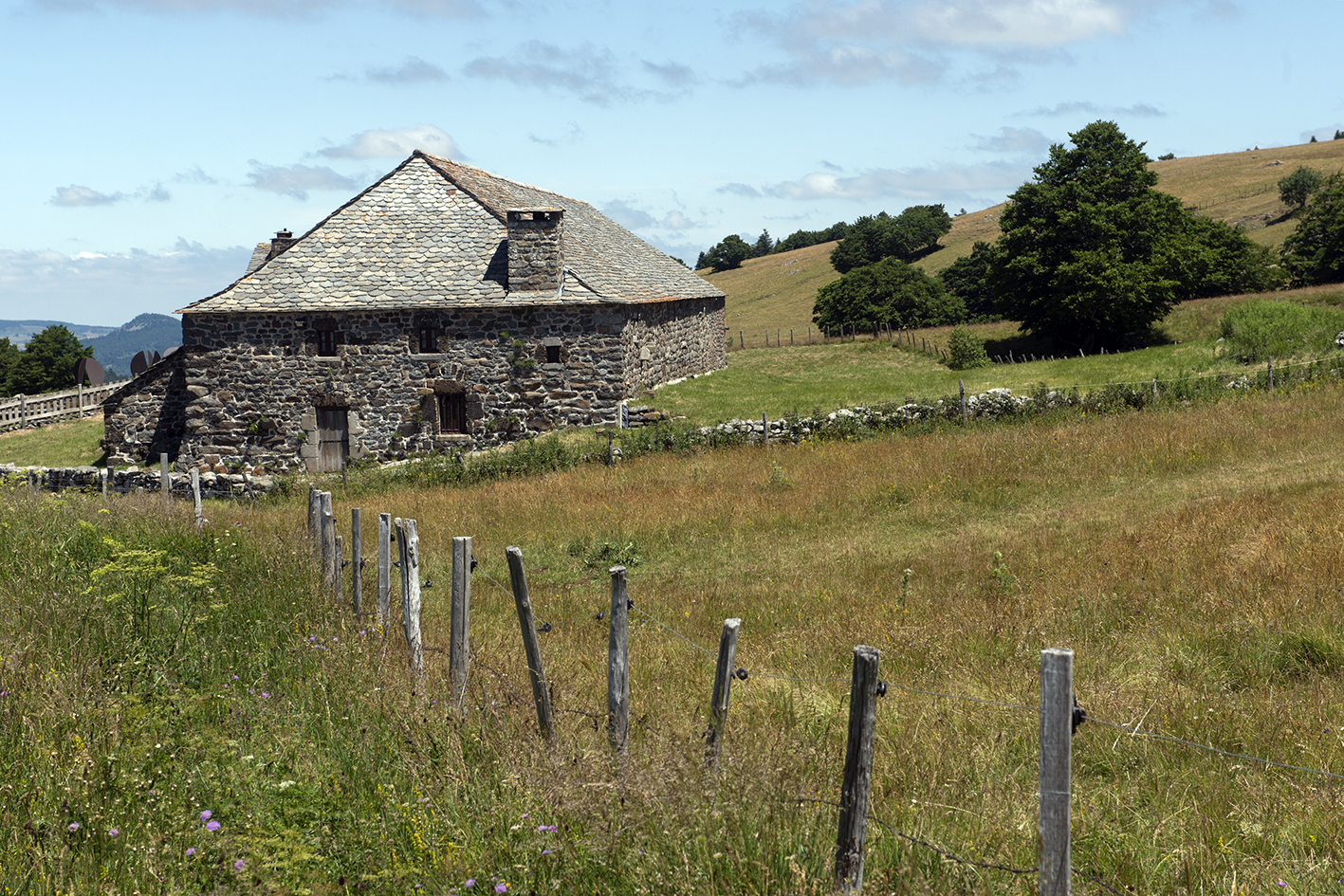 Arrivée à la « véritable source de la Loire » (le Mont Gerbier de Jonc en arrière-plan). En fait, ce sont une multitude de petites sources et ruisseaux qui se rejoignent pour former le début de la Loire. Il est totalement arbitraire d'attribuer à l'une ou à l'autre source le prédicat 'véritable'. Il y en a d'ailleurs plusieurs qui revendiquent d'être l'authentique source du plus long fleuve de France… / We reach the "true source of the Loire" (Mont Gerbier de Jonc in the background). In fact, a multitude of small springs and streams come together to form the beginning of the Loire. It is completely arbitrary to attribute to one or the other source the predicate 'genuine'. There are indeeds several ones that claim to be the authentic source of the longest river in France…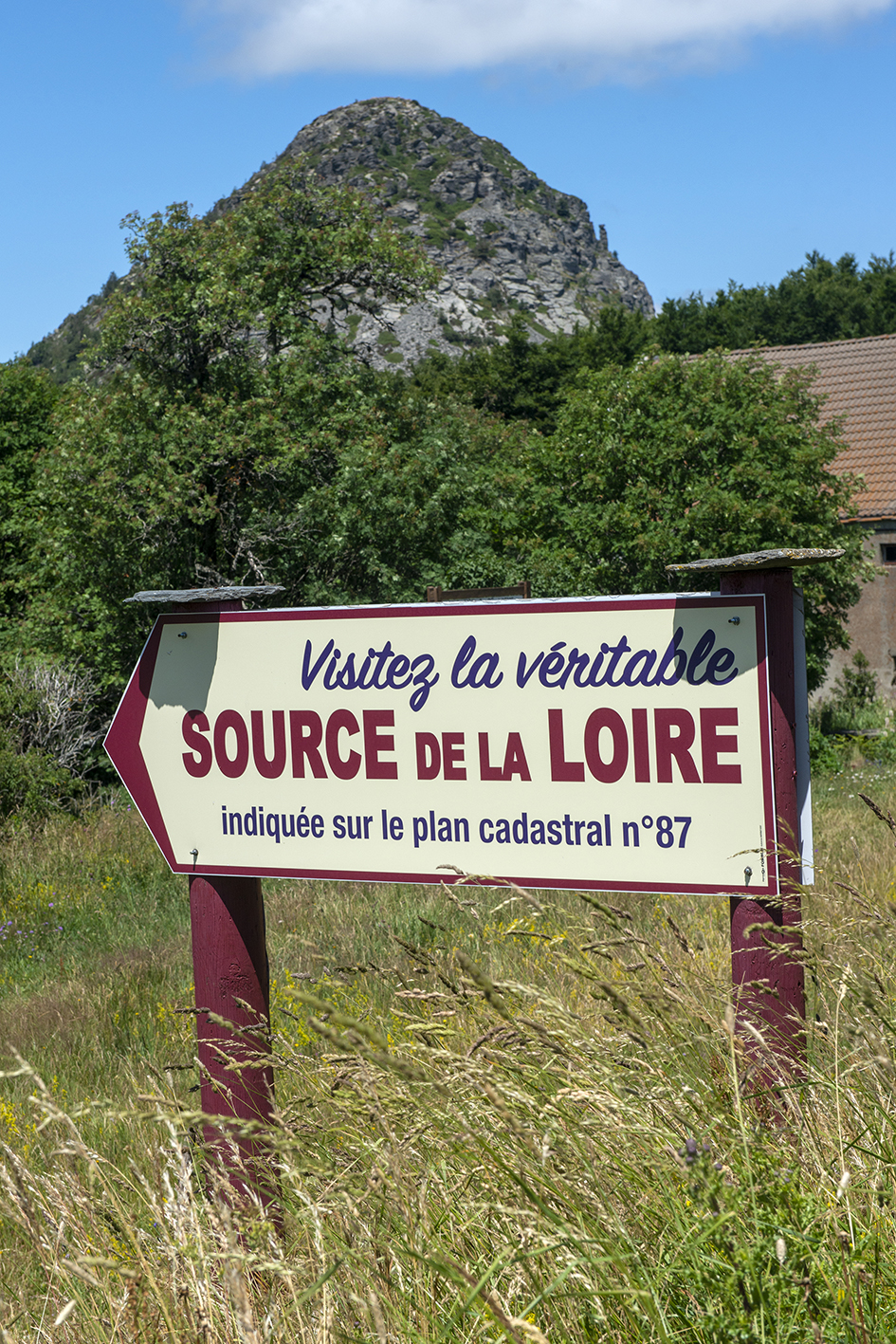 Nous visitons donc celle qui, d'après le cadastre, serait la seule et unique. Petit ruisselet insignifiant, au milieu d'une nature luxuriante et fleurie. /  We therefore visit the one which, according to the cadastre, would be the one and only. A small insignificant stream, in the middle of a luxuriant and flowery nature.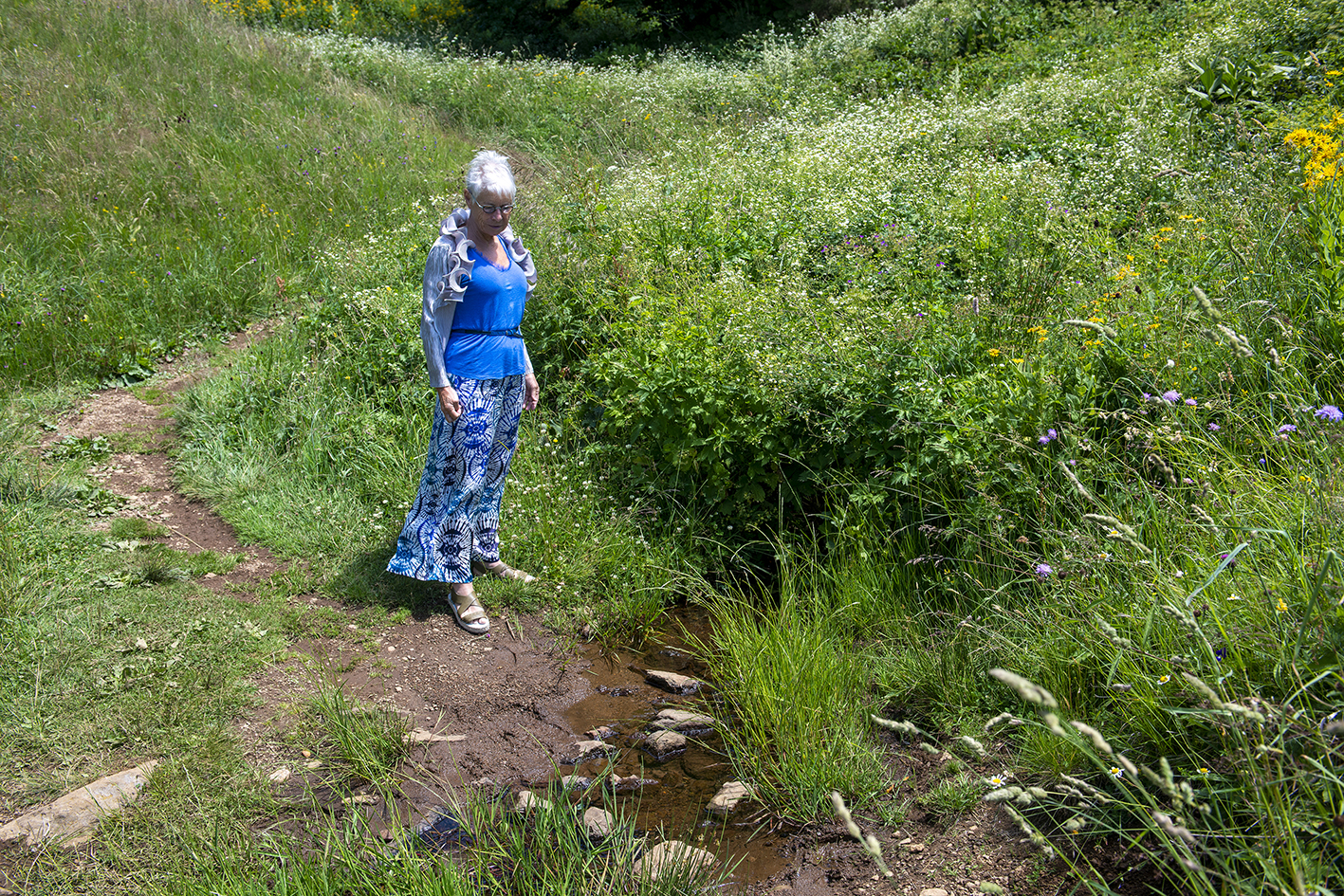 Nous voilà au Col du Gerbier de Jonc (1417 m). Celui-ci culmine à une altitude de 1551 mètres. Il s'agit d'une protubérance magmatique, datée de 8 millions d'années, une époque où de nombreux volcans étaient encore en activité en Auvergne. / Here we are at the Col du Gerbier de Jonc (1417 m). It culminates at an altitude of 1551 meters. It is a magmatic prominence, dating back 8 million years, a time when many volcanoes were still active in Auvergne.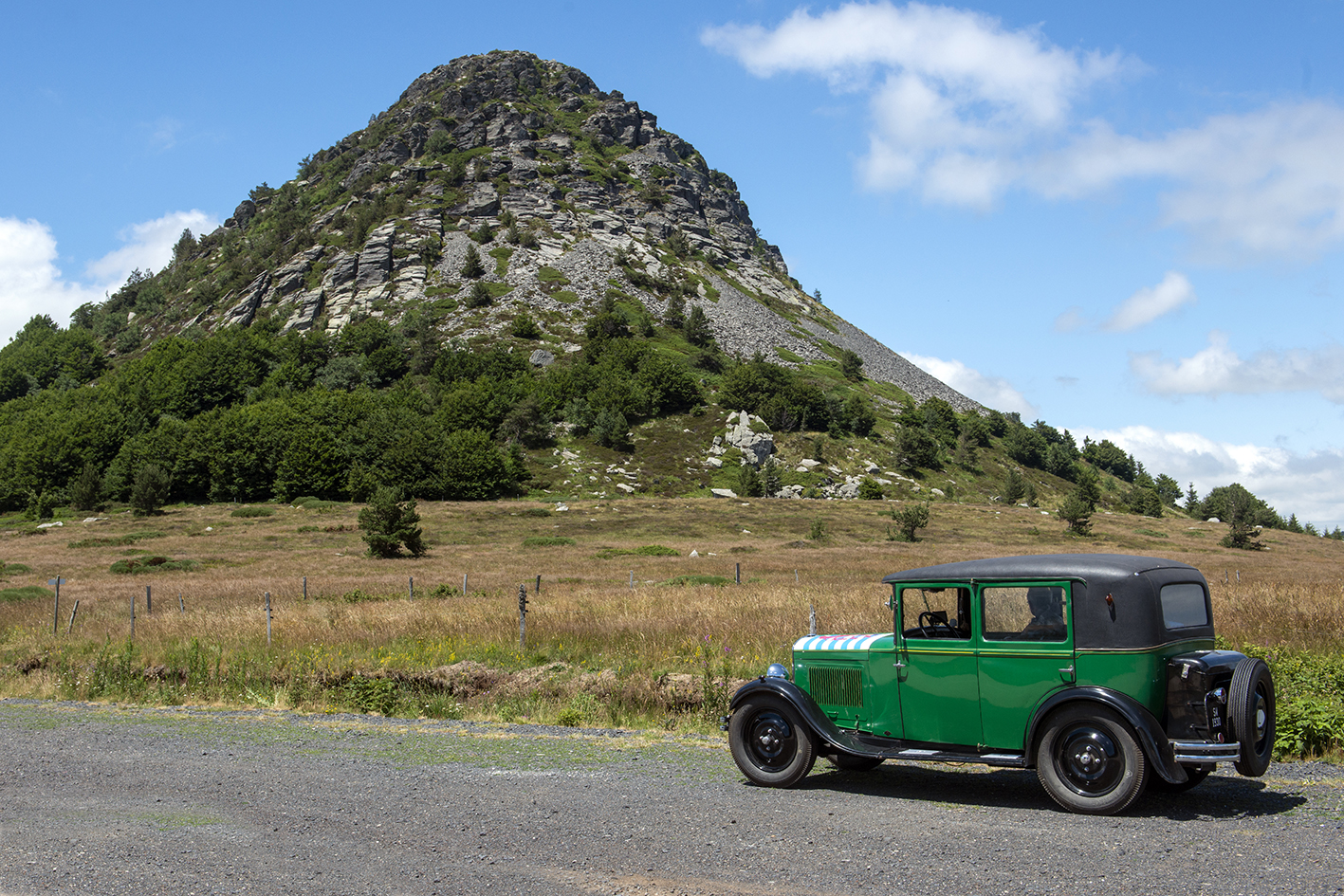 Nous traversons Sainte-Eulalie, Le Béage, Peyrelon, Le Monastier-sur-Gazeille, Chadron et Cussac-sur-Loire. Une succession de vallons encaissés et hauts plateaux dégagés, séparés par des côtes qui mettent à rude épreuve le moteur de « La Charmante » et les nerfs de ses occupants.  / We cross Sainte-Eulalie, Le Béage, Peyrelon, Le Monastier-sur-Gazeille, Chadron and Cussac-sur-Loire. A succession of deep valleys and open high plateaus, separated by hills that put a strain on the engine of « La Charmante » and the nerves of its occupants.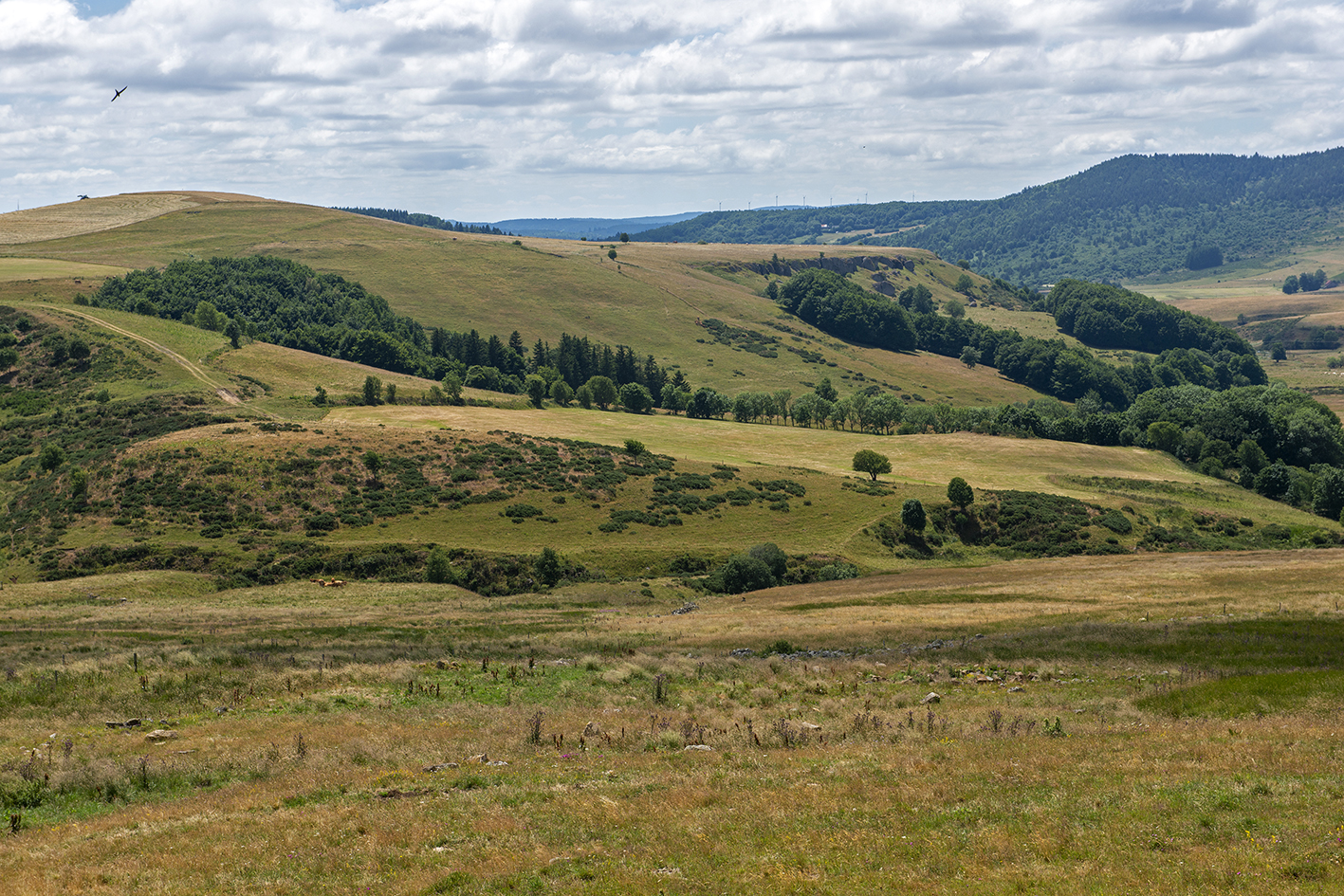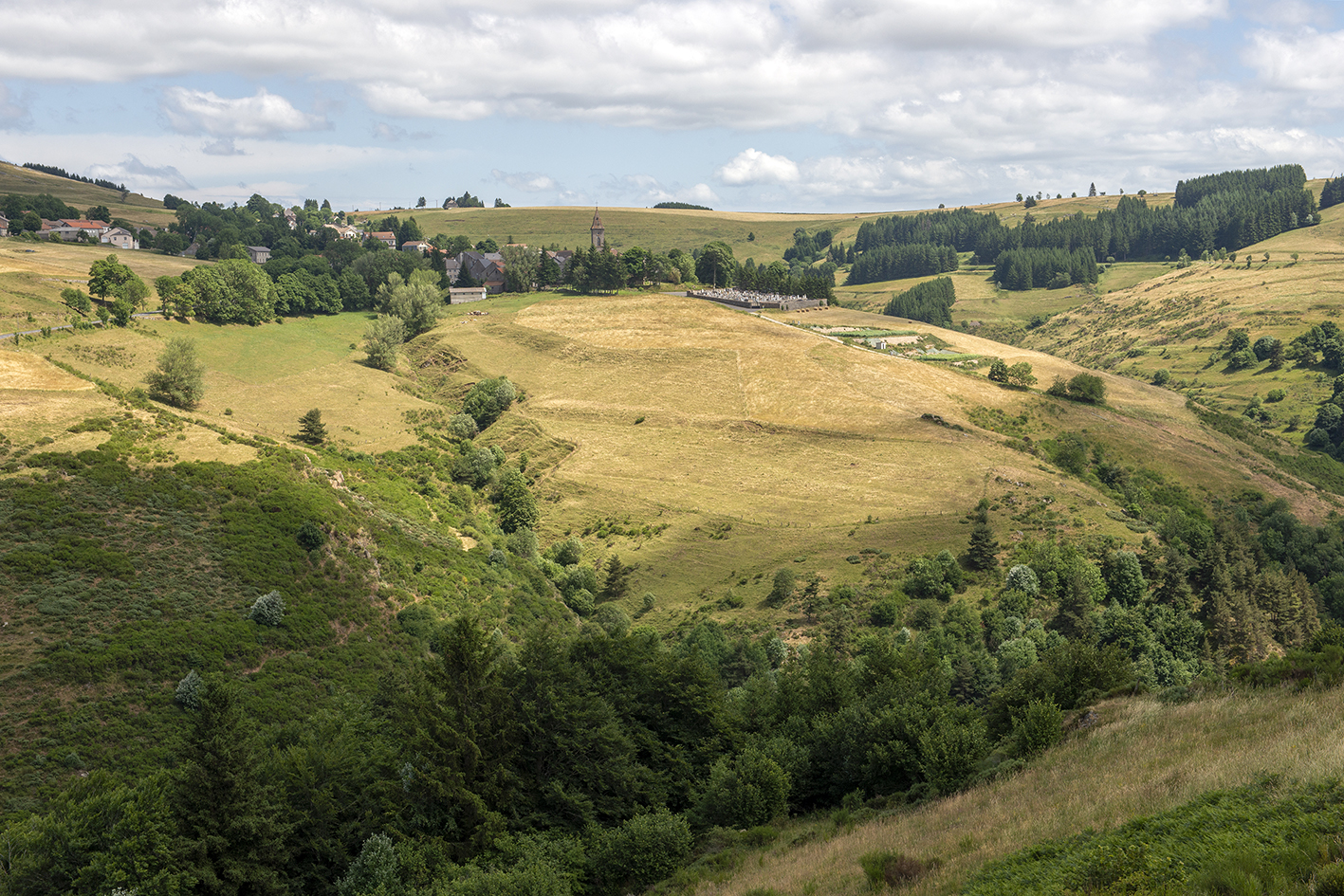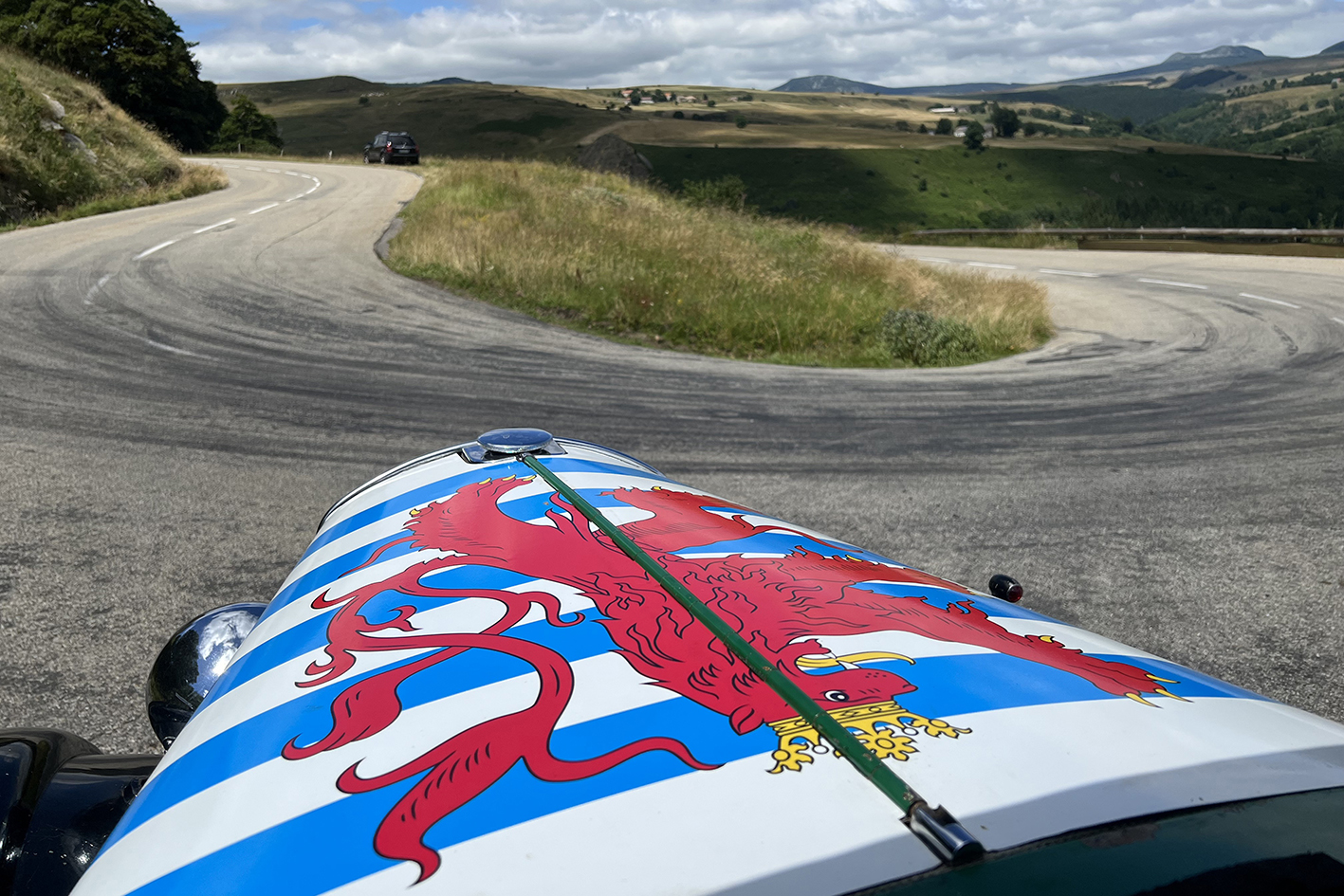 Nous passons sous le magnifique viaduc de Recoumène avec son étrange histoire. Il s'agit d'un pont à destination ferroviaire construit entre 1921 et 1925 pour la ligne de chemin de fer « La Transcévenole » qui devait relier le Puy (Haute-Loire) à Aubenas (Ardèche). Cette ligne n'ayant jamais été achevée, le viaduc n'a jamais été mis en service et n'a jamais vu passer un seul train ! / We pass under the magnificent Recoumène viaduct with its strange history. It is a railway bridge built between 1921 and 1925 for the « La Transcévenole » railway line which was to link Le Puy (Haute-Loire) to Aubenas (Ardèche). As this line was never completed, the viaduct was never put into service and never saw a single train pass!
La route, qui passe bien au-dessus du lit de la Loire, continue à nous mettre à l'épreuve, avec ses montées très pentues. Mais la vue de haut sur le fleuve en vaut la peine ! / The road, which passes well above the bed of the Loire, continues to put us to the test, with its very steep climbs. But the view from above on the river is worth it!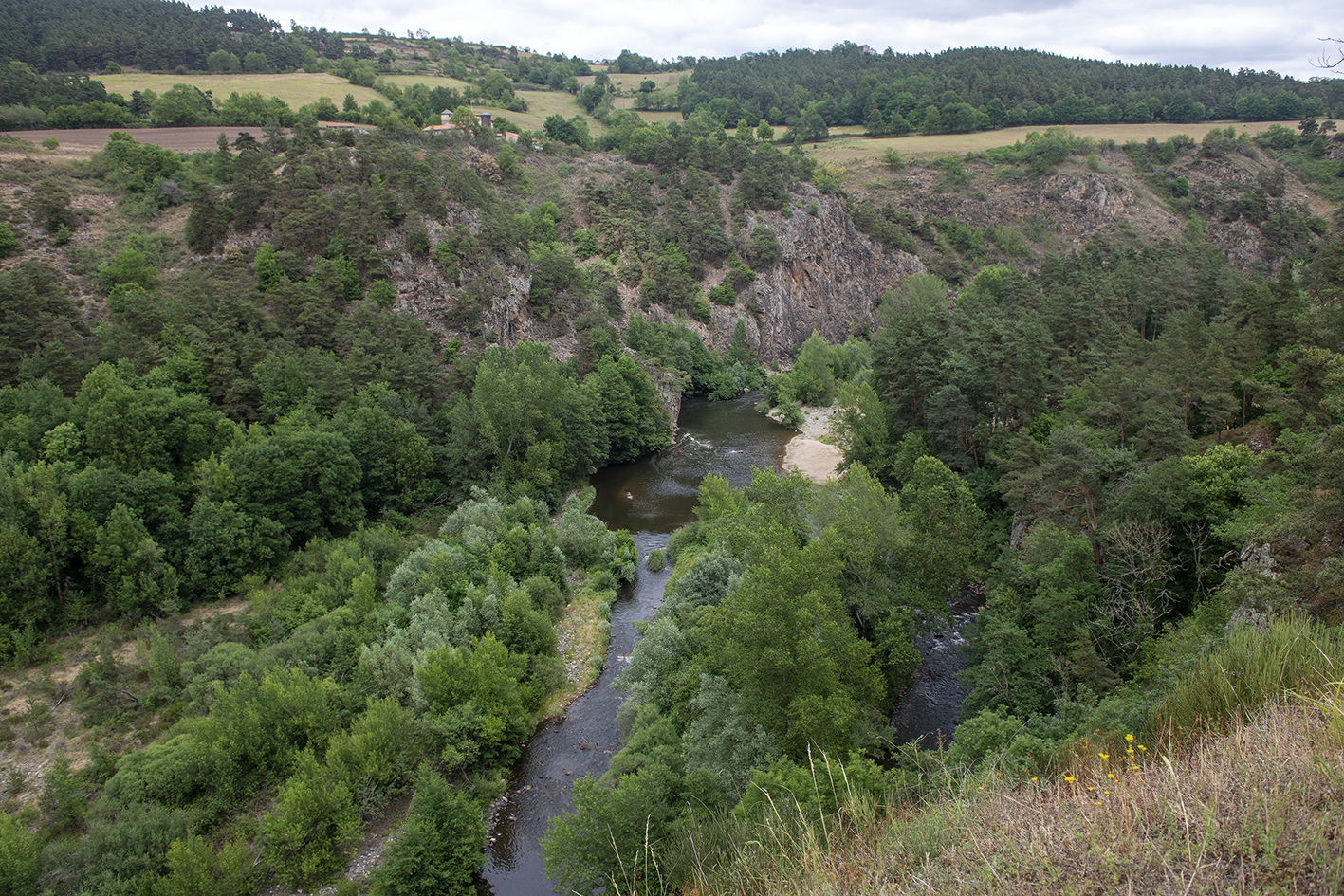 Finalement, route et Loire se rejoignent, et notre conduite devient plus facile. / Finally, the road and the Loire come together, and our driving becomes easier.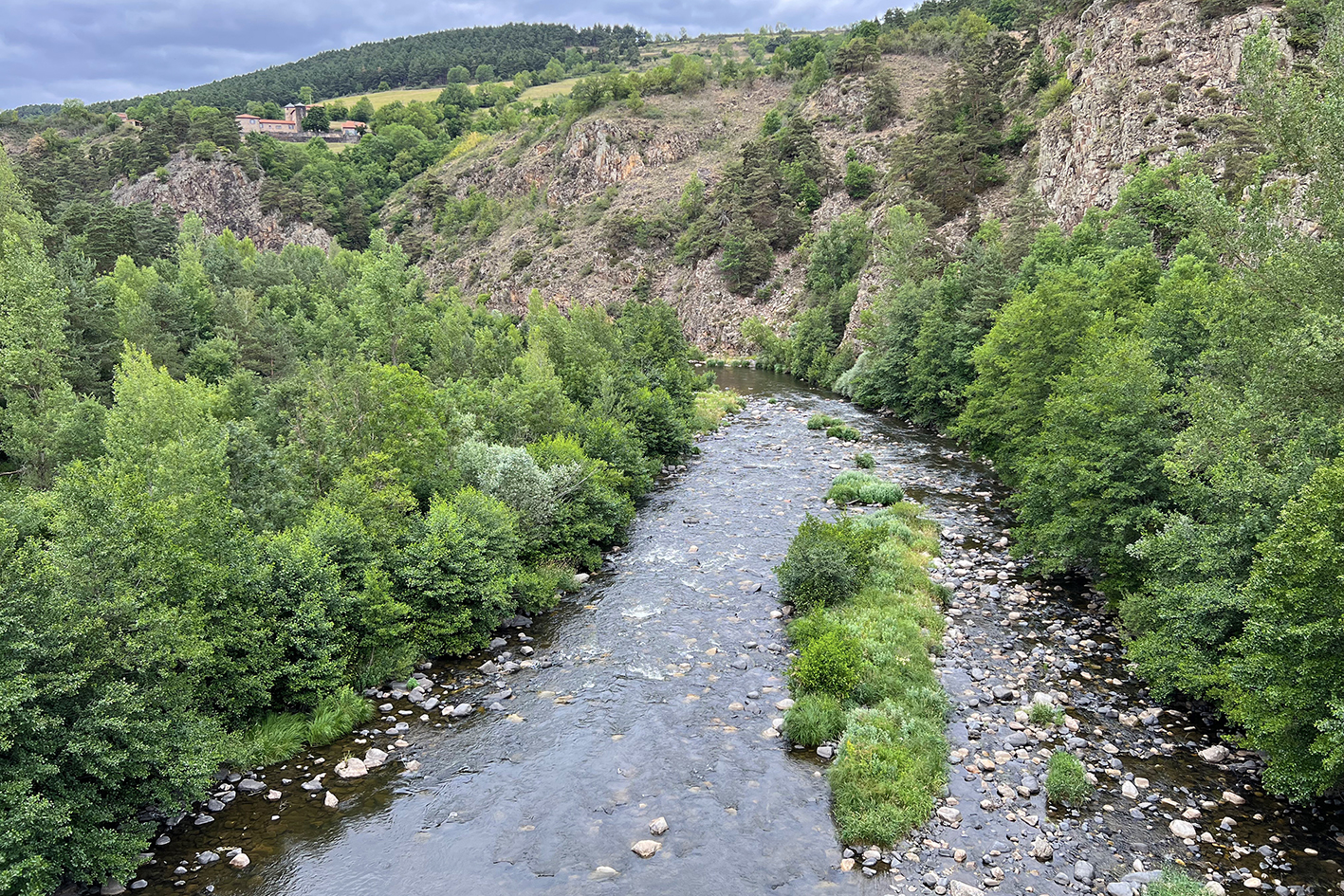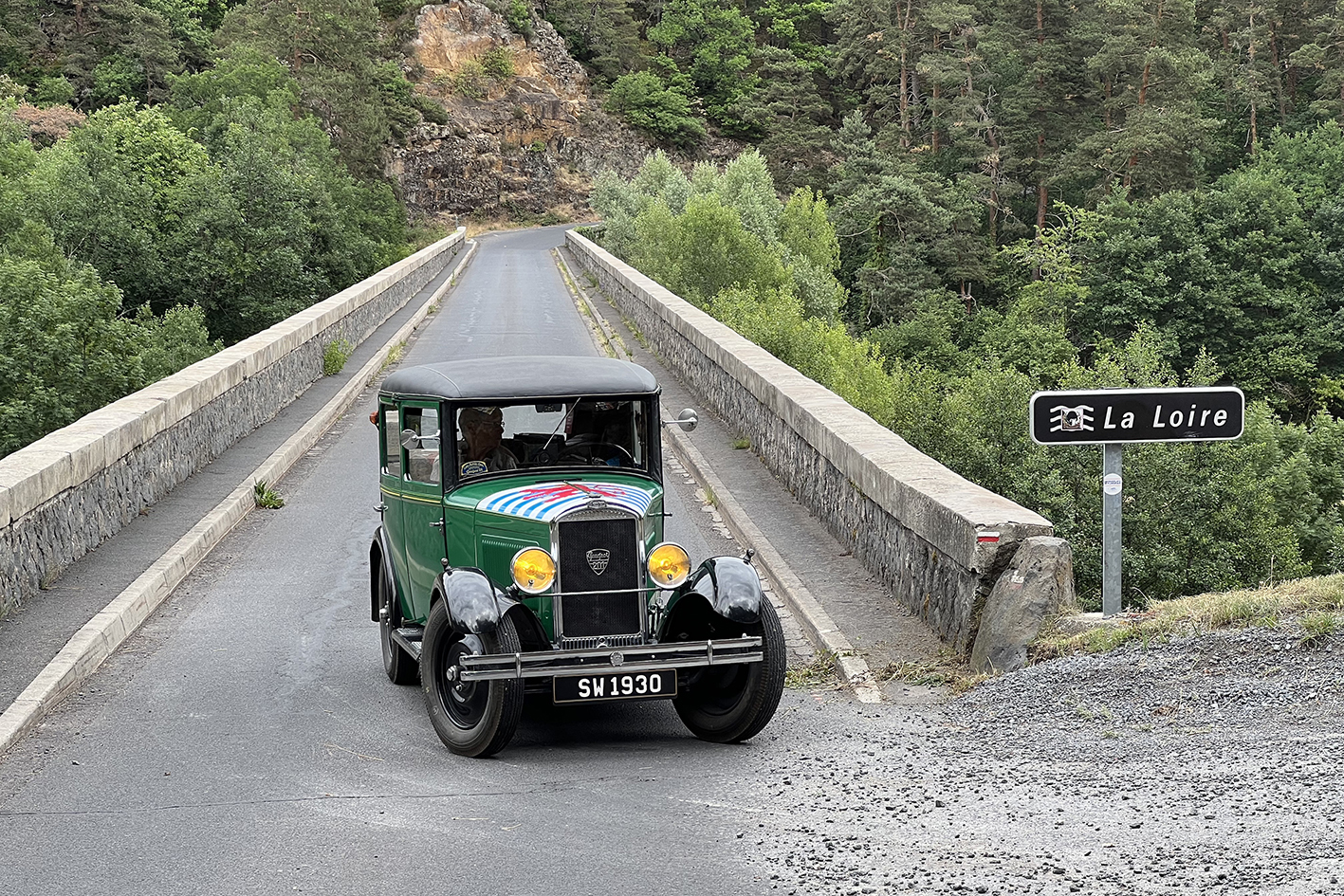 Nous décidons de ne pas passer la nuit au Puy-en-Velay, ville trop grande pour nous, et poursuivons notre route jusqu'à Lavoûte-sur-Loire. / We decide not to spend the night in Puy-en-Velay, a city too big for us, and continue our journey to Lavoûte-sur-Loire.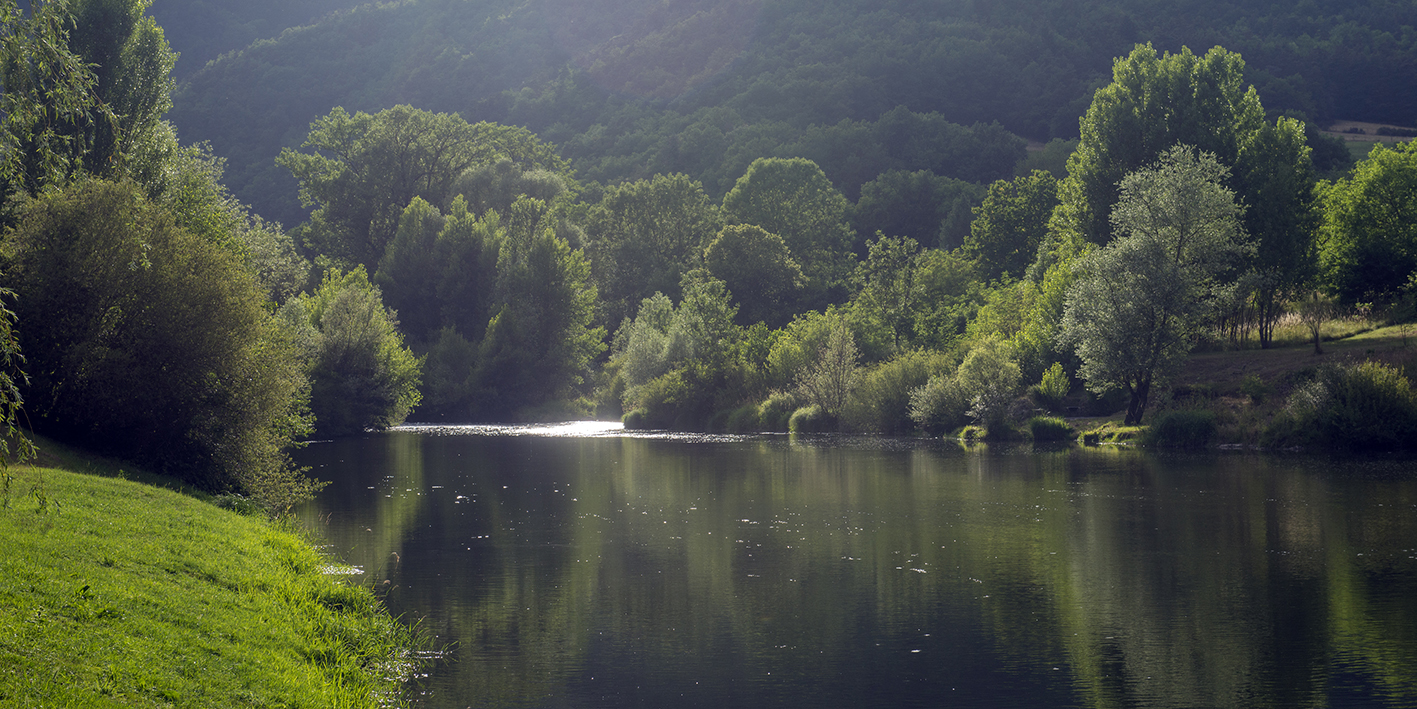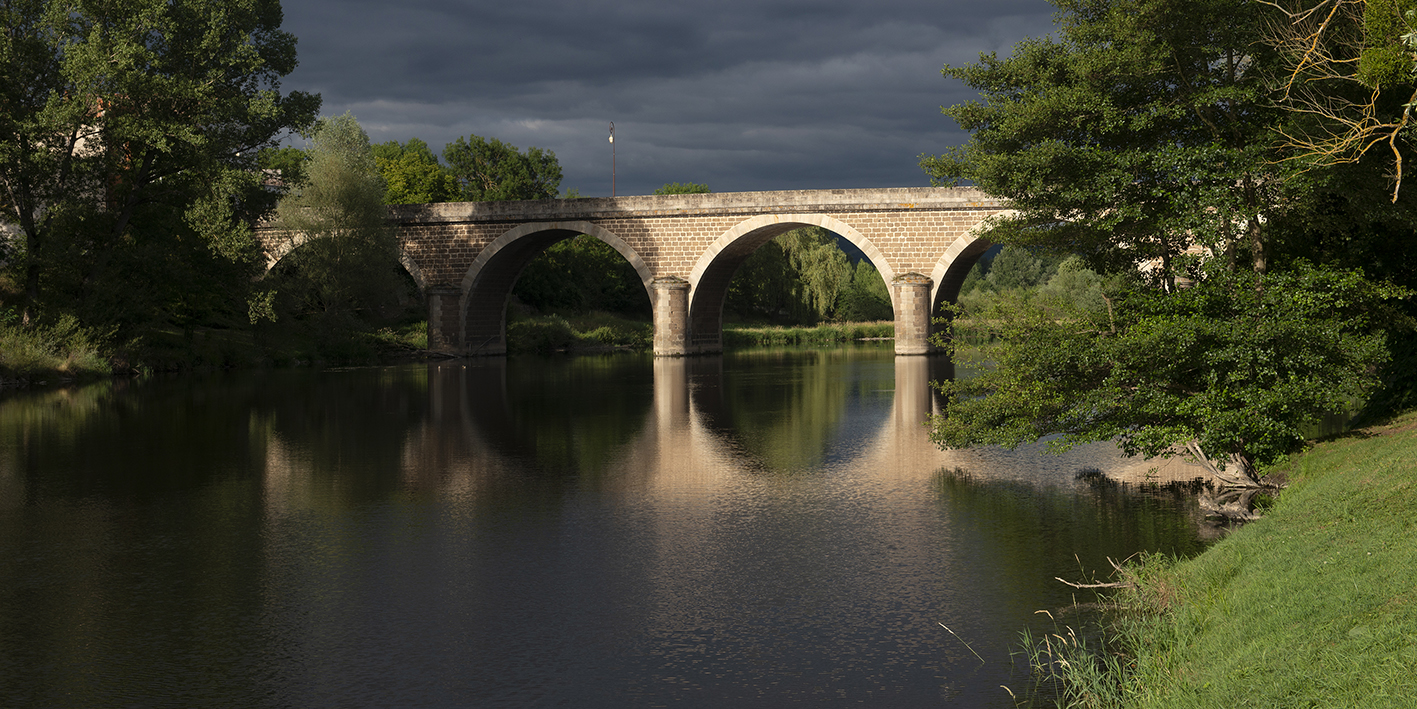 Nous y trouvons refuge dans un délicieux petit B&B, tenu par Florence et Frédérique. / We find refuge there in a delicious little B&B, run by Florence and Frédérique.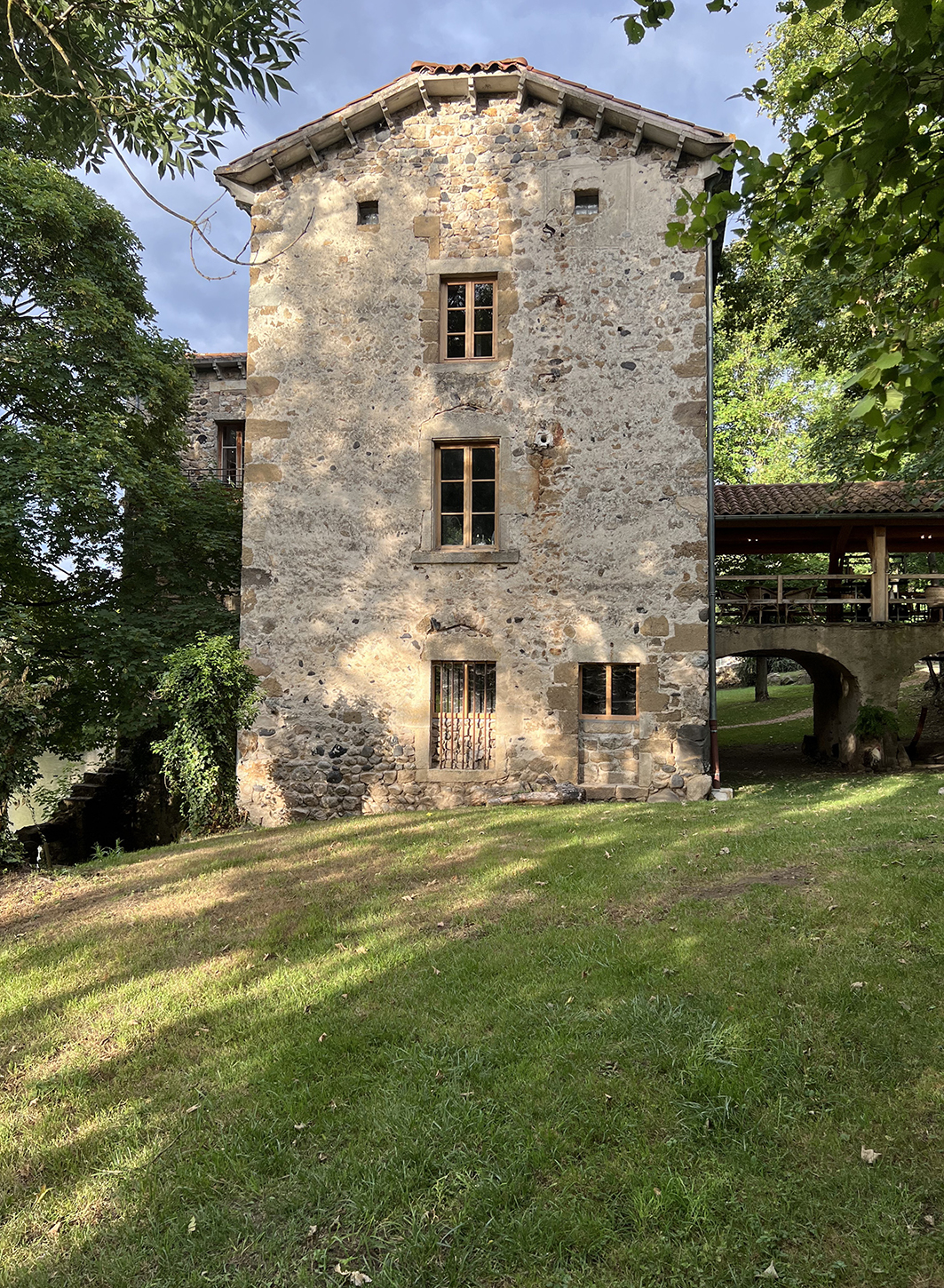 27 juin 2022. Lunel – Vals-les-Bains (162 km)

/ June 27, 2022. Lunel – Vals-les-Bains (162 km)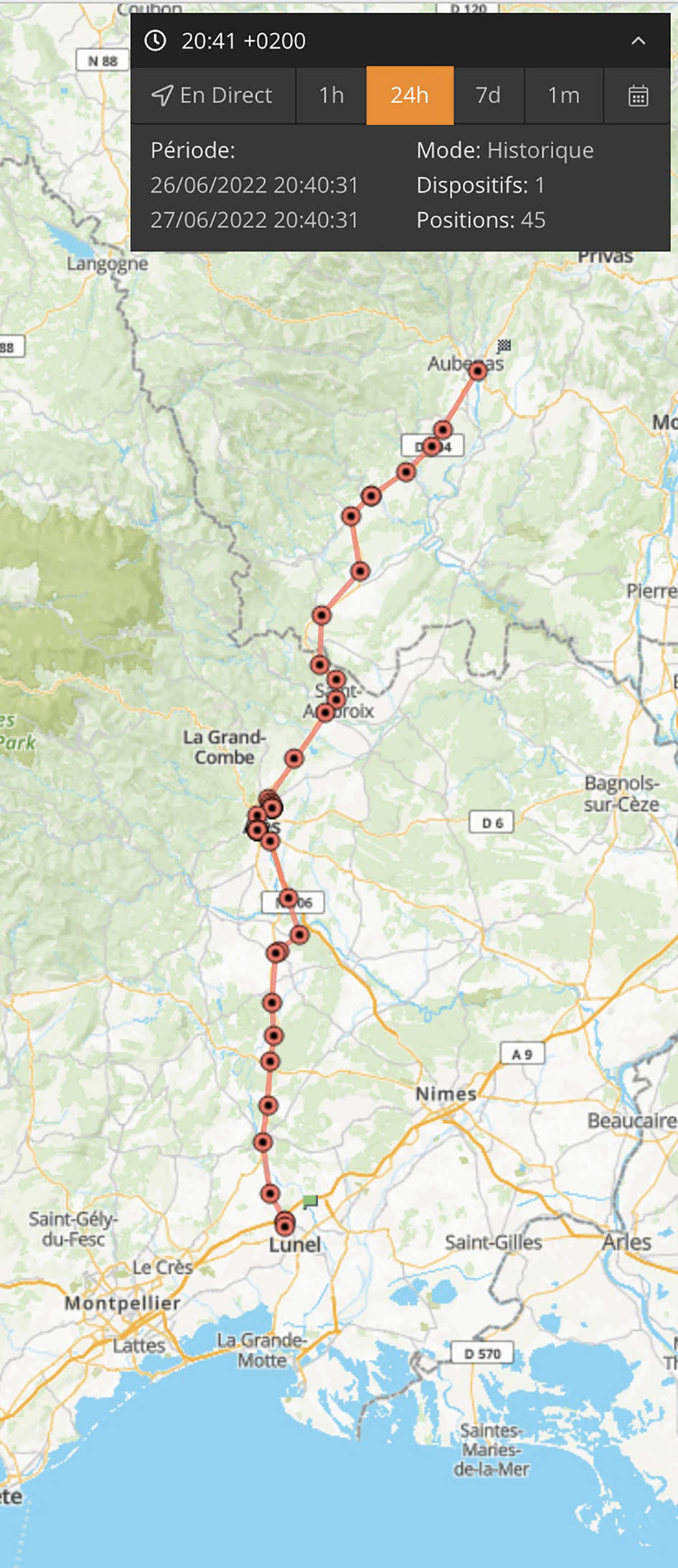 Avant de partir vers le nord, j'emmène Sylvinne faire un tour avec « La Charmante ». Elle me dirige vers le Château de Pouget à Vérargues, non loin de sa maison. Comme il est impossible de faire une photo de la voiture devant le château, caché par des murs et la végétation, Sylvinne sonne au portail, explique le voyage de « La Charmante » et réussit à nous faire entrer dans le domaine. Nous sommes reçus de façon très aimable par la propriétaire des lieux, Chantal Quimaud-Boivin, et son cousin Olivier. Le château fait chambre d'hôtes et accueille également des réceptions, mariages, séminaires et conférences. (www.chateau-de-pouget.com) / Before heading north, I take Sylvinne for a ride with "La Charmante". She directs me to the Château de Pouget in Vérargues, not far from her house. As it is impossible to take a picture of the car in front of the castle, hidden by walls and vegetation, Sylvinne rings the doorbell, explains the journey of « La Charmante » and manages to get us into the estate. We are received very kindly by the owner of the premises, Chantal Quimaud-Boivin, and her cousin Olivier. The castle is a bed and breakfast and also hosts receptions, weddings, seminars and conferences. (www.chateau-de-pouget.com)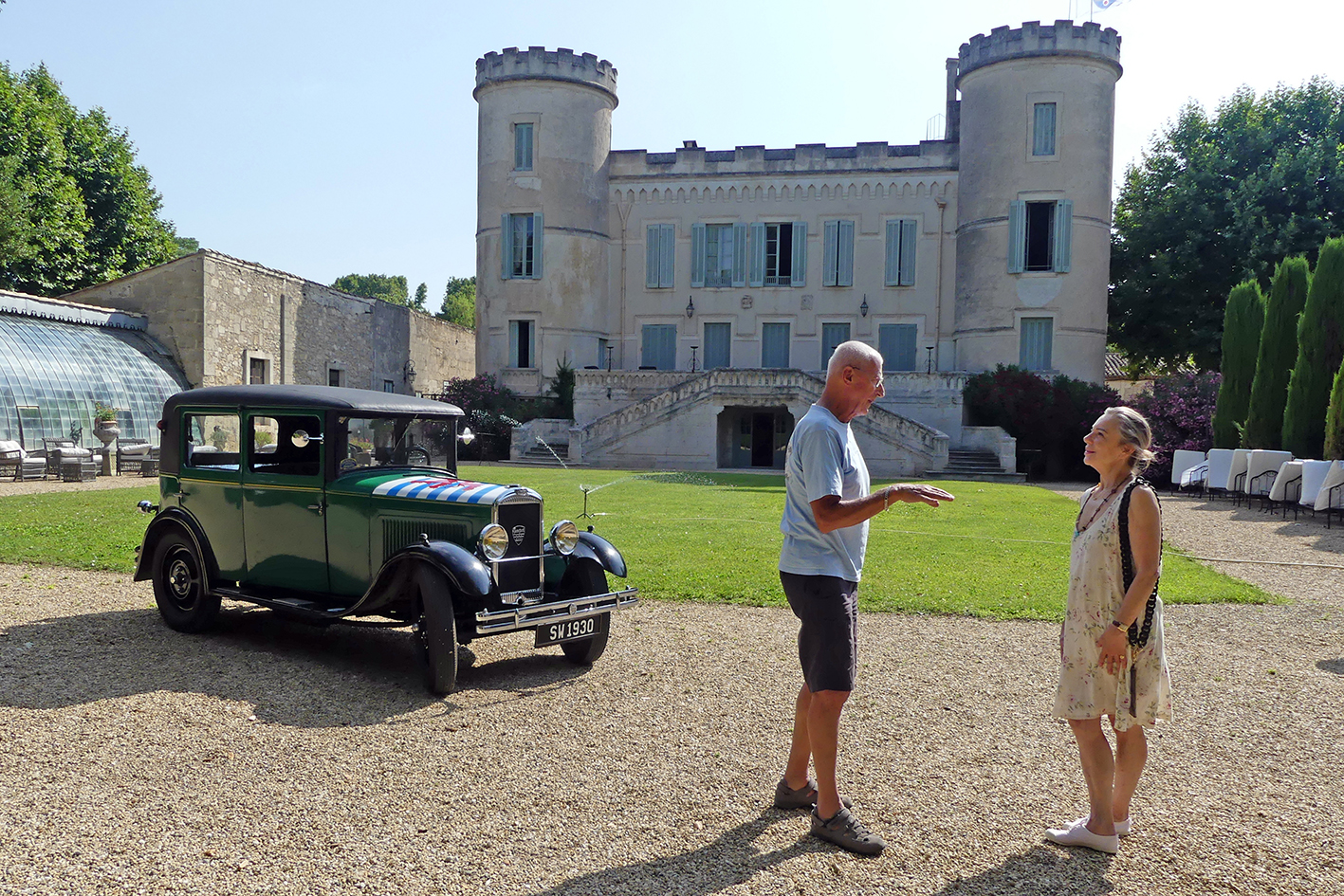 (Photo : Sylvinne Soulé)
Le château date du 11ème siècle, lorsqu'il fut édifié sur les fondations d'une villa romaine située sur la Via Domitia. Bien entendu, au cours des siècles il subit de nombreux aménagements et agrandissements, dont les deux tours imposantes devant lesquelles « La Charmante » pose fièrement. / The castle dates from the 11th century, when it was built on the foundations of a Roman villa located on the Via Domitia. Of course, over the centuries it underwent many improvements and expansions, including the two imposing towers in front of which "La Charmante" proudly poses.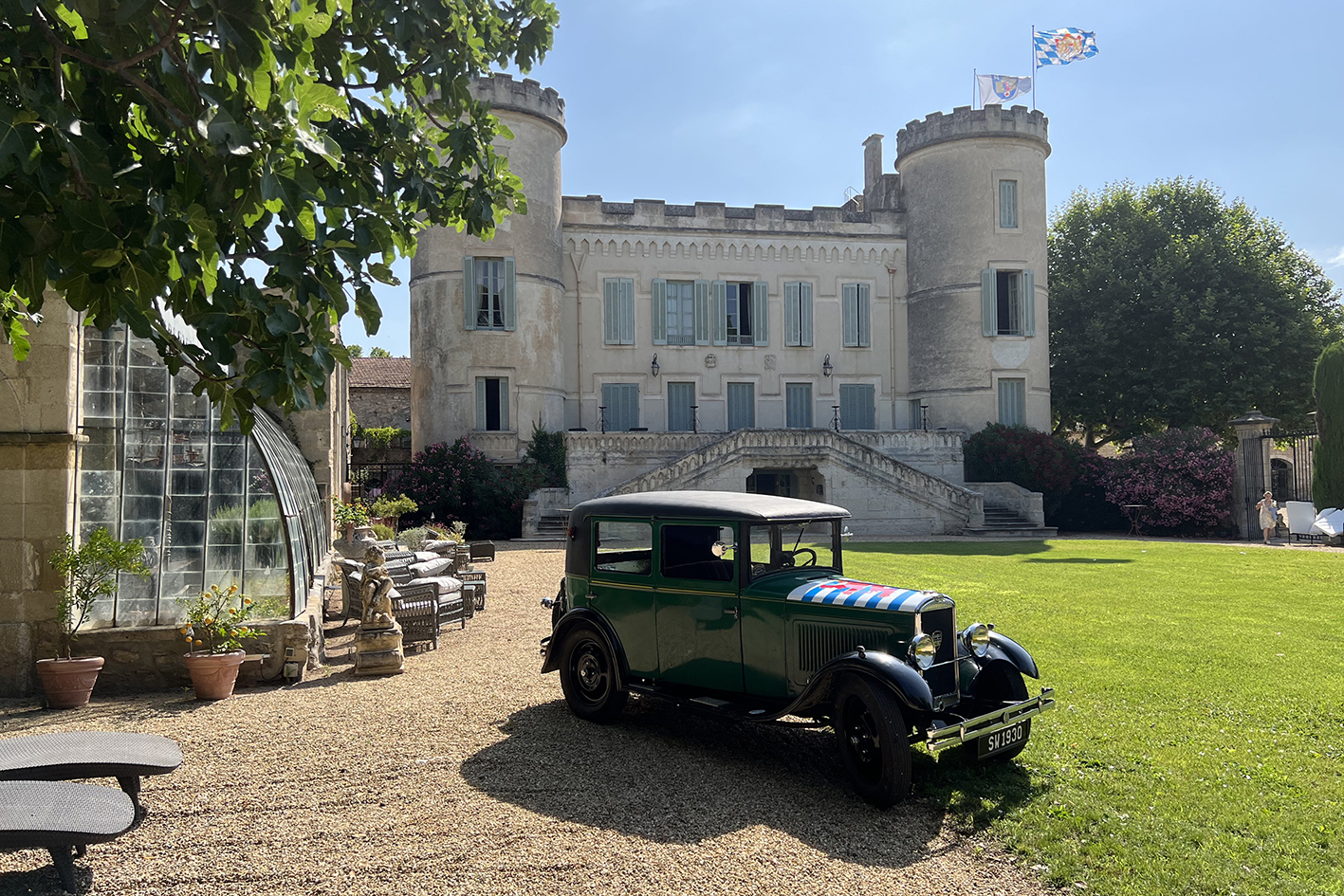 Mais je suis surtout sous le charme de l'orangerie, immense serre qui date probablement de la fin du 19ème ou début du 20ème siècle. / But I am especially under the spell of the orangery, a huge greenhouse that probably dates from the end of the 19th or the beginning of the 20th century.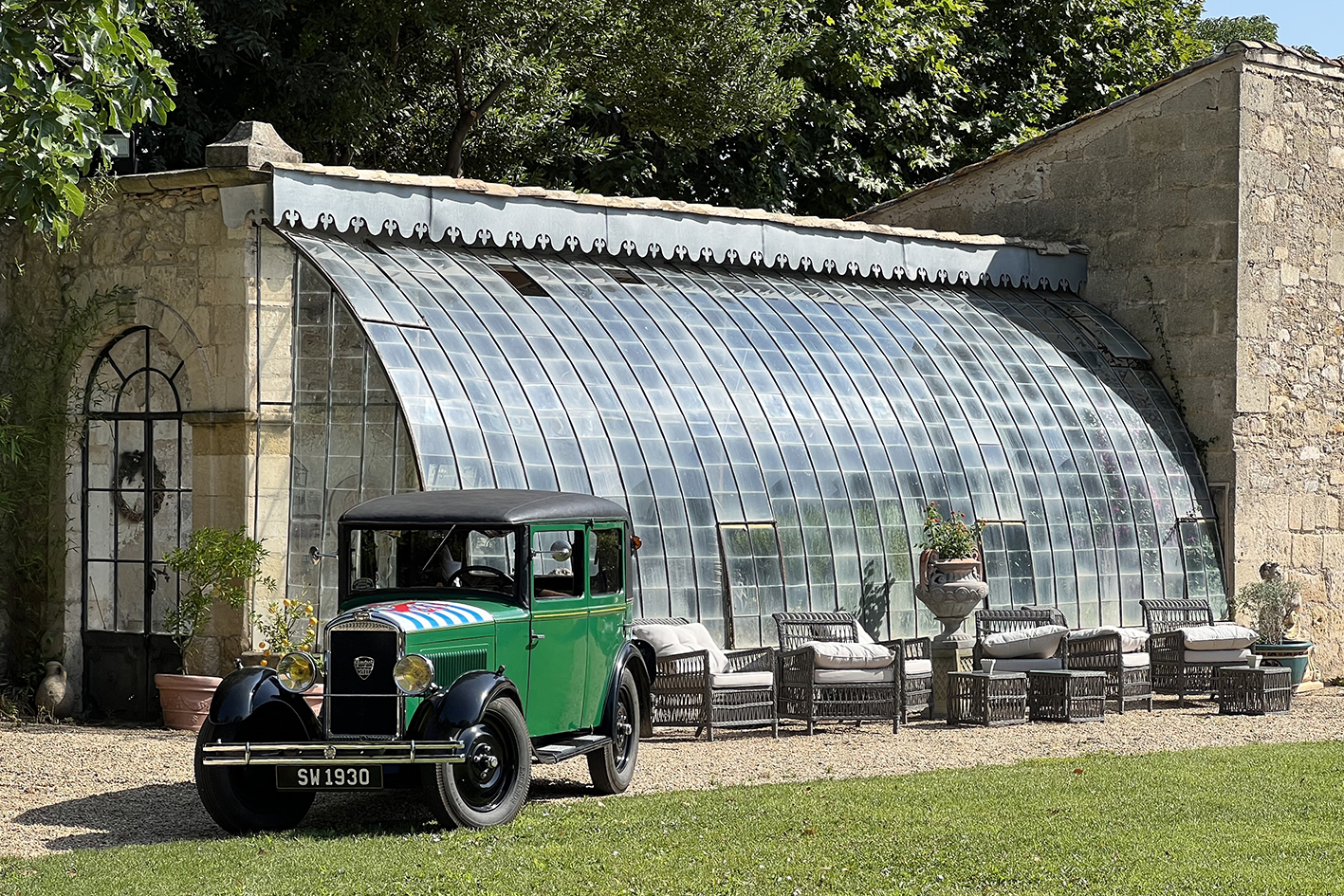 Son intérieur est très photogénique. / Its interior is very photogenic.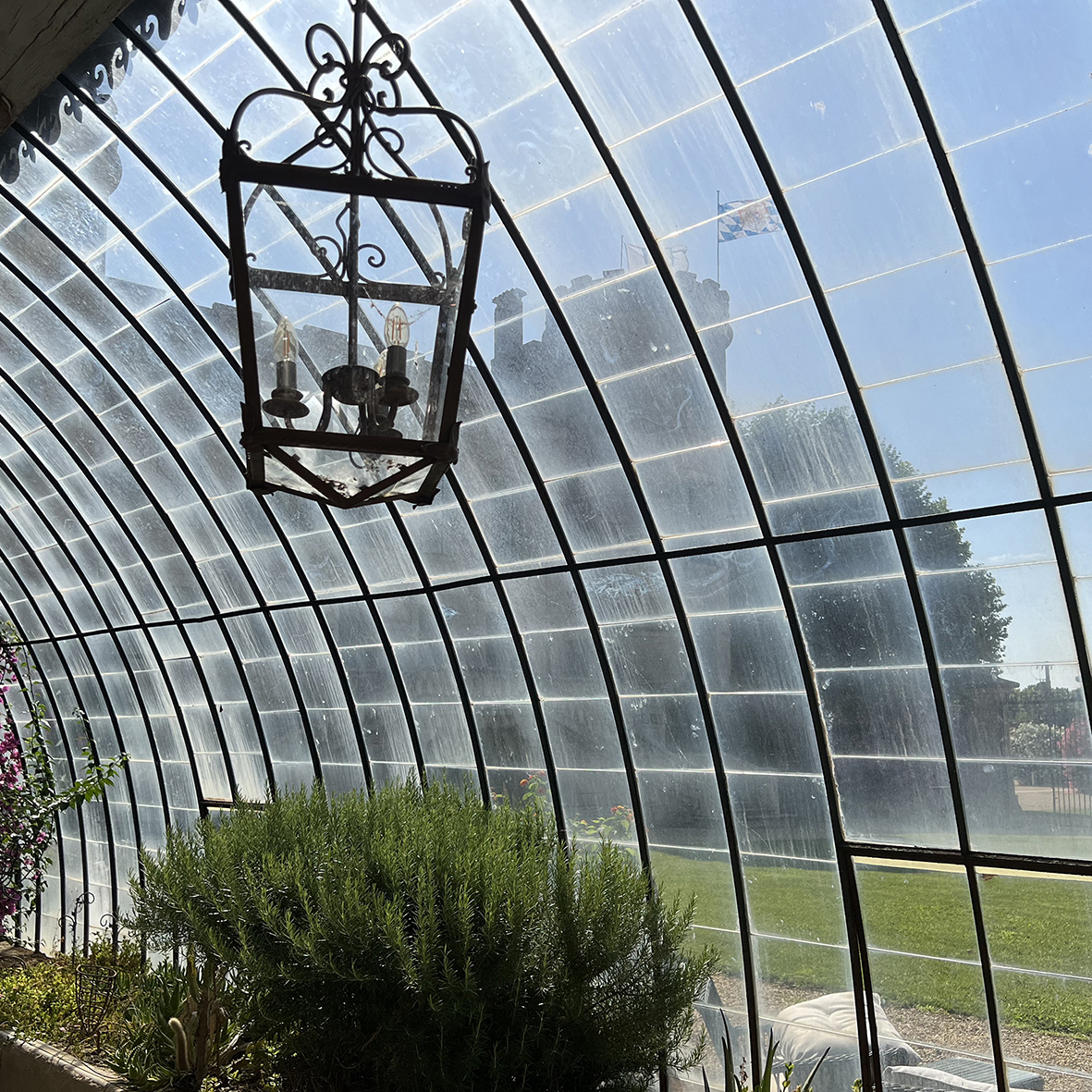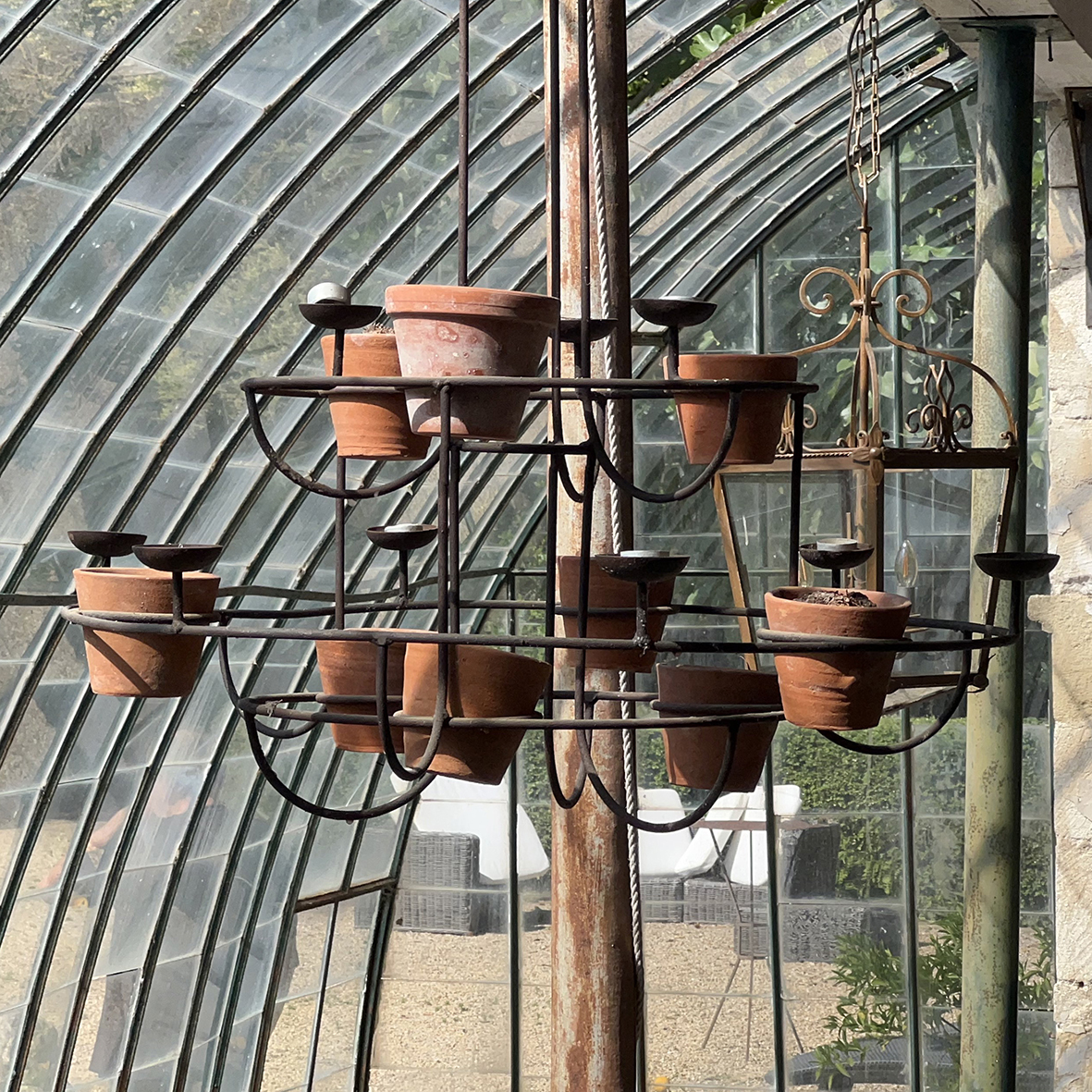 Dans son prolongement se trouve une piscine, aménagée dans une ancienne cuve à vin ! Je rêve de m'y plonger, surtout si on transformait à nouveau l'eau en vin. D'après la Bible, un tel miracle s'est déjà produit. Alors, pourquoi pas… ? / In its extension is a swimming pool, fitted out in an old wine vat! I dream of immersing myself in it, especially if the water was changed into wine again. According to the Bible, such a miracle has already happened. So why not… ?
Nous remercions Chantal et Olivier pour leur accueil et retournons chez Sylvinne. Une fois la voiture chargée et après une dernière embrassade, nous voilà en route pour le troisième volet de notre aventure fluviale. Nous sommes bercés par la musique assourdissante des cigales. Malgré leur camouflage sur les troncs des pins, je réussis à en débusquer une à hauteur d'homme. / We thank Chantal and Olivier for their welcome and return to Sylvinne's. Once the car is loaded and after a last embrace, we are on our way to the third part of our river adventure. We are lulled by the deafening music of the cicadas. Despite their camouflage on the trunks of the pines, I managed to flush one out at eye level.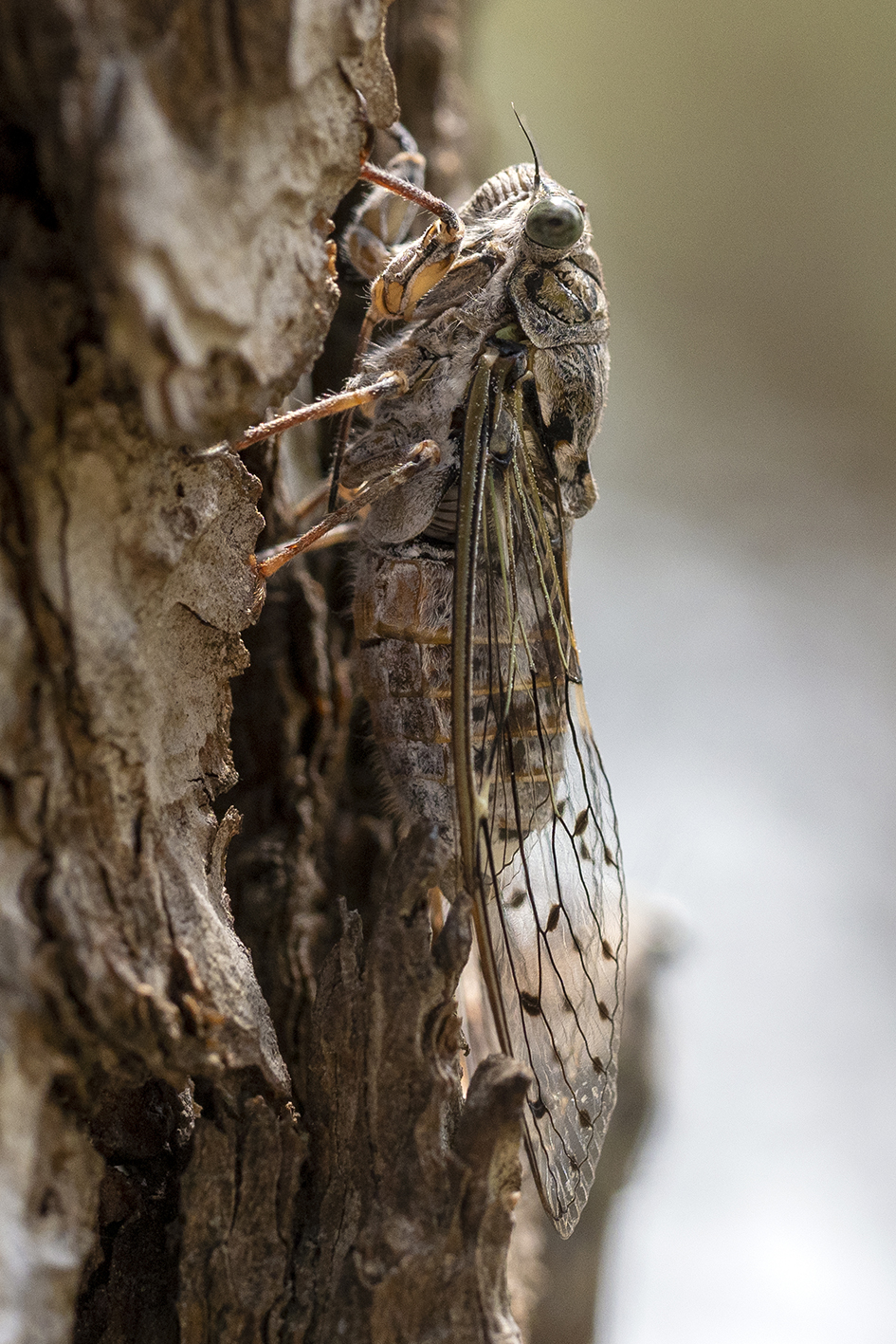 « La Charmante » ne serait pas « La Charmante » si elle ne causait pas quelques problèmes. Le câble qui commandait le réglage d'avance de l'allumage a fini par se rompre à cause des vibrations. Il faut donc le caler au mieux en position fixe. Je fais faire l'opération dans un garage à l'aide d'un stroboscope, où l'on règle à 9° d'avance, comme l'indique le manuel technique. Je me tiens la tête en pensant « Puis quoi encore ? » / « La Charmante » wouldn't be « La Charmante » if she didn't cause some problems. The cable that controlled the ignition advance adjustment ended up breaking due to vibrations. It must therefore be wedged as best as possible in a fixed position. I have the operation done in a garage using a stroboscope, which is set at 9° in advance, as indicated in the technical manual. I hold my head thinking « Now what again? » »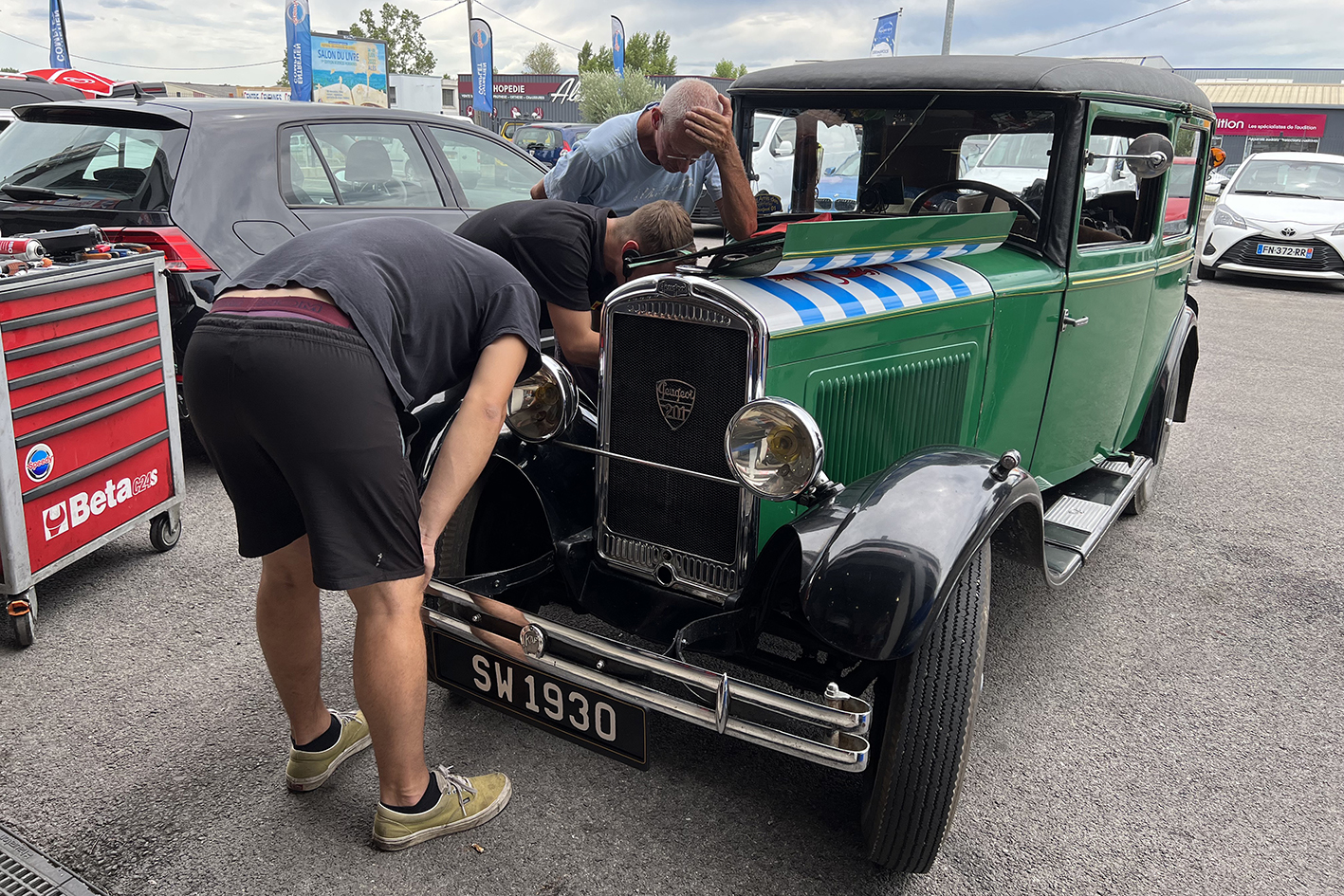 (Photo : Marie-Xavier Lassauzet)
Mais en progressant à travers les Cévennes, nous nous rendons bien compte que le réglage n'est pas optimal : peu performante dans les côtes, je vois mal la voiture vaincre la route qui mène au Mont Gerbier de Jonc demain. Besoin des conseils des 'Amis des Peugeot 01' une fois de plus ! J'appelle l'irremplaçable Manu ('Le Directeur Technique'), et tombe non seulement sur lui, mais également sur Jean-Luc ('Babycid'), qui viennent de passer un weekend avec onze '201'. Je ne pouvais pas mieux tomber ! Le duo expert m'explique comment régler l'allumage 'aux petits oignons'. Je passe la nuit à répéter en pensée les gestes à mettre en œuvre demain matin… / But progressing through the Cévennes, we realize that the setting is not optimal: she lacks power in the hills, I fear the car will not be able to overcome the road that leads to Mont Gerbier de Jonc tomorrow. Once more, I need advice from the 'Friends of Peugeot 01'! I call the irreplaceable Manu ('The Technical Director'), and not only have him on the phone, but also Jean-Luc ('Babycid'), who have just spent a weekend with eleven '201'. I couldn't have timed it better! The expert duo explains to me how to adjust the ignition in the best way. I spend the night repeating in my mind the actions to be taken tomorrow morning…
25-26 juin 2022. Lunel (0 km)

/ June 25-26, 2022. Lunel (0 km)
Deux jours de repos chez notre amie plongeuse Sylvinne. / Two days of rest at our diver friend Sylvinne's place.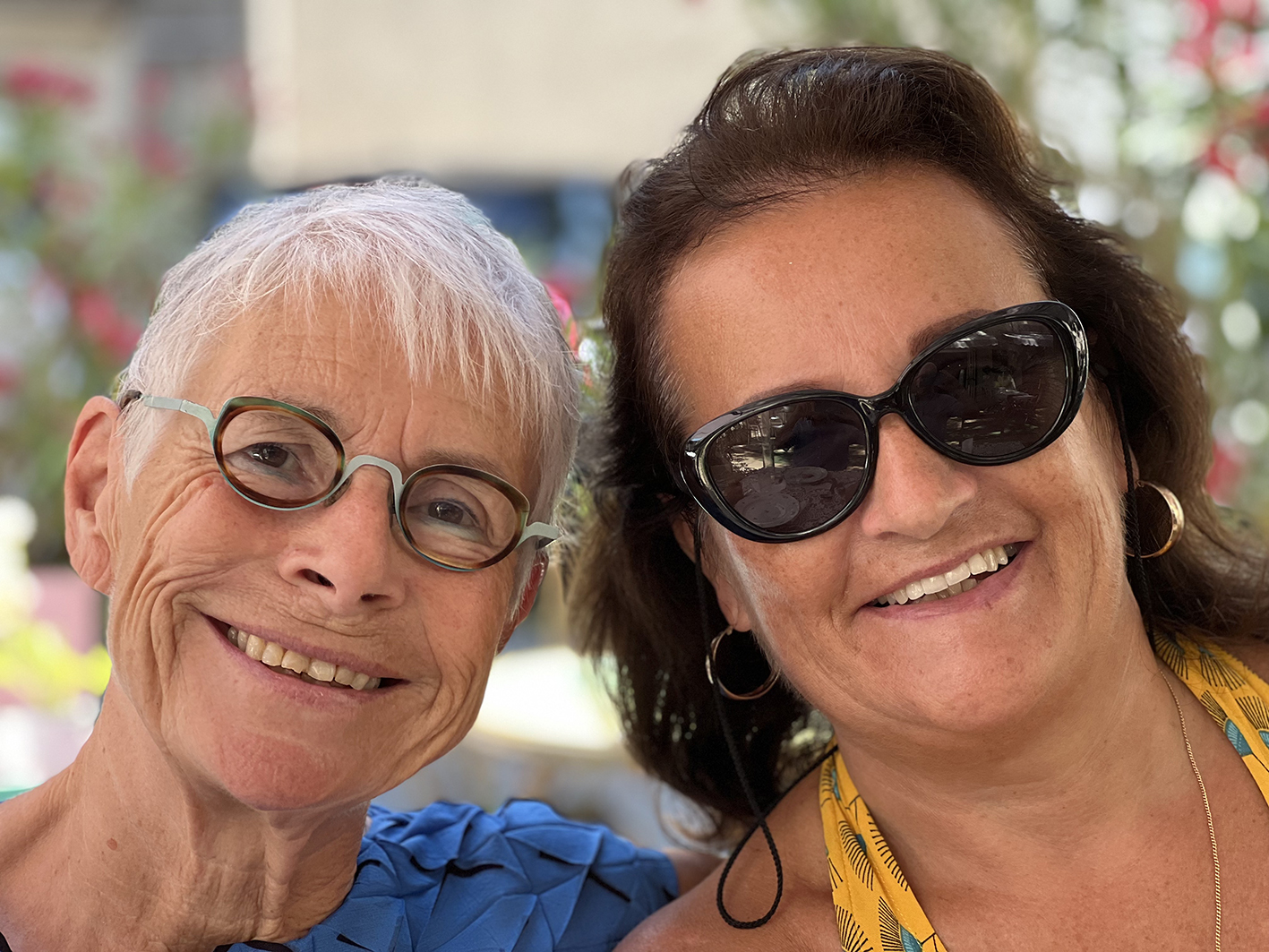 Nous profitons de son accueil chaleureux et du confort de sa maison : lessive, et pour moi l'occasion de rattraper le retard de mes blogs. Papotages, repas conviviaux, bonne ambiance sous son toit. / We take advantage of her warm welcome and the comfort of her house: Marie-Xavier does the laundry, and for me it is the opportunity to catch up on my blogs. Chatting, friendly meals, good atmosphere under her roof.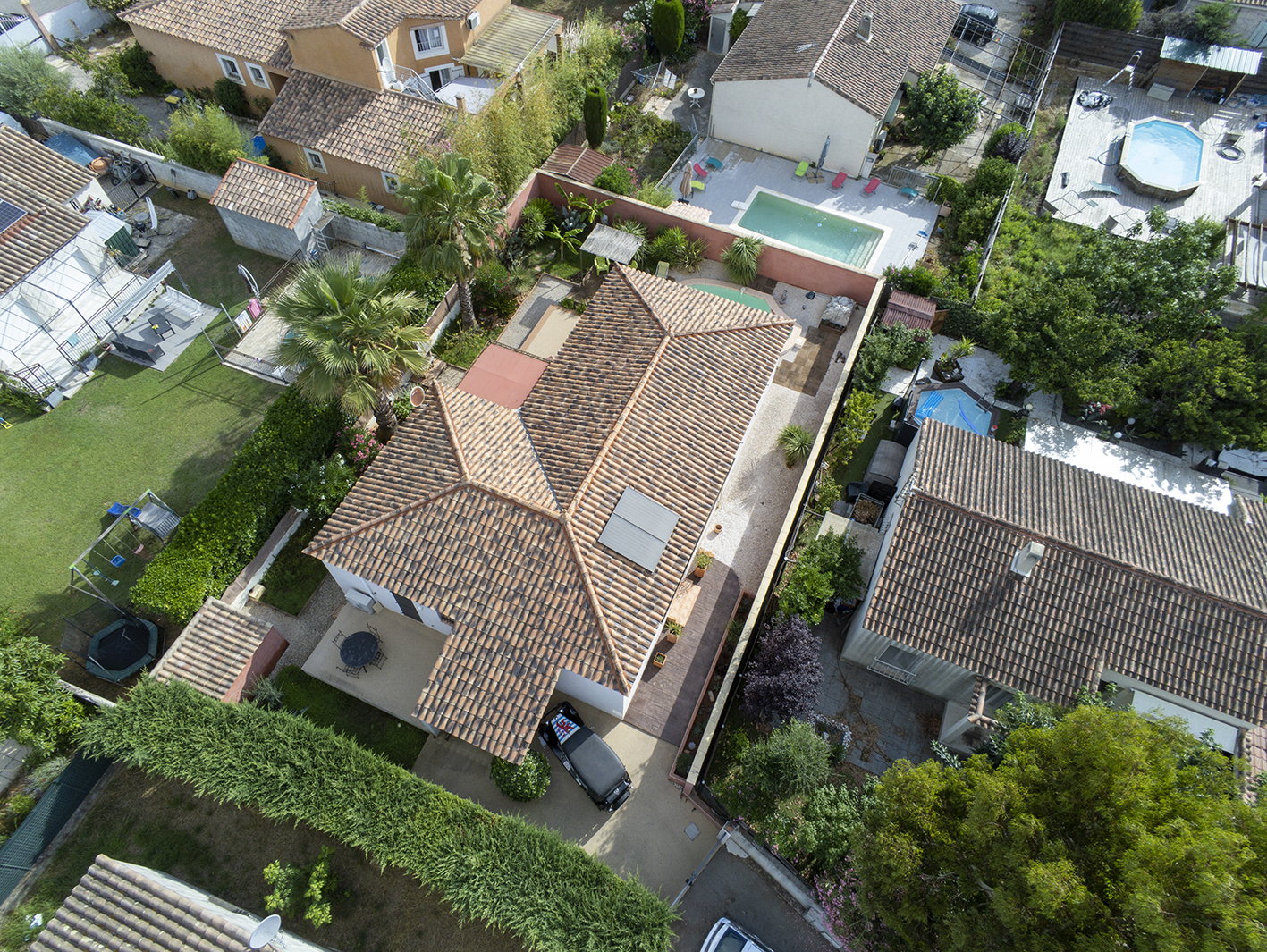 Aussi l'occasion de laver « La Charmante », qui tout au long du Rhône et de la Camargue, avait accumulé pas mal de poussière. / Also the opportunity to wash « La Charmante », which all along the Rhône and the Camargue, had accumulated a lot of dust.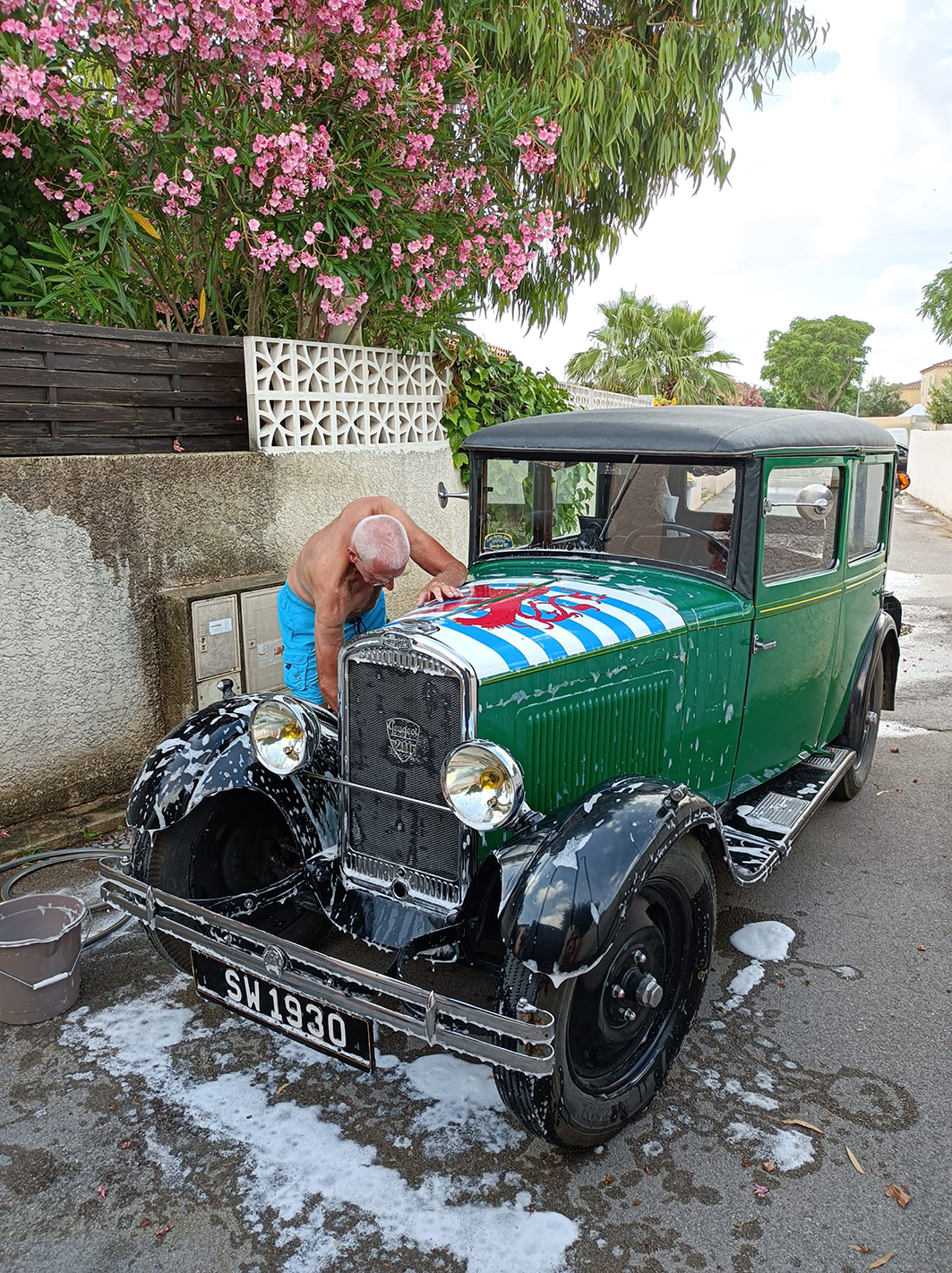 (Photo : Sylvinne Soulé)
Regardez comment elle a rétréci au lavage ! (Sur la terrasse du restaurant 'Derrière l'Église' à Lunel) / Look how the washing has shrunk her! (On the terrace of the restaurant 'Derrière l'Eglise' in Lunel)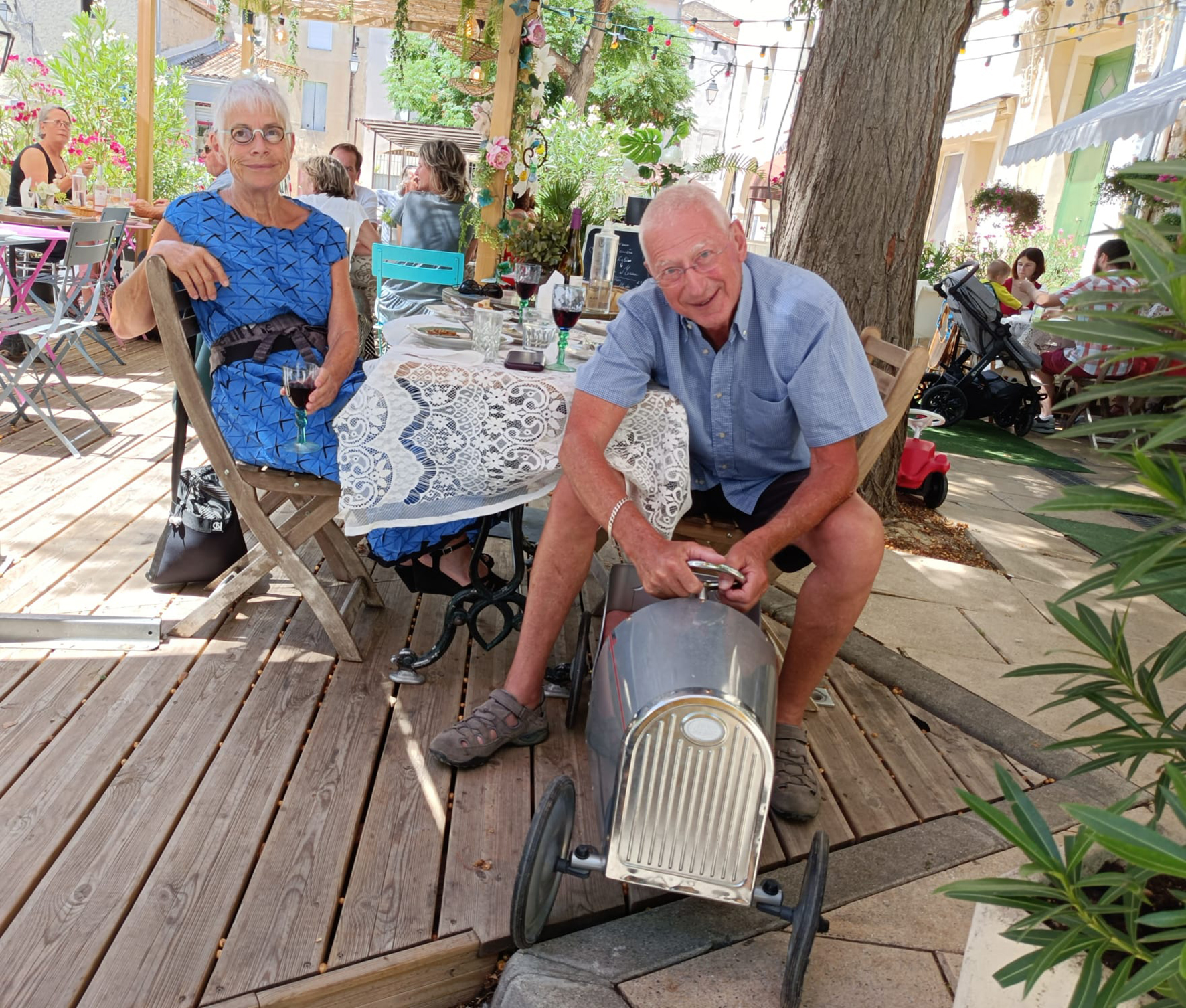 (Photo : Sylvinne Soulé)
C'est à Lunel également que je me fais couper les cheveux. Une affaire de 5 minutes à la tondeuse. Le coiffeur, qui est plutôt dans le genre coiffure artistique, me dit que pour une opération pareille, il ne sait pas combien me demander. Il me tend sa carte de visite : « Faites-moi plutôt un peu de pub sur votre site ! » me dit-il. Voilà, c'est fait Valentin. Et encore un grand merci pour ce geste inattendu ! / It is also in Lunel that I get my hair cut. A matter of 5 minutes with a hair clipper. The hairdresser, who is more into the artistic hairstyle genre, tells me that for such a basic operation, he does not know how much to ask me. He hands me his business card: "Give me some publicity on your site instead!" » he tells me. Done, Valentin! And again a big thank you for this unexpected gesture!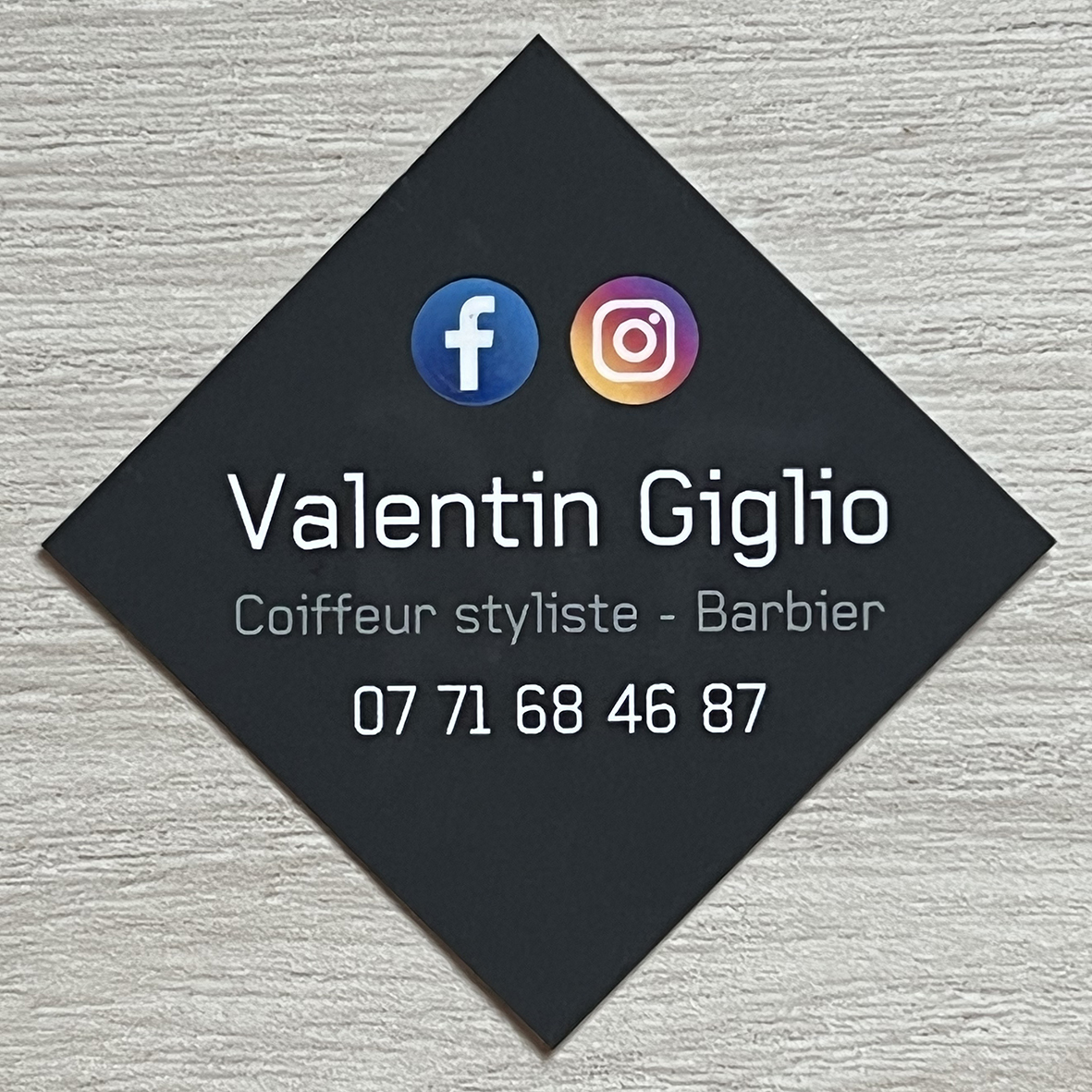 Cette parenthèse arrive à sa fin. En route pour le Mont Gerbier de Jonc (1551 m), où se trouve la source de la Loire ! Encore un défi pour « La Charmante » ! / This stop is coming to an end. On the way to Mont Gerbier de Jonc (1551 m), where the source of the Loire is located! Another challenge for "La Charmante"!