Pour la suite du voyage (à  partir du 15 juin) cliquez ICI / For the next stage of the trip (as of June 15th), click HERE
14 juin 2022 – Disentis-Les Argettes (153 km)

/ June 14, 2022 – Disentis-Les Argettes (153 km)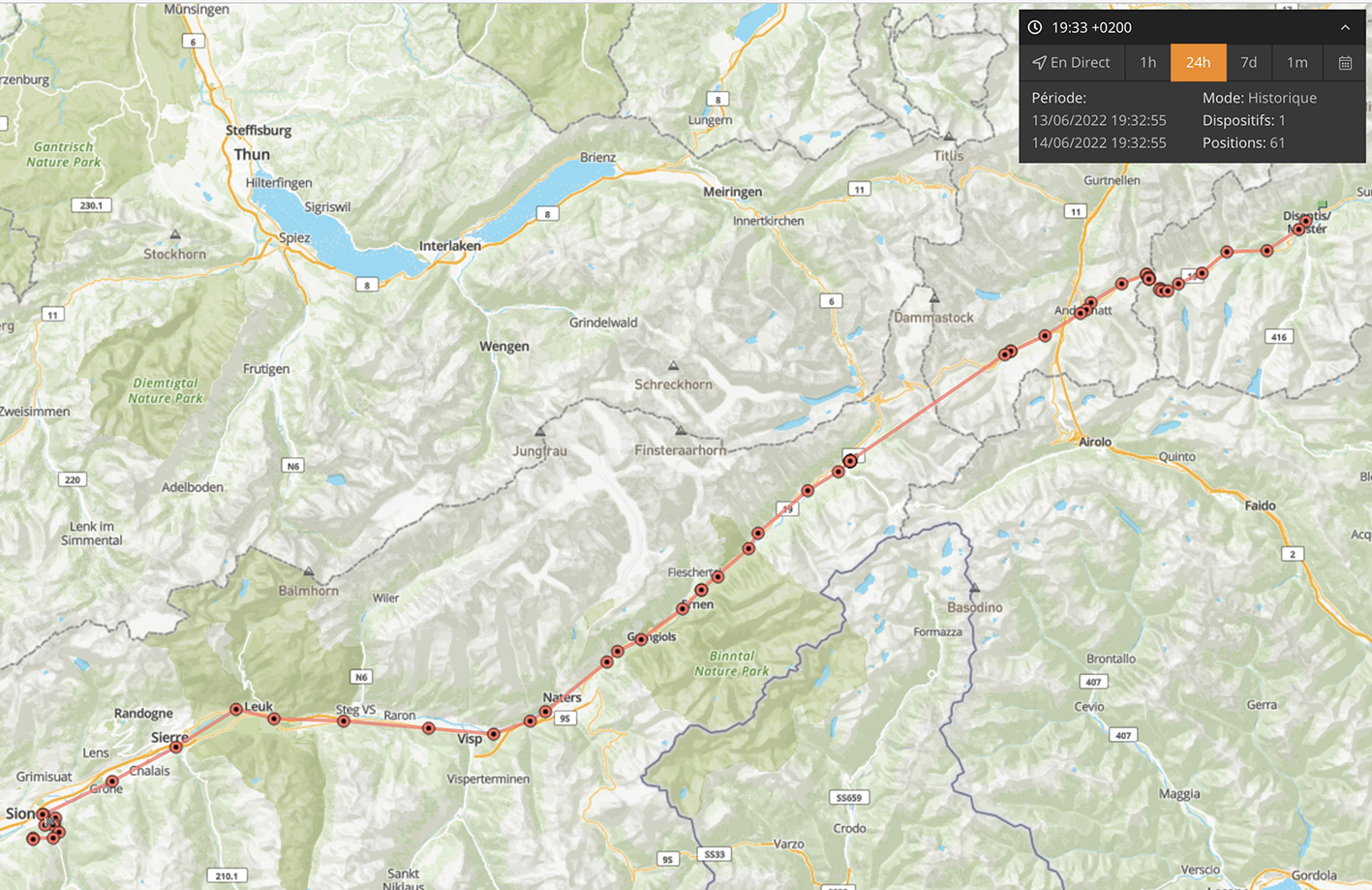 On se réveille tôt, car pour attaquer le col nous voulons partir à la fraiche. Je jette un rapide coup d'œil sur le monastère de Disentis, abbaye bénédictine dont l'histoire mouvementée remonte à 614 avec la fondation d'une communauté monastique par les saints locaux Placide et Sigisbert. Guerres de religion, chamboulements politiques, assassinats et incendies se succèdent au cours des siècles. Aujourd'hui, l'abbaye héberge un 'gymnasium' (lycée) et un internat. / We wake up early, because to climb up the pass we want to leave while it is still cool. I take a quick look at the monastery of Disentis, a Benedictine abbey whose eventful history dates back to 614 with the founding of a monastic community by the local saints Placide and Sigisbert. Religious wars, political upheavals, assassinations and fires succeed one another over the centuries. Today, the abbey houses a 'gymnasium' (high school) with a boarding school.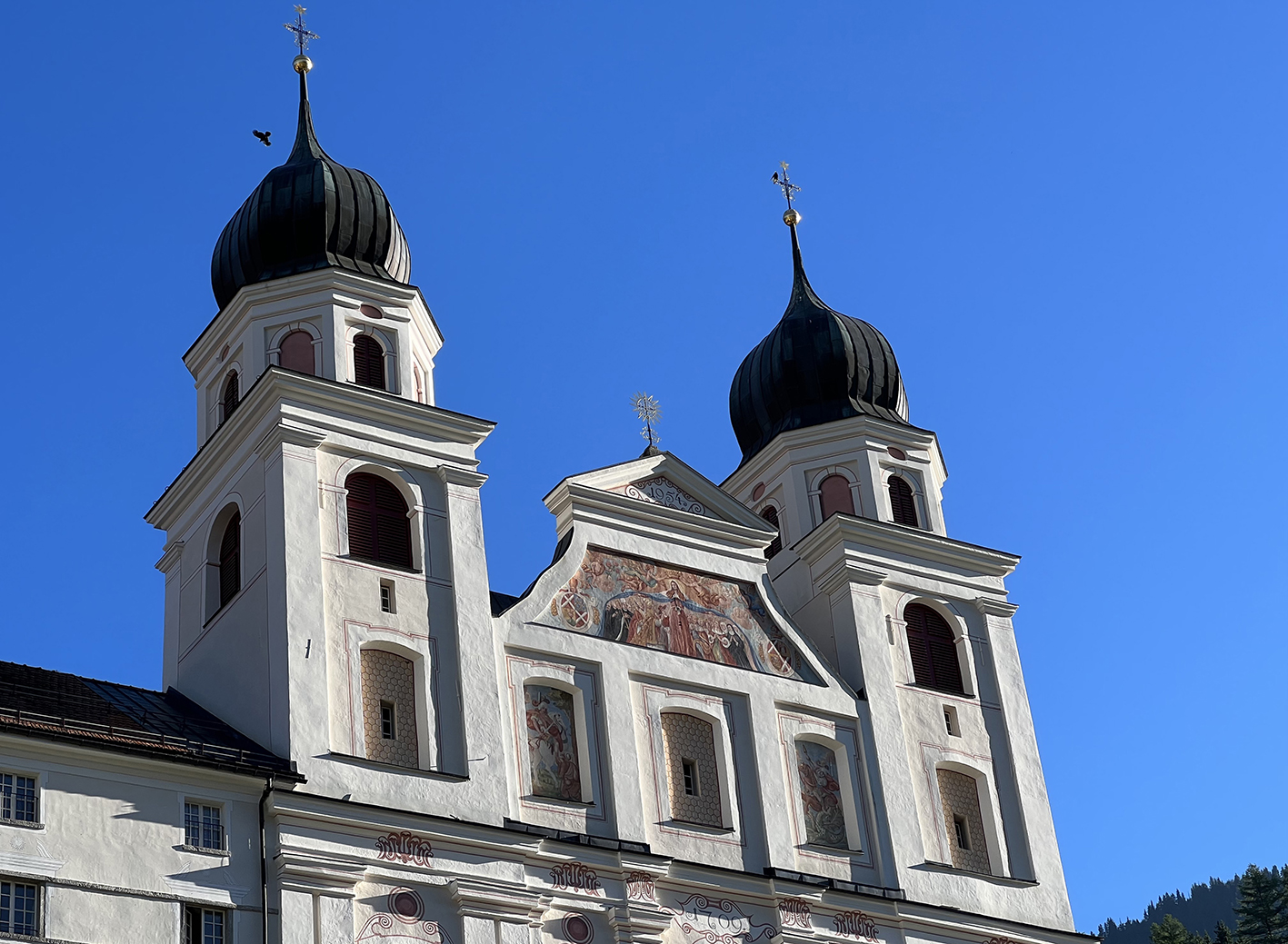 Mais on ne peut plus tergiverser. L'heure est à la grande épreuve de « La Charmante » : s'attaquer à la barrière des Alpes en essayant de monter au Col de l'Oberalp… / But we can't procrastinate any longer. It's time for the big test of « La Charmante »: tackling the barrier of the Alps by trying to climb the Oberalp pass…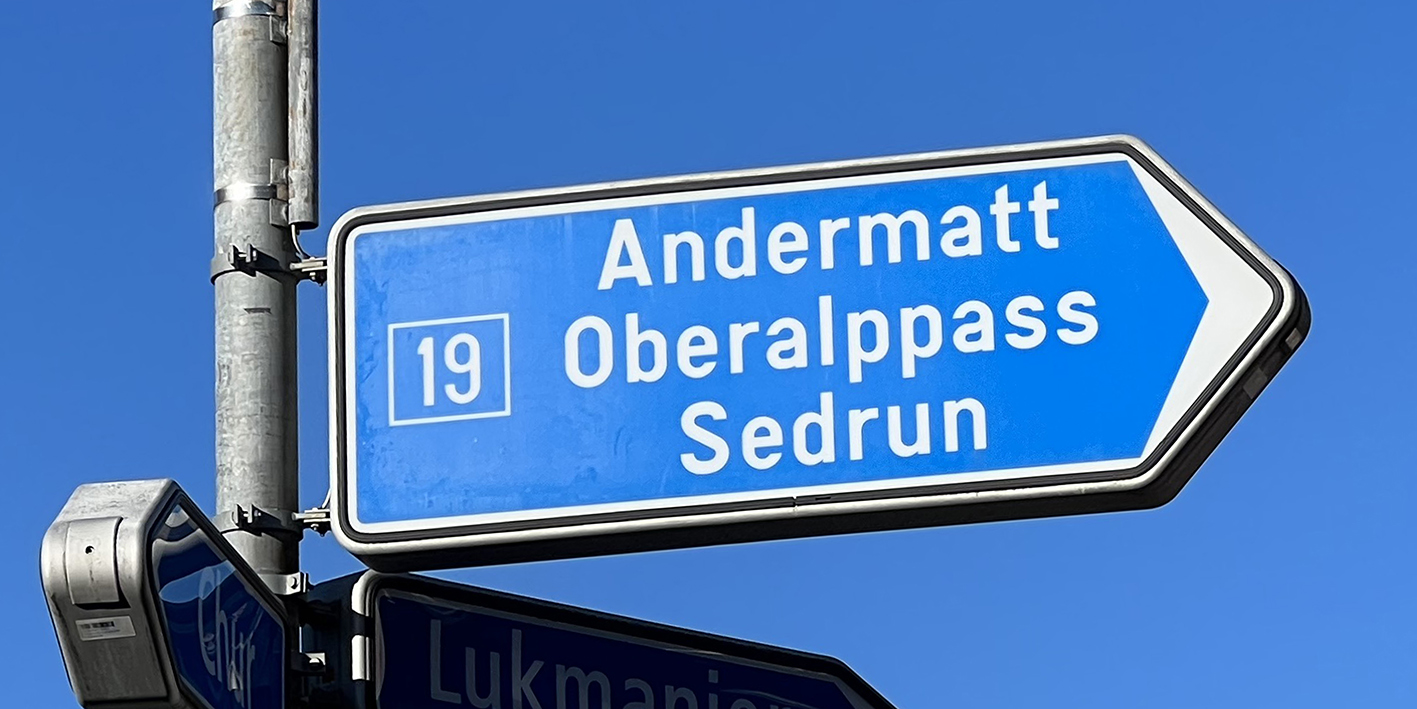 La montagne se dresse devant nous, belle mais menaçante pour la frêle mécanique de notre 201. Jusqu'au col, il n'y a que vingt kilomètres… Arriverons-nous à les franchir ? / The mountain rises in front of us, beautiful but threatening for the frail mechanics of our 201. Until the pass, there are only twenty kilometers… Will we be able to cross them?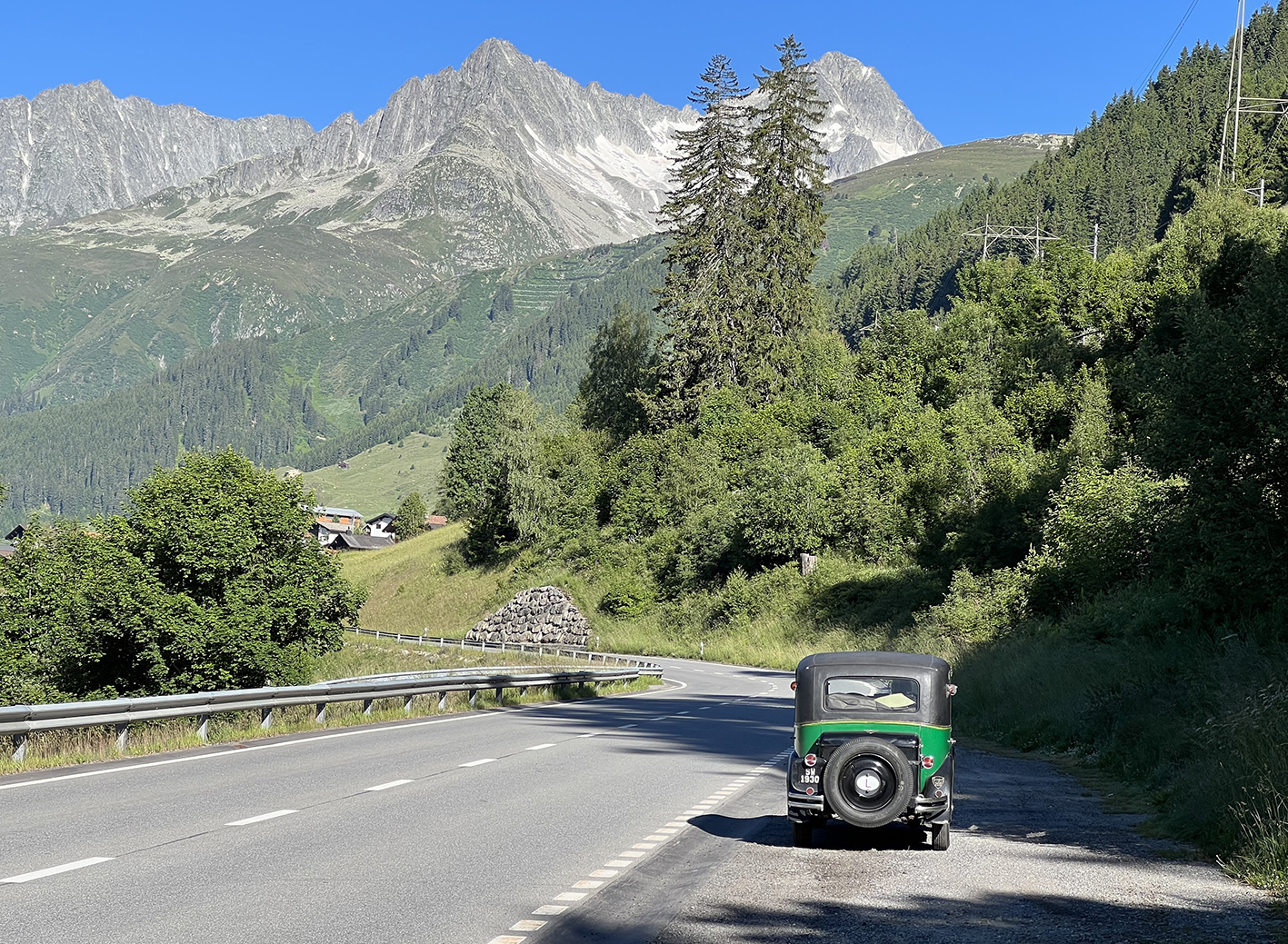 On est encore dans la vallée. Des vaches dans les prés, des chalets, une petite église… / We are still in the valley. Cows in the meadows, chalets, a small church…
La montée devient de plus en plus raide. Je fais un petit arrêt. Derrière nous, le début du Rhin dégringole de la montagne. La source – le lac de Toma – est située à deux heures de marche de l'endroit où nous nous trouvons. On n'y ira pas. En revanche, devant nous se dresse le flanc de montagne avec une impressionnante succession de lacets. Pour mieux refroidir le moteur, j'ouvre une moitié du capot. / The climb becomes increasingly steep. I make a short stop. Behind us, the beginning of the Rhine tumbles down the mountain. The source – Lake Toma – is located a two-hour walk from where we are. We won't go there. On the other hand, in front of us stands the mountainside with an impressive succession of hairpin turns. To better cool the engine, I open one half of the hood.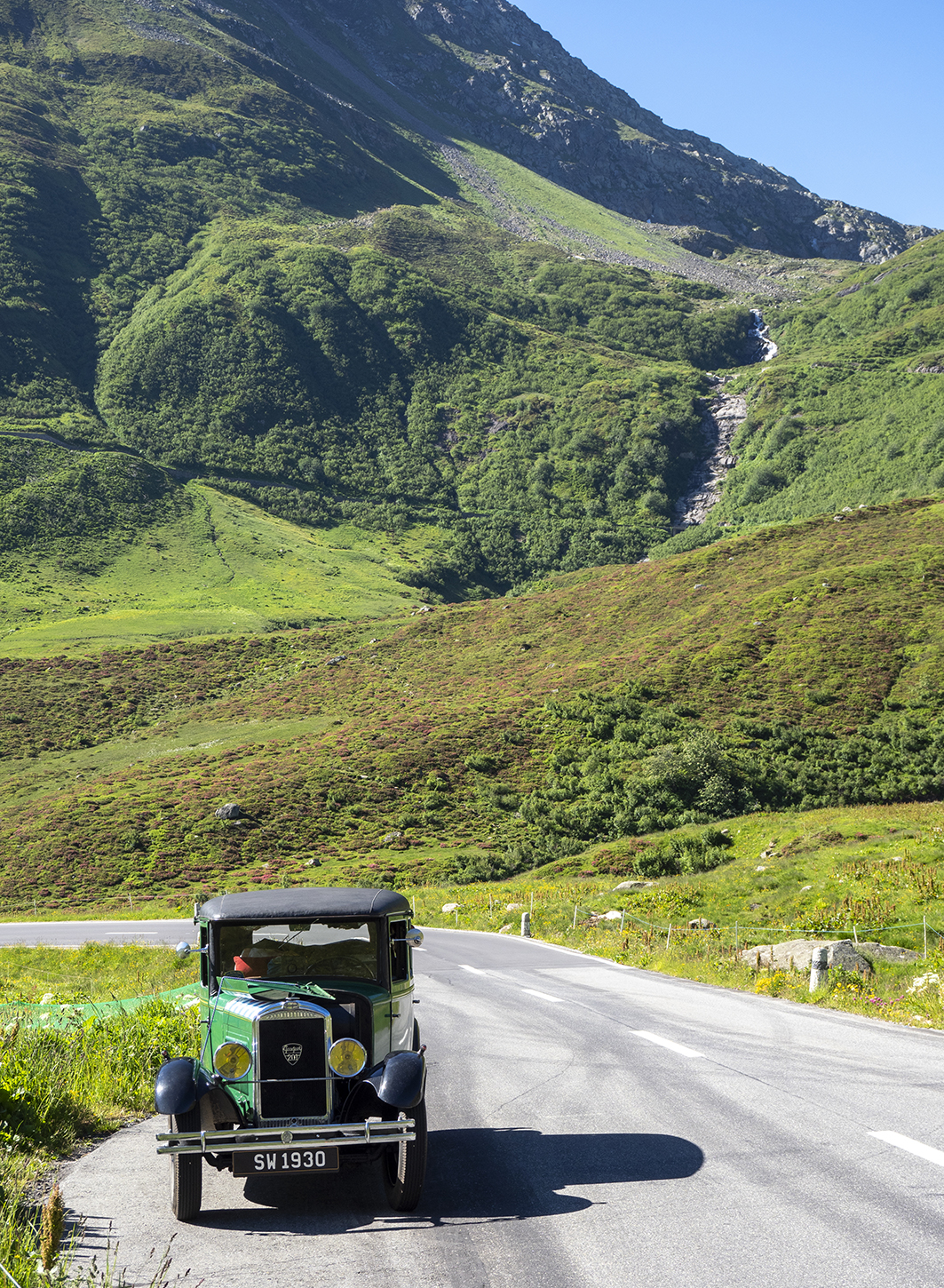 Marie-Xavier descend de voiture. D'abord, cela fera 53 kg en moins à monter… Mais surtout, en montant à pied et en stop, elle pourra faire des photos de notre aventure alpine – pour le meilleur… ou le pire. Petite voiture dans un paysage grandiose et un route cruelle à 10%. Le moteur chante sous l'effort. Nous montons en 1ère, à 14-15 km/h. À aucun moment, la température du moteur ne dépasse les 90°C. Heure matinale avant la chaleur, ventilateur électrique et capot ouvert auront suffi à vaincre la montagne. / Marie-Xavier gets out of the car. First of all, it will be 53 kg less in the car… But above all, by climbing on foot and hitchhiking, she will be able to take pictures of our alpine adventure – for better… or for worse. Small car in a grandiose landscape and a cruel road at 10%. The engine sings under the strain. We go up in 1st gear, at 14-15 km/h. At no time does the engine temperature exceed 90°C. Early morning before the heat, electric fan and open hood will have sufficed to overcome the mountain.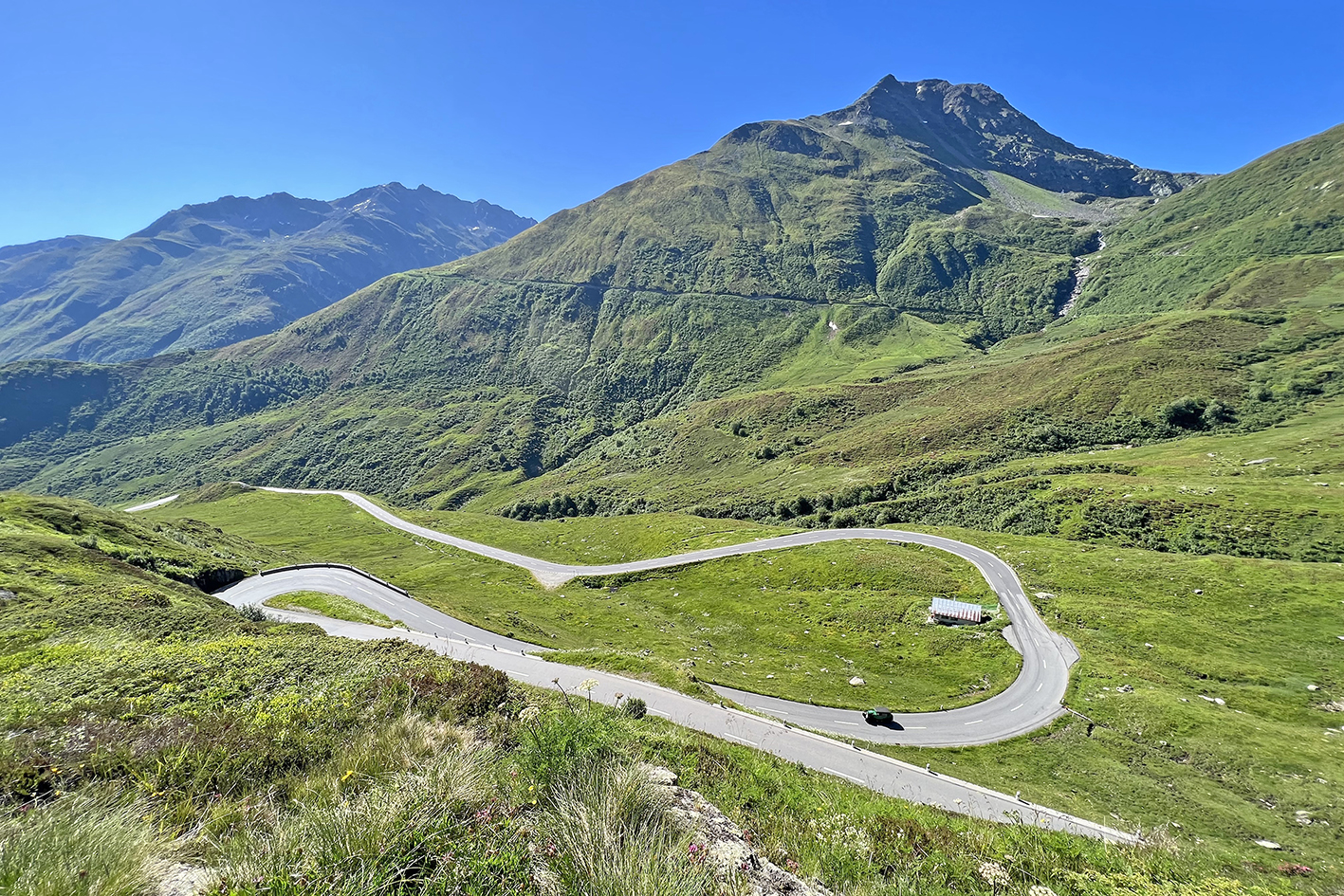 (Photo : Marie-Xavier Lassauzet)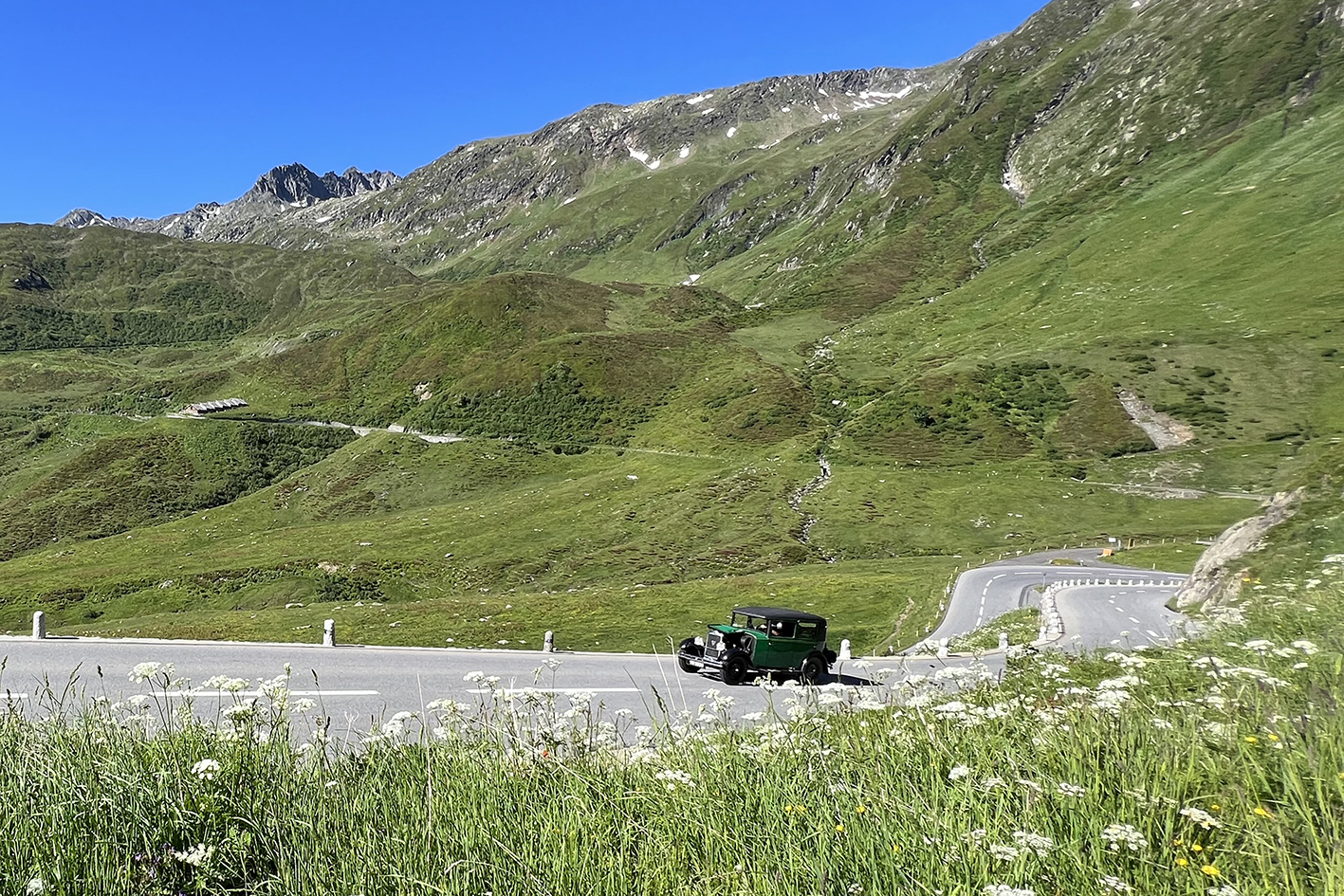 (Photo : Marie-Xavier Lassauzet)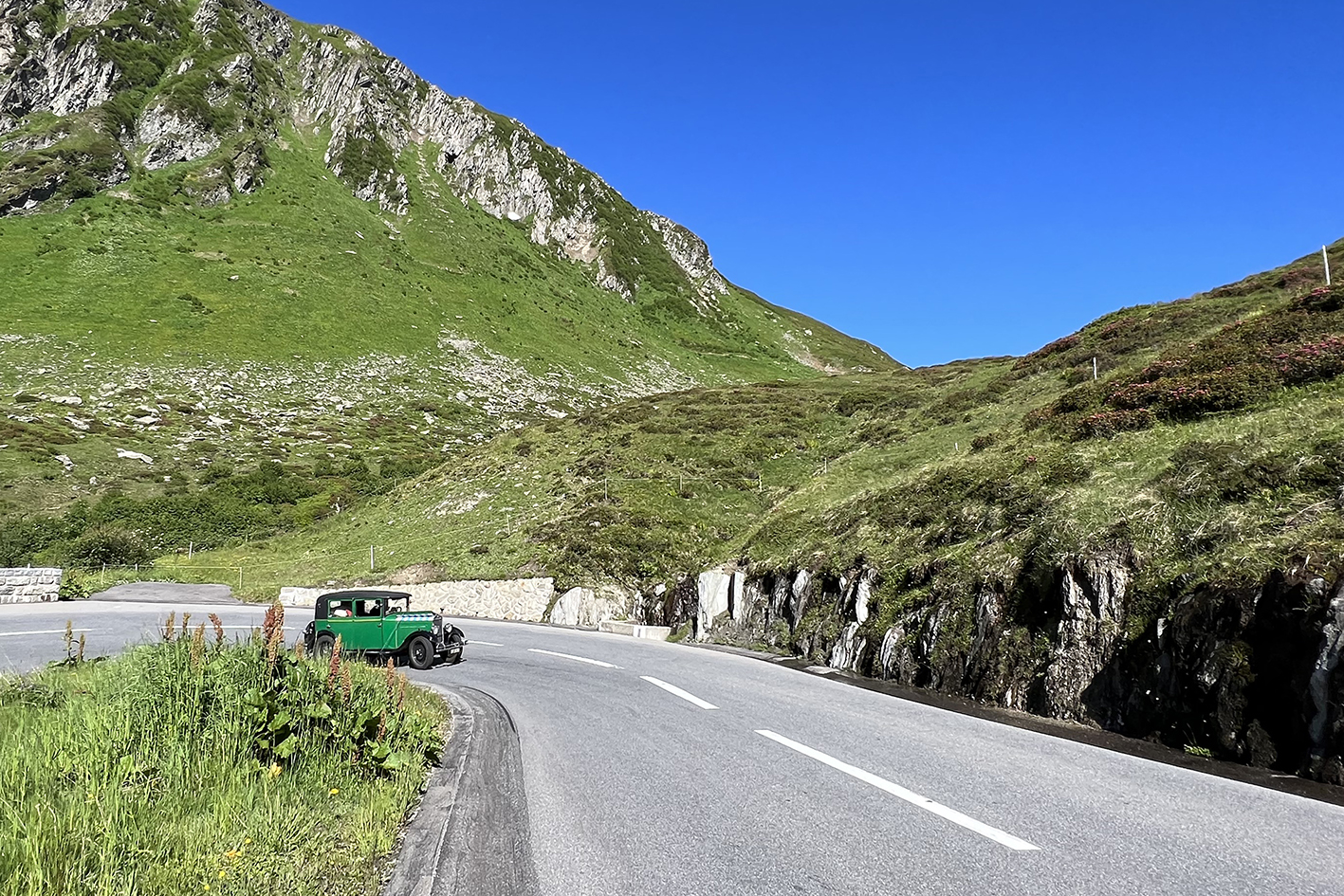 (Photo : Marie-Xavier Lassauzet)
(Photo : Marie-Xavier Lassauzet)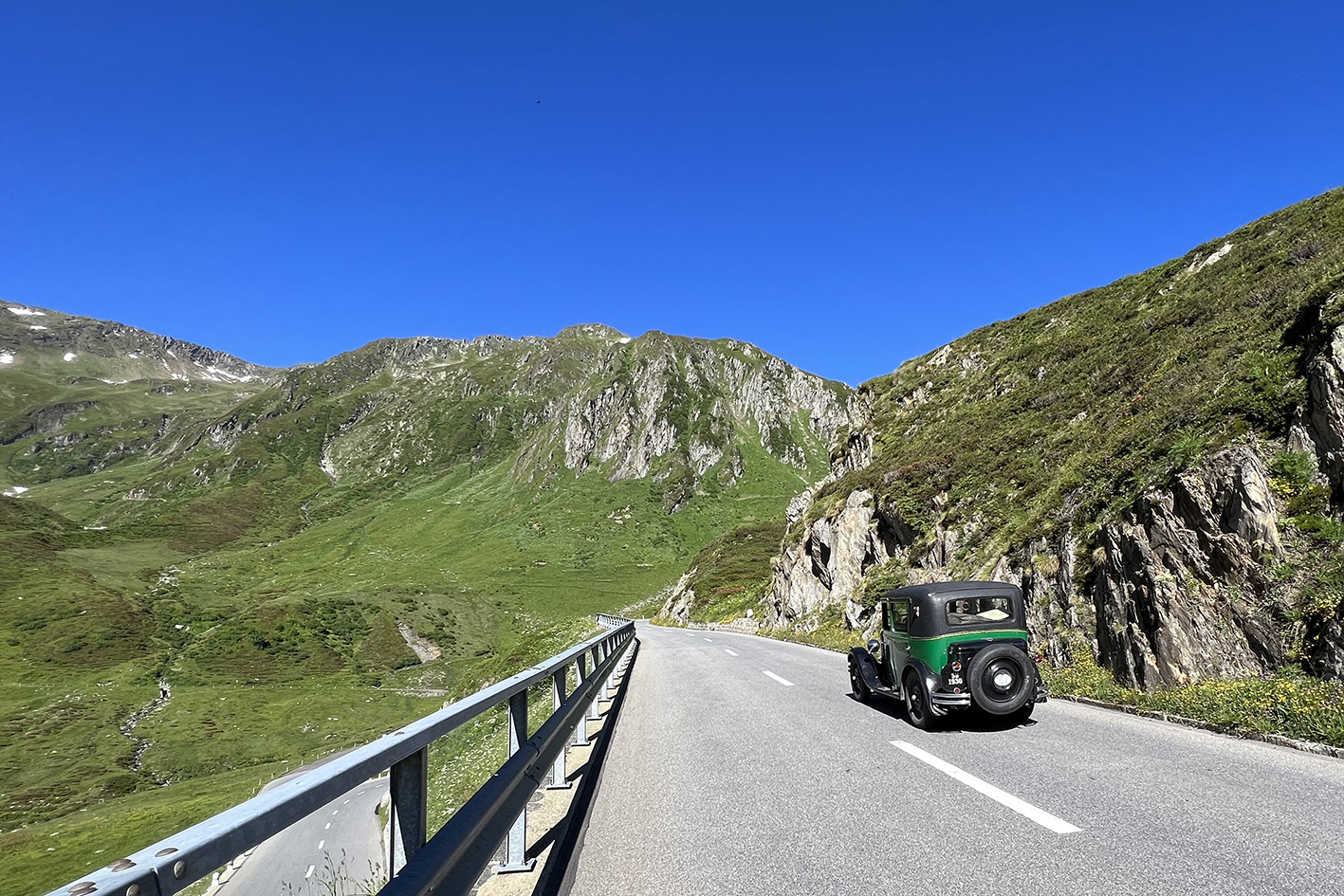 (Photo : Marie-Xavier Lassauzet)
On y est arrivé ! Voici la vaillante « Charmante » au col de l'Oberalp, à 2046 m ! Je pense à mon père, qui m'a appris, lorsque j'étais enfant, qu'il ne faut jamais abandonner. Marie-Xavier essuie les larmes qui perlent dans mes yeux. / We made it! Here is the valiant « Charmante » at the Oberalp pass, at 2046 m! I think of my father, who taught me when I was a child to never give up. Marie-Xavier wipes away the tears that well up in my eyes.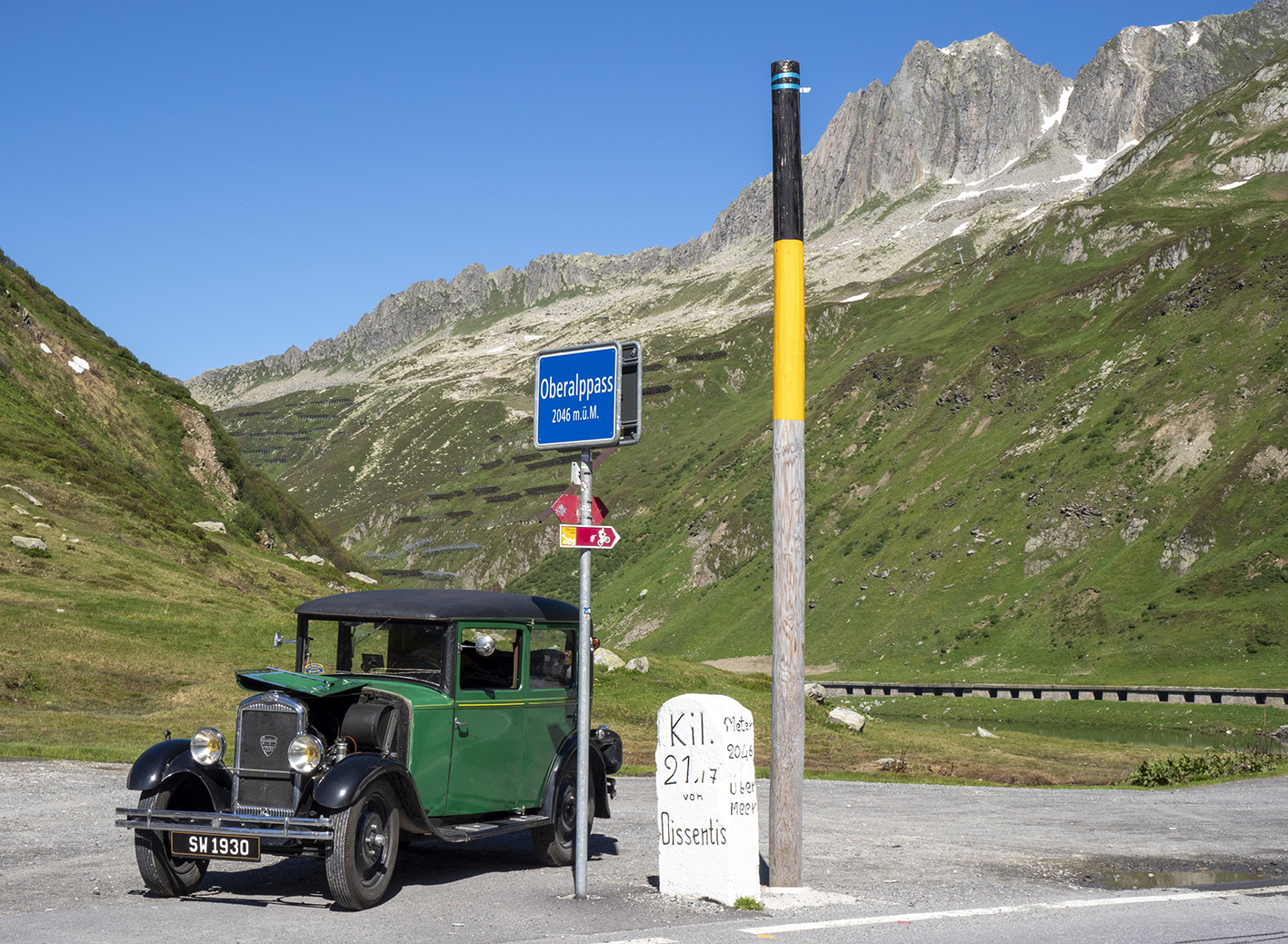 Juste au-delà du col, une cascade. « La Charmante » parait insignifiante dans ce paysage monumental. / Just beyond the pass, a waterfall. "La Charmante" seems insignificant in this monumental landscape.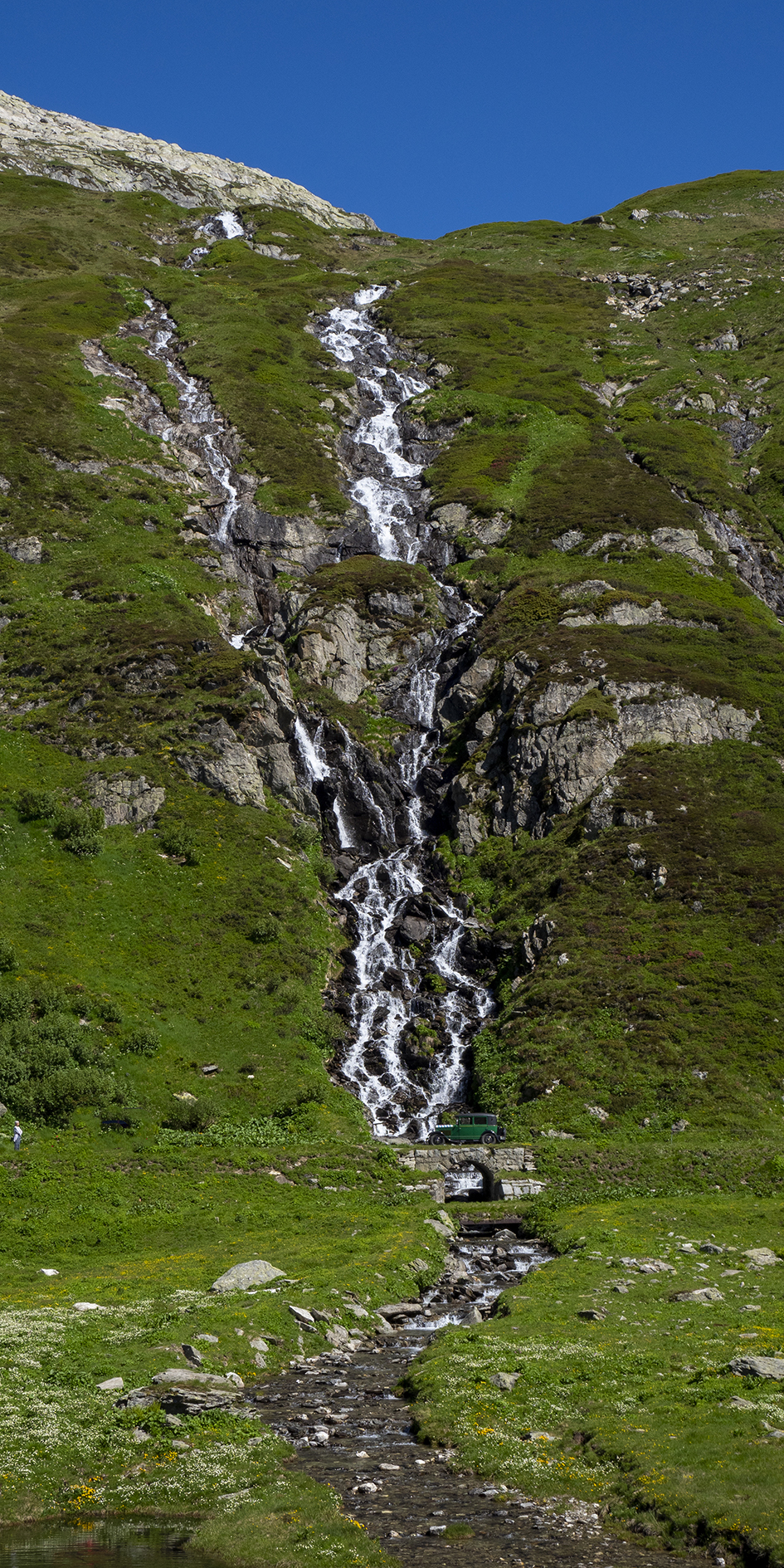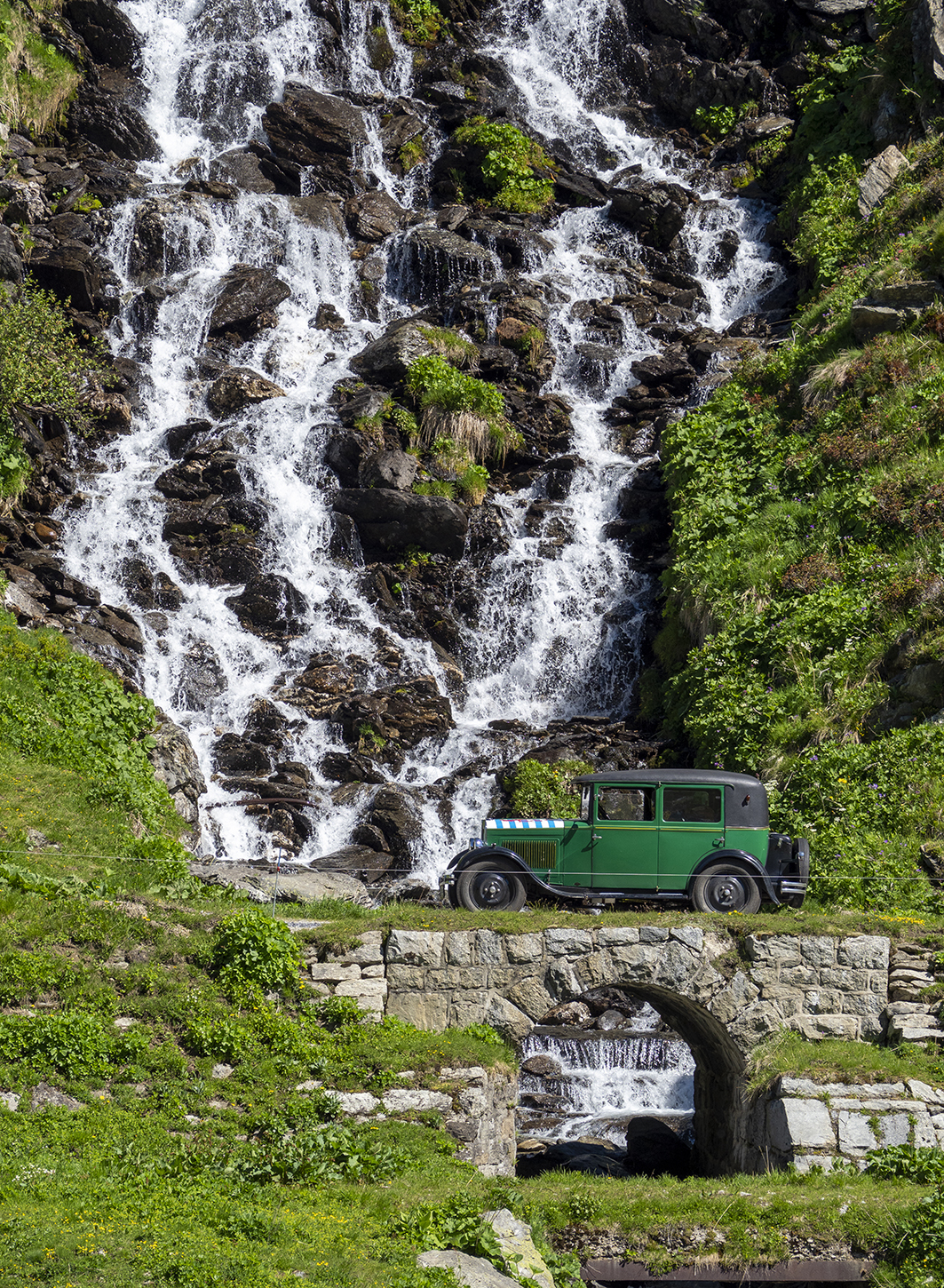 Ce n'est pas le Rhin. On se trouve déjà sur le versant dont les eaux s'écouleront vers l'ouest. Sans doute ce ruisseau se joindra aux flots du Rhône, qui prend sa naissance au glacier du Rhône, en haut du col du Furka, distant de 30 km, juste de l'autre côté du massif du Saint-Gothard. Nous avons décidé de ne pas tenter le diable et de ne pas y aller. Mais voici à quoi ressemblait ce glacier en 1850. Aujourd'hui, il a presque disparu. Le développement et la popularisation de l'automobile ont largement contribué au réchauffement climatique… « La Charmante », ses semblables et ses descendantes sont certainement coupables en partie de la disparition des grands glaciers partout dans le monde… / It's not the Rhine. We are already on the slope whose waters will flow to the west. No doubt this stream will join the waves of the Rhône, which originates at the Rhône glacier, at the top of the Furka pass, 30 km away, just on the other side of the Saint-Gothard massif. We decided not to tempt fate and not go. But here is what this glacier looked like in 1850. Today, it has almost disappeared. The development and popularization of the automobile have largely contributed to global warming… « La Charmante », its siblings and its descendants are certainly partly guilty of the disappearance of the great glaciers all over the world…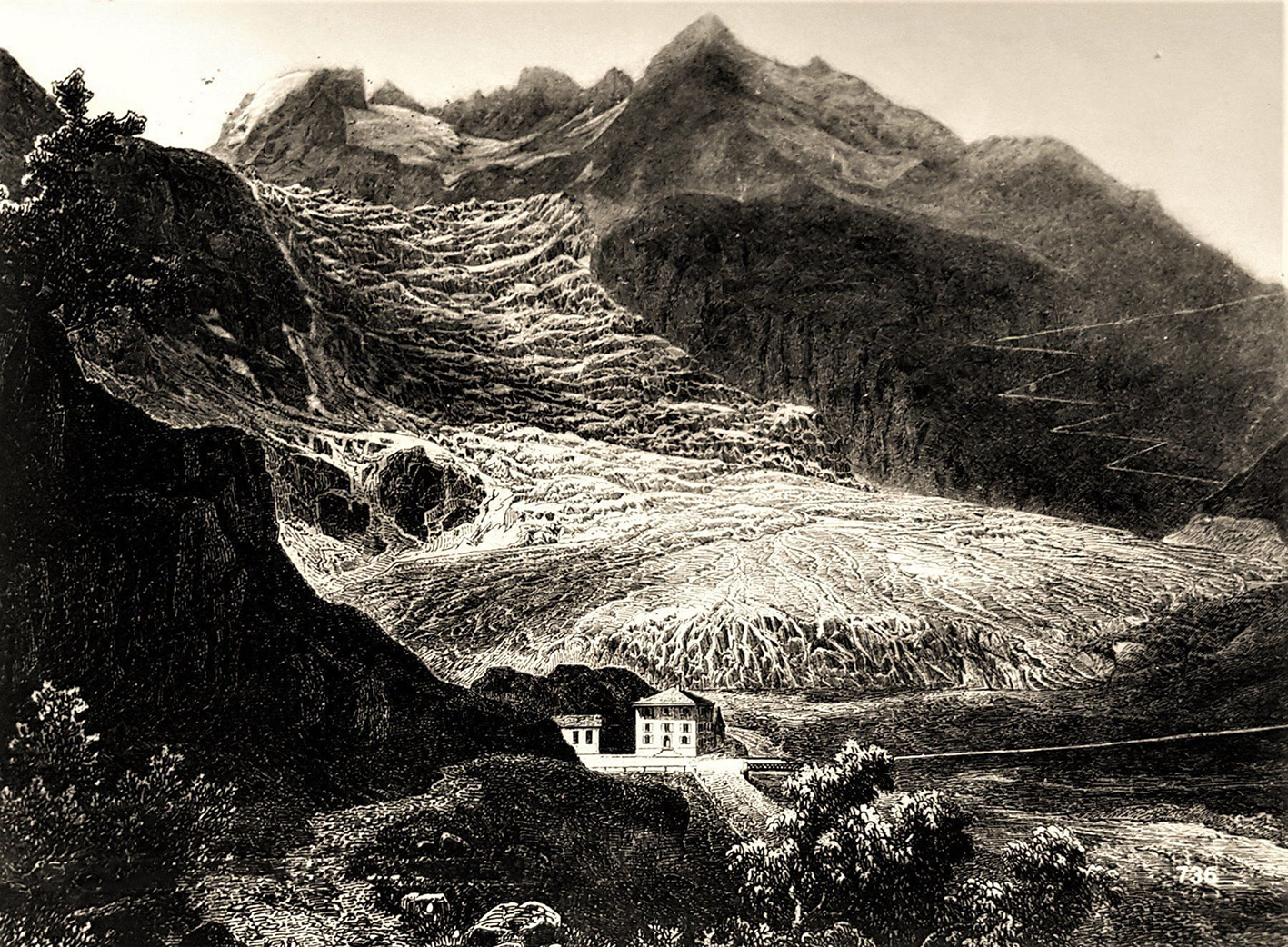 Nous entamons la descente du col. Voici à quoi ressemble la route sur notre GPS. Une fois de plus, le frein moteur suffit largement en 2nde, et je peux épargner nos freins. / We begin the descent of the pass. This is what the route looks like on our GPS. Once again, the engine brake is more than enough in 2nd gear, and I can spare our brakes.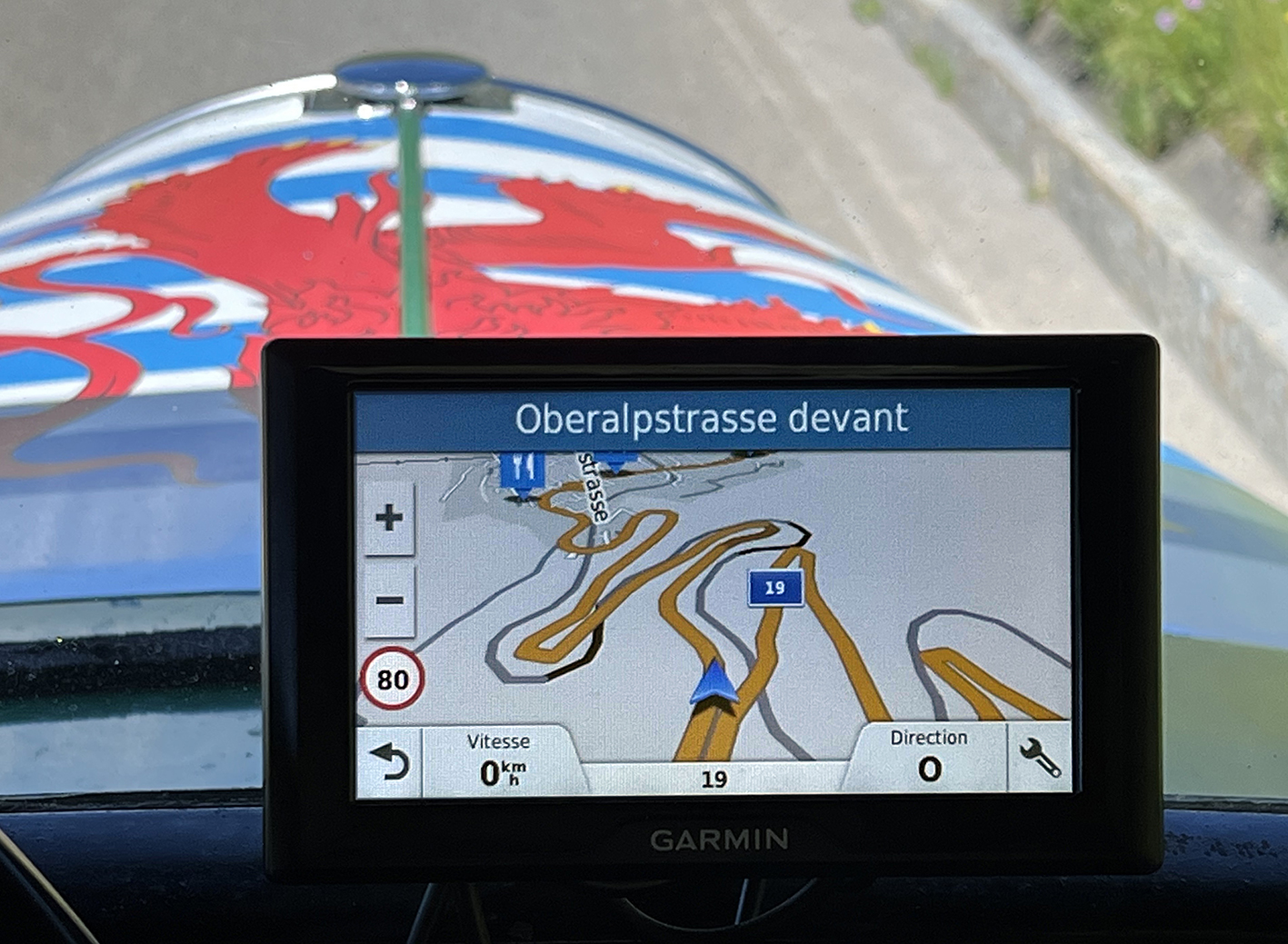 Désormais, notre route longe les débuts du Rhône. Nous avons accompli notre première mission : rallier l'embouchure du Rhin à Hoek van Holland à la source du Rhin dans les Alpes suisses. Que d'aventures, de merveilleuses rencontres et de rebondissements ! Un nouveau chapitre s'ouvre : en route pour la Méditerranée ! / From now on, our route runs along the beginnings of the Rhône. We have accomplished our first mission: to drive from the mouth of the Rhine at Hoek van Holland to the source of the Rhine in the Swiss Alps. What adventures, marvelous encounters and twists! A new chapter is opening: on the way to the Mediterranean!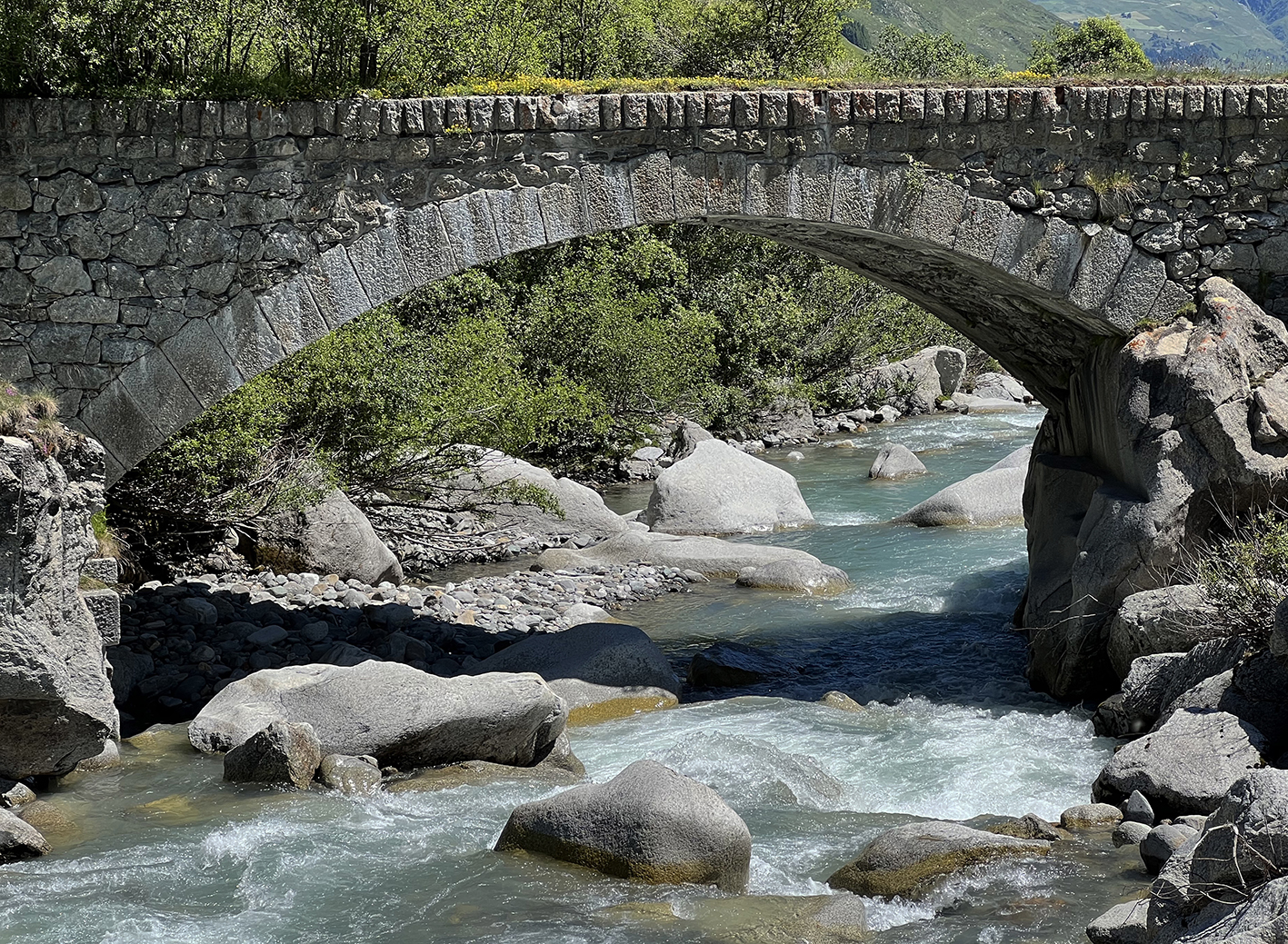 La montagne, derrière nous, reste impressionnante. Et « La Charmante », toute fière, a montré ce dont elle était capable ! / The mountain behind us remains impressive. And "La Charmante", very proud, showed what she was capable of!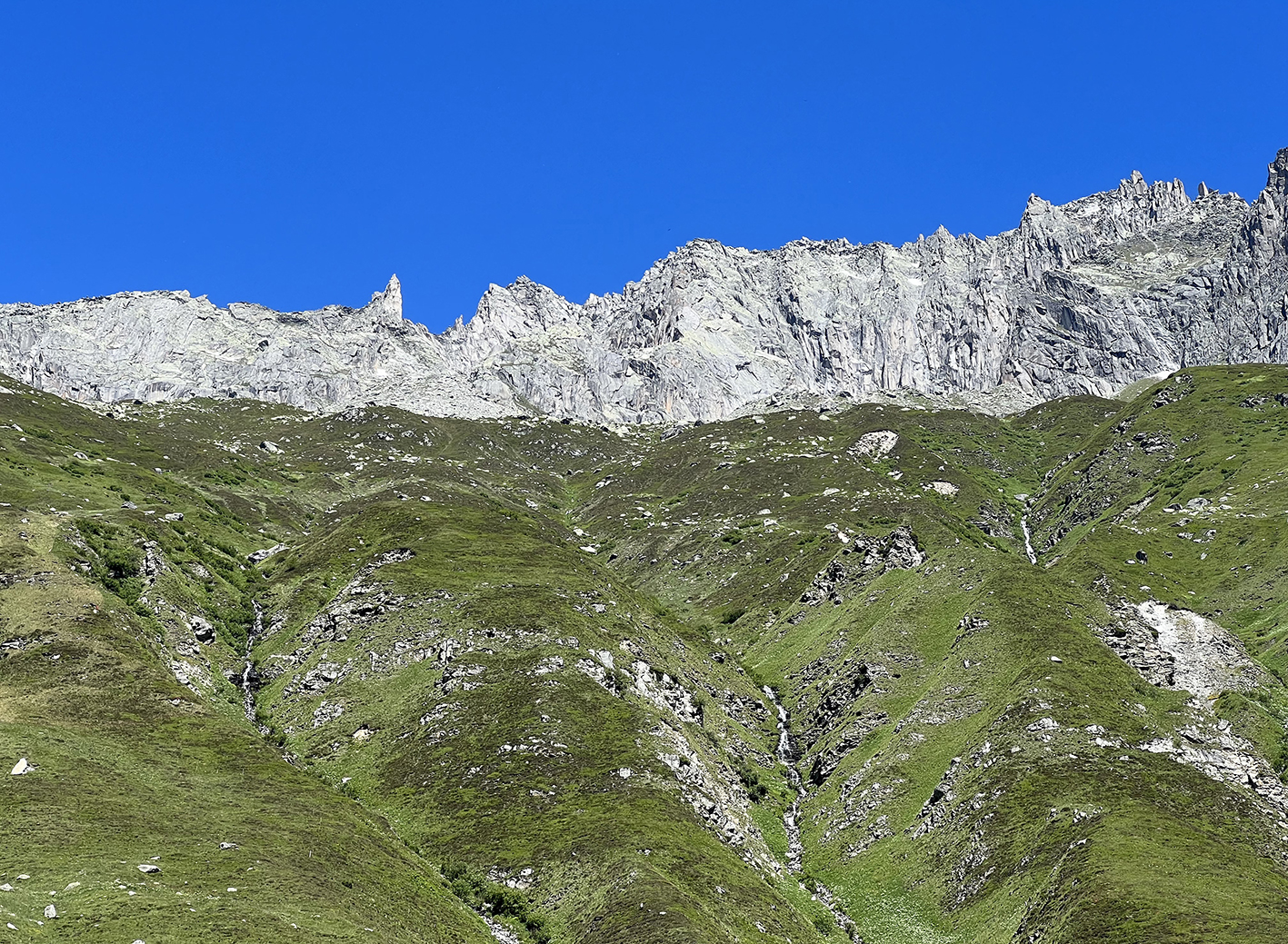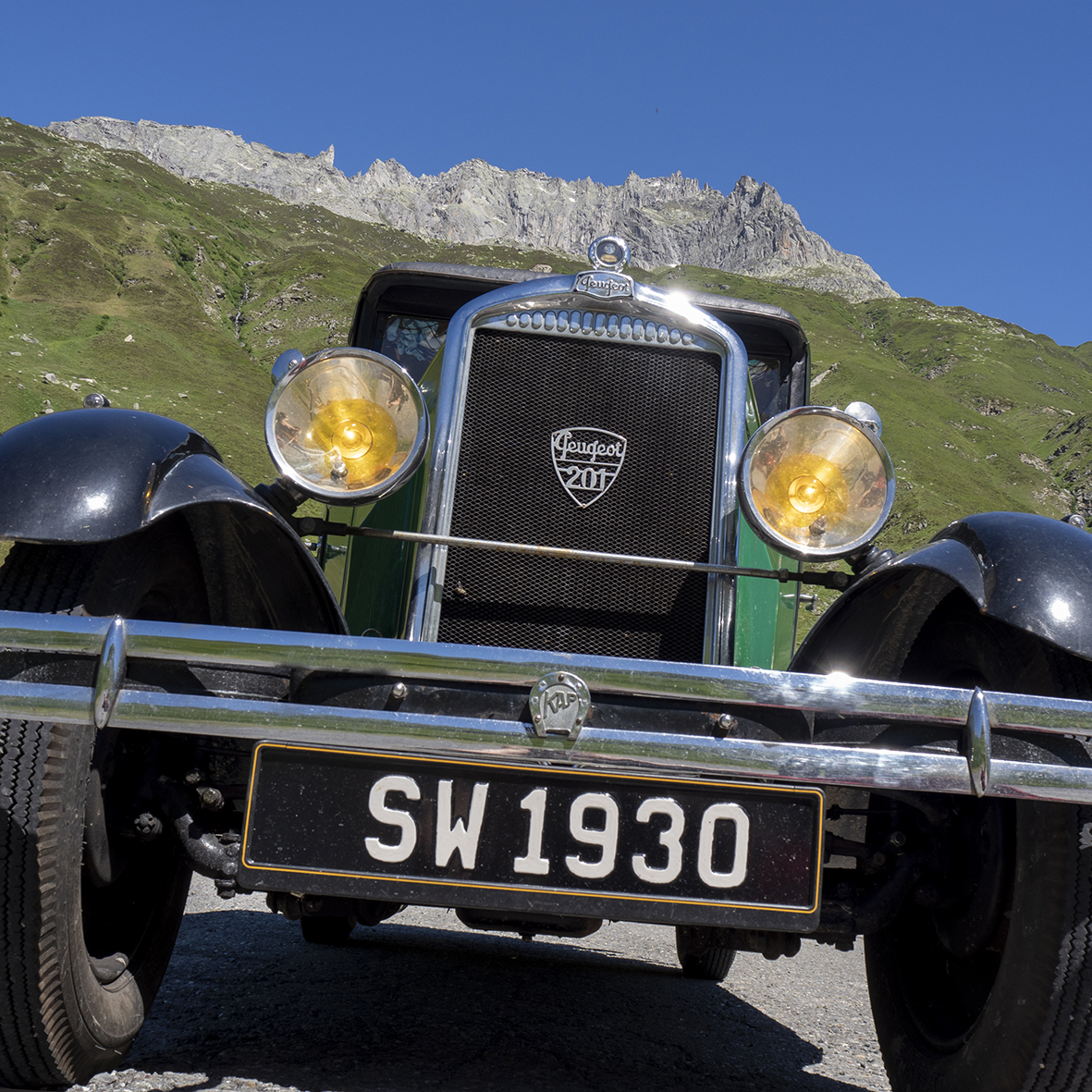 Pour franchir le redoutable Furka, nous avons choisi d'emprunter le tunnel ferroviaire qui traverse la montagne, de Realp à Oberwald, une distance de 15 kilomètres. / To cross the formidable Furka, we chose to take the railway tunnel which crosses the mountain, from Realp to Oberwald, a distance of 15 kilometres.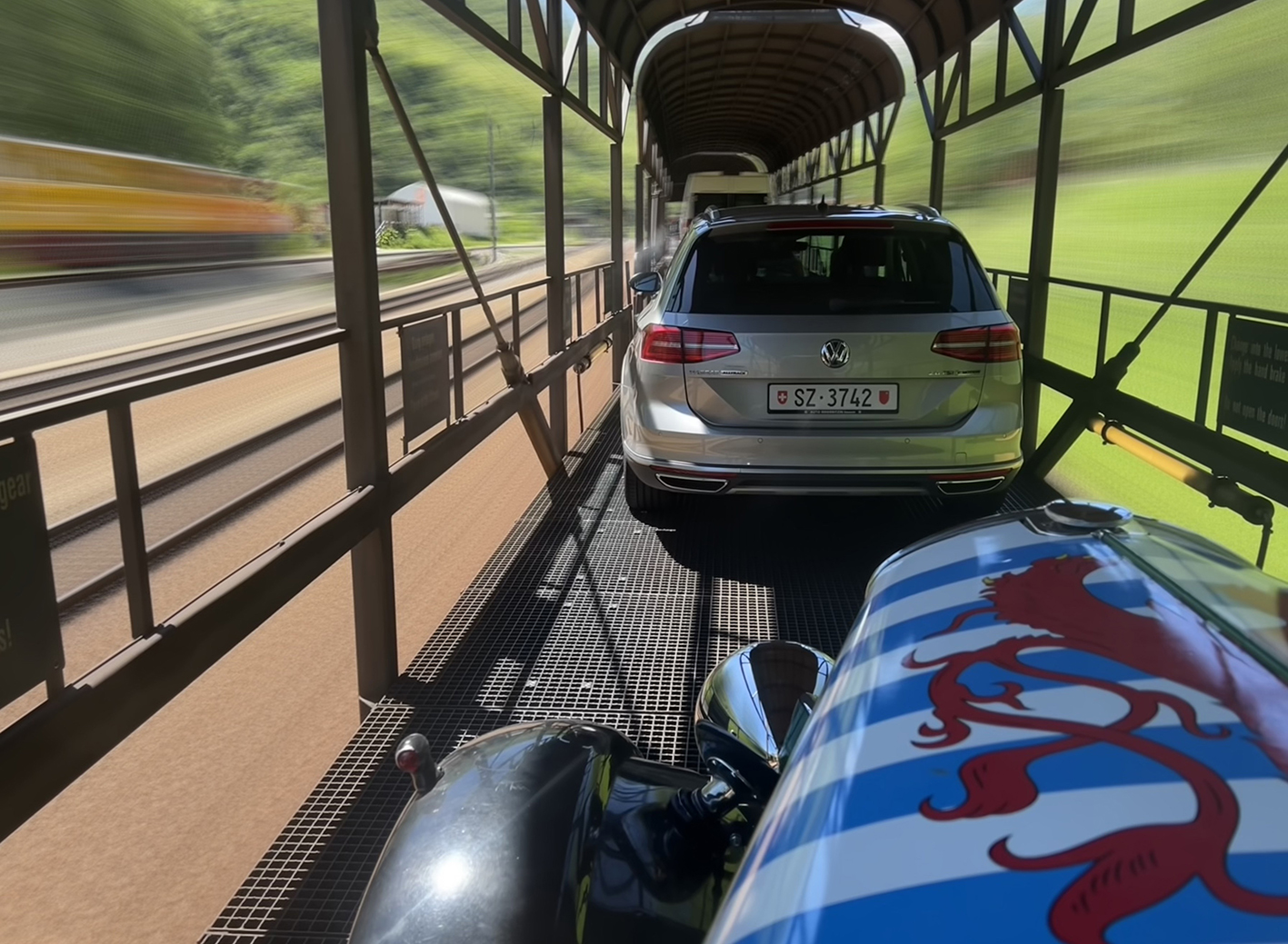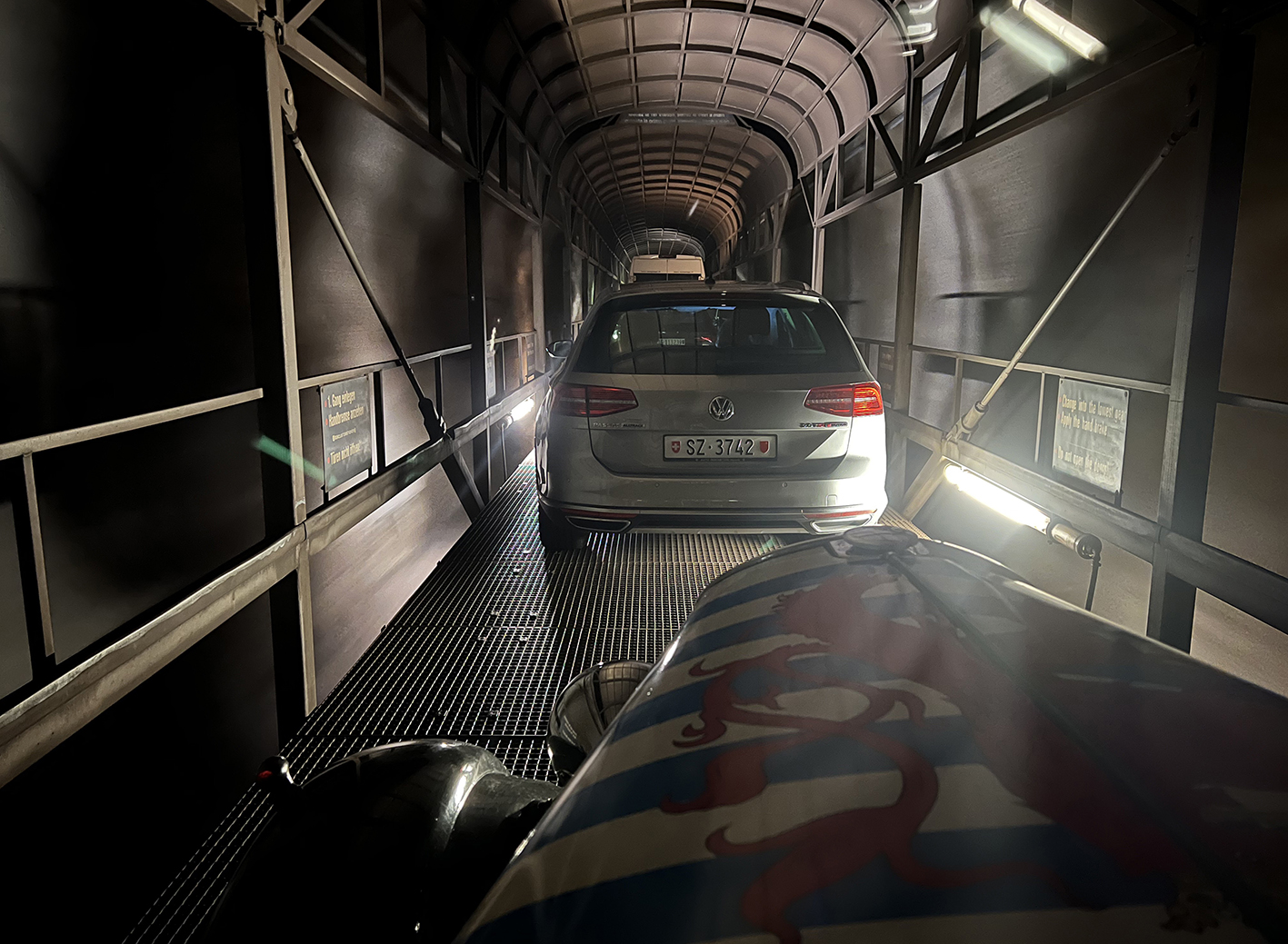 Lorsque nous roulons dans le noir et un vacarme métallique assourdissant, j'allume ma baladeuse et nous faisons un 'selfie' dans l'intimité de l'habitacle de la voiture. Nos sourires en disent long : on vient d'accomplir ce qui nous paraissait encore impossible il y a deux jours à peine. Grâce à ceux, qui, par leurs conseils ou leurs actes, ont préparé « La Charmante » à cette odyssée. / When we drive in the dark and a deafening metallic noise, I turn on my flashlight and we take a 'selfie' in the privacy of the car's cabin. Our smiles say it all: we have just accomplished what still seemed impossible to us just two days ago. Thanks to those who, through their advice or their actions, prepared "La Charmante" for this odyssey.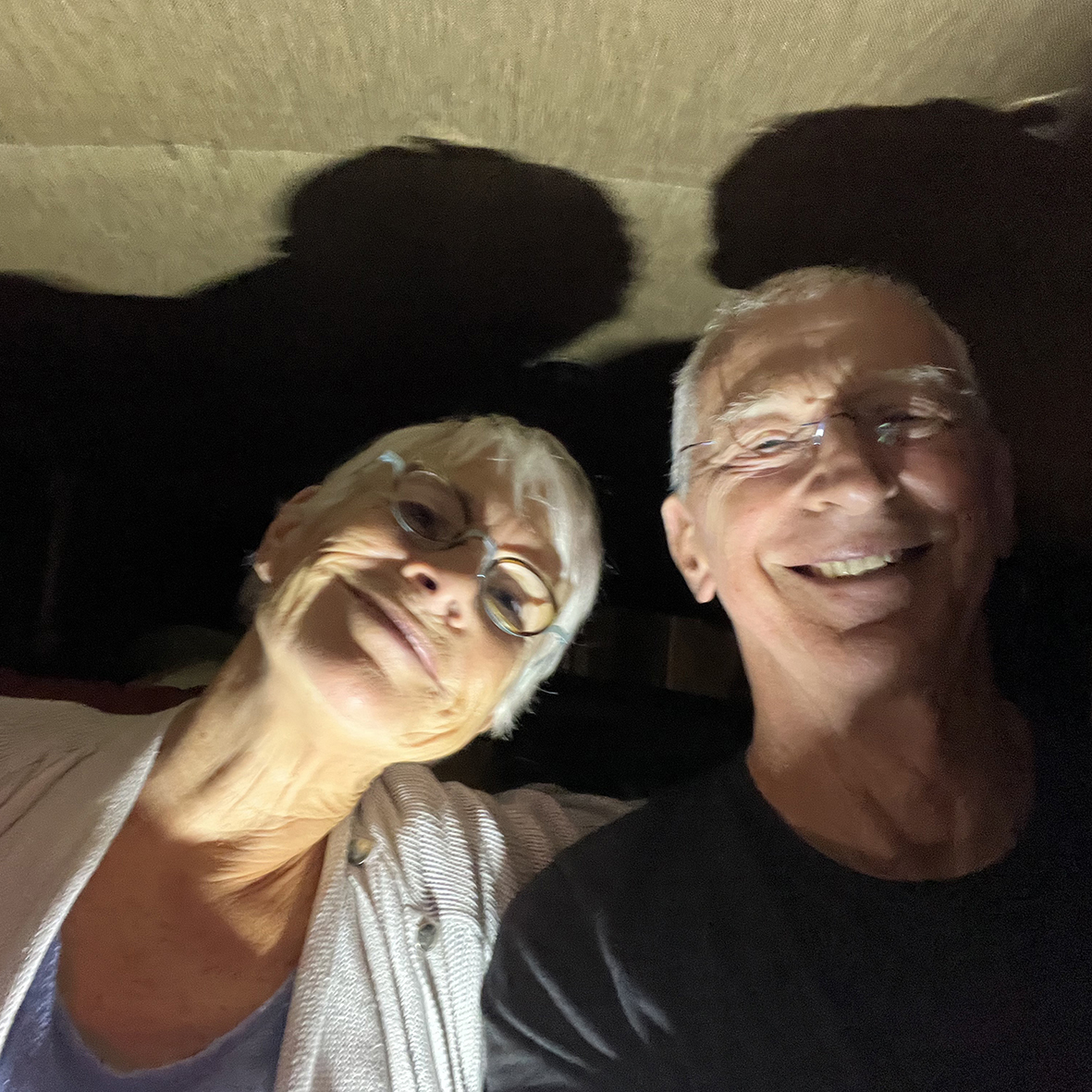 Nous reprenons la route. Parfois, nous devons céder la priorité aux chemins de fer suisses. / We take the road again. Sometimes we have to give priority to the Swiss railways.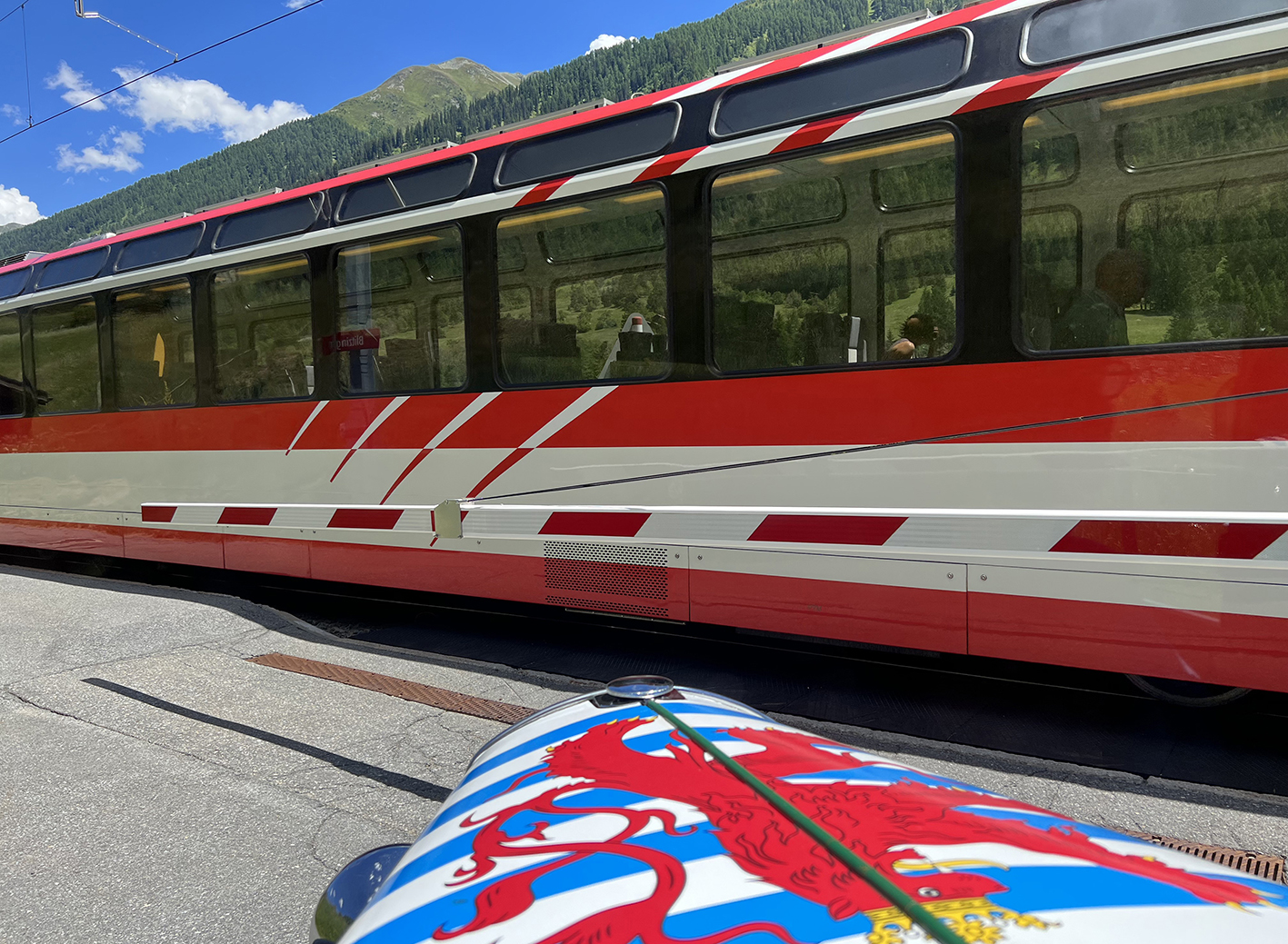 Un petit pont en bois enjambe le Rhône. / A small wooden bridge spans the Rhône.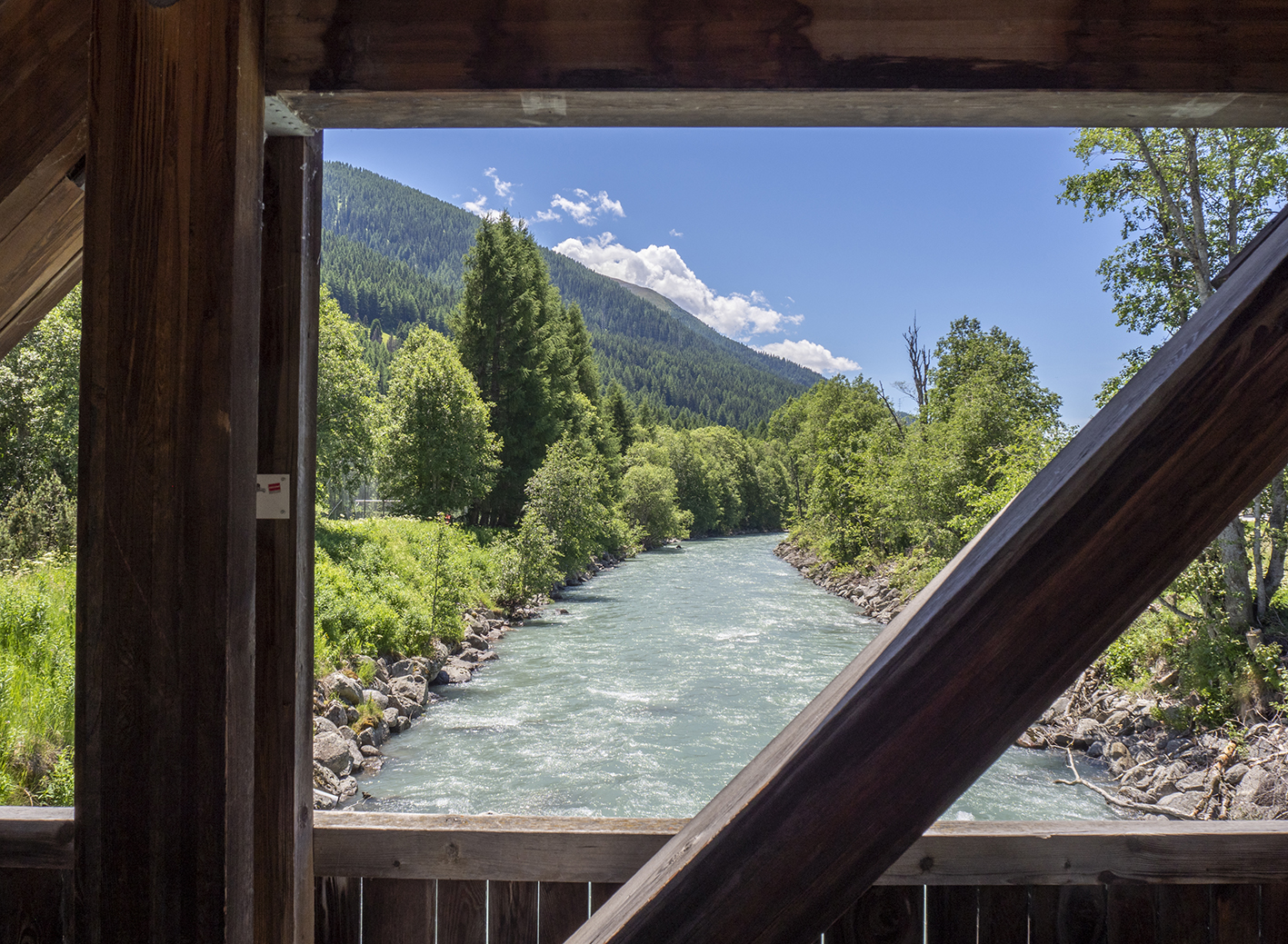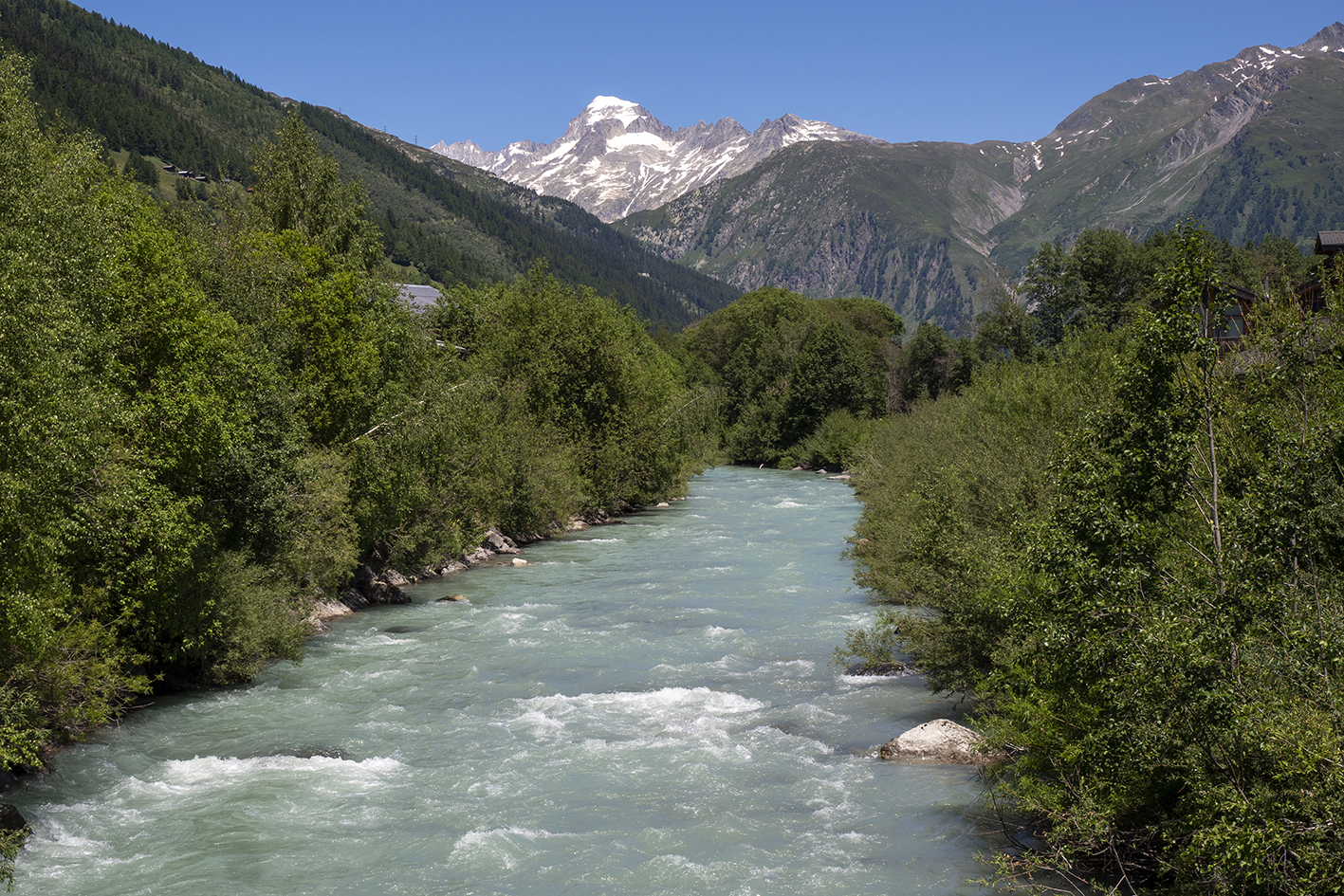 Ici, le Rhône porte encore son nom local : 'Rotten', d'où la 'Rottenweg' (rue du Rhône). / Here, the Rhône still bears its local name: 'Rotten', hence the 'Rottenweg' (Rhône street).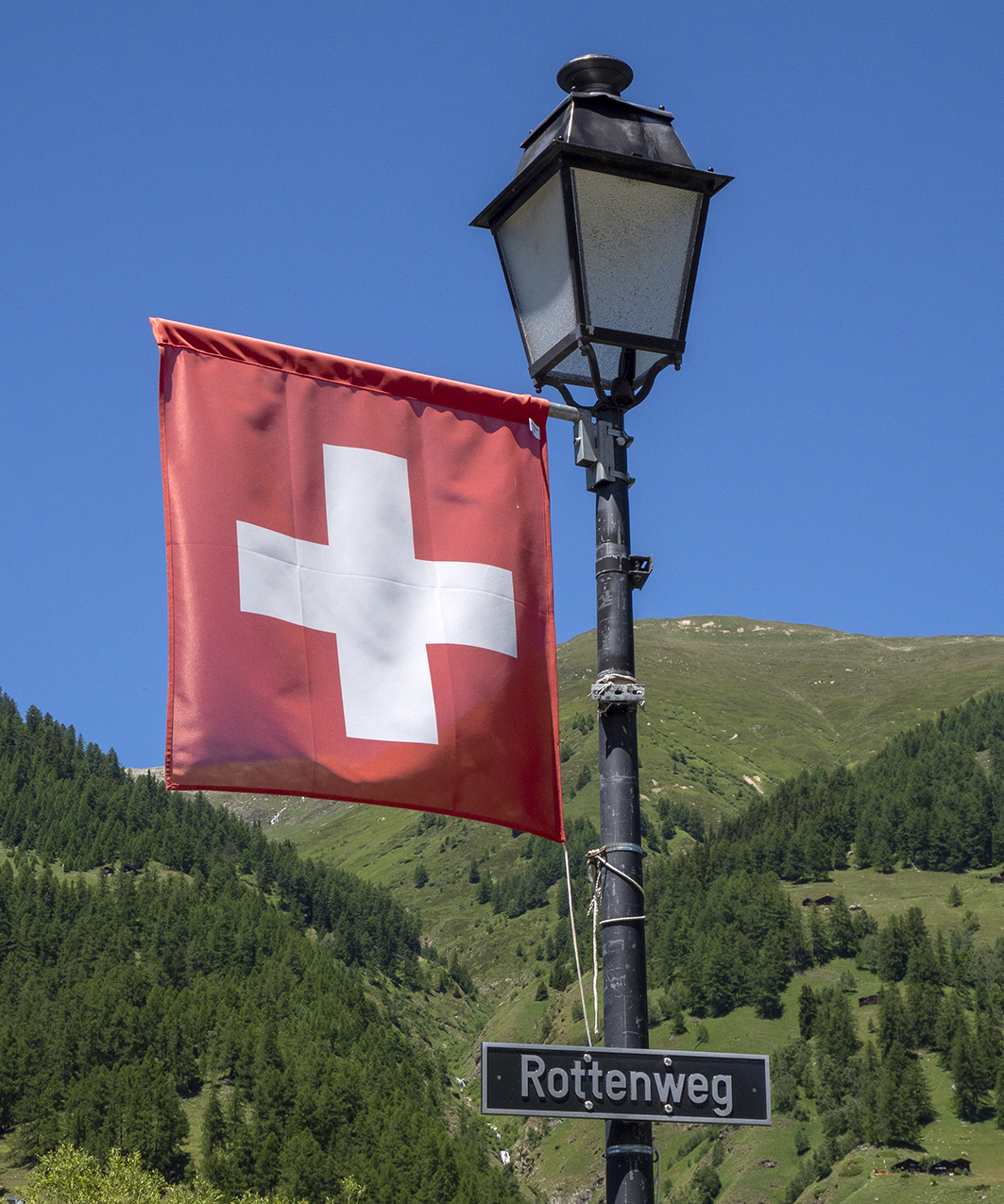 Au fur et à mesure que nous descendons la vallée, le torrent devient rivière, puis fleuve. Le Rhône s'élargit et dépose dans son lit cailloux et blocs plus gros. / As we descend the valley, the torrent becomes a river, then a river. The Rhône widens and deposits larger pebbles and blocks in its bed.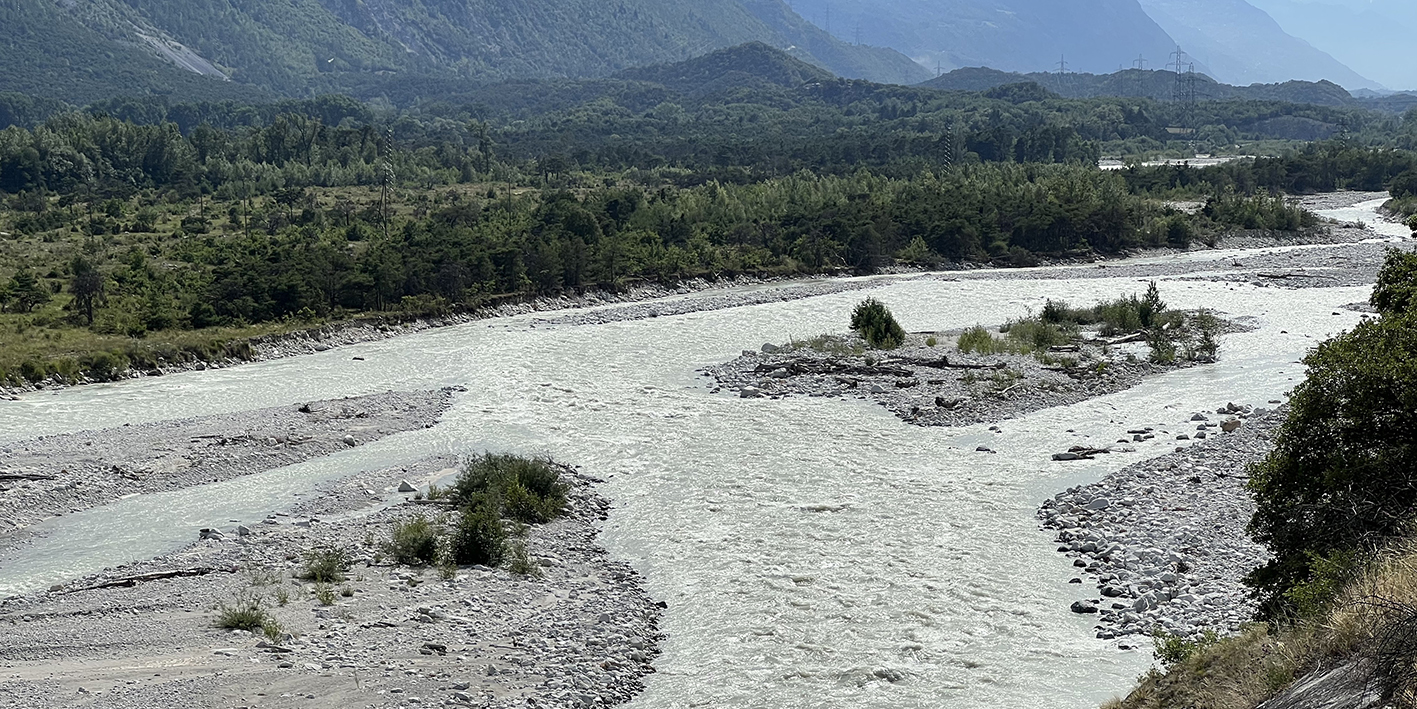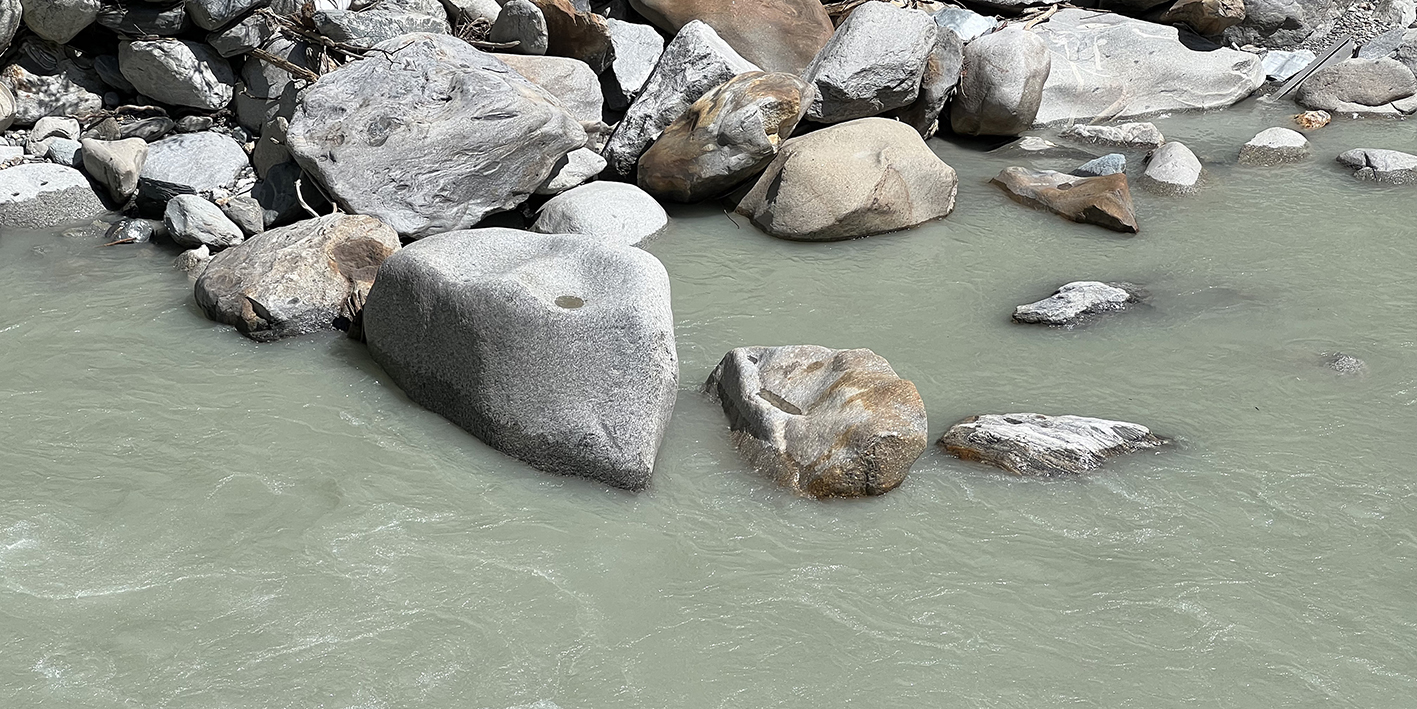 À Goms, un pont suspendu long de 280 m enjambe la vallée encaissée. J'ai toujours souffert du vertige et cela ne s'arrange pas avec l'âge. Je rejoins Marie-Xavier au milieu du pont, qui oscille doucement. Je suis vert et ferme les yeux, souhaitant mourir. À 92 mètres sous nos pieds coule le Rhône. J'ouvre vite les yeux, le temps de faire une ou deux photos, puis je me sauve… / In Goms, a 280 m long suspension bridge spans the deep valley. I have always suffered from vertigo and it does not get better with age. I join Marie-Xavier in the middle of the bridge, which oscillates gently. I am green and close my eyes, wishing to die. 92 meters below our feet flows the Rhône. I quickly open my eyes, the time to take one or two photos, then I run away…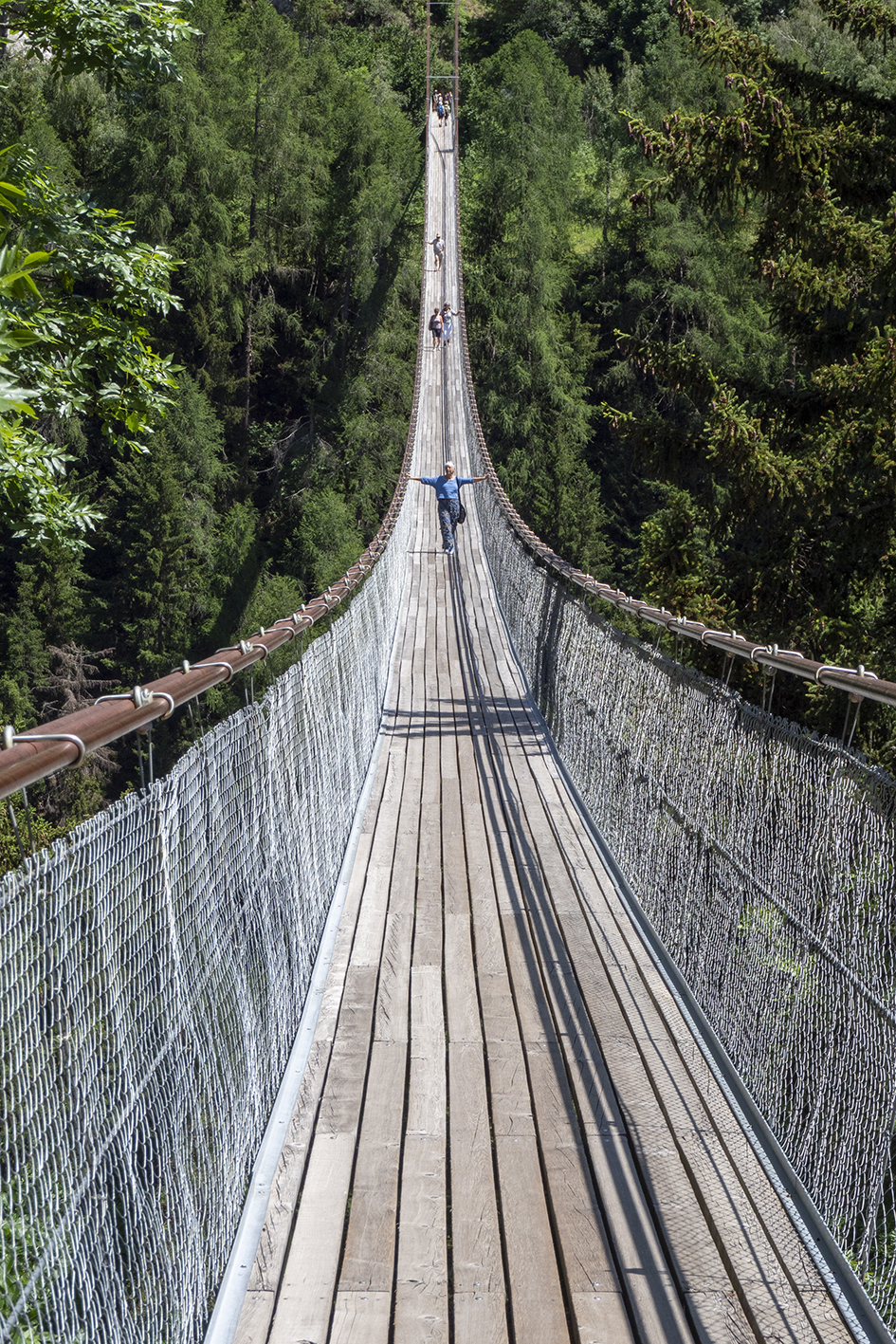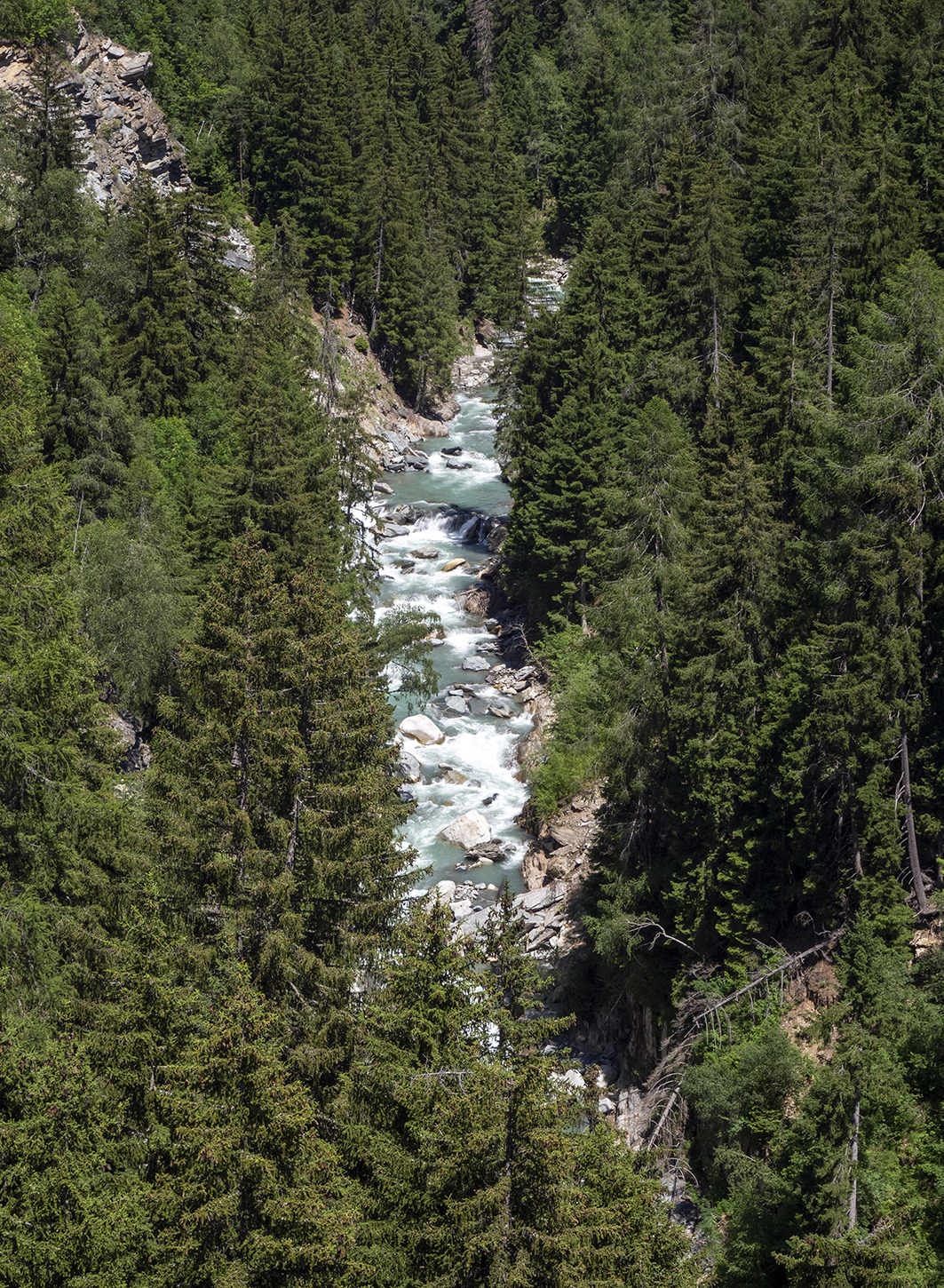 En fin d'après-midi, nous arrivons à Sion. Nous avons réservé un hôtel aux Agettes. Ce que booking.com ne nous a pas dit, c'est que de Sion (altitude 490 m) aux Agettes (1000 m), il y a un dénivelé de plus de 500 m. Dans certains tronçons, la pente est encore plus terrible qu'au col ce matin. Et la chaleur ambiante est montée en flèche. Il nous faut une heure et plusieurs arrêts pour couvrir les derniers 12 km. Arrivés à l'hôtel, après une bière bien fraîche et bien méritée avec vue sur Sion en contrebas, nous nous effondrons dans notre lit. / At the end of the afternoon, we arrive in Sion. We have booked a hotel in Les Agettes. What booking.com did not tell us is that from Sion (altitude 490 m) to Les Agettes (1000 m), there is an ascent of more than 500 m. In some sections, the slope is even more terrible than at the pass this morning. And the ambient heat has skyrocketed. It takes us an hour and several stops to cover the last 12 km. Once at the hotel, after a very cold and well-deserved beer with a view of Sion below, we collapse in our bed.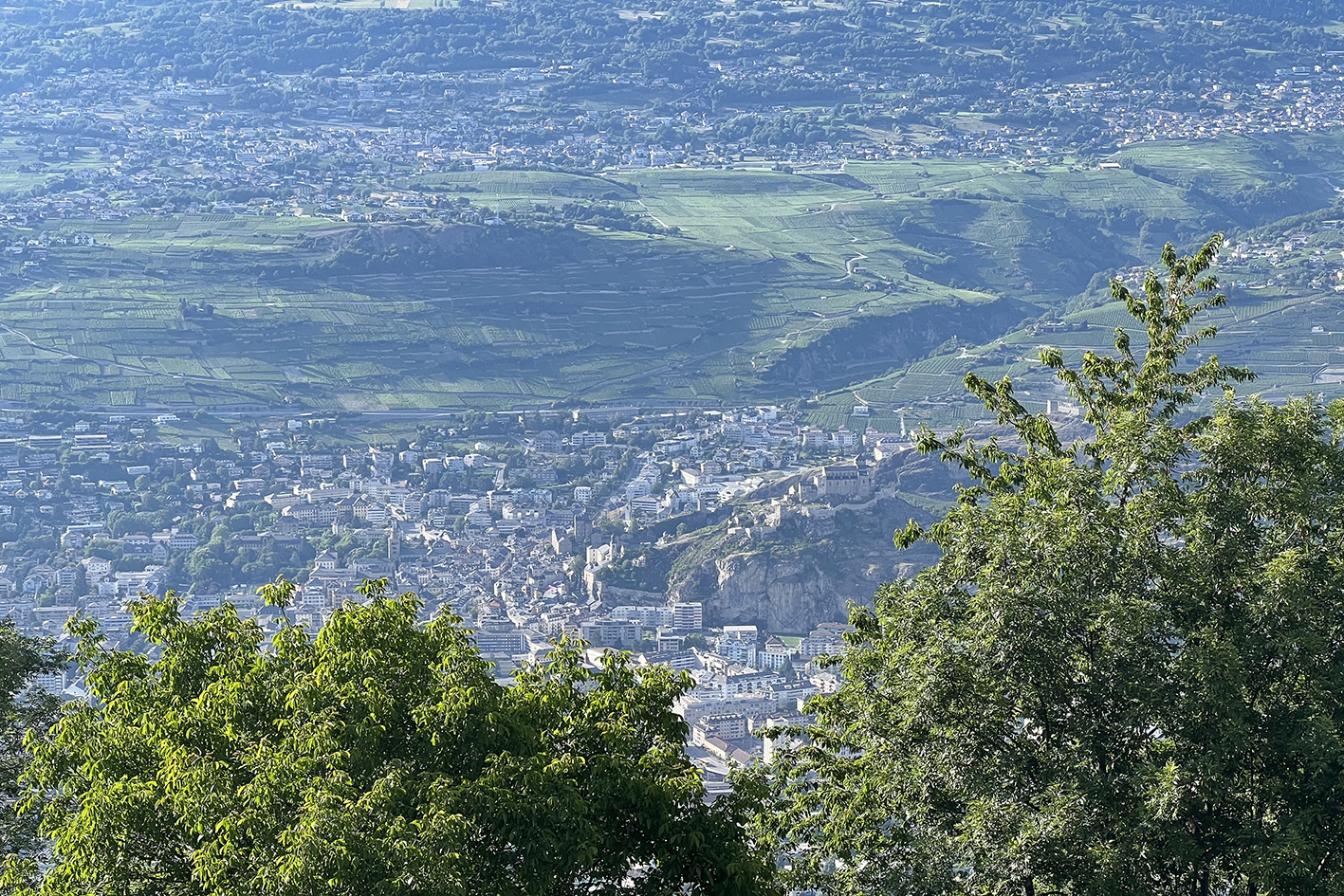 13 juin 2022.Bad Ragaz-Disentis (125 km)

– June 13th, 2022.Bad Ragaz-Disentis (125 km)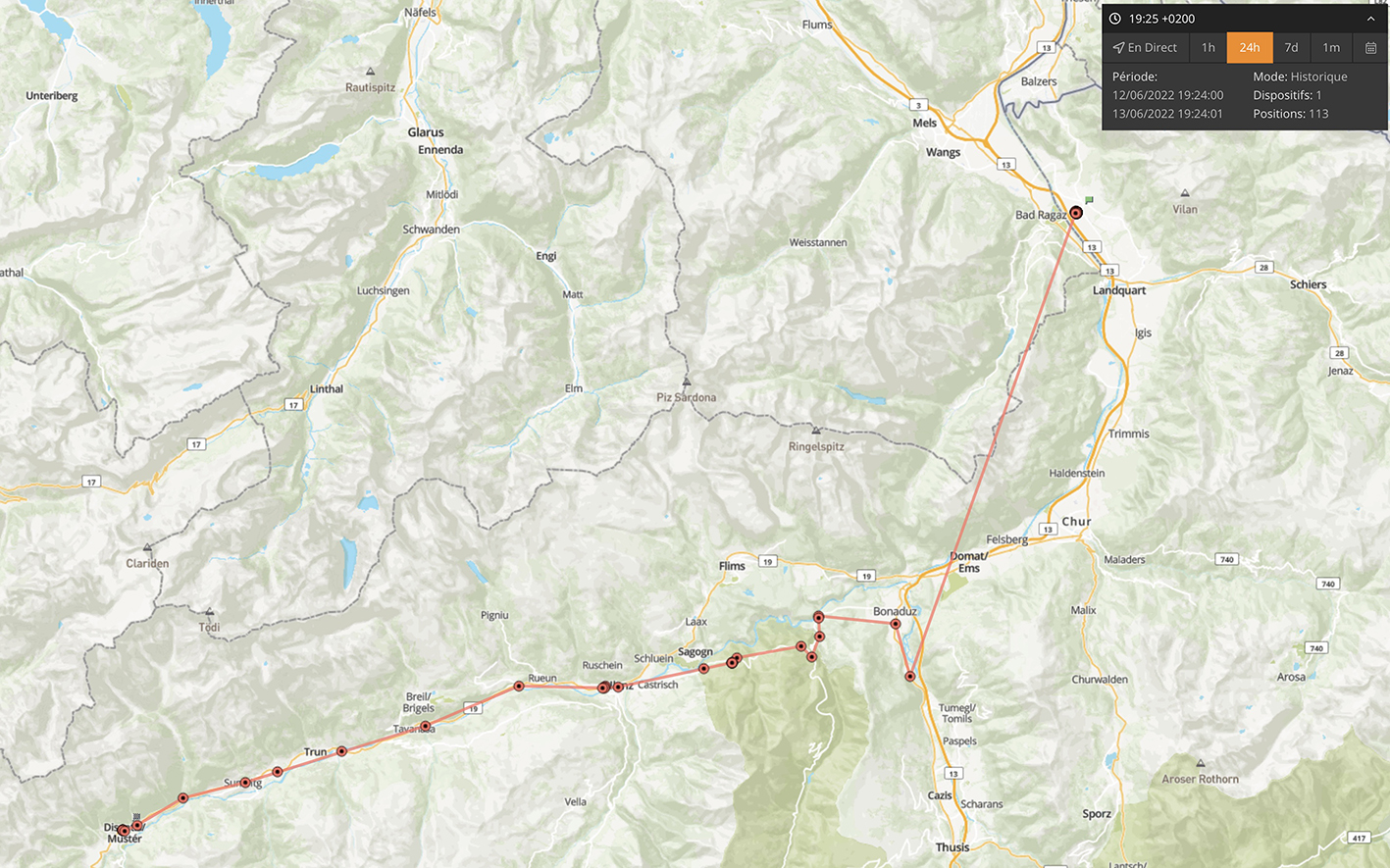 Le temps est maussade. Il pleut. Rien pour arranger le moral, qui est au plus bas. Nous avons été sur Internet, nous avons appelé mon ami Stefan à Berne et mes amis Julia et Michel près de Genève. Nous avons échafaudé des tas de solutions, toutes un peu bancales. Faire monter « La Charmante » au col de l'Oberalp sur plateau, ou bien la faire remorquer. Faire marche arrière et contourner la barrière alpine par Zurich et Berne jusqu'à Lausanne. Ou alors s'arrêter là, jeter l'éponge, il n'y a pas de honte à s'avouer vaincu. Après le petit-déjeuner, nous passons à la réception pour régler notre facture. À travers la baie vitrée, nous voyons « La Charmante » sur le parking, sous la pluie battante, les roues dans des flaques d'eau. Un monsieur à l'allure très distinguée nous aborde, visiblement le maître des lieux. Il nous fait des compliments sur notre voiture. Je réponds que si elle a fière allure comme ça, dans les côtes elle peine, à tel point que nous doutons pouvoir affronter le col de l'Oberalp. Il se présente alors : Hans, collectionneur de vieilles voitures, organisateur de courses automobiles anciennes et de concours d'élégance. Il attrape son téléphone et appelle quelqu'un. Sur quoi il nous dit qu'on est attendu chez son ami Riccardo Beccarelli à Thusis. « C'est un mécano spécialiste de voitures anciennes avec quarante ans de métier. Il restaure et il prépare les anciennes voitures de courses pour qu'elles performent au mieux. Ne vous en faites pas : il redonnera vie à votre Peugeot ! » / The weather is gloomy. It's raining. Nothing to boost our morale, which is at its lowest. We searched on the internet, we called my friend Stefan in Bern and my friends Julia and Michel near Geneva. We came up with lots of solutions, all a little wonky. Have "La Charmante" brought up to the Oberalp pass on a trailer, or have it towed. Go back and bypass the Alpine barrier via Zurich and Bern to Lausanne. Or stop here and now, throw in the towel, there is no shame in admitting defeat after all. After breakfast, we go to the reception to settle our bill. Through the bay window, we see "La Charmante" in the parking lot, in the pouring rain, her wheels in puddles. A very distinguished-looking gentleman approaches us, obviously the owner of the place. He compliments us on our car. I answer that if she looks great like that, in the hills she struggles, so much so that we doubt we can face the Oberalp pass. He then introduces himself: Hans, collector of old cars, organizer of old car races and elegance competitions. He grabs his phone and calls someone. Whereupon he tells us that we are expected at his friend Riccardo Beccarelli's in Thusis. "He is a mechanic specializing in vintage cars with forty years of experience. He restores and prepares old racing cars to perform at their best. Don't worry: he will bring your Peugeot back to life! »
Nous voilà en route, sans trop y croire. À Reichenau-Tamins, nous atteignons l'endroit où le Rhin Antérieur et le Rhin Postérieur s'unissent pour devenir le Rhin. Nous traversons ce dernier en passant sur un vieux pont. / Here we are on the way, without really believing it. In Reichenau-Tamins we reach the place where the Anterior Rhine and the Posterior Rhine unite to become the Rhine. We cross the latter passing over an old bridge.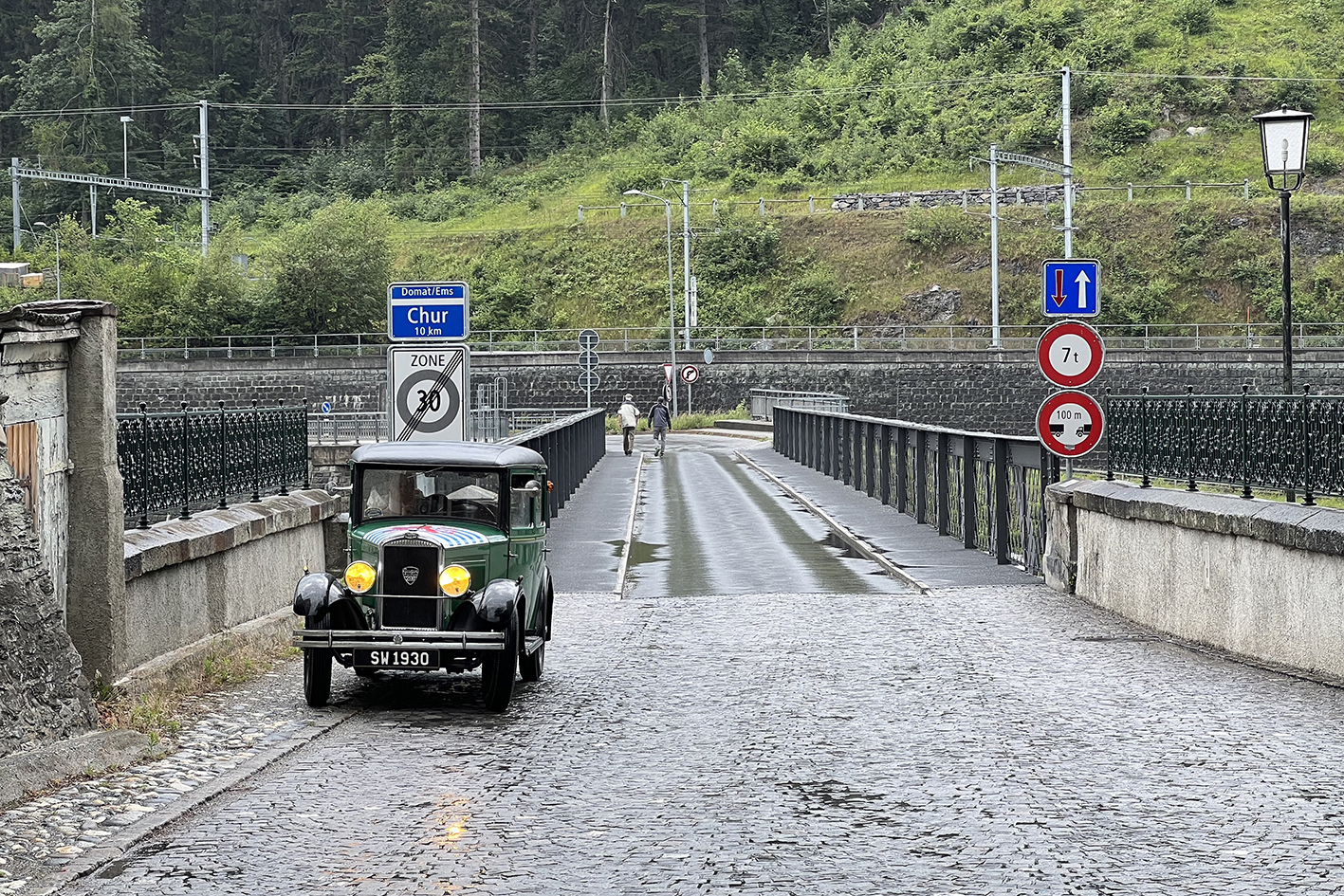 Le pont ferroviaire enjambe le Rhin Postérieur. / The railway bridge spans the Posterior Rhine.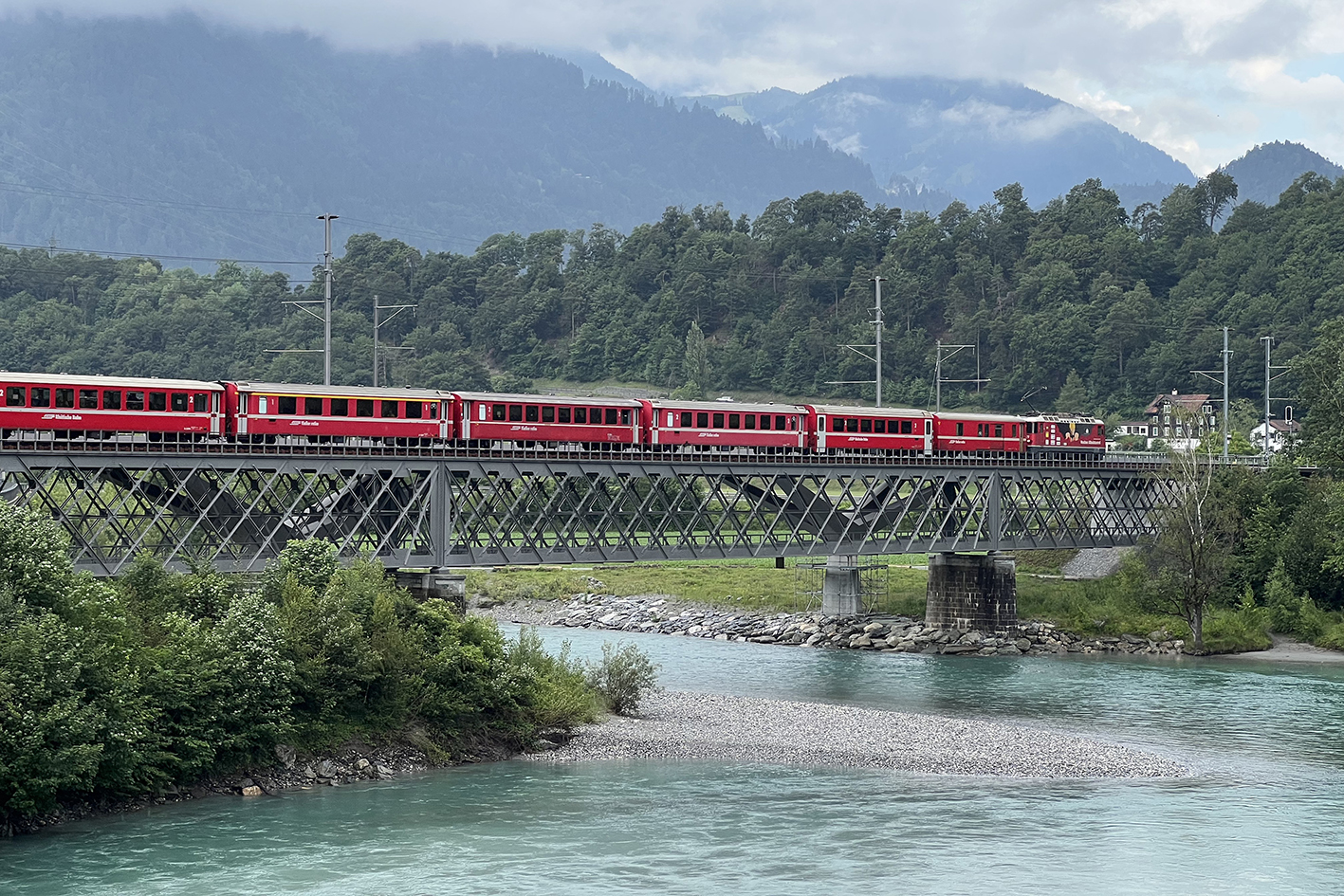 Depuis un deuxième pont, nous avons une vue sur le Rhin Antérieur (au premier plan) et le Rhin Postérieur (sous le pont ferroviaire) et ce qui s'appelle désormais le Rhin, qui s'écoule vers la gauche. / From a second bridge we have a view of the Anterior Rhine (in the foreground) and the Posterior Rhine (under the railway bridge) and the Rhine proper, which flows to the left.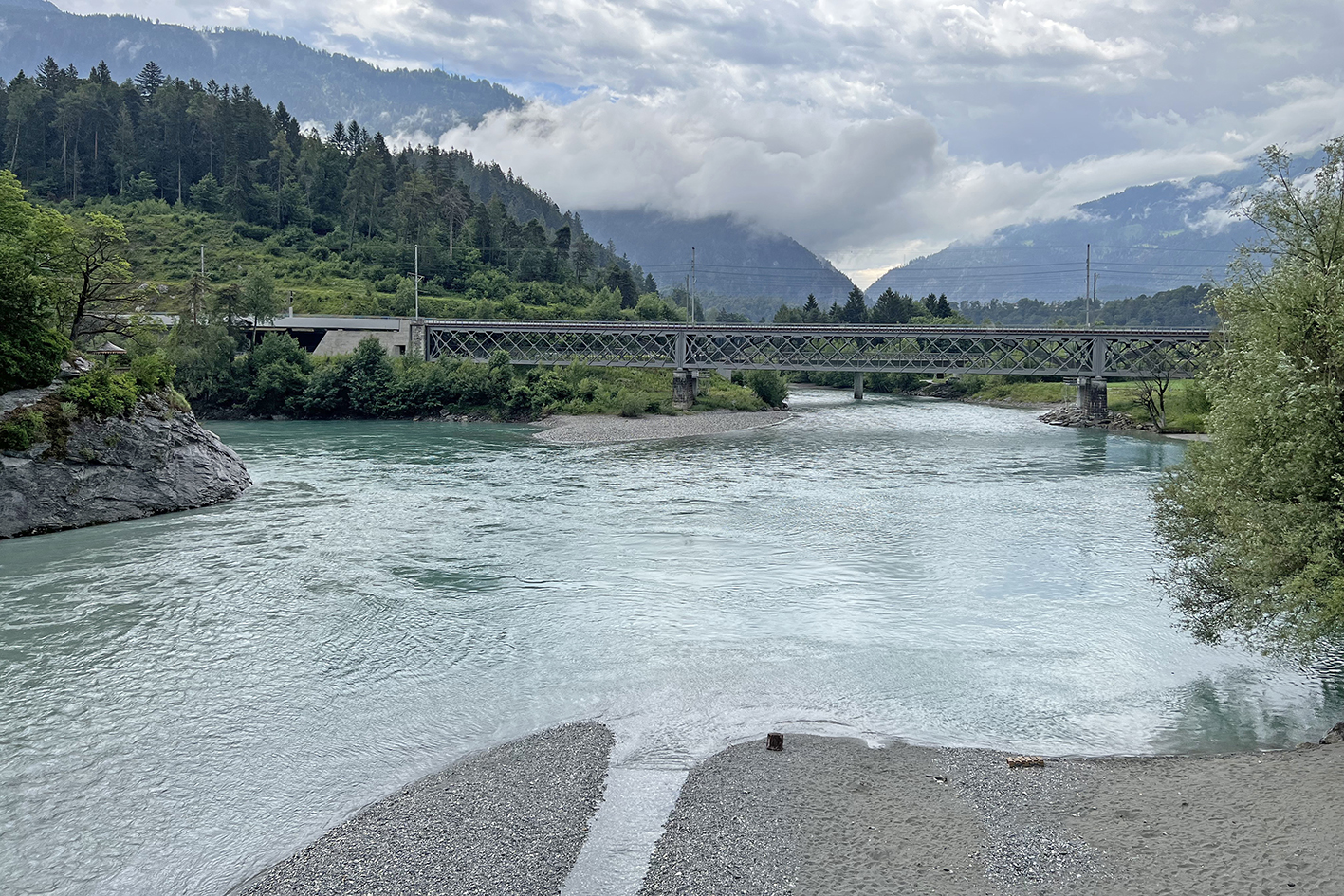 Sous le pont, Marie-Xavier remarque un grand cœur dessiné avec les galets du fleuve. Même si « La Charmante » nous fait des soucis, notre amour de quarante ans reste intact. C'est même lui qui fait qu'on tient encore le coup. / Under the bridge, Marie-Xavier notices a large heart drawn with the pebbles of the river. Even if "La Charmante" worries us, our love of forty years remains intact. It is even that which keeps us going.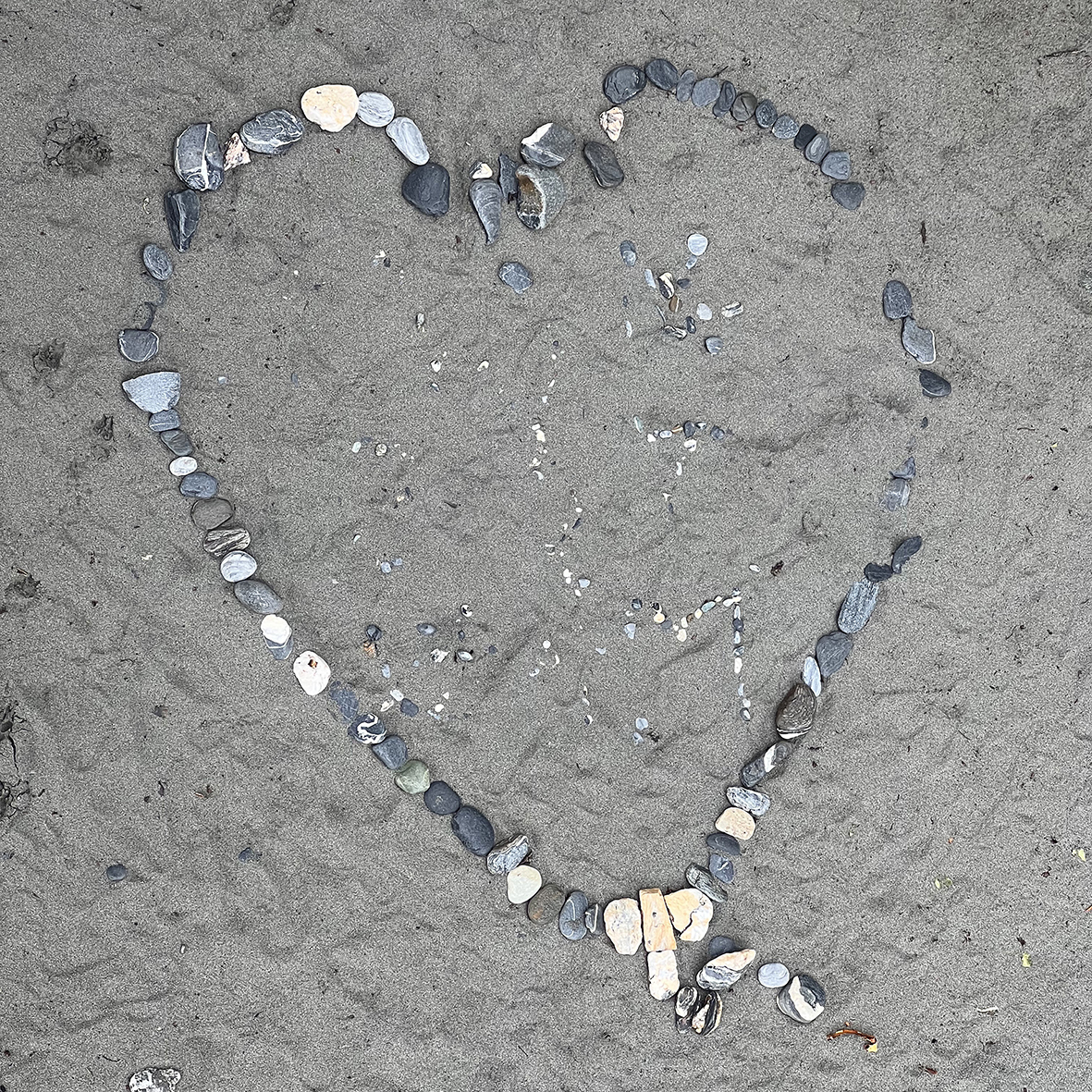 Au bout de 46 lents kilomètres, via Chur (Coire), nous arrivons chez Riccardo, qui discute avec un client qui vient de lui amener depuis le Liechtenstein une voiture de course Ford A. J'explique notre problème et le mécanicien se met tout de suite au travail. / After 46 slow kilometres, via Chur (Chur), we arrive at Riccardo, who is talking to a customer who has just brought him a Ford-A racing car from Liechtenstein. I explain our problem and the mechanic starts immediately to work.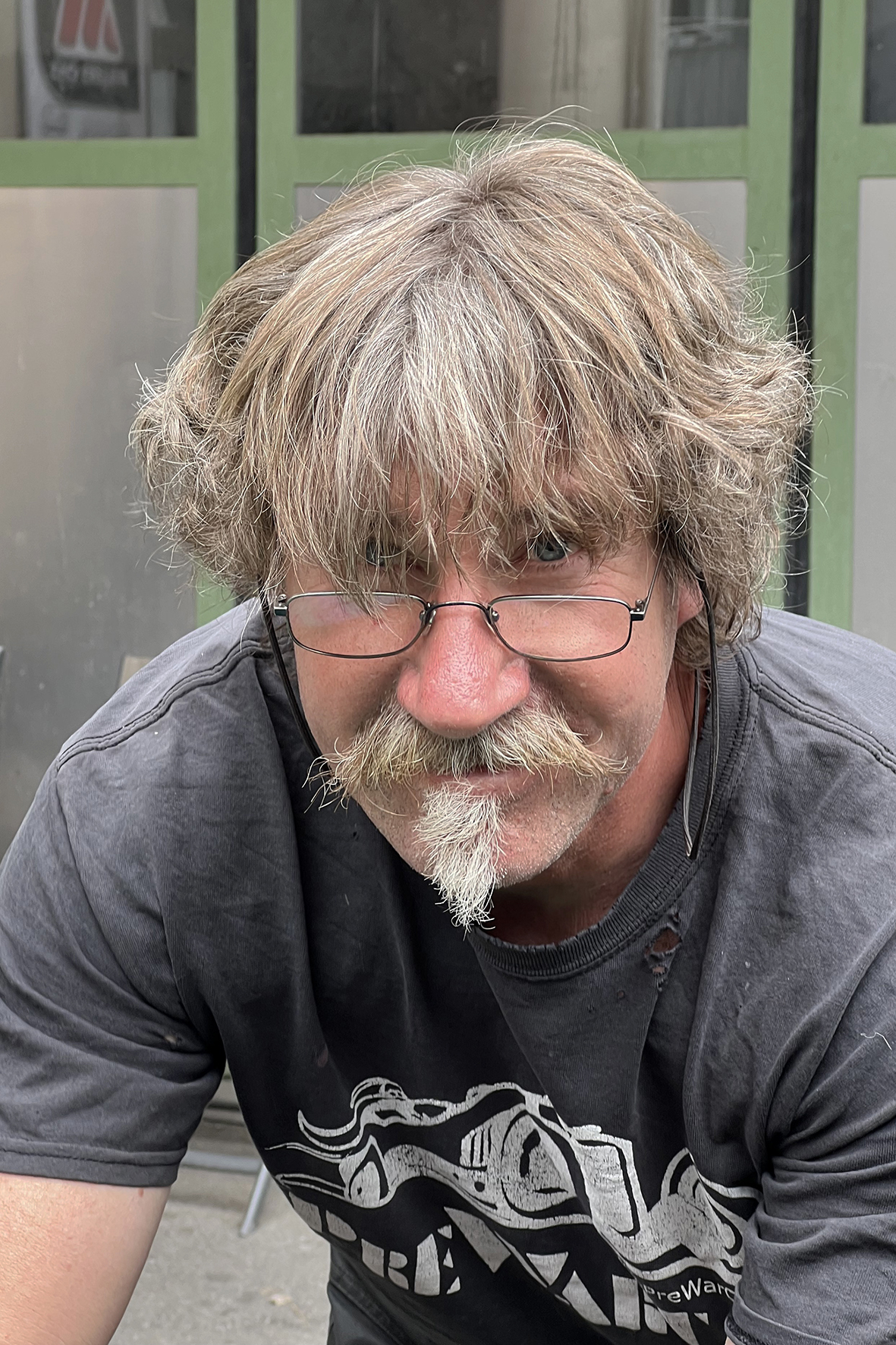 Tout est dans la finesse. Il corrige l'écartement des vis platinées, puis celui des électrodes des bougies. Il règle l'avance à l'allumage. Juste quelques degrés en moins. Il vérifie le carburateur. Nettoie les gicleurs à l'air comprimé – « Juste par acquit de conscience ». On fait un tour ensemble, lui au volant. Il fignole encore un peu l'allumage. / It's all in the finetuning. He corrects the spacing of the contact points, then that of the spark plug electrodes. He adjusts the ignition advance. Just a few degrees lower. He checks the carburetor. Cleans the jets with compressed air – "Just for the sake of it". We take a ride together, him driving. He still tweaks the ignition a bit.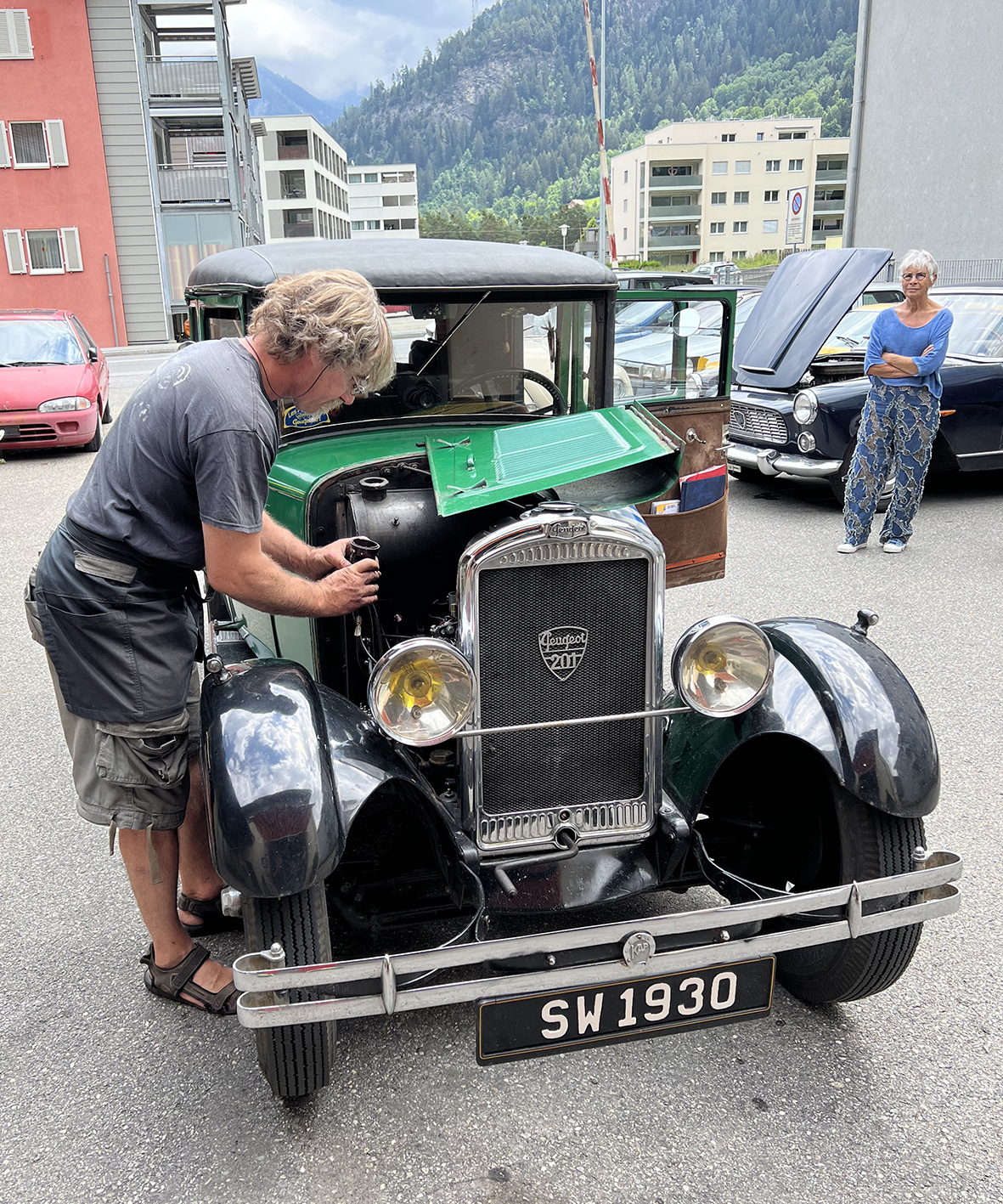 Et c'est reparti… Et là, je le sens, il s'est passé quelque chose ! C'est subtil, ce n'est pas spectaculaire, mais c'est là : la musique du moteur a changé de façon presque imperceptible, il y a juste ce petit plus de puissance dans les côtes. / And here we go again… And there, I can feel it, something has happened! It's subtle, it's not spectacular, but it's there: the sound of engine has changed almost imperceptibly, there's just that little extra power in the hills.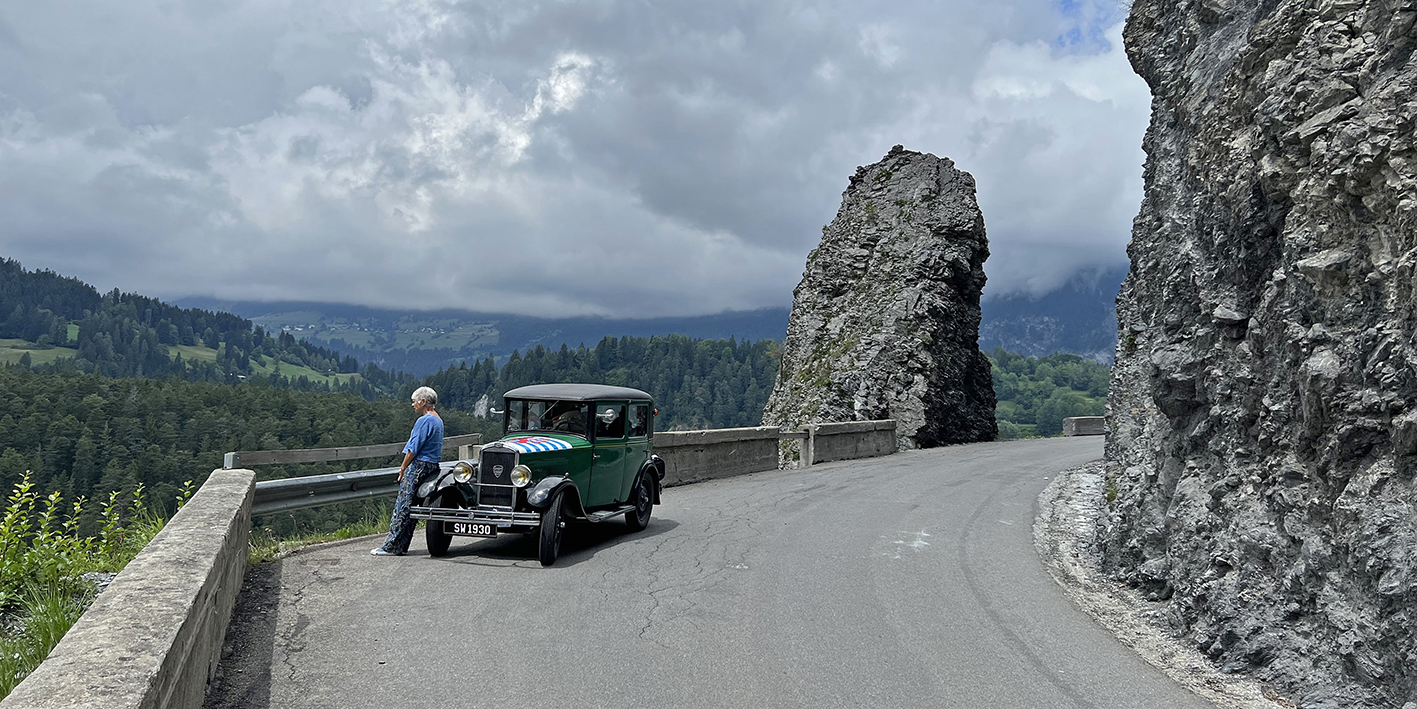 Nous passons par le Canyon du Ruinaulta ou Gorges du Rhin. Paysages grandioses, résultat d'un drame géologique qui se déroula il y a environ 10'000 ans. Un glissement de terrain de 7 km3 de roche, provenant du massif de Flims, était tombé sur la vallée du Rhin, recouvrant le Rhin antérieur. Durant plusieurs années, il creusa dans cet éboulis, donnant lieu aux gorges du Rhin. / We pass through the Ruinaulta Canyon or the Rhine Gorge. Magnificent landscapes, the result of a geological drama that took place around 10,000 years ago. A landslide of 7 km3 of rock, coming from the Flims mountains, had fallen on the Rhine valley, covering the Anterior Rhine. For several years, the river dug into this scree, giving rise to the Rhine gorges.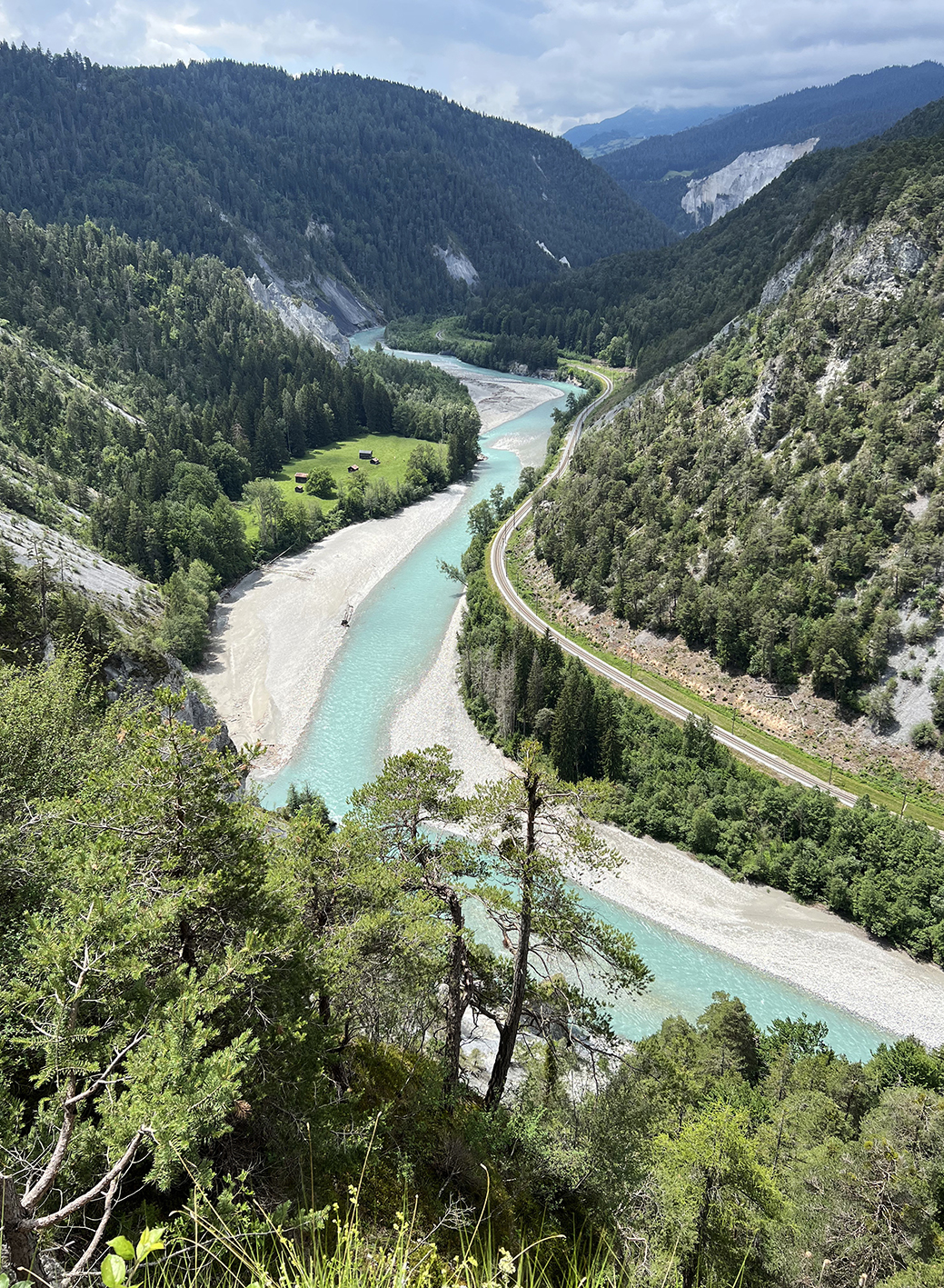 Au détour d'un virage, rencontre avec deux hommes en vélomoteur qui s'arrêtent pour admirer notre « Charmante ». À notre tour d'admirer leurs 'pétrolettes' des années 1960, qui, avec leurs 49 cm3, marchent encore de façon remarquable dans les côtes. Nous discutons. Ils font partie d'une réunion de mille vélomoteurs venus de toute l'Europe. Décidément, nous ne sommes pas les seuls 'jeunes fous' ! / At a bend in the mountain road, we encounter two men on mopeds who stop to admire our "Charmante". It's our turn to admire their machines from the 1960s, which, with their 49 cm3, still work remarkably uphill. We have a talk. They are part of a meeting of a thousand mopeds from all over Europe. Decidedly, we are not the only 'young fools'!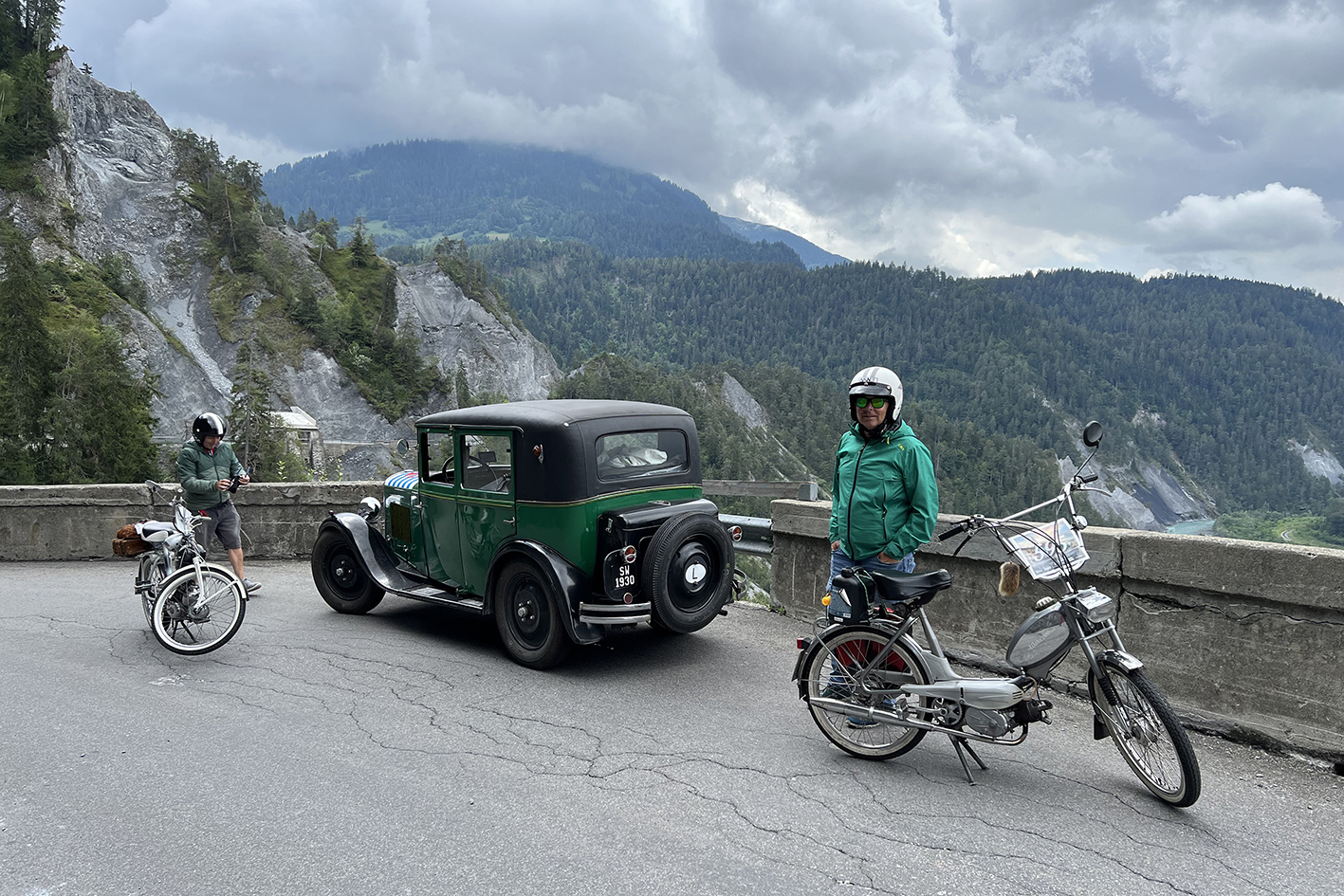 Quand nous entamons une longue descente, le frein moteur, en seconde, suffit à lui seul : pas besoin de toucher la pédale du frein ! La route est spectaculaire. / When we begin a long descent, the engine brake, in second gear, is enough on its own: no need to touch the brake pedal! The road is spectacular.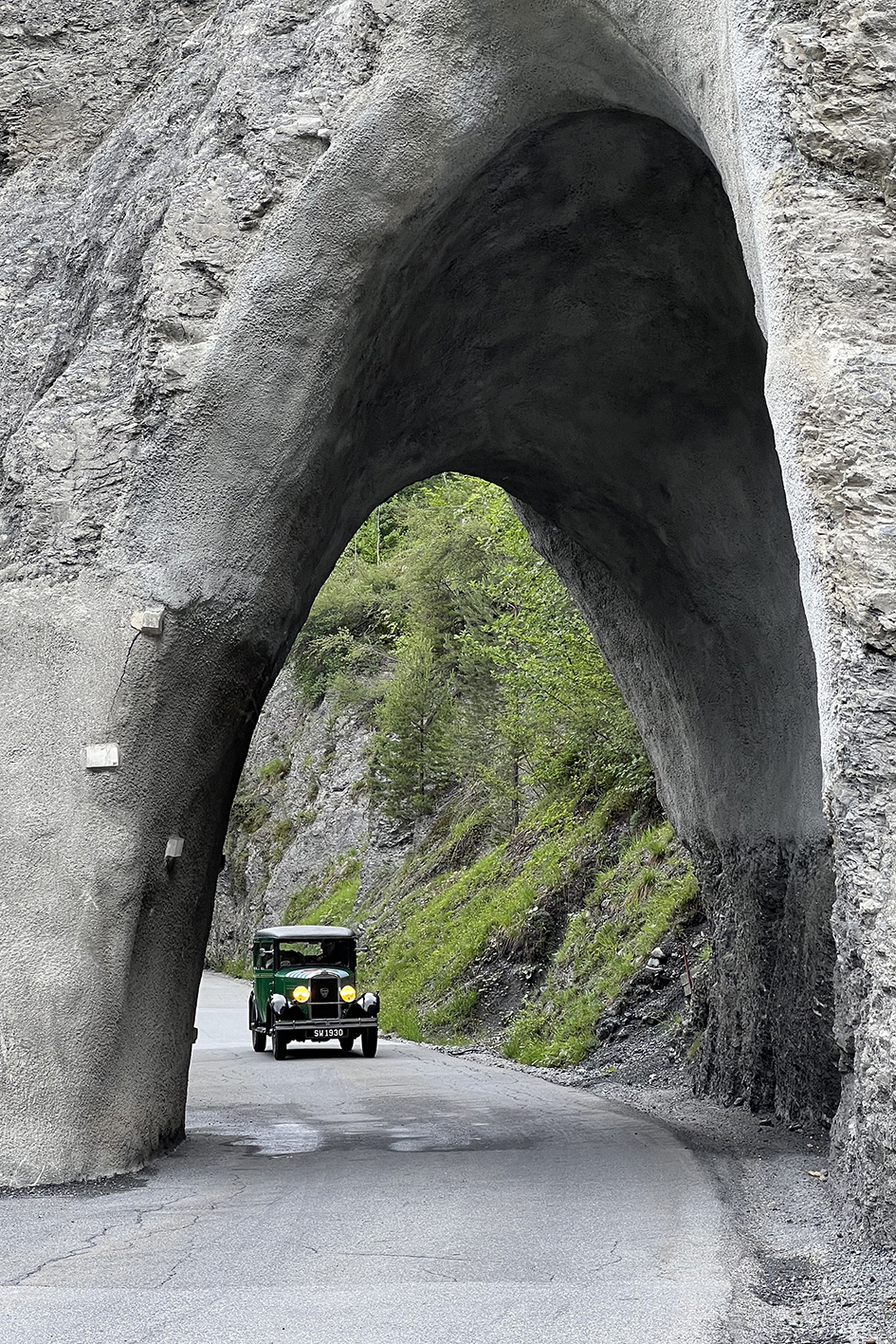 La remontée vers le village de Versam est très raide. 10% ? 11% ? Nous l'ignorons, mais ce tronçon en lacets (Google maps, impossible de nous arrêter pour une photo !) est le test de la vérité. Nous montons lentement, 15 km/h en première, ventilateur électrique enclenché, un œil rivé en permanence sur la température du moteur. Et elle le fait ! / The ascent to the village of Versam is very steep. 10%? 11%? We don't know, but this hairpin stretch (Google maps, impossible to stop for a picture!) is the test of the truth. We climb slowly, 15 km/h in first gear, electric fan on, one eye constantly on the engine temperature. And she makes it!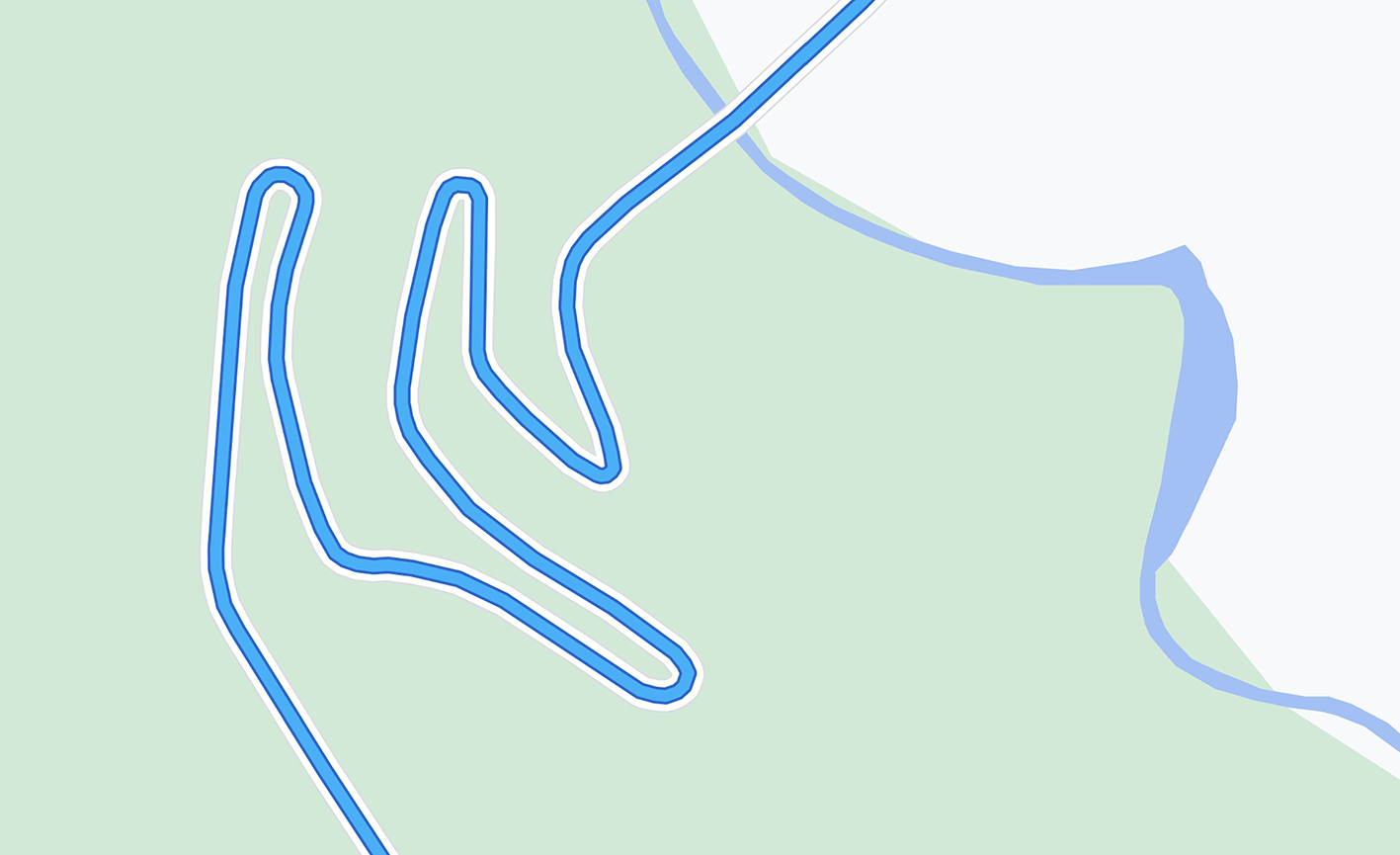 L'espoir renait un peu, mais nous n'osons pas encore crier victoire. Même le soleil est revenu ! / Our hopes are restored a little, but we do not yet dare to claim victory yet. Even the sun has come back!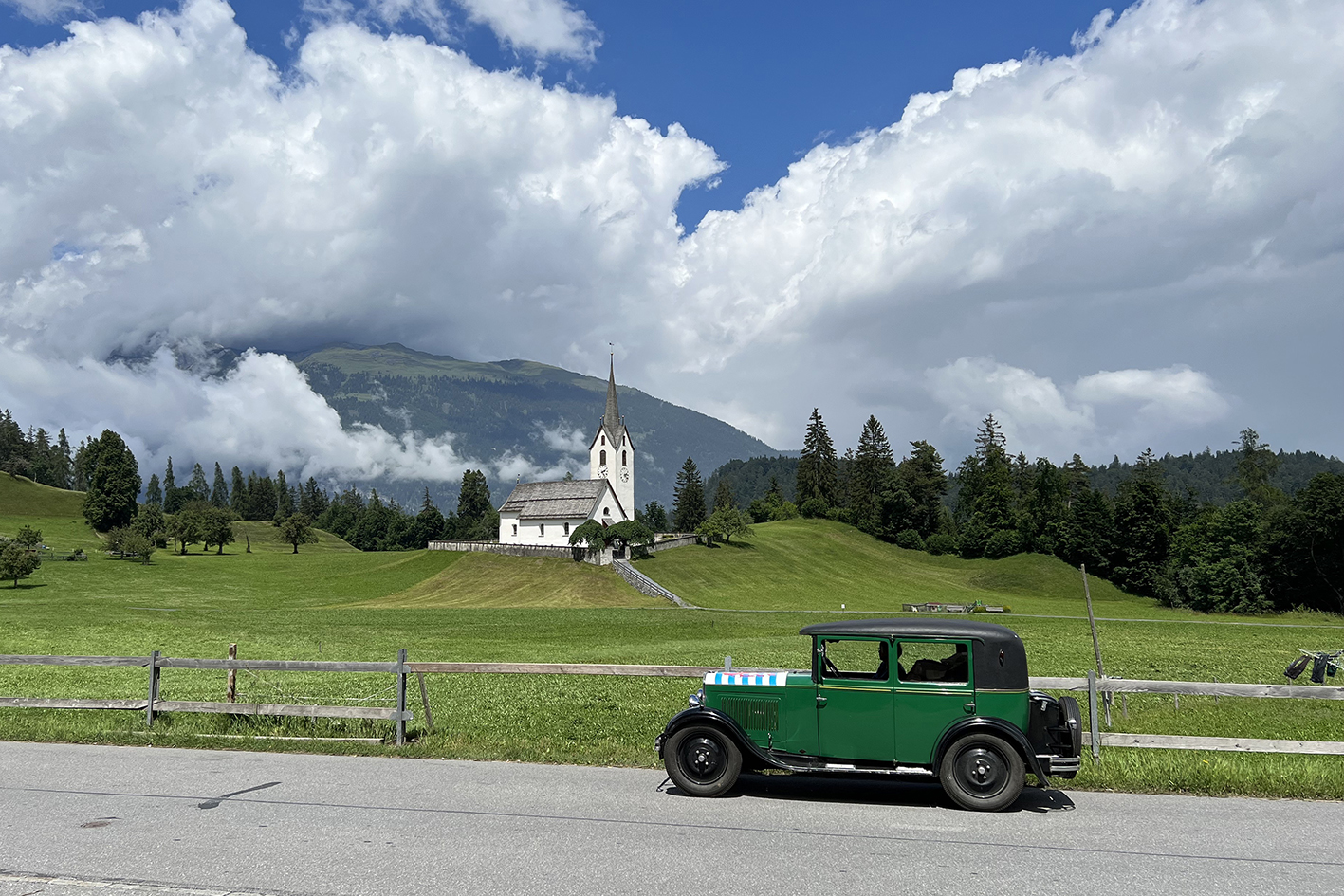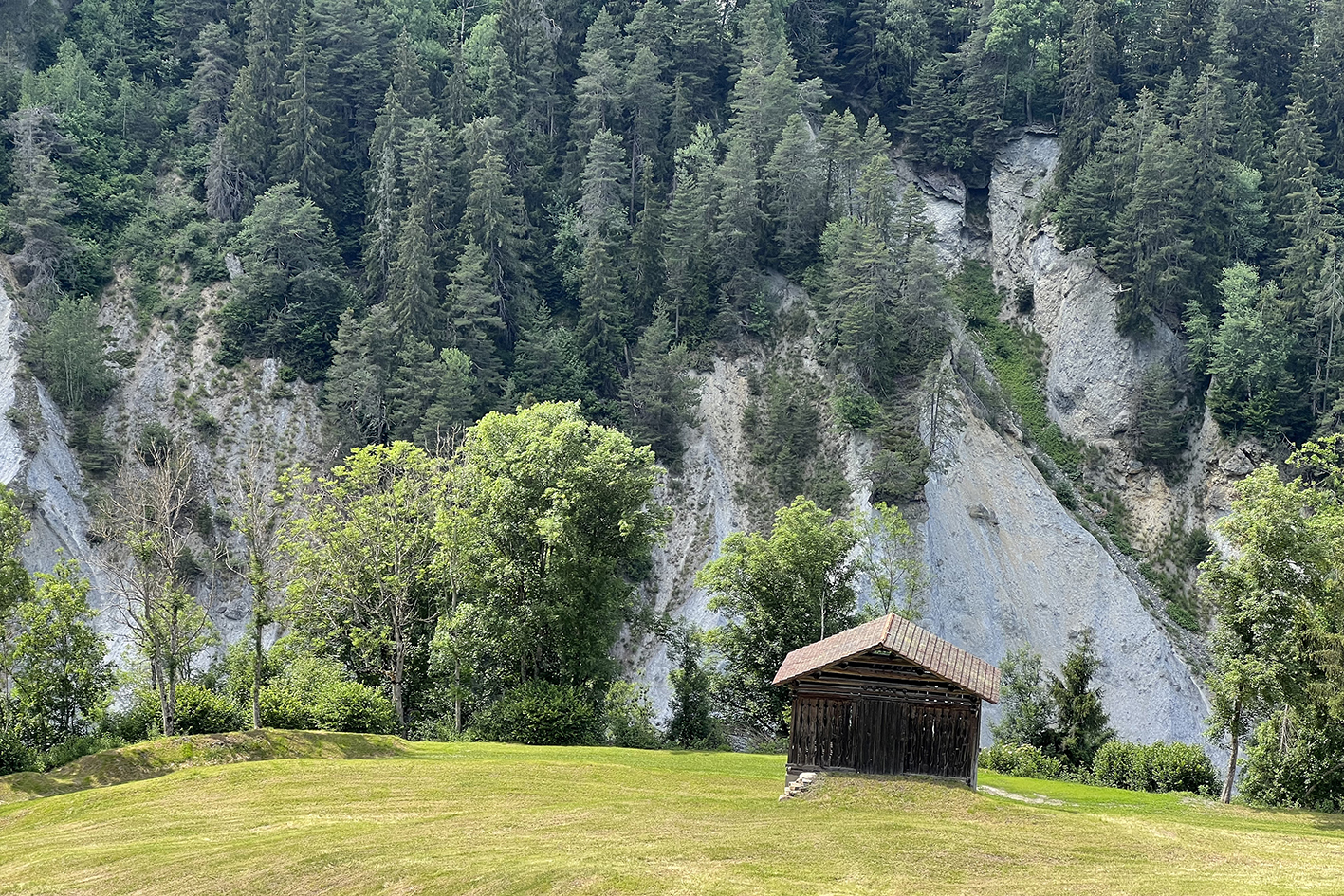 Nous croisons le Rhin Antérieur, cours d'eau de montagne sauvage à ce niveau. Curiosité : le panneau sur le pont mentionne 'Rein antérieur'. Les néphrologues doivent en sourire ! / We cross the Anterior Rhine, a wild mountain stream at this level. Curiosity: the panel on the bridge mentions 'Rein antérieur' ('Anterior kidney'). Nephrologists must smile!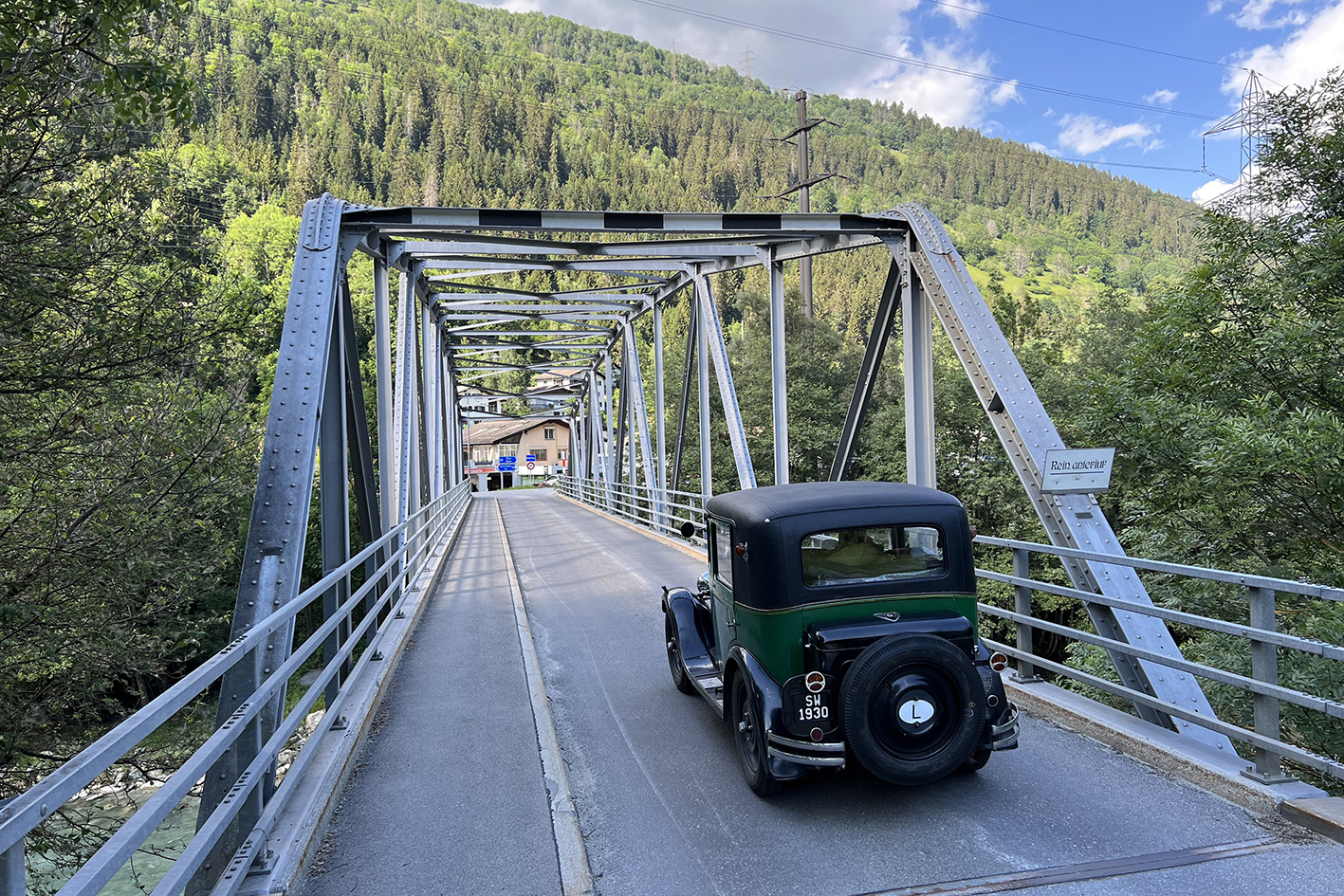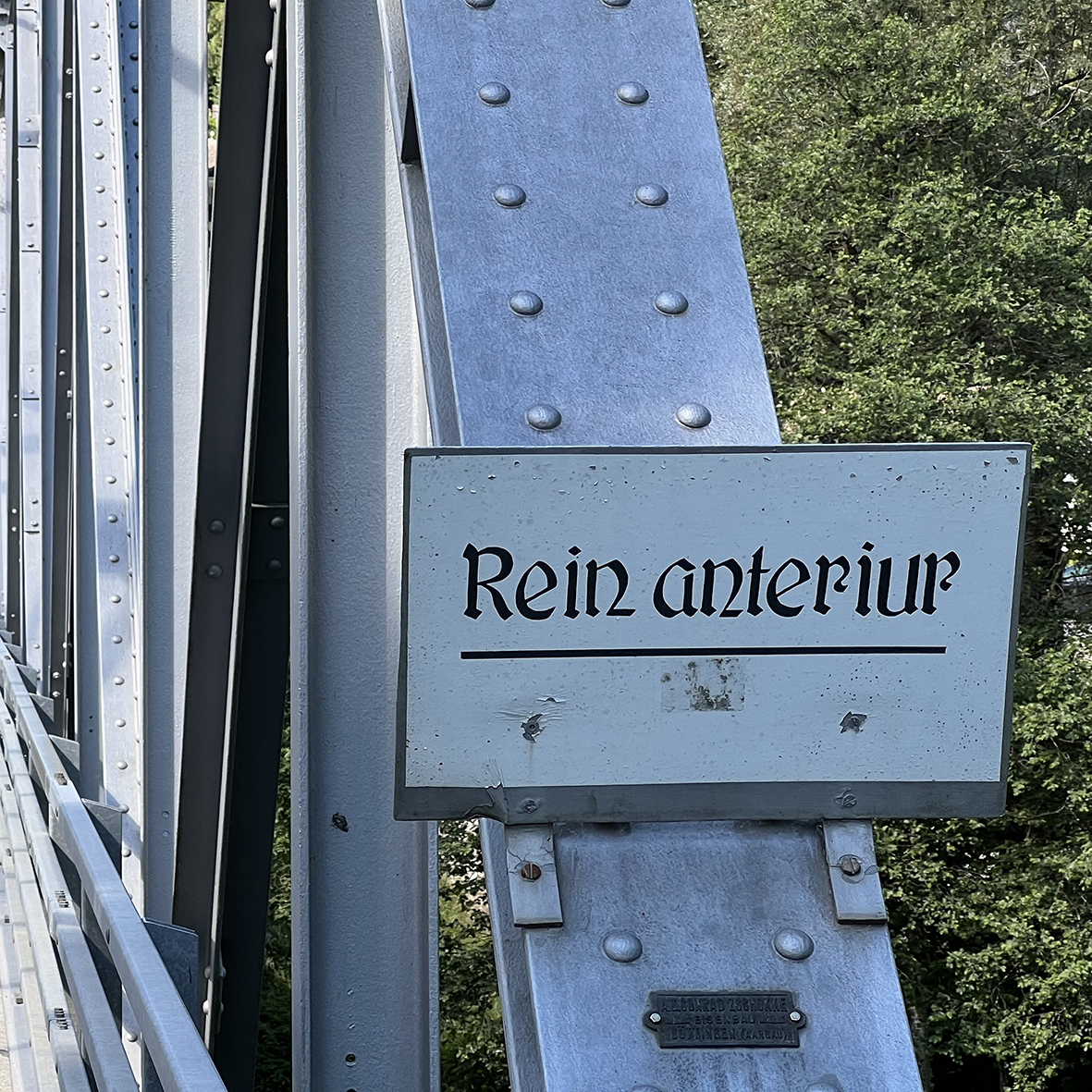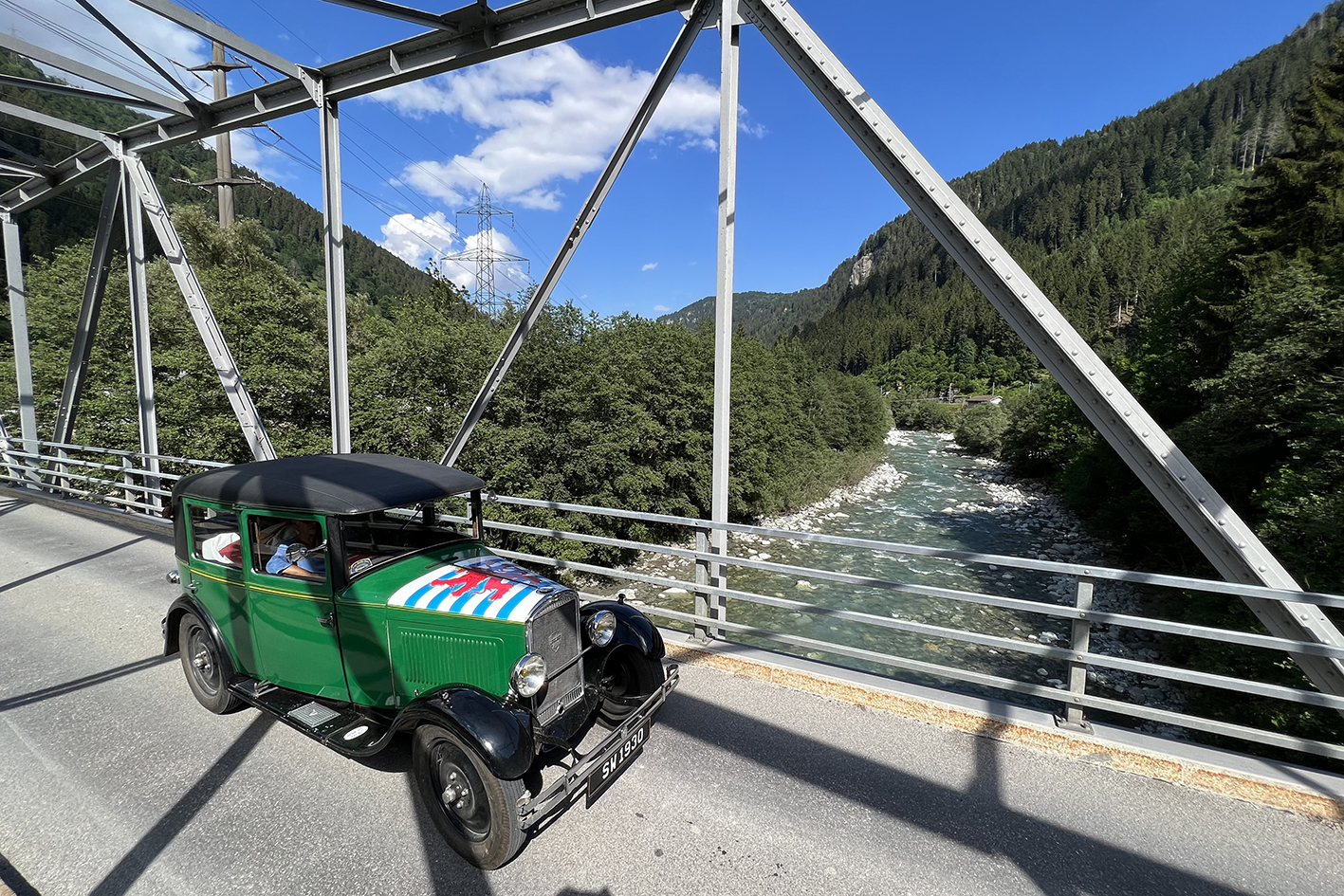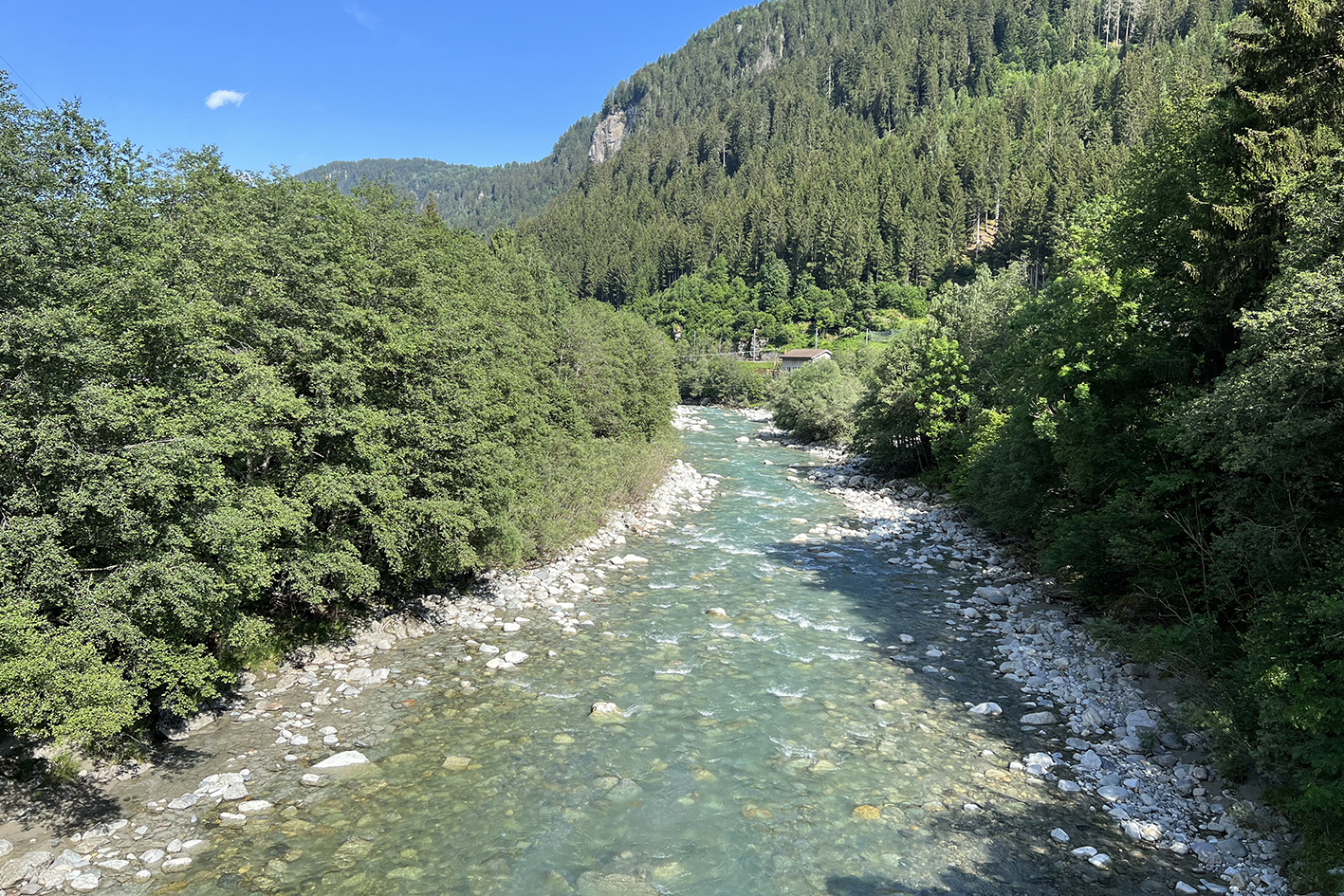 Le paysage est ensoleillé, le moral au beau fixe. / The landscape is sunny, morale is high.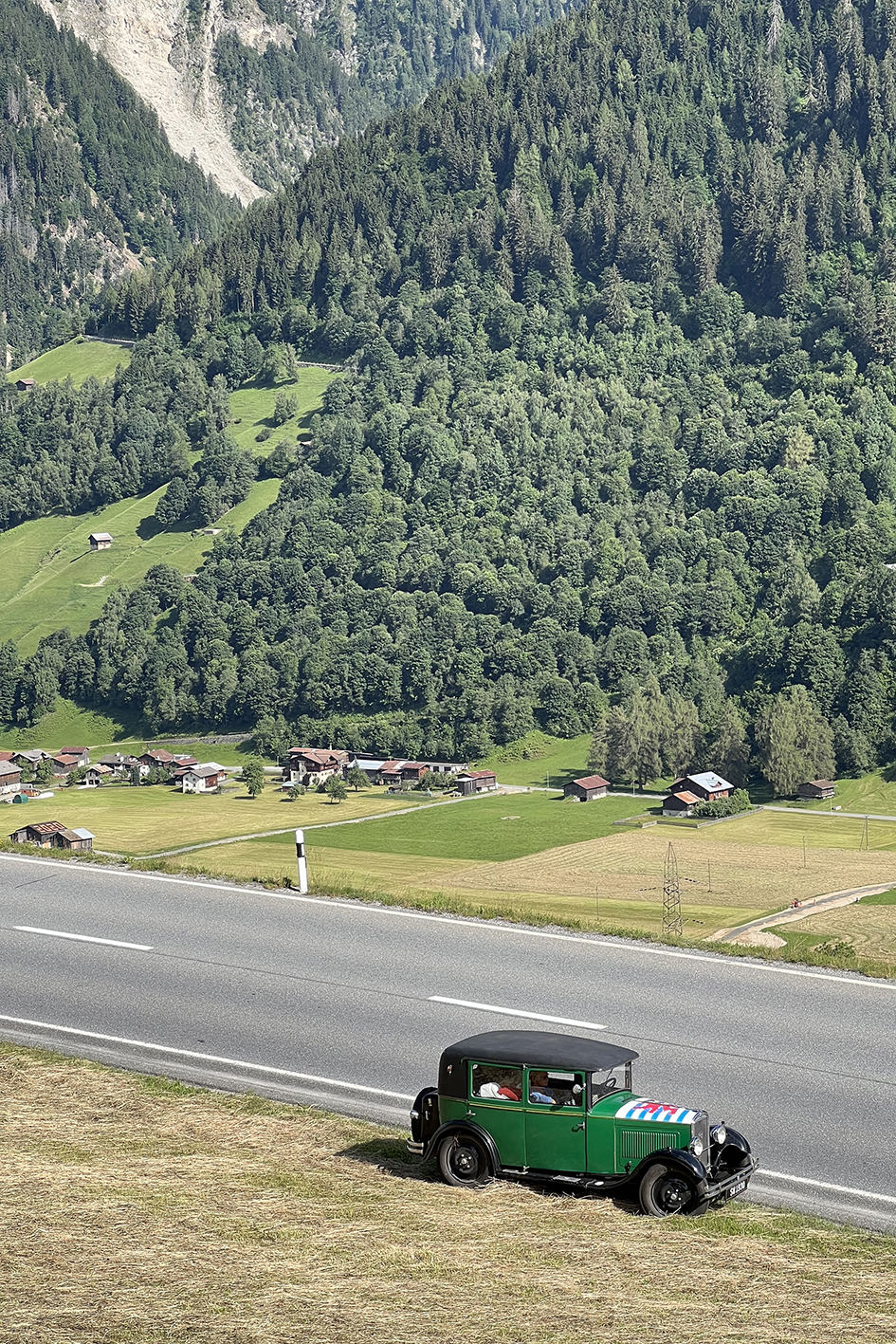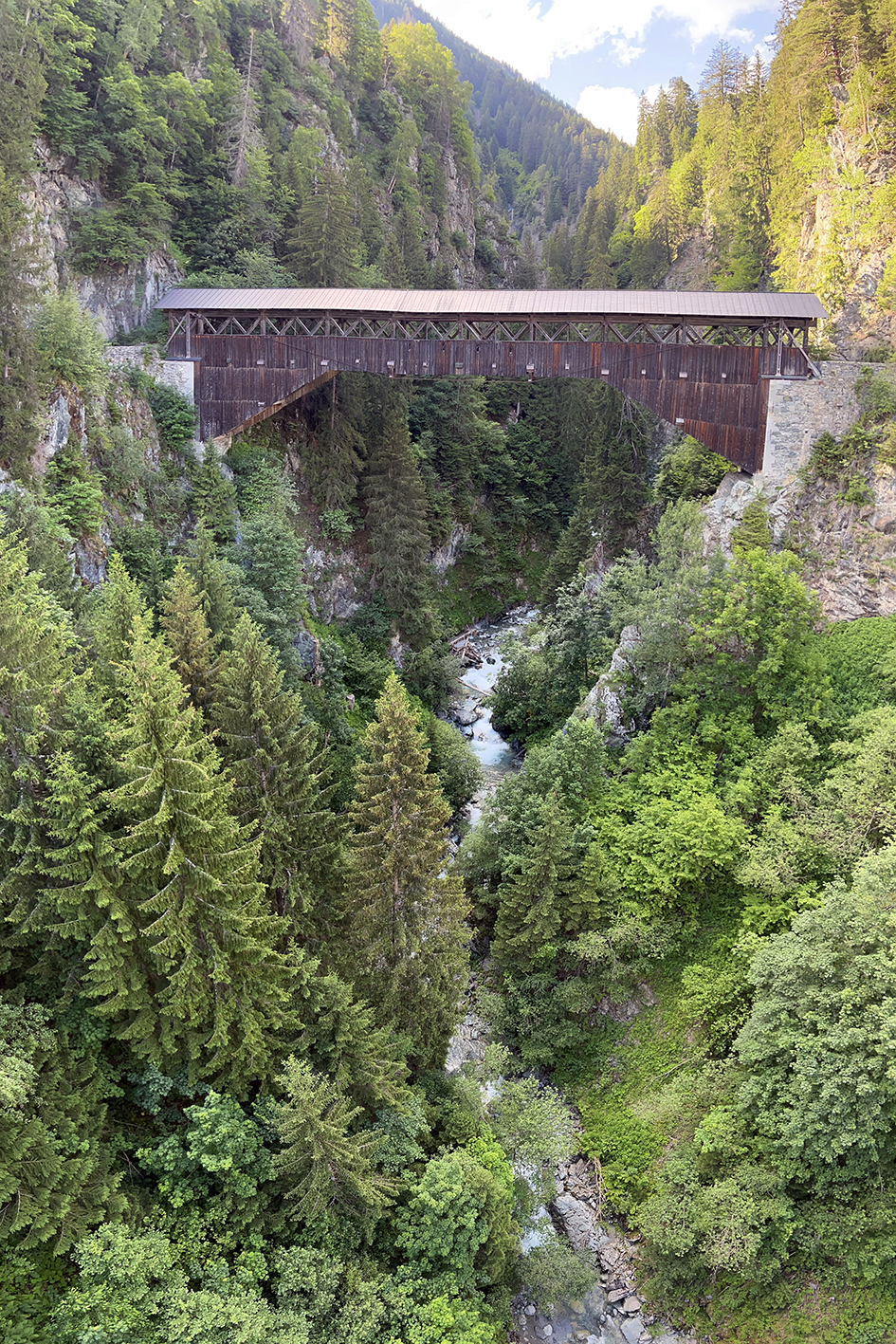 Nous nous arrêtons à Disentis, au pied du col de l'Oberalp. Avant de nous endormir, nous passons en revue les options : (1) L'abandon, (2) Voir jusqu'où on peut arriver, (3) Mettre Marie-Xavier avec des bagages dans le train de Disentis à Andermatt (après le col), afin d'alléger « La Charmante », (4) Se faire remorquer / mettre sur un plateau.Marie Xavier est en faveur de la dernière option, moi je suis pour la 2. C'est sur ces pensées confuses que nous finissons par trouver le sommeil… / We stop in Disentis, at the foot of the Oberalp pass. Before falling asleep, we review the options: (1) The abandonment, (2) Try to see how far we can get, (3) Putting Marie-Xavier with luggage on the train from Disentis to Andermatt (after the pass), in order to lighten "La Charmante", (4) To be towed / put on a trailer. Marie Xavier is in favor of the last option, I am for the 2nd. It is on these confused thoughts that we end up falling asleep…
12 juin 2022. CHAFL. Schaffhausen-Bad Ragaz (204 km)

/ June 12h 2022. CHAFL. Schaffhausen-Bad Ragaz (204 km)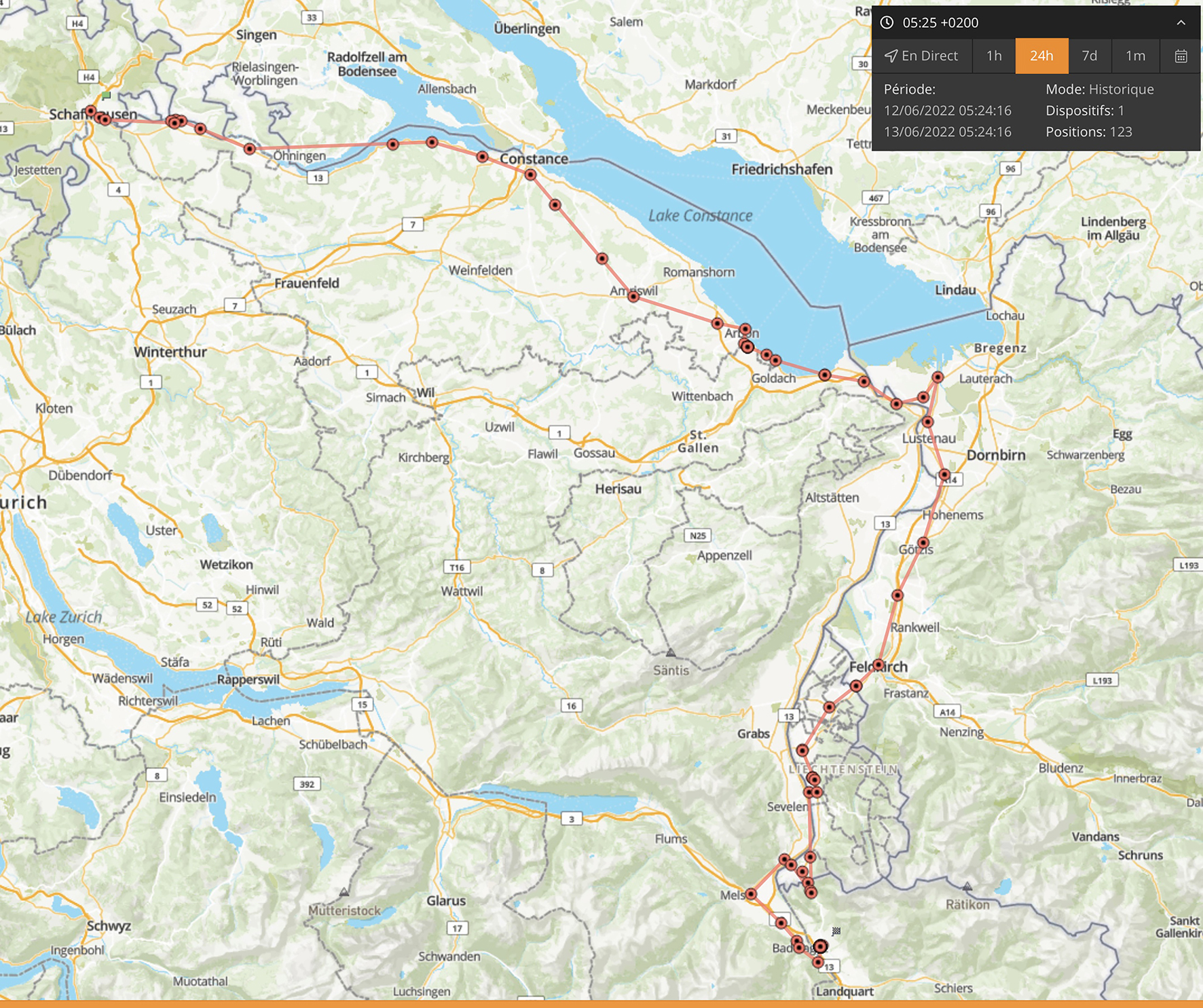 Pourquoi CHAFL ? Pour CH-A-FL : Suisse-Autriche-Liechtenstein, les trois pays du jour. Nous quittons notre hôtel de Schaffhausen avec sa déco étonnante. / Why CHAFL? For CH-A-FL: Switzerland-Austria-Liechtenstein, the three countries of the day. We leave our hotel in Schaffhausen with its amazing decor.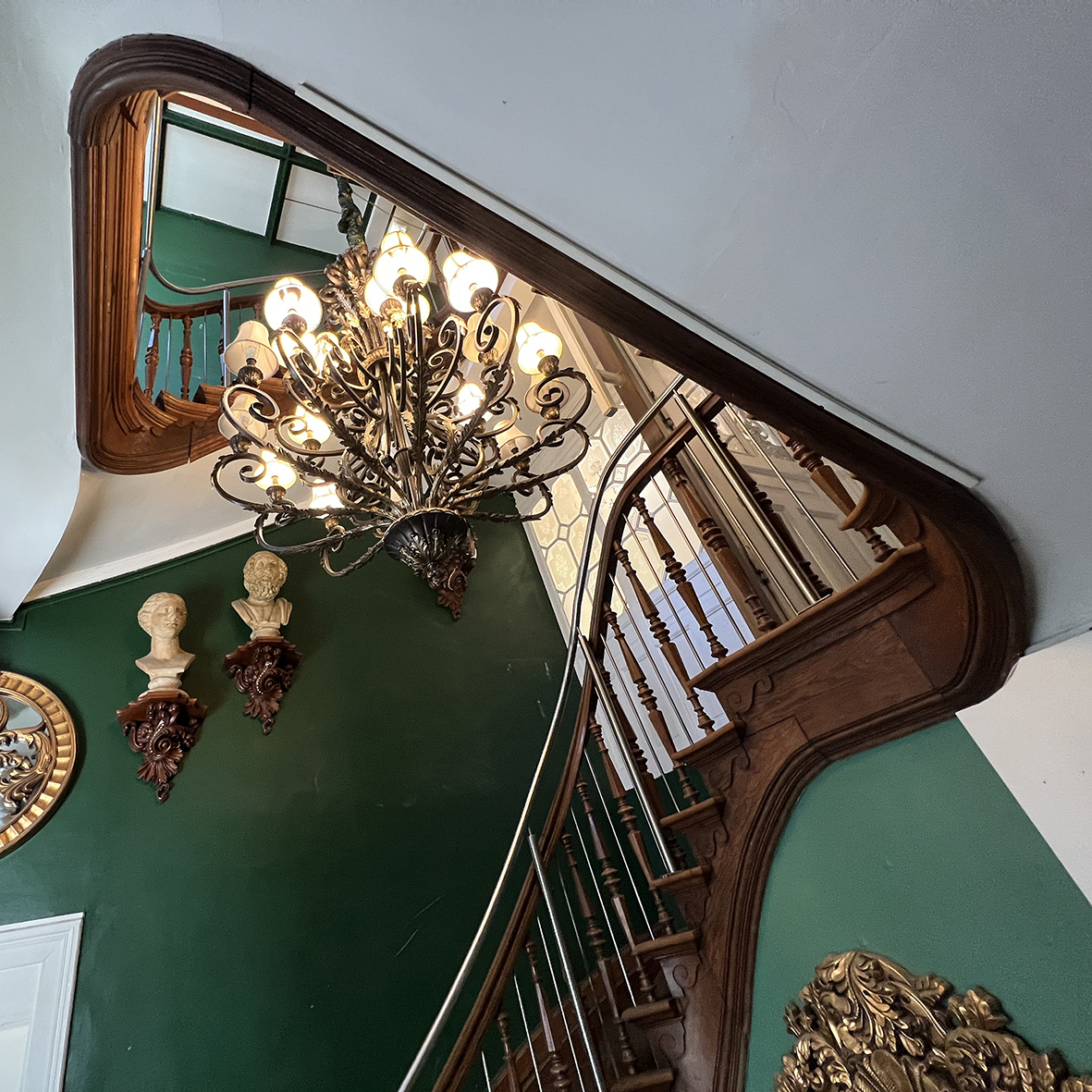 Nous roulons vers l'est à travers des paysages bucoliques. / We drive east through bucolic landscapes.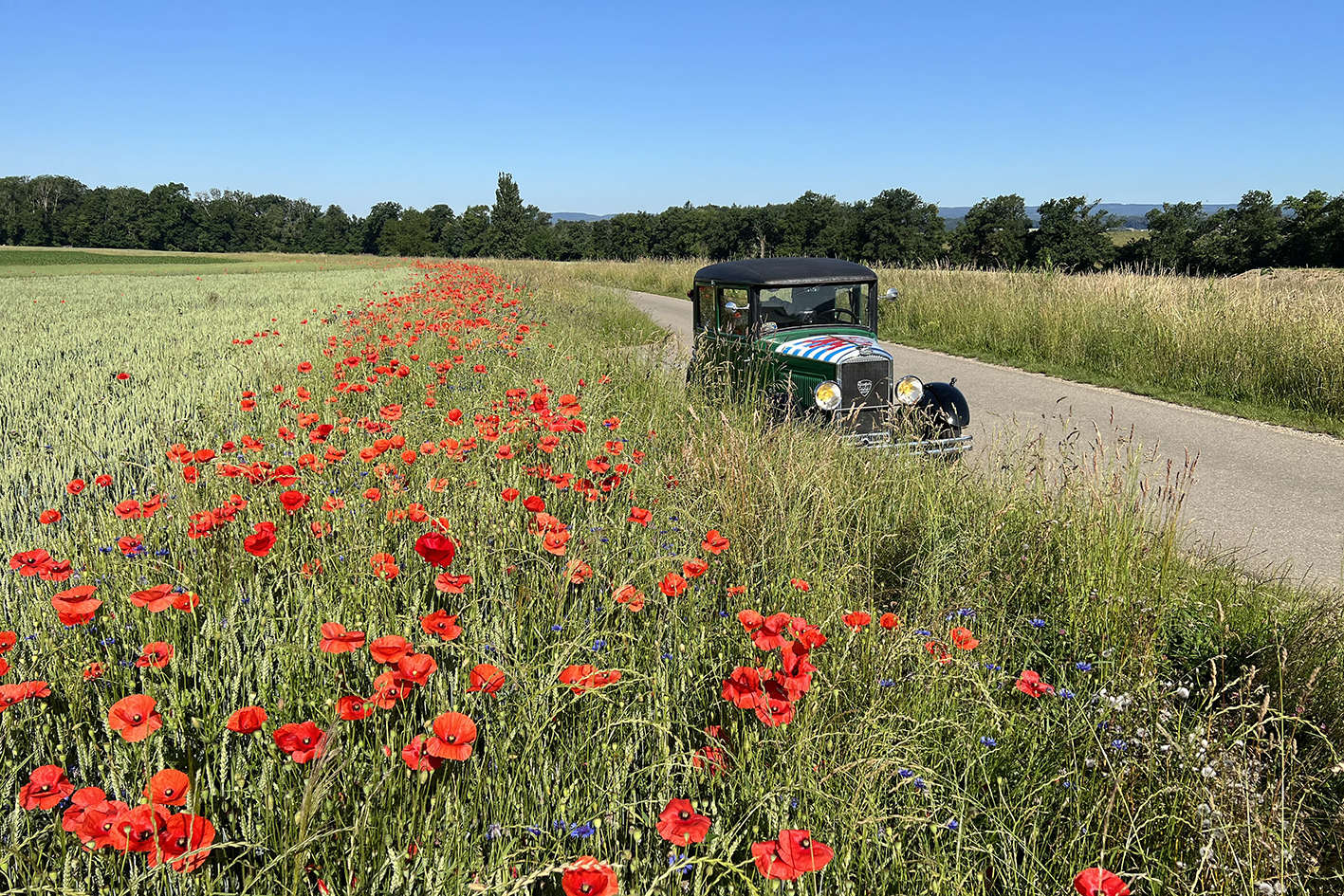 Arrêt à l'ancien cloitre de Sankt Katharinental, près de Diessenhofen. / We stop at the old cloister of Sankt Katharinental, near Diessenhofen.
Le Rhin est ici déjà nettement plus étroit et calme que plus en aval. La rive d'en face est allemande. / The Rhine here is already significantly narrower and calmer than further downstream. The opposite bank is German.
La tour de l'horloge de Diessenhofen fut construite en 1546. / The Diessenhofen clock tower was built in 1546.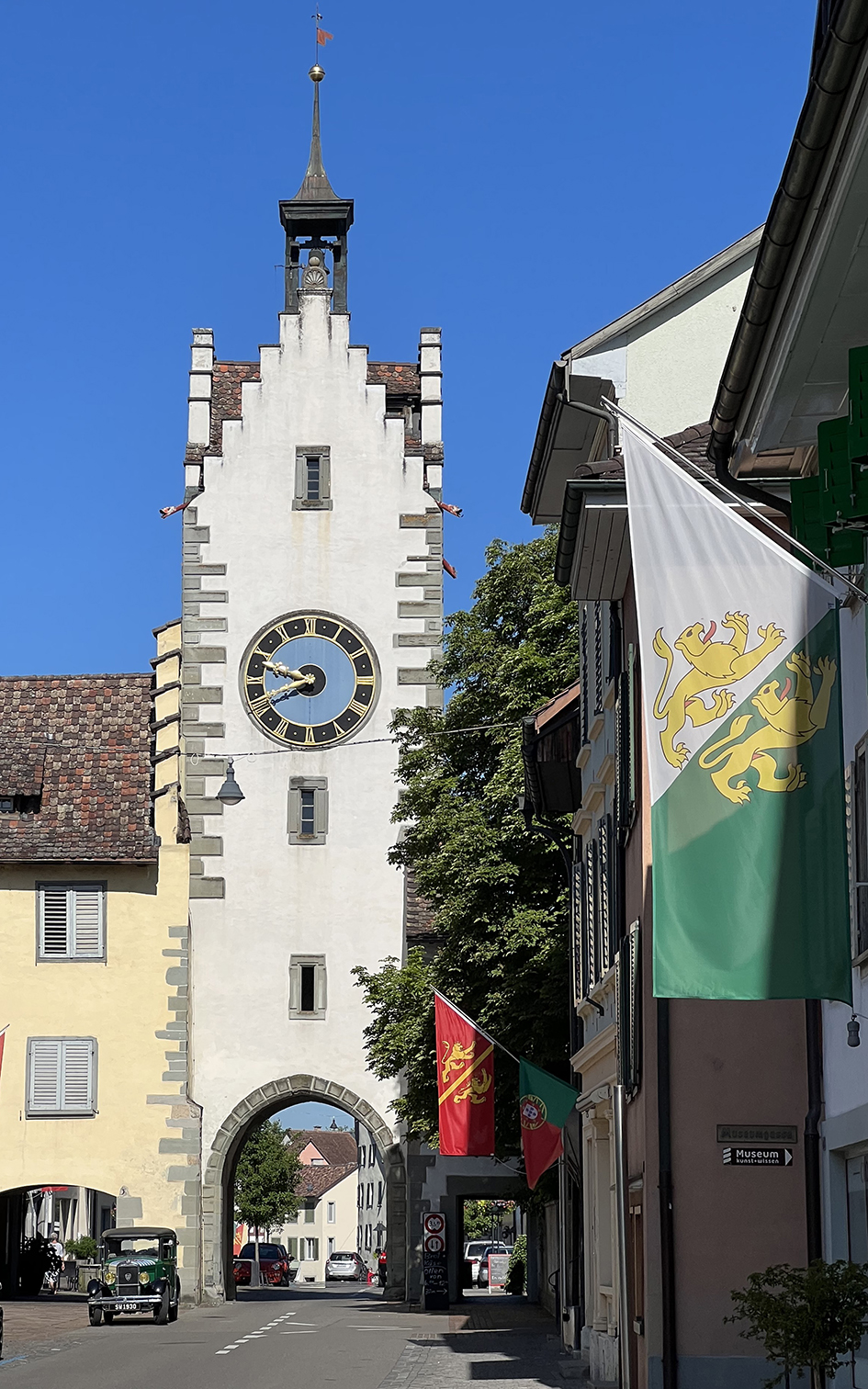 Tout est propre et bien décoré : nous sommes en Suisse ! / Everything is clean and well decorated: we are in Switzerland!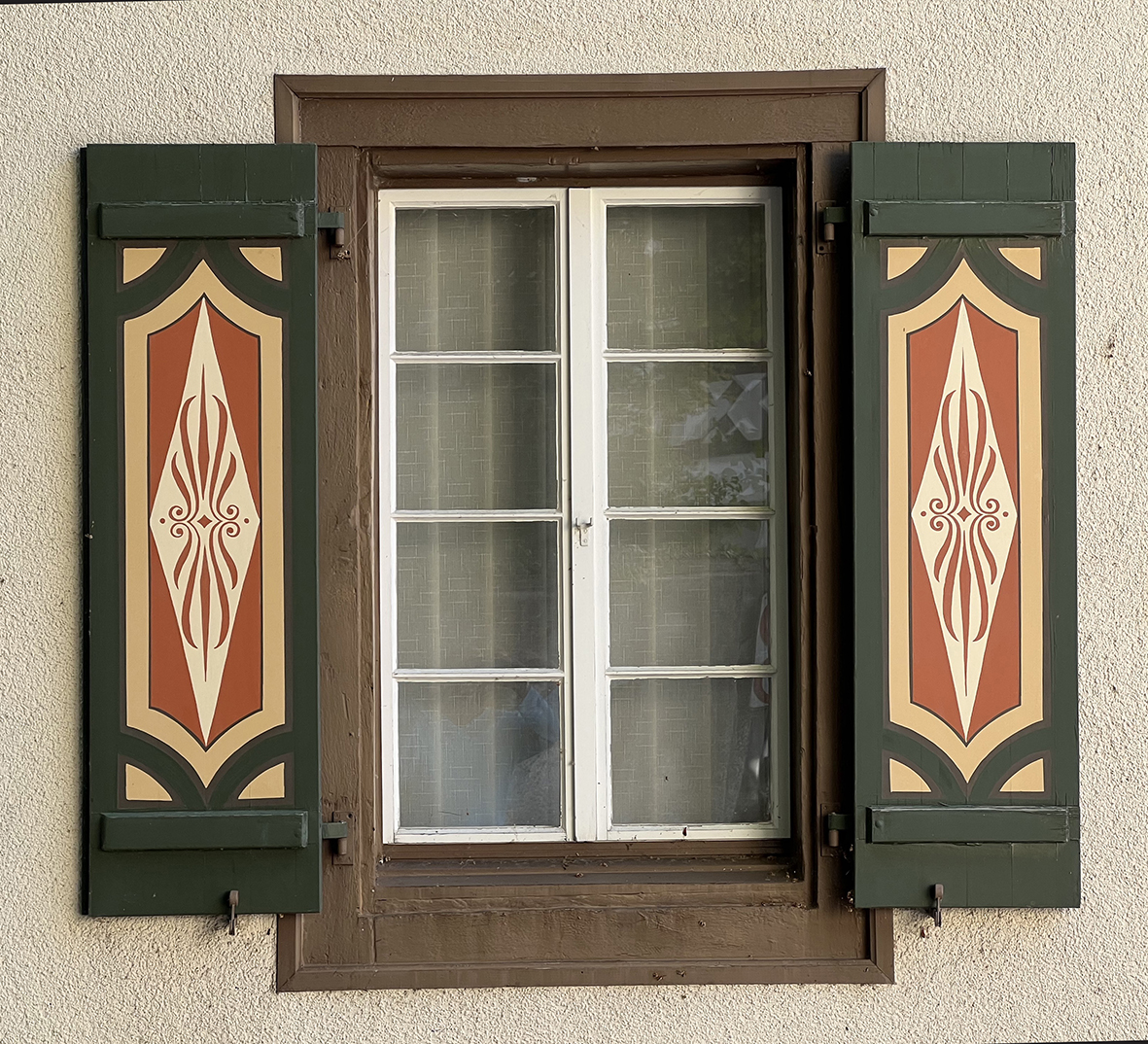 Nous rejoignons le lac de Constance vers Mammern. / We reach Lake Constance towards Mammern.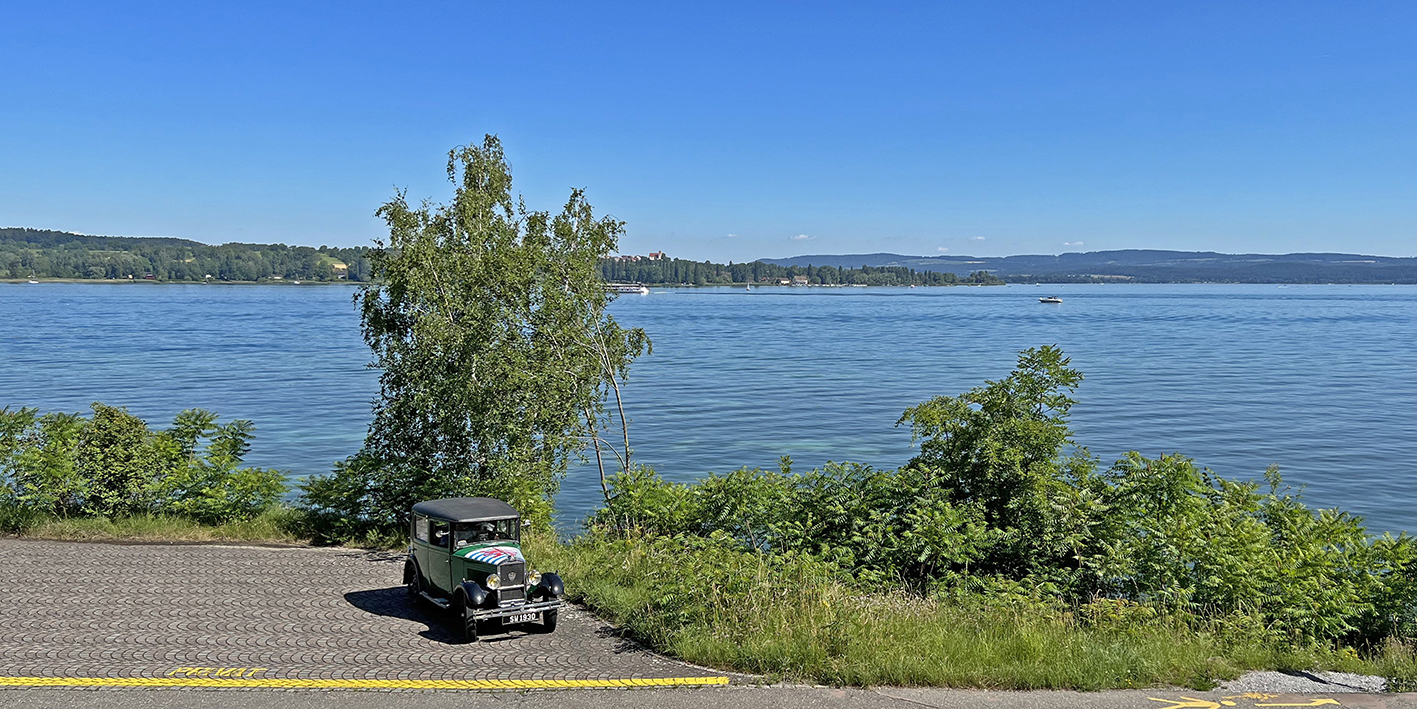 Alors que nous roulons lentement, l'âge de « La Charmante » oblige, aux passages à niveau les trains font montre de plus d'énergie ! / We drive slowly, respectful of « La Charmante's » old age. At the railway crossings the trains show more energy!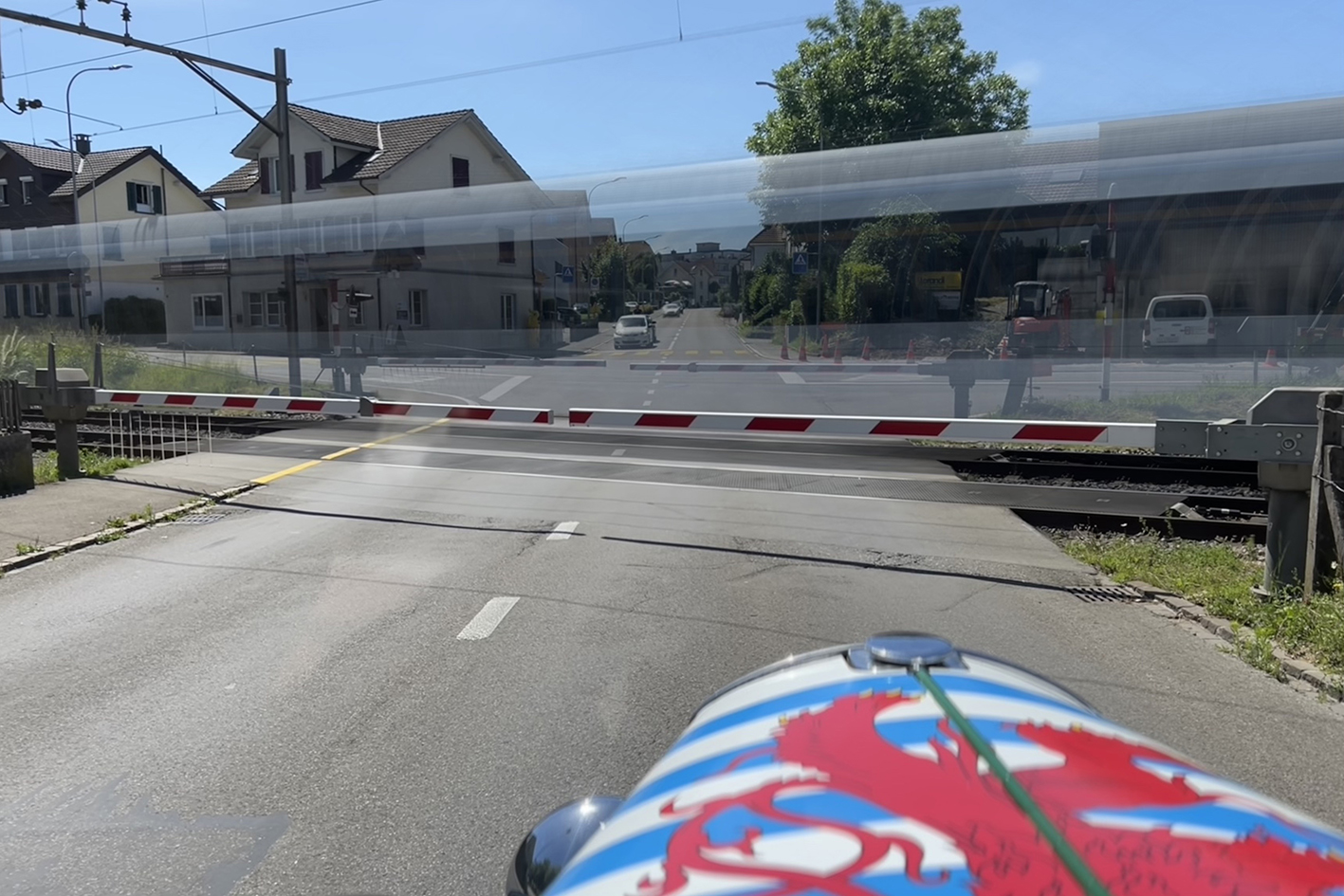 Nous déjeunons dehors à l'ombre d'un châtaignier. La chaleur est accablante. /  We have lunch outside in the shade of a chestnut tree. The heat is oppressive.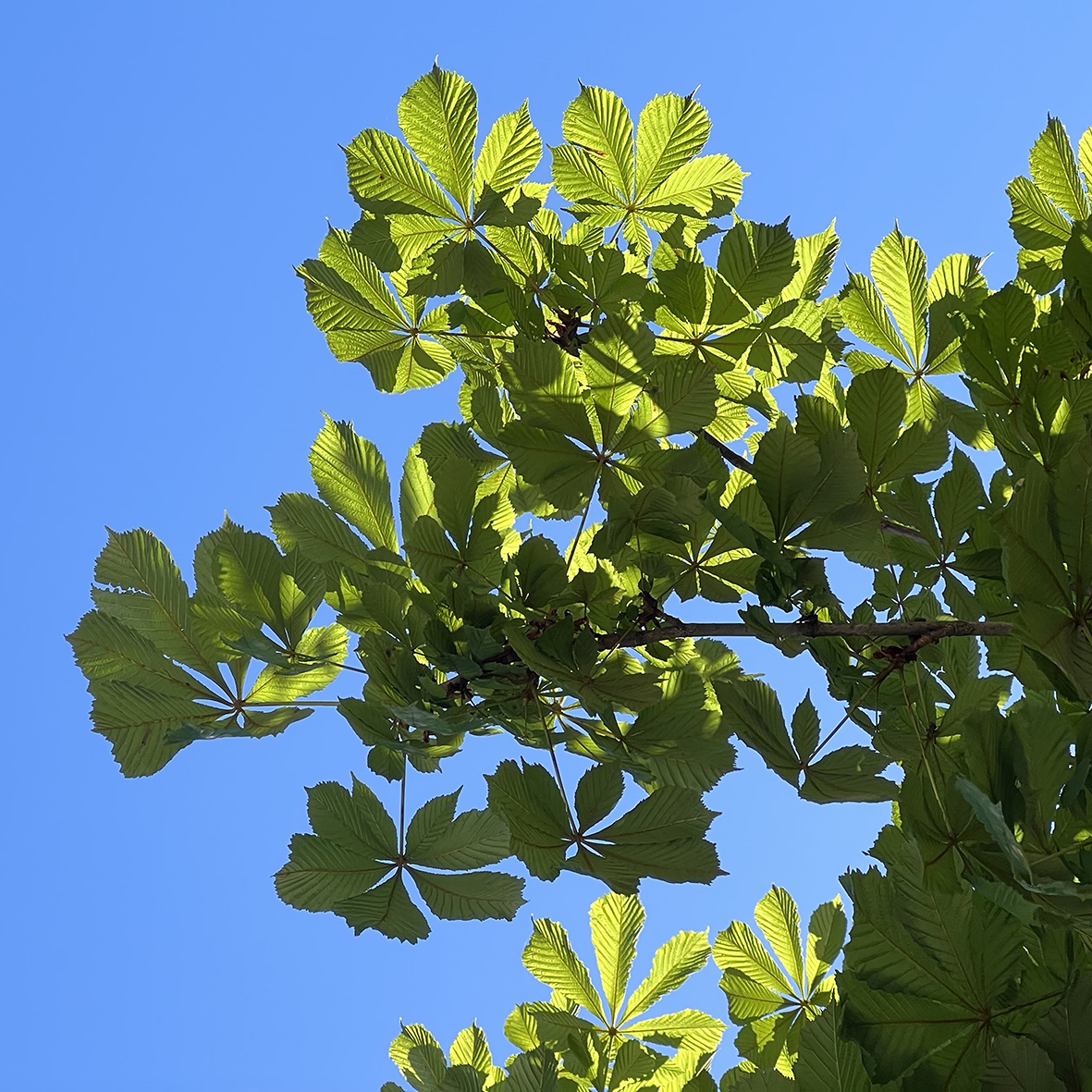 Dans la vaste étendue du lac de Constance, le Rhin est devenu invisible. Pourtant, il entre d'un côté et ressort de l'autre ! / In the vast expanse of Lake Constance, the Rhine has become invisible. However, it enters on one side and comes out on the other!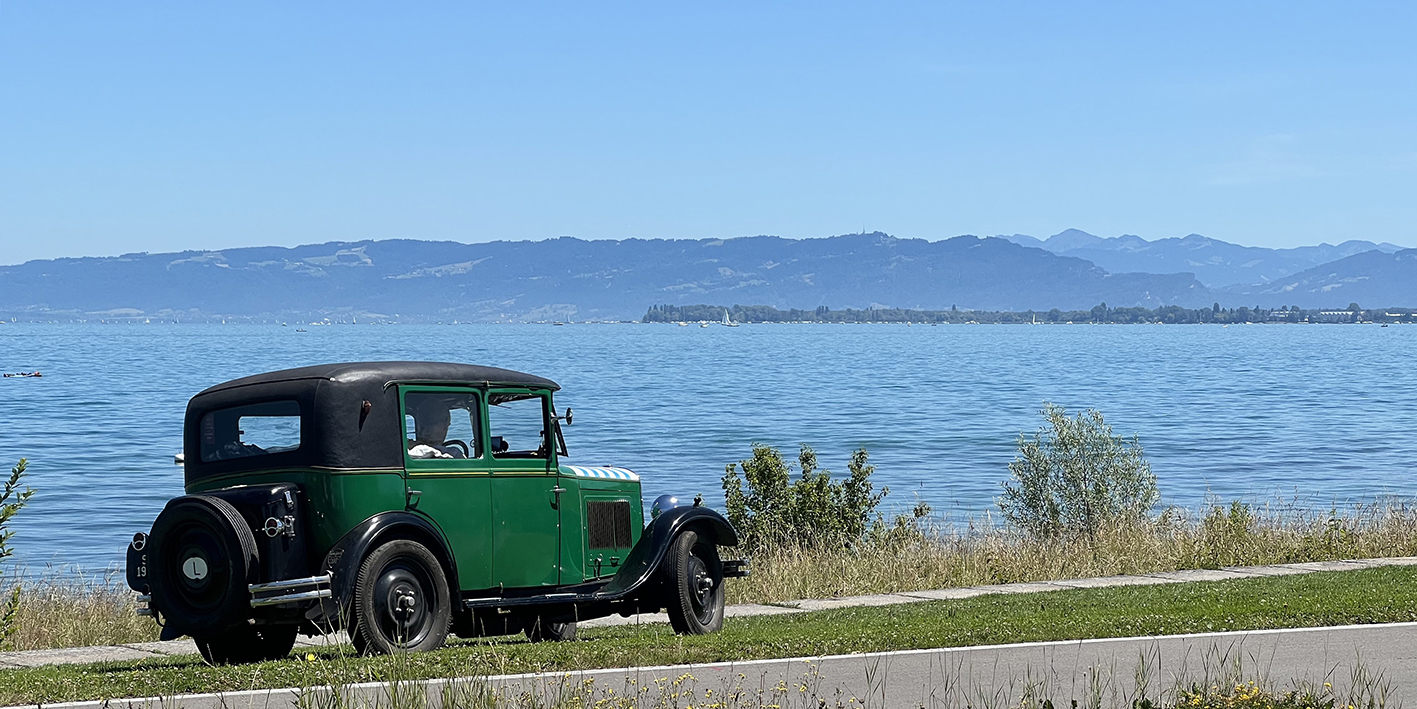 Malheureusement, « La Charmante » n'a pas réussi à monter la route trop pentue qui mène au château Weinberg près de St. Margrethen. Je commence à m'inquiéter pour notre étape alpine… / Unfortunately, "La Charmante" did not manage to climb the steep road leading to Weinberg Castle near St. Margrethen. I'm starting to worry about our alpine stage…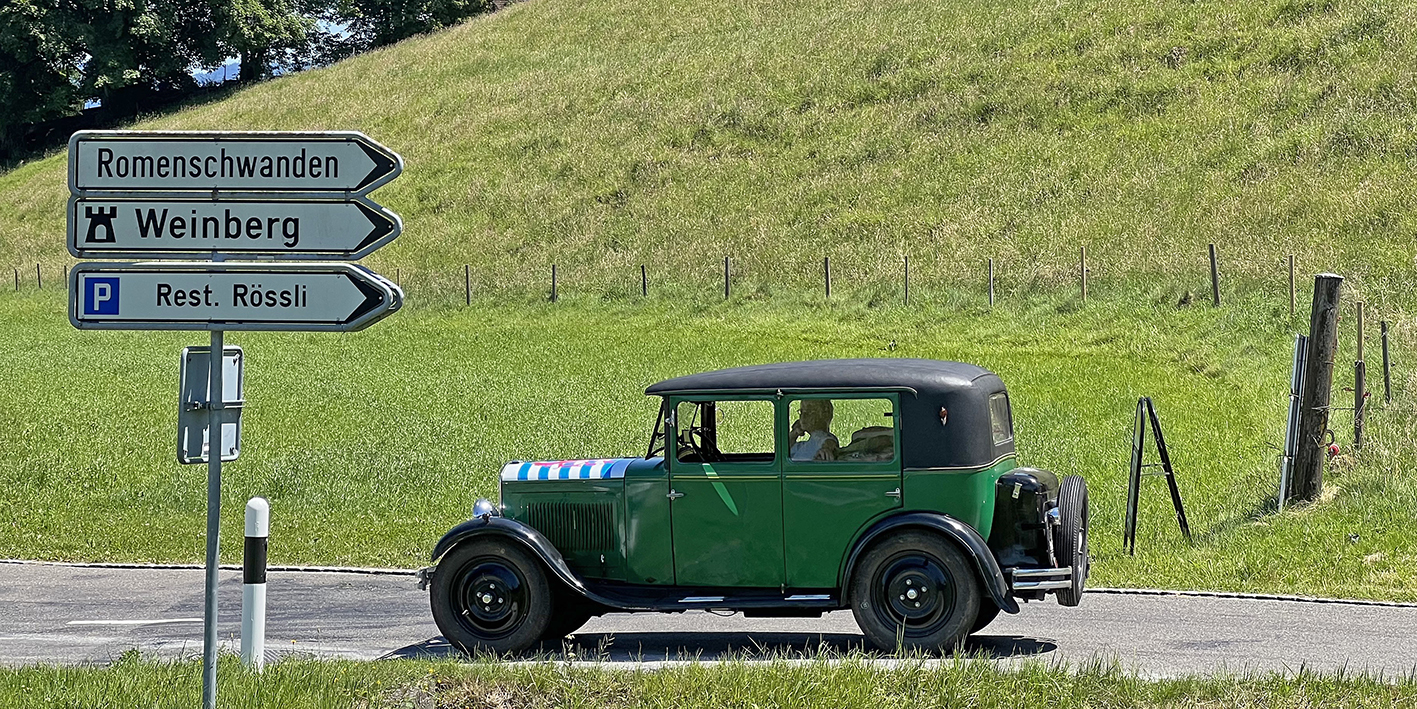 Également à St. Margrethen, cet 'Altes Kirchlein' (= vieille petite église). / Also in St. Margrethen, this 'Altes Kirchlein' (= old little church).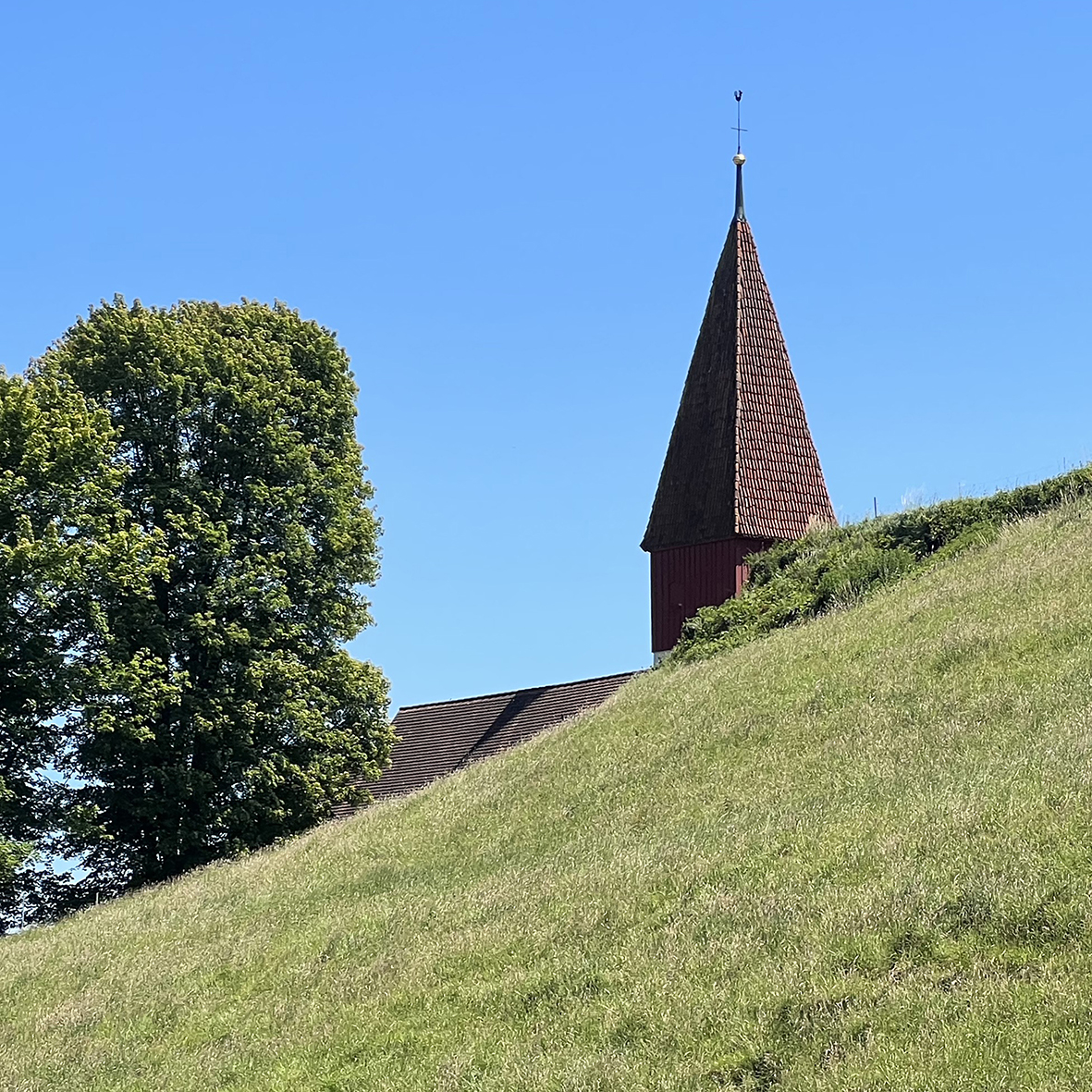 Nous franchissons la frontière avec l'Autriche. Ici, le dernier tronçon du Rhin avant de se jeter dans le lac de Constance est très canalisé. / We cross the border with Austria. Here, the last stretch of the Rhine before flowing into Lake Constance is very channelled.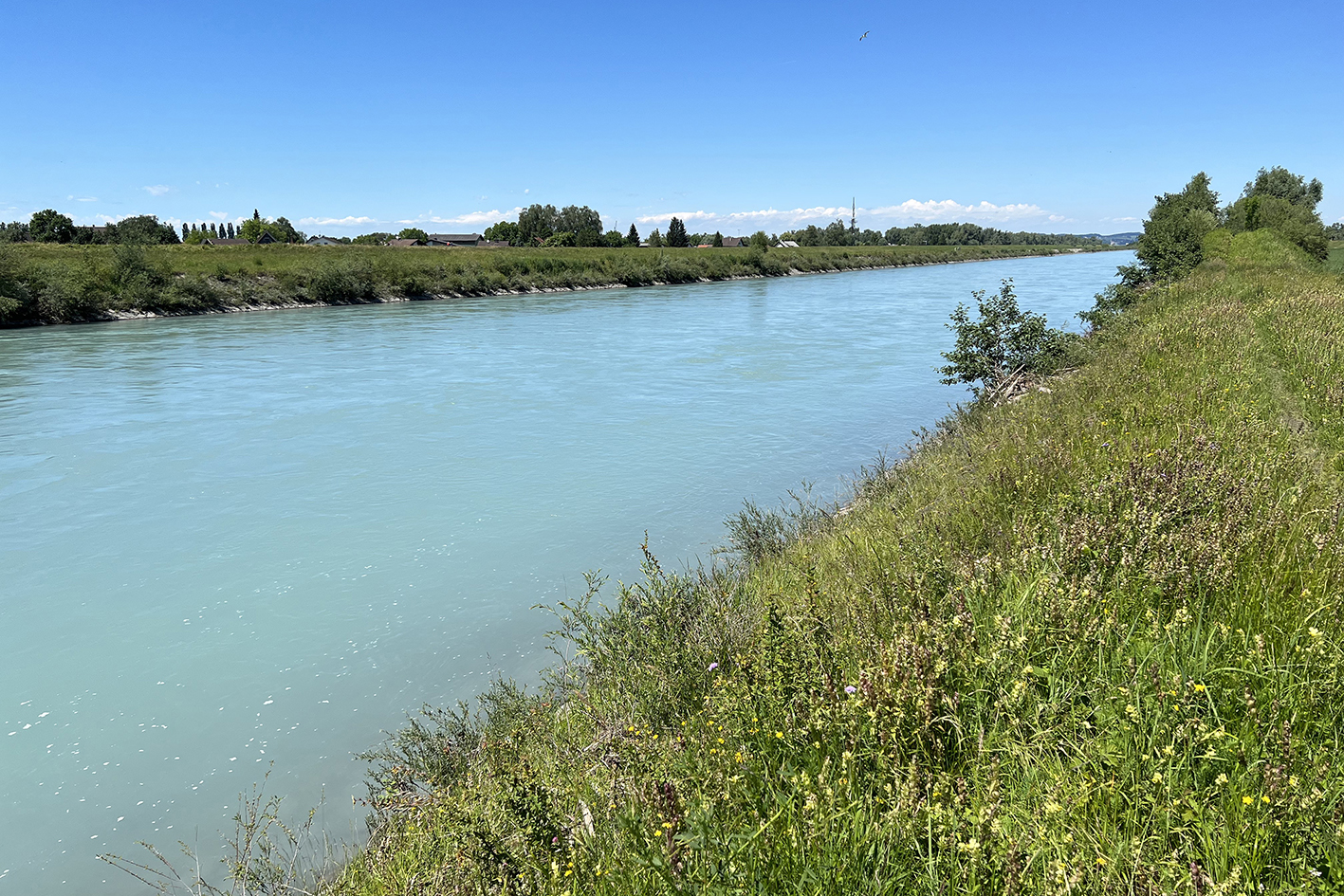 Nous remontons le Rhin vers le sud. Bientôt nous nous trouvons au Liechtenstein et les Alpes deviennent de plus en plus impressionnantes. La question se pose avec d'autant plus d'acuité : franchir un col à plus de 2000 m d'altitude – avec des tronçons à 10% – ne serait-ce pas trop demander à « La Charmante » ? / We go up the Rhine towards the south. Soon we are in Liechtenstein and the Alps are becoming more and more impressive. The question arises all the more acutely: crossing a pass at an altitude of more than 2000 m – with sections at 10% – wouldn't that be asking too much of « La Charmante »?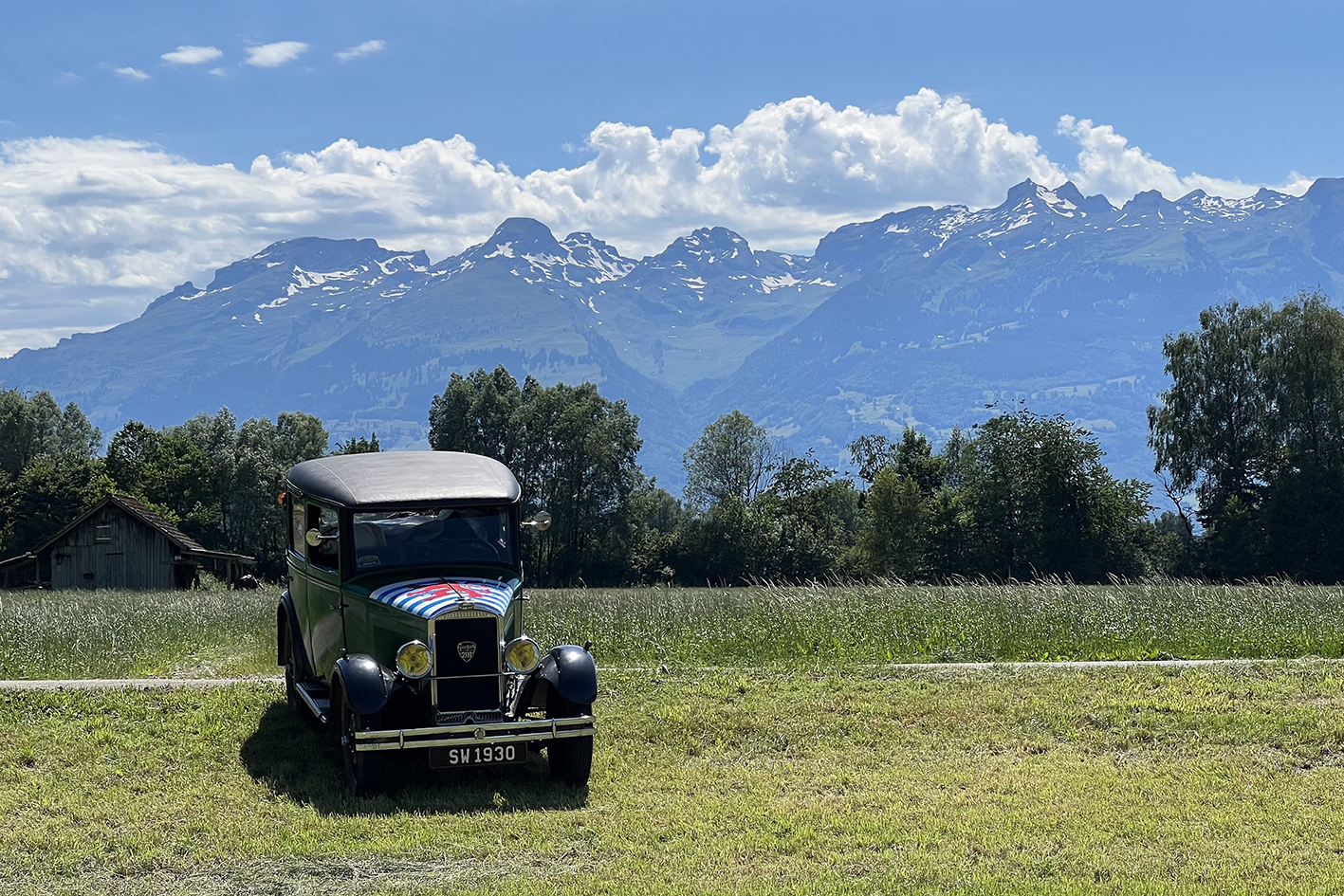 On a vu plusieurs 'Rue du Rhin' et encore plus de 'Rheinstrasse' (ou 'Rheinstraße') pendant notre périple. C'est curieux, je n'y pense que maintenant : à Amsterdam, entre 1974 et 1982, j'habitais la 'Rijnstraat' ! / We saw several 'Rue du Rhin' and even more 'Rheinstrasse' (or 'Rheinstraße') during our trip. It's curious, I only think about it now: in Amsterdam, between 1974 and 1982, I lived in the 'Rijnstraat'!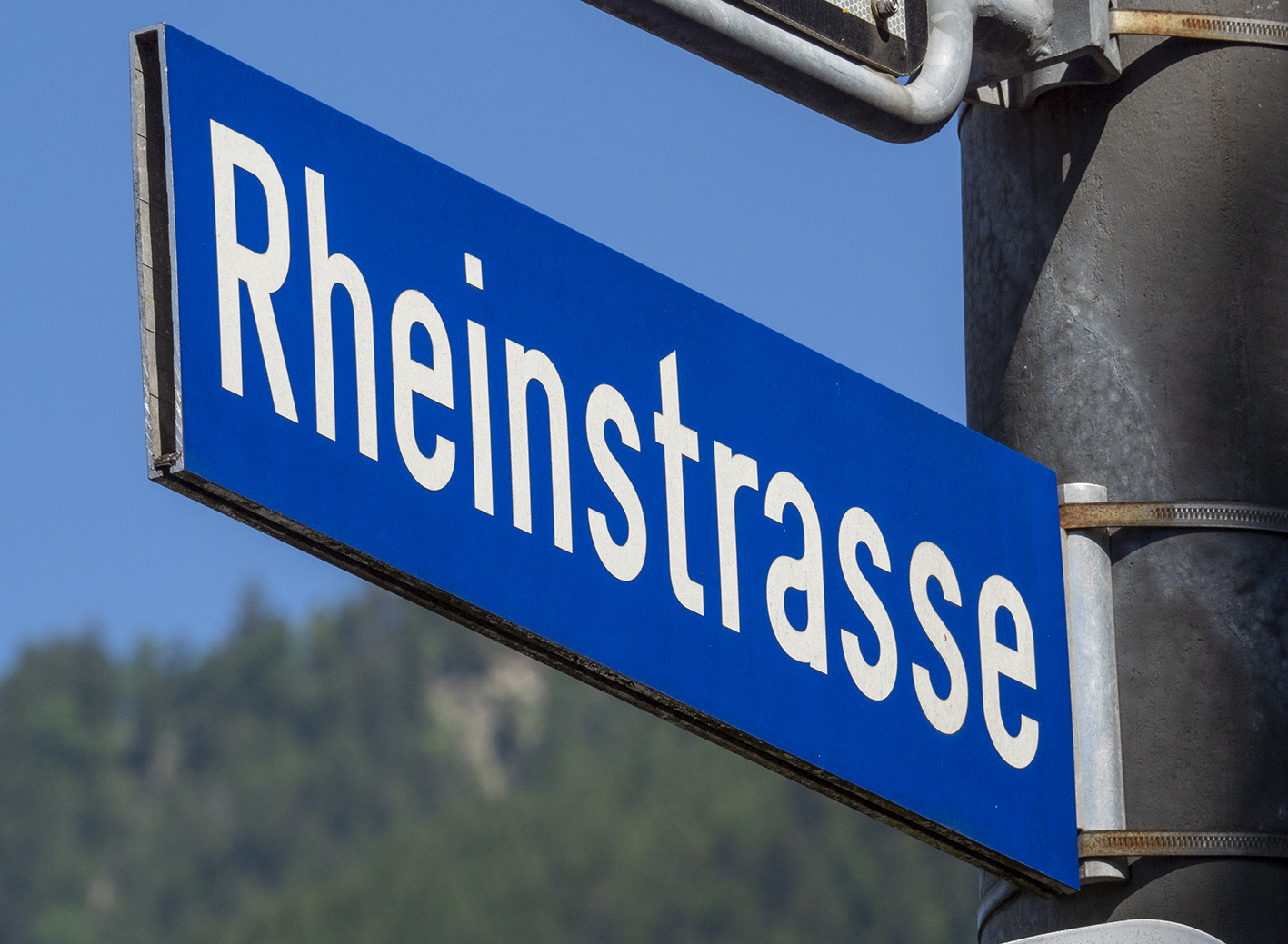 « La Charmante » pose à Vaduz, la capitale du Liechtenstein, avec en arrière-plan le château de la famille princière. / "La Charmante" poses in Vaduz, the capital of Liechtenstein, with the castle of the princes in the background.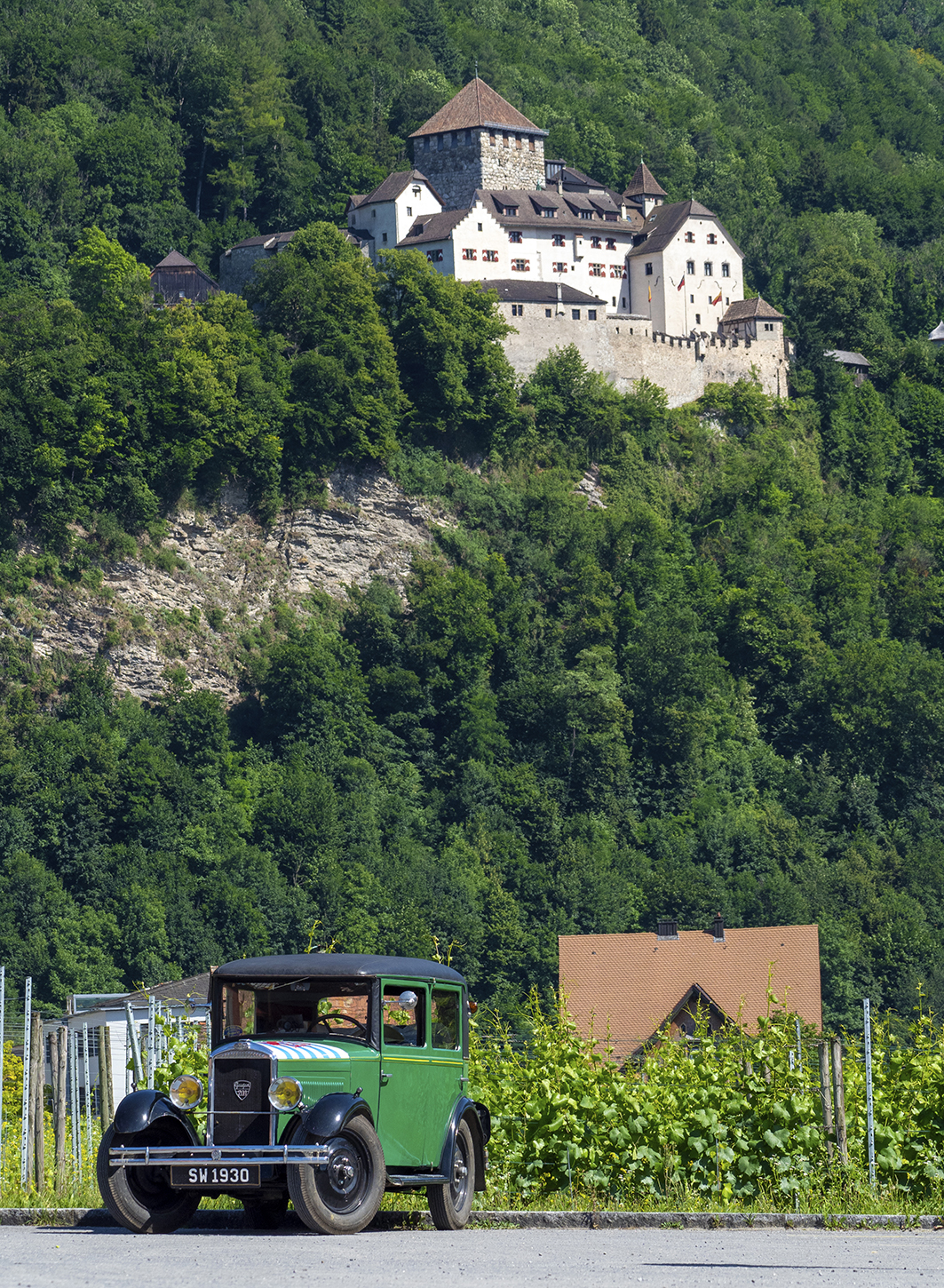 Entre Vaduz et Sevelen, en Suisse, ce vieux pont couvert enjambe le Rhin, fleuve-frontière entre les deux pays. Il est interdit à la circulation automobile et ne sert qu'aux piétons et aux cyclistes. / Between Vaduz and Sevelen, in Switzerland, this old covered bridge spans the Rhine, the border river between the two countries. It is closed to car traffic and is only for pedestrians and cyclists.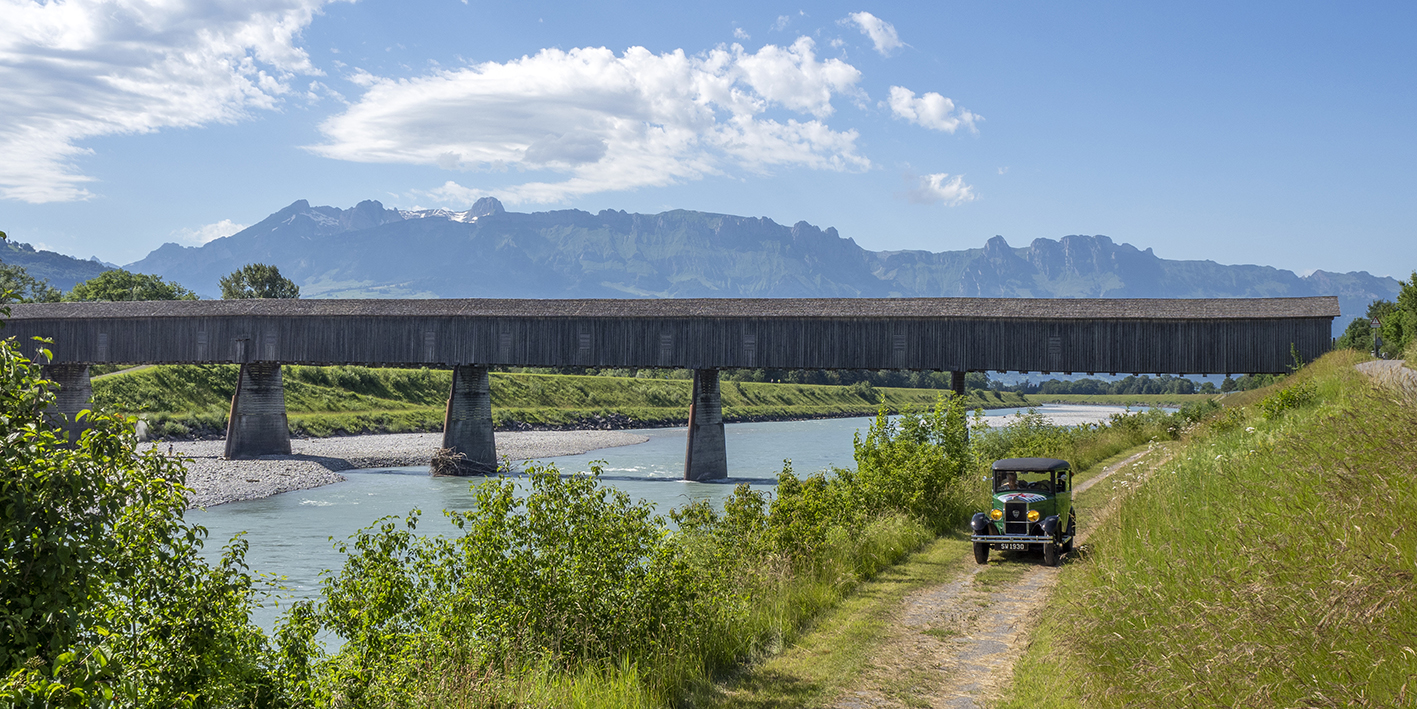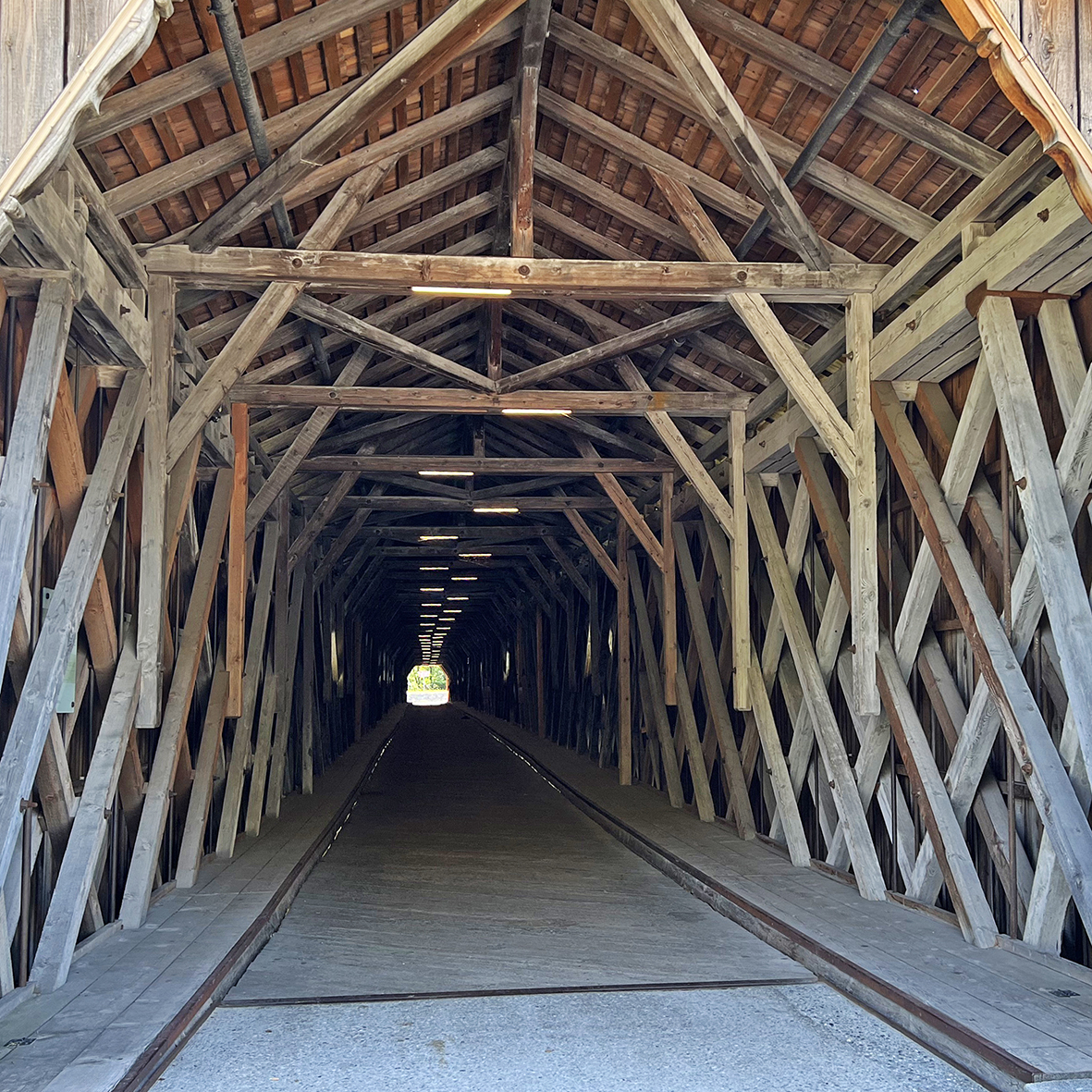 Nous réservons un hôtel sur la route de Coire. Mais même en 1ère, la voiture n'arrive pas à monter la route pentue et risque par ailleurs de surchauffer. Nous redescendons vers le Rhin. Malgré la belle vue sur le château de Balzers, notre moral est au plus bas. Trop faible, « La Charmante » et trop surchargée… Il nous semble qu'il faudra abandonner notre beau projet… / We book a hotel on the road to Chur. But even in 1st gear, the car cannot climb the steep road and risks overheating. We go back down to the Rhine. Despite the beautiful view of the castle of Balzers, our morale is at its lowest. "La Charmante" is too weak and too overloaded… It seems to us that we will have to abandon our beautiful project…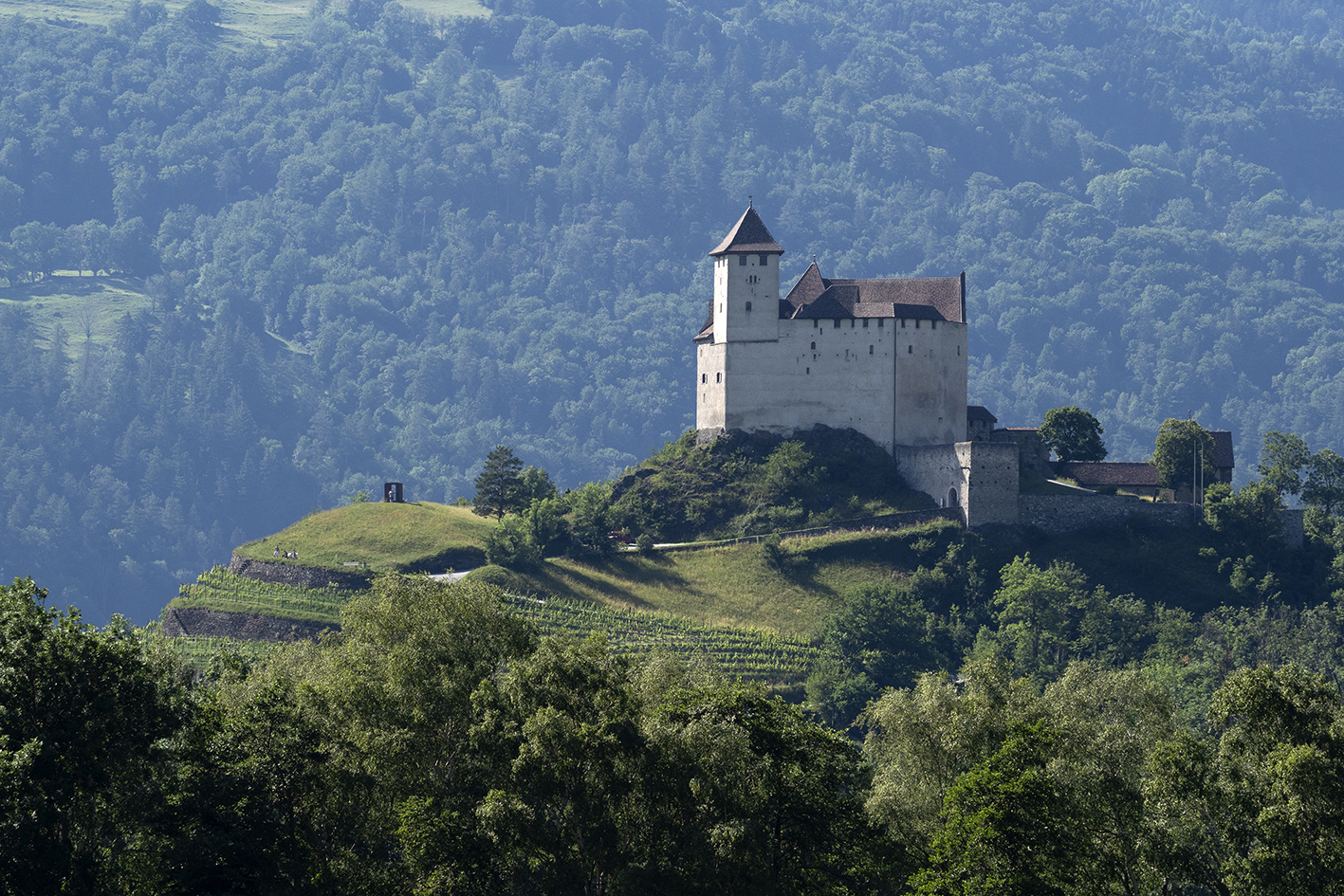 Nous sommes épuisés et nous avons perdu l'espoir de pouvoir monter à la ligne de séparation des eaux entre Rhin et Rhône. Un peu plus au sud, nous cherchons une chambre pour la nuit. Mais les hôtels sont soit fermés, soit complets, soit trop chers. Le Rhin est devenu un torrent de montagne. Jusqu'où pourrons-nous le remonter ? / We are exhausted and we have lost hope of being able to climb to the dividing line between the Rhine and the Rhône. A little further south, we are looking for a room for the night. But the hotels are either closed, or full, or too expensive. The Rhine has become a mountain torrent. How far more upstream can we follow it?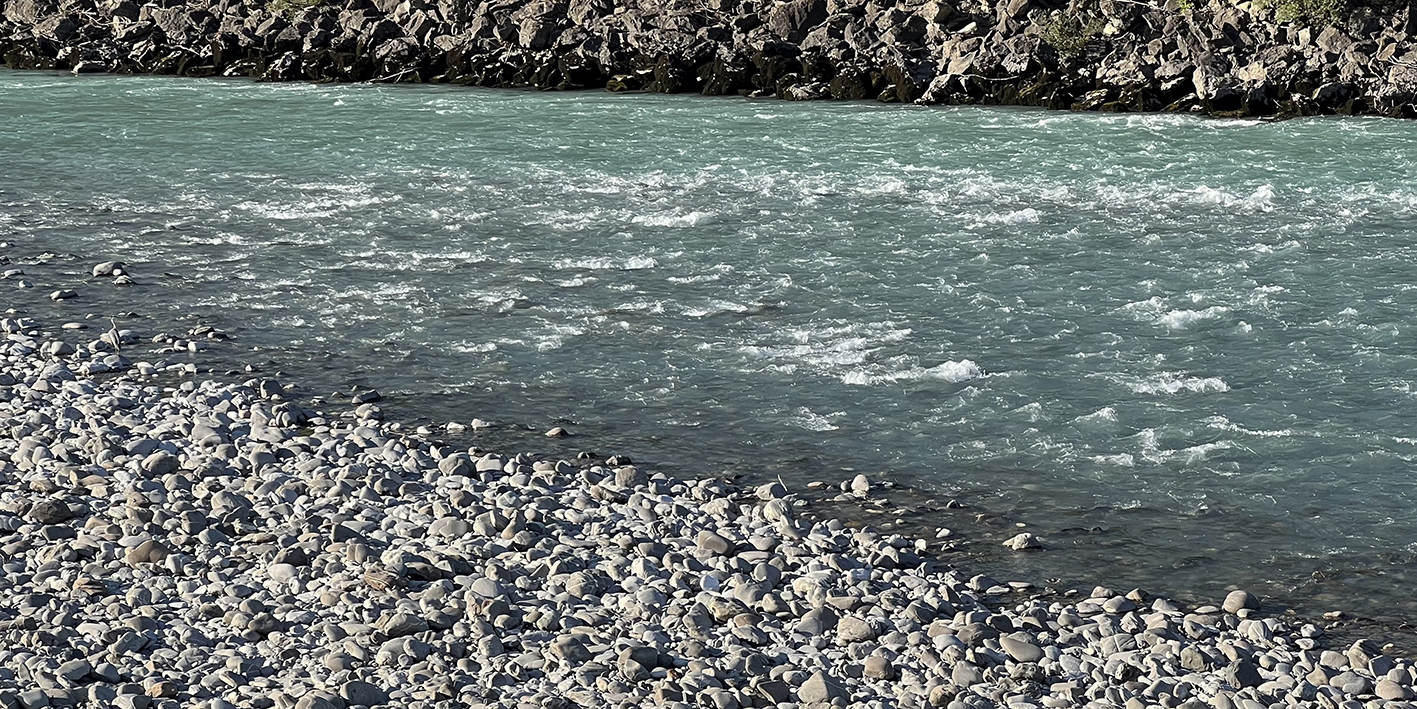 Finalement, nous trouvons une chambre (hors de prix !). C'est ça ou dormir dehors. Mais nous n'avons pas de tente et on annonce la pluie. À 25 ans je l'aurais fait, à 75 non. On prend une douche, on boit une bière. La vue est belle. Ça va un peu mieux. Mais l'idée d'abandonner ne me quitte pas… / Finally, we find an (overpriced!) room. It's either that or sleep outside. But we have no tent and the weather forecast announces rain. At age 25 I would have done it, at 75 no. We take a shower, we drink a beer. The view is beautiful. It feels a little bit better. But the idea of giving up does not leave me…

 

11 juin 2022.  Bâle-Schaffhouse (129 km)

/ June 11th, 2022. Basel-Schaffhausen (129 km)

Alors que nous avons bien dormi chez Franzi, « La Charmante » a passé la nuit sous son pyjama dans la petite rue tranquille devant la maison de notre amie, à un jet de pierre du Rhin. / While we slept well at Franzi's, « La Charmante » spent the night in her pajamas in the quiet little street in front of our friend's house, a stone's throw from the Rhine.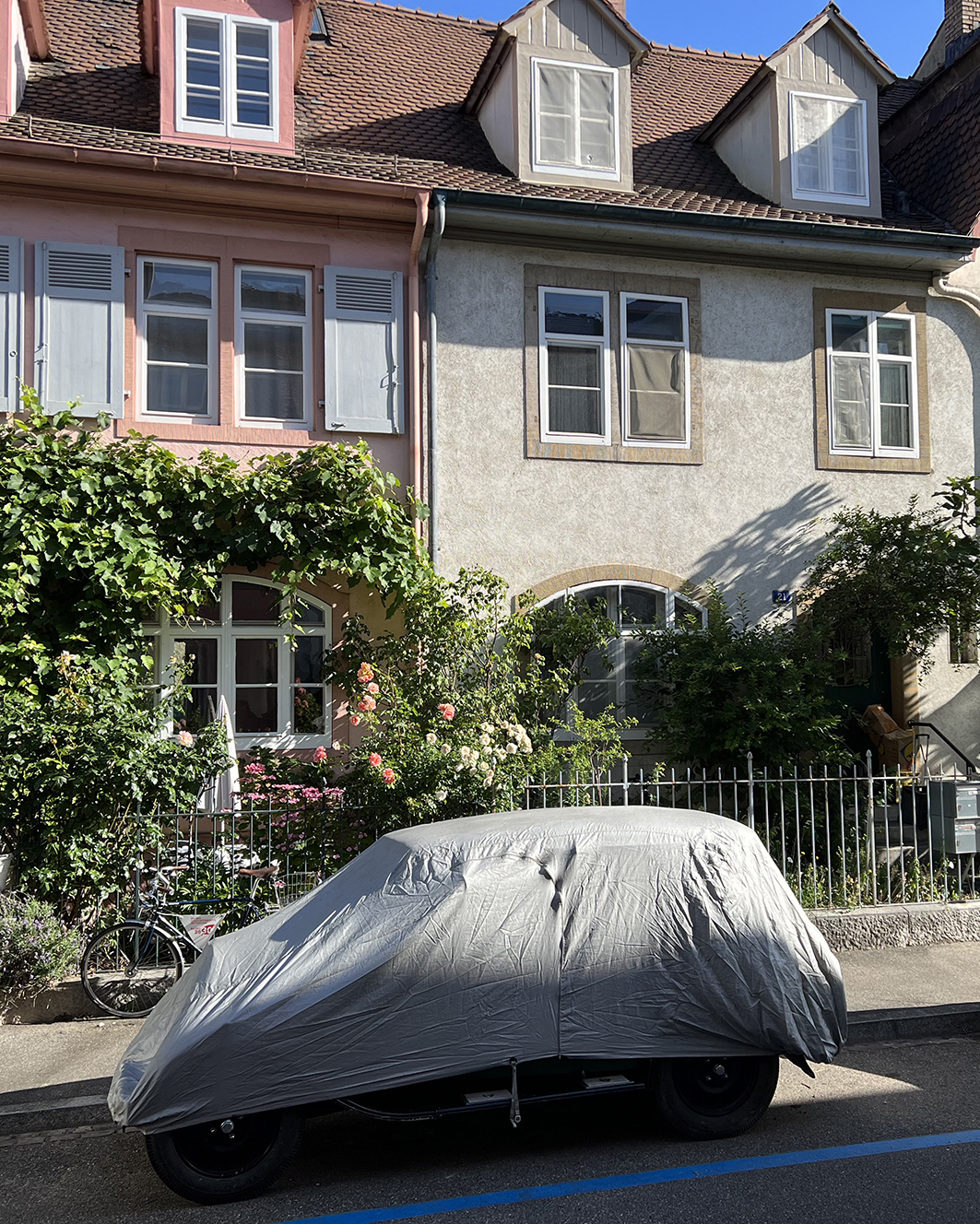 Nous prenons la route vers l'est. Dans sa totalité, le fleuve fait une sorte de zigzag. Sud-nord de sa source au lac de Constance, est-ouest du lac à Bâle, à nouveau sud-nord de Bâle à la frontière néerlandaise, pour terminer avec un dernier tronçon est-ouest aux Pays-Bas. Aujourd'hui, nous espérions faire le trajet 'horizontal' suisse. C'était sans compter avec les caprices de notre chère « Charmante »… / We take the road to the east. In its entirety, the river makes a kind of zigzag. South-north from its source at Lake Constance, east-west from the lake to Basel, again south-north from Basel to the Dutch border, ending with a final east-west stretch in the Netherlands. Today we were hoping to do the 'horizontal' Swiss route. That was without taking into account the whims of our dear « Charmante »…
Le Rhin forme ici la frontière naturelle entre la Suisse et l'Allemagne. Pendant tout notre trajet, nous slalomons entre les deux pays. Premier arrêt à Stein, pour admirer le pont couvert qui relie cette ville suisse à Bad Säckingen en Allemagne. Avec ses 206 mètres, il est le plus long pont couvert en bois d'Europe. Sa construction remonte au moins jusqu'au 13èmesiècle, mais il a été détruit et reconstruit plusieurs fois. / The Rhine here forms the natural border between Switzerland and Germany. Throughout our journey, we slalom between the two countries. First stop in Stein, to admire the covered bridge that connects this Swiss town to Bad Säckingen in Germany. With its 206 meters, it is the longest wooden covered bridge in Europe. Its construction dates back at least to the 13th century, but it was destroyed and rebuilt several times.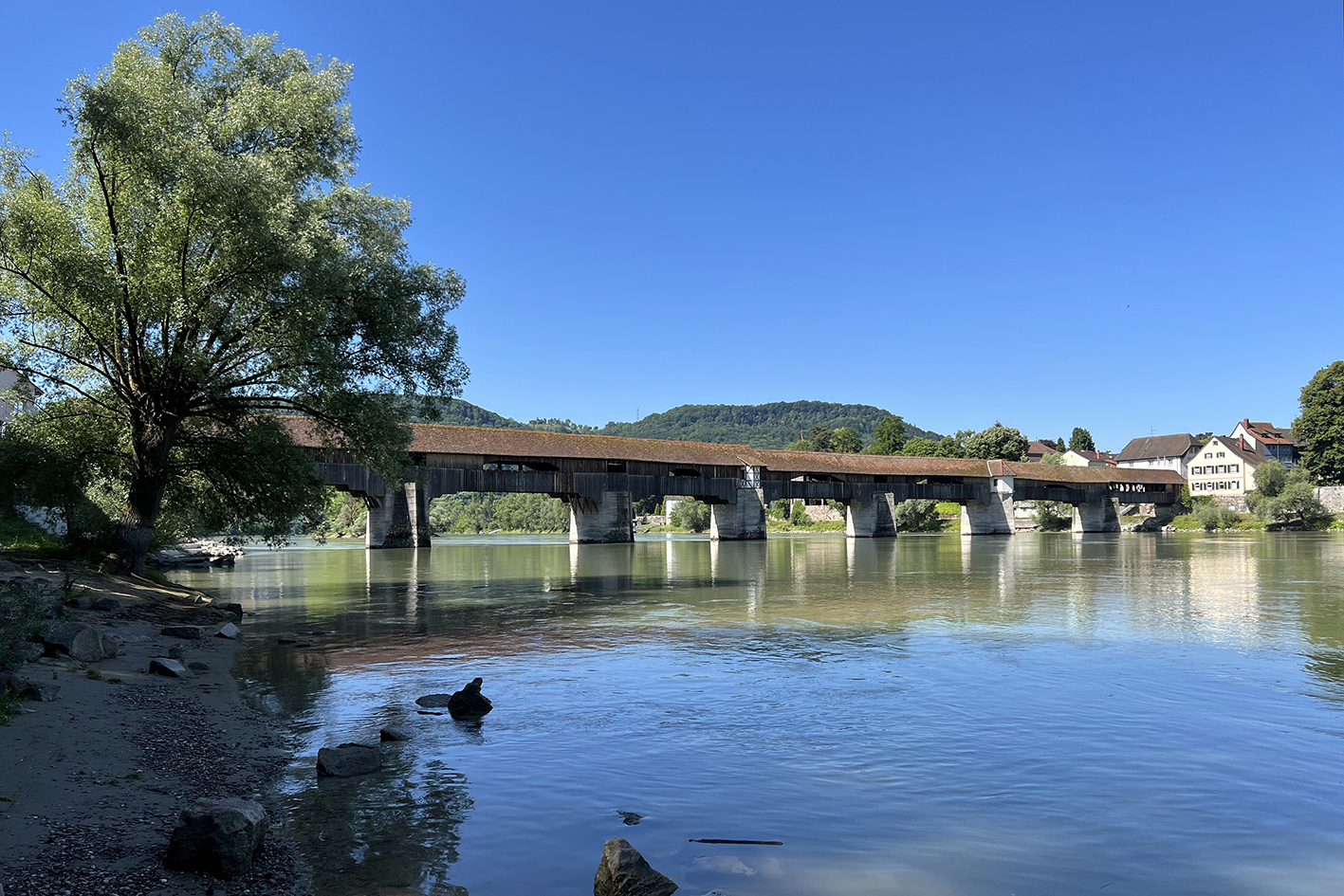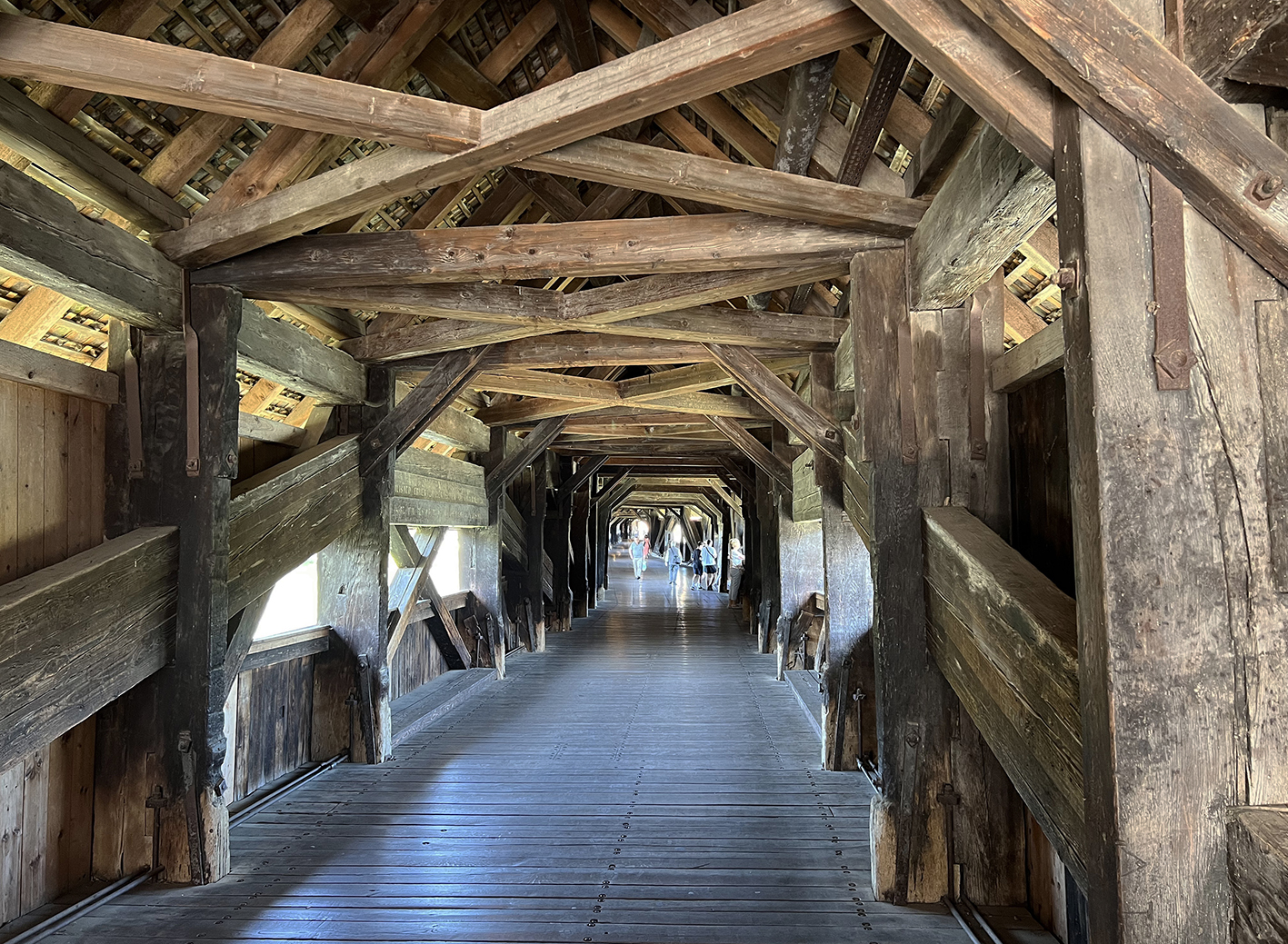 « La Charmante » était un peu 'poussive'…  À notre arrêt à Stein, je remarque que la roue avant gauche est chaude : le frein avant serre trop. En fait, vérification faite, il reste un peu bloqué en position freinage. Je desserre et décide d'en profiter pour passer avec la graisseuse sur tous les graisseurs du train avant. / "La Charmante" was a bit slow… When we stopped in Stein, I noticed that the left front wheel was hot: the front brake was too tight. In fact, I discover that it remains a little stuck in the braking position. I loosen it and decide to take the opportunity to go with the grease gun over all the grease nipples of the front axle.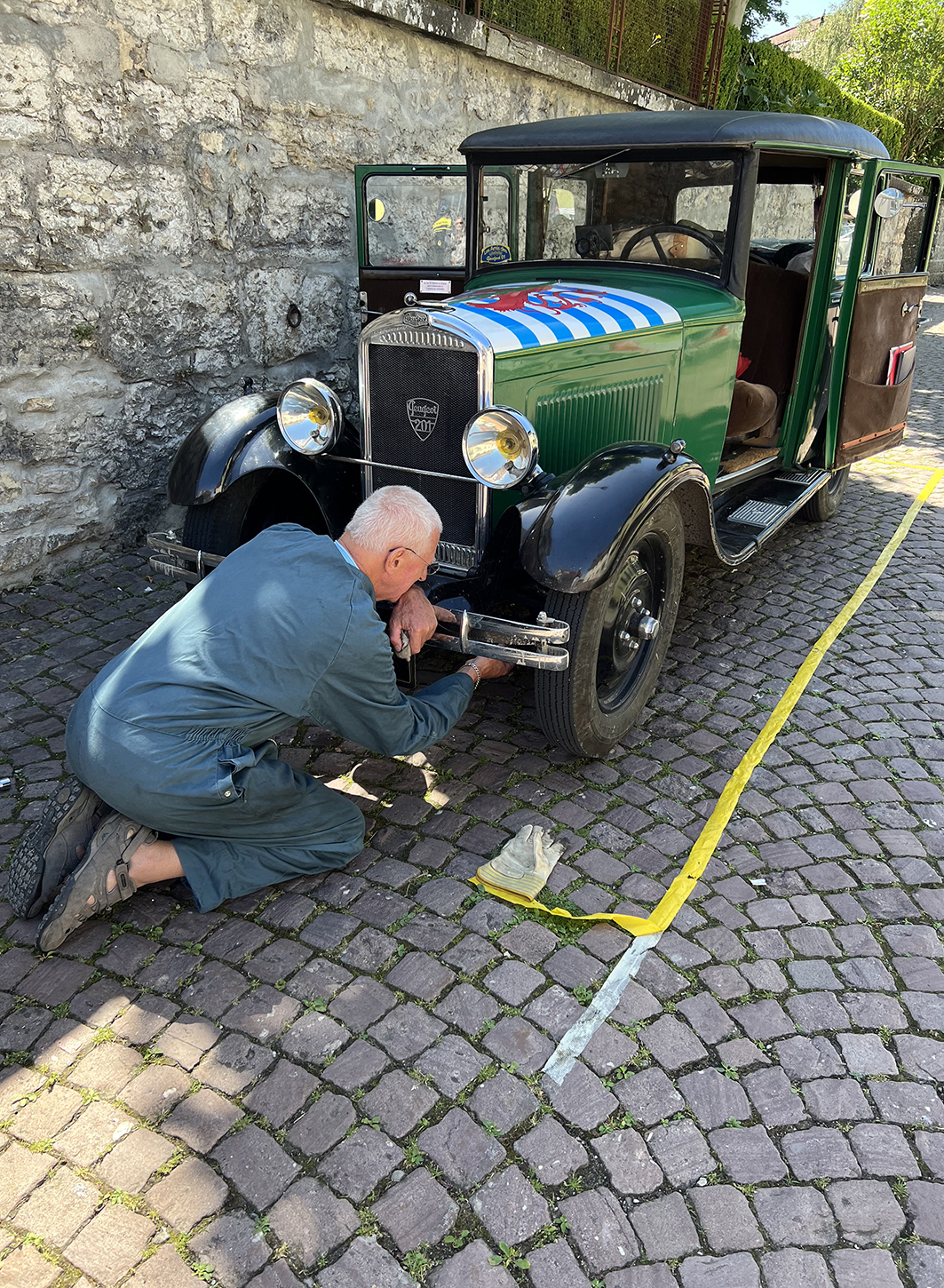 (Photo : Marie-Xavier Lassauzet)
C'est là que je découvre une anomalie : un graisseur a disparu et la plaque 'en 8' qui relie normalement l'axe aux lames de ressort pendouille dans le vide. / This is where I discover an anomaly: a grease nipple has disappeared and the '8' plate which normally connects the axle to the spring leaves is suspended idle.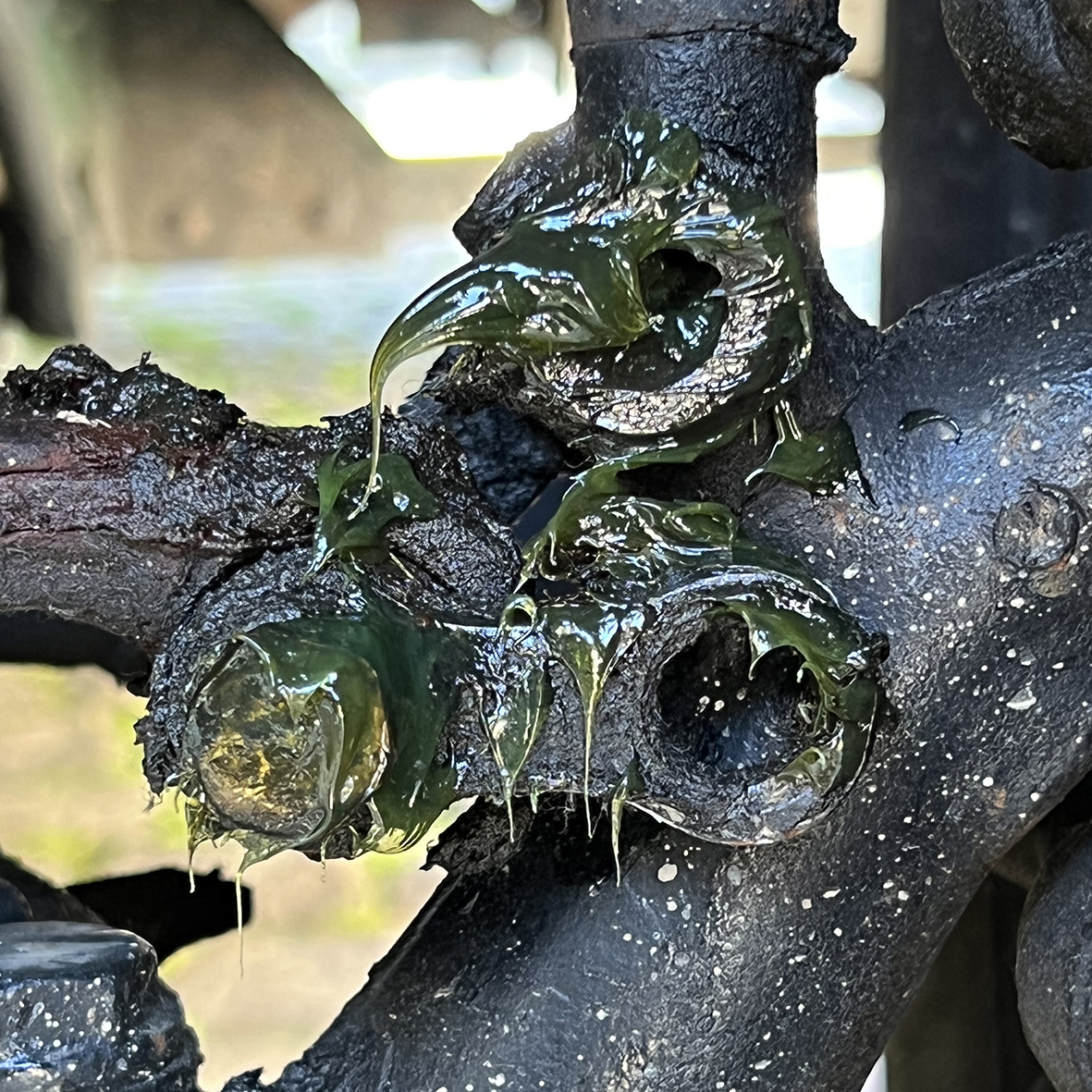 C'est le moment d'appeler mon gourou, Manu, dans le lointain sud-ouest de la France. « Ce n'est pas trop grave, me dit-il, mais il faudra au plus vite remplacer le petit axe par un simple boulon. » Nous nous trouvons sur la rive sud du Rhin, paisible à cet endroit et bien moins large qu'auparavant. / It's time to call my guru, Manu, in the far south-west of France. « It's not too serious, he tells me, but the small axle will have to be replaced as soon as possible with a simple bolt." We are on the south bank of the Rhine, peaceful here and much narrower than before.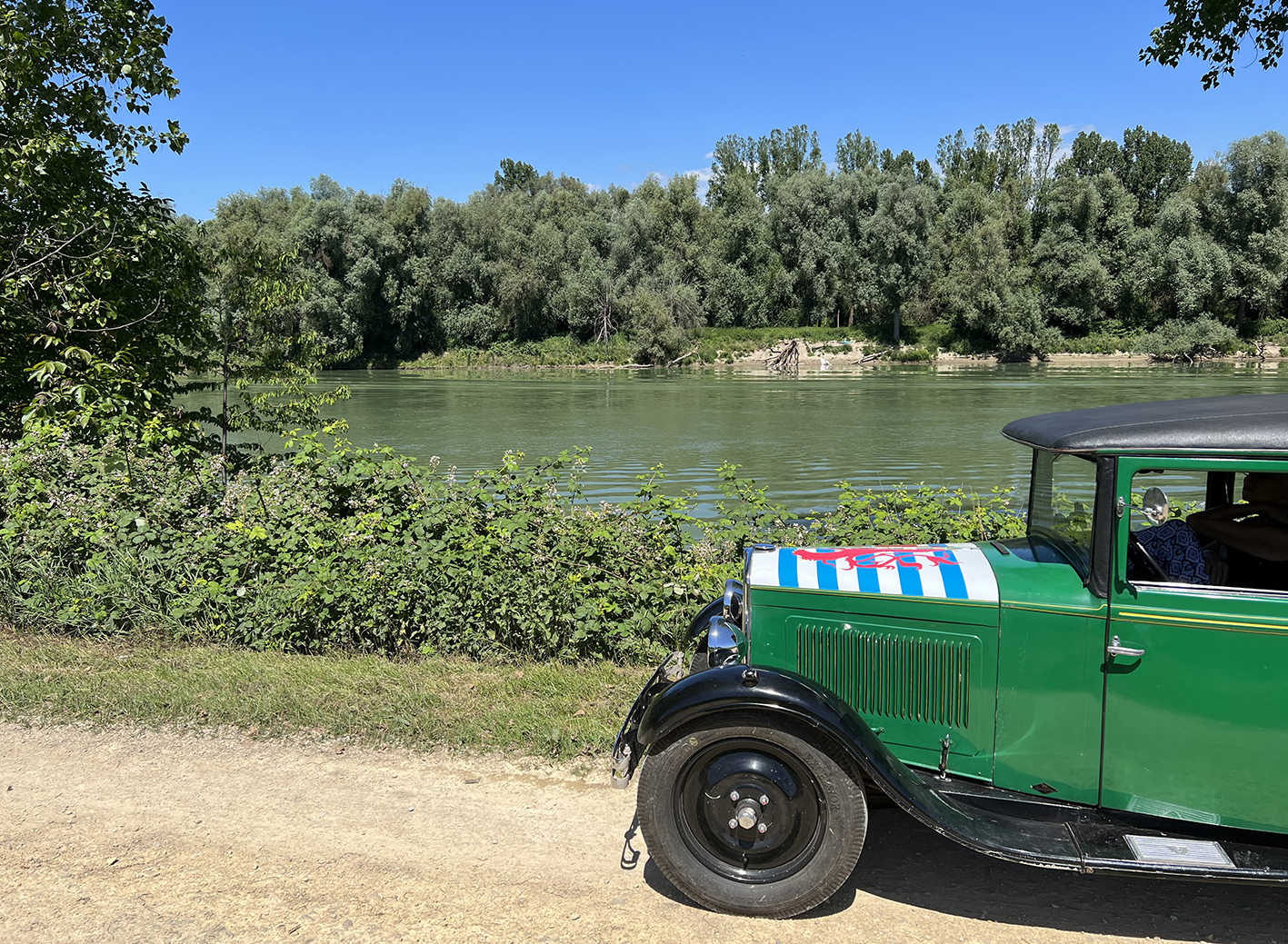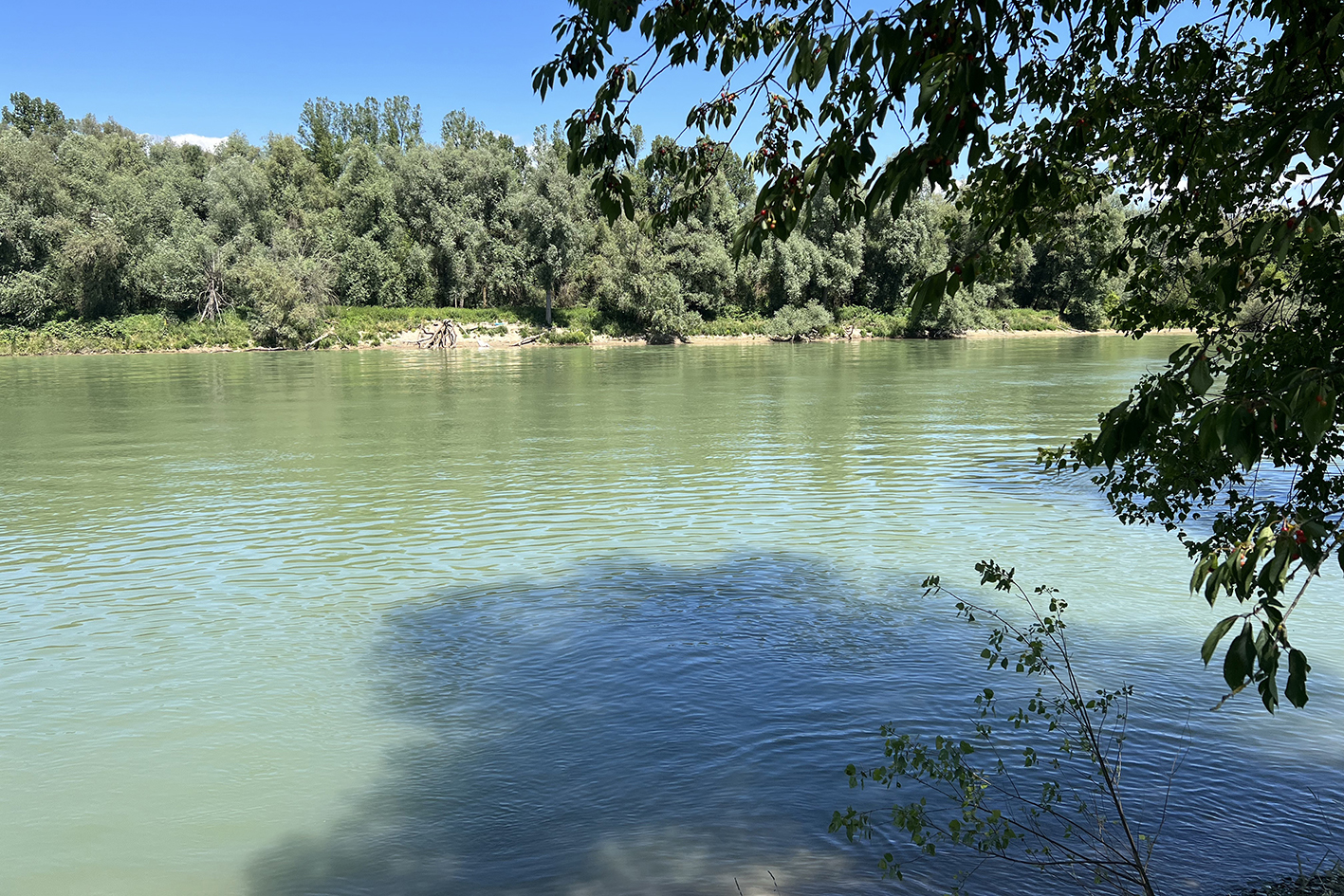 Il est midi passé et nous sommes un samedi. Où trouver un mécanicien maintenant ? Nous nous arrêtons devant un garage (fermé) à Schwaderloch. C'est là que je me souviens que je suis membre de l'ACL (Automobile Club du Luxembourg) avec son formidable service 'eCall mobile'. Je les appelle. Une voix féminine, sympathique, compréhensive et efficace. Elle va alerter l'ACS (Automobile Club Suisse), qui a son tour va nous envoyer une dépanneuse. Je reçois quelques coups de fil et nous voyons arriver une dépanneuse jaune avec un plateau pour emmener « La Charmante » au garage le plus proche qui s'en occupera lundi. Deux jours d'arrêt forcé, ça ne nous enchante guère… Mais voilà que le mécano s'intéresse à notre problème. / It is past noon and it is a Saturday. Where to find a mechanic now? We stop in front of a (closed) garage in Schwaderloch. This is where I remember being a member of the ACL (Automobile Club du Luxembourg) with its wonderful 'eCall mobile' service. I call them. A feminine voice, sympathetic, understanding and effective. She will alert the ACS (Automobile Club Suisse), which in turn will send us a tow truck. I receive a few phone calls and we see a yellow tow truck arrive, ready to take "La Charmante" to the nearest garage which will take care of it on Monday. Two days of forced stop, we are not delighted… But now the mechanic shows interest in our problem.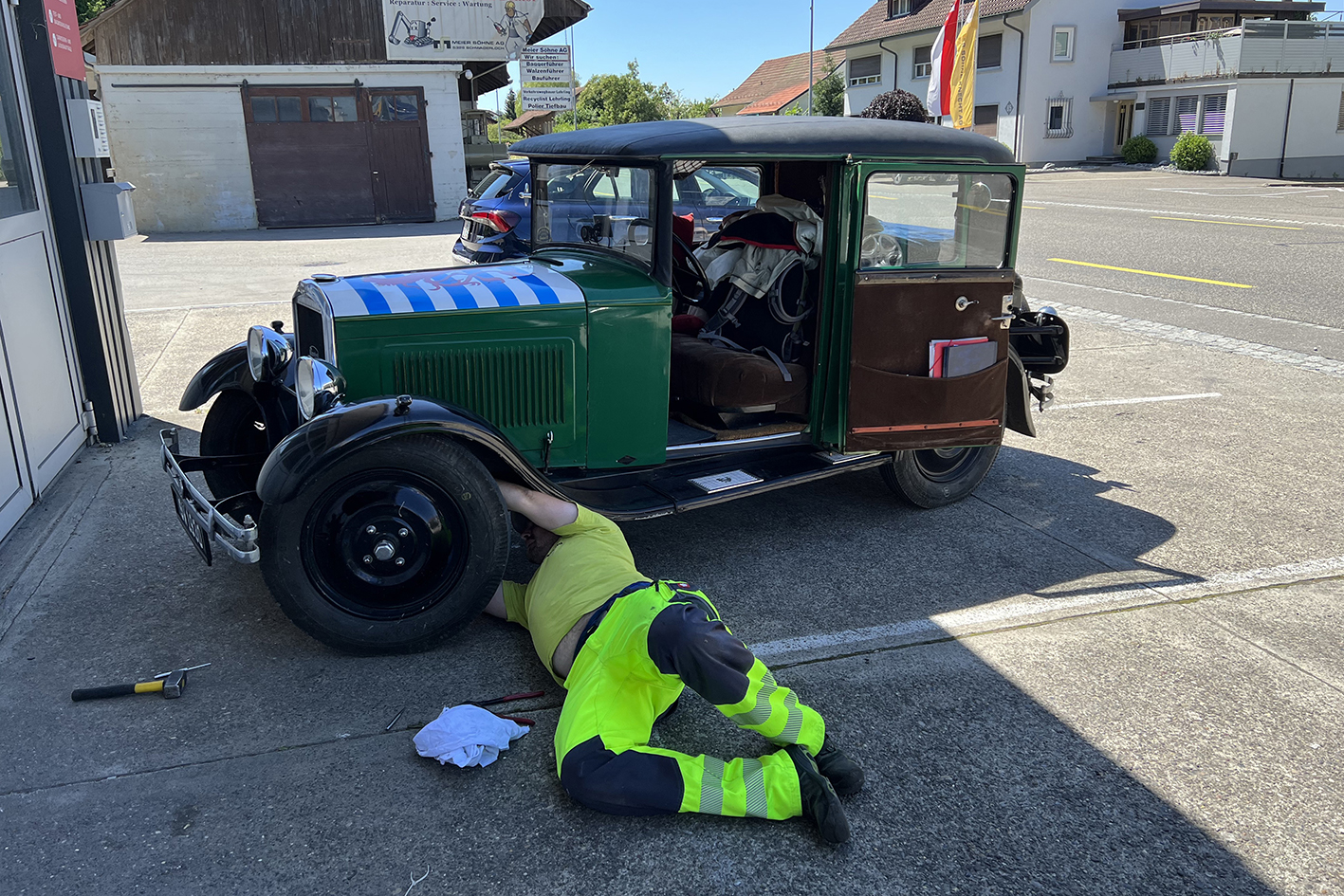 Nous en discutons, y compris le conseil relativement simple de Manu. Il décroche la remorque et emmène la dépanneuse avec tous ces outils à côté de notre victime. / We discuss it, including Manu's relatively simple advice. He unhooks the trailer and takes the tow truck with all its tools next to our victim.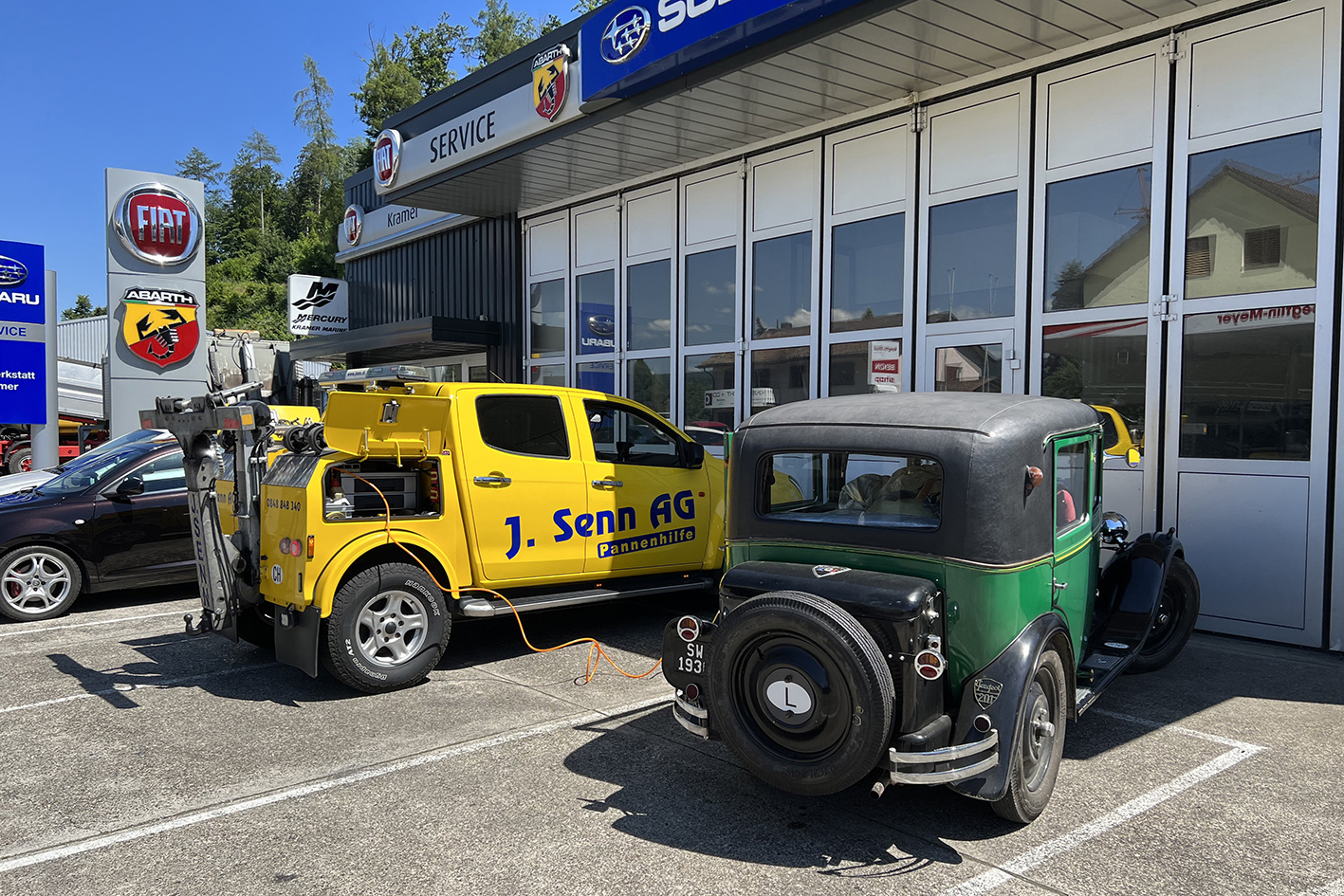 Peu de temps après, je tiens dans la main l'axe cassé. / Shortly after, I hold the broken axle in my hand.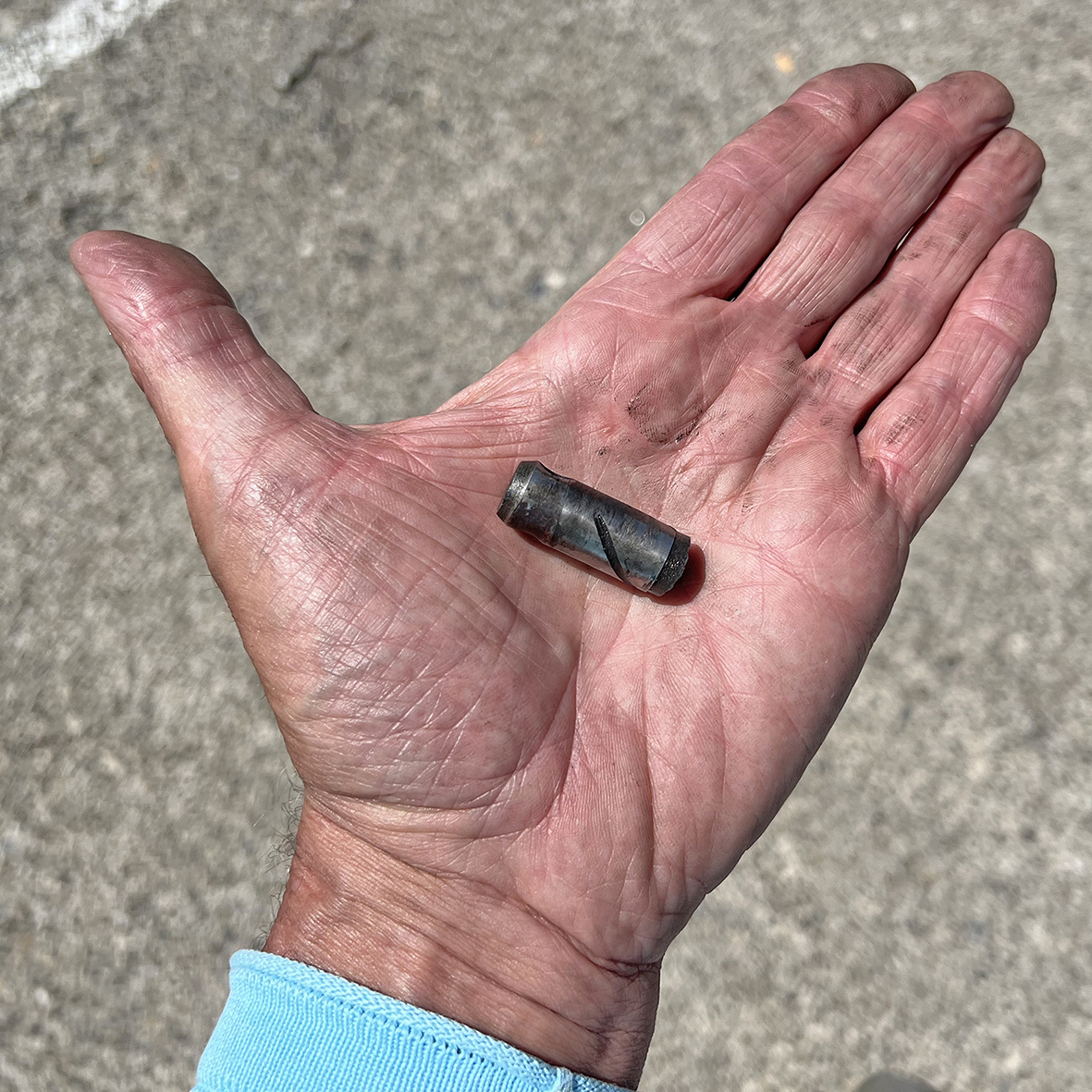 Le jeune Suisse, très efficace, ne possède pas de boulon suffisamment gros pour le remplacer. Pas avare de solutions improvisées, il en cannibalise un sur la remorque plateau, qui est du bon diamètre (à peu près) mais beaucoup trop long. Il faudra le couper à la bonne longueur et le percer pour faire passer la goupille qui tient en place l'ensemble. Et tout cela sans outils fait pour, sur le bord de la route. Mes deux mains servant d'étau, le mécano réussit à refabriquer une pièce qui remplacera l'axe cassé. Encore quelques efforts (et quelques jurons), et le tour est joué ! / The young Swiss, who is very effective, does not have a bolt large enough to replace it. Not stingy with improvised solutions, he cannibalizes one on the flatbed trailer, which is the right diameter (almost) but much too long. It will have to be cut to the right length and drilled to pass the pin that holds the assembly in place. And all this on the roadside without the right tools. My two hands serving as a vice, the mechanic manages to rebuild a part to replace the broken axle. A few more efforts (and a bit more swearing), and it's done!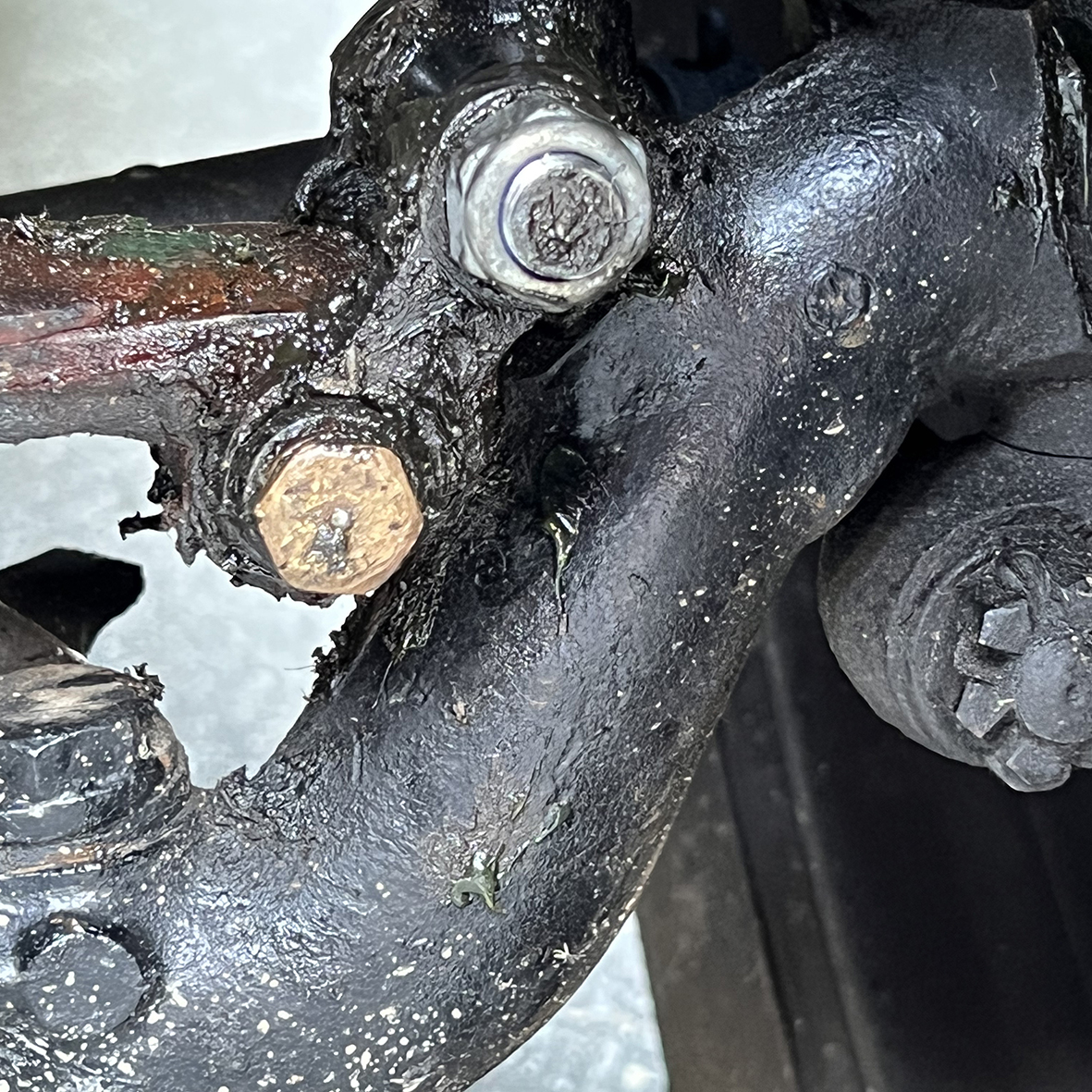 Je remercie notre sauveur, je rappelle l'aimable dame de l'ACL toute contente et surprise que nous puissions poursuivre notre route. Avec tout cela, nous avons perdu beaucoup de temps et la fatigue se fait aussi sentir. Nous roulons jusqu'aux chutes du Rhin à Schaffhouse. Spectacle impressionnant, renforcé par le rugissement de l'eau du fleuve. / I thank our saviour, I call again the kind lady of the ACL, who is very happy and surprised that we can continue our journey. With all this, we have lost a lot of time and we are tired. We drive to the Rhine Falls in Schaffhausen. An impressive spectacle, reinforced by the roar of the river water.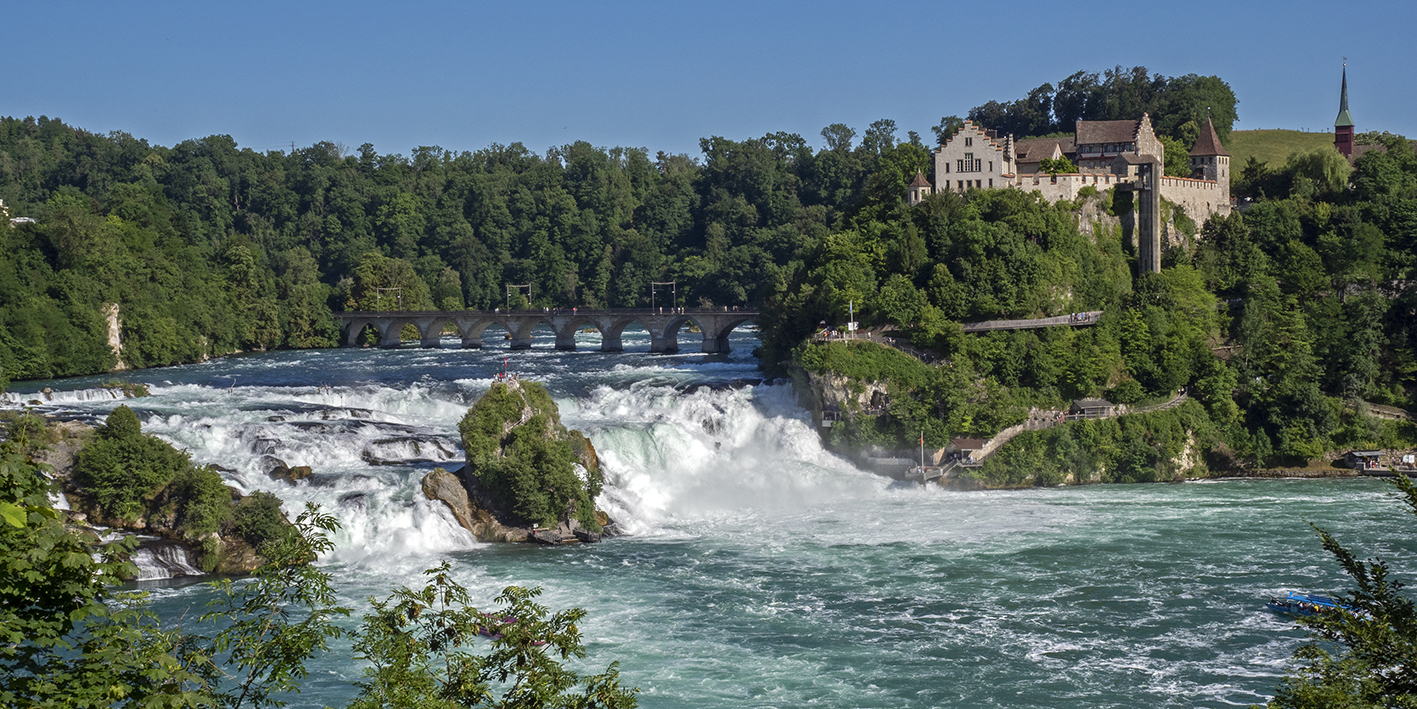 Épuisés par cette journée stressante, nous décidons de ne pas rouler plus loin et de trouver un hôtel dans la ville. Après une bonne bière rafraichissante et ayant trouvé une chambre confortable, nous nous sentons déjà mieux ! / Exhausted by this stressful day, we decide not to drive any further and to find a hotel in the city. After a good refreshing beer and having found a comfortable room, we already feel better!
10 juin 2022. Jungholtz-Bâle (74 km)

/ June 10th, 2022. Jungholtz-Basle (74 km)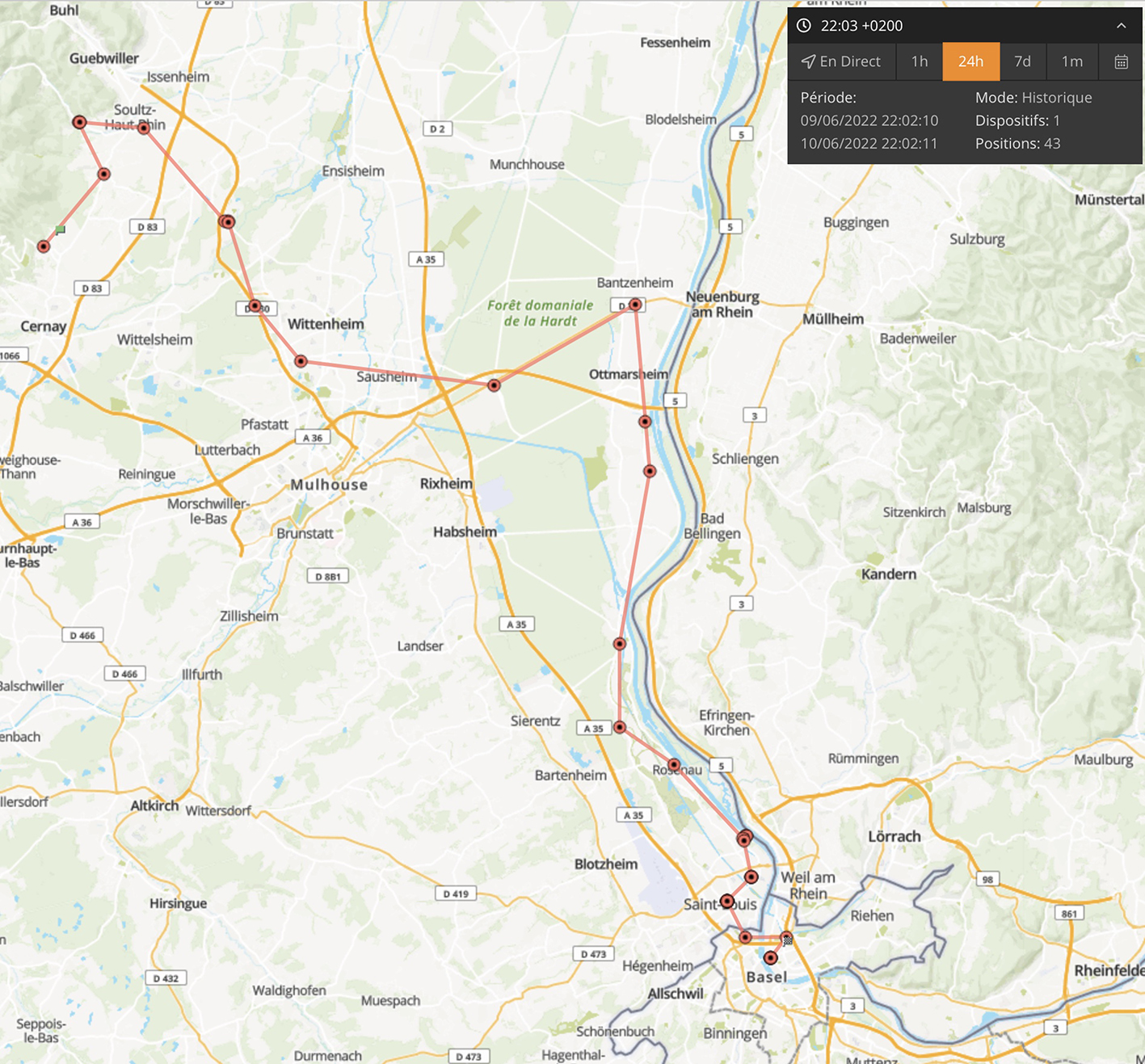 Lorsque nous passons près de Pulversheim, un groupe de bâtiments étranges attire mon attention. / As we pass near Pulversheim, a cluster of strange buildings catches my eye.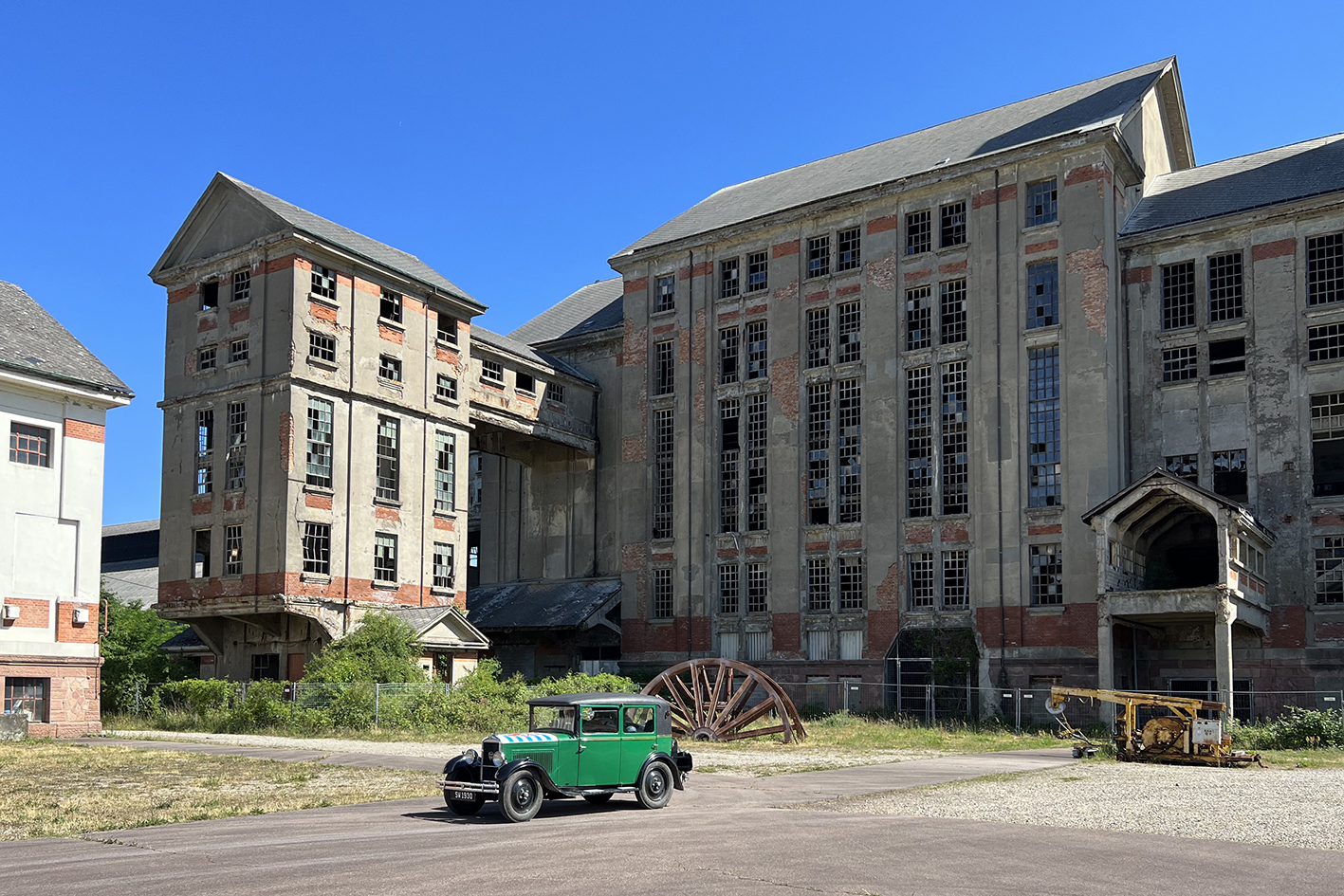 Il s'agit du carreau Rodolphe, une ancienne mine de potasse, découverte en 1904. Un peu d'histoire. Dans l'espoir de trouver de la houille ou du pétrole, l'industriel Joseph Vogt, Albert et Amélie Zurcher, propriétaires du domaine du 'Lützelhof' à Cernay, Jean-Baptiste Grisez, sourcier amateur et le Dr Émile Fischer fondèrent la 'Société en participation pour la recherche de gisement de houille en Alsace'. Manque de chance, au lieu de trouver du charbon ils tombent sur du minerai de sel de potasse. Ce produit était inconnu en Alsace. Par contre il était très bien connu outre-Rhin, où les sels de potasse étaient employés comme engrais. Les Allemands avaient un demi-siècle d'avance dans ce domaine. Ne trouvant pas en France le financement nécessaire pour exploiter le gisement, les sociétaires se tournèrent vers l'Allemagne. C'est ainsi que fut créée la 'Gewerkschaft Amélie' avec un capital de départ de 6 millions de marks. L'extraction de la potasse commença enfin en février 1910. Chaque mine était nommée d'après des personnes, dans l'ordre chronologique : Amélie, Marie, Anna, Max, Alex, Théodore, Fernand, Marie-Louise, Else, Joseph et Rodolphe, attribué le 12 novembre 1907, sera la dernière des dix sociétés minières propriétés de la société-mère, la 'Gewerkschaft Amélie'. / This is the Rodolphe tile, a former potash mine, discovered in 1904. A bit of history. In the hope of finding coal or oil, the industrialist Joseph Vogt, Albert and Amélie Zurcher, owners of the 'Lützelhof' estate in Cernay, Jean-Baptiste Grisez, an amateur dowser and Dr Émile Fischer founded the 'Société in participation for the search for coal deposits in Alsace'. Bad luck, instead of finding coal they come across potash salt ore. This product was unknown in Alsace. On the other hand, it was very well known across the Rhine, where potash salts were used as fertilizer. The Germans were half a century ahead in this area. Unable to find the necessary financing in France to exploit the deposit, the members turned to Germany. This is how the 'Gewerkschaft Amélie' was created with a starting capital of 6 million marks. Potash mining finally began in February 1910. Each mine was named after people, in chronological order: Amélie, Marie, Anna, Max, Alex, Théodore, Fernand, Marie-Louise, Else, Joseph and Rodolphe, awarded on November 12, 1907, will be the last of the ten mining companies owned by the parent company, the 'Gewerkschaft Amélie'.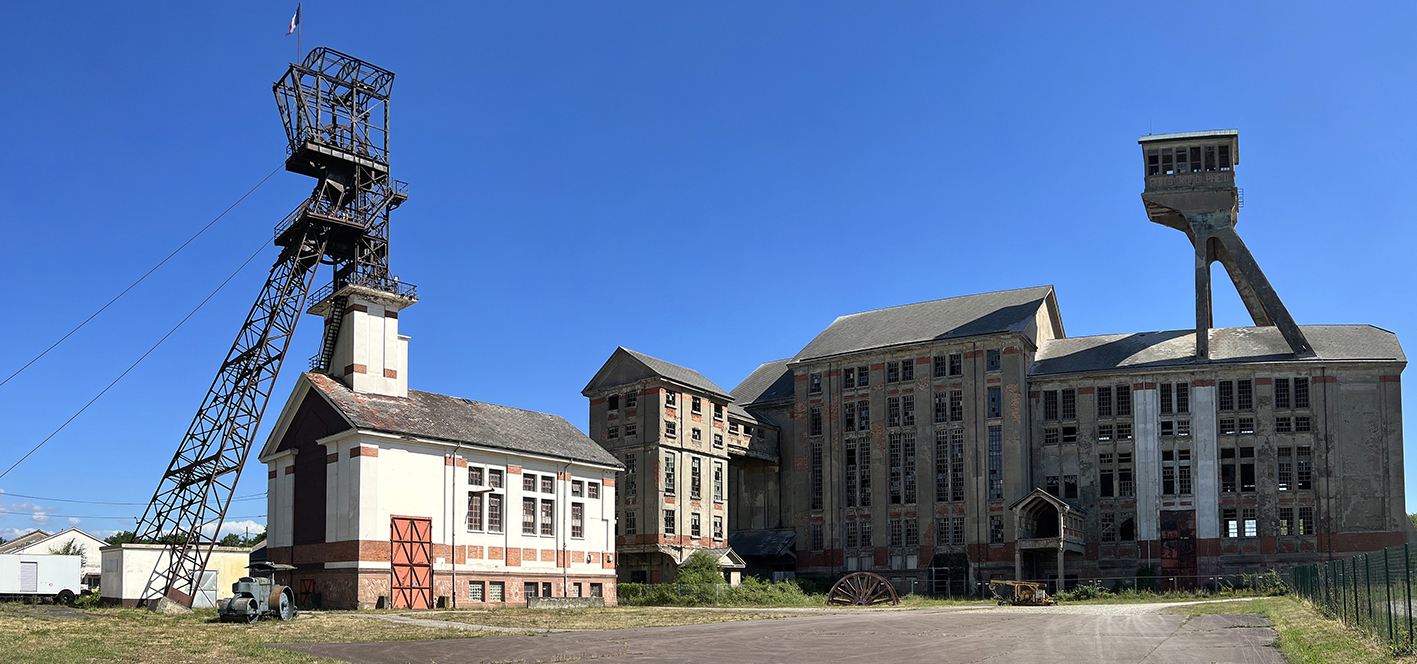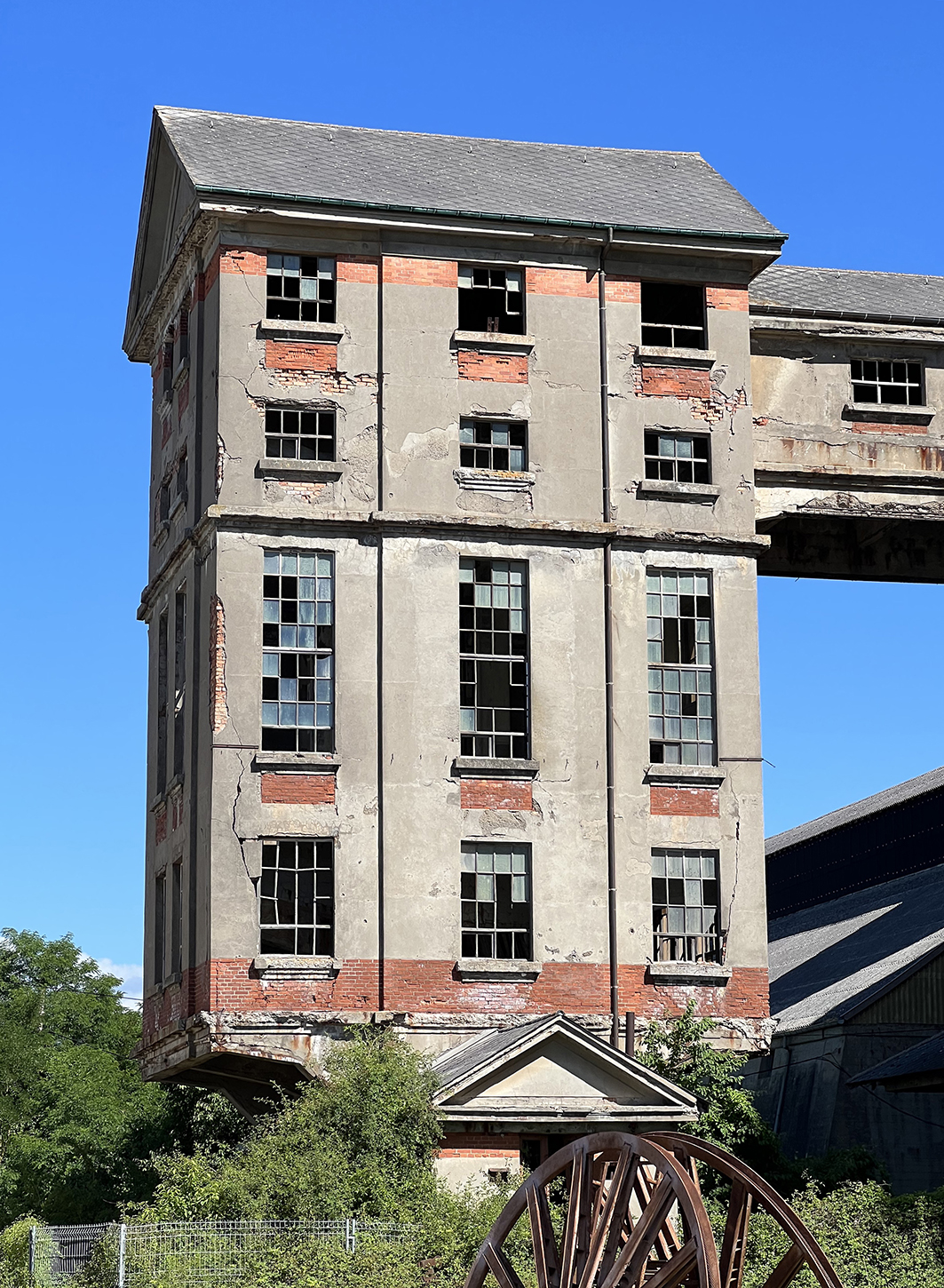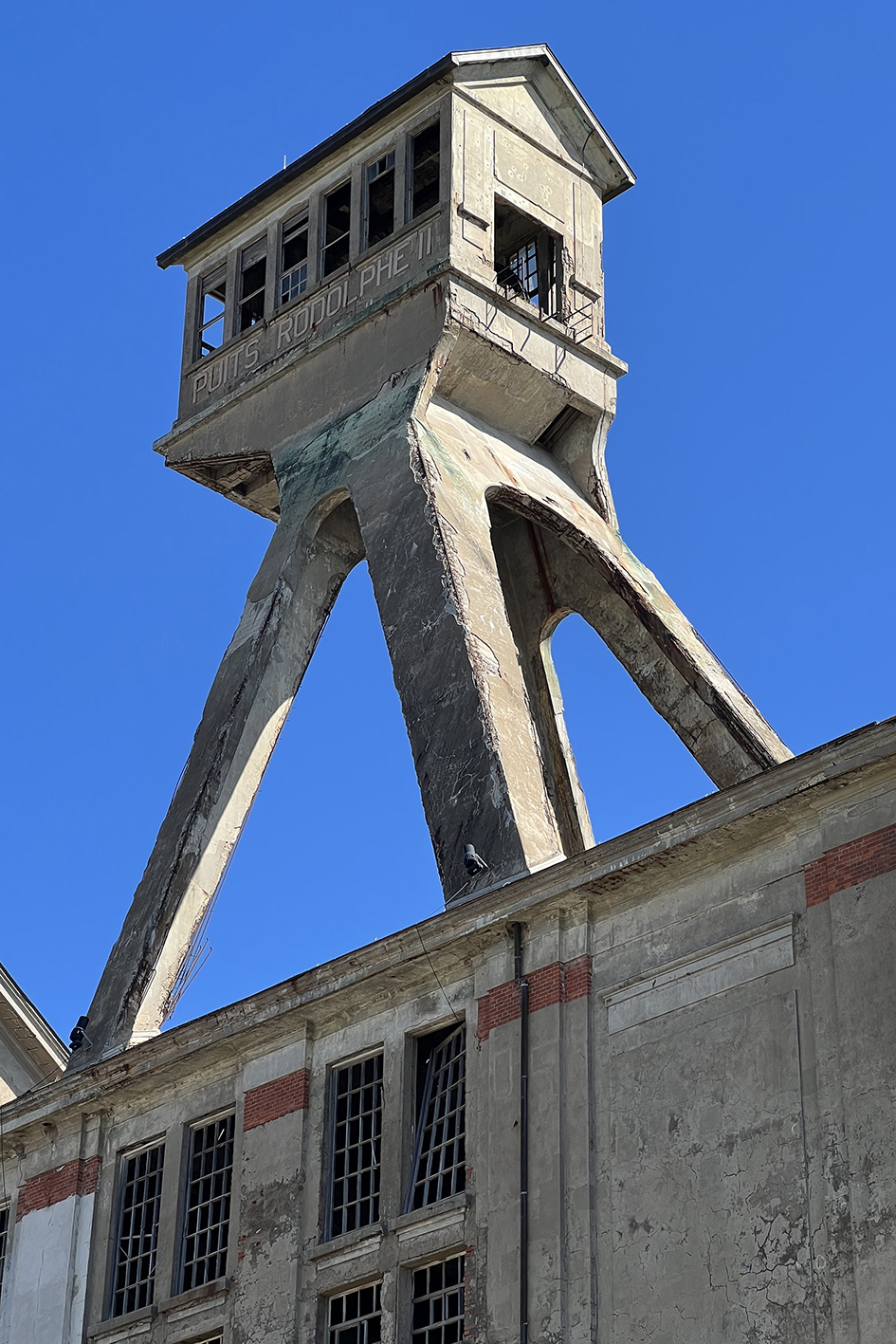 Nous redescendons vers le Rhin, où nous pique-niquons, accompagnés de canards, de cygnes et d'ouettes d'Égypte qui guettent nos miettes. / We drive back down to the Rhine, where we have a picnic, accompanied by ducks, swans and Egyptian geese waiting for our crumbs.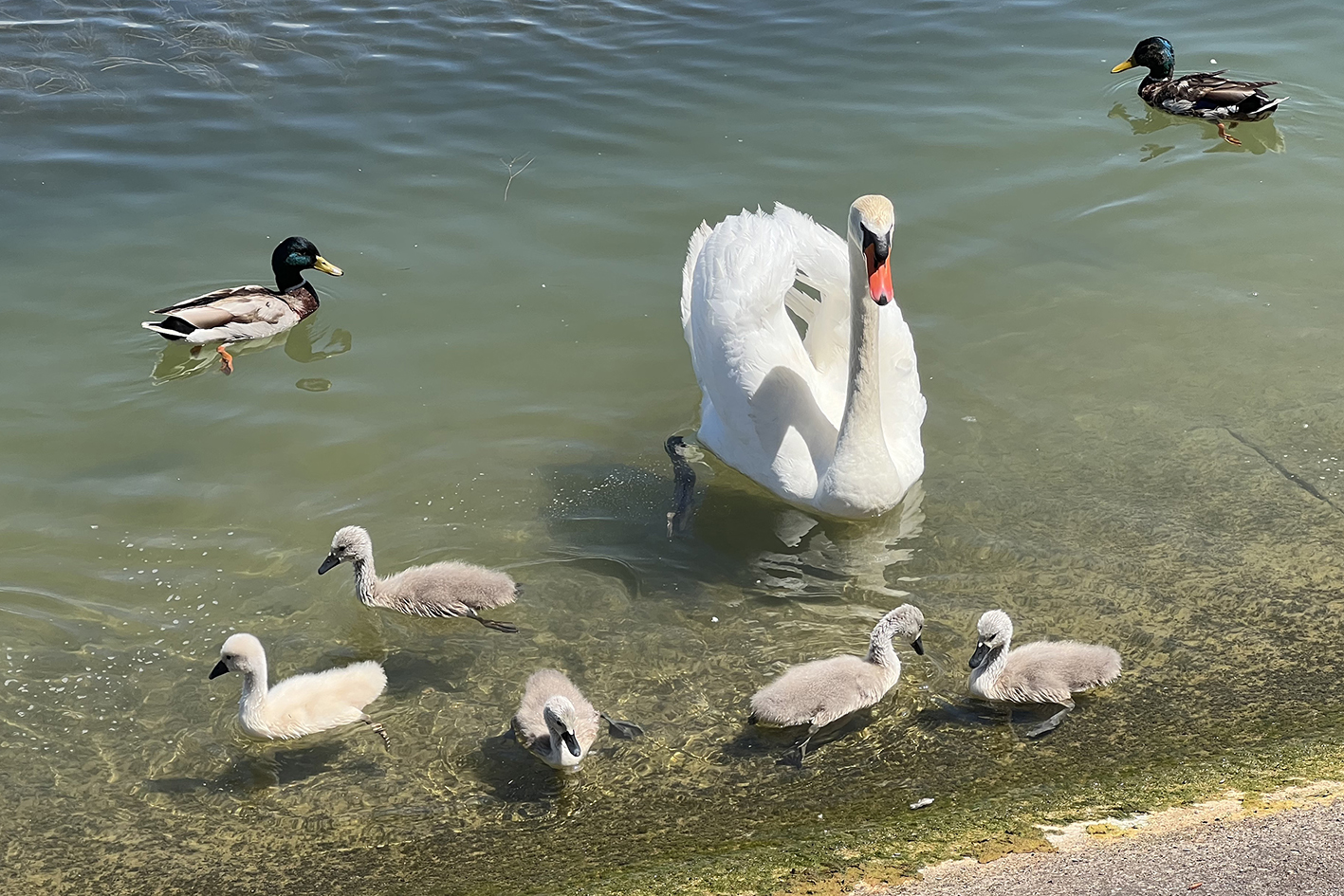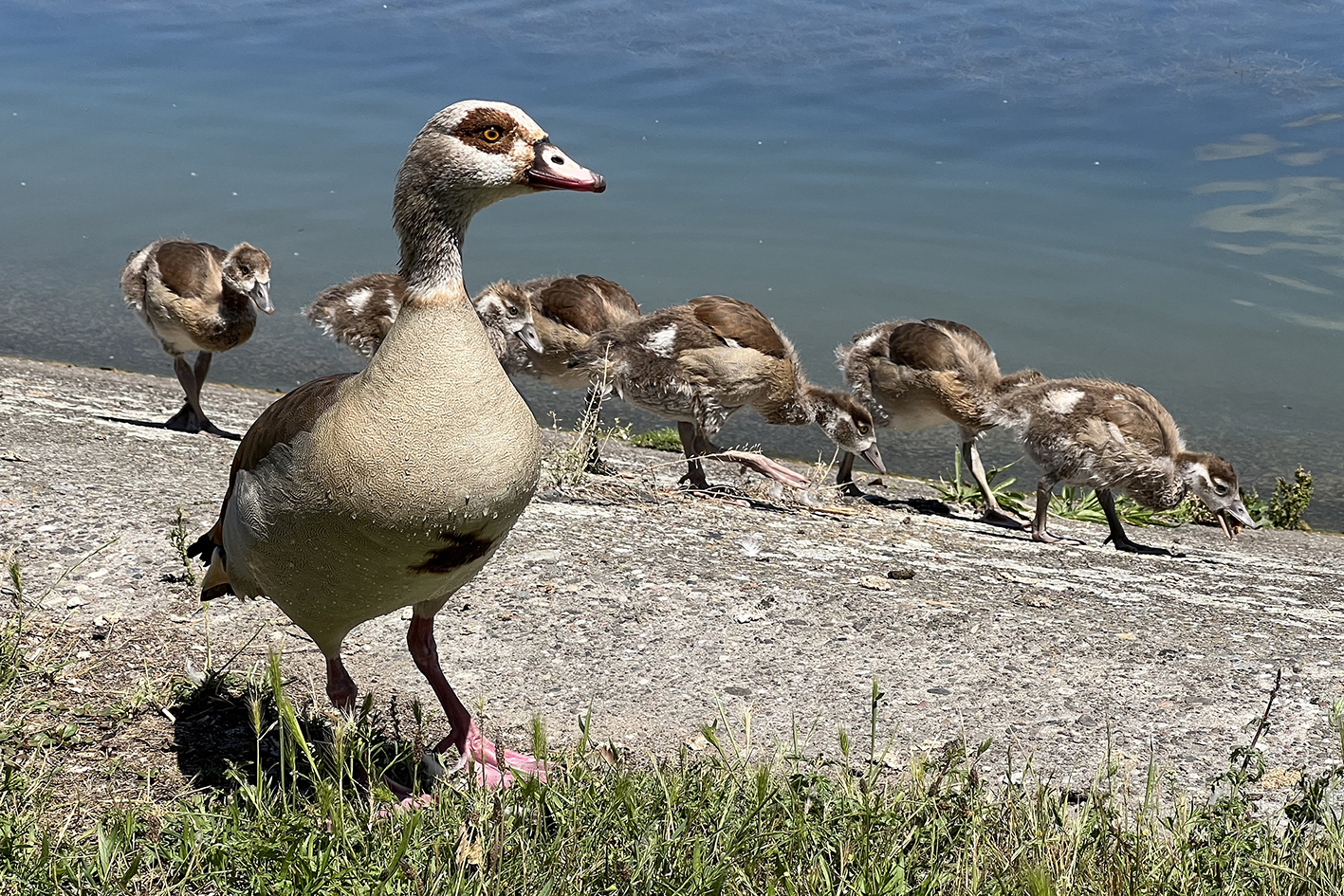 Nous passons l'après-midi et la soirée à Bâle, chez Franzi, une ancienne amie. Nous parlons de l'histoire mouvementée de sa famille, en partie originaire de Saint-Pétersbourg et de Breslau, disséminée au cours des évènements tragiques du 20ième siècle aux Pays-Bas, en Suisse, aux États-Unis, en Équateur… Elle évoque les ancêtres, les veuvages, les remariages, les maîtresses, les cousins et cousines, les demi-sœurs. On parle de celles et ceux qui ont péri dans les camps de concentration nazis. Et de celles et ceux qui ont survécu à l'Holocauste mais aujourd'hui disparus, dont mon père, et notre amie Beate, une arrière cousine de Franzi. / We spend the afternoon and evening in Basel, with Franzi, an old friend. We talk about the turbulent history of her family, partly from Saint Petersburg and Breslau, scattered during the tragic events of the 20th century in the Netherlands, Switzerland, the United States, Ecuador… She evokes the ancestors, widowhoods, remarriages, mistresses, cousins, half-sisters. We are talking about those who perished in the Nazi concentration camps. And of those who survived the Holocaust but are now missing, including my father, and our friend Beate, a great cousin of Franzi.
9 juin 2022. Breuschwickersheim-Jungholtz (184 km)

/ June 9th, 2022. Breuschwickersheim-Jungholtz (184 km)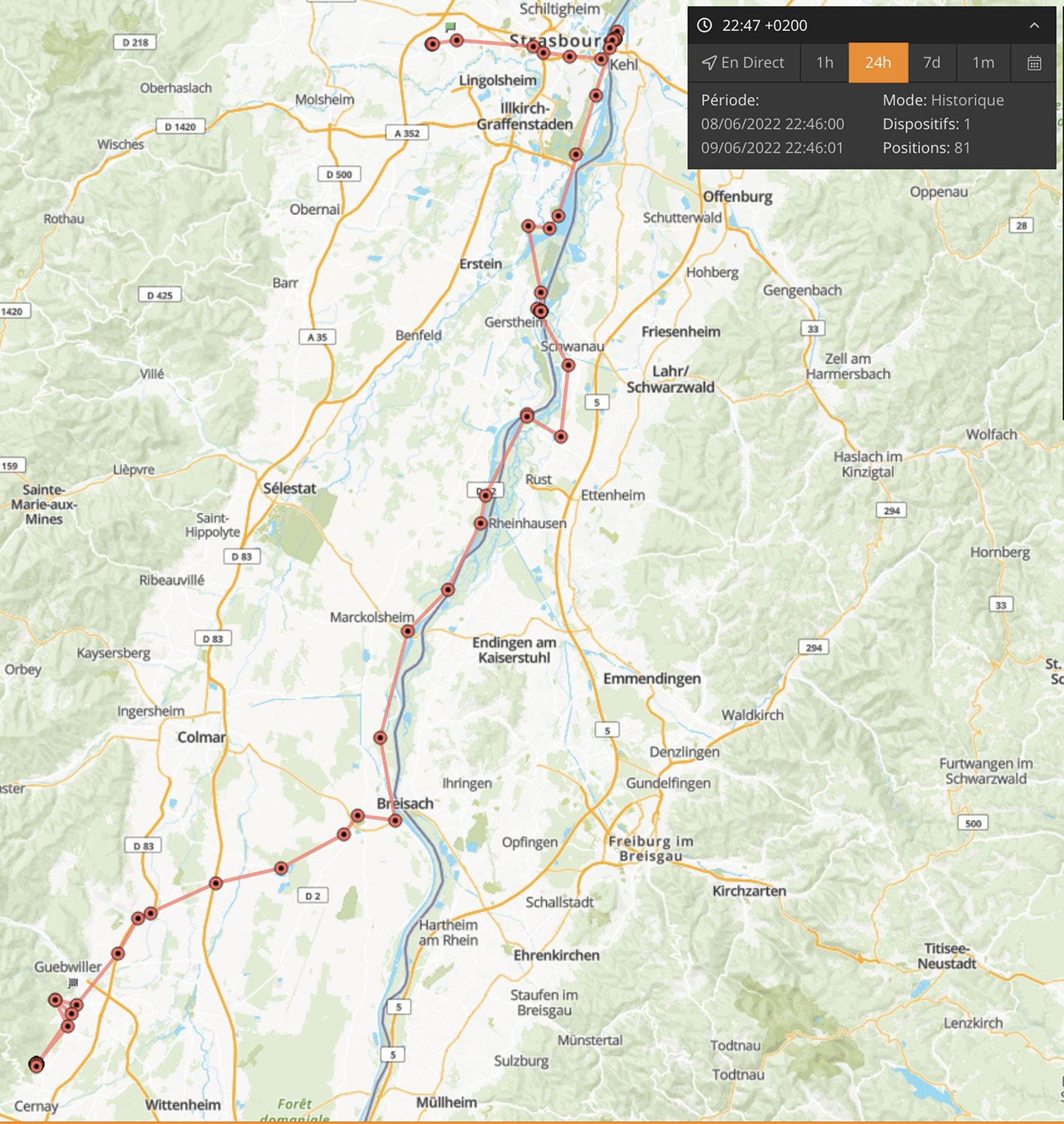 Nous traversons le Rhin de la France en Allemagne, où nous nous rendons à la caserne de la Brigade Fluviale de Strasbourg / Kehl-am-Rhein. « La Charmante » y est accueillie par l'Adjudant-Chef Thomas (France) et le Polizeioberkommissar Mario (Allemagne) / We cross the Rhine from France to Germany, where we go to the barracks of the Brigade Fluviale de Strasbourg / Kehl-am-Rhein. "La Charmante" is welcomed there by Chief Warrant Officer Thomas (France) and Polizeioberkommissar Mario (Germany)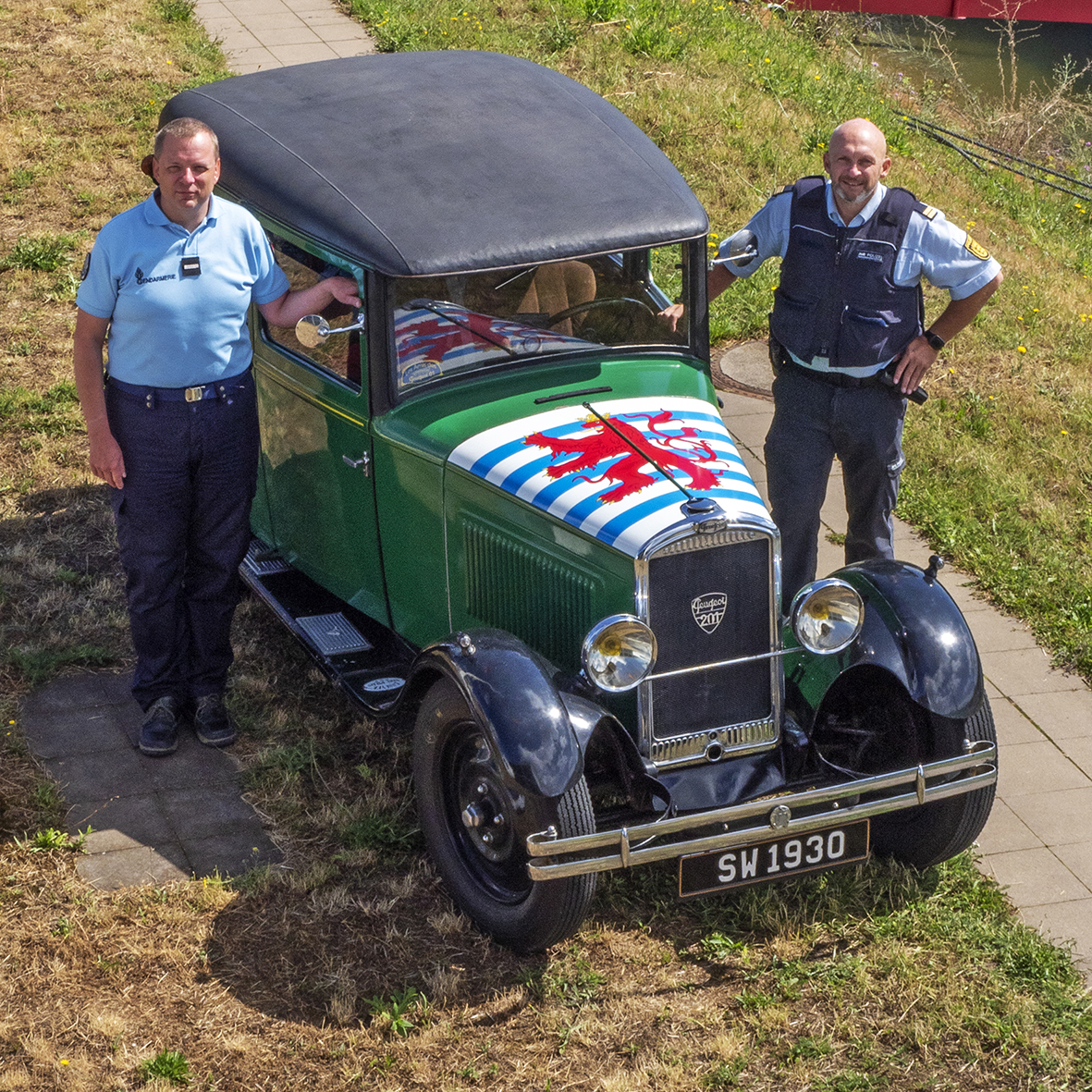 En effet, la brigade fluviale est un bel exemple de collaboration internationale entre les deux pays séparés par le fleuve. / Indeed, the river brigade is a fine example of international collaboration between the two countries separated by the river.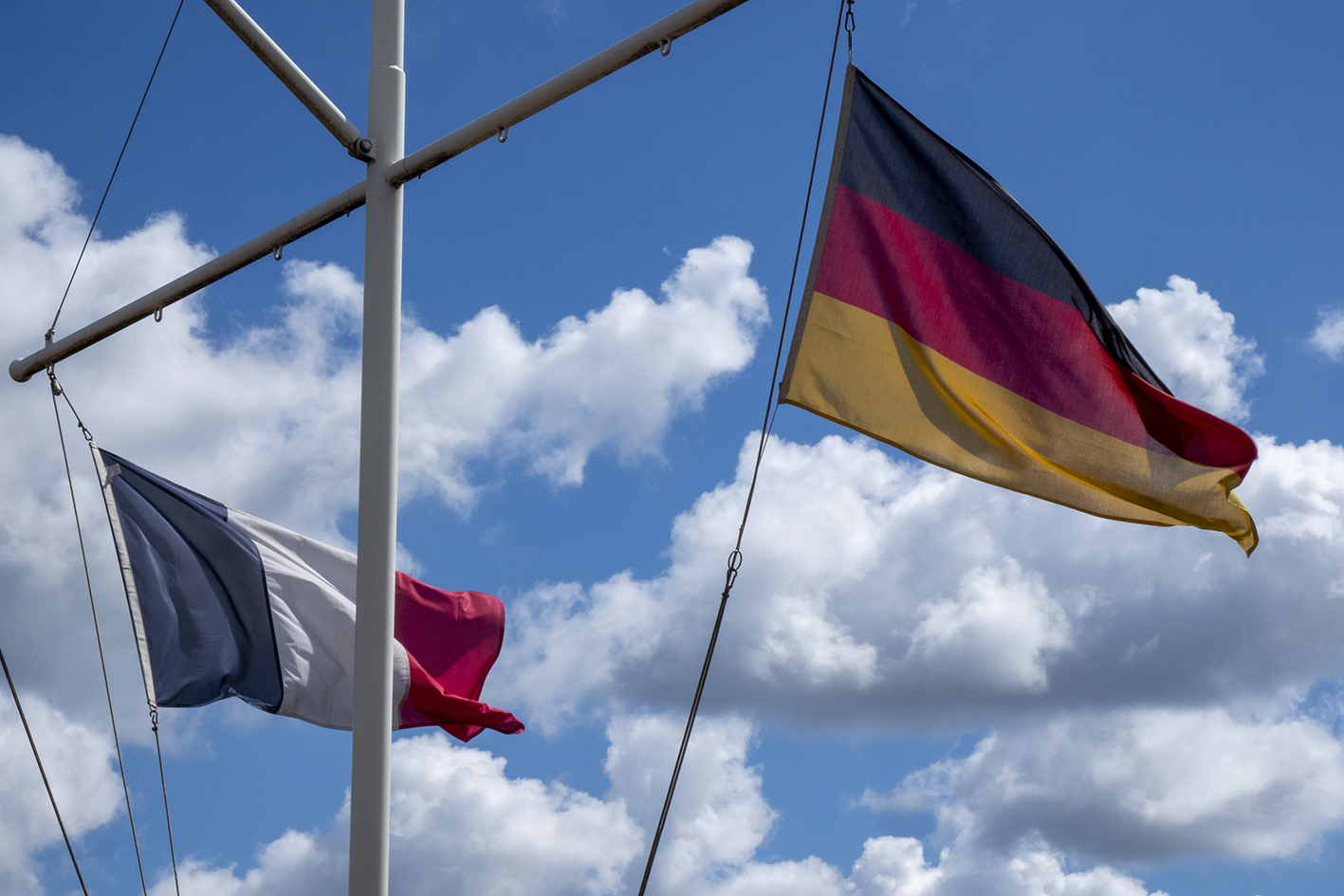 Si nous sommes si bien accueillis, c'est parce que Thomas est un de mes anciens élèves, devenu ami depuis. Il est commandant de la brigade de Strasbourg/Kehl. / We are so well received because Thomas is one of my former students, who has since become a friend. He is commander of the Strasbourg/Kehl brigade.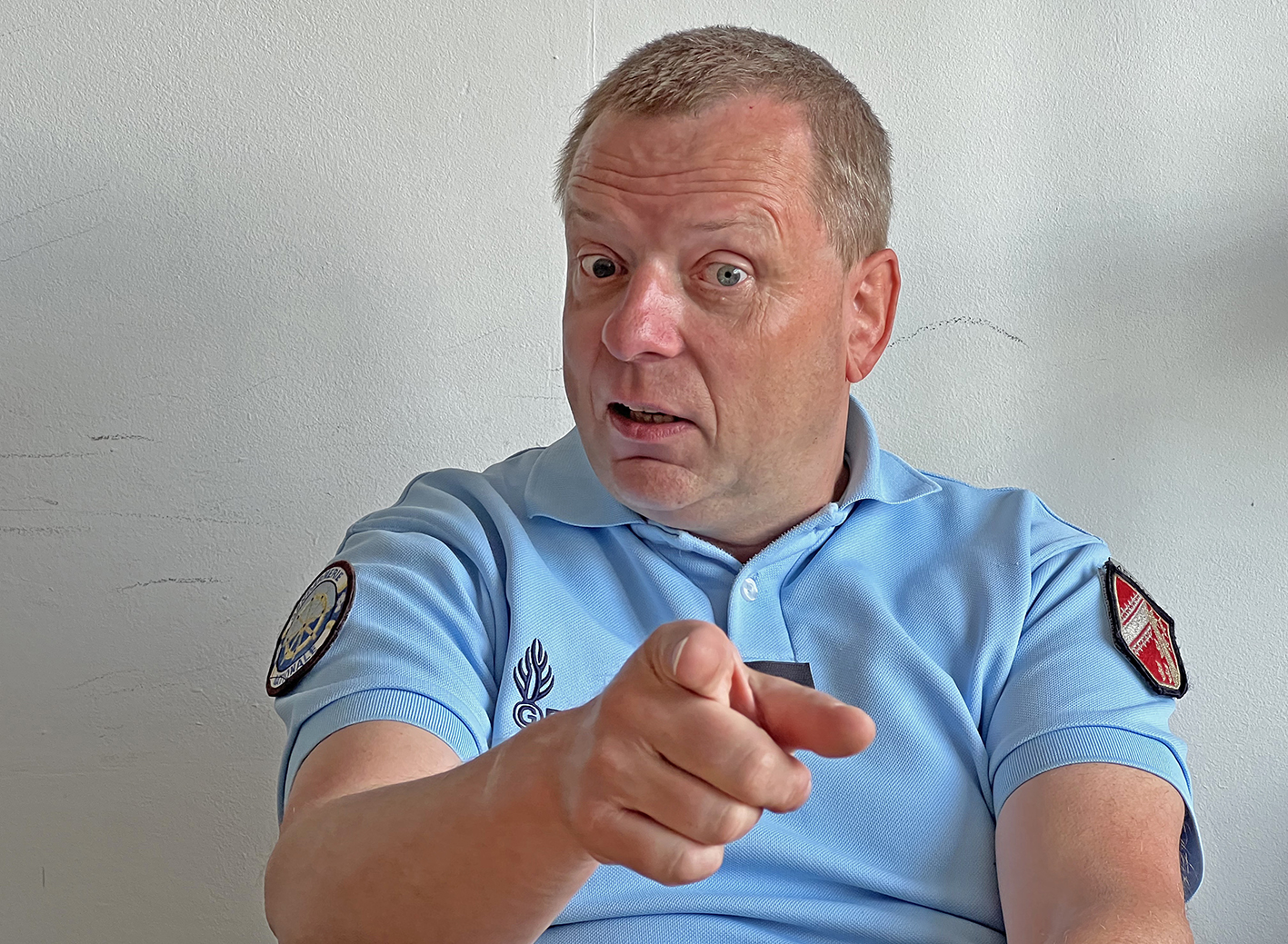 En ce jour il est accompagné de l'Adjudante Geneviève de la Brigade Fluviale de Gambsheim. / On this day he is accompanied by Warrant Officer Geneviève of the River Brigade of Gambsheim.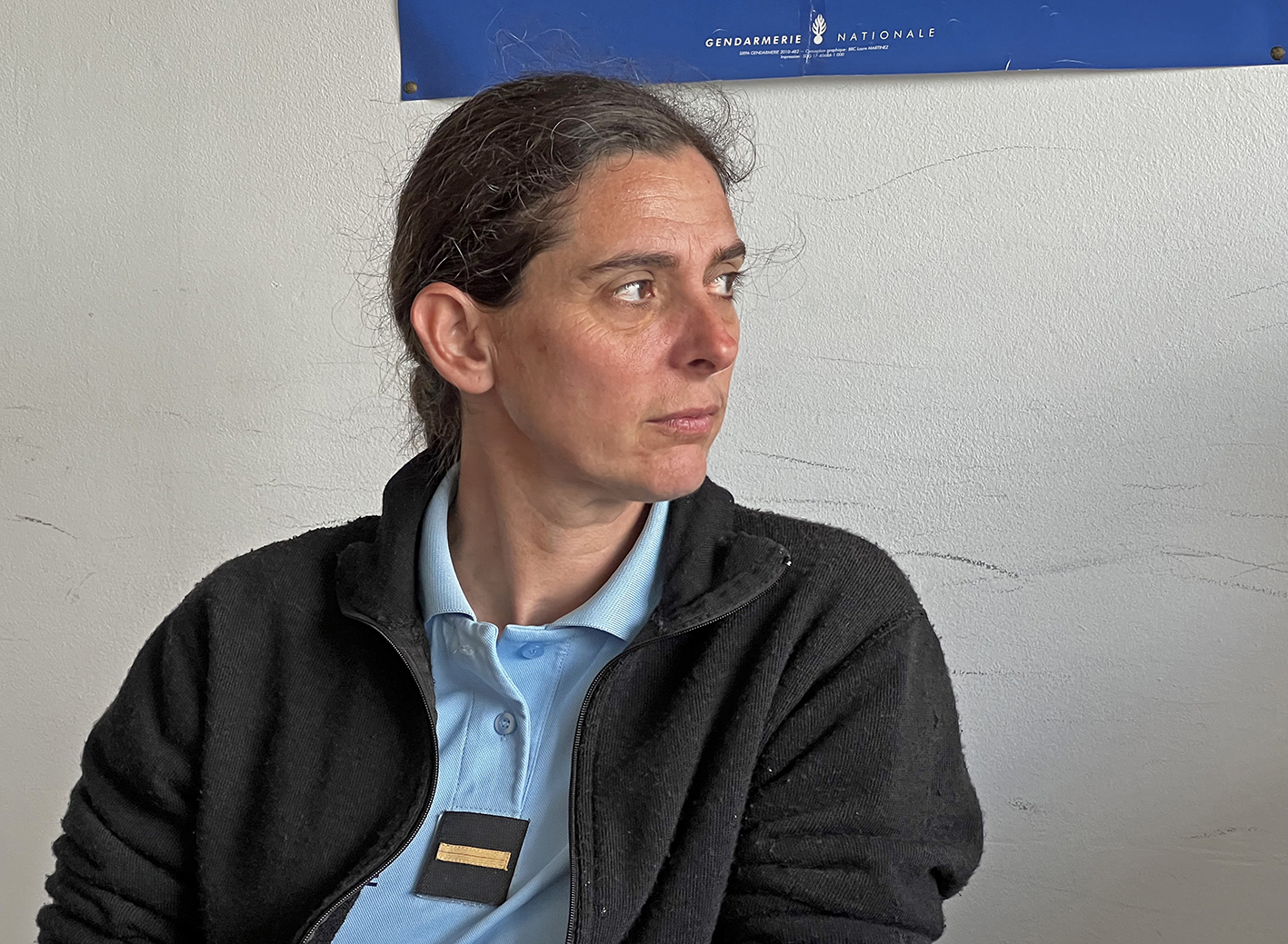 Ils doivent décider ensemble du cahier de charges de la future nouvelle vedette de la brigade. / They must decide together on the specifications of the future new star of the brigade.
Juste à côté de la brigade, il y a un immense dépôt de ferrailles. Nous y emmenons « La Charmante » en la mettant en garde : « Si tu nous fais encore des caprices, tu termineras ta vie ici ! » / Right next to the brigade, there is a huge scrap yard. We take "La Charmante" there, warning her: "If you give us any more whims, you will end your life here! »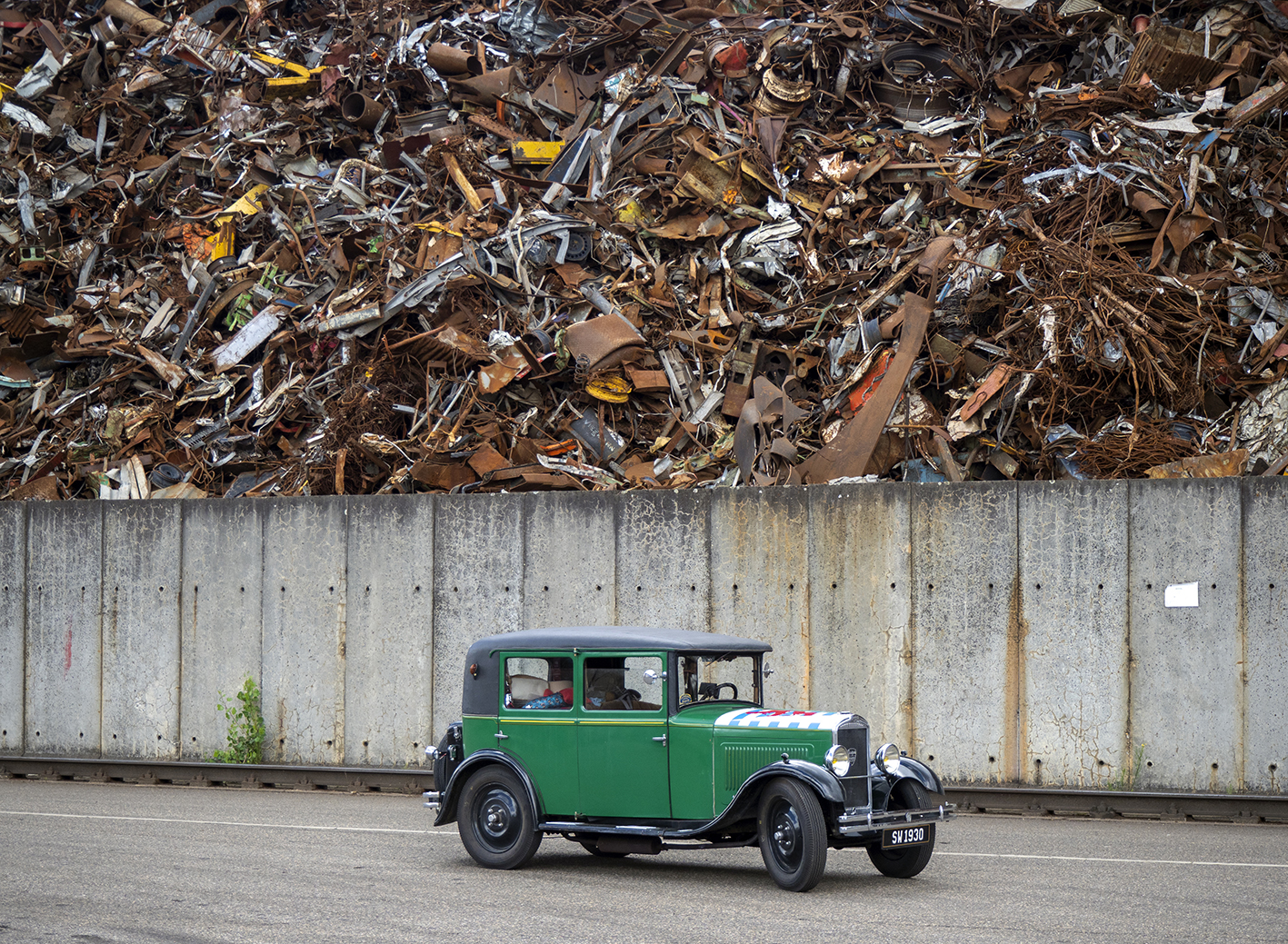 La menace semble avoir de l'effet ! Nous remontons le Rhin et le moteur ronronne à merveille. Sur ce tronçon, il y a beaucoup de vieux bras du fleuve, et une voie navigable rectiligne, depuis les travaux de Johann Gottfried Tulla (1770-1828), 'le dompteur du Rhin'. Grâce aux rectifications de certains méandres du Rhin, les inondations récurrentes de certaines localités cessèrent et la navigation fluviale en fut largement facilitée. / The threat seems to have an effect! We go up the Rhine and the engine purrs wonderfully. On this stretch there are many old branches of the river, and a straight waterway, since the work of Johann Gottfried Tulla (1770-1828), 'the tamer of the Rhine'. Thanks to the rectifications of certain meanders of the Rhine, the recurrent flooding of certain localities ceased and river navigation was greatly facilitated.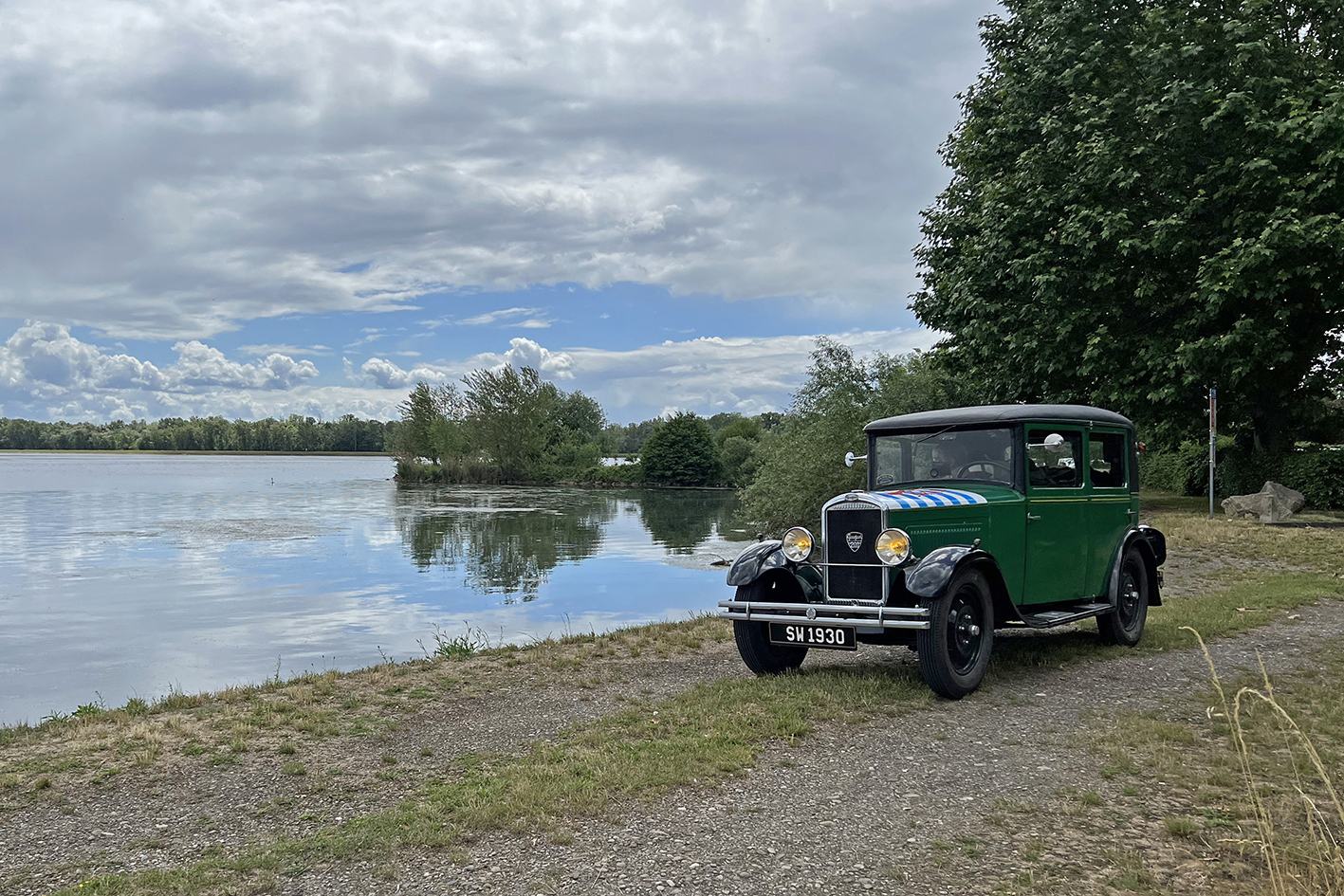 Arrêt-déjeuner dans la localité de Bord-du-Rhin, la bien nommée. / Lunch stop in the aptly named Bord-du-Rhin locality.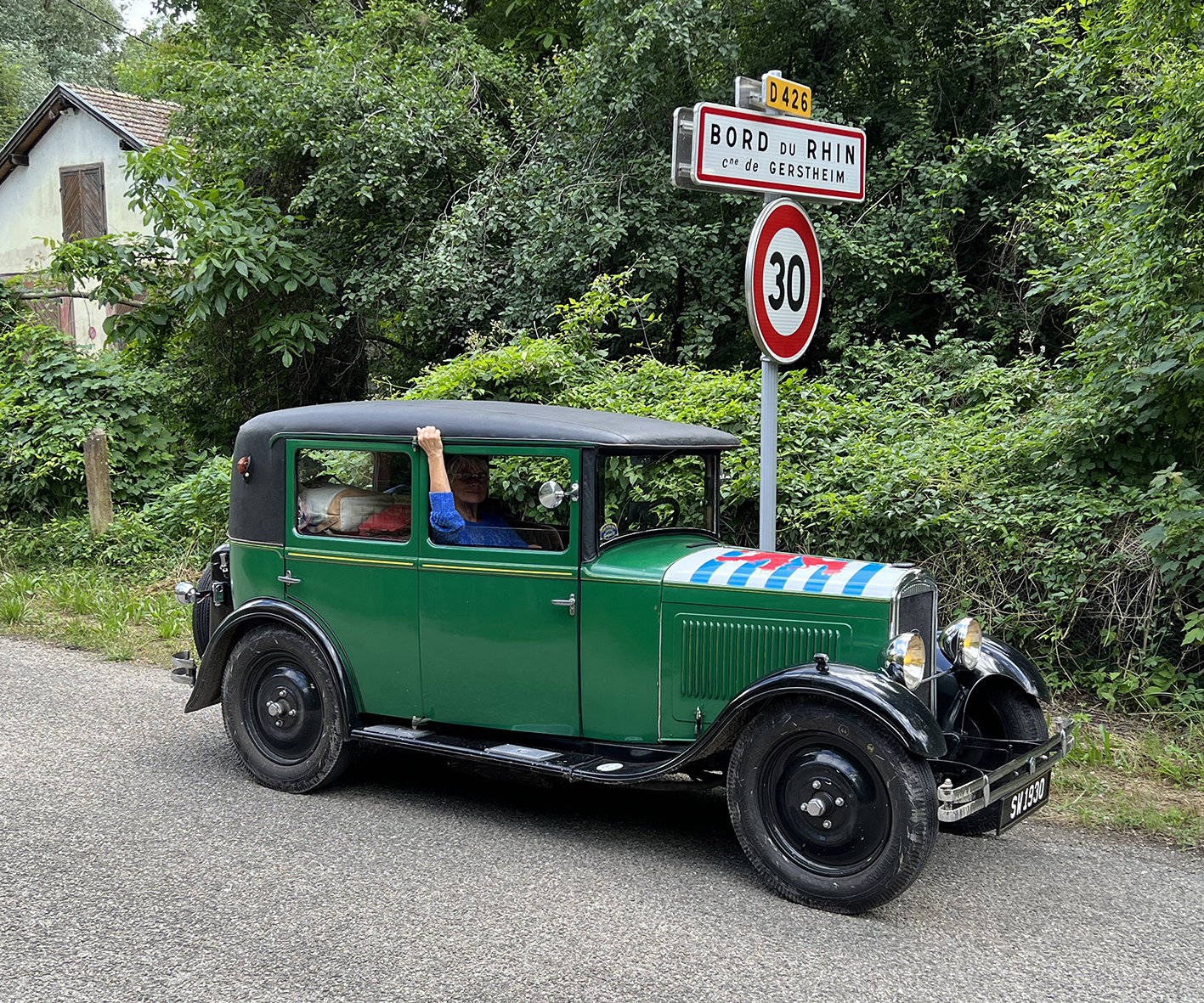 Nous passons de France en Allemagne sur un pont, puis retraversons avec un bac. / We cross from France to Germany on a bridge, then cross again with a ferry.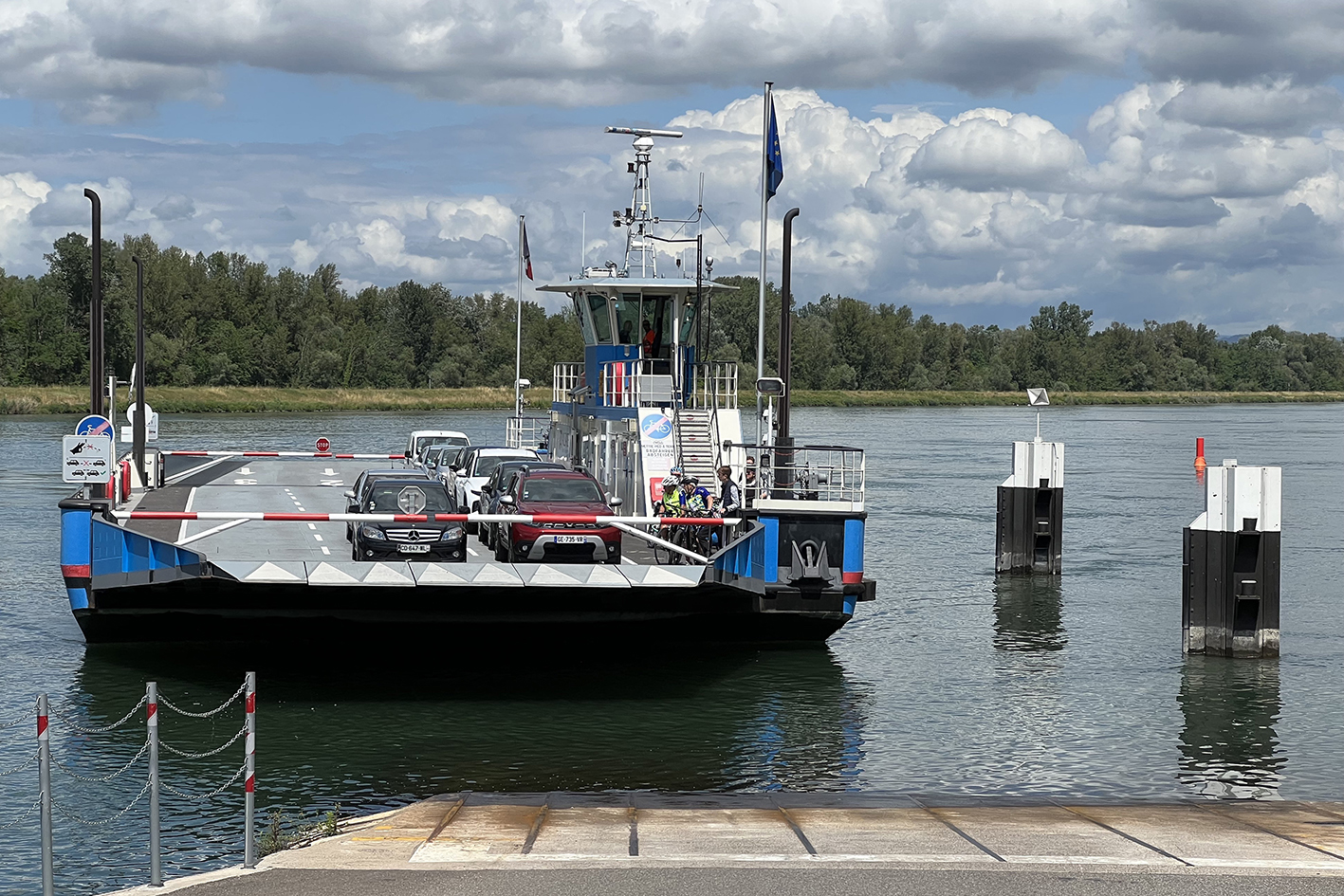 Arrêt obligatoire dans les douves (sèches !) de Neuf-Brisach, où « La Charmante » avait déjà posé lors de notre voyage en France de 2020, et « La Petite » lors de notre Tour de France en 2016. Une tradition ! / Compulsory stop in the (dry!) moats of Neuf-Brisach, where "La Charmante" had already posed during our trip to France in 2020, and "La Petite" during our Tour de France in 2016. A tradition!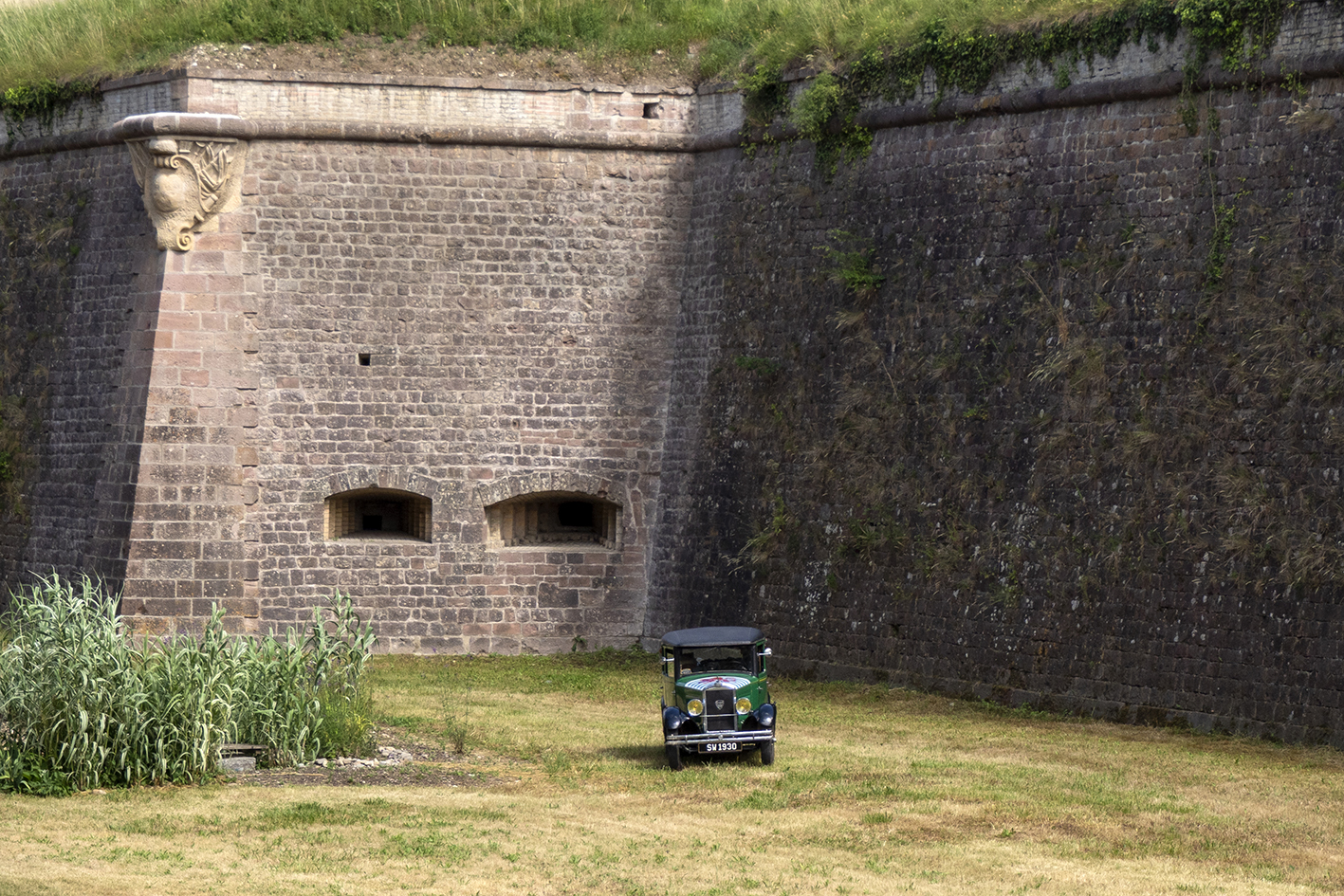 Nous nous dirigeons vers Wattwiller dans les Vosges, au domicile de Jean-Pierre, l'un des membres de l'Amicale des 01. Il m'avait gentiment proposé de jeter un coup d'œil sur « La Charmante ». Accueil chaleureux, un garage privé super bien équipé avec un pont, et une approche d'un mécanicien 'pro' (Jean-Pierre est un ancien mécano de l'armée de l'air). Il remédie du mieux qu'il peut aux pertes d'huile du pont arrière (bouchon de remplissage mal mis) et du carburateur. / We are heading to Wattwiller in the Vosges, to the home of Jean-Pierre, one of the members of the Amicale des 01. He had kindly offered me to take a look at "La Charmante". Warm welcome, a super well-equipped private garage with a bridge, and a 'pro' mechanic's approach (Jean-Pierre is a former Air Force mechanic). He remedies as best he can the oil losses from the rear axle (poorly fitted filler cap) and from the carburettor.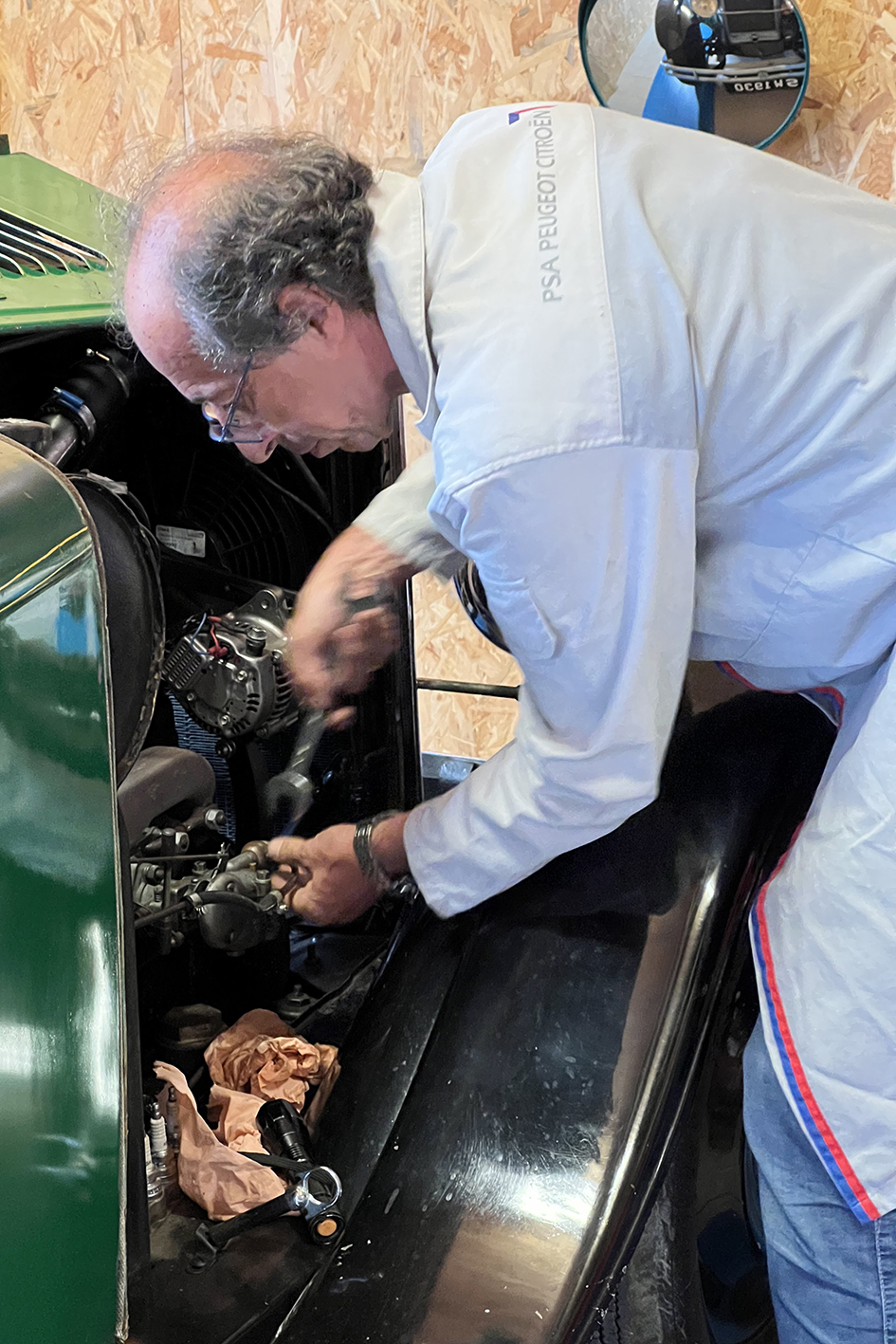 Temps de sortir sa 201 qui est de la même année que la mienne et de prendre la pause, avant un dîner sympathique avec Jean-Pierre et son épouse Véra. Nous regagnons notre hôtel à la nuit tombante. Fin d'une belle journée ! / Time to take out his 201 which is from the same year as mine and take a break, before a nice dinner with Jean-Pierre and his wife Véra. We return to our hotel at dusk. End of a beautiful day!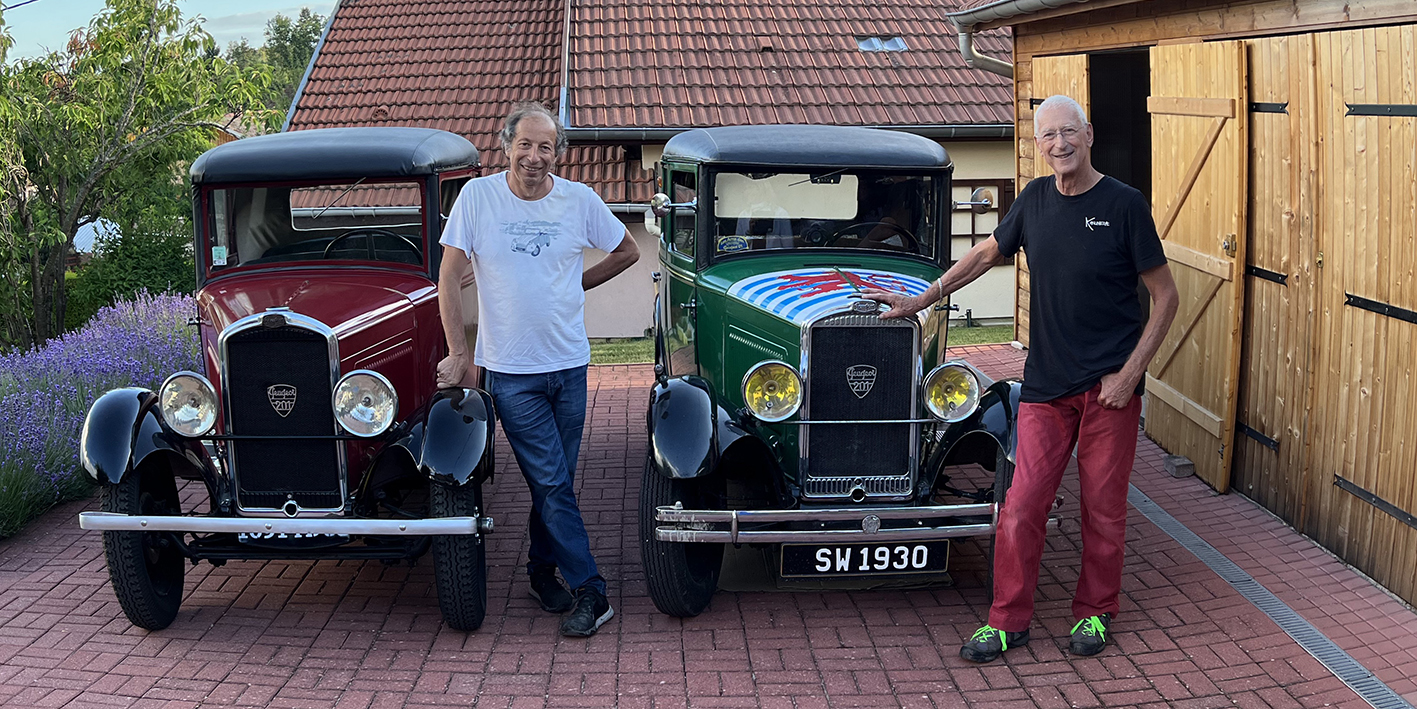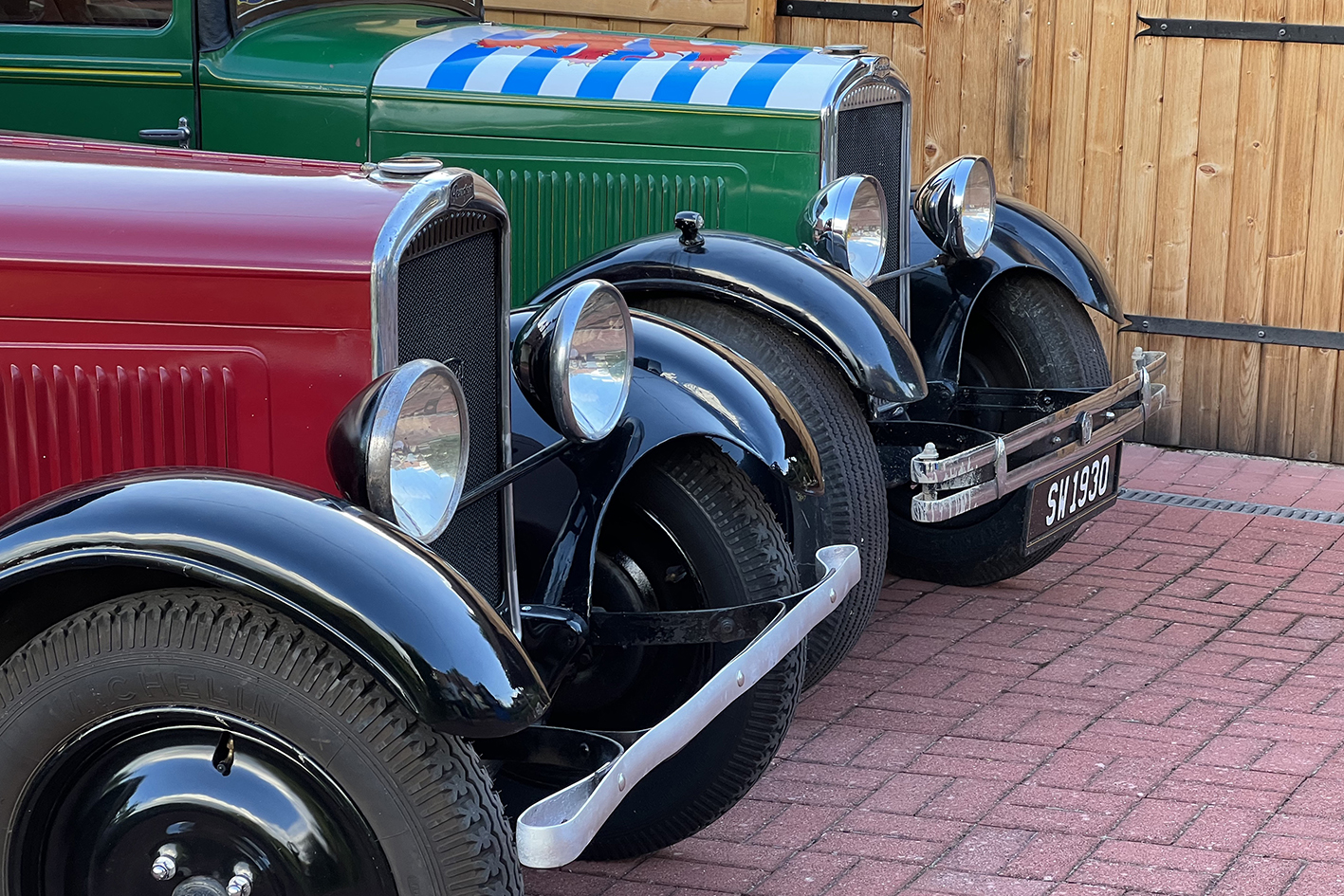 8 juin 2022. Strasbourg

/ June 8th, Strasbourg
Comme « La Charmante » a bien roulé hier, nous lui accordons une journée de repos… et nous avec ! On la passe en compagnie de Danièle et partiellement Michel, qui doit travailler. Visite de Strasbourg et quelques boutiques, après quoi nous nous rendons au Palais du Rhin. À lui seul, il représente l'histoire mouvementée de l'Alsace. / Since "La Charmante" rode well yesterday, we are giving it (and us !) a rest day. We spend it with Danièle and partially Michel, who has to work. Visit of Strasbourg and some shops, after which we go to the Palais du Rhin. On its own, it represents the turbulent history of Alsace.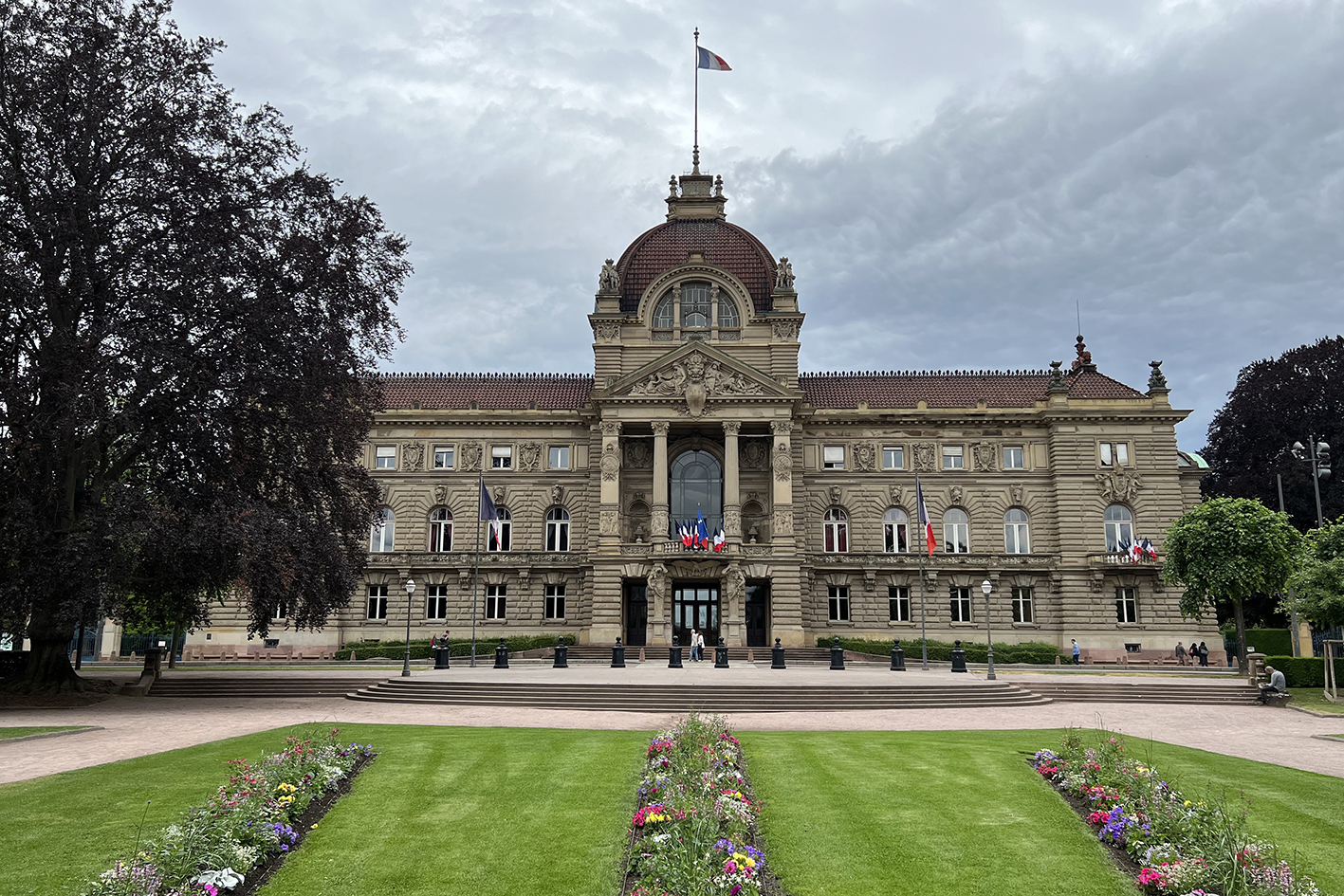 À la suite de la guerre de 1870, Strasbourg, devenue allemande, construit le palais de style néo-Renaissance, symbole de la puissance impériale. Inauguré par Guillaume II de Hohenzollern en août 1889, le palais accueillera l'Empereur à une dizaine de reprises jusqu'en 1914. Pendant la Première Guerre mondiale, l'édifice est reconverti en hôpital militaire. Le bâtiment adopte son nom actuel en 1920, lors de l'emménagement dans ses murs de la plus ancienne des institutions européennes : la Commission centrale pour la Navigation du Rhin (CCNR), qui regroupe cinq pays (Suisse, Allemagne, France, Belgique, et Pays-Bas)  / Following the war of 1870, Strasbourg, which had become German, built the neo-Renaissance style palace, a symbol of imperial power. Inaugurated by William II of Hohenzollern in August 1889, the palace was to welcome the Emperor on around ten occasions until 1914. During the First World War, the building was converted into a military hospital. The building adopted its current name in 1920, when the oldest of the European institutions moved into its walls: the Central Commission for the Navigation of the Rhine (CCNR), representing five countries (Switzerland, Germany, France, Belgium, and the Netherlands).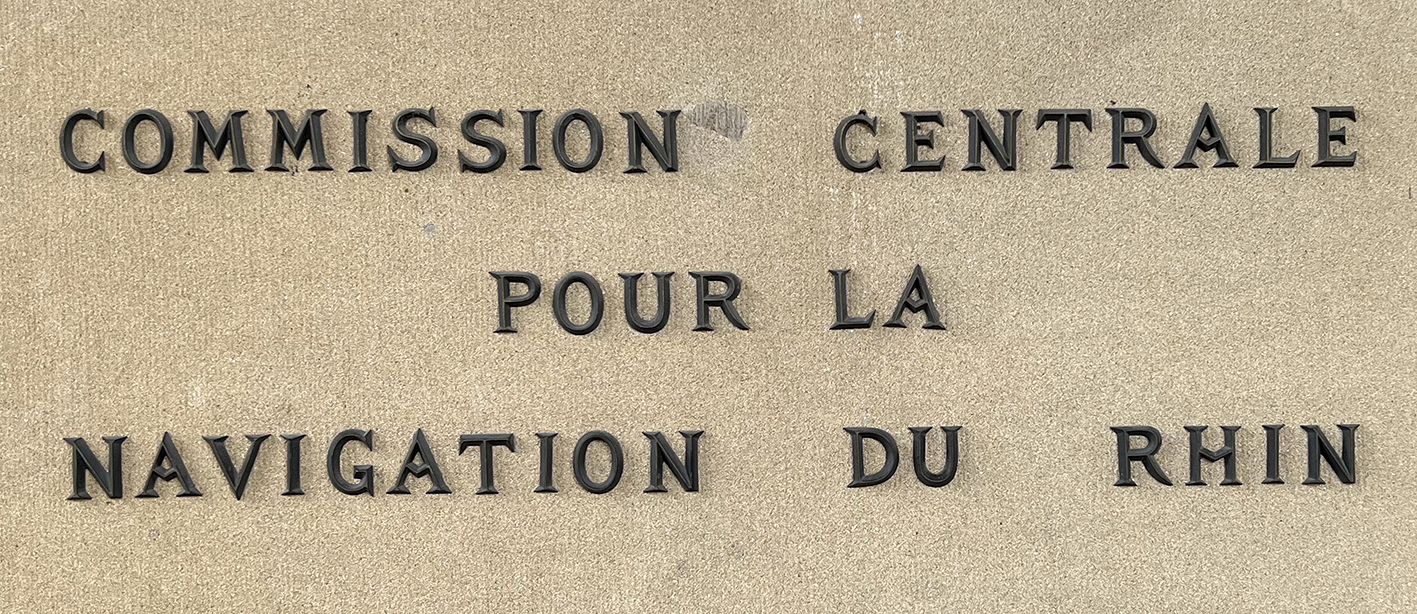 La Commission est chargée de réglementer la circulation sur le Rhin, de l'aide aux travaux sur le fleuve et sert de juridiction de seconde et dernière instance dans les affaires jugées par les tribunaux pour la navigation du Rhin. Fondée en 1815, c'est la plus ancienne organisation internationale en activité du monde ! / The Commission is responsible for regulating traffic on the Rhine, assisting with works on the river, and serves as a court of second and final instance in cases tried by the courts for the navigation of the Rhine. Founded in 1815, it is the oldest active international organization in the world!
En 1923, le palais passe aux mains de l'État français. Transformé en Kommandantur par les nazis au cours de la Seconde Guerre mondiale et endommagé par un bombardement, l'édifice est repris par les troupes du général Leclerc qui le transforme en quartier général. Le Palais accueille désormais, outre la CCNR, la Direction régionale des Affaires culturelles. Malheureusement, il ne se visite pas. / In 1923, the palace passed into the hands of the French State. Transformed into a Kommandantur by the Nazis during the Second World War and damaged by a bombardment, the building was taken over by the troops of General Leclerc who transformed it into headquarters. The Palace now houses, in addition to the CCNR, the Regional Department of Cultural Affairs. Unfortunately, it cannot be visited.
Nous nous rendons au Palais Universitaire. Le bâtiment est quasi désert (vacances ?), et nous pouvons nous y promener à notre guise. / We go to the University Palace. The building is almost deserted (holidays?), and we can walk around as we please.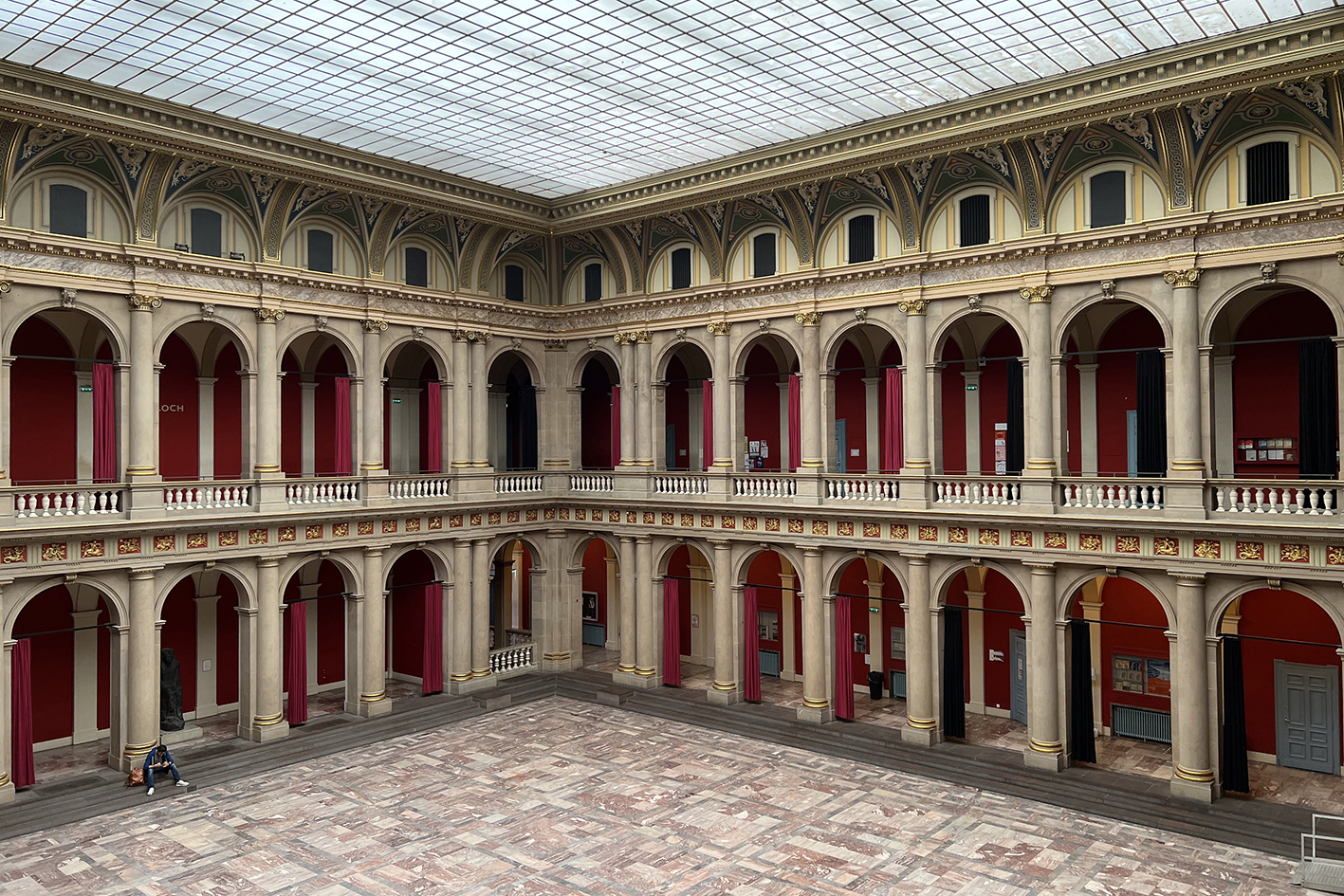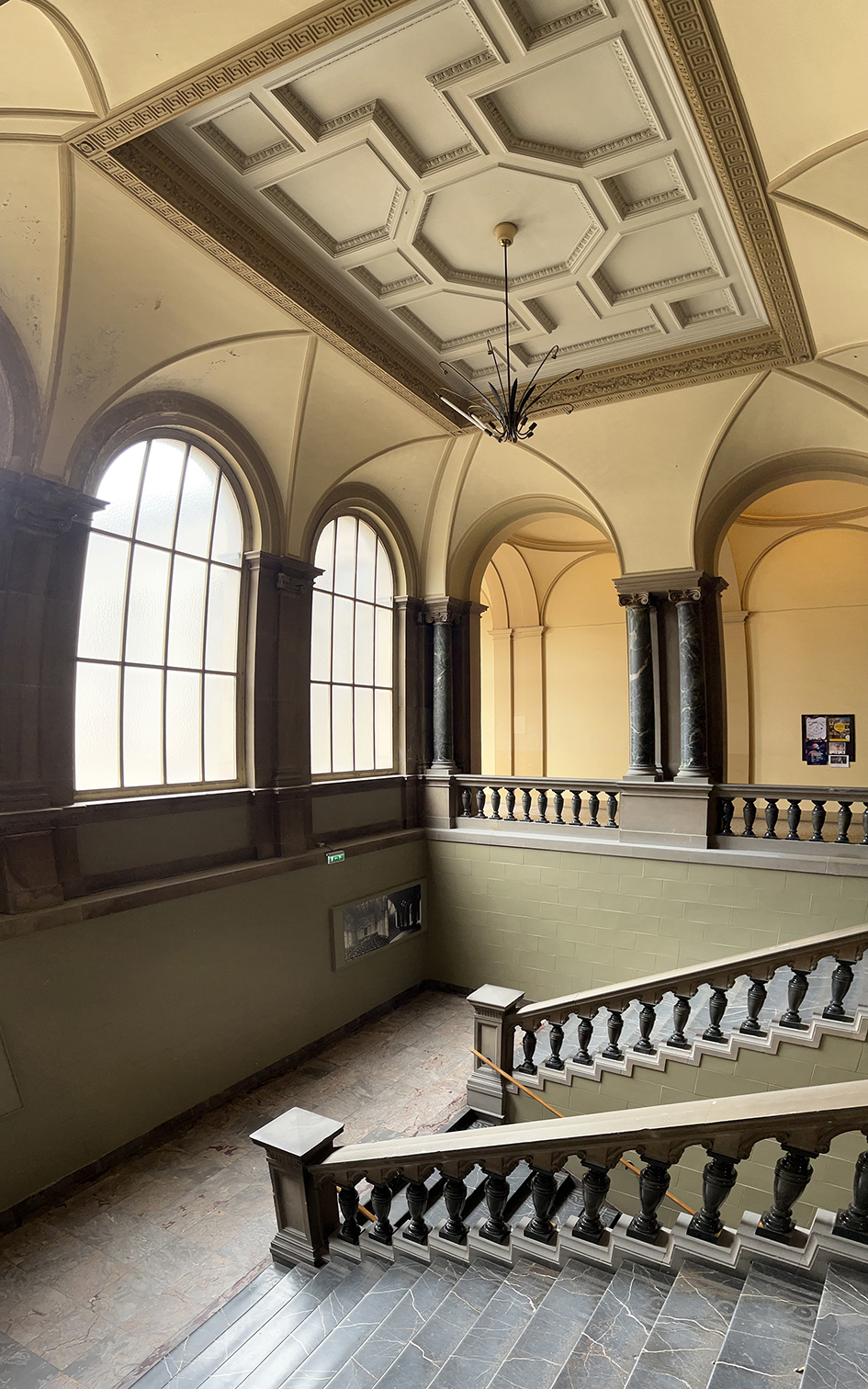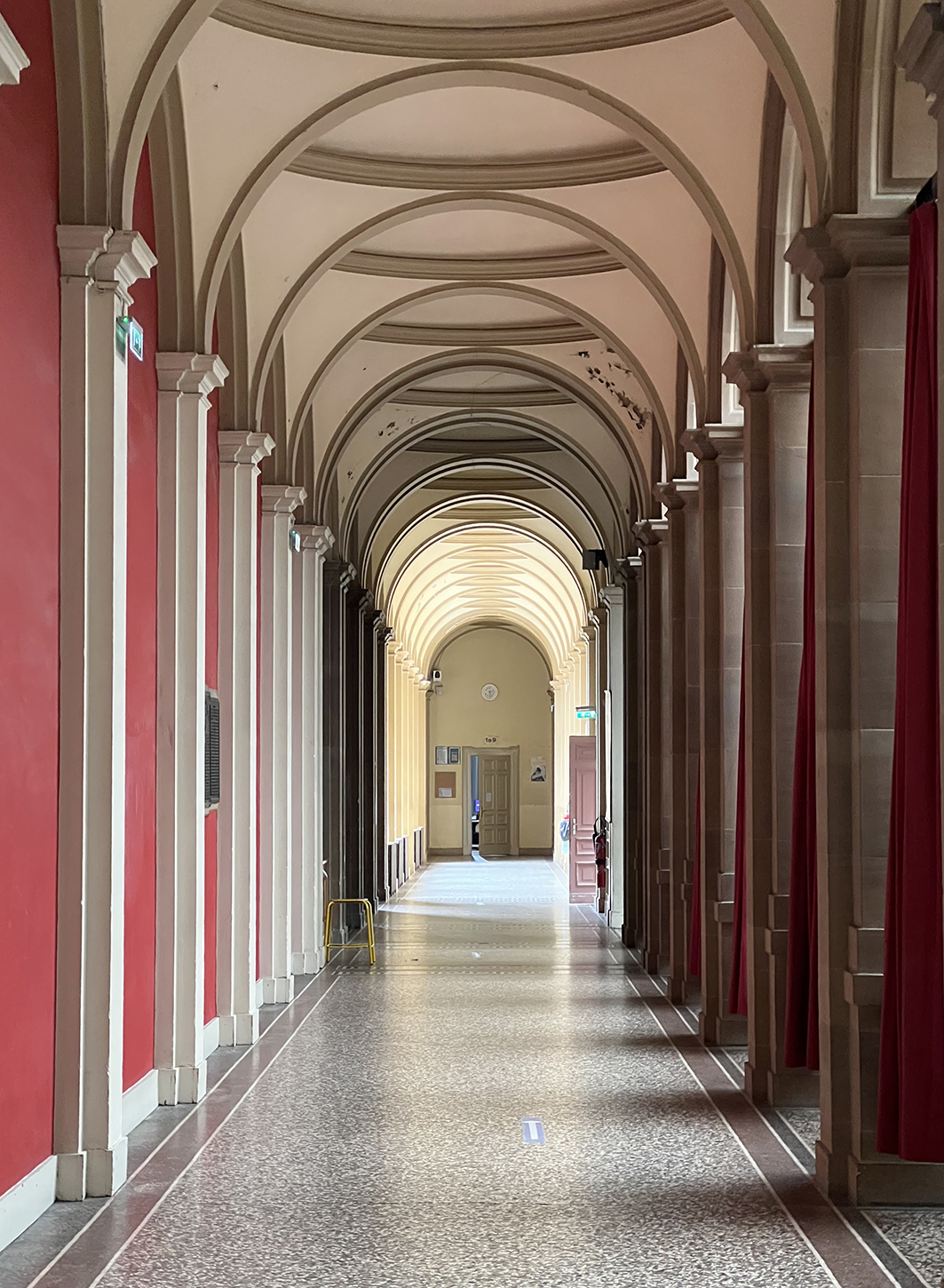 Je pense à la période de l'occupation nazie, quand l'Université de Strasbourg devint la 'Reichsuniversität Straßburg'. C'est à cette époque que le médecin SS August Hirt y occupait la chaire d'anatomie. Son portrait orne la couverture de mon roman policier 'Le Vengeur'. / I am thinking of the period of the Nazi occupation, when the University of Strasbourg became the 'Reichsuniversität Straßburg'. It was at this time that the SS physician August Hirt held the chair of anatomy there. His portrait adorns the cover of my detective novel 'The Avenger'.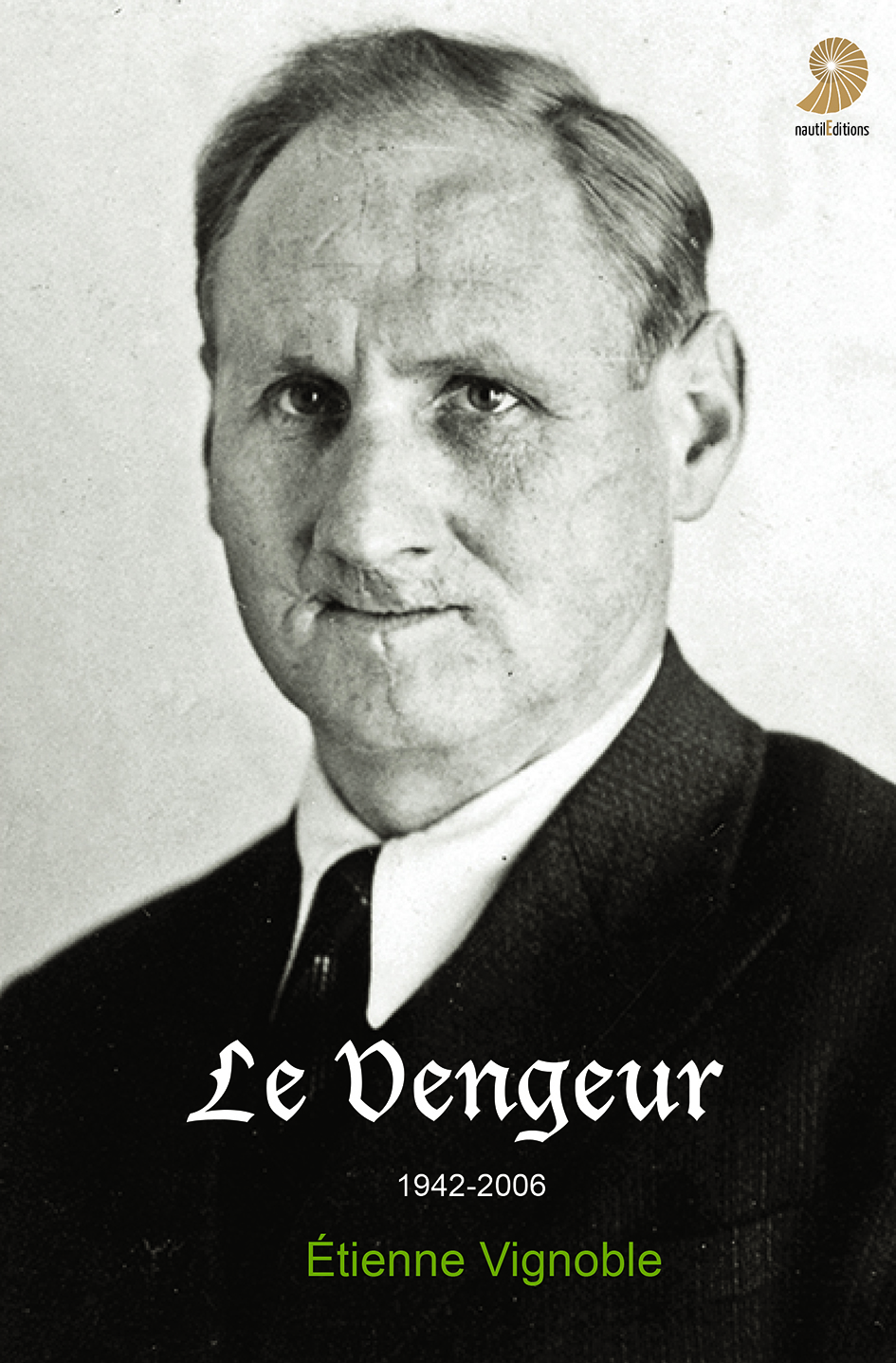 En 1943, comme, selon Hirt, la 'race juive' est sur le point d'être anéantie, il cherche à réunir, tant qu'il est encore temps, une collection de crânes de 'commissaires judéo-bolcheviques' aux fins de recherches scientifiques. Avec l'accord de Himmler, Hirt peut alors commencer ses 'expériences médicales'. 86 hommes et femmes sont sélectionnés en août 1943 au camp d'Auschwitz par son assistant, l'anthropologue SS Bruno Beger, avant d'être envoyés au camp de concentration de Natzweiler-Struthof, en Alsace, où ils sont gazés quelques jours après et leurs cadavres mis à sa disposition… / In 1943, as, according to Hirt, the 'Jewish race' was on the verge of being annihilated, he sought to collect, while there was still time, a collection of skulls of 'Judeo-Bolshevik commissars' for research purposes. scientists. With Himmler's agreement, Hirt can then begin his « medical experiments ». 86 men and women were selected in August 1943 at the Auschwitz camp by his assistant, SS anthropologist Bruno Beger, before being sent to the Natzweiler-Struthof concentration camp in Alsace, where they were gassed a few days later and their corpses placed at his disposal…
J'essaie d'oublier cette période sombre de l'histoire. Nous nous rendons sous la pluie à l'un des cinq ponts qui enjambent le Rhin à Strasbourg, reliant ainsi la France à l'Allemagne. Il s'agit du pont le plus récent, réservé au tramway, aux cyclistes et aux piétons. / I try to forget this dark period of history. We go in the rain to one of the five bridges that span the Rhine in Strasbourg, thus connecting France to Germany. This is the newest bridge, reserved for trams, cyclists and pedestrians.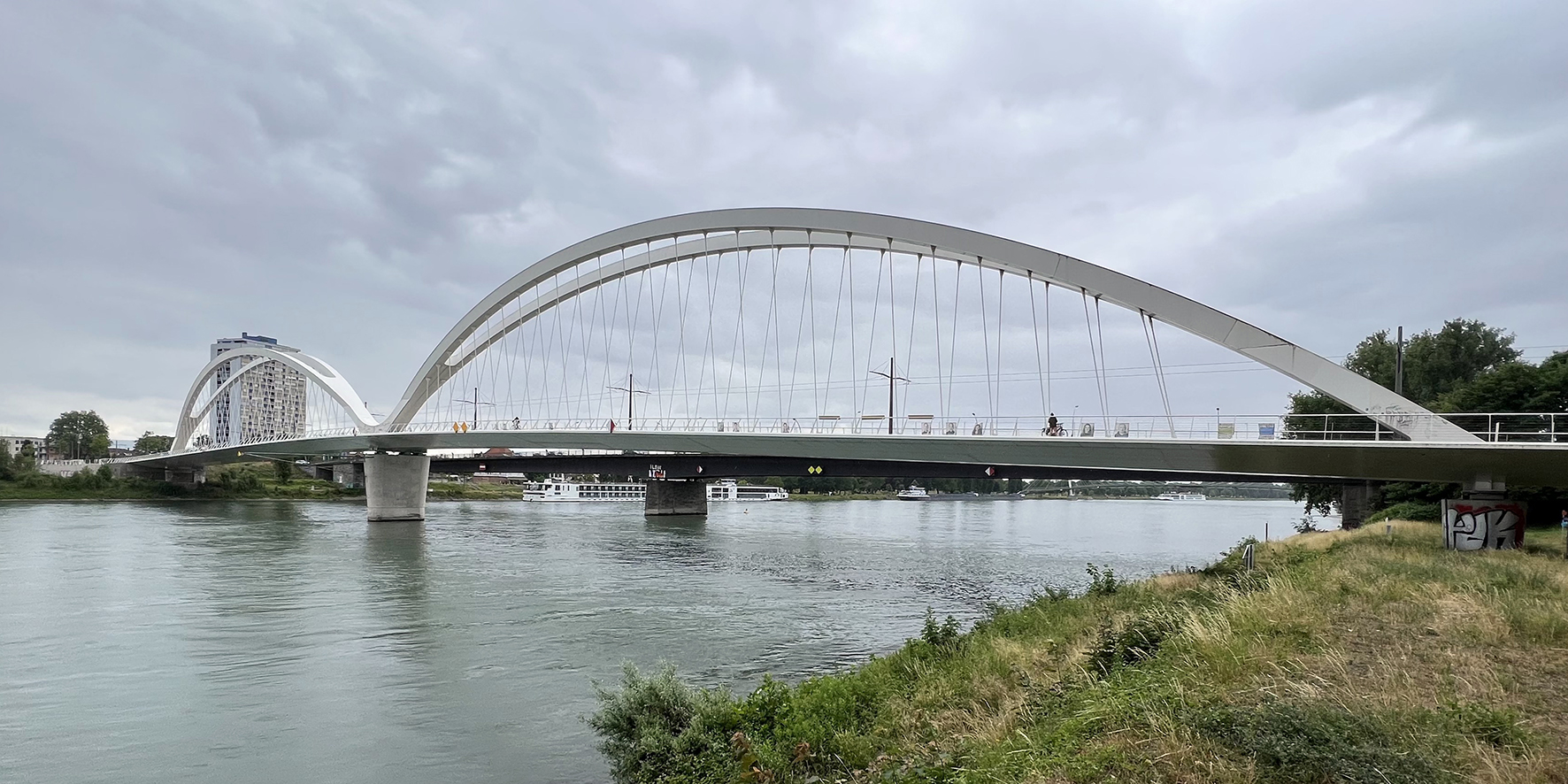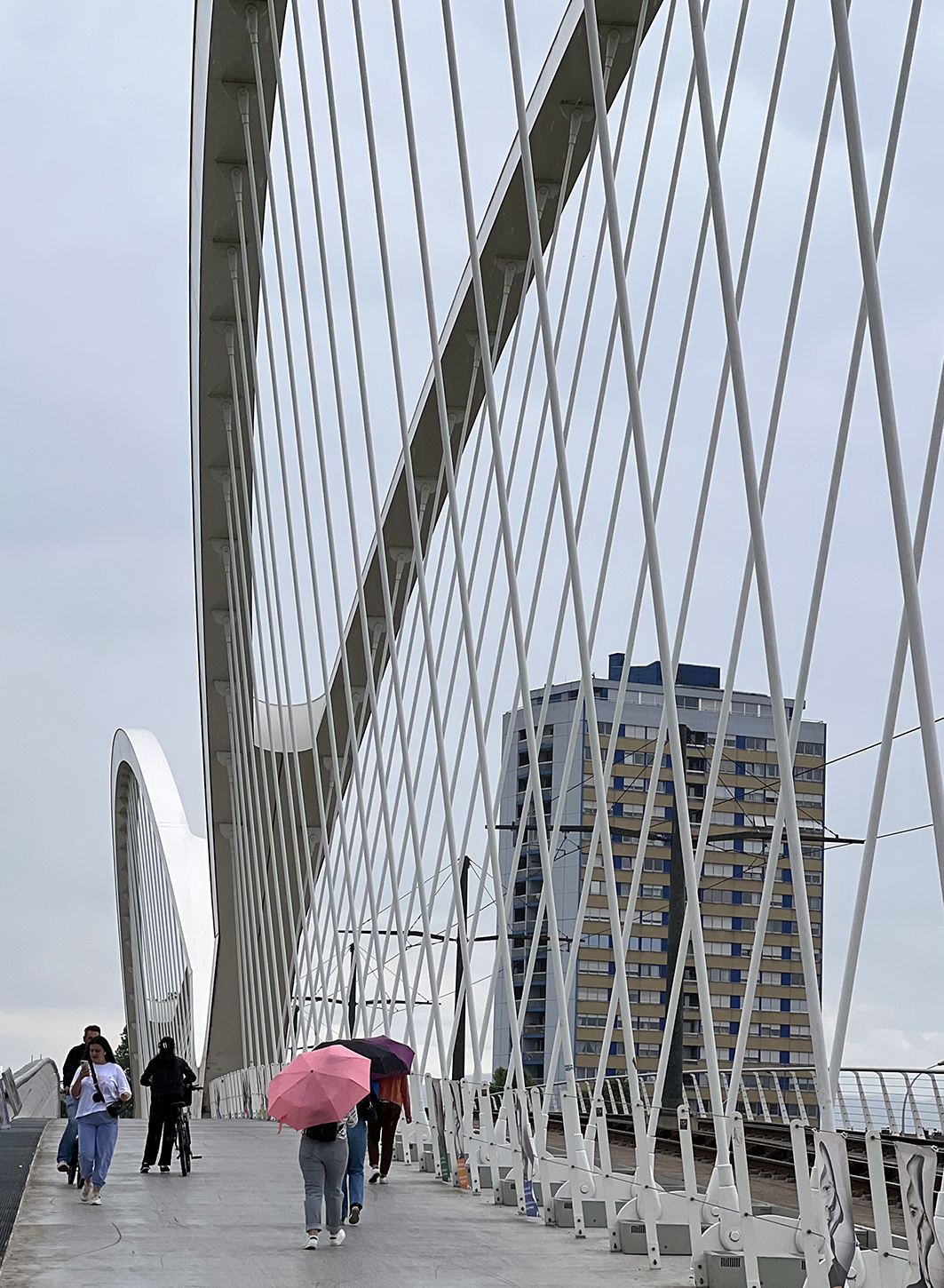 Un grand merci à Danièle et Michel, pour cette journée de repos et de découverte ! / A great thank you to Danièle and Michel, for this day of rest and discovery!
 

7 juin 2022. Heidelberg-Breuschwickersheim (190 km)

/ June 7th, 2022. Heidelberg-Breuschwickersheim (190 km)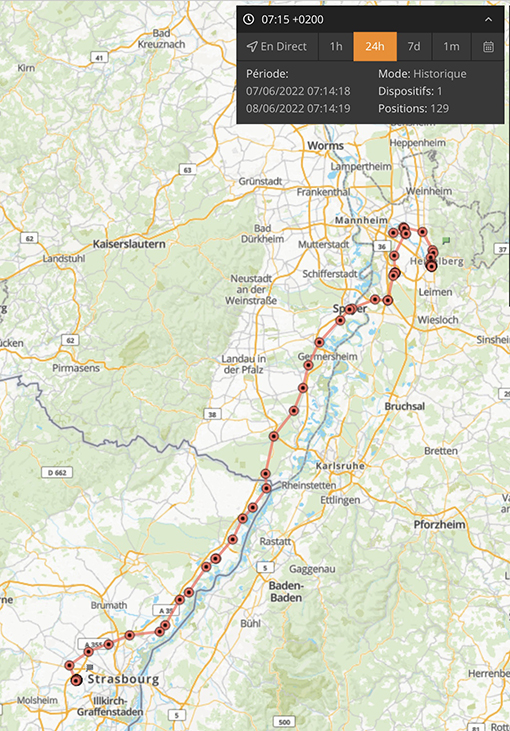 Nous quittons, à regret, notre famille adoptive à Heidelberg. / We leave, reluctantly, our adoptive family in Heidelberg.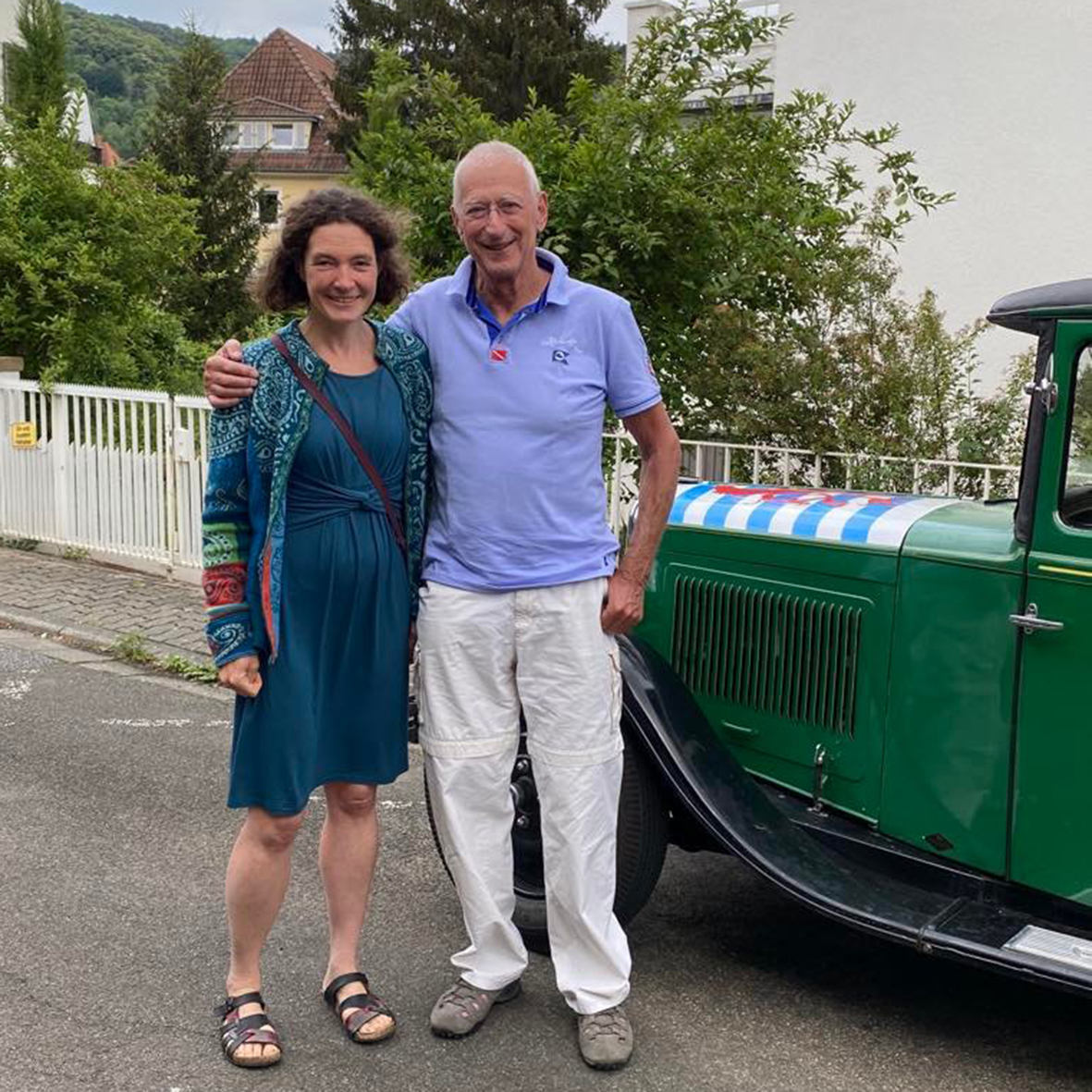 Le premier garage, consulté par téléphone, nous informe qu'il ne peut pas nous recevoir avant la mi-juillet ! On passe au culot chez un deuxième, qui dit que « pour commander la pièce, ça va prendre du temps » ! Je me demande où il aurait commandé un joint entre collecteur et tuyau d'échappement pour une Peugeot de 1930… Le troisième garagiste m'informe qu'il n'a pas le matériau pour confectionner un nouveau joint. Accourt alors un de ses mécaniciens, un jeune Roumain dénommé Stefan, avec la feuille de joint tant désiré ! Il se met au travail aussitôt, et même sans disposer des outils adaptés (emporte-pièces) il confectionne un joint tout à fait acceptable. / The first garage, consulted by phone, informs us that he cannot receive us before mid-July! We try our luck at a second, who says that « to order the part, it will take time »! I wonder where he would have ordered a joint between manifold and exhaust pipe for a 1930 Peugeot … At the third garage one informs me that they do not have the material to make a new joint. Then comes one of his mechanics, a young Romanian named Stefan, with the much-desired joint sheet! He gets to work immediately, and even without having the appropriate tools (punches) he makes a perfectly acceptable joint.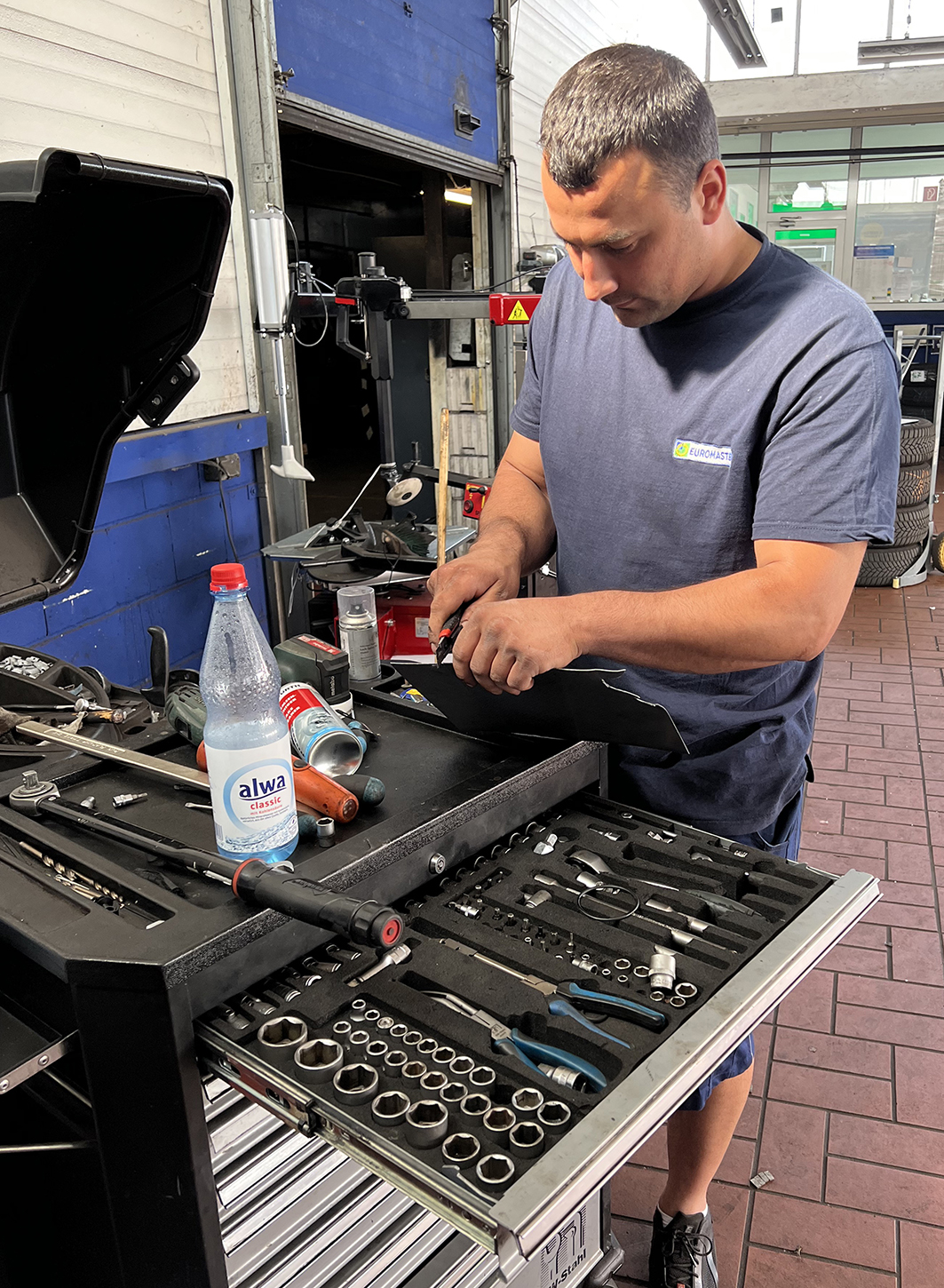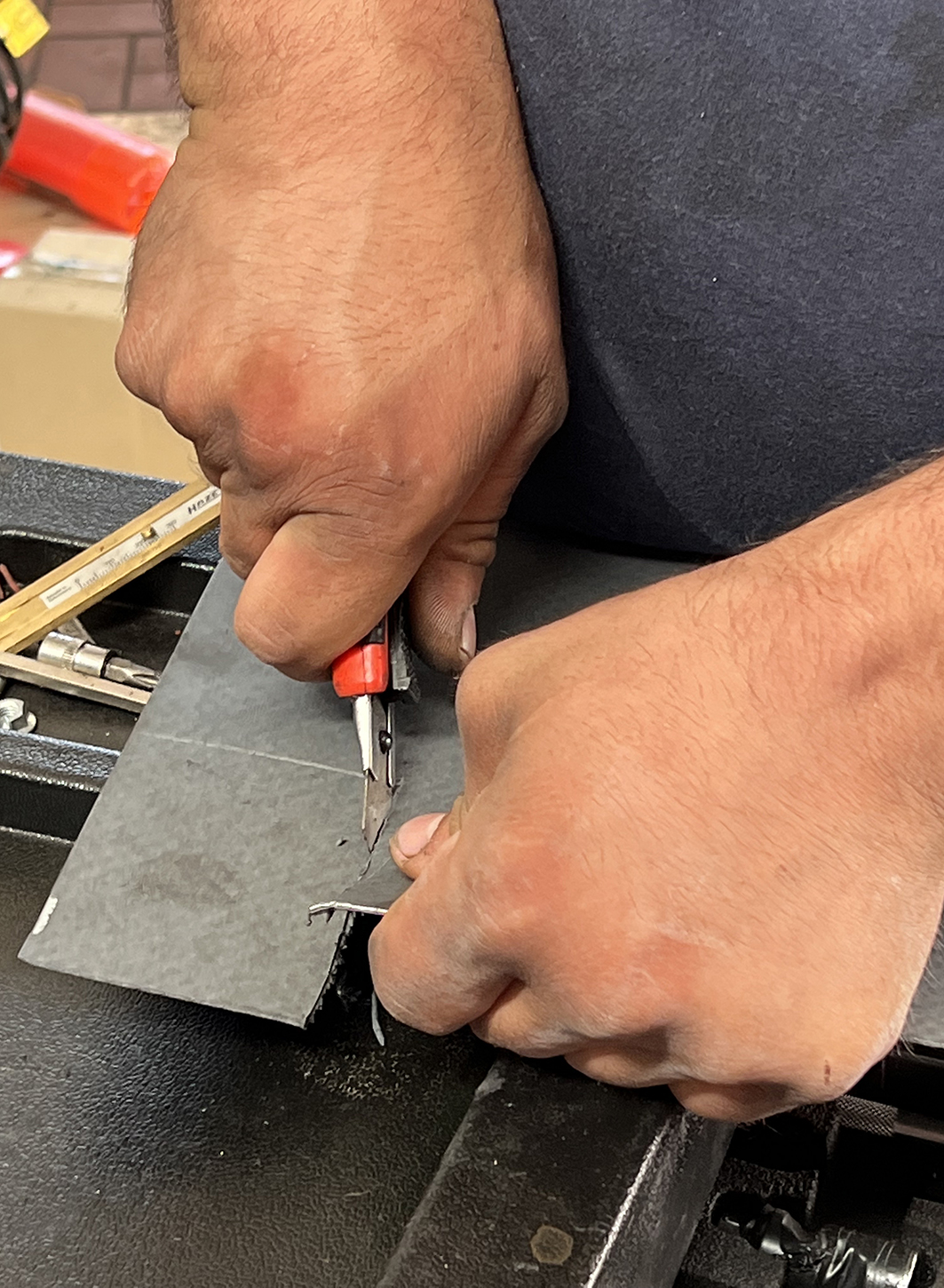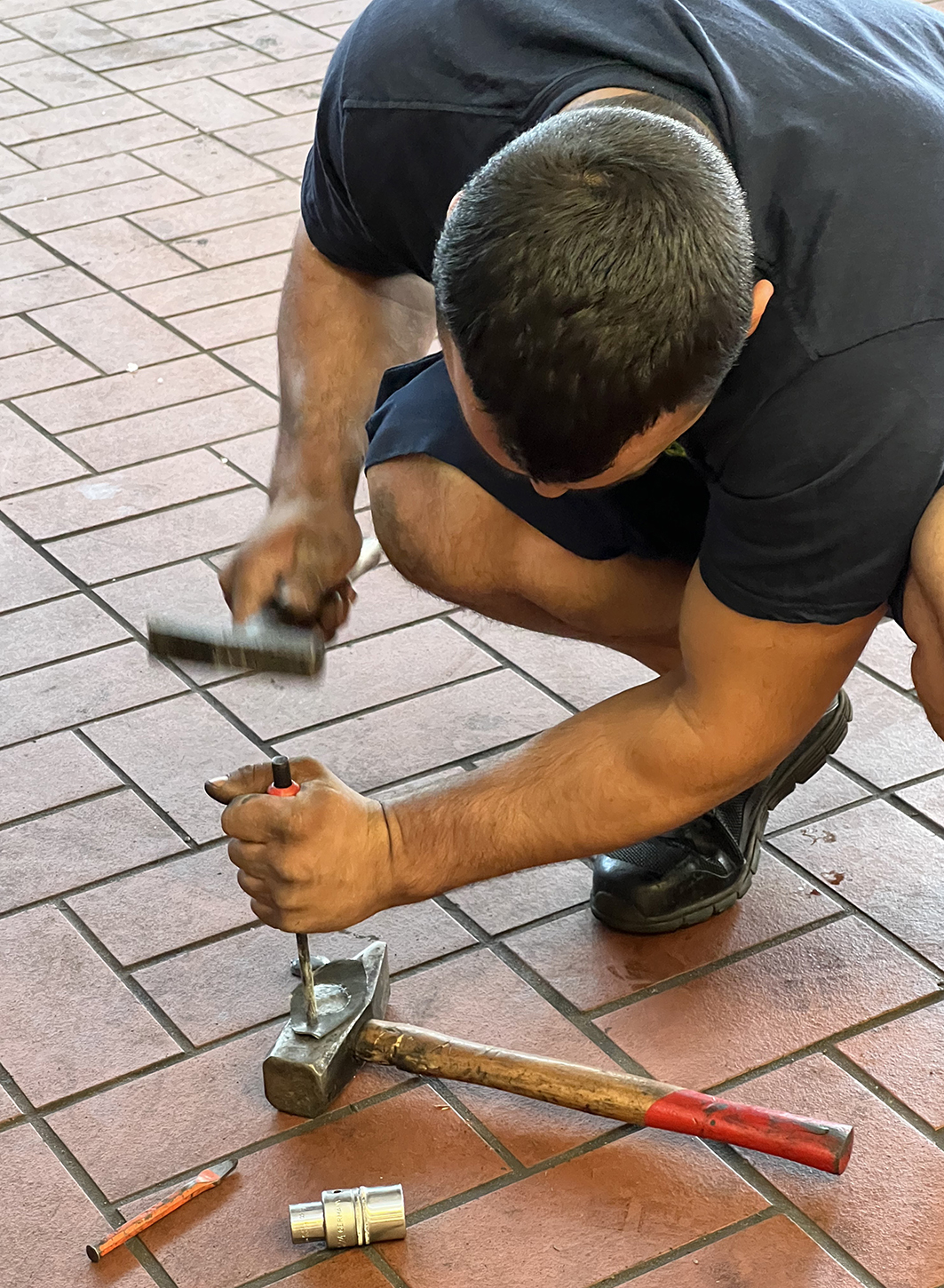 Il remonte l'ensemble. Mais lorsqu'on fait tourner le moteur, il y a toujours une petite fuite, pas au niveau du joint mais au niveau du tuyau lui-même. Stefan le démonte à nouveau et comble la fuite avec une soudure. / He puts everything back together. But when the engine is running, there is still a small leak, not at the gasket but at the pipe itself. Stefan takes it apart again and seals the leak with a solder.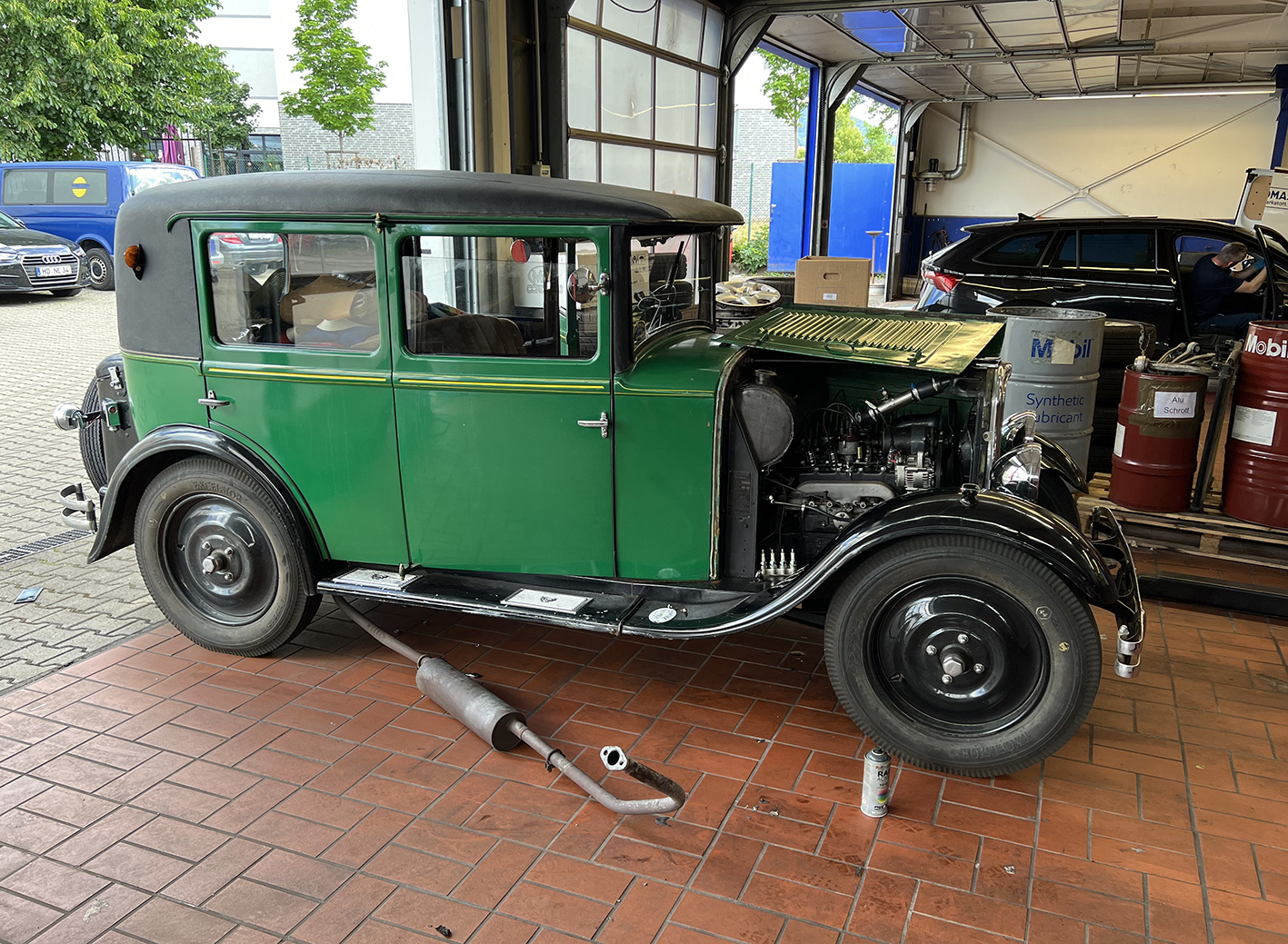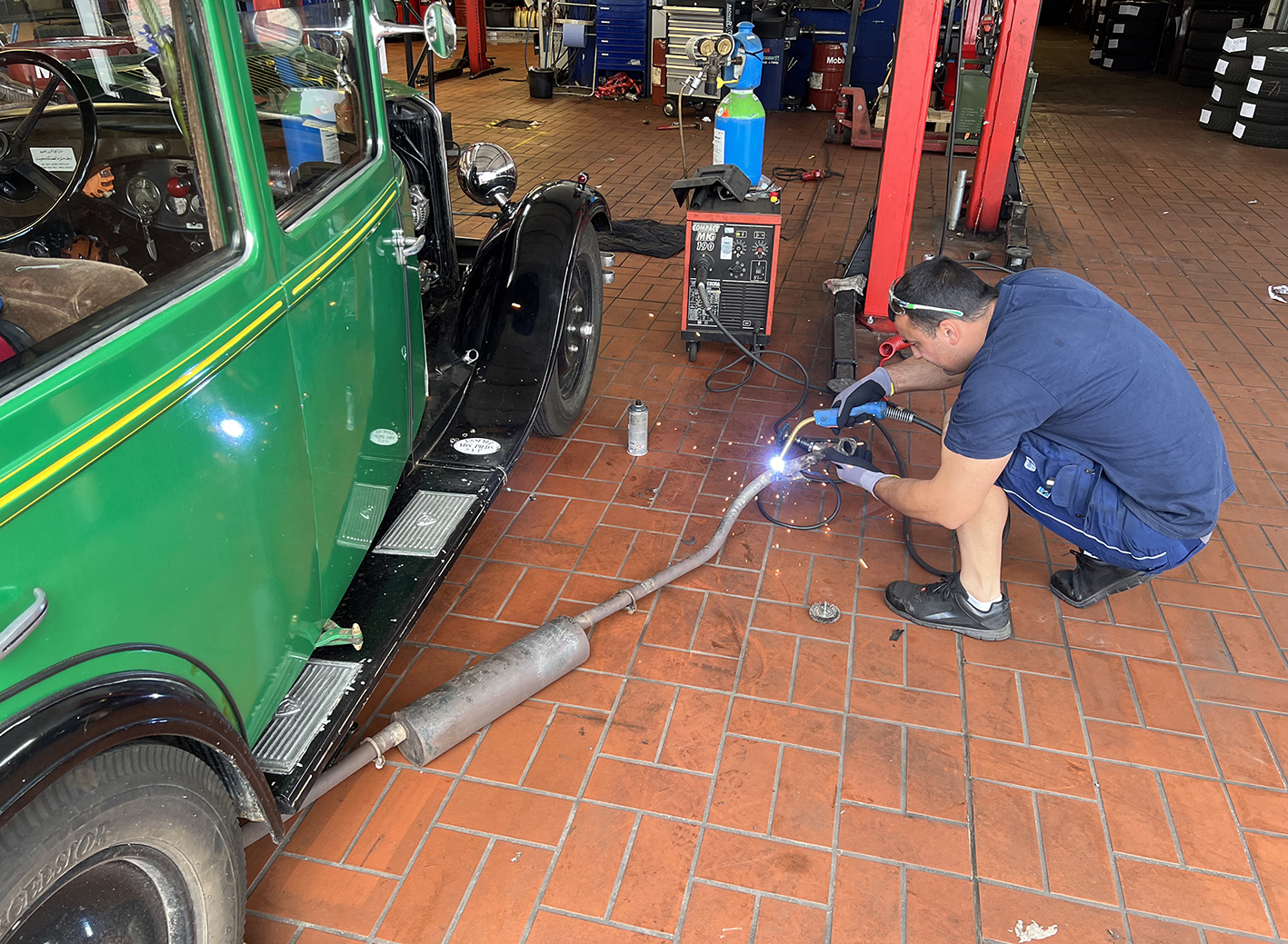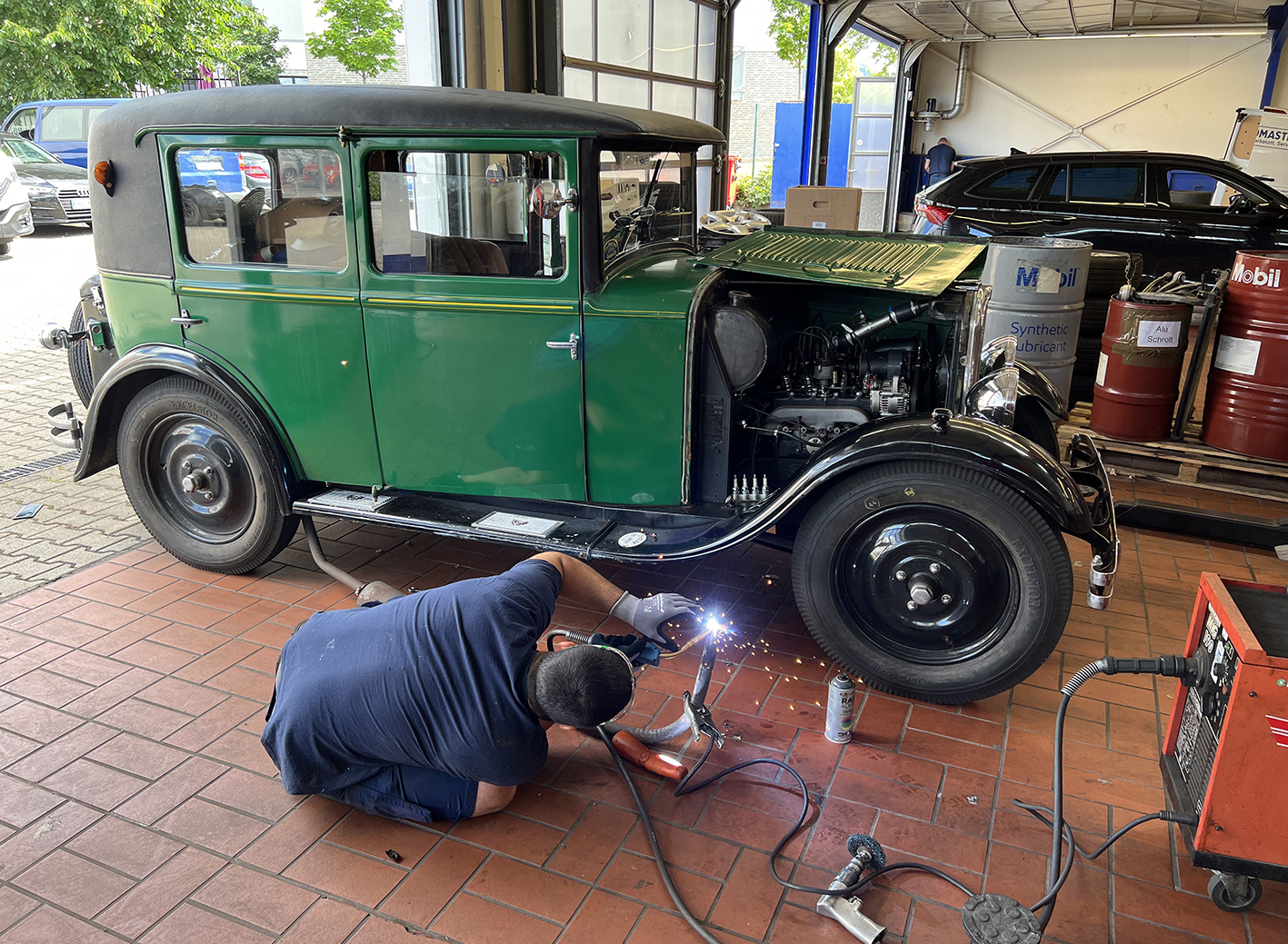 Nous nous mettons en route. Le moteur est devenu nettement plus silencieux. Depuis quand roulions-nous avec une fuite ?  Arrêt au Musée Automoblie Carl Benz à Ladenburg, à quelques kilomètres à peine à l'est du Rhin. / We set off. The engine has become noticeably quieter. Since when have we been driving with a leak? We stop at the Carl Benz Automoblie Museum in Ladenburg, just a few kilometers east of the Rhine.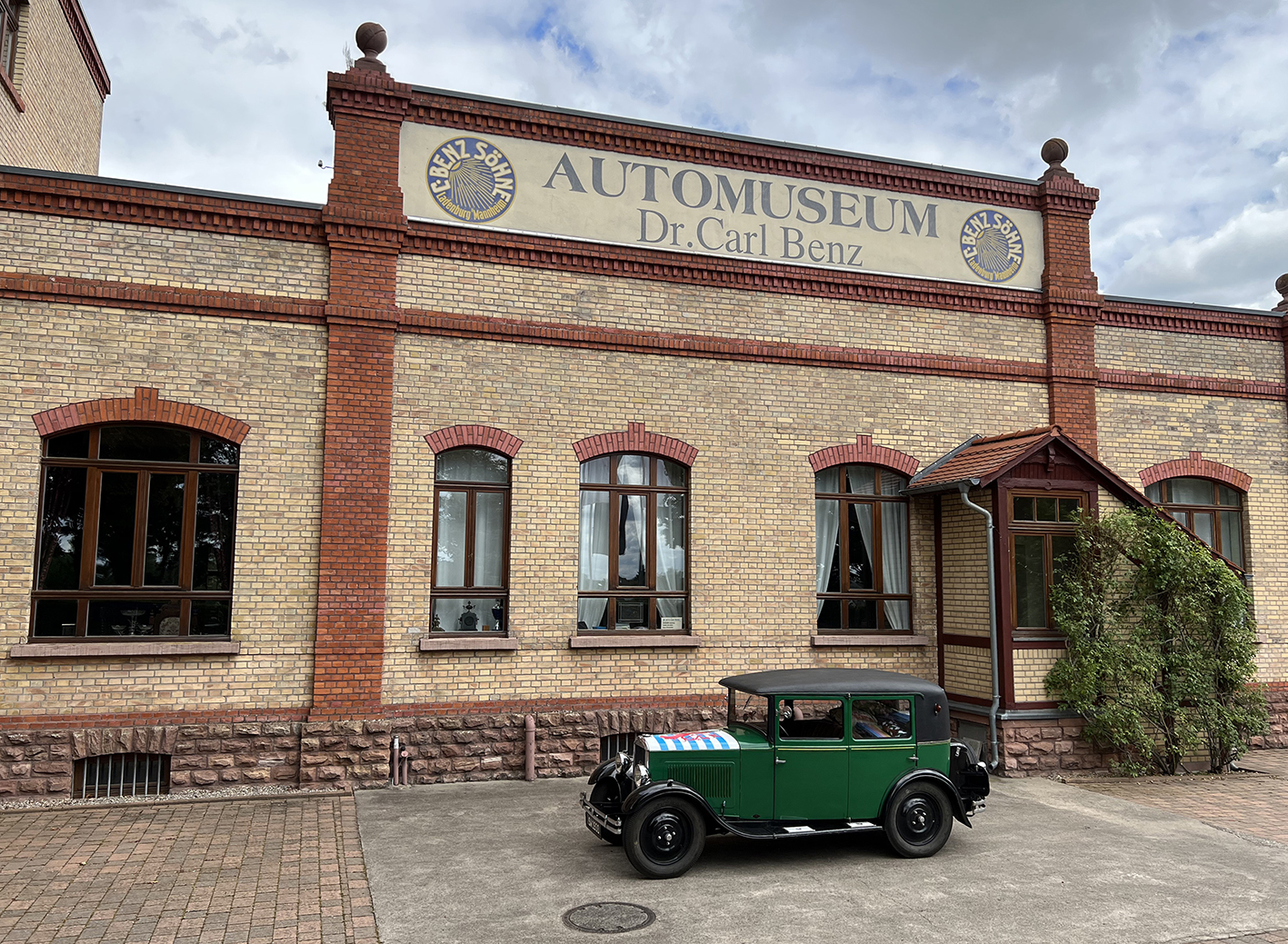 Le musée est fermé, mais à la vue de « La Charmante », on nous fait quand même entrer ! Nous voilà en face de la toute première automobile (1885) et d'un modèle de 1887. / The museum is closed, but at the sight of « La Charmante », we are still let in! Here we face the very first automobile ever built (1885) and a 1887 model.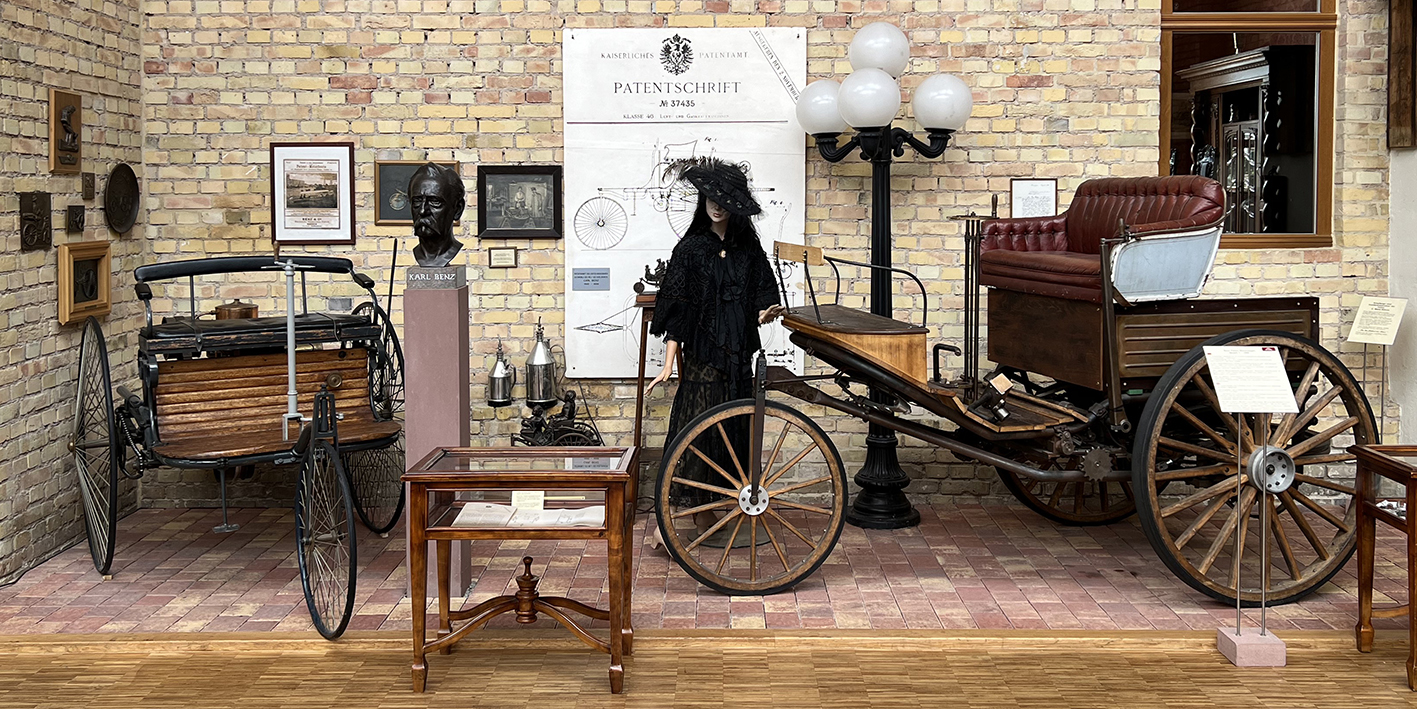 En 1885, Carl Benz développa le « Tricycle Teo » en installant un monocylindre refroidi par eau, d'un litre de cylindrée et de 0,75 CV, avec allumage électrique, soupape d'admission commandée, boîte de vitesses et différentiel, sur un tricycle dont il fait juste faire le tour du pâté de sa maison. / In 1885, Carl Benz developed the « Teo Tricycle » by fitting a water-cooled, one-litre, 0.75 hp, single-cylinder engine with electric ignition, controlled intake valve, gearbox and differential, on a tricycle which he just rode around the block of his house.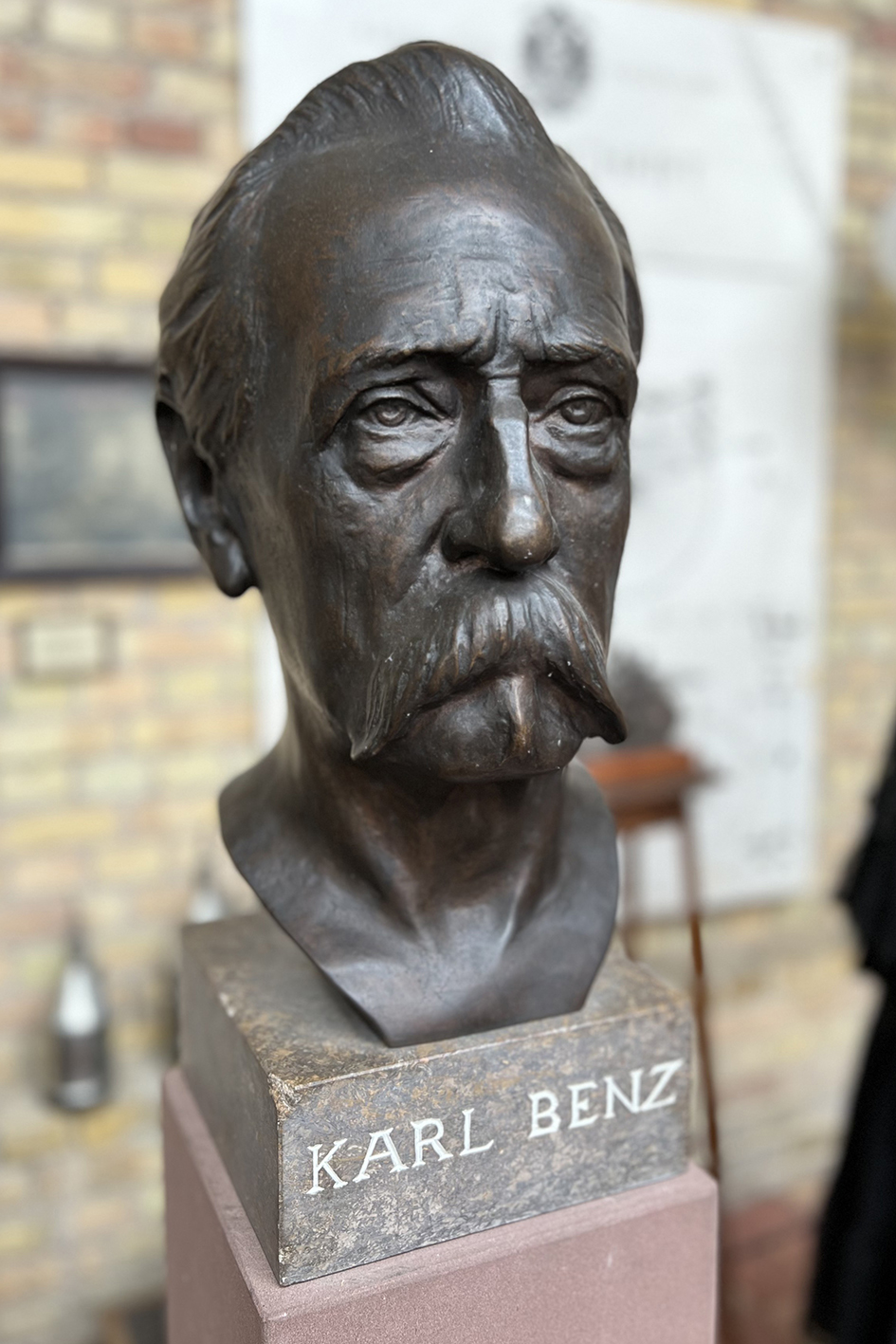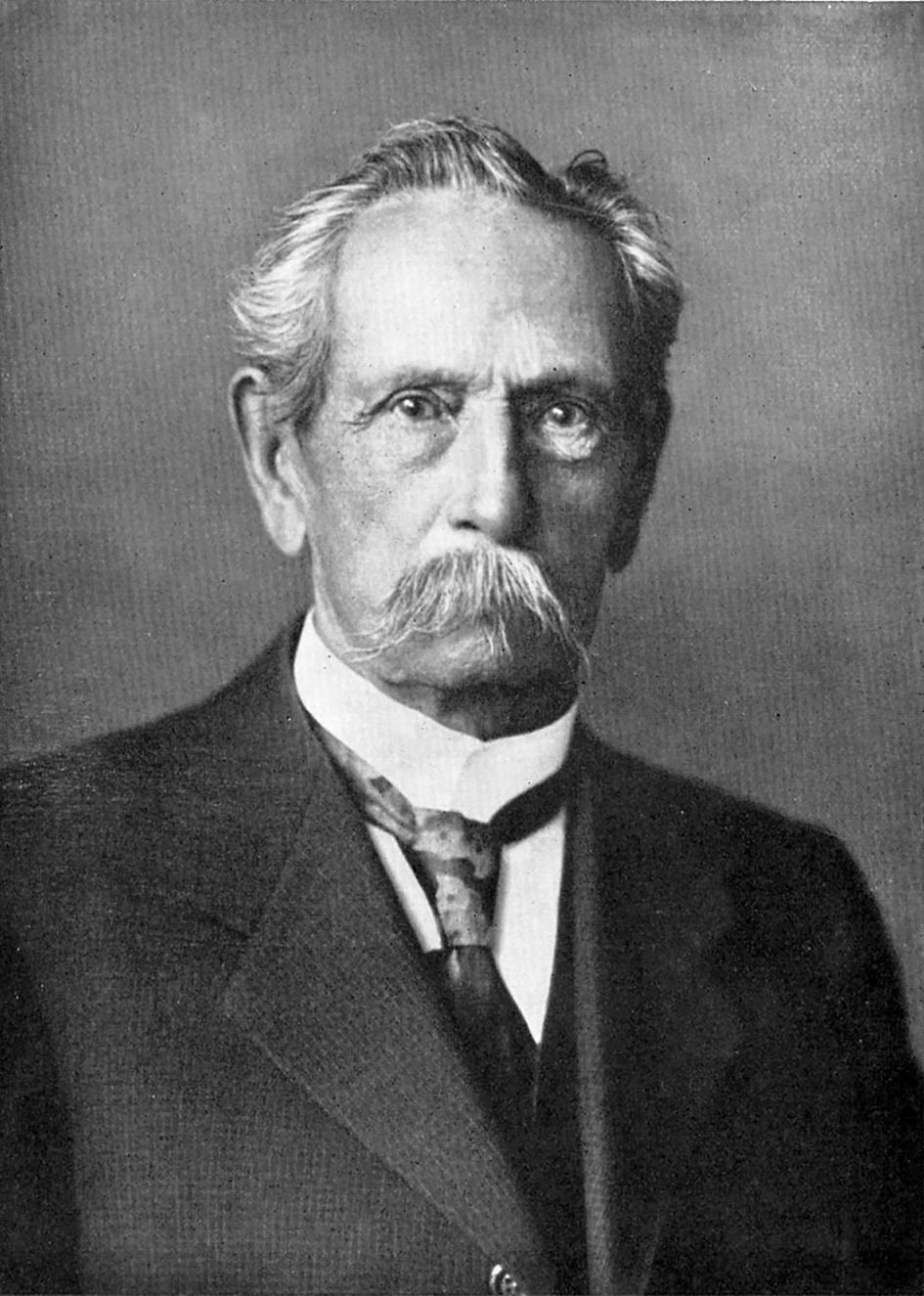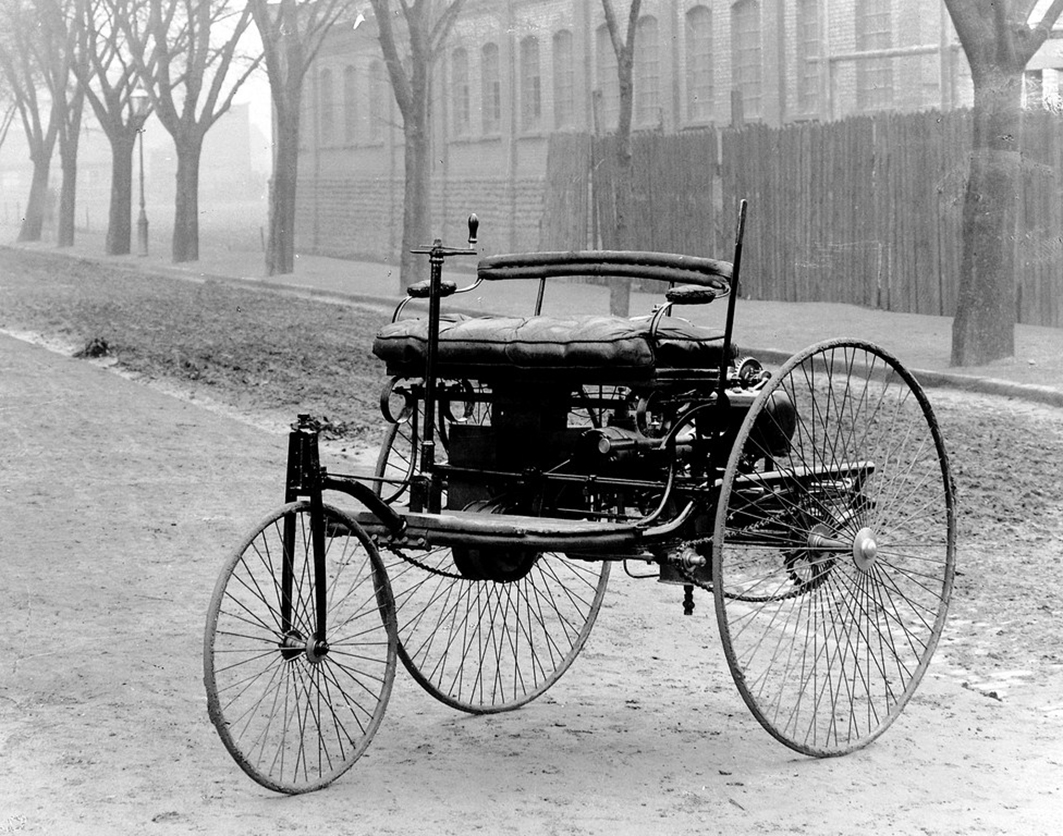 Le 29 janvier 1886, il dépose le brevet DRP-374353. / On January 29, 1886, he filed patent DRP-374353.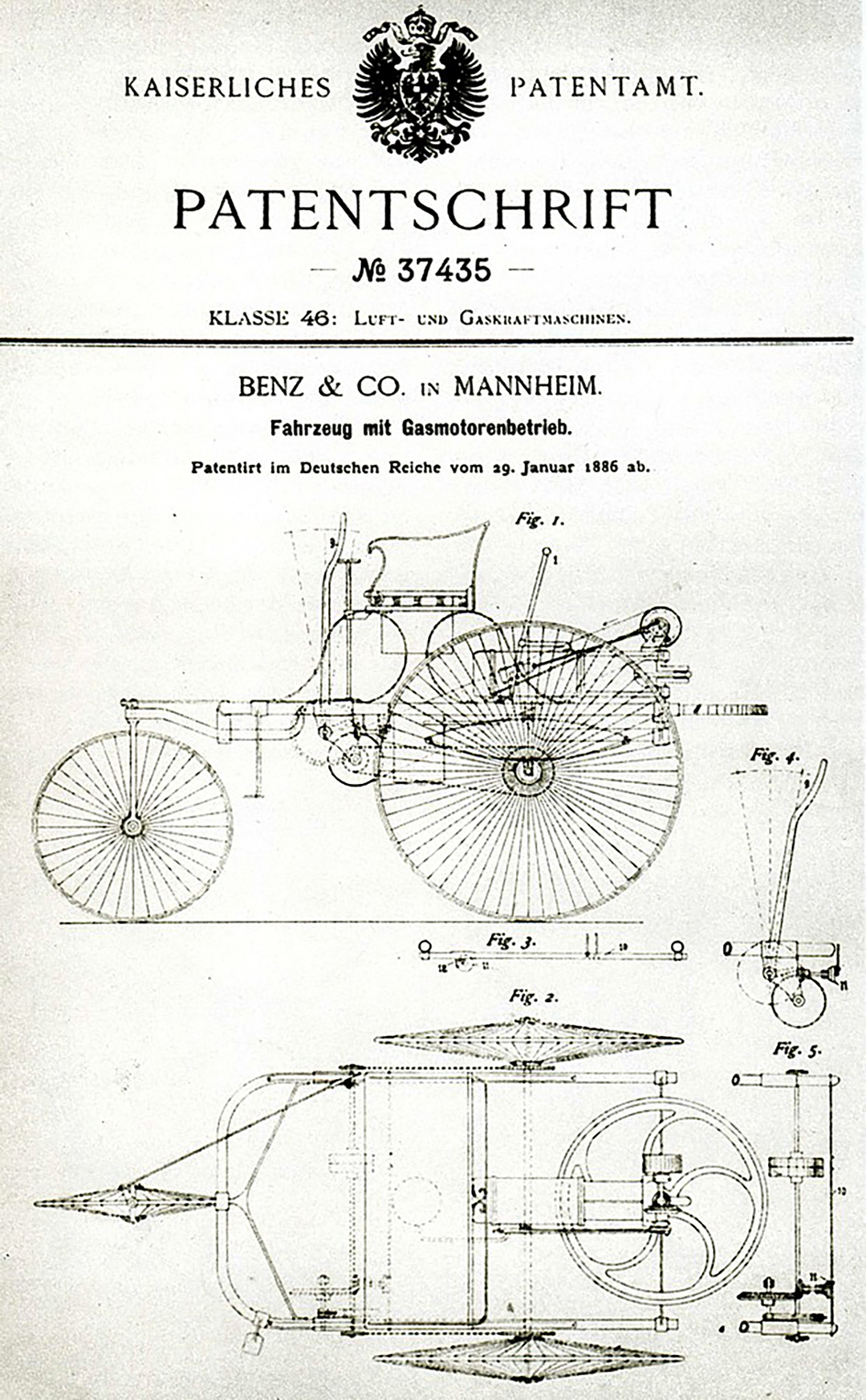 De 1885 à 1887, il crée trois versions du tricycle : le 'Modèle 1', le 'Modèle 2', qui a vraisemblablement été transformé à plusieurs reprises et le 'Modèle 3' avec roues à rayons en bois. / From 1885 to 1887, he created three versions of the tricycle: the 'Model 1', the 'Model 2', which was probably modified several times, and the 'Model 3' with wooden spoked wheels.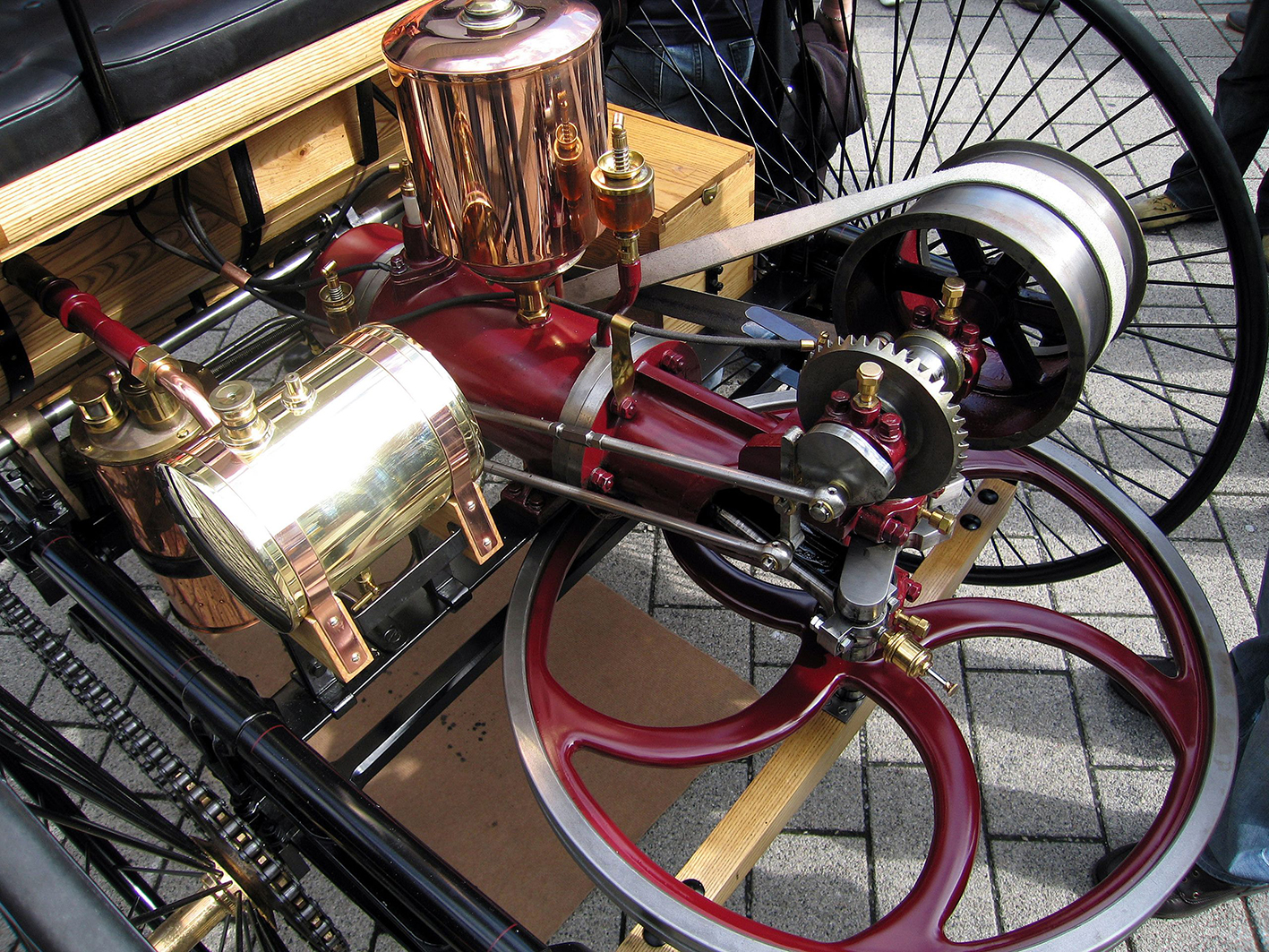 Le 5 août 1888, Bertha Benz emmena son automobile 'Modèle III' et deux de ses fils en voiture pour rendre visite à sa mère. / On August 5, 1888, Bertha Benz took her 'Model III' automobile and two of her sons by car to visit her mother.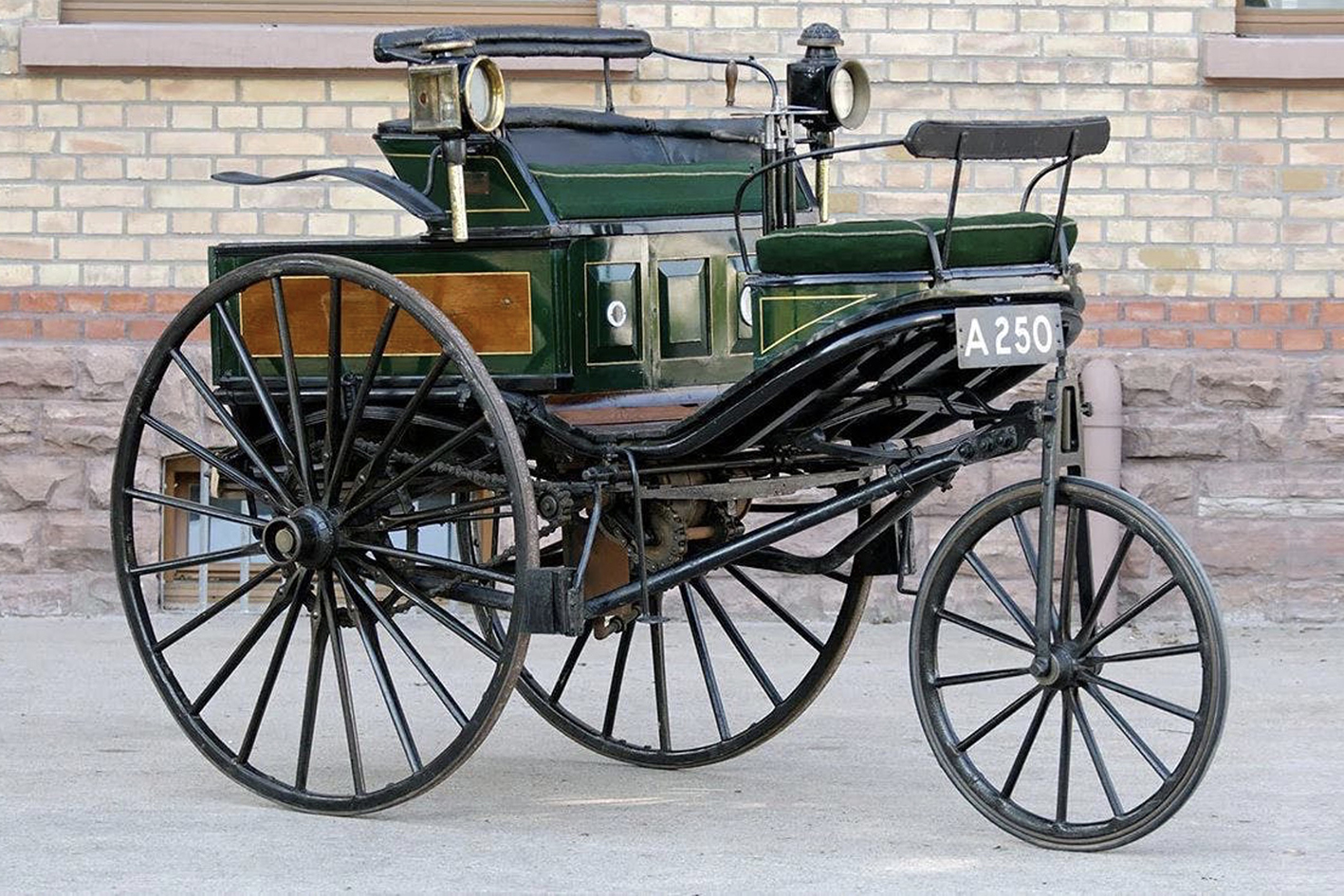 Le voyage couvrait 106 kilomètres de Mannheim à Pforzheim en Allemagne, ce qui constituait le tout premier voyage longue distance utilisant une automobile. Bertha n'avait pas informé son mari, ni consulté personne pour son projet. Elle le faisait pour prouver que l'automobile avait un avenir – pas seulement pour emmener les enfants rendre visite à leur grand-mère. Le 'Modèle III', bien que technologiquement avancé par rapport à ses prédécesseurs, n'était en aucun cas conçu pour un voyage au long cours. Il n'avait que deux vitesses, des freins en bois, un système de refroidissement par évaporation (il avait donc toujours besoin de beaucoup, beaucoup d'eau) et aucun réservoir de carburant à proprement parler en dehors du carburateur de 4,5 litres. Elle a surmonté tous les défis. Lorsqu'elle avait besoin du carburant spécifique sur lequel fonctionnait le modèle III – la ligroïne, un solvant pétrolier – elle n'avait pas de 'stations-service' où aller. Elle a dû récupérer le produit chez un pharmacien de la ville de Wiesloch, qui devenait de fait la première station-service de l'histoire. Bertha a réparé une conduite de carburant bouchée avec une épingle à chapeau, isolé un fil électrique avec une jarretière, a demandé à un forgeron de réparer une chaîne et a même inventé le prototype de plaquettes de frein en utilisant le cuir d'un cordonnier lorsque les freins en bois se sont cassés. Ses enfants ont aussi aidé. Le système à deux vitesses du 'Modèle III' ne pouvait pas gérer les routes escarpées, ils ont donc aidé à pousser l'automobile le long des chemins les plus escarpés de la piste qu'ils suivaient. Lorsque le trio est finalement arrivé à Pforzheim dans la soirée, Bertha Benz a envoyé un télégramme à son mari, partenaire commercial et collègue inventeur Karl Benz. Son voyage avait été un franc succès et la preuve que l'automobile avait de l'avenir. C'était le début de l'industrie automobile. / The trip covered 106 kilometers from Mannheim to Pforzheim in Germany, and was the first ever long-distance trip using an automobile. Bertha had not informed her husband, nor consulted anyone about her project. She was doing it to prove that the automobile had a future – not just to take children to visit their grandmother. The 'Model III', although technologically advanced compared to its predecessors, was by no means designed for long distance travel. It only had two gears, wooden brakes, evaporative cooling (so it always needed lots and lots of water) and no fuel tank to speak of other than the 4.5 liter carburettor. She overcame all the challenges. When she needed the specific fuel the Model III ran on – ligroin, a petroleum solvent – she had no 'gas stations' to go to. She had to collect the product from a pharmacist in the town of Wiesloch, which thus became the first service station in history. Bertha fixed a clogged fuel line with a hatpin, insulated an electrical wire with a jumper, had a blacksmith repair a chain, and even invented the prototype brake pads using a cobbler's leather when the wooden brakes broke. Her children also helped. The two-speed system of the 'Model III' could not handle the steep roads, so they helped push the automobile along the steeper paths of the track they were following. When the trio finally arrived in Pforzheim in the evening, Bertha Benz sent a telegram to her husband, business partner and fellow inventor Karl Benz. Her trip had been a resounding success and proof that the automobile had a future. This was the beginning of the automotive industry.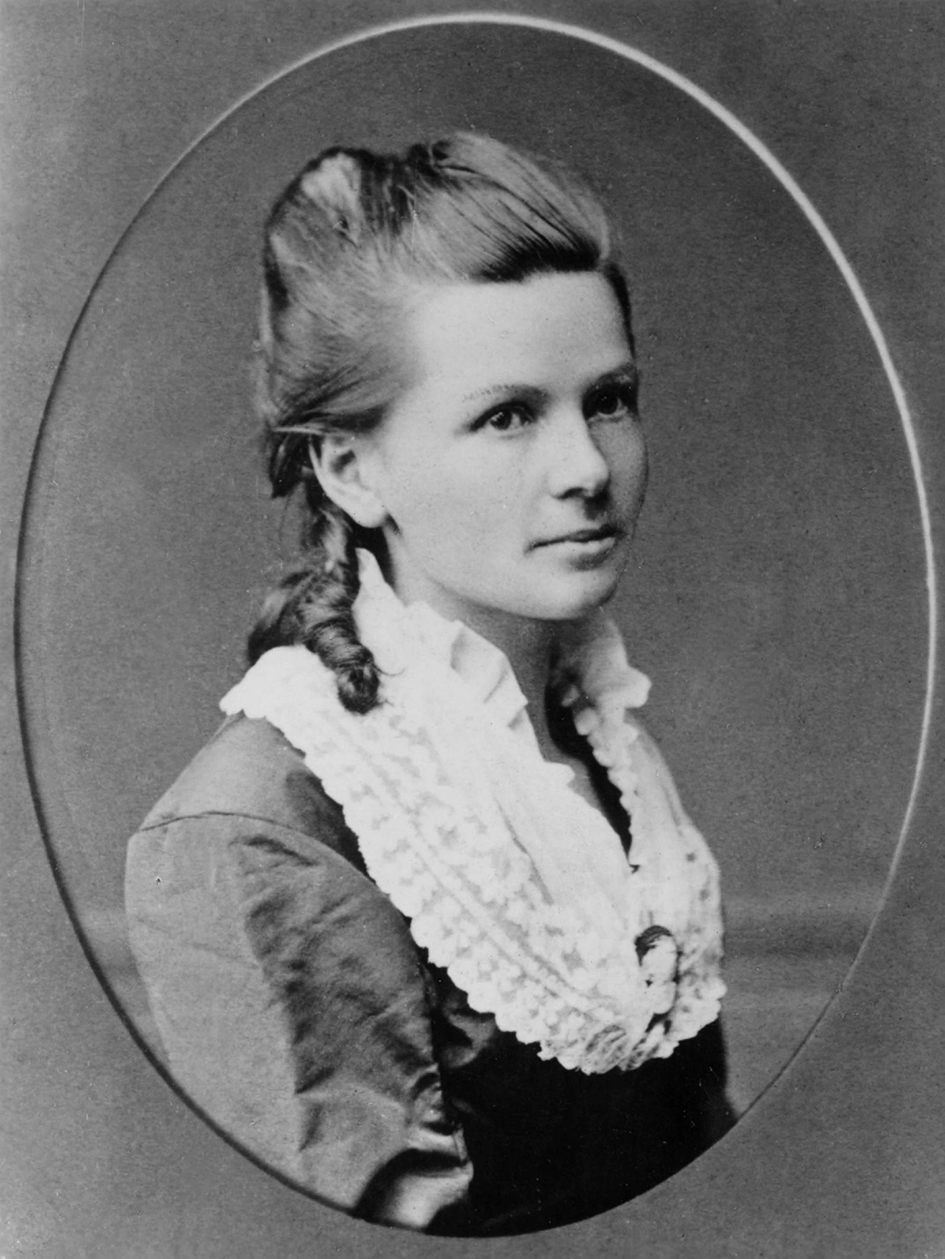 Peu après, moment historique : « La Charmante » boucle ses 100.000 premiers kilomètres, dont près de 9.000 depuis qu'elle est mienne. / Shortly after, a historic moment: "La Charmante" completes its first 100,000 kilometres, including nearly 9,000 since she has been mine.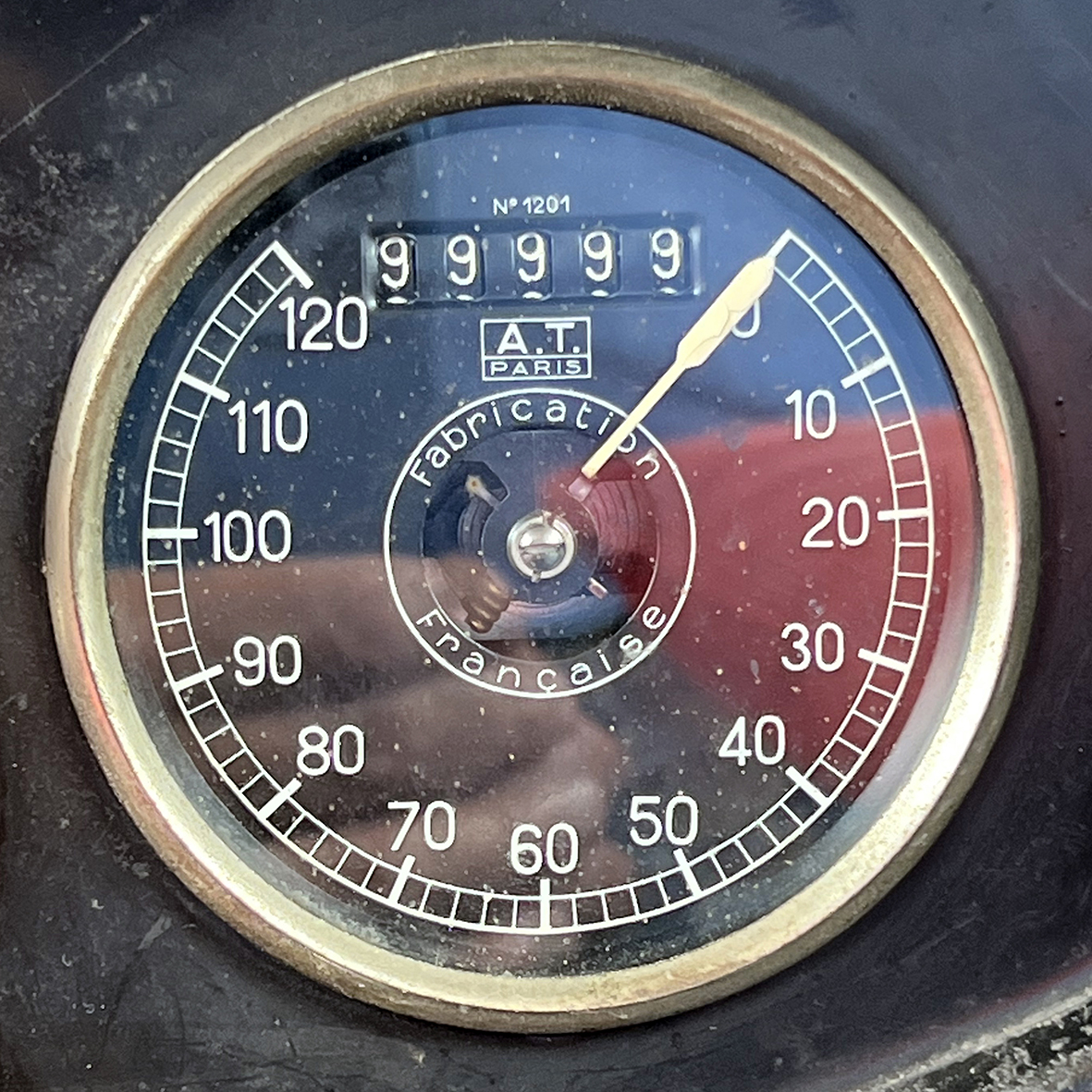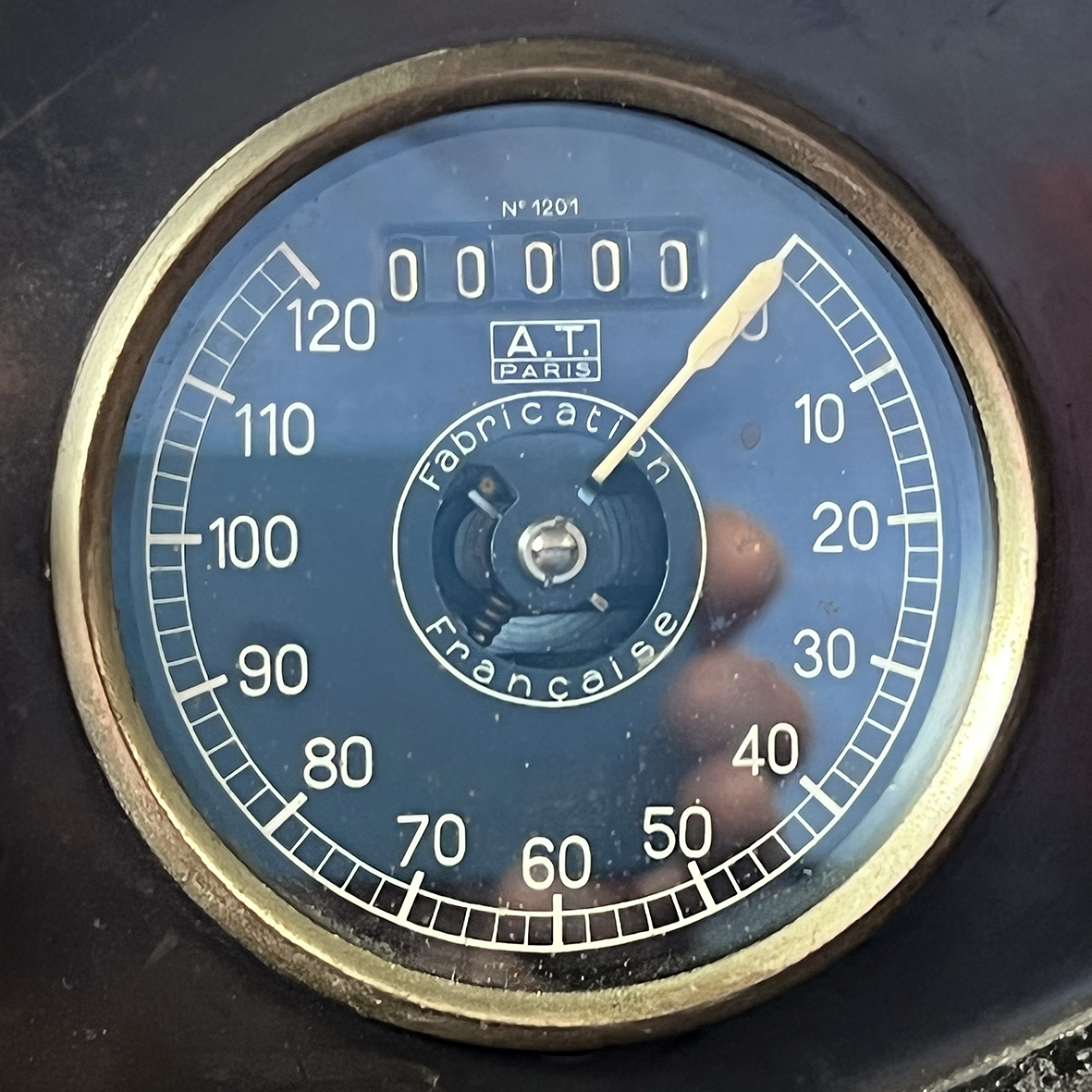 En route vers le Rhin, on passe par plusieurs châteaux. Celui de Neckarhausen : / On the way to the Rhine, we pass by several castles. That of Neckarhausen: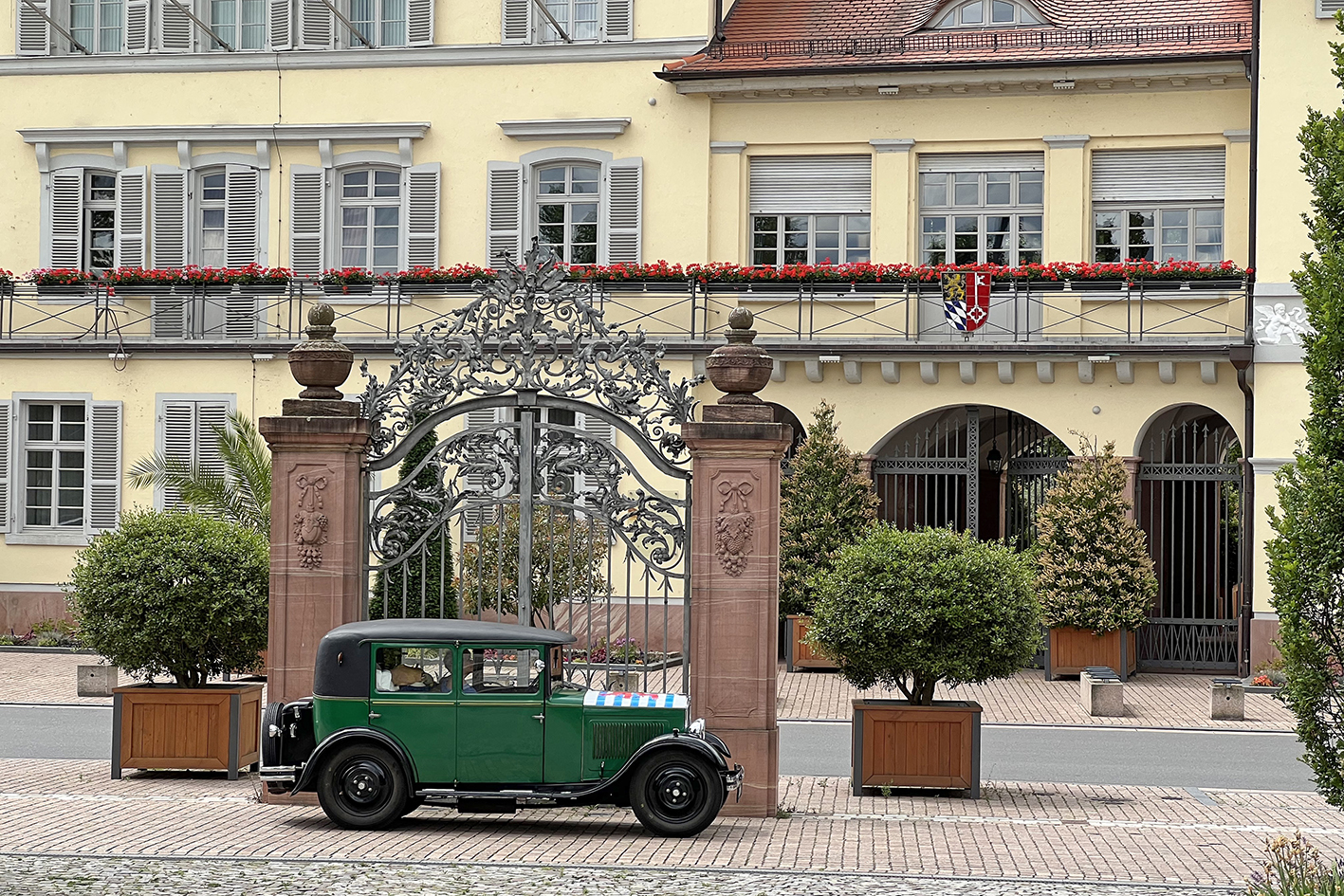 Et celui de Schwetzingen : / And the one from Schwetzingen: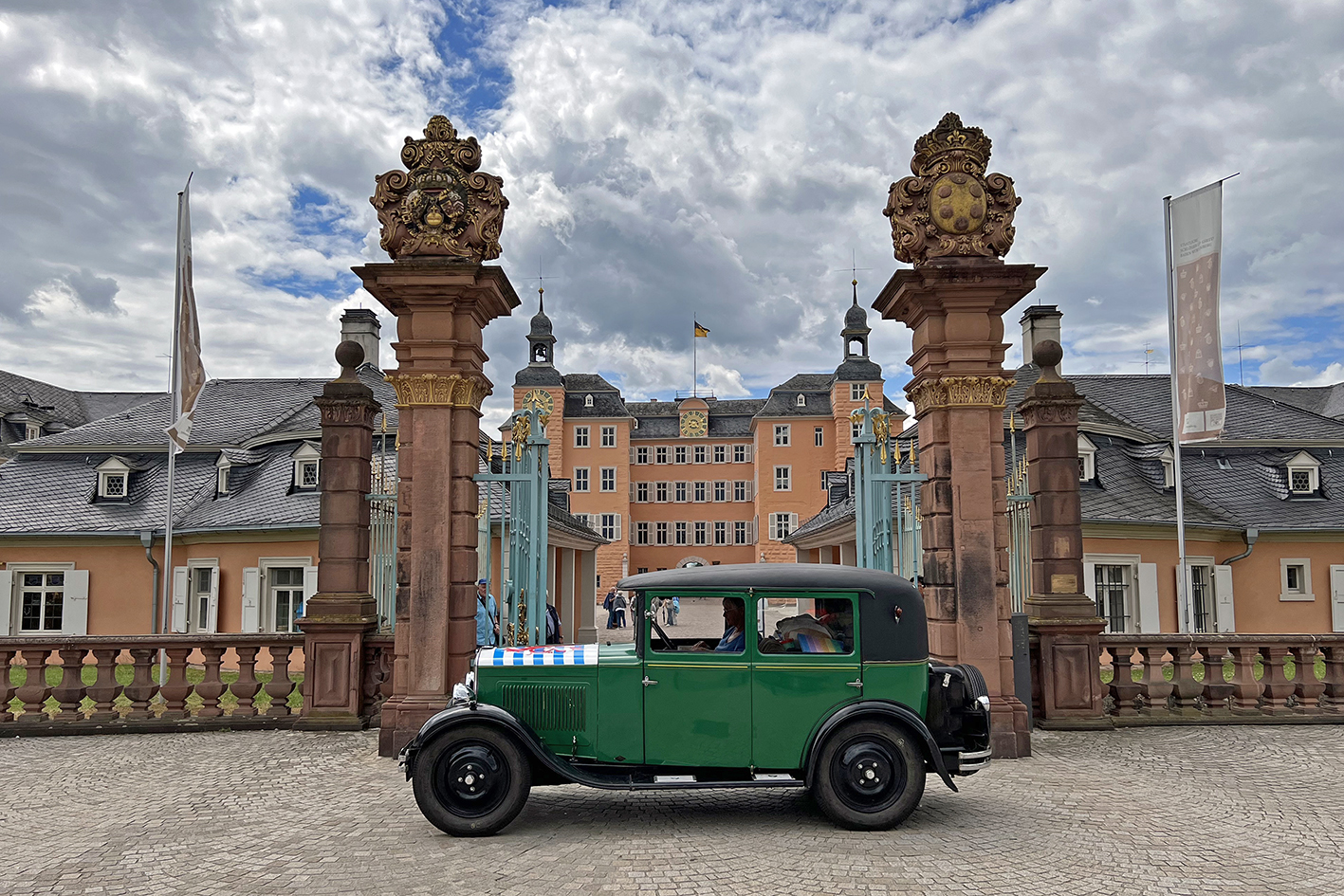 On franchit le Rhin à Speyer, avec son immense cathédrale Notre-Dame-de-l'Assomption-et-Saint-Étienne, aussi appelée cathédrale de Spire, datant du 11ème siècle. Basilique à quatre tours et deux dômes, c'est l'un des monuments majeurs de l'art du Saint-Empire romain germanique et la plus grande cathédrale de style roman au monde. Pendant près de 300 ans, ce fut le lieu de sépulture de huit empereurs et rois allemands. / We cross the Rhine at Speyer, with its huge Cathedral of Our Lady of the Assumption and Saint Stephen, also called Speyer Cathedral, dating from the 11th century. A basilica with four towers and two domes, it is one of the major monuments of art in the Holy Roman Empire and the largest Romanesque cathedral in the world. For almost 300 years it was the burial place of eight German emperors and kings.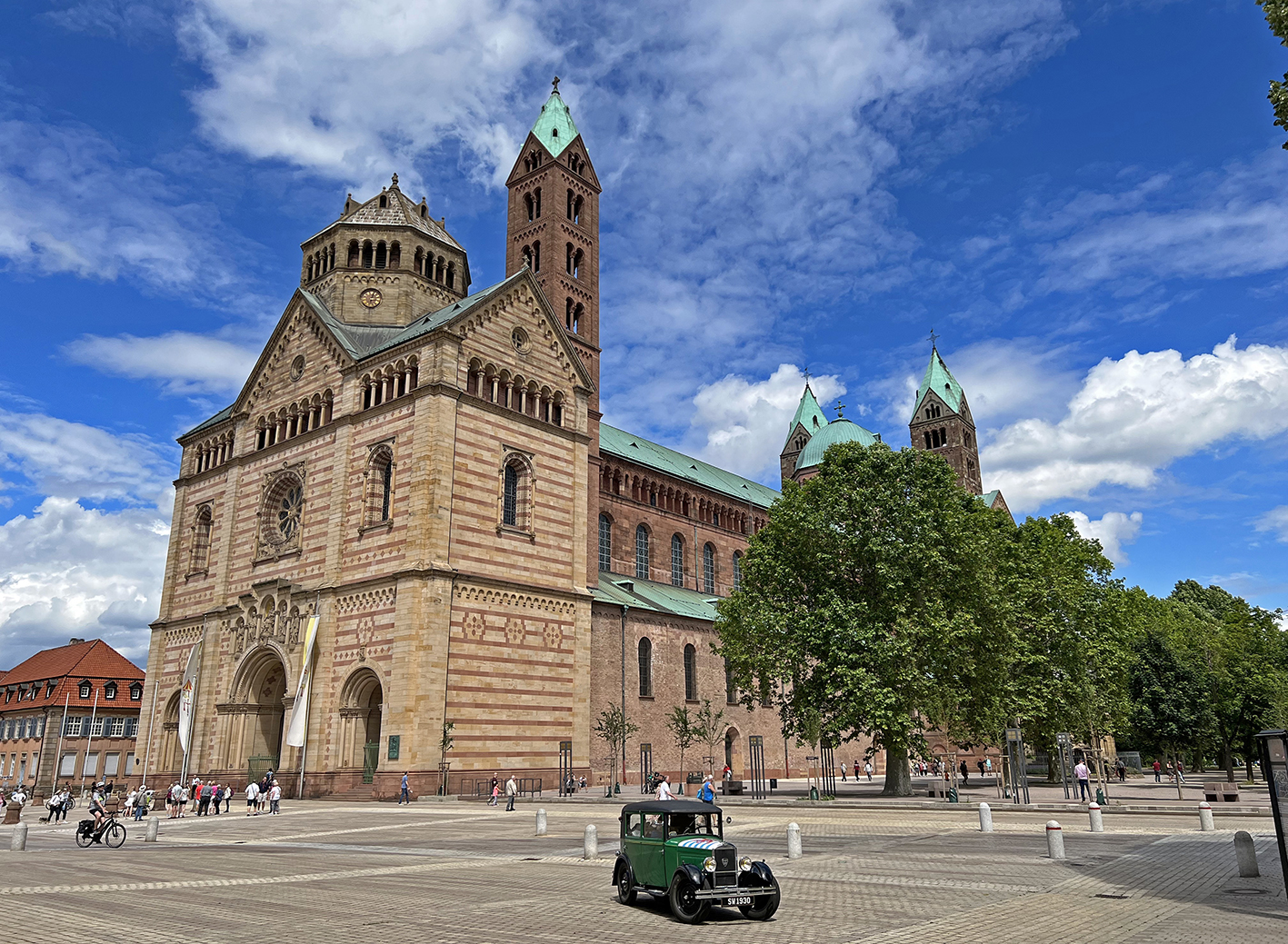 Non loin de là, la plus intime 'Judengasse' (ruelle des Juifs). / Not far from there, the more intimate 'Judengasse' (alley of the Jews).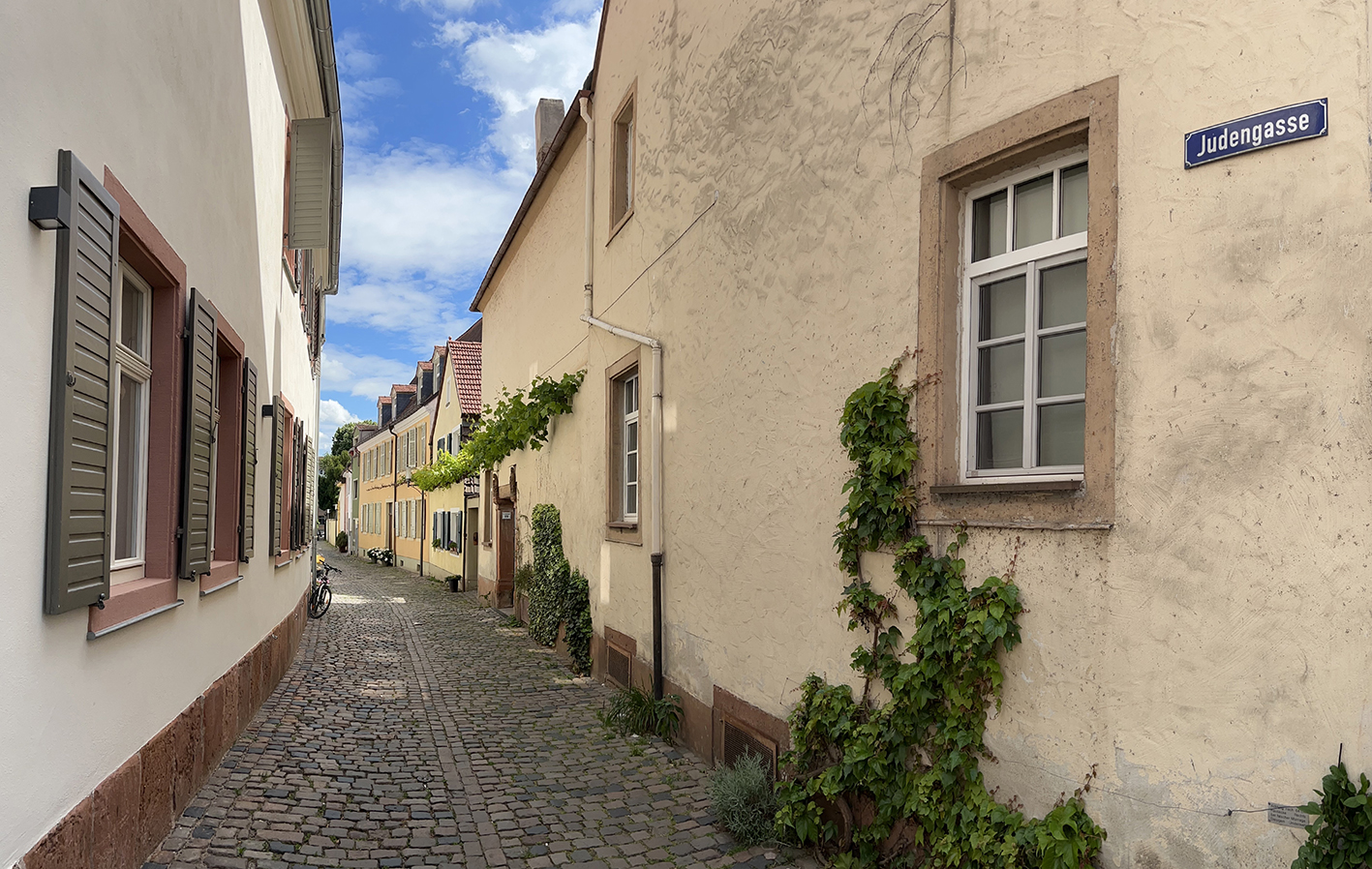 Nous franchissons la frontière française sans nous en apercevoir. Ce sont les noms des rues qui nous apprennent qu'on a changé de pays ! / We cross the French border without realizing it. It is the names of the streets that tell us that we have changed countries!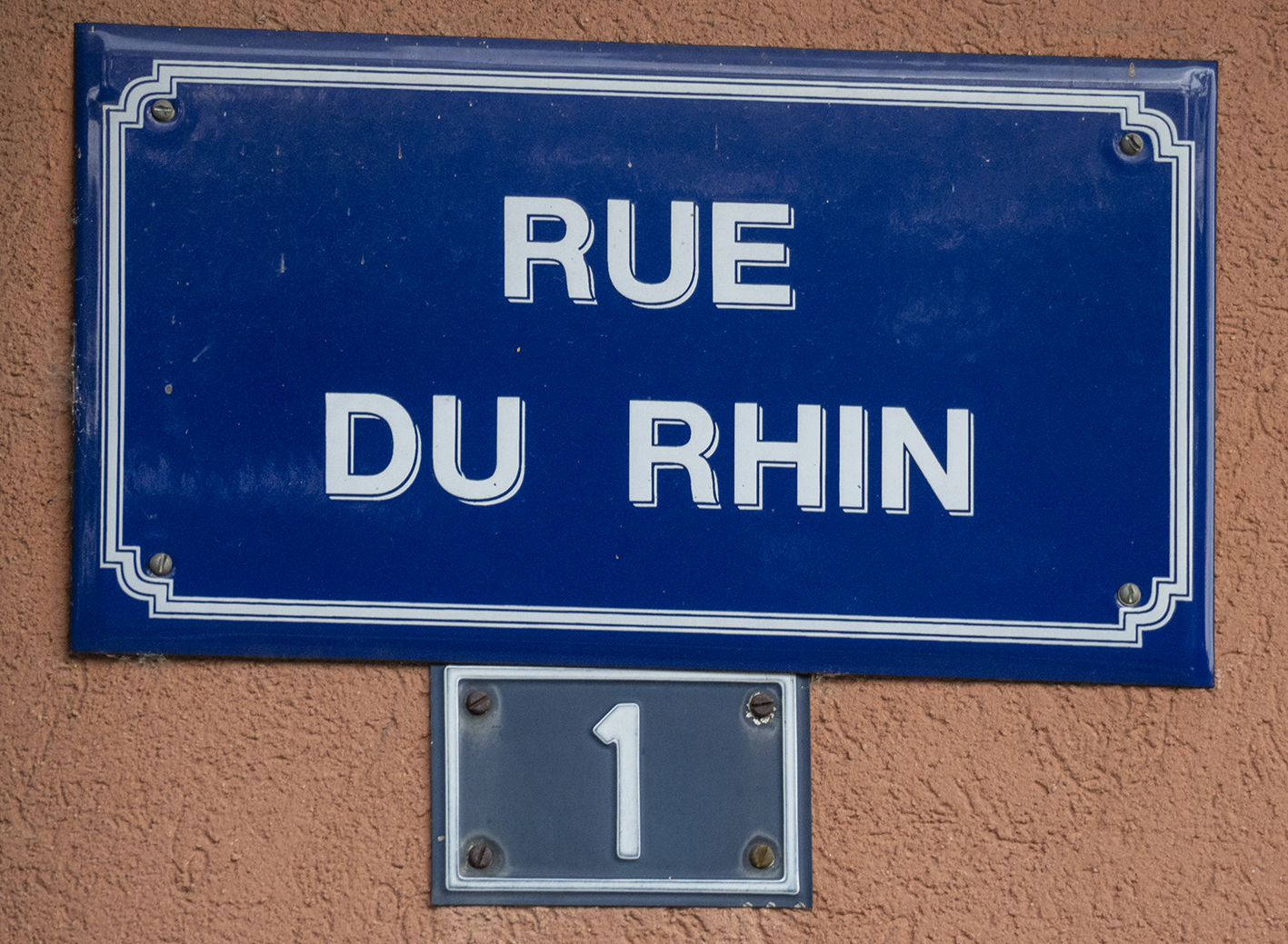 Près de la Wantzenau on nous avertit sur des zones « à risque technologique ». Nous en rigolons finement : « La Charmante » constitue pour nous un risque technologique permanent ! En fait, il s'agit des risques du type Seveso liés aux entrepôts de stockage dans les ports du Rhin. Par exemple, l'explosion d'une sphère de butadiène frais provoquerait une mortalité de 5% au moins des personnes exposées jusqu'à 600 mètres du site, des blessures irréversibles seraient causées aux personnes situées à moins d'un kilomètre ! Temps de vite décamper et rejoindre nos amis Danièle et Michel à Breuschwickersheim (oui, ce genre de noms existe en Alsace !) près de Strasbourg. Soirée autour de délicieux 'flammenkuchen'. / Near the Wantzenau we are warned about "technological risk" areas. We laugh about it: "La Charmante" constitutes for us a permanent technological risk! In fact, these are Seveso-type risks associated with storage warehouses in the ports of the Rhine. For example, the explosion of a fresh butadiene sphere would cause at least 5% mortality of people exposed up to 600 meters from the site, irreversible injuries would be caused to people located less than one kilometer away! Time to quickly decamp and join our friends Danièle and Michel in Breuschwickersheim (yes, such names exist in Alsace!) near Strasbourg. Evening around delicious 'flammenkuchen'.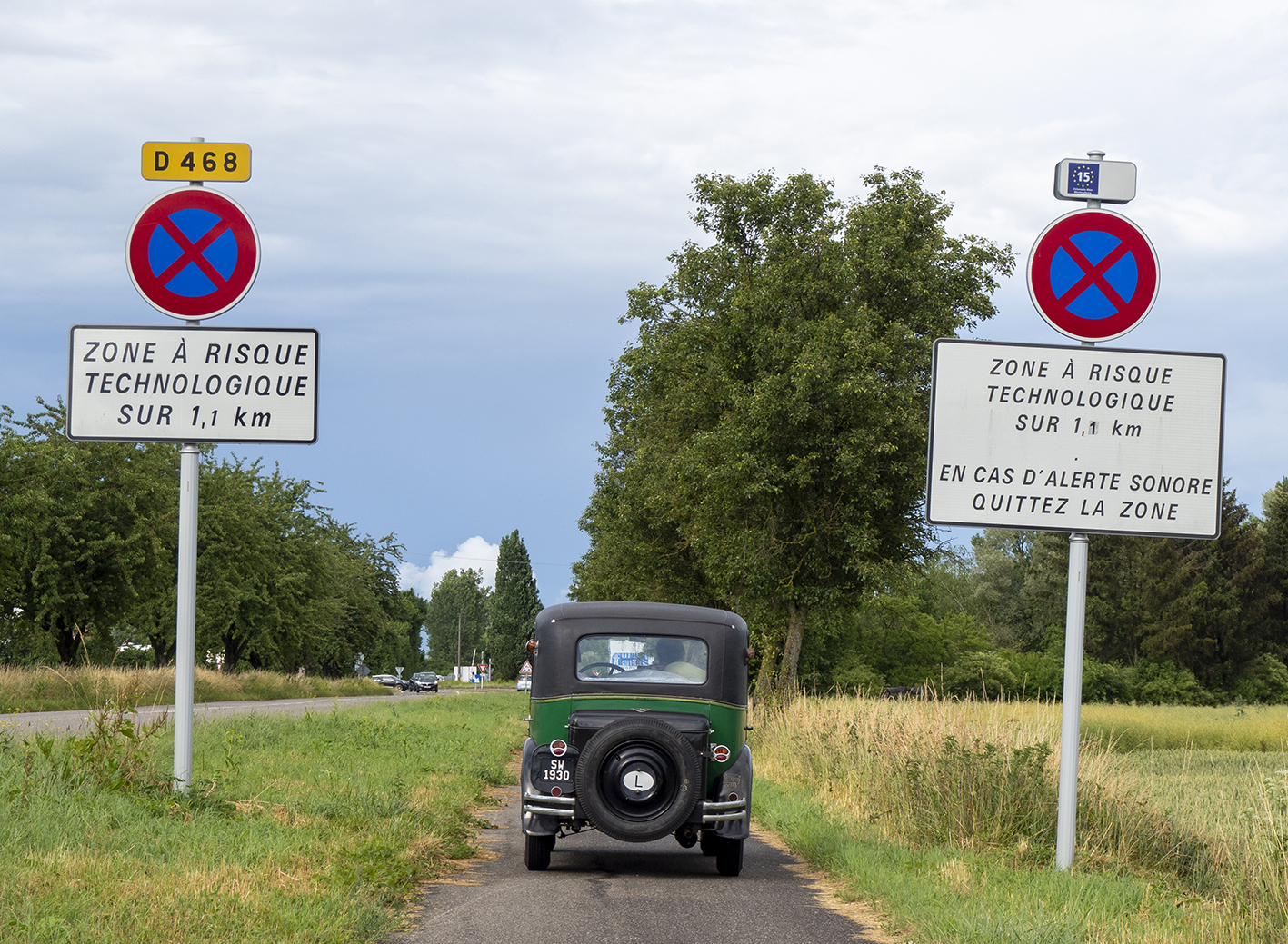 6 juin 2022. Heidelberg (16 km)

/ June 6th, 2022. Heidelberg (16 km)
Une journée de repos un peu forcée, car nous attendons mardi pour pouvoir réparer l'échappement. Nous en profitons pour faire plus ample connaissance avec Barbara et sa famille et faire quelques lessives (« La Charmante » nous avait donné pas mal de sueurs froides…) Dans l'après-midi, je me rends au 'Tiefburg', un petit château près de la maison avec Ayla et Sam. / A somewhat forced day of rest, because we are waiting for Tuesday to be able to repair the exhaust. We take the opportunity to get to know Barbara and her family better and do some laundry ("La Charmante" had given us a lot of cold sweats…) In the afternoon, I go to the 'Tiefburg', a small castle near the house with Ayla and Sam.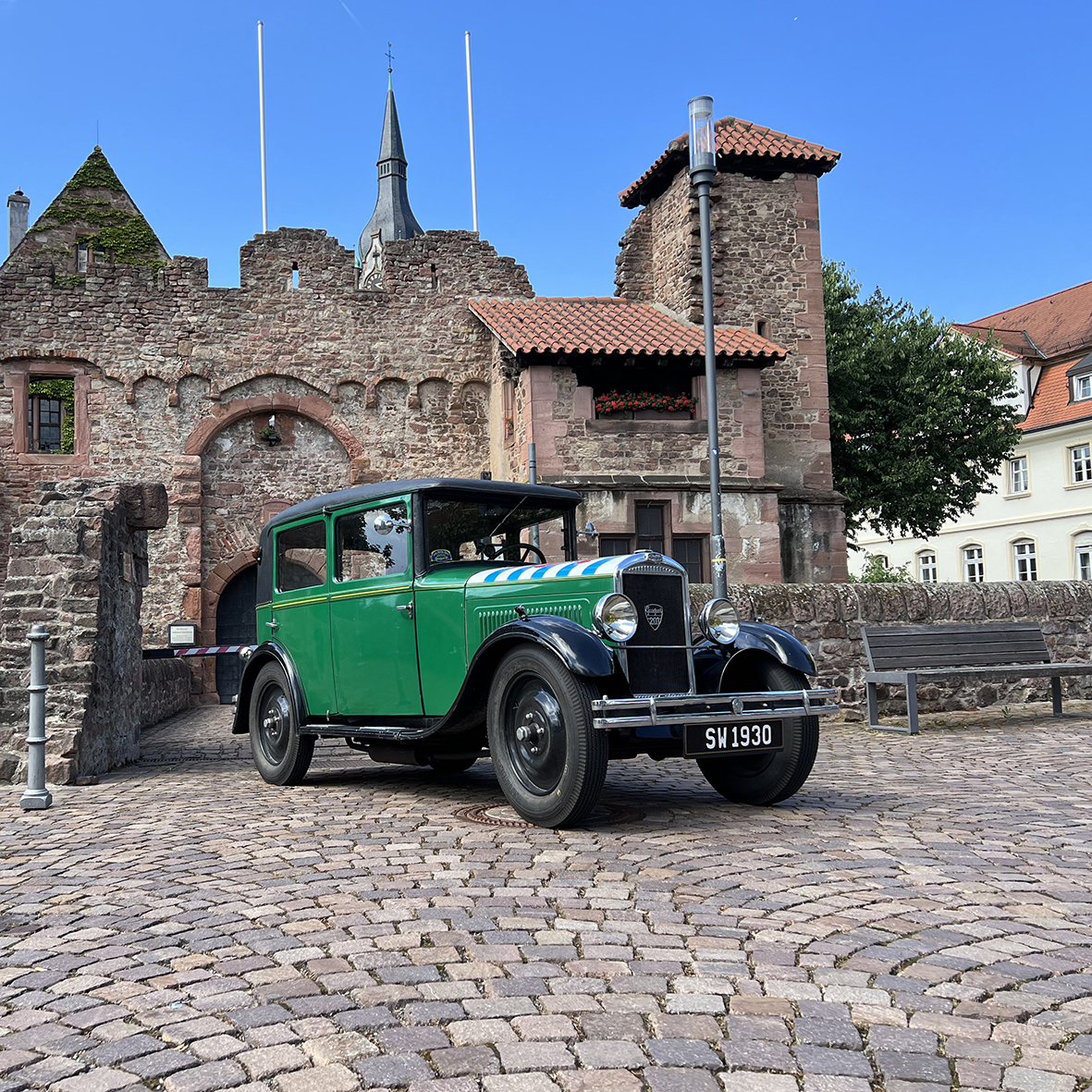 Ayla, qui est musicienne, chanteuse et créatrice de chansons, veut y tourner un clip vidéo avec « La Charmante » pour promouvoir une de ses chansons. Son frère Sam la filme. / Ayla, who is a musician, singer and songwriter, wants to shoot a music video there with "La Charmante" to promote one of her songs. Her brother Sam films her.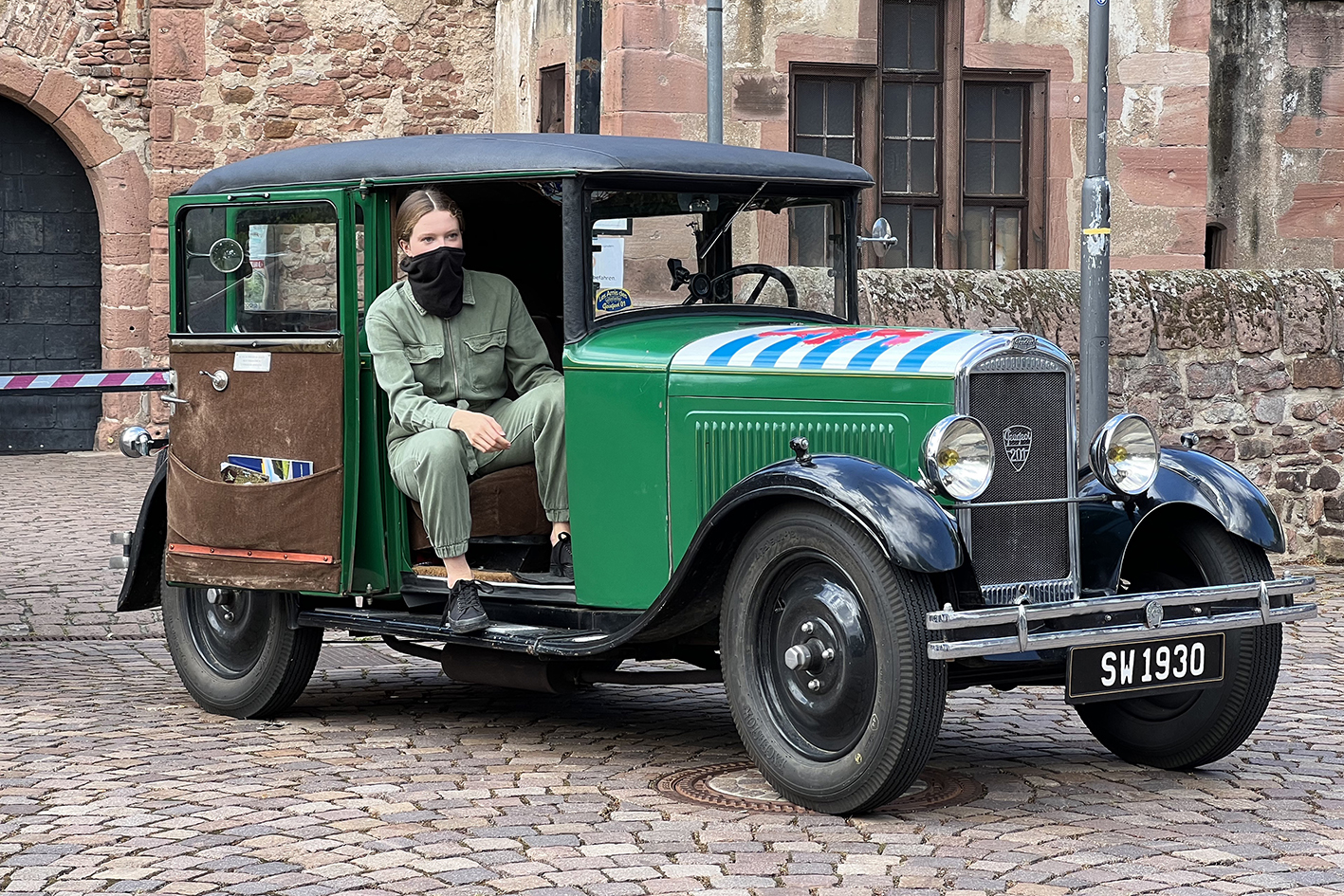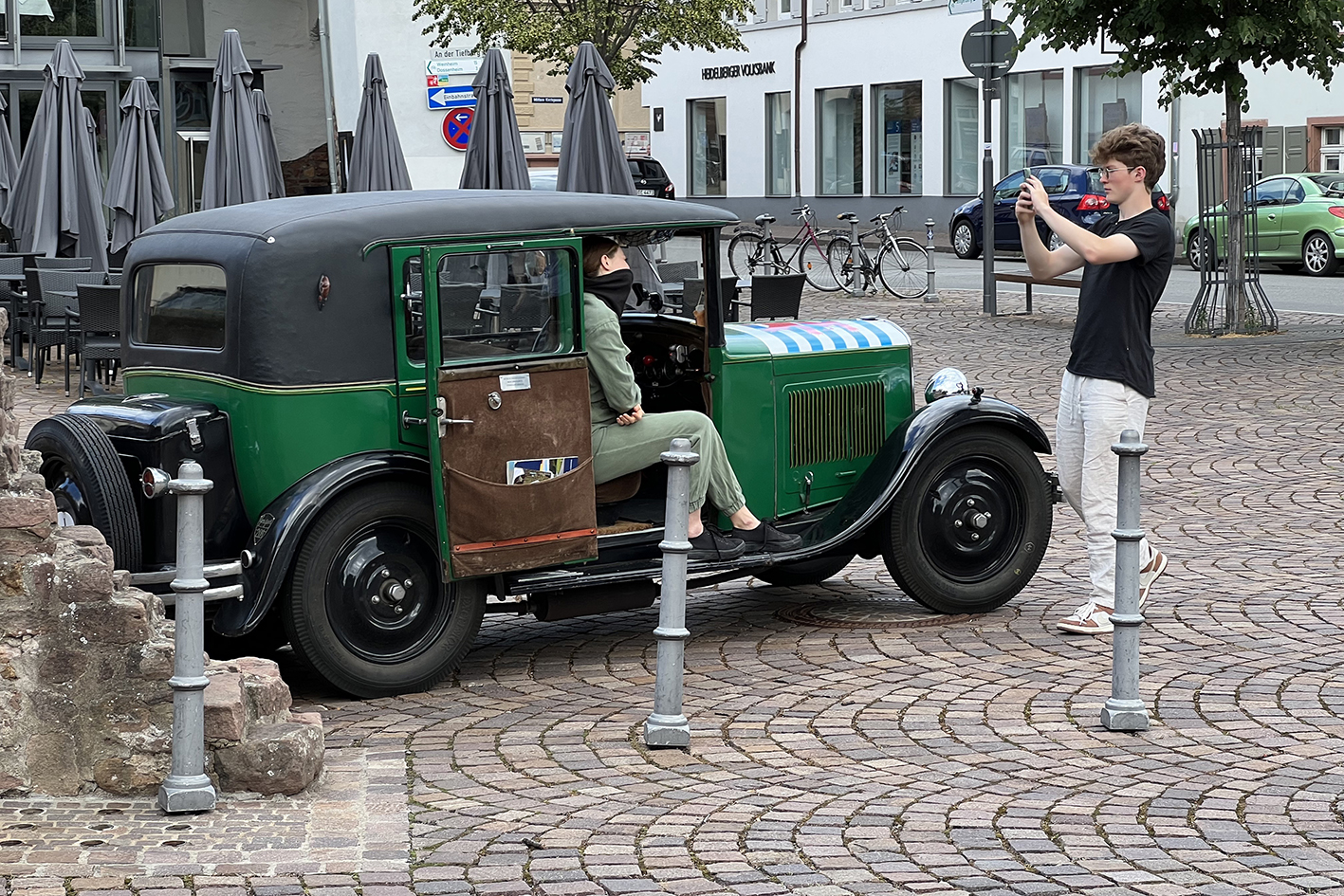 Après, je fais un tour de ville avec la jeune artiste. / Afterwards, I take a city tour with the young artist.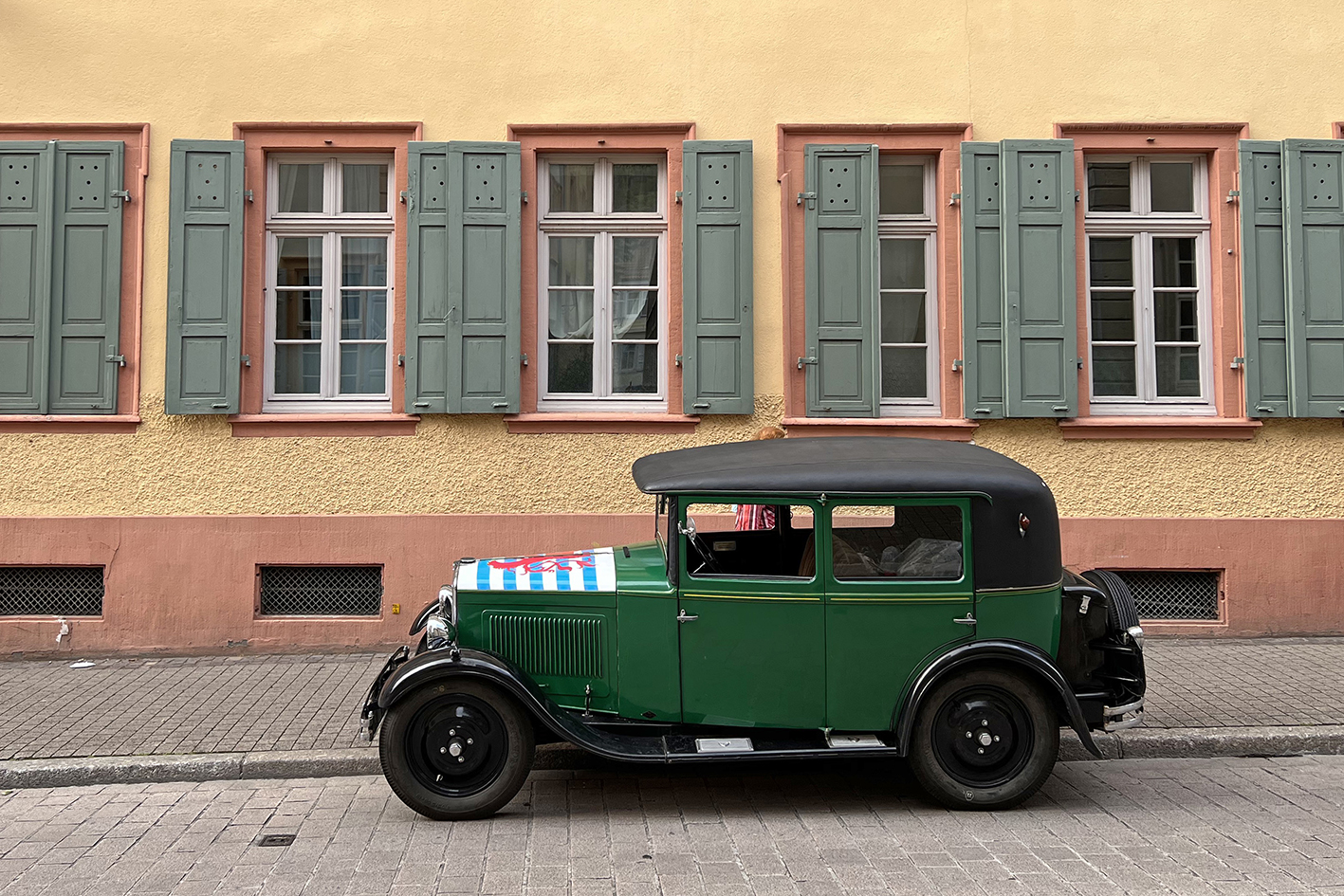 « La Charmante » pose fièrement devant le château de Heidelberg, construit entre 1294 et 1303. / "La Charmante" poses proudly in front of Heidelberg Castle, built between 1294 and 1303.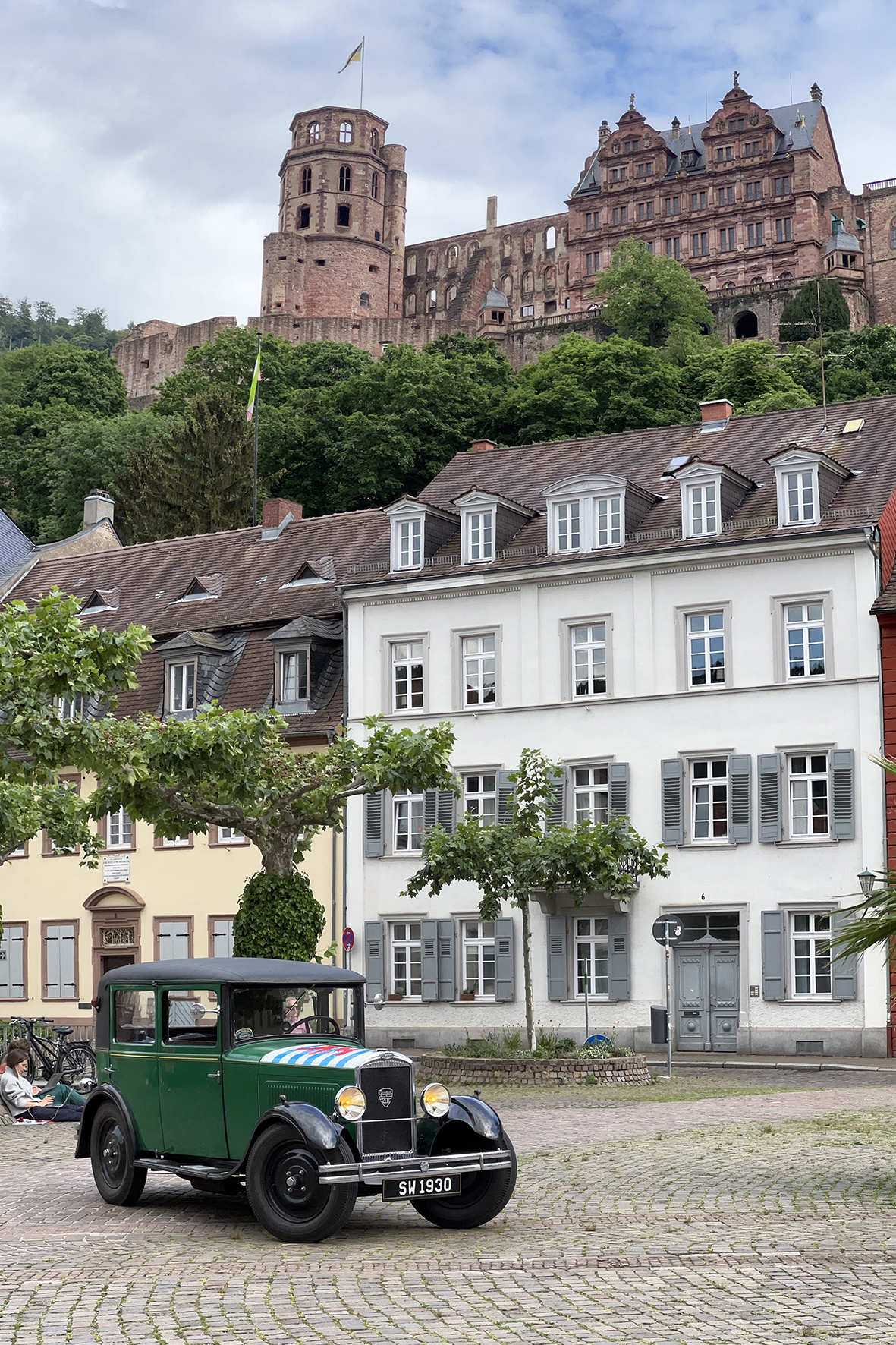 5 juin 2022. Remagen-Heidelberg (220 km)

/ June 5th, 2022. Remagen-Heidelberg (220 km)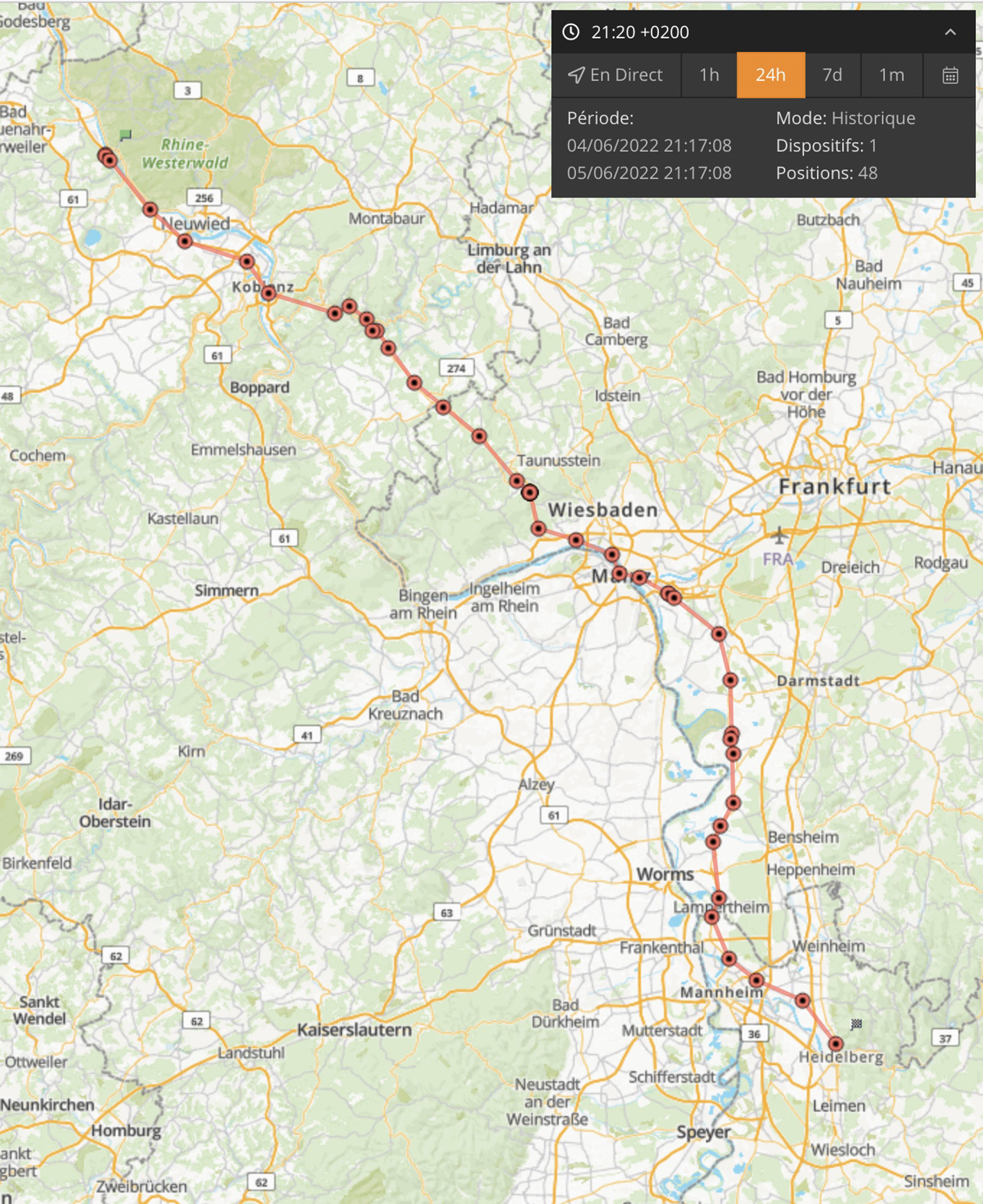 Nous partons par un temps maussade. Arrivés à Coblence, nous commettons une erreur de navigation. Nous quittons la vallée du Rhin et traversons le massif montagneux du Taunus. Mauvaise pioche : les pentes parfois abruptes mettent à rude épreuve la pauvre « Charmante ». Dans les longues montées, en 1ère, la température du moteur atteint les 100°C malgré le ventilateur électrique, nous obligeant à nous arrêter pour le laisser refroidir… C'est sous la pluie que nous atteignons le petite ville de Dausenau sur le Lahr, un affluent du Rhin. Nous passons sous la 'Torturm' (tour-portail) qui date du 14ème siècle. / We leave in gloomy weather. Arriving in Koblenz, we make a navigation error. We leave the Rhine valley and cross the Taunus mountain range. Bad luck: the sometimes steep slopes put the poor « Charmante » to the test. On the long climbs, in 1st gear, the engine temperature reached 100°C despite the electric fan, forcing us to stop to let it cool… It was raining when we reached the small town of Dausenau on the Lahr, a tributary of the Rhine. We pass under the 'Torturm' (gate tower) which dates from the 14th century.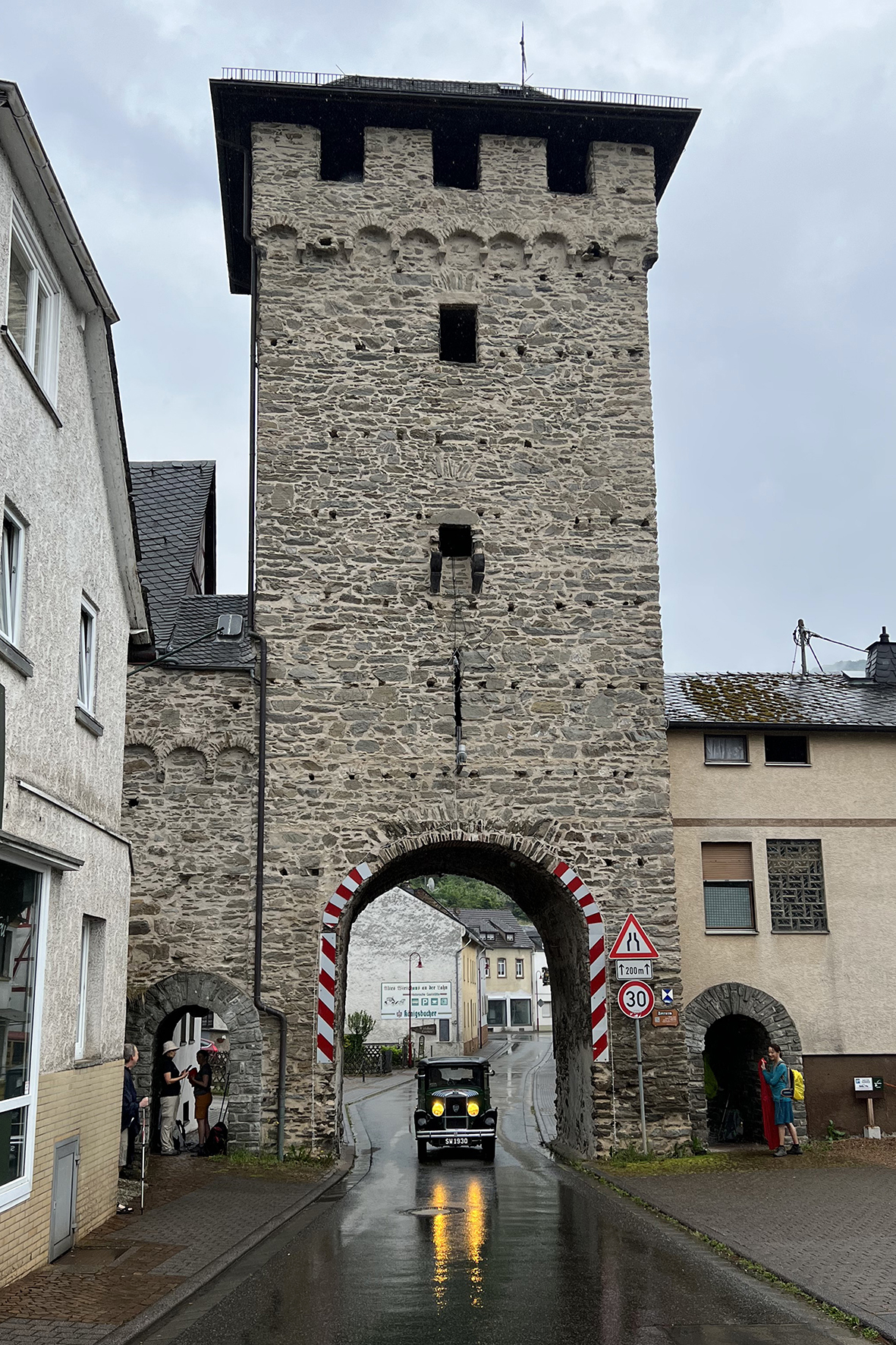 Nous traversons Nassau, l'origine des seigneurs de Nassau qui ont donné la lignée des Orange-Nassau, la famille royale des Pays-Bas, et celle de Weilburg-Nassau, la famille grand-ducale de Luxembourg. C'est ainsi que l'on retrouve les armoiries des Nassau sur le capot de « La Charmante » ! / We cross Nassau, the origin of the lords of Nassau who gave the line of Orange-Nassau, the royal family of the Netherlands, and that of Weilburg-Nassau, the grand-ducal family of Luxembourg. This is how the Nassau coat of arms appeared on the hood of "La Charmante"!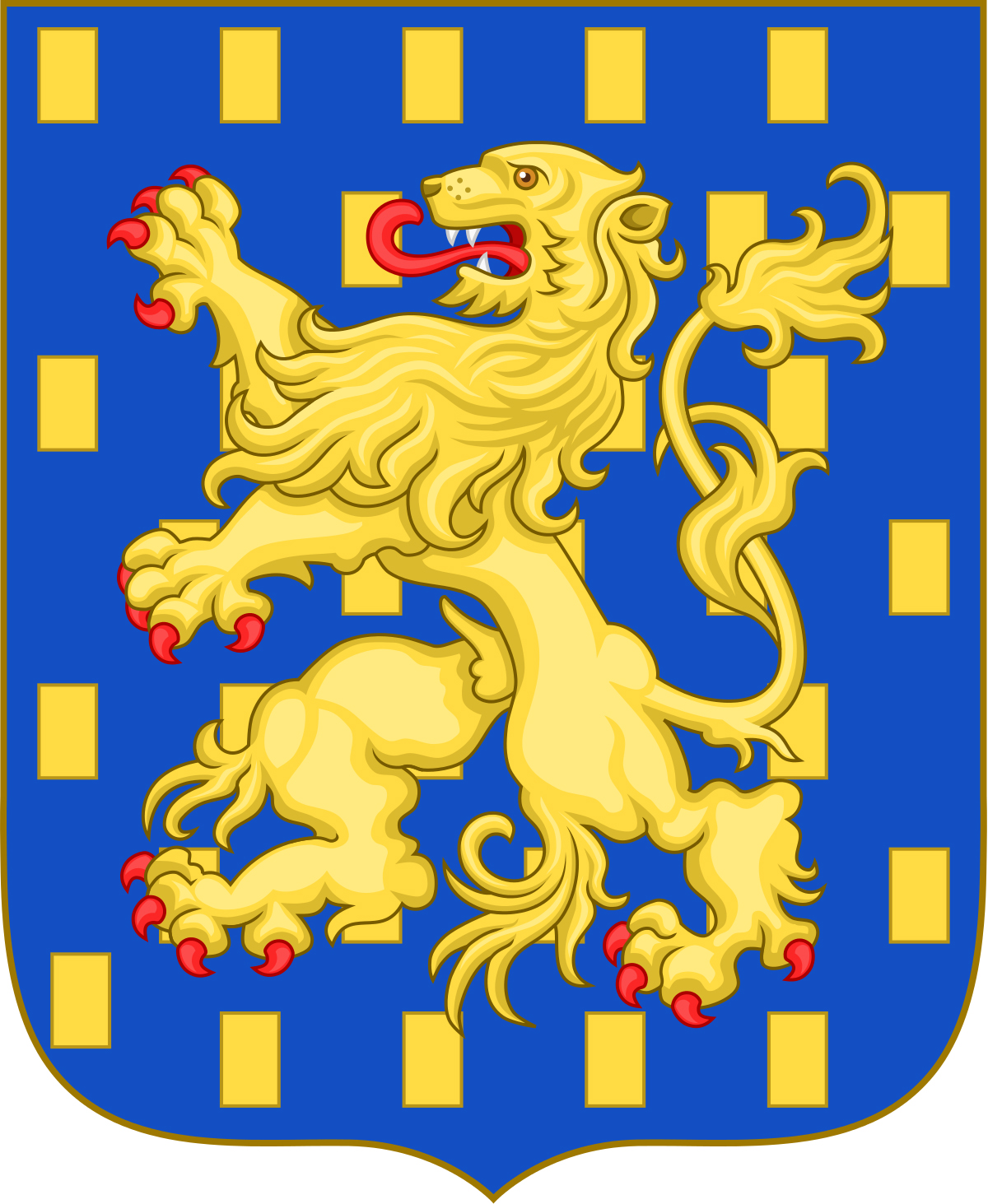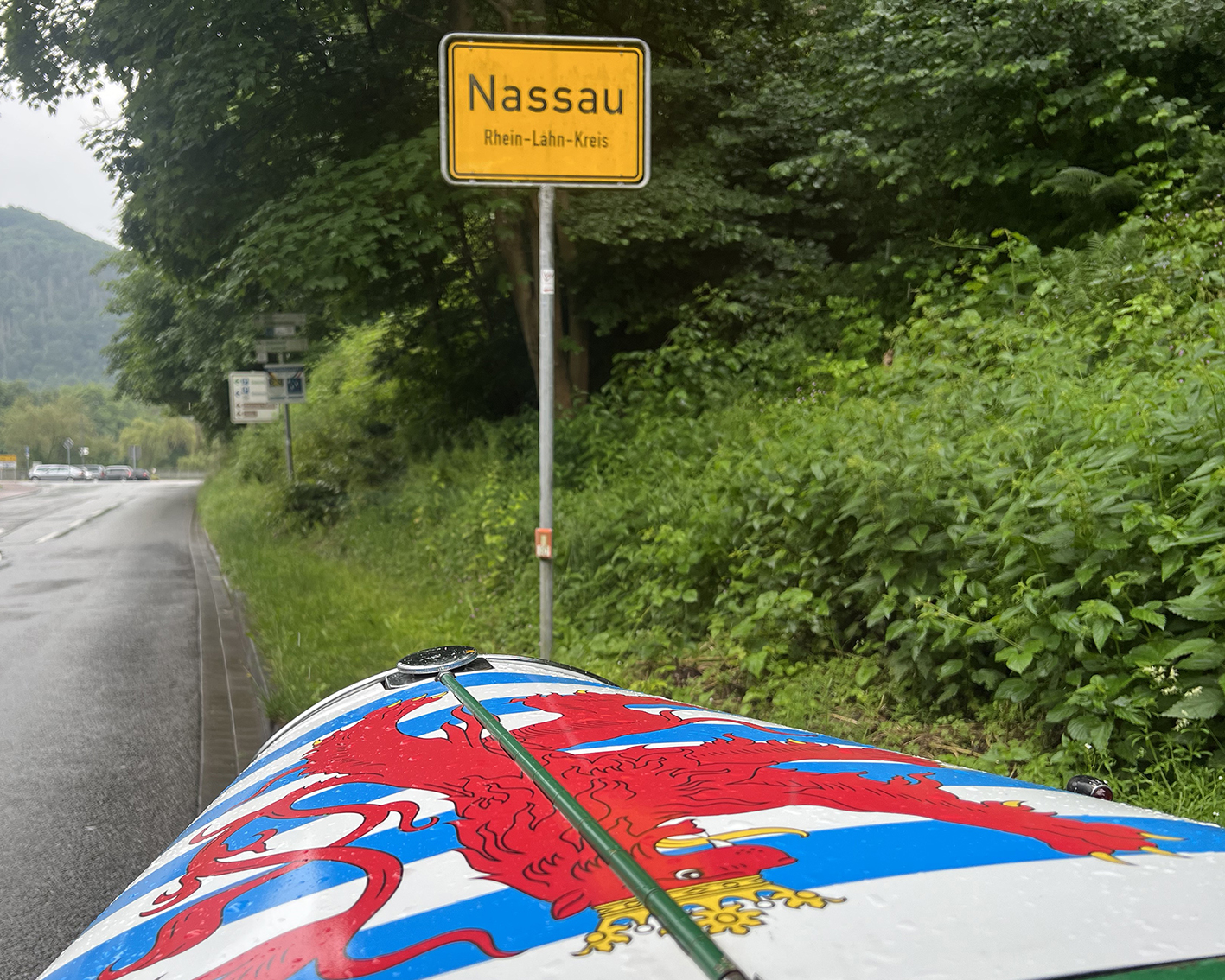 Arrêt-déjeuner à la Wambacher Mühle, où sont exhibées des pierres de meule de tailles et de provenances diverses. La plus surprenante est celle façonnée à partir d'une pierre tombale juive il y a quatre siècles… / We stop for lunch at the Wambacher Mühle, where millstones of various sizes and origins are put on display. The most surprising is one fashioned from a Jewish tombstone four centuries ago…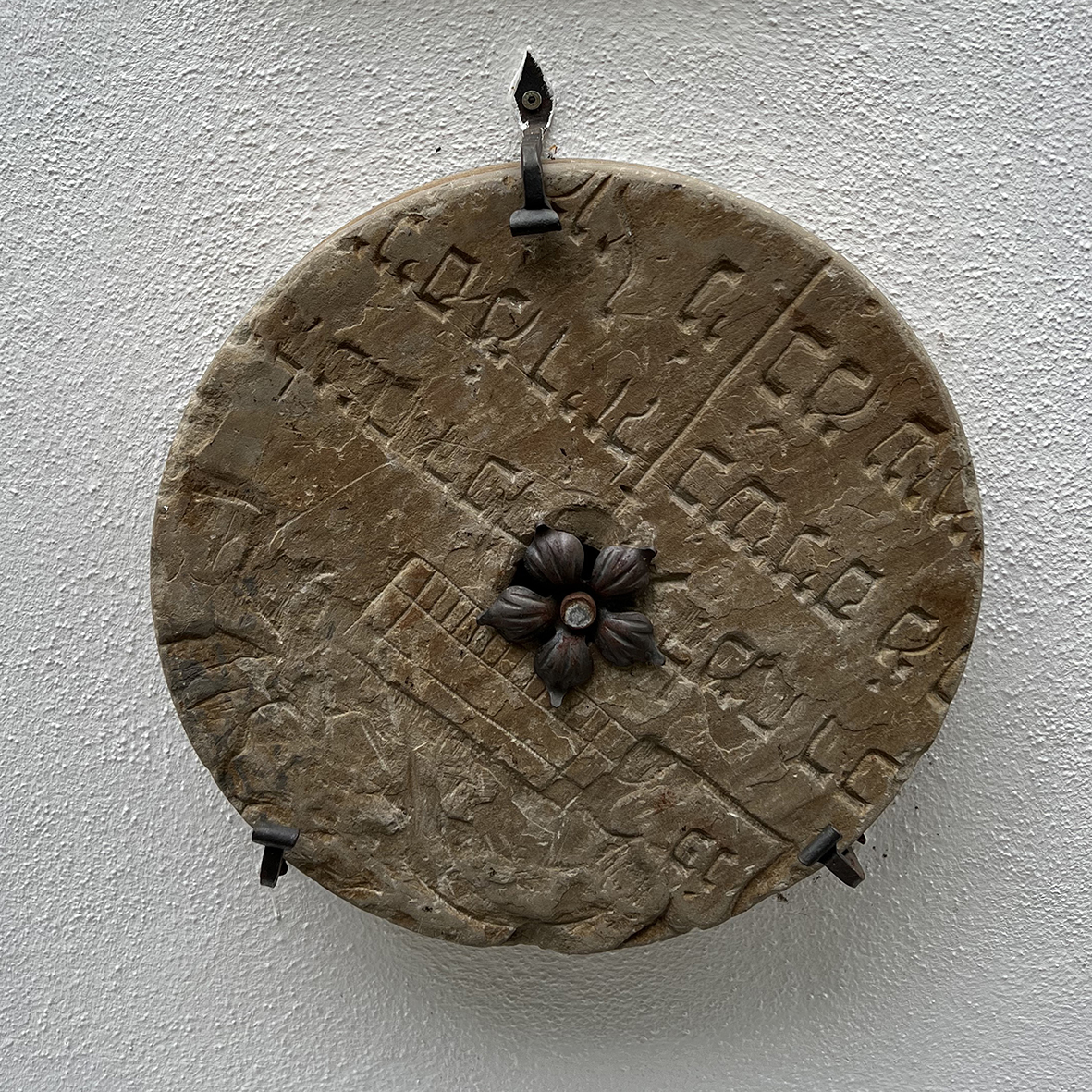 Dans l'après-midi nous bouclons nos premiers 1000 km. On quitte la route pour savourer ce moment. Marie-Xavier est tout sourire d'avoir tenu le coup jusqu'ici! / In the afternoon we complete our first 1000 km. We leave the road to savor this moment. Marie-Xavier is all smiles to have held on so far!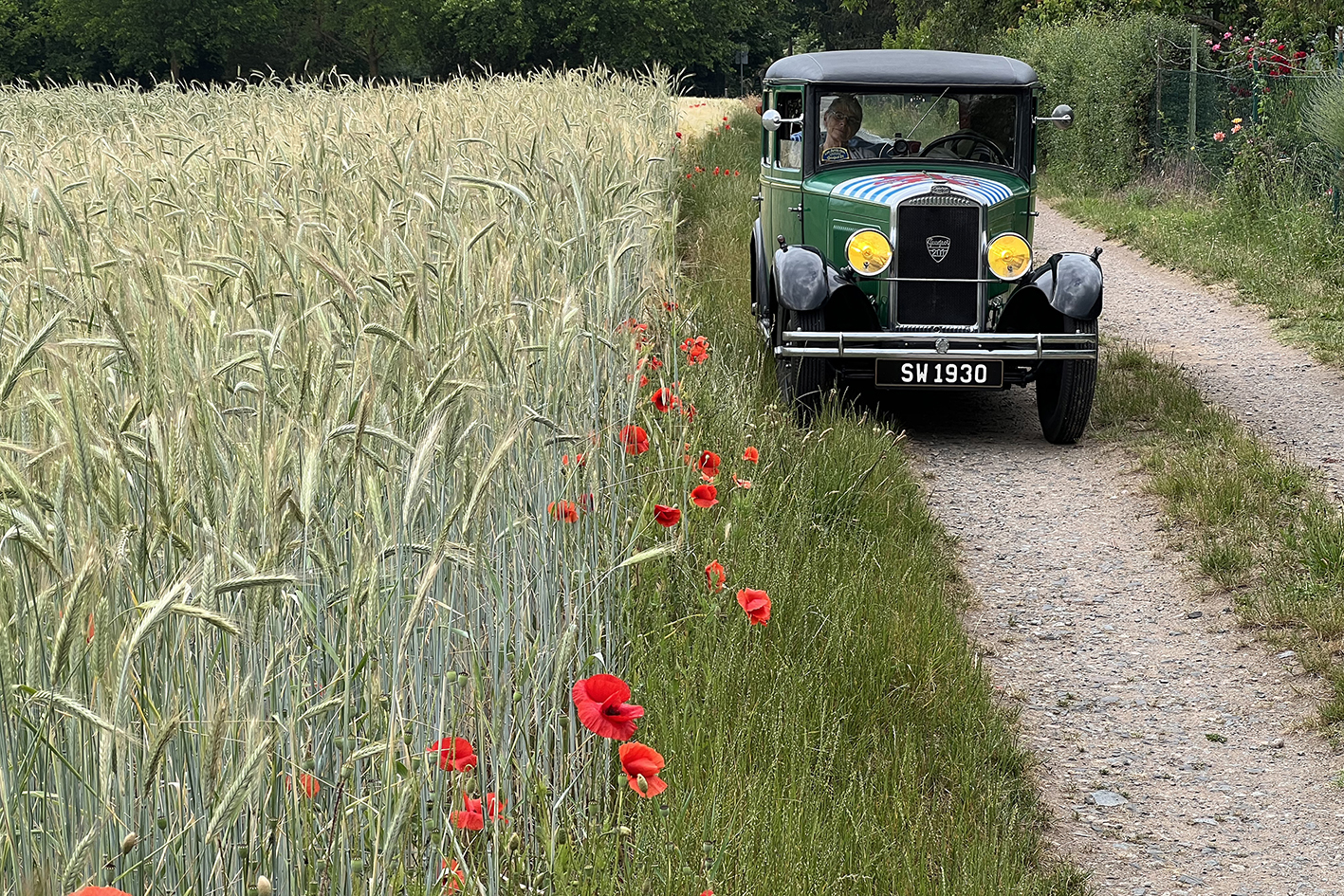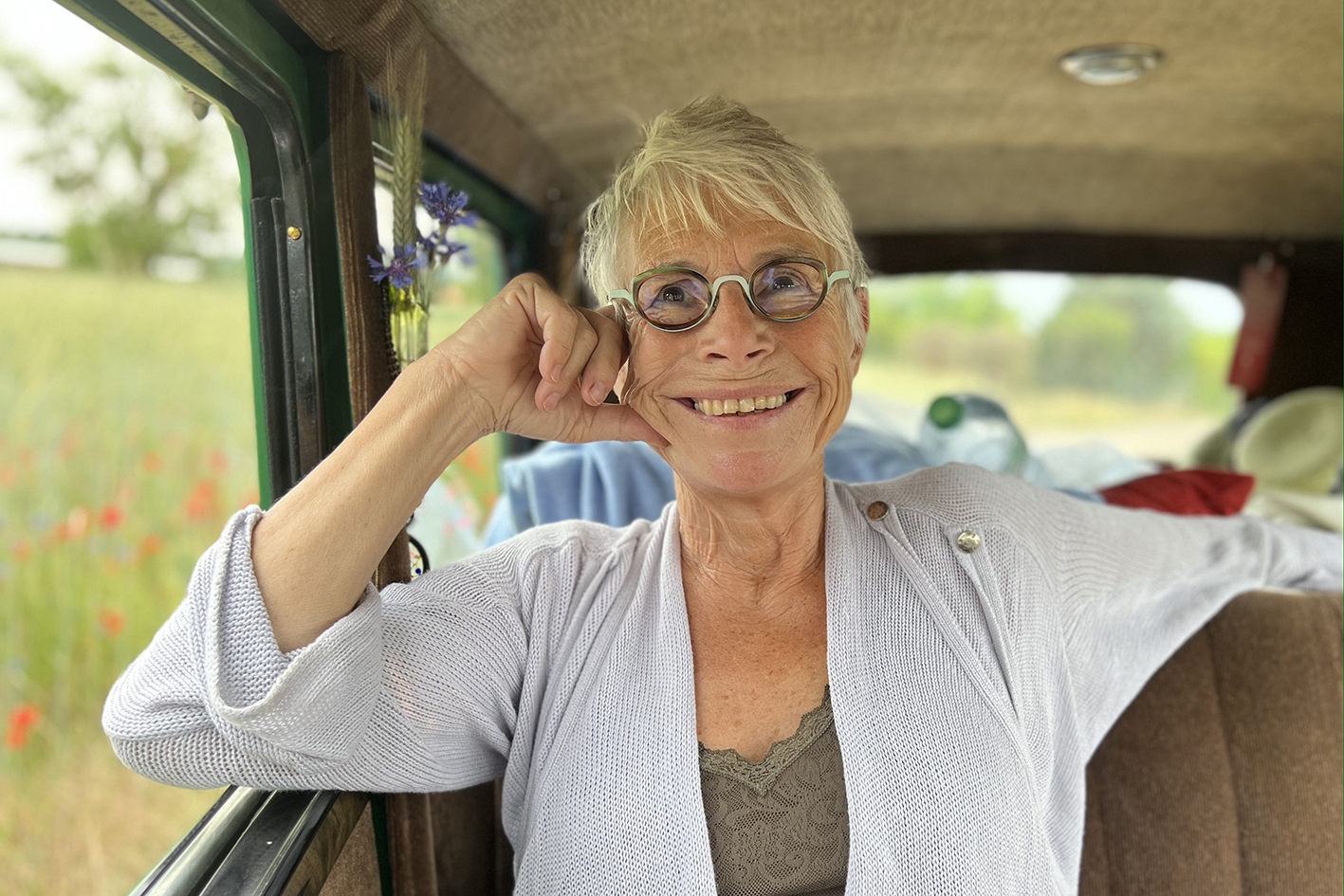 Peu de temps après, un bruit effroyable sous le capot ! C'est le joint entre le collecteur et le tuyau d'échappement qui a lâché. Pas très compliqué à réparer, mais nous sommes le dimanche de Pentecôte et personne ne travaille avant mardi. Je resserre un peu les boulons en attendant de pouvoir remédier au problème. / Shortly after, a terrible noise under the hood! It's the gasket between the manifold and the exhaust pipe that failed. Not very complicated to fix, but it's Pentecost Sunday and no one works before Tuesday. I tighten the bolts a little while waiting to be able to repair the problem.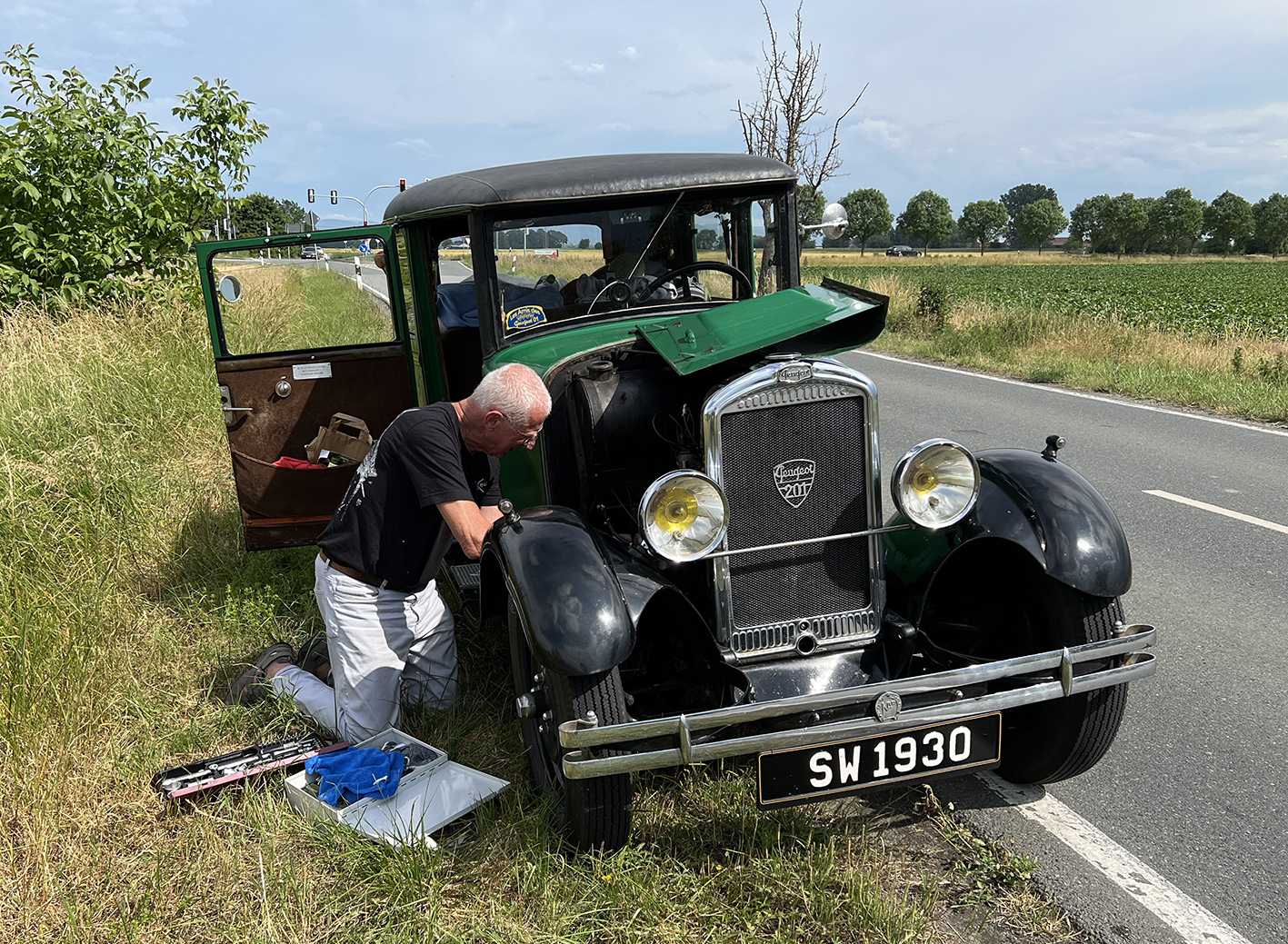 Le soleil, qui s'est montré brièvement, disparaît à nouveau derrière des nuages noirs. Bientôt, un orage et des pluies diluviennes s'abattent sur nous. / The sun, which appeared briefly, disappears again behind black clouds. Soon, we drive through a storm and torrential rains.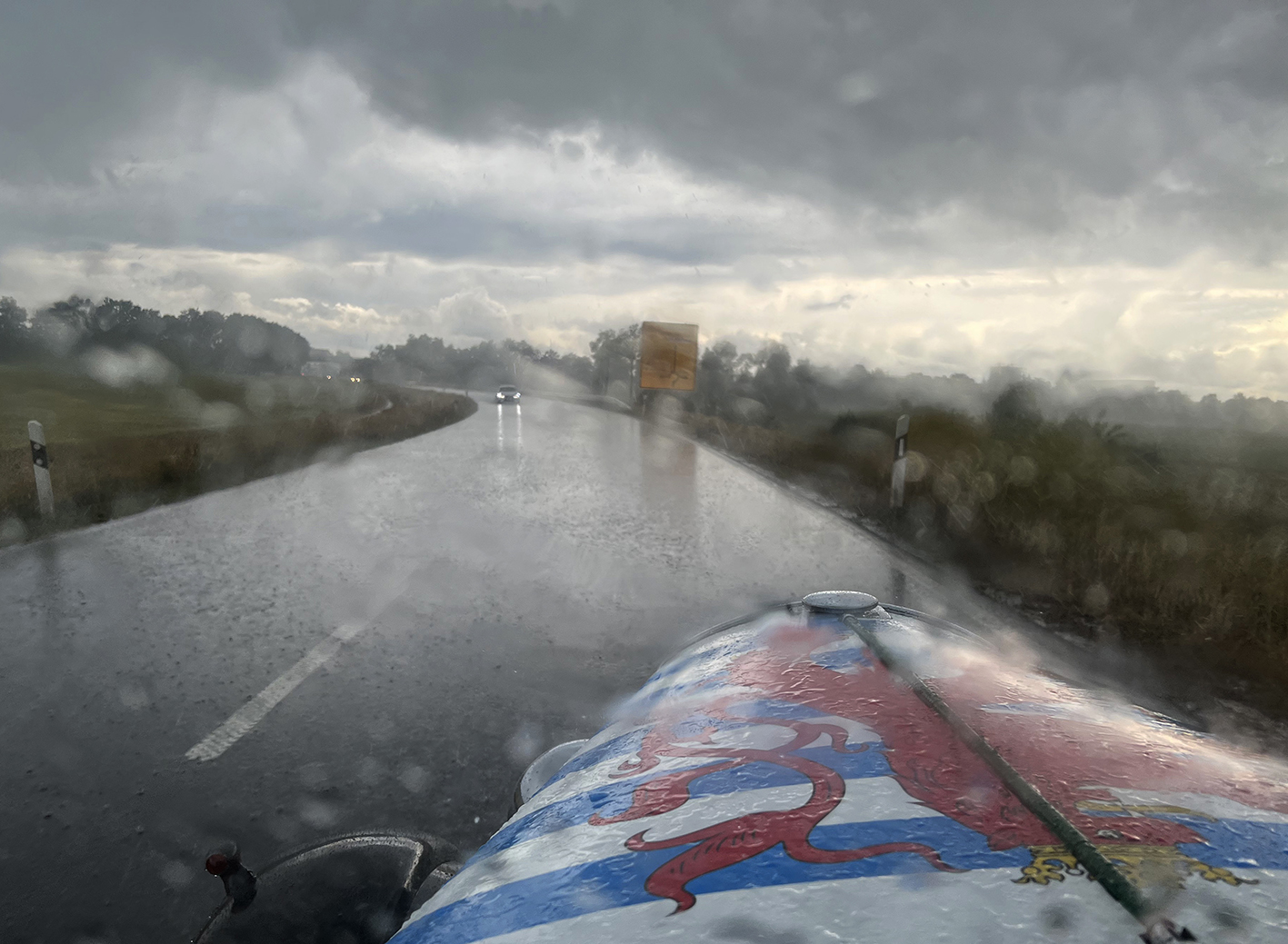 Nous arrivons à Heidelberg, où nous sommes accueillis très chaleureusement par Barbara, une de mes anciennes élèves, son mari Freddy et ses enfants Ayla et Sam. Cela fait 30 ans que je n'avais pas revu Barbara ! On a plein de choses à se raconter… / We arrive in Heidelberg, where we are welcomed very warmly by Barbara, one of my former students, her husband Freddy and her children Ayla and Sam. It has been 30 years since I have seen Barbara! We have a lot to talk about…
4 juin 2022. De Duisburg à Remagen (143 km)

/ June 4th, 2022. From Duisburg to Remagen (143 km)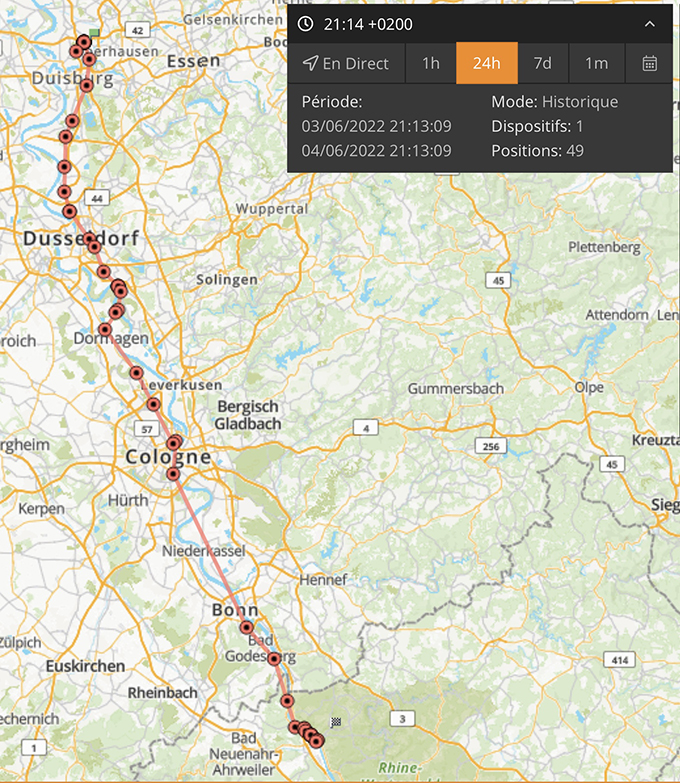 La Révolution industrielle commença en Angleterre grâce à l'invention de la machine à vapeur de l'écossais James Watt (1769). Elle trouva d'abord son application dans l'industrie textile, puis dans la fabrication de la fonte et de l'acier avant de s'étendre à d'autres domaines. La Grande Bretagne restait pionnière dans ces domaines et son industrie naissante dominait le monde. Ce n'est que vers 1850 que l'Allemagne commença à s'industrialiser réellement. La région de la Ruhr, riche en houille, était bien placée. Grâce à la machine à vapeur, les couches profondes devenaient accessibles, l'eau souterraine pouvant être évacuée grâce aux pompes actionnées par des machines à vapeur. Celles-ci permettaient également aux mineurs d'être descendus et remontés dans les puits. La rivière Ruhr permettait d'acheminer le charbon vers les hauts-fourneaux, et le Rhin allait permettre le transport des produits industriels allemands vers le monde. On y fabriquait des rails, des locomotives, mais de 1859 à 1945, la Ruhr était avant tout le site principal de l'industrie de guerre allemande. Les usines Krupp à Essen, et Thyssen à Duisburg sont parmi les plus connues. / The Industrial Revolution began in England with the invention of the steam engine by Scotsman James Watt (1769). It first found its application in the textile industry, then in the manufacture of cast iron and steel before extending to other fields. Great Britain remained a pioneer in these fields and its nascent industry dominated the world. It was not until around 1850 that Germany really began to industrialise. The coal-rich Ruhr region was well placed. Thanks to the steam engine, the deeper coal layers became accessible, the underground water being able to be evacuated thanks to the pumps activated by steam engines. These also allowed miners to be lowered and ascended into the shafts. The Ruhr river made it possible to transport coal to the blast furnaces, and the Rhine would allow the transport of German industrial products to the world. Rails and locomotives were manufactured there, but from 1859 to 1945, the Ruhr was above all the main site of German war industry. The Krupp factories in Essen and Thyssen in Duisburg are among the best known.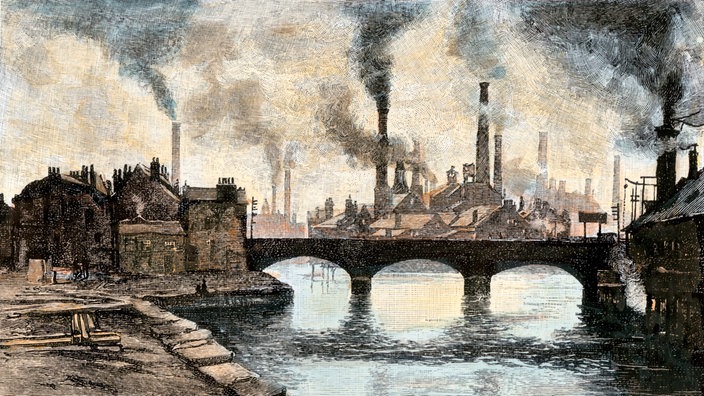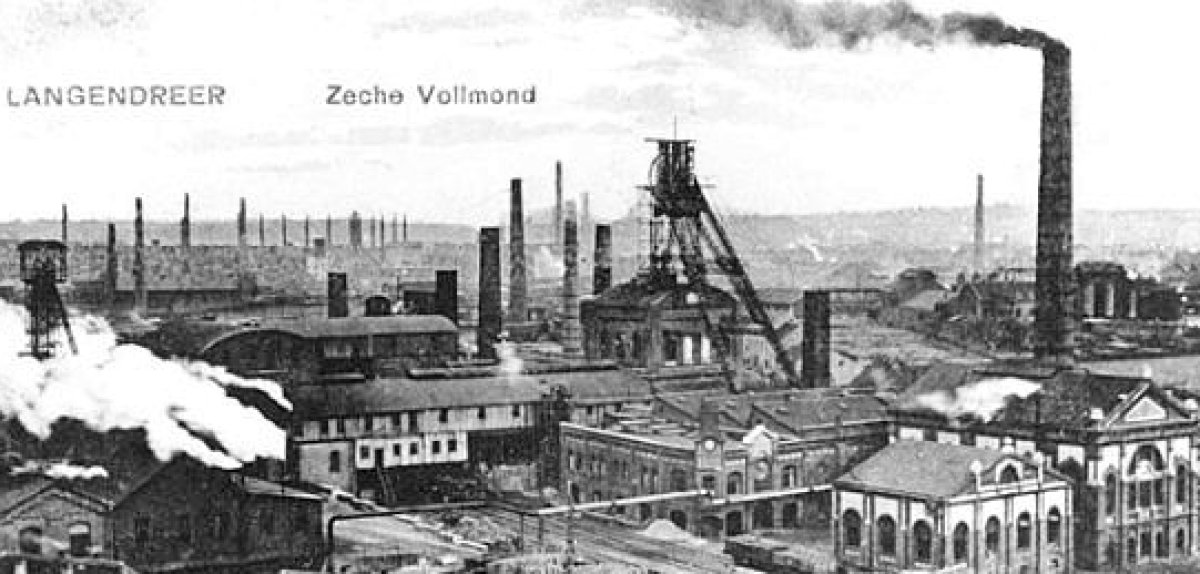 C'est à Duisburg, justement, que je visite un ancien terrain industriel devenu musée de plein air, avec ses hauts-fourneaux et ses cheminées. Un paysage industriel impressionnant ! / It is in Duisburg, precisely, that I visit a former industrial site that has become an open-air museum, with its blast furnaces and chimneys. An impressive industrial landscape!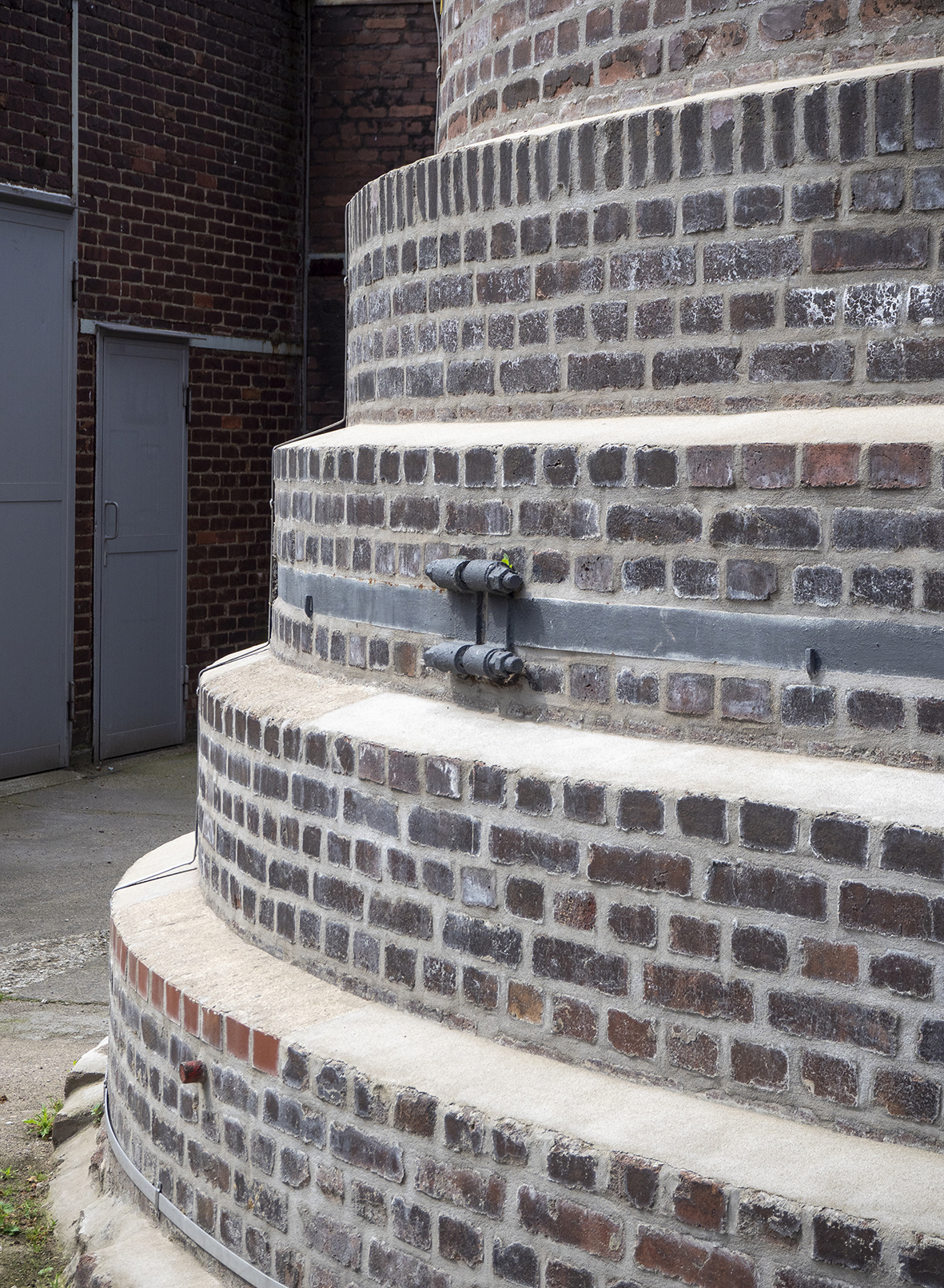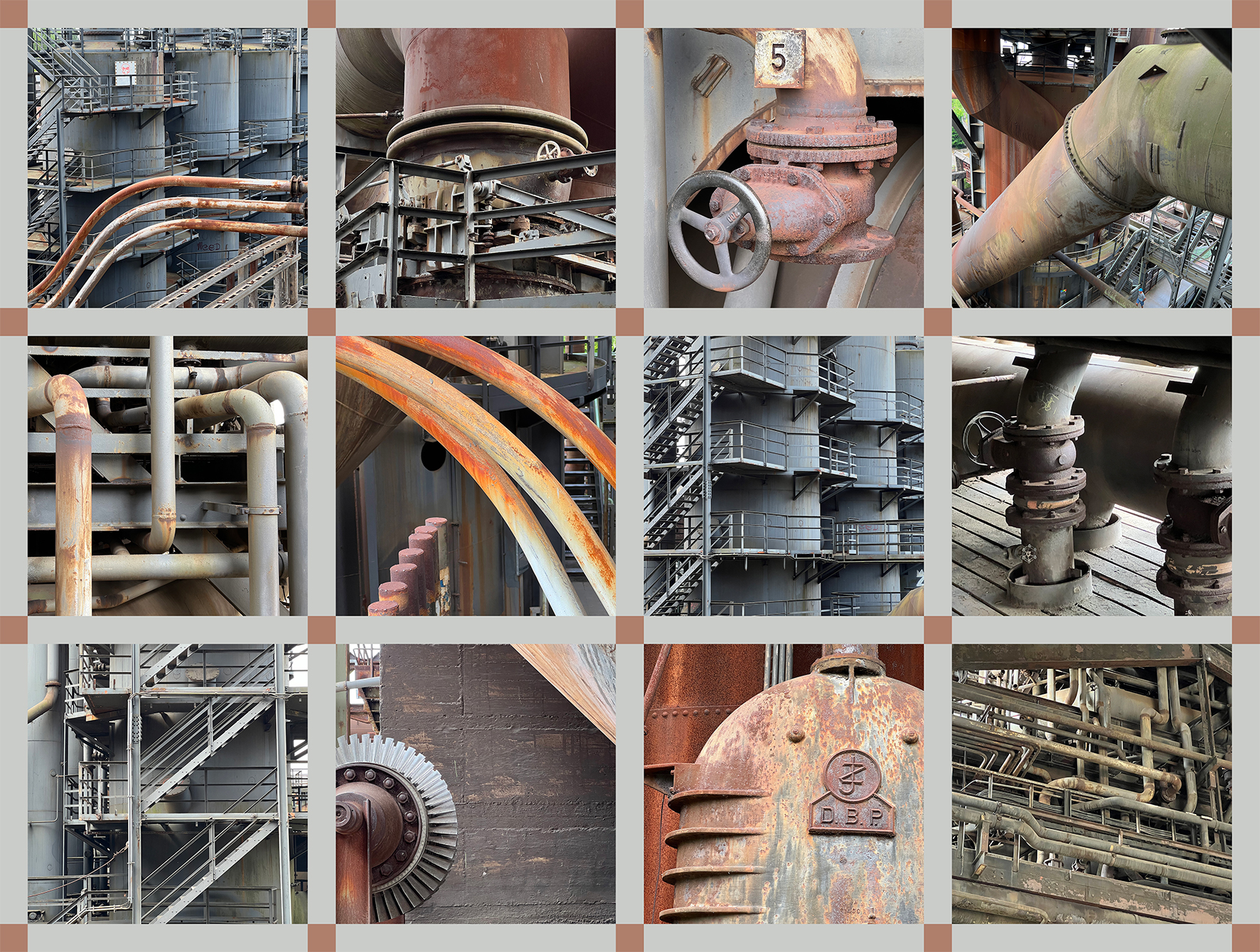 Au milieu de ces structures de fer, de briques et de béton, je rencontre deux jeunes femmes aux accoutrements bizarres, qui posent pour un photographe. Elles représentent des personnages de mangas et elles me permettent de faire quelques photos. / In the middle of these iron, brick and concrete structures, I come across two young women in bizarre getups, posing for a photographer. They represent manga characters and allow me to take some pictures as well.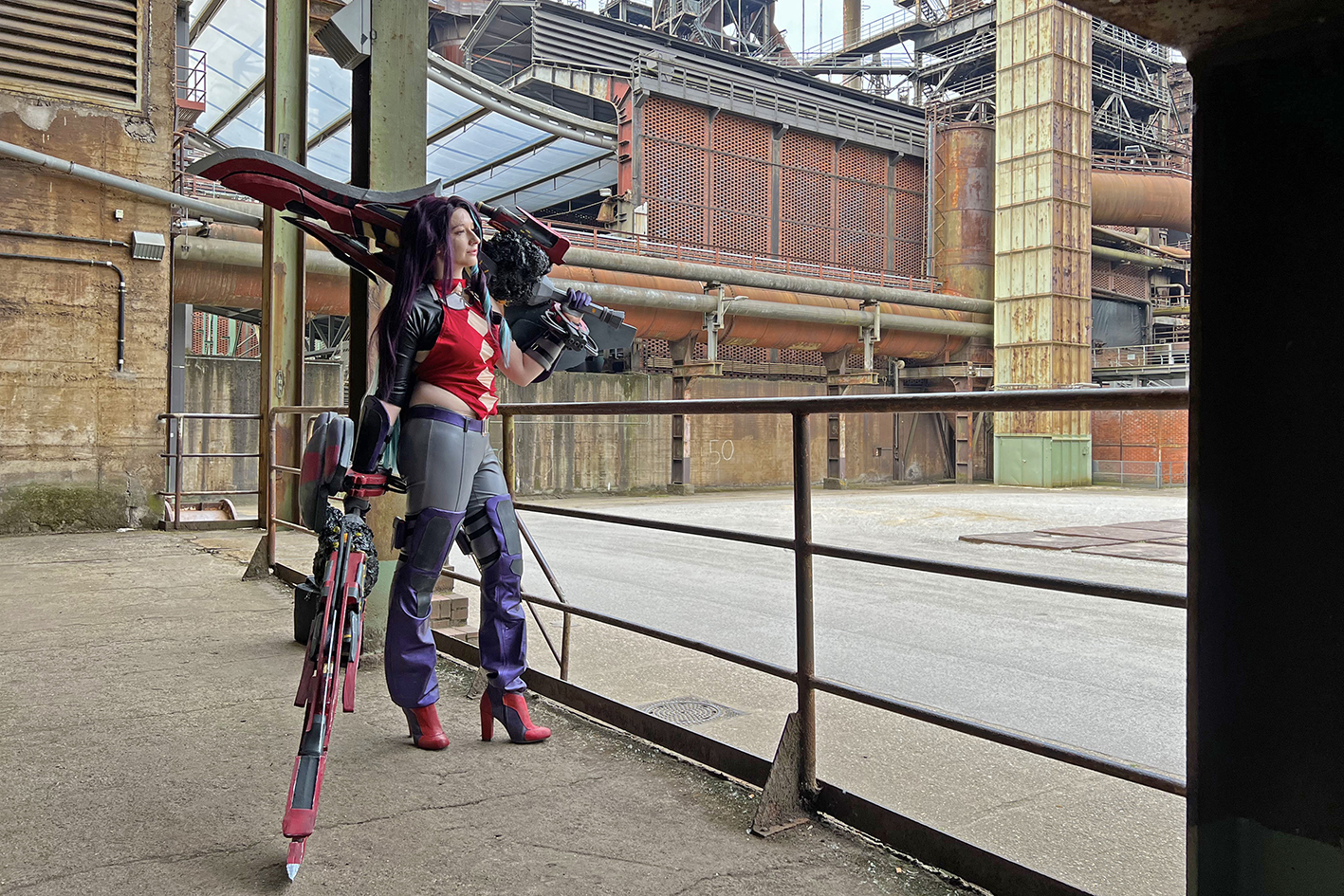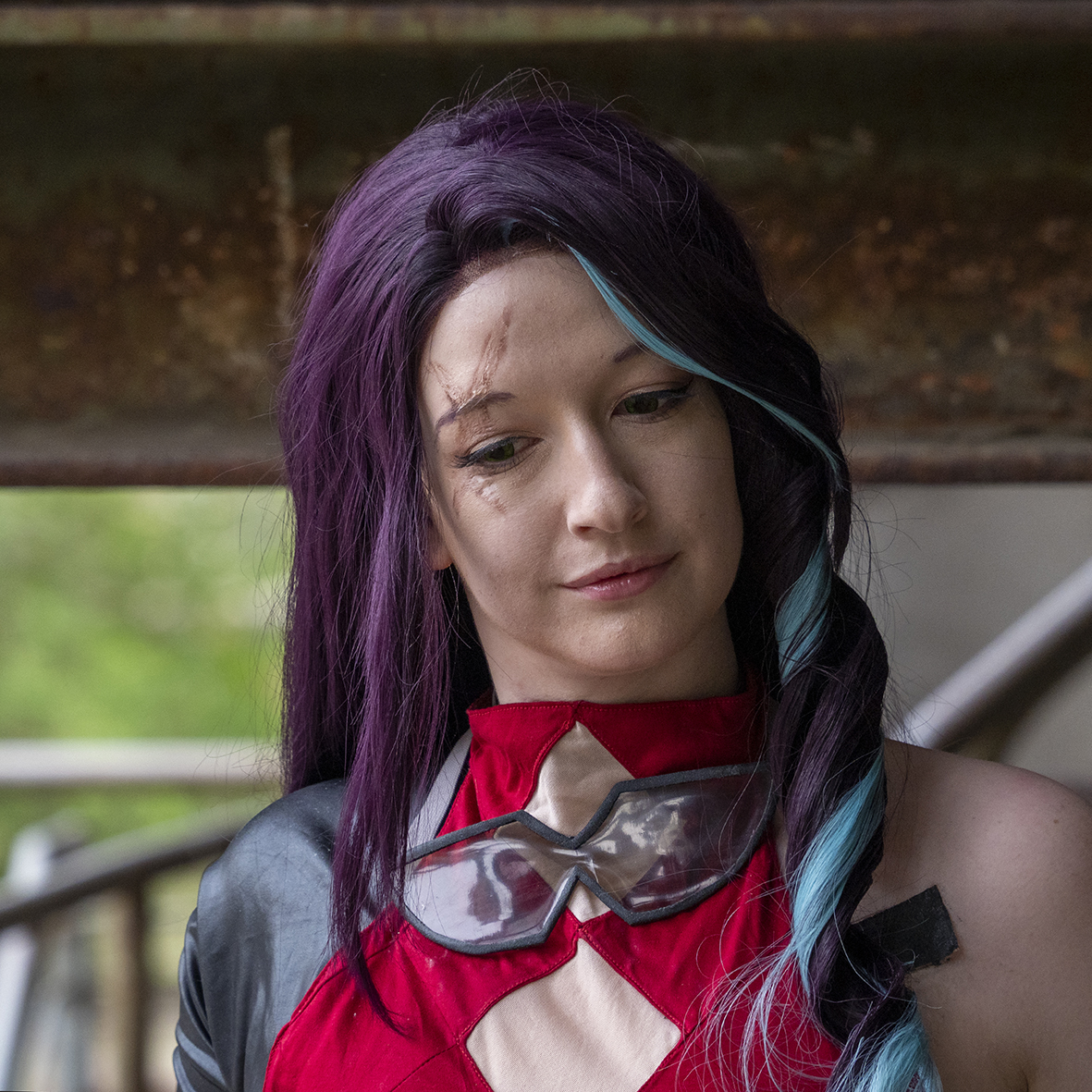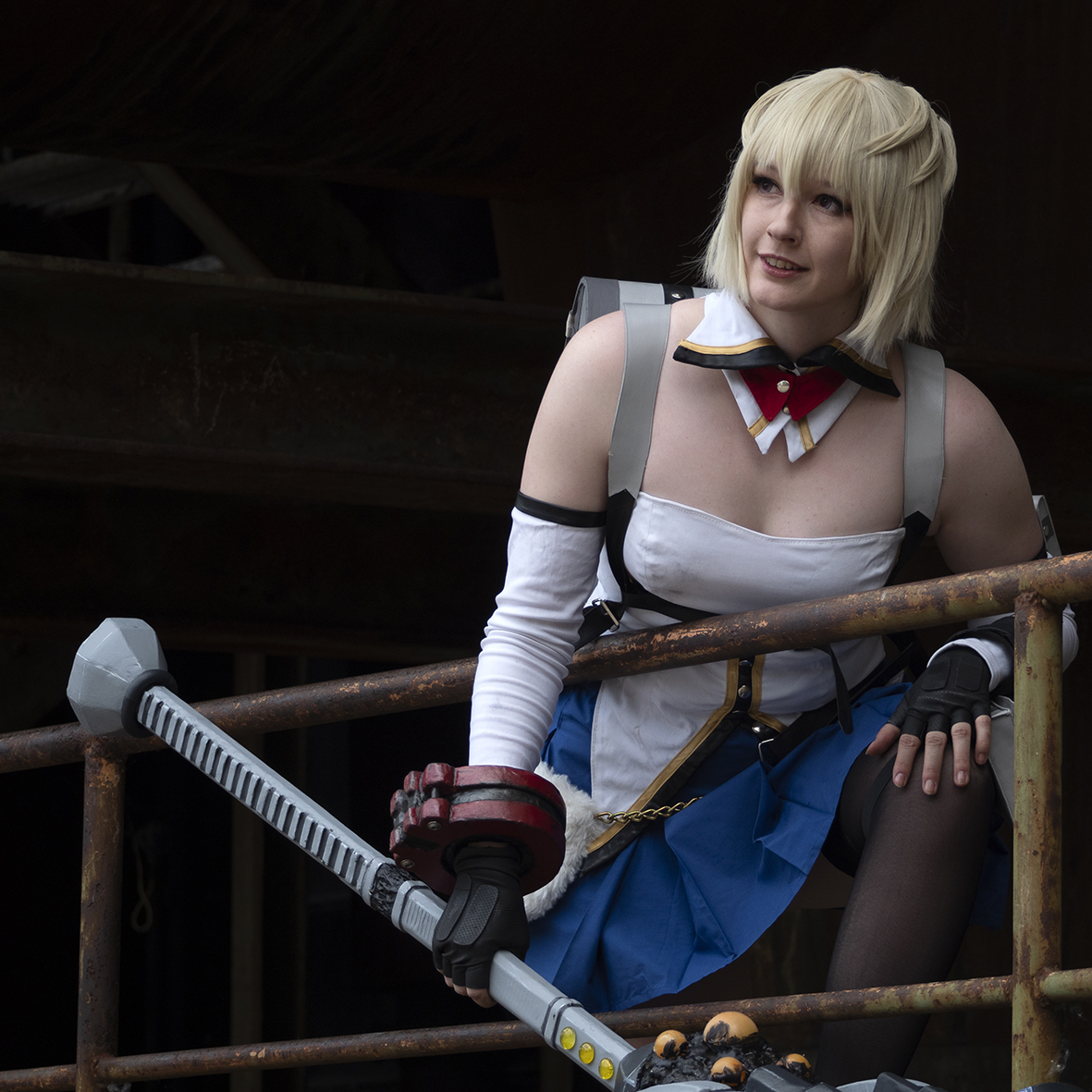 Lorsque, une heure de route plus loin, nous arrivons à Düsseldorf, nous voyons des centaines de jeunes aux déguisements bariolés qui se dirigent vers les bâtiments de la foire d'expositions. Fondée il y a plus de 10 ans, DoKomi est l'une des conventions les plus importantes de la scène européenne des fans de manga. On se croirait dans une bande dessinée ! / When, an hour's drive later, we arrive in Düsseldorf, we see hundreds of young people in bizarre disguises heading towards the fairground buildings. Founded over 10 years ago, DoKomi is one of the most important conventions for the European anime, manga or Japan fan scene. It feels like being in a movie!
Un peu plus loin, nous retrouvons le calme du Rhin et pendant notre pique-nique nous observons les péniches remontant laborieusement le courant, ou, au contraire, glissant avec aisance vers l'aval. / A little further, we find the calm of the Rhine and during our picnic we observe the barges laboriously going up the current, or, on the contrary, gliding with ease downstream.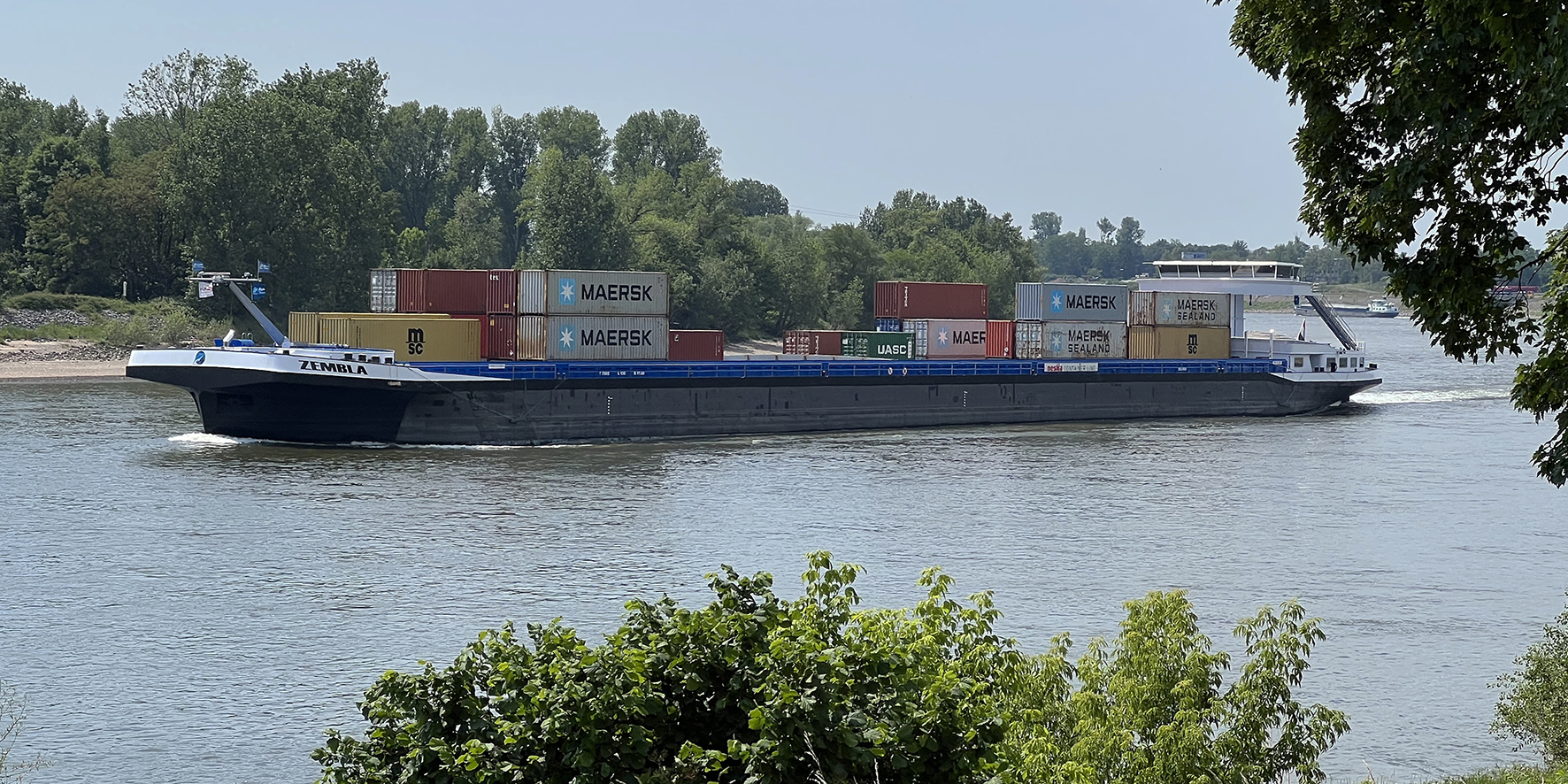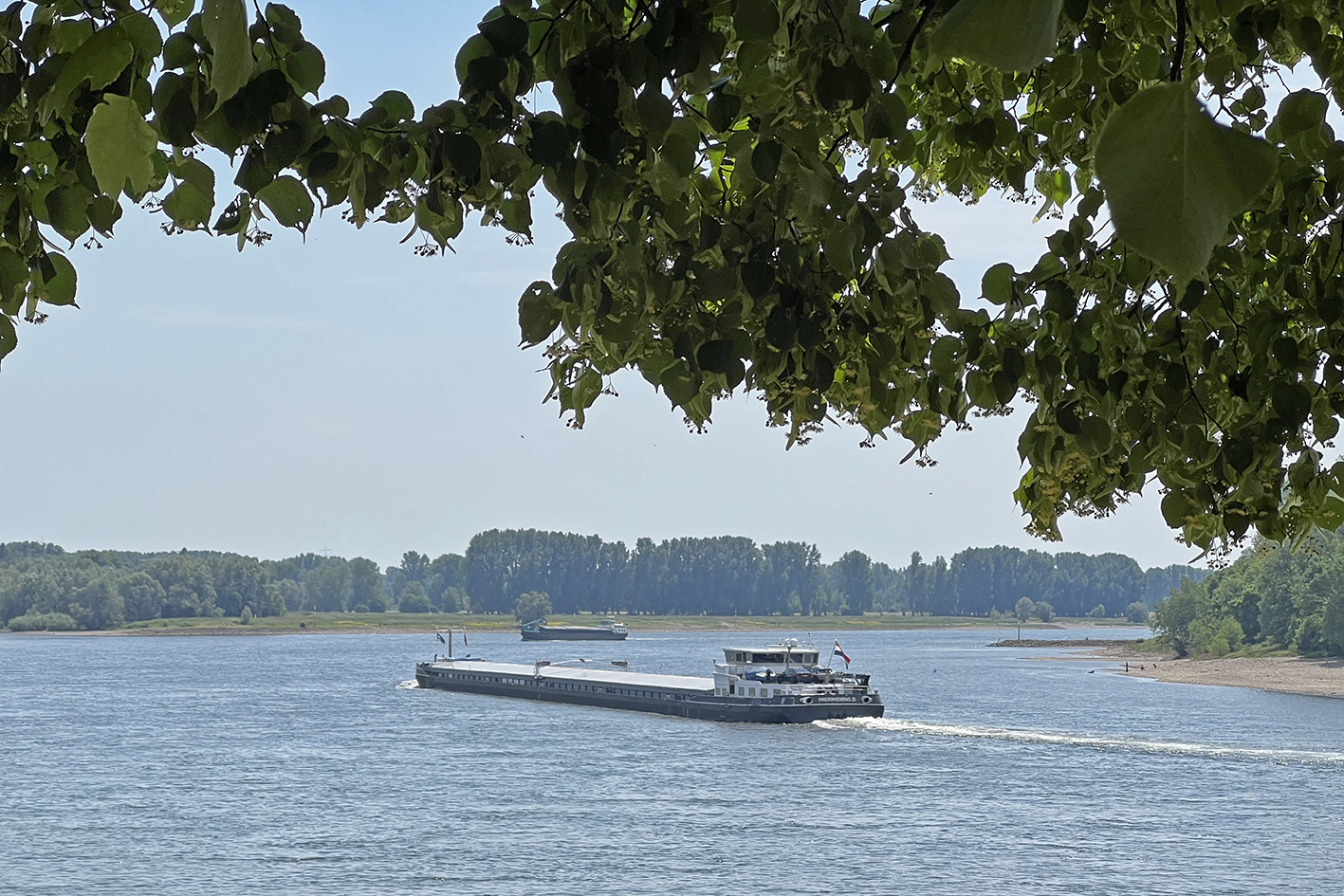 Nous arrivons à un rond-point dominé par un globe terrestre. Des souvenirs surgissent. Avec « La Petite » à Krasnoyarsk en Sibérie, durant l'été de 2007 ou l'hiver de 2010. Ou encore au départ de New York en juillet 2010 au Columbus Circle. / We arrive at a roundabout dominated by a terrestrial globe. Memories arise. With "La Petite" in Krasnoyarsk in Siberia, during the summer of 2007 or the winter of 2010. Or again from New York in July 2010 at Columbus Circle.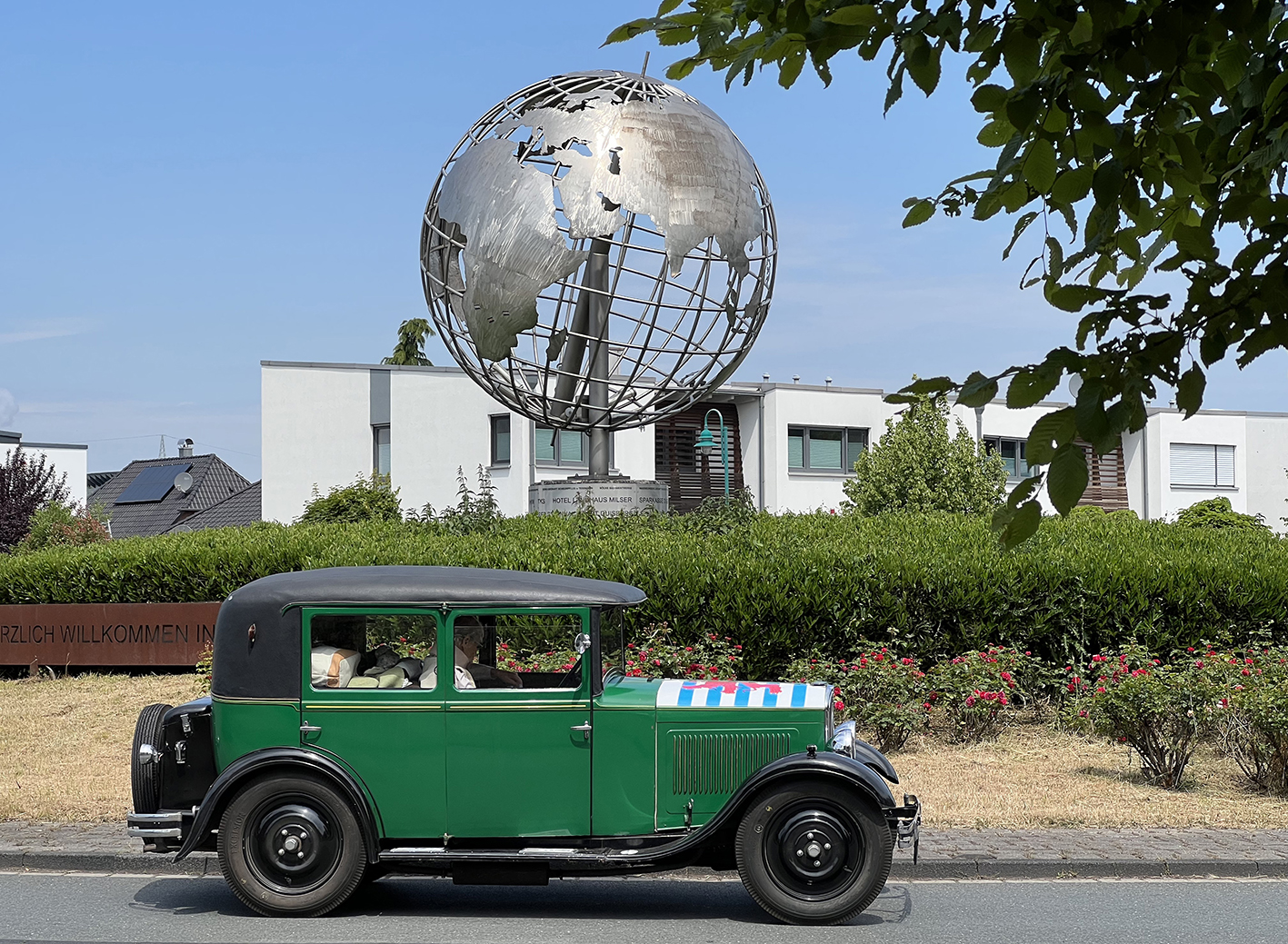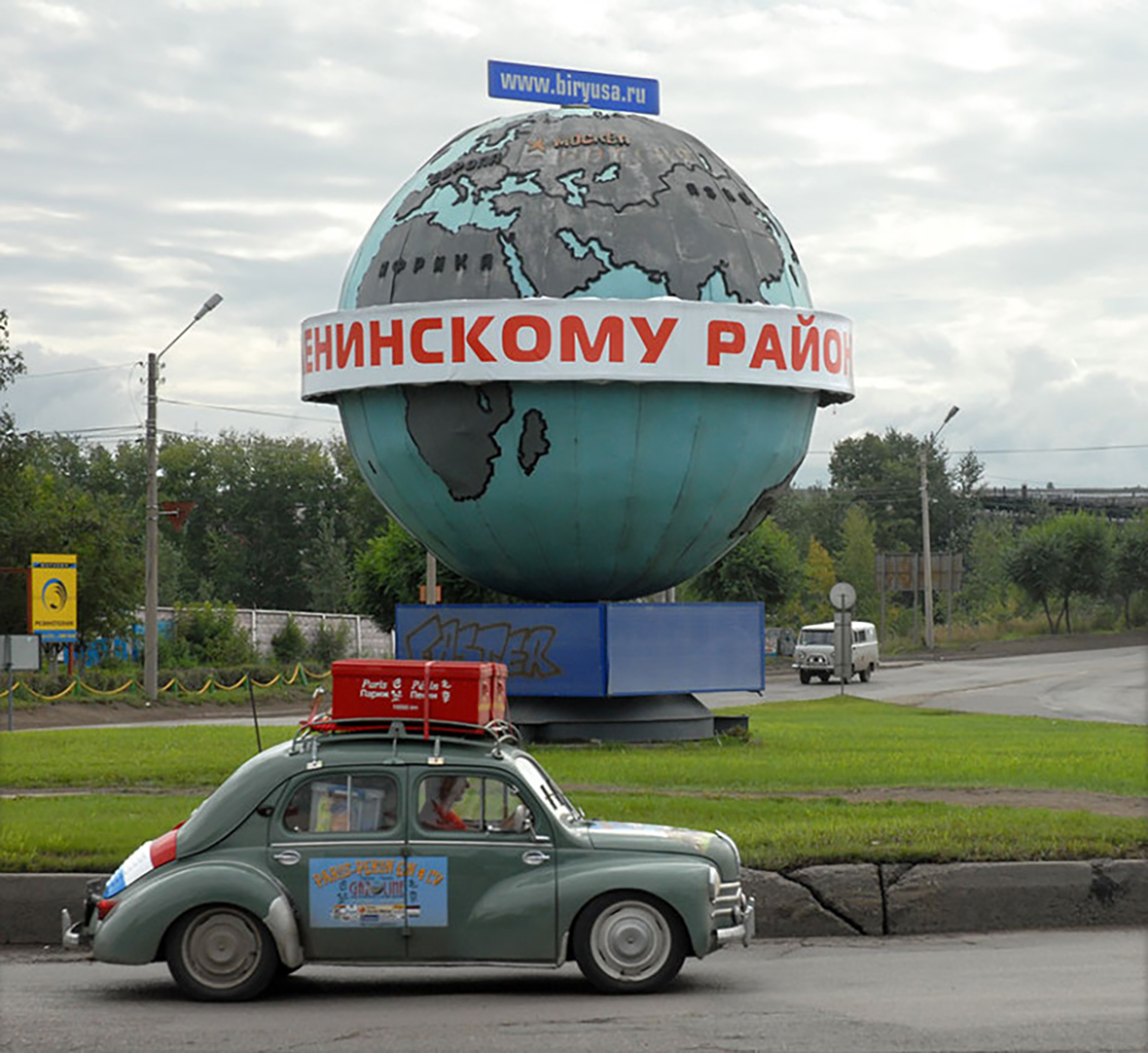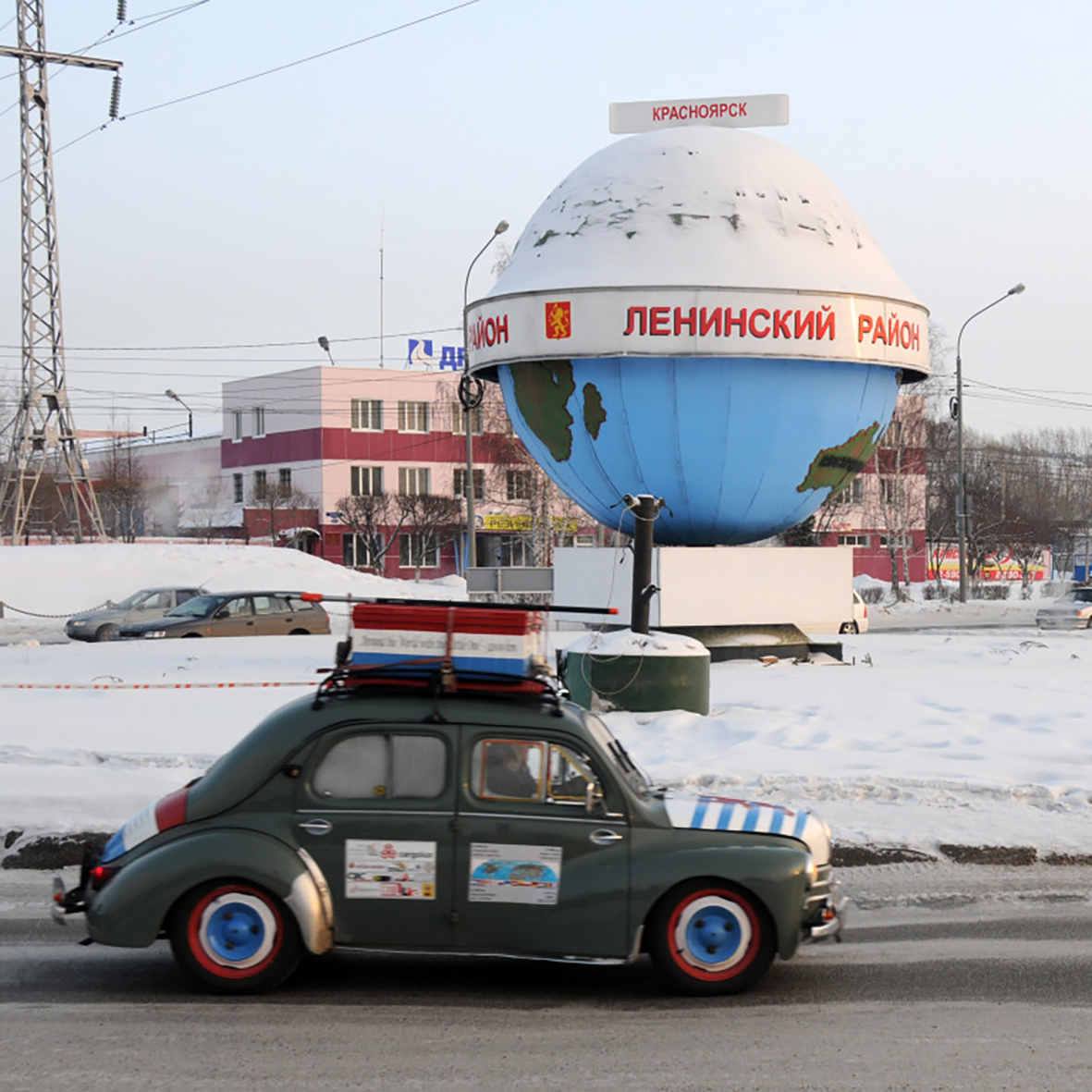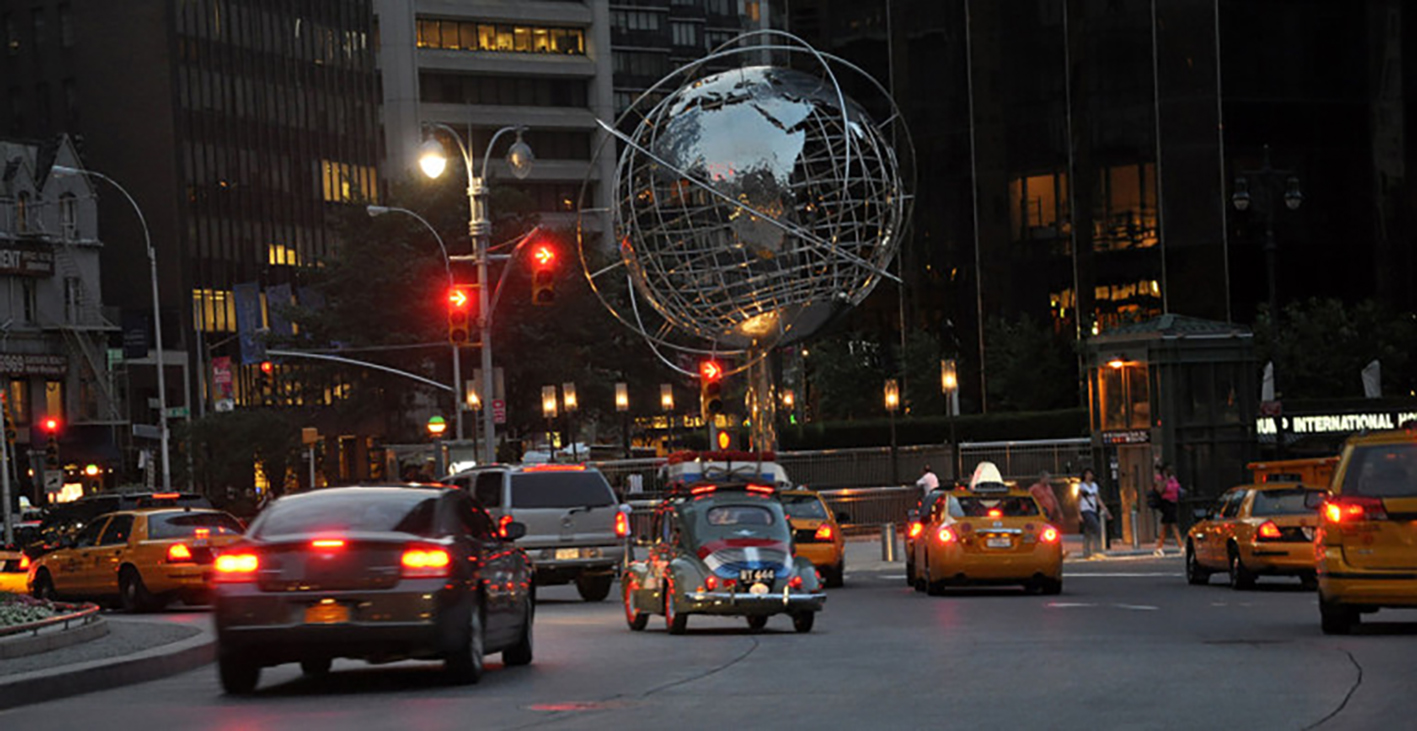 À Dormagen on prend le bac pour changer de la rive droite vers la rive gauche du Rhin. /       In Dormagen we take the ferry to change from the Rhine's right bank to the left bank.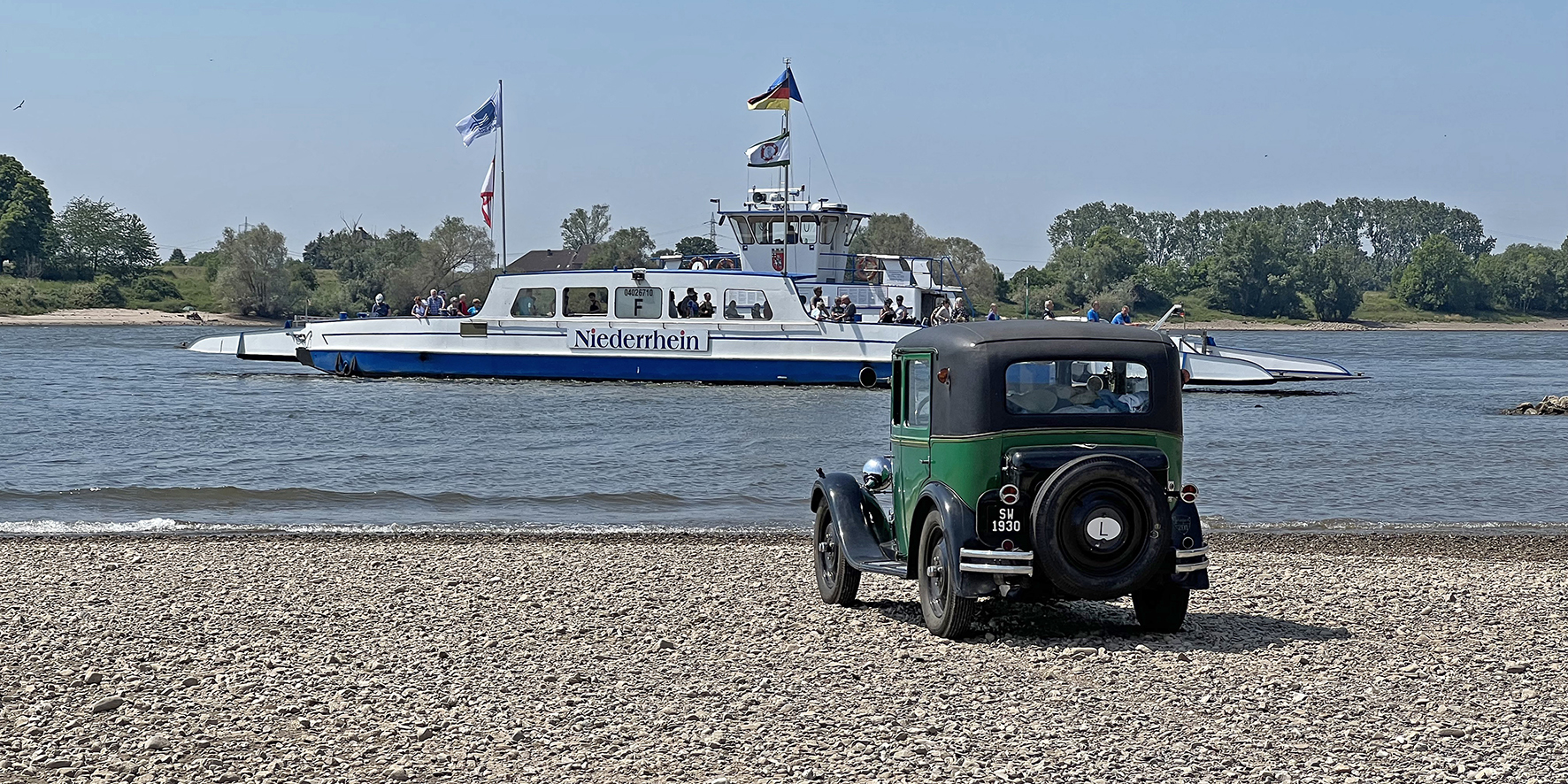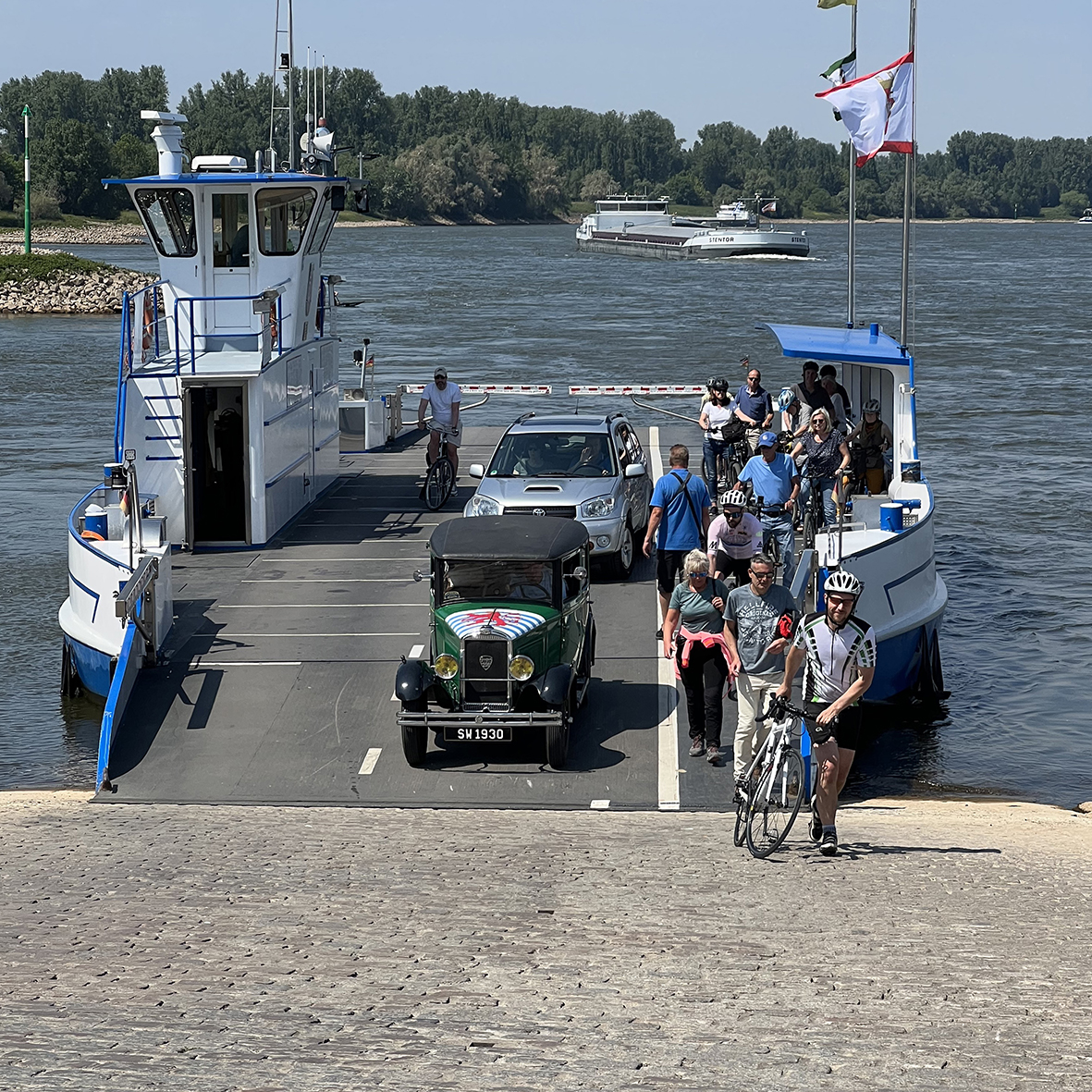 Photo : Marie-Xavier Lassauzet
Nous passons par la ville de Cologne, dominée par son immense cathédrale. / We pass through the city of Cologne, dominated by its huge cathedral.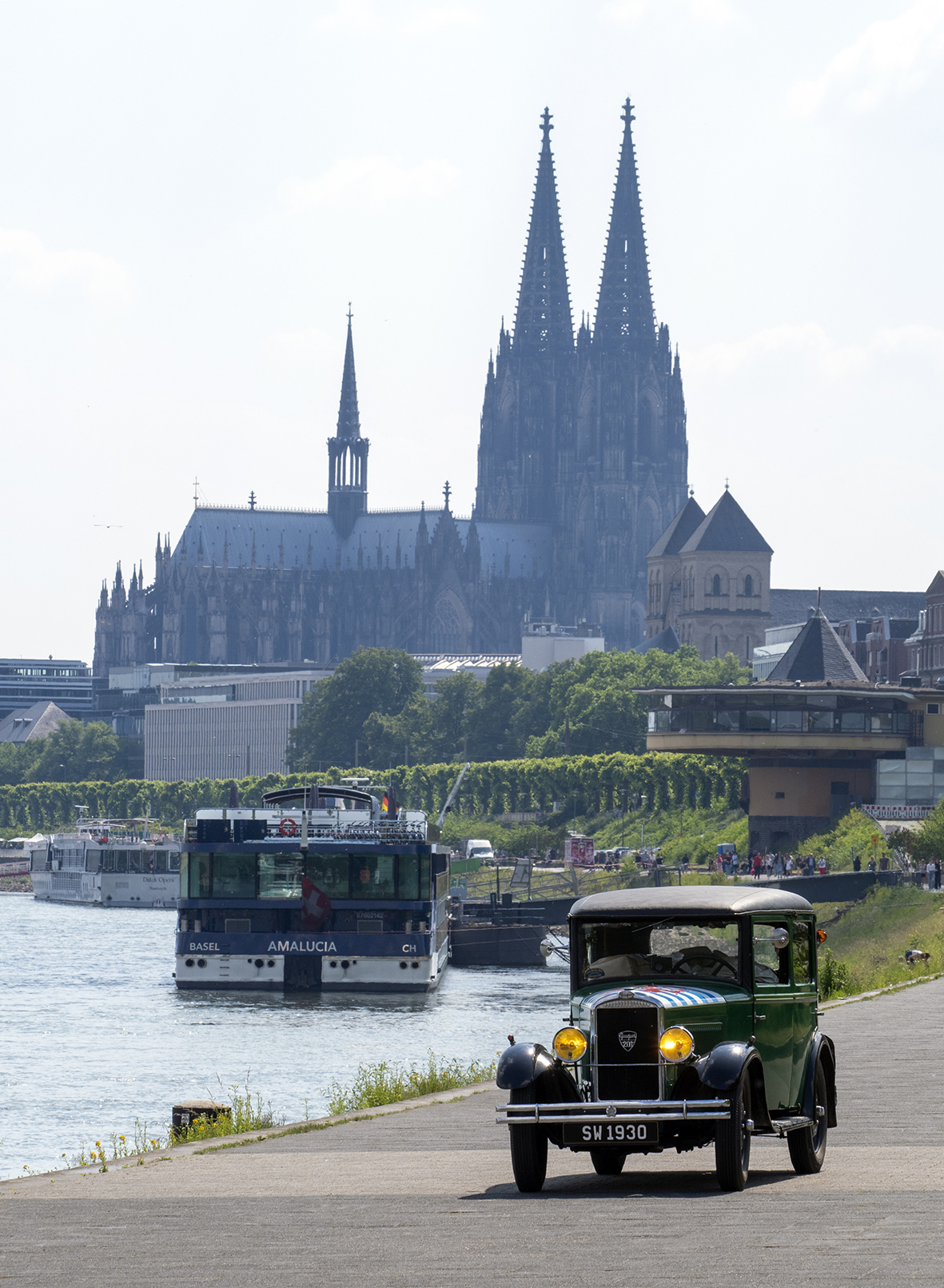 Notre étape se termine à Remagen. Cet endroit historique est le site de l'unique pont qui permit aux Alliés de traverser le Rhin (ce qui avait échoué à Arnhem). Pourquoi les Allemands n'avaient-ils pas détruit le pont ? Les opinions divergent. Pour certains, le dynamitage avait échoué pour des raisons techniques. Pour d'autres, souhaitant que la guerre se termine enfin, ils ne l'ont pas fait sauter pour faciliter l'avancée des troupes américaines… Pendant dix jours (7-17 mars 1944), un flot incessant de matériel lourd traversa le pont ferroviaire Ludendorff, nullement prévu pour de telles charges, avant de s'effondrer. Plus tard, les piliers, qui gênaient la navigation, ont été démolis. Il ne subsiste aujourd'hui que les deux tours et un moignon de pont de part et d'autre du Rhin, pour rappeler cet épisode historique. / Our stage ends in Remagen. This historic place is the site of the only bridge that allowed the Allies to cross the Rhine (which had failed at Arnhem). Why didn't the Germans destroy the bridge? Opinions diverge. For some, the blasting had failed for technical reasons. For others, wishing that the war would finally end, they did not blow it up to facilitate the advance of American troops… For ten days (March 7-17, 1944), an incessant stream of heavy equipment crossed the Ludendorff railway bridge, not intended for such loads, before it finally collapsed. Later, the pillars, which hampered navigation, were demolished. All that remains today are the two towers and a stump of a bridge on either side of the Rhine, to recall this historic episode.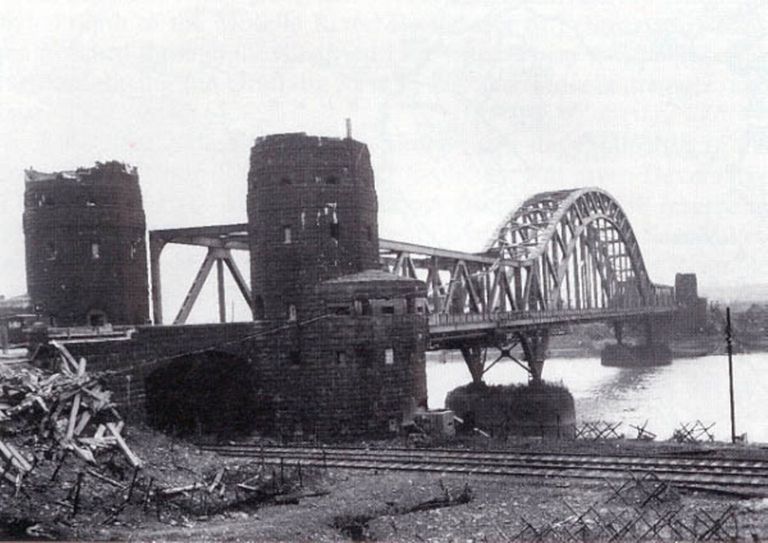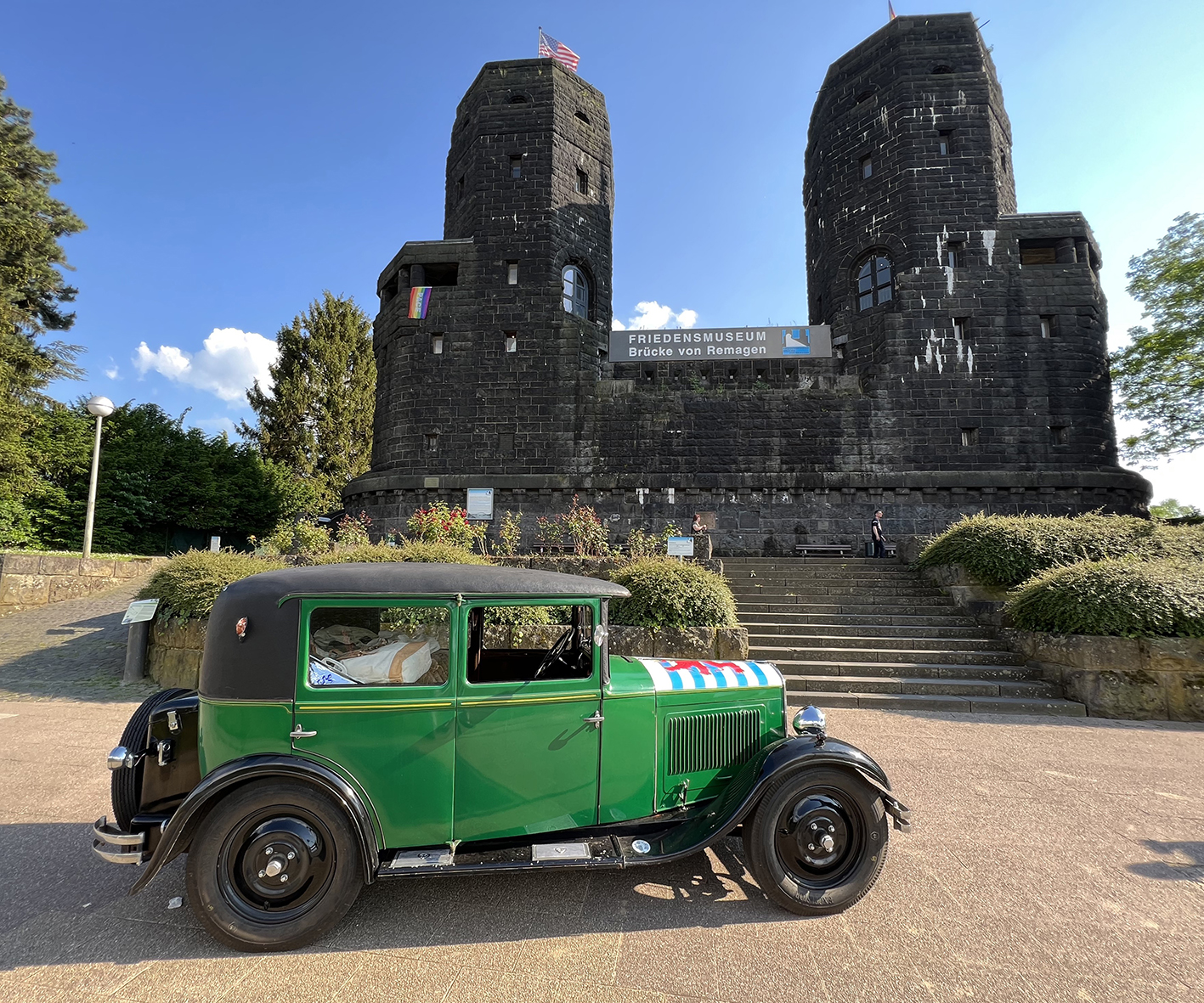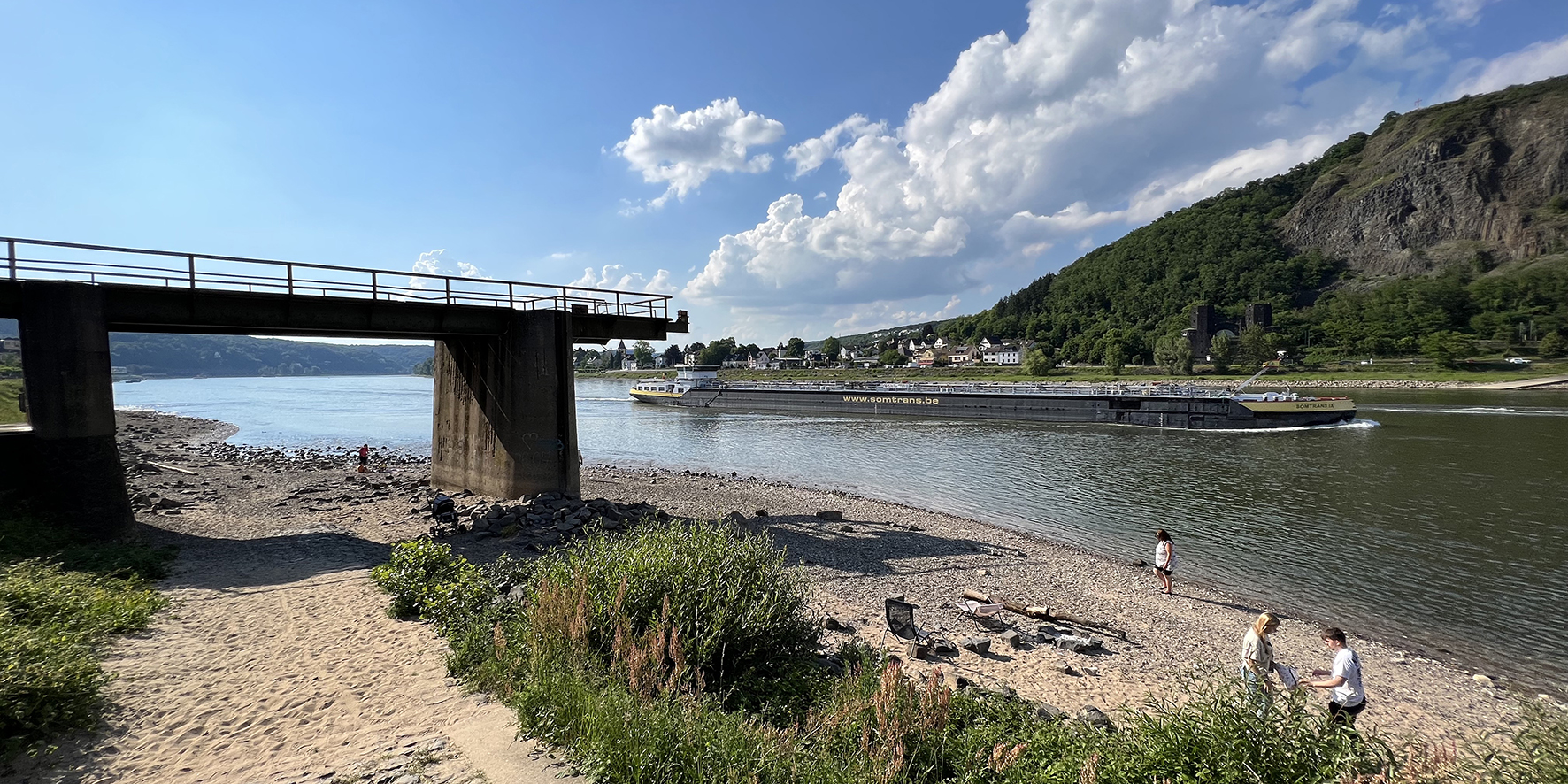 3 juin 2022. Bronkhorst-Duisburg (134 km)

/ June 3rd, 2022. Bronkhorst-Duisburg (134 km)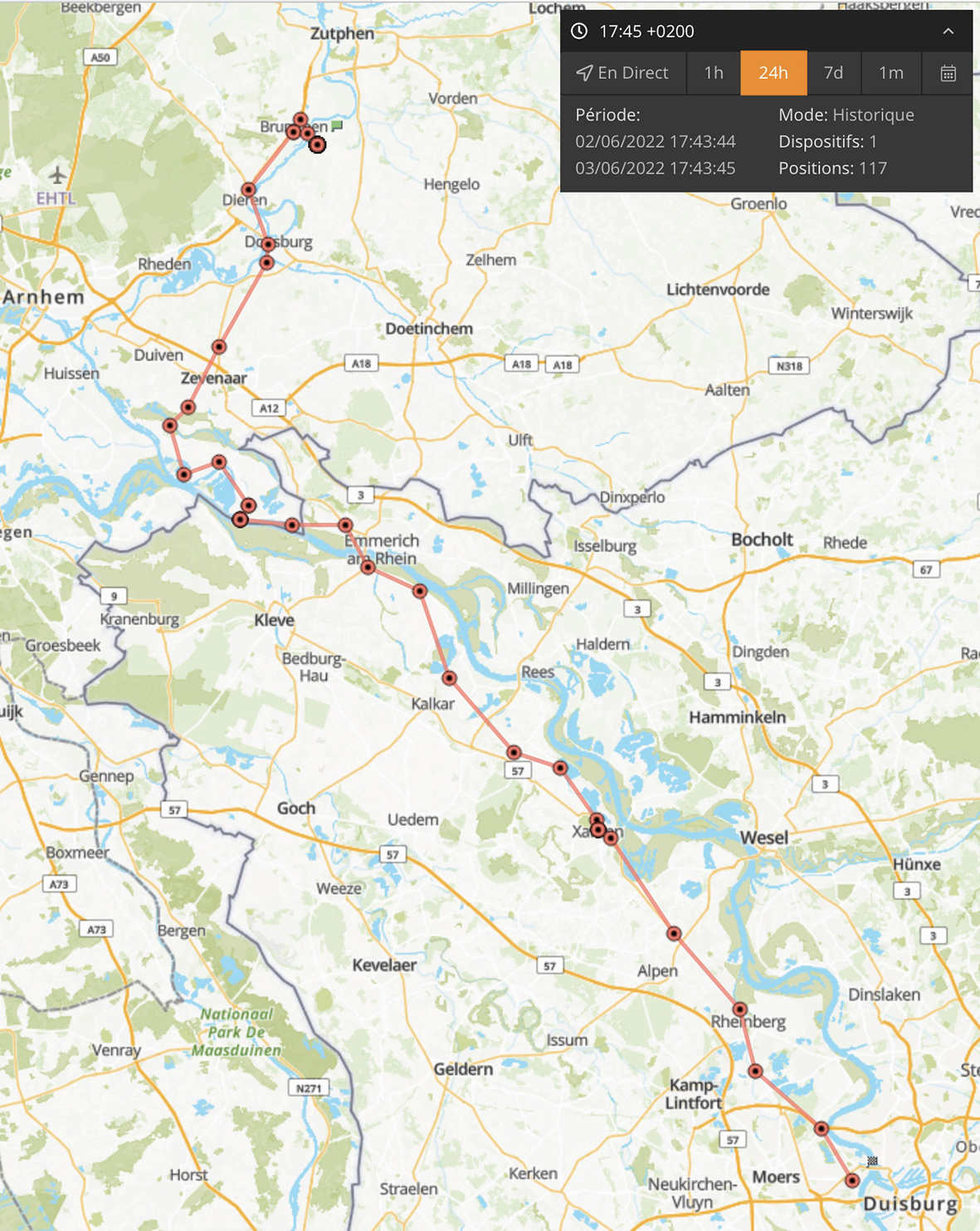 Nous quittons l'adorable ville de Bronkhorst pour nous diriger vers le fleuve IJssel par une petite route idyllique. / We leave the adorable little town of Bronkhorst and head towards the IJssel river on an idyllic little road.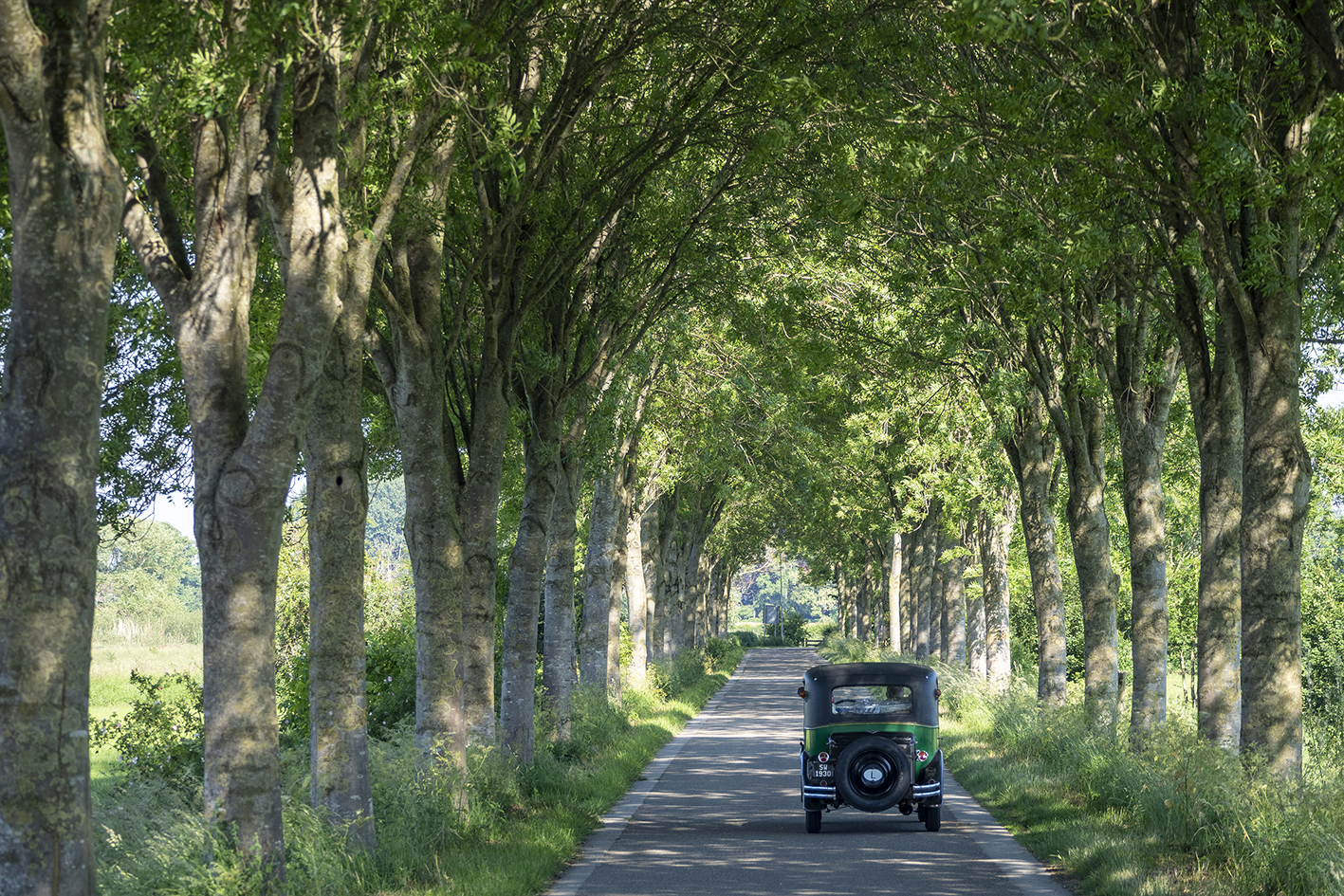 Traversée de l'IJssel avec un petit bac qui nous emmène à Brummen. / Crossing the IJssel with a small ferry that takes us to Brummen.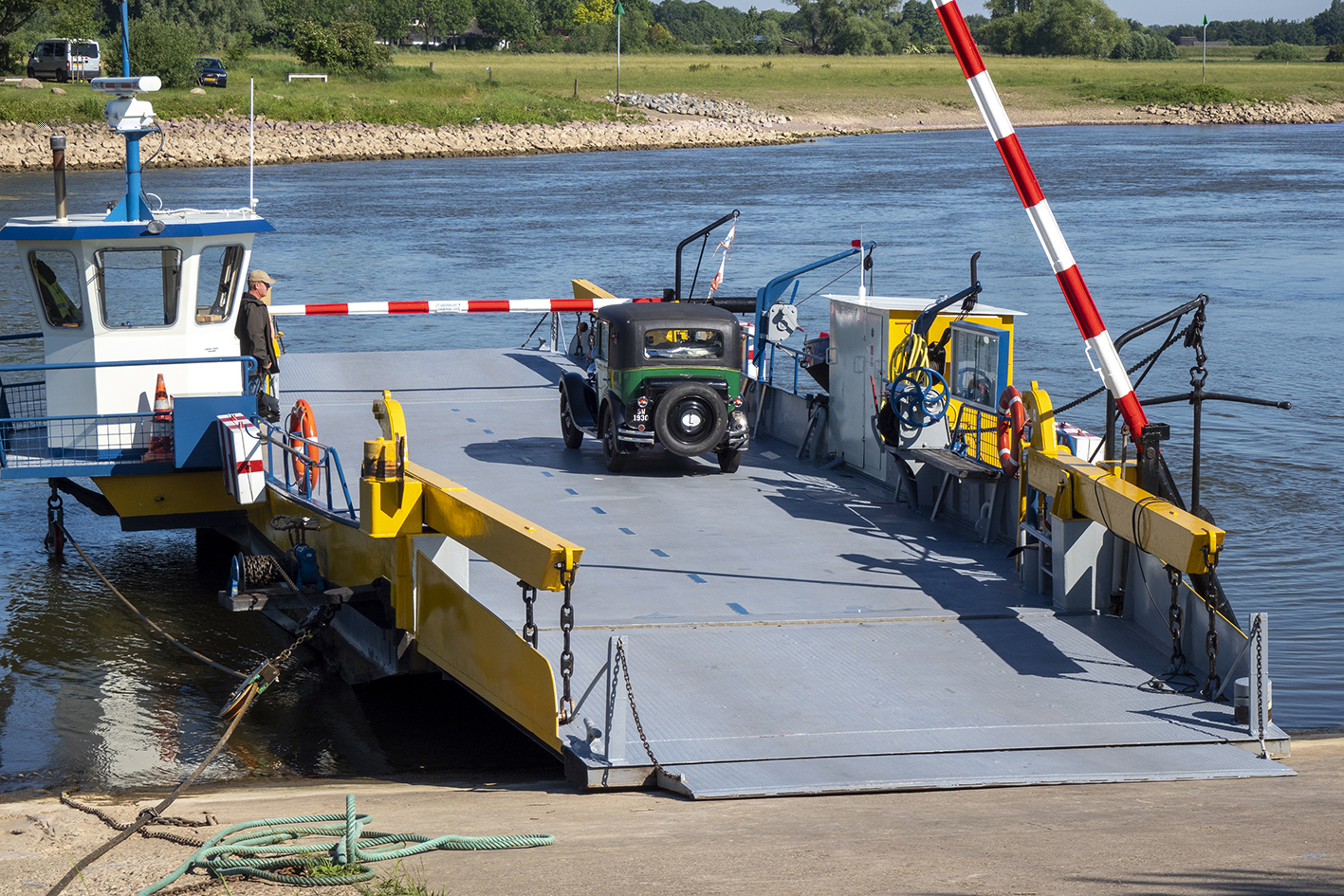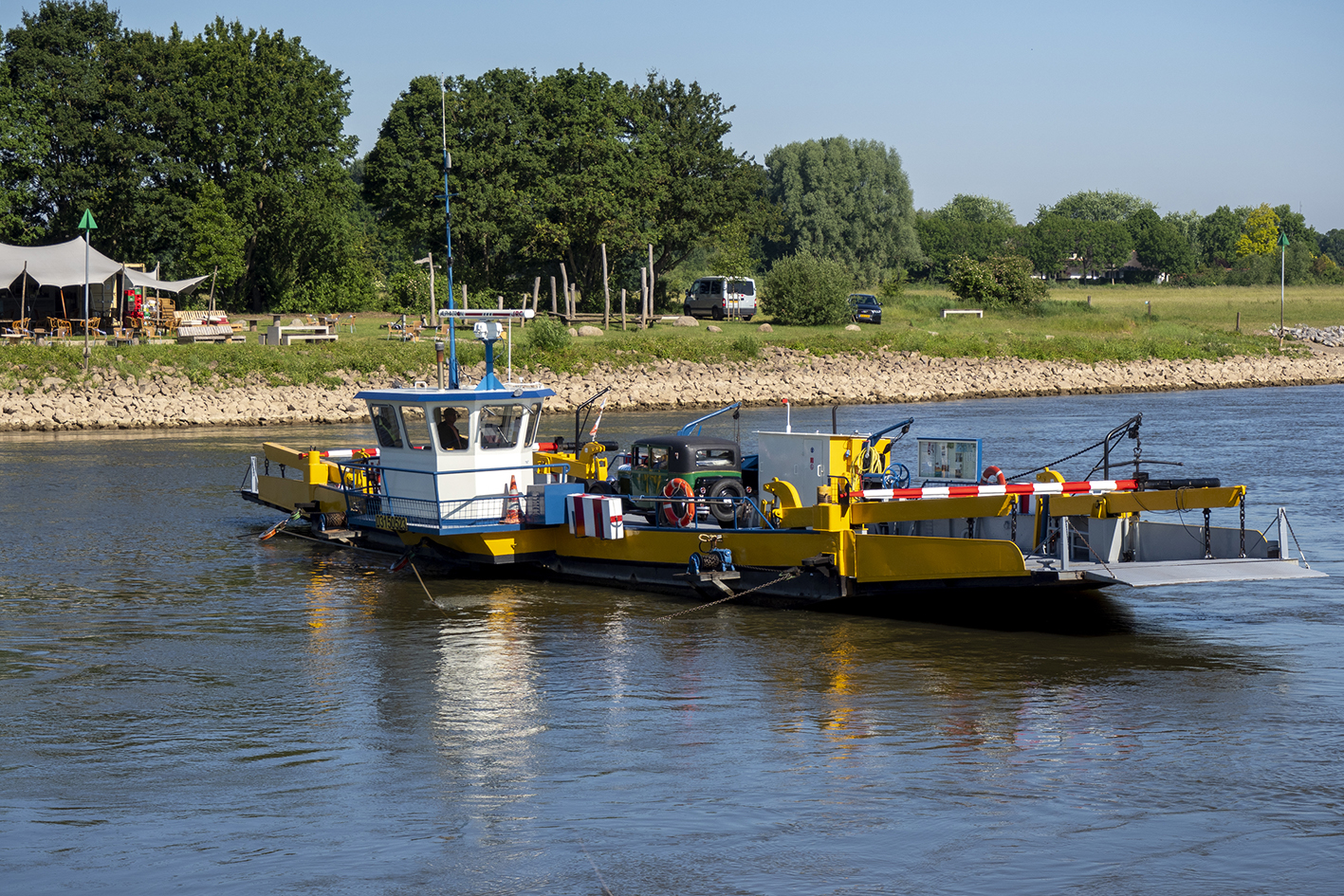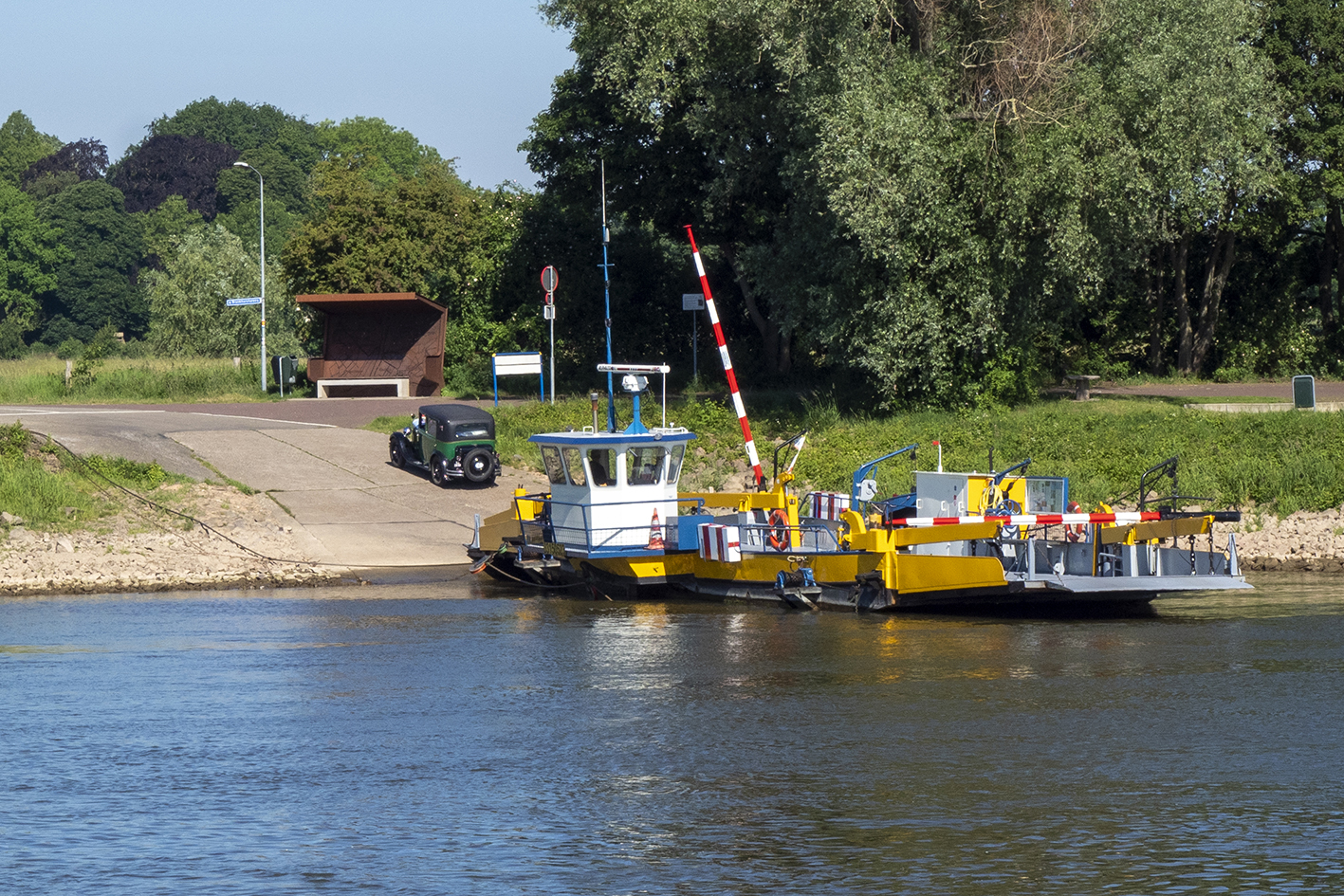 À Brummen, comme partout sur notre parcours, le pont matérialise croisement du chemin fluvial et du chemin terrestre. / In Brummen, as everywhere on our journey, the bridge materializes the crossing of the river path and the land path.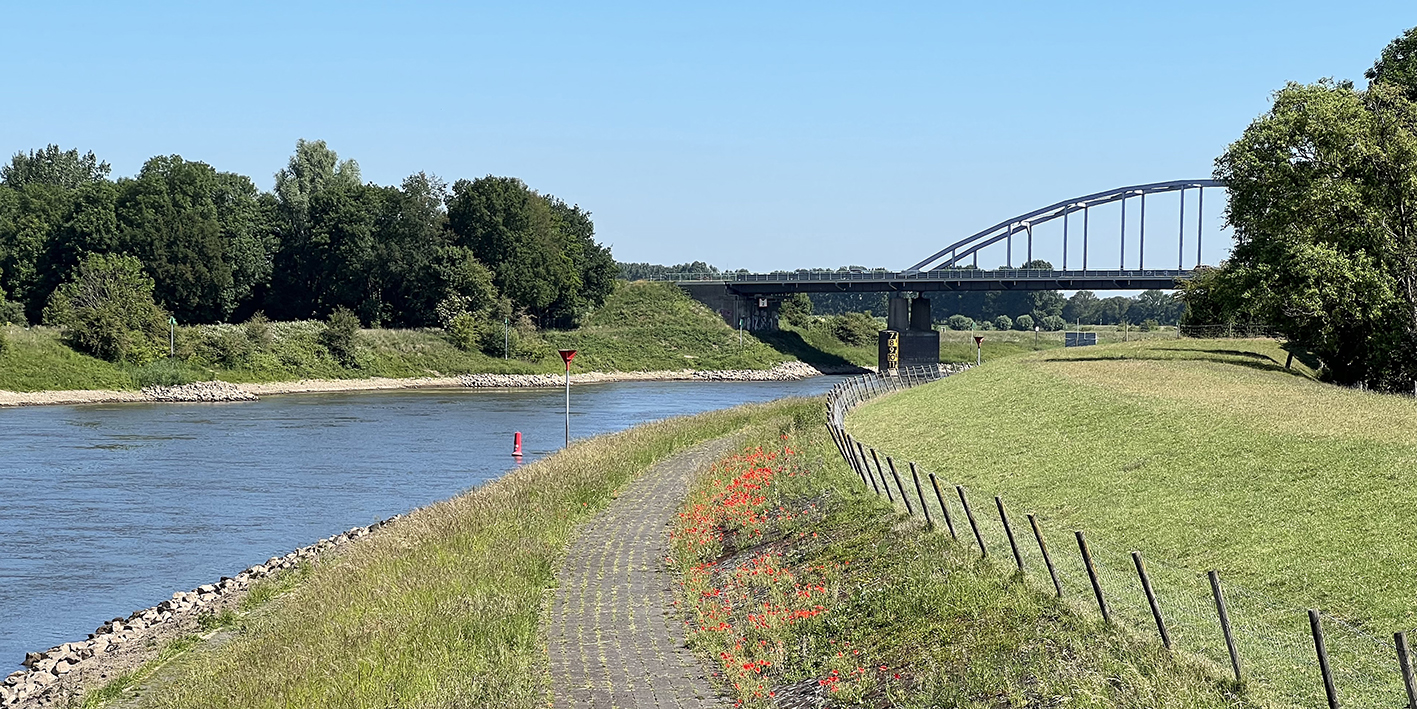 Alors qu'aux Pays-Bas le Rhin a perdu son nom, nous traversons un petit cours d'eau, qui, curieusement, porte le nom 'Oude Rijn' ('Vieux Rhin'). Ce n'est pas le même que le petit fleuve du même nom qui figure sur la carte que j'ai publiée il y a quelques jours… / While in the Netherlands the Rhine has lost its name, we cross a small stream, which, curiously, bears the name 'Oude Rijn' ('Old Rhine'). It is not the same as the small river of the same name that appears on the map that I published a few days ago…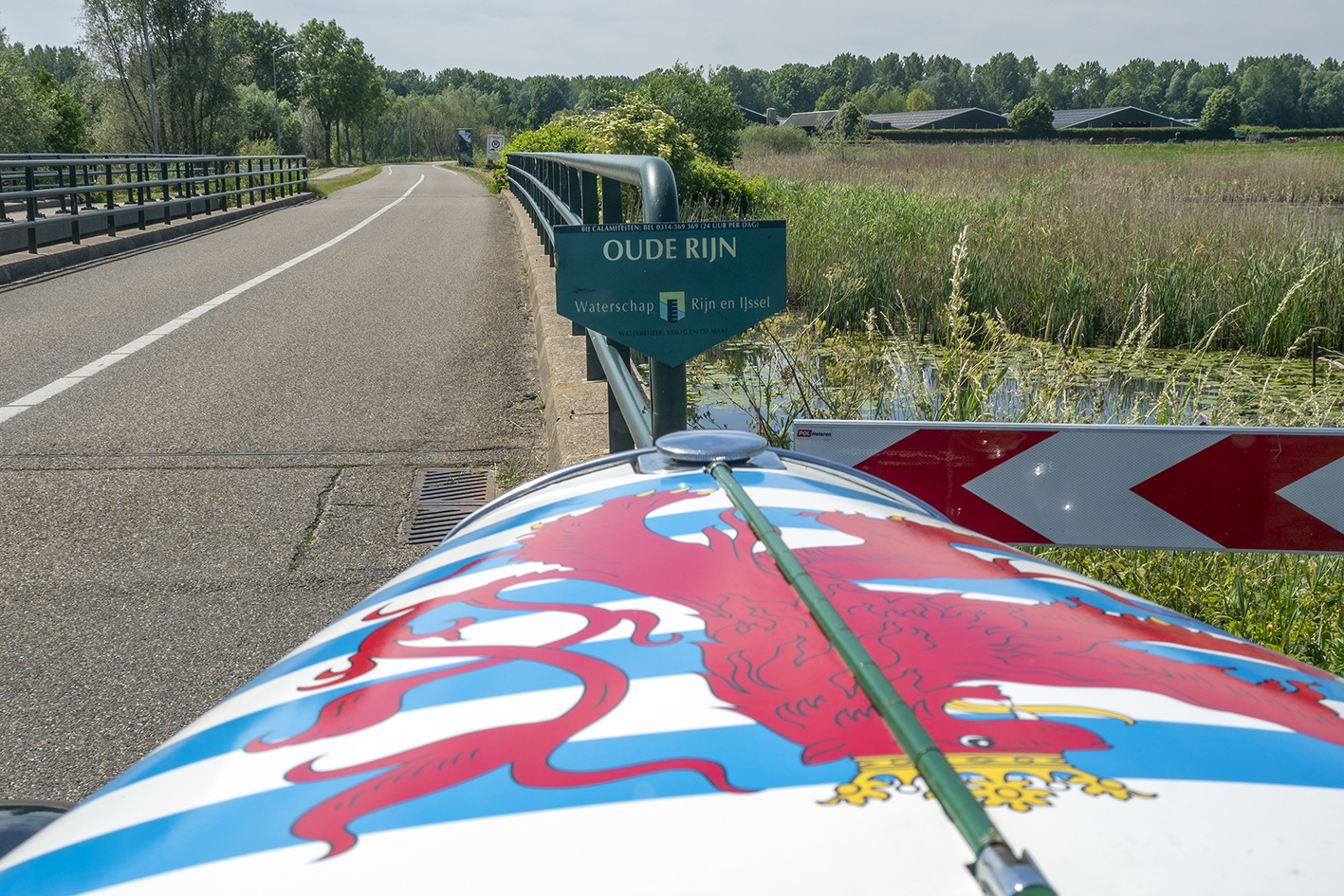 De même, à Pannerden, nous roulons sur le 'Rijndijk' ('digue du Rhin'),  ce qui prouve bien que  dans le coin, on est encore attaché au nom du grand fleuve. / Likewise, in Pannerden, we drive on the 'Rijndijk' ('Rhine embankment'), which proves that in the area, people are still attached to the name of the great river.
À Lobith, nous nous arrêtons au joli moulin à farine 'Tolhuys Coornmolen', datant de 1888. / In Lobith we stop at the attractive 'Tolhuys Coornmolen' flour mill, dating from 1888.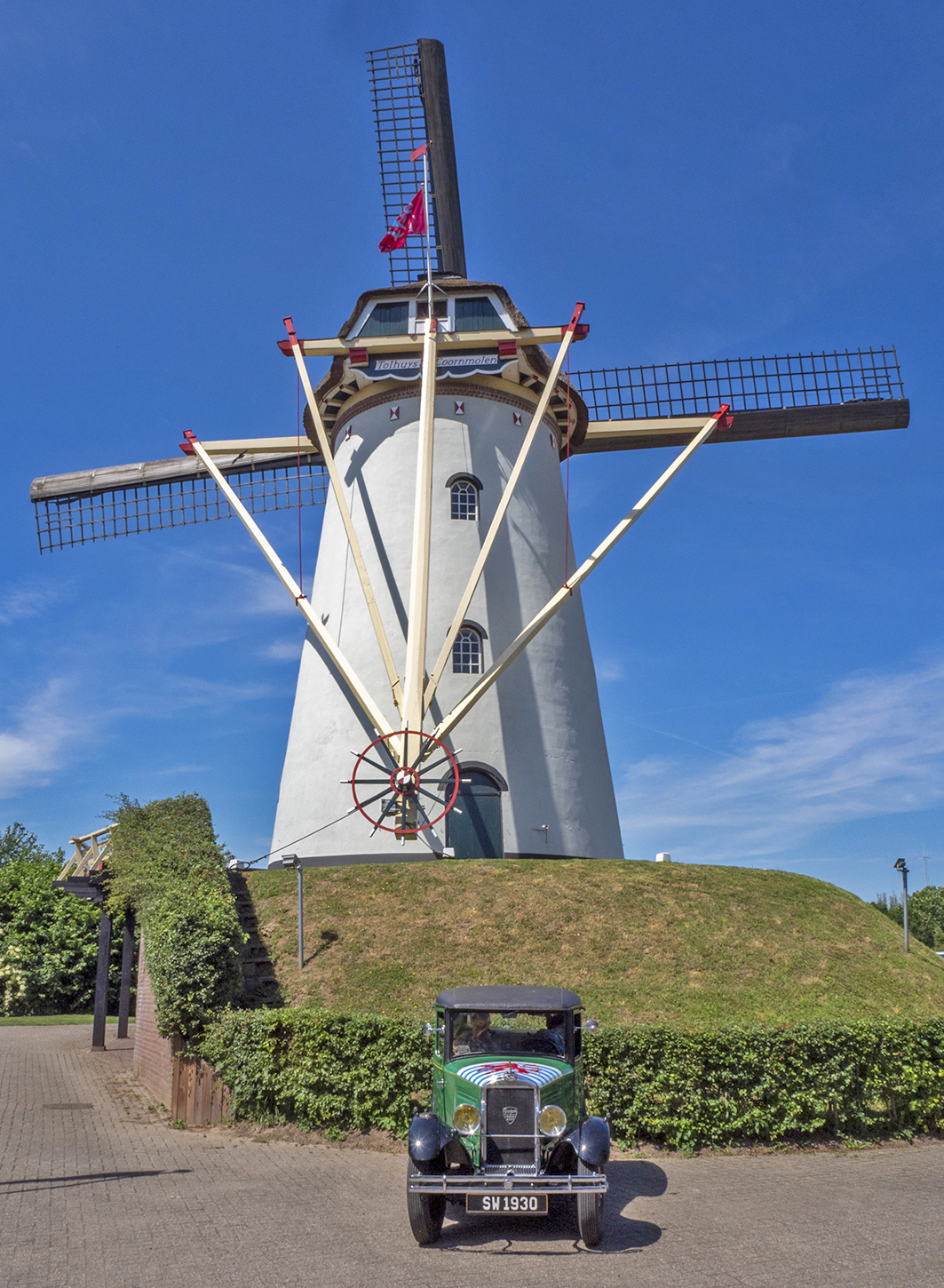 Toujours à Lobith, nous pique-niquons au bord du fleuve. Quand j'étais gamin, on nous apprenait que "Nos ancêtres, les Bataves, étaient descendus le long du Rhin assis sur des troncs d'arbre". Aujourd'hui, il y a un trafic incessant de péniches de tailles diverses. / Still in Lobith, we picnic by the river. When I was a kid, we were taught that "Our ancestors, the Batavians, had come down along the Rhine sitting on tree trunks". Today, there is an incessant traffic of barges of various sizes.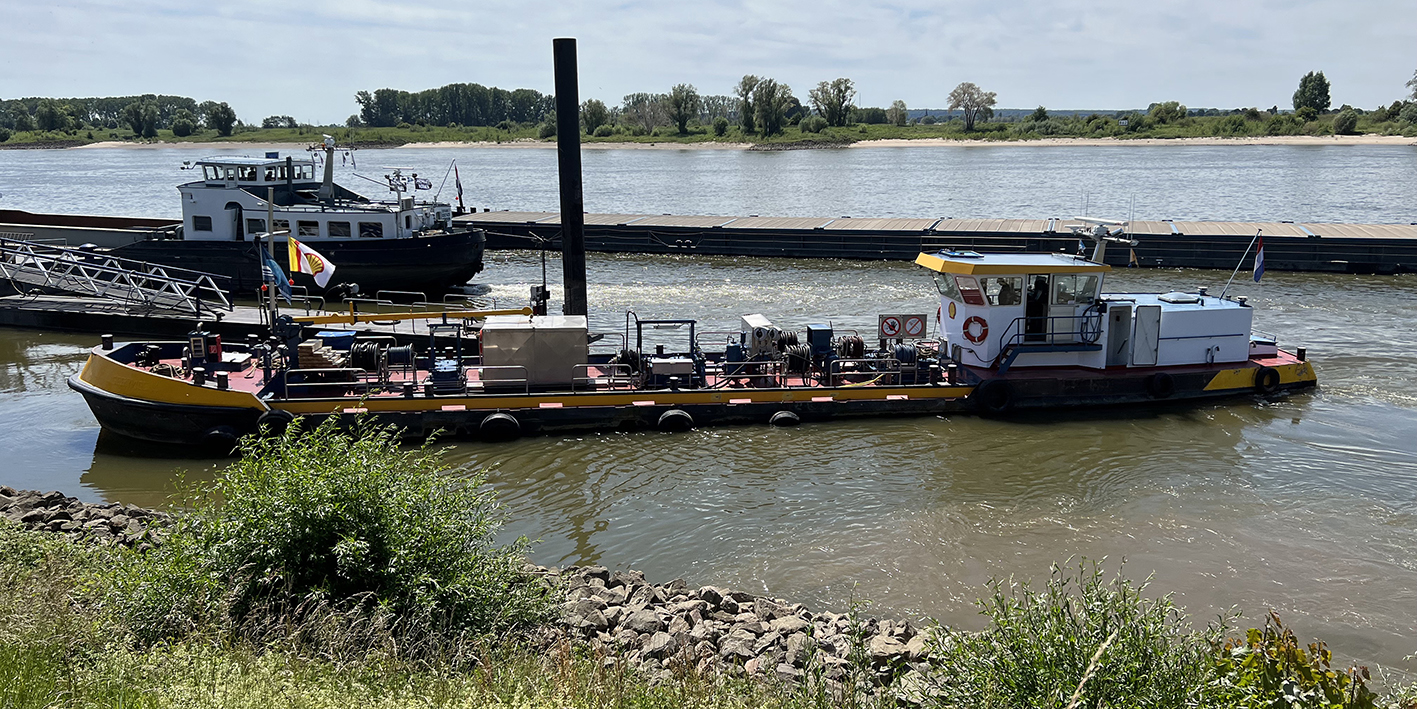 Nous passons la frontière. Après le Luxembourg, la Belgique et les Pays-Bas, l'Allemagne sera le quatrième pays de notre périple. À Emmerich, nous empruntons ce pont pour traverser le Rhin. / We cross the border. After Luxembourg, Belgium and the Netherlands, Germany will be the fourth country on our journey. In Emmerich, we take this bridge to cross the Rhine.

À Xanten, « La Charmante » pose devant le mur d'enceinte romain (reconstruit) de cette ancienne ville fondée par Trajan, qui s'appelait alors Colonia Ulpia Traiana. / In Xanten, « La Charmante » poses in front of the (rebuilt) Roman wall of this ancient city founded by Trajan, which was then called Colonia Ulpia Traiana.

Un bas-relief datant de l'époque romaine. / A bas-relief dating from Roman times.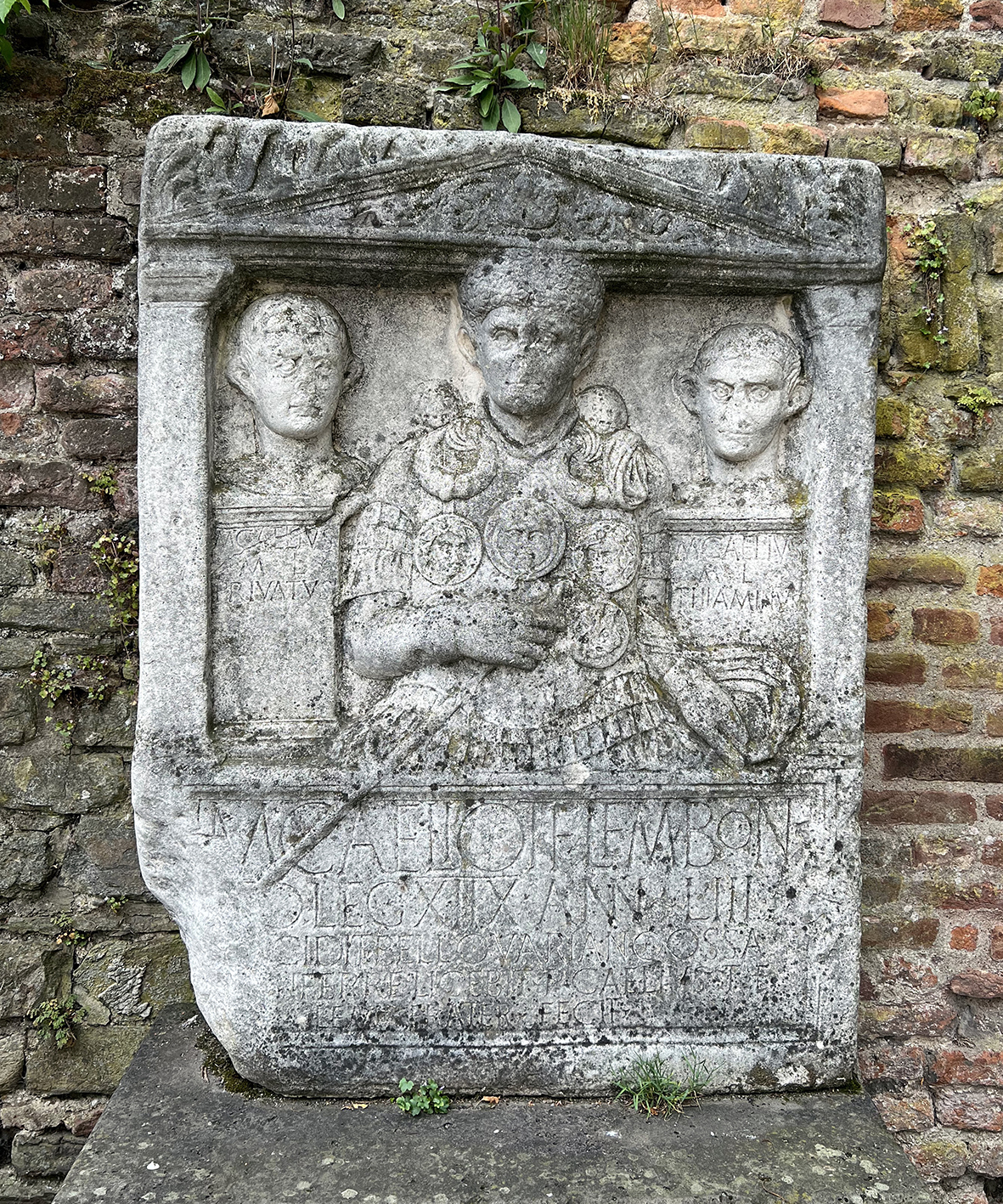 L'impressionnante cathédrale Saint-Victor, construite entre 1263 et 1544 héberge de nombreuses œuvres d'art. / The impressive Saint-Victor Cathedral, built between 1263 and 1544, houses many works of art.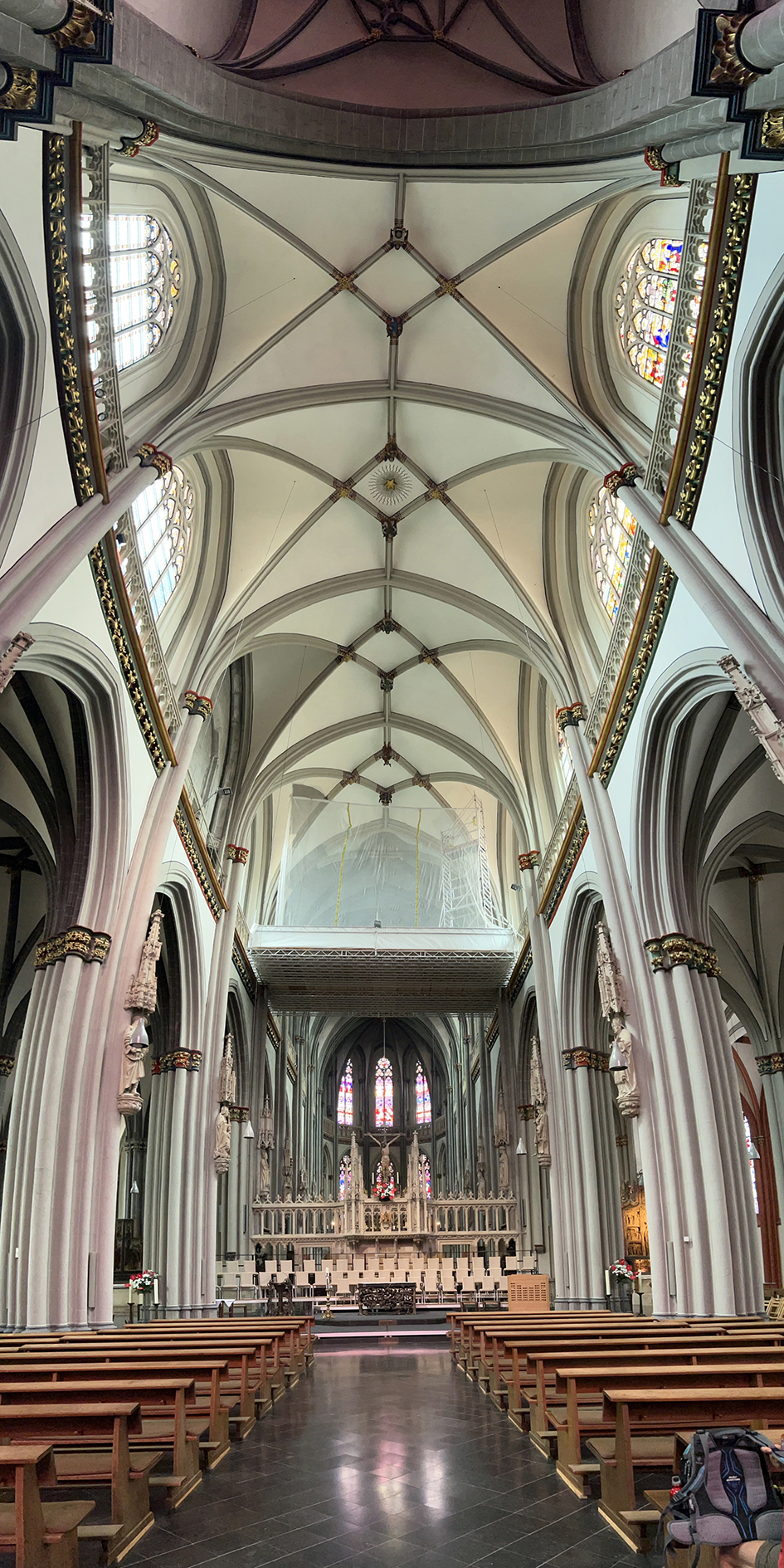 Le détail d'une triptyque montre la lapidation de Saint-Étienne (ou Saint-Steven, si vous préférez…). La scène est particulièrement cruelle et réaliste… / The detail of a triptych shows the stoning of Saint-Stephen (or Saint-Steven, if you prefer…). The scene is particularly cruel and realistic…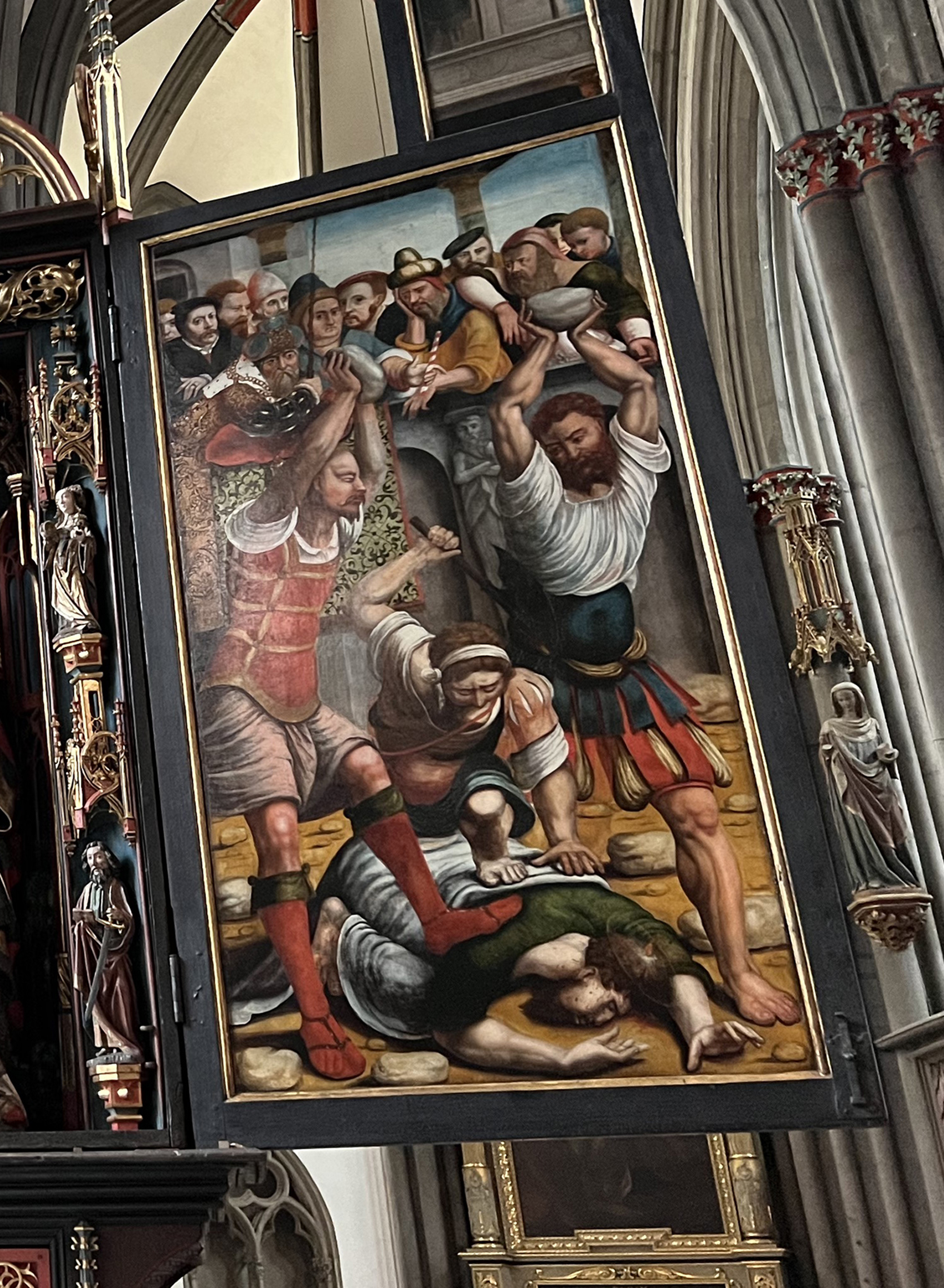 Plus loin, nous passons par la ville de Rheinberg – contraction de Rhein (Rhin) et Weinberg ? / Further, we pass by the city of Rheinberg – contraction of Rhein (Rhine) and Weinberg?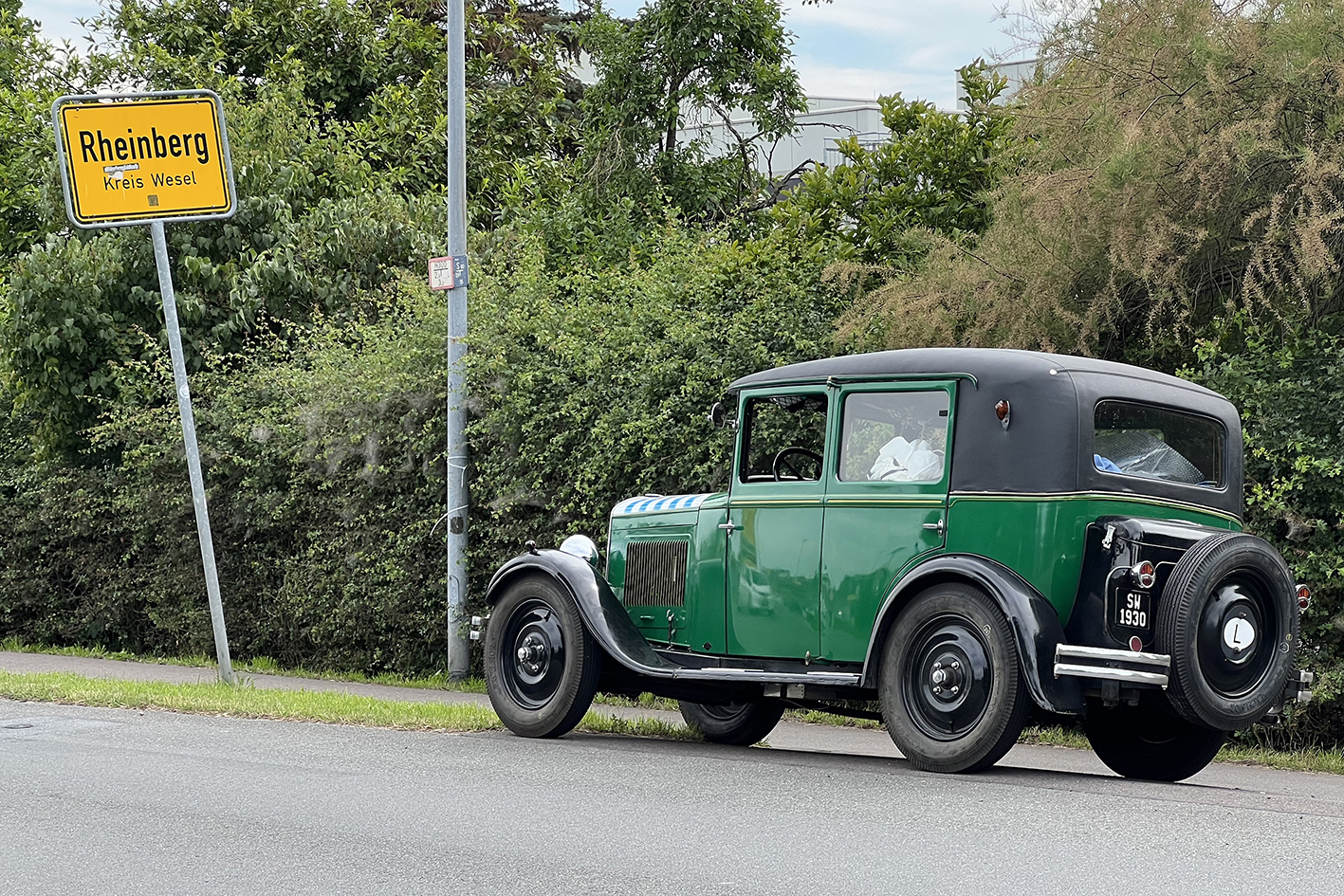 Nous passons la nuit à Duisburg dans un hôtel situé dans une ancienne pharmacie. / We spend the night in Duisburg in a hotel located in a former pharmacy.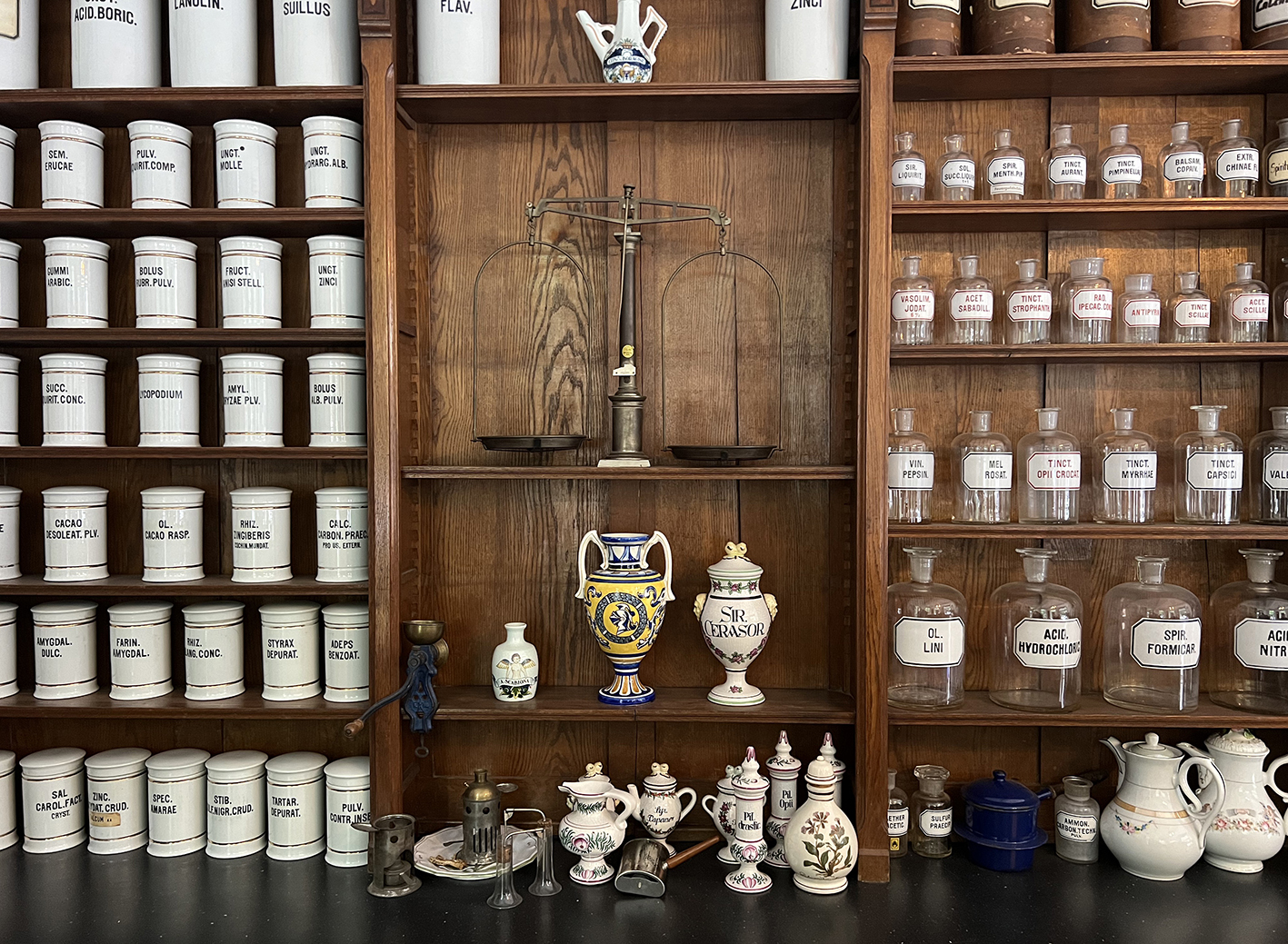 Notre chambre est décorée avec des photos anciennes rappelant le passé pharmaceutique et hospitalier. / Our room is decorated with old photos recalling the pharmaceutical and hospital past.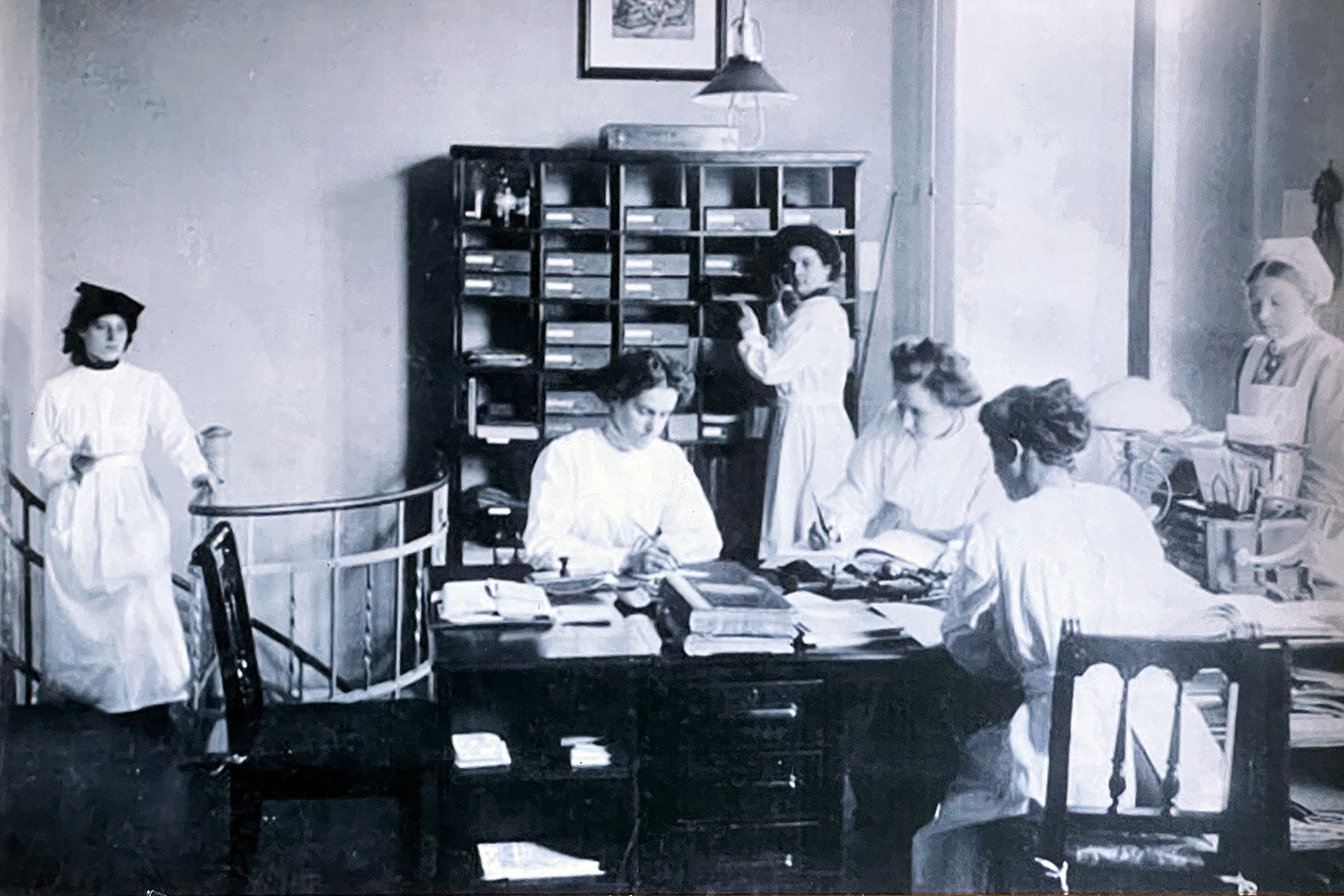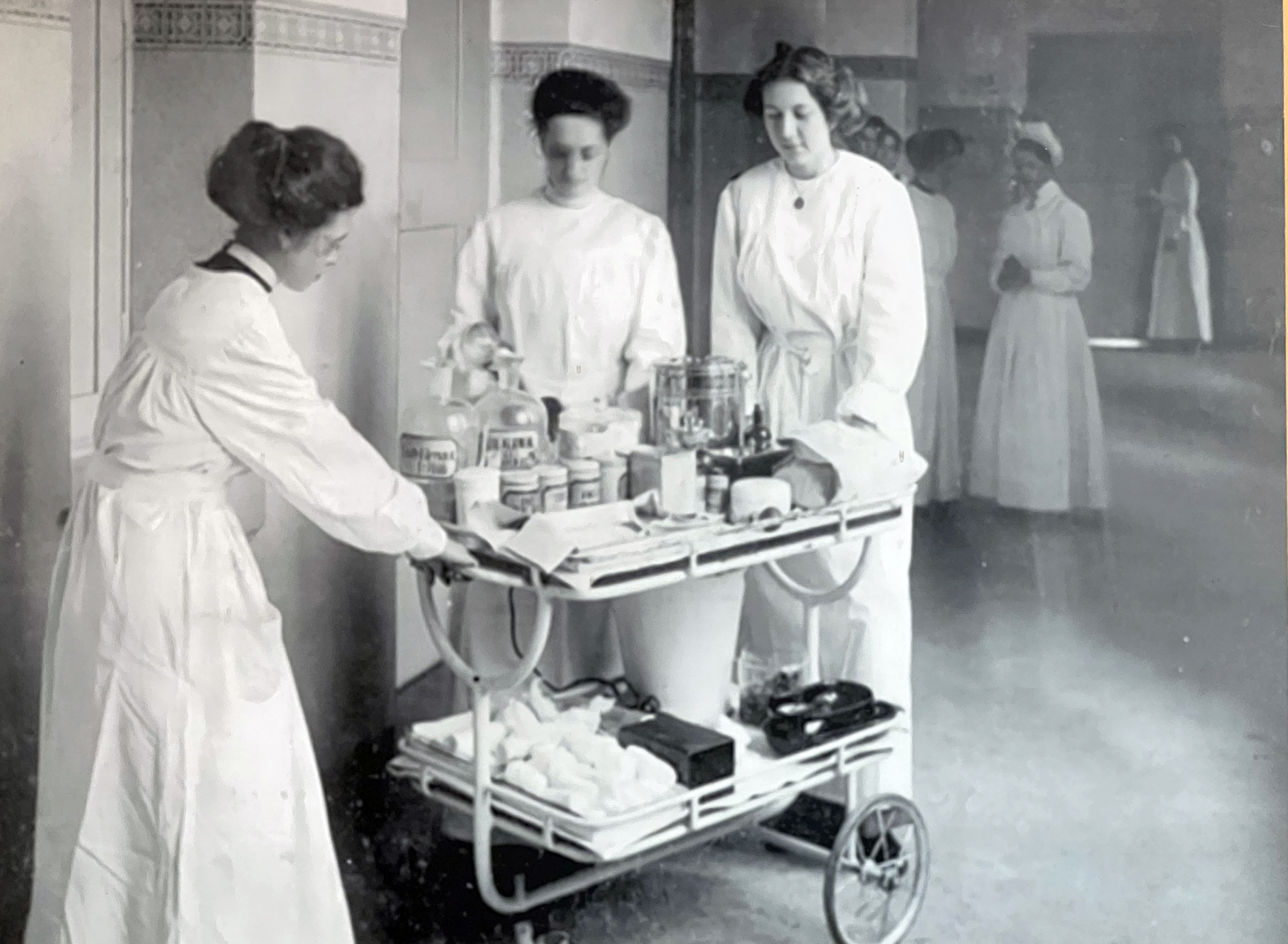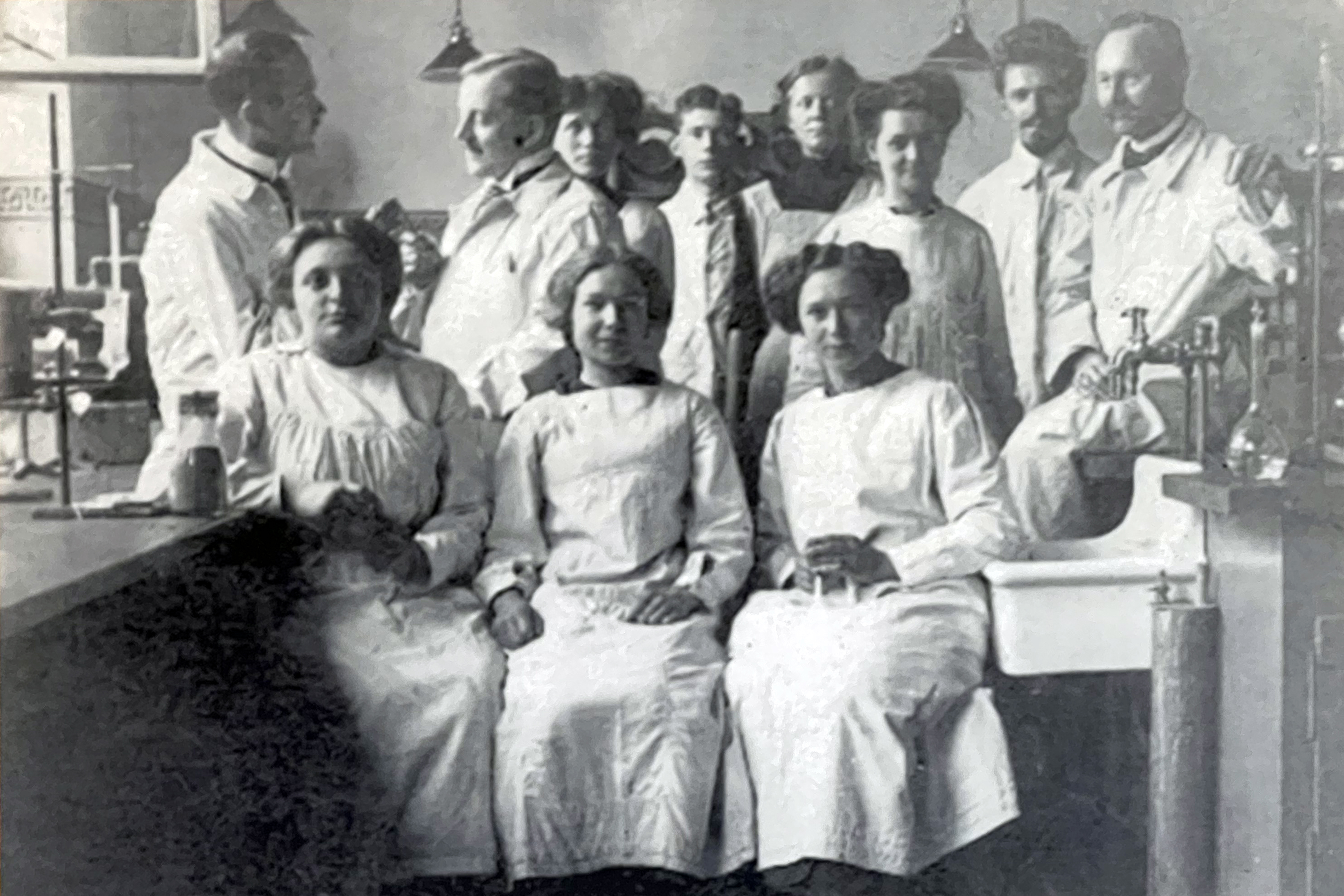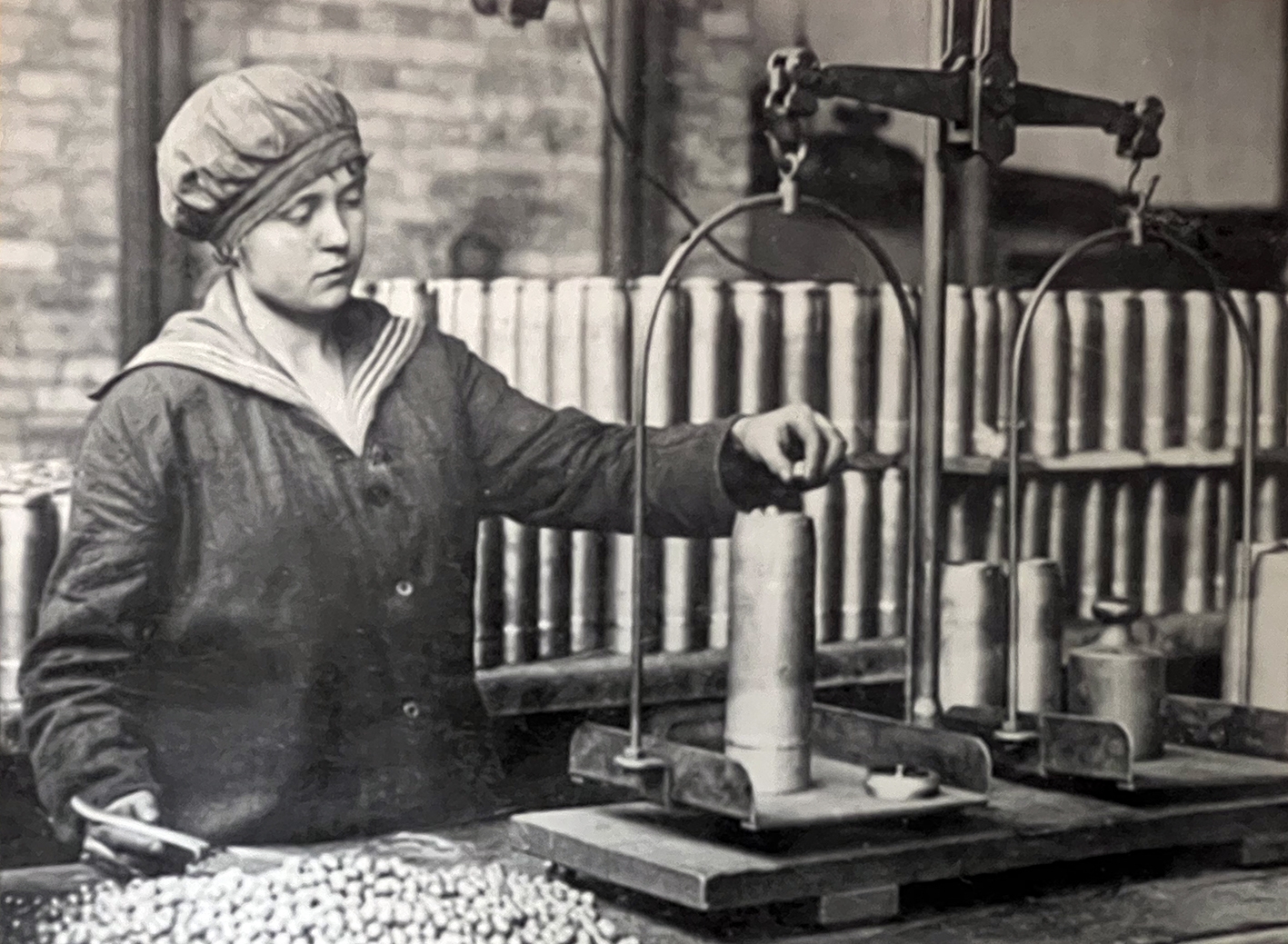 •••
1-2 juin 2022

/ June 1-2, 2022 
Après avoir quitté les sites de la Seconde Guerre mondiale autour de Nimègue et Arnhem, nous nous sommes rendus à la ville de Zutphen, situé sur l'IJssel, l'un des bras principaux du Rhin. / After leaving the World War II sites around Nijmegen and Arnhem, we traveled to the town of Zutphen, located on the IJssel, one of the main branches of the Rhine.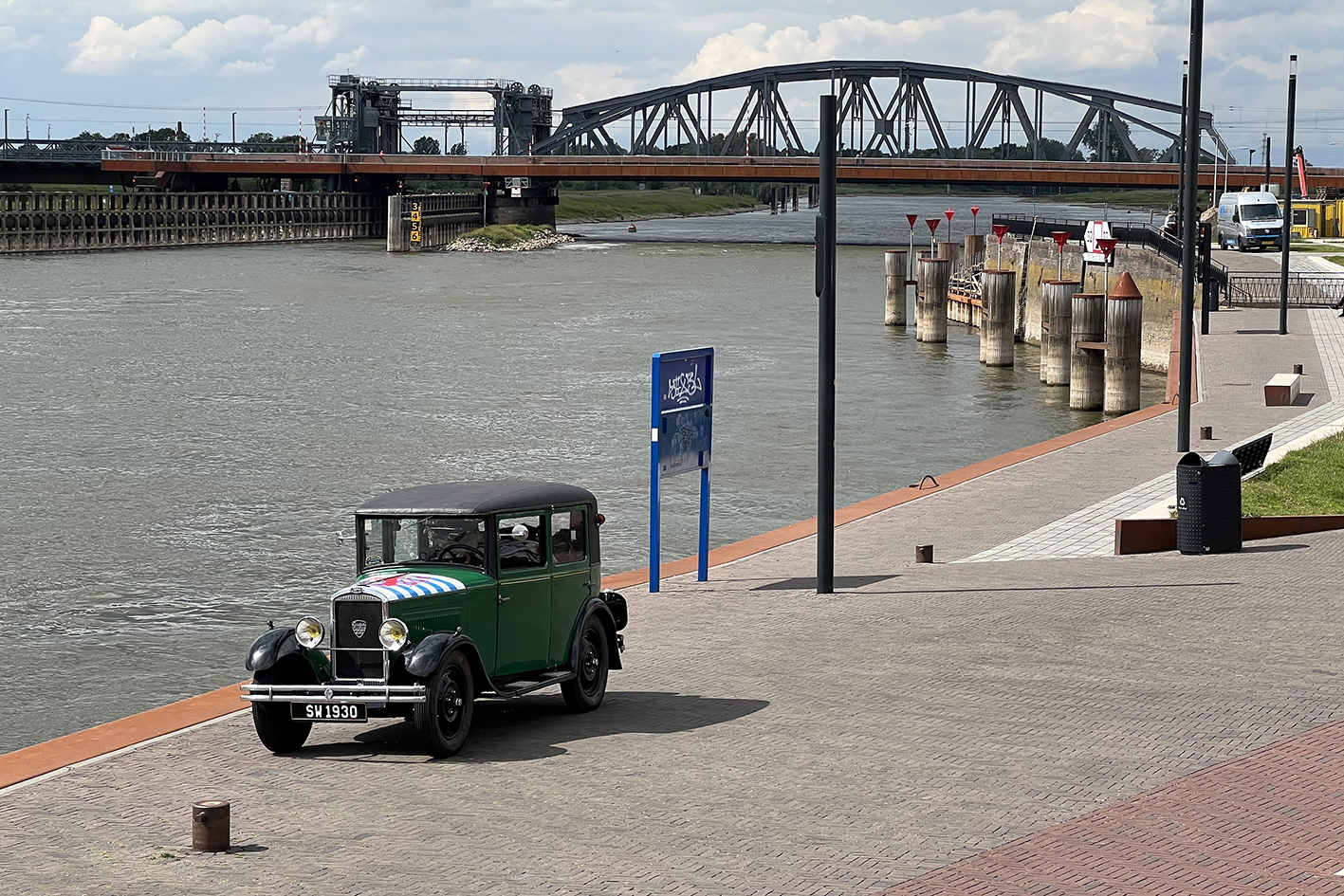 La vieille ville est très jolie et pittoresque. Nous nous promenons dans ses ruelles étroites, pratiquement inchangées depuis que mes arrière-grands-parents maternels y tenaient une boucherie ! / The old town is very pretty and picturesque. We walk through its narrow streets, practically unchanged since my maternal great-grandparents ran a butcher's shop here!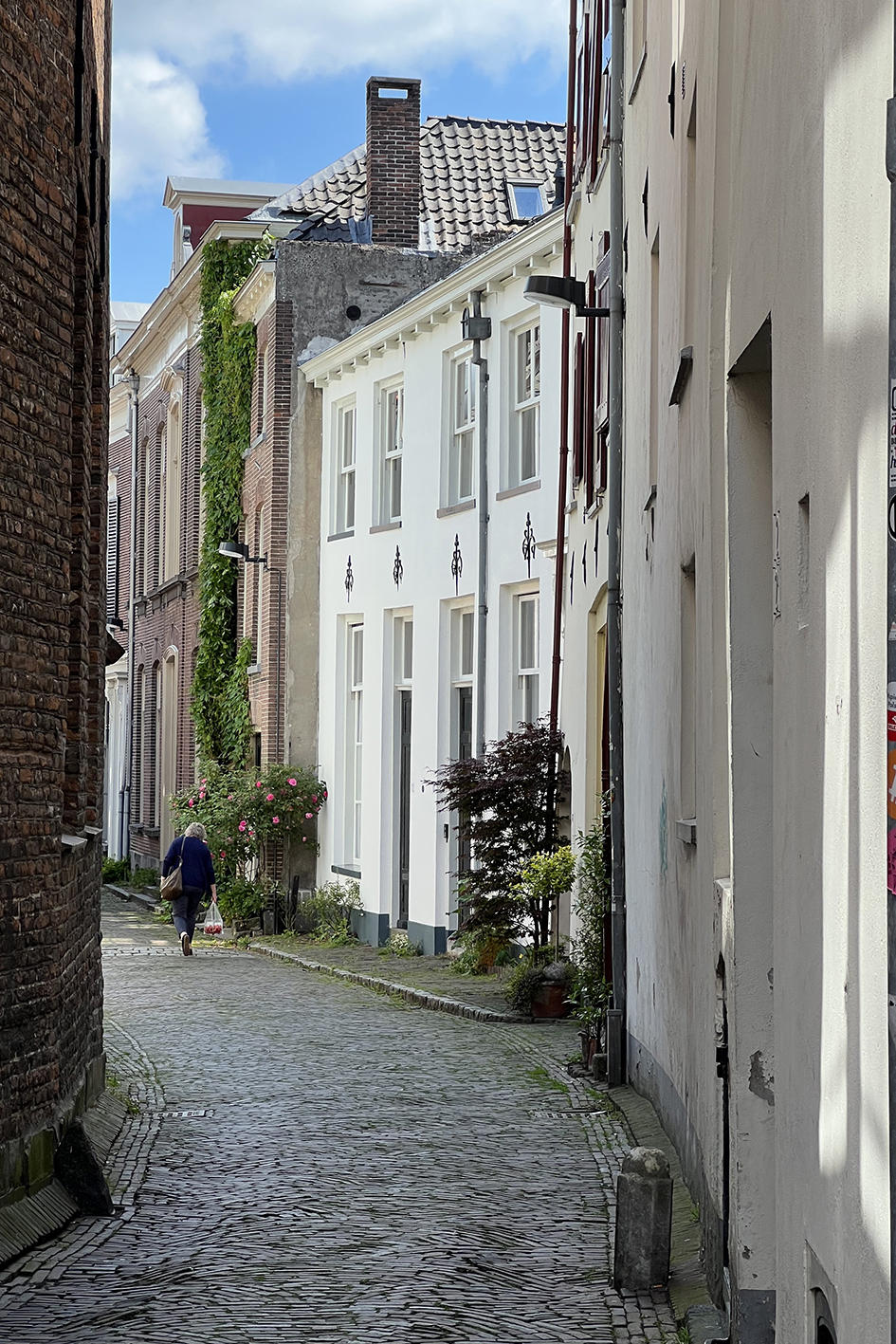 Les façades des maisons des commerçants de Zutphen, qui devaient leur richesse au transport fluvial, sont ornées de bas-reliefs. L'un proclame "Alles heeft zijn uur" (« Tout a son heure ». À méditer… / The facades of the old merchants' houses of Zutphen, who owed their wealth to river transport, are decorated with bas-reliefs. One proclaims "Alles heeft zijn uur" ("Everything has its time". Something to meditate upon…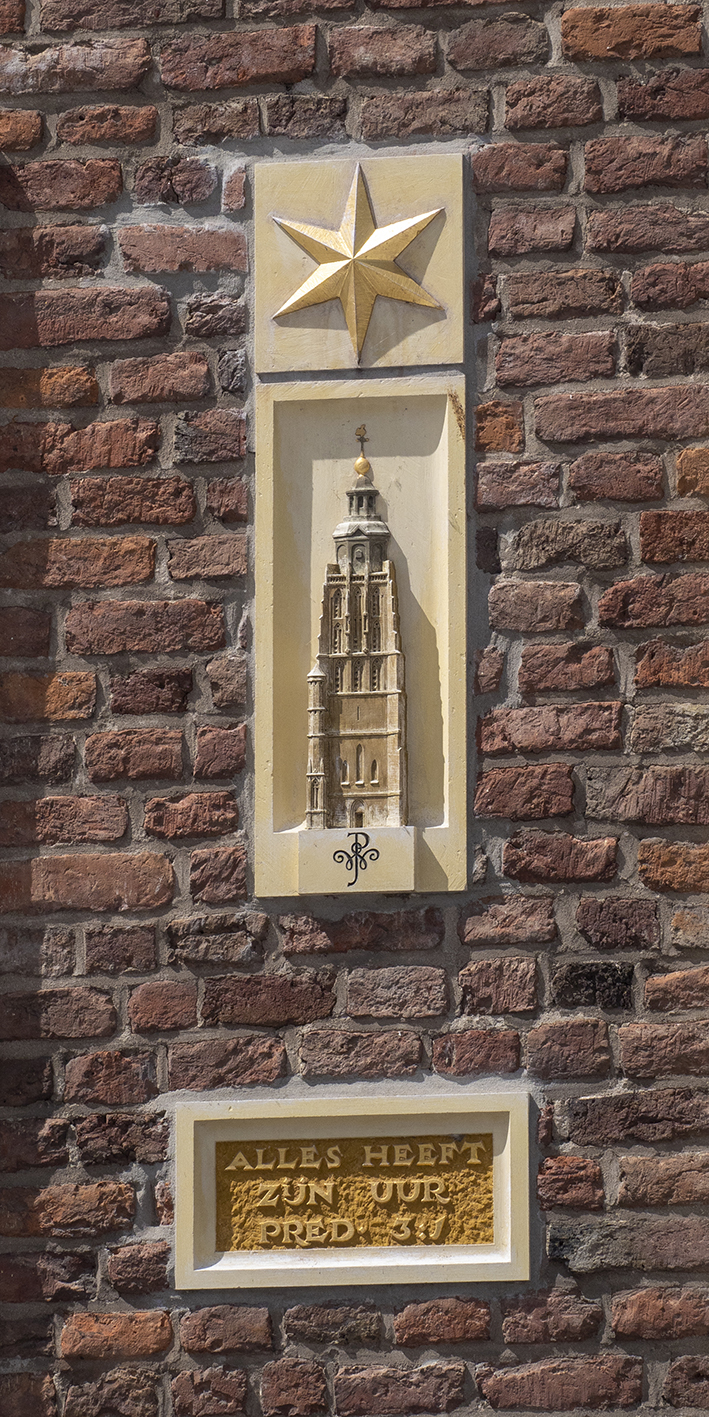 Un autre dit "In beide handen" (« Dans les deux mains »). Quand je contemple l'image, je me dis que ce sont nos mains, à Marie-Xavier et moi, unis dans cette aventure ! / Another one says "In beide handen" ("In both hands"). When I contemplate the image, I ponder that these are the hands of Marie-Xavier and myself, united in this adventure!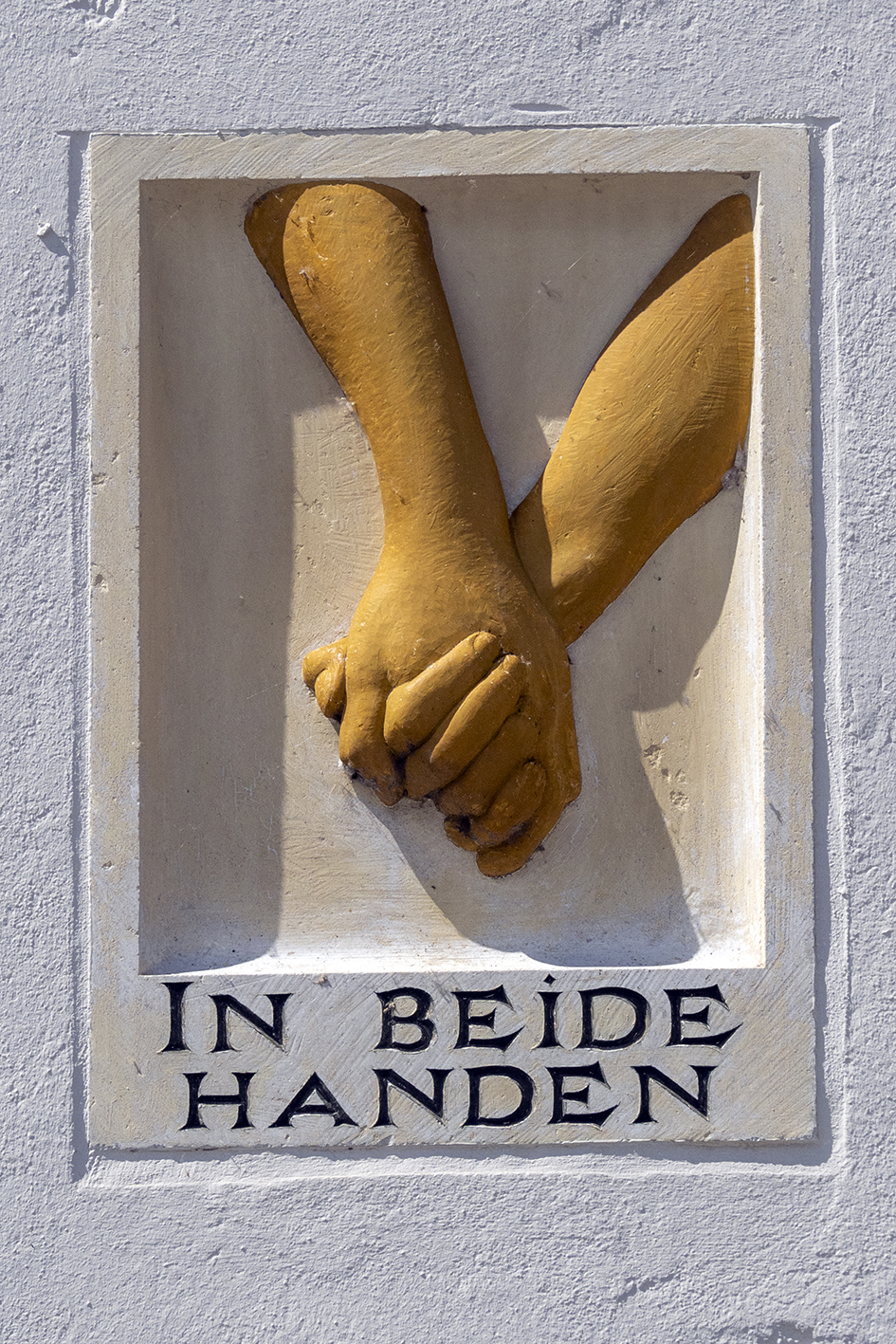 Plus contemporain, ce magasin qui stocke des fromages jusqu'à l'étage. N'oubliez pas que les Pays-Bas sont 'l'autre pays du fromage' (ou est-ce la France ?) / More contemporary, this store which stocks cheeses up to the first floor. A reminder that the Netherlands are, according to the French, 'the other cheese country'.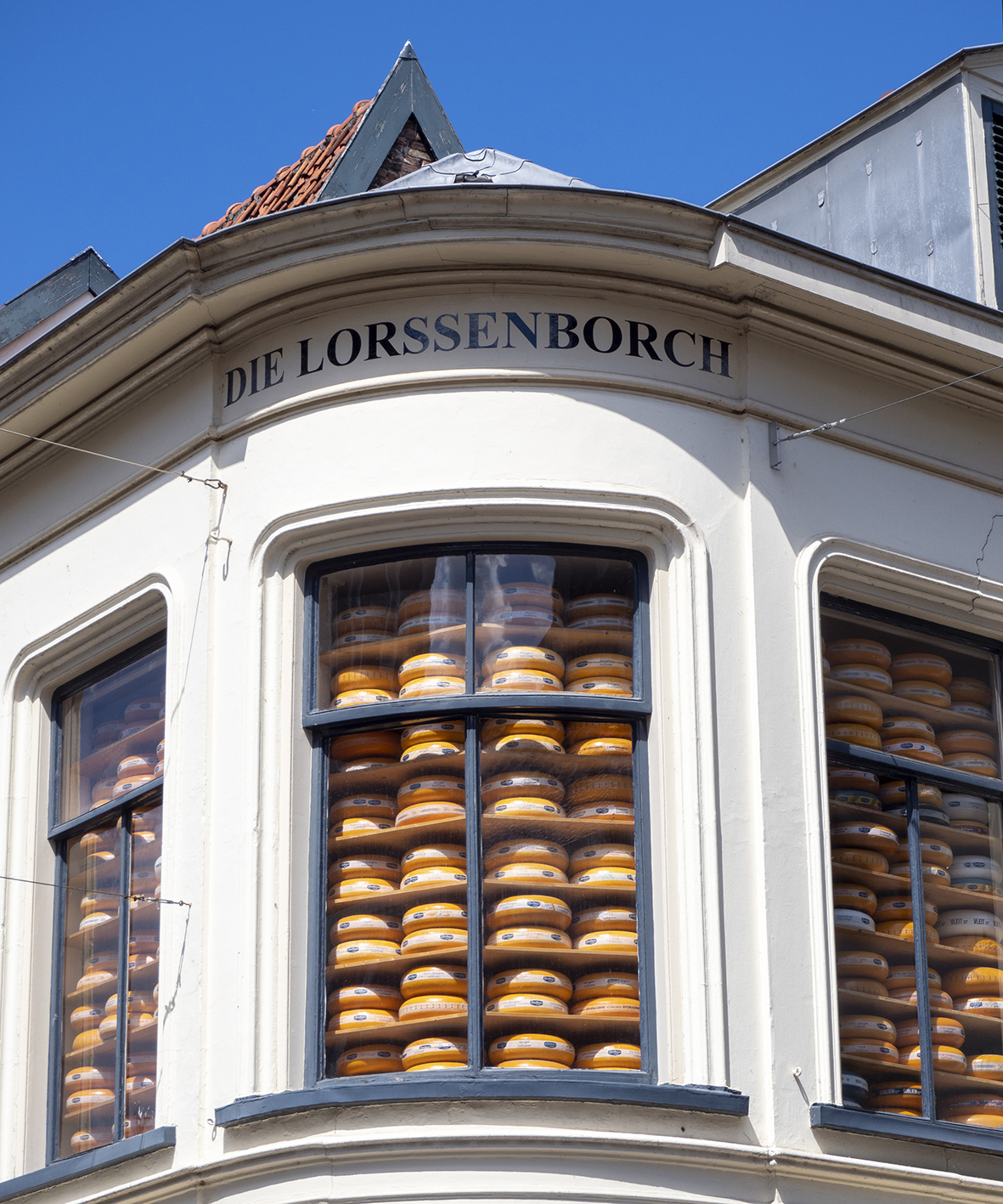 Nous finissons par un tour guidé de la 'Librije', une bibliothèque exceptionnelle créée en 1561 située dans l'enceinte de l'église de Saint-Walburge. Elle héberge environ 750 livres, dont une collection d'incunables, des livres datant de la première période d'impression, durant la seconde moitié du 15ème siècle. / We end with a guided tour of the 'Librije', an exceptional library created in 1561 and located within the grounds of the church of Saint-Walburga. Its hosts around 750 books, including a collection of incunabula, books dating from the first period of printing, during the second half of the 15th century.
Lorsque nous avons fini notre visite et que nous voulons repartir, je remarque un bruit étrange du côté du démarreur. Je constate avec horreur que la partie contenant les balais de charbon s'est désolidarisée du corps du démarreur. / When we have finished our visit and want to leave, I notice a strange noise from the side of the starter motor. I note with horror that the part containing the carbon brushes has separated from the body of the starter.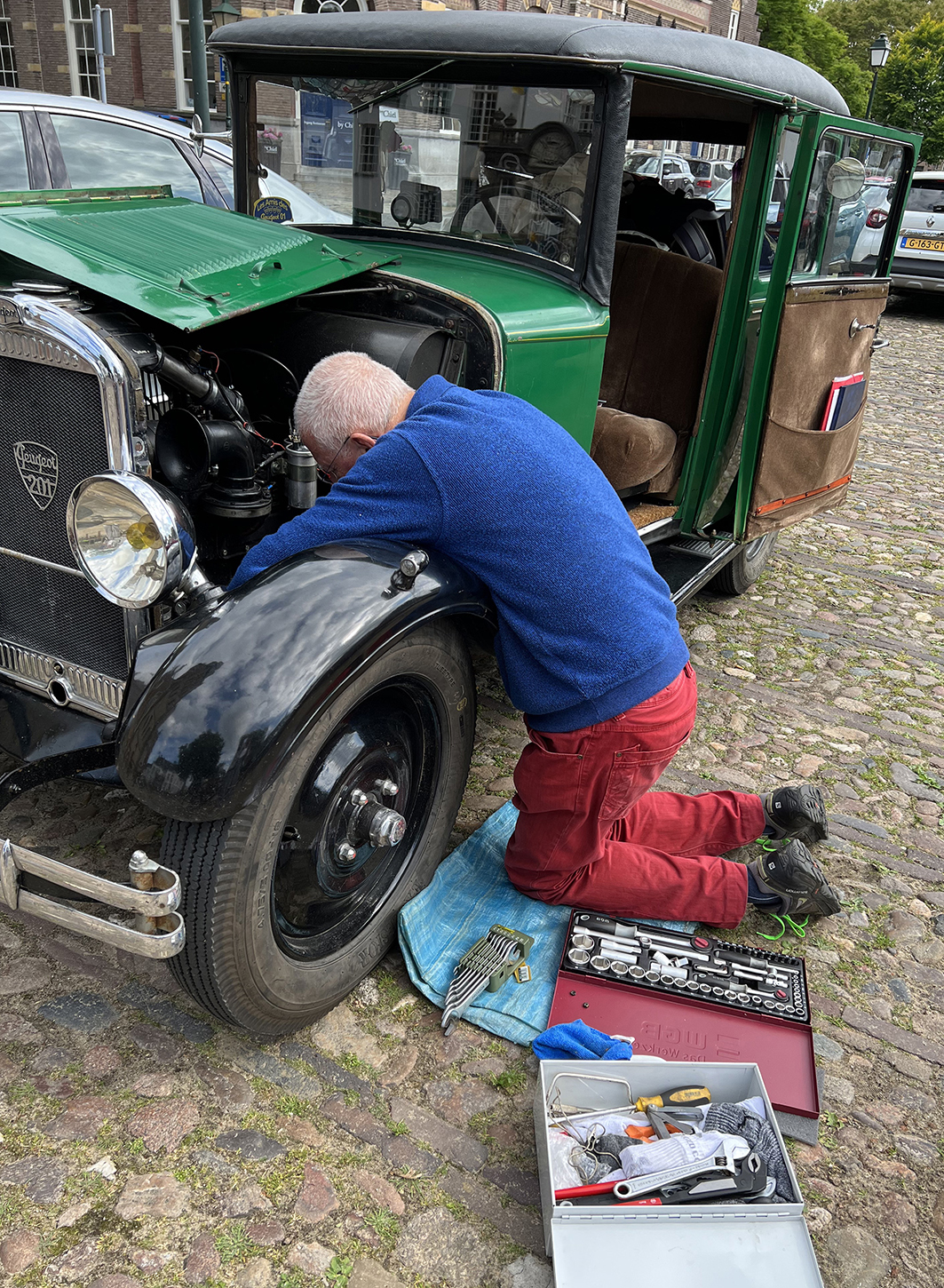 Nous nous rendons au B&B que nous avons réservé à Warnsveld, non loin de Zutphen. Mais mon moral est au plus bas : est-ce que, une fois de plus, « La Charmante » nous fait un caprice au bout de 3 jours ? Et surtout : qui va pouvoir réparer ça ? Est-ce que, comme il y a 4 semaines, il va falloir se faire rapatrier le 4ème jour fatidique ? Je rumine… J'écris un blog sous le titre "Mission impossible" en faisant croire qu'il s'agit de retrouver le Rhin aux Pays-Bas. Mais dans mon for intérieur je me demande si notre projet est tout bonnement irréalisable… / We go to the B&B we have reserved in Warnsveld, not far from Zutphen. But my morale is at its lowest: does "La Charmante" once again gives up after 3 days? And above all: who will be able to fix this? Like 4 weeks ago, will we have to be repatriated on the fateful 4th day? I write a blog under the title "Mission impossible" pretending that it is a question of finding the Rhine in the Netherlands. But in reality I wonder if our project is simply unrealizable…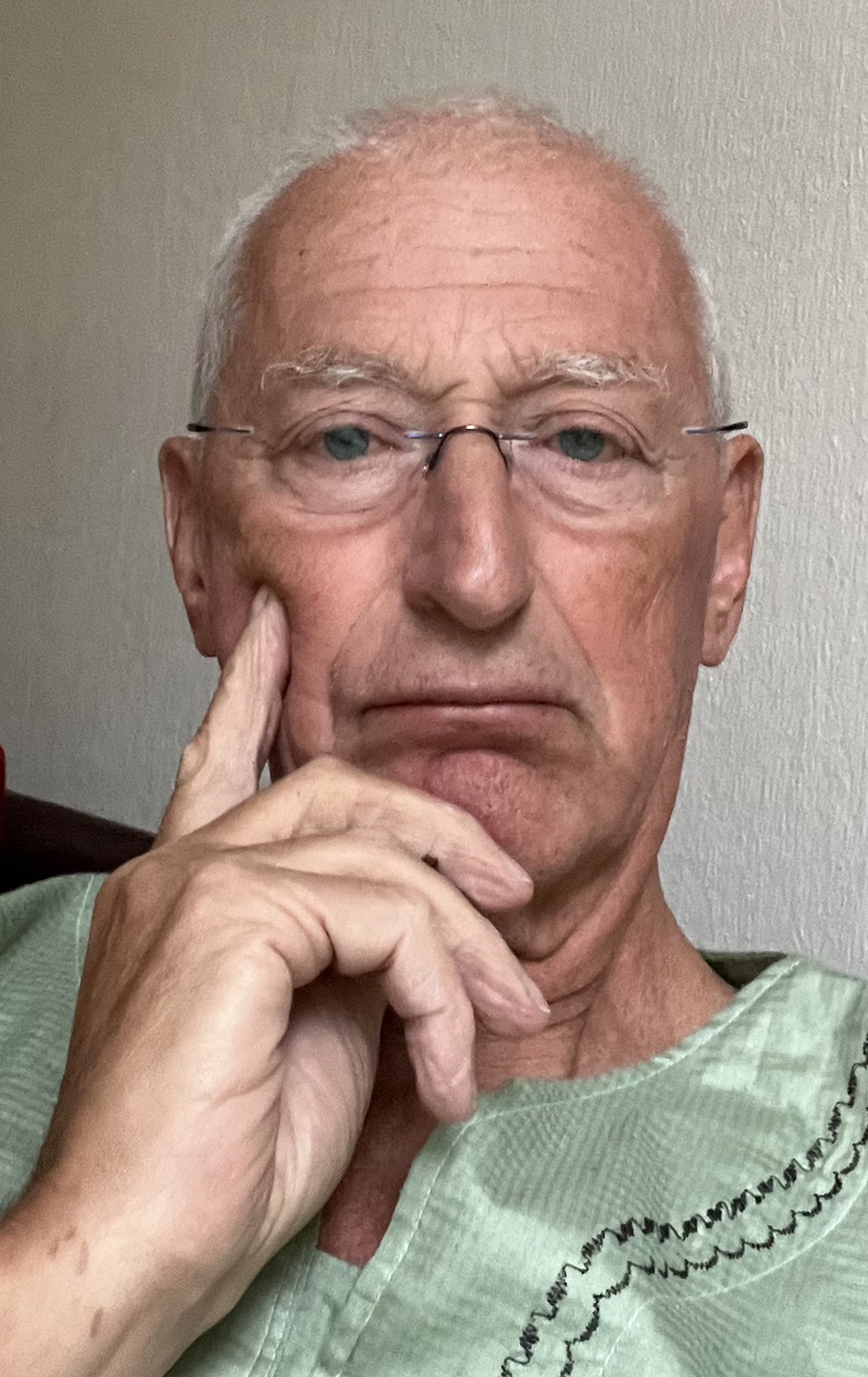 Le lendemain matin, je m'arrête au premier garage venu. Coup de chance : le propriétaire est un retraité (72 ans) qui nous accueille chaleureusement. Nous nous mettons tout de suite au travail ensemble. Je commence par démonter le démarreur. / The next morning, I stop at the first garage we come across. A stroke of luck: the owner is a 72 years old pensioner who welcomes us warmly. We immediately get to work together. I start by removing the starter.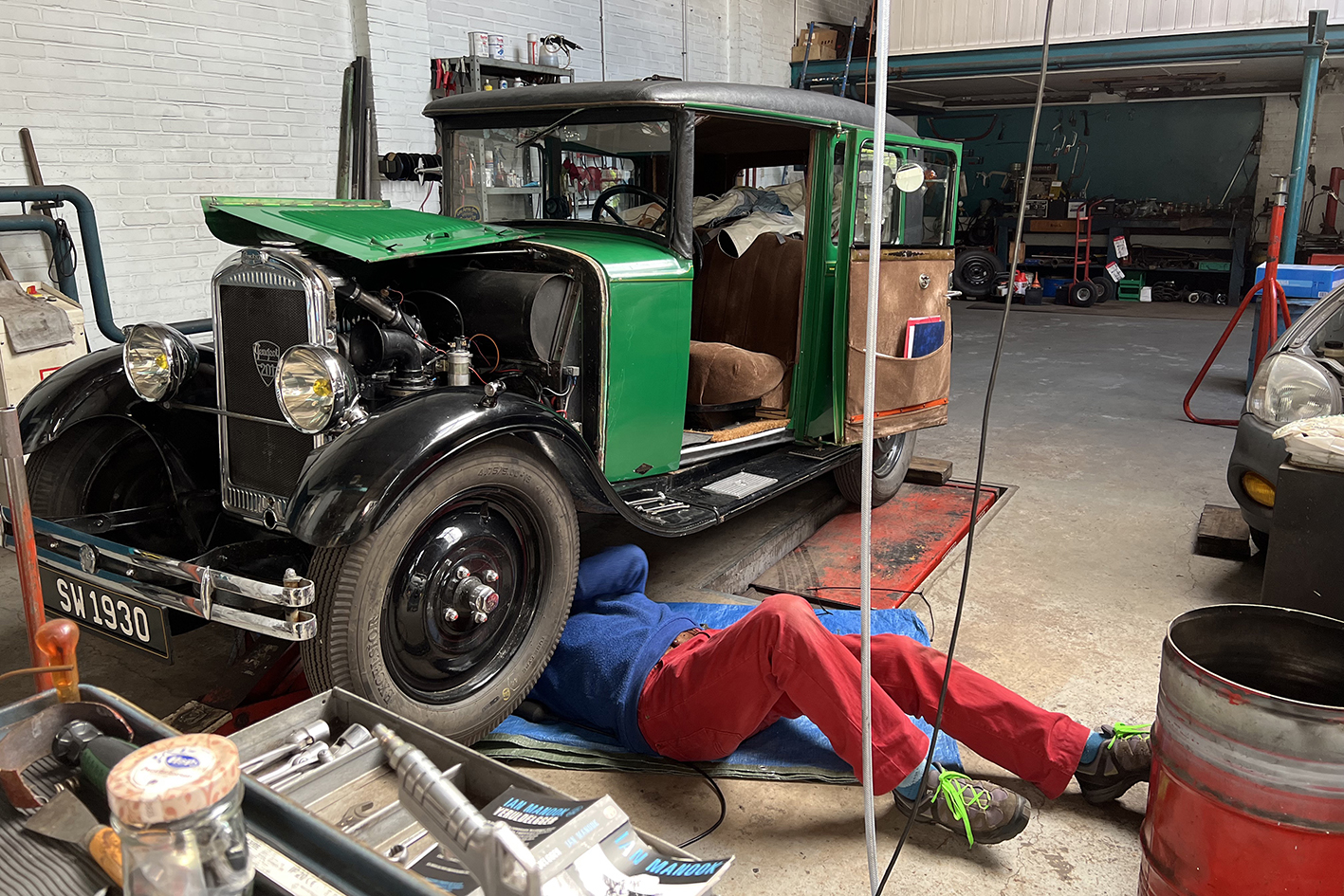 Les 4 boulons qui doivent tenir les deux parties du démarreur ont disparu ! C'est incompréhensible… / The 4 bolts that must hold the two parts of the starter have disappeared! It's incomprehensible…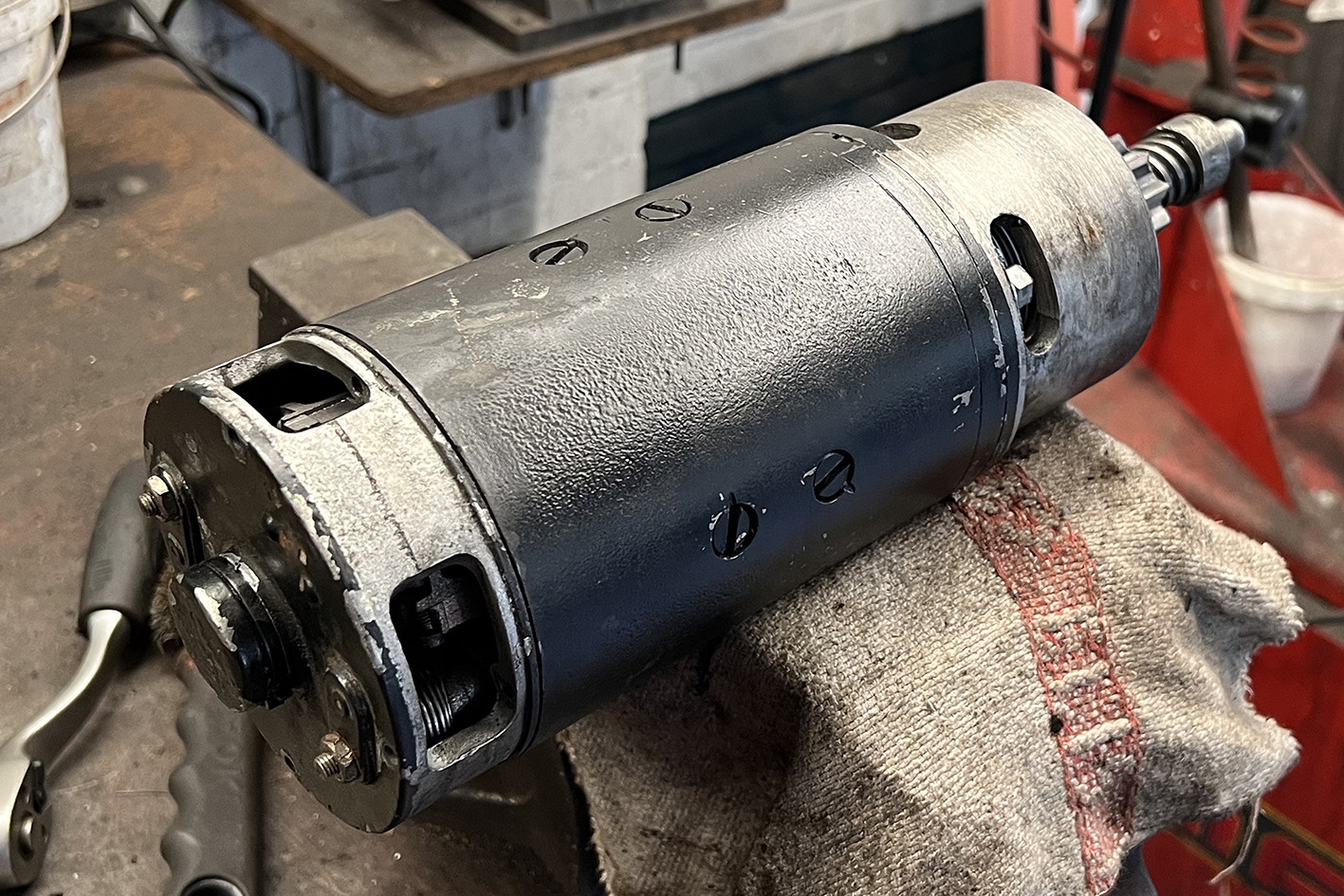 Pendant qu'Aad et moi essayons de percer le mystère, Marie-Xavier tue le temps en lisant. / While Aad and I try to unravel the mystery, Marie-Xavier kills time by reading.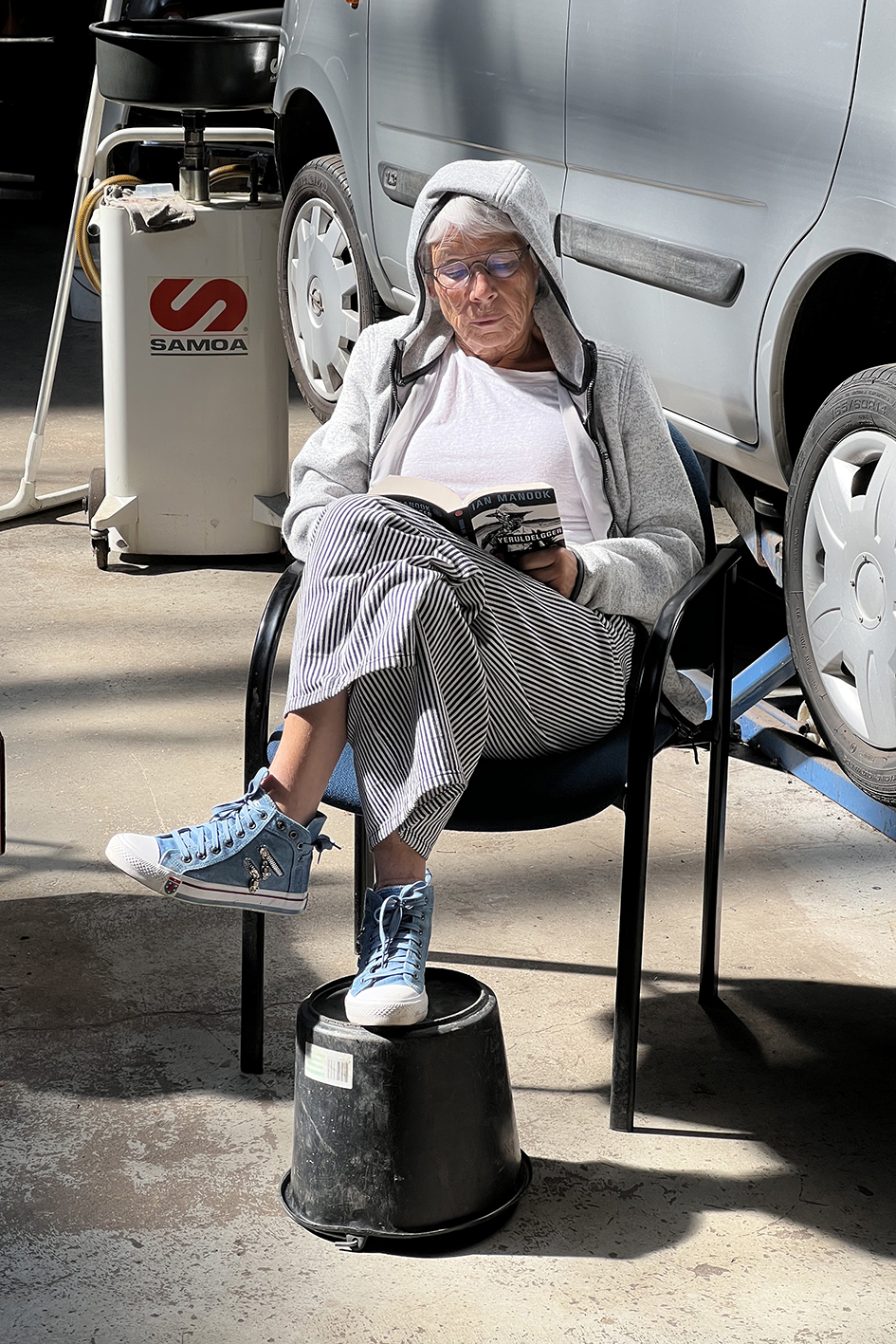 Aad se déclare incompétent en la matière. Je me dis : ça y est, fin de l'aventure ! Devant mon désarroi, le garagiste me rassure. « On va trouver une solution » me dit-il. Je n'y crois pas trop. Il appelle un copain qui a 85 ans… / Aad declares himself incompetent in the matter. I tell myself that this is it: end of the adventure. Faced with my confusion, the mechanic reassures me. "We will find a solution," he says. I don't really believe it. He calls an 85-year old friend …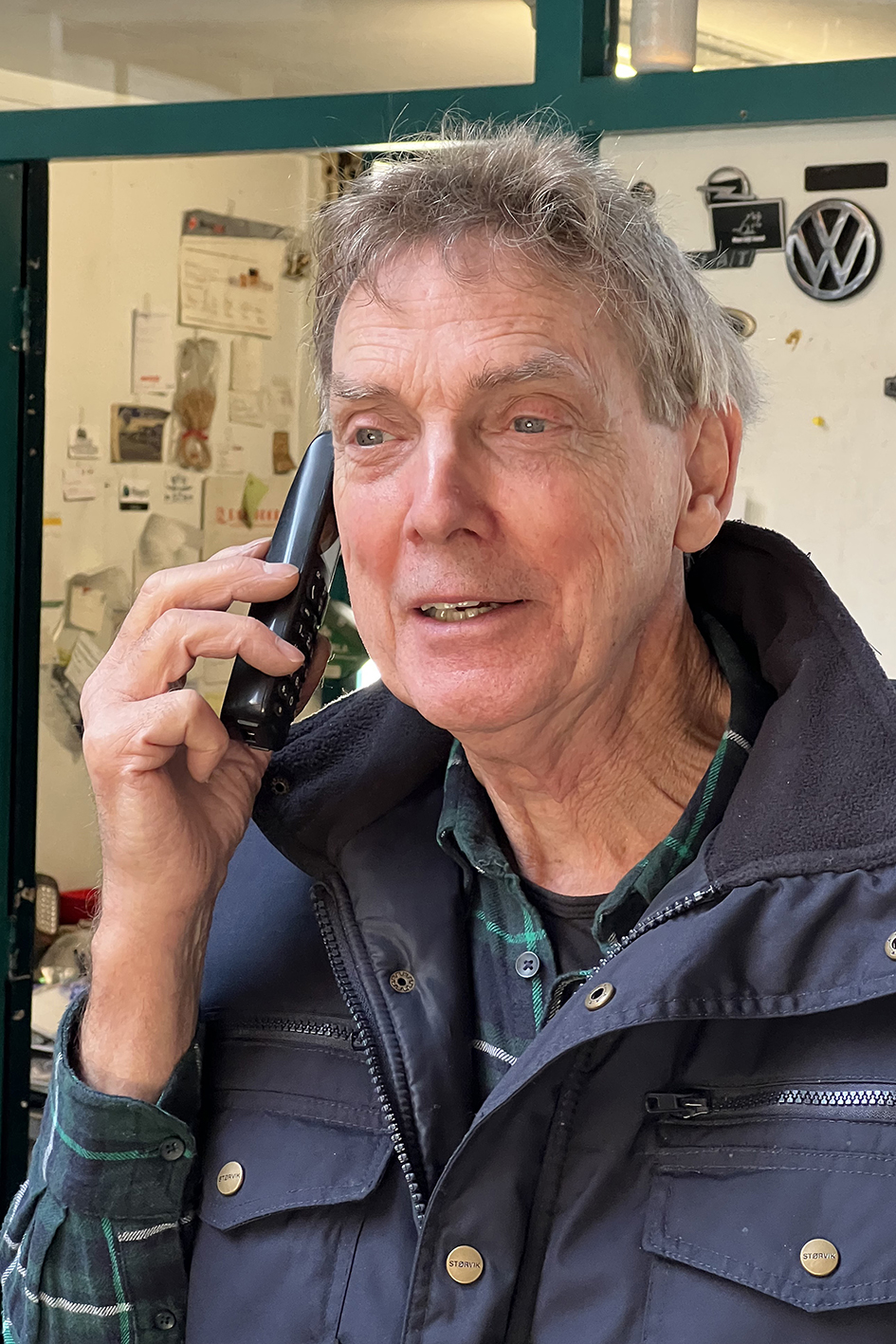 Aad dépose le démarreur chez son vieil ami, puis nous conduit en ville. « Détendez-vous, allez vous promener ! » Je n'ai guère le cœur à ça, mais quoi faire d'autre ? Je reçois un coup de fil de l'ami Manu, alerté par Étienne, un autre ami du forum des '01', qui a remarqué grâce à notre balise spot que nous nous étions arrêtés dans un garage. On ne peut rien cacher aux copains ! Manu me rassure : au besoin il m'enverra un autre démarreur ! « Et pendant que tu y es, me dit-il, fais vérifier les taux de compression de ton moteur ! » Plusieurs heures plus tard, Aad vient nous chercher : démarreur réparé ! / Aad drops off the starter at his old friend, then drives us into town. « Relax, go for a walk! » « I don't really feel like it, but what else can I do? I receive a phone call from my friend Manu, alerted by Étienne, another friend from the '01' forum, who noticed thanks to our spot beacon that we had stopped at a garage. We can't hide anything from our friends! Manu reassures me: if needed, he will send me another starter! "And while you're at it, he says, have your engine's compression ratio checked! Several hours later, Aad comes to fetch us: starter repaired!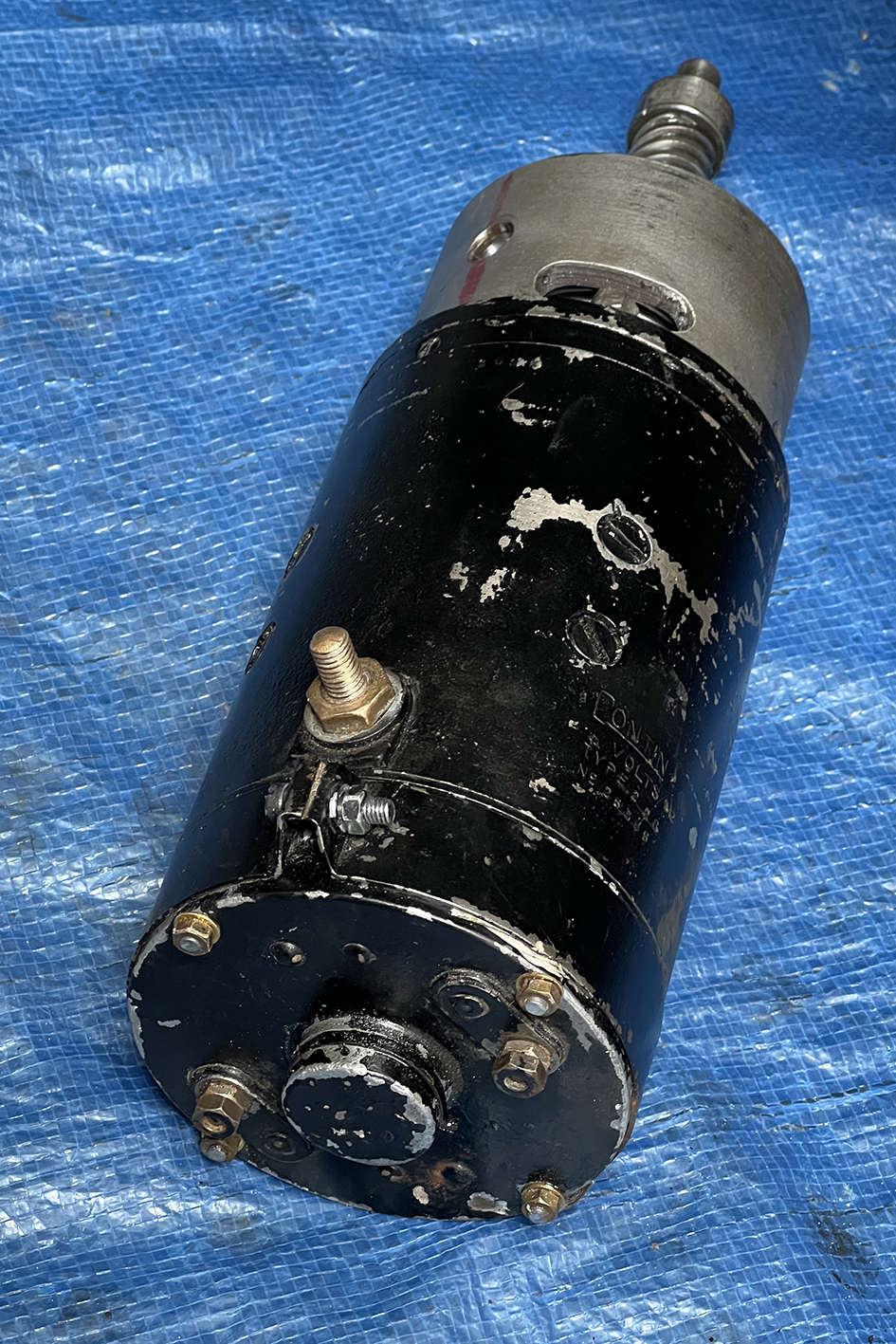 En moins d'une demi-heure de travail tout est rentré dans l'ordre. / In less than half an hour of work everything is back to normal.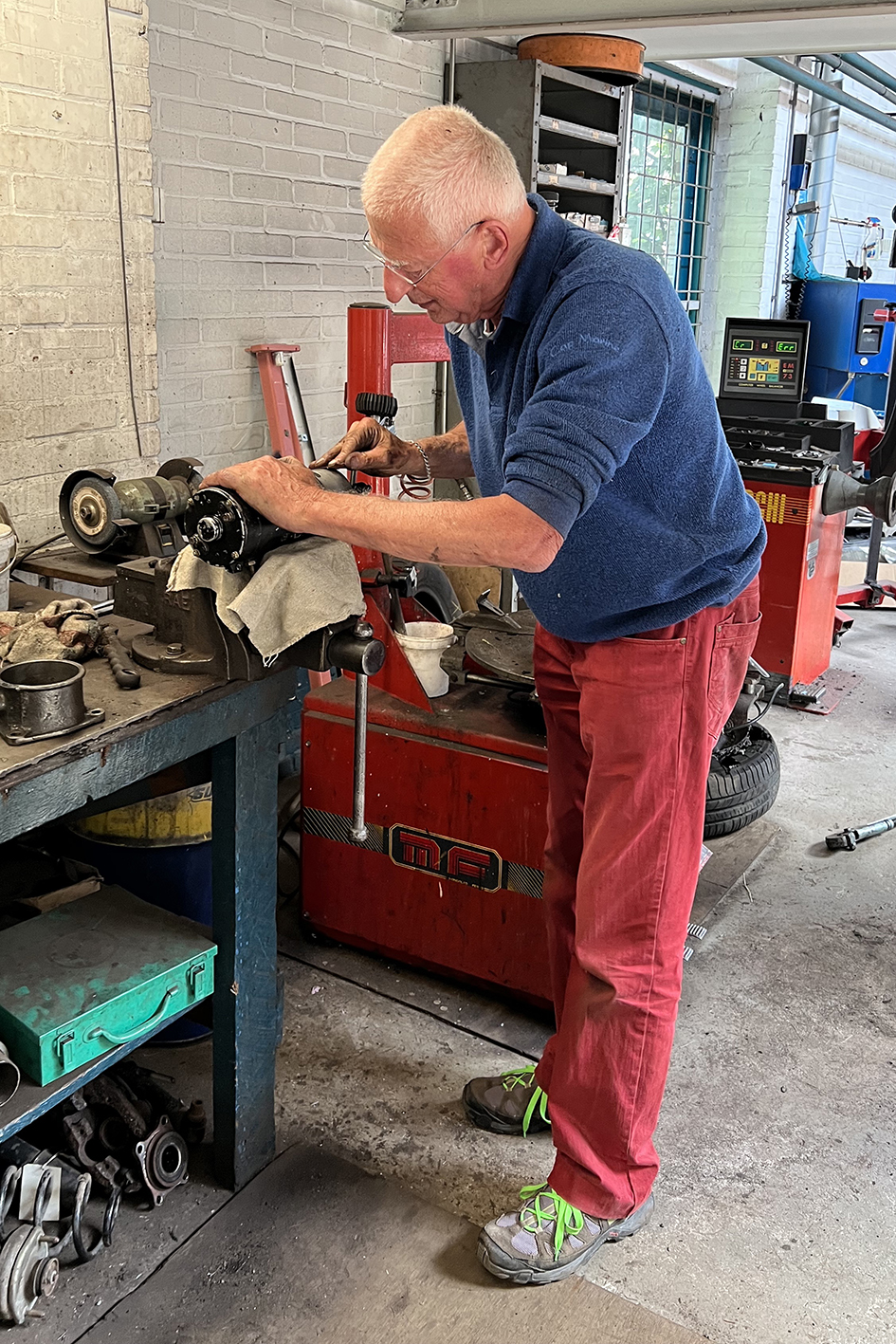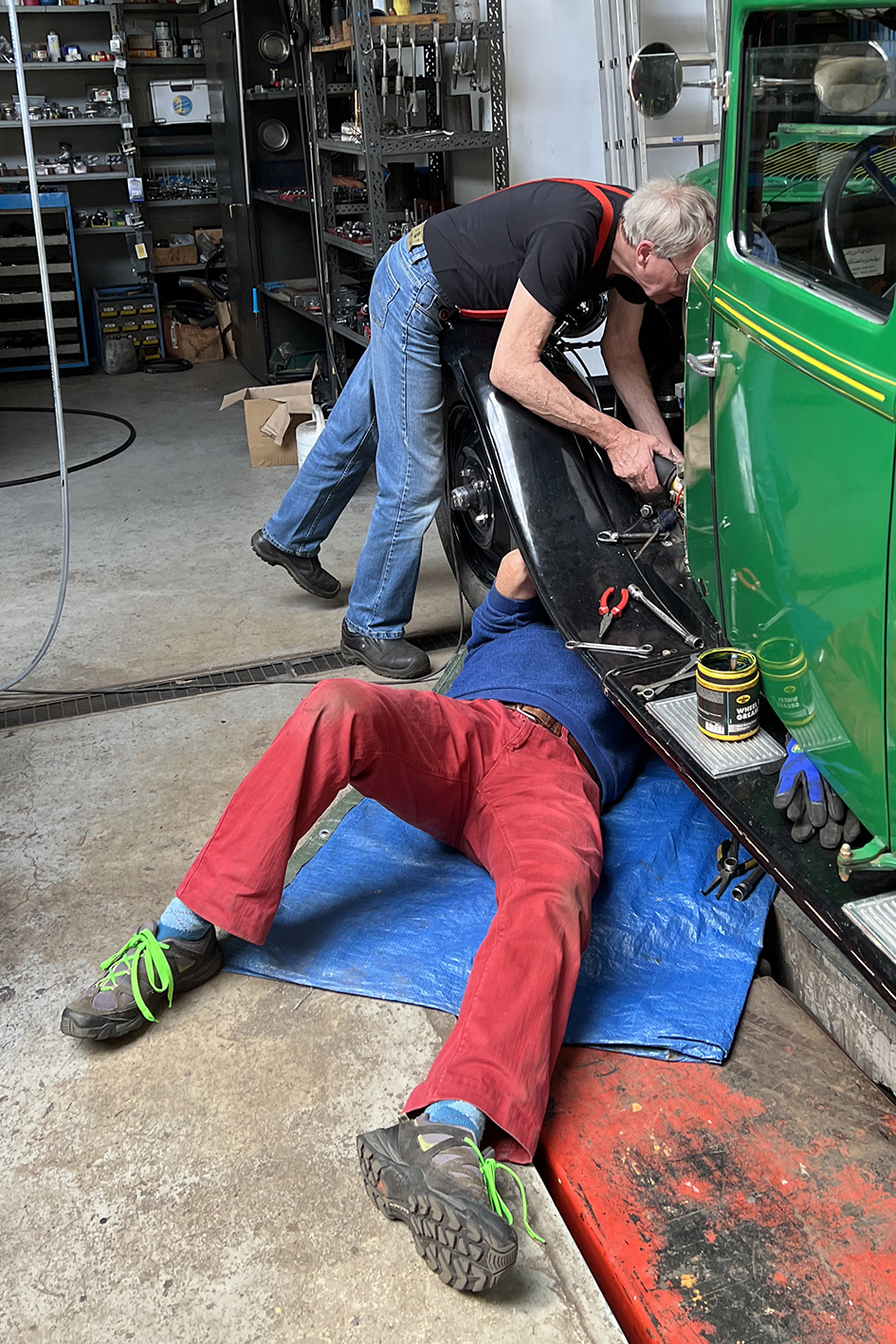 Nous prenons le thé avec notre sauveur, qui est vraiment un très chic type ! / We have tea with our saviour, who is really a very nice guy!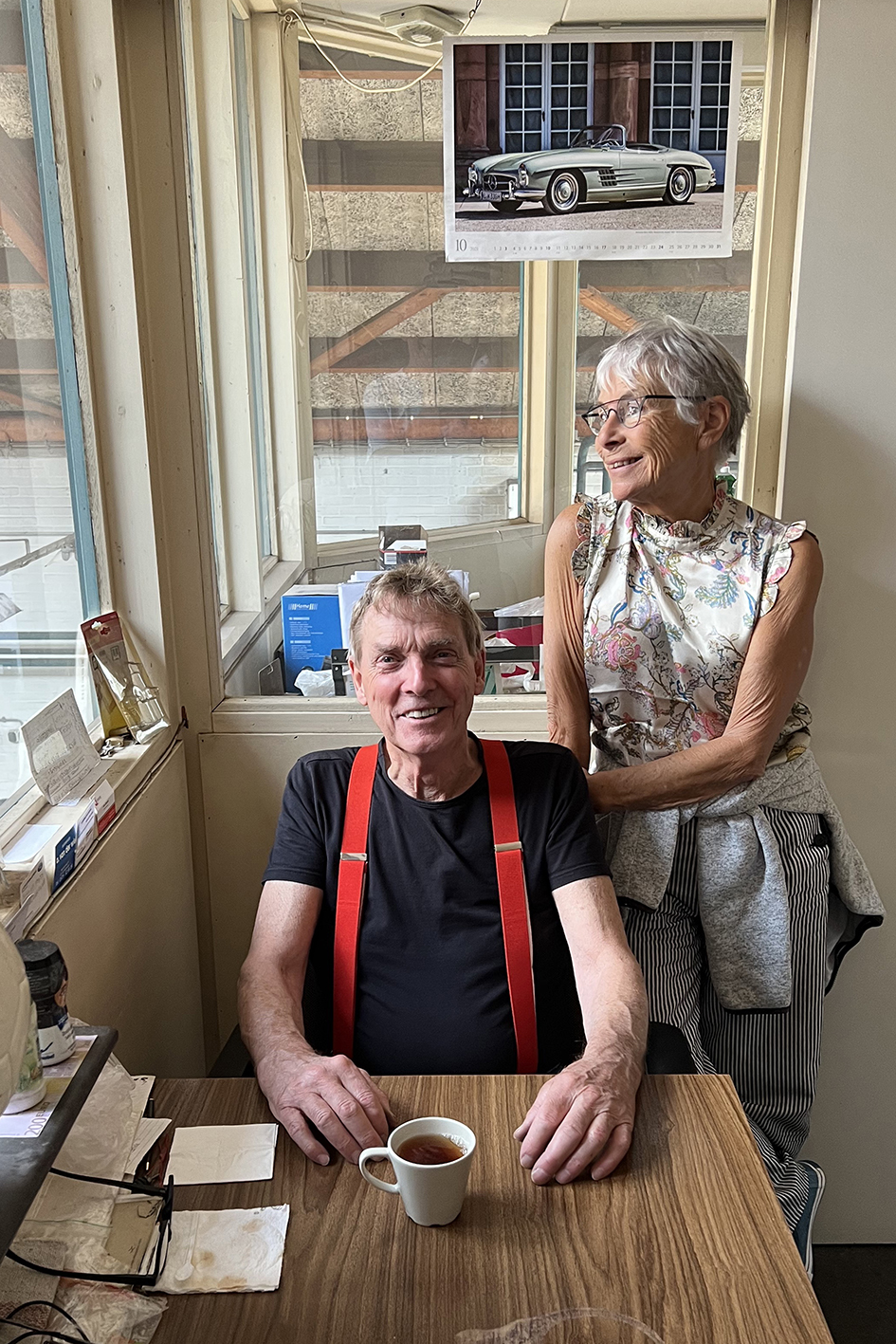 Dans la petite cantine, qui surplombe le garage proprement dit, mon œil tombe sur un petit canard en plastique. Sacré clin d'œil vers le premier blog consacré au Rhin (tout en bas de cette page) ! / In the small canteen, which overlooks the garage itself, my eye falls on a small rubber duck. What a nod to the first blog dedicated to the Rhine (at the very bottom of this page)!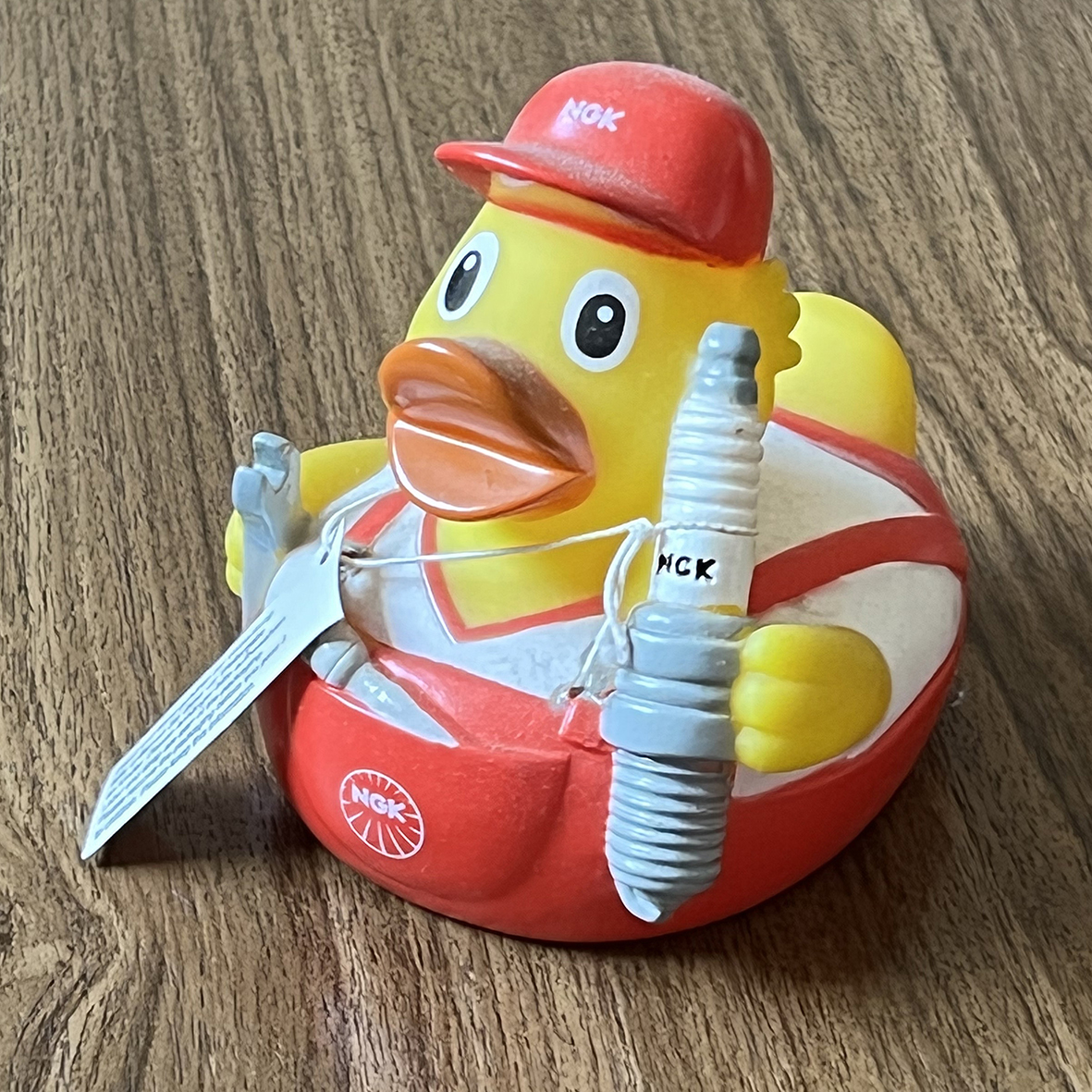 On vérifie les taux de compression qui sont étonnement élevés. La 'paresse' de 'La Charmante' dans les côtes n'est certainement pas due à ça. C'est tout bonnement que nous sommes trop chargés… / We check the compression rates which are surprisingly high. The 'laziness' of 'Le Charmante' in the climbs is certainly not due to this. It's just that we are too heavy…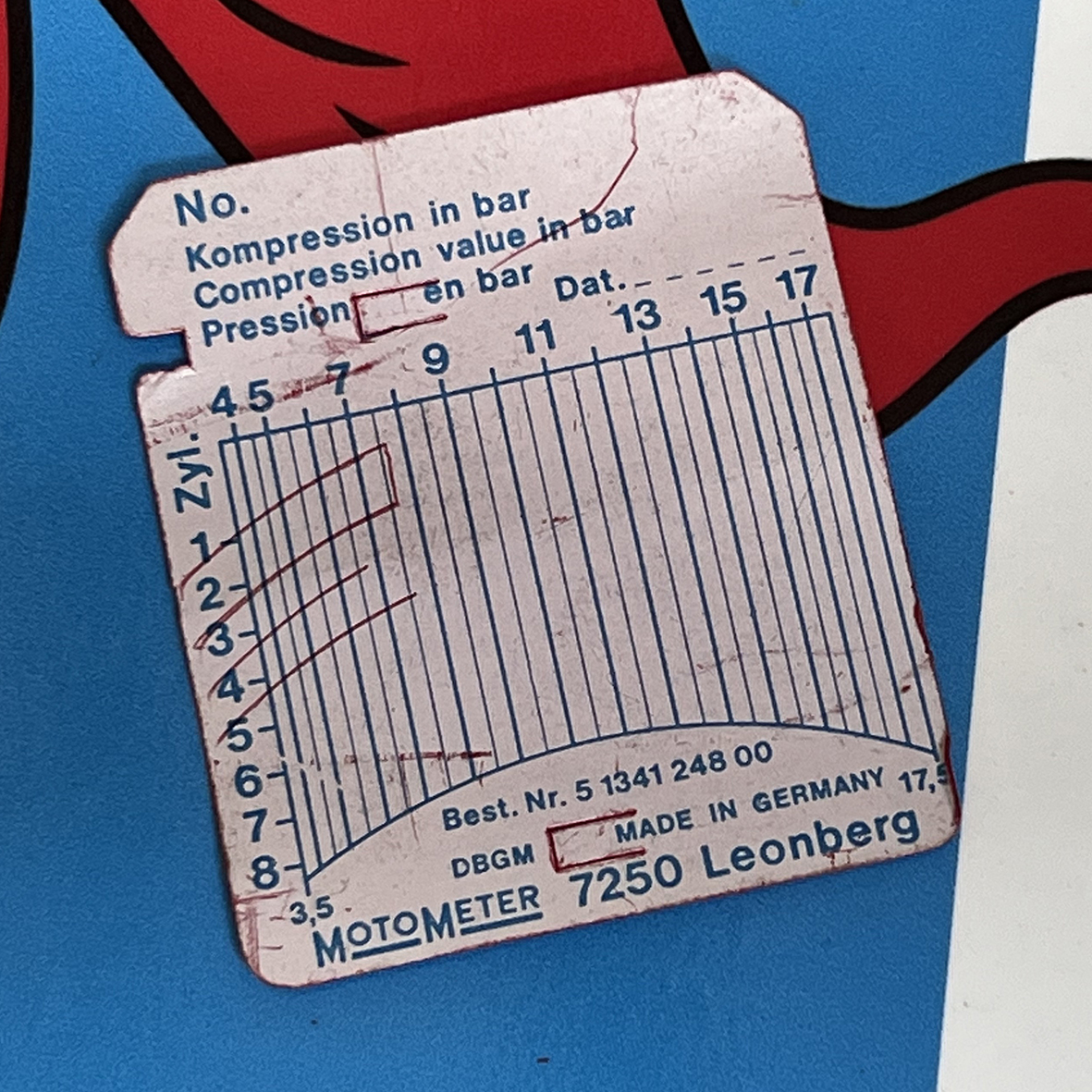 Nous disons au-revoir au sympathique Aad van der Wiel. Nous avons perdu une journée entière, mais au moins l'aventure continue ! / We say goodbye to the friendly Aad van der Wiel. We lost a whole day, but at least the adventure goes on!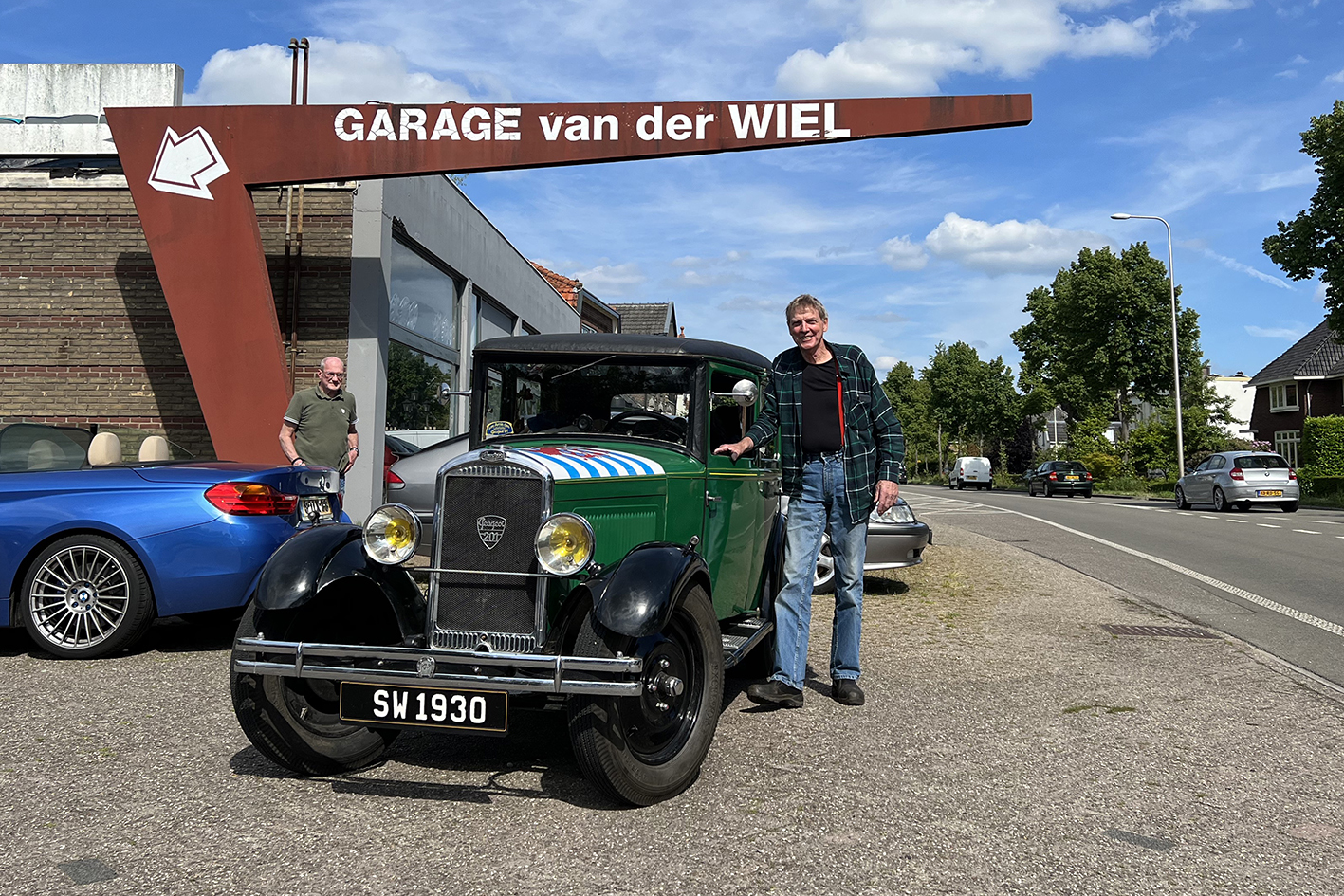 Sur son conseil, nous nous rendons à Bronkhorst, la plus petite ville (ayant des droits de cité) des Pays-Bas, avec seulement quelque 150 habitants. / On his advice, we go to Bronkhorst, the smallest city (with city rights) in the Netherlands, with only about 150 inhabitants.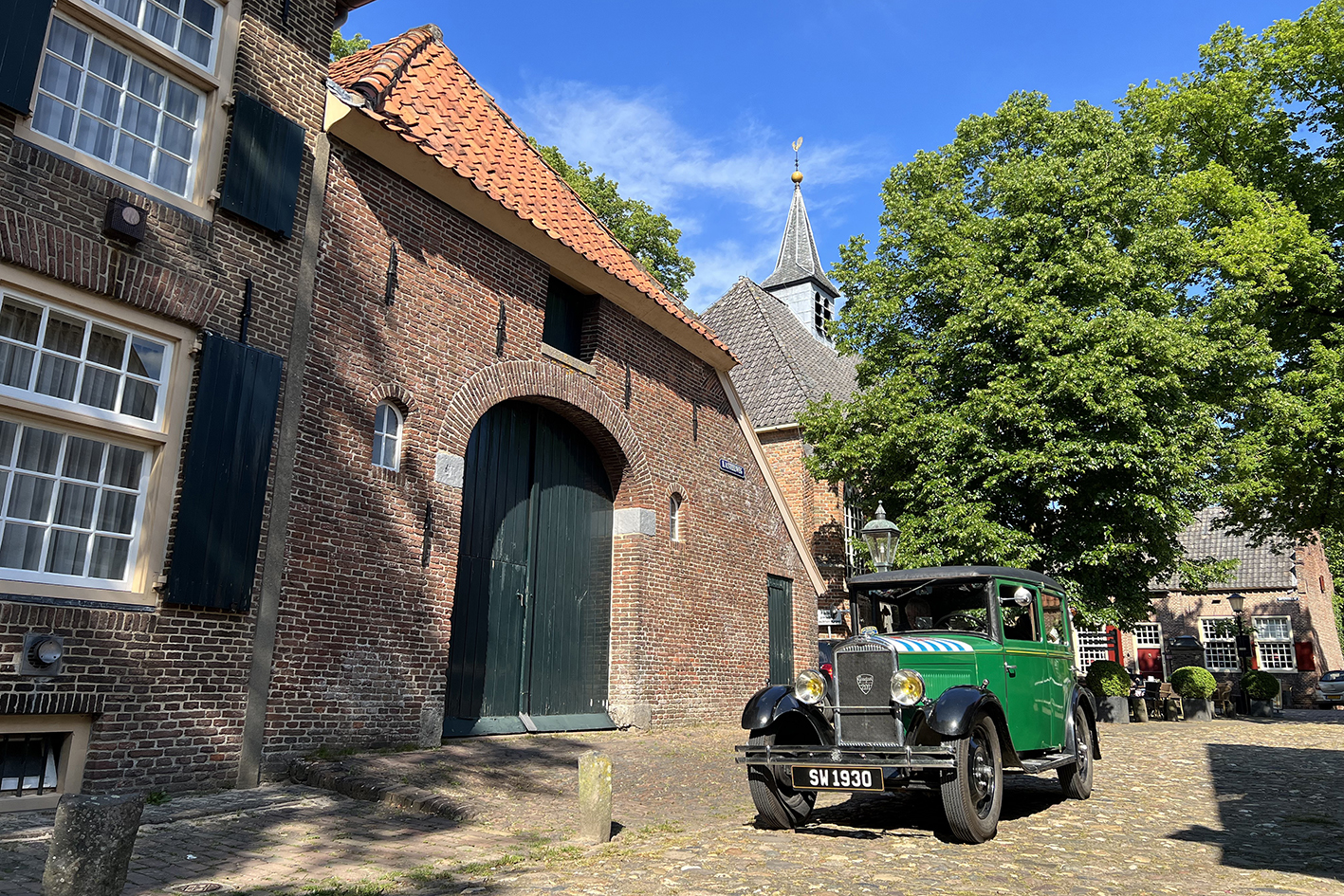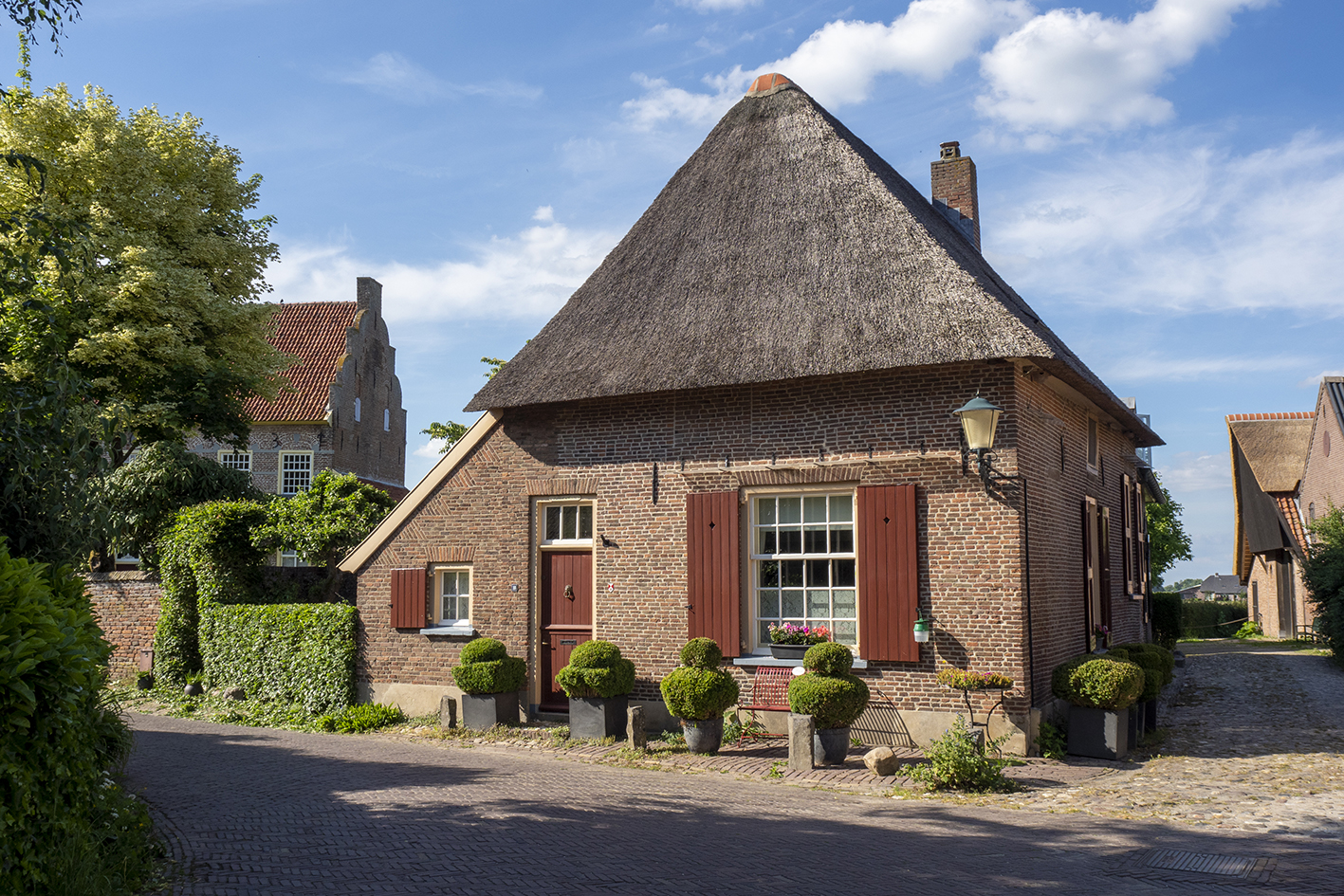 Nous trouvons une chambre dans une ancienne ferme aménagée en hôtel. / We find a room in an old farm converted into a hotel.
Puis nous nous promenons dans la campagne environnante. La vie nous sourit à nouveau, après l'angoisse de ces dernières 24 heures. / Then we go for a walk in the surrounding countryside. Life smiles at us again, after the anguish of the past 24 hours.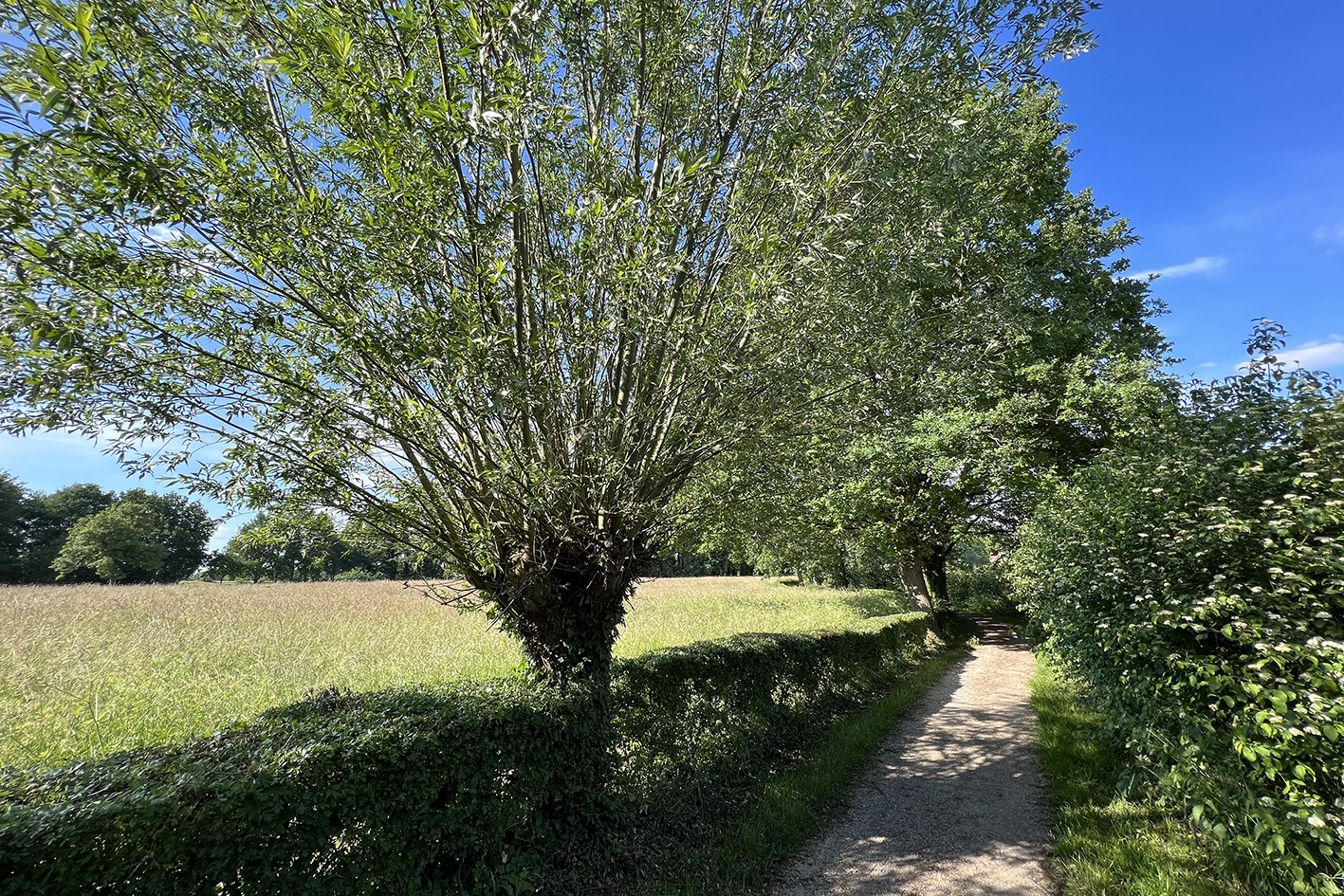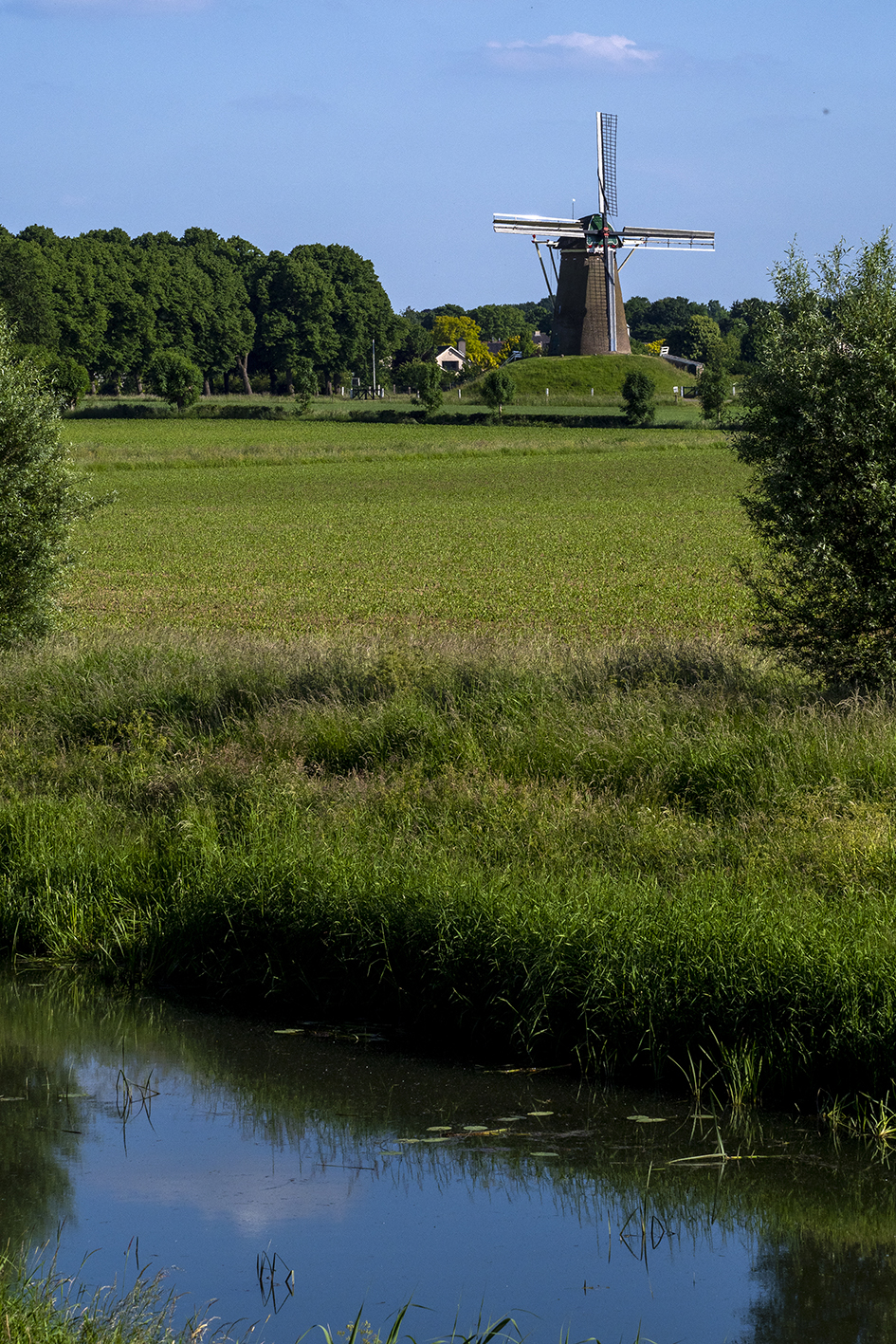 Le village est très pittoresque et me rappelle celui de mon enfance, il y a 65 ans… / The village is very picturesque and reminds me of my childhood, 65 years ago…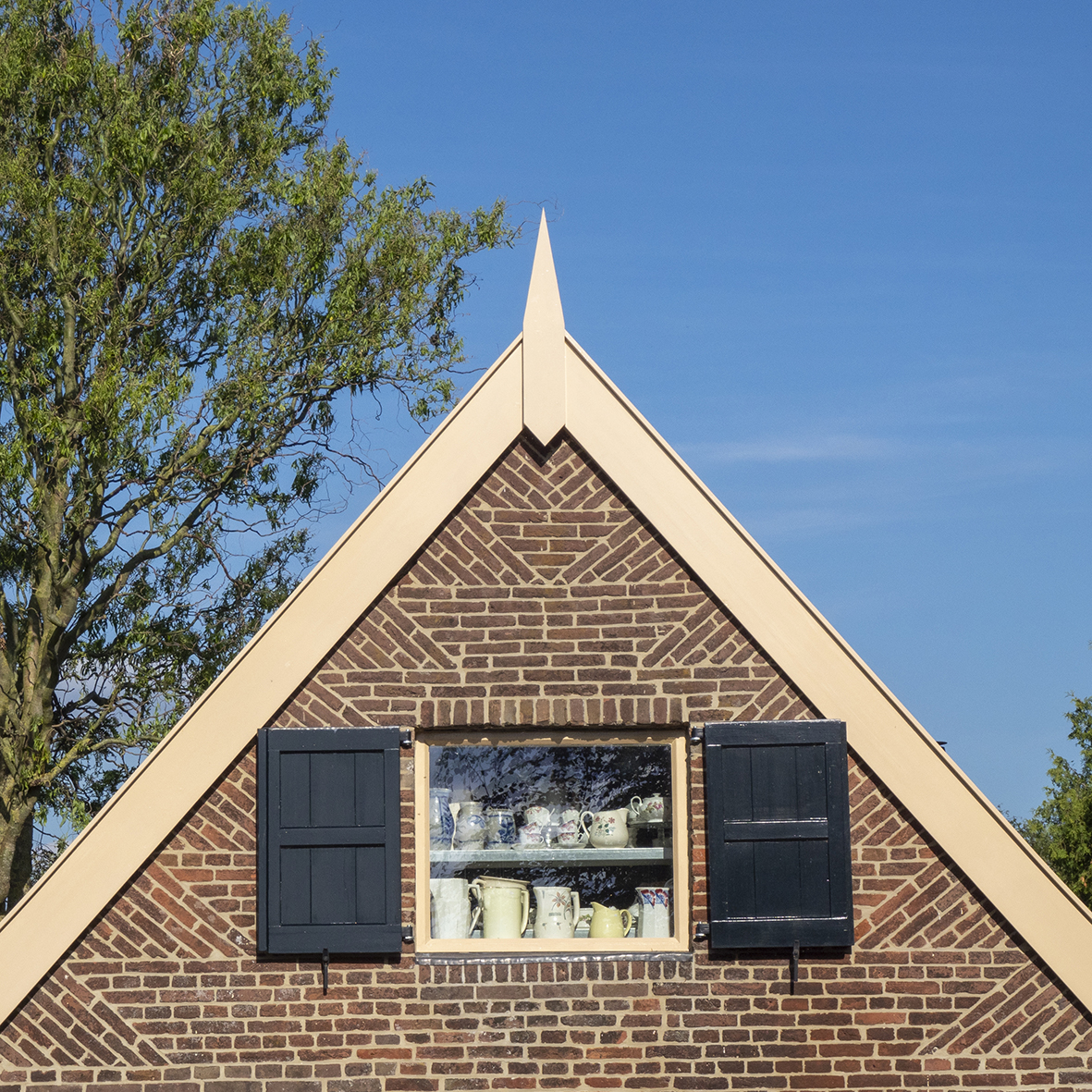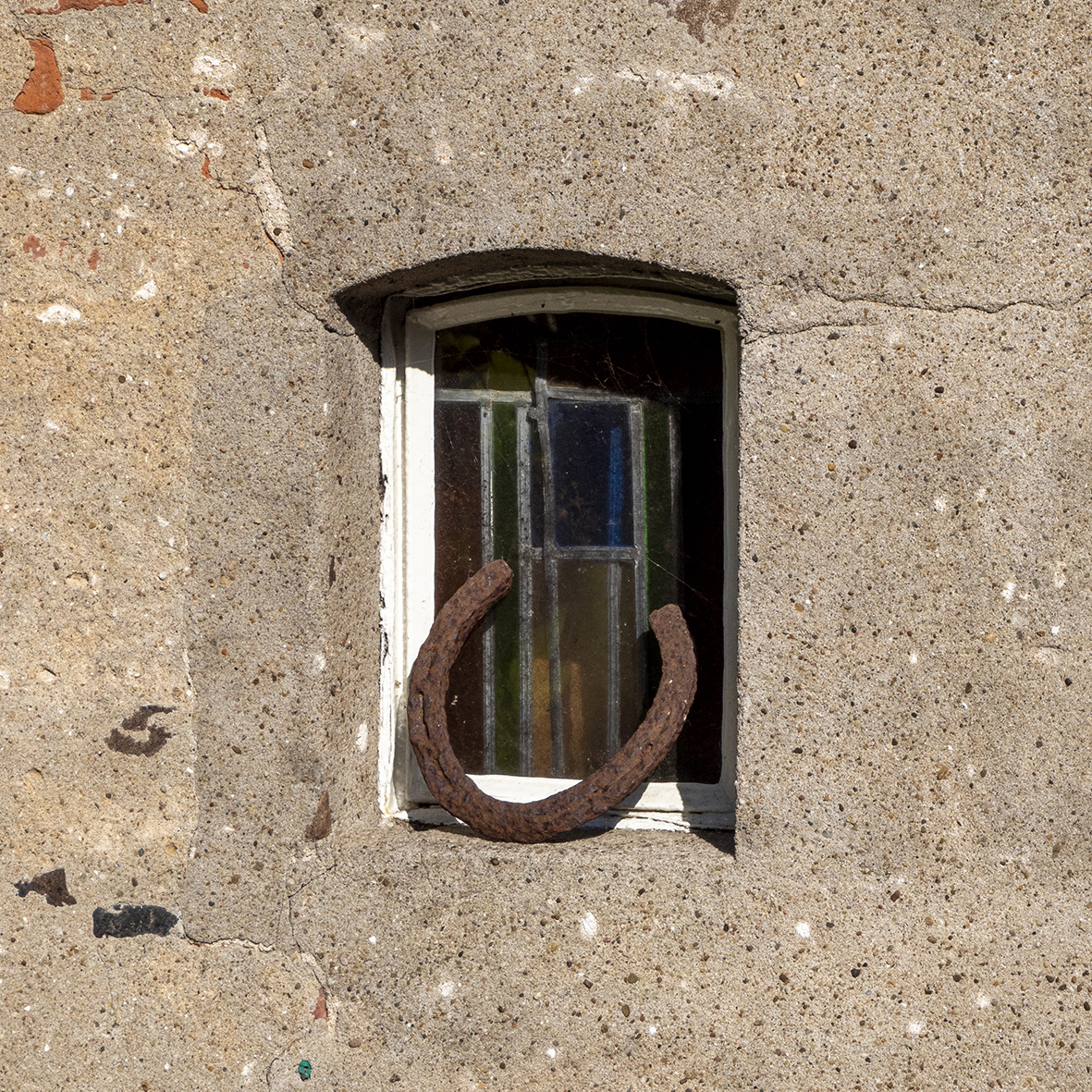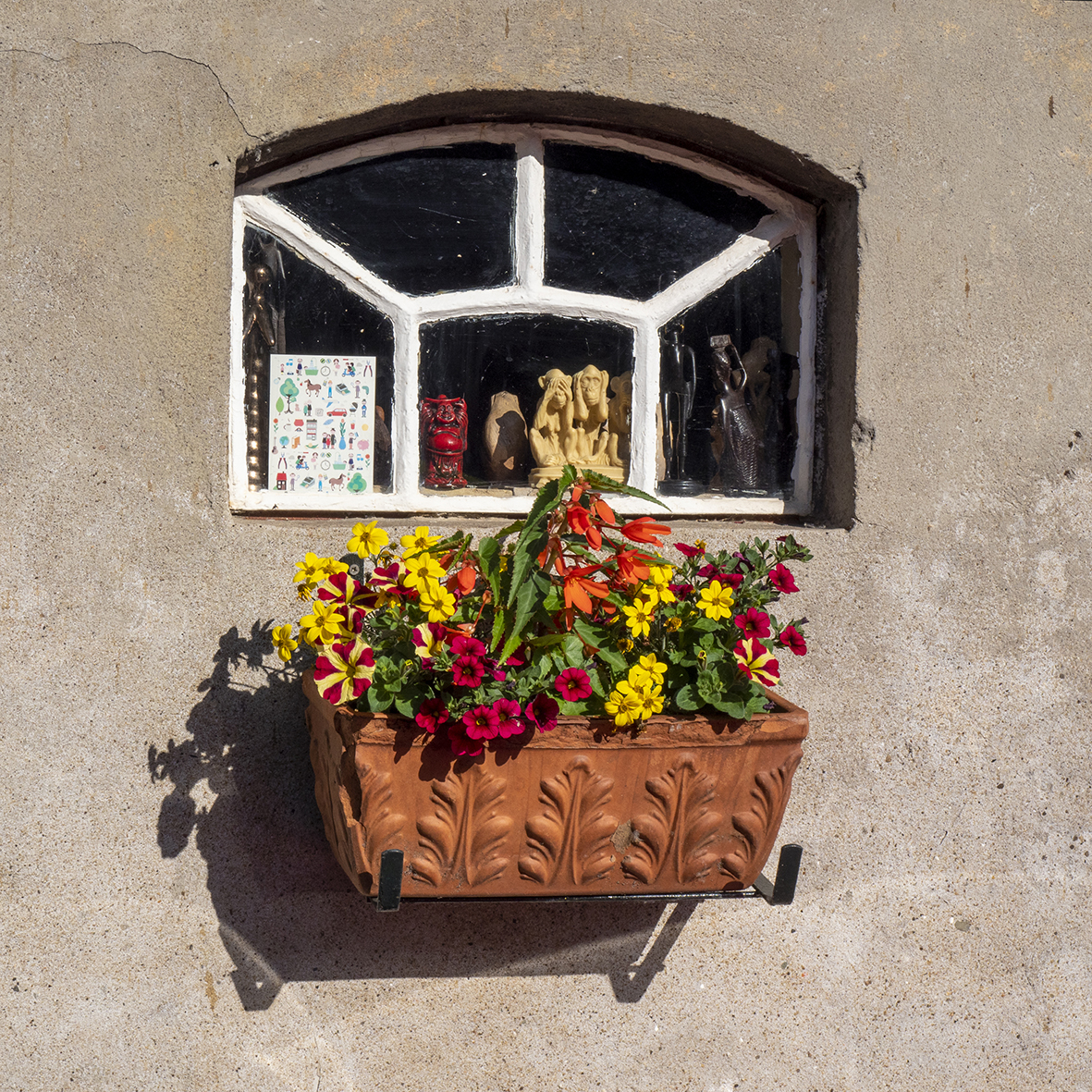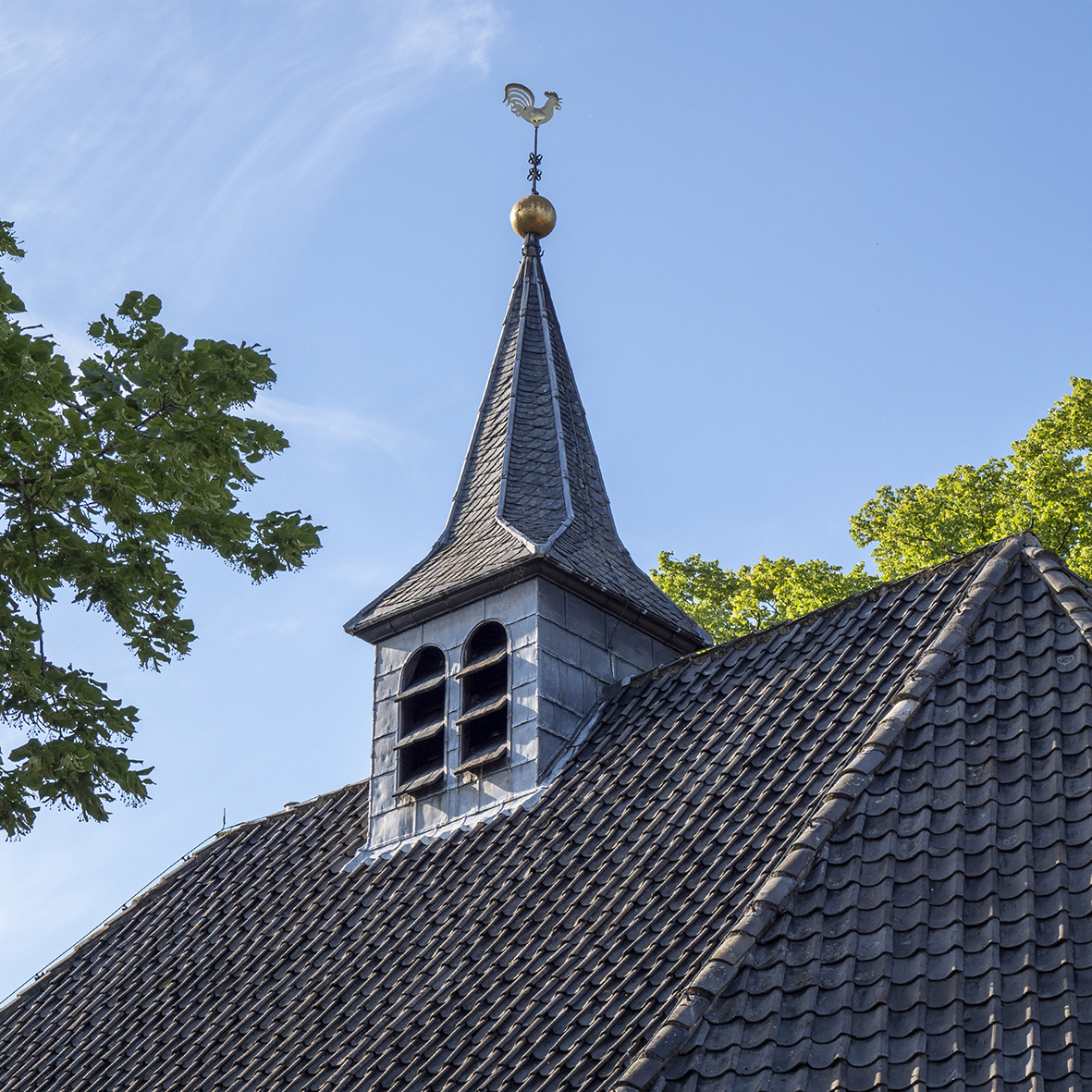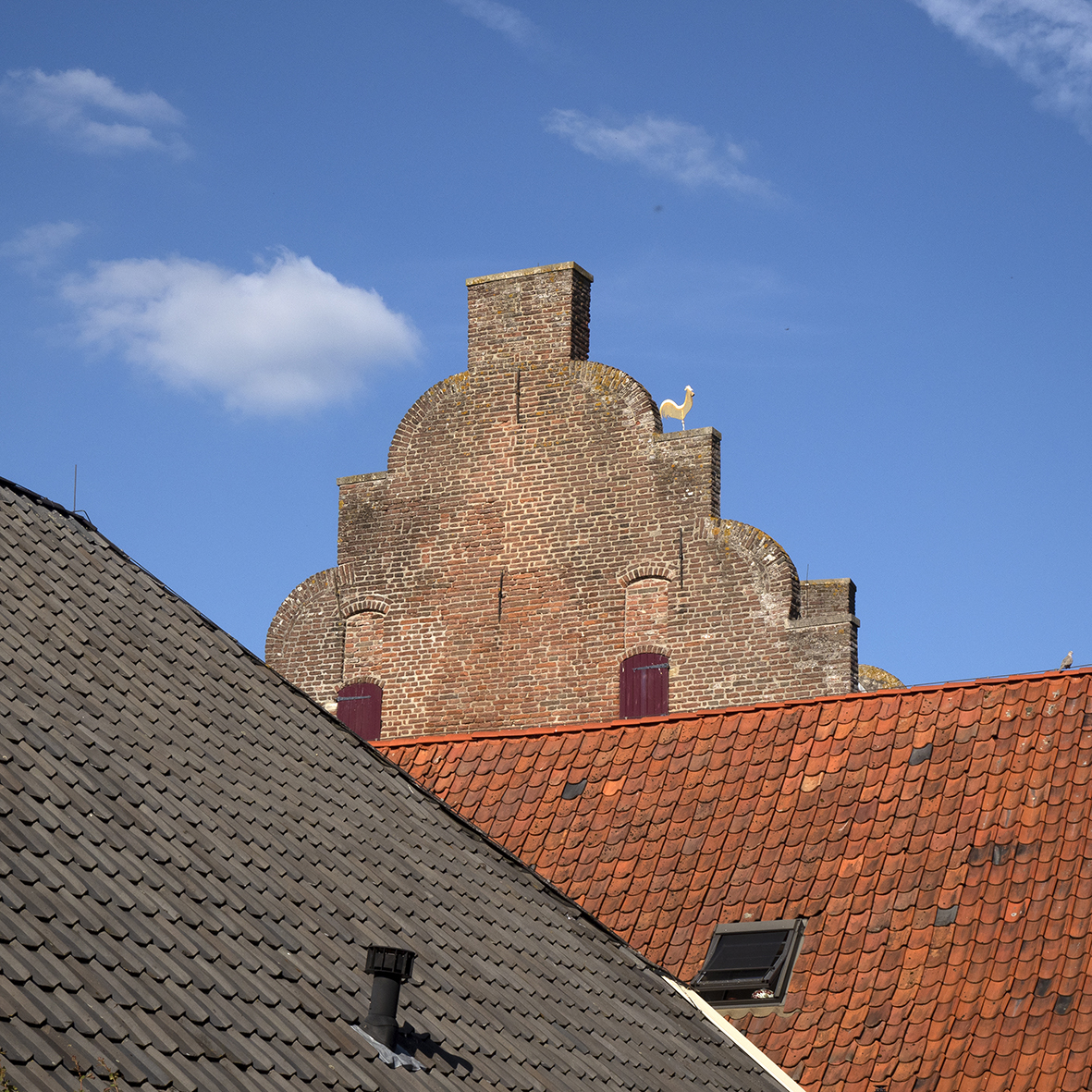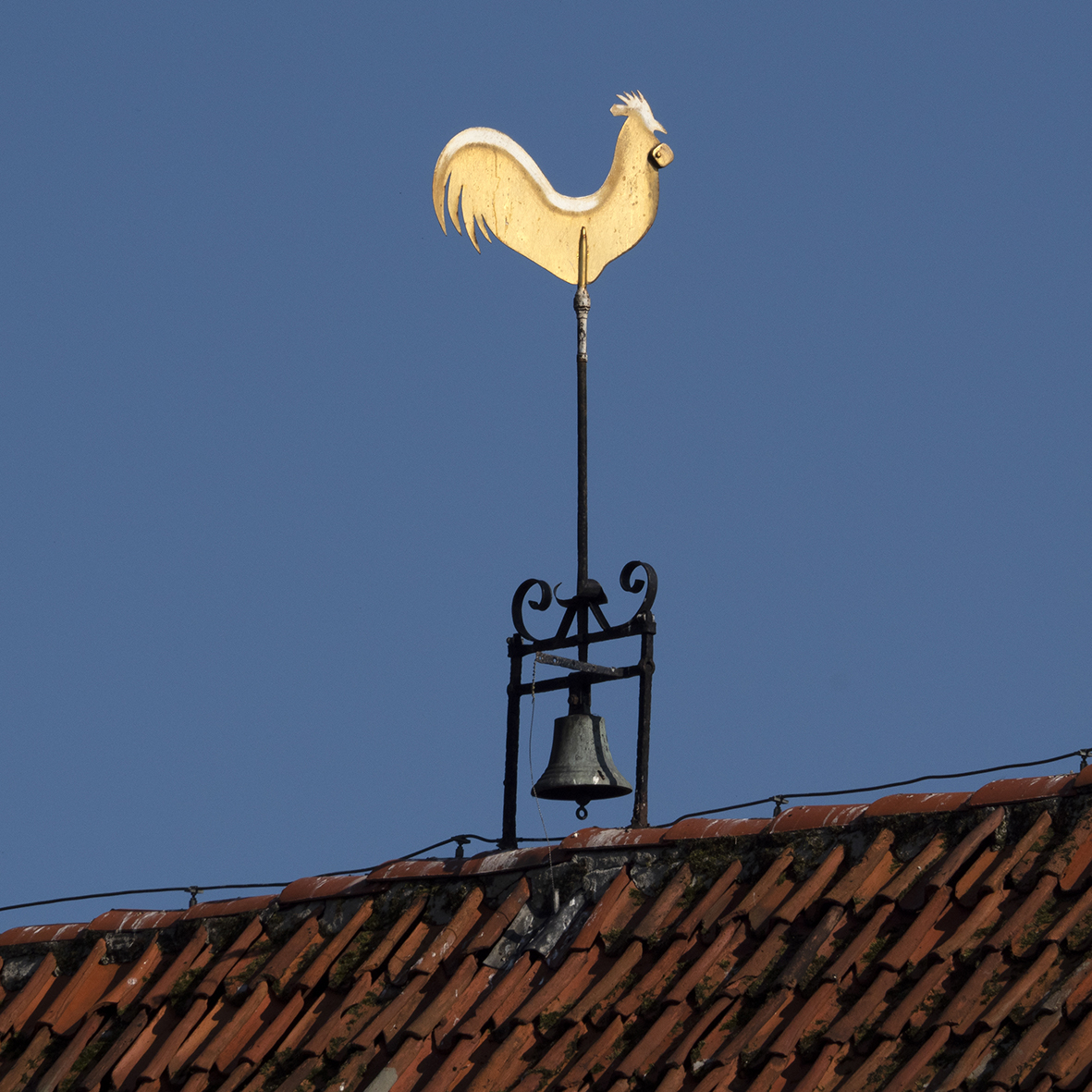 •••
Mercredi 1er Juin 2022. Nimègue-Zutphen (103 km)

/ Wednesday, June 1st, 2022. Nijmegen-Zutphen (103 km).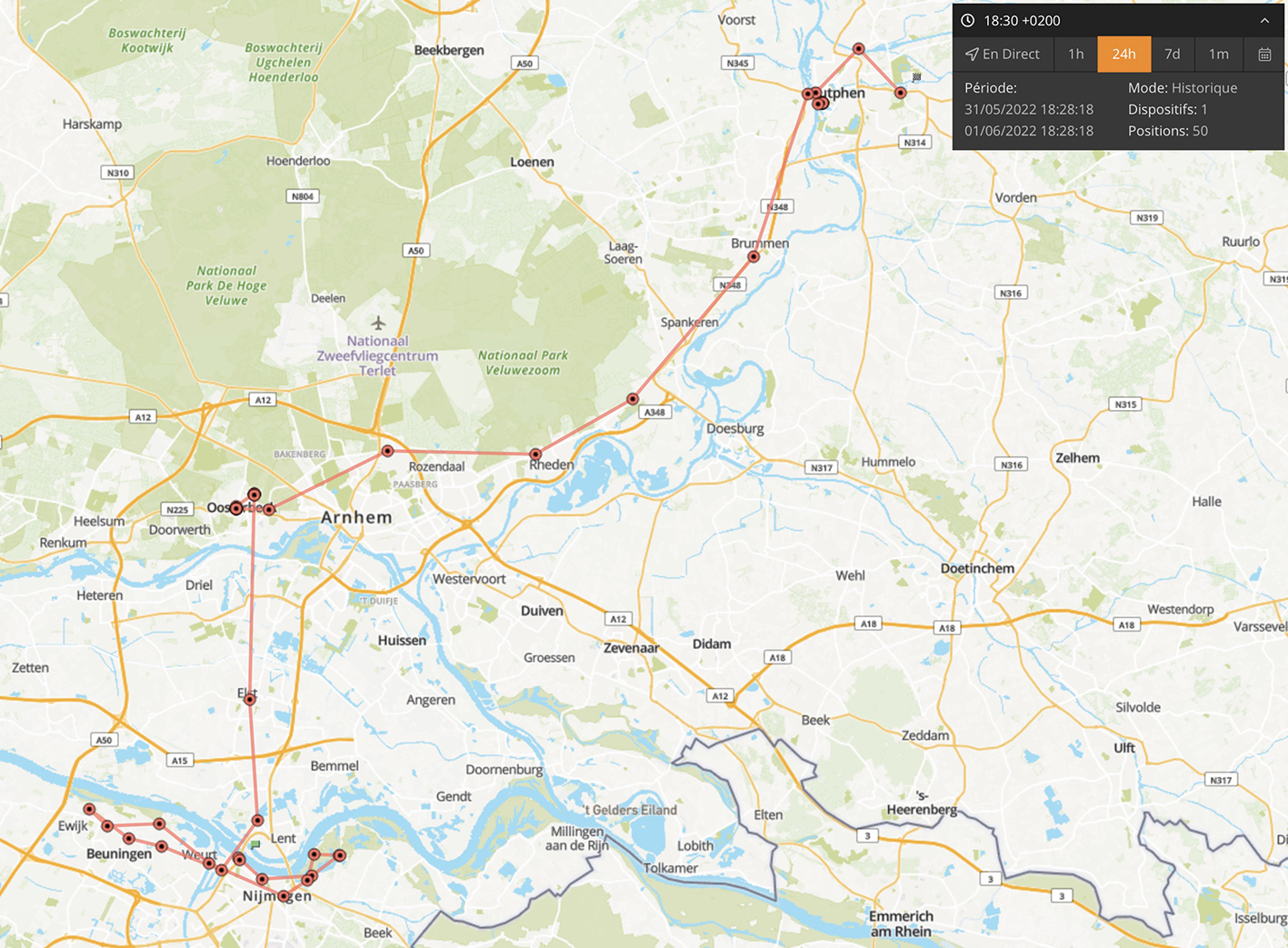 Nous traversons le Waal à Nimègue. Maintenant que vous connaissez un peu la géographie, voici un peu d'histoire. / We cross the Waal at Nijmegen. Now that you know the geography (see previous blog below), here is a bit of history.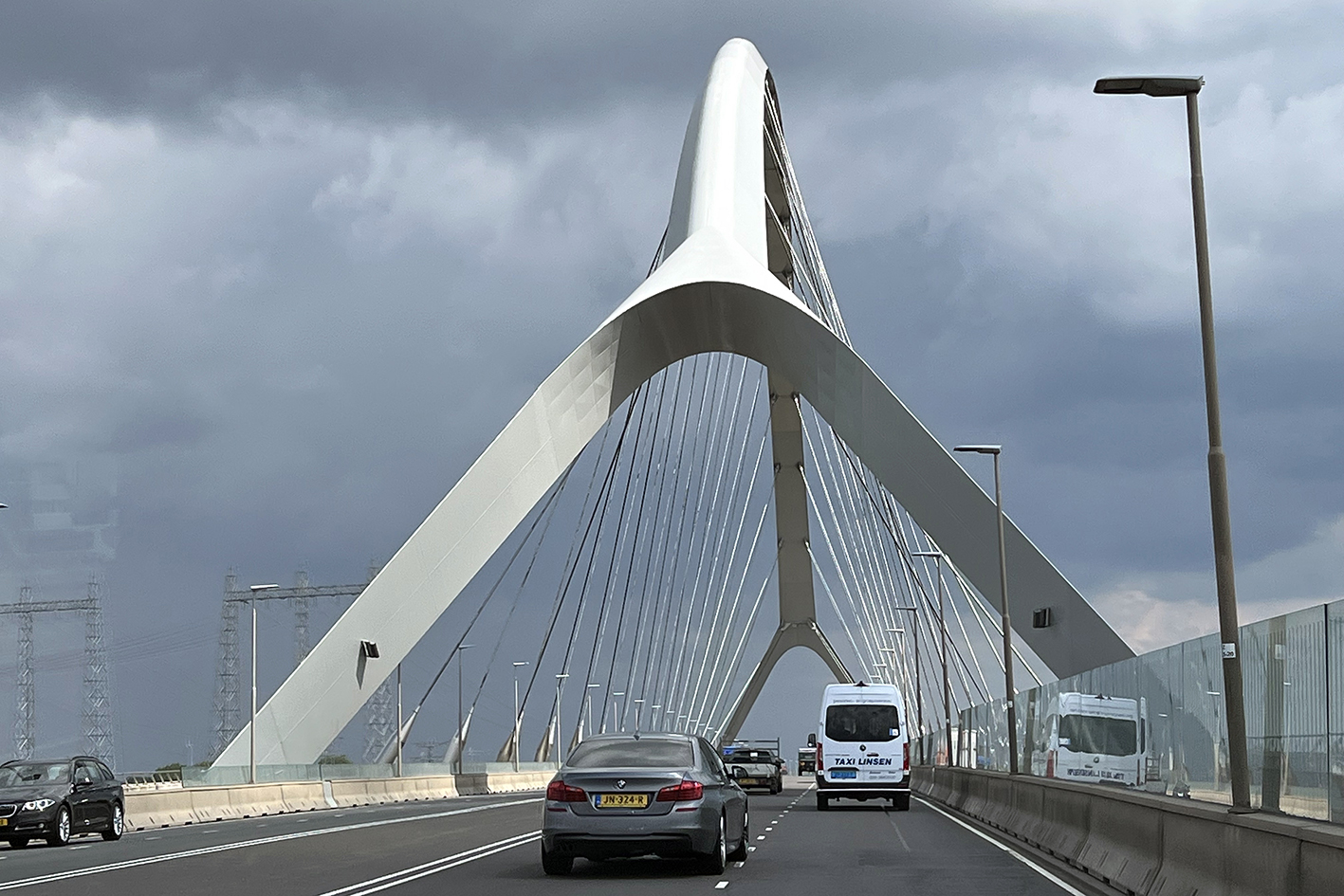 Tous ces bras du Rhin ont été le théâtre d'une des plus importantes batailles de la Seconde Guerre Mondiale. L'opération Market Garden a eu lieu du 17 au 25 septembre 1944. L'objectif était de sécuriser neuf ponts clés sur trois grands fleuves aux Pays-Bas : à travers la Meuse/Meuse, à travers le Waal à Nimègue et à travers le Nederrijn (Bas-Rhin) à Arnhem, respectivement, afin de déborder les lourdes défenses allemandes de la ligne Siegfried (Westwall) qui protégeait le cœur de l'Allemagne au-delà du Rhin. On espérait qu'avec une avance rapide vers Berlin, la guerre serait terminée avant Noël. Market Garden était un plan risqué du maréchal britannique Bernard Montgomery. Elle fut exécutée par 41.628 troupes aéroportées anglaises, américaines et polonaises et trois divisions au sol venant du sud. L'opération comportait deux parties. L'opération Market était la plus grande opération aéroportée de l'histoire de la guerre, avec le débarquement de parachutistes et de planeurs. / All these arms of the Rhine were the scene of one of the most important battles of the Second World War. Operation Market Garden took place from 17 to 25 September 1944. The goal was to secure nine key bridges over three wide rivers in the Netherlands : across the Maas/Meuse, across the Waal at Nijmegen and across the Nederrijn (Lower Rhine) at Arnhem, respectively, in order to outflank the heavy German defences of the Siegfried Line (Westwall) which protected heartland Germany beyond the Rhine. It was hoped that with a swift advance towards Berlin the war would be over before Christmas. Market Garden was a risky plan of British Field Marshal Bernard Montgomery. It was executed by 41.628 English, American and Polish airborne troops and three divisions on the ground. The operation consisted of two parts. Operation Market was the largest airborne operation in the history of warfare, with the landing of gliders and paratroopers.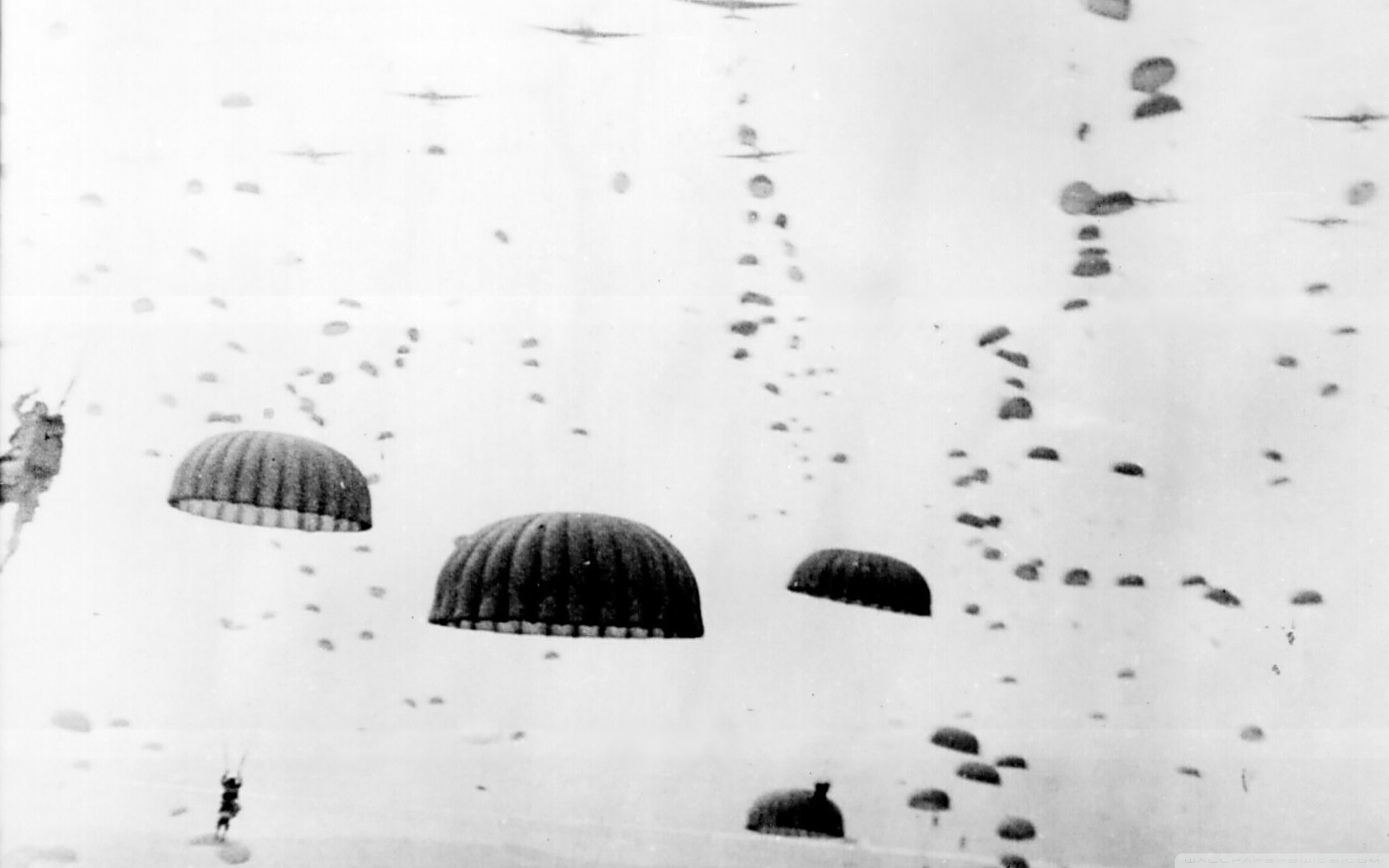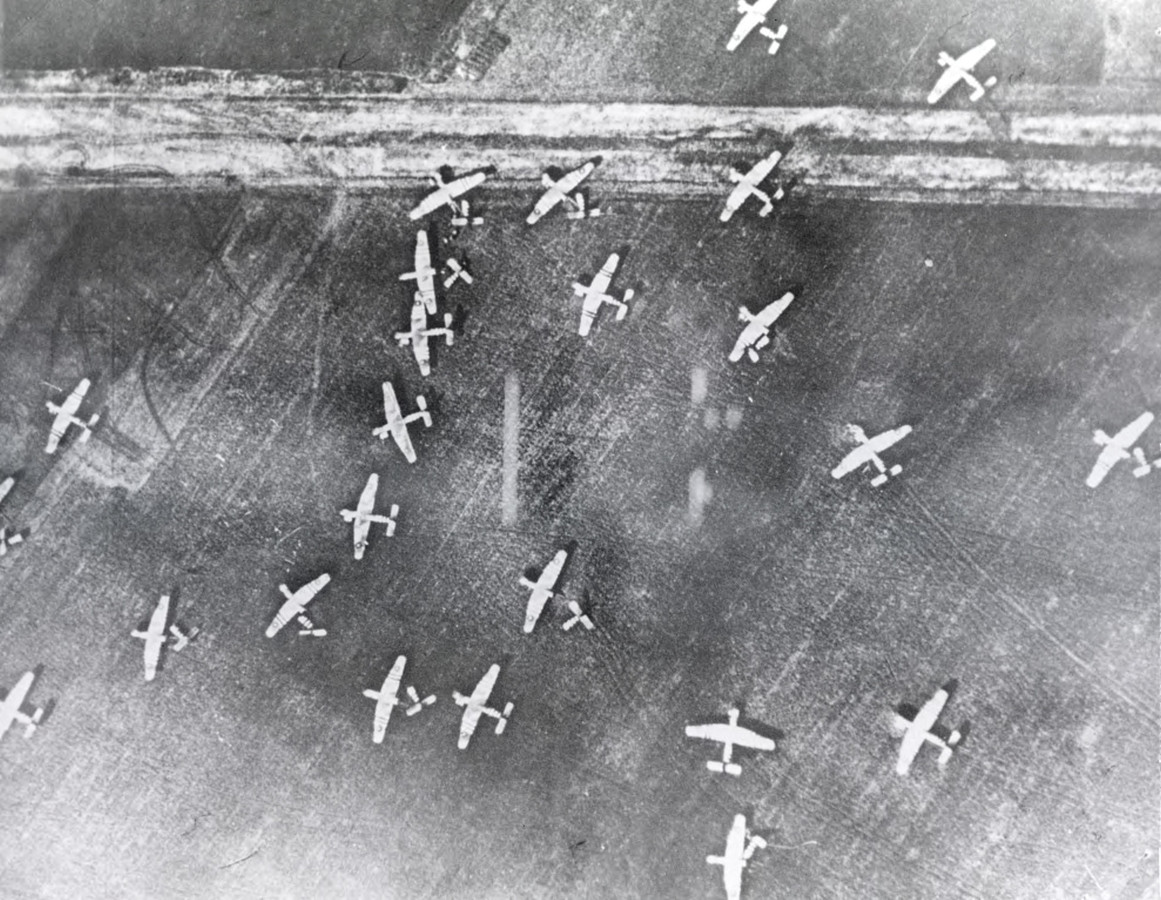 L'opération Garden était la campagne au sol du 30e corps visant à sécuriser les ponts capturés par les forces aéroportées. / Operation Garden was the campaign on the ground of the 30th Corps aimed at securing the bridges captured by the airborne forces.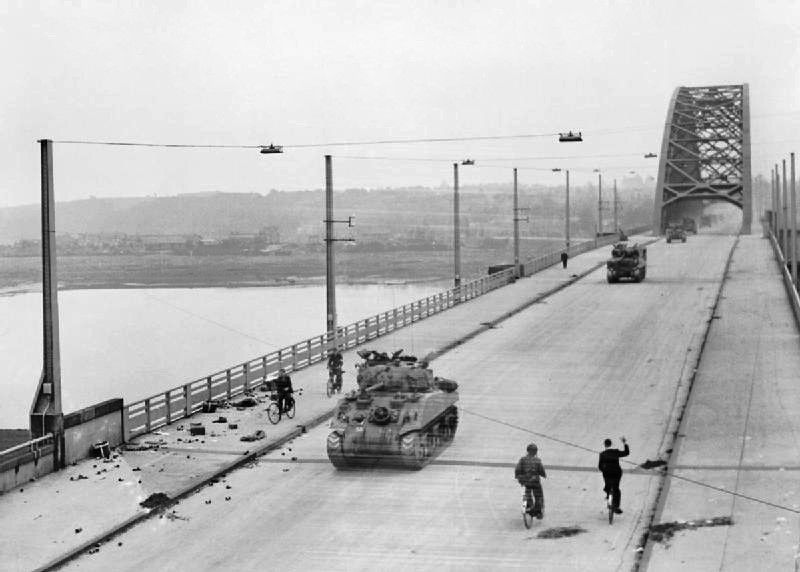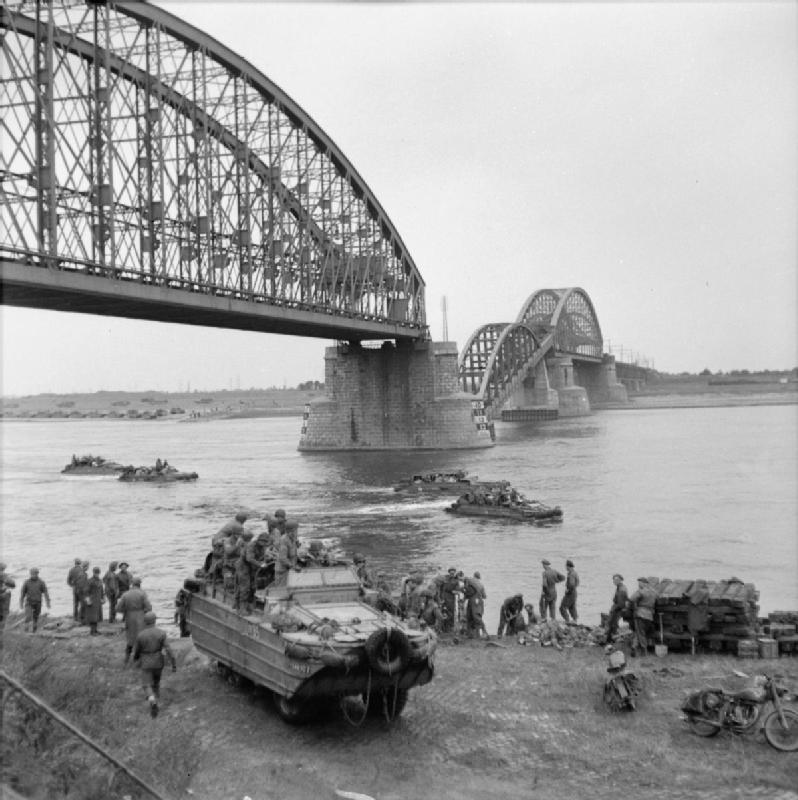 L'opération était très ambitieuse et a finalement échoué en raison des conditions météorologiques et de la forte opposition allemande, en particulier près d'Arnhem. Mais il y avait d'autres causes d'échec : les zones de largage aéroportées étaient situées trop loin des ponts de Nimègue et d'Arnhem. Conjugués à des problèmes de communication, à l'avancée laborieuse des troupes au sol et à quelques erreurs des hauts commandants dans les derniers jours de l'opération, ils aboutirent finalement à un échec. Après le succès de la bataille de Nimègue, les Alliés n'ont pas réussi à prendre le dernier pont d'Arnhem : le célèbre « Pont trop loin ». L'opération a coûté la vie à 15 000 à 17 000 soldats alliés et aussi de lourdes pertes côté allemand. Cela a également causé la famine dans la partie nord des Pays-Bas pendant le tristement connu «hongerwinter» (hiver de la faim) de 1944-1945, lorsque plus de 20 000 civils néerlandais sont morts de faim. / The operation was highly ambitious and in the end it failed due to weather conditions and heavy German opposition, especially near Arnhem. But there were more causes of failure: The airborne drop zones were situated too far from the Nijmegen and Arnhem bridges. Combined with communication problems, the laborious advance of the ground troops and a few mistakes by the high commanders in the final days of the operation, they led to failure in the end. After the successful Battle of Nijmegen the Allies did not manage to take the last bridge in Arnhem: the proverbial 'Bridge Too Far'. The operation cost the lives of 15,000 to 17,000 allied soldiers and also heavy losses on the Geman side. It also caused the northern part of the Netherlands to suffer from famine during the sadly known 'hongerwinter' (hunger winter) of 1944-1945, when over 20,000 Dutch civilians died from starvation.
À Oosterbeek, j'ai visité le cimetière militaire, où 1754 soldats alliés ont été enterrés. La plupart d'entre eux avaient entre 20 et 25 ans lorsqu'ils ont perdu la vie. / At Oosterbeek, I visited the military cemetery, where 1754 Allied soldiers lay buried. Most of them were in their early twenties when they lost their lives.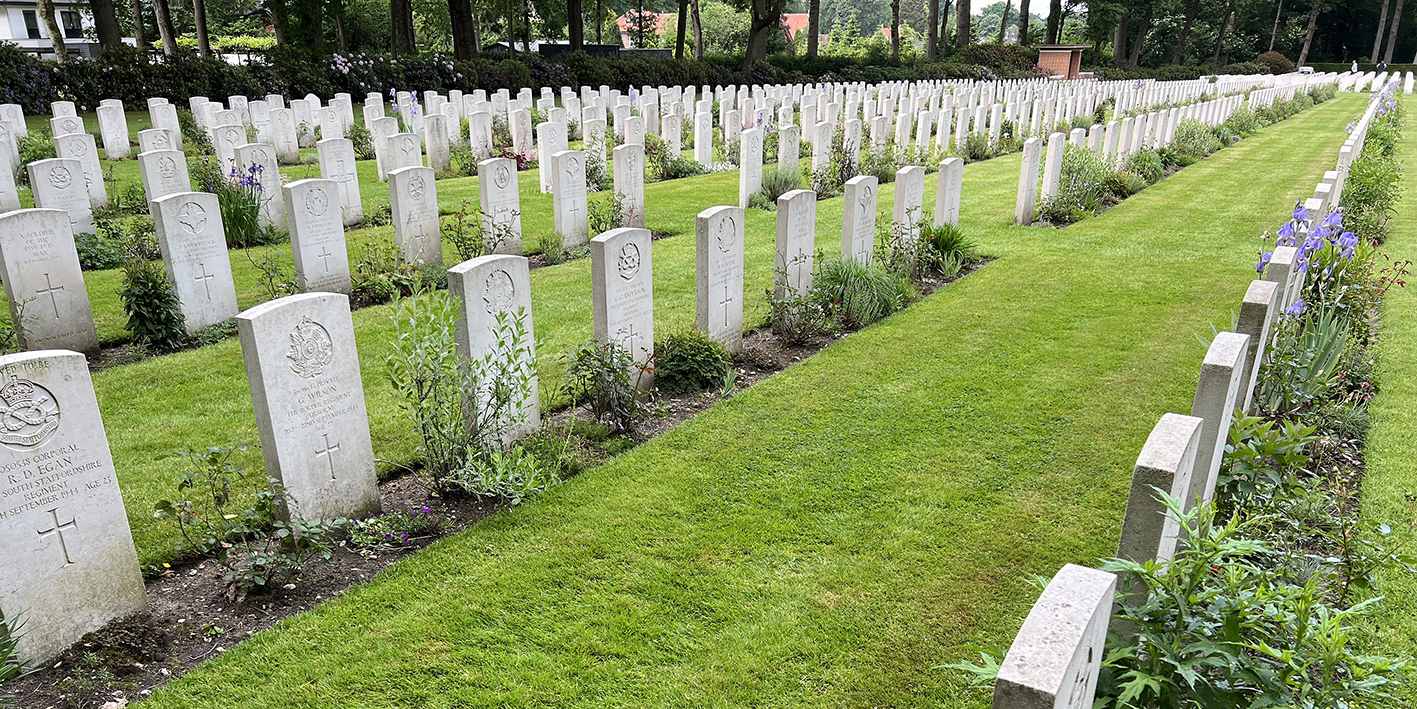 Chaque pierre tombale raconte une histoire… En voici neuf : / Each gravestone tells a story… Here are nine of them: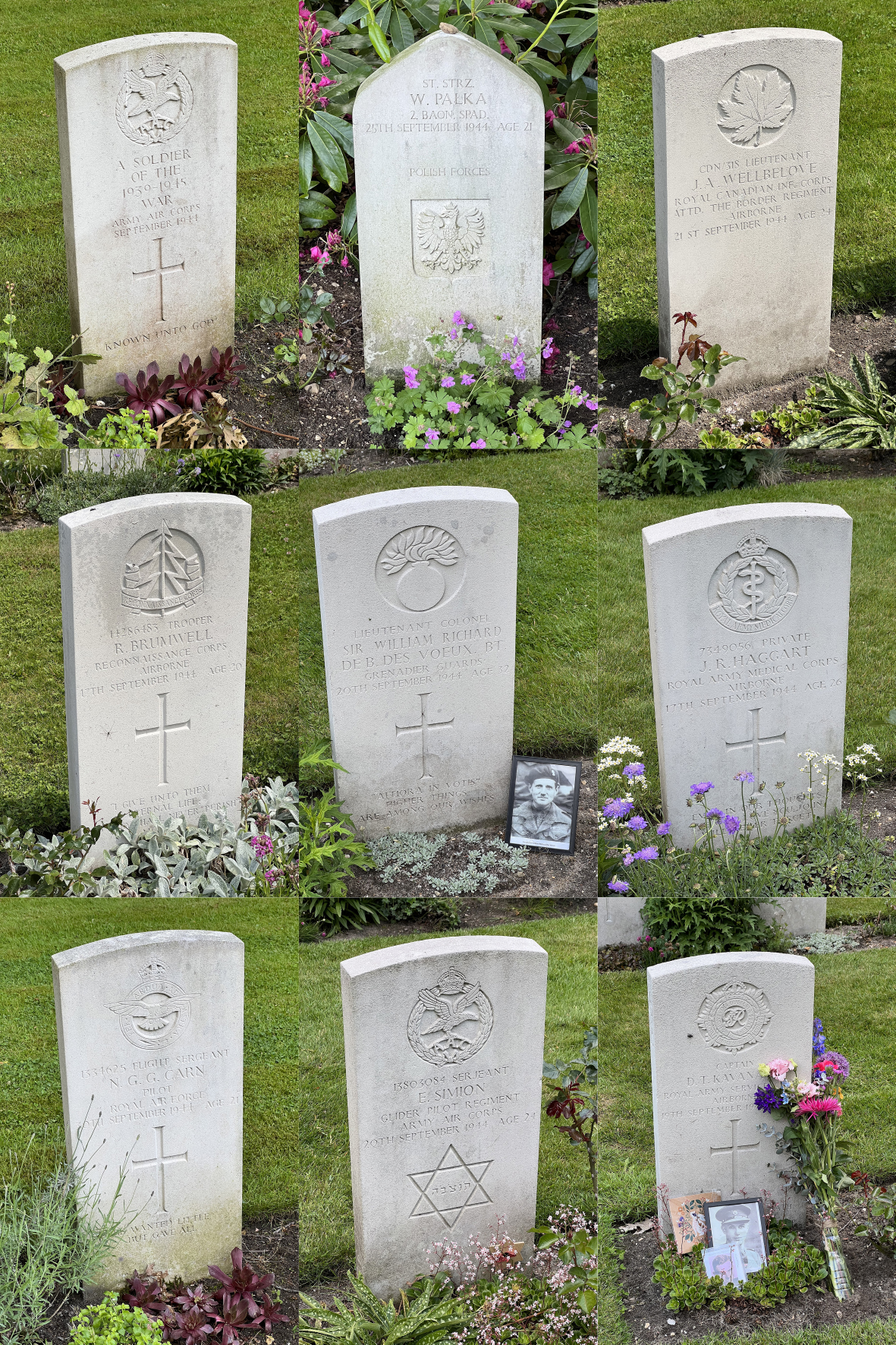 "Un soldat de la guerre de 1939-1945. Corps Aérien de l'Armée. Septembre 1944. Connu de Dieu" – il y a plusieurs pierres tombales comme celle-ci. Des jeunes hommes, sans nom, sans avenir… / • "A soldier of the 1939-1945 War. Army Air Corps. September 1944. Known unto God" – there are several tombstones like this one. Young men, without a name, without a future…
« St.Strz. W. Palka. 25 septembre 1944 – 21 ans. Forces polonaises" – De nombreux hommes polonais ont rejoint les forces alliées, dans l'espoir de libérer un jour leur pays. Le sergent Palka ne verra pas la fin de la guerre. / • "St.Strz. W. Palka. 25th September 1944-Age 21. Polish forces" – Many Polish men joined the Allied forces, hoping to liberate their country one day. Sergeant Palka was not to see the end of the war.
"CDN/318 Lieutenant J.A. Wellbelove. Royal Canadian Inf.Corps.-Attd.The Border Regiment. Aéroporté. 21 septembre 1944. 24 ans » – Le jeune homme est venu du Canada et est mort sur le sol hollandais loin de chez lui et de ses ¨wellbeloved' ('bien-aimés')… / • "CDN/318 Lieutenant J.A. Wellbelove. Royal Canadian Inf.Corps.-Attd.The Border Regiment. Airborne. 21stSeptember 1944. Age 24" – The young man came all the way from Canada and died on Dutch soil far from home and his 'wellbeloved'…
"14286483. R. Brumwell. Reconnaissance corporelle. Aéroporté. 17 septembre 1944. 20 ans." – Le jeune soldat est décédé le premier jour de l'opération… / • "14286483. R. Brumwell. Reconnaissance Corps. Airborne. 17th September 1944. Age 20." – This young trooper died on the very first day of the operation…
"Lieutenant-colonel Sir William Richard de B. des Voeux. BT. Gardes des Grenadiers. 20 septembre 1944. 32 ans" – Enfin pas seulement un nom mais aussi un visage. Le 18 septembre 1944, le 156e bataillon s'est envolé pour Arnhem dans le cadre de l'opération Market Garden. Sir William Richard De Bacquencourt Des Voeux a quitté l'Angleterre depuis l'aérodrome de Saltby dans un Dakota (C-47) avec le numéro de craie 601 entre 11h00 et 11h20. Il a atterri sur la dropzone 'Y' à Ginkelse Heide (Ginkel Heath) entre 15h00 et 15h10. Deux jours plus tard, il est mortellement blessé derrière l'hôtel Bilderberg à Oosterbeek. / • "Lieutenant Colonel Sir William Richard de B. des Voeux. BT. Grenadier Guards. 20th September 1944. Age 32" – At last not only a name but also a face. On 18 September 1944 156th Battalion flew to Arnhem as part of operation Market Garden. Sir William Richard De Bacquencourt Des Voeux left England from Saltby airfield in a Dakota (C-47) with chalk number 601 between 1100hrs and 1120hrs. He landed on droppingzone 'Y' at Ginkelse Heide (Ginkel Heath) between 1500hrs and 1510hrs. Two days later he was mortally wounded behind the Bilderberg Hotel in Oosterbeek.
« 7349056. Soldat J.R. Haggart. Corps de santé royal de l'armée. Aéroportée. 17 septembre 1944. 26 ans » – Il devait soigner les blessés, mais il n'a pas survécu le premier jour… / • "7349056. Private J.R. Haggart. Royal Army Medical Corps. Airborne. 17th September 1944. Age 26" – He was supposed to take care of the wounded, but didn't himself survive the first day…
« 1334625. Sergent de section N.G.G. Carn. Pilote. Royal Air Force. 30 septembre 1944. 21 ans. – Il voulait peu, mais a tout donné" – Alors qu'il était engagé dans une patrouille dans la région de Nimègue, le Tempest V EJ629 du 274e Escadron de Norman George Gilbert CARN a été touché par la Flak et s'est écrasé. / • "1334625. Flight Sergeant N. G. G. Carn. Pilot. Royal Air Force. 30th September 1944. Age 21. – He wanted little, but gave all" – While engaged in a patrol in the Nijmegen area, Norman George Gilbert CARN's Tempest V EJ629 of 274 Squadron was hit by Flak and crashed.

"13803084. Sergent E. Simion. Régiment de pilotes de planeurs. Corps Aérien de l'Armée. 20 septembre 1944. 24 ans »

– Ernest Simion était un réfugié juif allemand né à Berlin le 8 août 1920. Il est arrivé au Royaume-Uni en 1939. Il a été interné, puis libéré et a rejoint le Pioneer Corps. En tant que pilote de planeur, le 17 septembre 1944, lui et son copilote le sergent d'état-major Ron P. Gibson ont posé leur planeur Horsa en toute sécurité, apportant une jeep, un 6lb. canon antichar et deux des canonniers du 1er bataillon du régiment frontalier à la bataille.

/ • "13803084. Serjeant E. Simion. Glider Pilot Regiment. Army Air Corps. 20th September 1944. Age 24" – Ernest Simion was a German Jewish refugee born in Berlin on 8 August 1920. He came to the UK in 1939. He was interned, then freed, and joined the Pioneer Corps. As a glider pilot, on 17 September 1944 he and his co-pilot Staff Sergeant Ron P. Gibson landed their Horsa glider safely, bringing a jeep, a 6lb. anti-tank gun and two of the gun crew from the 1st battalion the Border Regiment to the battle.
« Capitaine D.T. Kavanagh. Corps d'intendance de l'armée royale aéroporté. 19 septembre 1944. 25 ans » – Desmond T. Kavanagh faisait partie de la 250 (Airborne) Light Composite Company. 226 hommes sont ont atterri, dont 29 sont morts, 75 ont été évacués et 122 ont été capturés. / • "Captain D.T. Kavanagh. Royal Army Service Corps. Airborne. 19thSeptember 1944. Age 25" – Desmond T. Kavanagh was part of 250 (Airborne) Light Composite Company. 226 men went in, of whom 29 died, 75 were evacuated and 122 were captured.
L'histoire la plus tragique est peut-être celle des frères jumeaux Thomas et Claude Gronert qui se battent côte à côte à la gare d'Oosterbeek-Hoog. Thomas est touché et, grièvement blessé, il appelle à l'aide. Claude essaie d'aider son frère. À la fin des combats, les frères sont retrouvés morts côte à côte. Ils sont également enterrés côte à côte. / The most tragical story is maybe that of twin brothers  who fight side by side at the Oosterbeek-Hoog train station. Thomas is hit and seriously injured, he calls for help. Claude tries to help his brother. When the fighting is over, the twins are found dead side by side. They are also buried side by side.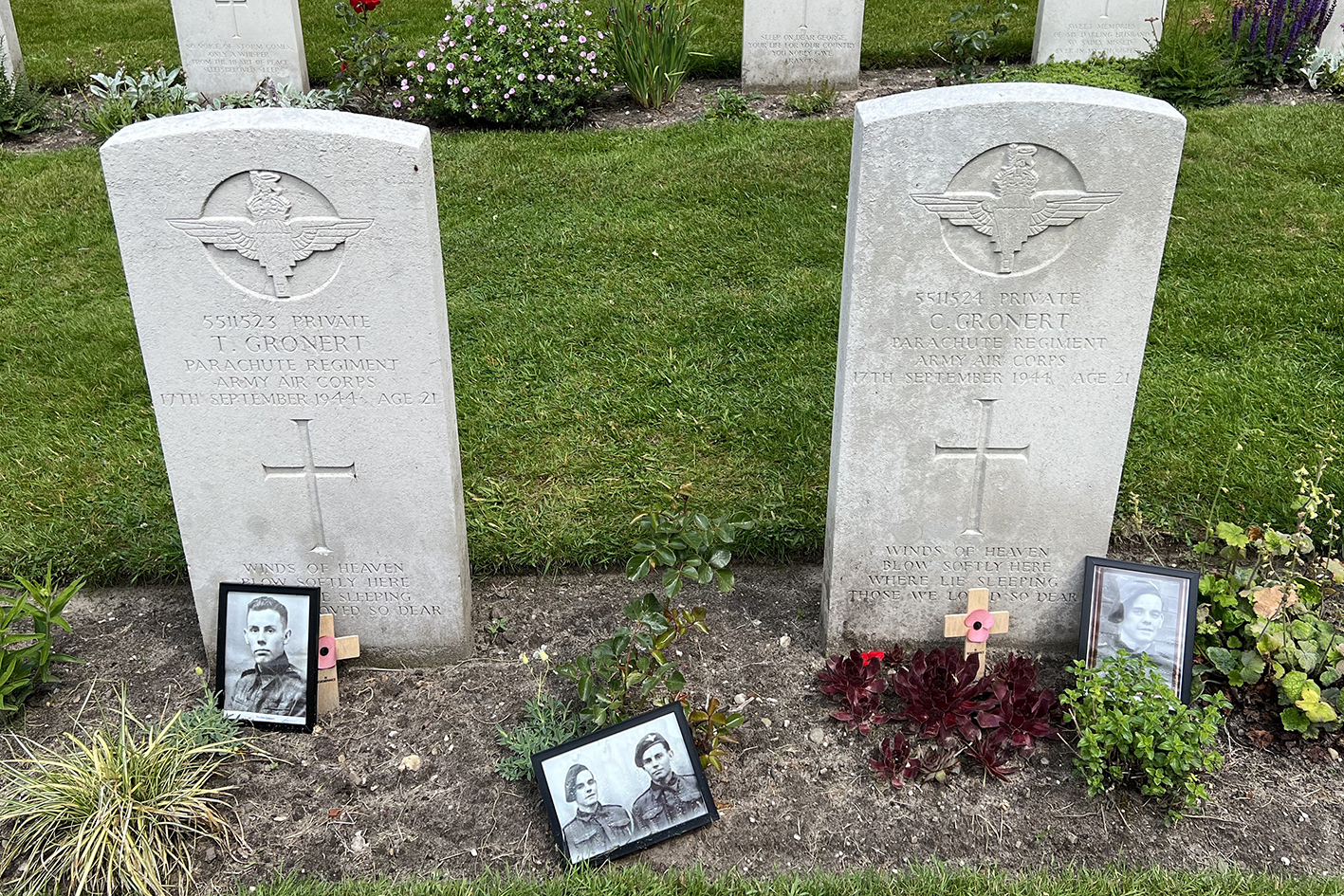 Ce monument dédié aux troupes aéroportées domine un des champs où les parachutages et atterrissages de planeurs ont eu lieu. / This monument dedicated to the airborne troops dominates one of the fields where parachute drops and glider landings took place.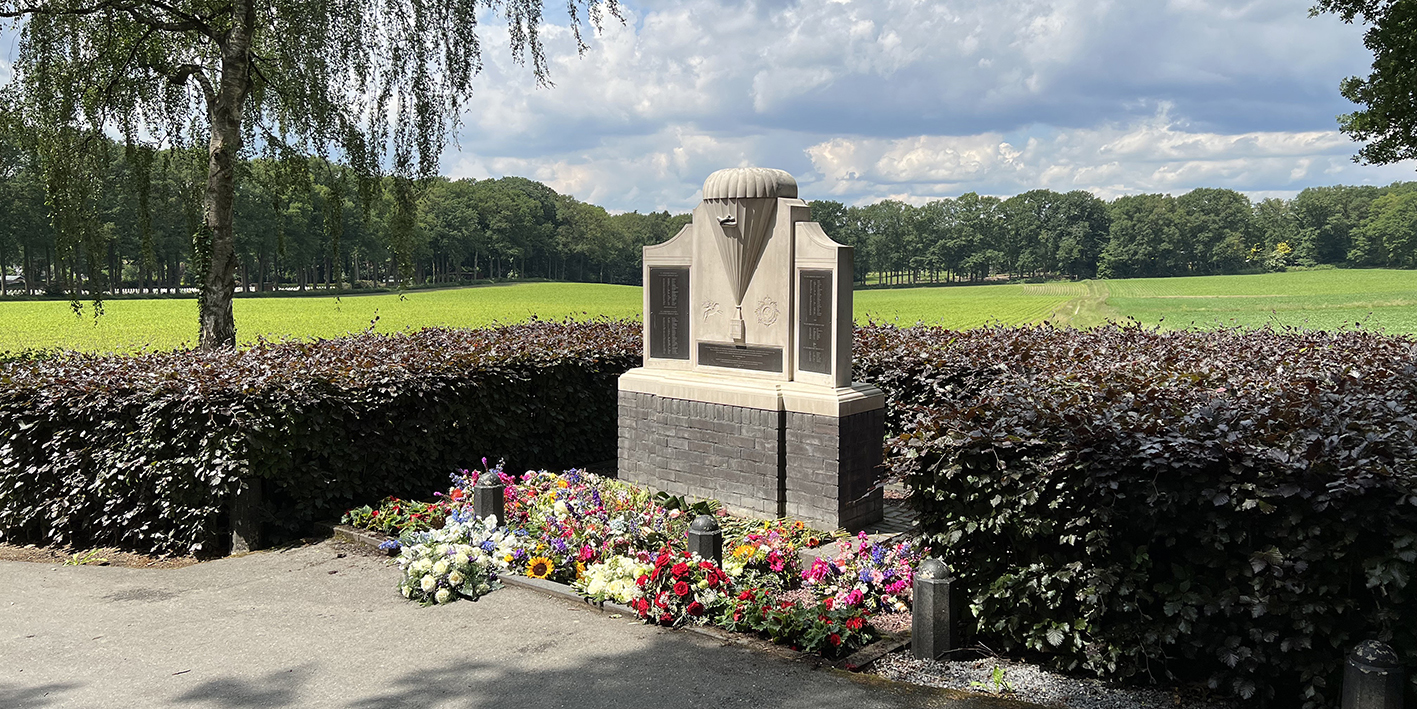 Nous quittons la région d'Arnhem-Oosterbeek à travers les belles forêts de la Hoge Veluwe. / We leave the Arnhem-Oosterbeek area through the beautiful forests of the Hoge Veluwe.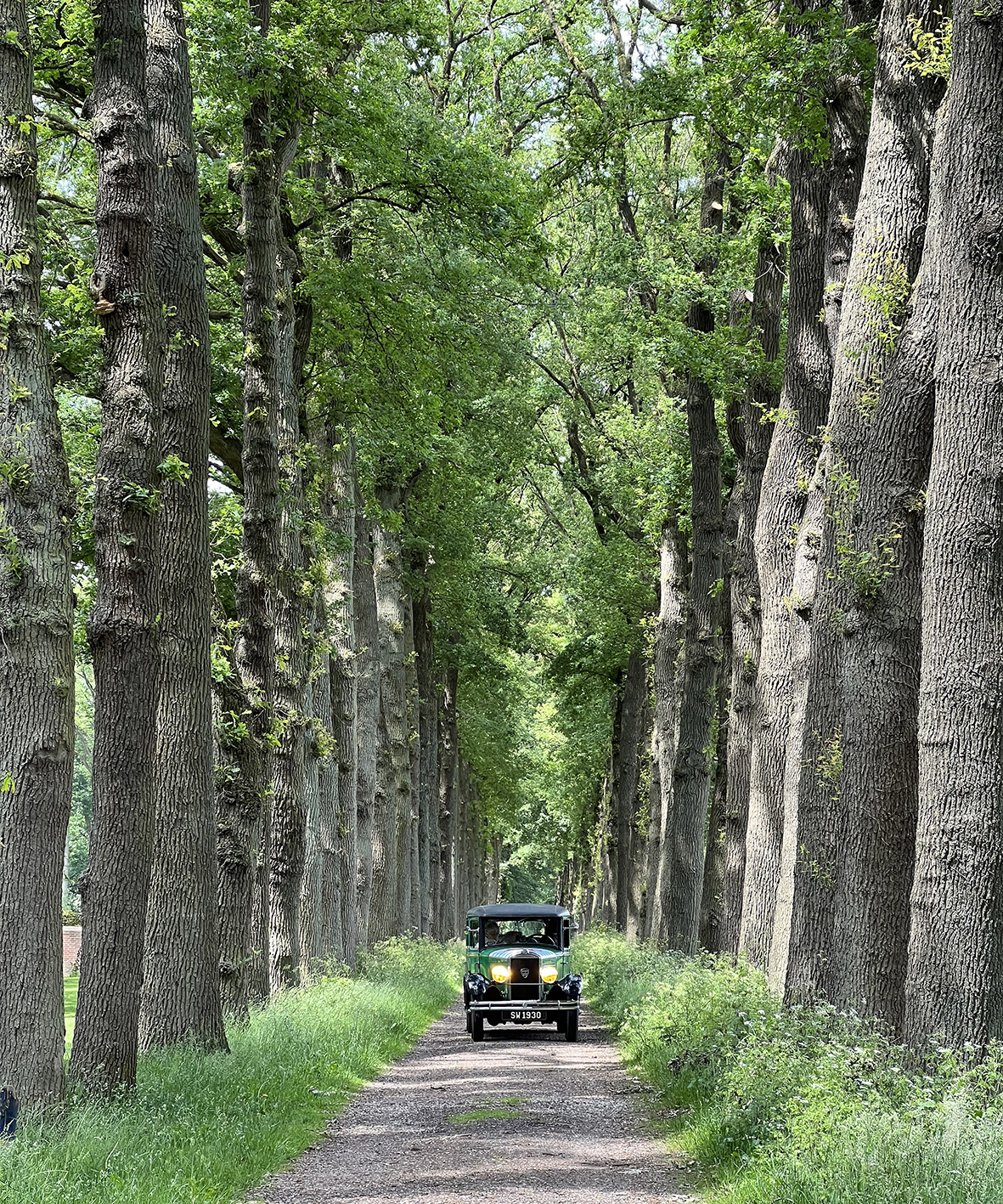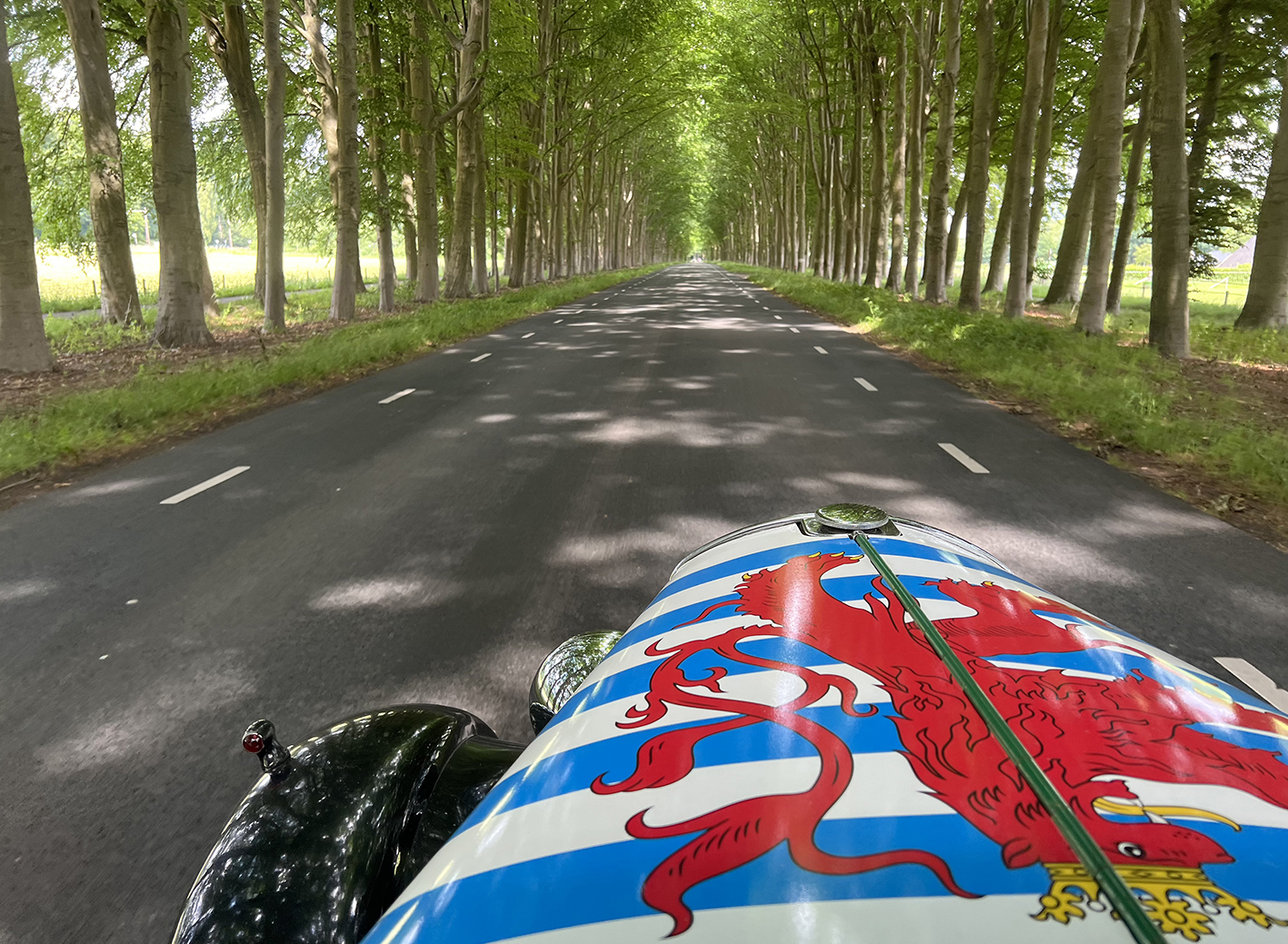 •••
Mission impossible (mercredi 1er juin 2022)

/ Mission impossible (Wednesday, June 1st, 2022)

J'avais annoncé que nous allions suivre le Rhin de l'embouchure jusqu'à la source. C'est mission impossible ! Peut-être à cause des caprices de « La Charmante »… À voir ! Mais il y a une autre raison à cela, et elle est géographique. Gamin, à l'école primaire de mon village, j'appris que « Le Rhin entre dans notre pays à Lobith ». Ce qui est toujours vrai. Mais ensuite, le Rhin disparait. On ne retrouve plus sa trace ! Il se bifurque un nombre de fois, formant ainsi le Delta du Rhin. Mais plus aucun de ses bras ne s'appelle « Rhin ». Sur la carte ci-dessous, vous verrez la plupart de leurs noms (mais il en manque encore). Seul souvenir du grand fleuve, les noms 'Kromme Rijn' (Rhin Tordu) et 'Oude Rijn' (Vieux Rhin), donnés à des cours d'eau insignifiants. À noter que l'épaisseur des divers bras sur la carte ne correspond pas à ce qu'on verrait de l'espace, mais au débit moyen de chacun d'eux. Ainsi le Waal (plus loin le Merwede) charrie la majeure partie de l'eau du Rhin, suivi par l'IJssel et le Lek. Impossible de les suivre tous, mais nous en verrons quelques-uns plus tard… / I had announced that we were going to follow the Rhine from its mouth to its source. But that is mission impossible! Perhaps because of the whims of "La Charmante"… we'll see! But there is another reason for this, a geographical one. As a child, at the primary school in my village, I learned that "The Rhine enters our country at Lobith". Which is always true. But then the Rhine disappears. It's nowhere on the maps anymore! It bifurcates a number of times, thus forming the Rhine Delta. But none of its arms are called « Rhine » anymore. On the map below you will see most of their names (but some are still missing). Only memory of the great river, the names 'Kromme Rijn' (Twisted Rhine) and 'Oude Rijn' (Old Rhine), given to insignificant rivers. Note that the thickness of the various arms on the map does not correspond to what we would see from space, but to the average flow of each of them. Thus the Waal (further on the Merwede) carries most of the water from the Rhine, followed by the IJssel and the Lek. Impossible to follow them all, but we will talk about some of them later…
•••
31 mai 2022. Maastricht-Nimègue (213 km)

/ 31 May 2022. Maastricht-Nijmegen (213 km)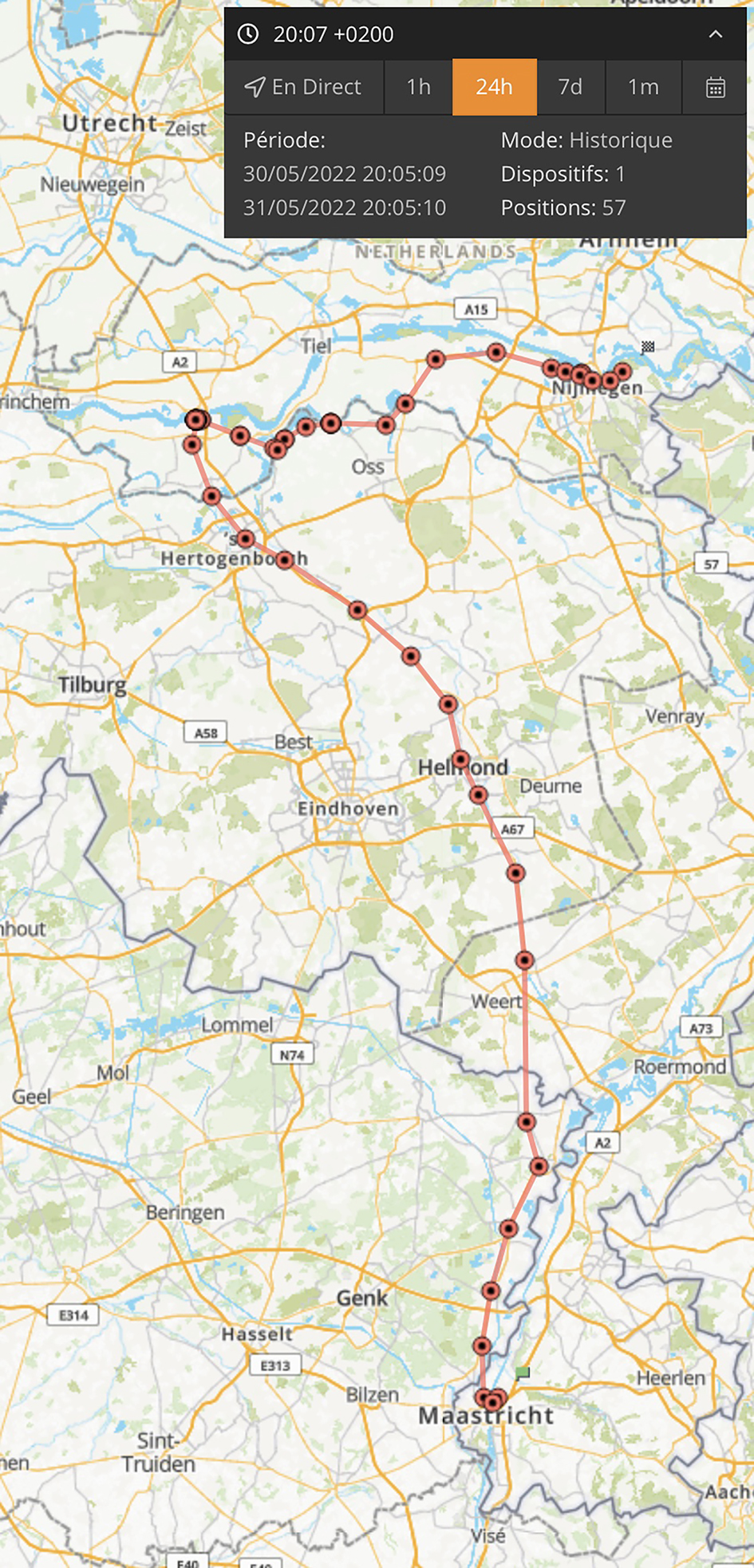 Notre but était de rejoindre au plus vite le fleuve Waal (le plus important des bras du delta du Rhin), à peu près au niveau où nous avons dû interrompre notre voyage il y a 4 semaines. C'était à Vuren. Nous arrivons à Zaltbommel, à peine 15 km plus à l'est. Nous célébrons le fait que l'aventure recommence pour de bon avec un déjeuner dans l'excellent restaurant 'La Provence' que nous avions découvert il y a quelques années. / Our goal was to reach the Waal river (the most important branch of the Rhine delta) as quickly as possible, at about the point where we had to interrupt our trip 4 weeks ago. That was in Vuren. We arrive at Zaltbommel, barely 15 km further east. We celebrate the fact that the adventure resumes again with a lunch in the excellent restaurant 'La Provence' which we discovered a few years ago.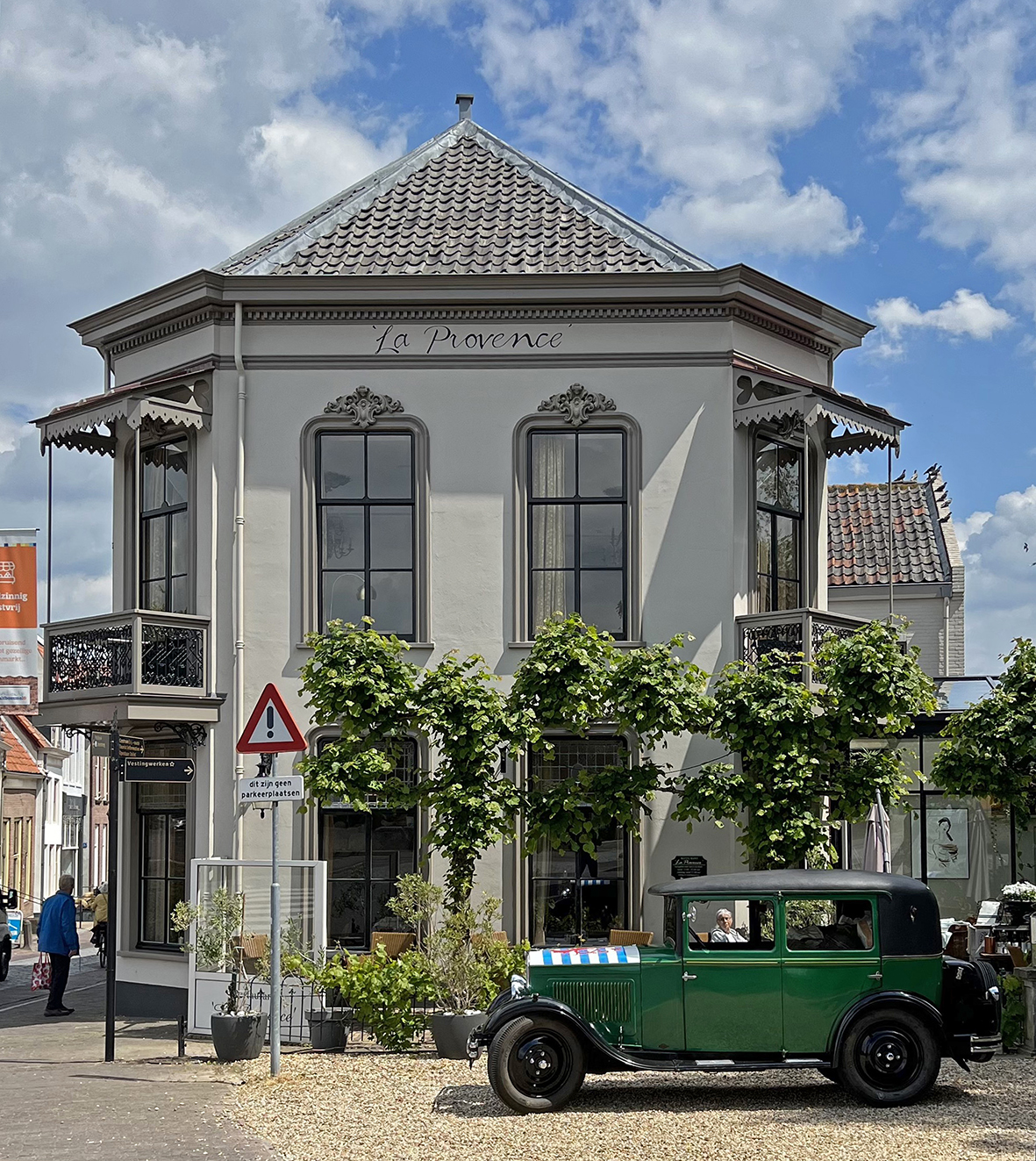 Mais lorsque nous repartons, le ciel s'est couvert et il s'est mis à pleuvoir. Pas un temps idéal pour découvrir la pittoresque petite ville de Zaltbommel et son église dédiée à Saint-Martin. / But when we leave, the sky is overcast and it starts to rain. Not ideal weather to discover the picturesque little town of Zaltbommel and its church dedicated to Saint Martin.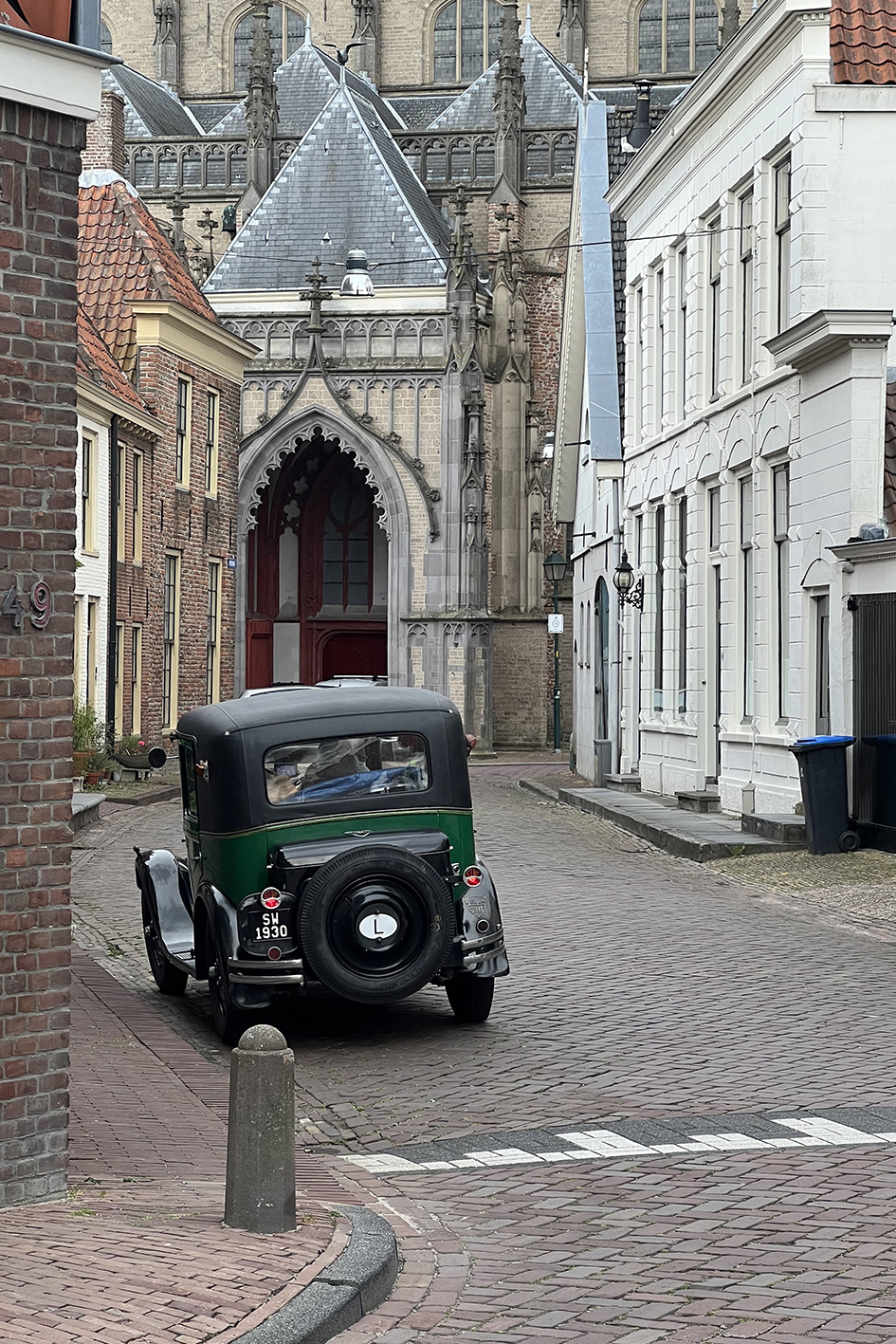 Un peu plus loin, l'orage s'abat sur nous avec des coups de vent et des trombes d'eau, auxquels « La Charmante » et son équipage font face courageusement. / A little further on, a storm beats down on us with gusts of wind and downpours, which « La Charmante » and her crew bravely faced.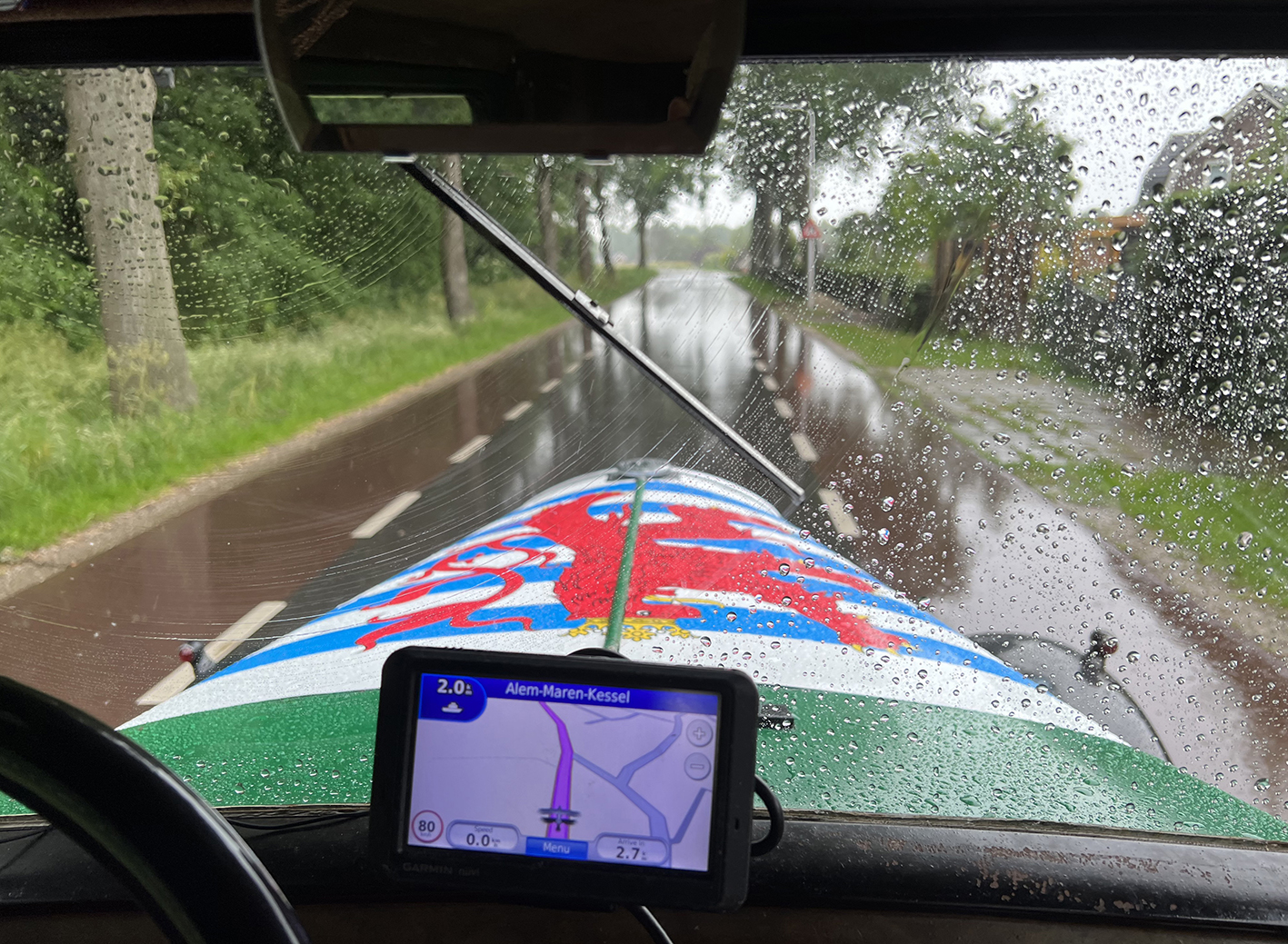 C'est toujours sous la pluie que nous prenons un bac pour traverser la Meuse, qui coule ici en parallèle au Waal. Plus en aval, les deux se rejoignent. / It is still raining when we take a ferry to cross the Meuse, which flows here parallel to the Waal. Further downstream, the two meet.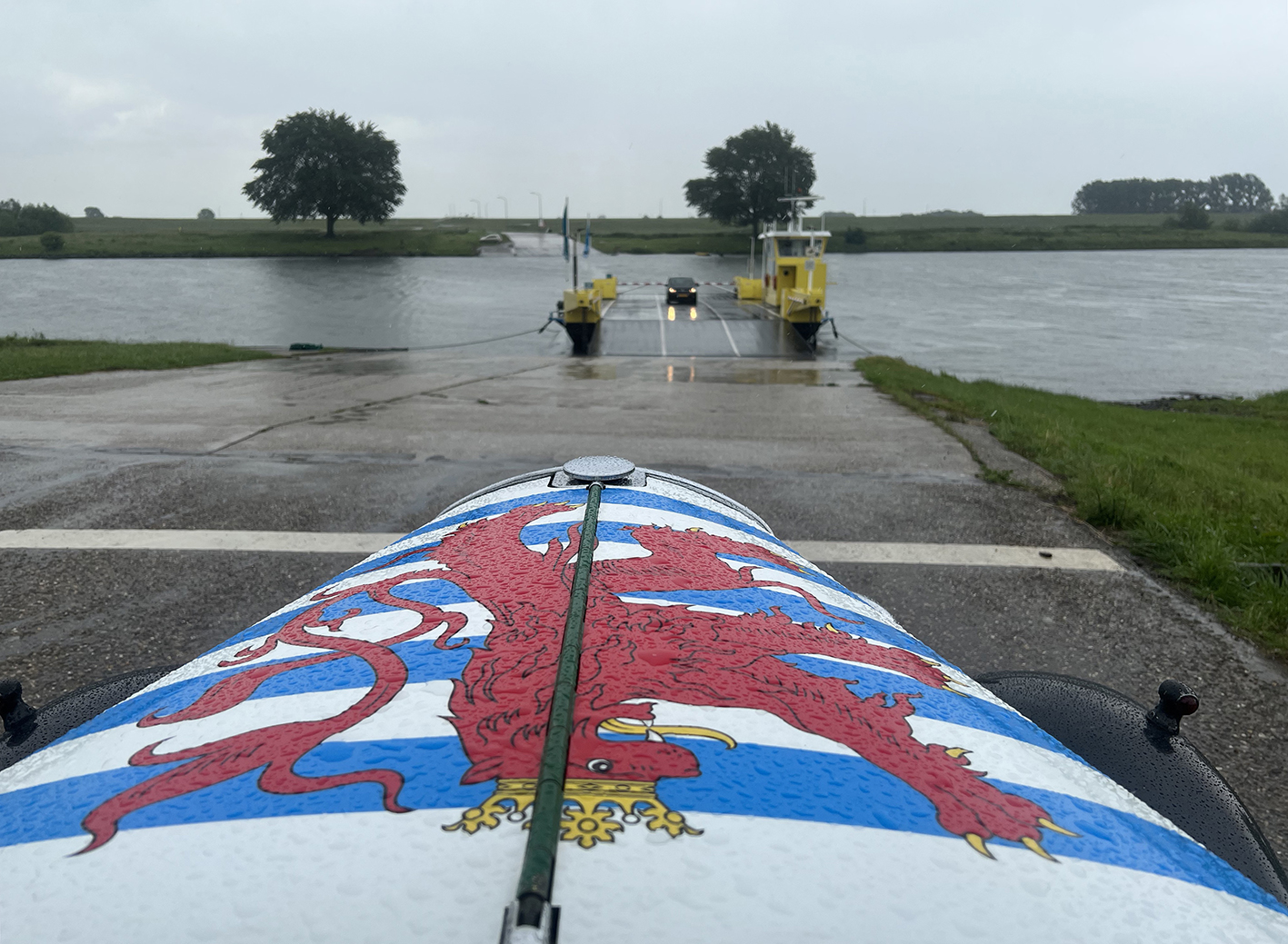 Près de Lith, nous nous arrêtons à l'écluse 'Princesse Máxima', qui permet aux péniches de monter ou de descendre de 4 mètres. La photo montre la différence de niveau à l'intérieur de l'écluse (premier plan) et la Meuse en aval. / Near Lith we stop at the 'Princess Máxima' lock, which allows barges to go up or down 4 meters. The photo shows the level difference inside the lock (foreground) and the Meuse downstream.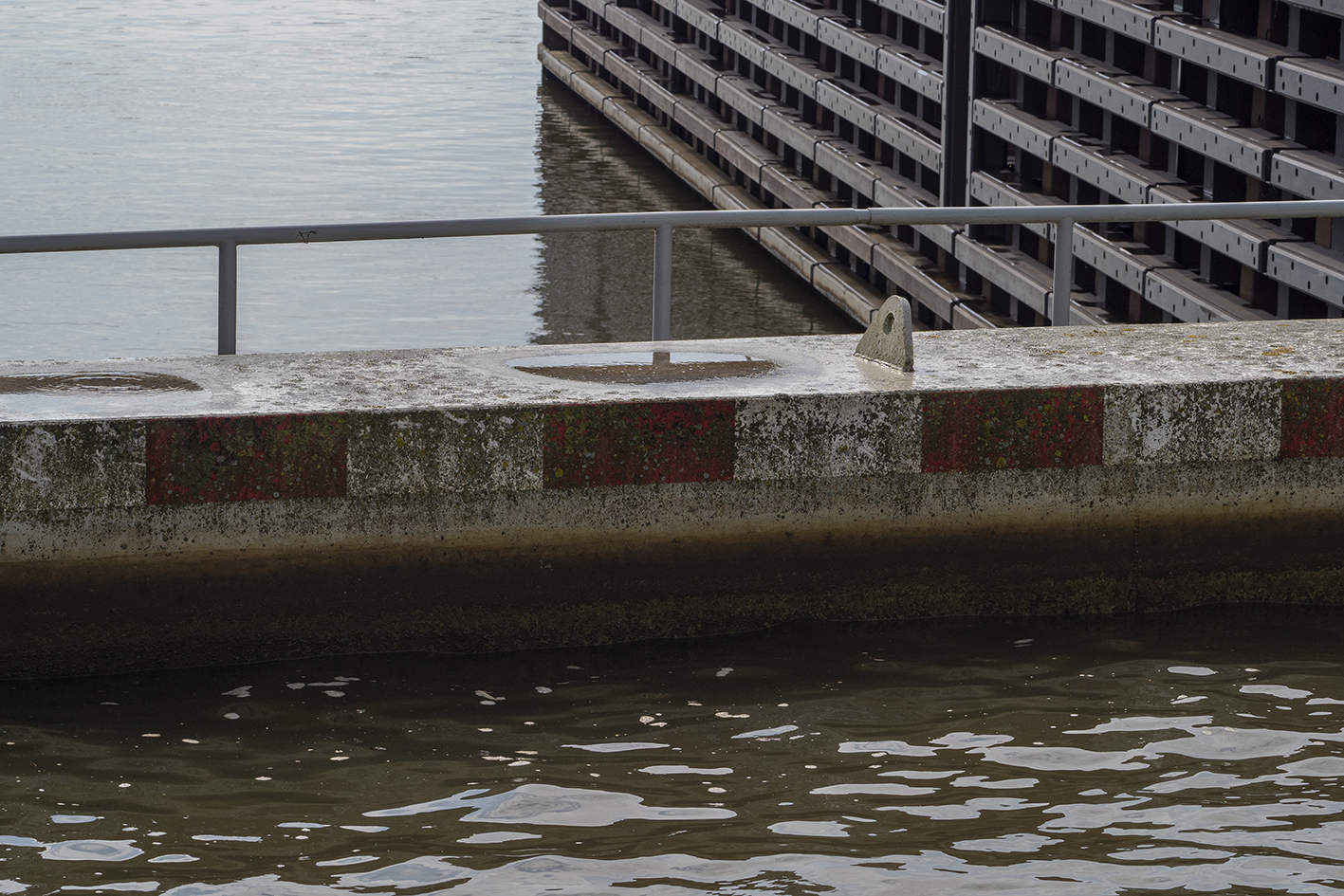 Il s'est arrêté de pleuvoir. Nous en profitons pour observer le fonctionnement de l'ensemble. Dans un premier temps, l'eau dans l'écluse (portes fermées) est évacuée par des vannes dans un grand bouillonnement. / It stopped raining. We take the opportunity to observe the functioning of the complex. At first, the water in the lock (gates closed) is evacuated by valves in a great bubbling.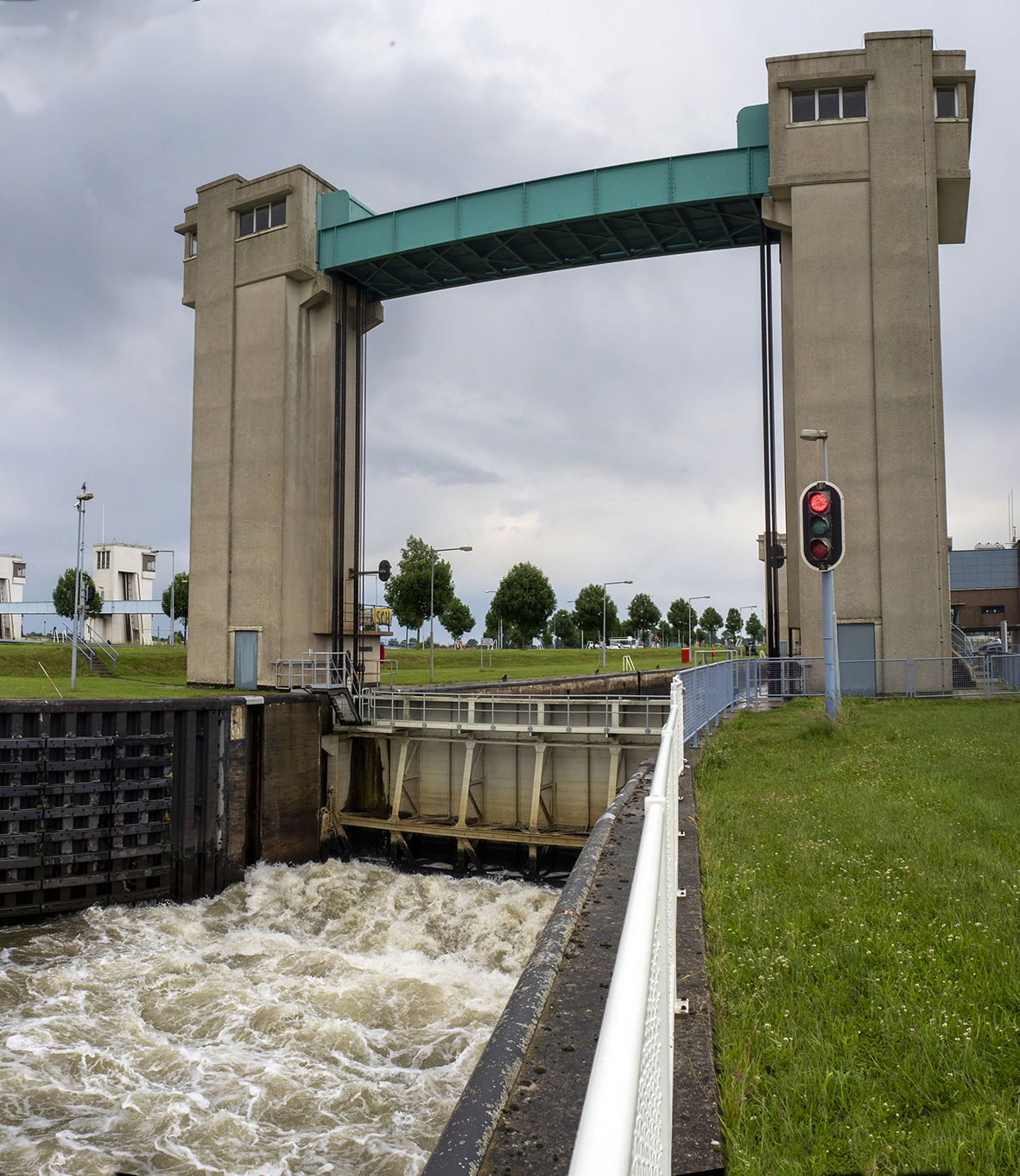 Puis, le niveau dans l'écluse correspondant à celui du fleuve en aval, l'énorme porte est levée progressivement. / Then, the level in the lock corresponding to that of the river downstream, the huge gate is gradually raised.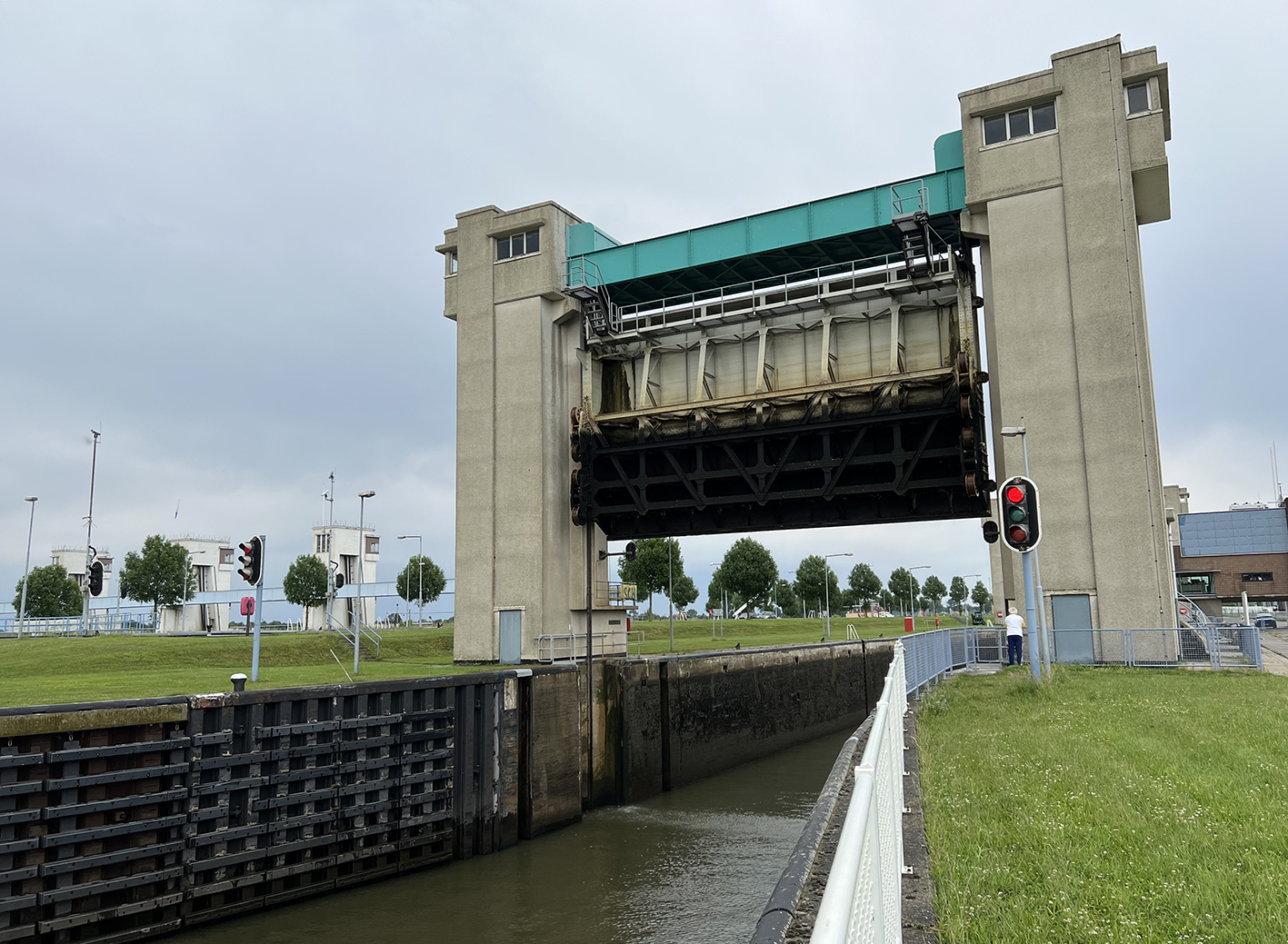 Une péniche, qui était en attente, peut alors pénétrer dans l'écluse. Il s'agit du 'Nil Desperandum' (« Ne désespère jamais ! »), d'une longueur de 85 m pour une largeur de 8m20 et un tirant d'eau de 3 m. Ce colosse transporte des huiles comestibles dans 9 énormes citernes. / A barge, which was waiting, can then enter the lock. It is the 'Nil Desperandum' (« Never despair! »), 85 m long, 8.20 m wide and 3 m draft. This colossus carries edible oils in 9 huge tanks.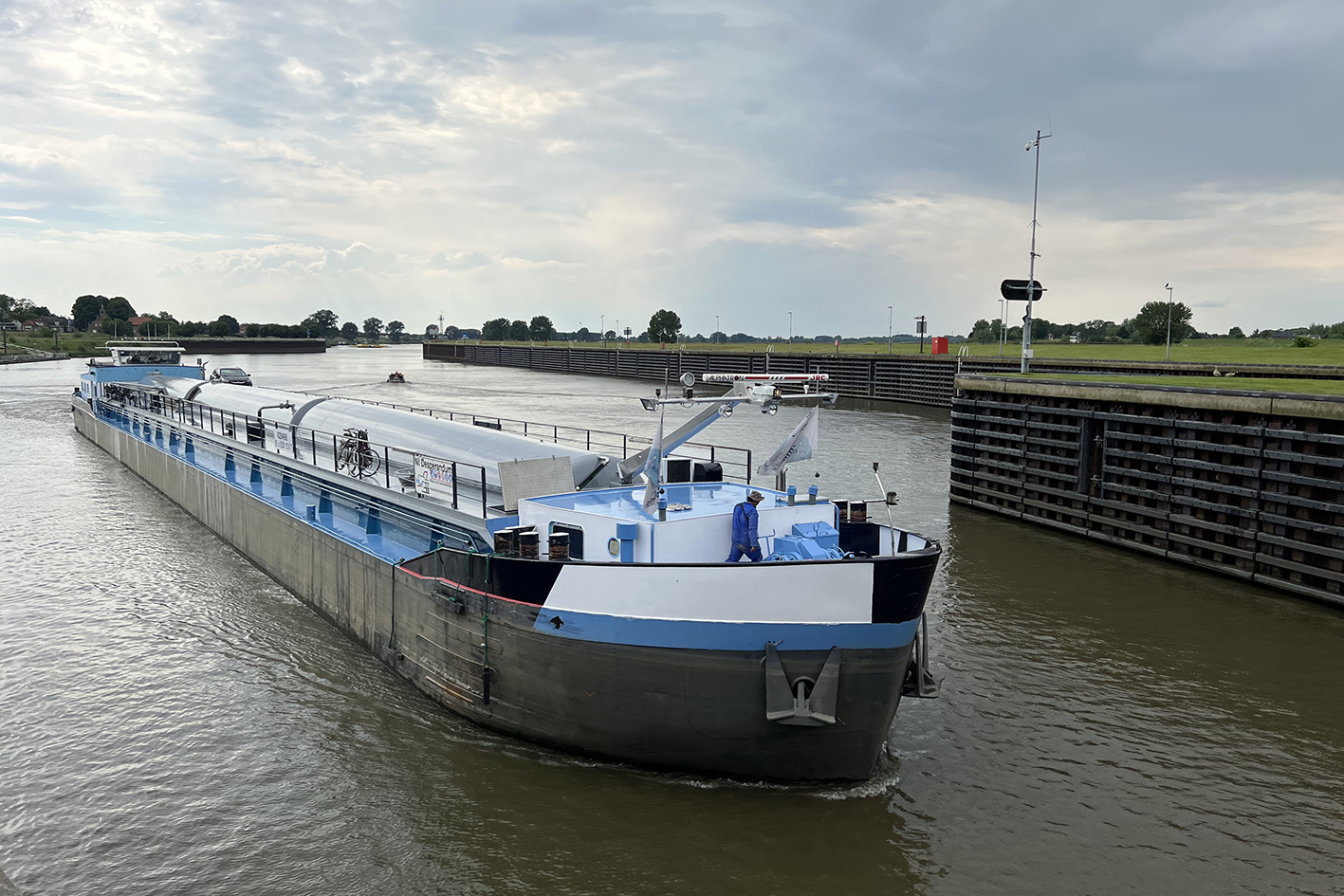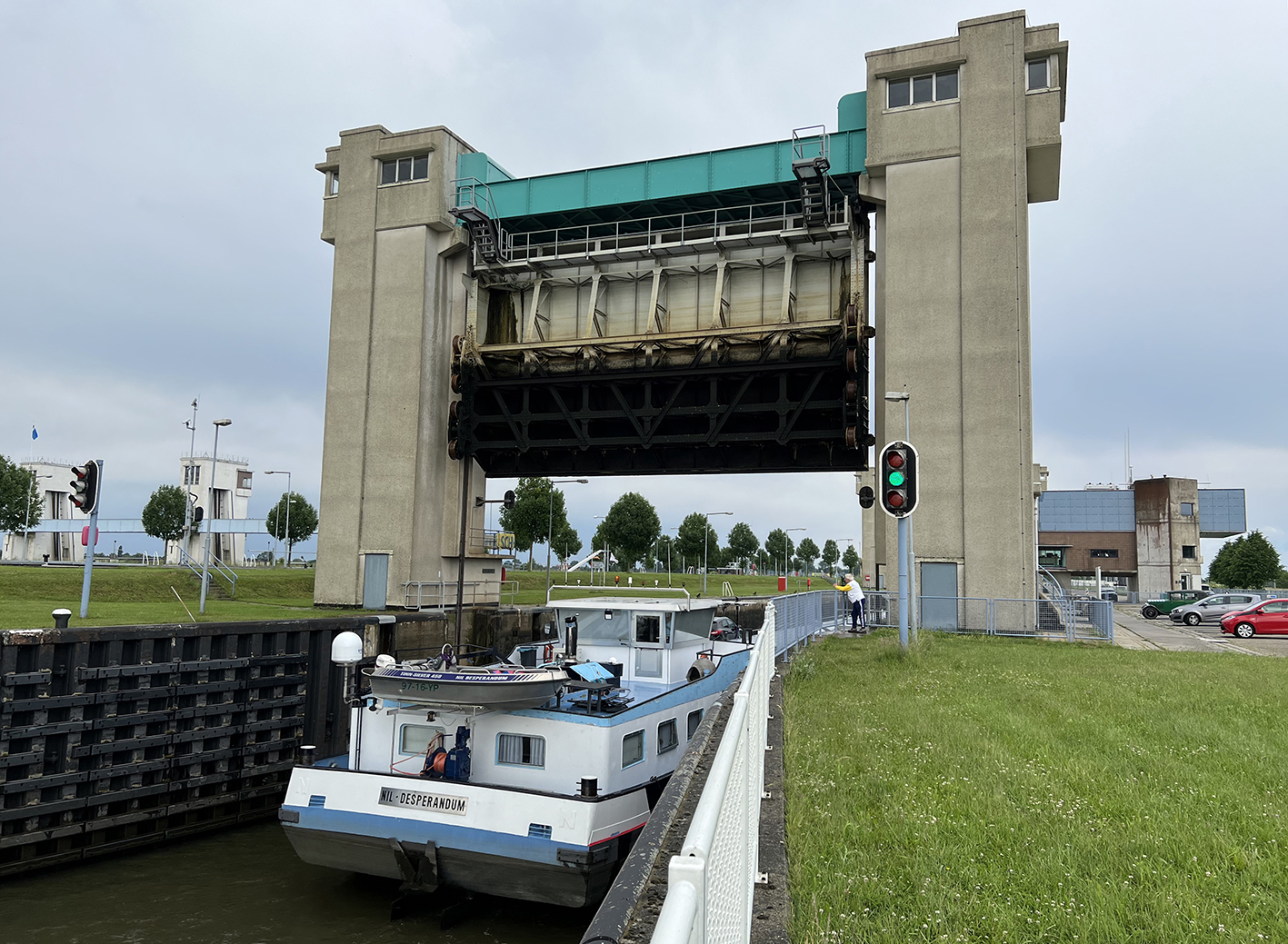 La porte aval se referme et l'écluse se remplit progressivement pour atteindre le niveau de la Meuse en amont. Devant nous, la péniche monte. / The downstream gate closes and the lock gradually fills to reach the level of the Meuse upstream. In front of us, the barge rises.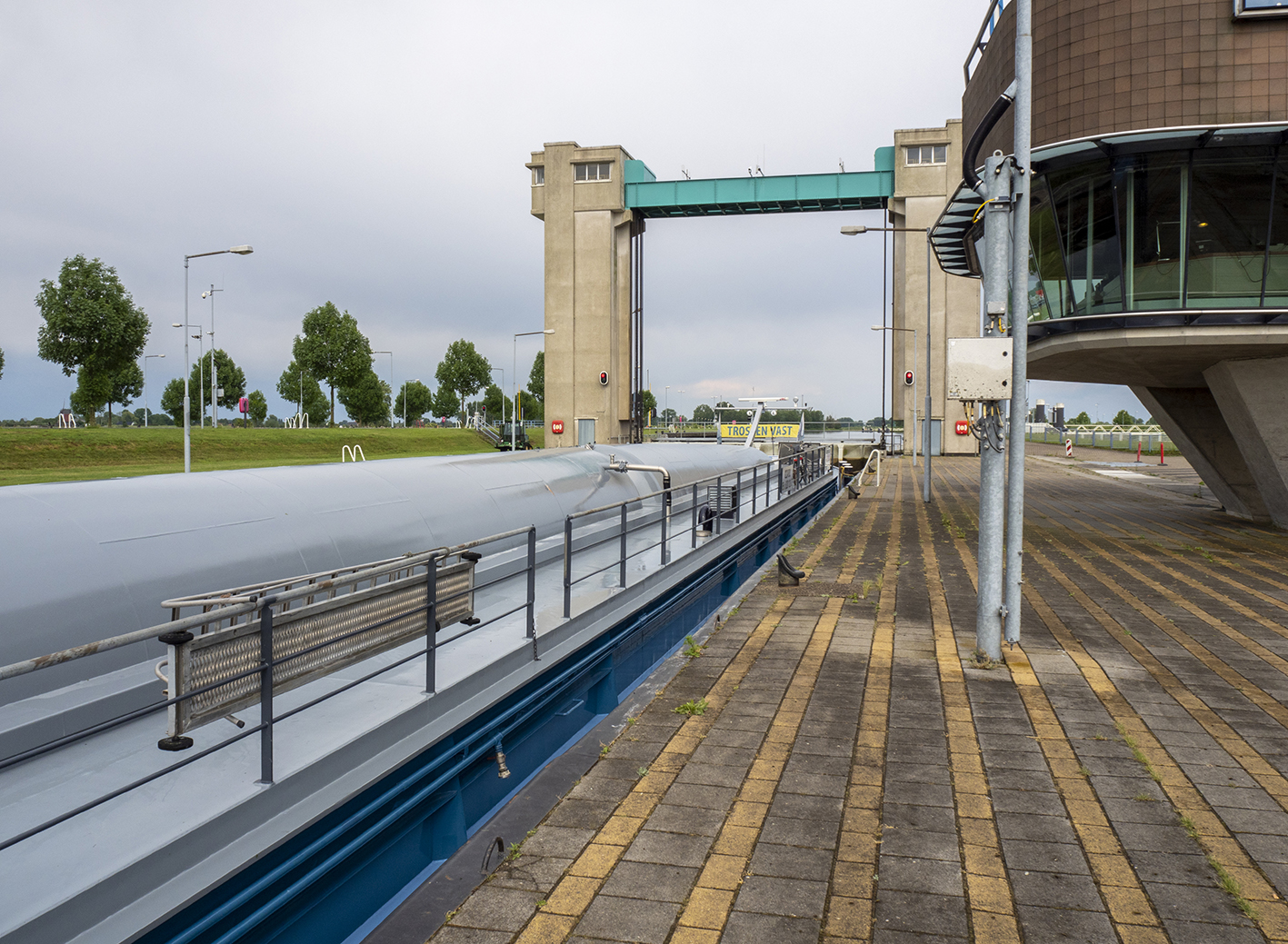 La porte amont s'ouvre alors et le 'Nil Desperandum' peut sortir. Déjà, une péniche suivante se présente, lourdement chargée de graviers. / The upstream door then opens and the 'Nil Desperandum' can leave the lock. Already, a next barge appears, heavily loaded with gravel.
Il s'agit du 'Madjoe' (prononcer 'Madjou' – qui signifie « En avant ! » en malaisien, référence au passé colonial néerlandais). / This is the 'Madjoe' (pronounced 'Madjoo' – which means « Forward! » in Malaysian, a reference to the Dutch colonial past).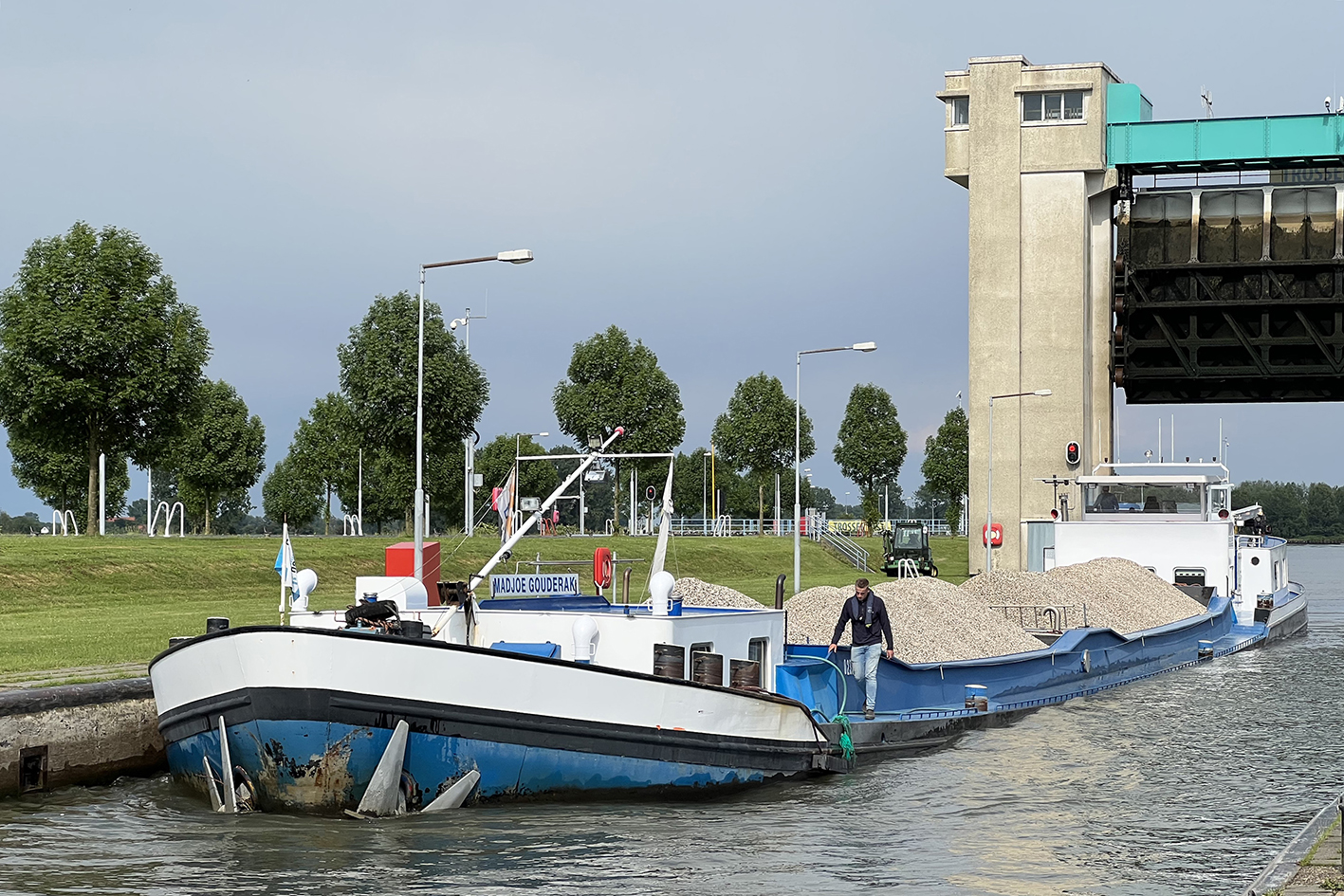 Entretemps, l'orage est passé et le soleil est revenu. Nous poursuivons notre route vers Nimègue, à une quarantaine de kilomètres à l'Est. Nous arrivons au pont 'De Oversteek' (« La traversée »), nom donné en mémoire de la traversée du Waal en 1944 par des membres du 504th Parachute Infantry Regiment (PIR) de l'armée américaine de la 82nd Airborne Division. Deux anciens combattants de la Seconde Guerre mondiale étaient présents à l'ouverture, ainsi que des proches des 48 soldats tombés ici au combat. / In the meantime, the storm has passed and the sunshine has come back. We continue our journey towards Nijmegen, about forty kilometers to the east. We arrive at the bridge 'De Oversteek' (« The crossing »), name given in memory of the crossing of the Waal in 1944 by members of the 504th Parachute Infantry Regiment (PIR) of the US Army of the 82nd Airborne Division. Two World War II veterans were present at the opening, along with relatives of the 48 soldiers fallen here.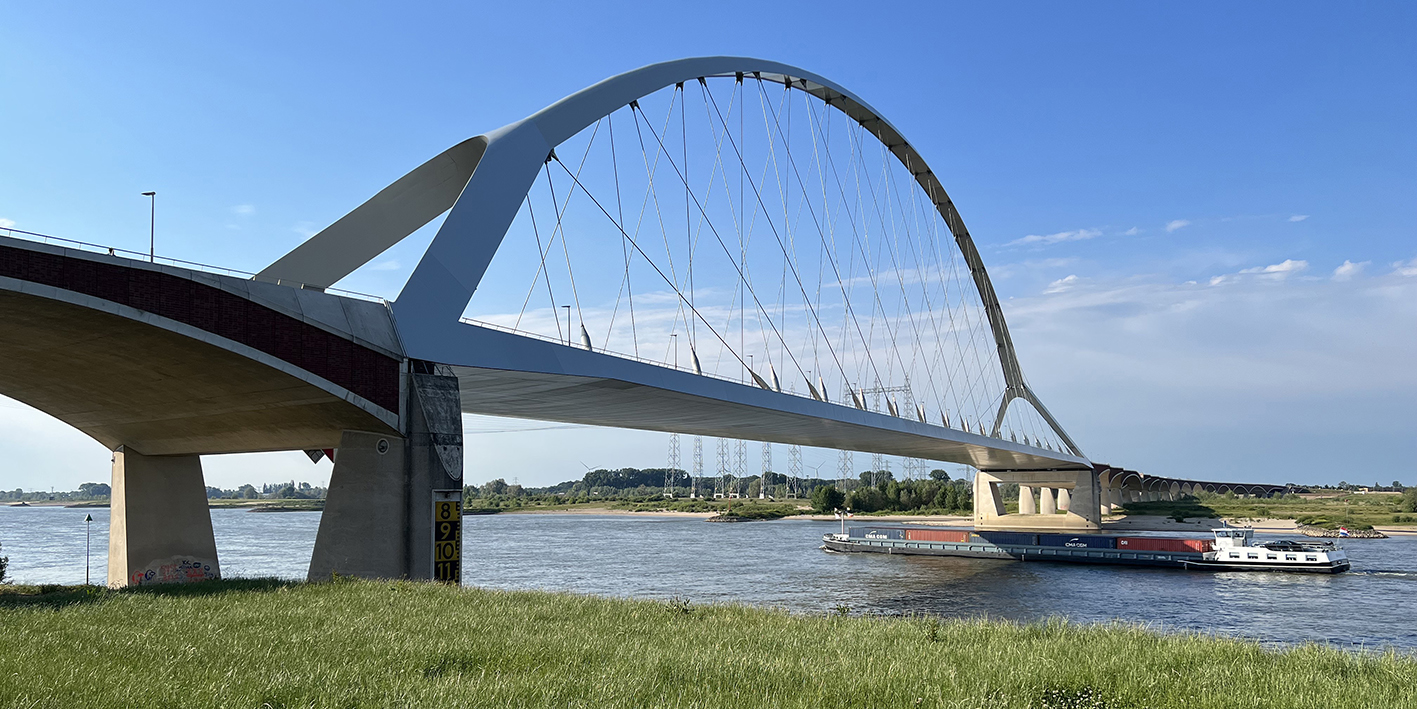 « La Charmante », qui a survécu à la guerre, pose paisiblement sous le pont. / "La Charmante", who survived the war, poses peacefully under the bridge.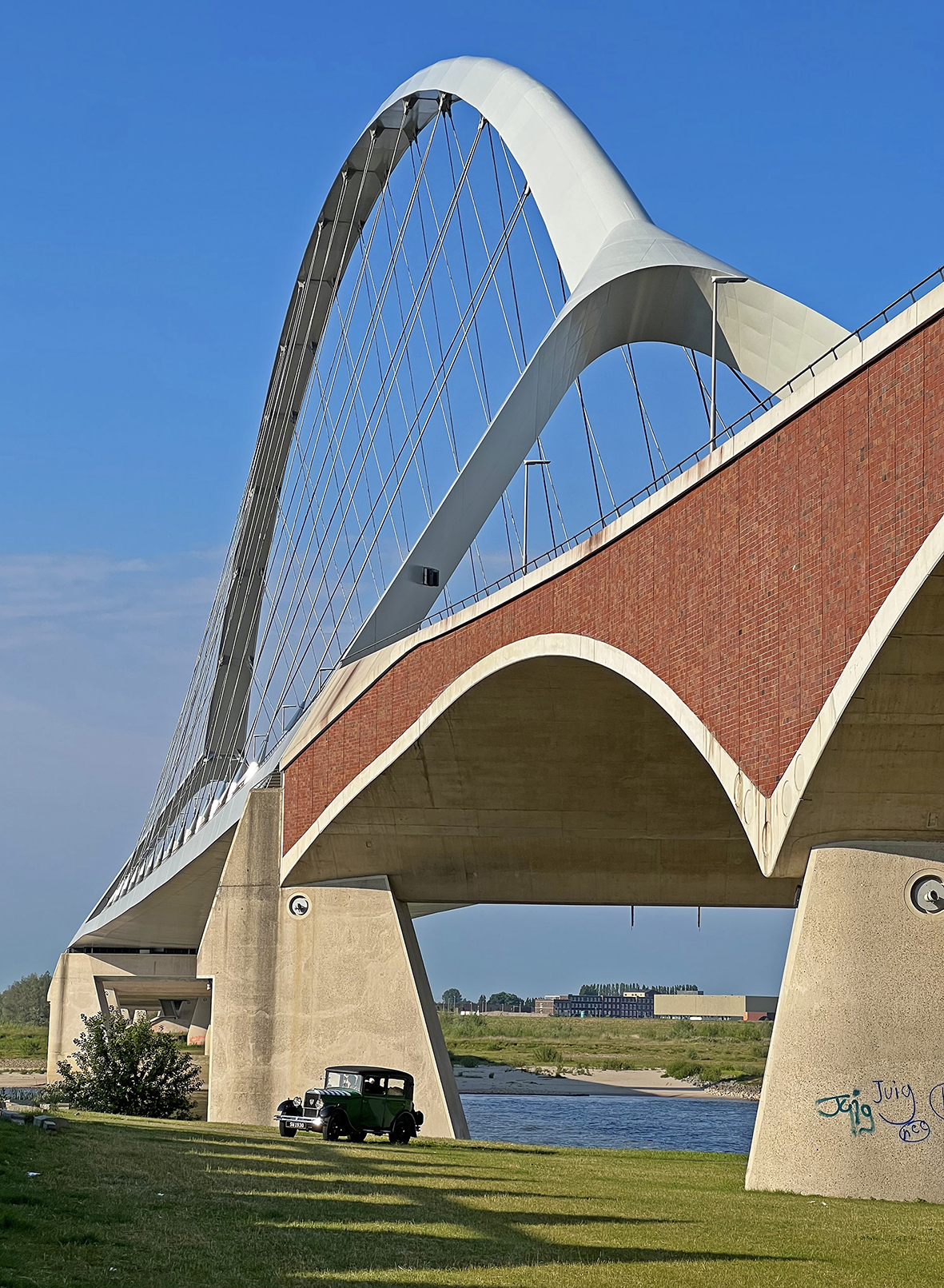 Nous trouvons refuge pour la nuit dans l'adorable petit B&B 'Casa Tranquilla', aménagé dans d'anciennes étables. Ce ne sont pas les chevaux et les dindons dans cet endroit bucolique, loin des bruits de la ville, qui vont nous empêcher de dormir. La pluie tambourine à nouveau sur le toit. « La Charmante » dort dehors, la pauvre. Pourtant, elle s'est très bien comportée ! Pourvu que ça continue comme ça ! / We find refuge for the night in the adorable little B&B 'Casa Tranquilla' housed in ancient stables. The horses and turkeys in this bucolic place, far from the city noise, that will prevent us from sleeping. The rain drums on the roof again. « La Charmante » sleeps outside, poor thing. However, she behaved very well! May our trip continue like this!
•••
30 mai 2022. C'est reparti pour un tour ! (Senningen-Maastricht : 234 km)

 / 30 May 2022. On the road again!

 

(Senningen-Maastricht : 234 km)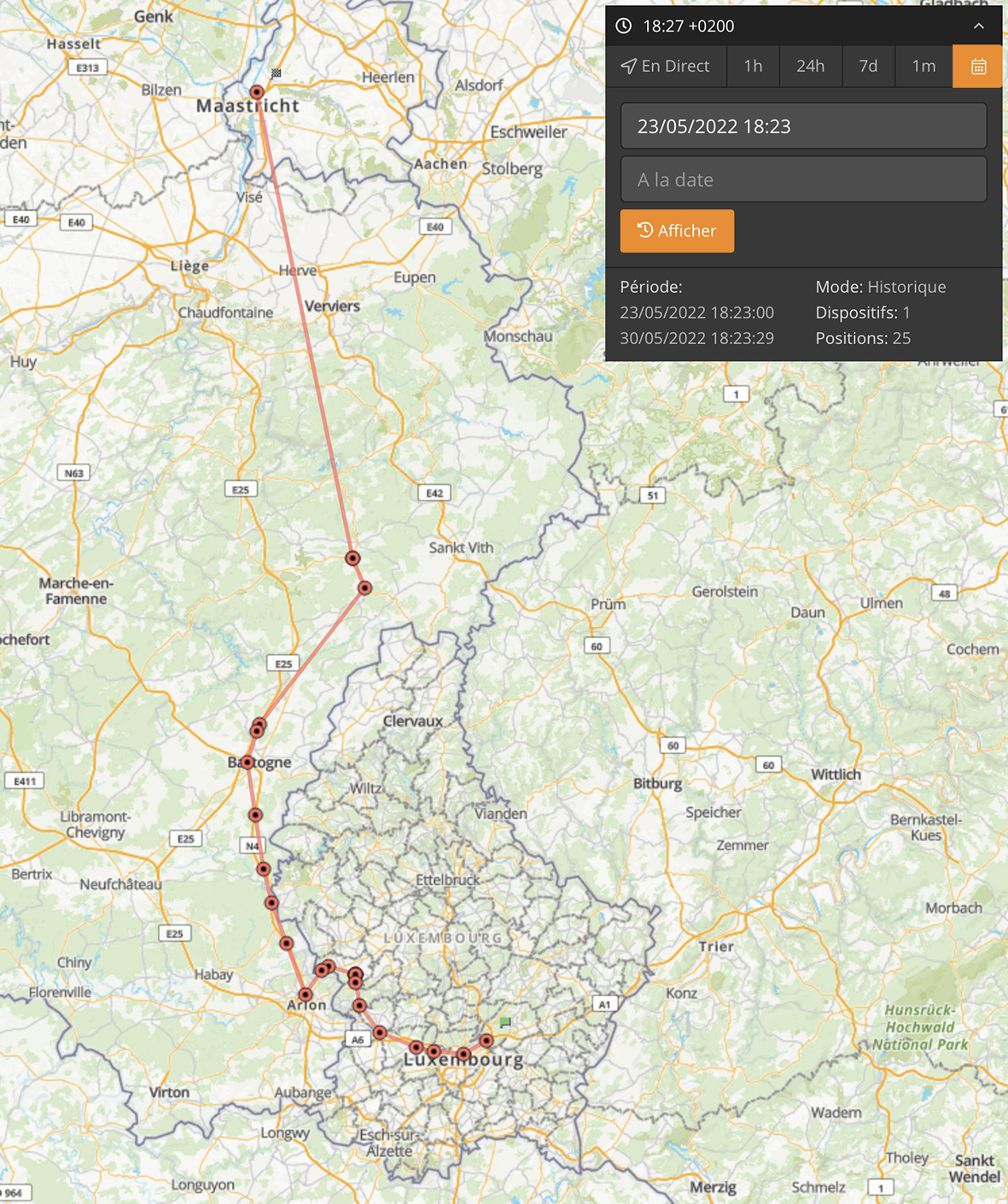 Avant de partir, et sur recommandation expresse de tous les experts sur le forum des 'Amis des Peugeot 01', on a procédé avec mon mécanicien-magicien Jean-Philippe (alias J-Phi) à la refabrication du joint de support de pompe en papier plus mince (pour les spécialistes : 0,25 mm au lieu de 0,8 mm), avant de resserrer la culasse à froid, puis à chaud. / Before leaving, and on the insistent recommendation of all the experts on the 'Friends of Peugeot 01' forum, I proceeded with my mechanic-magician Jean-Philippe (alias J-Phi) to rebuild the pump support gasket in thinner paper (for specialists: 0.25 mm instead of 0.8 mm), before tightening the cylinder head with a cold, then with a hot engine.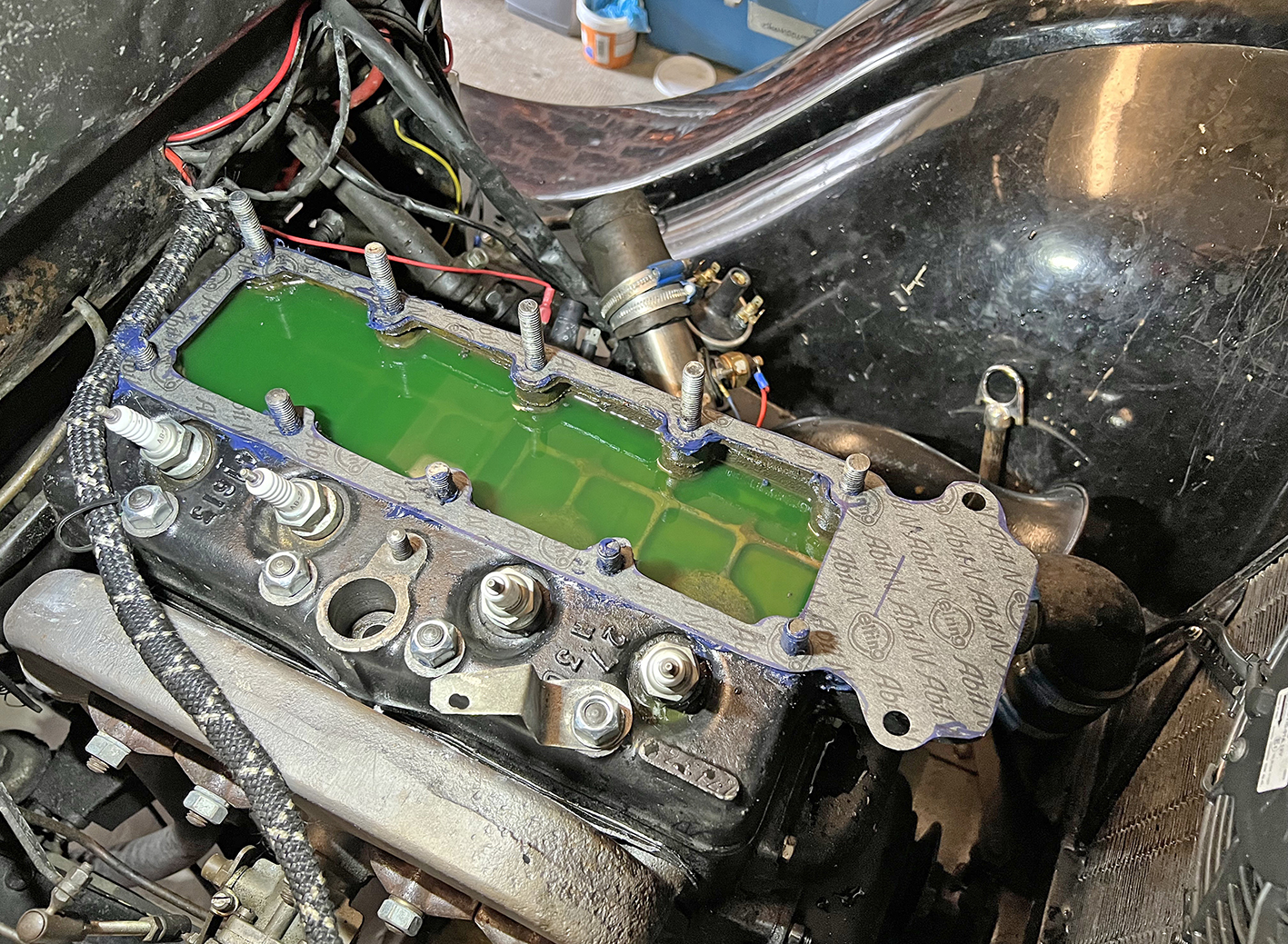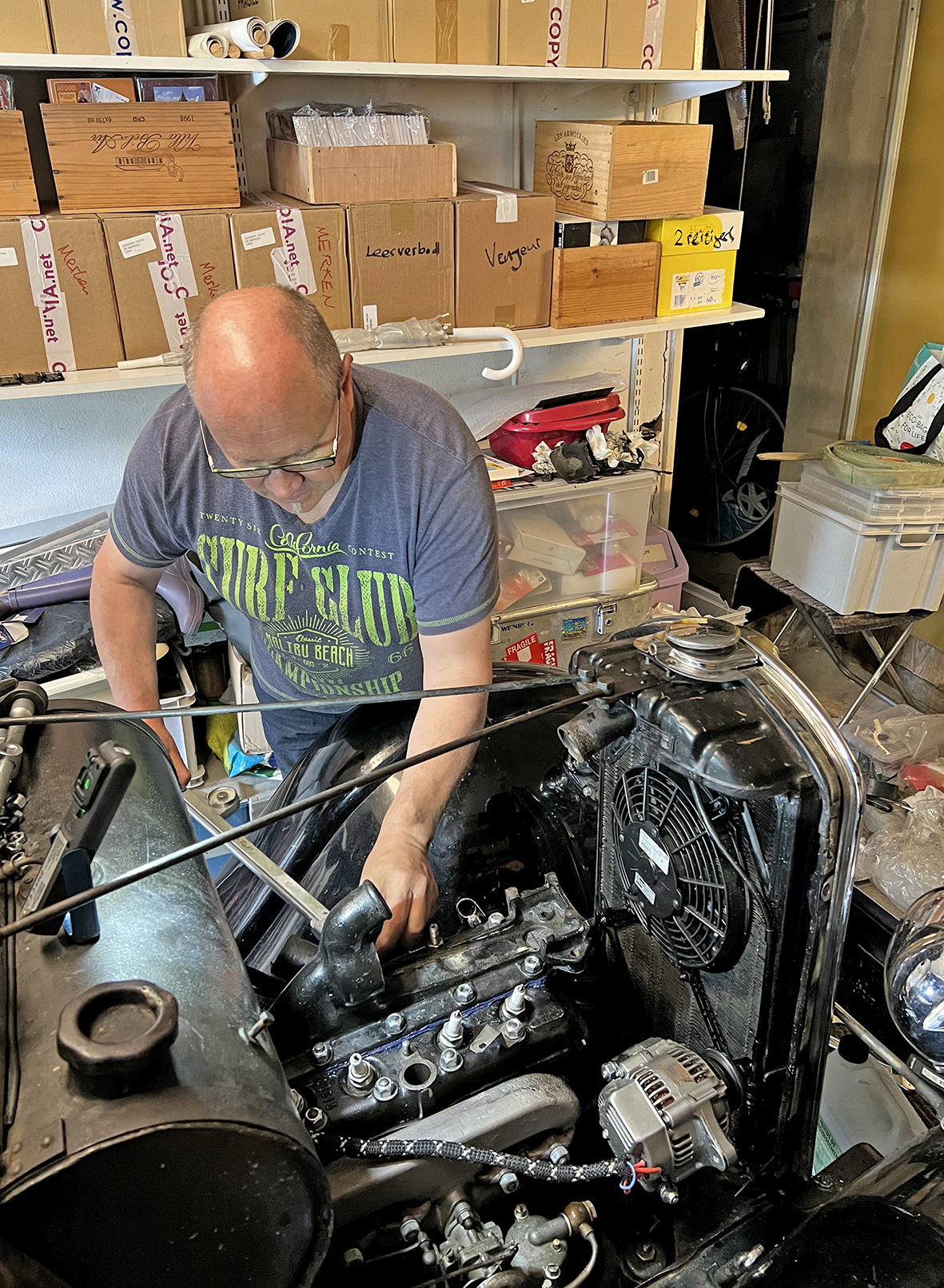 Malheureusement, à cause de tous ces travaux avec des pièces lourdes et parfois dans des positions très inconfortables, je me suis retrouvé avec une sciatique carabinée. Impossible de repartir sans quelques jours de repos en me bourrant d'antalgiques et anti-inflammatoires…  En même temps, c'est le pont de l'Ascension – difficile de trouver des hôtels. On décide de reporter notre 2ème départ au lundi 30 mai, exactement 4 semaines après le premier. Le dimanche, dernier essai de la voiture et je fais quelques photos avec les lunettes géantes de mon sponsor Optique Moitzheim.  / Unfortunately, because of all this work with heavy parts and sometimes in very uncomfortable positions, I ended up with severe sciatica. Impossible to leave without a few days of rest and stuffing myself with painkillers and anti-inflammatories… At the same time, it is the Ascension Holiday – difficult to find hotels. We decide to postpone our 2nd departure to Monday, May 30, exactly 4 weeks after the first one. Sunday, last test of the car and I take some pictures with the giant glasses of my sponsor Optique Moitzheim.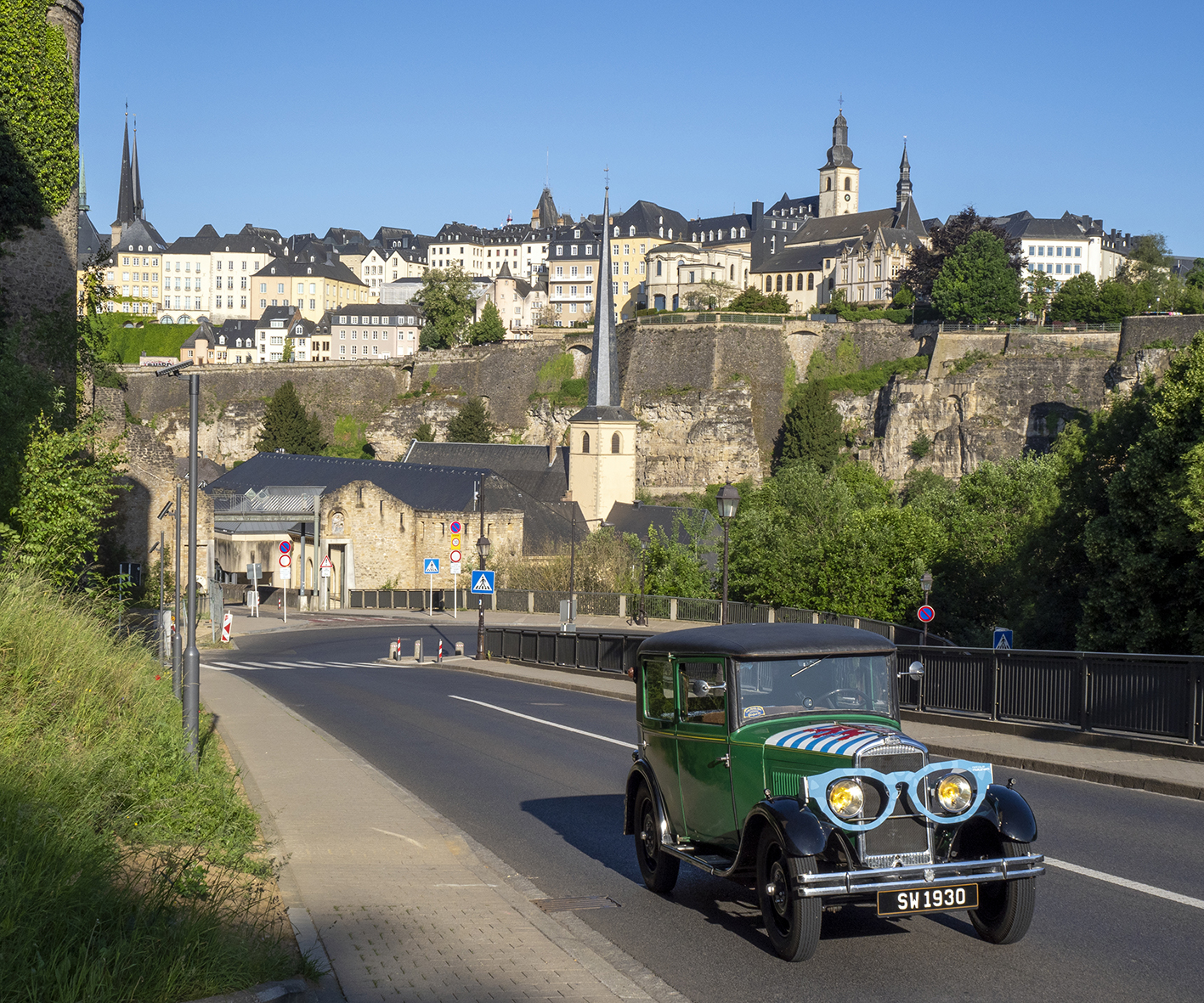 Puis il faut caser tous les bagages – outils, pièces de rechange (jamais celles dont on a vraiment besoin !), matériel photo, cartes routières, livres, vêtements pour 6 semaines (pour le chaud et le froid, pour la route, pour le décontracté et pour le chic), médicaments (pour petits vieux), lunettes géantes … / Then we have to fit all the luggage – tools, spare parts (never the ones you really need!), photo equipment, road maps, books, clothes for 6 weeks (for hot and cold weather, for the road, for the casual and for the chic), medicines (for old folks), giant glasses…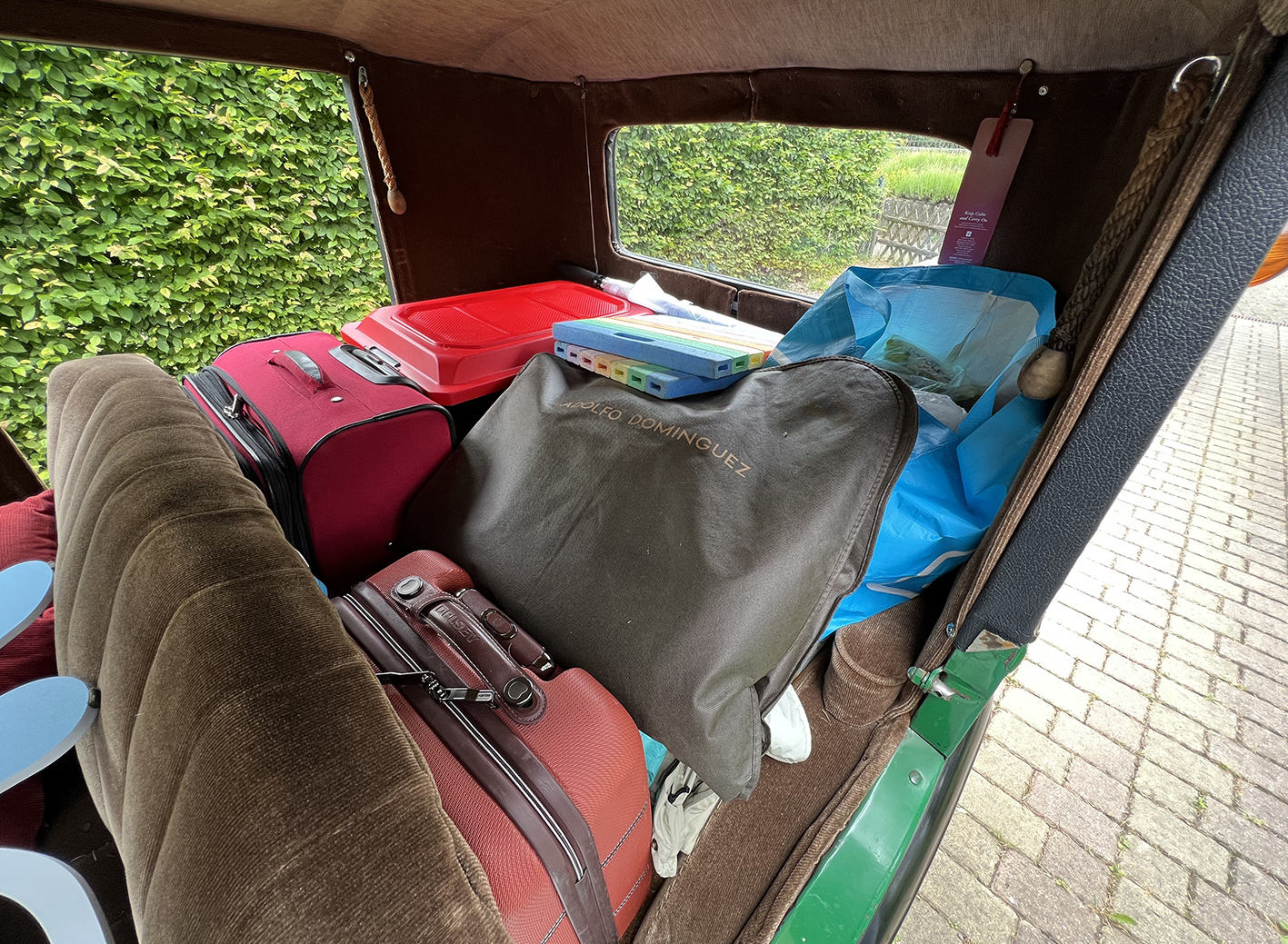 Lundi 30 mai : enfin le deuxième départ dans les embouteillages du matin. / Monday, May 30: at last the second departure in the morning traffic jams.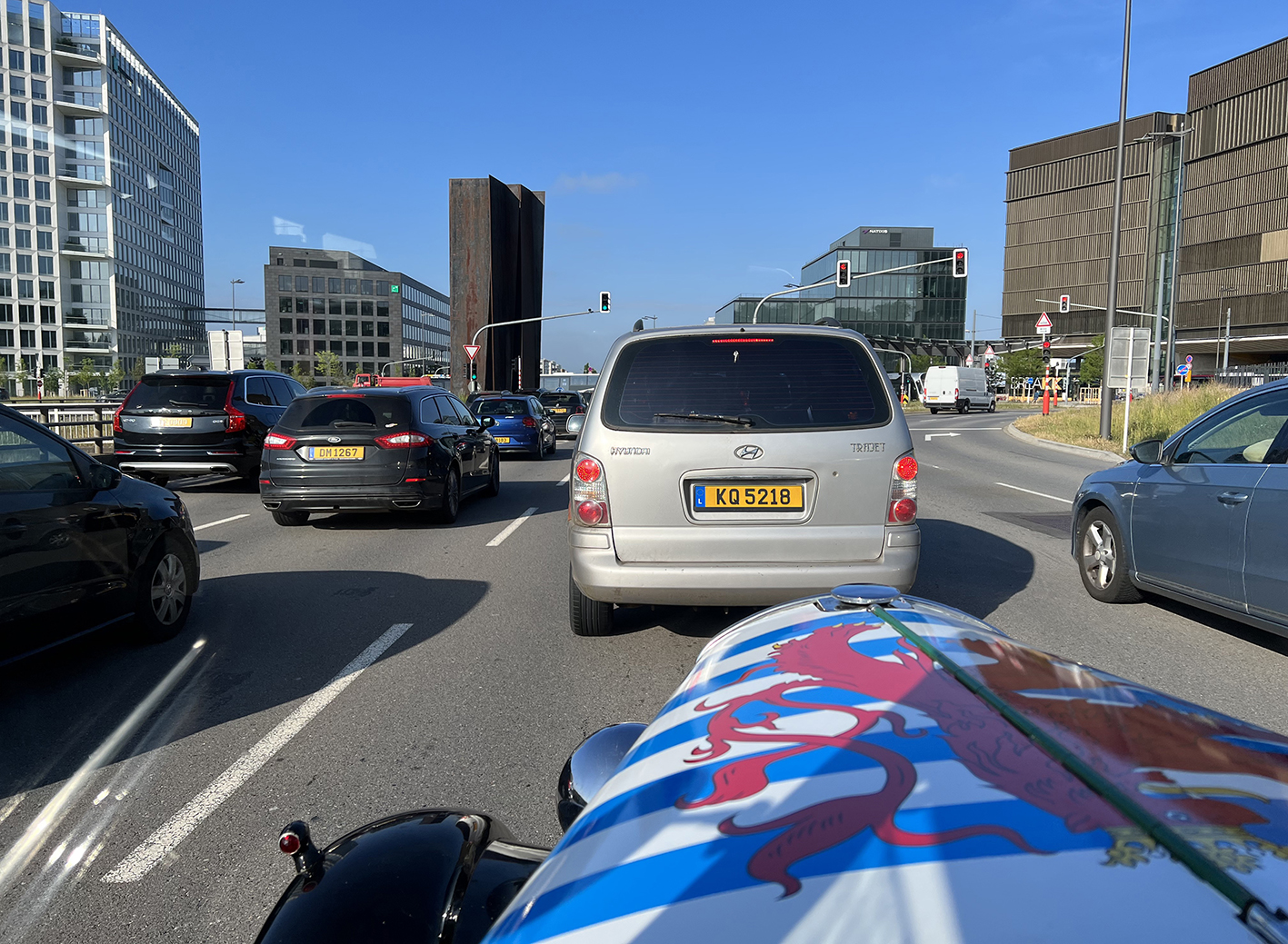 Petit arrêt chez Jo pour une dernière vérification du train arrière, puis c'est la route des Ardennes. / A short stop at Jo's for a final check of the rear axle, then it's the road through the Ardennes.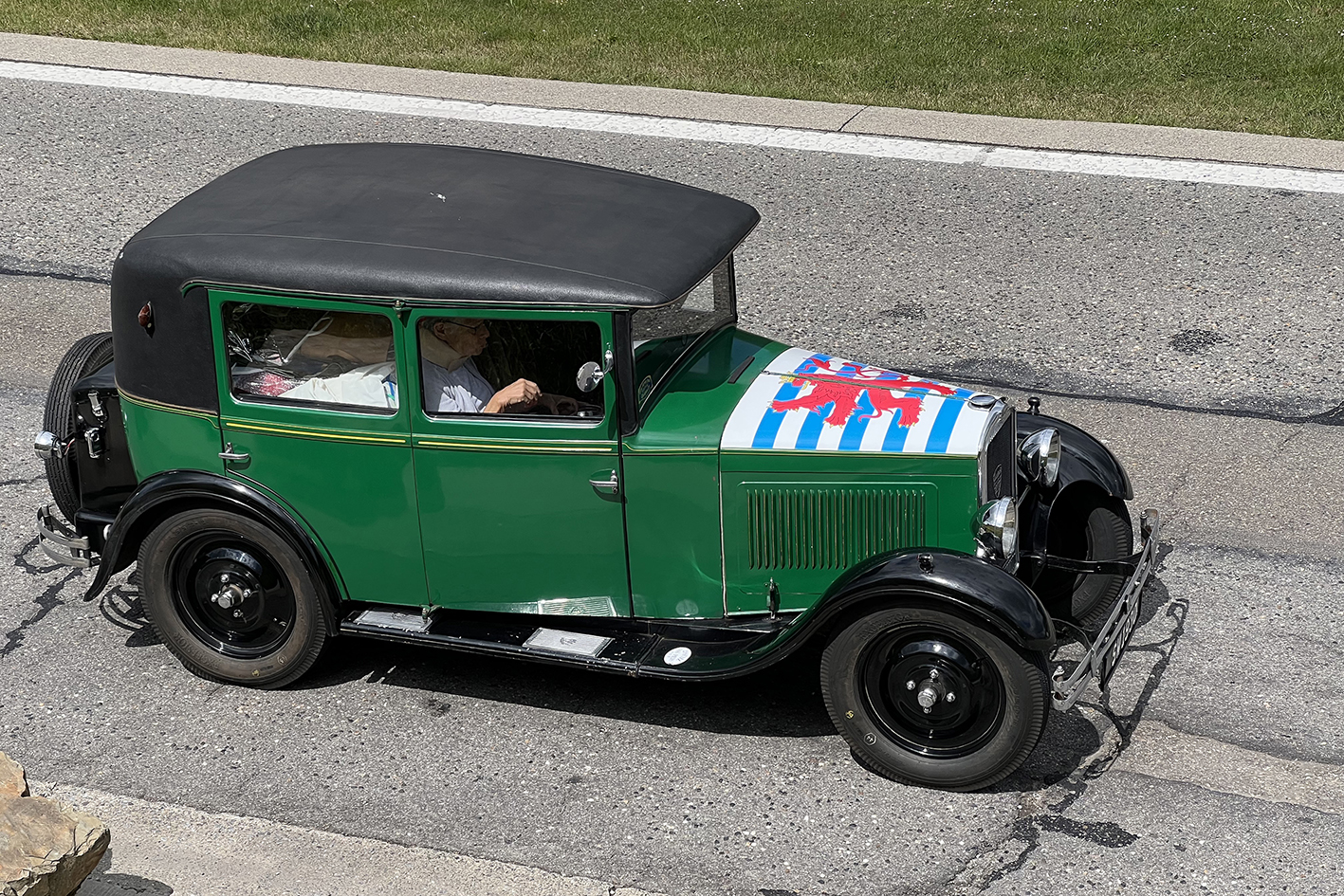 Les montées (et les descentes) se succèdent. Voiture et conducteur sont mis à rude épreuve. La voiture est très (trop ?) chargée. Il faut souvent rétrograder en 2nde vitesse et parfois même en 1ère ! Mais grâce au ventilateur électrique, le moteur ne surchauffe jamais (merci John !). Pour freiner, surtout dans les descentes, il faut vraiment anticiper ! Nous avons rendez-vous à Trois-Ponts en Belgique avec un autre membre du forum des 'Amis des Peugeot 01', Claude, connu sous le pseudo 'Buga'. Accueil chaleureux. L'occasion de discuter un peu et de faire quelques kilomètres de route ensemble. / The climbs (and descents) succeed one another. Car and driver are put to the test. The car is very (too?) heavy. It is often necessary to downshift in 2nd gear and sometimes even in 1st! But thanks to the electric fan, the motor never overheats (thanks John!). To brake, especially on the descents, one really has to anticipate! We have an appointment in Trois-Ponts in Belgium with another member of the 'Friends of Peugeot 01' forum, Claude, a.k.a. as 'Buga'. A heartwarming welcome. The opportunity to chat a bit and drive a few kilometers together.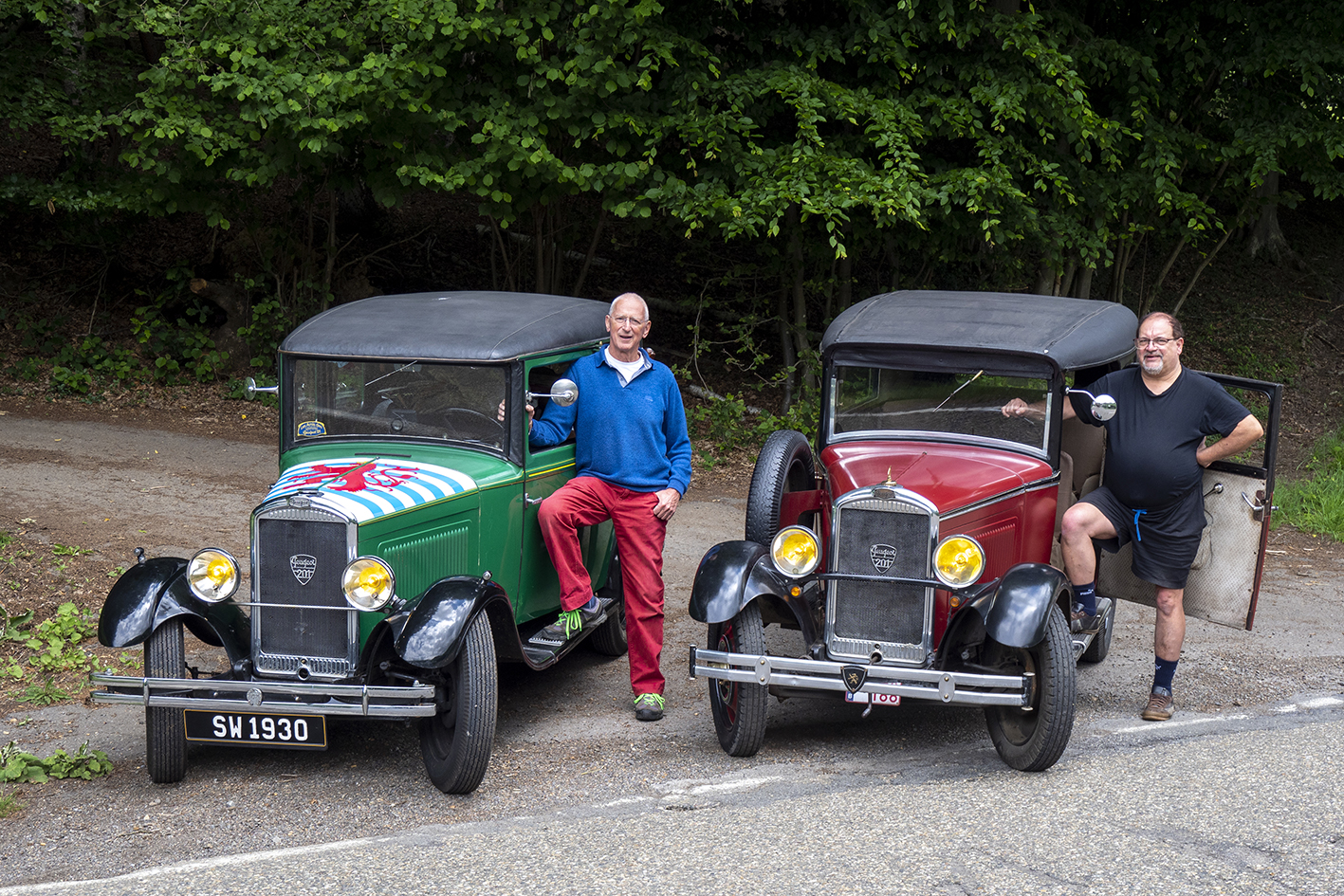 (Photo: Marie-Xavier Lassauzet)
Nous franchissons la frontière des Pays-Bas. Nous approchons de la fin de l'étape du jour. Nous jubilons: « La Charmante » s'est bien comportée, malgré sa paresse dans les côtes. On ose y croire à nouveau ! / We cross the border of the Netherlands . We are approaching the end of today's stage. We are jubilant: "La Charmante" behaved well, despite her laziness in the climbs. We dare to believe in our trip again!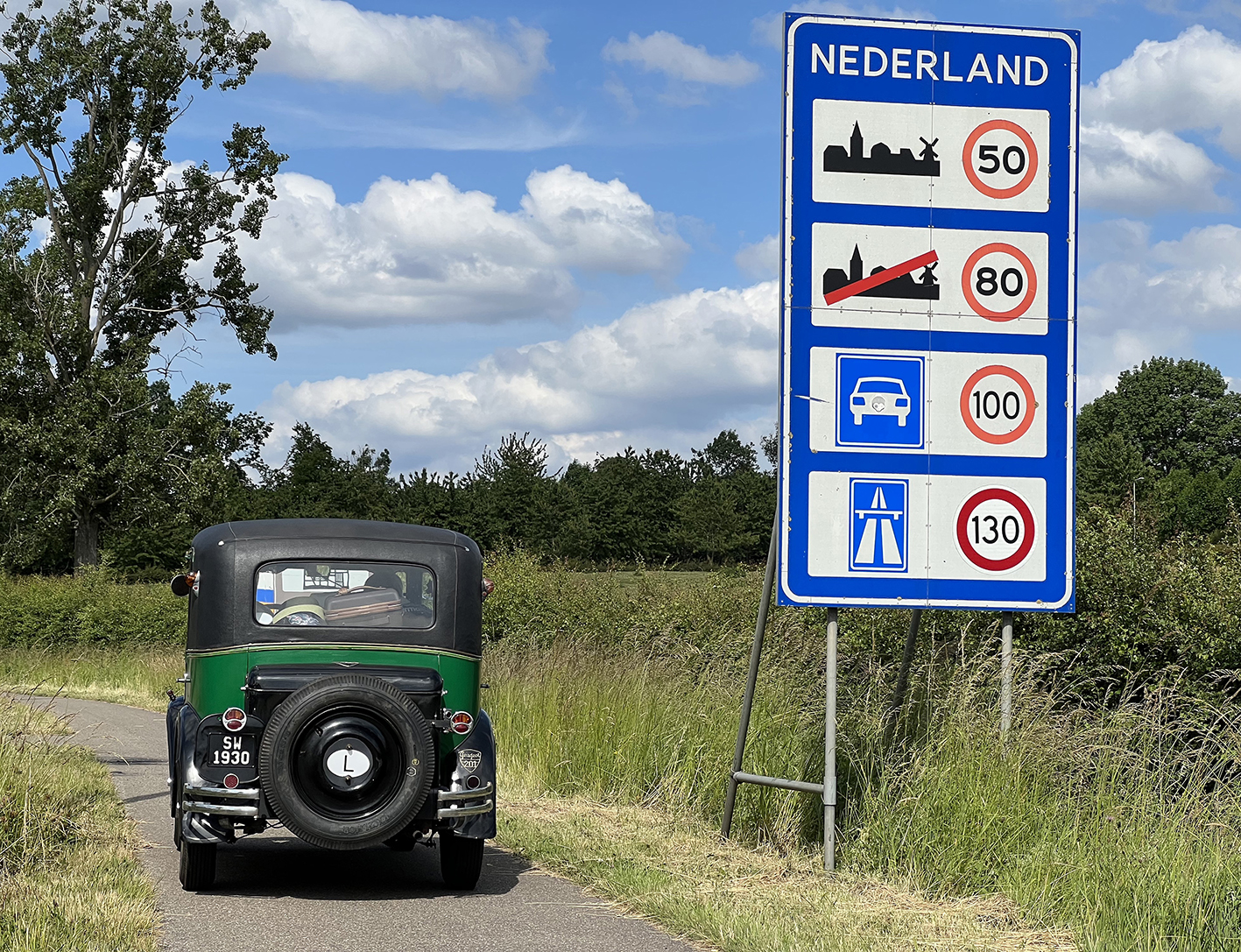 Nous dînons et nous passons la nuit dans le 'Hotel Management School Maastricht', situé dans un vieux manoir où tout est géré par les étudiants de l'école hôtelière locale. Ambiance sympa avec ces jeunes qui apprennent le métier ! / We have dinner and spend the night in the 'Hotel Management School Maastricht', located in an old mansion where everything is run by the students of the local hotel school. Nice atmosphere with these young people learning the trade!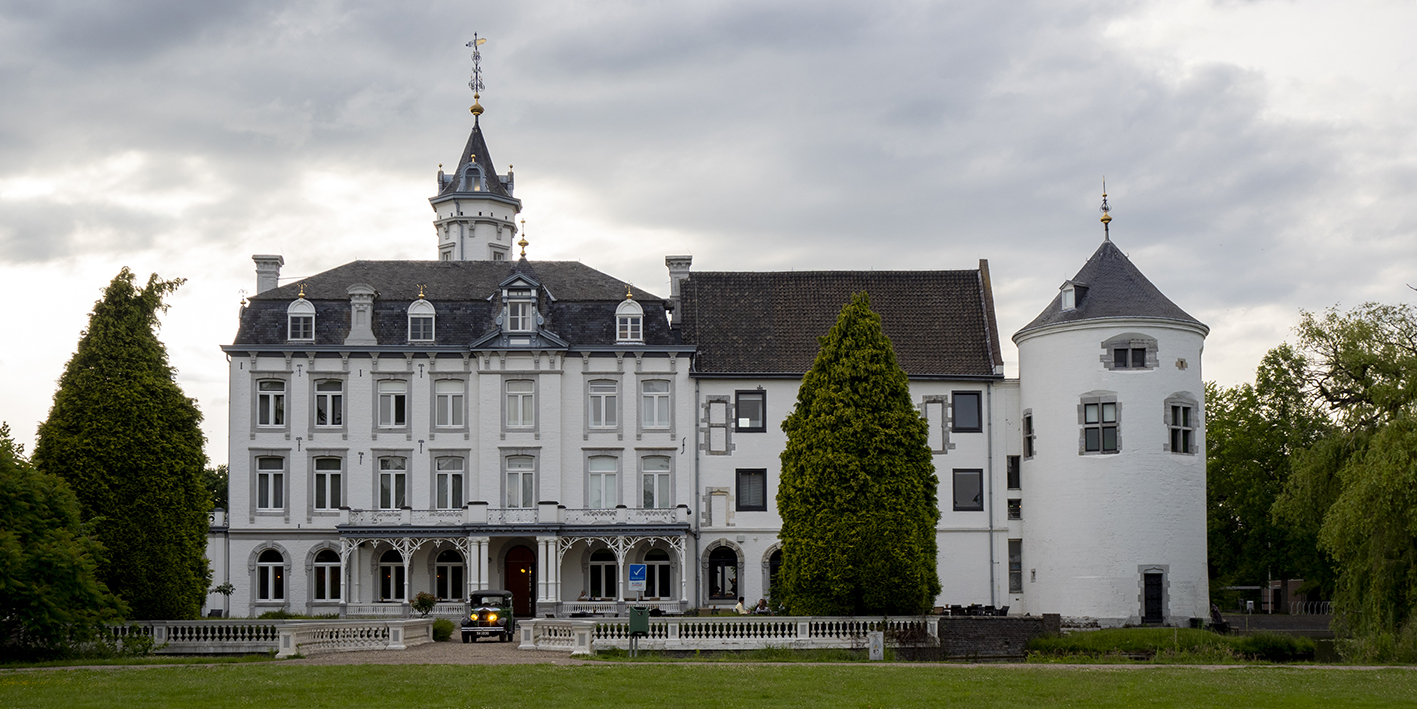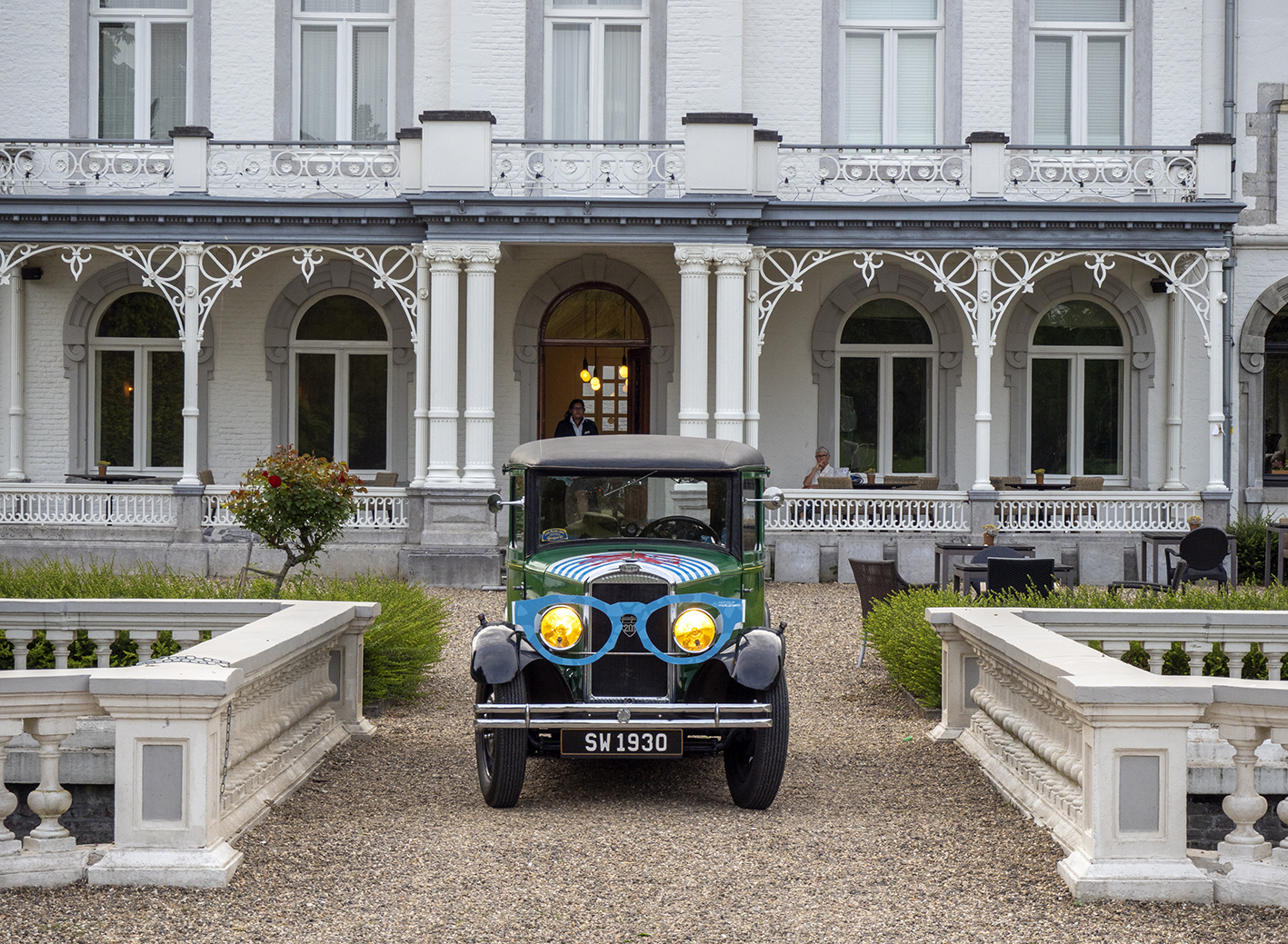 Chaque chambre a été créée par un architecte différent – priorité à la créativité et l'originalité. Surprise : en ouvrant la porte de notre chambre, nous tombons tout de suite sur la cuvette des WC ! Autre surprise, moins agréable : il y a la fête d'une promotion de fin d'année. Les décibels nous empêchent de dormir (on en a bien besoin pourtant après cette longue journée fatigante). J'en profite pour vous écrire ce blog au beau milieu de la nuit… à demain ! / Each room was created by a different architect – priority to creativity and originality. Surprise: when we open the door of our room, we immediately face the toilet bowl! Another, less pleasant surprise: there is an end-of-year promotion party. The decibels prevent us from sleeping (we really need sleep after this long tiring day). I take this opportunity to write you this blog in the middle of the night… see you tomorrow!
•••
 

16-23 mai 2022. Une semaine de mécanique

/ May 16-23, 2022. A week of mechanics.
 Pour remettre « La Charmante » en état de voyager, nous sommes trois : John, le père, Jo le fils, et moi (non, non, pas le sain d'esprit – plutôt le 'jeune' apprenti!). / To put « La Charmante » back to normal, there are three of us: John, the father, Jo the son, and me (the young apprentice).

Pendant plusieurs jours, on se sera servis de : étau, clefs, pinces, tournevis, marteaux, perceuses, tour, presse hydraulique, extracteur, poste de soudure, cabine de sablage, scie circulaire… (j'en ai peut-être oublié !). / For several days, we will have used the following: vice, spanners, pliers, screwdrivers, hammers, drills, lathe, hydraulic press, extractor, welding station, sandblasting cabin, circular saw… (I may have forgotten some!).
John et moi nous attaquons d'abord au problème de la dynamo. / John and I tackle the dynamo problem first.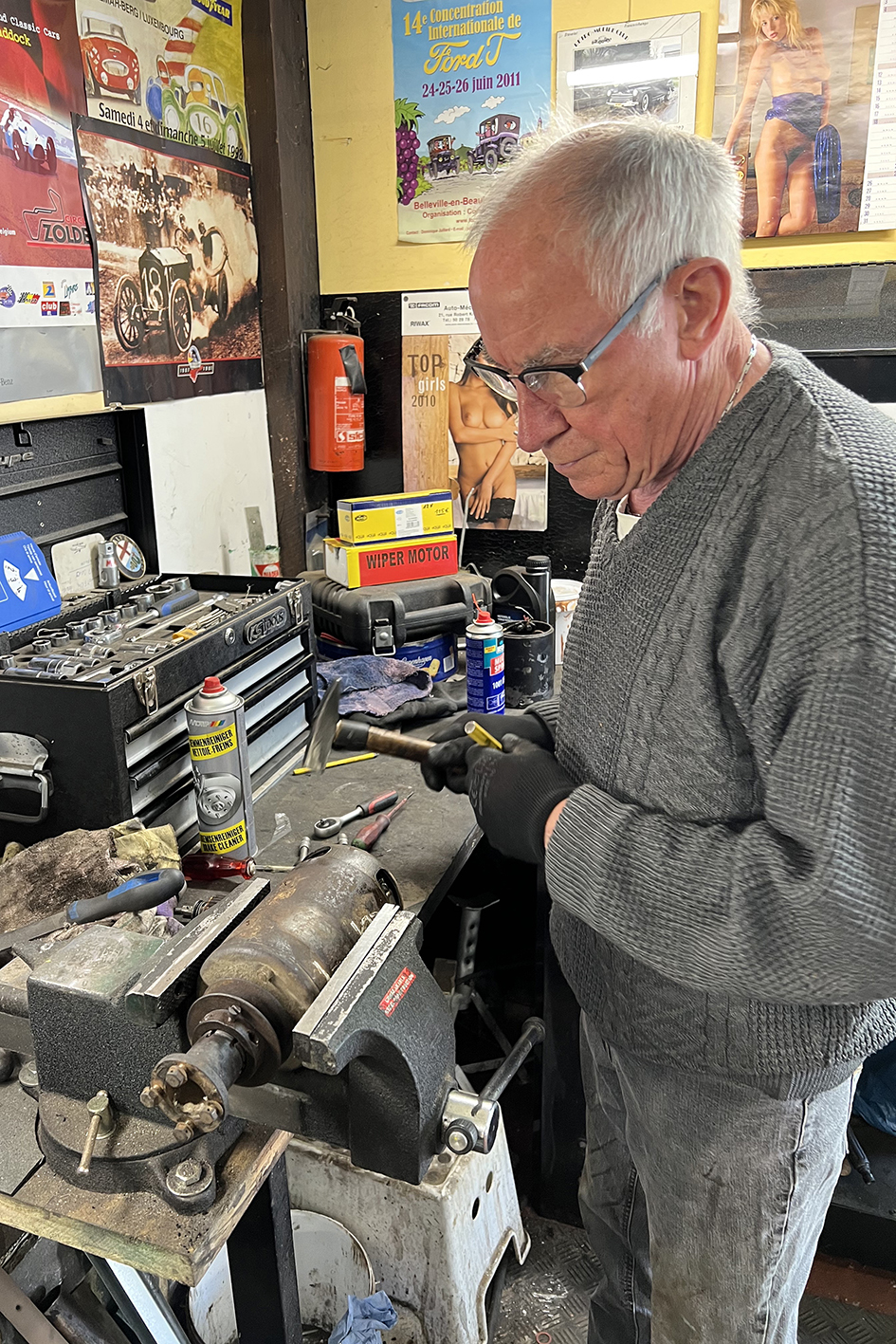 Nous disposons désormais de trois exemplaires : celle, défectueuse, de « La Charmante », et deux autres, récupérées chez Manu. Comment faire une bonne dynamo avec trois ? / We now have three dynamos: the defective one of "La Charmante" and two others, recovered from Manu. How to make one good dynamo with three?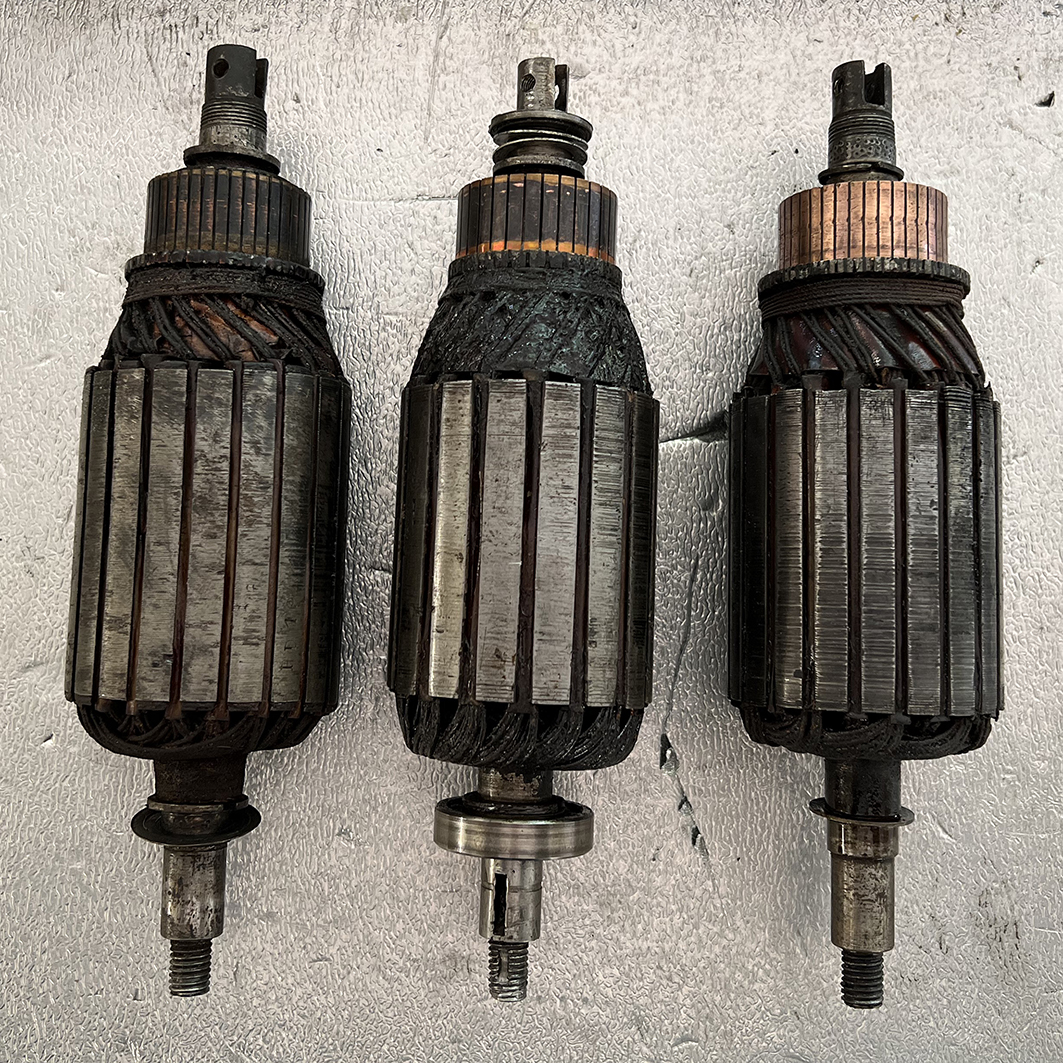 Deux ont l'axe faussée. Sur un total de 6 roulements à bille, on arrive à en récupérer deux en bon état. Un coup de fil à l'ami Jean-Louis à Villeneuve-Loubet pour nous assurer du bon branchement des fils, et c'est parti ! Voilà une bonne chose de faite ! / Two of them have a bent axle. Of a total of 6 ball bearings, we manage to recover two in good condition. A phone call to my friend Jean-Louis in Villeneuve-Loubet to make sure the wires are properly connected, and we finish the job! That's a good thing done!
 Ensuite, c'est le démontage du pont. Du lourd, dans tous les sens du mot ! C'est surtout Jo qui s'y attelle. / Then we must disassemble the rear axle. Heavy, in every sense of the word! It is especially Jo who is working on it.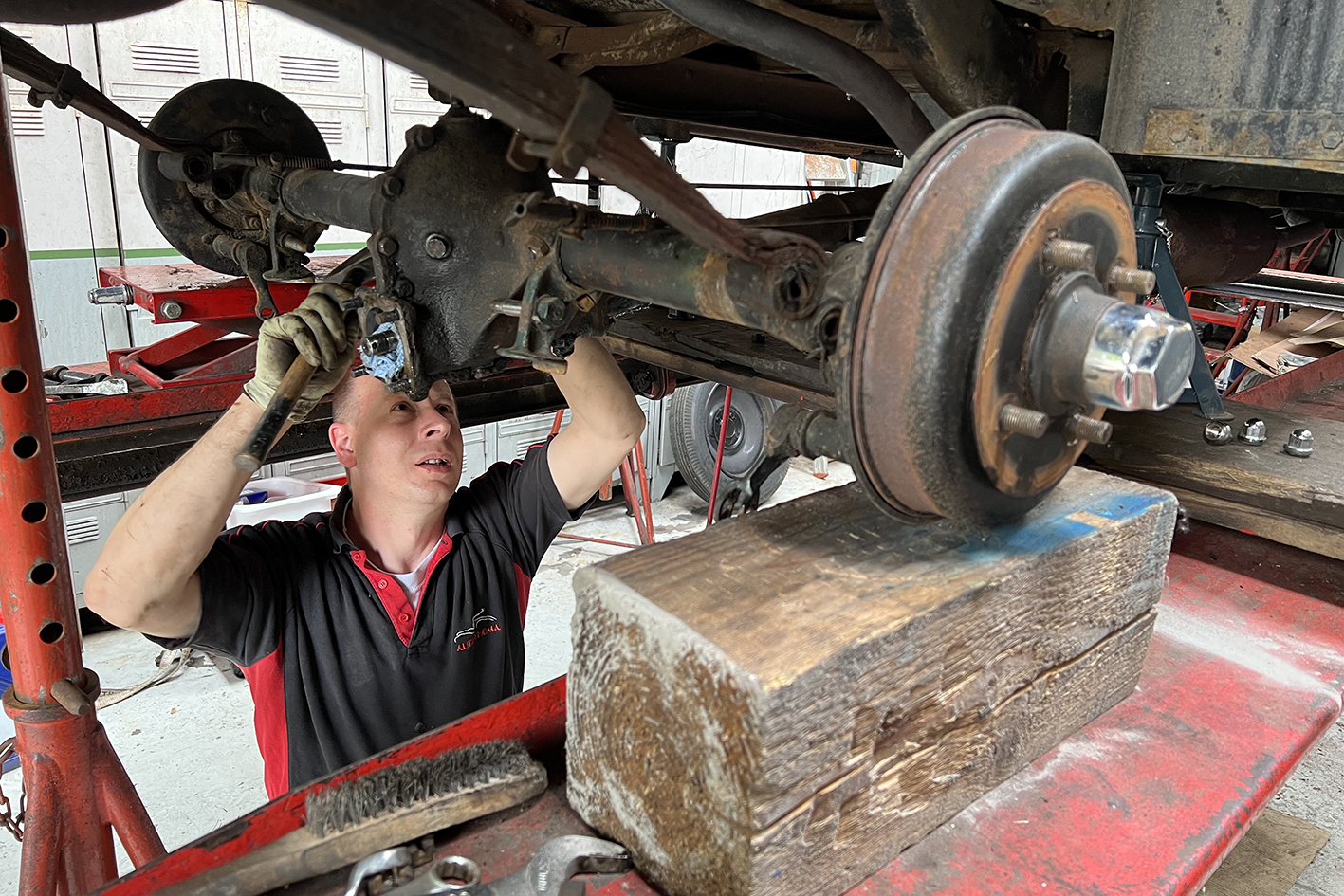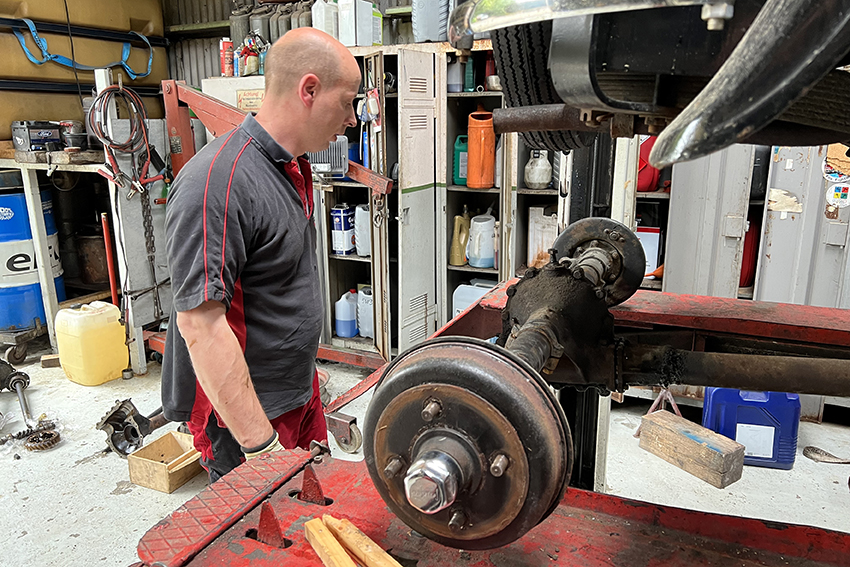 Une fois démonté, il faut enlever à l'aide de diluant, puis au karcher, l'épaisse couche de cambouis qui recouvre l'ensemble. / Once disassembled, the thick layer of grease that covers the assembly must be removed using thinner, then with a karcher.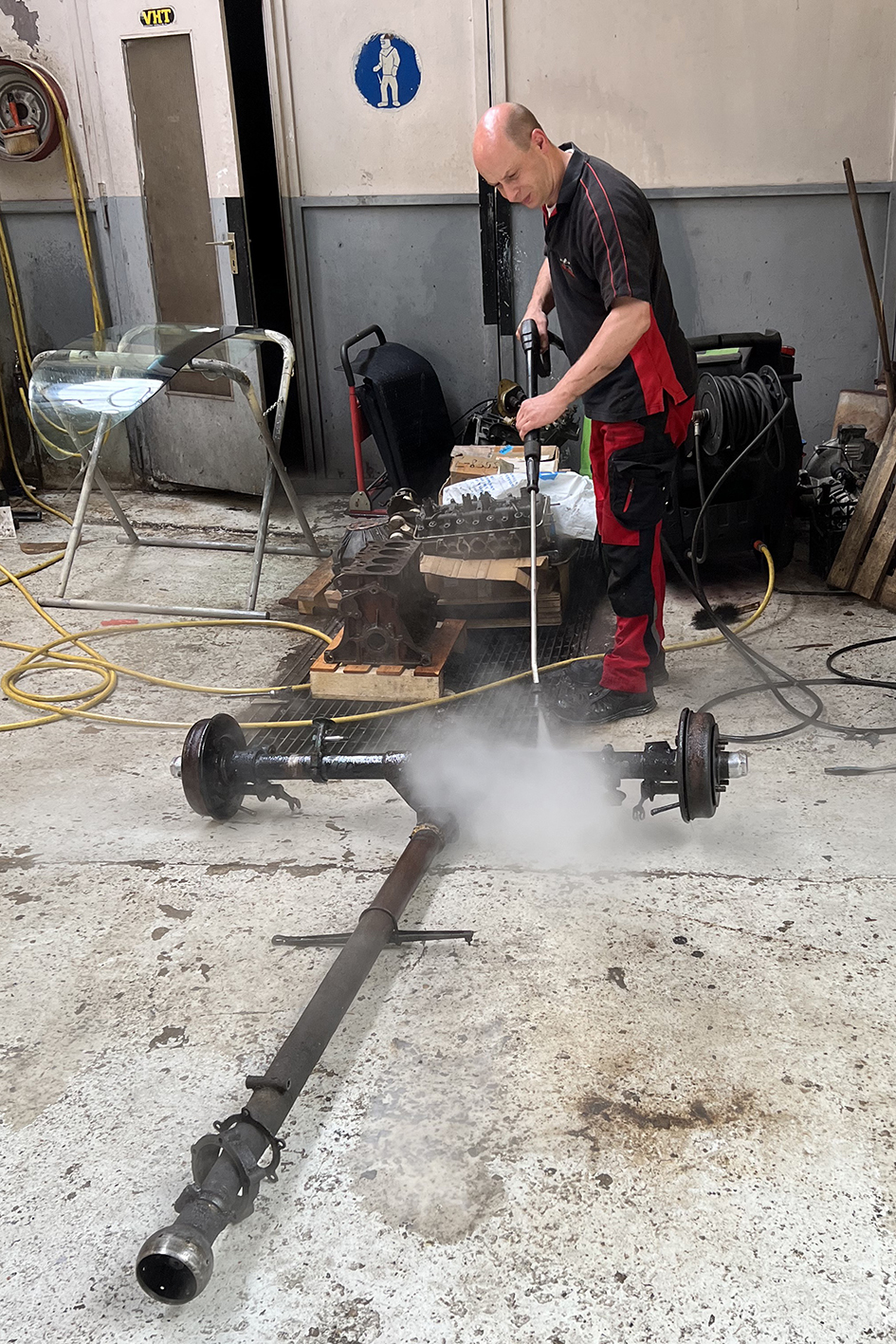 Père et fils démontent le train arrière. Nous comparons, pièce par pièce, lesquelles de l'ancienne on gardera et lesquelles venues de chez Manu on montera. L'essentiel, c'est de récupérer les moyeux et les flasques pour remplacer les anciens qui présentaient un jeu dangereux. Usure due au fait que les mécanos allemands n'avaient pas assez serré l'écrou central… Petite négligence qui va me coûter beaucoup de temps, de travail et… une fortune ! / Father and son dismantle the rear axle. We compare, piece by piece, which of the old parts we will keep and which from Manu we will mount. The main thing is to recover the shafts and the flanges to replace the old ones which presented a dangerous wear, due to the fact that the German mechanics had not tightened the central nut enough… A small negligence which will cost me a lot of time, work and… a fortune!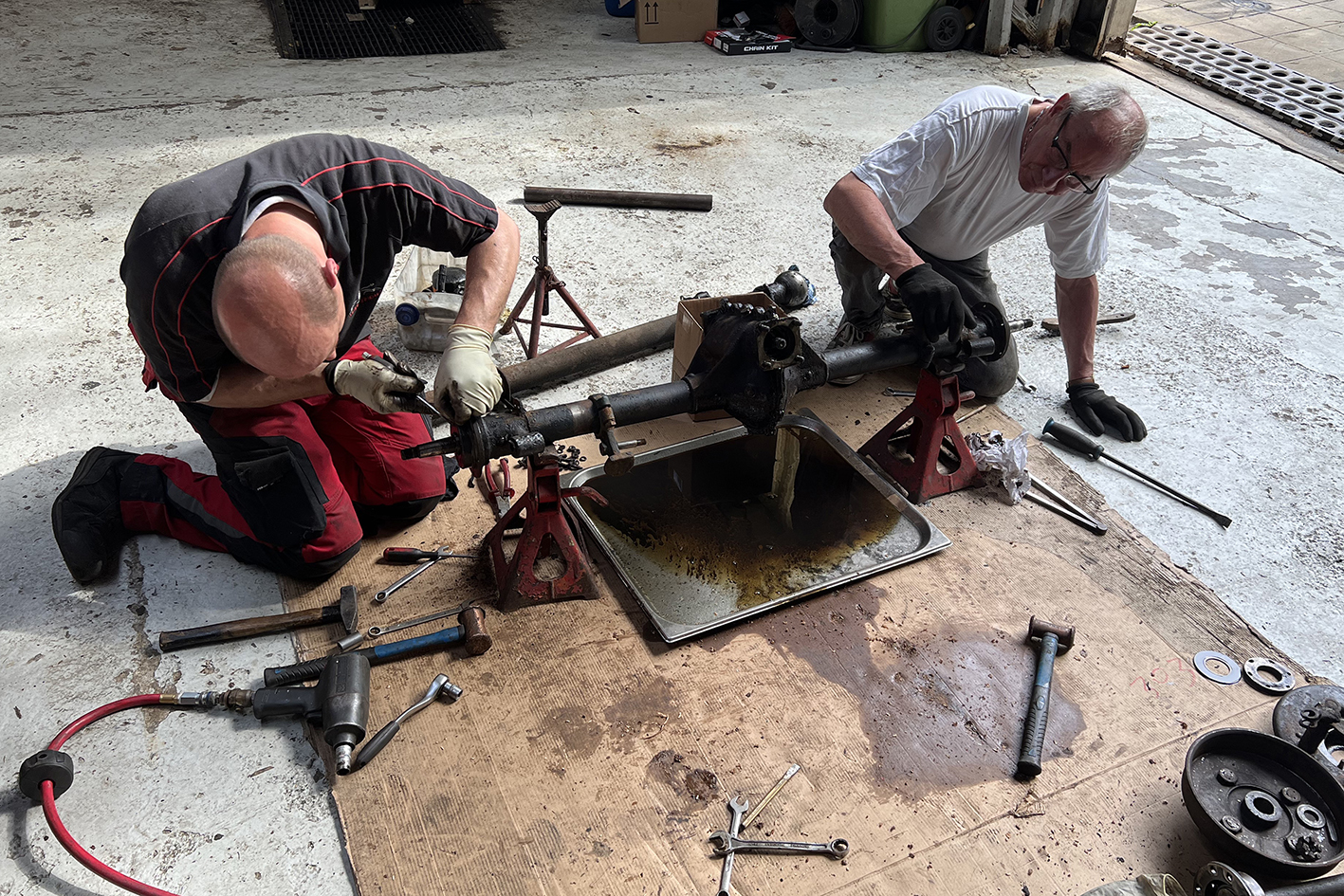 À la vue du chantier : « Charmante » désossée et une montagne de pièces par terre, je me demande si elle arrivera à rouler à nouveau un jour… / Looking at the (de)construction site: «La Charmante» and a heap of parts on the floor, I wonder if it will be able to be driven again one day…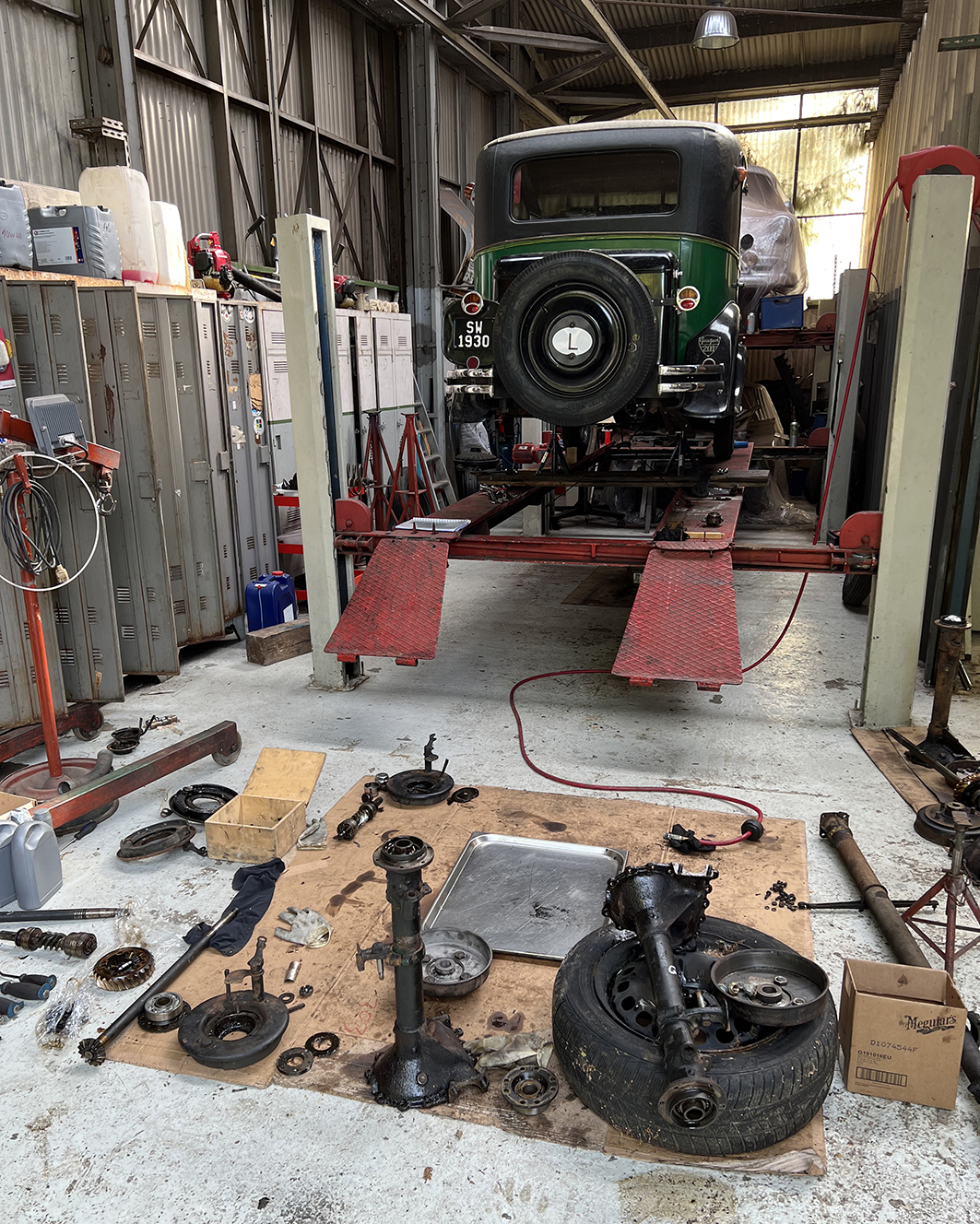 Nous nous mettons au remontage. Nettoyage d'abord. / Rebuilding time. First, each part has to be cleaned.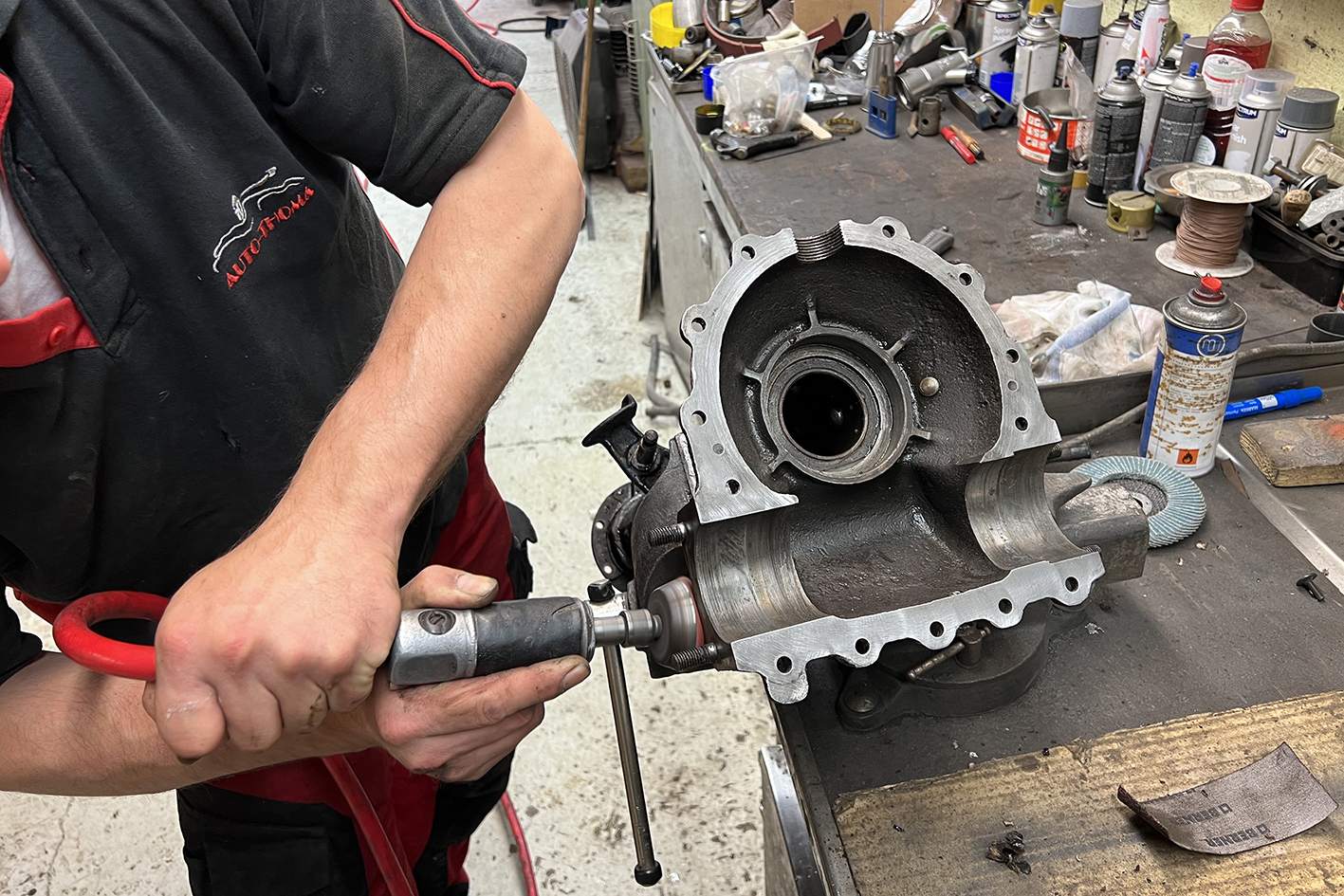 Puis assemblage, pièce par pièce. / Then the assembly, piece by piece.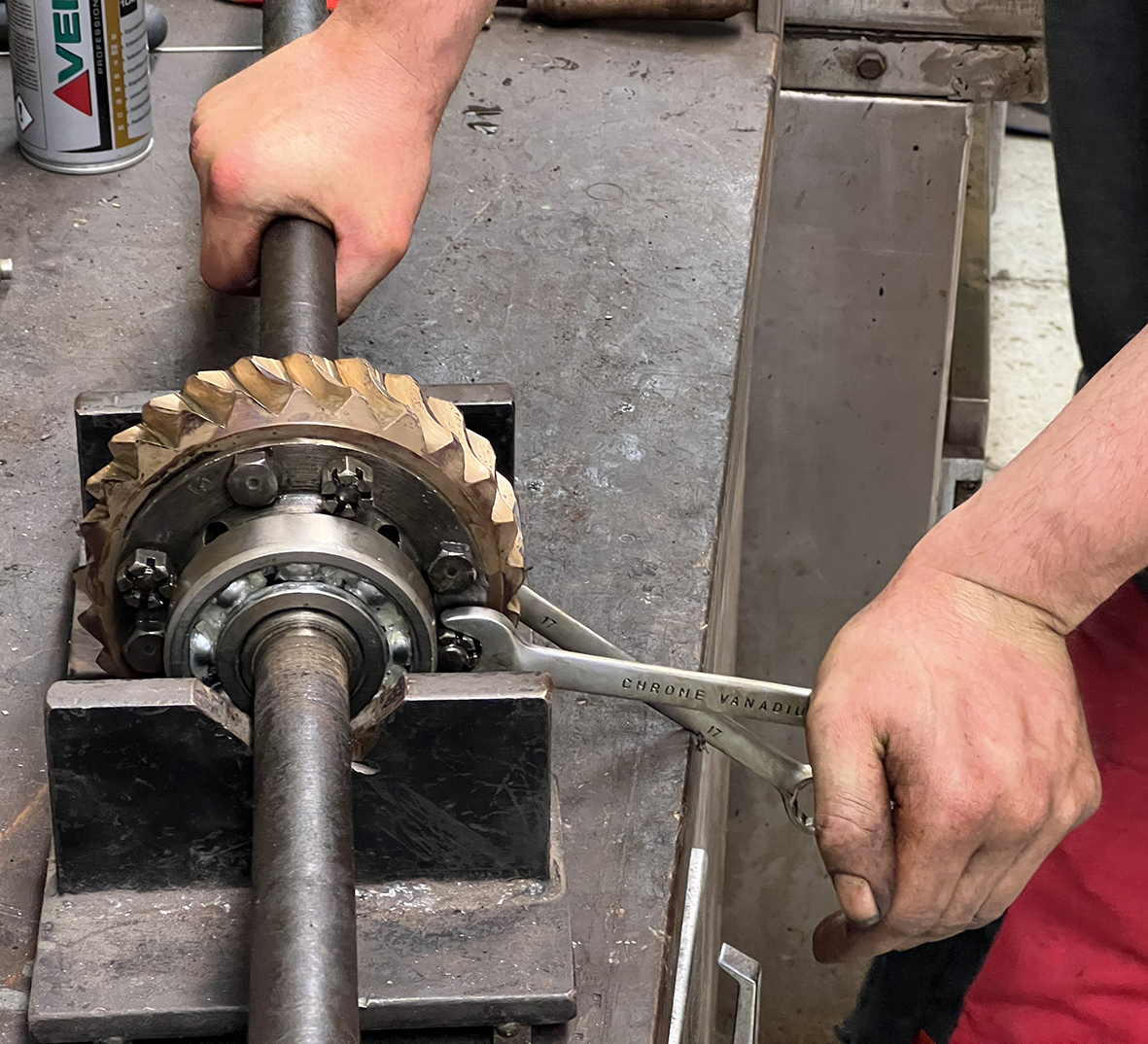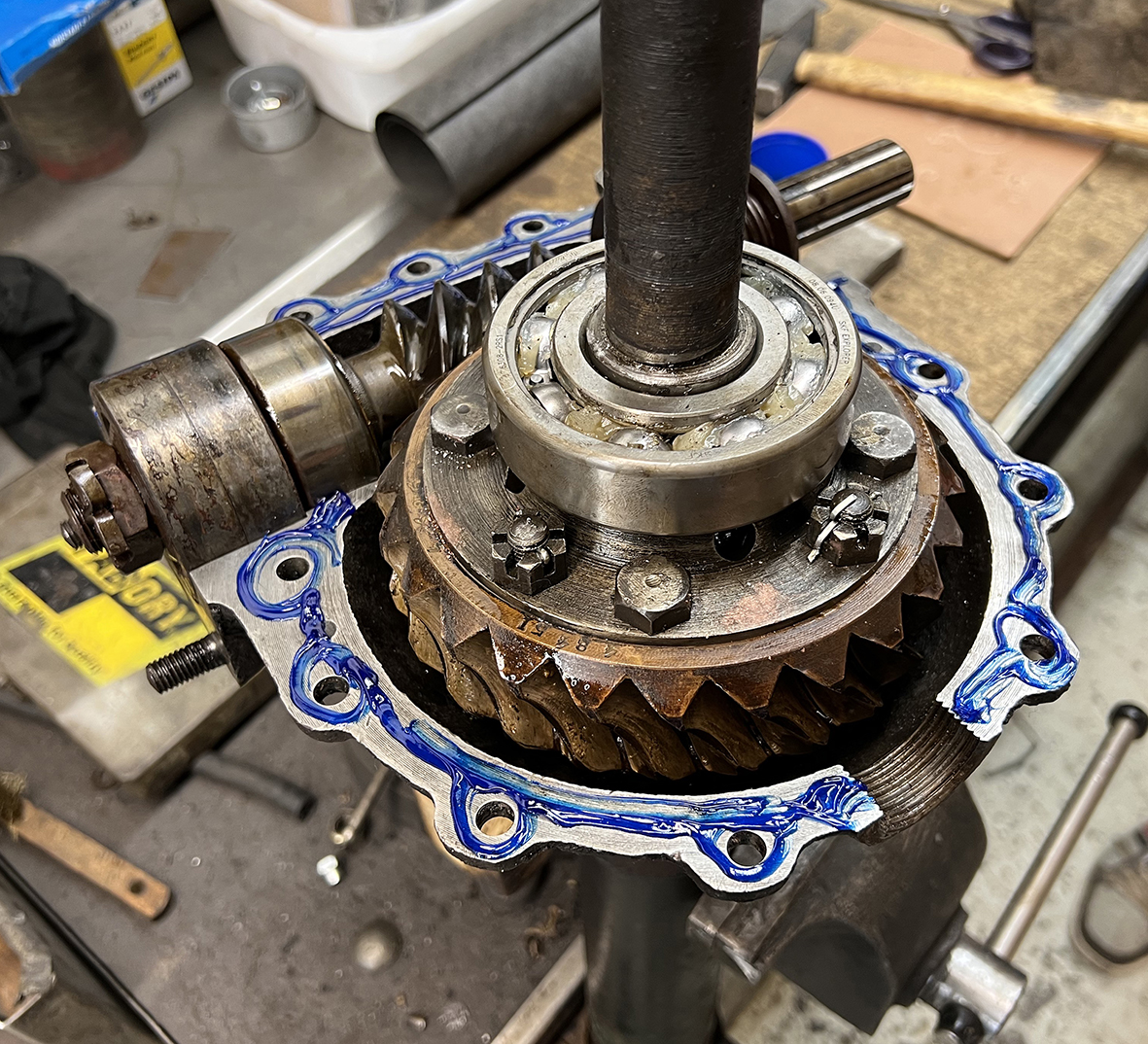 Une fois l'ensemble prêt, il faut le remonter dans la voiture. Pas évident, sachant qu'on manipule pas loin de 100 kg de métal ! / Once the assembly is ready, it must be put back in the car. Not easy, knowing that we handle not far from 100 kg of metal!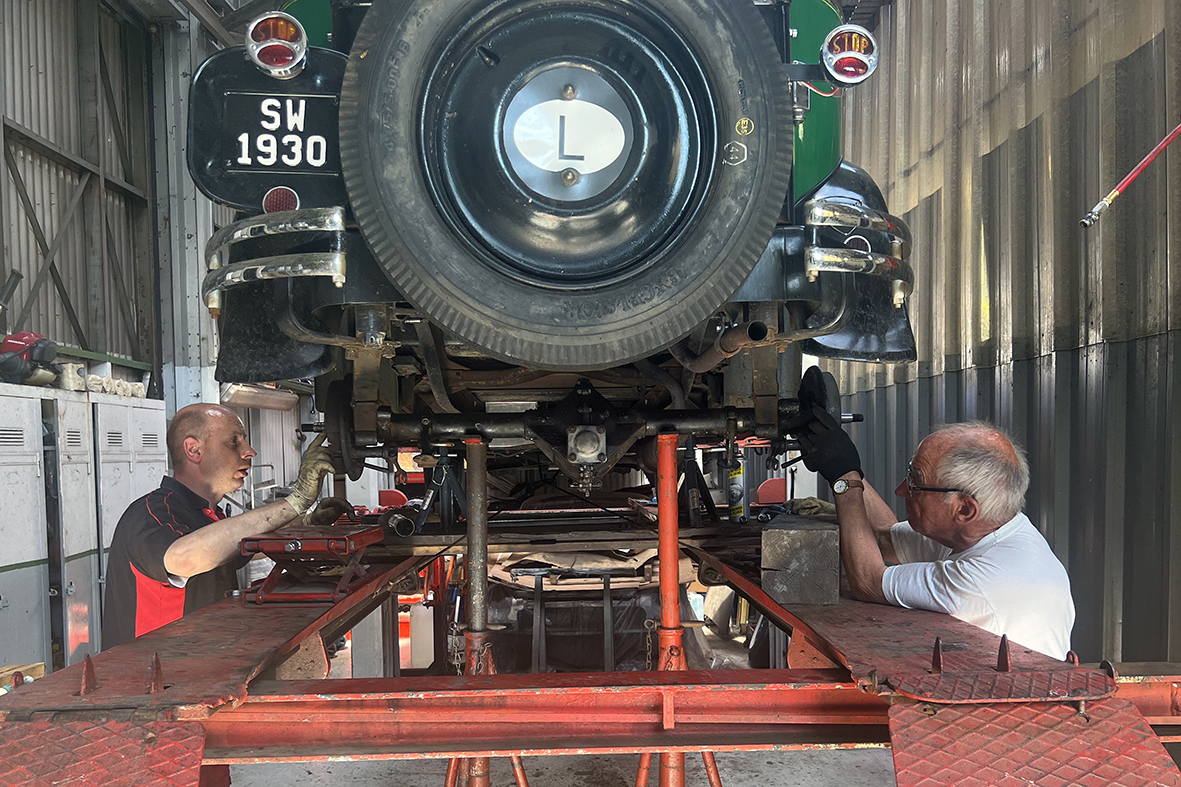 Un constat : les amortisseurs à friction sont morts. Plaques effritées, bosselures et silentblocs totalement usés, caoutchoucs disparus depuis longtemps. Malgré le joli 'W' de Weinberg, il va falloir trouver une autre solution. / An observation: the friction dampers are dead. Crumbled plates, dents and totally worn silent blocks, rubbers long gone. Despite Weinberg's pretty 'W', another solution will have to be found.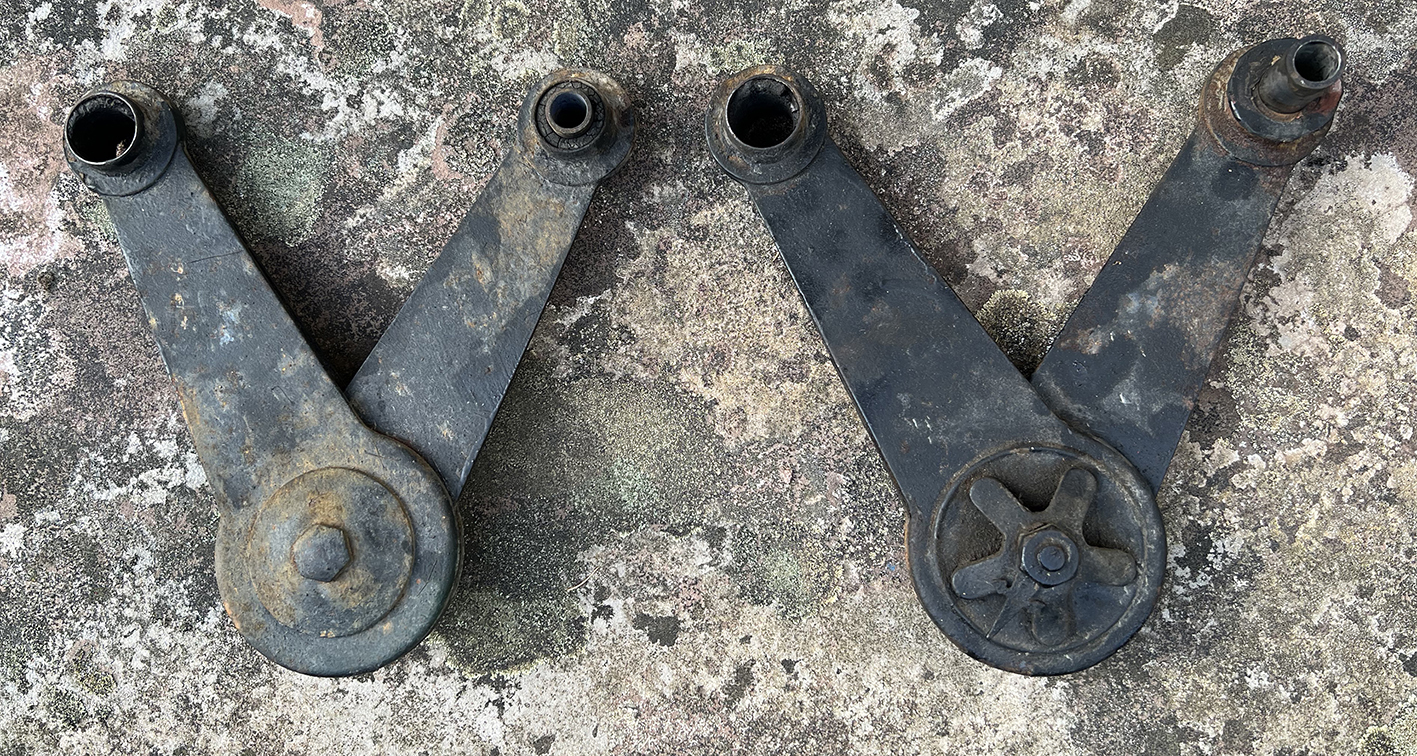 John propose une première modification (il y en aura d'autres). Ce ne sera pas 'd'origine', mais assurera un voyage plus confortable. Avec mon accord, il se met au travail et fabrique deux plaques de fixation… / John proposes a first modification (there will be others). It will not be 'original', but will ensure a more comfortable journey. With my agreement, he gets to work and manufactures two fixing plates…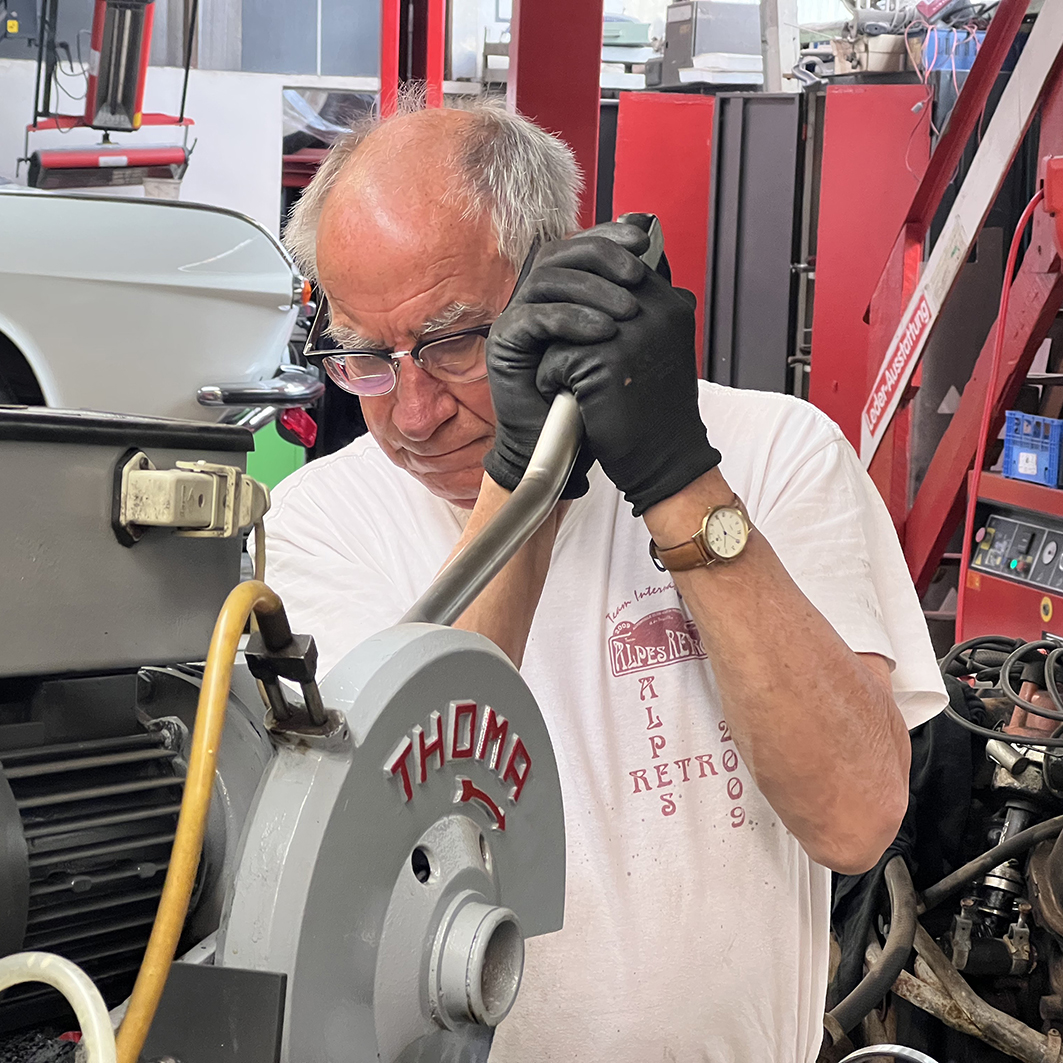 … que Jo soude au châssis. / …which Jo welds to the frame.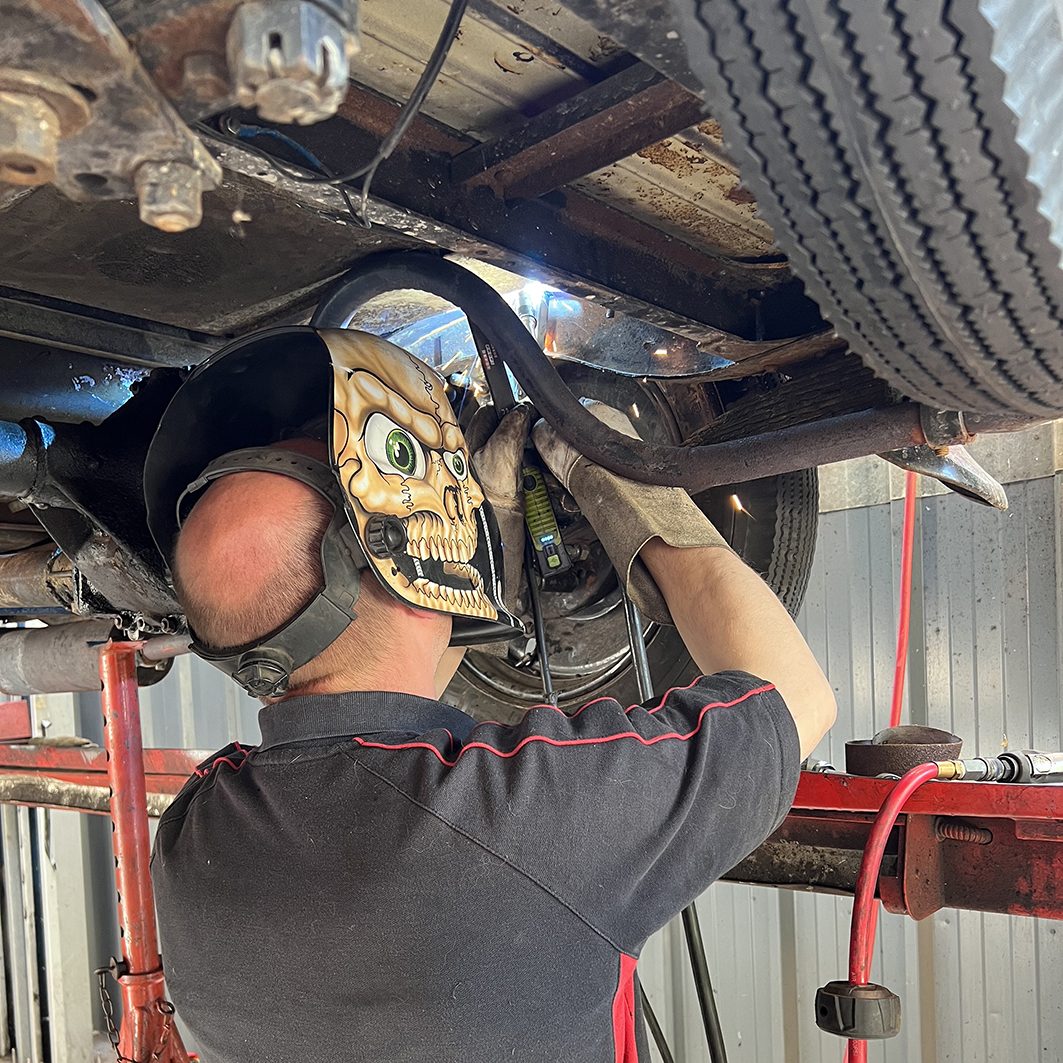 Et voilà « La Charmante » équipée de deux amortisseurs modernes (d'Alfa Romeo !). / And here is "La Charmante" equipped with two modern shock absorbers (from Alfa Romeo!).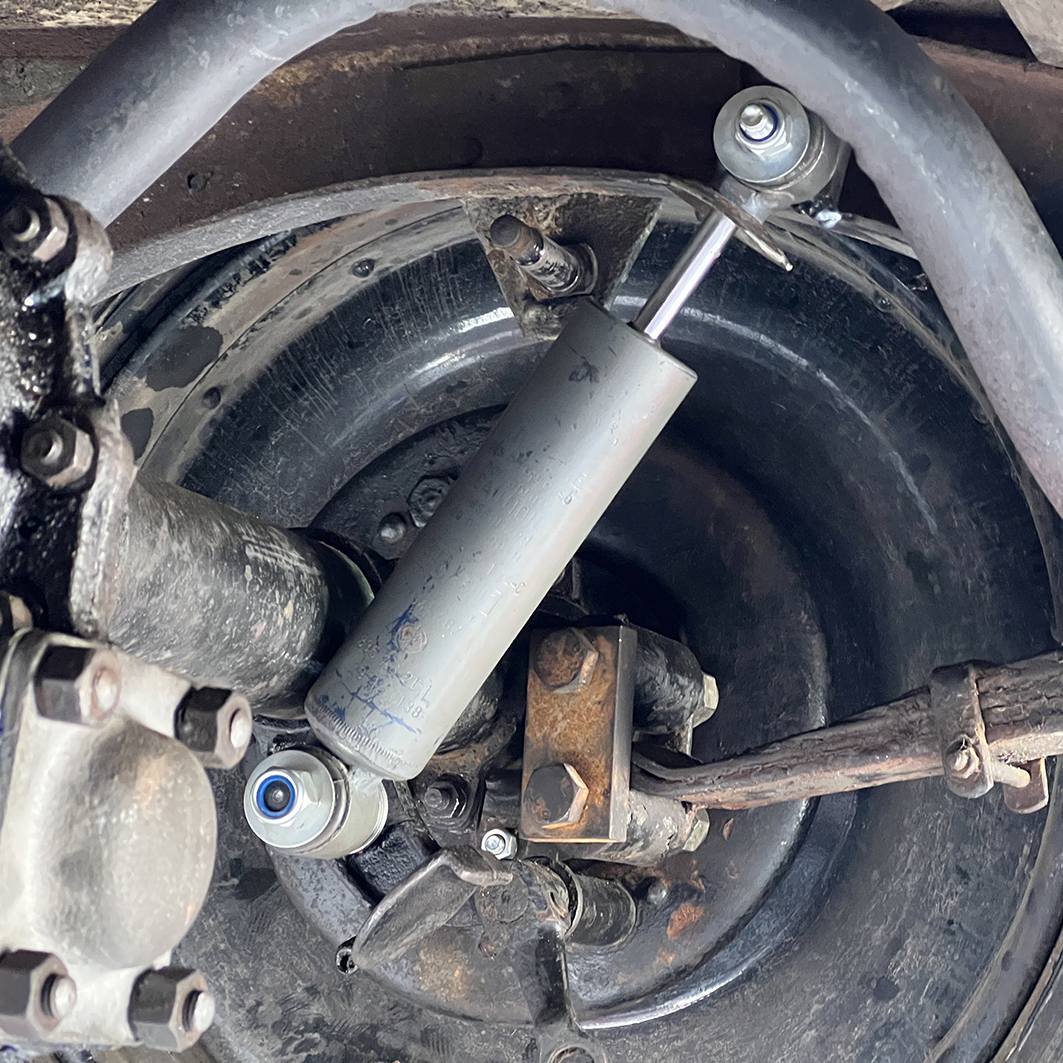 En même temps, nous remarquons que l'échappement était mal monté (une fois de plus du travail bâclé de mes 'amis' allemands…), touchant aussi bien le pont AR que la carrosserie. Nous rectifions. / At the same time, we notice that the exhaust was badly mounted (once again sloppy work by my German 'friends'…), touching both the rear axle and the bodywork. We rectify.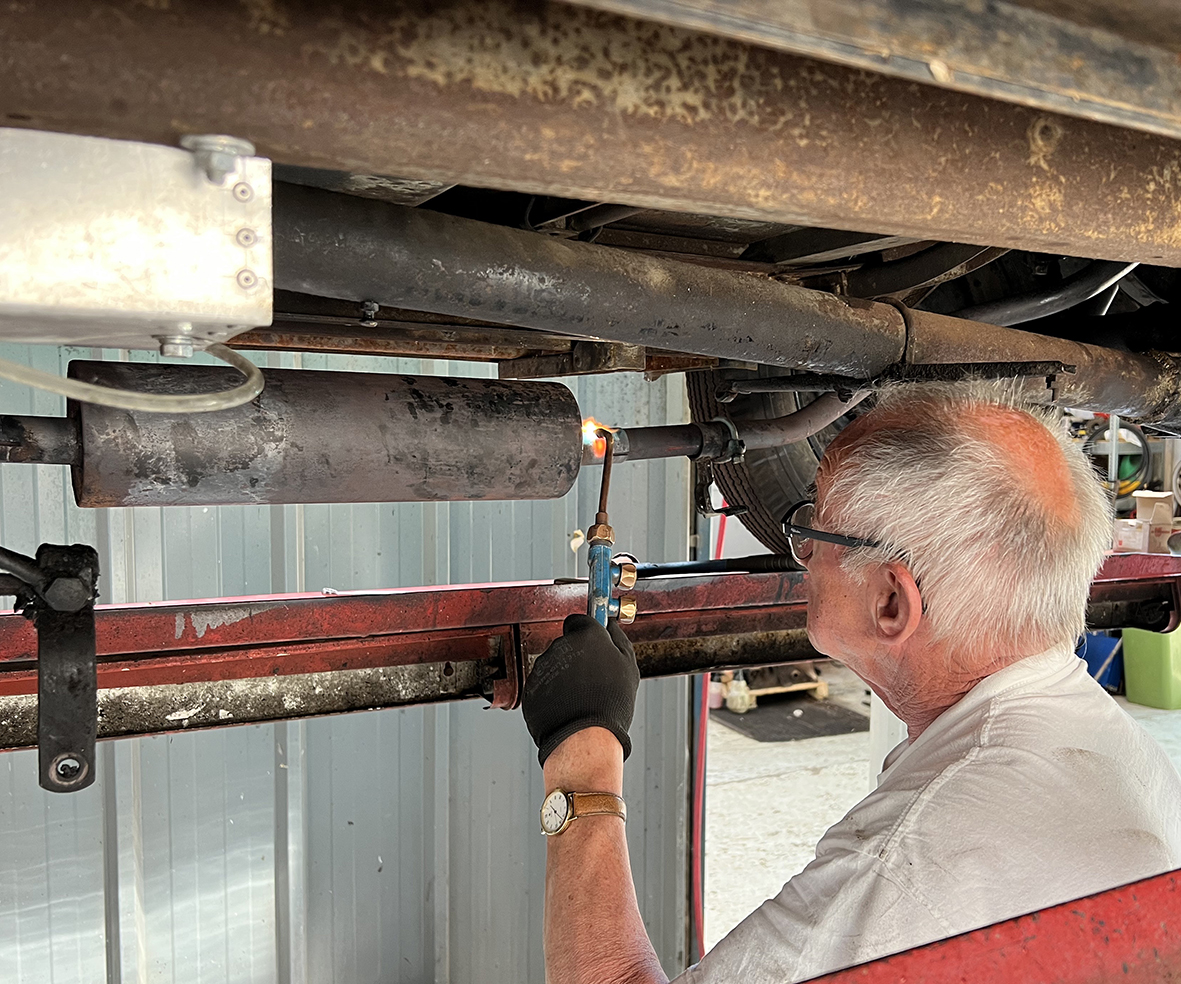 John me propose ensuite deux autres rectifications. Afin d'éviter les problèmes de surchauffe, il me monte un ventilateur électrique derrière le radiateur. / John then suggests two other corrections. In order to avoid overheating problems, he mounts an electric fan behind the radiator.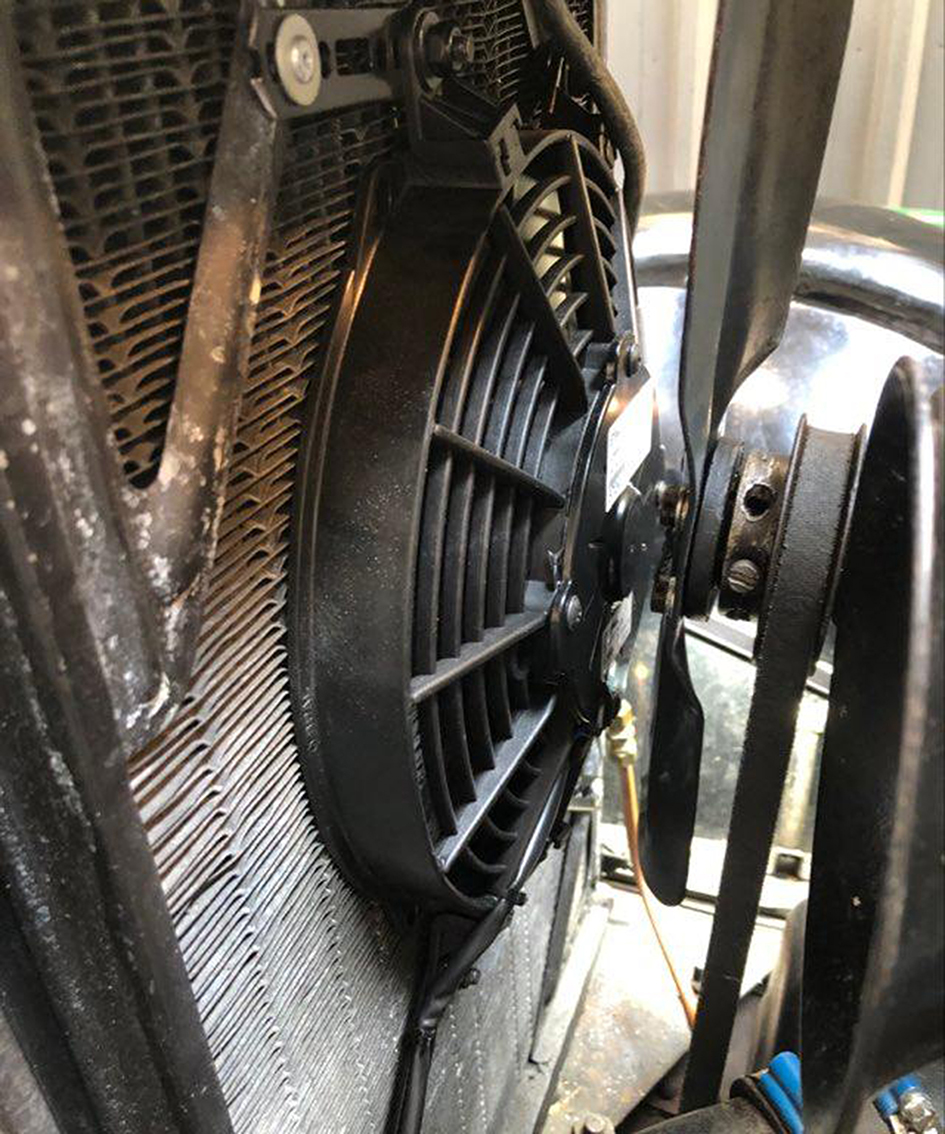 Et puisque la dynamo manque de puissance, Jo rajoute un alternateur qui devrait assurer une alimentation électrique fiable et durable. La dynamo reste en place (vidé de son contenu) pour continuer d'entrainer la pompe à eau. / And since the dynamo lacks power, Jo adds an alternator which should ensure a reliable and durable power supply. The dynamo remains in place (emptied of its contents) to continue to drive the water pump.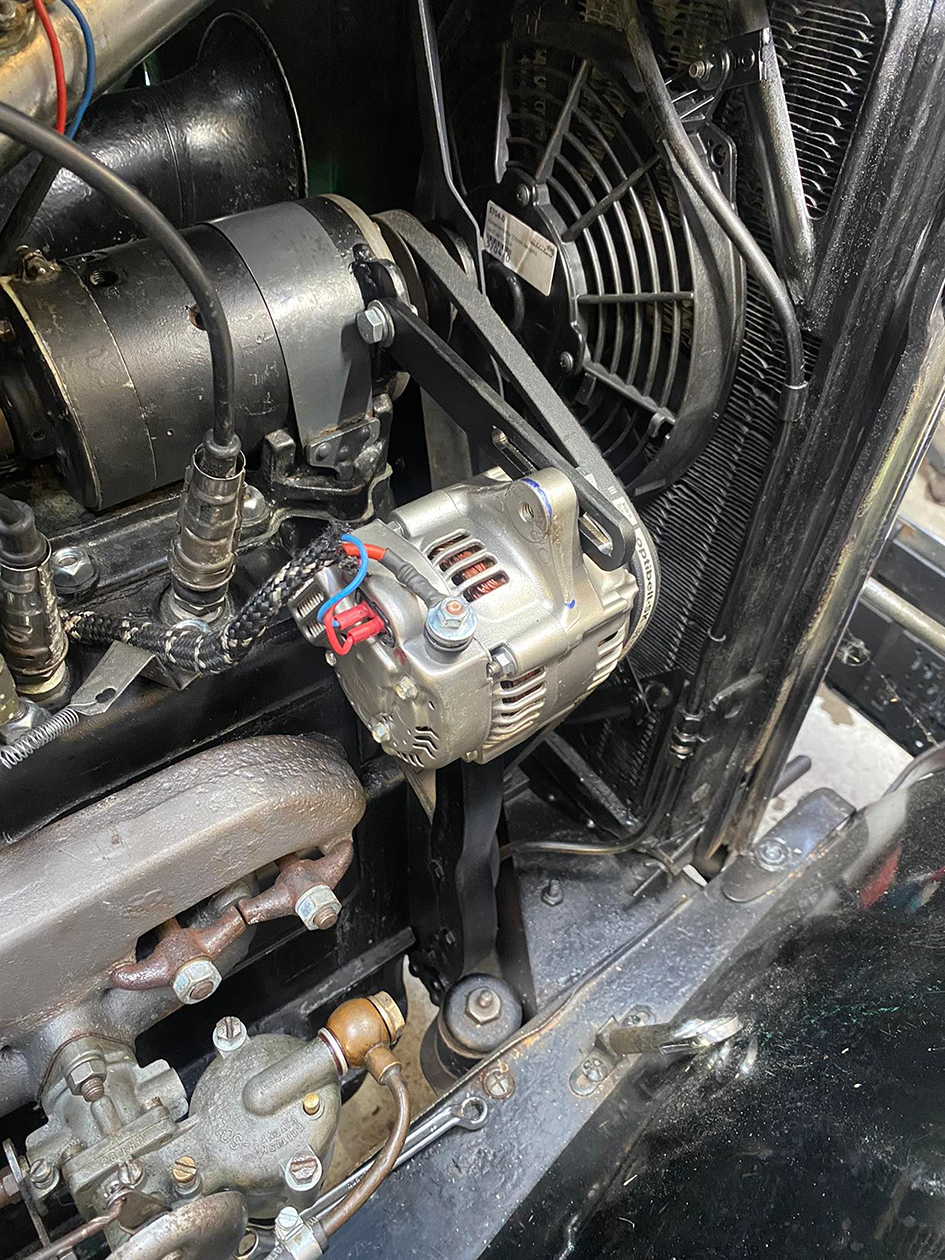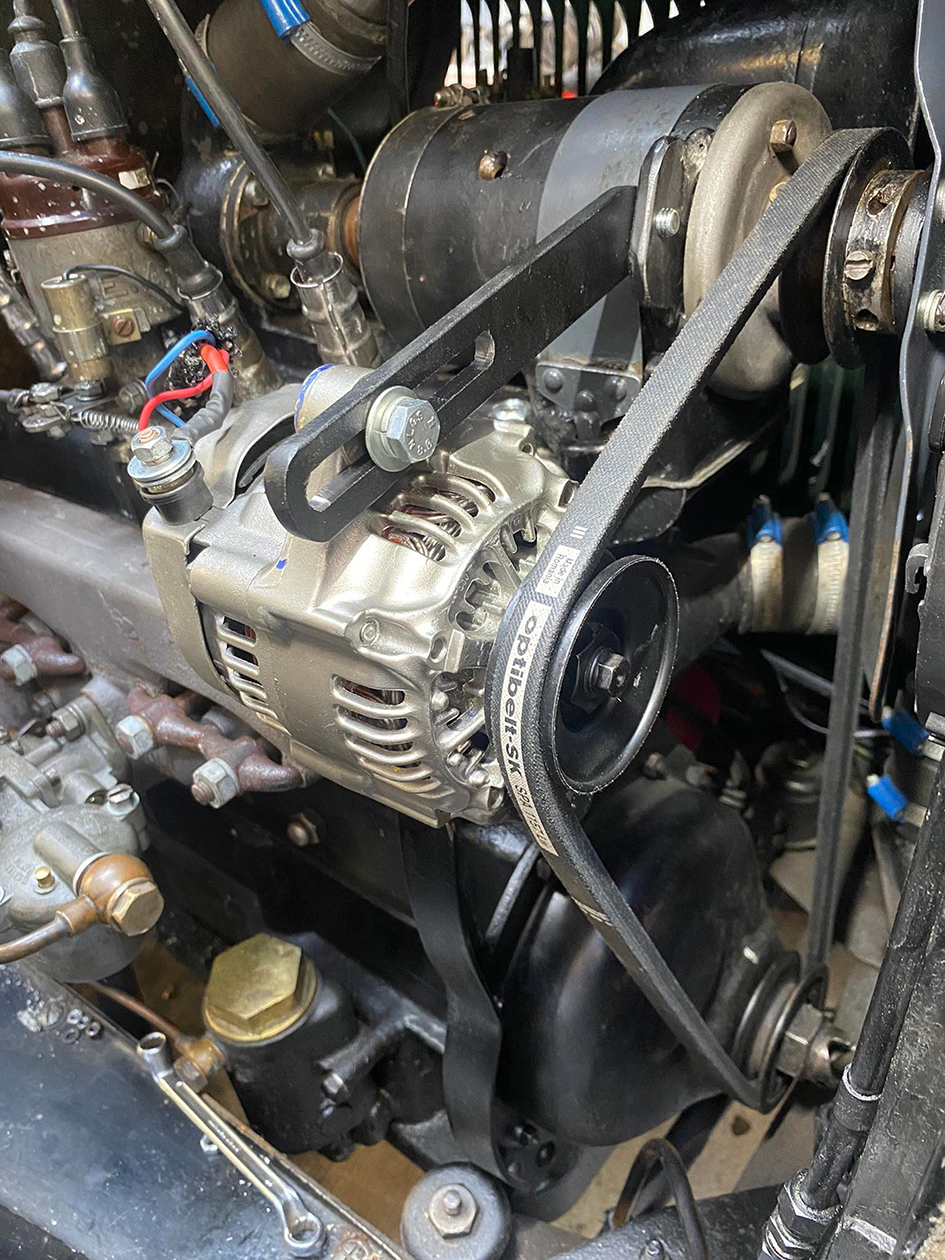 Est-ce « La Charmante » ainsi 'revampée' sera capable maintenant de faire la longue route projetée ? J'ai beaucoup d'appréhension… J'espère qu'elle sera au moins capable de faire les trois premiers fleuves : Rhin, Rhône et Loire. Le nouveau départ est fixé pour mercredi 25 mai – nous avons pris un retard de 3 semaines. À tous les lecteurs de ce blog : croisez les doigts pour nous ! / Will "La Charmante" thus "revamped" now be able to make the long planned route? I have a lot of apprehension… I hope she will at least be able to do the first three rivers: Rhine, Rhône and Loire. The new start is set for Wednesday May 25 – we are 3 weeks late. To all readers of this blog: cross your fingers for us!
 

14 mai 2022 – Norbert

/ 14 May 2022. Norbert
Nous quittons nos amis occitans et poursuivons, le coffre rempli de pièces, notre tour de France. Lorsque nous prîmes le départ avec « La Charmante » il y a deux semaines, nous ne nous attendions pas à devoir faire 2300 km supplémentaires avec notre voiture de tous les jours. En fait, il faudra remédier à plusieurs problèmes mécaniques avant de pouvoir repartir pour notre grand voyage. Dressons-en la liste : (1) Remplacer le joint de culasse après rectification de celle-ci. C'est désormais chose faite, sauf qu'il me faudra refaire un joint de support de pompe en papier plus mince et qu'il faudra encore resserrer la culasse à chaud. (2) Trouver pourquoi le moteur avait tendance à surchauffer. Était -ce lié au problème de culasse ou faut-il chercher ailleurs ? (radiateur, pompe à eau, ventilateur… ?) (3) Remplacer arbres de roue et tambours de frein afin d'éliminer le jeu dangereux des roues arrière. Nous disposons désormais des pièces ! (4) Entretemps, un nouveau problème est apparu : il faut réviser la dynamo ! (5) On le savait – le Diagnostic Center de l'ACL l'avait constaté et John l'avait confirmé – qu'il y avait du jeu sur les fusées des roues avant. Mais ce sont des pièces quasi introuvables… Or il se trouve que Manu a appris qu'un vieux monsieur disposait de plusieurs pièces NEUVES de 201, dont… une paire de fusées ! Petit détour par le département de l'Ain, où nous trouvons la personne en question. Norbert est né en… 1930, comme « La Charmante » ! À 92 ans, il fait preuve d'une dynamique remarquable. Ce « Charmant » a dû subir, lui aussi, quelques 'réparations' (hanches, cœur, …). Mais il nous encourage à croire que, une fois réparée, notre « Charmante » pourra repartir enfin ! Lorsque nous repartons, les fusées ont été rajoutées à notre butin !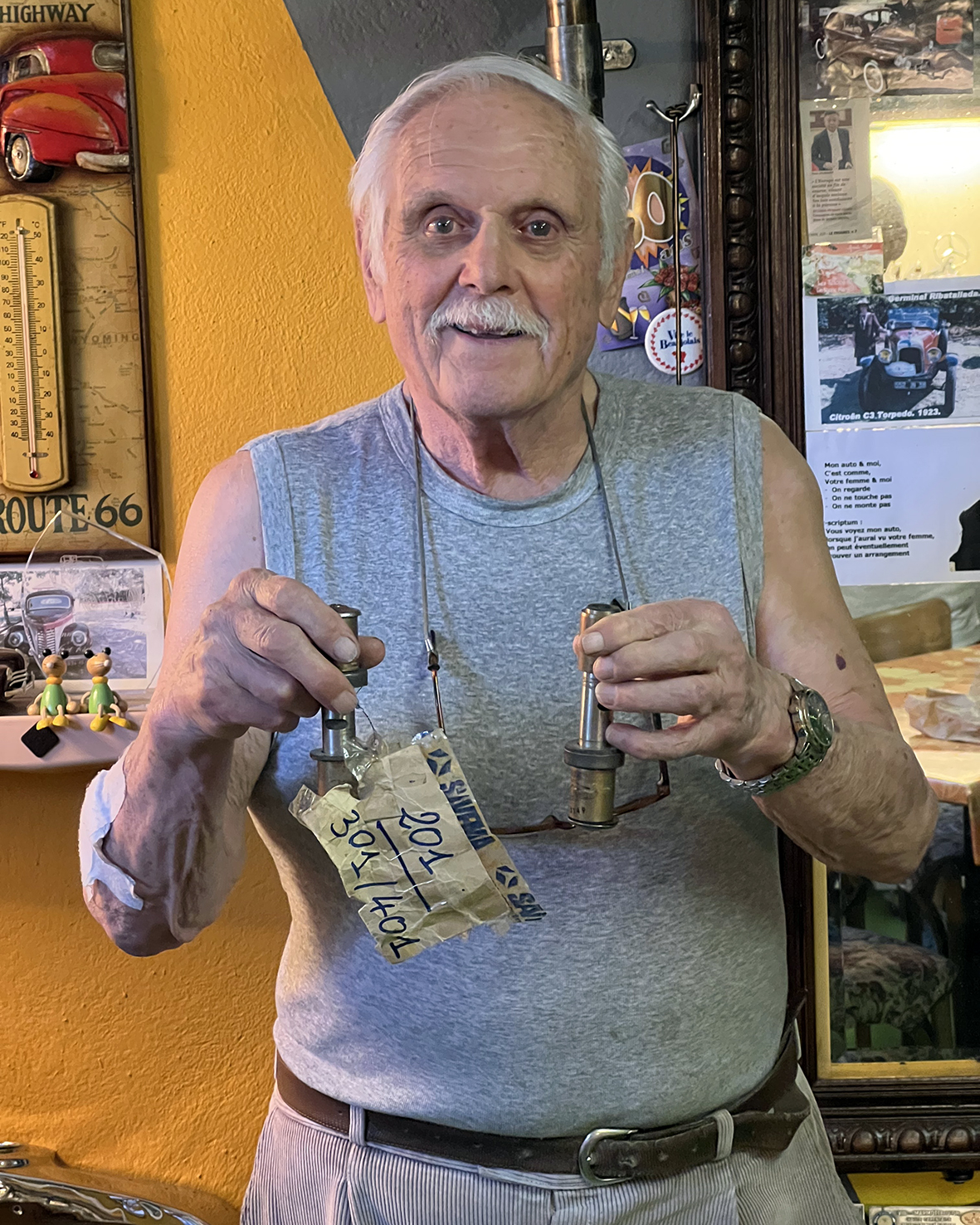 We leave our Occitan friends and continue, the trunk full of spare parts, our tour of France. When we left with "La Charmante" two weeks ago, we did not expect to have to cover an additional 2300 km with our everyday car. In fact, several mechanical problems will need to be corrected before we can set off again for our great trip. Let's list them: (1) Replace the cylinder head gasket after rectifying cylinder head. It is now done, except that I will have to refabricate a thinner paper pump support gasket and that I will still have to tighten the cylinder head when hot. (2) Find out why the motor tends to overheat. Was it related to the cylinder head problem or should we look elsewhere? (radiator, water pump, fan…?) (3) Replace axle shafts and brake drums to eliminate dangerous rear wheel play. We now have the parts! (4) In the meantime, a new problem has arisen: the dynamo has to be overhauled! (5) We knew it already – the ACL Diagnostic Center had reported it and John had confirmed it – that there was play in the front wheel kingpins. But these parts are almost impossible to find… It turns out that Manu learned that an old gentleman had several NEW 201 parts, including… a pair of kingpins! A small detour through the department of Ain, where we meet the person in question. Norbert was born in… 1930, like "La Charmante"! At 92, he shows remarkable dynamism. This « Charmant » also had to undergo some 'repairs' (hips, heart, etc.). But he encourages us to believe that, once repaired, our "Charmante" will finally be able to set off again! When we leave Norbert, the kingpins have been added to our loot!
•••
Vendredi 13 mai 2022. Manu. / Friday 13 May 2022. Manu
Quand on est superstitieux, un vendredi 13 ne présage rien de bon… Aujourd'hui c'est jour de chance ! Nous arrivons, au bout de 1100 km de route, chez Martine et Manu dans la campagne toulousaine. Paysage vallonné caressé par une lumière chaude. Chaud également l'accueil chez nos amis avec leur fort accent de la région. On s'embrasse. Après un petit verre de tariquet, direction l'atelier – enfin… l'un des ateliers de Manu. Au sein du forum des 'Amis des Peugeot 01', Manu (officiellement Emmanuel) est appelé 'directeur technique'. Toujours prêt pour donner un conseil, mais aussi un généreux donateur de pièces à qui en a besoin. Et en ce moment, j'ai bien besoin de son aide précieuse ! Ayant appris les problèmes de la roue arrière gauche de « La Charmante » il a démonté un train AR complet – un travail de titan – rien que pour me faire plaisir ! Les pièces m'attendent déjà, soigneusement emballées dans du film plastique. Mais il n'y a pas que ça ! La dynamo de « La Charmante » a des problèmes. Manu m'en refile deux autres. Il arrange la cuve de  mon carburateur et m'offre rondelles et autres 'friandises' qui pourraient servir… C'est le début de l'été, et déjà le Père Noël est là ! C'est  officiel : il s'appelle Manu !  /  When you're superstitious, a Friday the 13th doesn't bode well… But today is a lucky day! We arrive, after a 1100 km drive, at Martine and Manu in the Toulouse countryside. Hilly landscape caressed by warm light. Also a warm welcome from our friends with their strong regional accent. We hug each other. After a glass of tariquet, we head for the workshop – well… one of Manu's workshops. Within the 'Friends of Peugeot 01' forum, Manu (officially Emmanuel) is called 'technical director'. Always ready to give advice, but also a generous provider of parts to those in need. And right now, I really need his precious help! Having heard of the problems with the left rear wheel of « La Charmante », he dismantled a complete rear axle – a titanic job – just for me! The parts are already waiting for me, carefully wrapped in plastic film. But that's not all! The dynamo of « La Charmante » has problems. Manu gives me two more. He arranges my carburettor and offers me washers and other 'treats' that could be useful… It's the beginning of summer, and Santa Claus is already here! It's official now: his name is Manu!
10 mai 2022. On s'attaque au moteur ! / 10 May 2022. We start working at the engine !
Lorsque j'arrive chez John, il a déjà démonté la culasse. « La Charmante » se trouve bien nue…! / When I arrive at John's, he has already dismantled the cylinder head. "La Charmante" feels very naked…!

On voit bien, aussi bien sur le joint de culasse que sur la culasse elle-même, qu'il y a eu fuite entre le circuit d'eau et les cylindres 2 et 3. Par ailleurs, la culasse n'est pas tout à fait plane, probablement suite à une température trop élevée. On décide donc de la faire rectifier chez le "Docteur des Moteurs", à 50 km, en Belgique. / We can clearly see, both on the cylinder head gasket and on the cylinder head itself, that there was a leak between the water circuit and cylinders 2 and 3. Moreover, probably due to too high a temperature, the cylinder head isn't perfectly flat anymore. We therefore decided to have it rectified at the "Engine Doctor", 50 km away, in Belgium.

Même après un premier passage, il reste encore des parties creuses (noires). / Even after a first pass, there are still hollow parts (black).

Ce n'est qu'au bout de trois passages que le tour est joué. Une culasse comme neuve ! On la montera demain. / It takes three passages to get the job done. A cylinder head like new! We will mount it tomorrow. 

De retour à la maison, je procède au nettoyage du support de pompe à eau. / Back home, I clean the water pump support.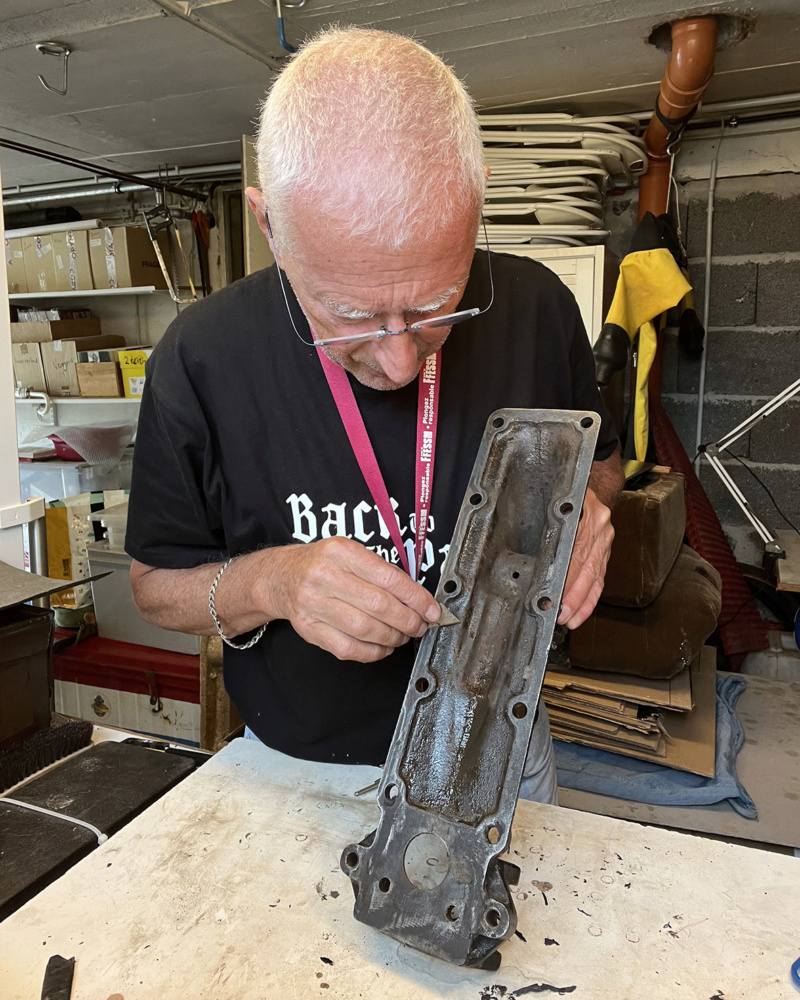 Et je lui fabrique un beau joint tout neuf. / And I produce a nice new gasket for it.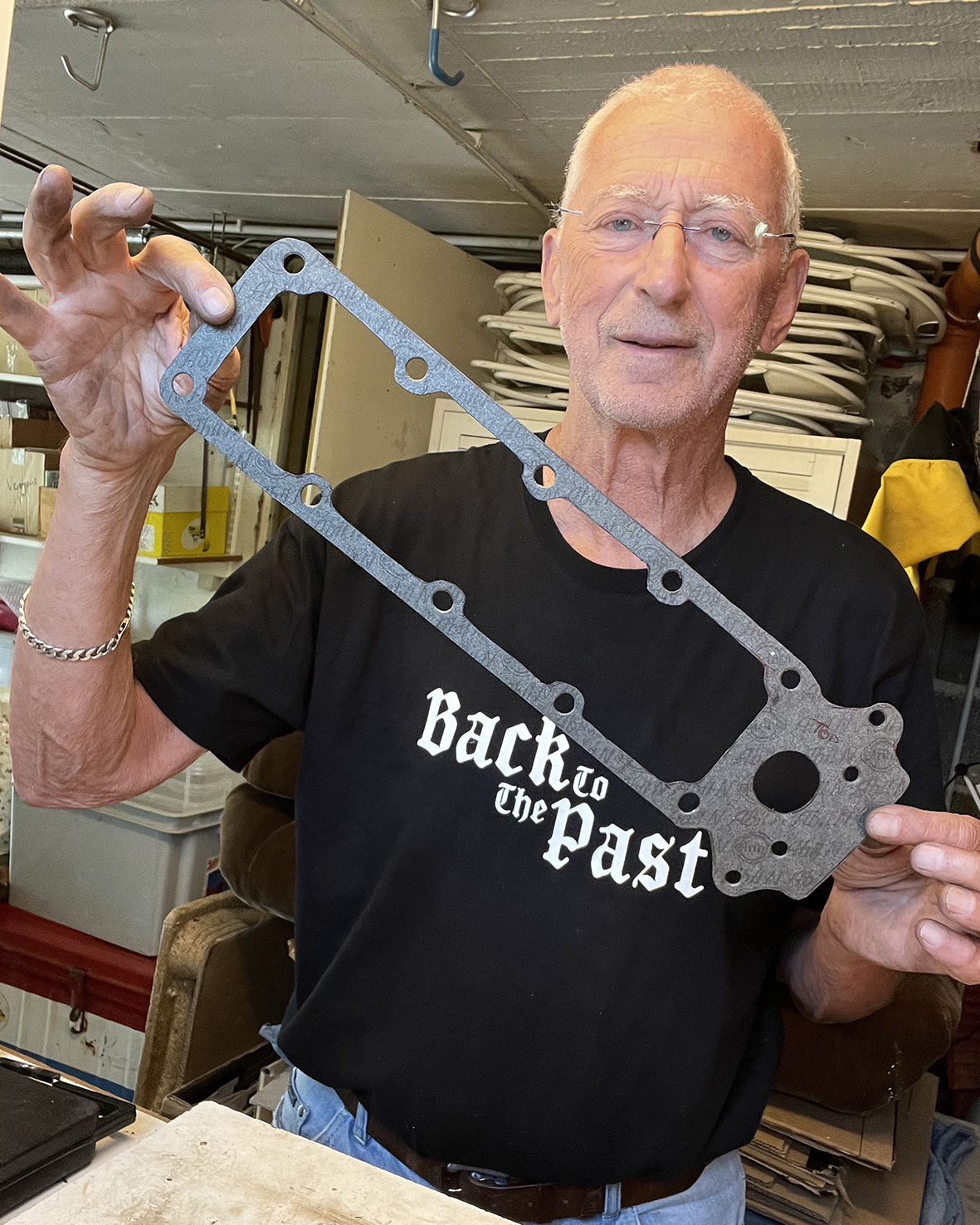 •••
Quatrième étape – 5 mai 2022 (Arkel-Vuren : 11 km)

/ Fourth leg – May 4, 2022 Arkel-Vuren : 11 km)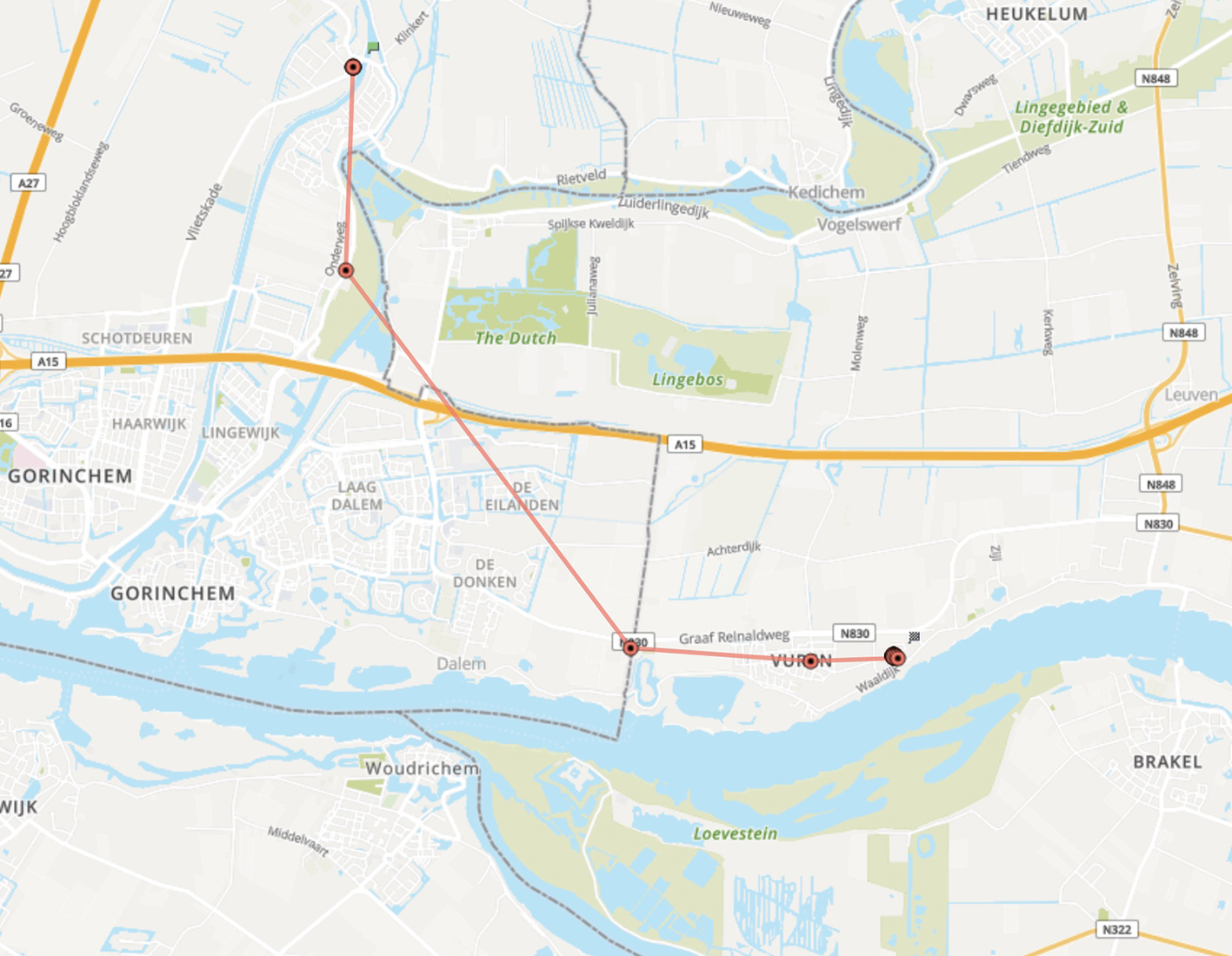 Après le réveil dans notre moulin à vent idyllique et un petit-déjeuner très frugal (avec ce que nous avions sur nous), temps de redémarrer « La Charmante », qui rejette des nuages de fumée inquiétants. / After waking up in our idyllic windmill and a very frugal breakfast (with what we had with us), time to restart "La Charmante", which throws up disturbing clouds of smoke.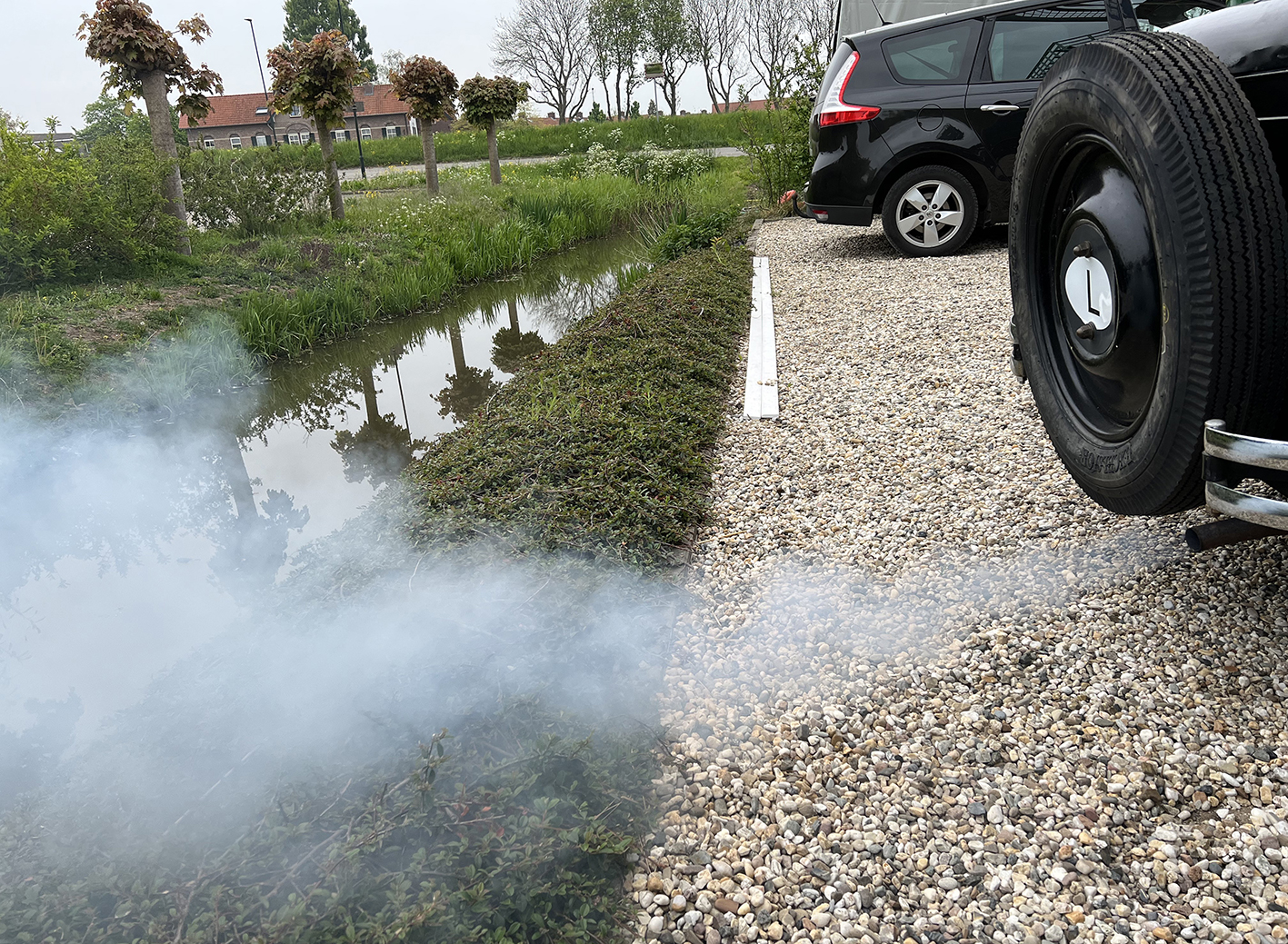 Que faire ? On se met en route. Je surveille les rejets dans le rétroviseur. Soudain, je m'aperçois que la température du liquide de refroidissement avoisine les 100°C ! Vérification faite, le radiateur est presque à sec. Le village suivant, Vuren, est à 1 km à peine. On s'y rend en roulant le plus lentement possible en 3ème. Il faut 3 litres pour refaire le niveau… On nous conseille un garage à 2 km. C'est la fête nationale de la Libération (5 mai 1945) et tout est fermé. Miracle, des mécanos sont là ! Ils viennent inspecter le moteur et ne se montrent guère optimistes… / What can we do ? We set off. I watch the billowing smoke in the rear-view mirror. Suddenly, I see that the temperature of the coolant is around 100°C! I check the radiator, which is almost dry. The next village, Vuren, is just 1 km away. We get there by driving as slowly as possible in 3rd gear. I have to add 3 liters to top up the level… We were advised to go to a garage 2 km away. It is National Liberation Day (May 5, 1945) and everything is closed. But miraculously two mechanics are there. They come to inspect the engine and are not very optimistic…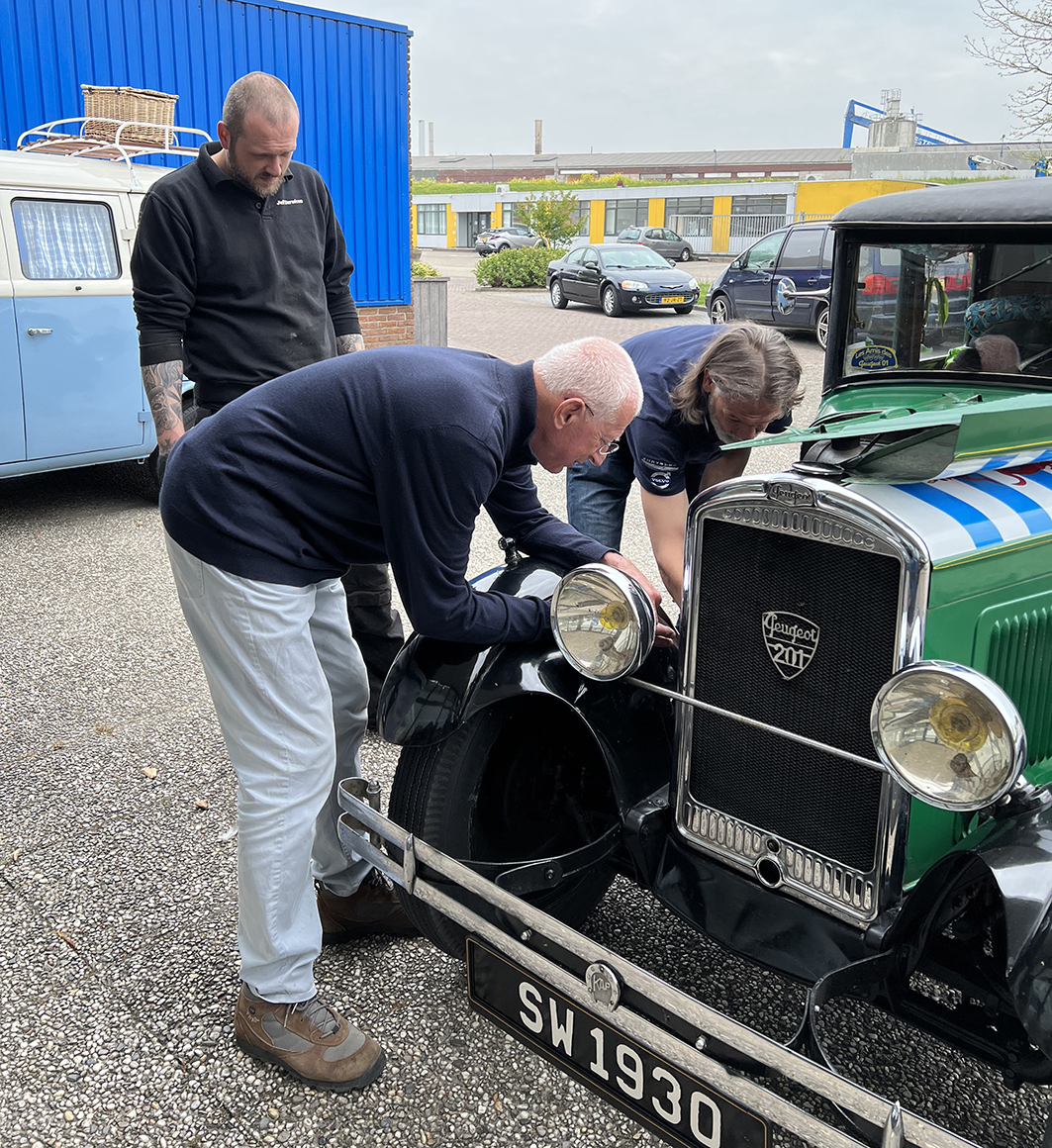 Je suis désespéré. Notre belle aventure s'arrêterait-elle là, au bout d'à peine 4 jours et tout juste 600 km ? Le moteur est gravement malade et il y a cette histoire de roue à peine sécurisée. Ça fait beaucoup… / I am desperate. Will our great adventure end here and now, after barely 4 days and just 600 km? The engine is seriously ill and there is this story of the rear wheel that is barely secure. Altogether, it's a lot…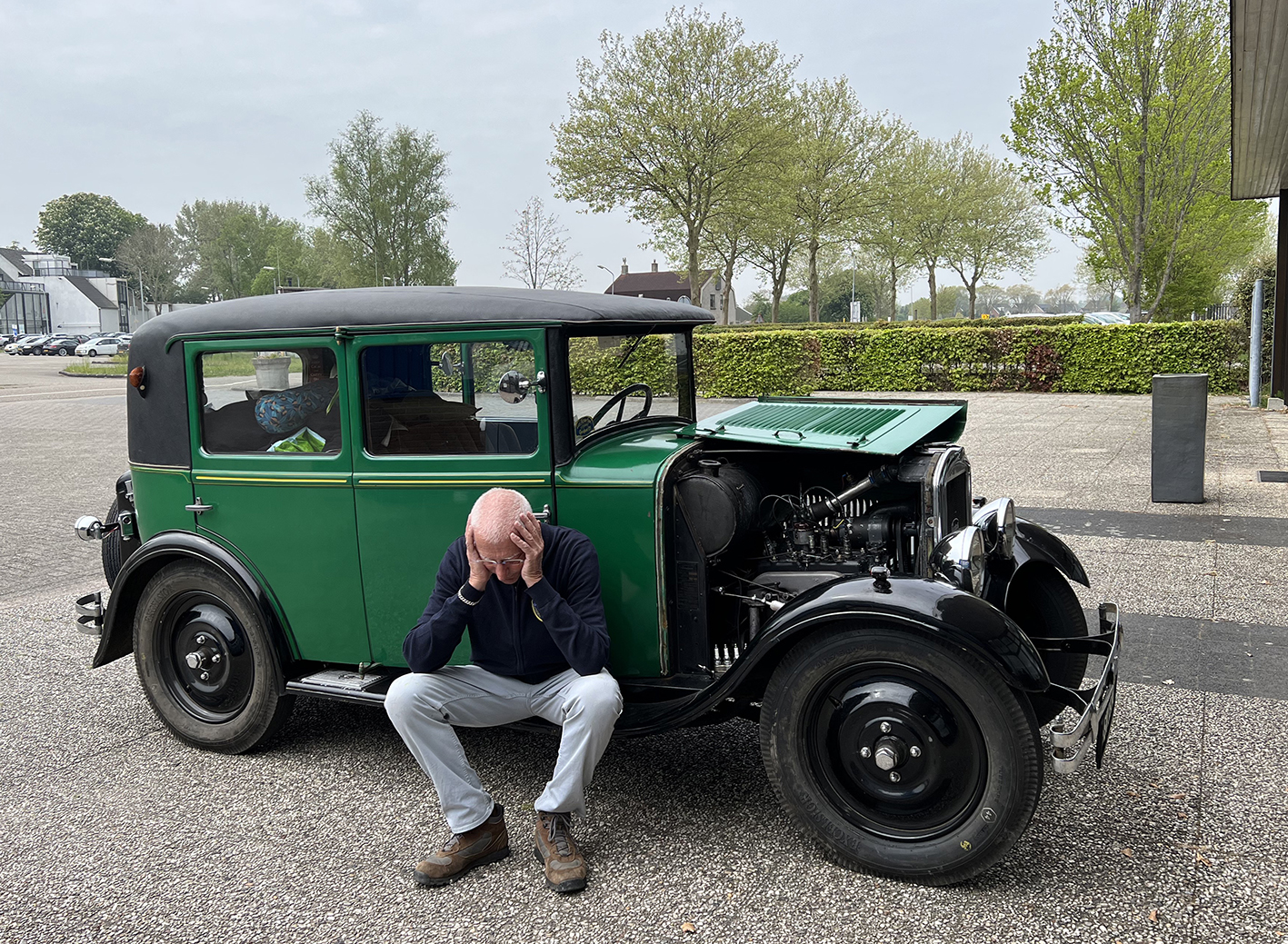 Je prends alors une douloureuse décision : faire rapatrier le véhicule, le réparer chez John, et, si possible, repartir. J'appelle l'ACL (Automobile Club du Luxembourg) qui fera le nécessaire. Alors qu'au Luxembourg toute une organisation se met en branle, nous n'avons plus rien à faire… ni à manger. Dans le village de Vuren les deux seuls restaurants sont fermés pour cause de fête nationale. On se rabat sur les biscottes, olives et chocolats que nous avons à bord. Les mécanos nous offrent du café. Pour passer le temps, on fait une promenade. Une route bien vide accentue l'absence de « La Charmante ». / I then make a painful decision: to repatriate the vehicle, repair it at John's, and, if possible, set off again. I call the ACL (Automobile Club du Luxembourg) who will do the necessary. While in Luxembourg a whole organization is set in motion, we have nothing more to do… or to eat. In the village of Vuren the only two restaurants are closed due to the national holiday. We fall back on the rusks, olives and chocolates we have on board. The mechanics offer us coffee. To pass the time, we take a walk. A very empty road accentuates the absence of "La Charmante".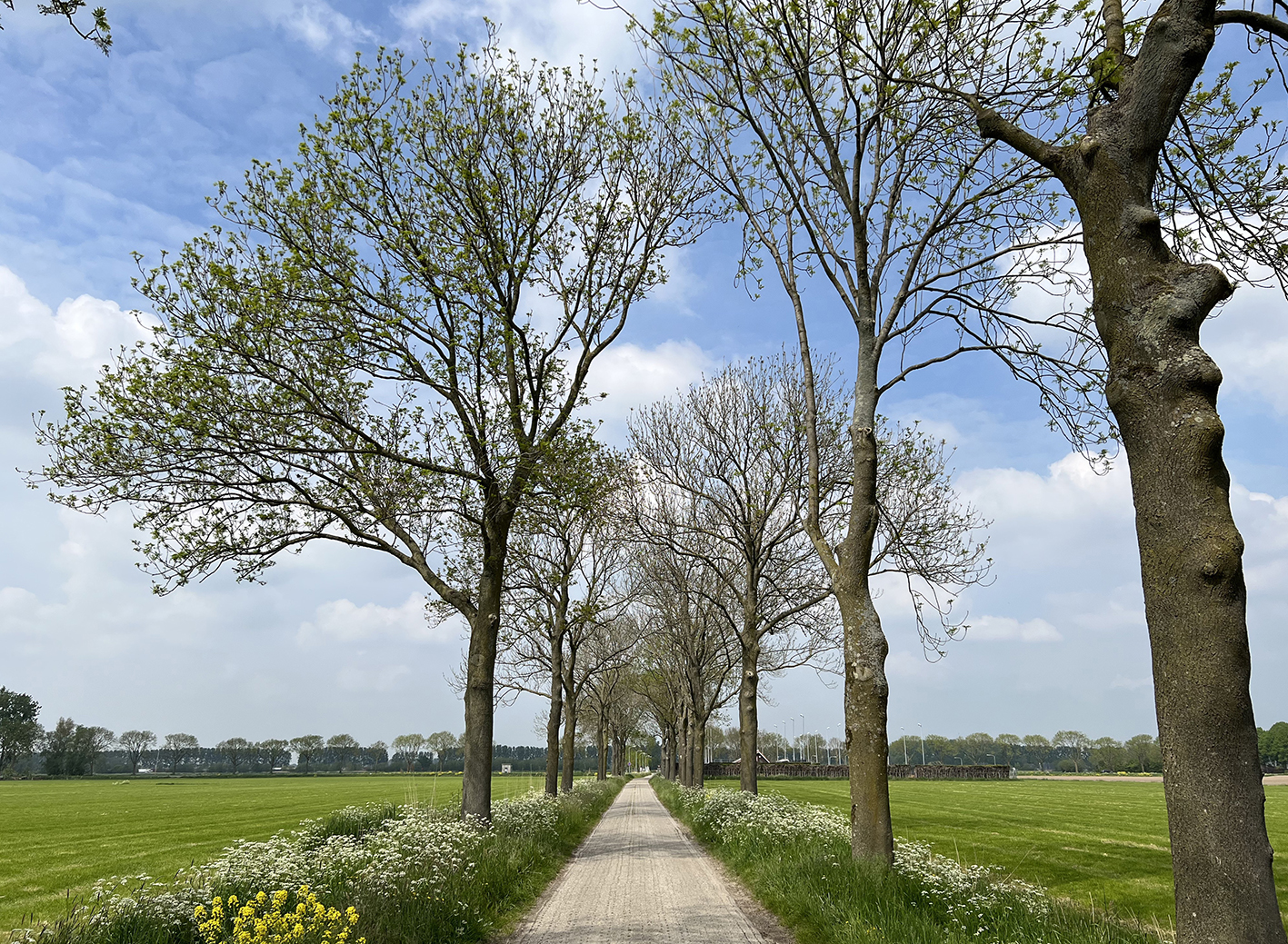 Notre promenade nous mène sur la digue qui borde le Waal, l'un des bras principaux du delta du Rhin. Même sans « Charmante » je continue mon reportage sur le fleuve. De petites maisons coquettes s'y trouvent à l'abri, bien en-dessous du niveau d'eau du fleuve, même en cette période de sécheresse. / Our walk takes us to the dyke that borders the Waal, one of the main arms of the Rhine delta. Even without « La Charmante » I continue my report on the river. Small pretty houses are sheltered there, well below the water level of the river, even in this period of drought.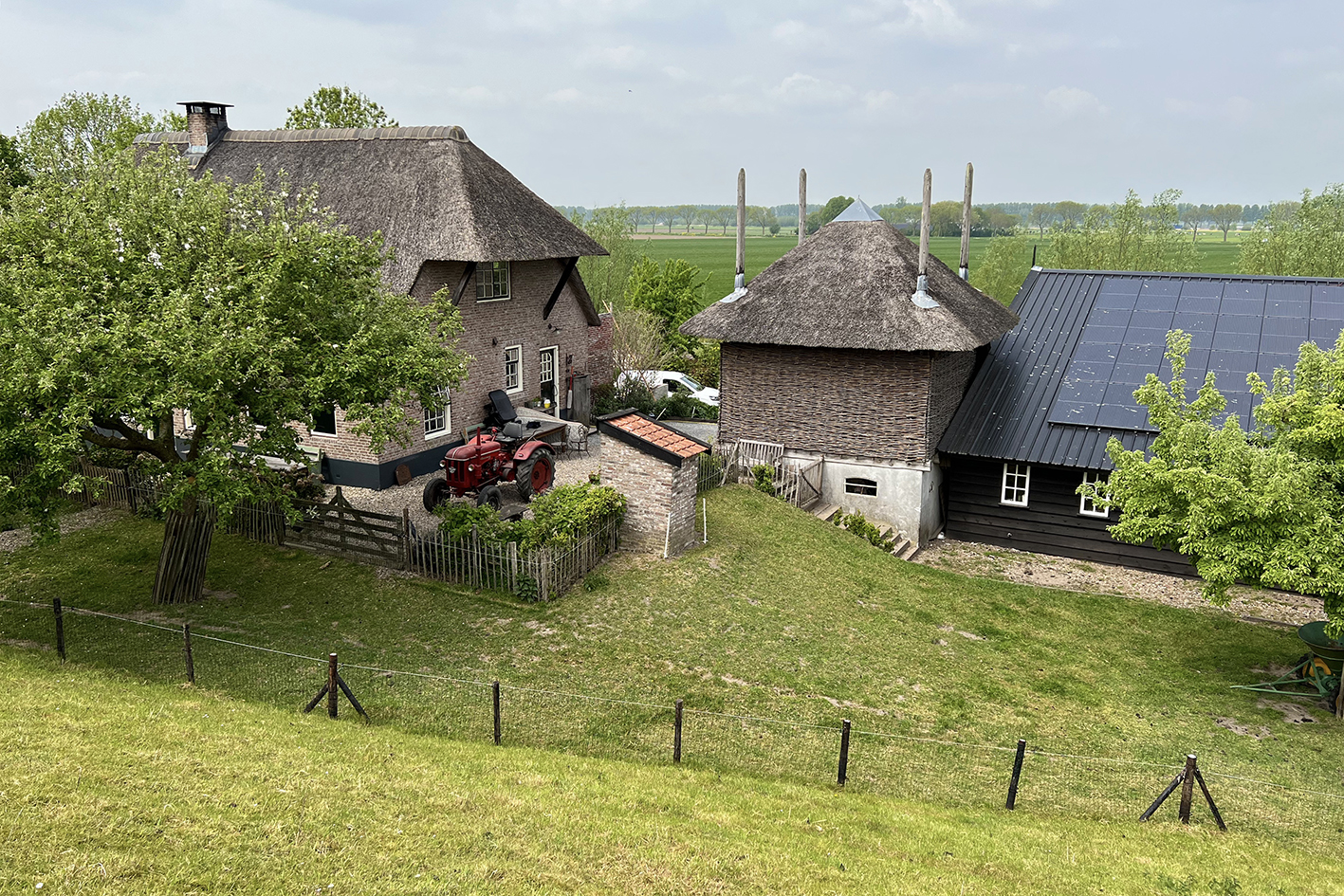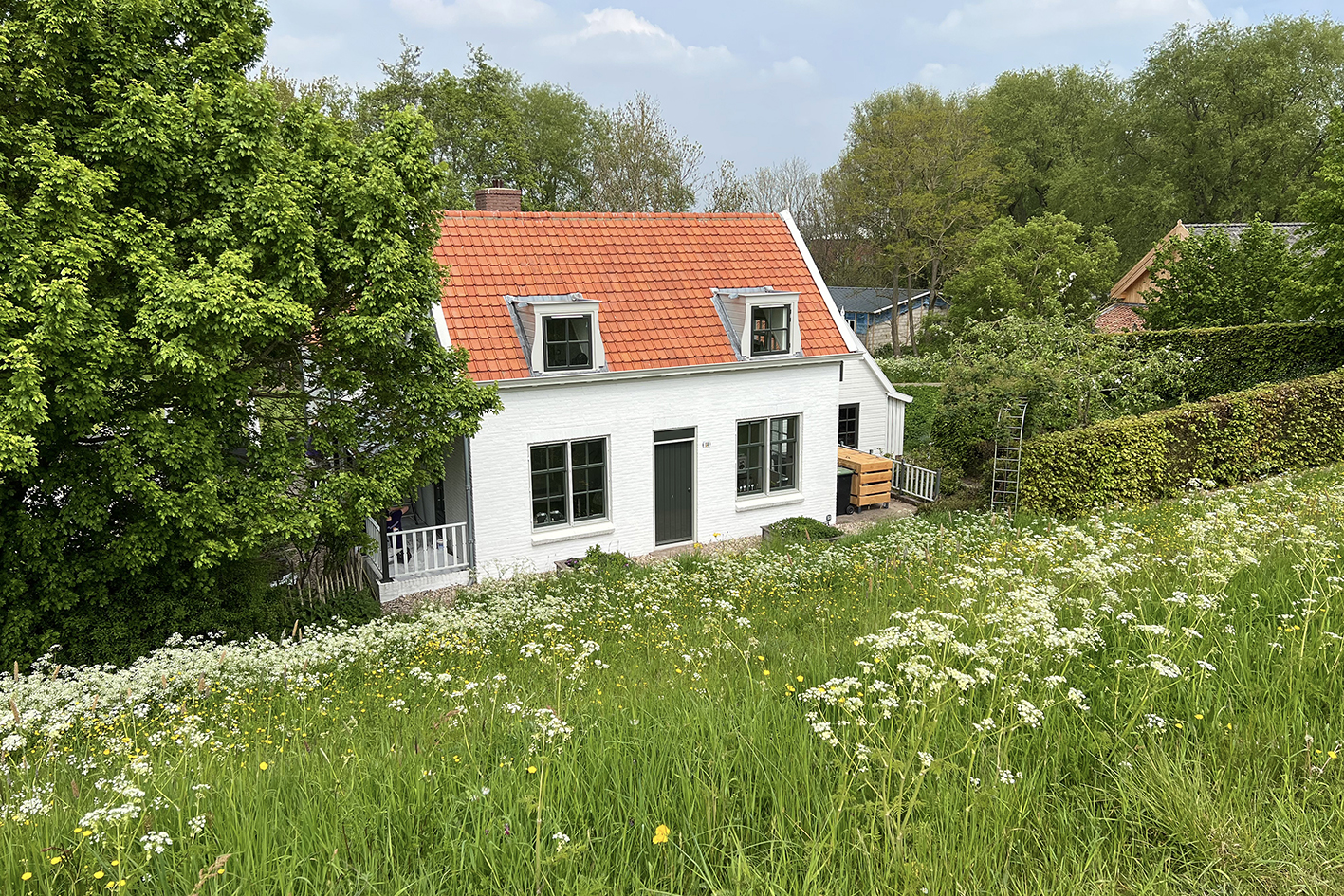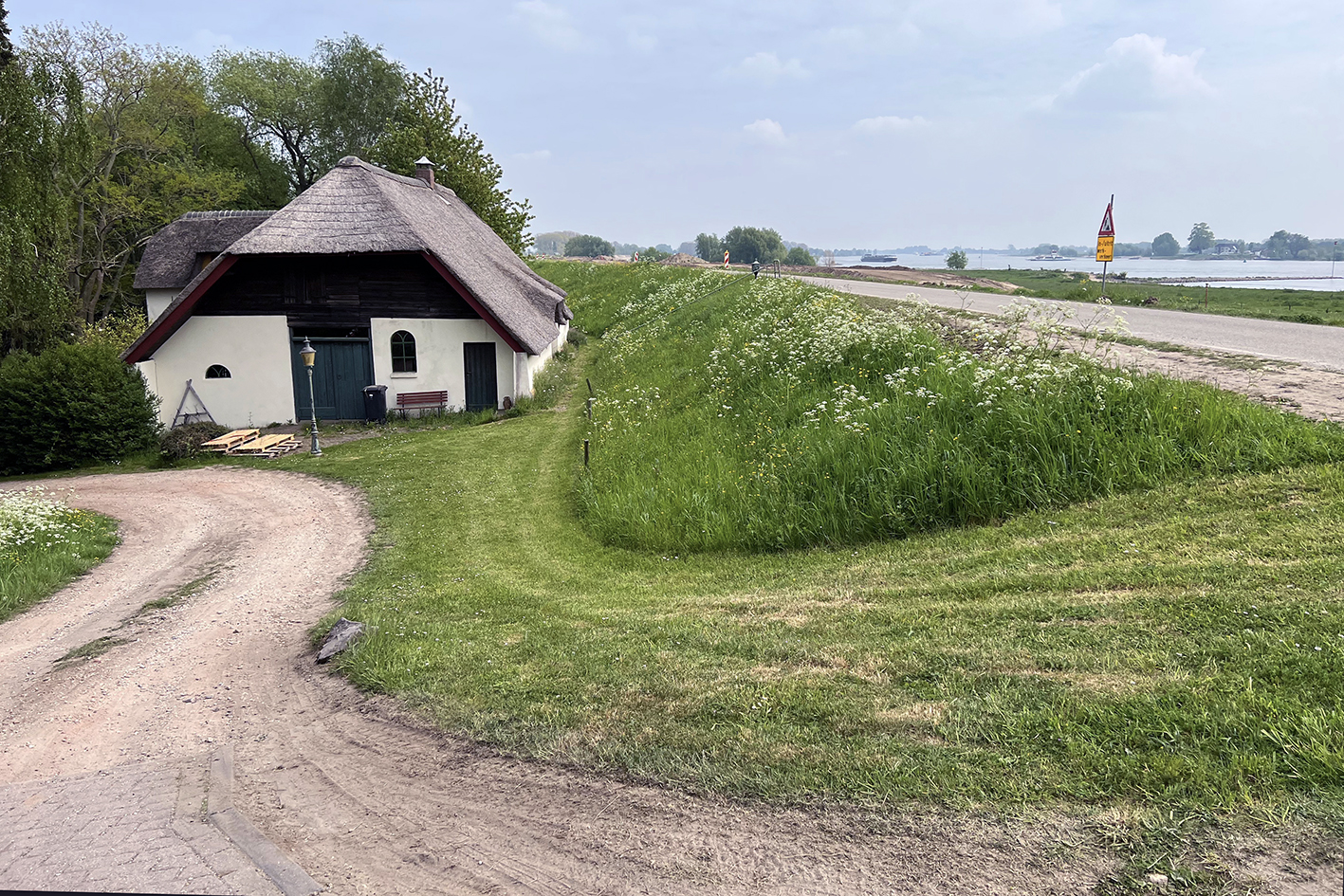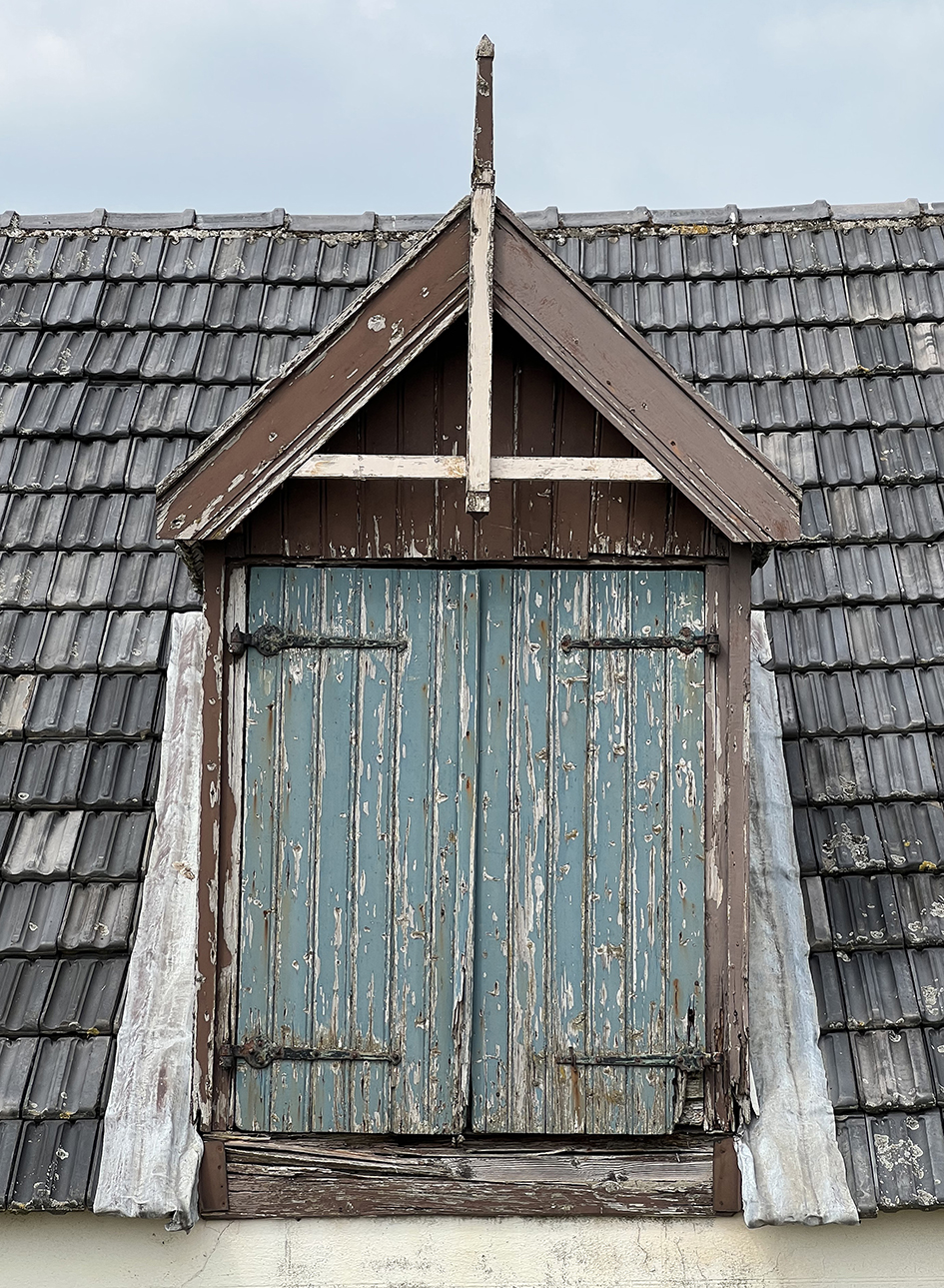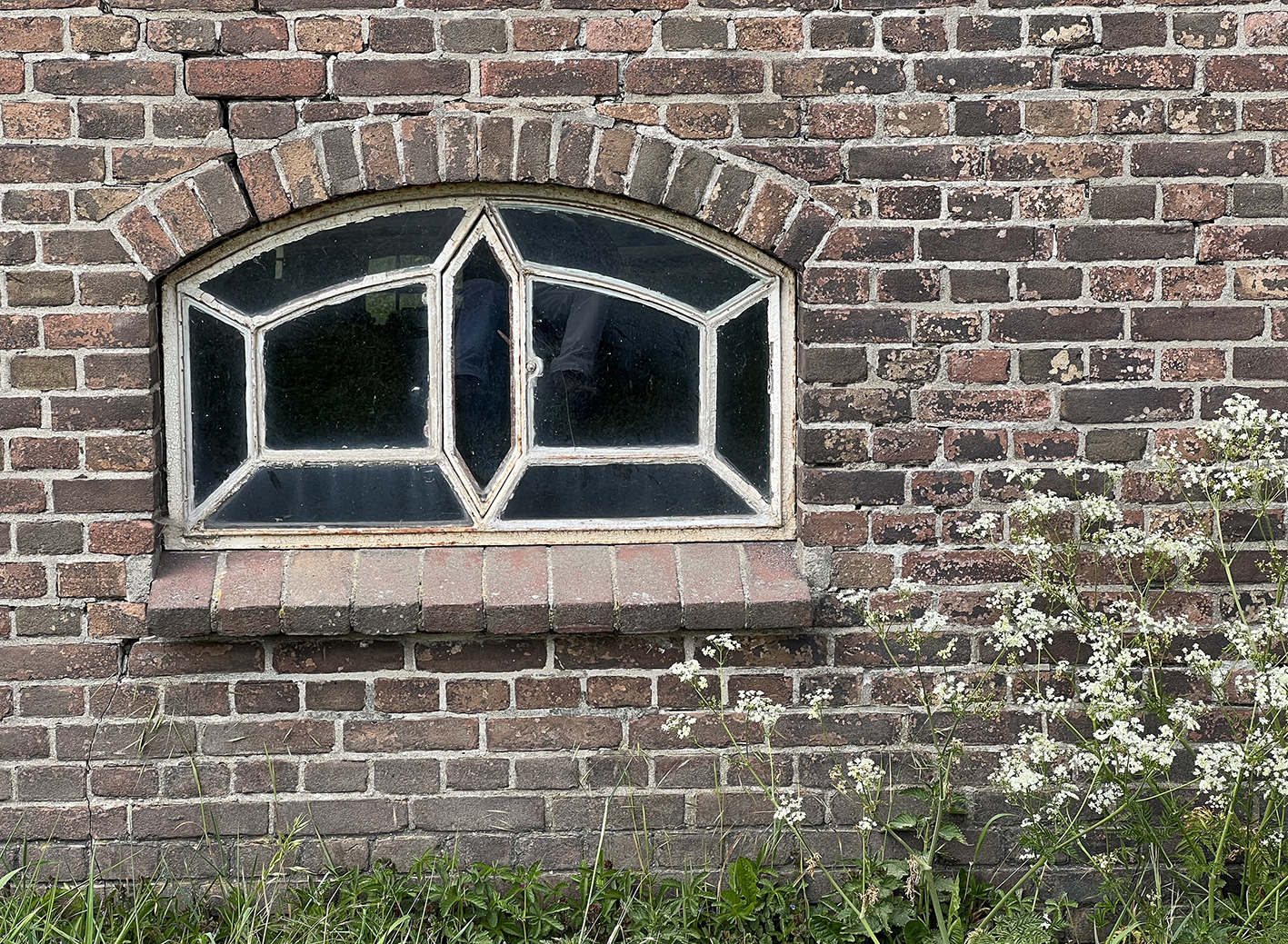 Des péniches passent au loin, charriant leurs lourdes charges. / Barges pass in the distance, carrying their heavy loads.

Je descends sur la berge. Des arbres jettent de l'ombre sur le sable blond – on se croirait presque sur une plage tropicale !  / I stroll down to the river bank. Trees cast shade on the golden sand – it feels like a tropical beach!

À intervalles réguliers, des digues s'avancent dans le fleuve, perpendiculaires au rivage. Leur rôle est de freiner le courant pour éviter l'usure du rivage. / At regular intervals, dikes protrude into the river, perpendicular to the shore. Their role is to slow down the current to prevent wear and tear on the shore.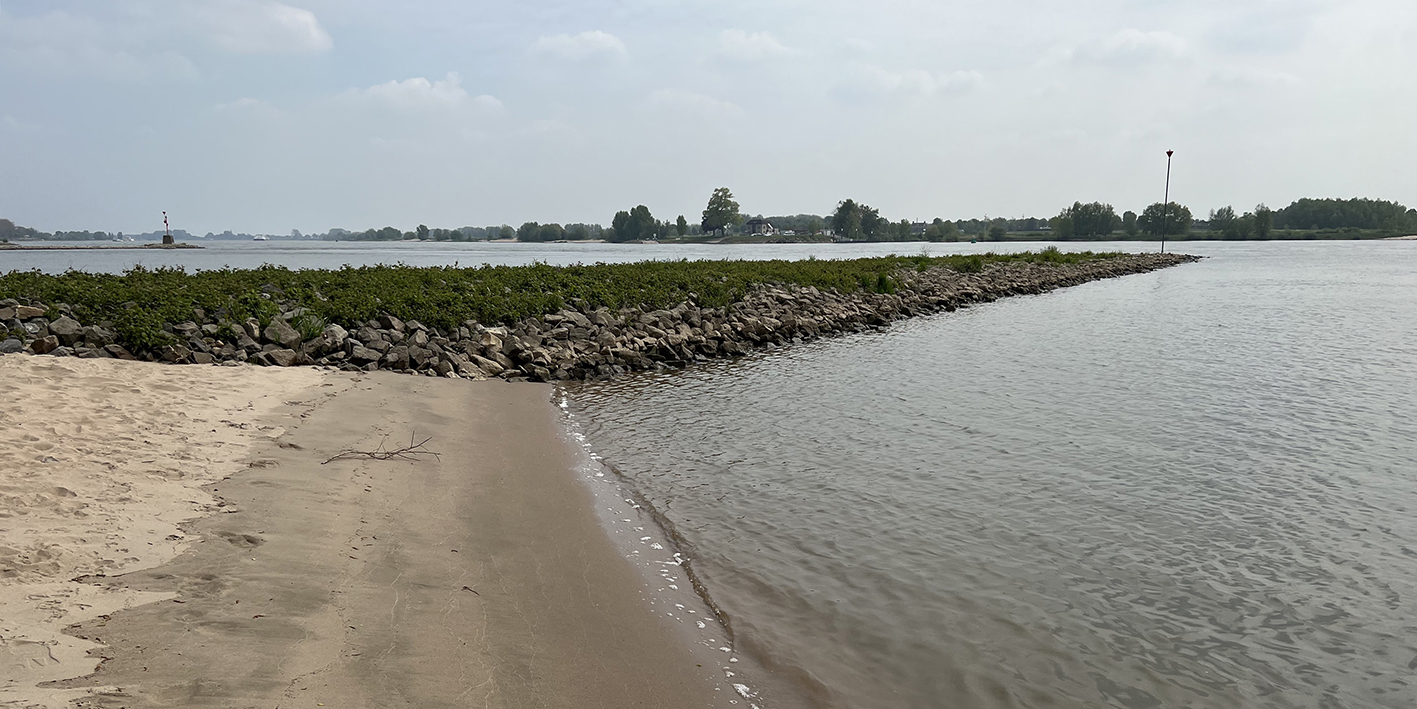 Je m'aventure sur l'une d'elles, tout en priant de ne pas me fouler une cheville entre les blocs de basalte. / I venture onto one of them, praying not to sprain my ankle between the basalt blocks.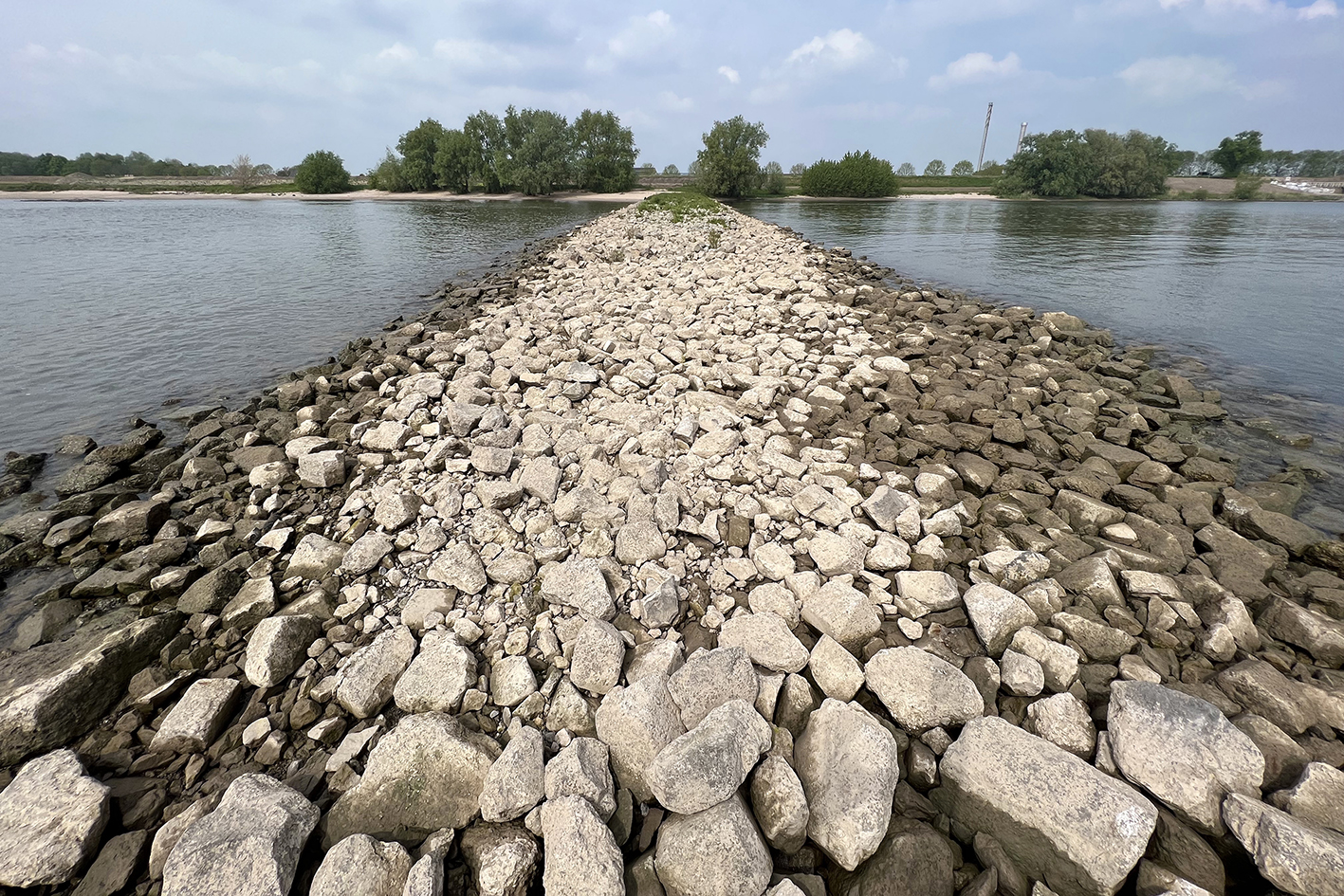 Une fois au bout, j'ai une vue privilégiée sur le trafic fluvial. / Once at the end, I have a privileged view of the river traffic.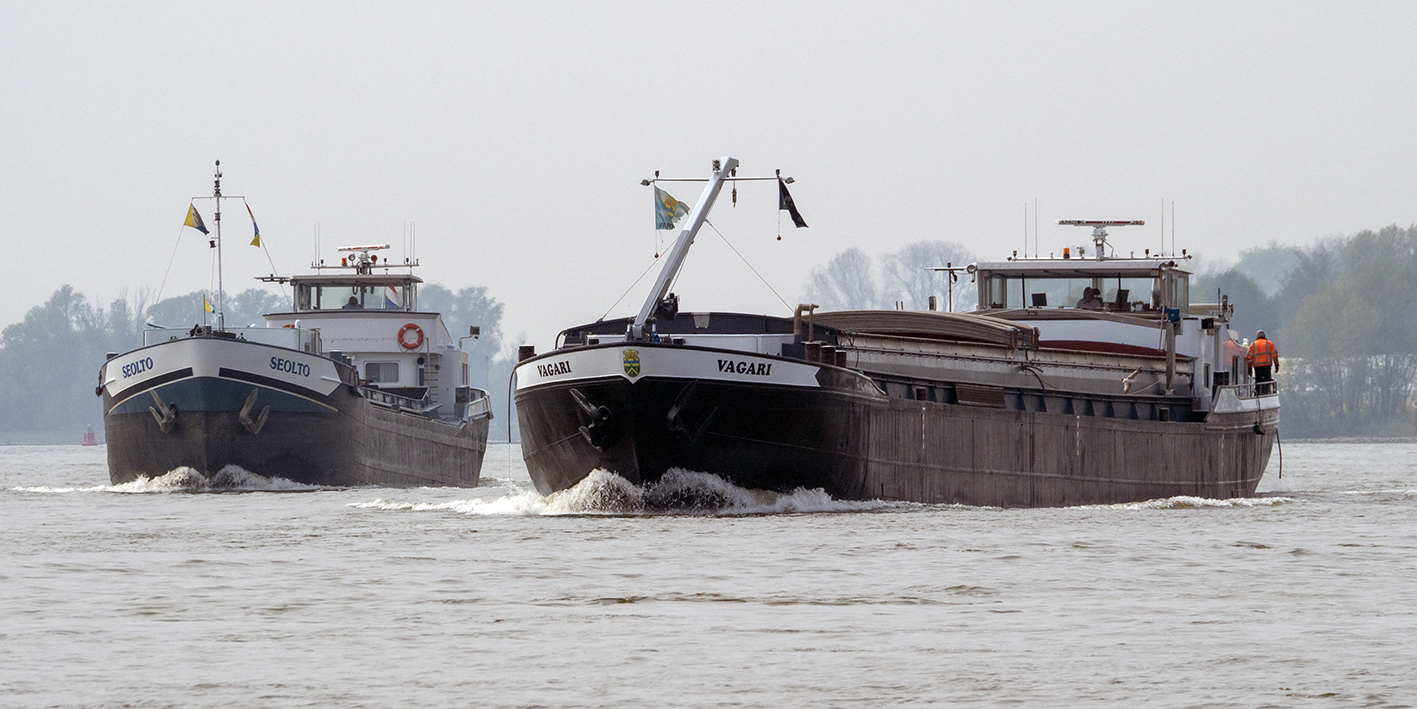 Une péniche proclame, en lettres géantes sur son flanc : "KEEP OUR RIVERS CLEAN" – maintenez la propreté de nos fleuves – cri écolo désespéré devant tout le mal que l'on fait à nos eaux fluviales (et maritimes). Dire que dans ce même fleuve on pêchait saumons et anguilles en abondance il y encore un demi-siècle ! Avec ses 110 m de long et 17,5 m de large, l'Onion est l'une des plus grandes et plus modernes péniches opérant sur le Rhin, transportant 5538 m3 de gaz butane. / A barge proclaims, in giant letters on its side: "KEEP OUR RIVERS CLEAN" – a desperate eco-cry in the face of all the harm being done to our river (and sea) waters. To think that salmon and eels were fished in abundance in this same river until half a century ago! At 110m long and 17.5m wide, the Onion is one of the largest and most modern barges operating on the Rhine, carrying 5538m3 of butane gas.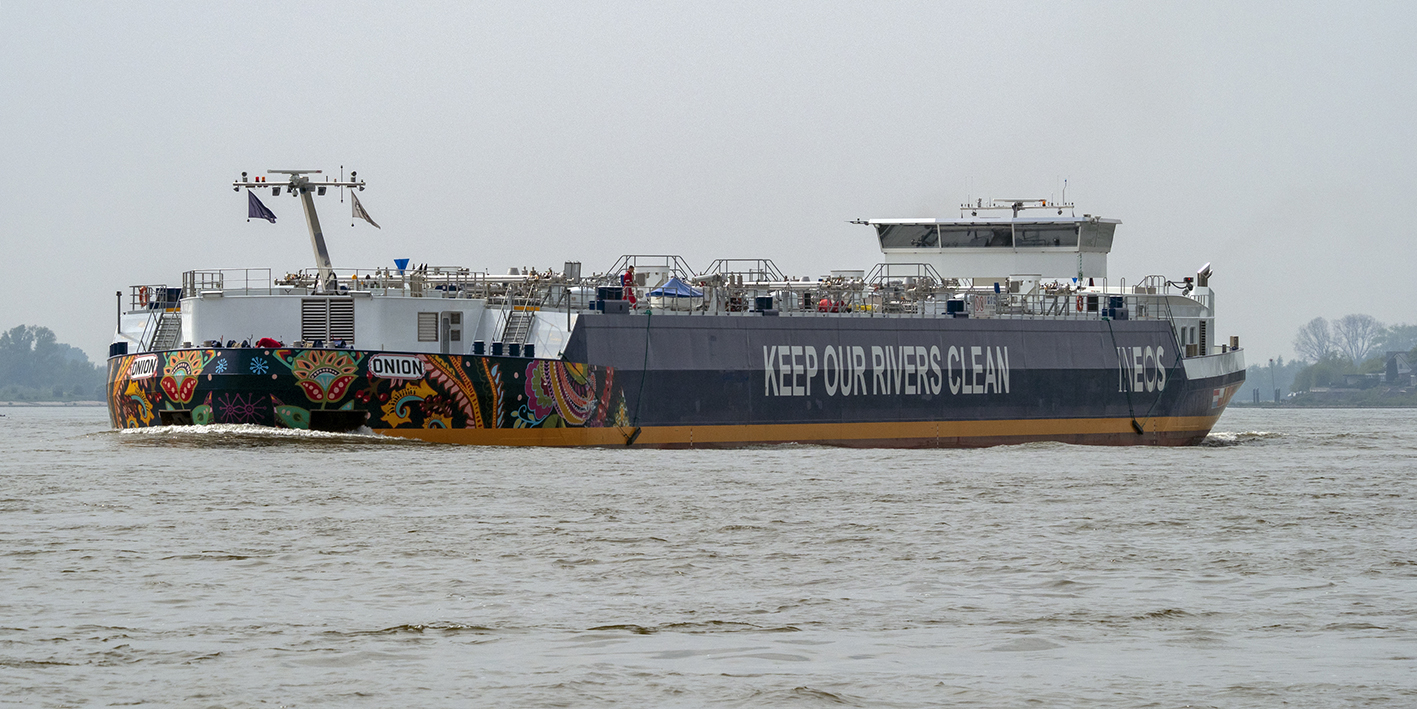 De retour à la voiture, après 8 km de marche – presque autant que les onze que nous avions parcourus en voiture le matin – on poursuit notre longue attente. Marie-Xavier se plonge dans son livre. / Back in the car, after 8 km of walking – almost as much as the eleven we had covered by car in the morning – we continue our long wait. Marie-Xavier immerses herself in her book.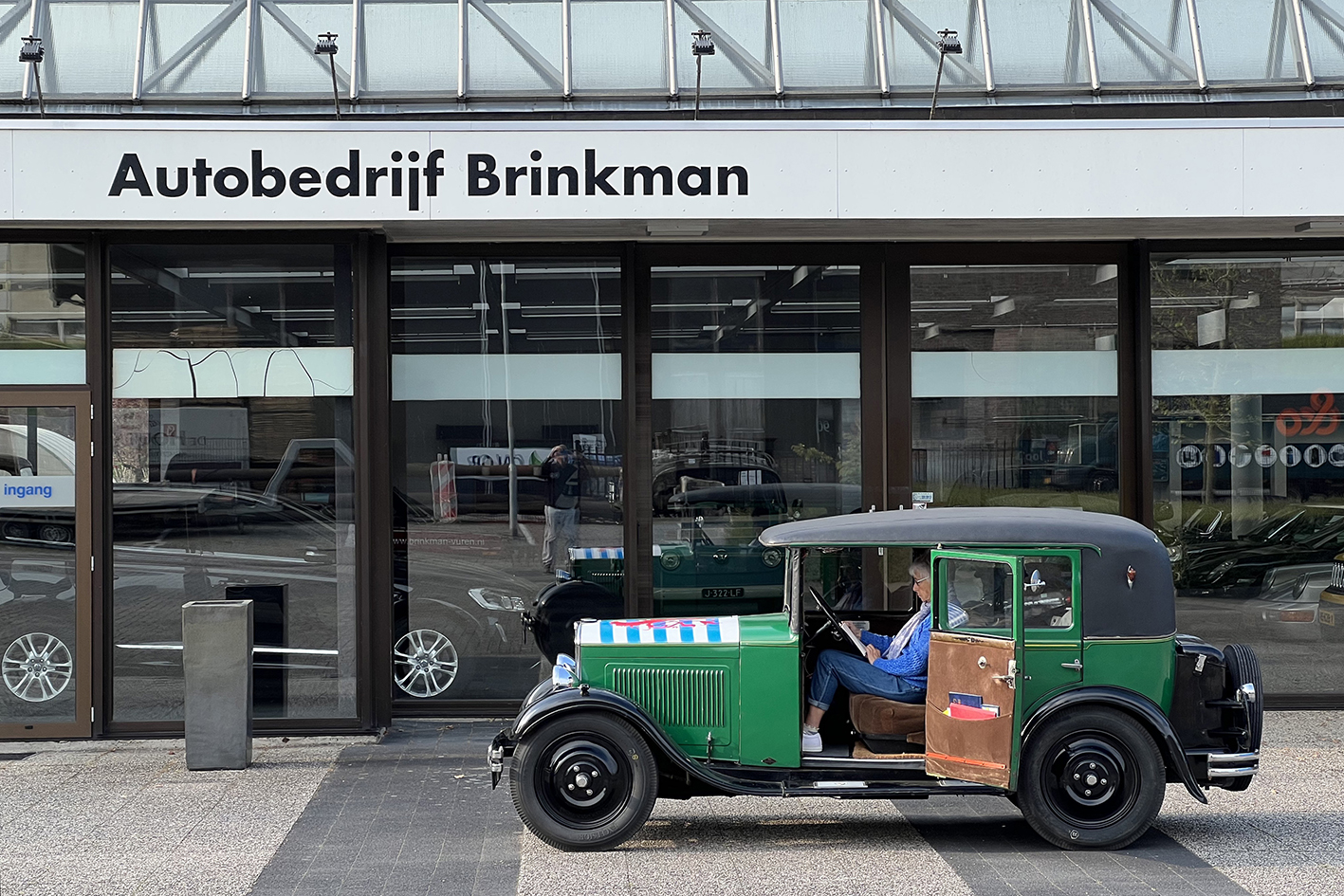 J'essaie de faire une petite sieste, mais trop de pensées noires m'empêchent de dormir, malgré la présence sympathique de notre 'passager clandestin', qui sommeille dans sa petite valise. / I try to take a nap, but too many dark thoughts prevent me from sleeping, despite the friendly presence of our "stow-away", who is dozing in his little suitcase.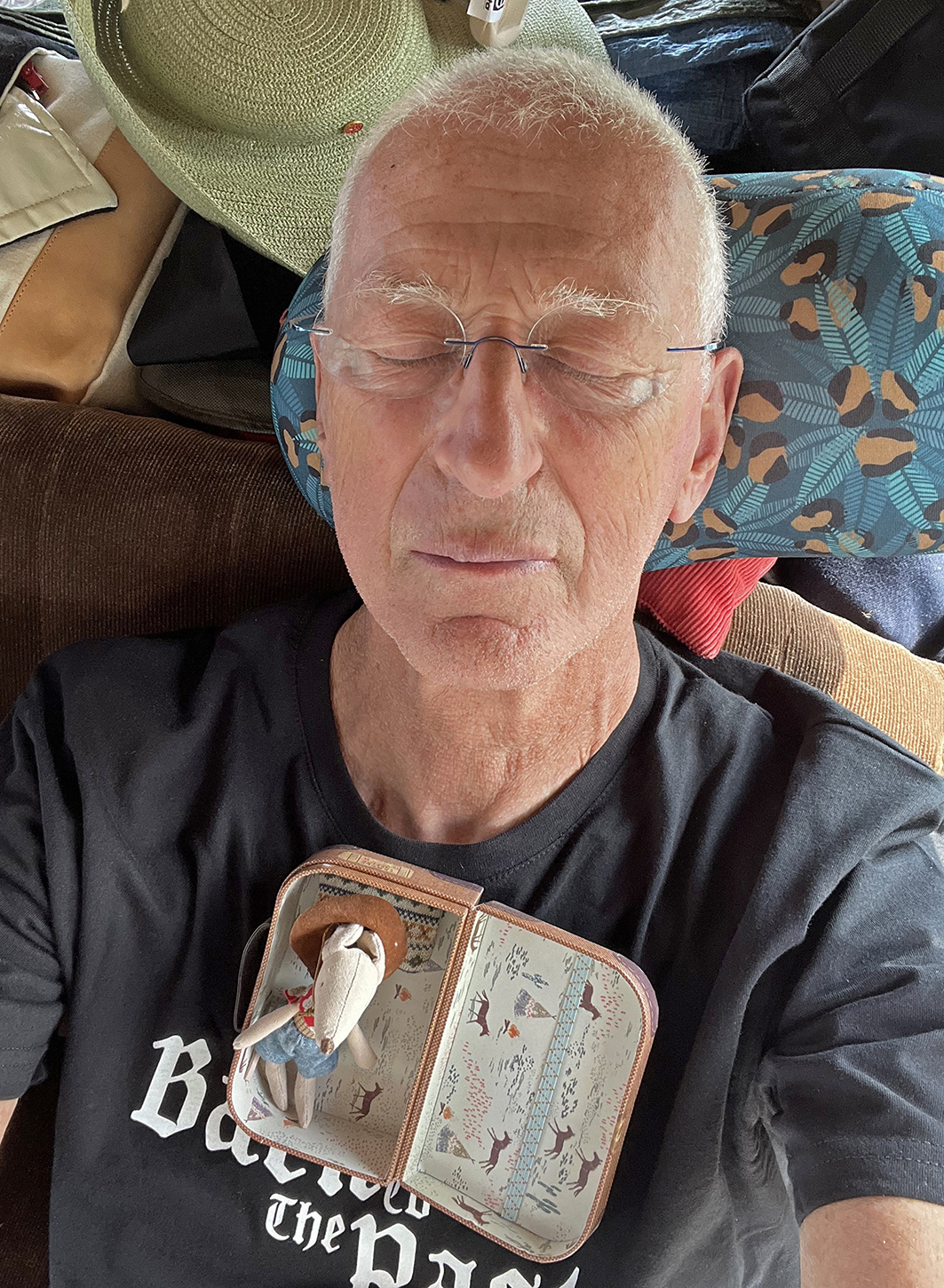 À deux reprises, le chauffeur de l'ACL nous appelle pour nous tenir au courant de sa progression, retardée par des embouteillages. Il arrive enfin vers 19h, mettant fin à notre longue attente. Et sans perdre plus de temps, Philippe, très sympathique, se met à charger « La Charmante » sur le plateau du camion. / Twice, the ACL driver calls us to keep us informed of his progress, delayed by traffic jams. He finally arrives around 7 p.m., ending our long wait. And without wasting any more time, our very friendly driver, Philippe, begins to load « La Charmante » on the truck bed.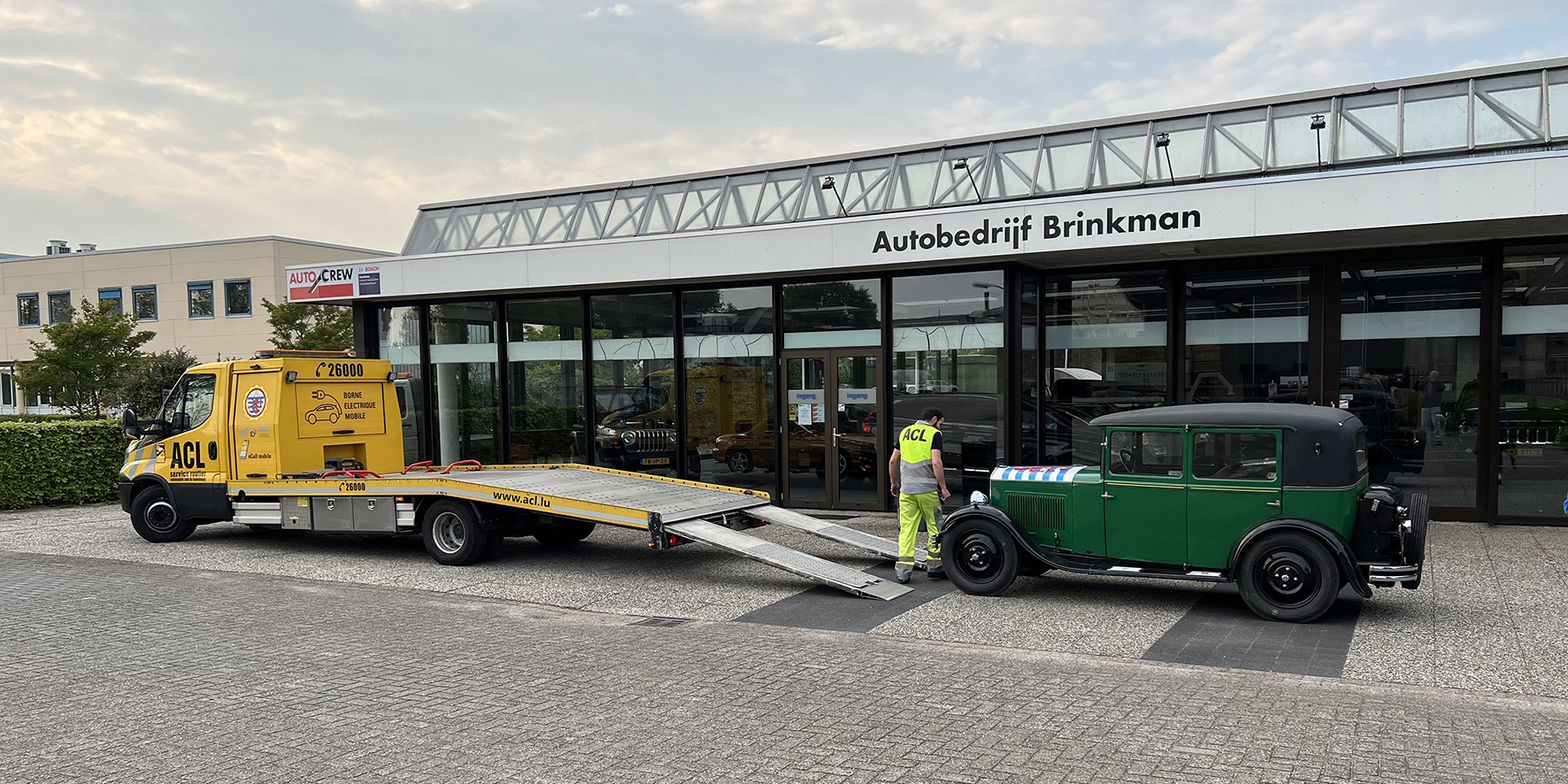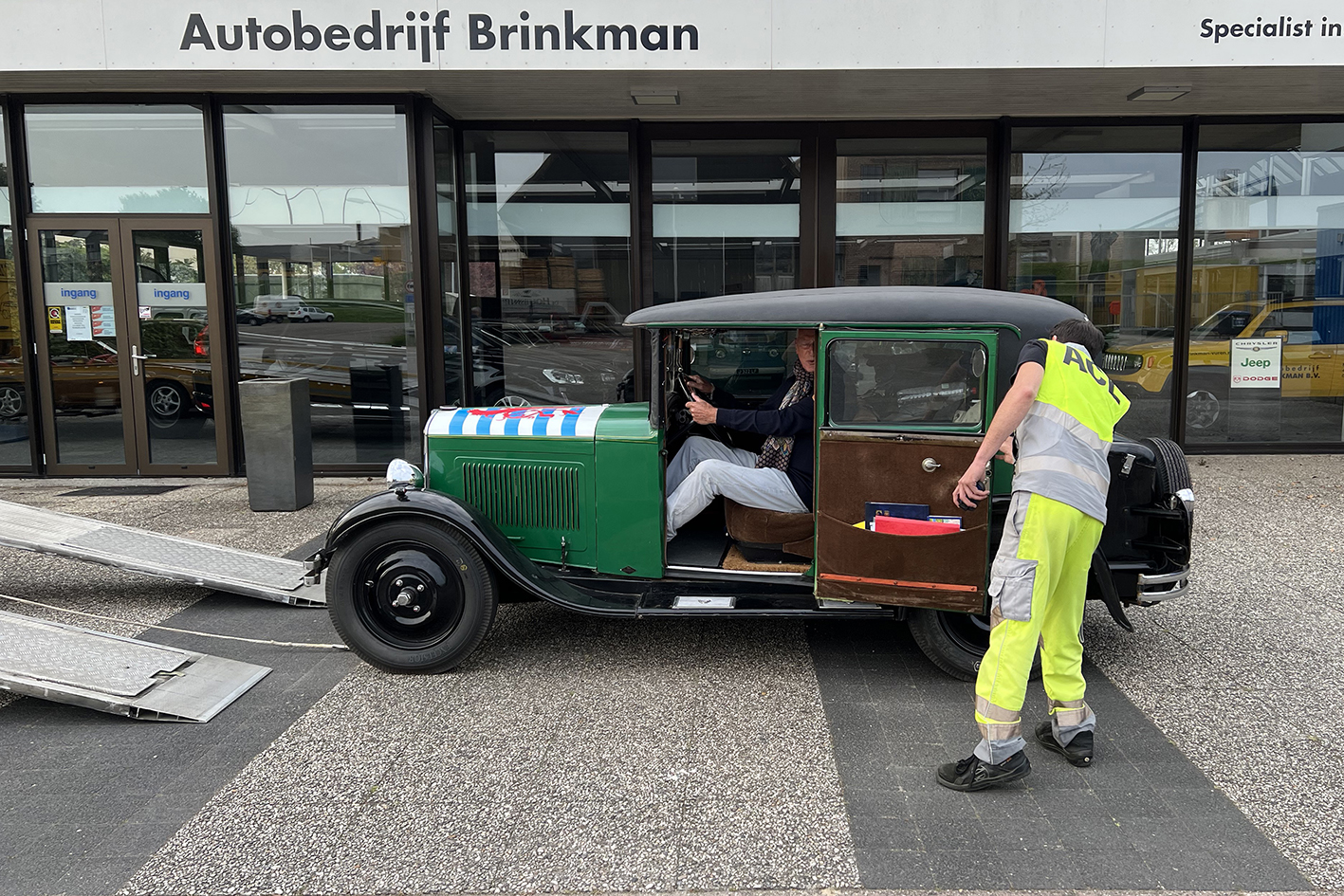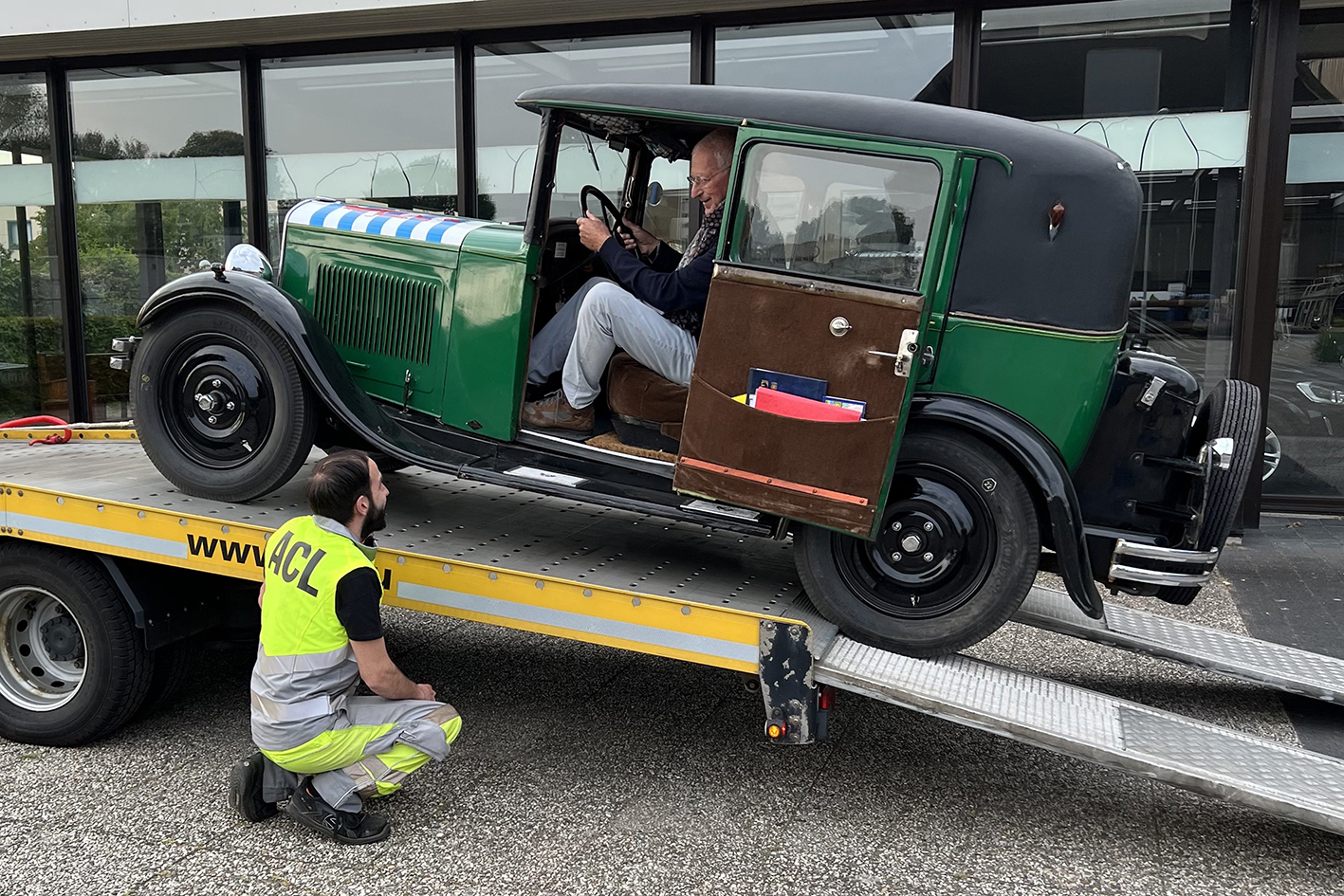 Il amarre le véhicule solidement : pas question de le perdre en cours de route ! / He attaches the vehicle securely: no question of losing it along the way!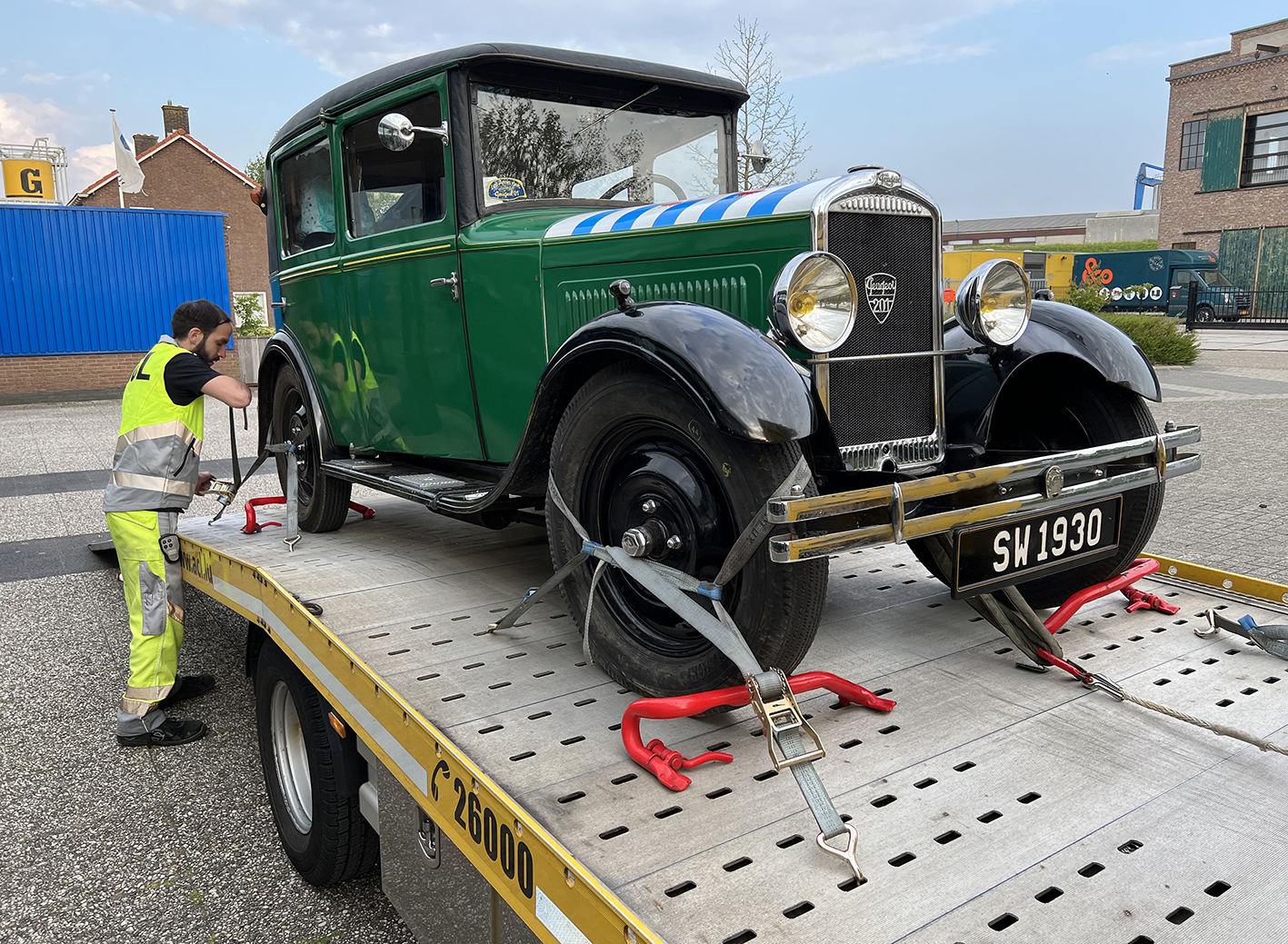 Nous sommes prêts à partir : moment extrêmement triste. Nous voilà sur le chemin du retour, un retour peu glorieux il faut bien le dire. / We are ready to leave: an extremely sad moment. Here we are on the way back, a not very glorious return it must be said.
Pendant le trajet, des pensées se bousculent dans ma tête. Sera-t-il possible de remettre la voiture en état de marche ? De quoi souffre-t-elle vraiment ? Arriverons-nous à poursuivre le voyage d'ici quelques jours, quelques semaines ? / During the journey, thoughts race through my head. Will it be possible to get the car back in working order? What is she really suffering from? Will we be able to continue the journey in a few days, a few weeks?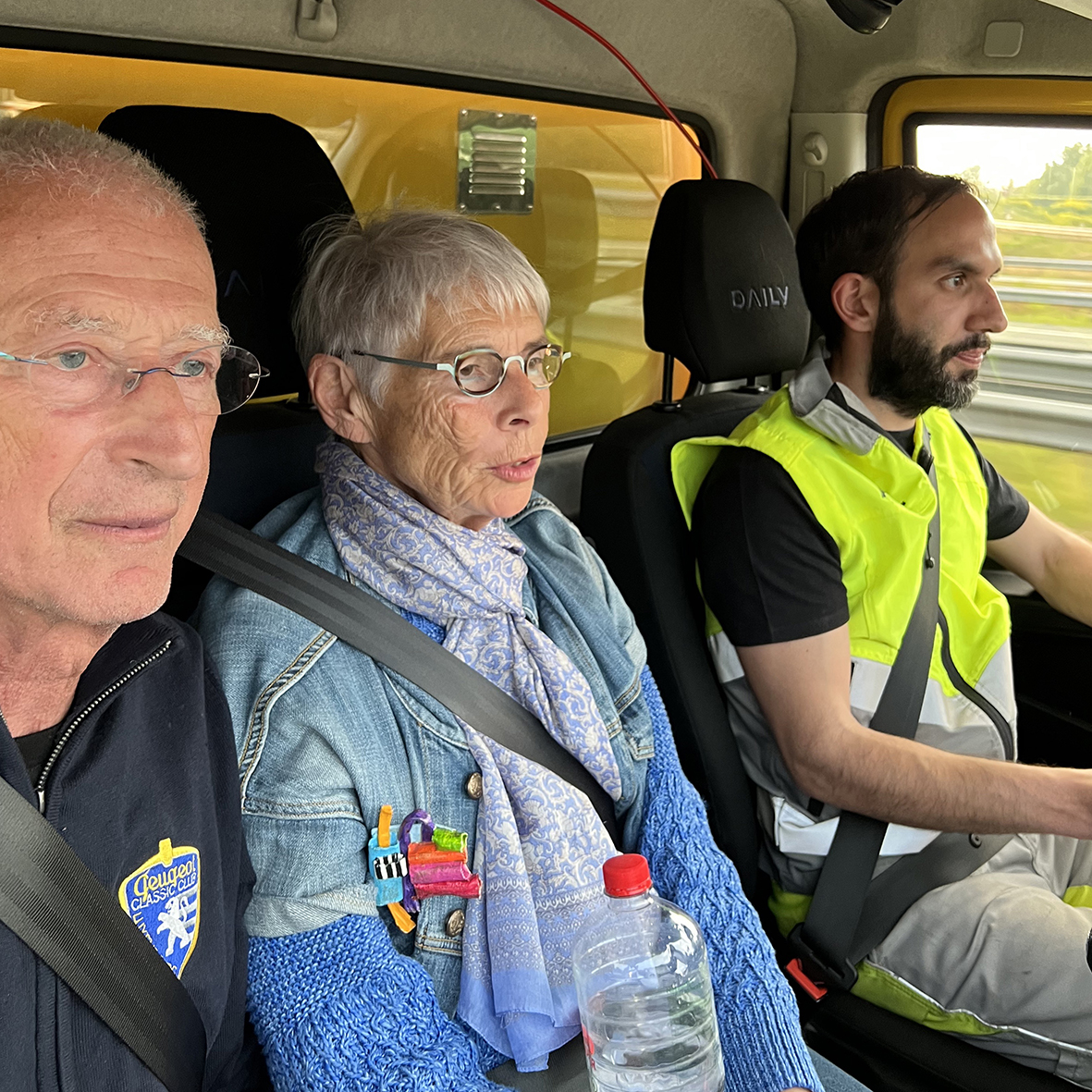 Derrière nous, le soleil se couche, annonçant la fin de cette longue journée. Dans le rétroviseur, je peux apercevoir « La Charmante ». On roule à plus de 90 km/h, vitesse qu'elle n'a encore jamais atteint durant sa longue vie. / Behind us, the sun is setting, announcing the end of this long day. In the rear-view mirror, I can see "La Charmante". We drive at more than 90 km/h, a speed that it has never reached during its long life.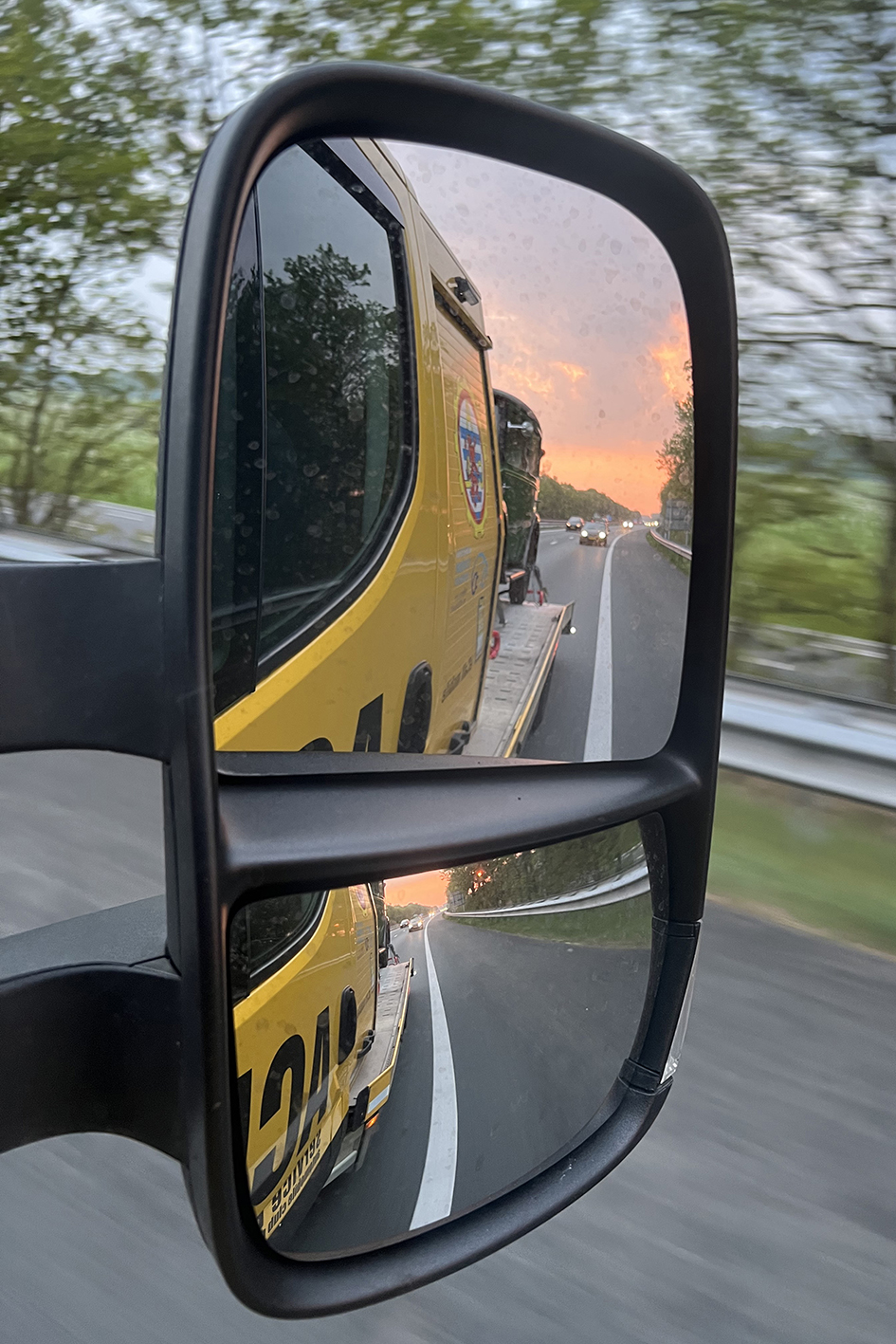 Peu après minuit Philippe nous dépose à la maison. Nous sortons nos bagages, qui passera la nuit dans le dépôt de l'ACL, avant d'être emmené au garage de John pendant la matinée. On commencera les travaux lundi matin. / Shortly after midnight Philippe drops us off at the house. We take out our luggage, which will spend the night in the ACL deposit, before being taken to John's garage during the morning. We will start working on her on Monday morning.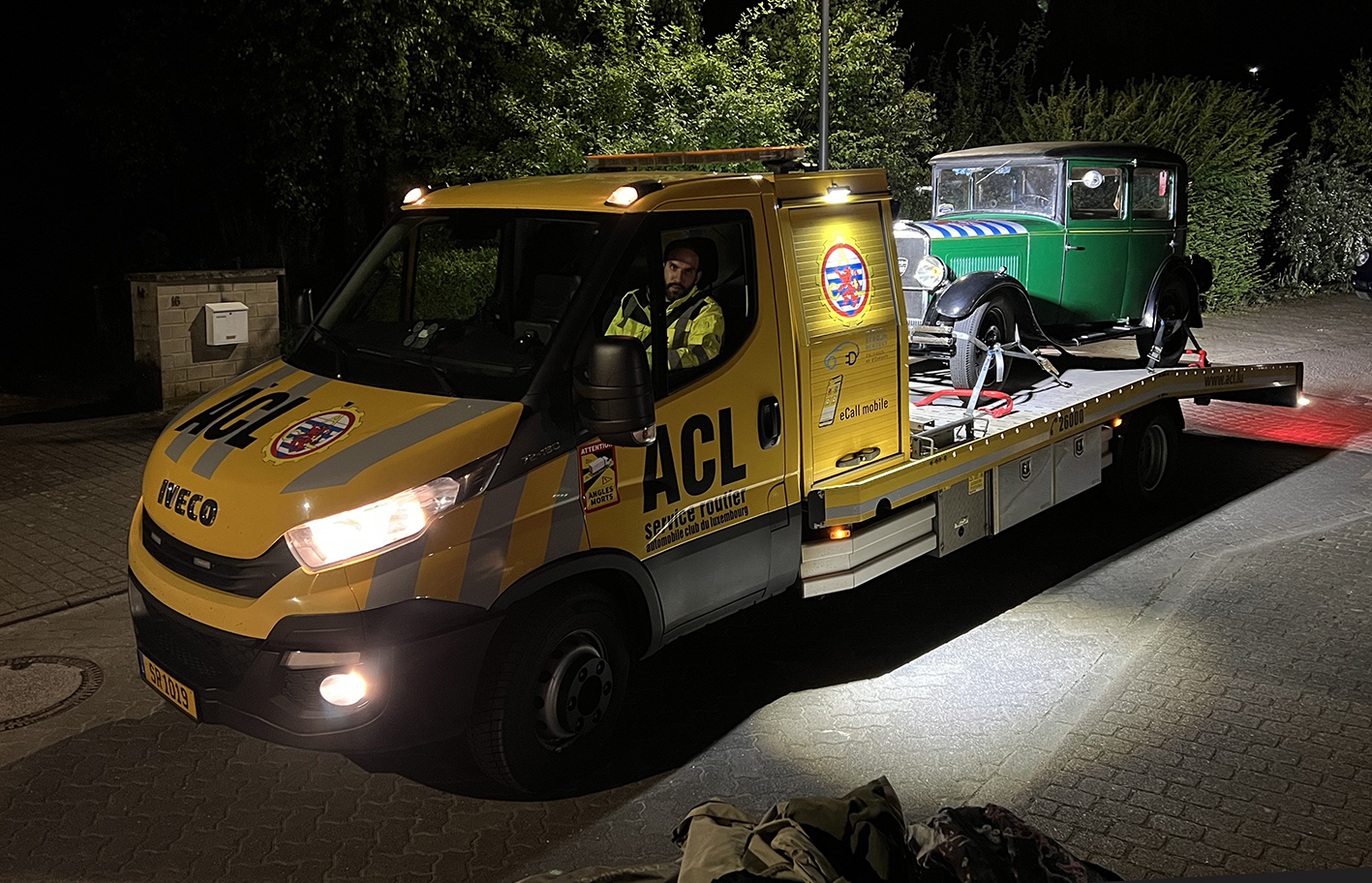 •••
Troisième étape – 4 mai 2022 ('s-Gravenzande-Arkel : 118

 km)

 / Third leg – May 4, 2022 ('s-Gravenzande-Arkel: 118 km)
Aujourd'hui, le reportage sur le Rhin, déjà entamé hier, commence pour de bon. À Hoek van Holland, où la Nieuwe Waterweg, branche principale du Rhin, se jette dans la mer du Nord, se trouve ce panneau de signalisation. / Today, the report on the Rhine, already started yesterday, begins in earnest. At Hoek van Holland, where the Nieuwe Waterweg, the main branch of the Rhine, flows into the North Sea, this sign can be seen.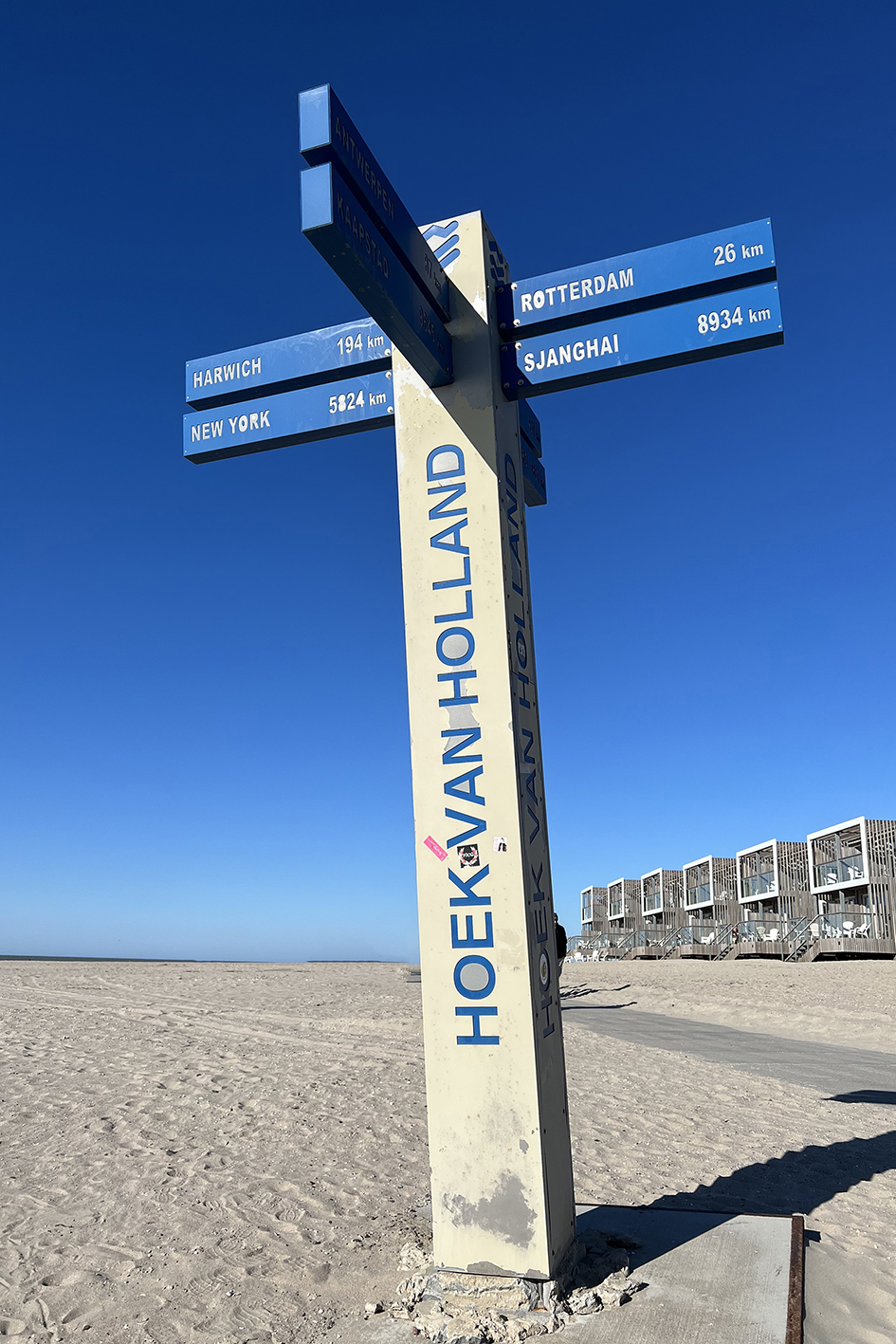 Rotterdam est encore à 26 kilomètres. On y va ! On commence à remonter le Rhin ! Premier arrêt au Maeslantkering, qui fait partie des gigantesques travaux du Delta (du Rhin et de la Meuse), entamés après les inondations catastrophiques de février 1953. Dans l'esprit de "Plus jamais ça !", Rijkswaterstaat (le ministère de l'eau) a barricadé la côte des Pays-Bas avec de gigantesques barrages. Depuis le sommet d'une colline artificielle, on peut admirer l'ampleur et l'ingéniosité du Maeslantkering. / Rotterdam is still 26 kilometers away. Let's go! We are starting to go up the Rhine! Our first stop is at the Maeslantkering, which is part of the gigantic works of the Delta (Rhine and Meuse), begun after the catastrophic floods of February 1953. In the spirit of "Never again!", Rijkswaterstaat (the Ministry of water) barricaded the coast of the Netherlands with gigantic dams. We climb to the top of an artificial hill, which allows us to see the scale and ingenuity of the Maeslantkering.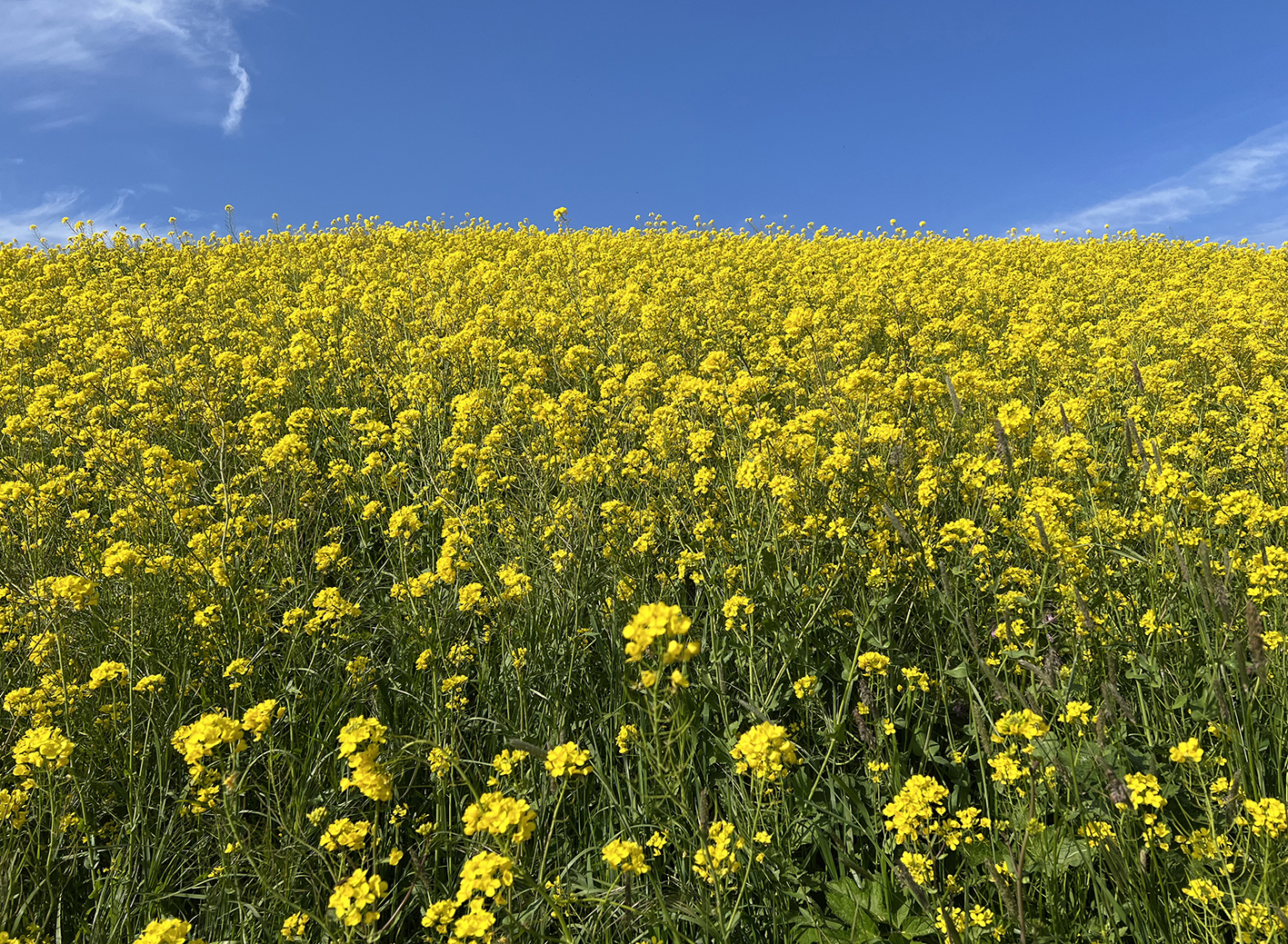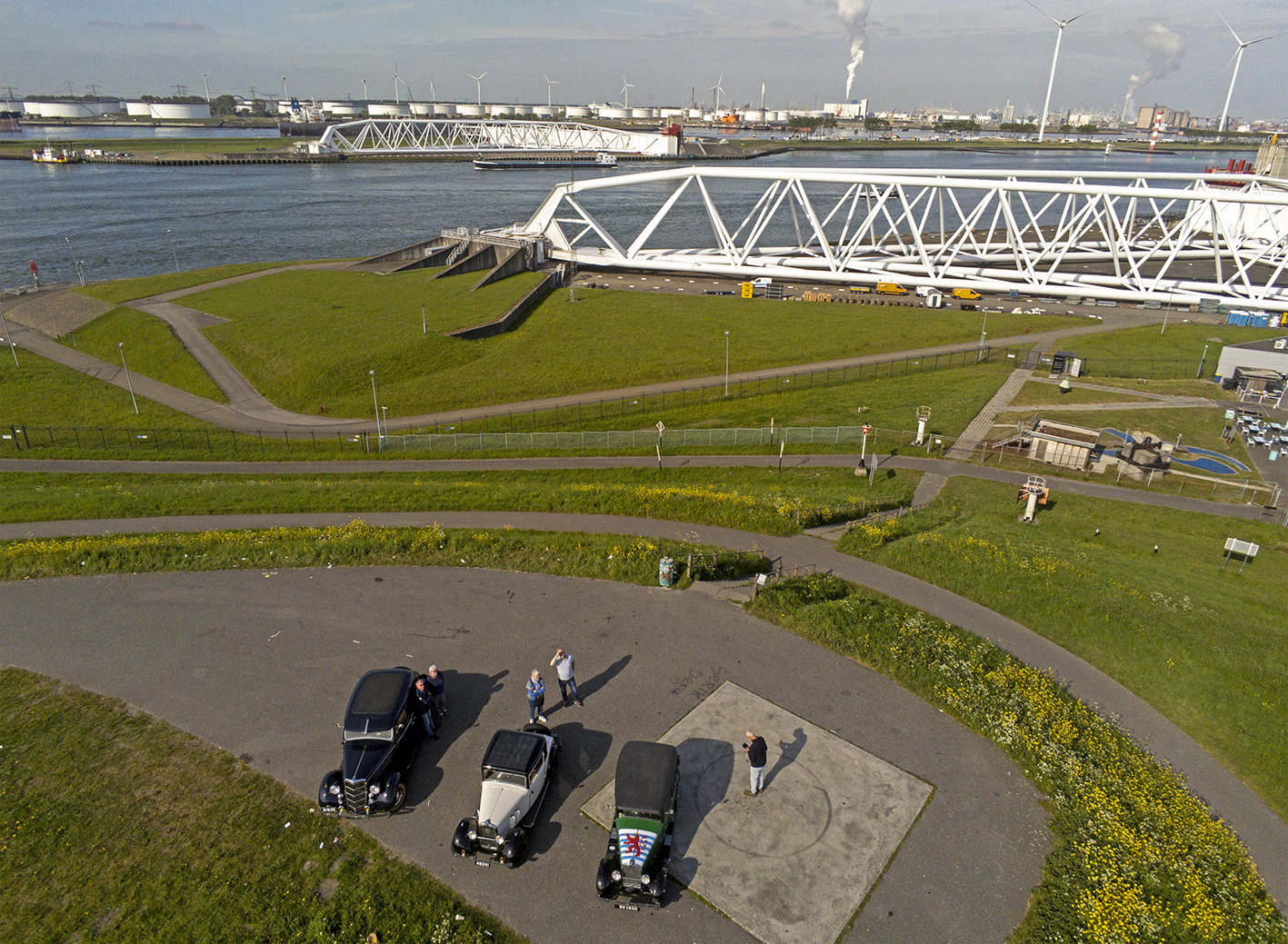 C'est l'une des plus grandes structures mobiles au monde, d'une longueur totale de 420 mètres et de 20 mètres de haut ; son fonctionnement est ordonné par un super-ordinateur, qui en fait le plus grand robot au monde. Le barrage consiste en deux portes monumentales. Lorsque le barrage est ouvert, les portes sont rangées sur la terre ferme. L'ordinateur décide automatiquement de la fermeture du barrage lors d'une marée haute imminente. Ceci arrive lorsque le niveau d'eau à Rotterdam dépasse la normale de plus de 3 mètres. Les portes se referment alors. / It is one of the largest mobile structures in the world with a total length of 420 meters and a height of 20 meters; its operation is ordered by a supercomputer, which makes it the largest robot in the world. The dam consists of two monumental gates. When the dam is open, the gates are stowed on dry land. The computer automatically decides to close the dam during an impending high tide. This happens when the water level in Rotterdam exceeds the normal level by more than 3 meters. The doors then close.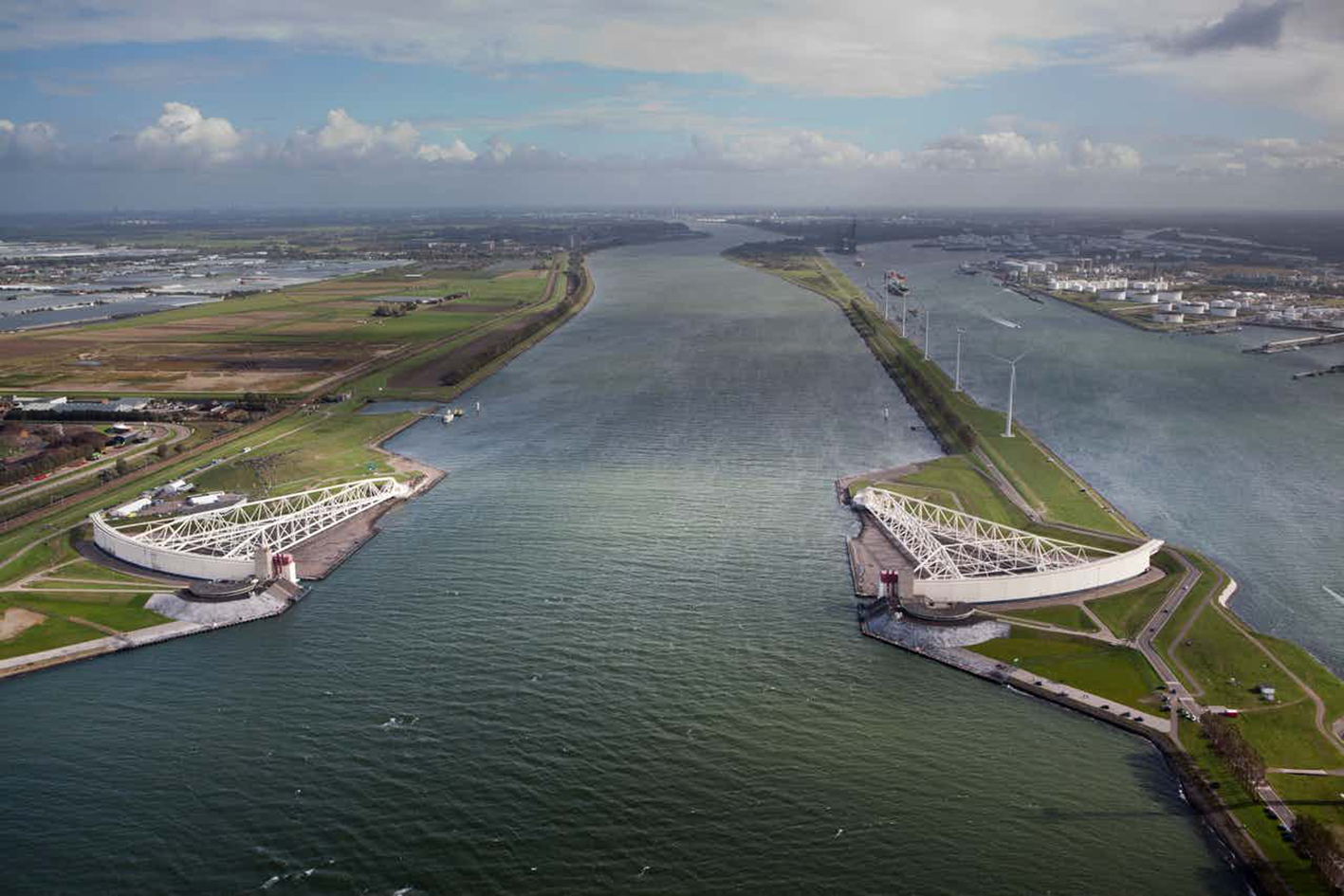 (Photo : Rijkswaterstaat)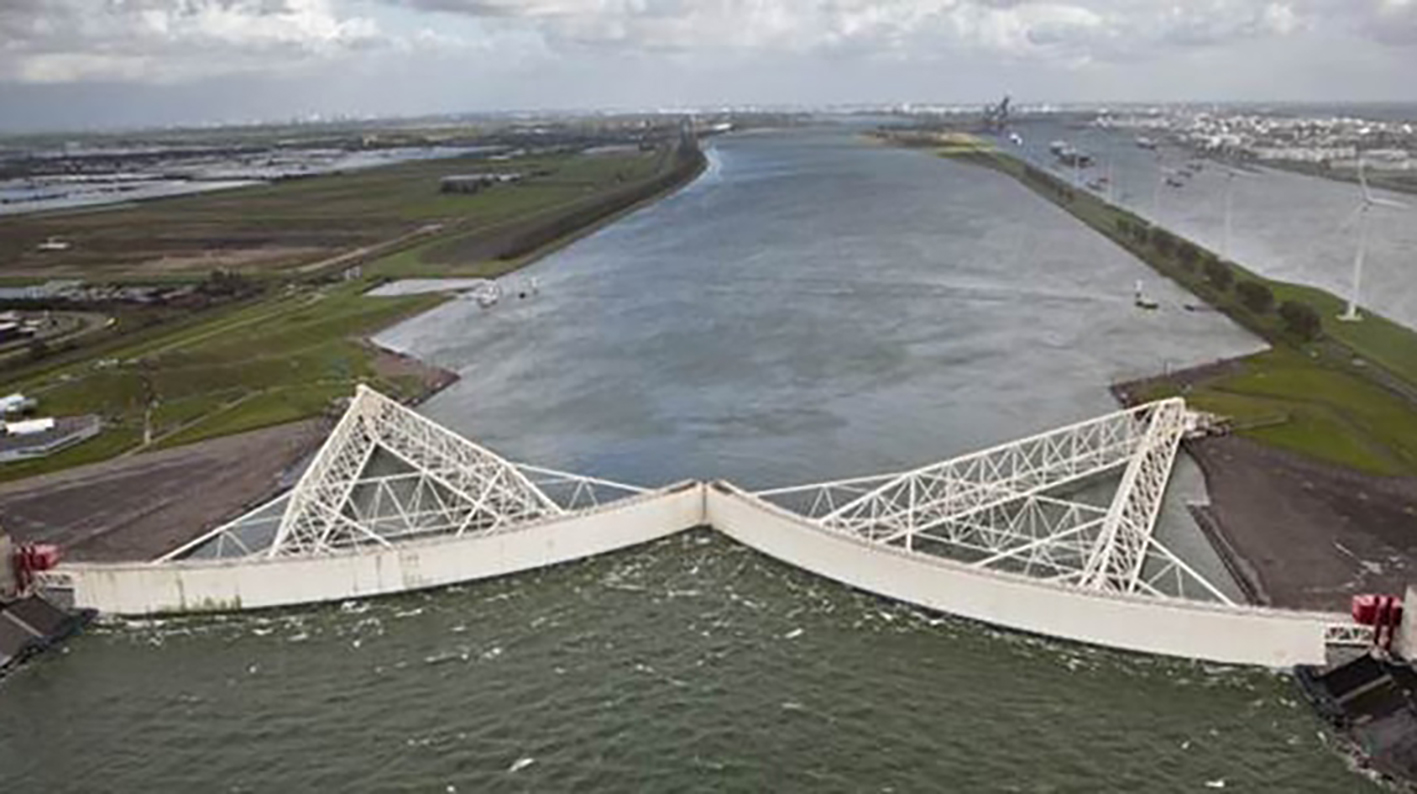 (Photo : Rijkswaterstaat)
Nous sommes accueillis par le responsable presse de l'ouvrage. Jeroen nous en explique le fonctionnement et nous fait visiter l'une des portes aux structures métalliques impressionnantes. / We are welcomed by the press officer of the dam. Jeroen explains how it works and shows us around one of the doors, whose metal structures are impressive.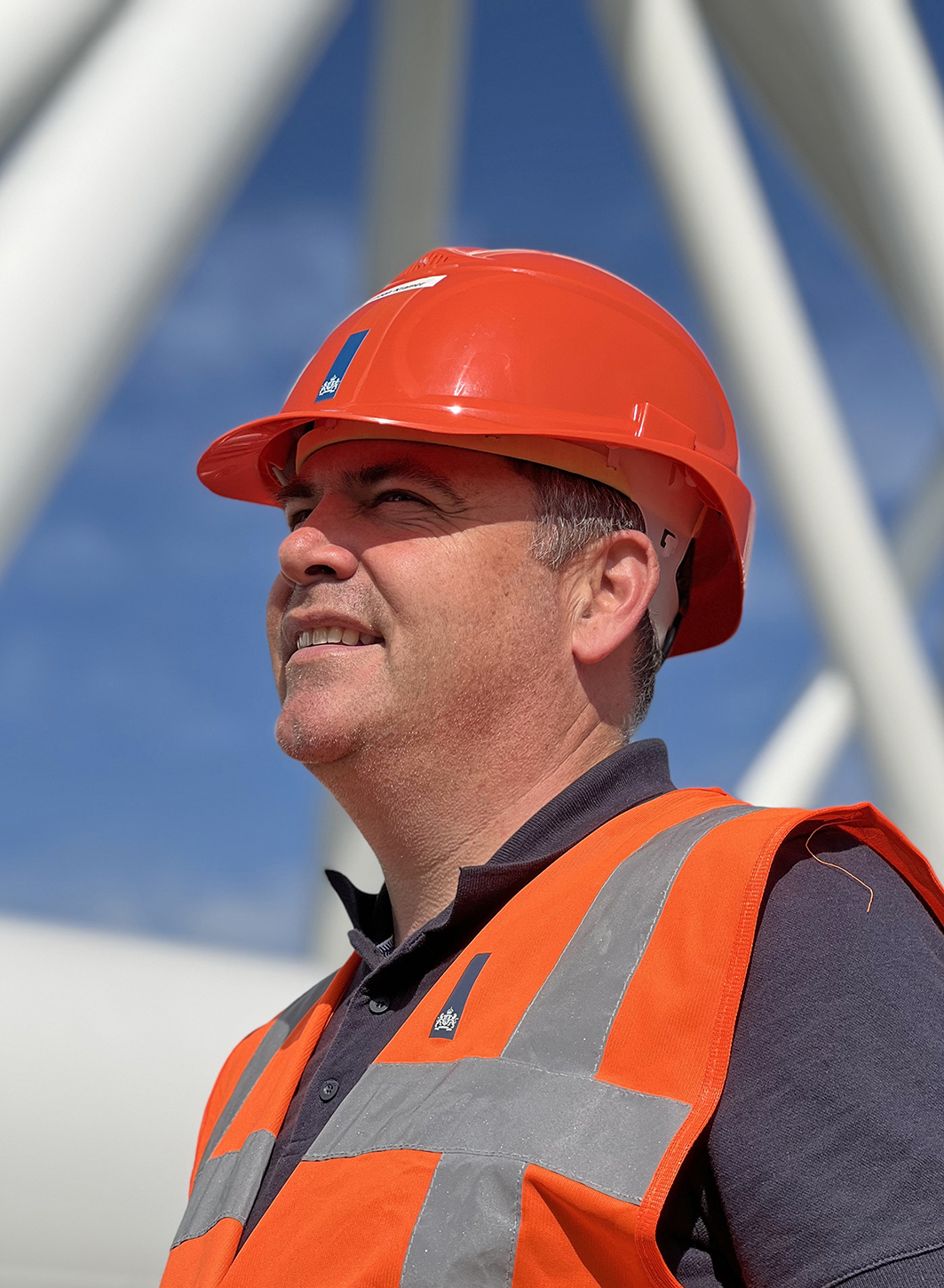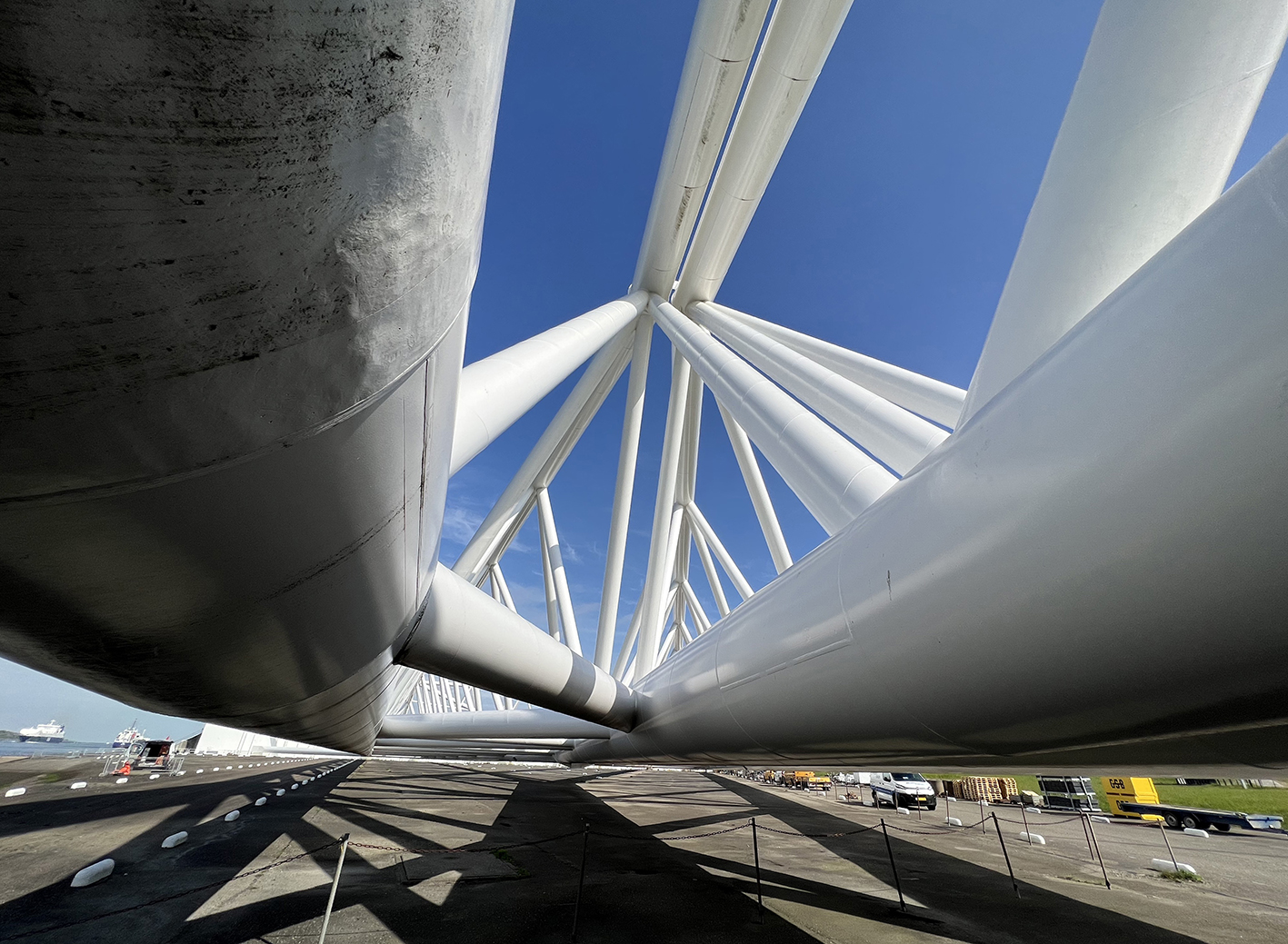 Temps de filer vers Rotterdam, où nous avons un rendez-vous important. La circulation est dense, ce qui met à rude épreuve les voitures et leurs conducteurs. Nous traversons le célèbre pont suspendu Érasme. Une vraie œuvre d'art ! / Time to go to Rotterdam, where we have an important meeting. Traffic is heavy, putting a strain on the cars and their drivers. We pass by the famous Erasmus Bridge, a suspension bridge that is also a work of art.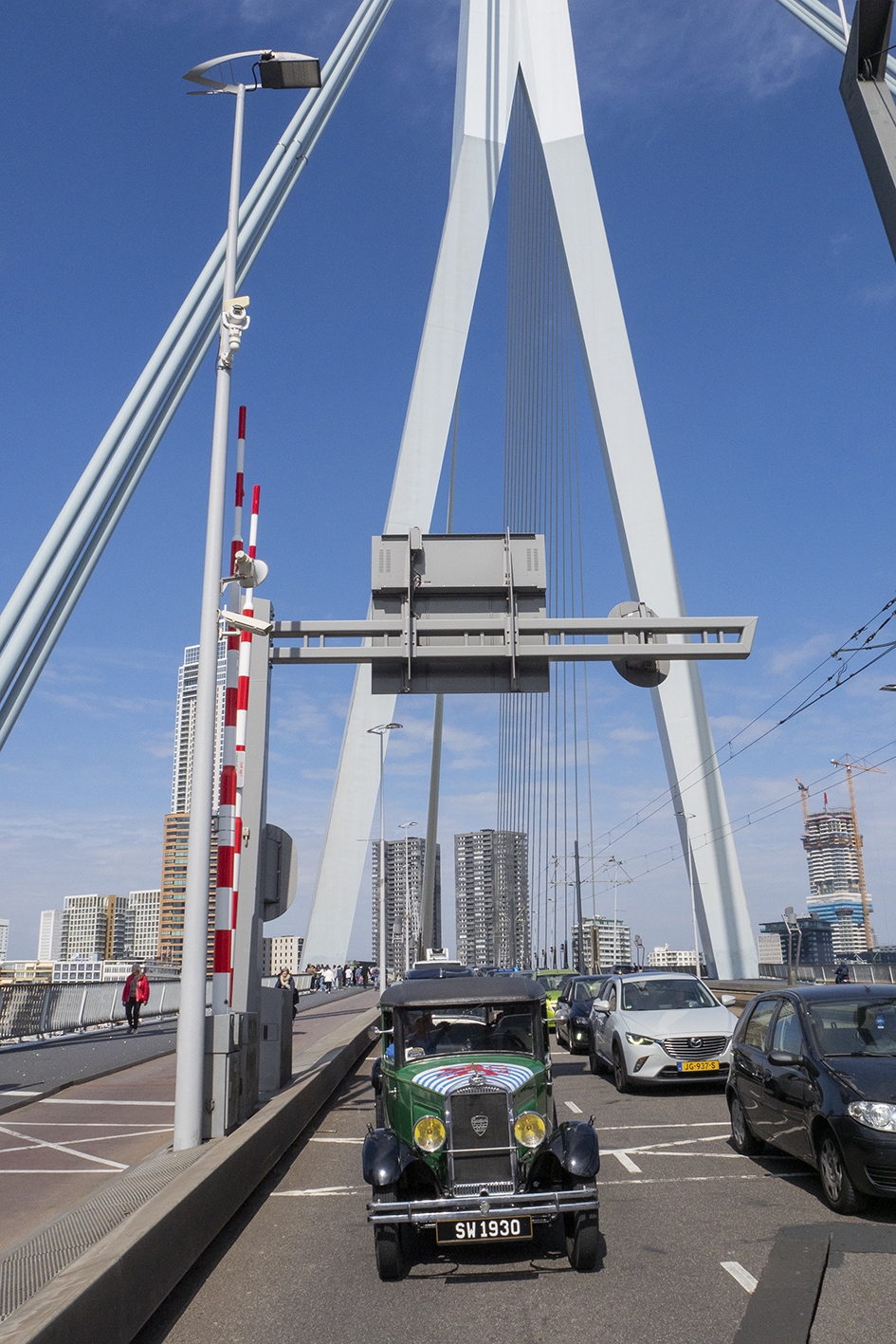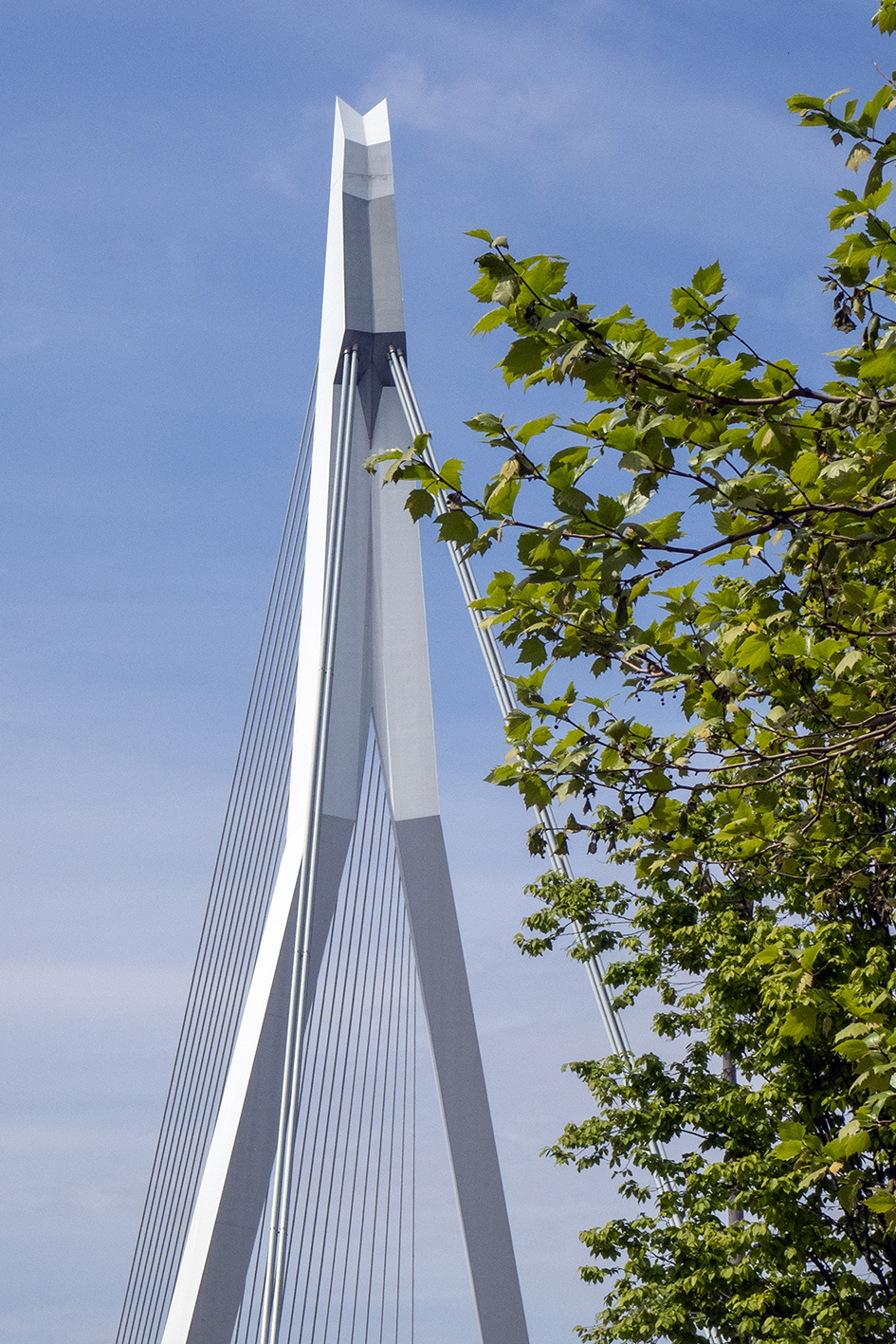 L'ouvrage porte le nom d'Érasme de Rotterdam (Desiderius Erasmus Roterodamus – 1466-1536), philosophe, humaniste et théologien néerlandais, considéré comme l'une des figures majeures de la culture européenne (d'où le Programme Erasmus pour promouvoir les échanges d'étudiants et d'enseignants entre les universités, les grandes écoles européennes et des établissements d'enseignement à travers le monde. / The bridge bears the name of Erasmus of Rotterdam (Desiderius Erasmus Roterodamus – 1466-1536), Dutch philosopher, humanist and theologian, considered one of the major figures of European culture (hence the Erasmus Program to promote exchange of students and teachers between universities, major European schools and educational establishments throughout the world.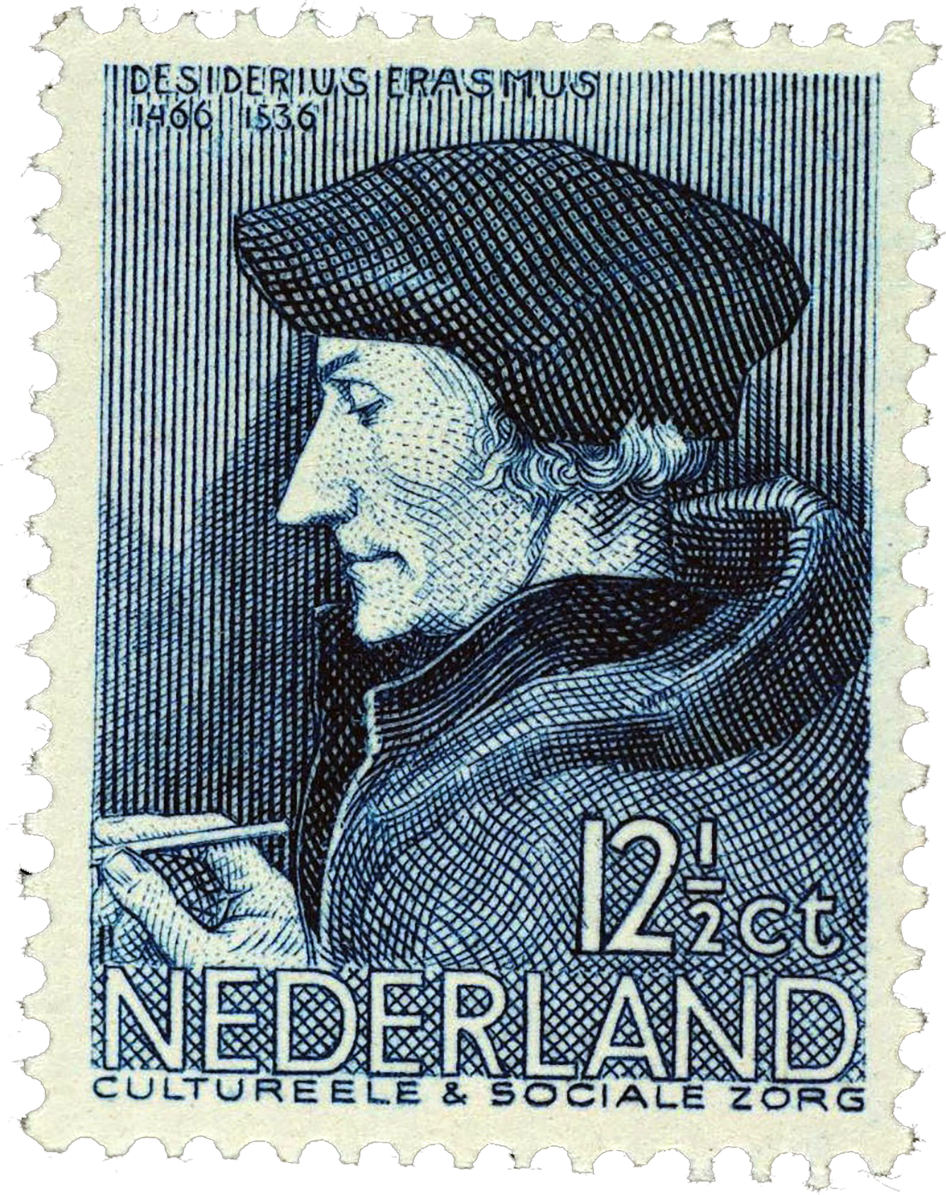 Au paquebot "s.s. Rotterdam" nous sommes accueillis par Klaas, président du comité de sauvegarde du patrimoine historique de ce bateau à vapeur, le dernier d'une lignée de bateaux de luxe construit à Rotterdam par la "Rotterdamse Droogdok Maatschappij" entre 1956 et 1959. C'est le plus grand paquebot réalisé aux Pays-Bas. Long de 238 mètres, il a été conçu pour accueillir 1456 passagers et être servi par 776 membres d'équipage. C'est le dernier des paquebots commandés par la compagnie néerlandaise Holland-Amerika Lijn (HAL). / We arrive at the liner "s.s. Rotterdam", where we are welcomed by Klaas, president of the committee for the preservation of the historical heritage of this steamer, the last of a line of luxury boats built in Rotterdam by the "Rotterdamse Droogdok Maatschappij" between 1956 and 1959. It is the largest liner made in the Netherlands. 238 meters long, it was designed to accommodate 1,456 passengers and be served by 776 crew members. It is the last of the liners ordered by the Dutch company Holland-Amerika Lijn (HAL).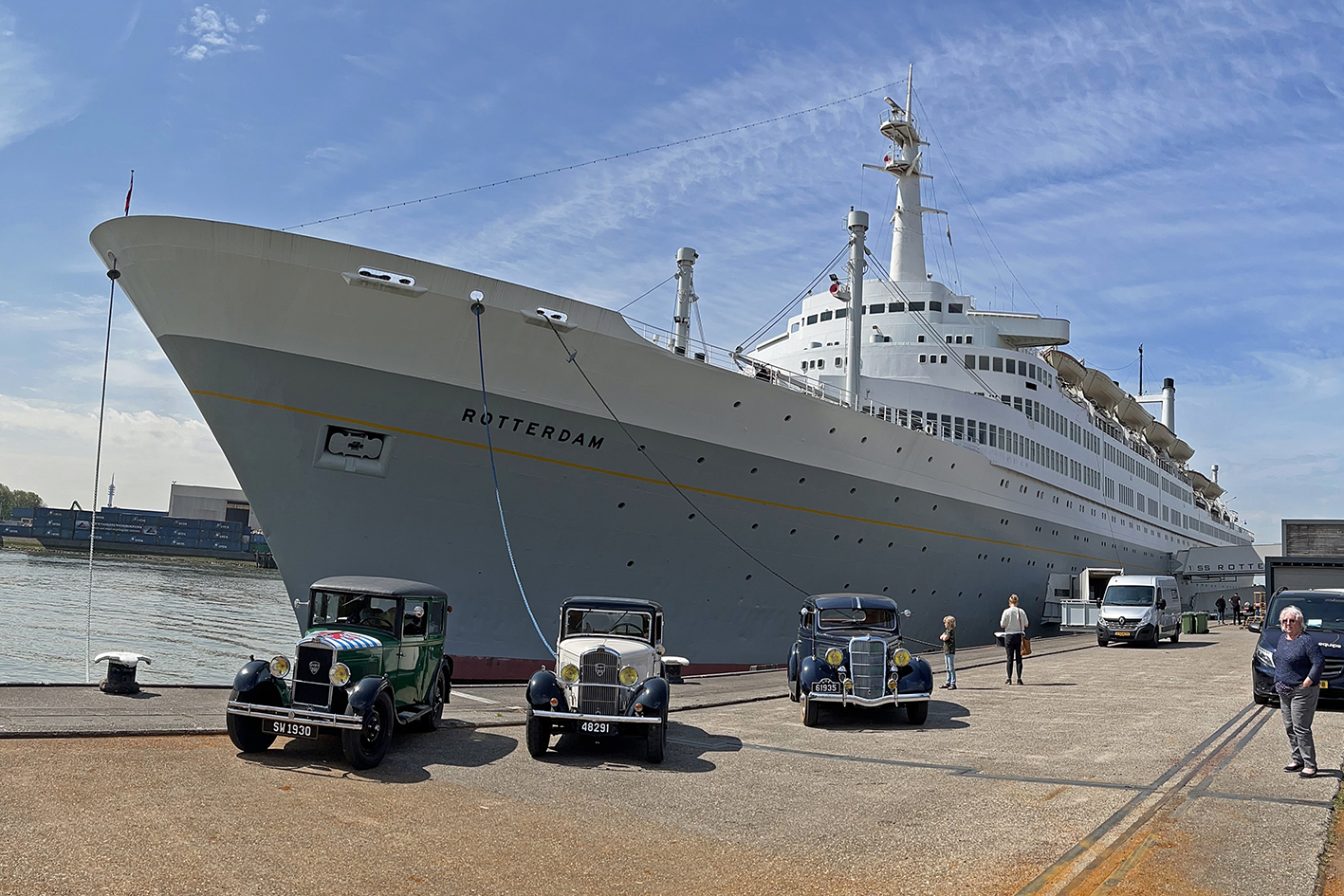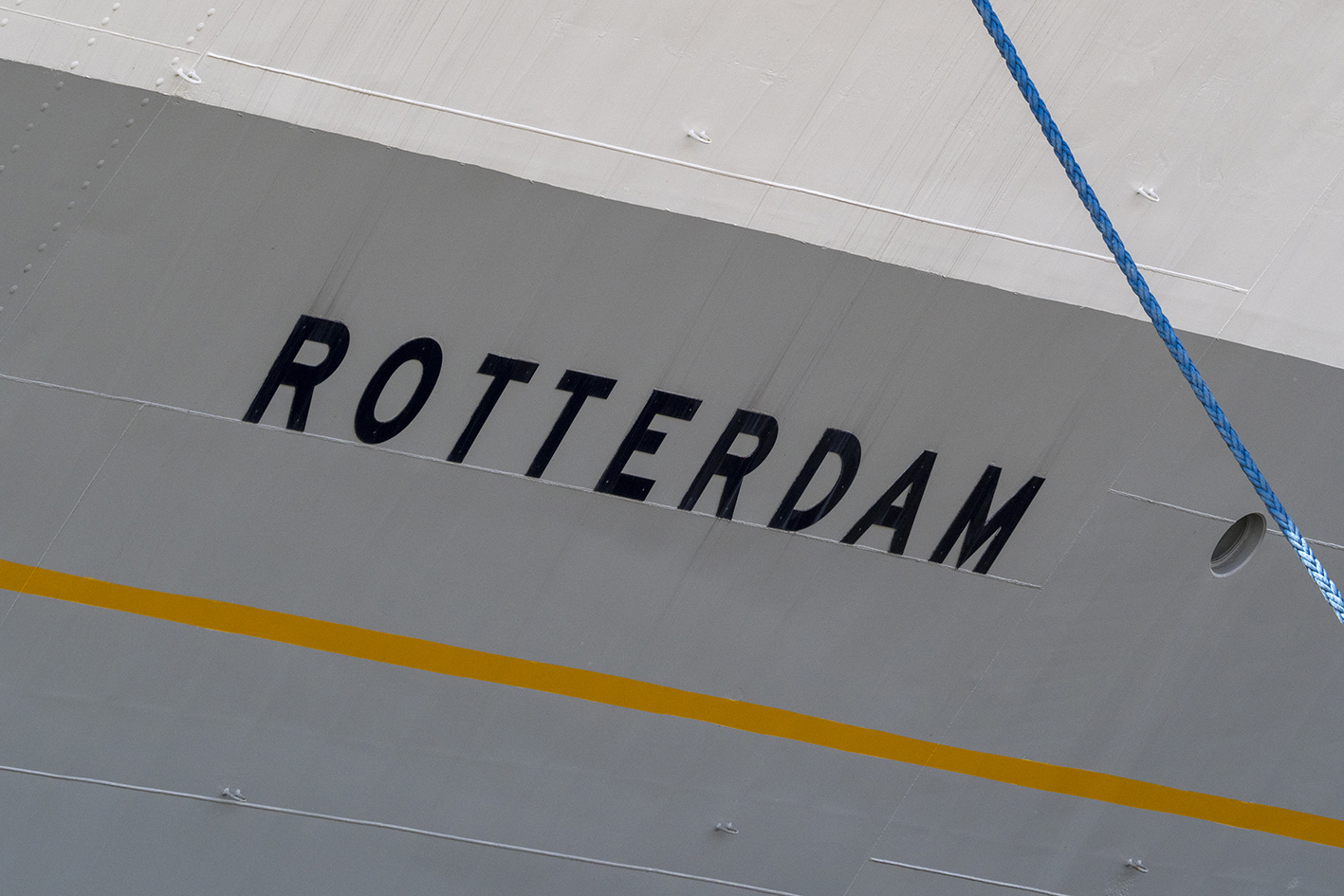 À sa construction, les différentes parties du navire étaient dotées d'œuvres d'art divers : peintures, sculptures, mosaïques, vitraux… L'une de ces œuvres a été réalisée par mon père : un ensemble d'inclusion sous plastique (animaux divers). Je me souviens l'avoir accompagné pour la mise en place de l'ouvrage. J'avais alors 12 ans. Quelle émotion de m'y retrouver 63 ans plus tard ! / At the time, the different parts of the ship were adorned with various works of art: paintings, sculptures, mosaics, stained glass… One of these works was made by my father: a set of plastic inclusions (with various animals). I remember having accompanied dad for the installation of the work. I was 12 at the time. What an emotion to be back here 63 years later!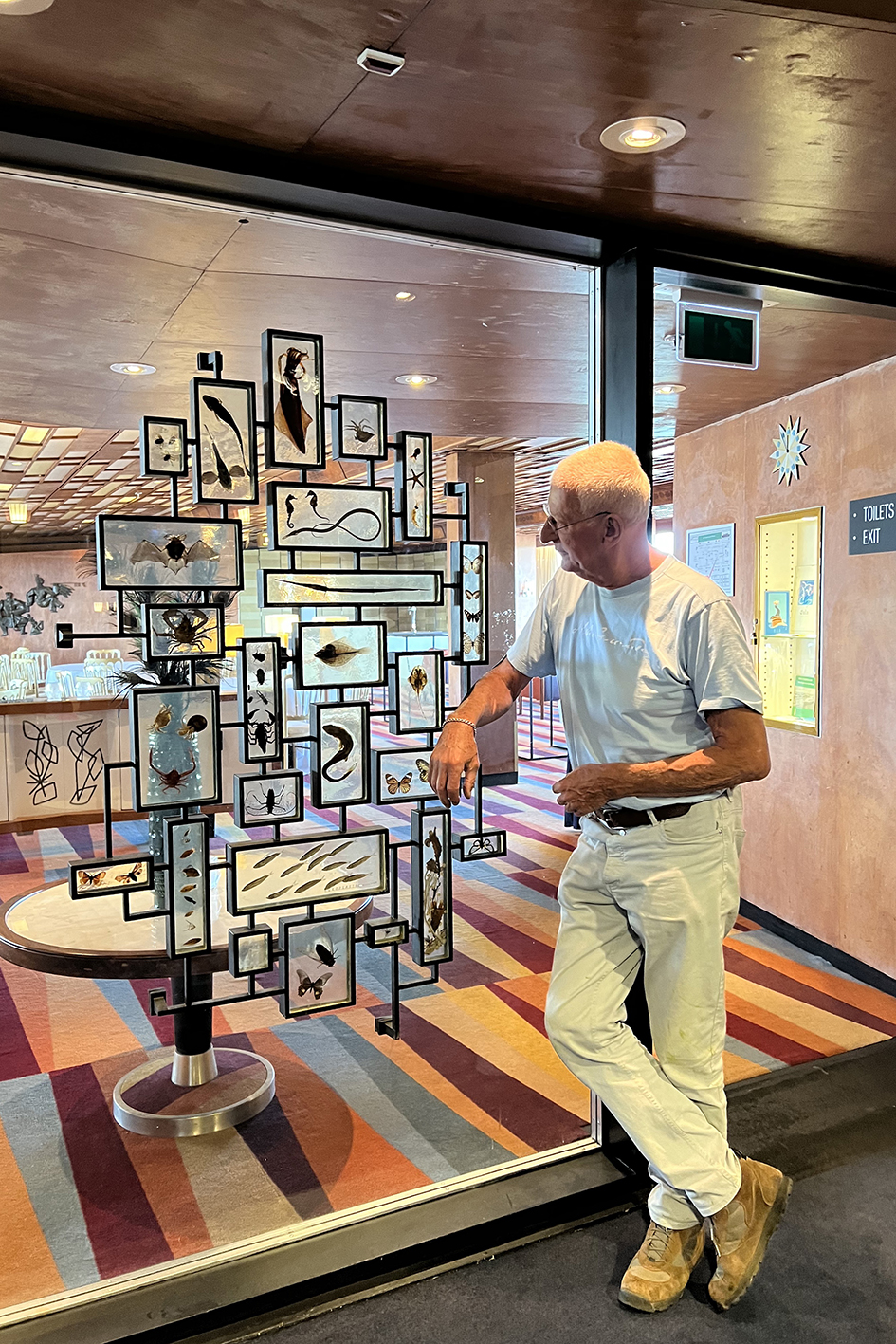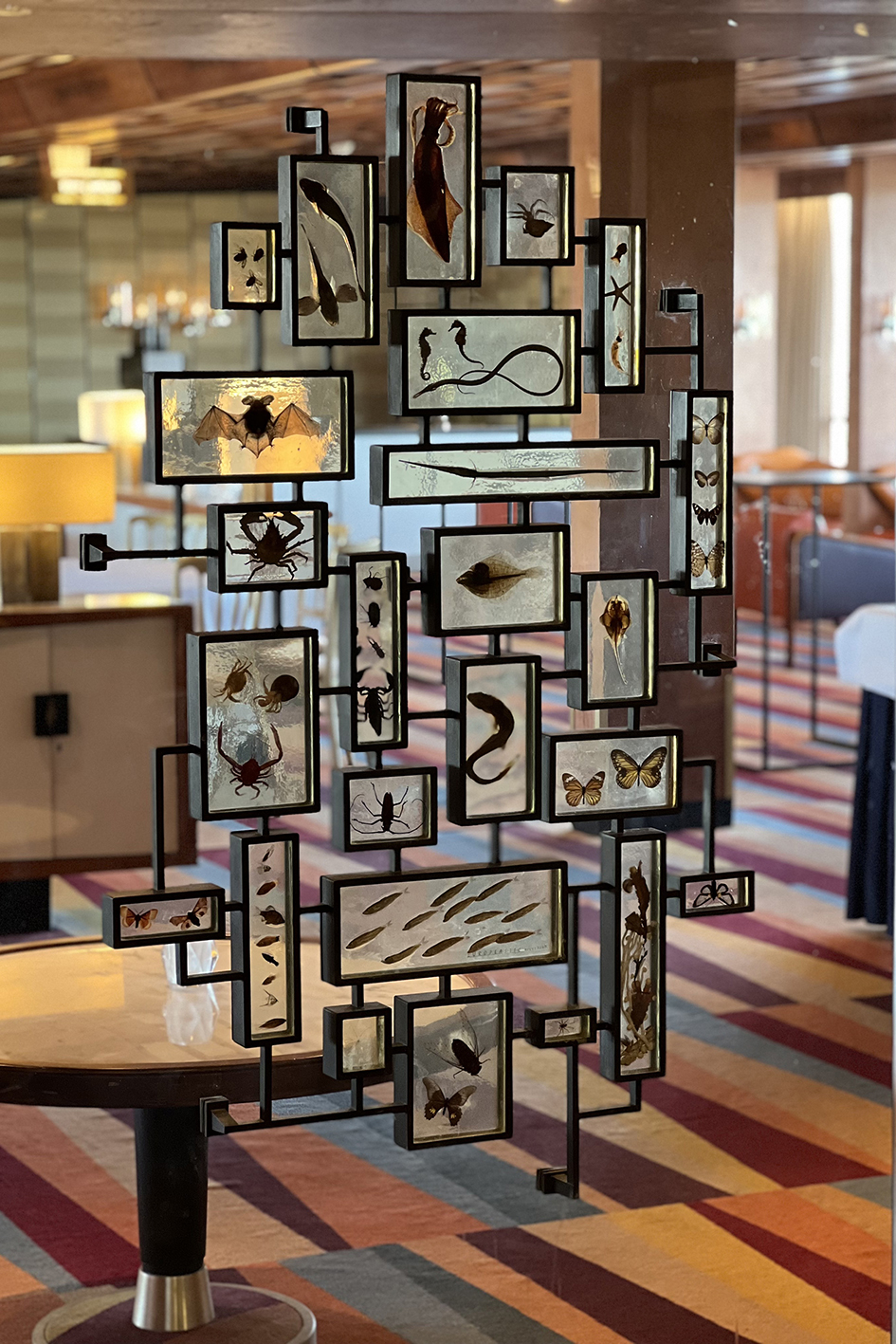 Après la visite (salons, salle des machines…), nous prenons congé de Klaas. Avec John, on effectue un dernier contrôle de la roue arrière gauche. Le bricolage d'hier semble tenir… mais pour combien de temps ? / After the visit (saloons, machine room…), we take our leave of Klaas. With John, we carry out a final check of the left rear wheel. Yesterday's repair seems to hold. But for how long ?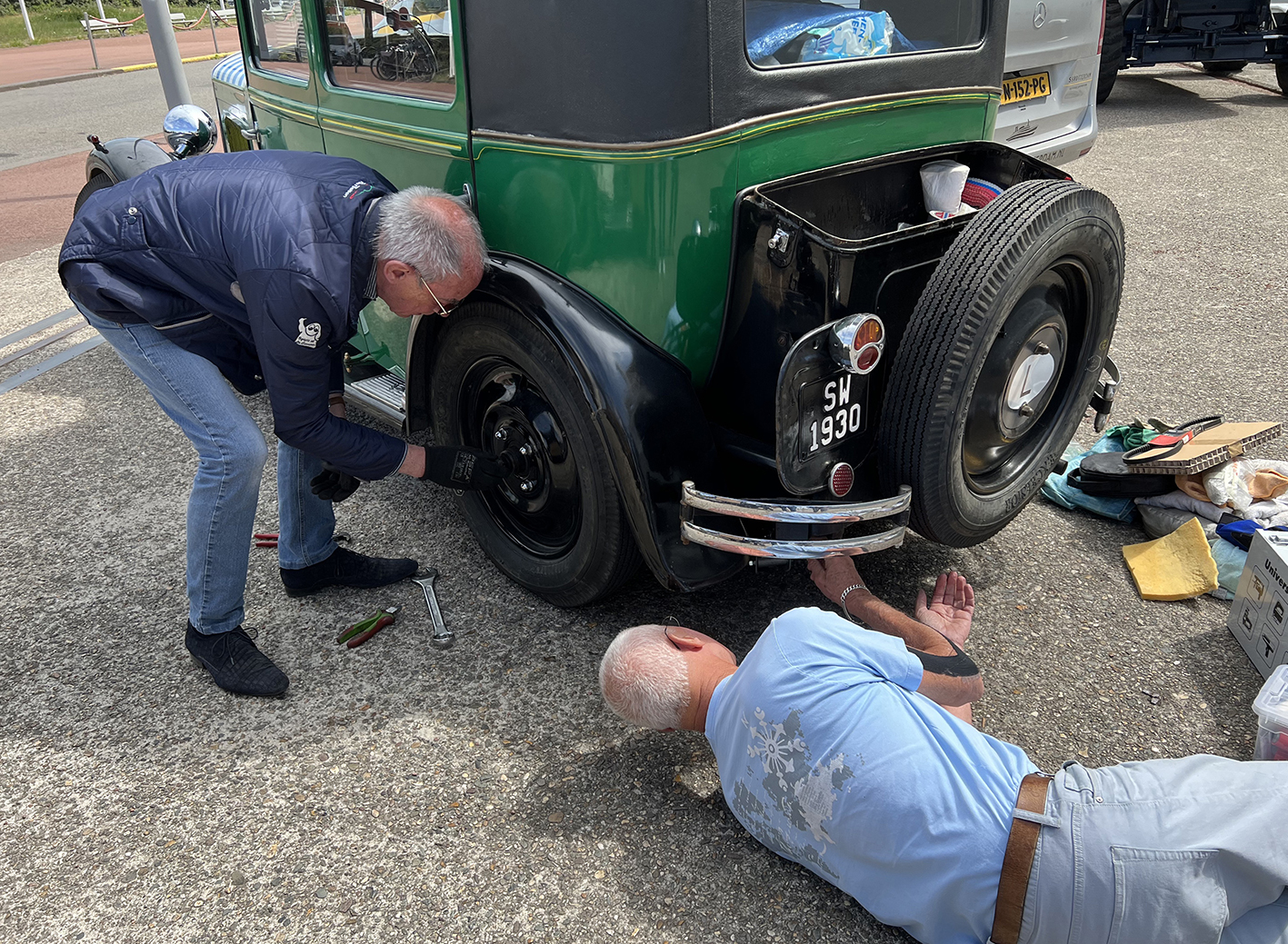 Pour Jean-Claude, John et Maggy, c'est le moment de faire demi-tour pour regagner le Luxembourg. À partir de maintenant, Marie-Xavier, «La Charmante» et moi (et le passager clandestin, bien sûr) sommes seuls pour le reste du voyage. Encore des milliers de kilomètres à parcourir. Comment cela va-t-il se passer ? / For Jean-Claude, John and Maggy, it's time to turn around and drive back to Luxembourg. From now on, Marie-Xavier, "La Charmante" and I (and the stowaway, of course) are alone for the rest of the trip. Still thousands of kilometers to go. What is in store for us?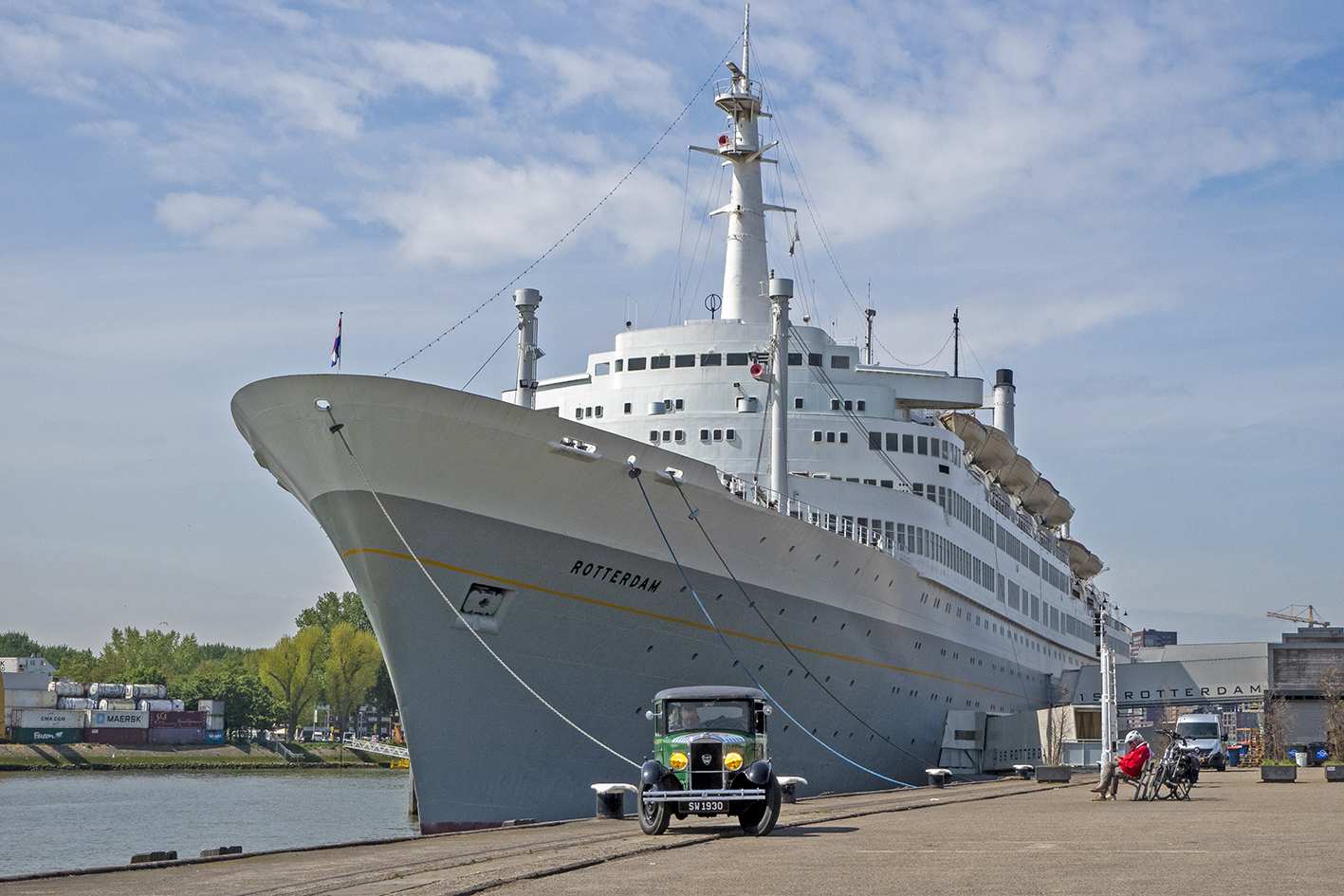 Nous traversons le centre-ville de Rotterdam.  Bâtiments modernes, puisque le vieux centre a été bombardé et entièrement détruit par la Luftwaffe le 14 mai 1940, durant la bataille des Pays-Bas de la Seconde Guerre mondiale. / We drive through the city center of Rotterdam. Modern buildings, since the old center was bombed and completely destroyed by the Luftwaffe on May 14, 1940, during the Battle of the Netherlands in World War II.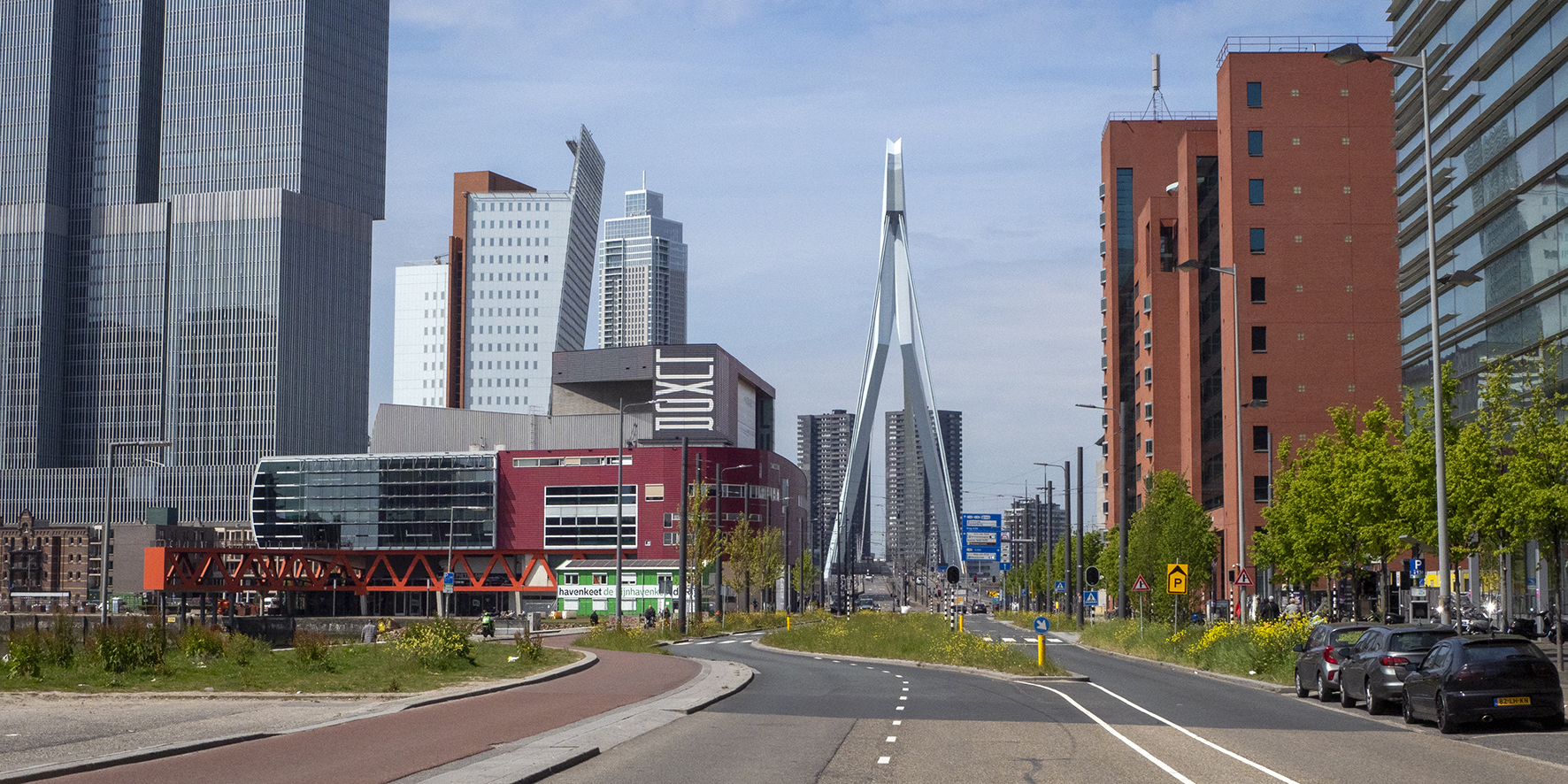 Le Hef est un ancien pont-levis ferroviaire, situé sur le Koningshaven à Rotterdam, entre l'île Noordereiland et l'arrondissement Feijenoord. Cet ouvrage d'art, datant de 1927, était utilisé sur la ligne ferroviaire Bréda-Rotterdam. / The Hef is a former railway lift bridge, located on the Koningshaven in Rotterdam, between the island Noordereiland and the district Feijenoord. This construction, which dates from 1927, was used on the Breda-Rotterdam railway line.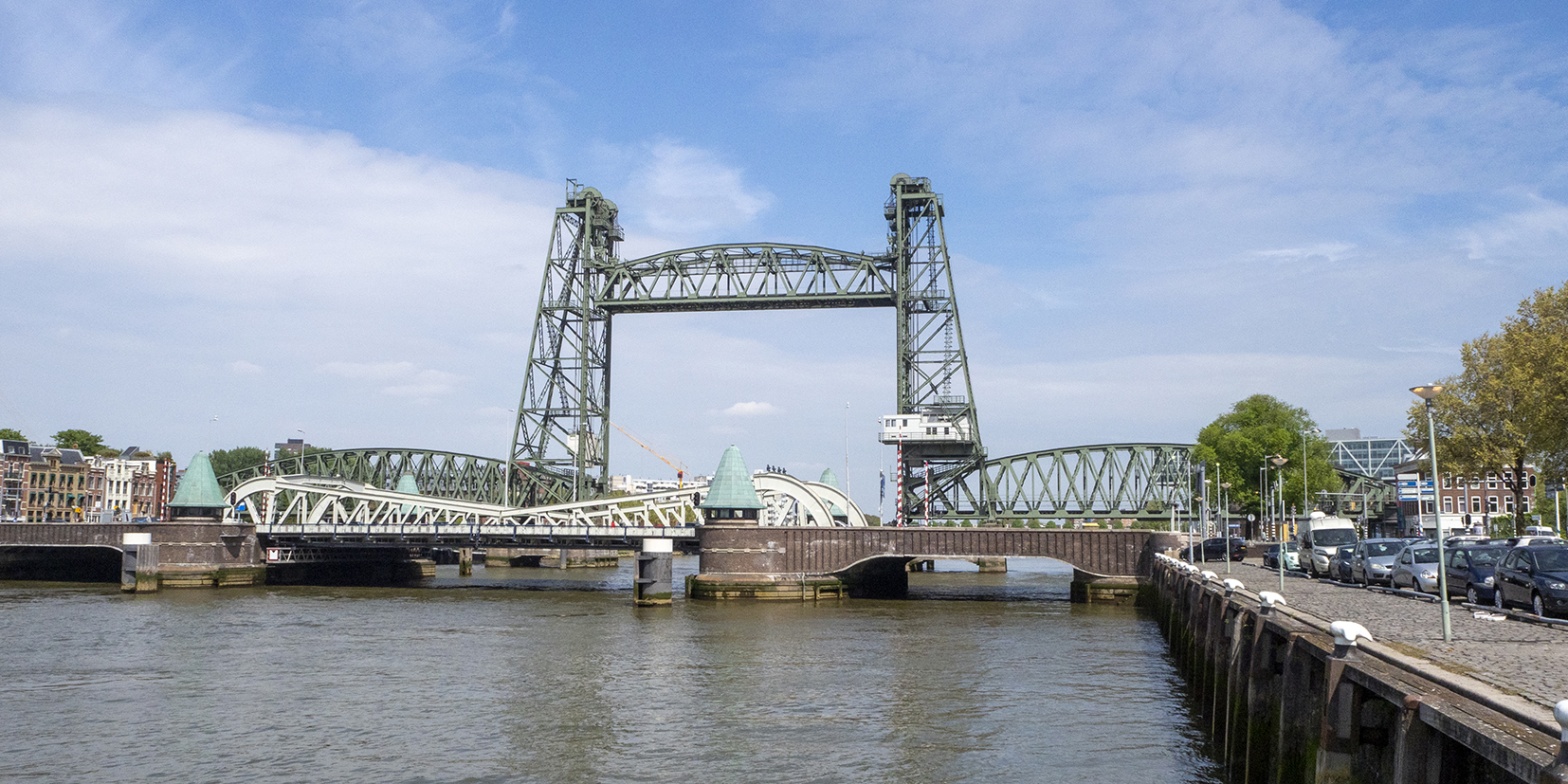 À ses côtés se trouve le pont basculant Koninginnebrug (le pont de la reine), pont ä deux volets mobiles en acier riveté. Dans ses caves se trouvent des contrepoids de 800 tonnes chacun. Le pont date de 1929, la même année où la Peugeot 201 vit le jour. / Right next to it is the Koninginnebrug (Queen's Bridge) tilting bridge, a bridge with two movable riveted steel parts. In the cellars of the bridge are located counterweights of 800 tons each. The bridge dates from 1929, the same year the Peugeot 201 was born.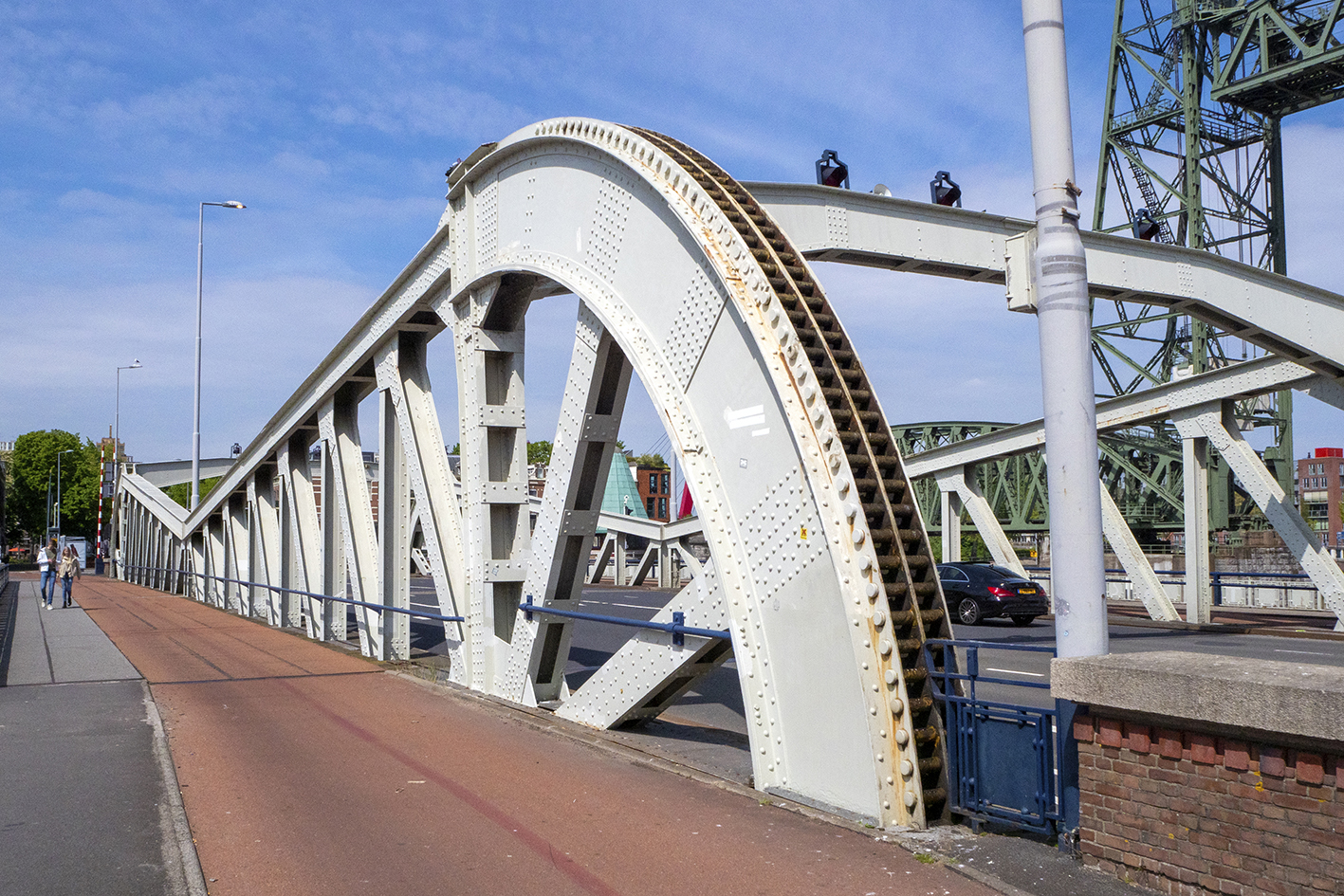 Autre arrêt obligatoire devant l'ancien terminal du Holland-Amerika Lijn, maintenant Hôtel New York. Petite plongée dans l'histoire :
1872 Ouverture du Nieuwe Waterweg, la connexion avec la mer du Nord. Rotterdam est alors à la fois port fluvial et maritime, connectant l'industrie de la Ruhr au reste du monde.
1873 Fondation de la Nederlandsch-Amerikaansche Stoomvaart Maatschappij (NASM), qui devient Holland-Amerika Lijn en 1896.
Dans les années 1950, Rotterdam est le plus grand port mondial. Aujourd'hui encore, il reste le plus grand port d'Europe.
Plus de 3 millions de passagers embarquèrent ici pour l'Amérique. Mais en raison de la concurrence croissante de l'aviation, la HAL décide en 1971 de mettre fin au service vers New York et se concentre davantage sur les croisières. / Another mandatory stop is in front of the former Holland-Amerika Lijn terminal, now Hotel New York. A little history:
1872 Opening of the Nieuwe Waterweg, the connection with the North Sea. Rotterdam was then both a river and sea port, connecting the Ruhr industry to the rest of the world.
1873 Foundation of the Nederlandsch-Amerikaansche Stoomvaart Maatschappij (NASM), which becomes Holland-Amerika Lijn in 1896.
In the 1950s, Rotterdam was the world's largest port. Even today, it is the largest port in Europe.
More than 3 million passengers embarked here for America. But due to increasing competition from aviation, HAL decided in 1971 to end service to New York and focus more on cruises.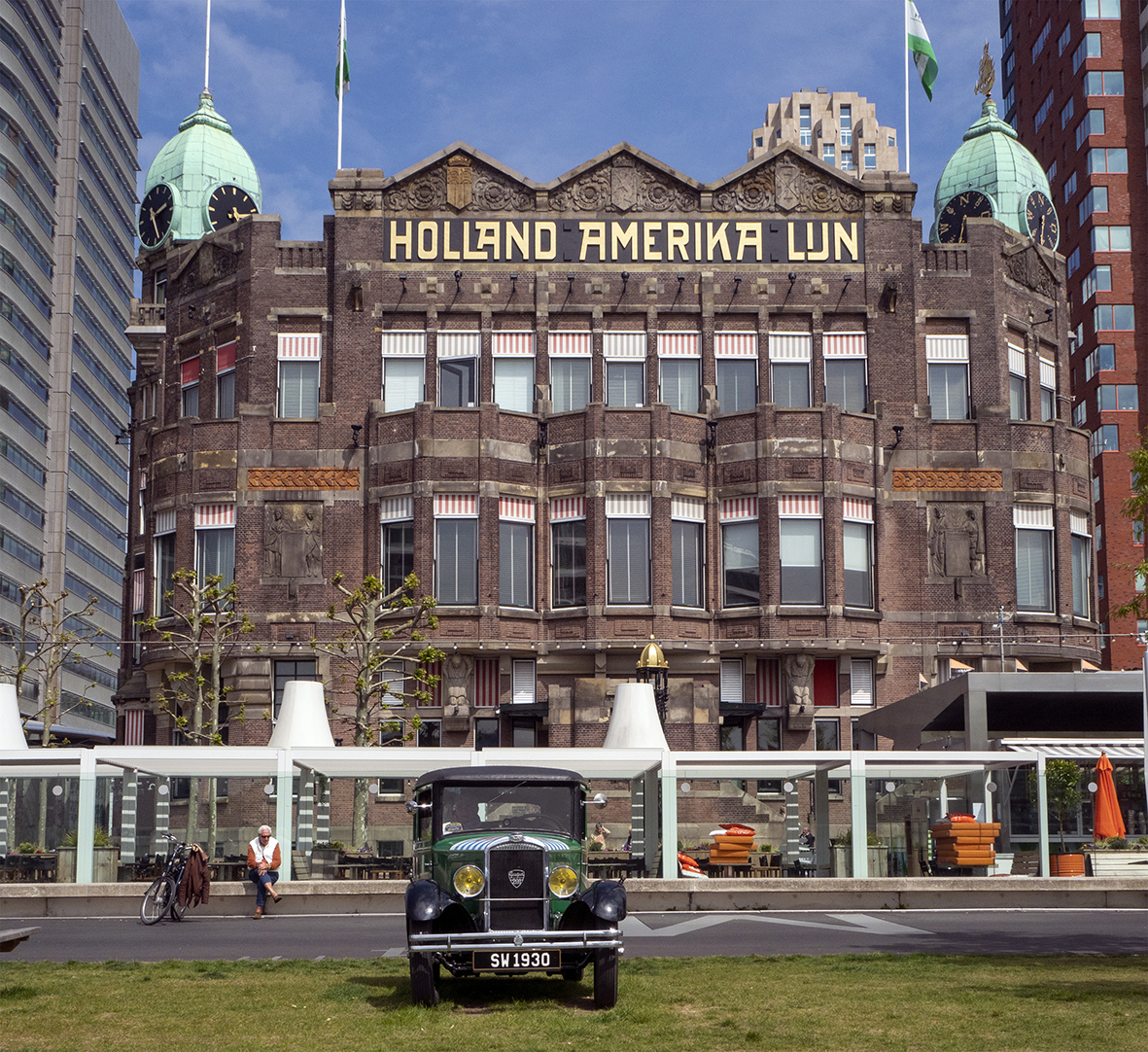 En 1953 fut dévoilé la statue "La ville détruite", œuvre du sculpteur russe Ossip Zadkine (1890-1967), représentant un homme au cœur arraché, tout comme c'était le cas pour Rotterdam lors du bombardement de 1940. / In 1953, the statue "The Destroyed City" was unveiled, the work of Russian sculptor Ossip Zadkine (1890-1967). It shows a man with his heart torn out, just as was the case for Rotterdam during the bombing of 1940.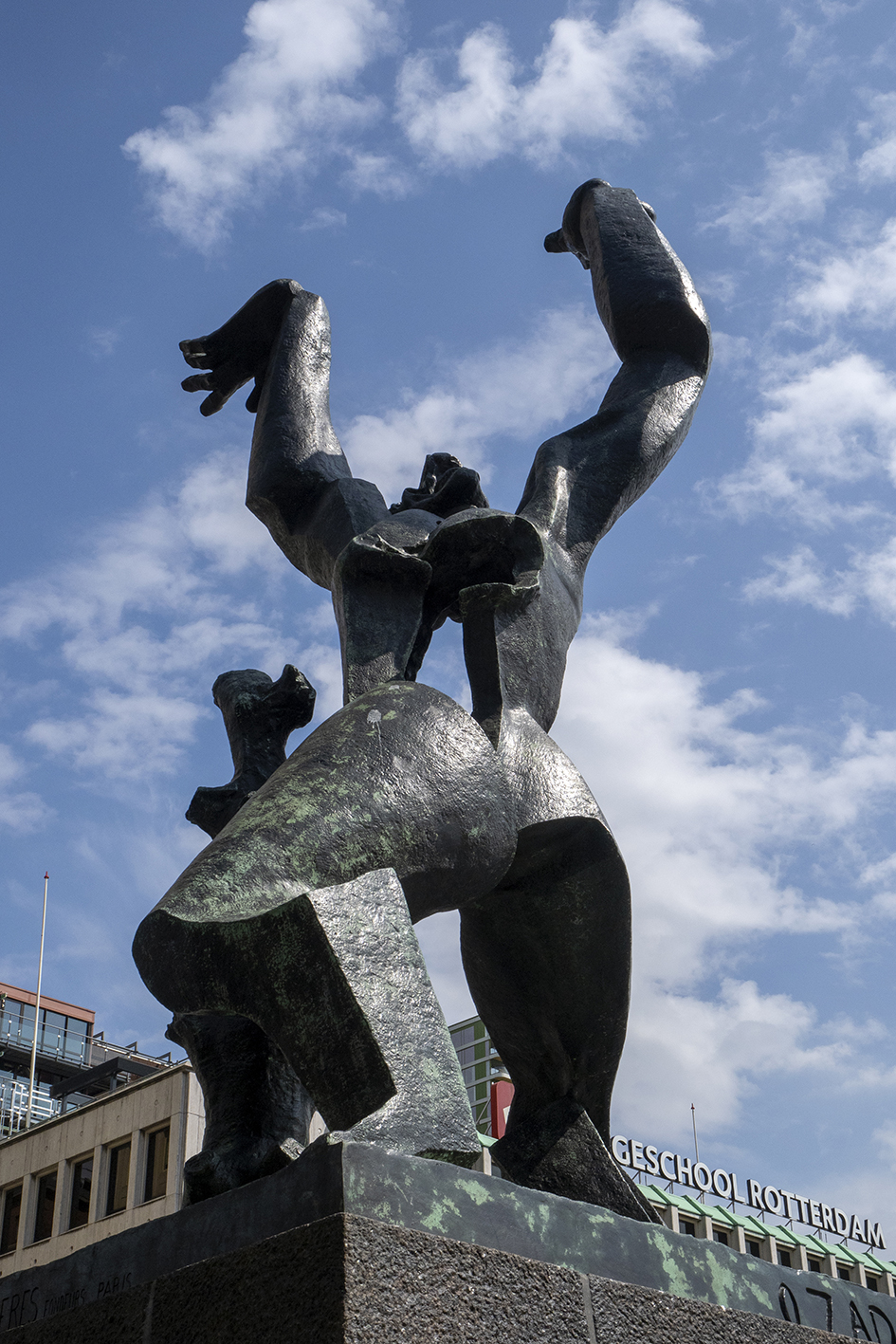 «La Charmante» parcourt vaillamment les rues du centre-ville.  / "La Charmante" valiantly roams the streets of the city center.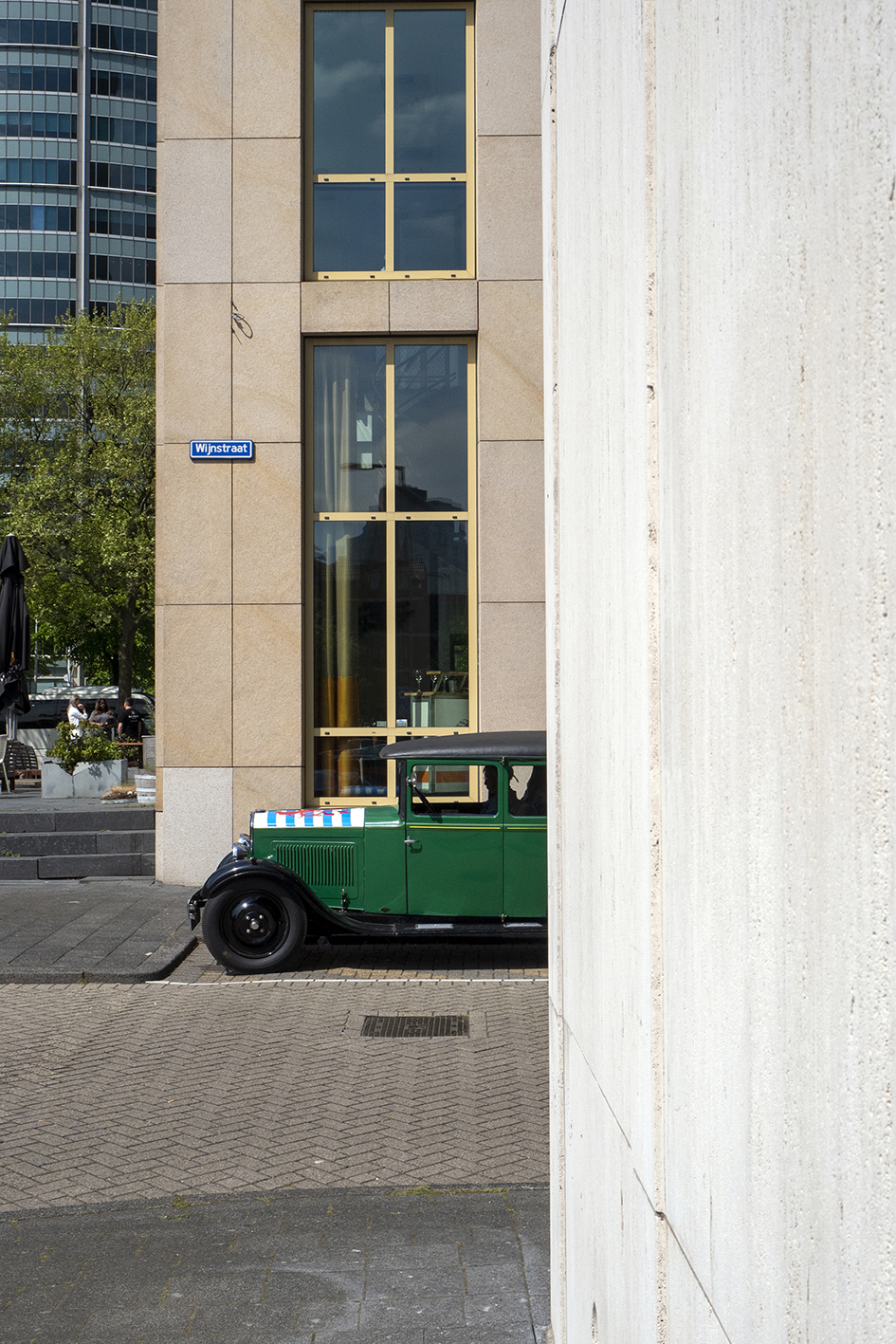 D'anciennes installations portuaires (phare, bateau-phare, grues, ancres, bites d'amarrage…) rappellent le bon vieux temps du port. / Old port facilities (lighthouse, lightship, cranes, anchors, mooring cocks, etc.) recall the good old days of the harbour.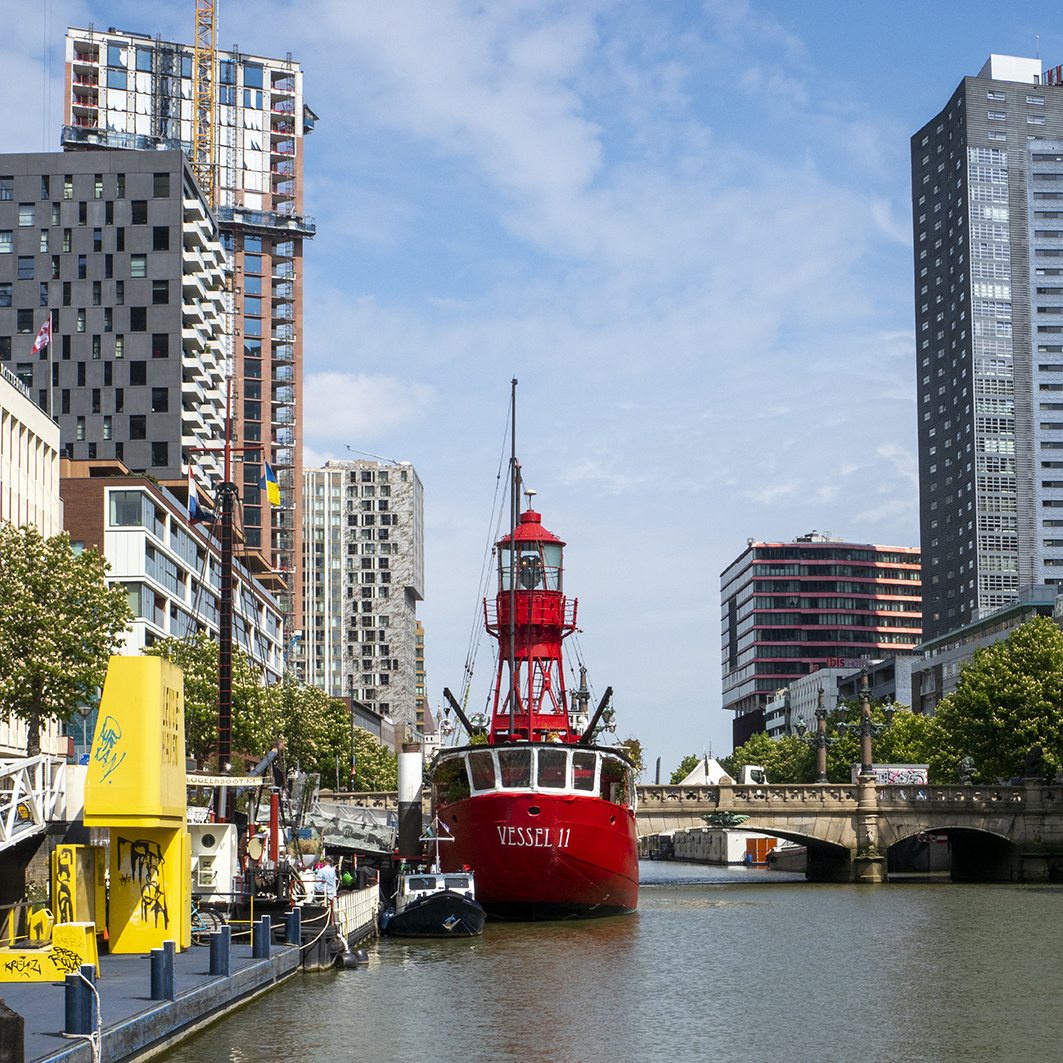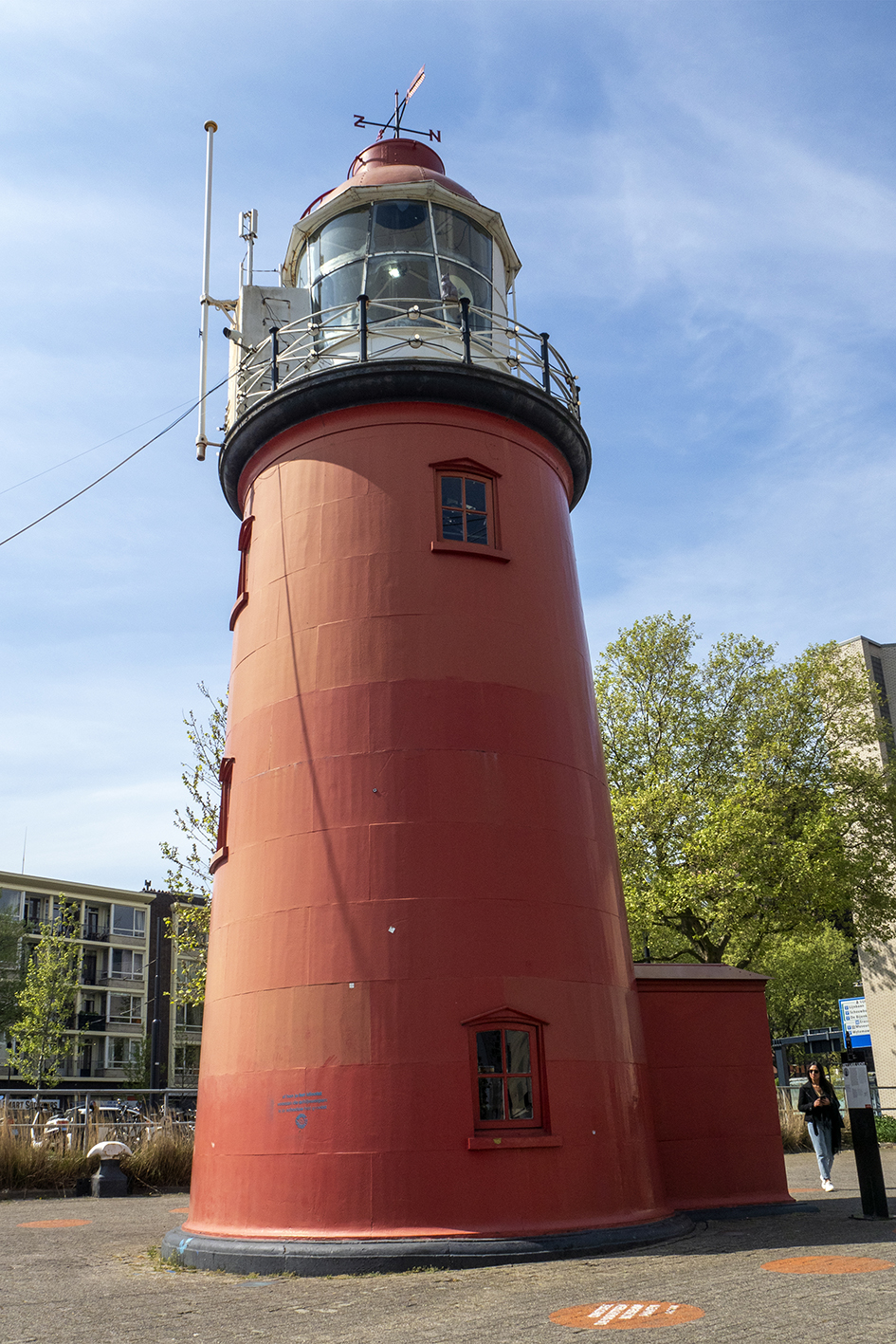 Suspendu sous une vieille grue à vapeur, une caisse contenant une statue de cheval montre comment le bétail était hissé à bord des bateaux. / Suspended from an old steam crane, a crate containing a statue of a horse shows how cattle were hoisted aboard ships.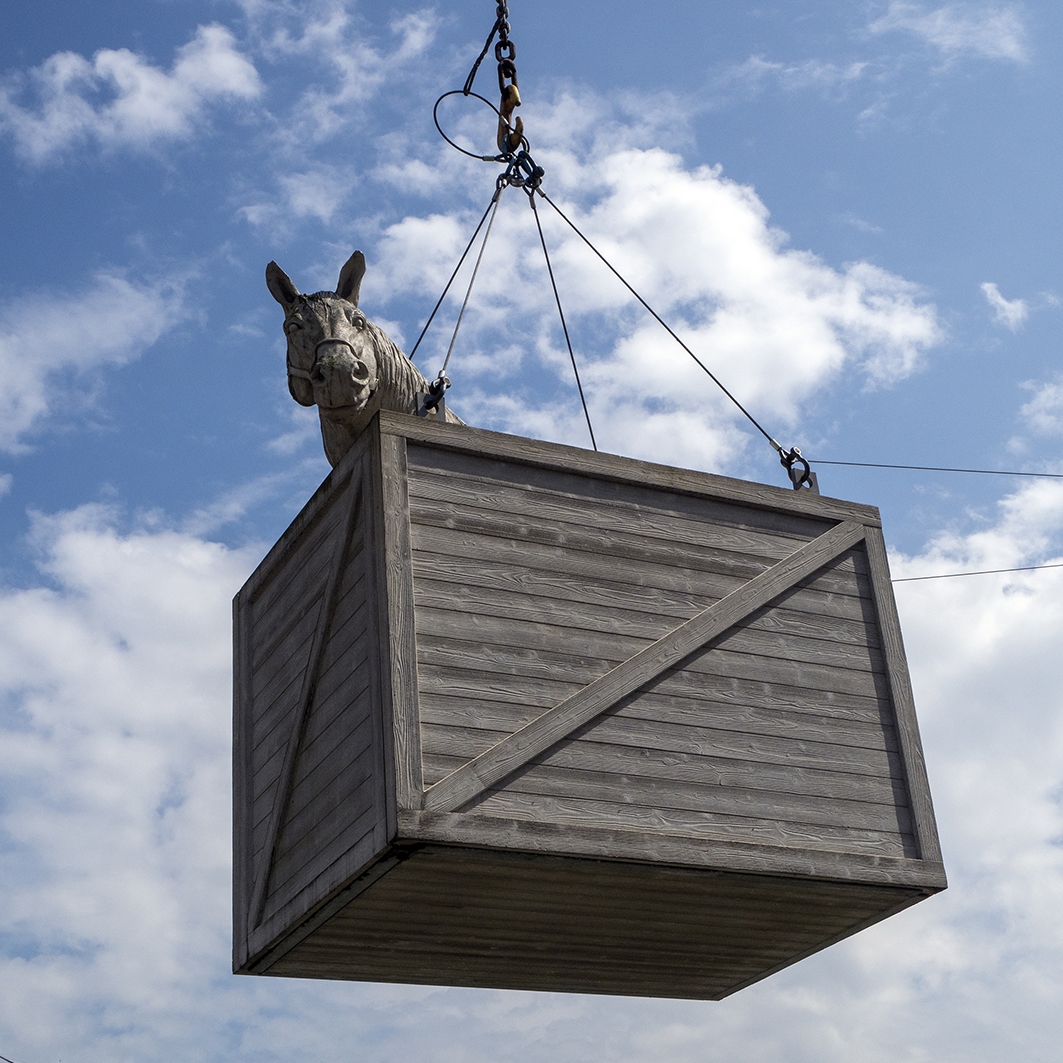 Normalement, je n'aime pas falsifier des documents en Photoshop, mais ici je ne résiste pas à la tentation de vous livrer mon "œuvre d'art" digne d'un tableau de Magritte : «Ceci n'est pas un cheval» ! / I usually don't like to falsify documents in Photoshop, but here I can't resist the temptation to present you my « work of art » worthy of a painting by Magritte: « This is not a horse »!
Nous quittons Rotterdam vers l'est. Le village de Kinderdijk est connu pour ses 19 moulins à vent. Ces moulins sont situés sur la rivière Lek et sont utilisés pour la gestion de l'eau dans la région depuis 1738. Étant donné que la zone se trouve en dessous du niveau de la mer, elle serait complètement submergée sans ces moulins ! / We leave Rotterdam heading east. The village of Kinderdijk is known for its 19 windmills. These windmills are located on the Lek River and have been used for water management since 1738. Since the area is below sea level, it would be completely submerged without these mills!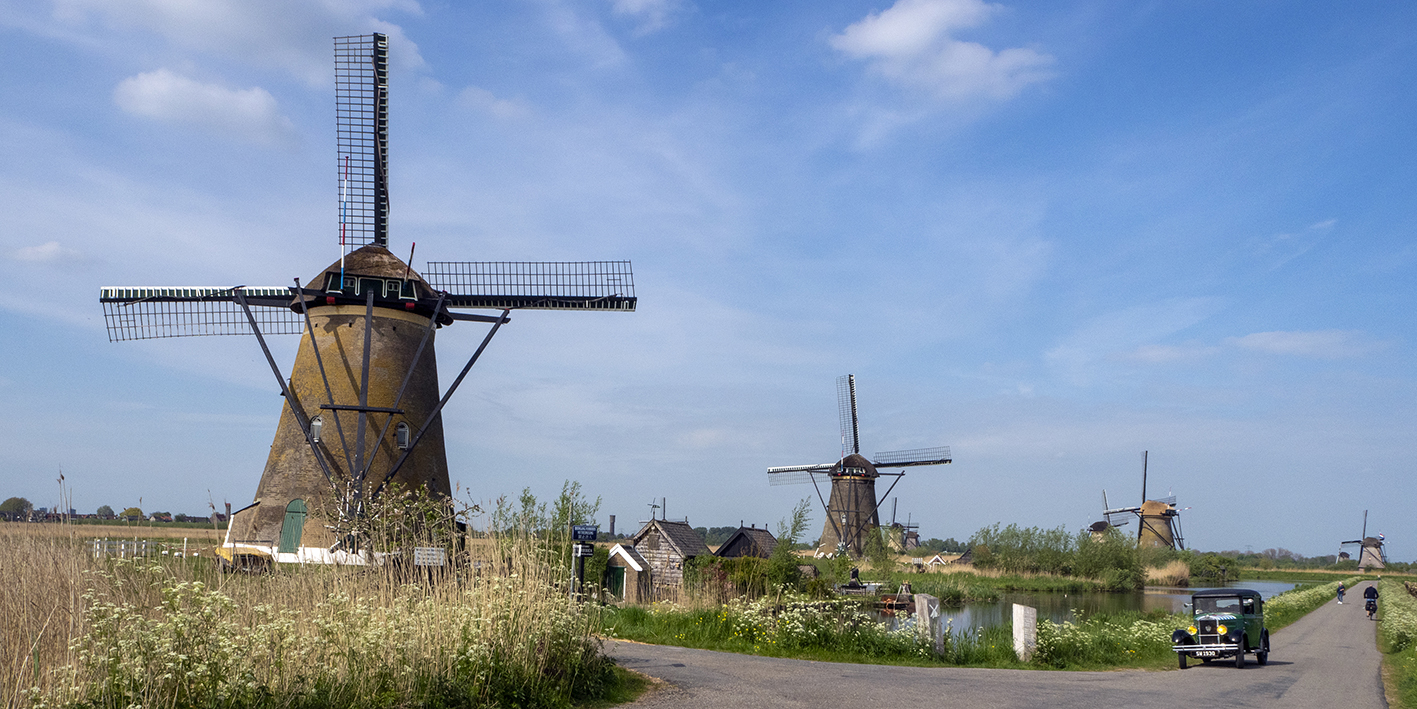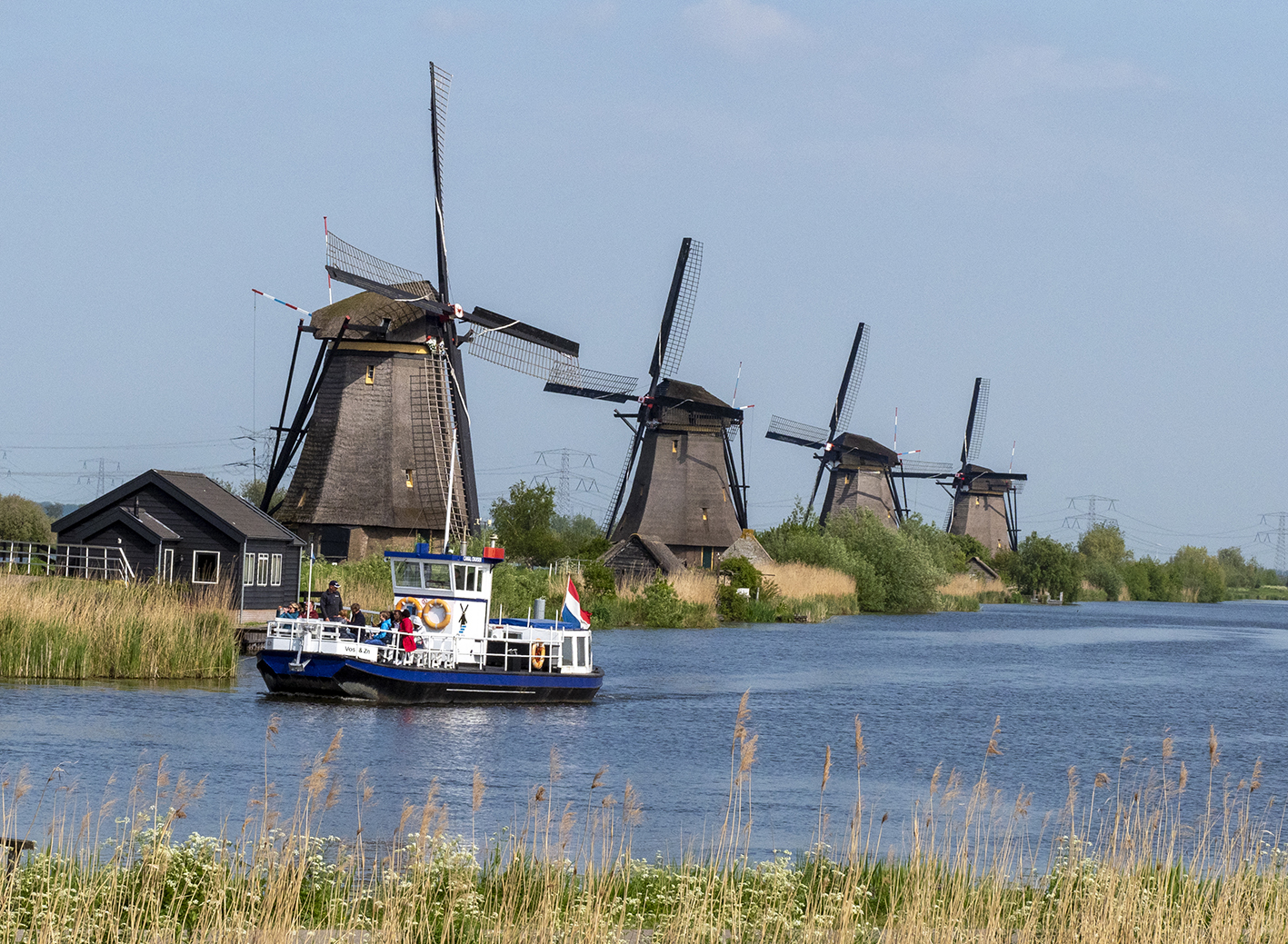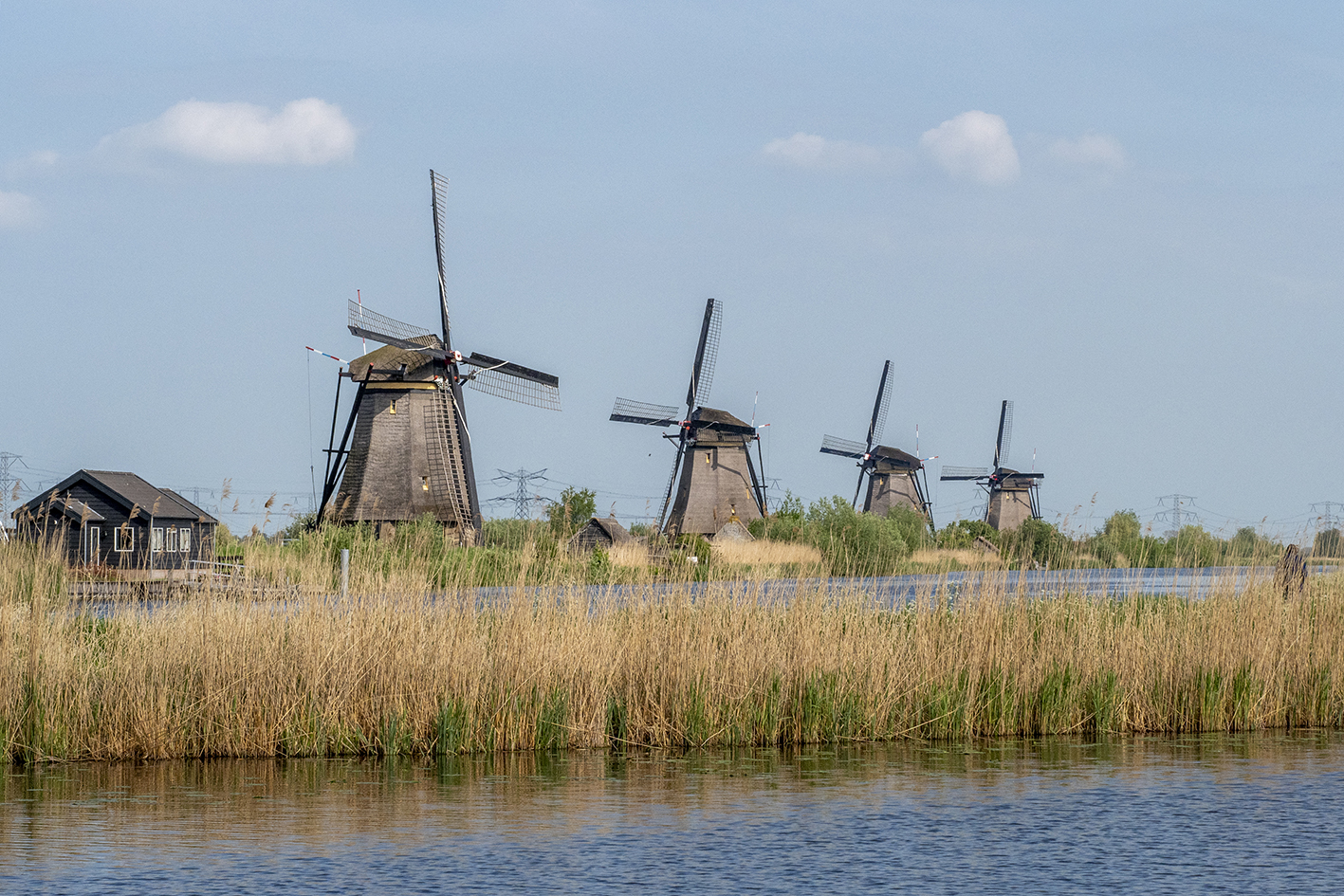 Nous poursuivons notre route. Soudain, «La Charmante» se met à recracher de la fumée bleue… Un signe inquiétant, à vérifier demain. Nous passons la nuit dans un gîte charmant, situé dans un vieux moulin. Le cadre est idyllique, mais je m'inquiète pour ma 201… / We continue our journey. Suddenly, "La Charmante" begins to belch blue smoke… A worrying sign, to be checked tomorrow. We spend the night in a charming B&B, located in a mill. The setting is idyllic, but I worry about the car engine…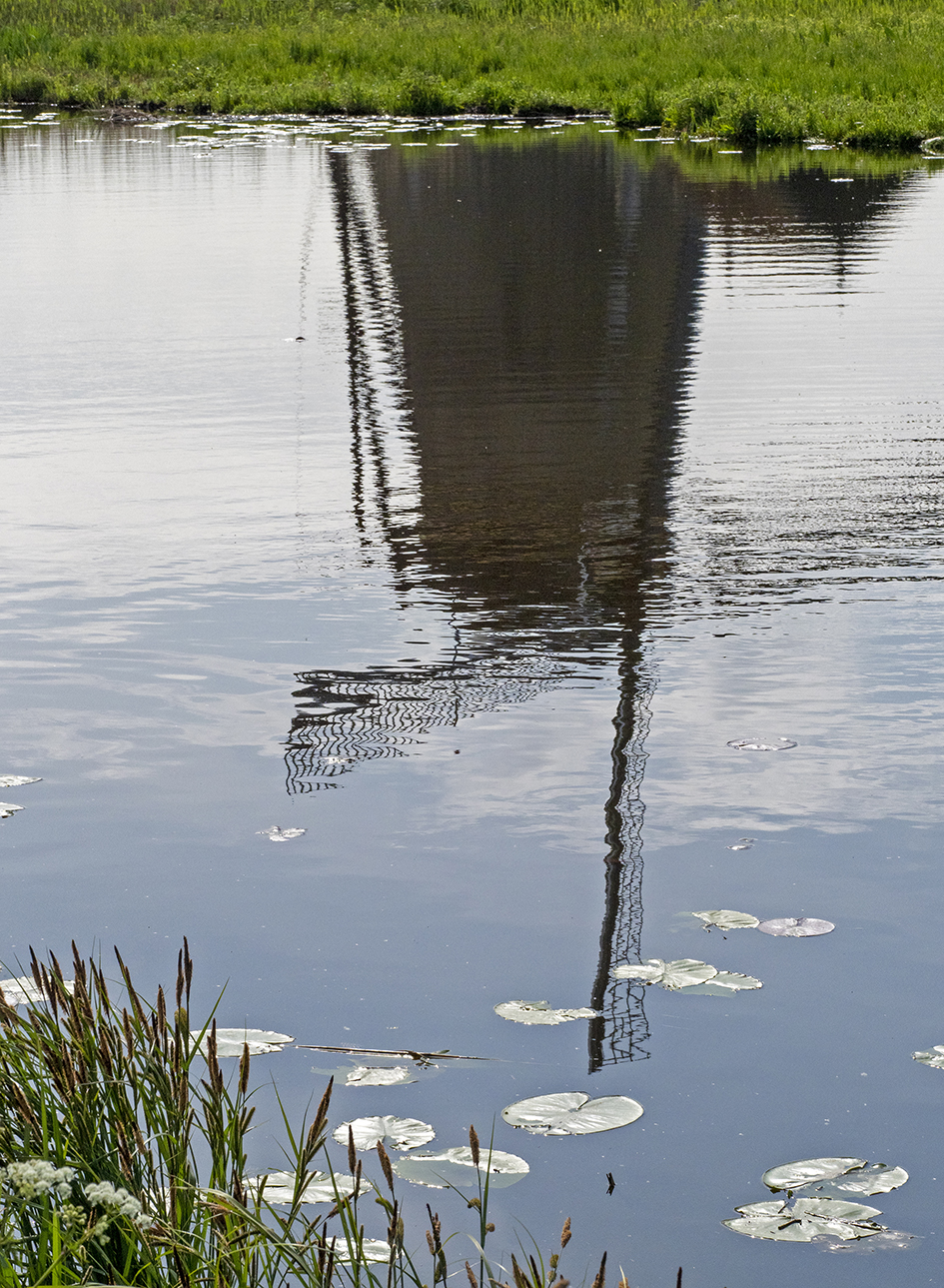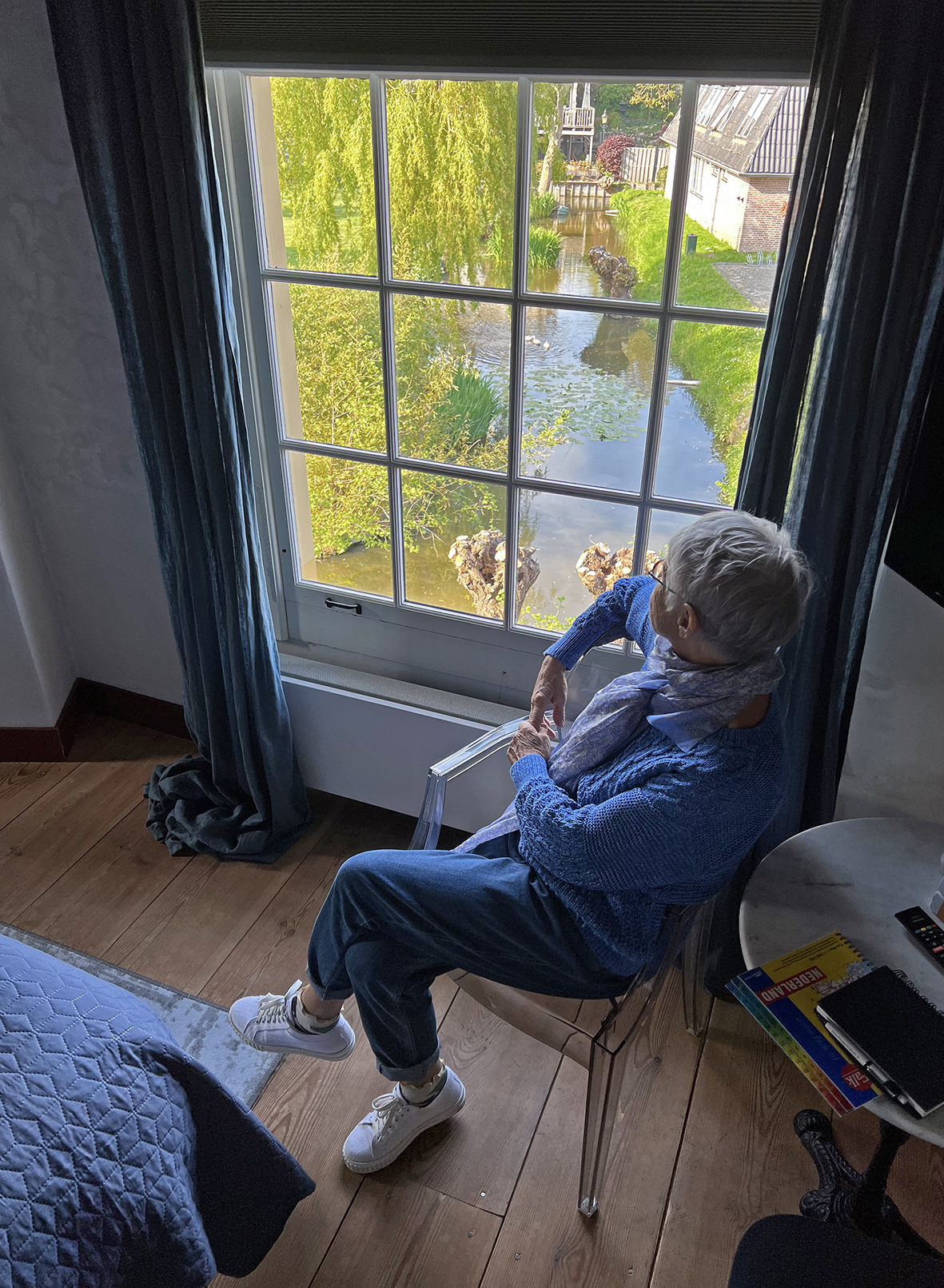 •••
Deuxième étape – 3 mai 2022 (Anvers-'s-Gravenzande : 204

km)

 / Second leg – May 3, 2022 (Antwerp-'s-Gravenzande: 204 km)
Sortir d'Anvers était un véritable calvaire. Hormis les pavés qui mettaient à rude épreuve nos anciennes, des travaux, déviations et autres sens interdits faisaient qu'on a perdu beaucoup de temps à quitter l'agglomération anversoise. On mis des heures pour faire le trajet Deurne-Kapellen ! Ensuite, nous avons traversé une belle région boisée, avec de nombreuses demeures somptueuses. / Leaving Antwerp was a real ordeal. Apart from the cobblestones which put our old cars to the test, works, diversions and other prohibited directions meant that we lost a lot of time leaving the Antwerp conurbation. It took us hours from Deurne to Kapellen! Then we passed through a beautiful wooded area, with many sumptuous mansions.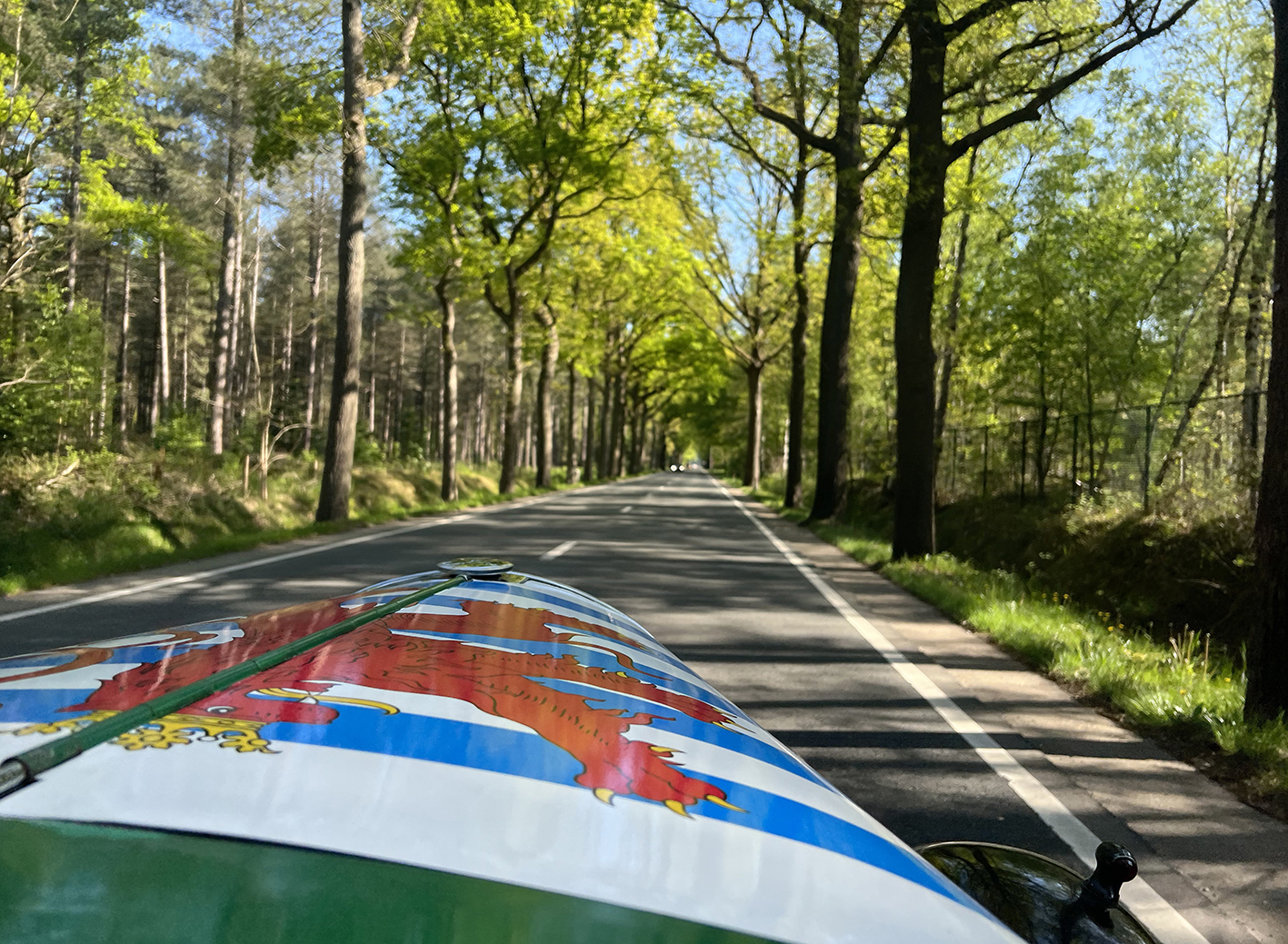 Une fois la frontière néerlandaise franchie, autre aspect : prés fleuries, digues, canaux et saules aux branches coupées… / Once we crossed the Dutch border, the landscape changed: flowery meadows, dykes, canals and willows with cut branches…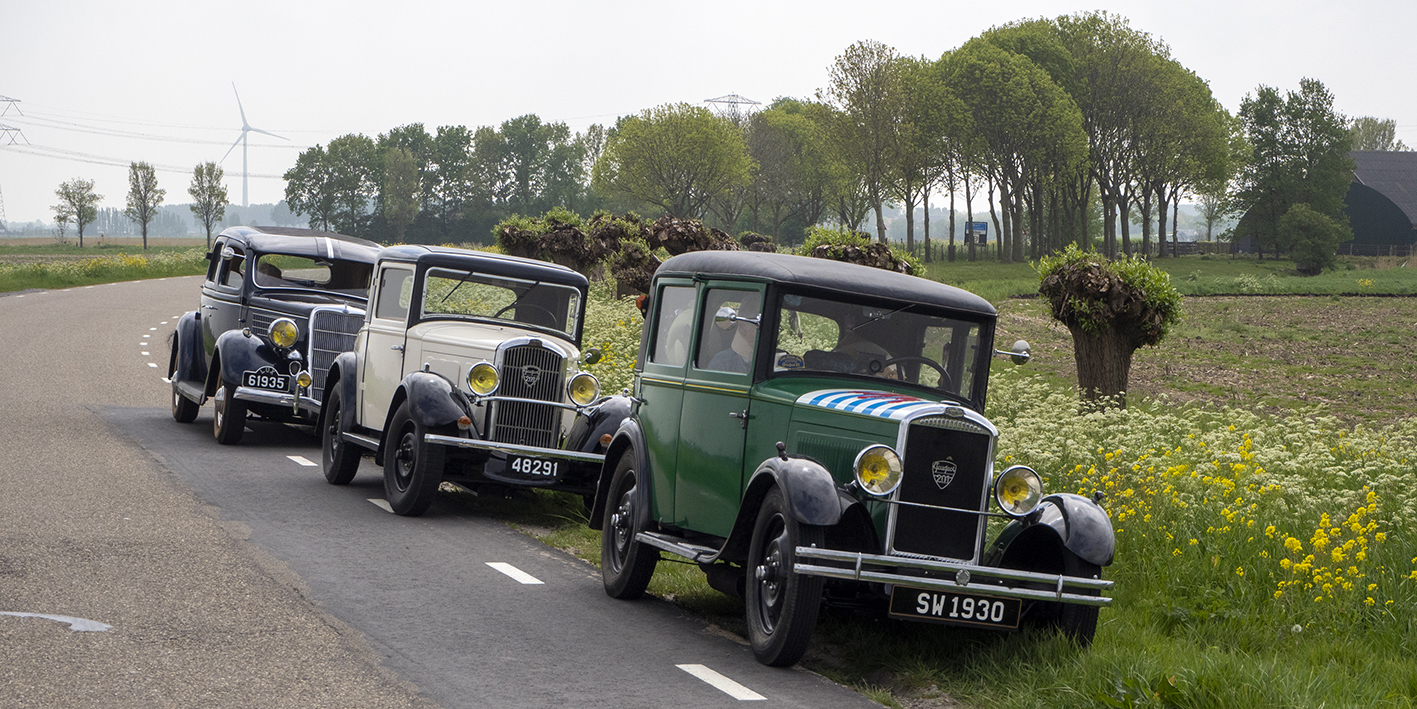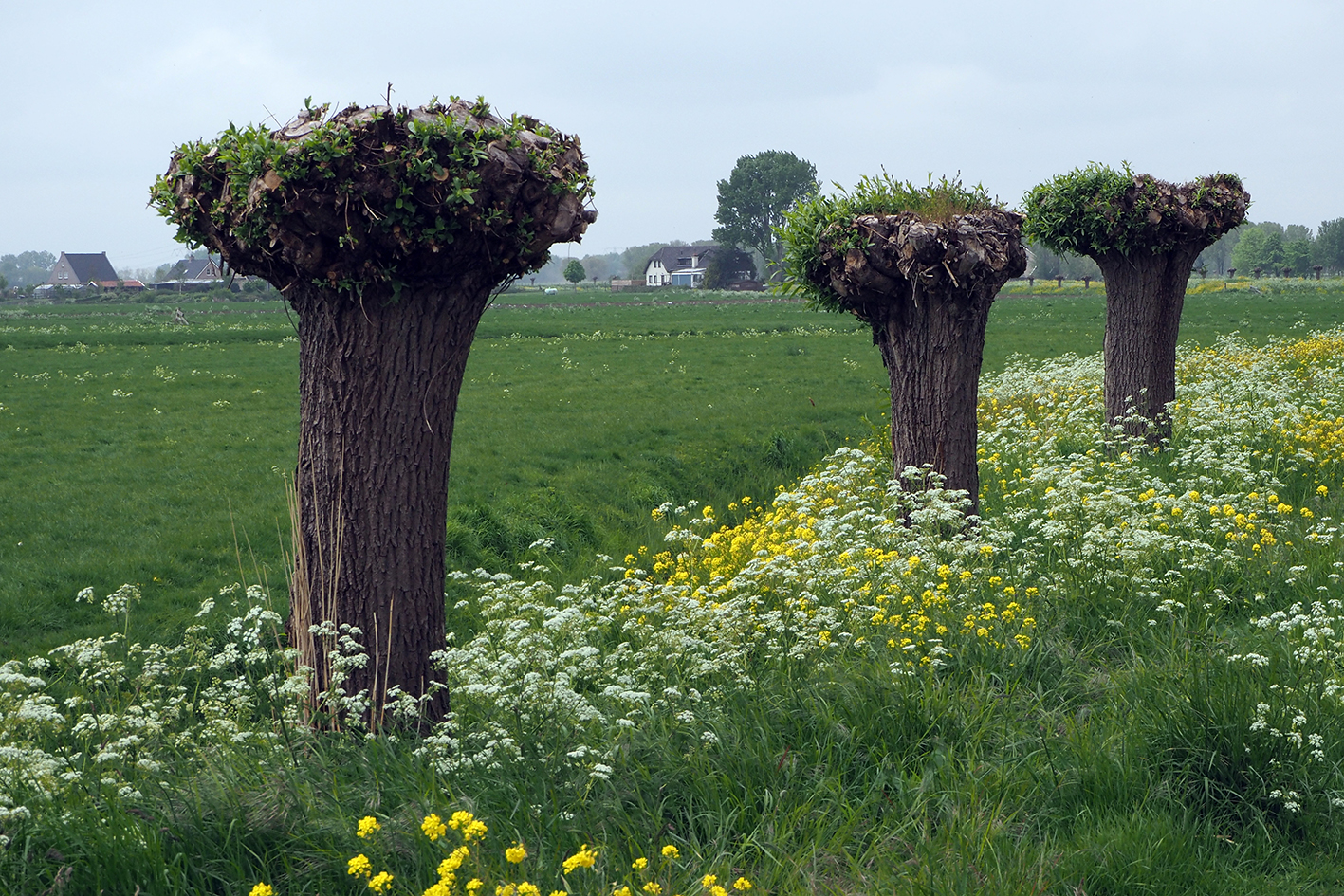 Des ponts levis se dressaient parfois comme un mur sur notre route. À d'autres moments, nous avons dû prendre des bacs pour franchir des bras de mer ou des canaux. / Drawbridges sometimes stood like a wall on our way. At other times, we had to take ferries to cross inlets or canals.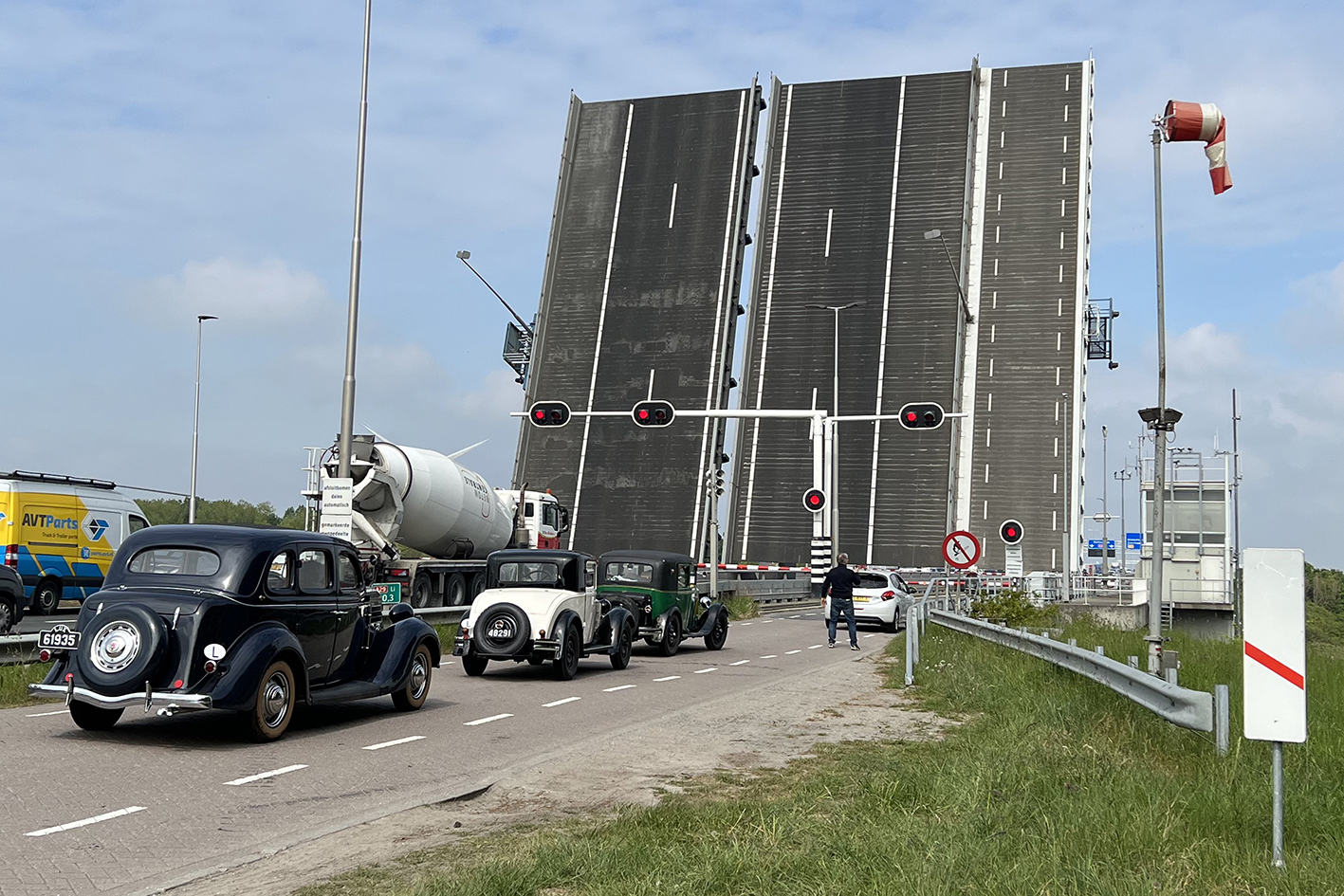 Nous avons fini par rejoindre l'endroit où le Rhin se jette dans la mer du Nord, notre véritable point de départ. Sauf qu'ici, le Rhin ne s'appelle plus le Rhin mais la "Nieuwe Waterweg" ("Nouvelle Route d'Eau"). Je reviendrai plus tard sur les noms du Rhin aux Pays-Bas. / We ended up reaching the place where the Rhine flows into the North Sea, our real starting point. Except that here, the Rhine is no longer called the Rhine but the "Nieuwe Waterweg" ("New Water Route"). I will come back to the names of the Rhine in the Netherlands later.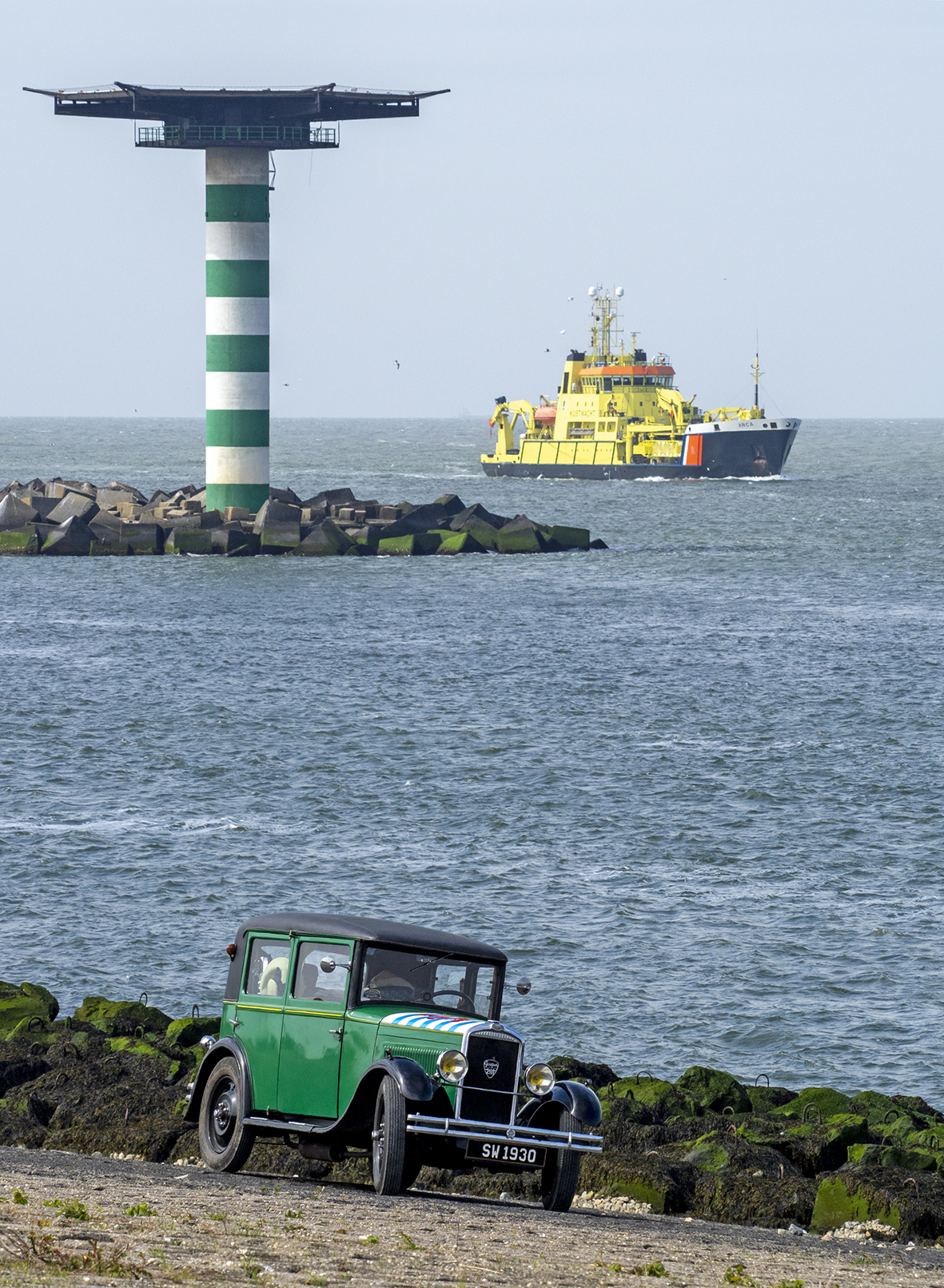 Le port de Rotterdam, qui s'étend sur des dizaines de kilomètres, impressionne par son gigantisme et son étendue, mais surtout par l'activité qui y règne. D'énormes camions nous doublent. Pourtant, au pied des grues et des montagnes de containers, ils ressemblent à des jouets… / The port of Rotterdam, which extends over tens of kilometres, impresses with its gigantism and its extent, but above all with the activity that reigns there. Huge trucks pass us. However, at the foot of the cranes and the mountains of containers, they look like toys…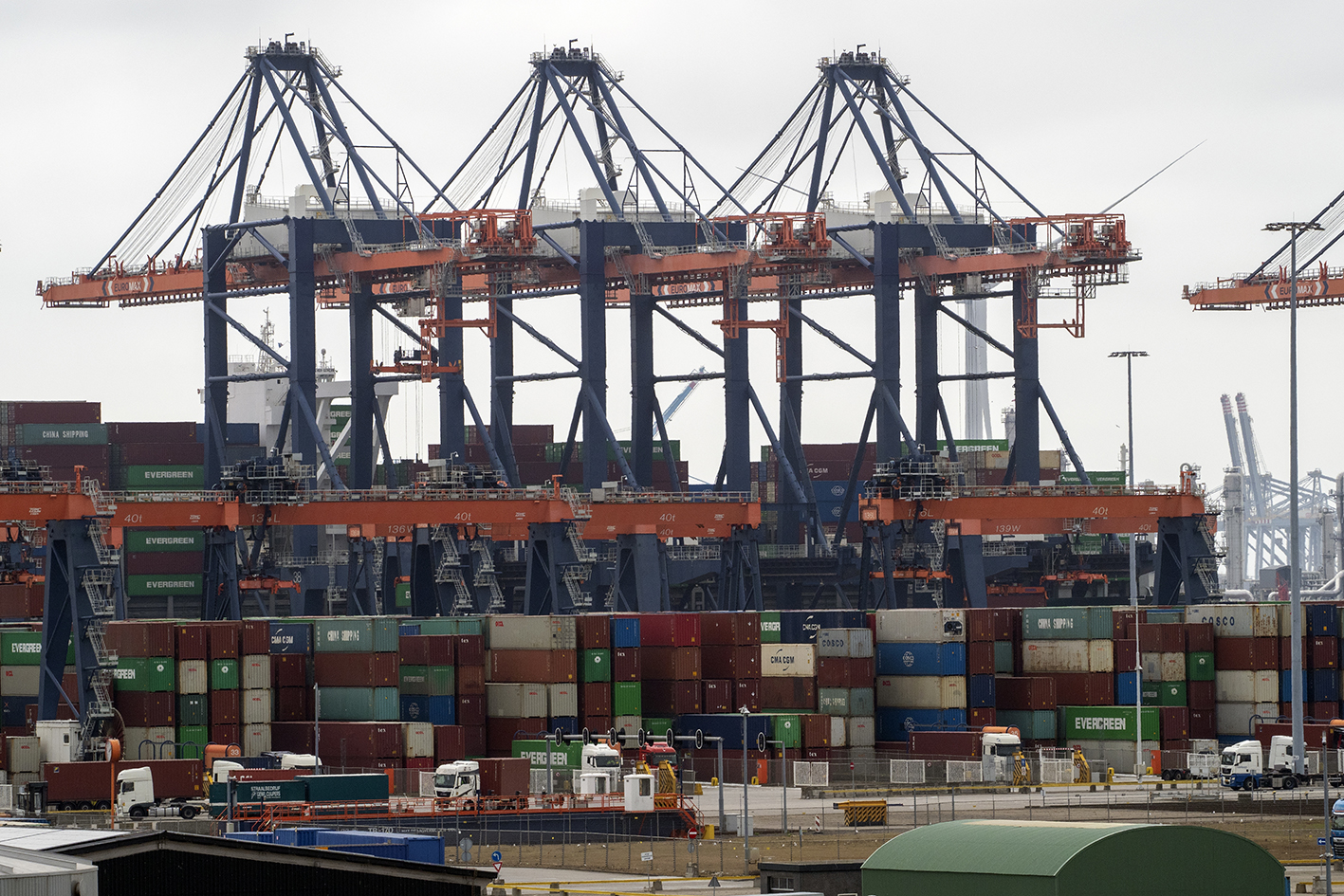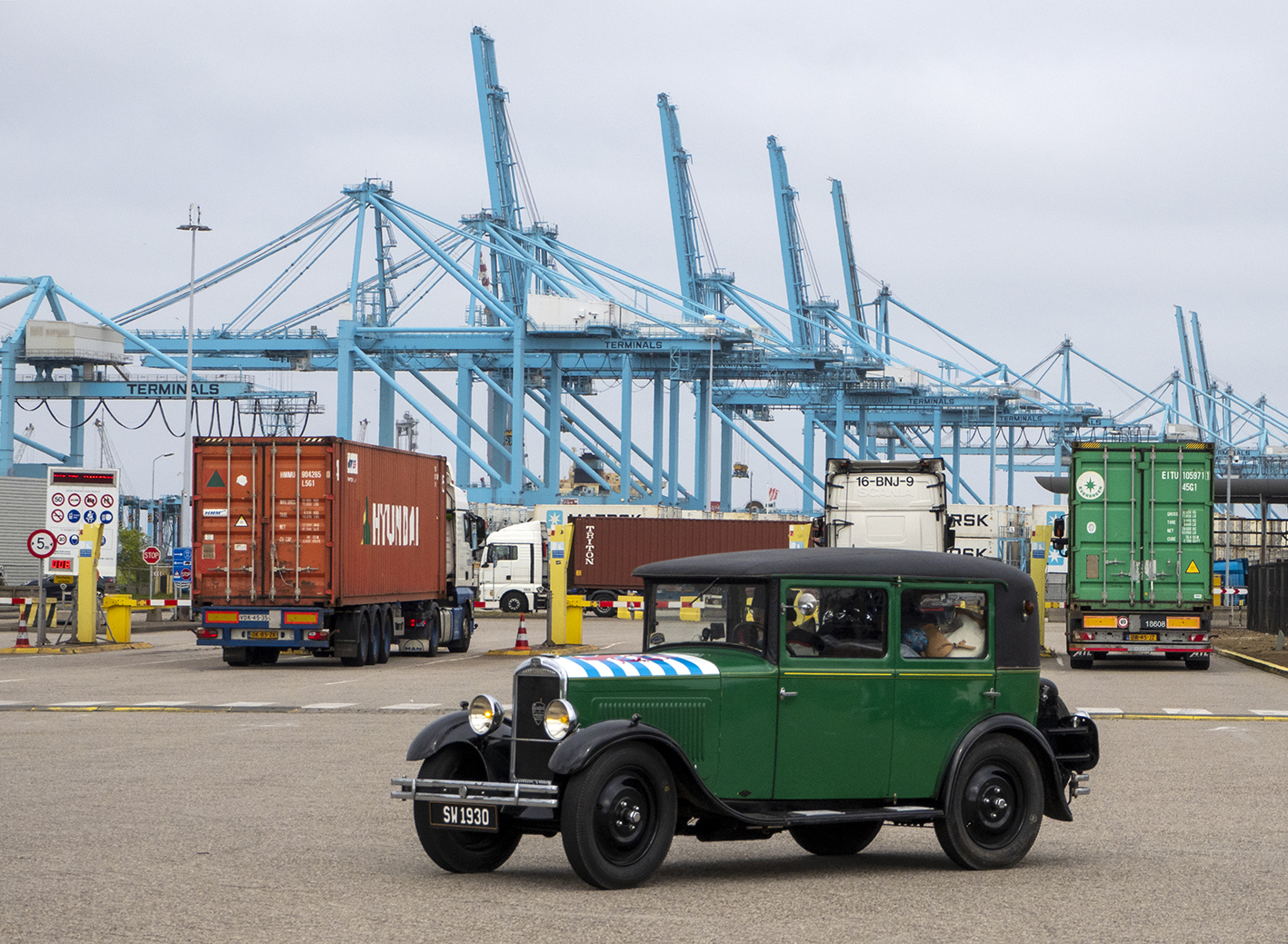 Une pile d'énormes bouées ressemble à un jeu de mikado géant. / A stack of huge buoys looks like a giant mikado game.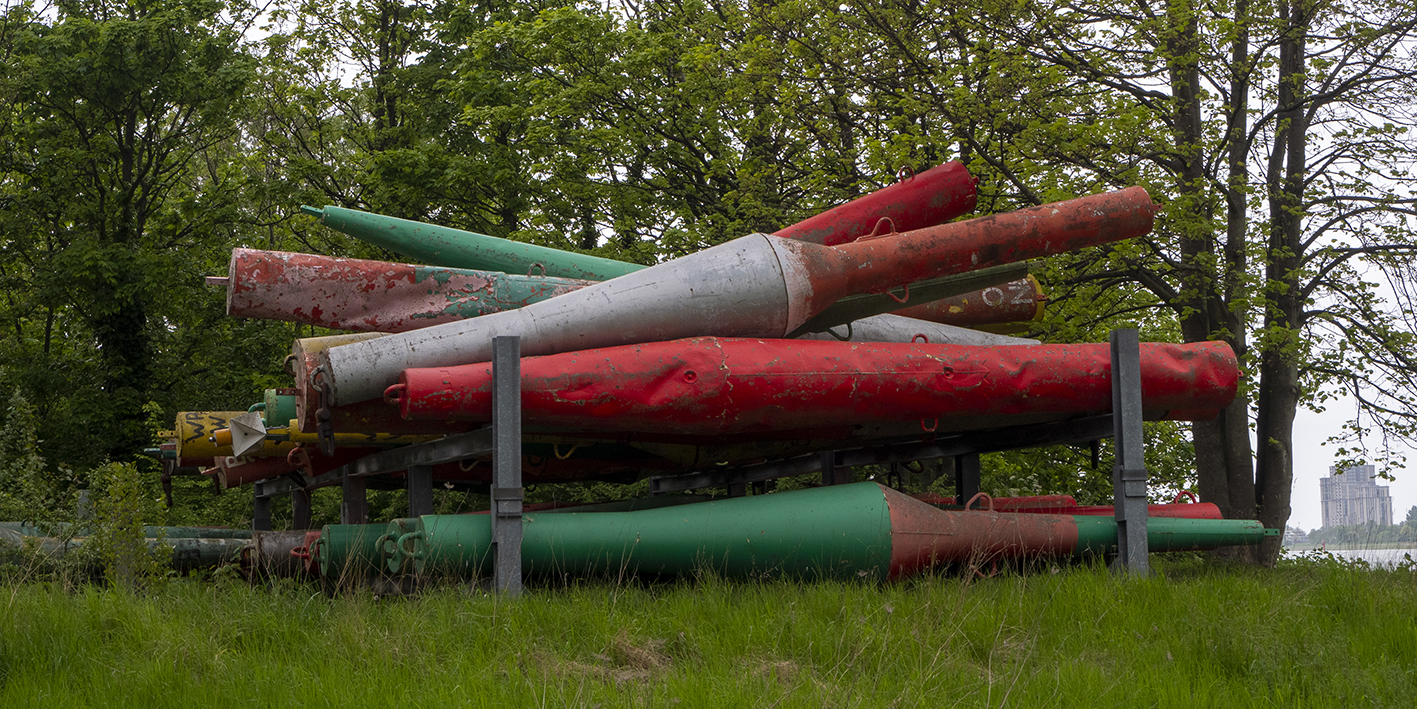 Mais l'étape se termine mal. John, le mécanicien qui nous accompagne jusqu'à Rotterdam, constate un jeu dangereux dans la roue arrière gauche. Au contrôle technique de l'ACL, les techniciens avaient déjà remarqué le problème. Mais en démontant, John constate qu'il est plus grave qu'on ne croyait. Il ne suffit pas de bêtement resserrer l'écrou central qui fixe le tambour de frein sur l'arbre. Il y a une importante usure sur ces deux parties coniques. John fabrique une solution de fortune en comblant le vide avec une mince feuille métallique ("slieve"). Mais il me met en garde : «Pas sûr que tu puisses finir le  voyage comme ça !». Génial ! Après deux jours et même pas 500 km , le projet risque  déjà d'être compromis… / But the day ends badly. John, the mechanic accompanying us to Rotterdam, noticed dangerous play in the left rear wheel. At the technical control of the ACL, the technicians had already noticed the problem. But while dismantling, John finds that it is more serious than we thought. It is not enough to just tighten the central nut which secures the brake drum to the shaft. There is significant wear on both conical parts. John makes a makeshift solution by filling the void with a thin sheet of metal ("slieve"). But he warns me: "Not sure that you can end the trip like that!". Awesome ! After two days and not even 500 km, the project is already in danger of being compromised…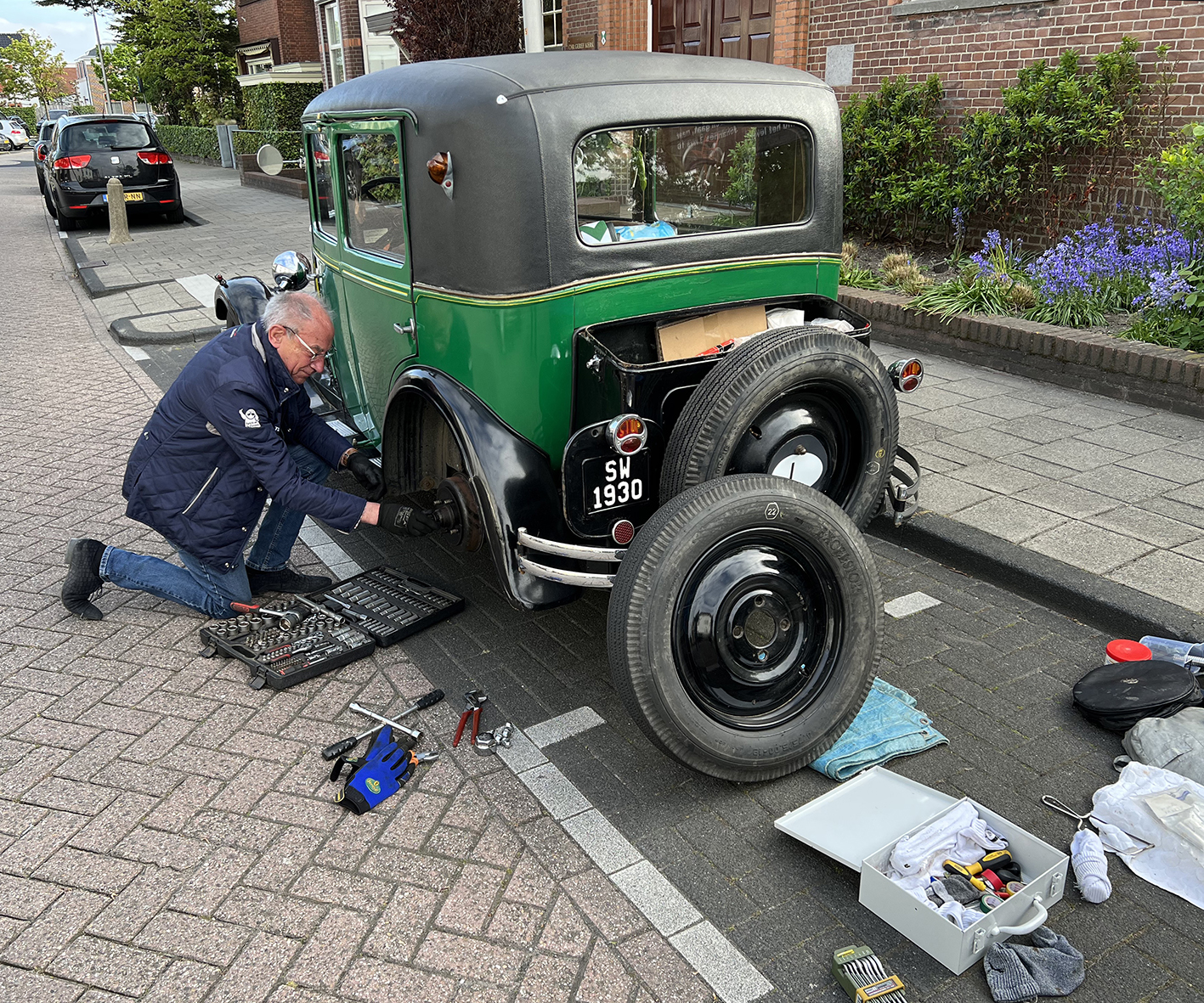 Pour nous changer les idées, nous dînons dans un restaurant où notre fils Yann, qui travaille à La Haye, nous rejoint avec sa compagne Michelle. Notre chambre, à l'hôtel "De Gravin" ("La Comtesse») est joliment décorée. / To clear our minds, we have dinner in a restaurant where our son Yann, who works in The Hague, joins us with his partner Michelle. Our room at the hotel "De Gravin" ("La Comtesse") is nicely decorated.
Comble du hasard, nous avons la chambre 201 – dont le porte-clefs aurait bien aimé servir à "La Charmante" !  / As luck would have it, we have room 201 – whose keyring would have loved to be used for "La Charmante"!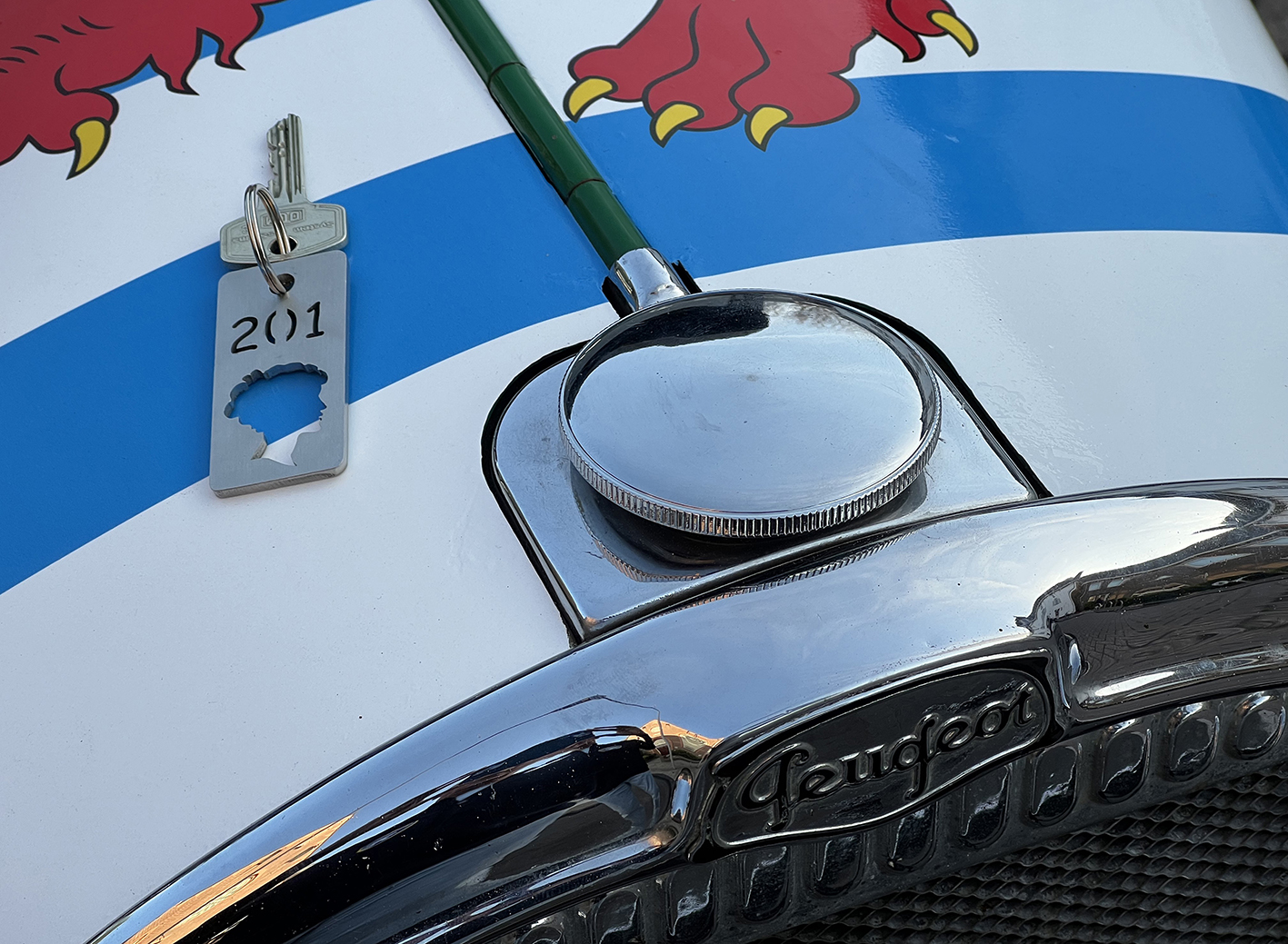 Étape 1 – 2 mai 2022 (Senningen-Anvers : 282 km) /

First leg – May 2, 2022 (Senningen-Antwerp: 282 km)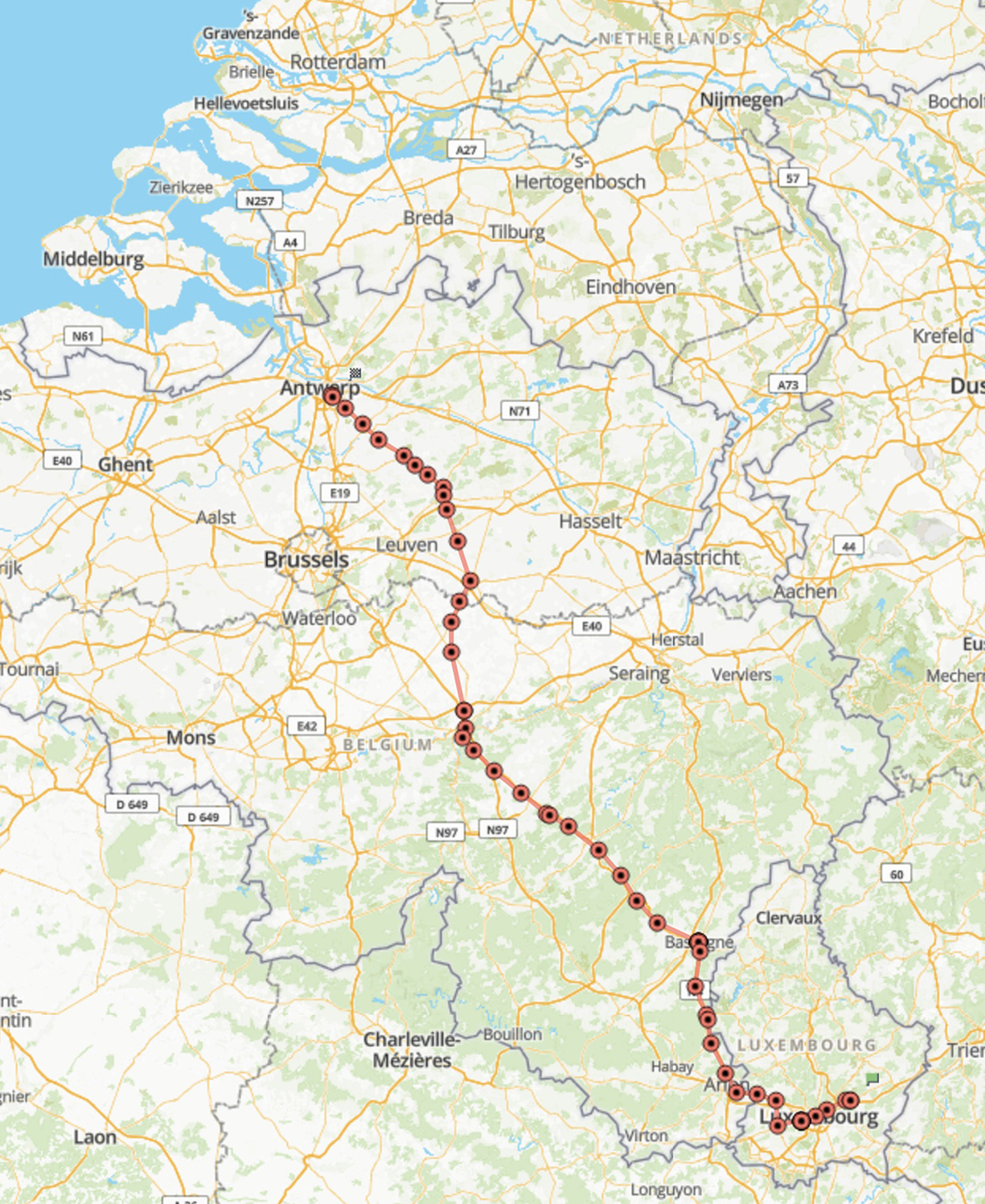 8 heures du matin. Tout a fini par trouver sa place. Un véritable puzzle chinois !  /  8 in the morning. Everything has finally found its place. A real Chinese puzzle!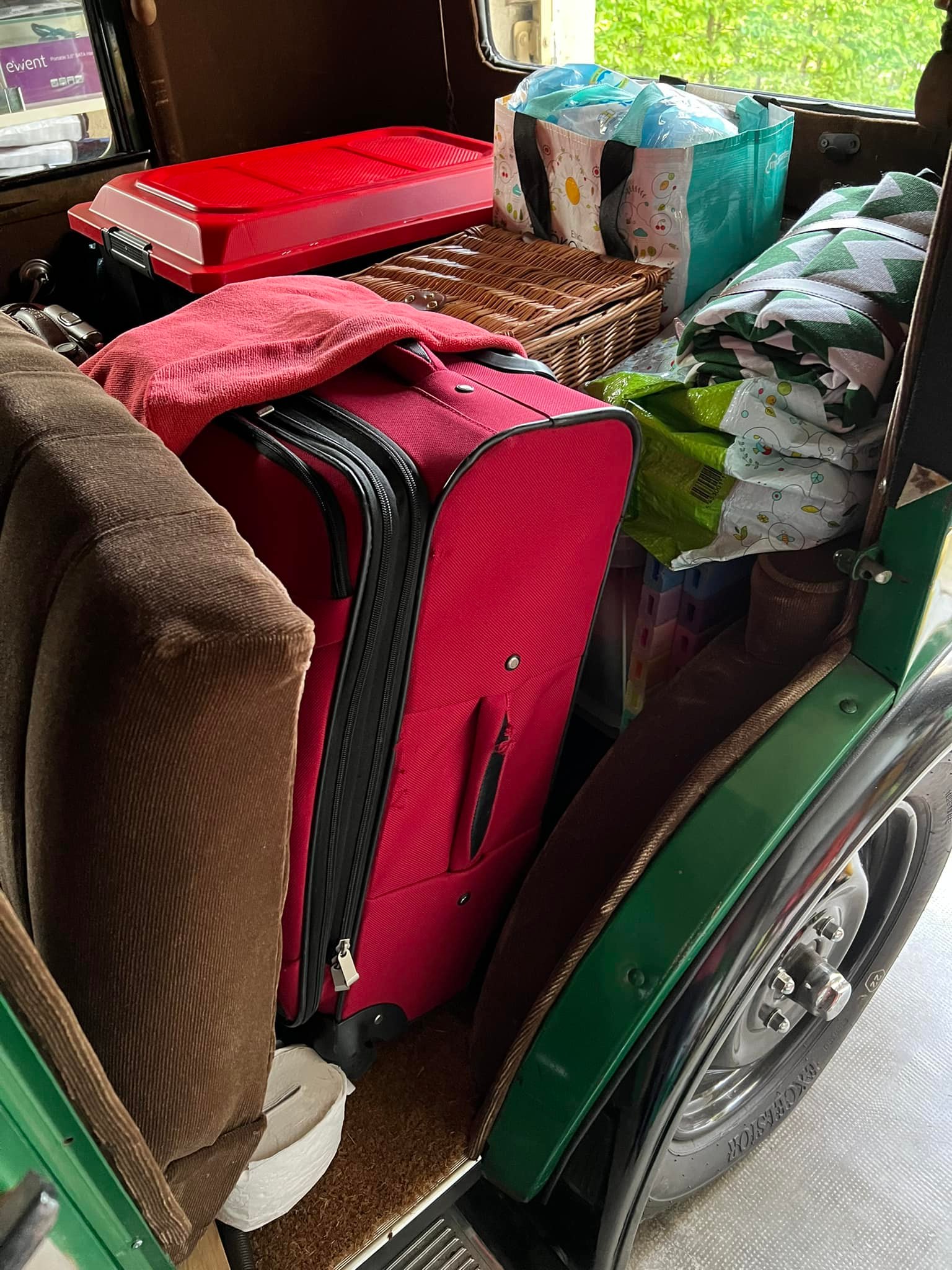 Nous sommes prêts à prendre la route. Tout sourires, mais avec quand même ce doute angoissant : «La Charmante» ira-t-elle jusqu'au bout de notre projet ? / Pour le savoir, il faut déjà partir ! / We are ready to hit the road. Smiling, but still with this agonizing doubt: will "La Charmante" go through with our project? To find out, we have to leave!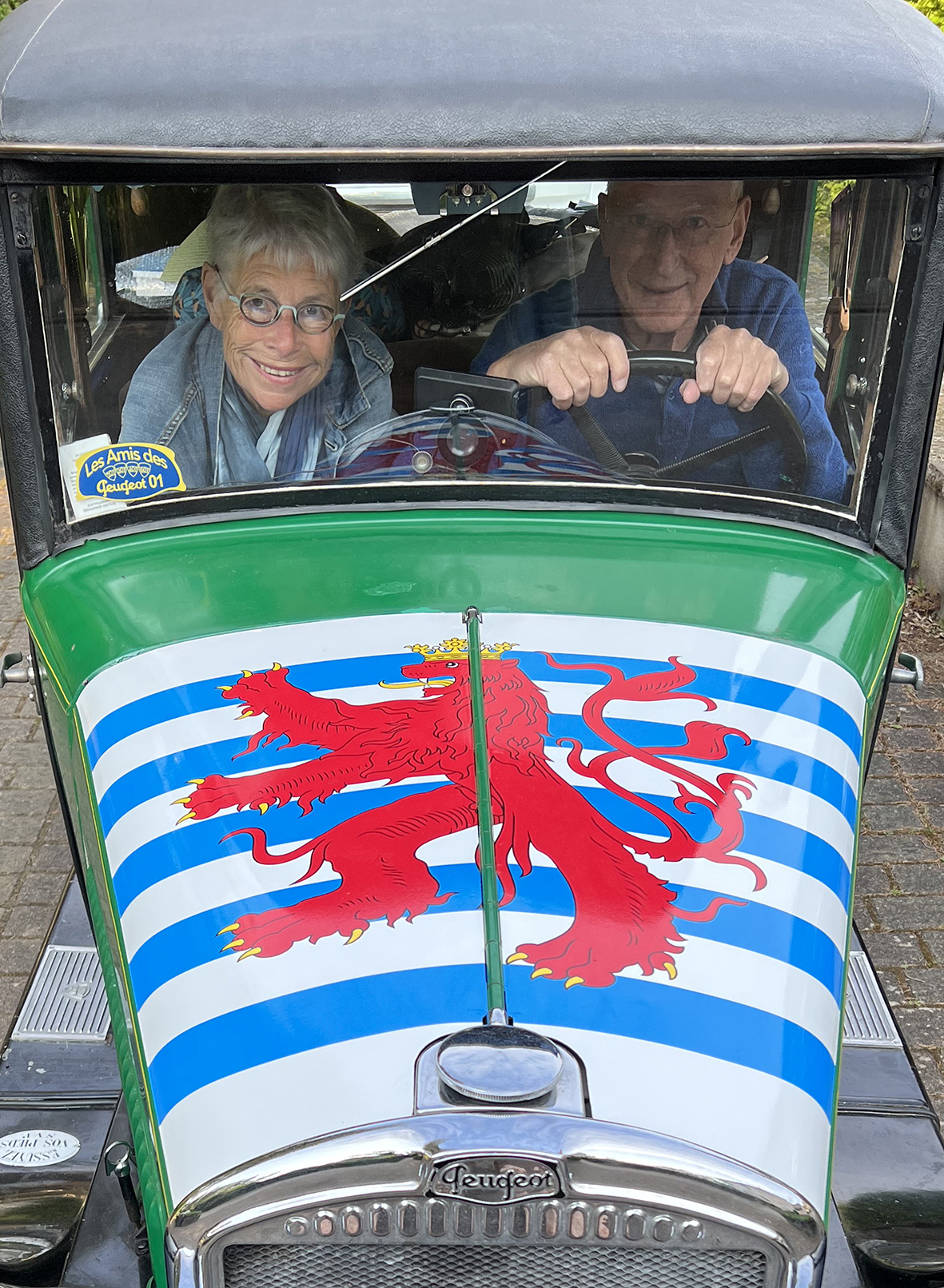 (Photo: Olivier Weinberg)
Premier arrêt, à l'ACL (Automobile Club du Luxembourg), l'un de nos sponsors. Rencontre avec la presse luxembourgeoise et quelques ami(e)s venu(e)s nous souhaiter bonne chance, tout en dégustant café et viennoiseries dans le soleil matinal. Nos premiers accompagnateurs sont là également : John et Maggy avec leur Ford Model 48 dont le moteur V8 de 3,9 litres de cylindrée fait pâlir d'envie «La Charmante». Jean-Claude avec sa magnifique 201 coupé, digne sœur de notre berline. Et Paul avec sa 601 à moteur 6 cylindres. / First stop, at the ACL (Automobile Club du Luxembourg), one of our sponsors. Meeting with the Luxembourg press and a few friends who came to wish us good luck, while enjoying coffee and pastries in the morning sun. Our first companions are also there: John and Maggy with their Ford Model 48 whose 3.9 liter V8 engine makes "La Charmante" green with envy. Jean-Claude with his magnificent 201 coupe, a worthy sister to our sedan. And Paul with his 601 with a 6-cylinder engine. 

Il y a un reportage en ligne avec photos et une petite vidéo sur le site du journal "L'Essentiel" – à voir ici. / There is an online report with photos and a short video on the website of the newspaper "L'Essentiel" – which you can see here.
On fait nos adieux. On roule. Direction Belgique ! Premier arrêt : Bastogne. Paul nous quitte ici.Nous ne serons plus  que trois véhicules pour les prochains 1000 km.  /  We bid farewell. We hit the road. Off to Belgium! First stop : Bastogne. This is where Paul will turn back to Luxembourg. We'll be only three vehicles for the next 1000 km.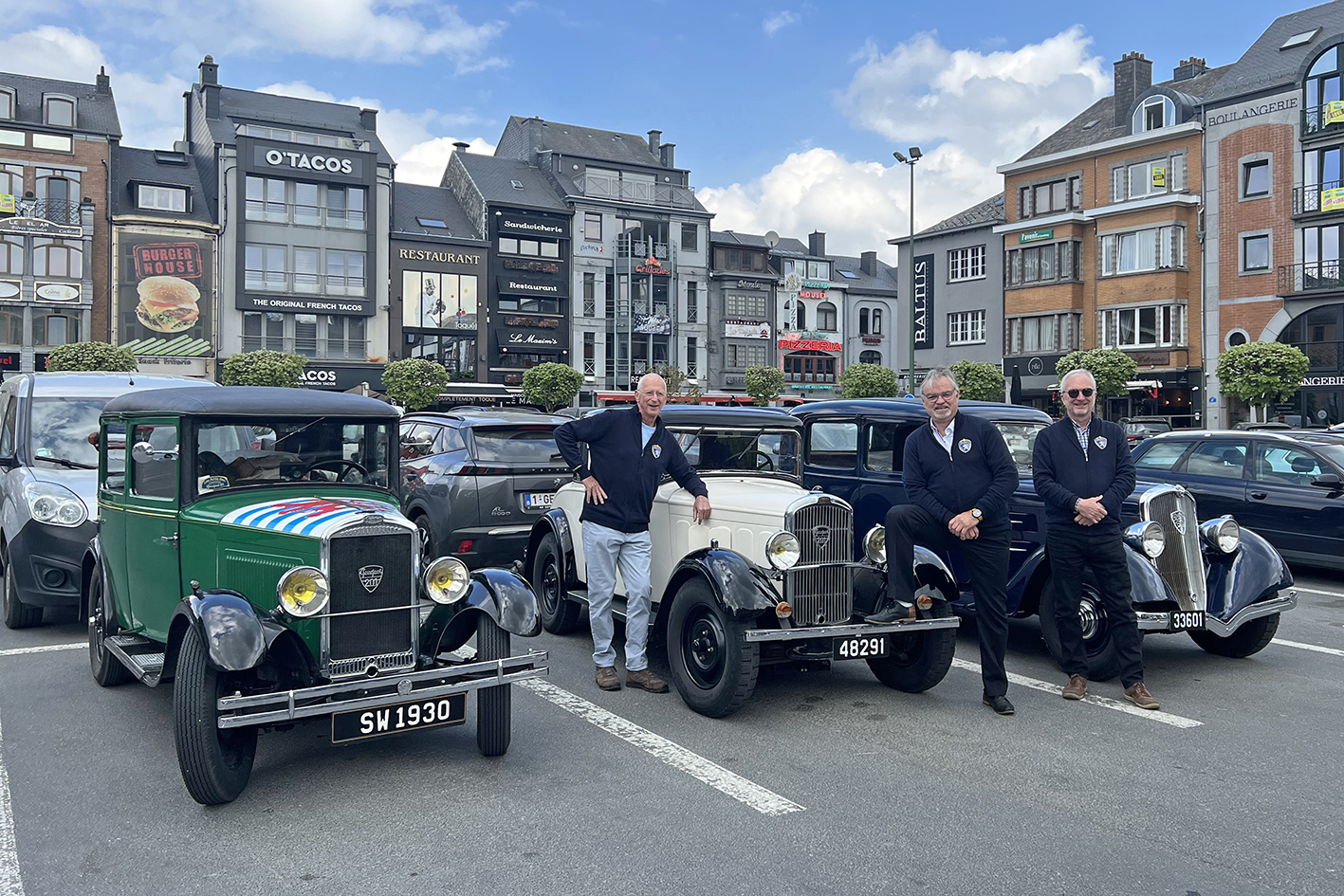 «La Charmante» pose devant le char Sherman sur la place McAuliffe, monument à la mémoire de la terrible bataille des Ardennes pendant l'hiver 1944-1945. Pour moi, c'est un autre souvenir: en septembre 1962 je m'étais arrêté au même endroit. J'avais 15 ans et j'étais en route depuis le Midi de la France vers les Pays-Bas avec mon vélomoteur Peugeot (!) Griffon. Mon premier grand voyage… / « La Charmante » poses in front of the Sherman tank on McAuliffe Square, a monument to the memory of the terrible Battle of the Bulge during the winter of 1944-1945. For me, it's another memory: in September 1962 I stopped at the same place. I was 15 years old and I was on my way from the South of France to the Netherlands with my Peugeot (!) Griffon moped. My first big trip…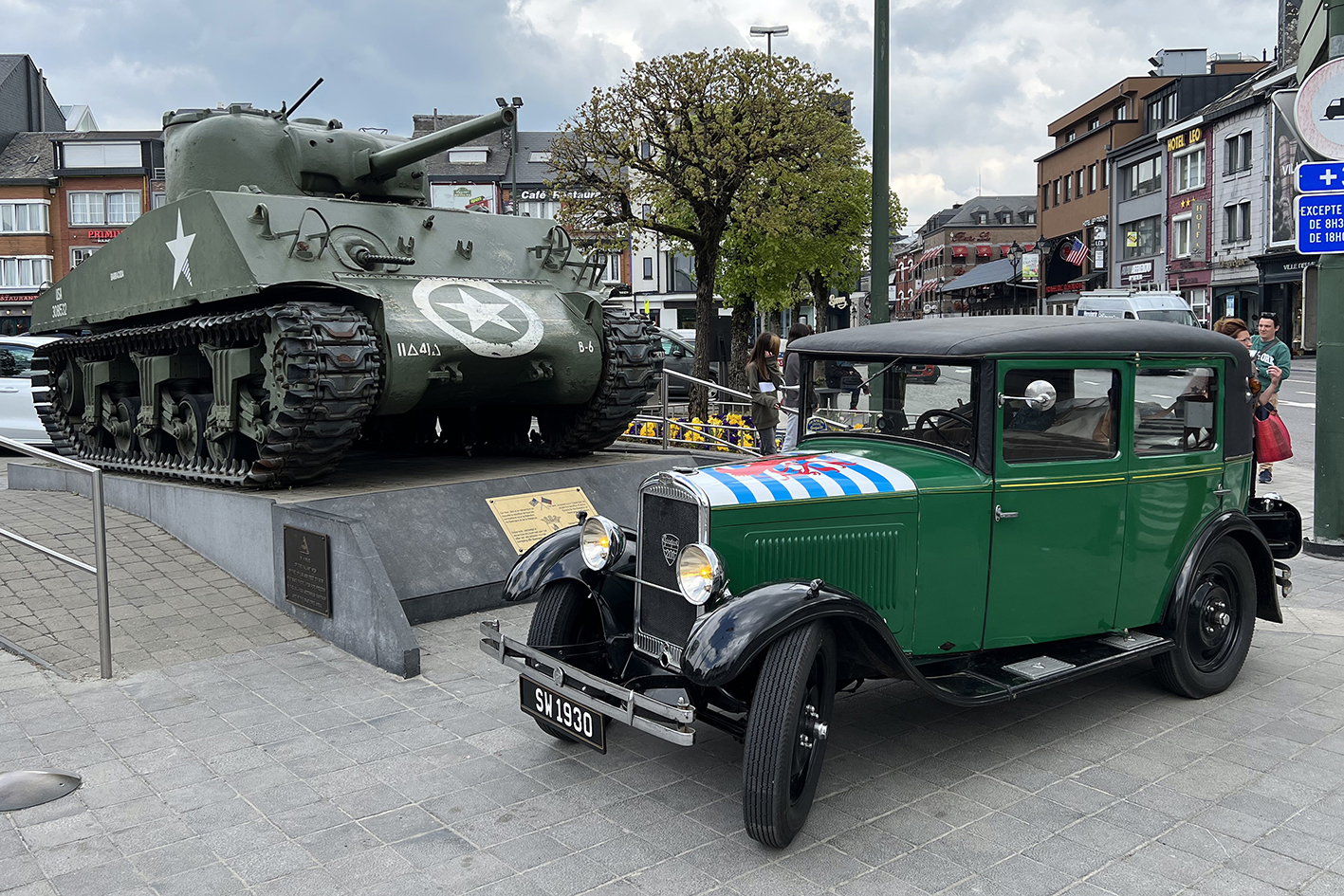 Les Ardennes ne sont qu'une succession de collines. Pourtant, chaque côte est une véritable épreuve pour «La Charmante» qui est quand même drôlement chargée. Je dois souvent rétrograder en  seconde et me contenter de rouler à 30 km/h. La température du liquide de refroidissement s'approche alors dangereusement des 100°C… Qu'est-ce que ça  donnera dans les Alpes ? En attendant, nous profitons de magnifiques paysages sous un soleil estival. Le voyage commence bien !  / The Ardennes are just a succession of hills. However, each climb is a real test for "La Charmante" which is quite heavily loaded. I often have to downshift to second gear and just drive at 30 km/h. The temperature of the coolant comes then dangerously close to 100°C… What will that be like in the Alps? In the meantime, we enjoy magnificent landscapes under a summer sun. The journey is off to a good start!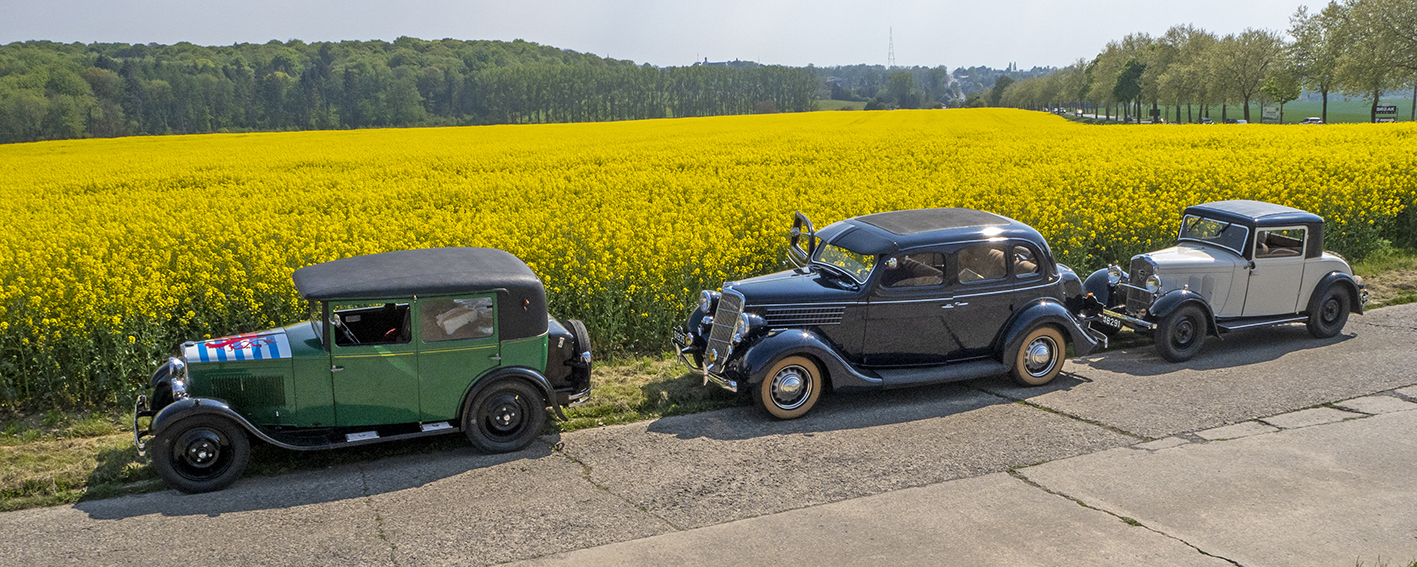 •••
Petit ruisseau deviendra grand

/

A little stream growing big
Bien que pendant notre voyage nous nous limiterons aux 5 fleuves principaux, pour le bassin du Rhin, avec ses affluents majeurs que sont l'Aar, l'Ill, le Neckar, le Main, la Moselle, la Wupper ou encore la Ruhr, on fera une exception. / Although during our trip we will limit ourselves to the 5 main rivers, for the Rhine basin, with its major tributaries which are the Aar, the Ill, the Neckar, the Main, the Moselle, the Wupper or the Ruhr, we will make an exception.
Notre village s'appelle Senningen, localité modeste, avec quelque 720 habitants. Pourtant, l'endroit a connu son heure de gloire grâce à une particularité géologique. Le plateau de grès de Luxembourg, extrêmement perméable, fonctionne comme une éponge qui absorbe l'eau de pluie. Cette eau souterraine se heurte à une couche calcaire imperméable au-dessus de notre village. Y émergent alors une multitude de petites sources, dont certaines furent captées et servirent d'abreuvoirs ('Trächelchen' en luxembourgeois). / Our village is called Senningen, a modest locality with some 720 inhabitants. However, the place had its hour of glory thanks to a geological particularity. The extremely permeable Luxembourg sandstone plateau works like a sponge that absorbs rainwater. This underground water collides with an impermeable limestone layer just above our village. This results in a multitude of small springs, some of which were captured and served as drinking troughs ('Trächelchen' in Luxembourgish).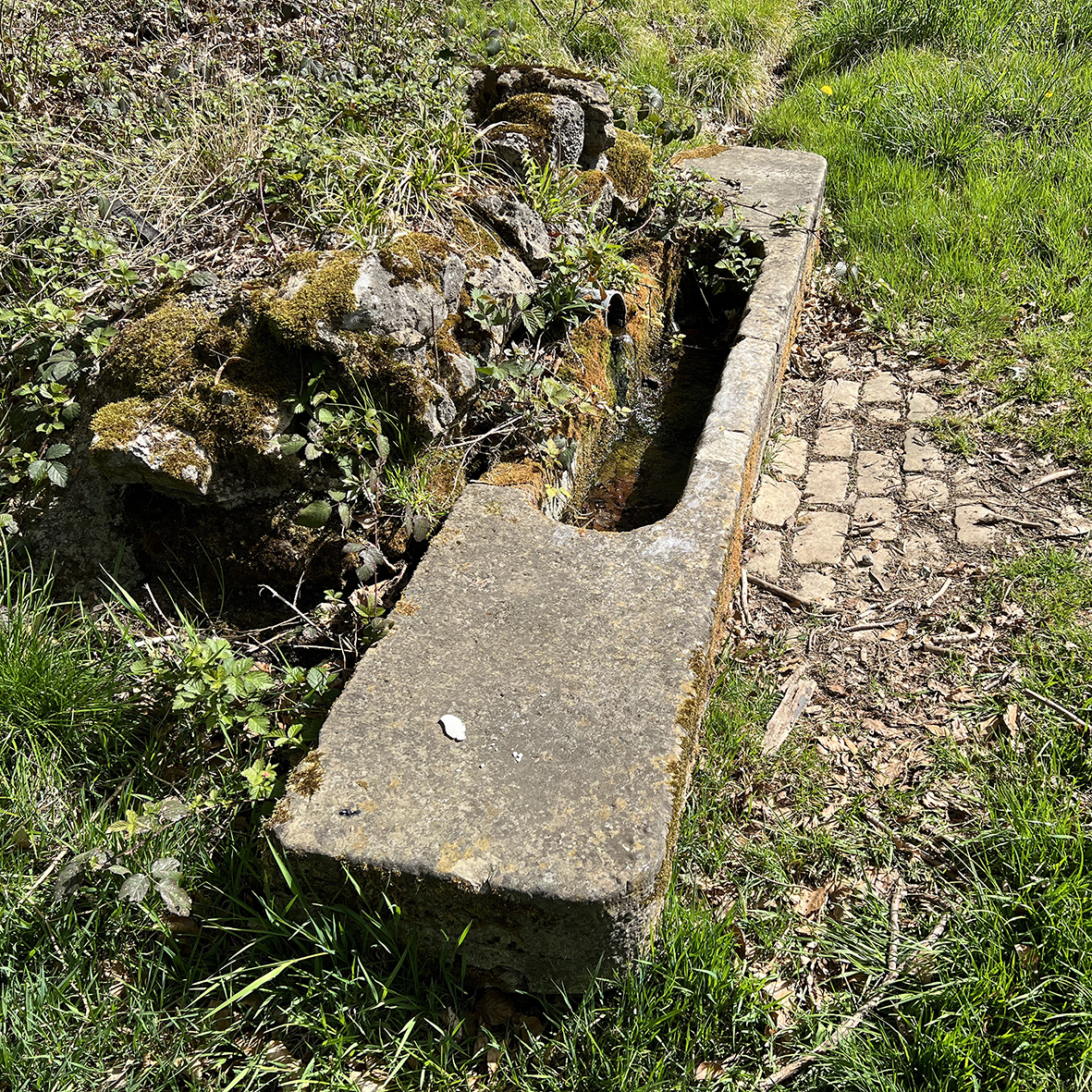 Ces sources se situent à une altitude d'environ 330 mètres, le centre du village se trouvant 60 mètres plus bas. Ce dénivelé, qui suit une pente abrupte, donne lieu à un petit ruisseau impétueux, le 'Senningerbach' (ruisseau de Senningen), plus communément appelé 'Aalbach' (le vieux ruisseau). / These sources are located at an altitude of about 330 meters, the center of the village being 60 meters lower. This drop, which follows a steep slope, gives rise to a small impetuous stream, the 'Senningerbach' (Senningen stream), more commonly known as 'Aalbach' (the old stream).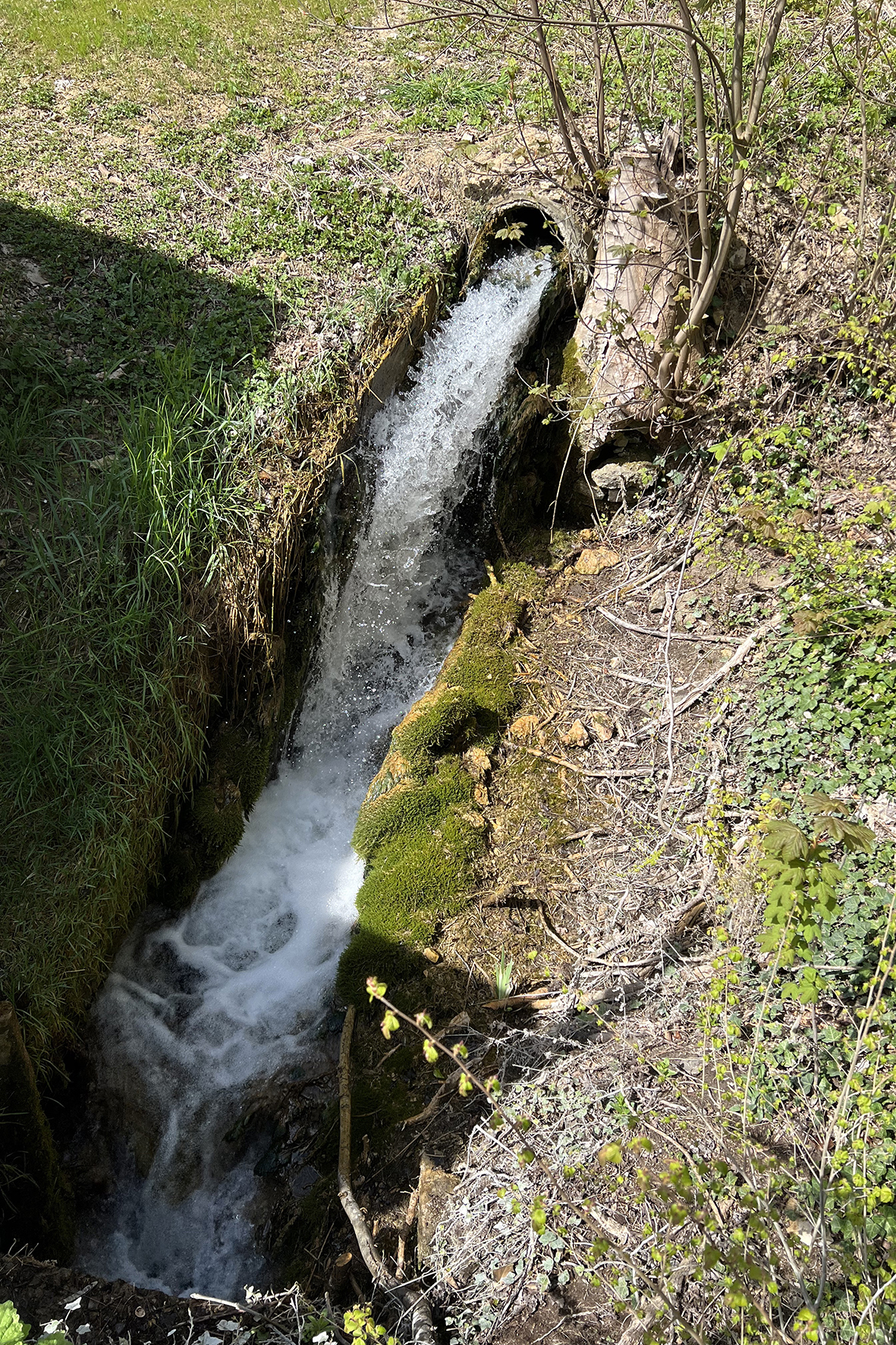 Vers la fin du 17e siècle, des moines érigèrent un premier moulin à papier actionné par la force hydraulique de l'Aalbach. Au début du 20ème siècle, Senningen comptait 6 moulins activés par l'Aalbach qui traverse la localité d'ouest en est : le moulin à papier Funck, le moulin à papier Lamort (image ci-dessous), le 'moulin banal' (à l'origine un moulin à céréales, élargi plus tard par un moulin à huile), un moulin à scier, un moulin à huile et le moulin à papier Tabourain. / Towards the end of the 17th century, monks erected a first paper mill driven by the hydraulic power of the Aalbach. At the beginning of the 20th century, Senningen had 6 mills driven by the Aalbach which crosses the town from west to east: the Funck paper mill, the Lamort paper mill (picture below), the 'banal mill' (originally a cereals, later completed by an oil mill), a sawmill, an oil mill and the Tabourain paper mill.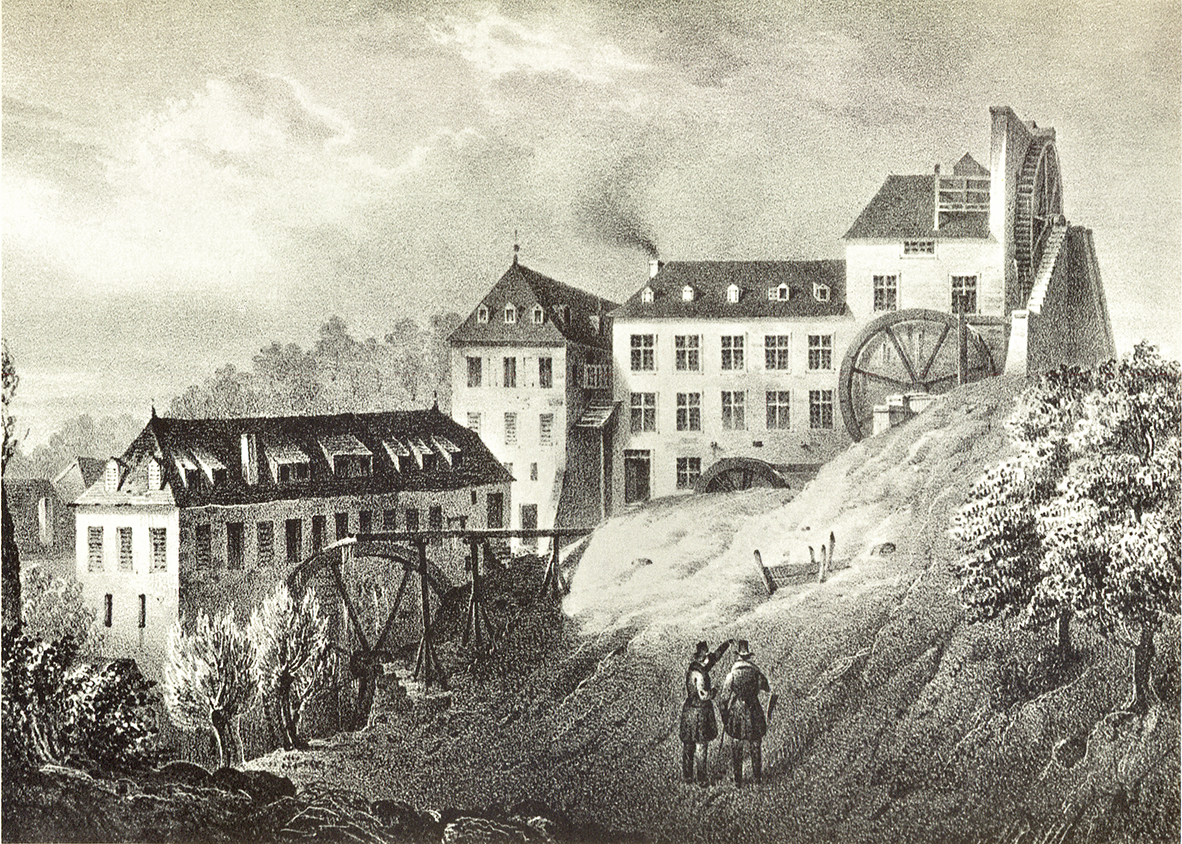 Aujourd'hui, ces moulins ont disparu, bien que certains bâtiments subsistent encore. / Today, these mills have disappeared, although some buildings still remain.
L'Aalbach traverse le centre du village par une canalisation souterraine. L'ancien lavoir, en plein milieu du village, fut érigé dans les années 1930 sur les vestiges de l'ancienne scierie. Aujourd'hui, il se trouve à sec. / The Aalbach crosses the center of the village by an underground pipeline. The old washhouse, in the middle of the village, was erected in the 1930s on the remains of the old sawmill. Today it is dry.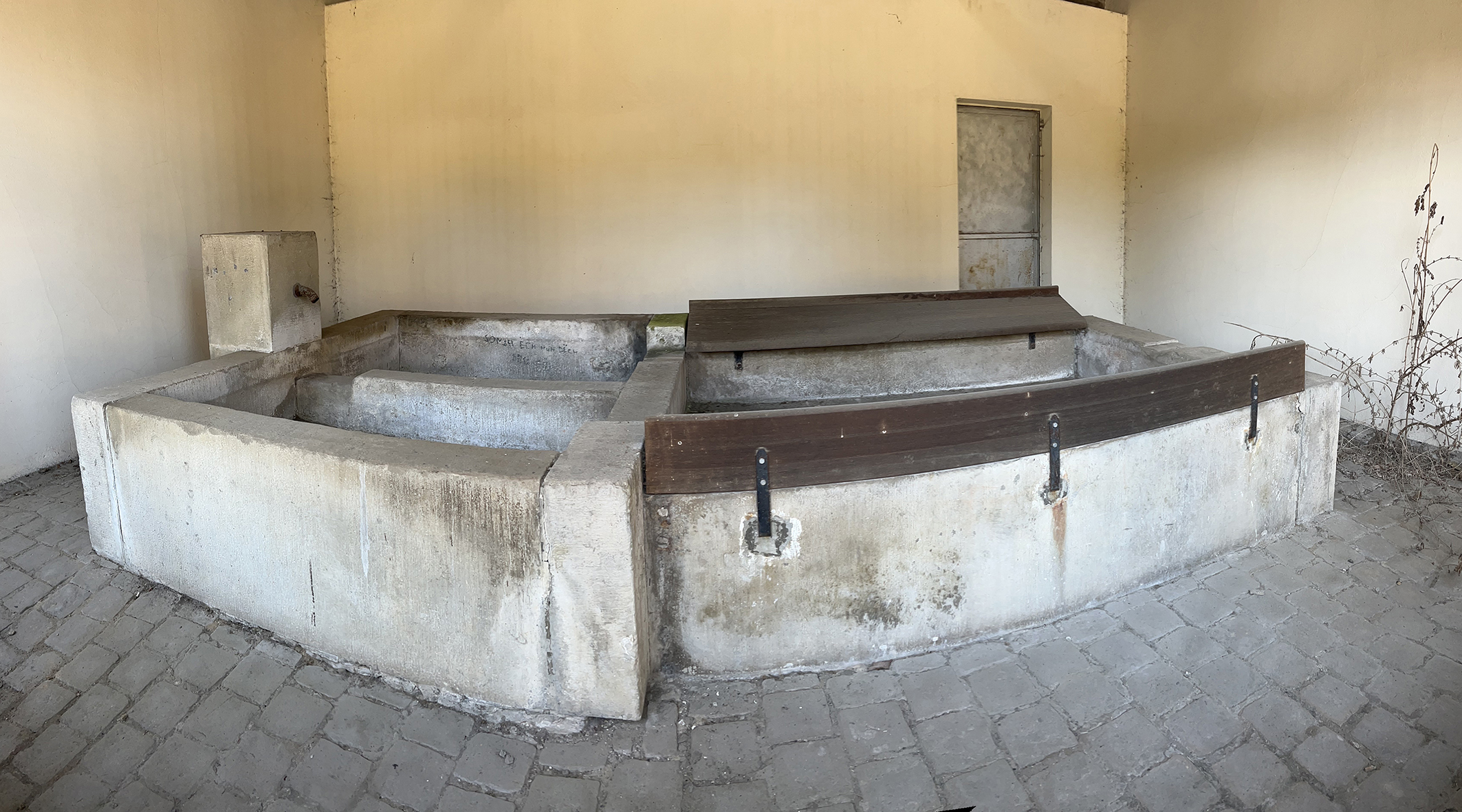 À l'est du village, le ruisseau fait à nouveau surface et s'écoule paisiblement entre les prés. Trois kilomètres plus loin, il se jette dans la Syre, qui à son tour rejoint la Moselle à Mertert, 32 km en aval. Et à Coblence, la Moselle rejoint le Rhin, dont elle est le principal affluent. Si je plaçais un petit canard en plastique dans l'Aalbach, à un jet de pierre du garage de « La Charmante », le retrouverions-nous à Hoek van Holland, débouchant dans la mer du Nord ? / To the east of the village, the stream surfaces again and flows peacefully between the meadows. Three kilometers further, it flows into the Syre, which in turn joins the Moselle at Mertert, 32 km downstream. And in Koblenz, the Moselle joins the Rhine, of which it is the main tributary. If I placed a little rubber duck in the Aalbach, a stone's throw from the garage of «  La Charmante  », would we find it at Hoek van Holland, emerging into the North Sea?